You either love or you either hate raw oysters. Our flock used to go to The Fish Market to get our fix of raw oysters. Inappropriate (often filthy) descriptions were used to describe what and how a raw oyster tasted like. But raw oysters, no matter how much you make fun of the taste/texture/etc, still cost a pretty penny to eat. What if you could have a raw oyster for just $1 dollar ( or 100 pennies if that makes it sound like a better deal ). Trifecta Tavern now offers Buck a Shuck Oysters on Fridays. PLUS, the little pub-like-restaurant also offers $6 Flight of four 4.5 oz beer tastings (ANY beer they have on tap).
I recently stumbled across this new Friday deal offered at Trifecta Tavern when I was researching places that offered triple IPAs on draft. Friends have assigned me the task of finding the best IPAs on tap since we fell in love with the Knee Deep Simtra at Stone Brewing World Bistro & Gardens. I had no problem doing that as long as the place had decent food. I've visited Trifecta Tavern a few times but felt the food quality had diminished since Whole Foods opened a few years ago. They still offer $10 Burger & Beer on Wednesdays but the burger on our last visit wasn't all that great. So it was nice to find that Trifecta Tavern added a new Friday special to try out.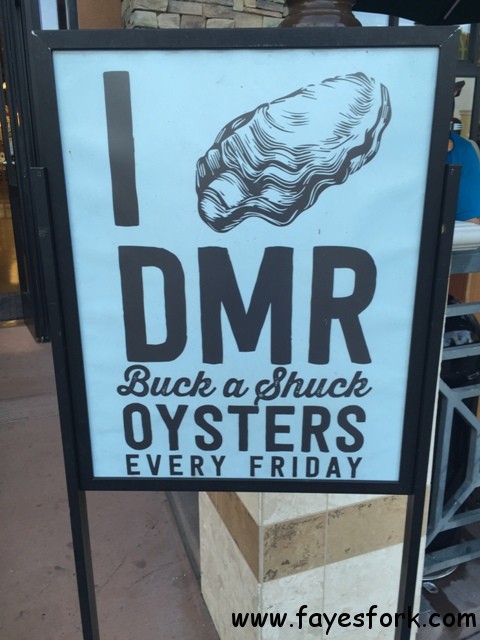 This buck a shuck is offered only on Fridays from 5-7p.
I got there a bit early so I wandered around Whole Foods until my friend arrived. I figured I'd go to my butcher crush and order a sandwich for us to share if the oysters sucked. I asked Alex if he tried the oysters and he said they were quite good except that he felt the mignonette was too sweet. He proceeded to make me a custom sauce that he wanted us to try out on the oysters.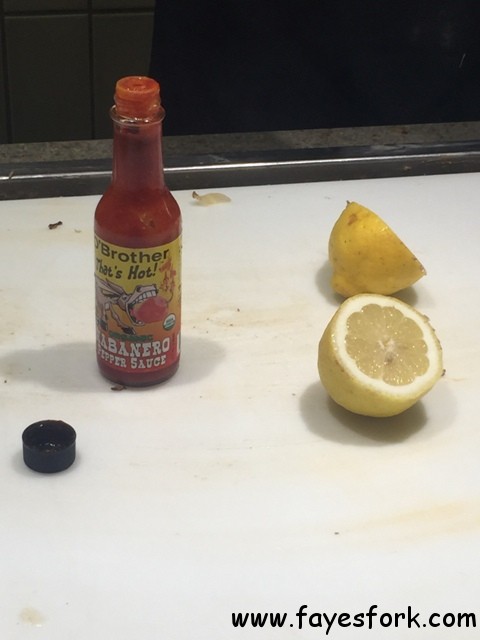 He used our favorite donkey hot sauce and fresh lemons for the sauce.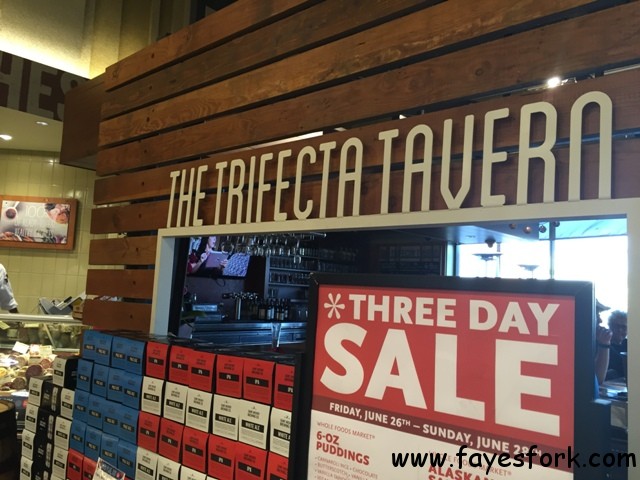 Trifecta Tavern has a funny concept as they have their own food but anyone can eat their Whole Food supermarket purchase there. So I think this confuses the staff at Trifecta as they're not sure if you're there to order off their menu or not. I grabbed a seat inside with a view of what's offered on tap.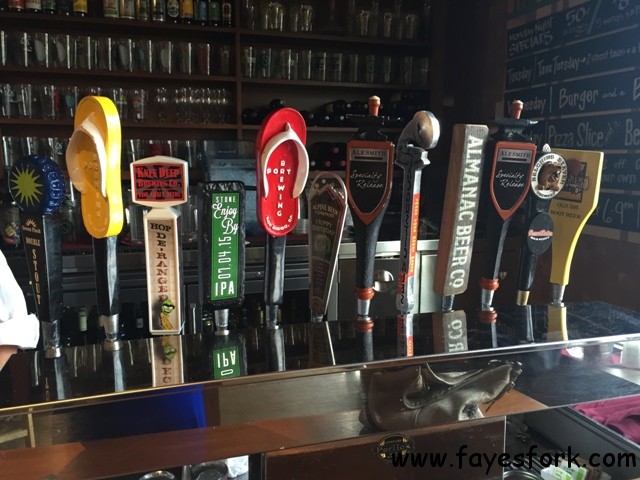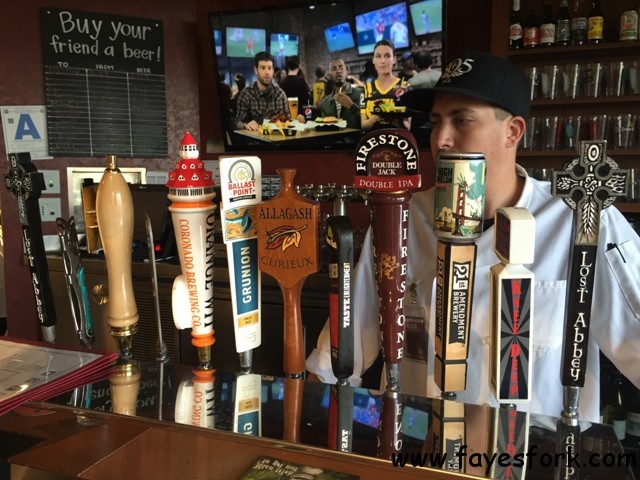 I think that's Kyle in the background. He's the reason I was there that day as the phone conversation with him the day before got me super excited about the beers. He told me they DO have Knee Deep Simtra on tap BUT they also have Knee Deeps QUADRUPLE IPA at a 13.1% ABV.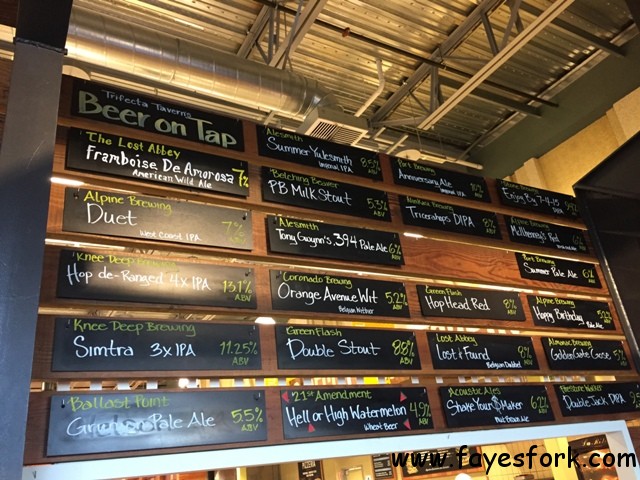 Kyle then proceeded to tell me that I could try this beer with their Friday $6 Flight for 4 Friday special. He and another bartender then had THE BEST IDEA for me as I was having a hard time deciding what to try. They said I should try out the flight with all IPAs AND with different strengths. Behold…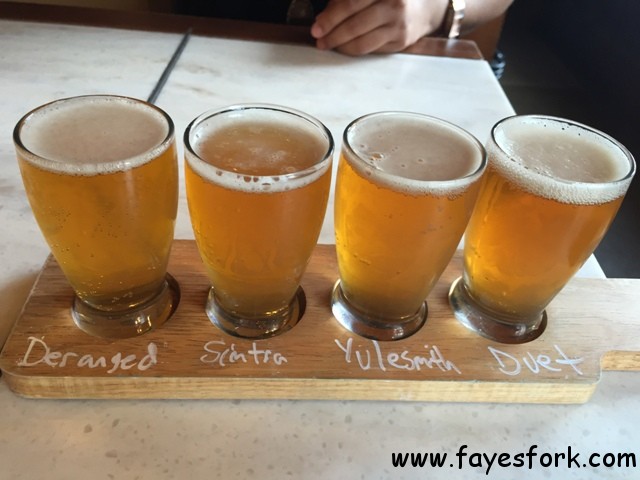 Duet: single IPA (7% ABV)
Yulesmith: double IPA (8.5% ABV)
Simtra: Triple IPA (11.25% ABV)
Deranged: Quadruple IPA (13.1% ABV)
Brilliant. Pure brilliancy. It was a smart way for someone like me to try out different strengths of IPAs. It's best to start with the single IPA then taste-on gradually to the quad IPA. The Deranged was bitter and strong but is that surprising at 13.1% ABV. This flight was a great deal for $6 as the pours equated to 18 ounces of beer.
On to the oysters…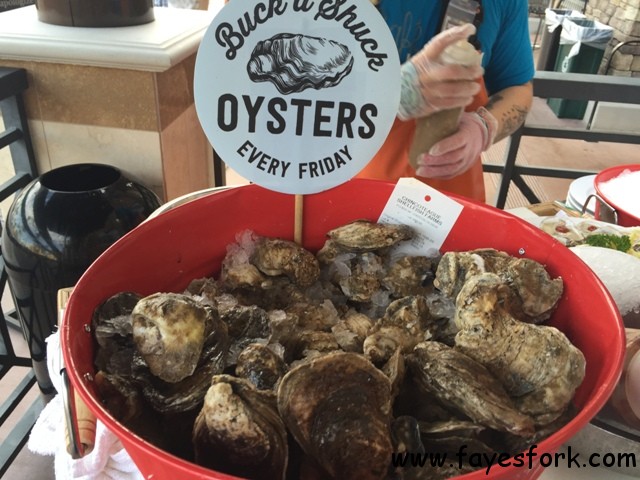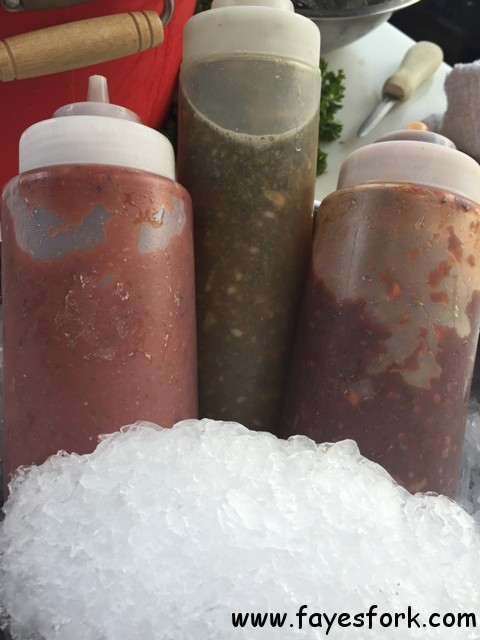 house made cocktail with horseradish, mignonette, and chipotle
You place your order with the fishmonger (Mikey that day) and he brings the freshly shucked oysters to your table.
My friend and I enjoyed the IPAs while waiting for the oysters. We also dug into the pork belly sandwich I purchased earlier from the meat department.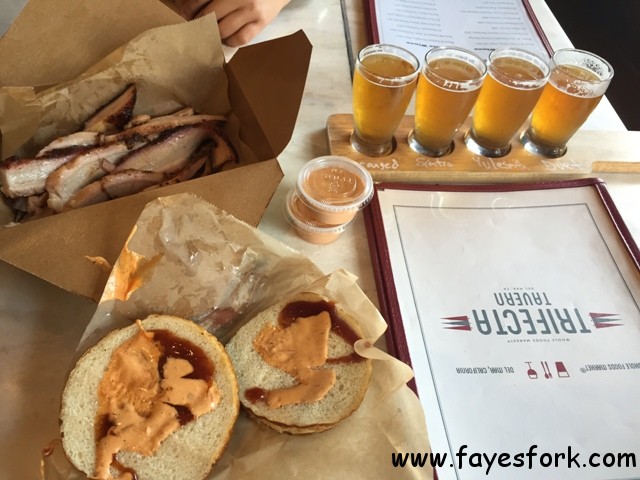 The pork belly was fatty which I don't mind but my friend couldn't eat. I didn't really know she didn't eat that much pork either until Alex, the butcher, came over to say hello and she mentioned it (as he asked why she wasn't eating the pork belly).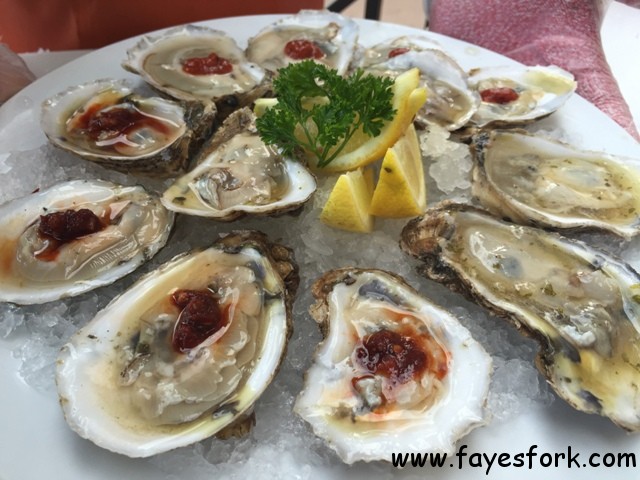 I believe these are mostly Blue Point oysters for another customer. It was beautifully presented over a bed of ice chips.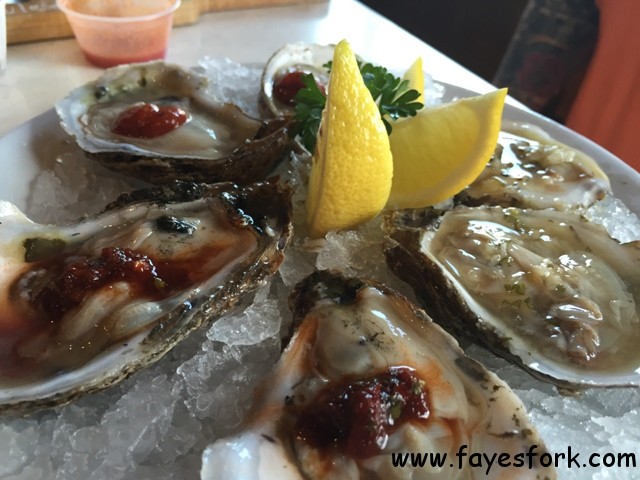 This is our first order of oysters. You can request whatever 3 sauces you want on top of your oysters. For example: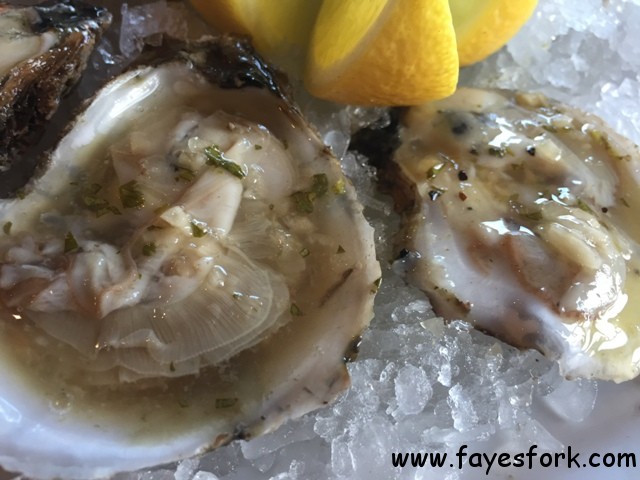 This sauce was a bit sweet but it complimented with the brininess of the oysters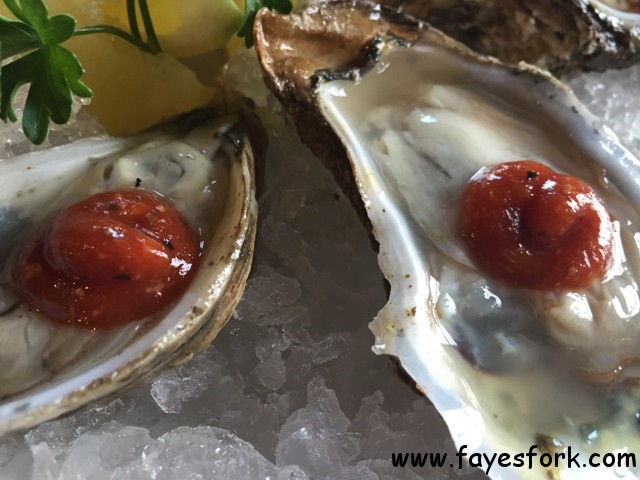 I liked the kick of this horseradish sauce
My trick was to add the mignonette and cocktail sauce to the oyster.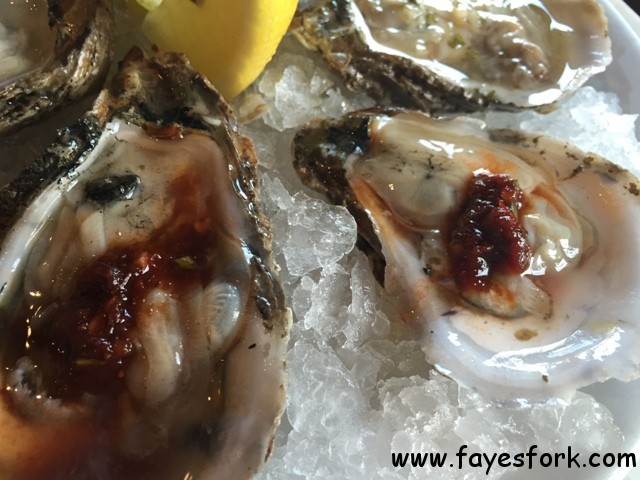 I didn't like the chipotle sauce as I only tasted the chili concoction when I ate the oyster. Friend liked this sauce though. I enjoyed the cold freshly shucked oysters and they tasted creamy with the right balance of an ocean salt kiss (I know, sounds cheesy but it's what popped into my head).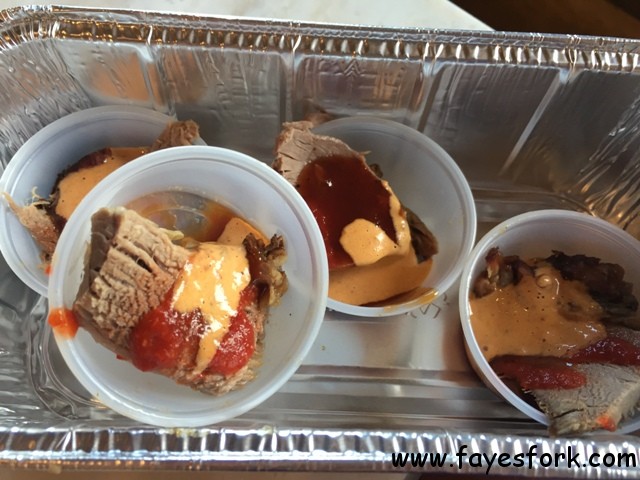 As much as life can be tough, angels will sometimes throw you a bone to cheer you up. Alex is that meat butcher angel 🙂 He can light up anyones day. He brought over these brisket samples for us to try as he knew my friend didn't really eat pork. The brisket was topped with a bbq sauce and their new chipotle mayo sauce.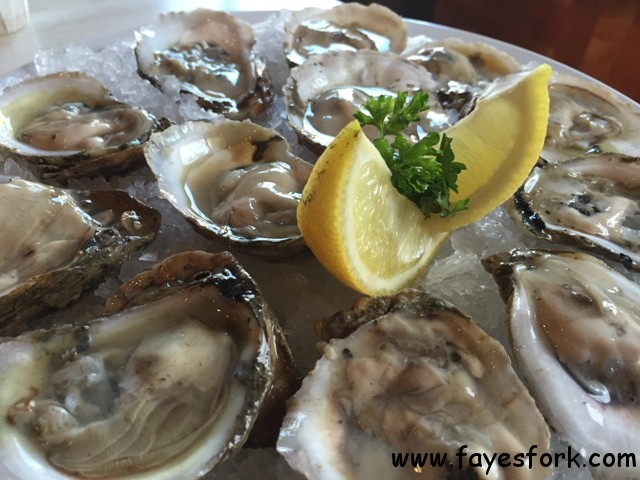 I, obviously, love raw oysters. Here's another order.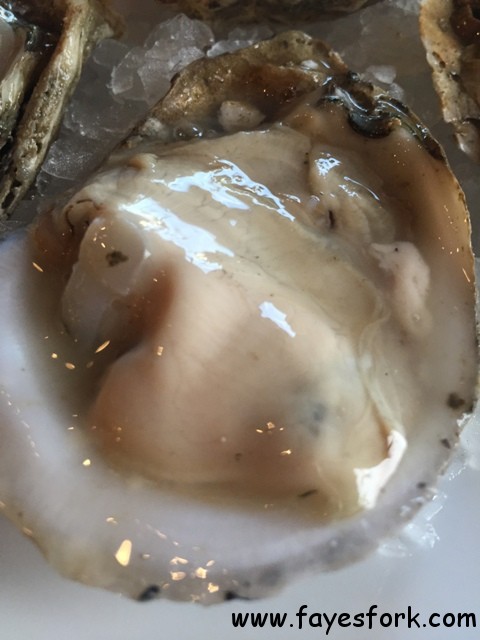 Isn't this oyster so pretty. Friend doesn't eat raw oysters often but she did tried a few that day for me (and Alex). She said the oysters tasted better with his lemon/donkey hot sauce and the chipotle sauce. This covers up the beauty of what an oyster should taste like BUT I think it helps a newbie oyster eater get past the texture and feel of eating a raw oyster.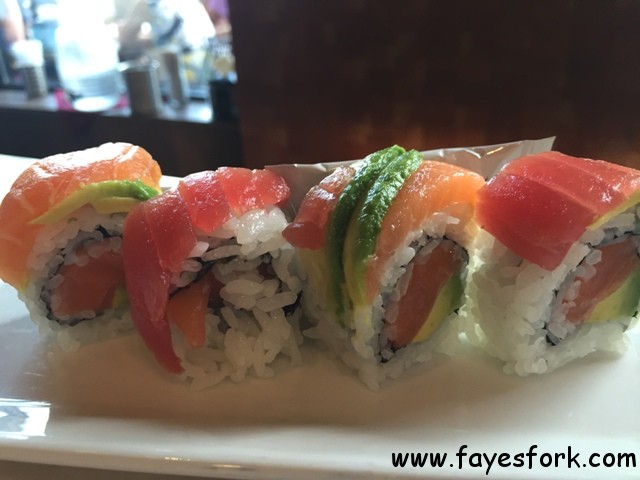 Alright. So this was the debbie downer dish of the meal. Four pieces of a sushi roll. FOUR. For $7. Which equates to $1.75/piece. Friend ordered this and shrugged as she ate each piece. She would mutter after each bite 'can't believe your oysters were only $1/each'. The thinly sliced tuna and salmon were just mediocre to her.
The restaurant was bustling that Friday night. I think it was hard for Mikey to keep up with all the oyster orders as more and more customers started to order them. This Buck a Shuck is a GREAT deal for fresh oysters – especially in this neck of the woods.
Here's a glimpse of their daily specials: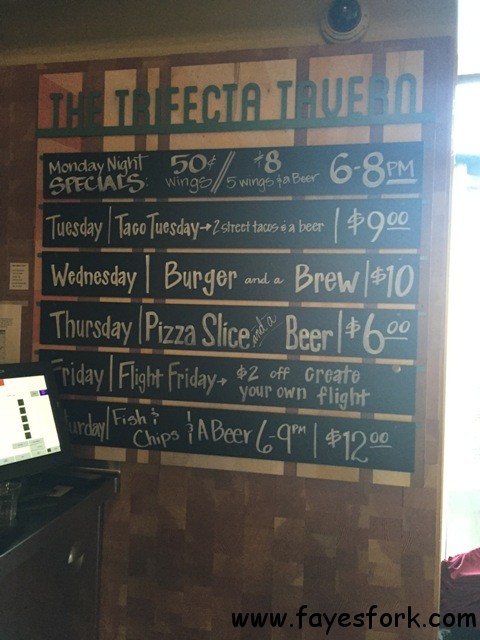 TRIFECTA TAVERN
2600 Via De La Valle
Ste 100
Del Mar, CA 92014
Whole Foods is still one of my go to places when I need a pick me up boost (in attitude to say the least). The bright colors and more importantly, samples, makes this girl's day. I even wrote about them on Localeur. Friend let me wander around the market after dinner. Here are the samples I saw that evening: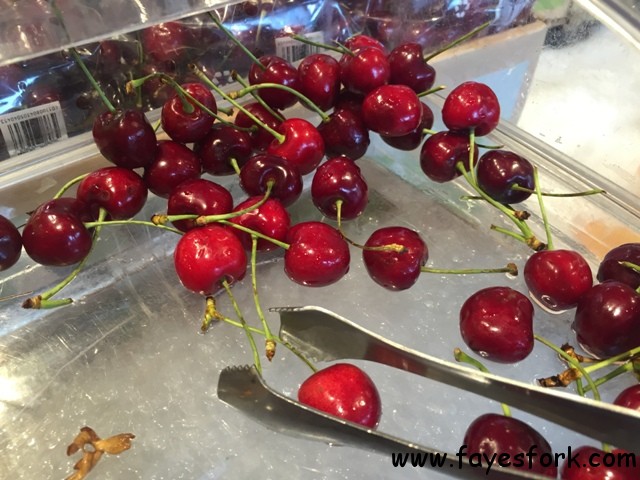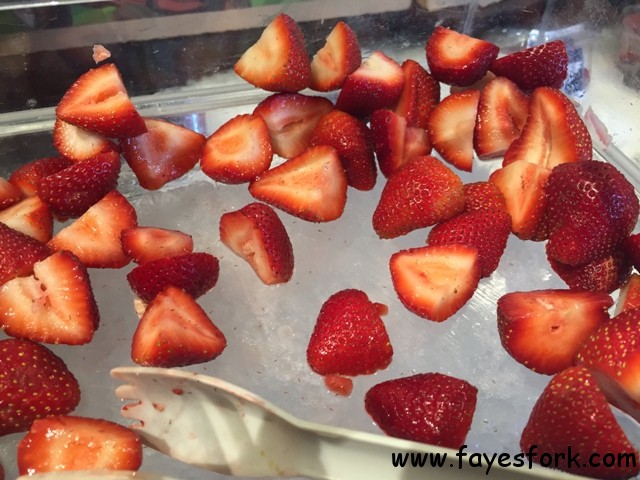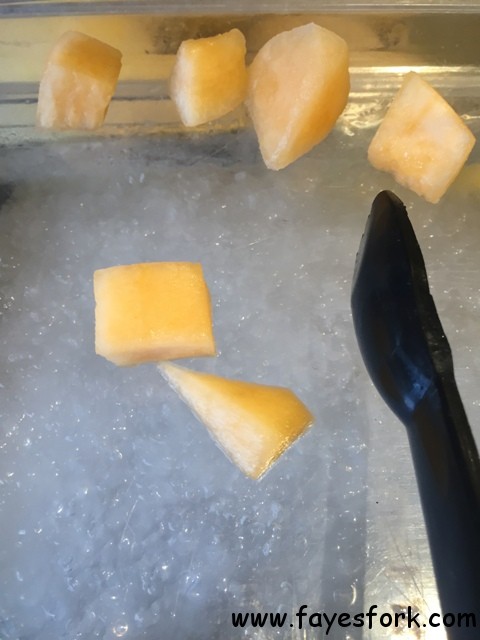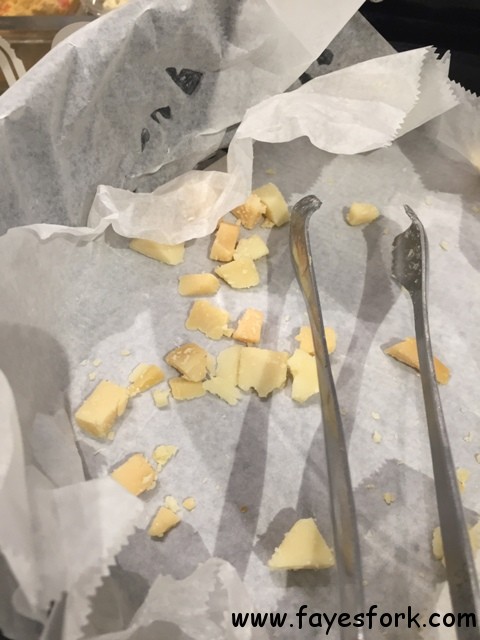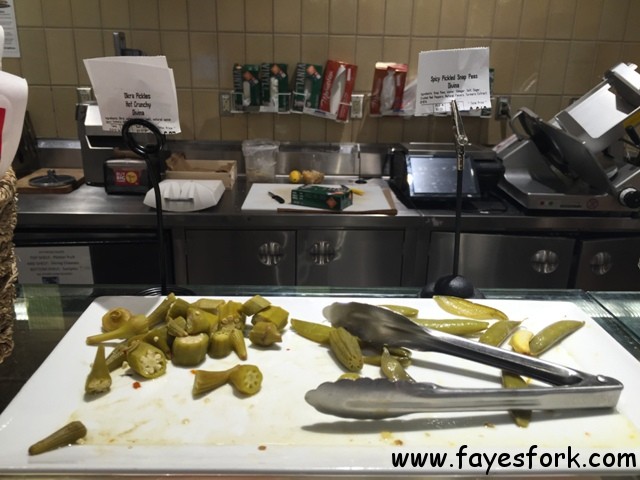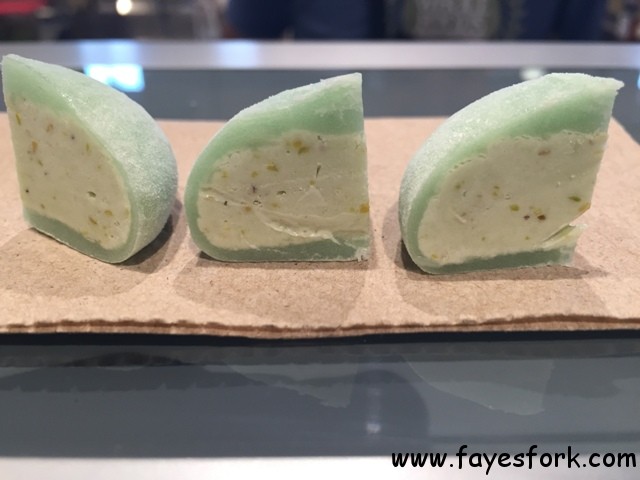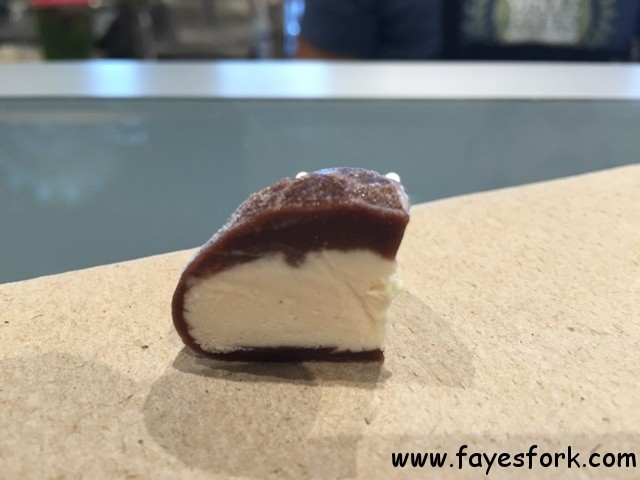 Not bad right. I love this Whole Foods location.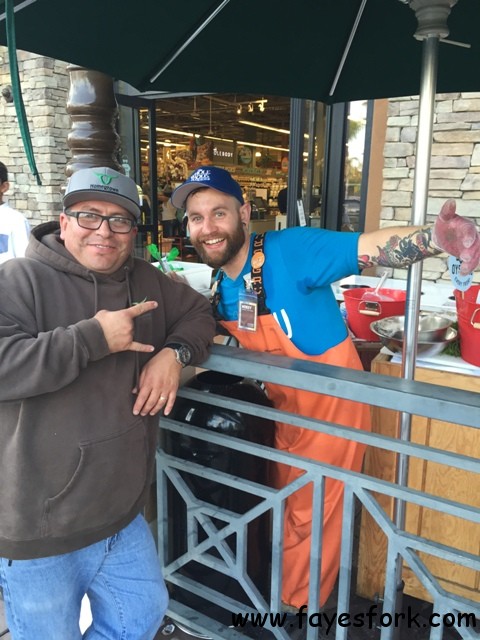 We bumped into Alex and Mikey on our way out. These are some of the nicest & most knowledgeable guys here at Whole Foods.
Friend wanted to buy bundlets as she remembered the Afternoon-cay post.
They were offering red velvet samples that day.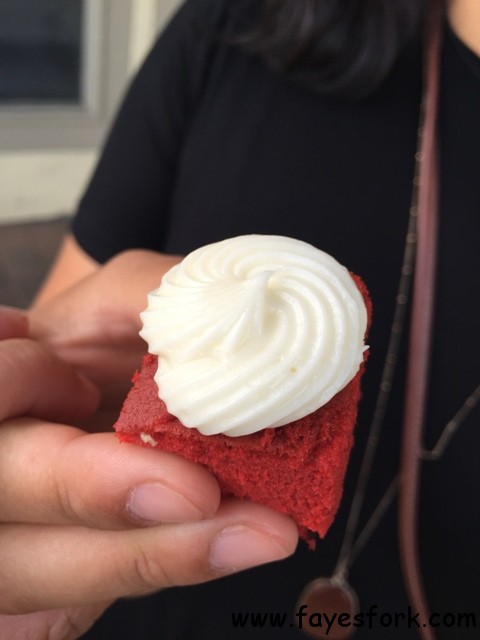 Their bundt cakes here are so good. I'm not a fan of red velvet desserts but I love the version here. With one exception…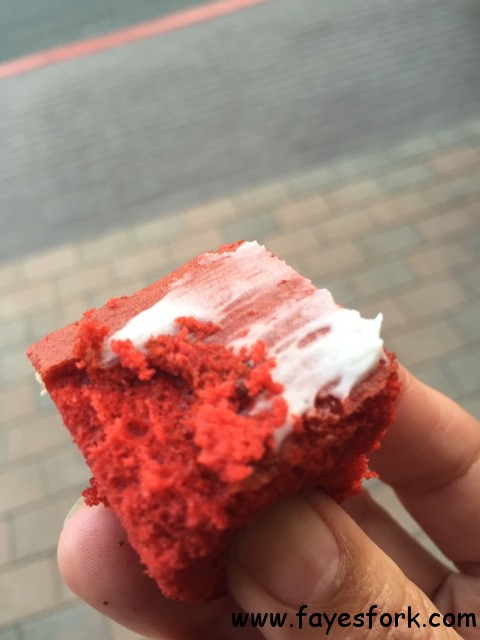 I don't like frosting. Like, at all. I was reminding my friend that when she grabbed my sample and licked off the frosting and THEN handed my sample back to me. I muttered how filthy she is and she laughed how filthy I was for not liking frosting in the first place.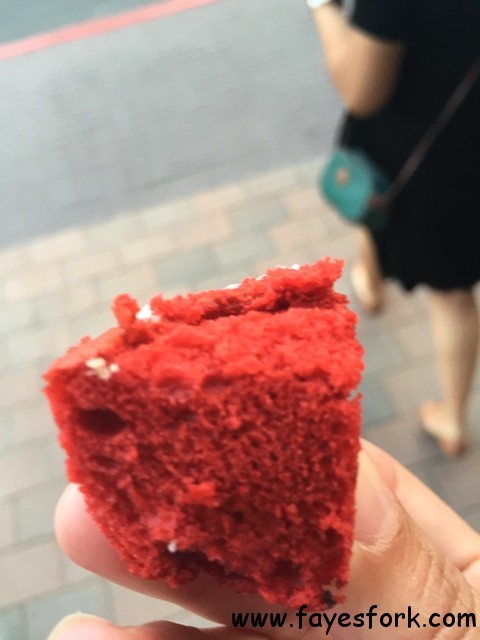 I wiped off her gross cooties and then ate my yummy sample.
It was the funniest way to end a Friday evening.