Food brings people together in a funny way. It brings stories to life and can make a whatever day just so much better. I dare say it can even give you a glimpse into someone's soul. Sometimes all three of these factors collide together and creates a meal that's easy to write about because it brings back memories you wish you could savor all over again. I received an invite to try out Bushfire Kitchen and decided this particular Sunday would be a nice day to visit this new location in La Costa.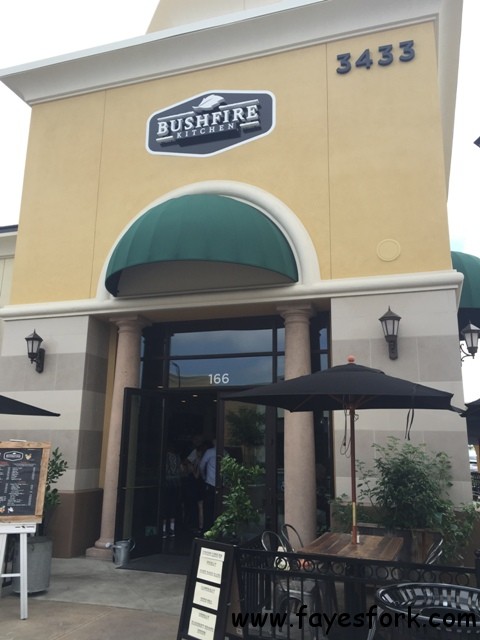 I read great reviews about Bushfire Kitchen and Kirbie recently visited as well. The restaurant is located in the La Costa Town Center which in itself is a grand strip mall. It reminds me of Caesar's Palace for some reason. Anyhow, forget brain fart, look for Vons and Bushfire Kitchen is a few doors down.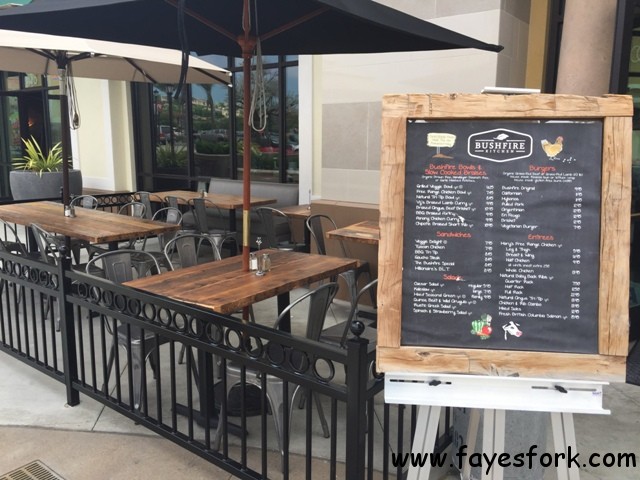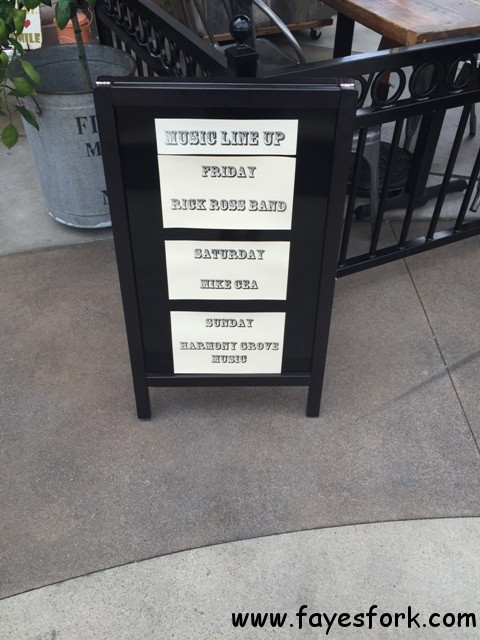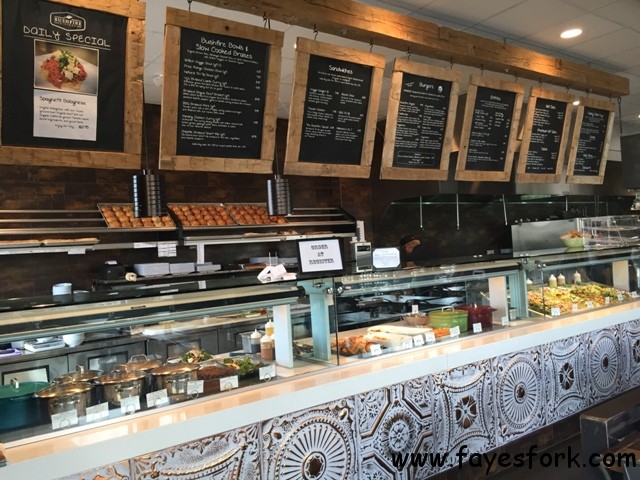 Eddie, the General Manager, and I bumped into each other when I walked in. He has an intensity and a genuineness that left me nodding my head. Intensity is my middle name right. He spoke about the owners Brandon and Clive, who are cousins, and their passion for food & people. I believe Brandon is the cousin who is the chef and creator of the recipes here at Bushfire Kitchen.
The restaurant  is set up cafeteria style in the sense that you walk down the showcased items (and look above at menu) and then place your order with the cashier.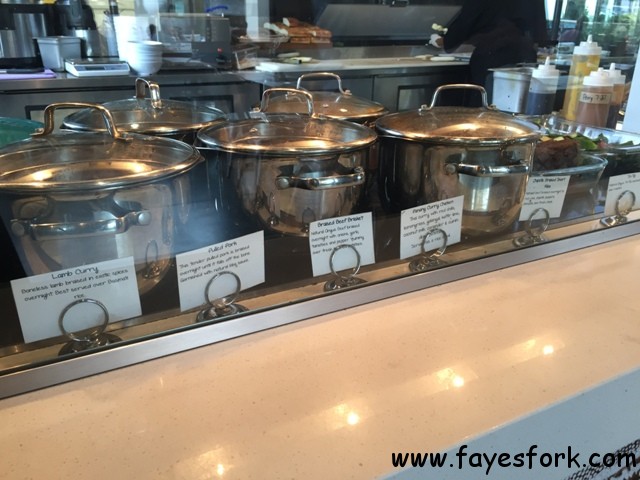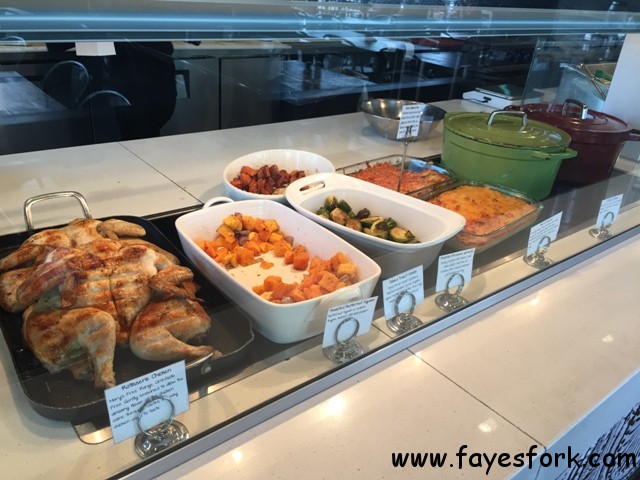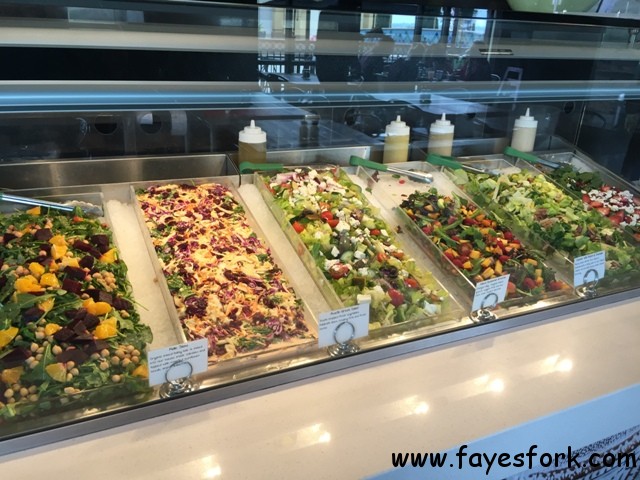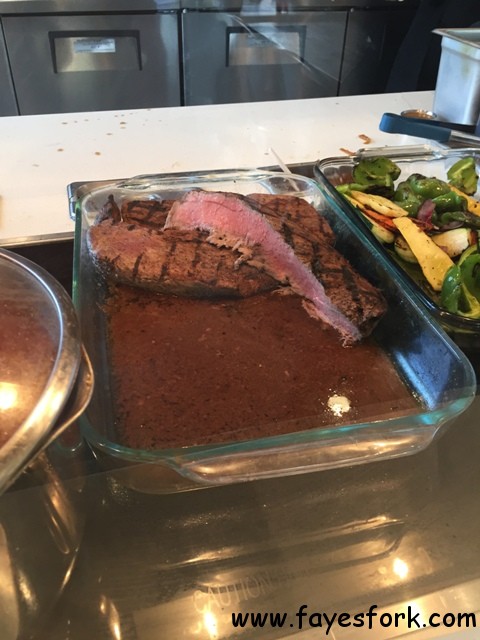 I was particularly impressed with the medium rareness of this beautiful tri tip. They also have fresh burgers.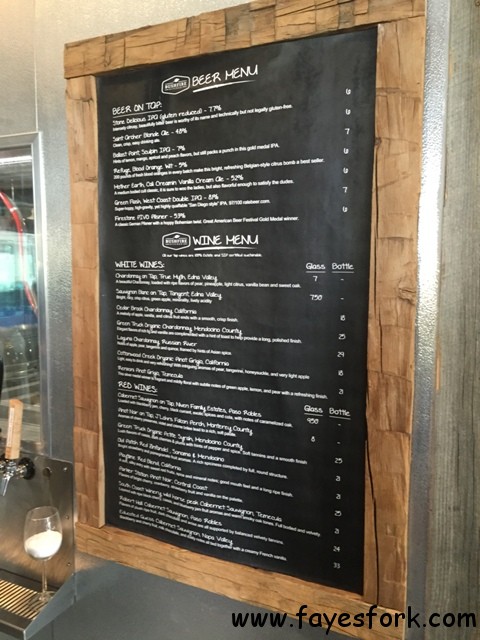 CDJ was running late and I didn't really know what to order (starving will do that to you, seriously). So I asked Eddie if he could bring out whatever two entrees he thought would be fun to try out. He thought that was a great idea and said he'd bring out samples of other items. Samples is my third name after Intensity so bring it Eddie. I'm telling you – food brings out different funnies in people and Eddie just happened to understand this.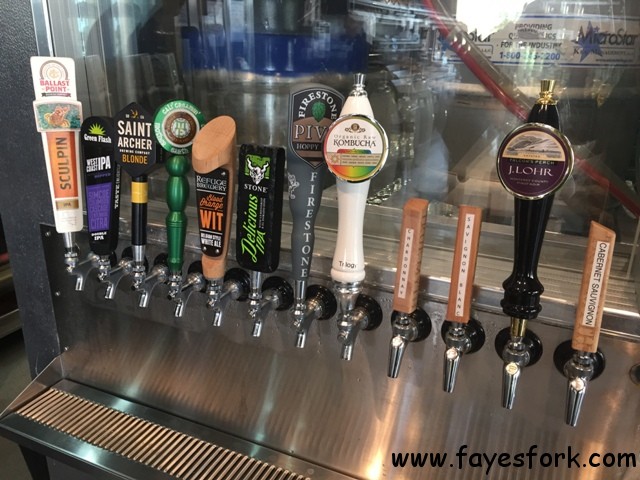 I believe they have 8 craft beers on tap and 4 wines on tap.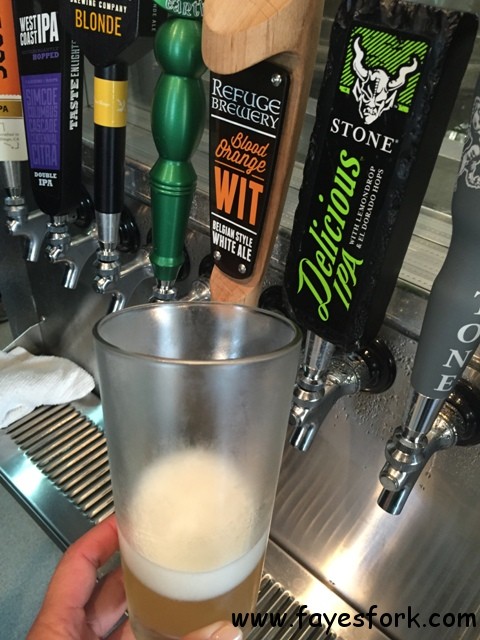 This is Eddie's favorite beer. Oh this was a much better beer than Blue Moon. And the frosted cup – thank you.
We both laughed as he asked if I liked Ballast Point Sculpin. I nervously shook my head and he smiled 'I don't either'.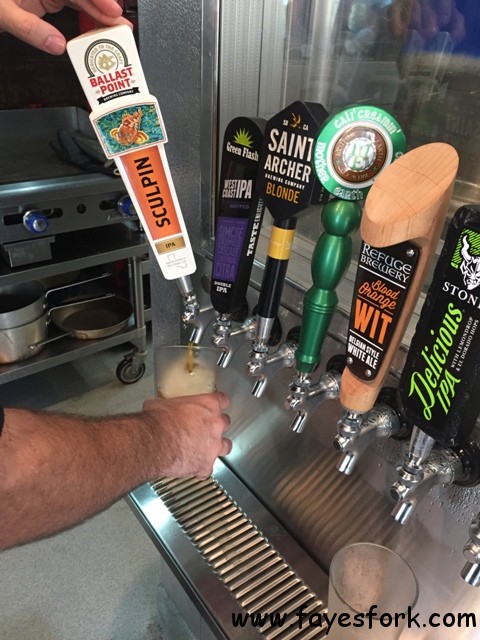 Then a customer ordered a Sculpin. The irony. Eddie said they have a great happy hour here from 2-5p (I think). Sculpins are $3.50 and the others are only $3.00 (I think).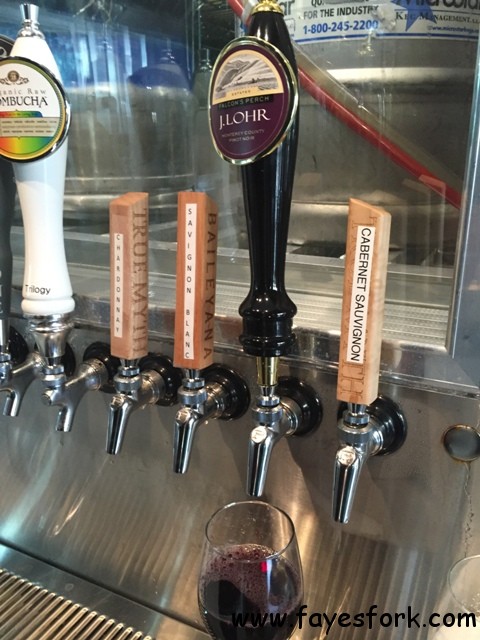 I noticed the wines on tap and didn't want to scoff that tap wine reminds me of boxed wine. But Eddie beat me to it as he said that's what most people think but the tap wine, here at least, tastes surprisingly good – especially the Pinot. I don't think this Bostonian would exaggerate so I took his suggestion to try it. The Pinot comes out cold which brought a comforting smile to me remembering my chilled wine lesson from Savoie Eatery with the GM there. I enjoyed this light chilled Pinot on a humid Sunday afternoon.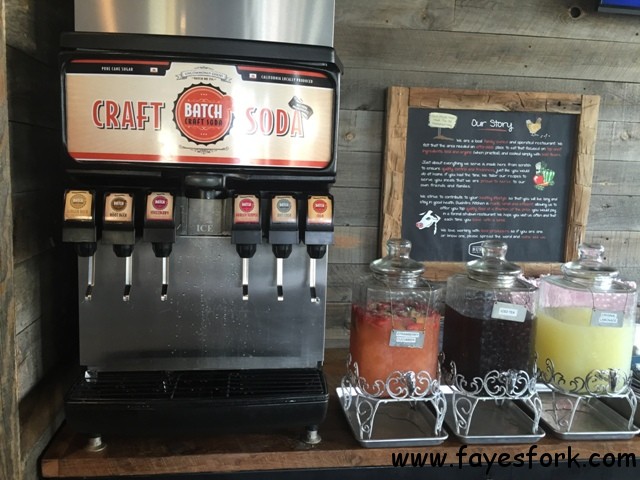 They have craft soda which he explained would taste better as real cane sugar is used. CDJ said the cola did taste like Mexican coca cola. There's also freshly made lemonades and ice tea (unsweetened).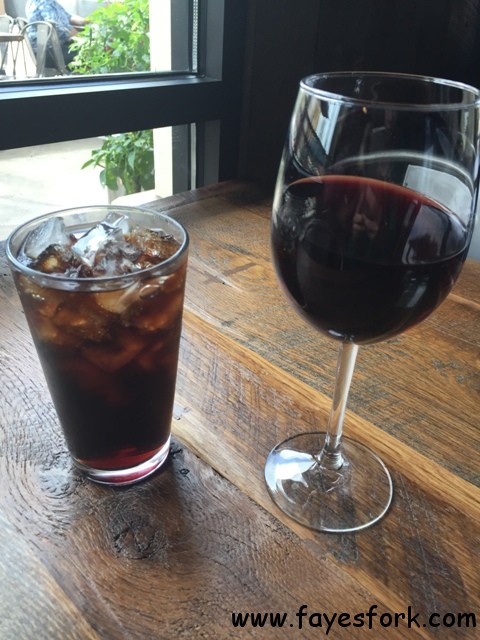 The restaurant wasn't terribly busy so it was relaxing sitting by the window (the restaurant has a/c BTW so thank goodness). Eddie said the food would come out in a bit so CDJ and I spent the time gossiping about his dating life (he had the funniest first date story).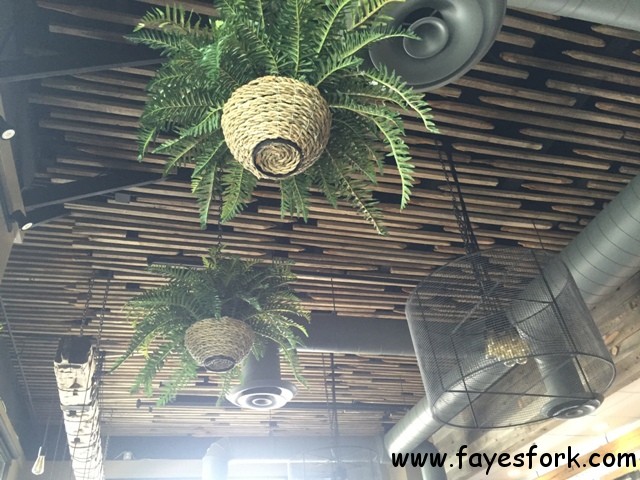 I liked the feel of the restaurant as it felt organic and earthy with all the natural light and woods.
Bacon and Avocado in a Caesar Salad. YES. The dressing was richly anchovy which I loved. The chunks of avocado with the crispy bacon worked well with this salad.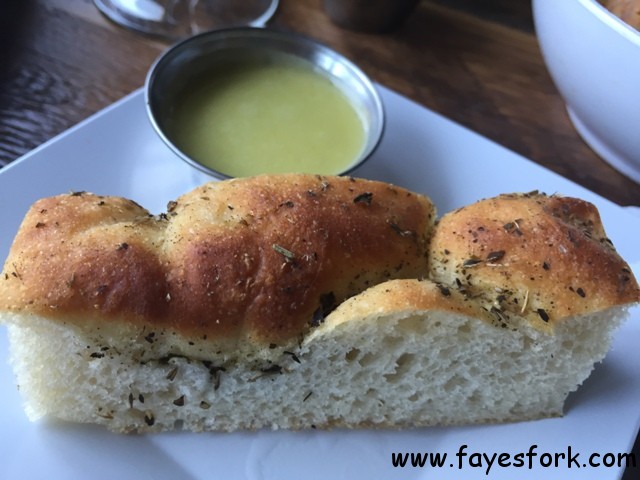 They make all their breads and sauces in house.
Our house made heritage bacon, roasted with sweet and hot spices, tomato, lettuce and our freshly made mayo, served on our house made baked organic focaccia bread
Eddie said this is one of his favorite sandwiches on the menu. The thick bacon is house cured with brown sugar and spices.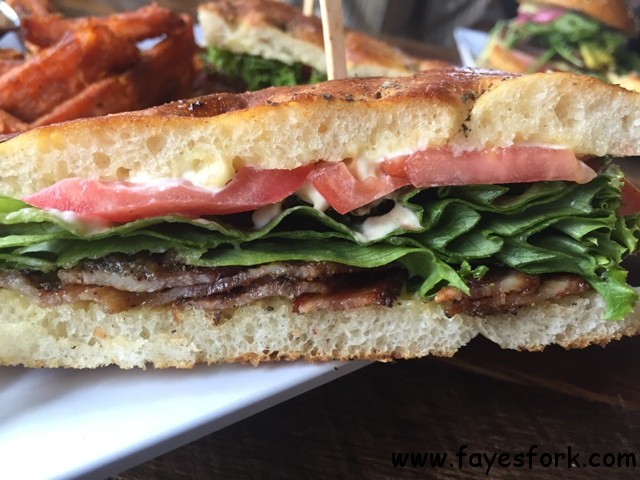 Dayum. This was a great BLT sandwich. The homemade foccacia tasted nice and fluffy with the crisp bacon and cold lettuce & tomatos. There's something about brown sugar bacon as the salty & sweet combination brings this BLT to another level. CDJ normally dislikes mayo but he said the homemade mayo brought a creamy aspect to this sandwich which he enjoyed.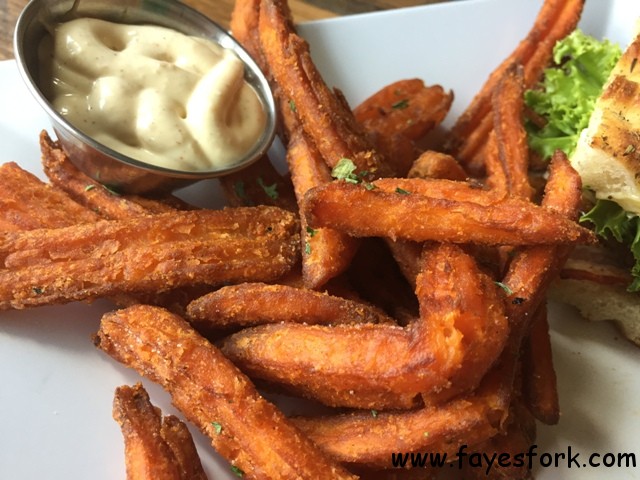 The side of sweet potato fries couldn't have been crispier as they came out piping hot. Success, to me, is when you burn your mouth eating something fried. The exterior of the fries were crunchy while the potato interior remained creamy sweet.
Eddie came by to check on us and to say there's more food arriving soon. I gave him the shrug-ok mouth full of food smile.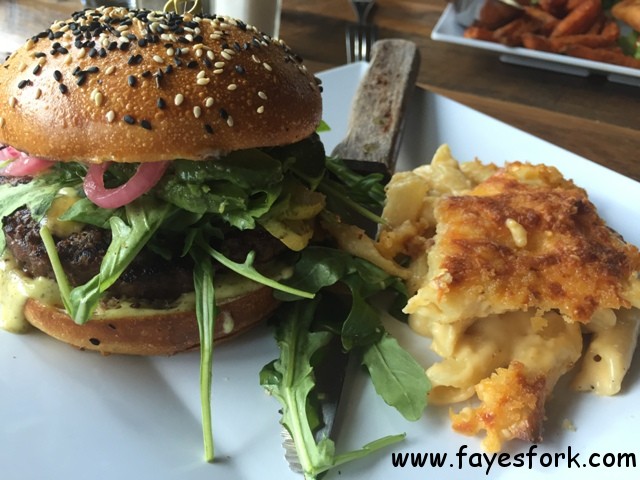 ORGANIC 1/2lb Beef patty patty with aged Cheddar, hass Avocado, wild baby arugula, tomato, house pickled red onion and basil pesto aioli. Served on our freshly baked ORGANIC focaccia bun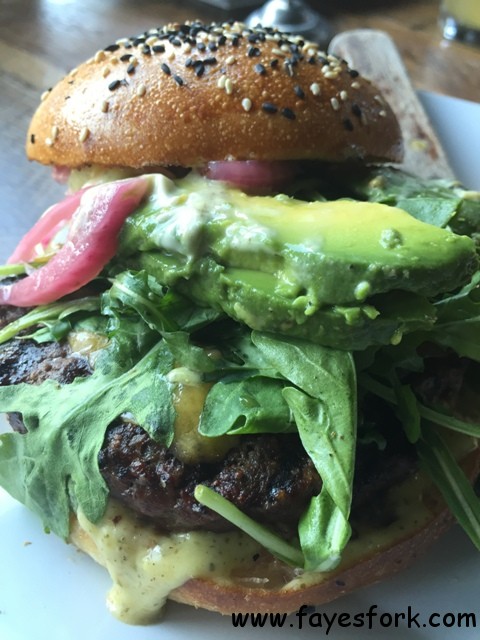 Double dayum. Come on man. The thick beef burger patty was topped with ripe avocado and pickled onions. And do you see the basil pesto aioli dribbling out of the bottom. The pickled onions was a fun surprise as it added a tartness to this burger.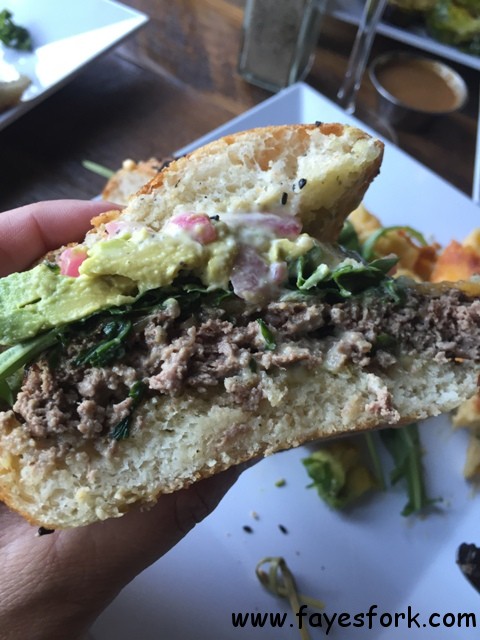 The beef is hand ground here at Bushfire Kitchen and I believe you can specify the doneness you want for the burger patty. The patty here was prepared a medium plus but still retained juiciness with each bite.
I would come back to try their burger (requesting a rare doneness patty) that's smothered with their braised brisket.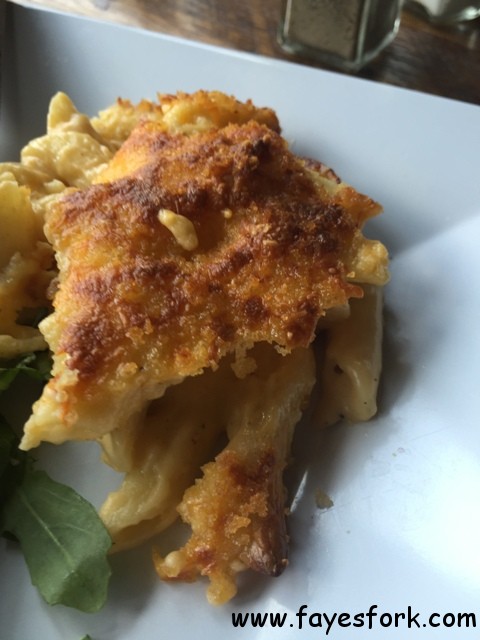 The mac n cheese side is topped with toasted bread crumbs.
Someone then brought out another dish. I haven't had a food baby in ages so this was the perfect Sunday to birth one.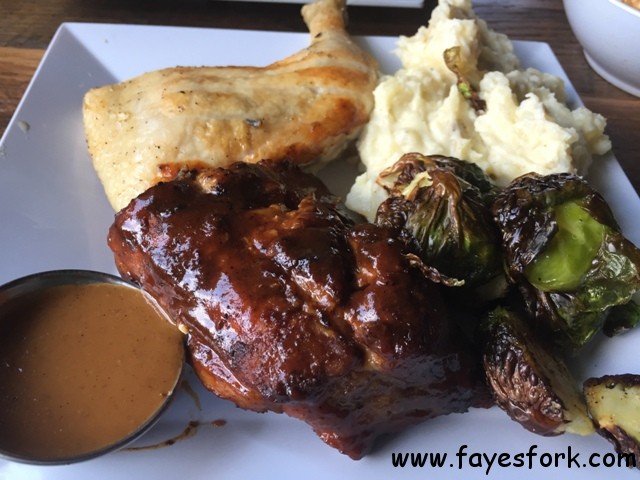 1/4 Free-Range chicken led and thigh & 1/4 rack of ribs with your choice of any 2 sides
This was the entree I really wanted to try here at Bushfire Kitchen. They don't offer ribs at Urban Plates or Tender Greens so I was curious to see how the ribs fared here.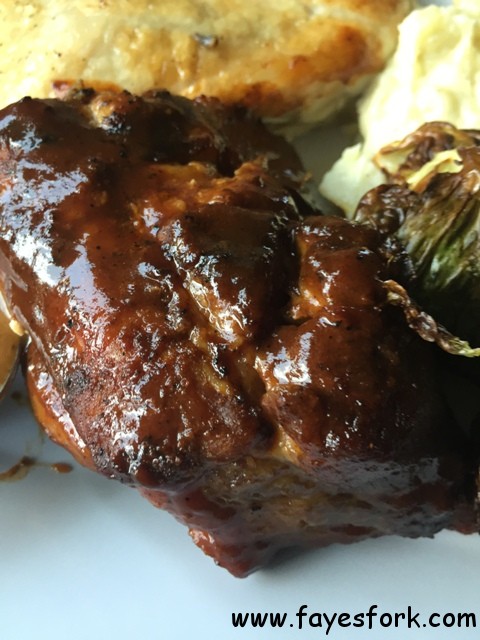 These were meatier ribs. Case in point –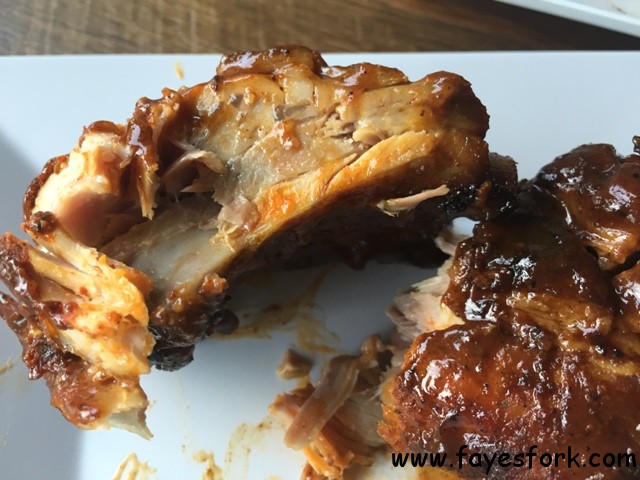 Look at this. These ribs were much better than the 'thinner' ribs I recently had at Wood Ranch Grill & BBQ. We enjoyed these ribs as they were tender with a nice ratio of meat/fat to each rib. The bbq sauce wasn't too sweet and was thick enough to coat each bite without having to ask for a side of extra sauce.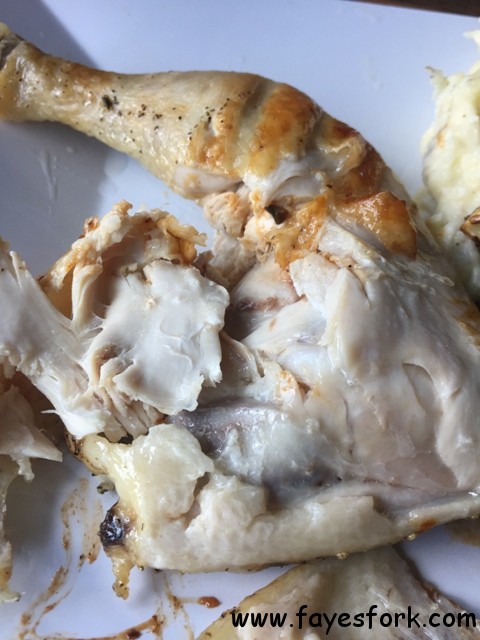 I grew up eating Pat & Oscar's chicken (or whatever the restaurant is currently named after 5 name changes). And I occasionally eat the ridiculously affordable whole rotisserie chicken from Costco. So eating roasted chicken is a mere boring shrug for me at times.  But the chicken here at Bushfire took me by pleasant surprise as it was simply seasoned with salt & pepper (I think) and roasted perfectly in the oven. The dark meat was incredibly juicy, moist, and flavorful without any unneeded fuss. The skin wasn't crispy but I didn't mind that as the soft roasted skin added more suppleness to the dark meat. I heard the chicken is made in batches and sells out during peak hours so give them a call beforehand to make sure what's on hand before you visit.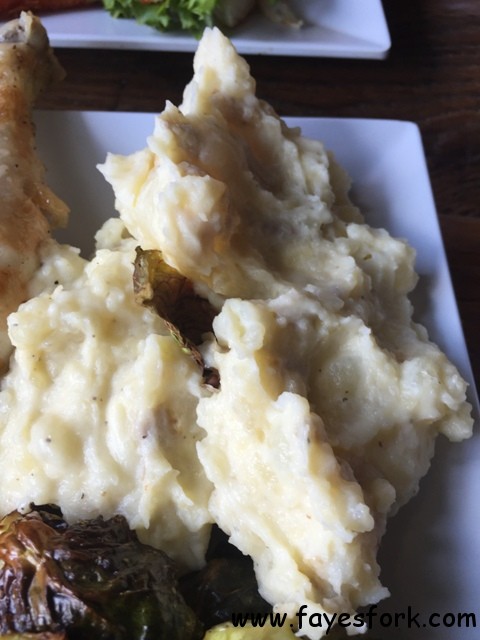 Fresh potatoes whipped up fresh each day with a hint of garlic and sour cream
This mashed potato was fantastic. It was smooth yet chunky enough where you could taste the texture of the potato. I think a nice hot chicken gravy would go great with this side dish.
The brussel sprouts were ok but that's because I heard they used to serve the brussels with a thick fig (?)  balsamic glaze. I think the brussels would benefit from having that sweet fig balsamic as brussels sprouts can taste a bit strong & naturally bitter.
We were beyond happy and grateful for all that was brought out as of this point. So imagine our eyes when the next unexpected dish came out.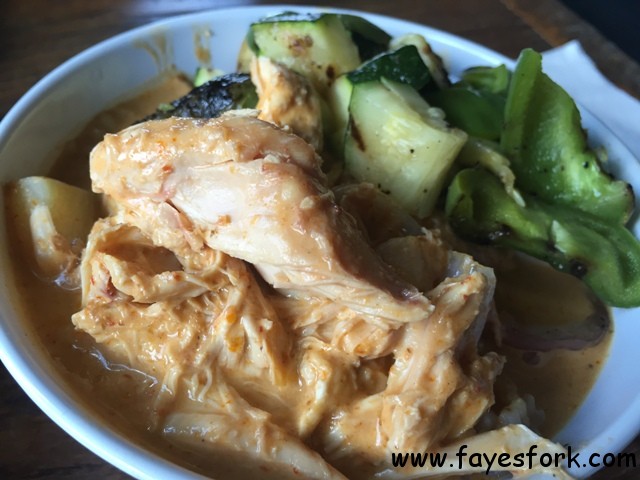 chicken braised in coconut milk and spiced with red chilies, lemongrass, shallots, garlic, galangal, cumin and coriander, on your choice of Basmati Rice, Organic Brown Rice or our famous mashed potatoes, topped with either grilled veggies or roasted squash
I think Eddie saw me eyeing this dish when I was taking pics of the braising items. I believe this item was listed as Panang chicken curry on the written menu description when we visited that day. I would have never thought a restaurant such as Bushfire could make even a decent thai curry dish.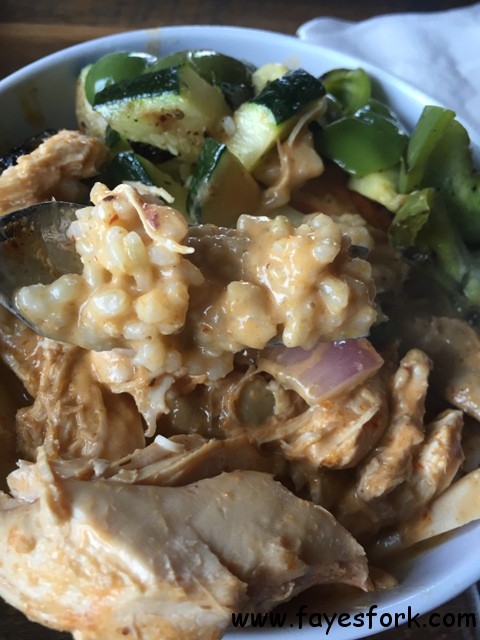 Eddie chose their organic brown rice as the bedding for this curry. The panang curry was AMAZING. I joked to CDJ that they must have a tiny Thai woman in their kitchen making this batch of curry because the curry sauce tasted legit. It was rich and creamy without being too heavy. The beautiful orbs of brown rice absorbed the panang curry sauce perfectly (see above). They use white breast meat in this dish but the chicken breast tasted moist. Not sure if they use the same chicken from their roasting menu or if it's because the meat was braised for awhile? Note that this curry was spicy which I loved (but others/kids may not).
Eddie topped the curry with the grilled veggies which at first seemed strange but gosh did it work well with this curry. CDJ and I both agreed this had to be our favorite dish of the day (actually CDJ wanted to add that he really liked the BLT sandwich too).
The best thing in life happens when you least expect it. With food. And that's about it. I've realized that. Eddie doesn't know my penchant for sarcastic 'omg life' thoughts but he has an innate sense of reading people. He gave me his .02c on a few issues that still has me thinking.  Then this dish arrived at our table –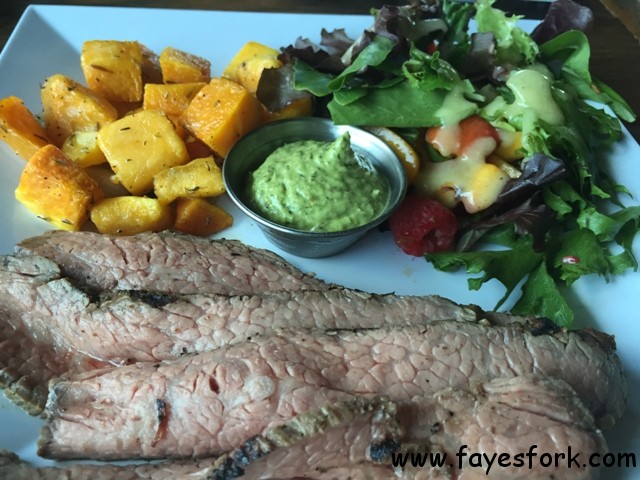 The tri tip was prepared a beautiful medium and comes with two sides. The tri tip was delicate and soft. I believe there were about 4 nice slices on the plate. The co-star on the plate would be the chimichurri sauce which isn't oil based. This aioli type chimmi was creamy, garlicy, pesto-y. It was awesome with the tri tip.
The butternut squash was nicely roasted and we could taste a bit of the thyme.
And with that. Finito.
These media meals are meant to benefit everyone (the blogger, readers, the restaurant). I get to try a few dishes, share them with everyone, and that's that. I've looked forward to every media invite but must say that this particular meal was probably the most memorable due to the entire experience. Food isn't always about eating for me. It's about the memories you create and gather with others when eating. Eddie actually made me remember the meaning of smiling slump shoulders (you'll have to research this blog to get that meaning).
This is a laid back restaurant but it's not fast food. I know people are comparing this place to Urban Place and Tender Greens. But CDJ said it best – you can tell the food here is prepared with love.
Kind of a girly thing to say but he said it.
BUSHFIRE KITCHEN
3433 Via Montebello
Ste 166
Carlsbad, CA 92009
(760) 456-7620
Disclaimer: We were invited to lunch here and not compensated for this post. All opinions stated here are my own.