If you've read this blog long enough, you know Sundays are tricky for me. I have conflicting thoughts when I'm at church (food related so get yo mind outta the gutter) so friends came up with what they call a Social Experiment for Fayesfork. Instead of day dreaming about food, during church service, why not try eating before service. I'm not sure how that's exactly a Social Experiment but more to follow on that. La Jolla Open Aire Market is held every Sunday in downtown La Jolla from 9a-1p. Friend said this Farmers Market would  be the destination for the Social Experiment that particular Sunday.
On a side note, I've recently learned how to use Instagram. Go ahead and get the scoffing, jokes, making fun of me outta your system. I'll give you a minute. I opened the account some months ago but never post anything because it felt like a lot of work. So I was surprised when I noticed comments and followers on the account. I literally was like 'what the hell is that pound sign before the donut word (in that comment)'.  
Ok. Back to La Jolla Open Aire Market. We decided to get there right at 9a when they open. The market takes place at La Jolla Elementary School so parking is tough to find. I guess La Jollans wake up early or maybe have insomnia (like me). The market was bustling by the time I met friend waiting for me at the side entrance of the market. I was about to grab his hand and lead him to the front entrance which is where I always start a Farmers Market. He refused to budge and said 'no. Social Experiment #1. We break your compulsive rules.'
Say what.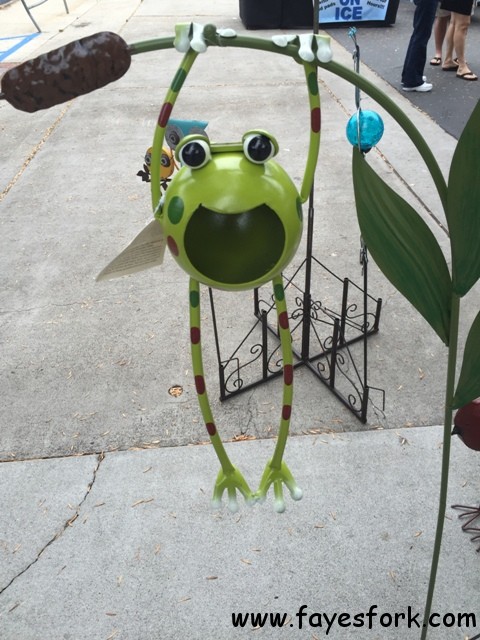 Then he tricked me by distracting me with this ridiculously cute frog thing. "Look! Isn't this thing awesome Faye!' Speaking to me like *I'm* a 2yo. That's MY trick. Regardless, it worked.
The side entrance of market is mostly non-food vendors so I tried to bust through that section as quickly as possible. Here are a few photos as proof of life evidence that I'm not compulsive about food: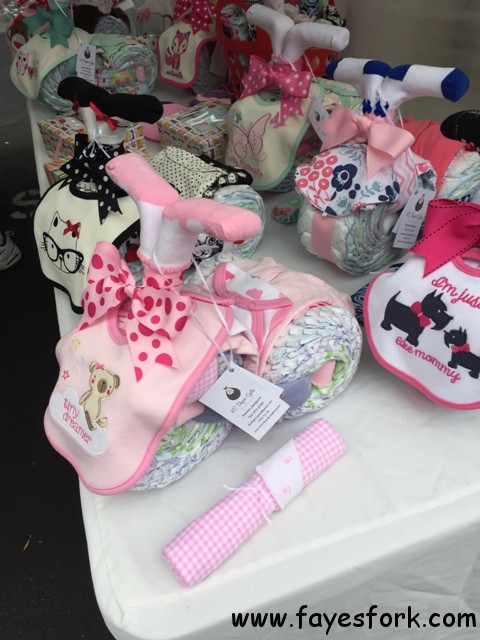 These are so cute. They are made from diapers, bibs, baby socks, etc.
I don't know what these things are. Something imprinted on cardboards?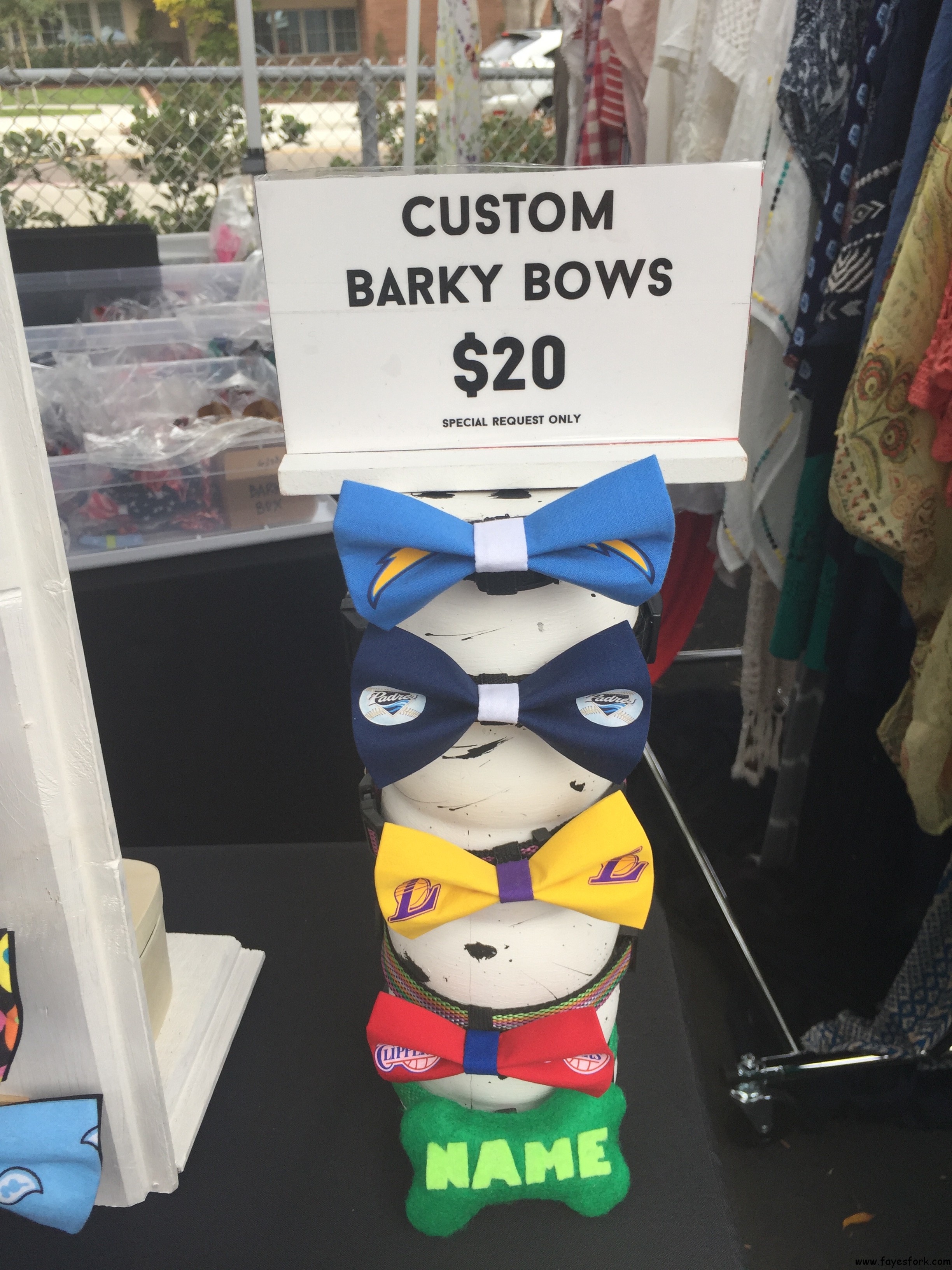 How handsome and dapper would Lifu look in a Chargers bow tie. Not sure I'd pay $20 for it though.
Ok so the rest will be mostly food pics and most importantly, pics of free samples at La Jolla Open Air Market. I didn't realize until much later that this was Social Experiment Stage 2.
This man is 92 years old. He was so charming and knowledgeable about his olive oil. He told me his stories from the Hollywood Farmers market and even showed me old newspaper clips of himself with famous people. I asked how he stays so young and he said 'olive oil of course'. Then he asked my age and said I looked 18. Yeah, I'll take 20 bottle please. I'm such a sucker 🙂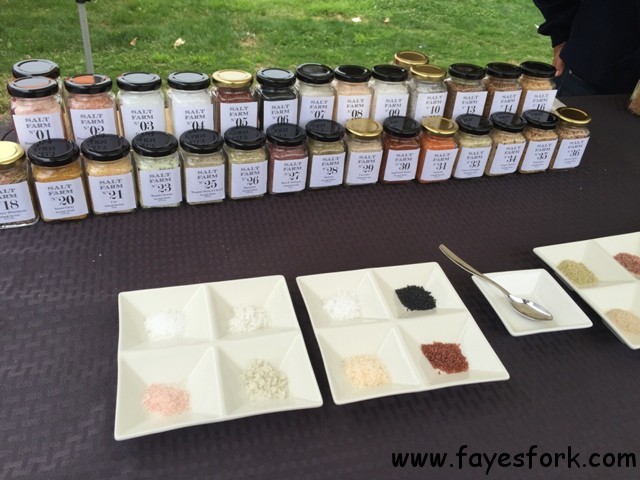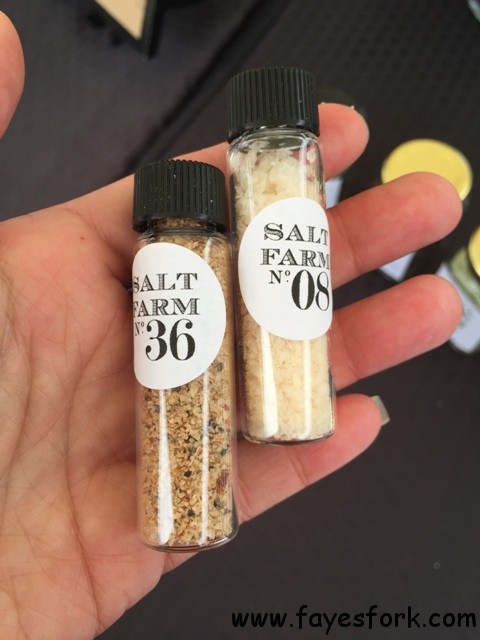 You can also buy little vials of their salt now as well.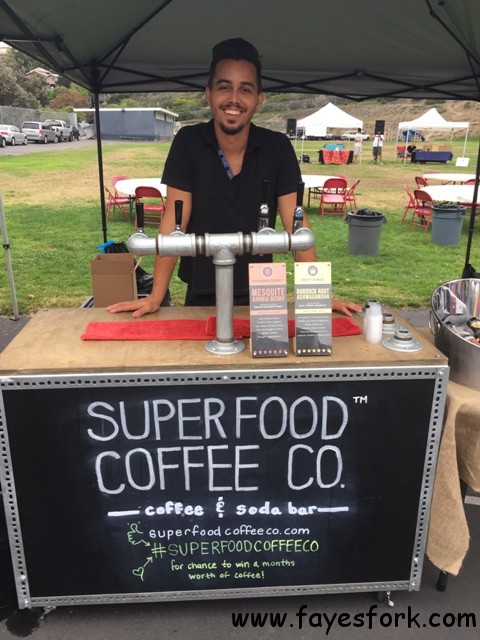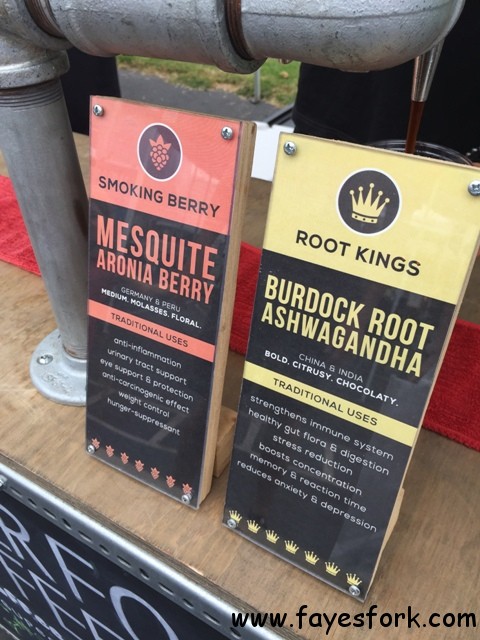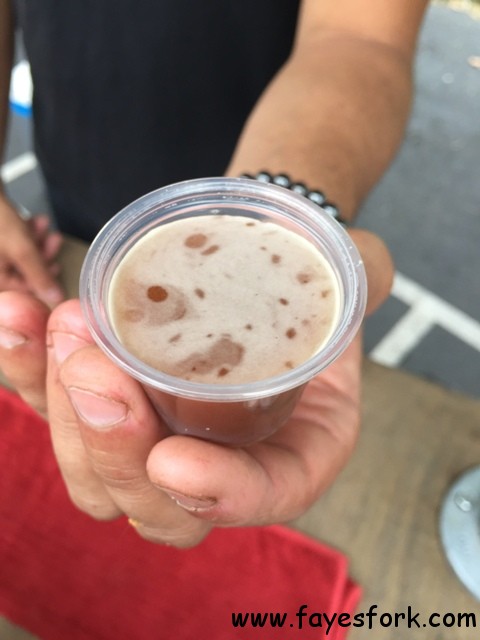 They use nitrogen (which I kept calling nitrous) in their cold brew coffee which you can see up above in sample.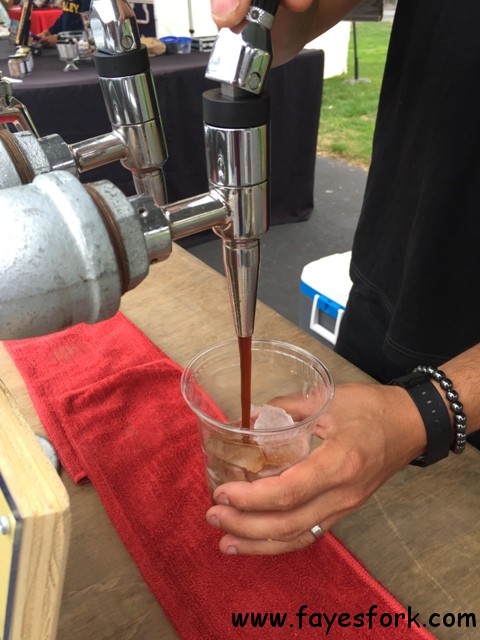 It's a bit pricey at $5 but the coffee is supposed to be smoother with less acidity. Plus, there's some added somethings in the coffee that's supposed to boost your health (something like that).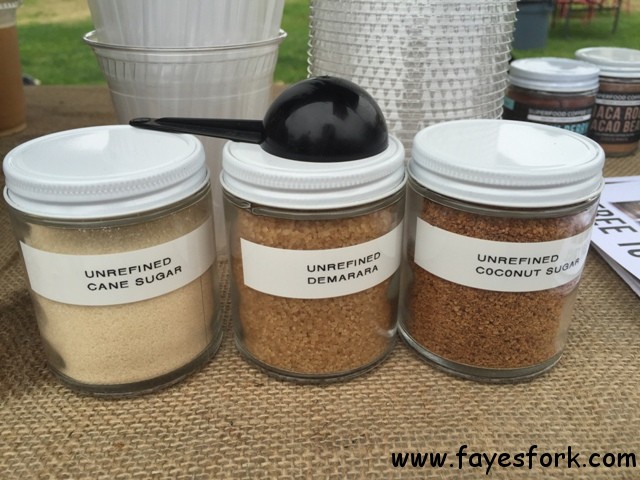 Unrefined Cane Sugar, Unrefined Demamara, Unrefined Coconut Sugar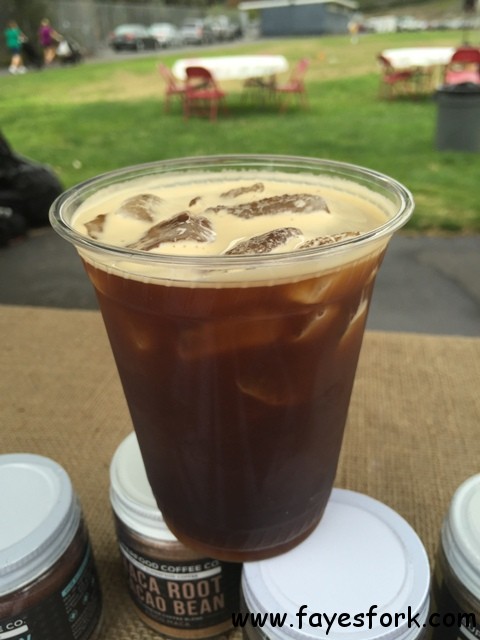 I had mine simply with their organic 1/2 and 1/2. Look how the cream blended with the nitrogen in the iced coffee. The coffee, to me, tasted quite strong and even a bit bitter.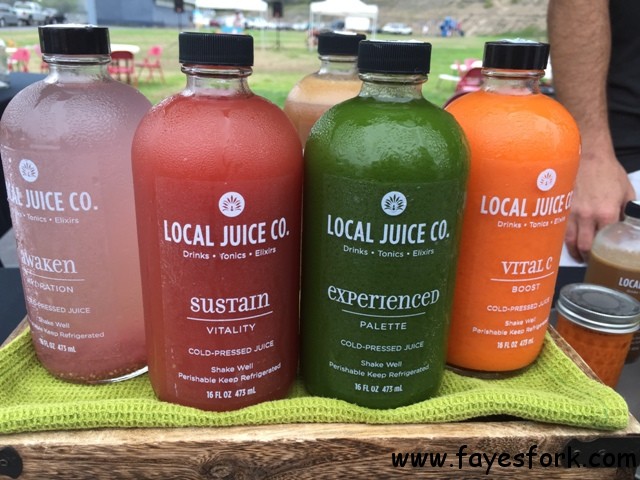 Could the colors of these juices be ANY prettier. The orange Vital C had the most beautiful carrot orange color.
I knew EXACTLY where I wanted to stop by so behold…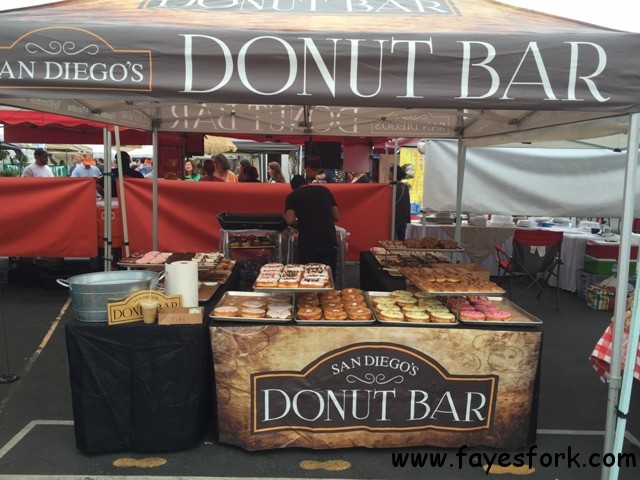 The one. The only. Donut Bar. I don't like donuts and hardly ever eat them so not sure why I was so excited. Then I got a closer look at the donuts: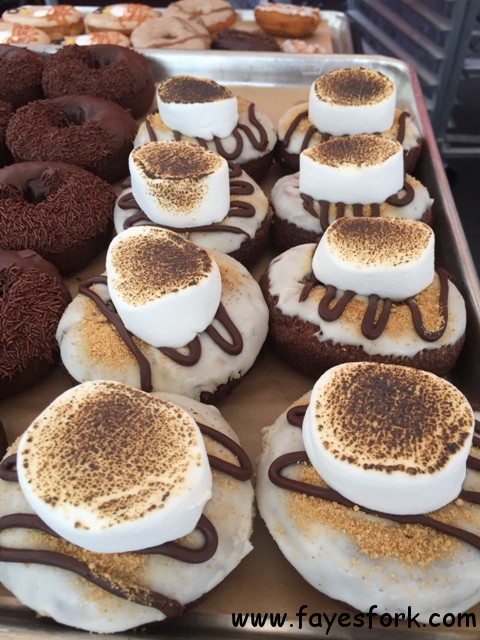 I'm in love with this smores donut photo. Like, full blown crush love.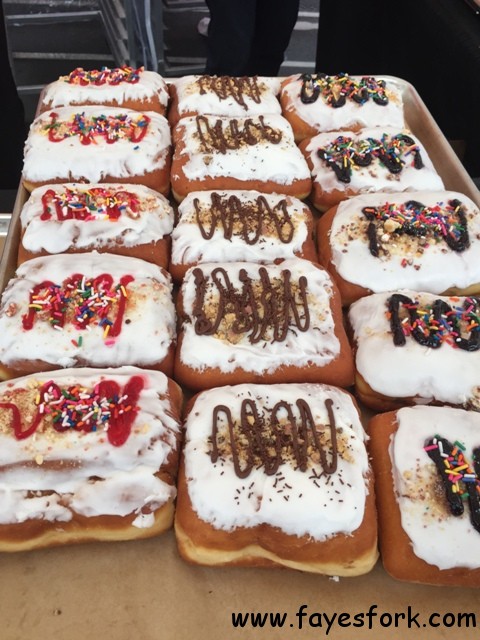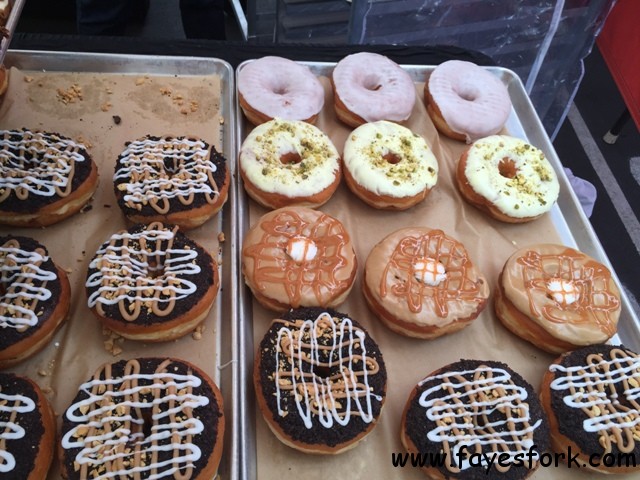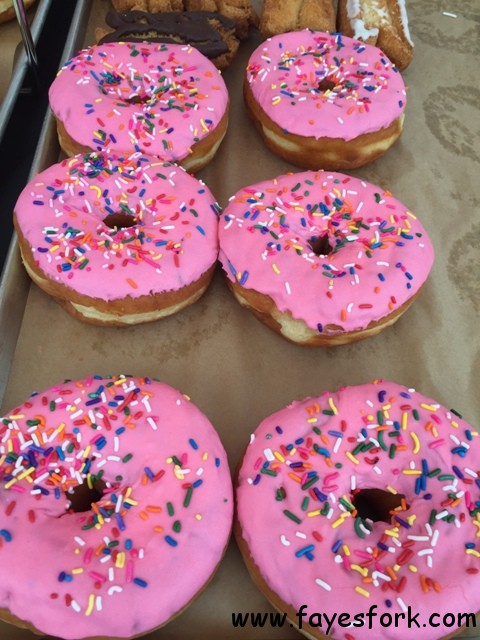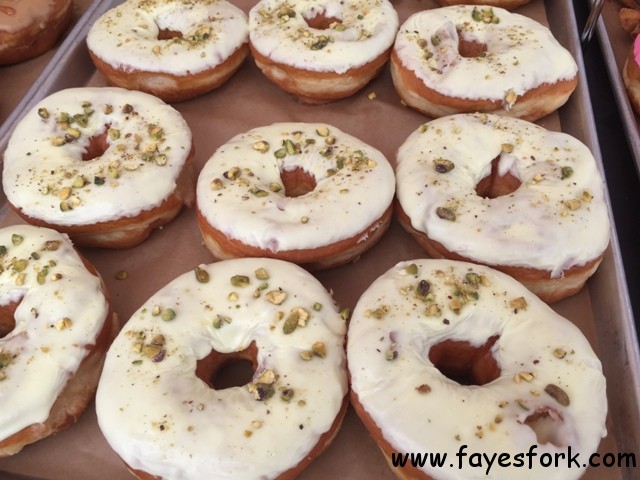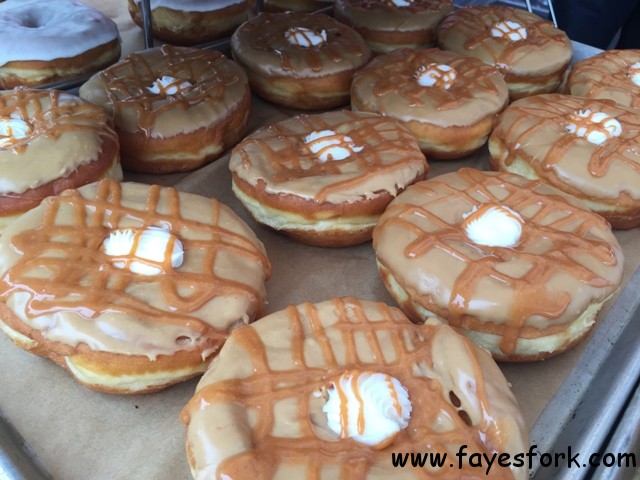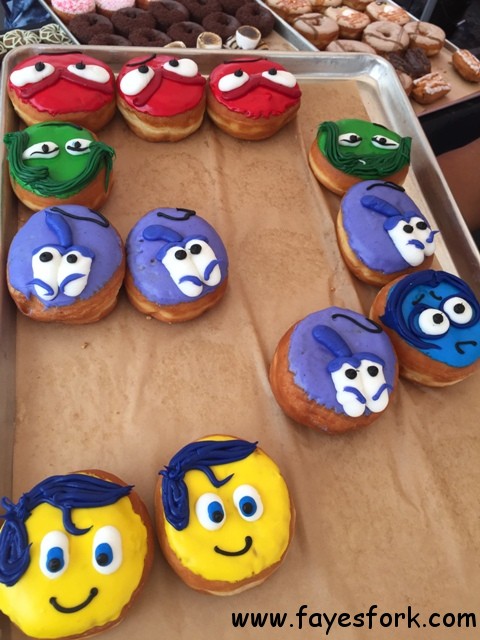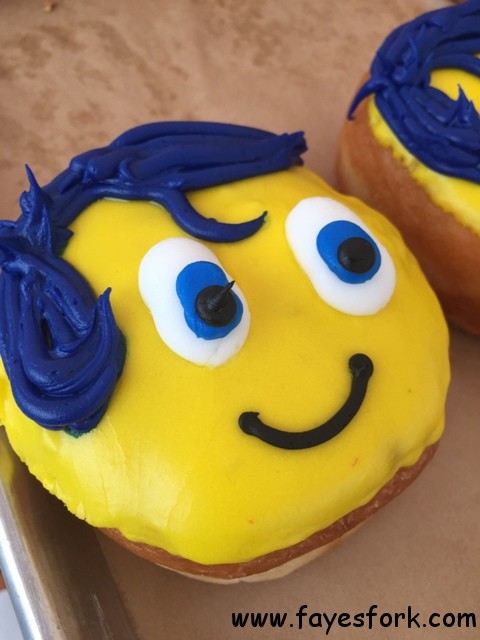 I kid you not when I say that each donut is HUGE. I thought they were going to cost $5 each but the nice man said no, they were like $2-3 each. I frantically insisted on buying friend a donut, any donut, of his choice. I would just catch him smiling at me and laughing. He said he'll try their simplest donut which was a vanilla bean glazed one. I tried to convince him of the beautiful smores one or the chocolate one or the dulce de leche or the…sigh, he said no…just the vanilla.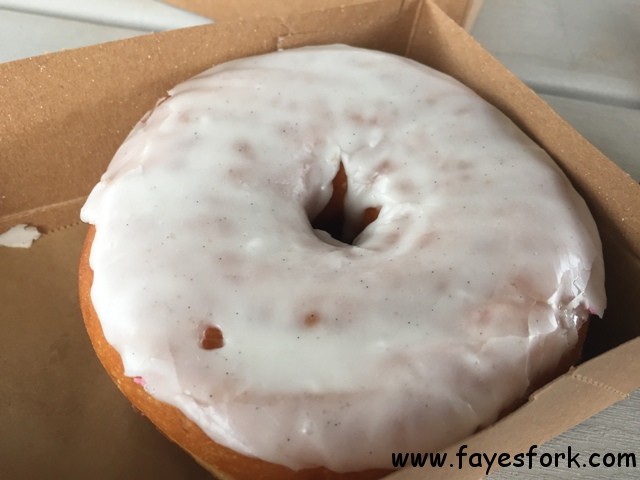 This was only $2 bucks. It's the size of the underbelly of Shaq's hand.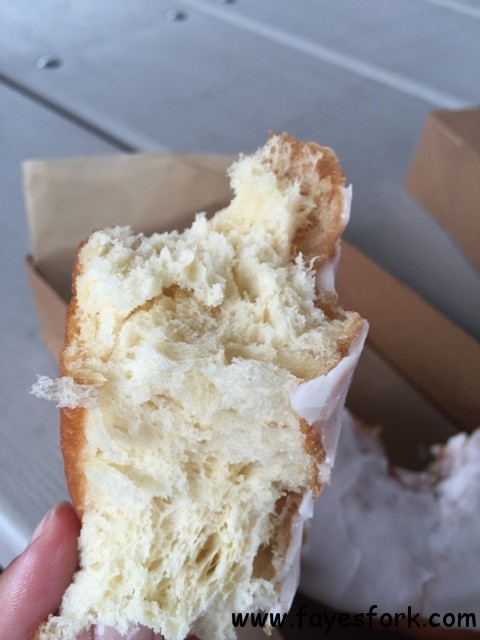 Look. I really don't like donuts hence why you rarely see any posts about them on this blog. But. FML. Like literally. This donut was THE BEST DANG DONUT I've ever had. It tasted so pillow-y soft and fluffy. The vanilla bean glaze had the perfect balance of sweetness to it. You can even see the many black flecks of (fresh? ) vanilla bean they use in this glaze. I'm sold. Sold sold sold.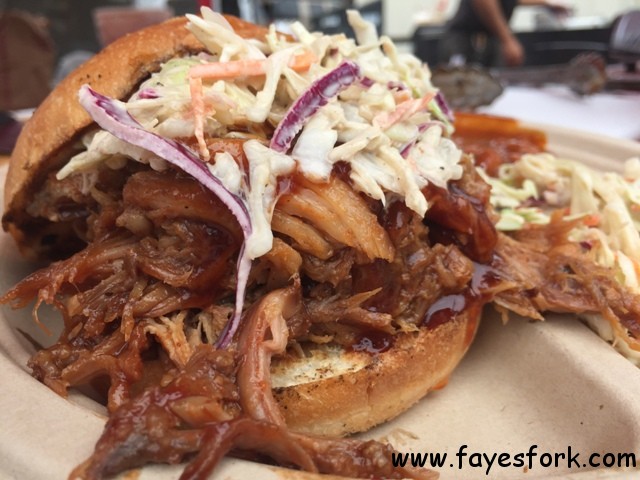 I tried Corbin's Q at this year's Bacon and Barrels event and enjoyed their bbq sample. It was still early so they were still finalizing their menu/stand. This was their pulled pork (I wish it was a sample but it was only for display purposes). I'm definitely returning to try a few items from their Farmers Market menu.
Alright. So I'm kinda realizing this might be a longer than expected post. I took a ridiculous amount of photos that day but I think I'll spend the rest of the time talking about what we actually ordered and ate.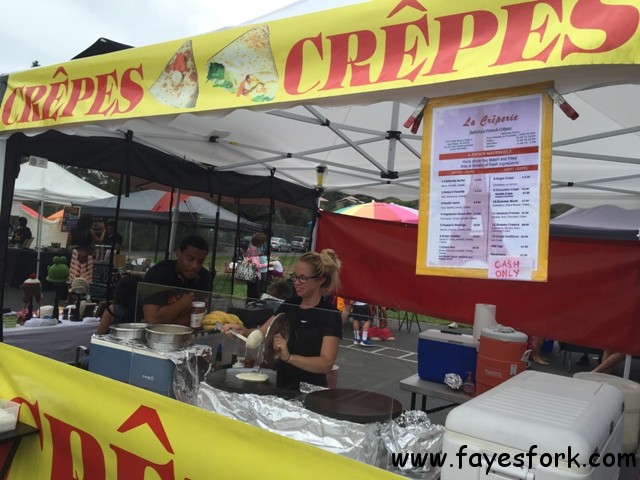 We ordered Porky's Favorite which has ham, mushroom, and cheese. It's kinda pricey at $8.00. You can add an agg for $1.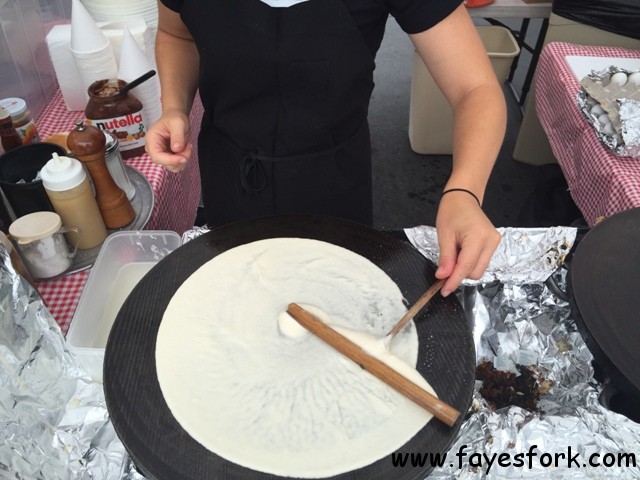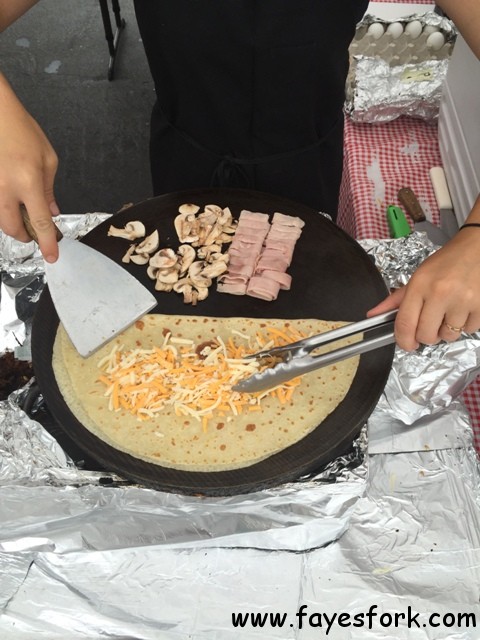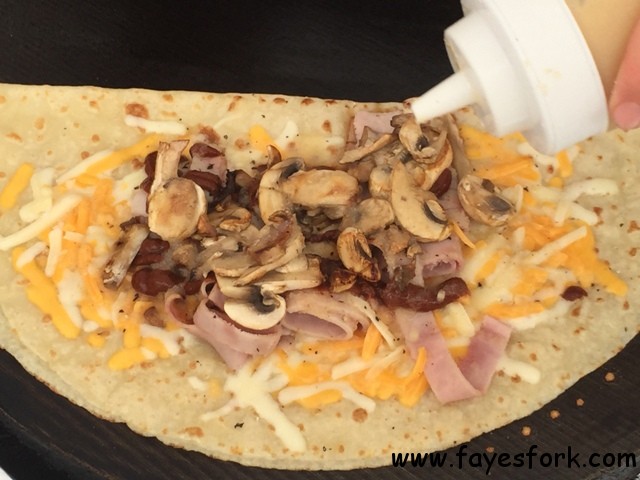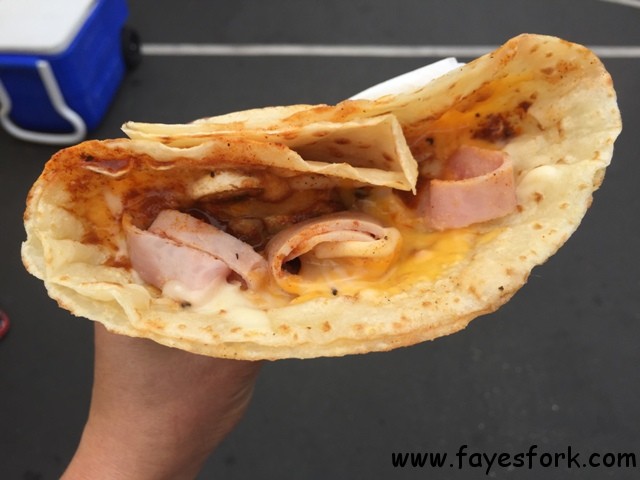 I asked for more garlic and harissa sauce. The crepe was ho-hum to us as it didn't taste anything like I had remembered (I used to visit them at the Little Italy Farmers Market). This crepe would have benefitted from a fried egg and avocado. The extra sauce (my fault) didn't help this crepe as it made a soggy towards the end.
We had many samples up to this point. Well, more so friend did as I was squirreling out taking pics and having too much fun being out it in the fresh air. Social Experiment Stage 3 was him observing my interactions with people when it came to food. He knows I'm not the greatest with strangers and have a fear of dating again. I guess it shouldn't be much surprise that things quietly ended (on this blog) with FB some time ago. I know people have asked about him but I still don't know what to say so I won't.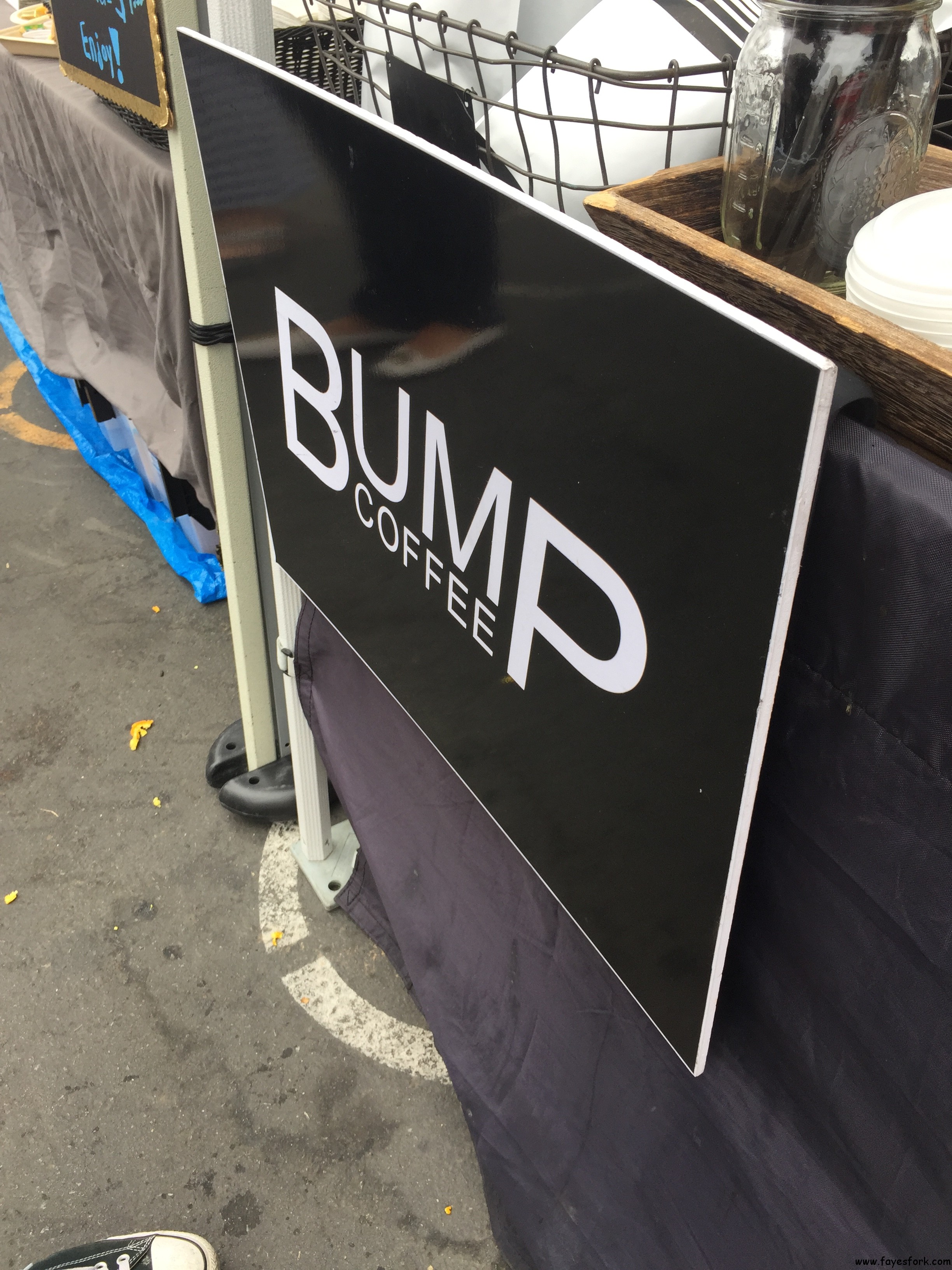 I had seen this coffee stand during our two passes of all the aisles of the market. I was kicking myself for not ordering the coffee from THIS stand as 1) it was slow brewed RIGHT IN FRONT of you and 2) it was cheaper. Friend decided to buy two coffees here for us to try out (he cares about this blog huh).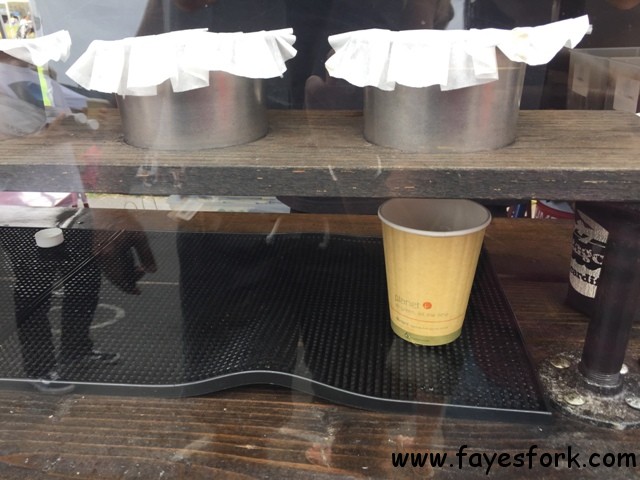 Each hot cup of coffee is made to order and you can see them grinding fresh coffee beans for each hot coffee order.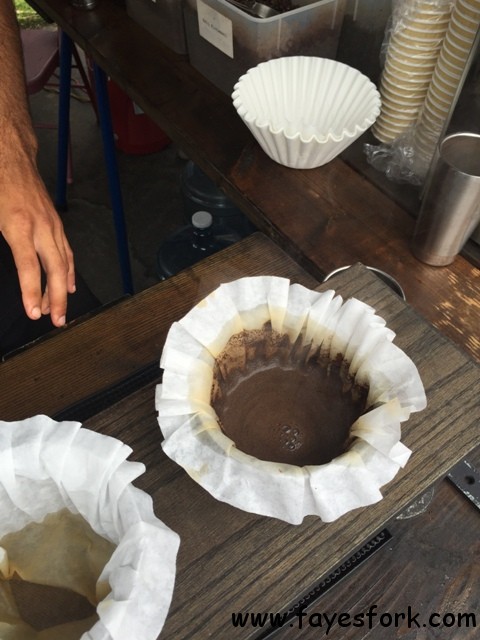 Hot water is poured over the coffee and you wait for it to seep.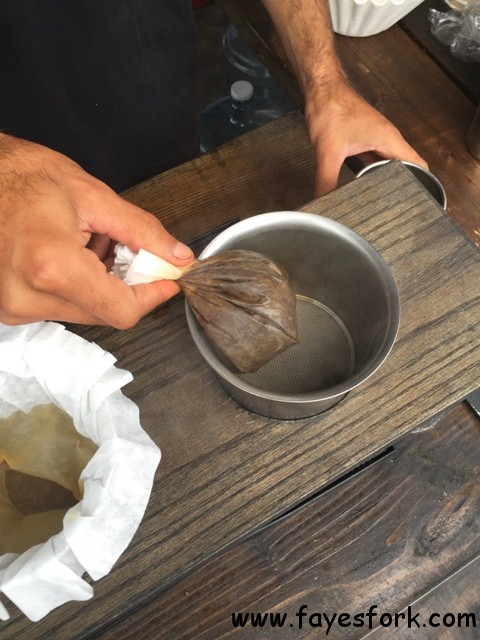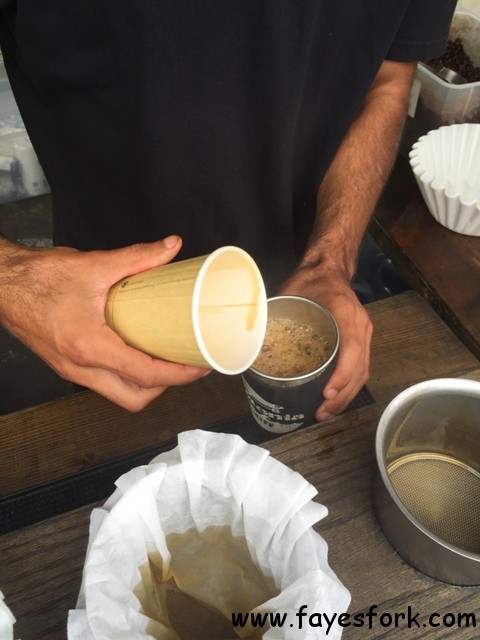 After the coffee drips into the paper cup, the gentleman then pours the hot coffee into another cup to cool it down (I think).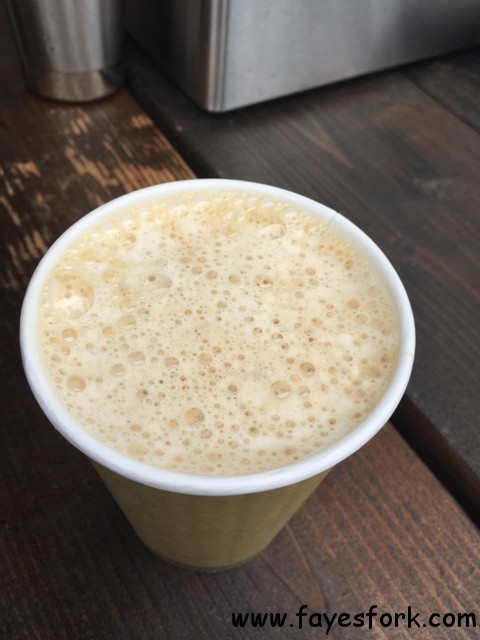 Their coffee is lightly sweetened with raw brown sugar (can be omitted or you can also ask for more) as well as heavy cream.
I decided to try their Iced Mojito Coffee. Yeah. MOJITO. And no, there was no booze in it.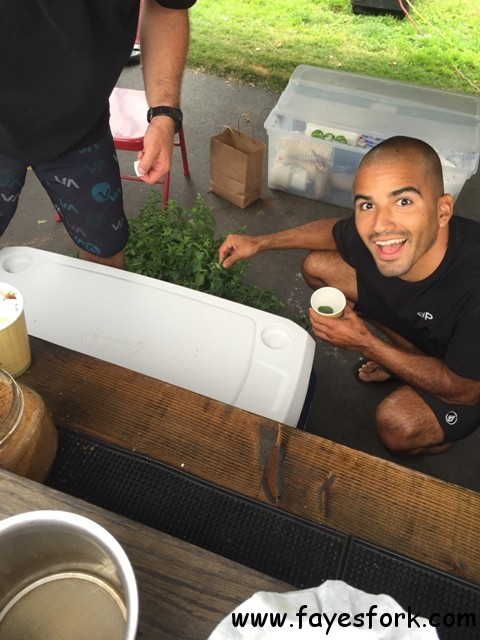 I wish I could remember this guy's name. It was either Ryan or Trevor. Both guys were incredibly fun and helpful. There's a fresh mint bush/plant that they hand pick the mint for each mojito coffee drink.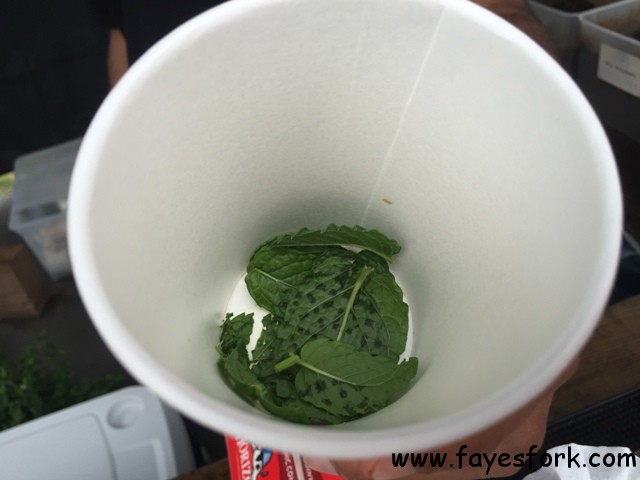 They even muddle the leaves to maximize the mint intensity for this coffee!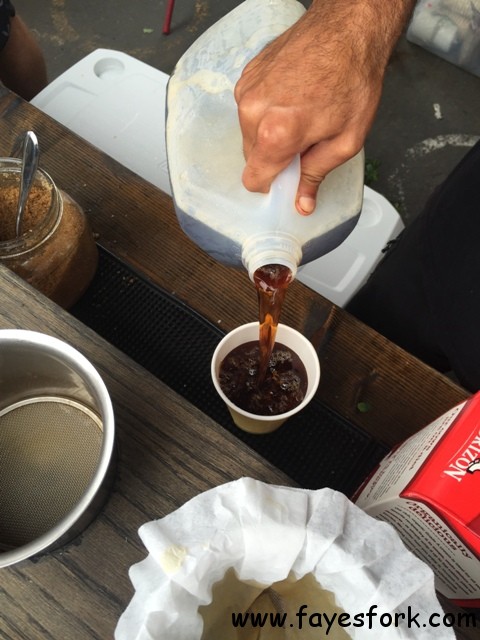 Their iced coffee is already made and refrigerated. I was a bit weary of this as the last iced coffee, just an hour ago, wasn't as great as I had hoped for (just my personal taste though).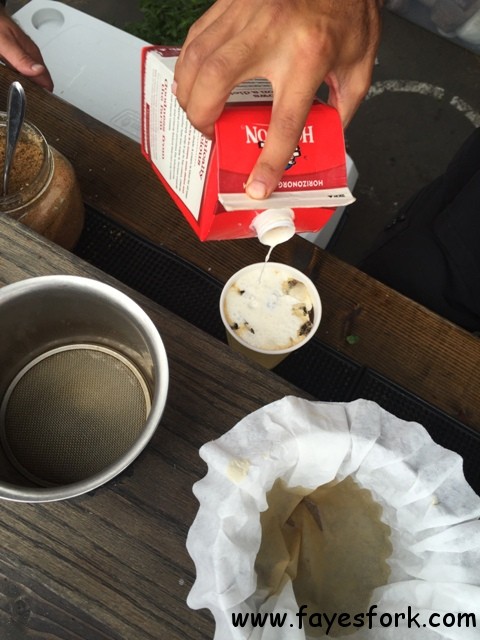 They also use organic heavy cream and raw cane sugar for this drink. I declined the cane sugar.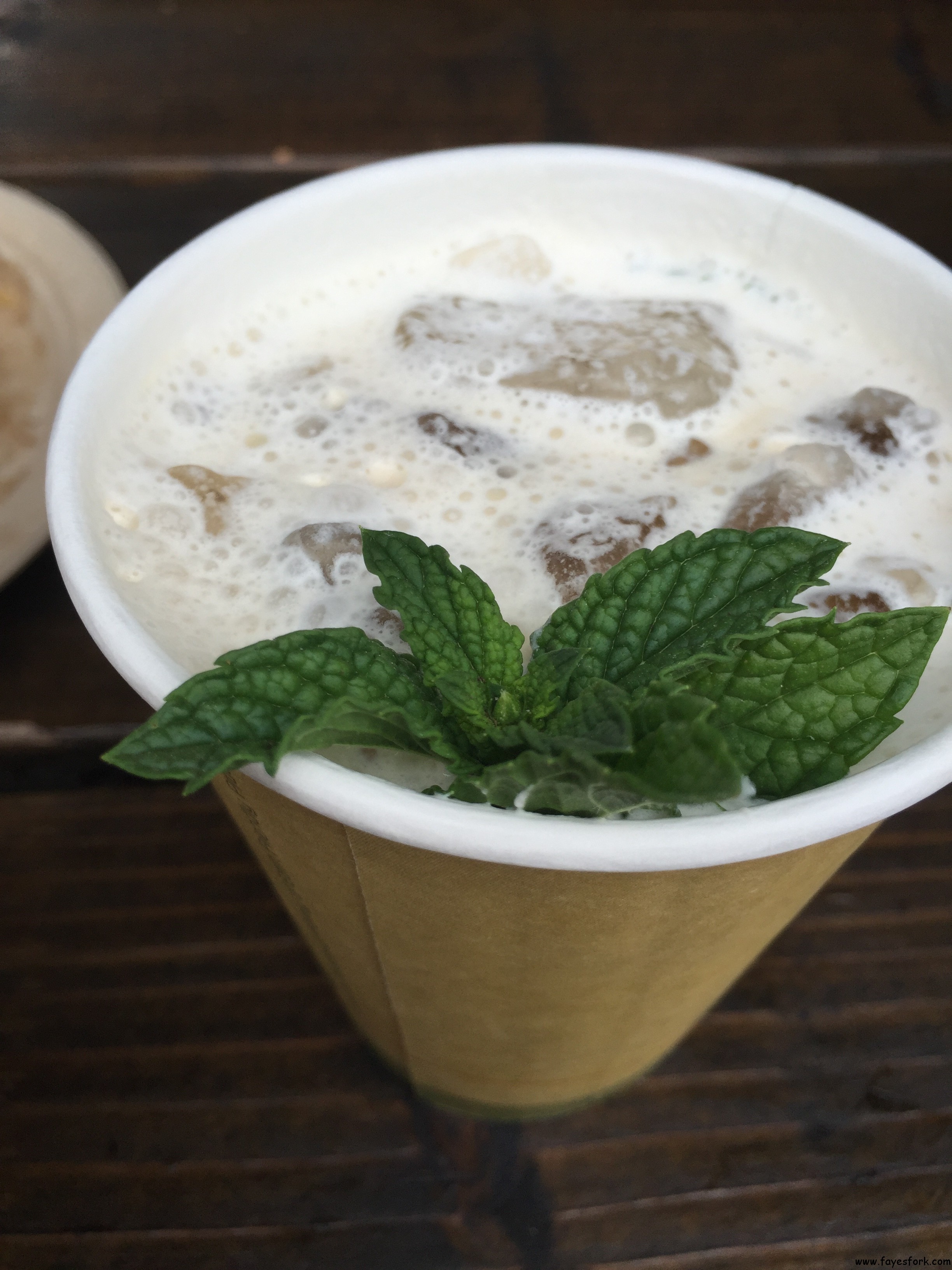 I'd curse right now but it was a Sunday. This iced coffee SHOULD have been the coffee that I had first (& only) that day. The coffee tasted smooth with absolutely no acidity. You could 100% taste the muddled green mint in this drink. It was such a refreshing drink that I totally didn't need at that point (I started getting the caffeine shakes at church). My friend felt bad because he didn't realize how potent the previous nitrogen coffee was for me. Social Experiment 4?
We were there for over 1.45 hours. Friend said he was able to gather enough data from this morning to formulate a decisive equation for this Social Experiment. I'll leave that and more pics/samples for Part II of this La Jolla Open Aire Market post.
On a related side note, this Sunday morning experience  led to some pretty remarkable events this week as my friend's Social Experiment kickstarted something in me. Case in point –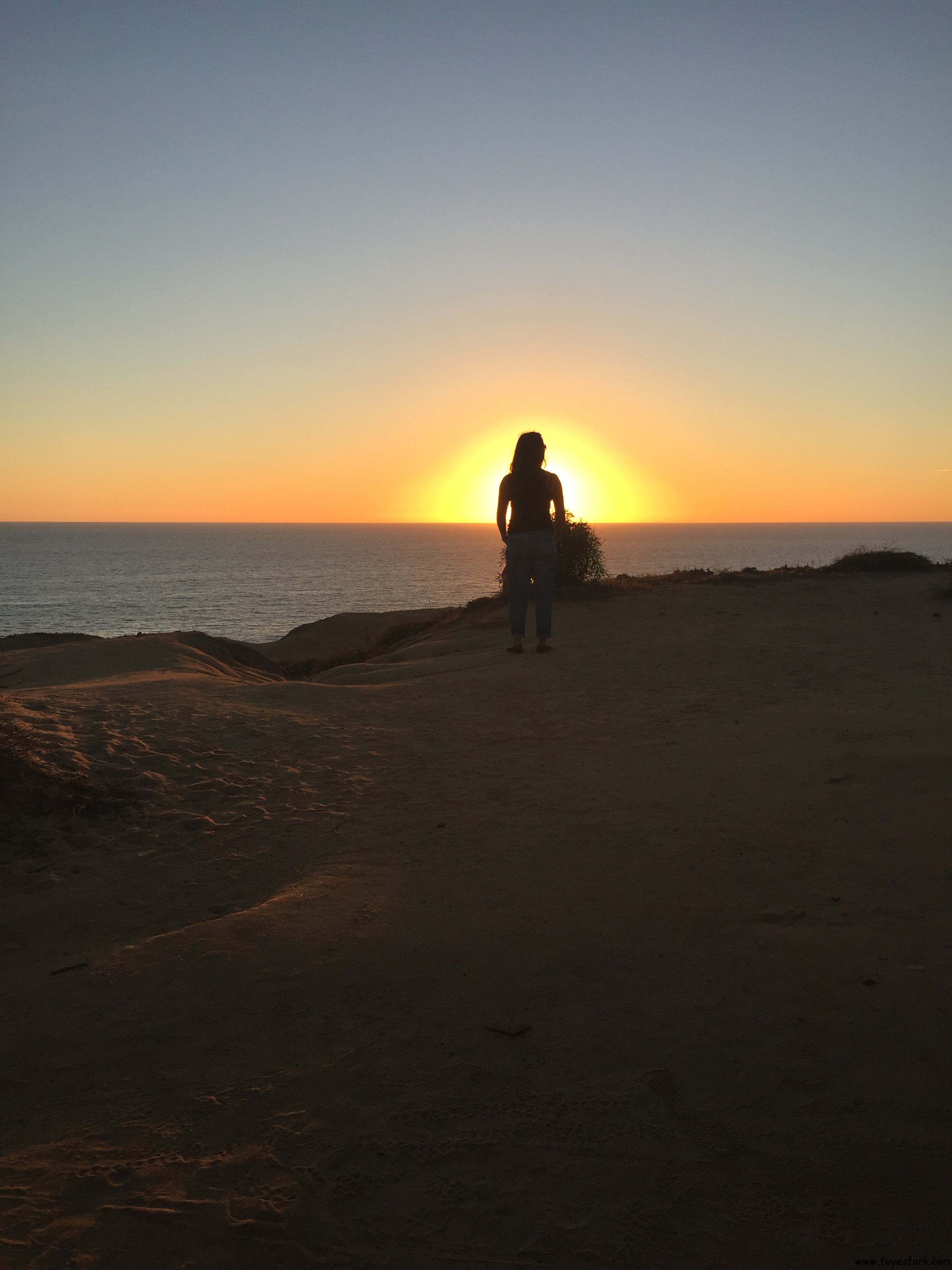 This picture was taken at Torrey Pines cliffs as the sun was getting ready to set Tuesday evening. I KNEW something magical was happening. I could just FEEL it. The weather was unreal (no humidity, mild winds, cooler temperature).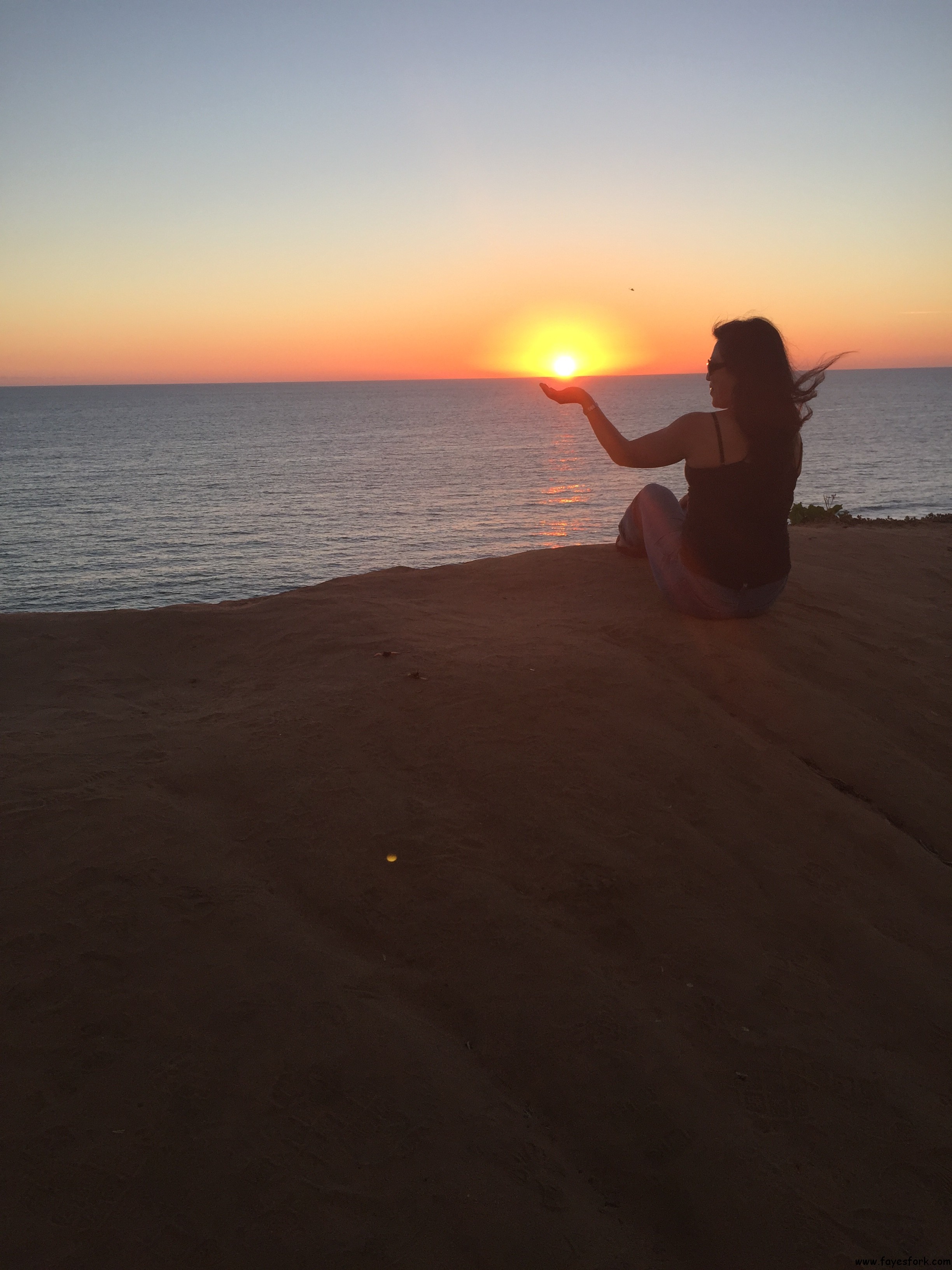 As I watched in peace, not even frightened that I was two butt scooches from falling off the cliff, I saw the very one thing that I had only dreamed and heard about.
No, Not prince charming or a 'insert food item' unicorn.
But the elusive Green Flash. My elusive green flash. It exists. It truly exists.
LA JOLLA OPEN AIRE MARKET
La Jolla Elementary School
7335 Girard Ave
La Jolla, CA 92037