Farmers Market has been my thing this year. You can search this blog and see how I've fallen in love with getting lost at a farmers market (alone or with someone). So I was really curious when I received an invite to try out Farmer's Market Foodventure at Solana Beach with Chef Jason (from Cook with Jason). The concept is that you meet at a local kitchen, explore the town's farmer's market, tour an olive oil company, sample some wines at a winery shop, and then take some of the market's bounty to use for a hands on cooking class where you'd be making dinner for yourself and others with the help of Chef Jason. The foodventure starts at 1:30p and ends around 6:30p so it's a half day leisurely affair where you can take your time and enjoy yourself.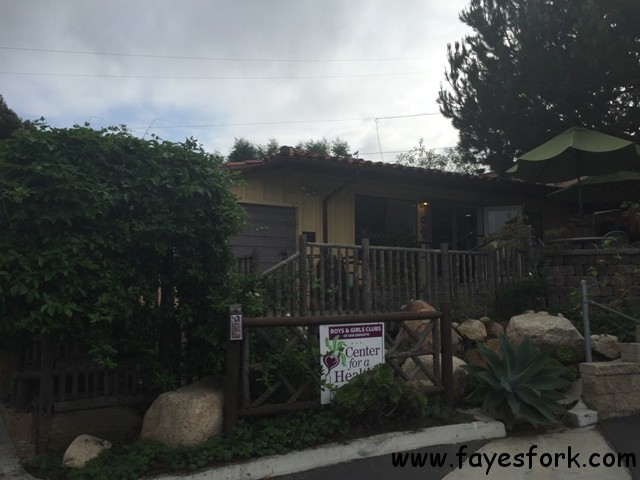 This cottage style establishment is behind the Boys and Girls Club of San Dieguito.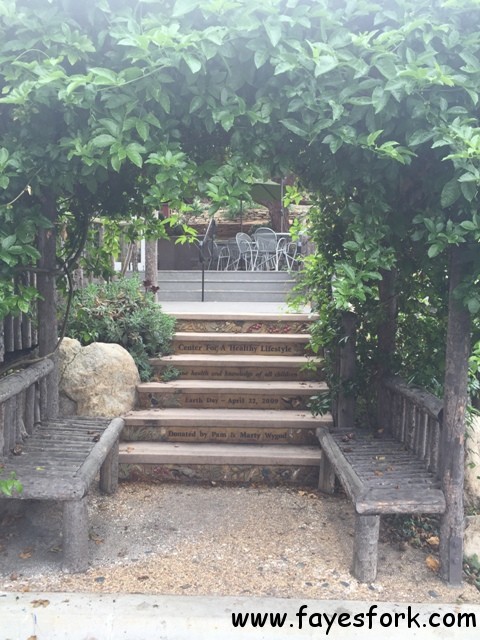 There's plenty of parking and you walk under this pretty walkway to get into the cottage.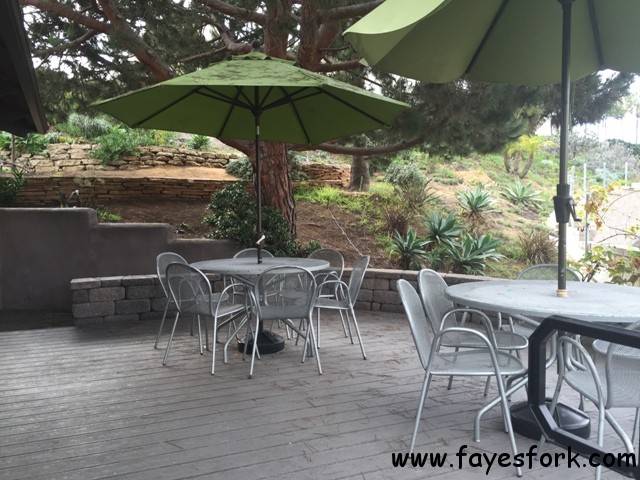 They have a front patio which was nice as the cottage is close to the beach so you can feel the ocean breeze once in a while.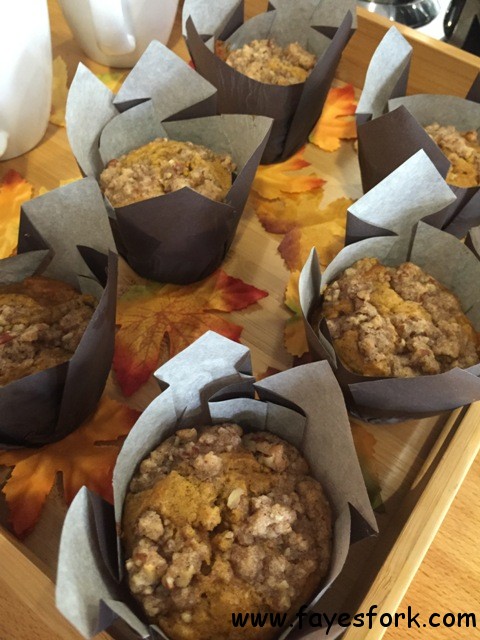 These beautiful pumpkin streusel muffins greeted us when we walked in. They were made from scratch by Chef Jason's wife, Kristi Roehm. I LOVE pumpkin-ANYTHING right now and have to say that these pumpkin muffins were effing amazing. They were so moist and had a rich deep pumpkin flavor. The brown sugar streusel topping with pecans was simply perfect.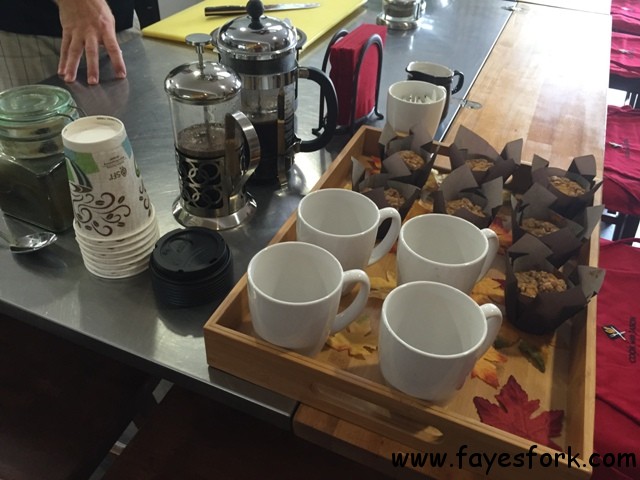 There was even fresh French pressed coffee ready to be served.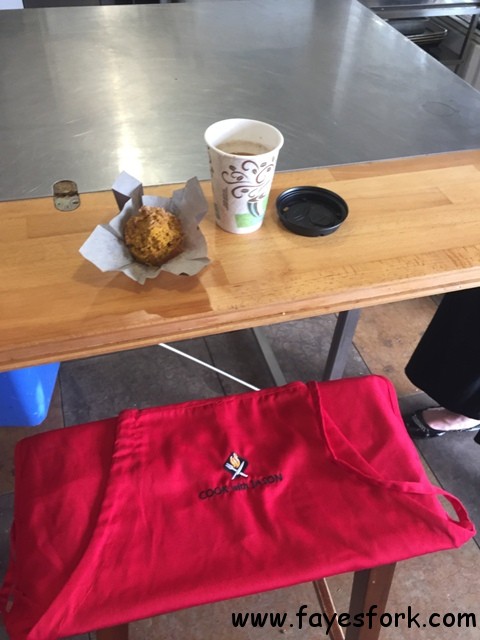 There are 4 chairs that are right up front where you can better see the chef in action. So, me being smart and all, decided to reserve a seat before everyone got there 🙂 There's also a fun Cook with Jason apron that's placed on all the chairs.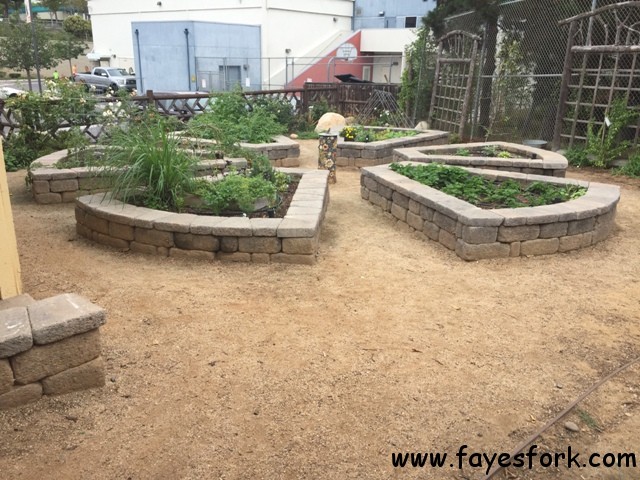 The center has their own outdoor garden.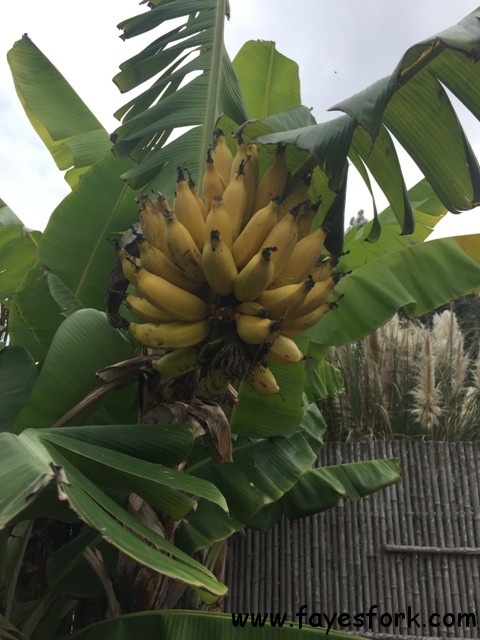 The garden even had golden bananas that Chef Jason said he could have used in a dessert that evening.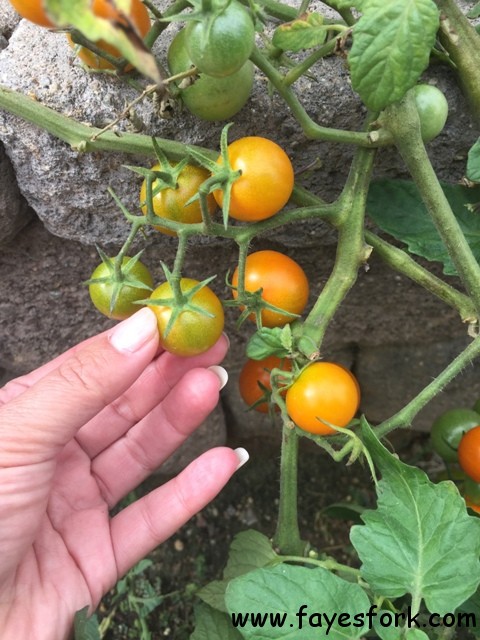 And these baby orange tomatoes – how pretty do these orbs look.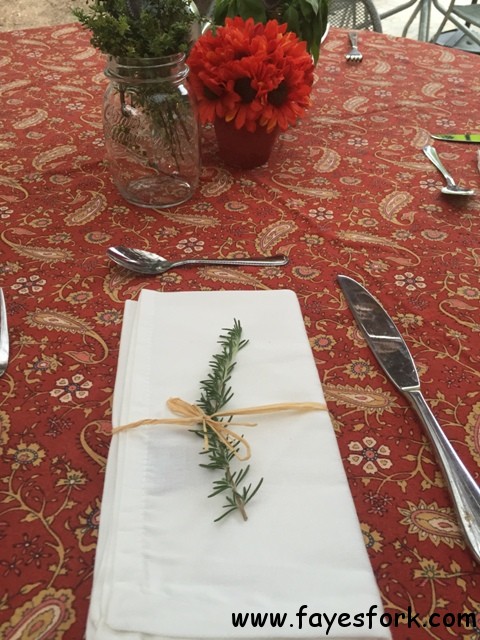 I liked the quaint and thoughtful table setting that Kristi set up outside.
They even have a LIVE chicken in a coop that they let out when Chef Jason teaches a kid's cooking class.
After the tour of the garden, we all carpooled to the Solana Beach local market to start the Farmer's Market Foodventure.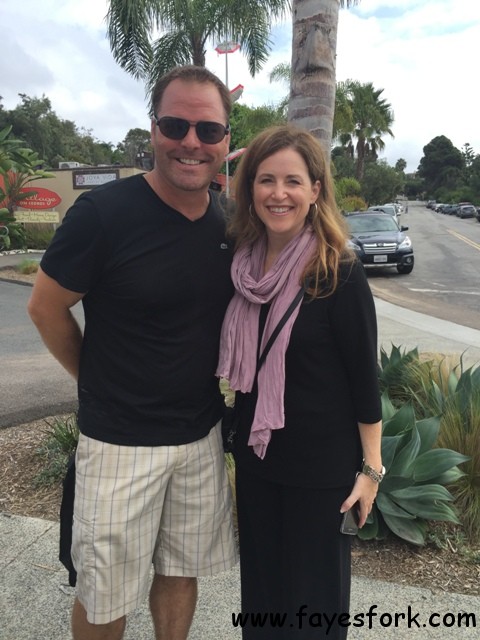 Honestly, one of THE NICEST couples ever. And, they work together.
I won't bombard this post with too many pics from the Solana Beach farmer's market (will try to do another post about it). But here are a few things I found fun: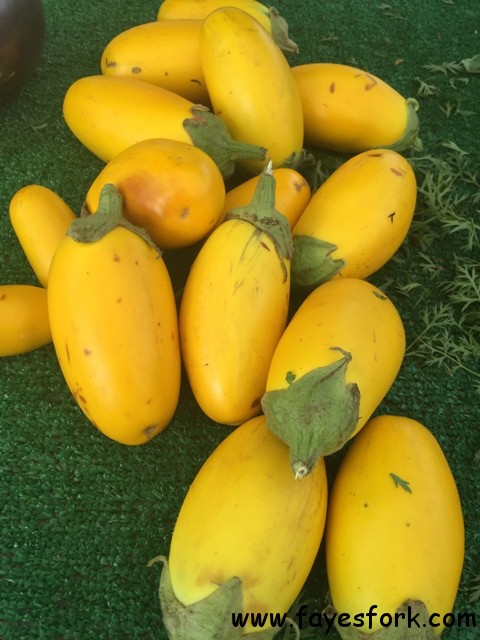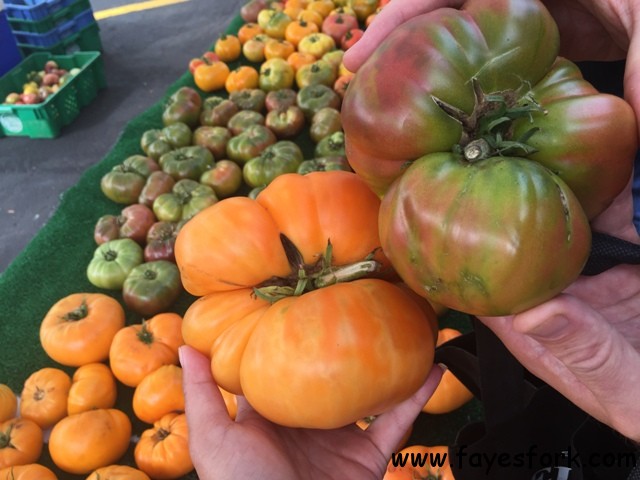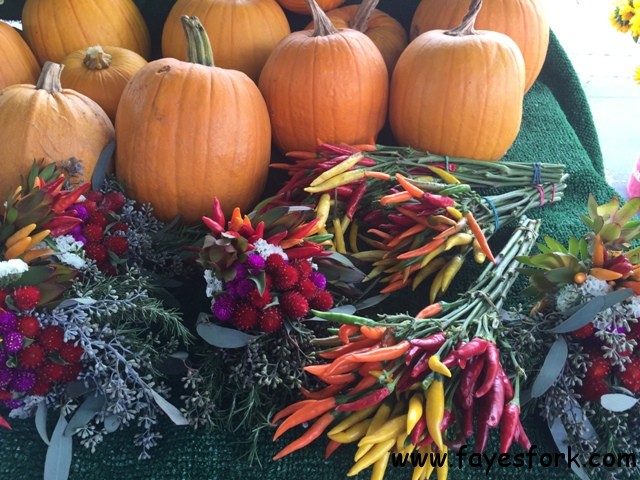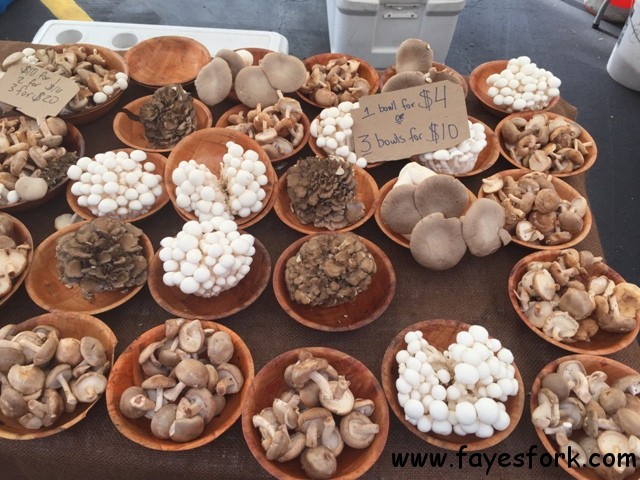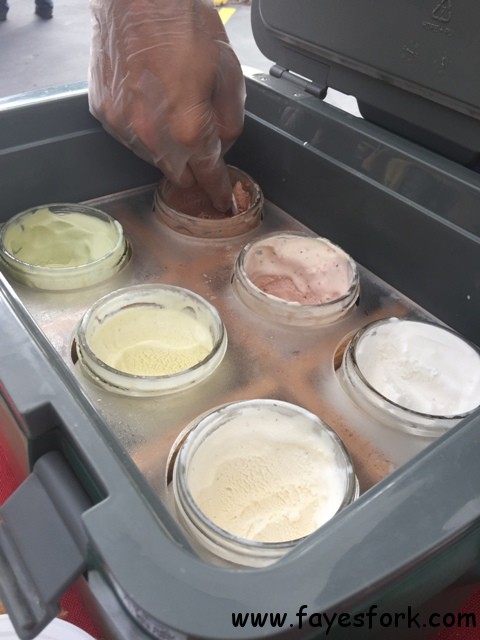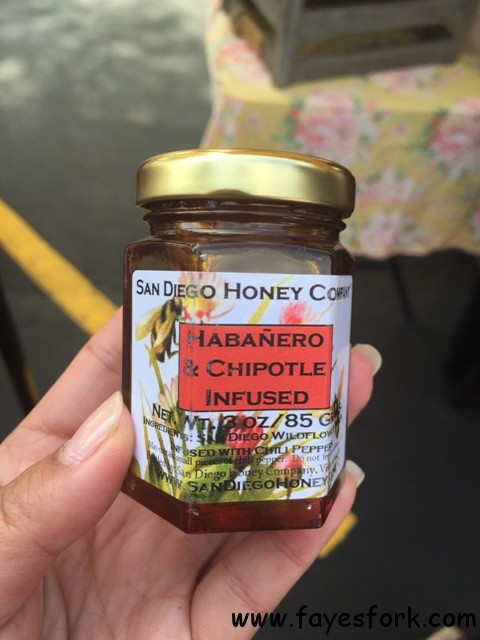 This was $5 for a small jar but it was such a beautiful tasting honey. You could absolutely taste the habanero in this honey. The nice woman said this would taste amazing drizzled over cheese and crackers. Sold.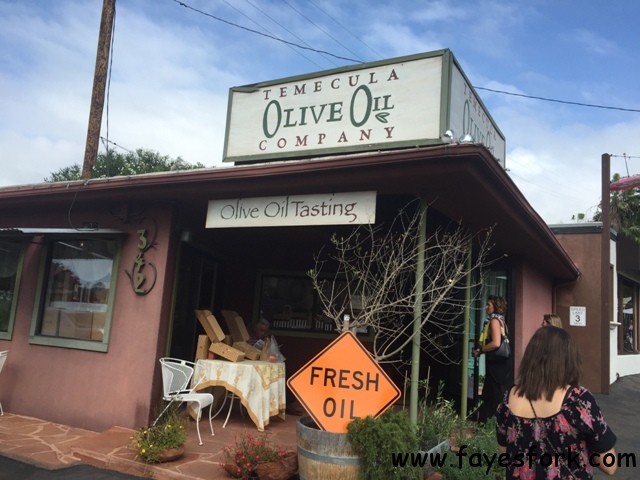 Our next stop was to the Temecula Olive Oil Company. I've seen them at Old Town and remember the free sample of olive oil they gave me at the San Diego Restaurant Week Launch party some weeks ago.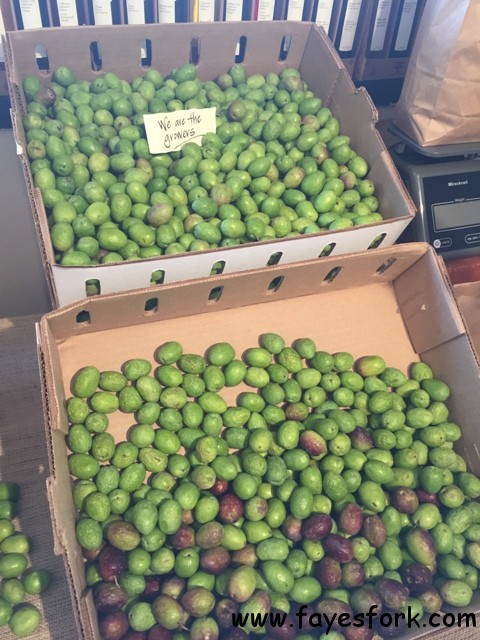 Sis has olive trees and I see this exact same fruit (isn't olive a fruit?) on her grass quite a bit.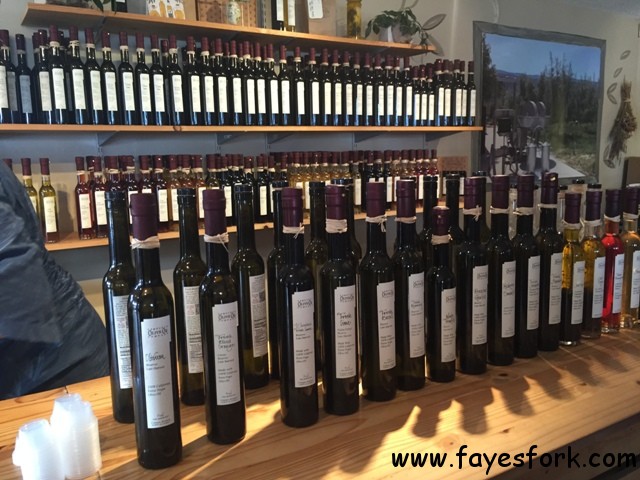 SO many samples to choose from. Eddie, the manager, was the most gracious host that day.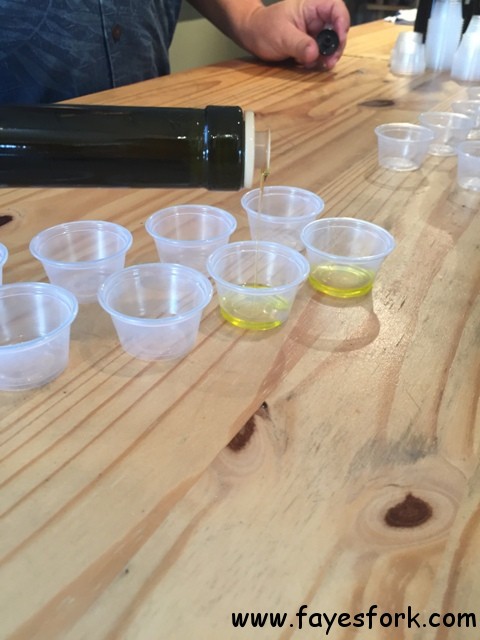 You try the olive oil with no bread. It's best to sip and savor the feel/taste of the olive oil on its own.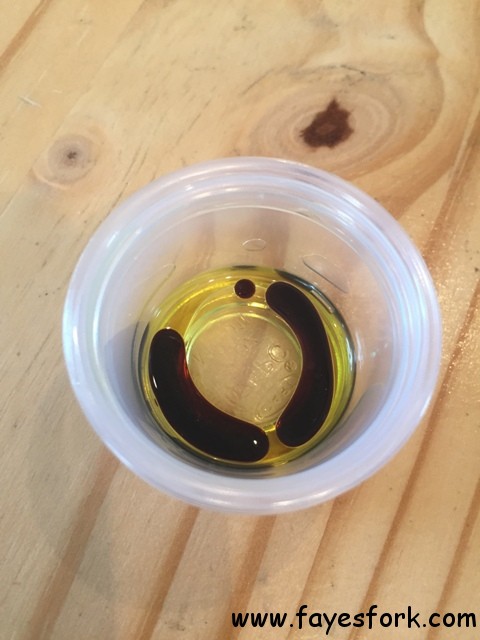 He also would sample the various vinegars they produce. I believe this one was the fig vinegar?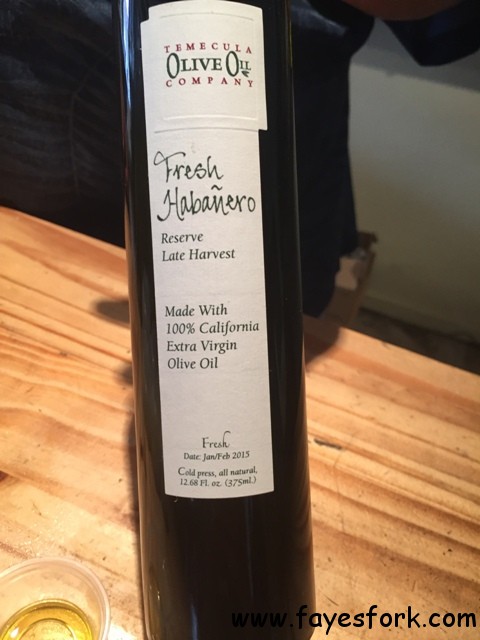 Ok. So THIS habanero olive oil is really spicy. Even for a spicy queen like me. Chef Jason warned me not to try this because it's going to confuse my taste buds when we head to the winery next. Of course I had to prove him wrong (along with Tara) and wellll….yeah…let's just say the olive oil burns. I'm totally coming back to get this though.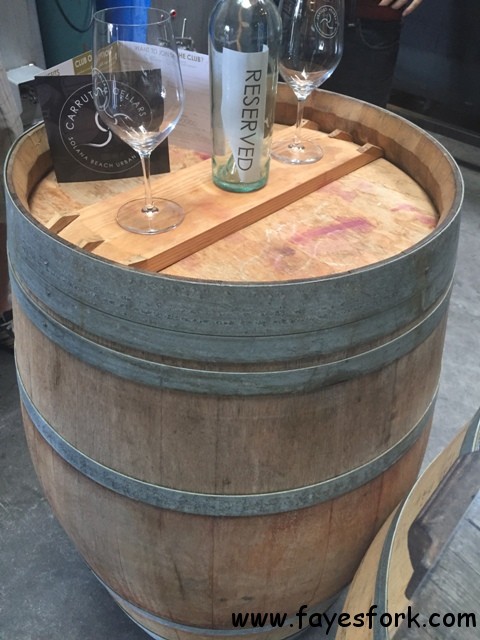 I've visited Carruth many years ago when I saw a Groupon deal. It was fun to see them still here. They have a smaller indoor space that's fully air conditioned. The place was bustling with patrons drinking cold white wine and snacking on cheese plates.
Carruth Cellars reserved a table for our group and even had crackers on the table waiting for us. We sampled a variety or red and white wines.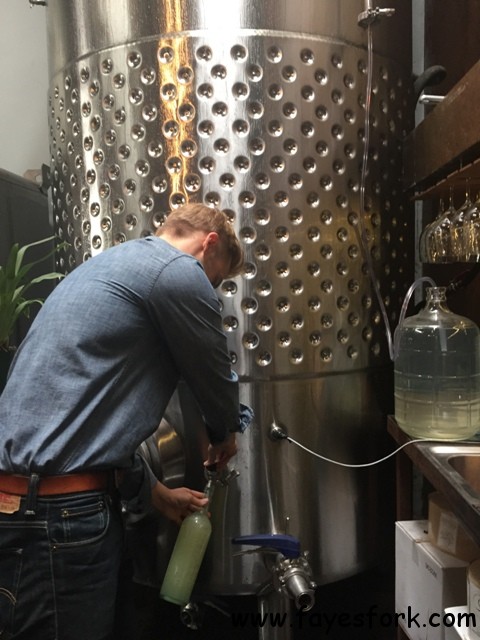 Kelsey, my new found blogger friend from Whiskey & Work, and I agreed that the Sauvignon Blanc JUICE was the best booze we had that sitting. This juice is the 1st half of the grapes being made into a sauvignon blanc so there's about a 13% (?) ABV content to this wine. Kelsey and I both thought it tasted like a no sugar lemonade that would be AWESOME if used as a mixer with gin, tequila, vodka, etc.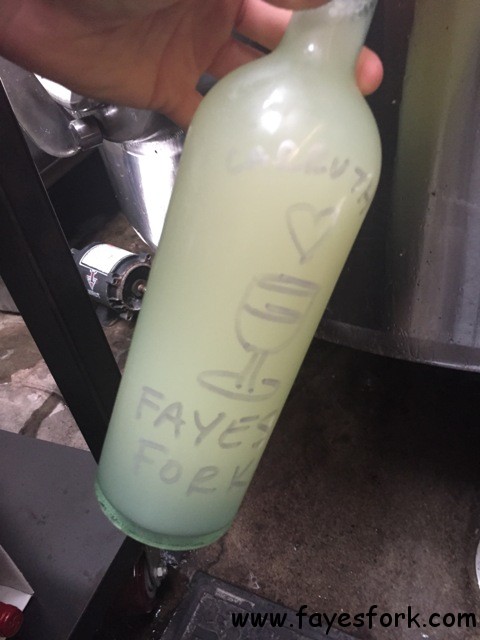 Zach made me a personal wine bottle. I bought two of these (filled with the sauvignon blanc juice) so I could give one to my biggest fan (yeah, that would be my mom). There's a limited amount of this 'juice' so come try it out before they sell out.
Ok. Let's move on to the cooking part of this Farmer's Market Foodventure ~ A Tuscan Adventure ~ …
First course:
Potato, Bacon & Rosemary Pizza
Yukon Gold Potatoes, Thick-Cut Smoked Bacon, Roasted Garlic Olive Oil, Rosemary & Parmigiano-Reggiano Cheese prepared on a Baking Steel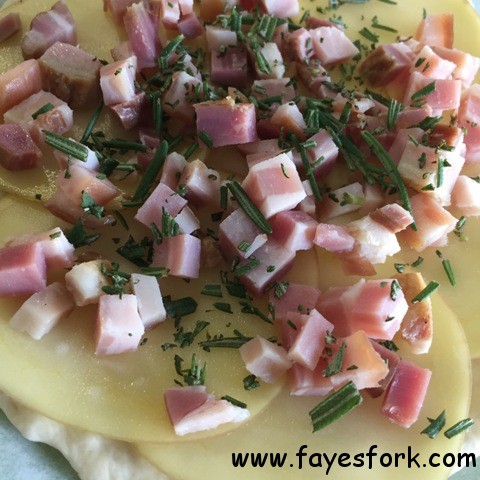 Chef Jason had prepared freshly made dough earlier. He gave each girl their own piece of dough to knead and make their own pizza. Do you see the thin slices of potato underneath the slab pork belly pieces?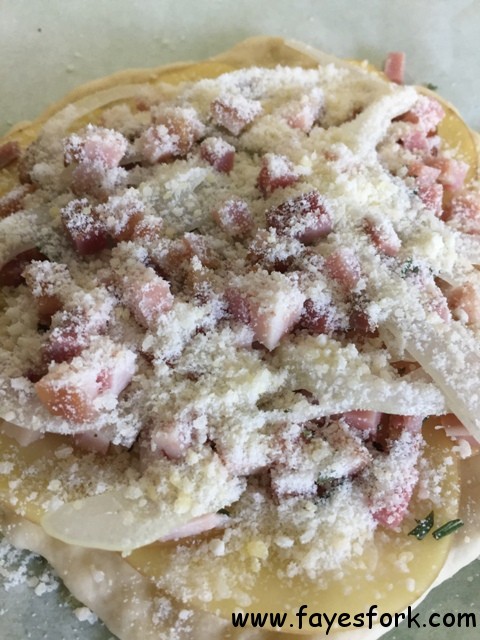 I sprinkled mine with extra parm cheese and added even more bacon to it. There's also fresh slivers of sweet white onions in there.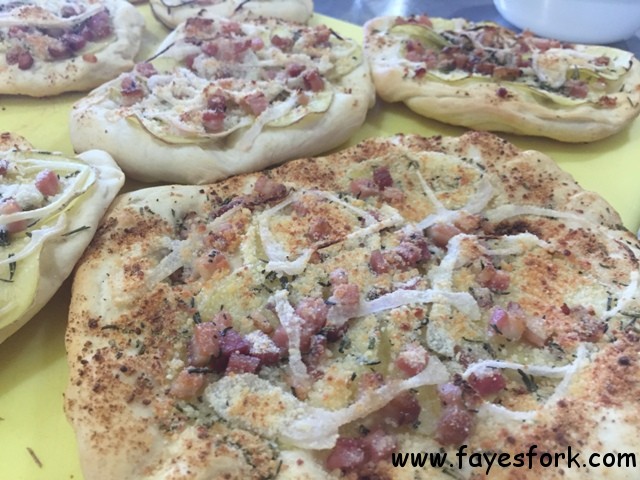 Chef Jason baked all the pizzas at the same time and then placed them on the kitchen counter. We all had to guess who's pizza was who's!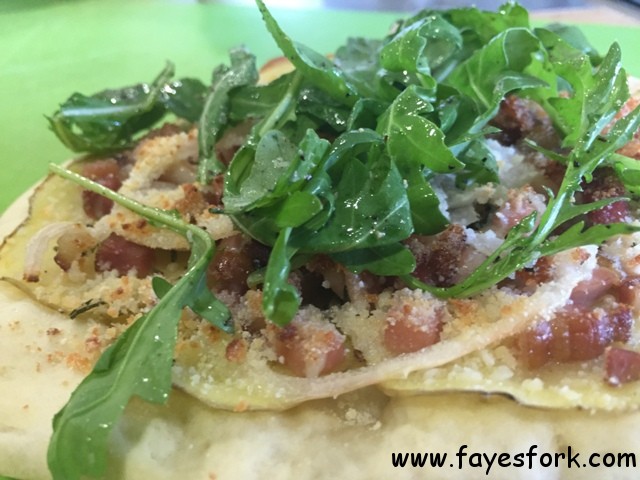 And VOILA. Chef Jason added farm fresh arugula tossed with roasted garlic olive oil from Temecula Olive Oil Company on top of the still hot pizza.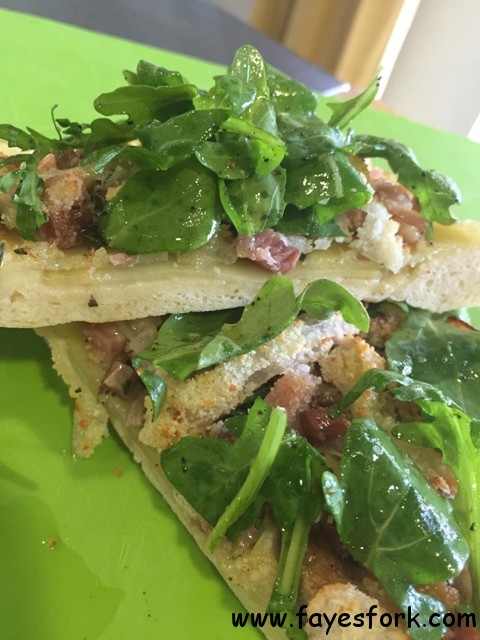 He also had basil olive oil from the same company which I used to further drizzle on top of the final product. The pizza tasted delicious with the fatty pork belly and the pungent parmigiano. I would have liked the crust to  be cooked a bit more but we were on a time constraint that day.
Jason and Kristi had one of their favorite vendors, Savory Spices, at the Foodventure that day.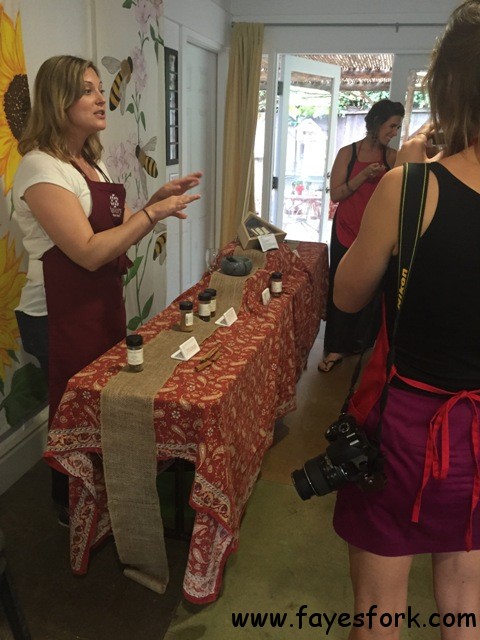 This nice woman educated us on the different spices their store carries and how the spices can be incorporated into dishes. She had spice samples we could smell as well.
I wandered outside again because, truth be told, I wanted to play with the chicken.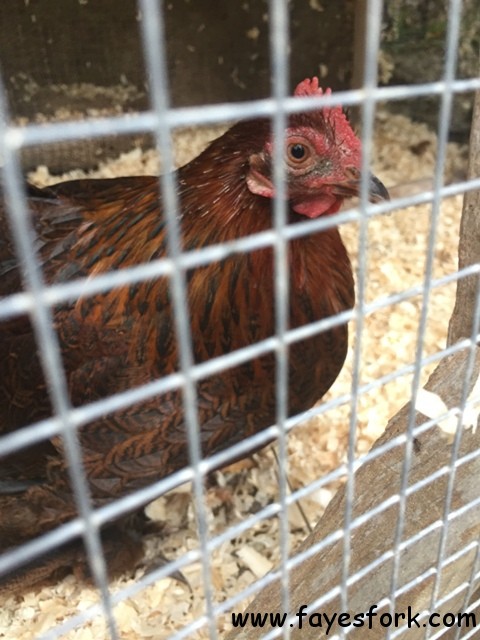 I'm not sure how to communicate with a chicken so I whistled to it to try to get it's attention for this photo.
Second course:
Pollo con le melanzane alla parmigiana (Chicken with Eggplant Parmigiana)
Fresh Eggplant with Chicken Cutlets, Homemade Red Sauce, Fresh Basil & Mozzarella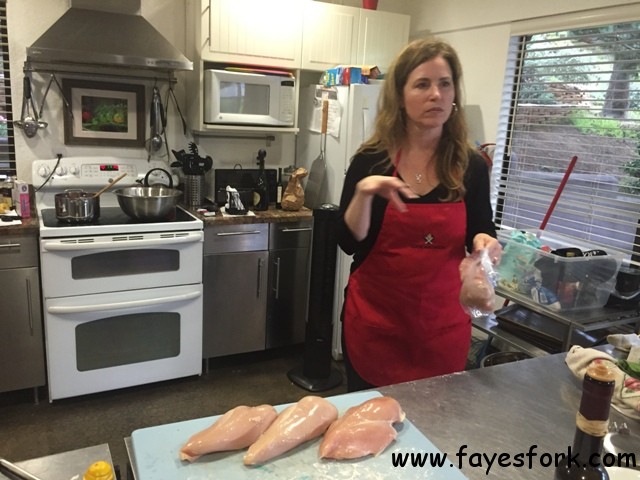 I wanted to show you the Fifty Shades of Grey chicken breasts. Look at how humongous those breasts are. Chef Jason obtained them from Tip Top Meats.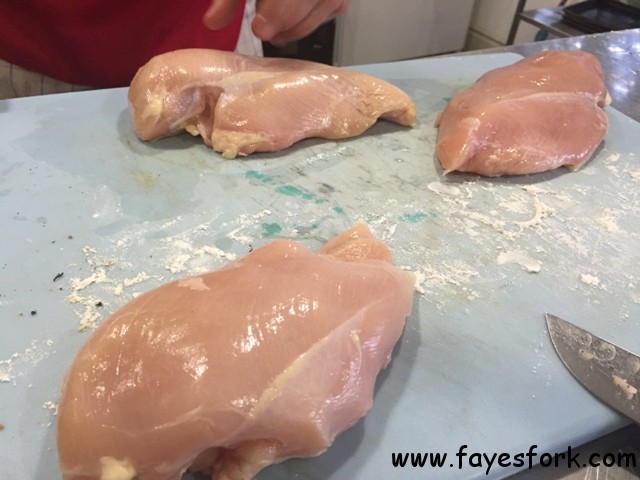 Tara, my new favorite 'I'm a mother effing food blogger', and I commented that the next Foodventure theme here should be 'Extra Dirty something' (we joked that we could pair dishes with an extra filthy martini – that's when you add more olives and olive juice to a drink in case ya didn't know).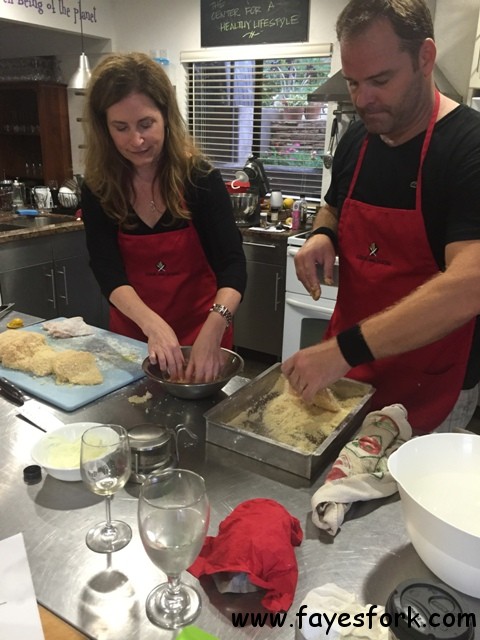 It was heart warming to see Kristi and Jason work together in the kitchen.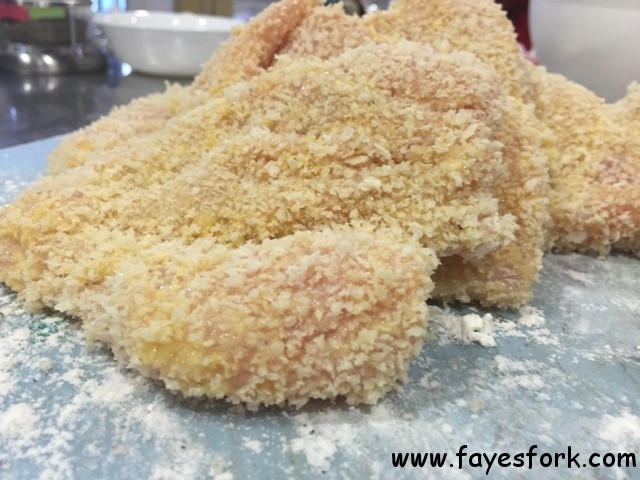 She'd dip the breasts in the egg mixture while Jason breaded the chicken with panko bread crumbs.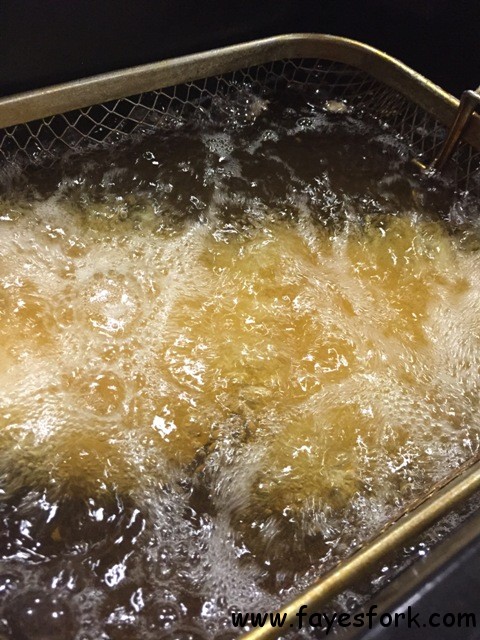 Hot oil time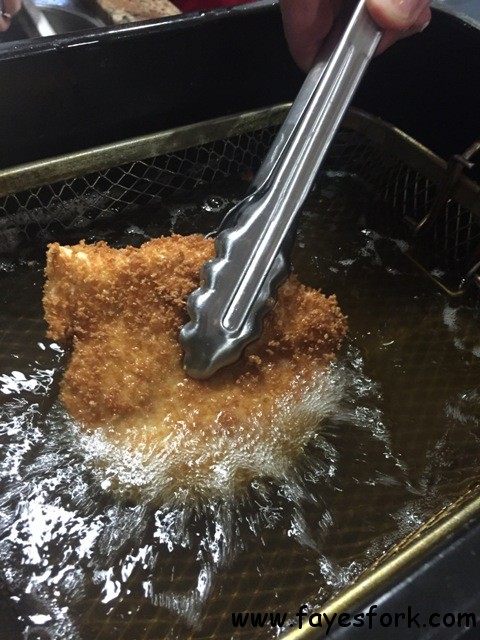 He would fry the chicken for only a few minutes as they'd cook the rest of the way in the oven with the cheese and eggplant.
He showed us how to make this red sauce from scratch. We even taste tested it several times to check for acidity and sweetness (see the plastic spoons in the back).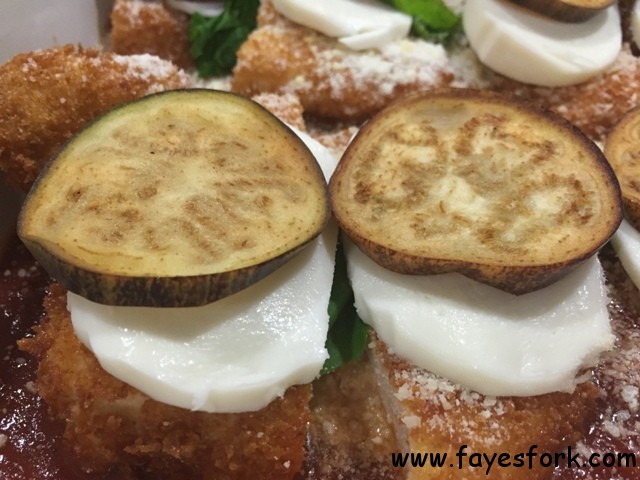 This is the fried eggplant on top of the mozzarella cheese and homemade red sauce.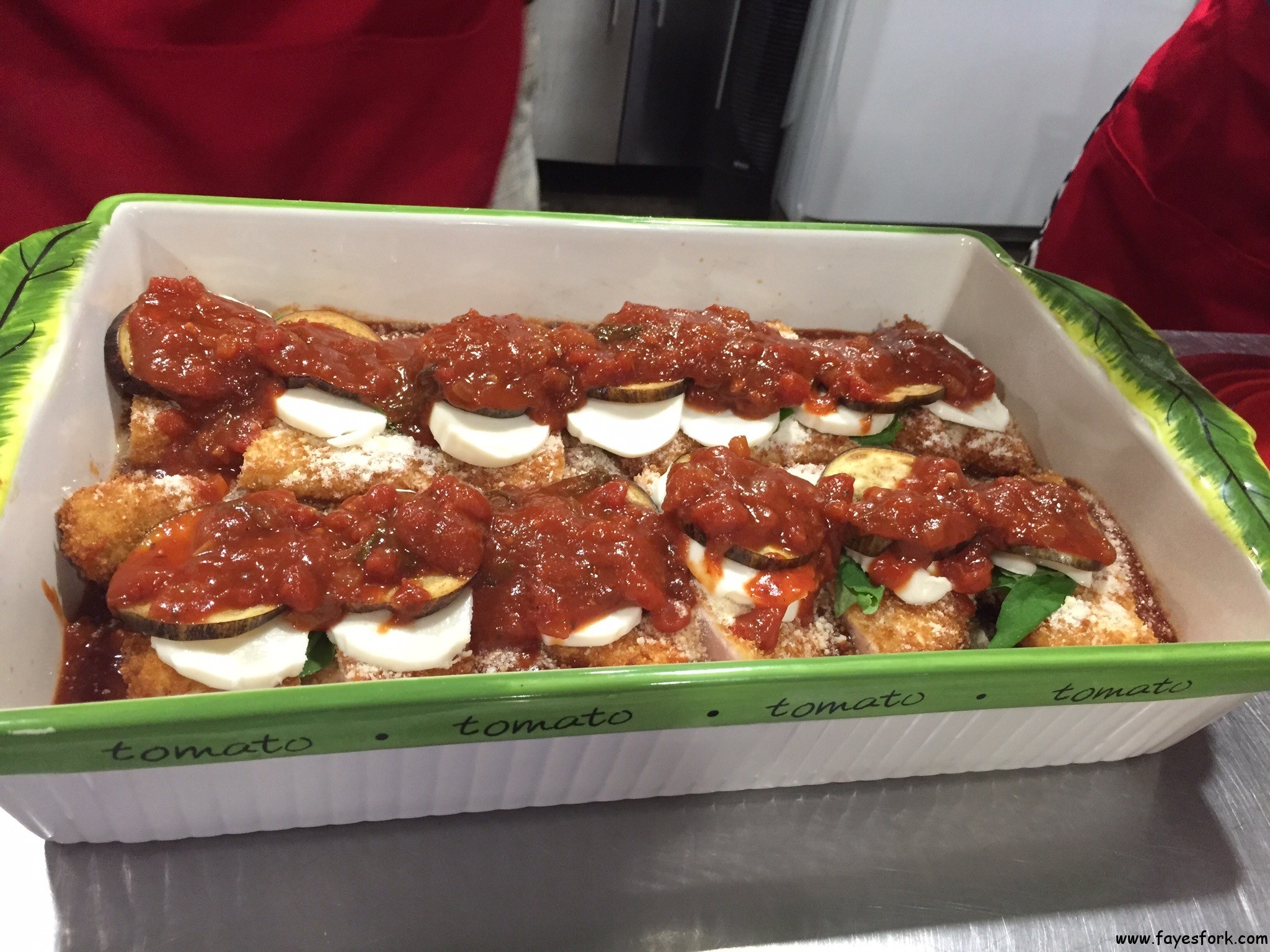 Topped with more sauce and more cheese.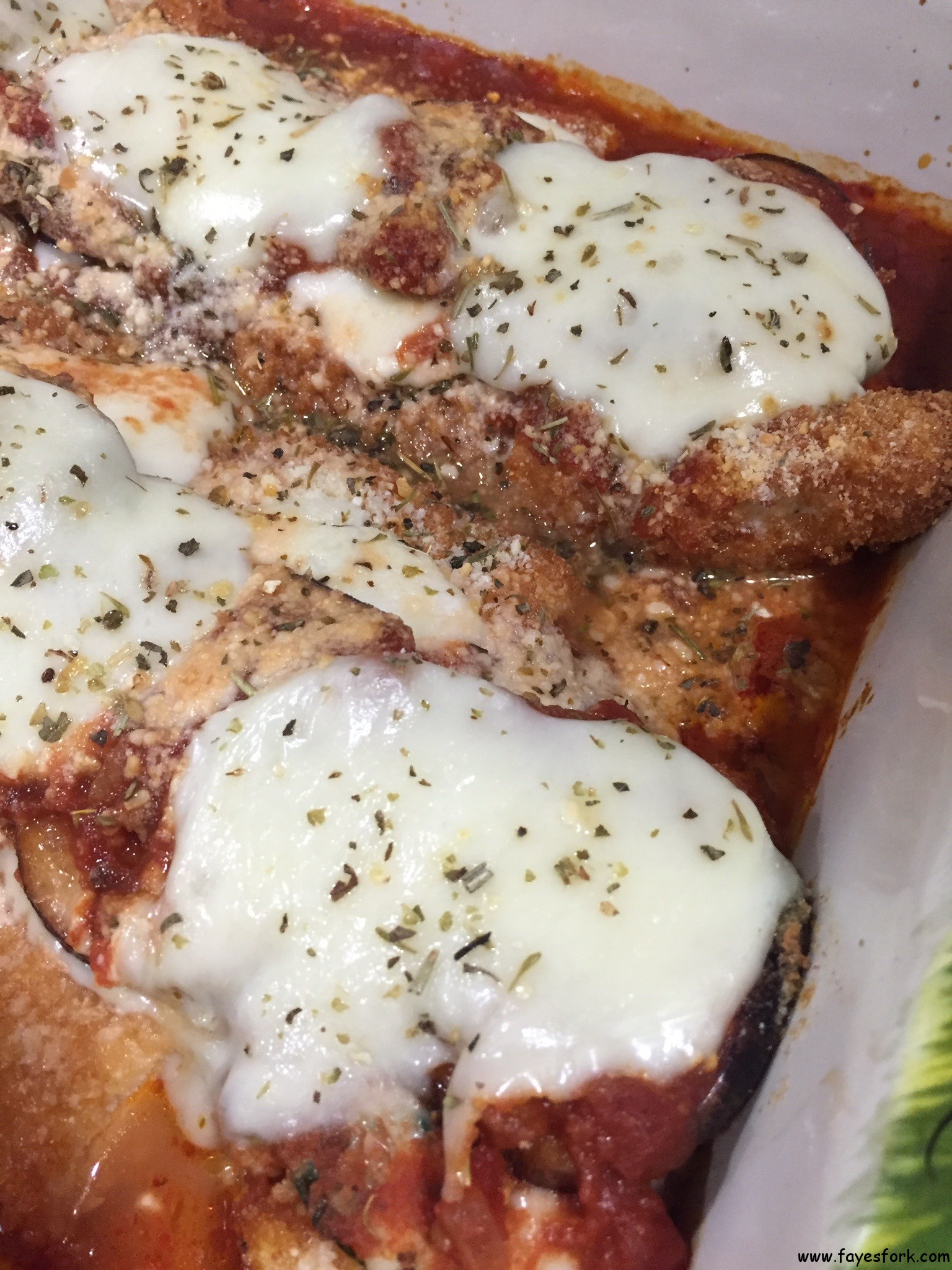 The final product was FANTASTIC. Maybe I don't eat eggplant chicken parm often but this was THE BEST version I've ever had. The chicken breast tasted succulent, moist, tender and so incredibly flavorful smothered with the homemade red sauce we made earlier. Was it the panko crust (vs standard Italian breadcrumbs) that made this dish work for me. Or was it the flash frying then finishing it in oven trick that made the chicken so moist? I don't know but all I DO know is that this was an exceptional eggplant chicken parm dish.
Third Course:
Watermelon Salad with Arugula and Goat Cheese
Farm-fresh Watermelon with Goat Cheese & Arugula tossed in Fresh Blood Orange Olive Oil and drizzled with a Vanilla-Fig Balsamic Vinegar Reduction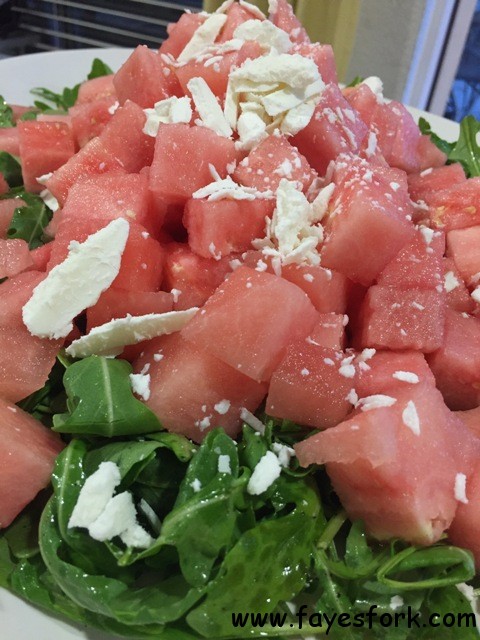 Chef froze the goat cheese prior to making this salad. The frozen goat cheese crumbled like beautiful white chocolate when he used a sharp knife to sheer the frozen cheese.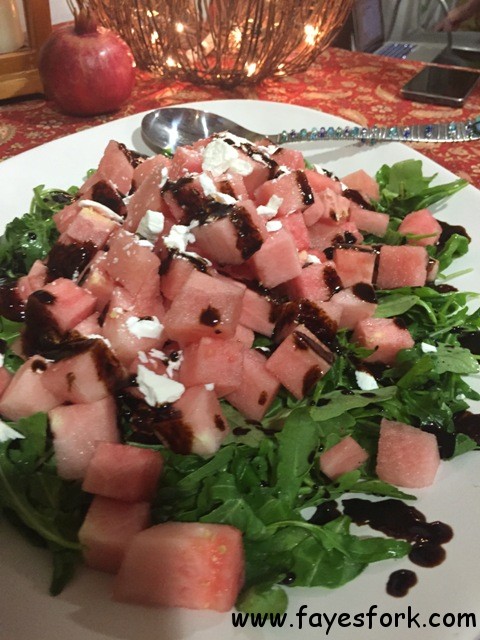 He then drizzled reduced vinegar on top of the watermelon salad. I don't eat goat cheese so Kelsey helped serve me a bit of the salad without the cheese. You could so taste the blood orange olive oil and the sweet reduced vanilla fig vinegar added a wonderful sweetness to this salad.
Fourth Course:
Roasted Heirloom Carrots with Local Honey and Fresh Thyme
Farmer's Market Heirloom Carrots roasted to perfection with Fresh Thyme and Local Honey
Baked Apple Rosettes with Homemade Madagascar Bourbon Vanilla Ice Cream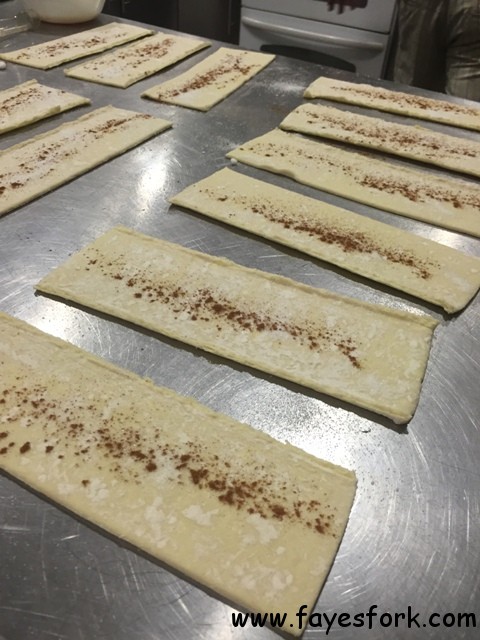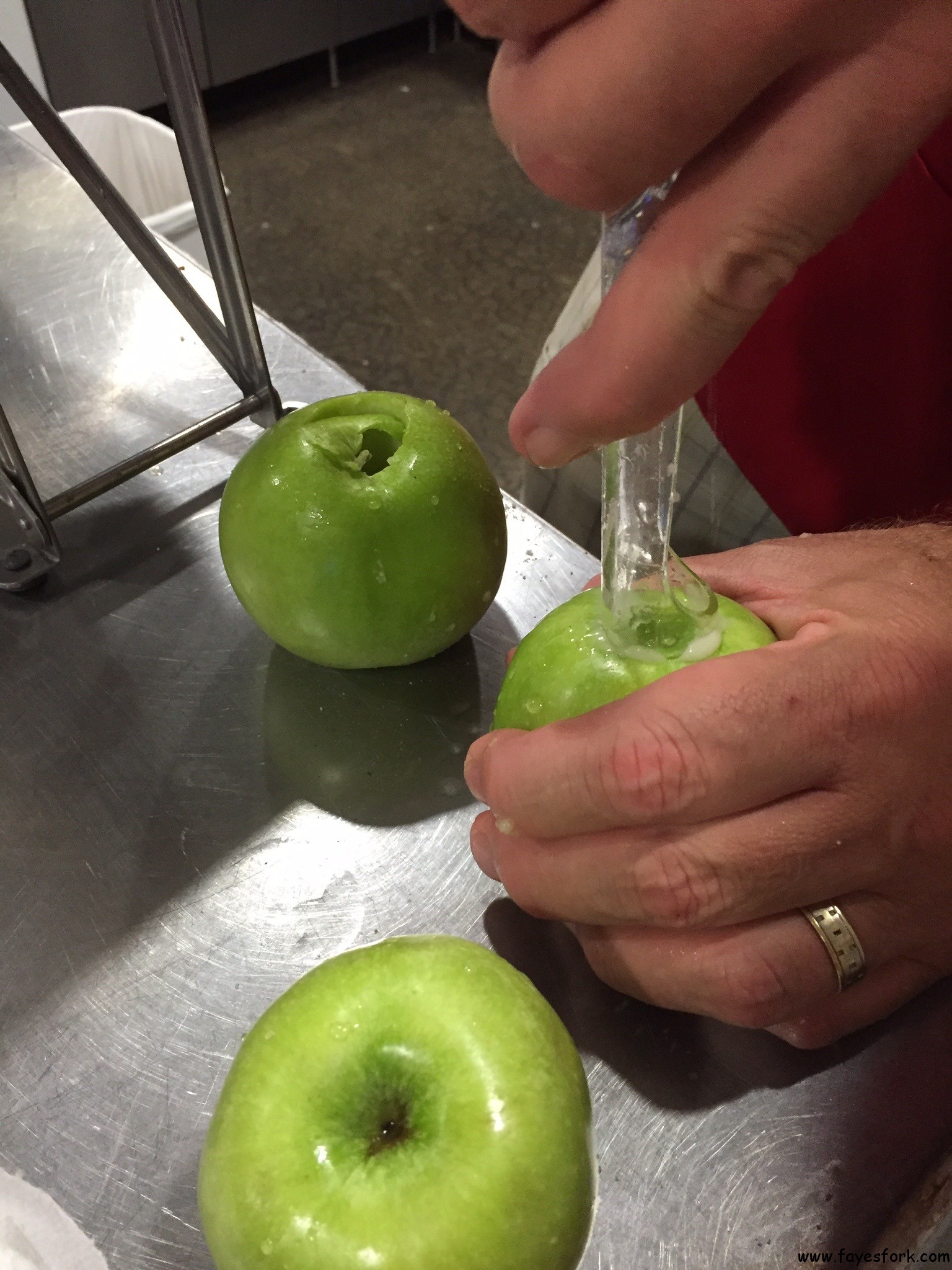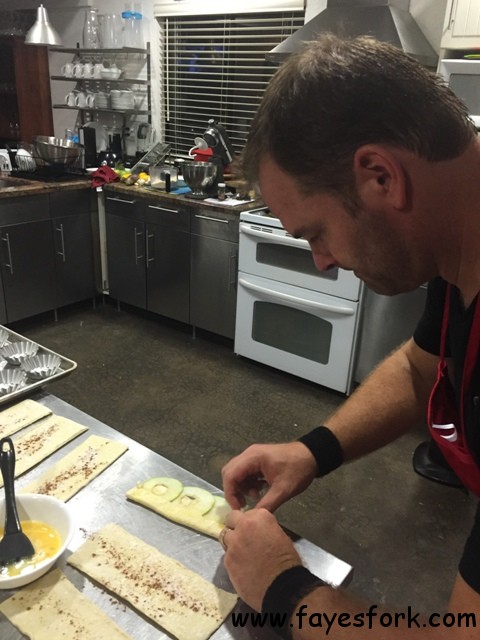 Chef Jason showed us how to roll the slices of apples into a rose shaped pastry dessert dish.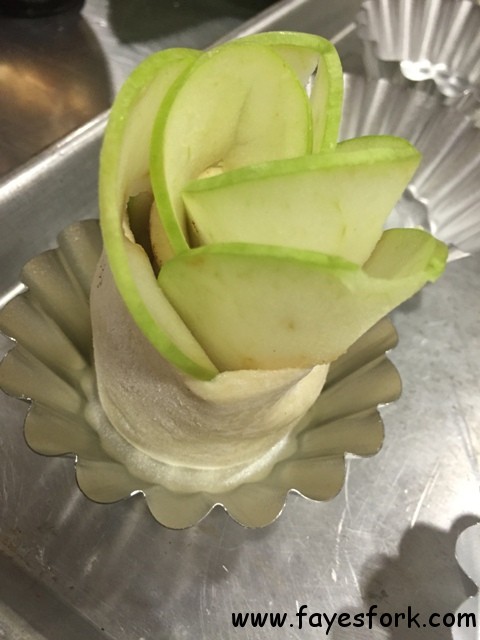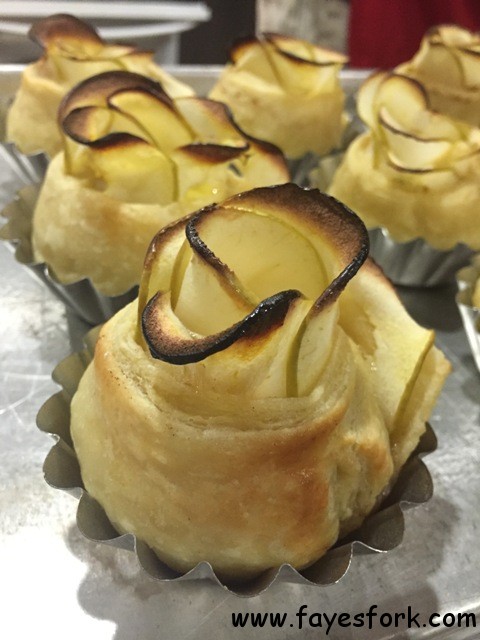 These were so pretty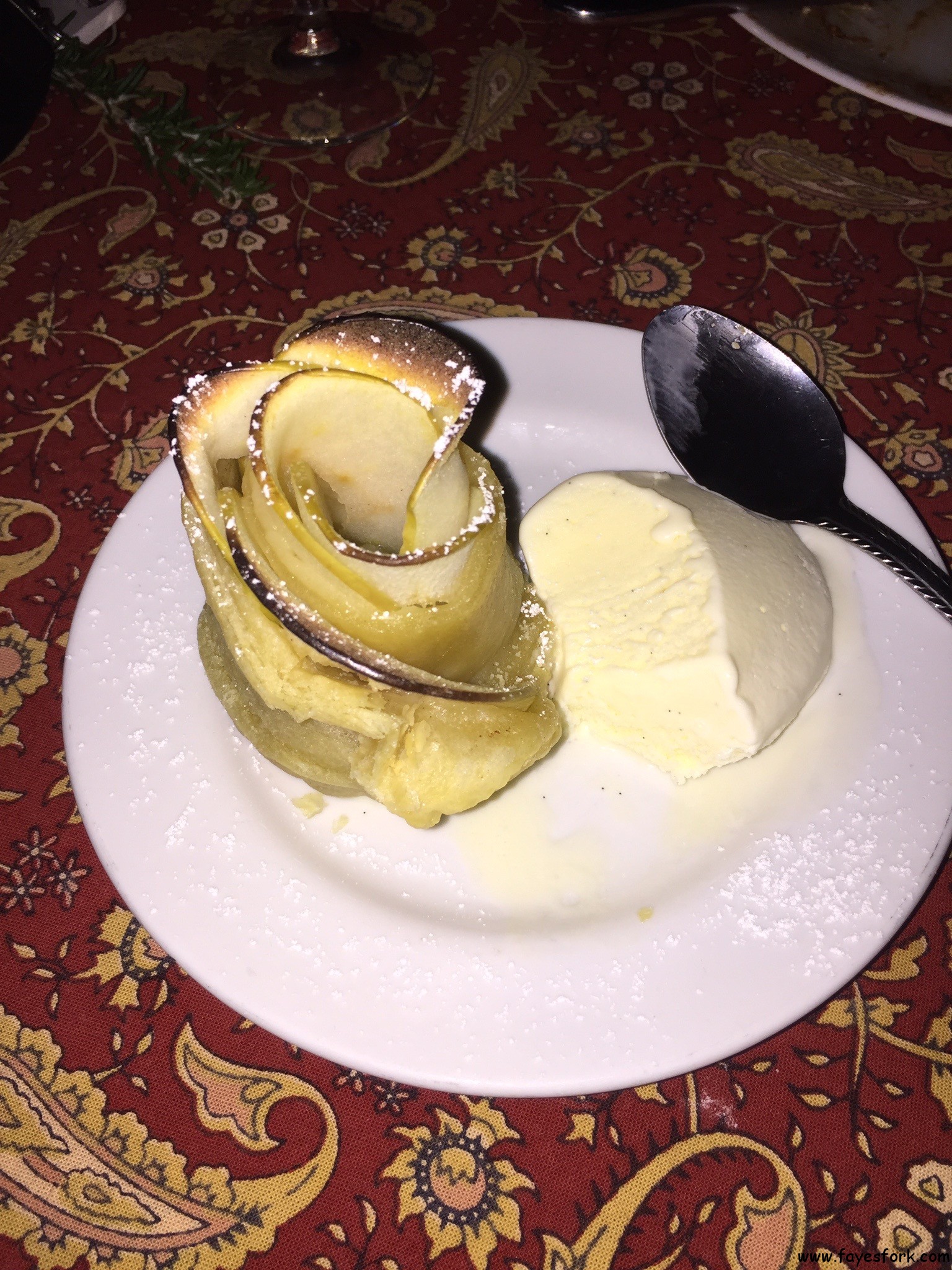 The puff pastry could have used a few more minutes in the oven but it was past 6:30p and a few bloggers had to leave. This dessert is so easy to make and the homemade ice cream was a nice addition to the puff pastry apple pie (this was Tara's plate up above).
I had a fun evening that night. I've always wanted this blog to focus on how food brings people together and I can say that Farmer's Market Foodventure was a fun take on that focus. It's not often you connect quickly with new friends but this foodventure had me hugging  a few people at the end. Their next foodventure will take place October 25 and celebrate Oktoberfest with craft beer tastings at Culture Brewing Company. I'm kicking myself because the menu includes homemade pretzel twists (damn), beer steamed oysters (double damn), chicken bratwurst, cheddar beer soup (oh man damn). I think that menu would appeal to quite a few dudes you might know in your lives. OH! And they have cable tv in the cottage!
Sunday NFL + cooking = Bliss (if the dang Chargers had won again the dang Packers that day)
Thank you Kristi and Jason for a memorable day –
FARMER'S MARKET FOODVENTURE (COOK WITH JASON)
714.833.0066
Disclaimer: I was invited to try out Farmer's Market Foodventure. All opinions stated here are my own.