The Lodge at Torrey Pines recently hosted its 13th annual Celebrate the Craft. This food festival brings together Southern California's chefs, local produce, wineries, and breweries to showcase all their skills and talents into one event. Produce was provided by more than fifteen regional farms and ranches, including Coleman Farms of Carpinteria, Point Loma Farms, Crows Pass Farms of Temecula, El Campito Farm of Descanso, McGrath Family Farms of Camarillo, Suzie's Farm of San Diego and Catalina Offshore Products of Solana Beach. I had heard such great things about this food festival and was also excited to finally visit The Lodge at Torrey Pines (how have I never visited this lodge in all the years I've been in San Diego).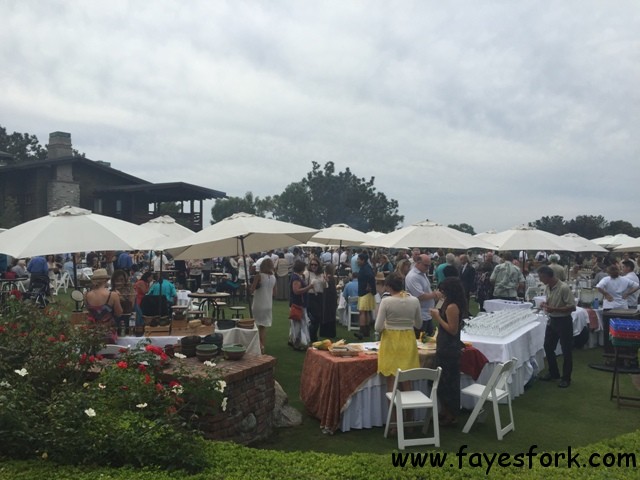 There was a quite a line to get into the event but it moved quickly once the check in process started. The event took place on the Lodge's outdoor patio overlooking the golf course. You couldn't help but get giddy smelling the burning wood smoke from the multiple bbq stations that day. I was lucky the friend who attended with me once coined "The Camera Eats First" when you're a food blogger because that was 100% the case that day.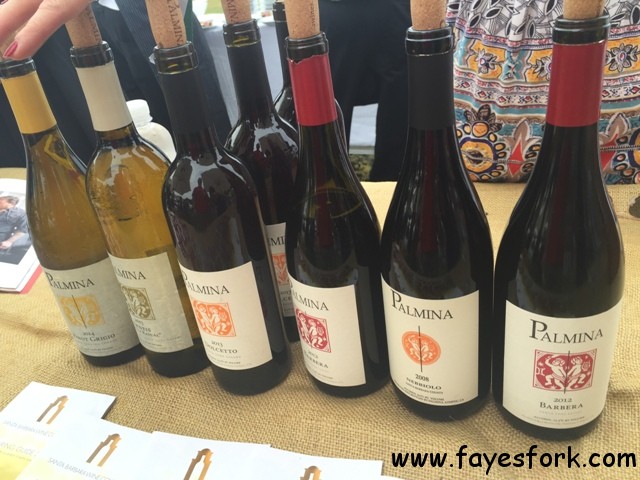 There were wineries at the event but I was there mostly for the food so let's start this journey shall we…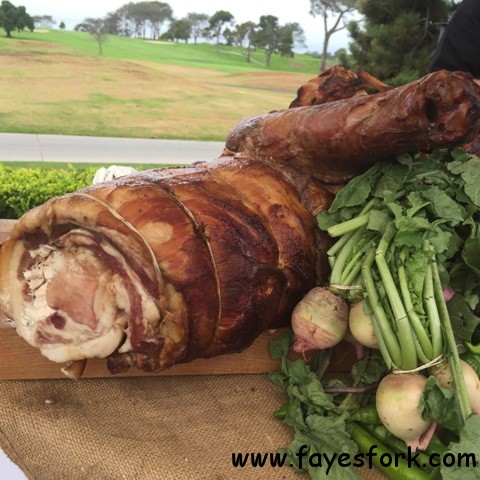 Jsix was our first stop and I couldn't help but fall in love with this porchetta resting beautifully on their table.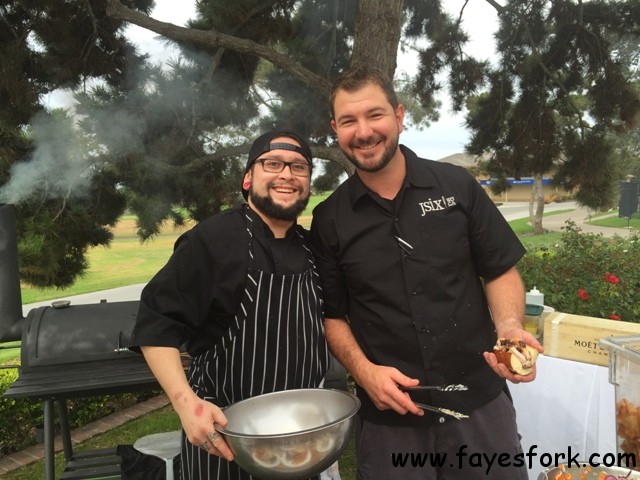 Chef Christian (on the right) took the time to talk to me about the porchetta . He noticed me taking pics and proceeded to fascinate me with the following:
He then cut the front end of the porchetta in half for me to take a picture…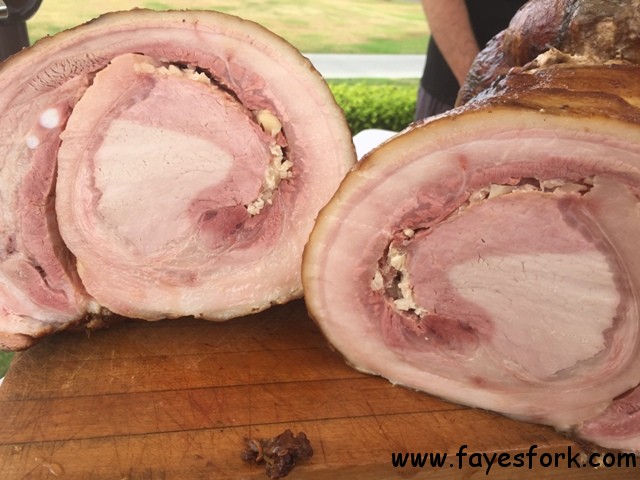 Then he put the porchetta on the grill to warm up for the sandwiches –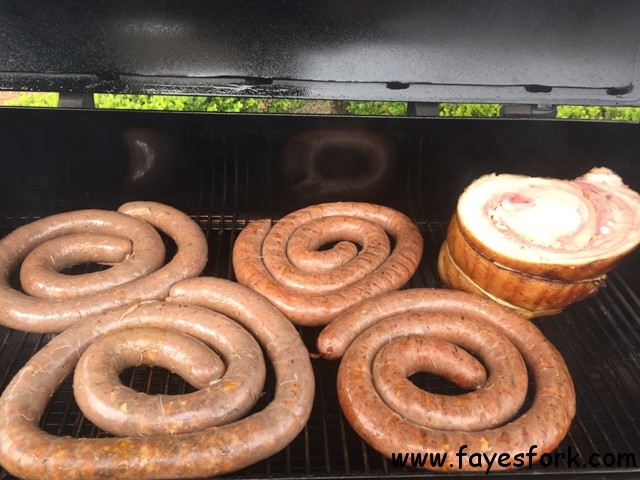 And the end result …
Tortured Pork, Pretzel Rolls Grainy Mustard, Cabbage and Ketchup
Absolute perfection. This was one our favorite items of the day. The 'tortured pork' was divine : lusciously fatty and tender. You could taste the crunch pork skin and the fresh cabbage just brought this sandwich to another level. I believe Chef told me they used the pretzel rolls from Bread & Cie.
Sashimi of Snake River Farms Beef Tenderloin Marinated and Grilled Squashes, Ponzu Garlic Chives
Raw beef. Raw beef sashimi. Life couldn't get better at this moment. The beautiful Snake River Farm beef tenderloin was atop a freshly grilled zucchini. This was a wonderful sample from Stake Chophouse.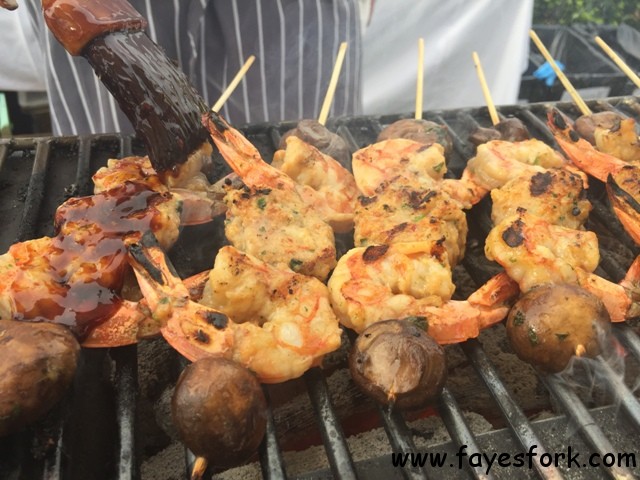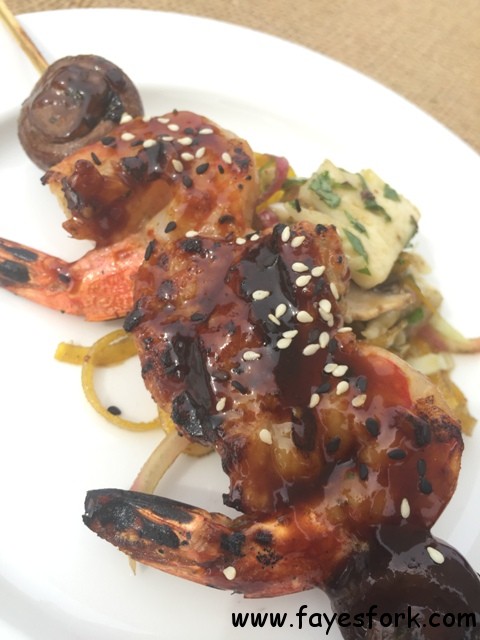 Seafood Skewers, Pomegranate Soy Glaze Raw Beet, Pickled Mushroom and Daikon Radish Salad
I believe there were shrimp cakes on the skewer as well. Friend's shrimp and shrimp cake were grilled a bit rare but mine was grilled just right. The shrimp tasted nice with the sweet pomegranate soy glaze.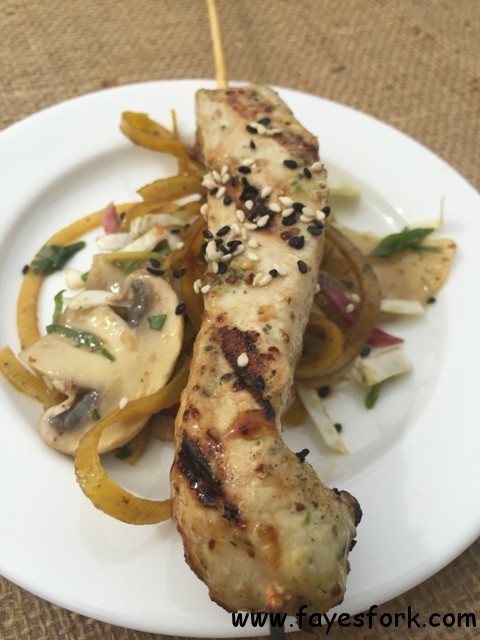 The chef also gave us a halibut skewer to try as well. The halibut had a nice firm tasted to it and was grilled perfectly.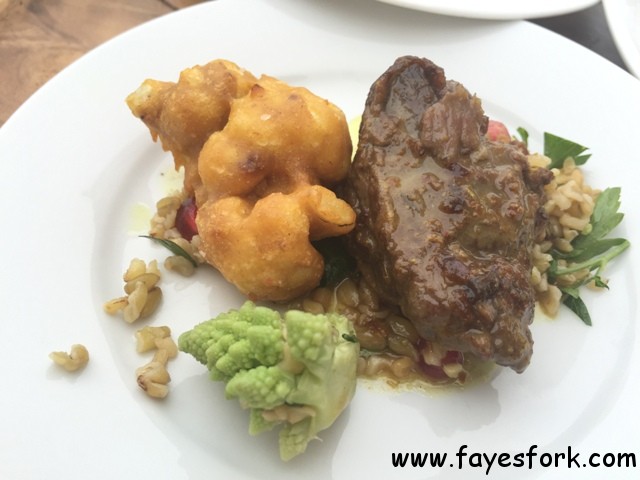 Lamb Cheek and Freekeh Vadouvan, Cauliflower, Pomegranate and Herbs
I don't eat lamb but friend enjoyed these soft cheeks. We both marveled how much we seemed to enjoy anything-pomegranate that day.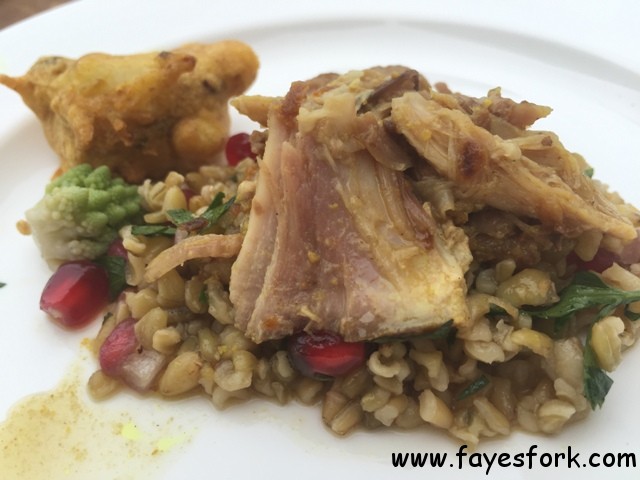 Pork Shoulder and Freekeh Vadouvan, Cauliflower, Pomegranate and Herbs
Here's a 'trick' I discovered (not sure if it's a real trick since it was my first time here) for trying dishes at Celebrating the Craft: take more than one loop around all the stations and you might just find new dishes that you didn't see previously. Case in point, the same Chefs, at this station, now replaced the lamb cheeks with Pork shoulder. Now THIS I can eat. The pork shoulder tasted tender.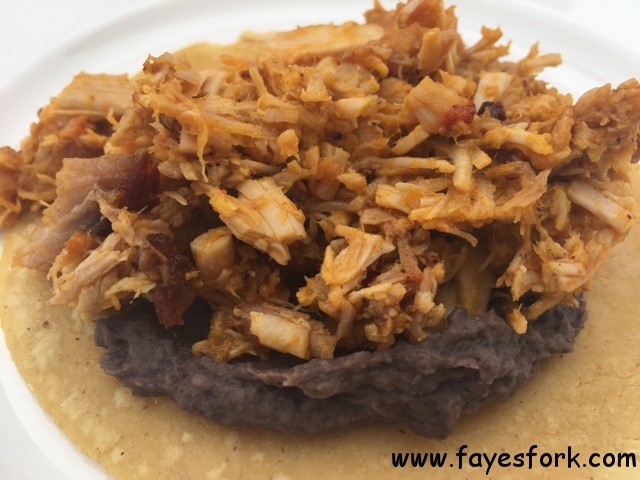 Cochinita Pibil: Burnt Carrot and Habanero Salsa, Yuzu Pickled Red Onions, Black Beans en Hoya Handmade Masienda Heritage Corn Tortillas
Oh Javier. How I was so shy seeing you for a brief moment. #ChefCrush (why can't I come up with cool poundsigns like that when I'm trying to Instagram on the spot).
There was a hustle and bustle for Chef Plascencia's station.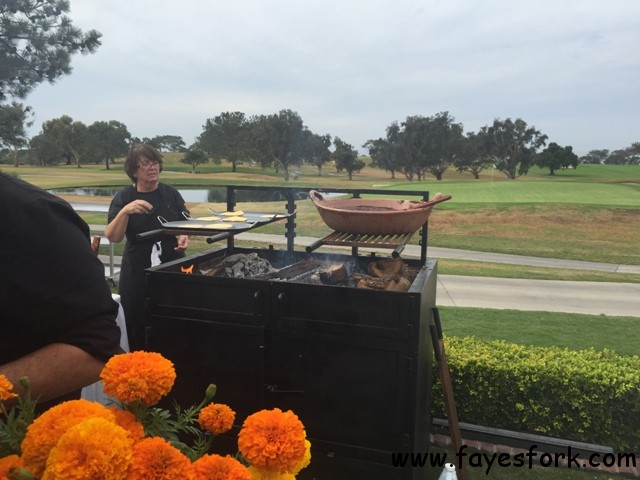 They were using wood to grill their hand made corn tortillas and to heat up the black beans. The slow roasted pork tasted nicely seasoned and was so juicy. I don't eat corn tortillas but the version here was delicious.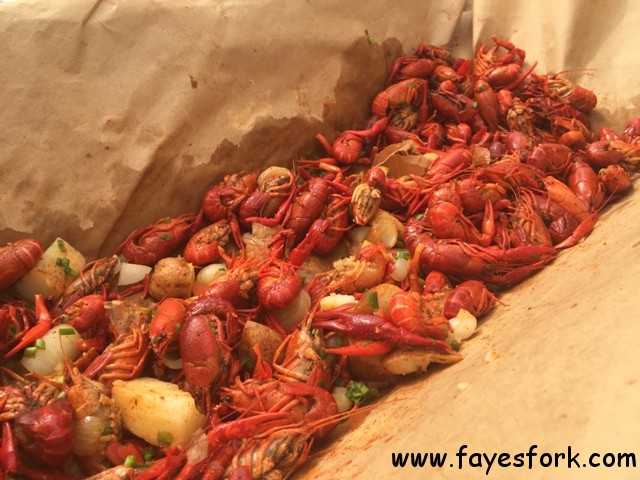 Crawfish Boil: Cajun Style Boil with Crawfish, Shrimp, Andouille Sausage, Corn Red Potatoes, and Cipollini Onion Cornbread with Spiced Honey Butter
I've heard of MIHO Gastrotruck before but never had a chance to try them out. They were offering a Low Country Boil that afternoon.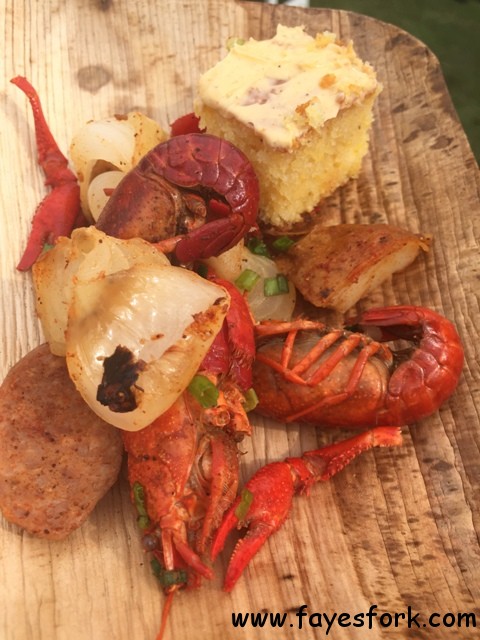 It was hard to get the meat out of the crawfish tail. The meat was a bit tough but the andouille sausage was good.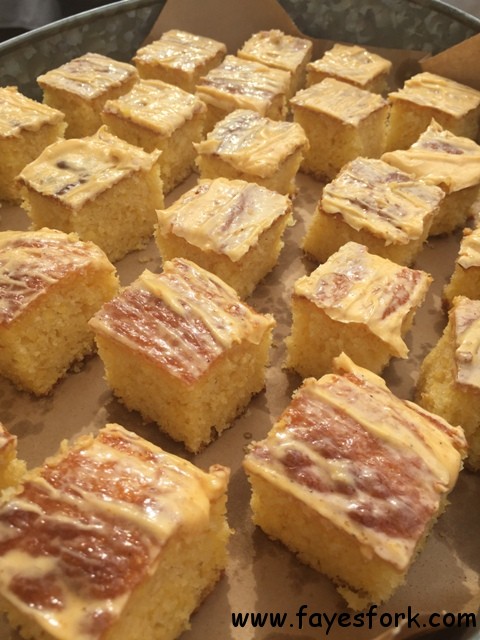 Here's a close up of their cornbread slathered with the honey butter.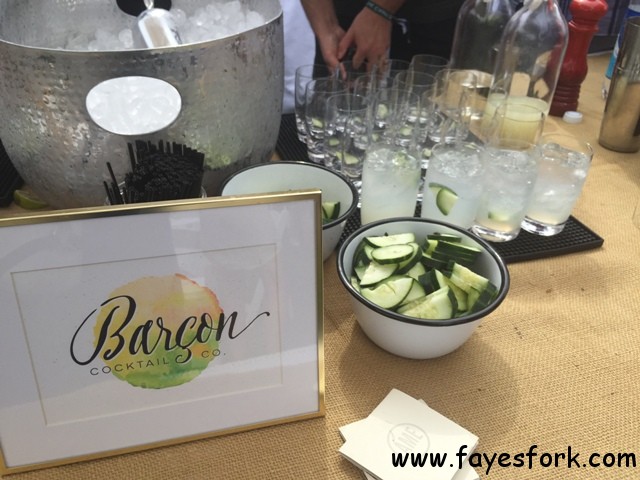 I believe this is AME (A MIHO Experience) which is the cocktail sector of Miho Gastropub. They made this refreshing cucumber drink (there was alcohol in it but I can't seem to remember what kind).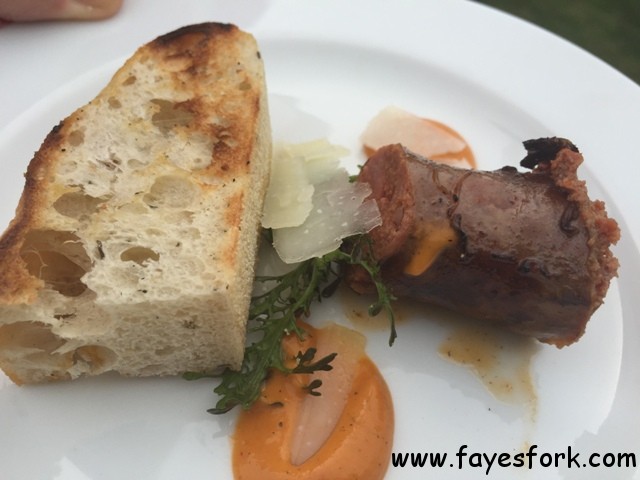 House-made Merguez Sausage, Romesco Citrus, Arugula, Shaved Parmesan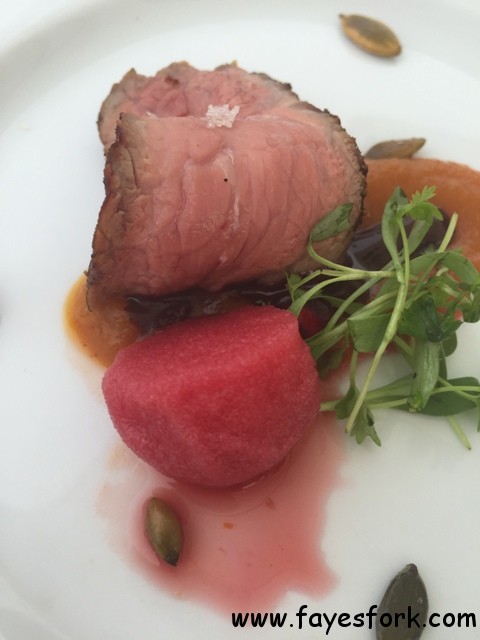 Prime Dry Aged New York, Pumpkin Mole, Spiced Chocolate, Pomegranate Mescal Sorbet, Smoked Sea Salt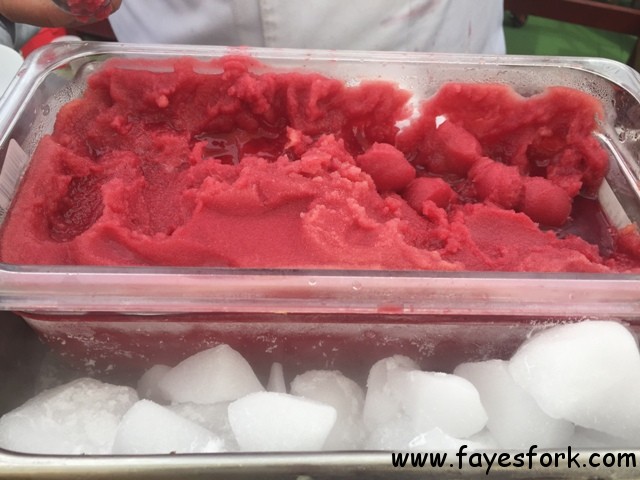 I was fascinated how they kept the sorbet over dry ice before serving the portion onto the plate. All the chefs and stations had an intensity to detail that was incredibly impressive.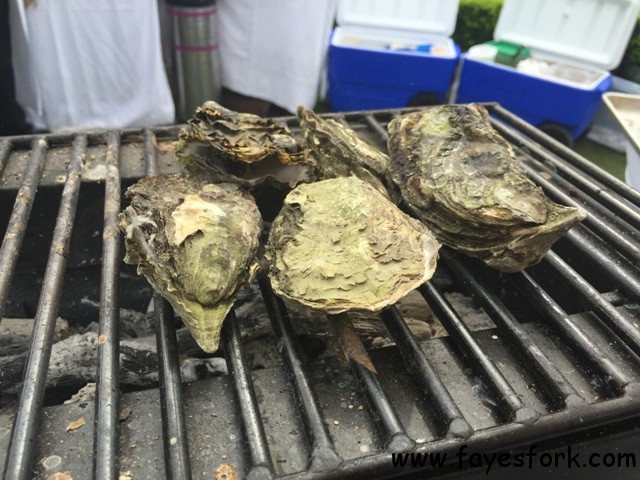 I knew right away who was in charge of the next station. The ever grumpy (yet personable) Tommy Gomes wasn't there but his fresh seafood was.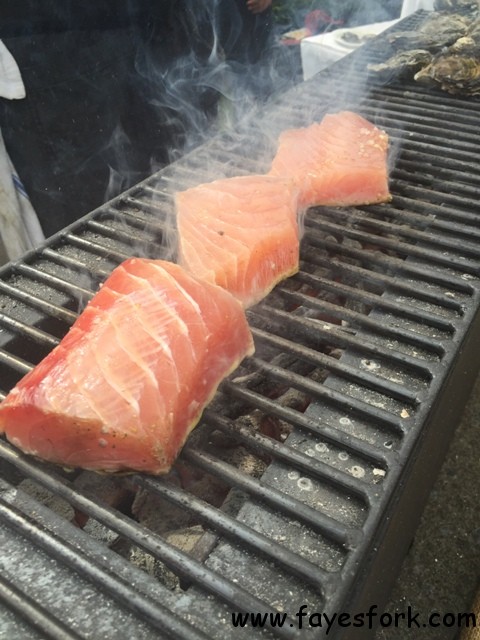 Both the oysters and big eye tuna were being grilled over, what looked to be, binchotan coals. I wish I took a video of the oysters slowly popping open from the hot coals.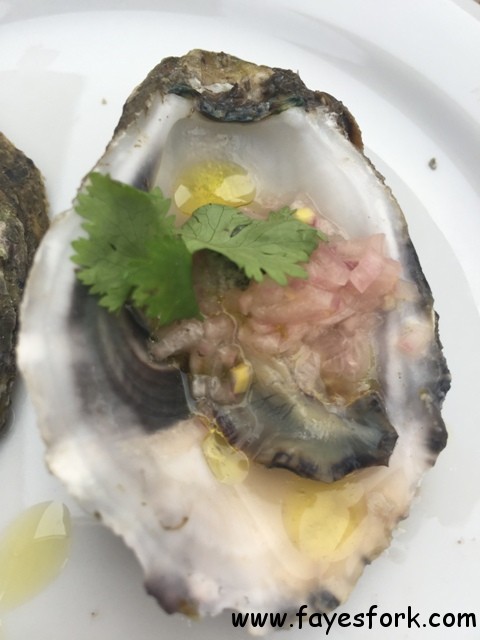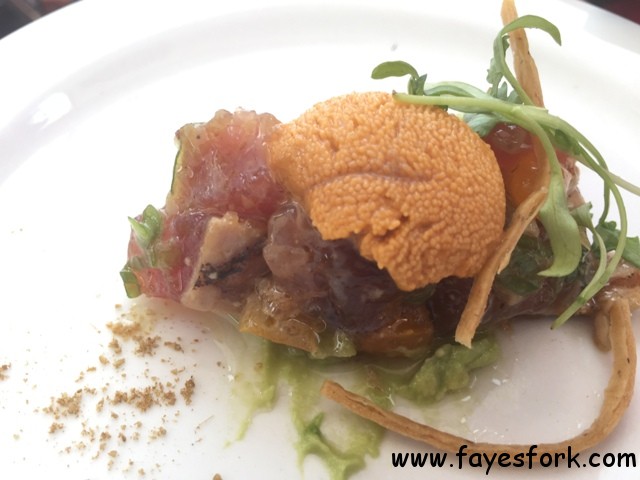 Seared Bigeye Tuna, Uni and Heirloom Tomatoes
One word. UNI. I've had many experiences with uni but never fell in love with it. Without a doubt, THIS fresh uni on top of the seared diced bigeye tuna was THE BEST UNI I've ever had. I barely noticed the bigeye tuna because my tastebuds were completely infatuated with the oceany custard goodness that was this uni.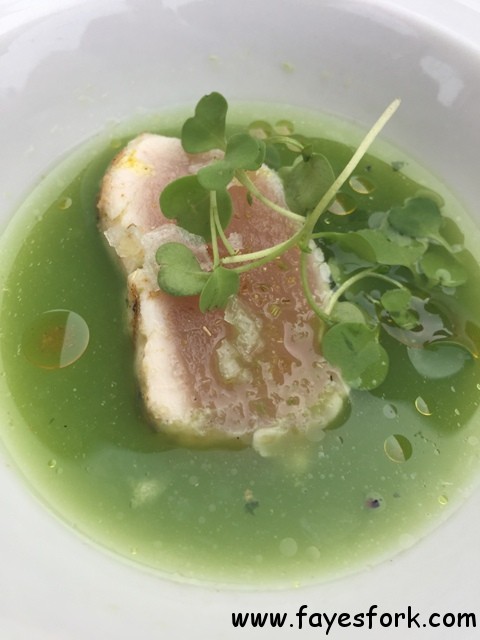 Marinated Opah, Tomatillo-Nopal Emulsion, Curry Oil
I only saw this sample on my third and final pass that day visiting all the chefs. So again, make sure to take the extra time visiting all the chefs and dishes when you attend Celebrating the Craft.
Ceviche Mixto: Grilled Octopus, Fish, Calamari, Clams, Shrimp with Feather Cut Red Onions in an Aji Limo-Uni Leche de Tigre, Toasted Mai's Chullpi Corn
I've heard such amazing reviews about Q'ero and so want to go their restaurant(s) soon. This was a nice and fresh ceviche but perhaps a bit seafood-intense for me at that moment. I'm not sure if it was the heat or feeling a bit dehydrated. I wish I could re taste this dish as I'm just noticing the aji-limo uni leche de tigre in the description just now.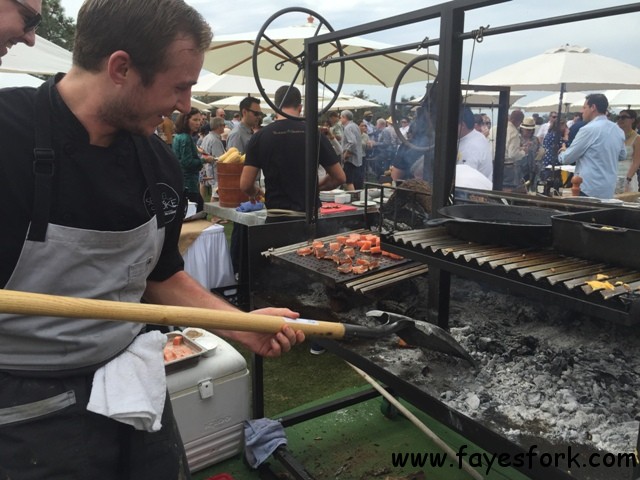 I  noticed these guy from Urban Solace busting their tushes at this particular station. The heat emanating from the hot coals was unreal. The guys let me take a few pictures of their grilling area :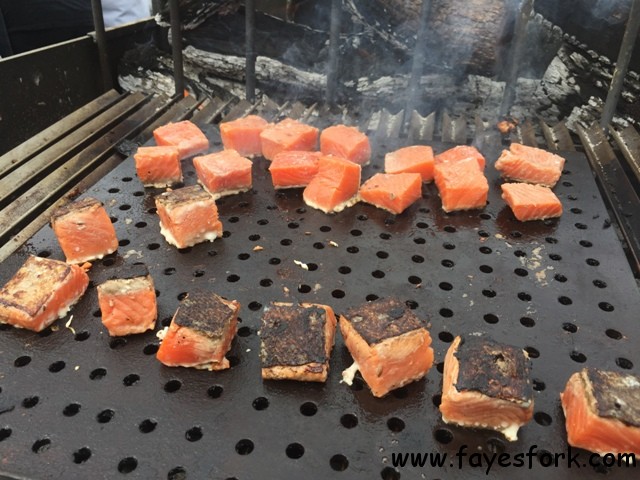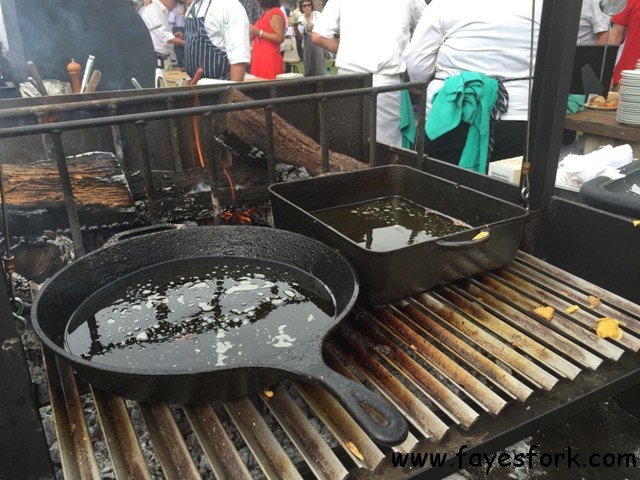 And the final product: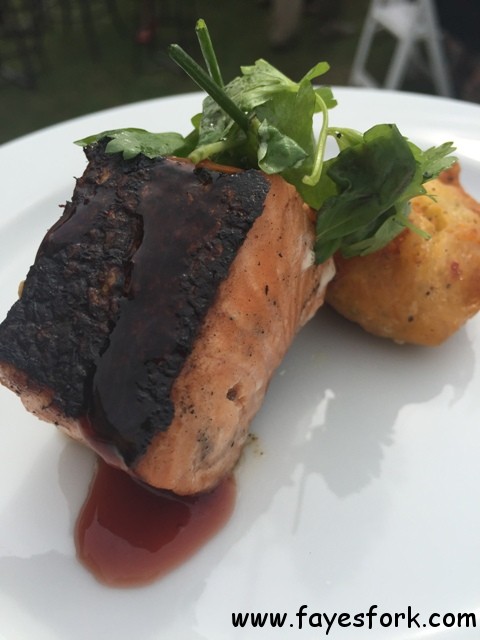 King Salmon, Pomegranate Brine, Celery Root/Squash Fritter
I think I met Chef Gordon when he handed me this plate. The picture above doesn't do this sample justice. I cannot explain how much I loved the squash fritter. It was wonderfully crispy (did they use lard or something to deep fry these fritters?) but take a closer look at the sheer beauty of this king salmon: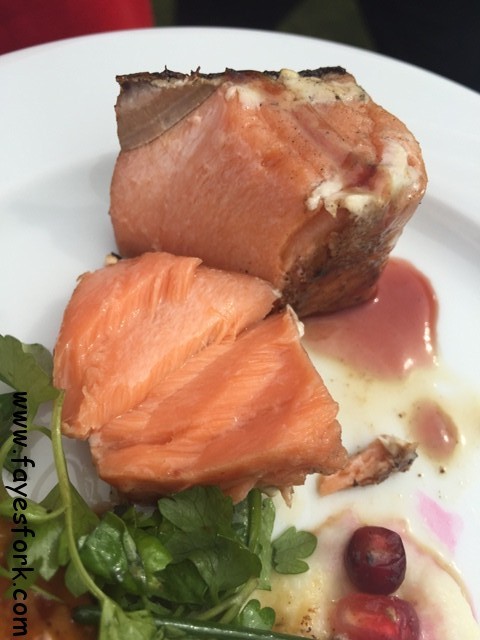 The king salmon was grilled a perfect rare. I'm not sure if I could taste the pomegranate brine but the pomegranate sauce paired nicely with the salmon.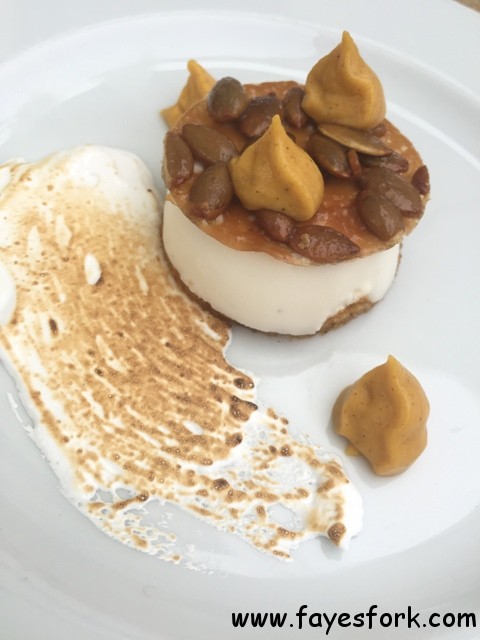 Butternut Squash Crème Fraîche Cheesecake, Curry Caramel, Pepita Florentine, Toasted Meringue
I believe this was Chef James dessert creation.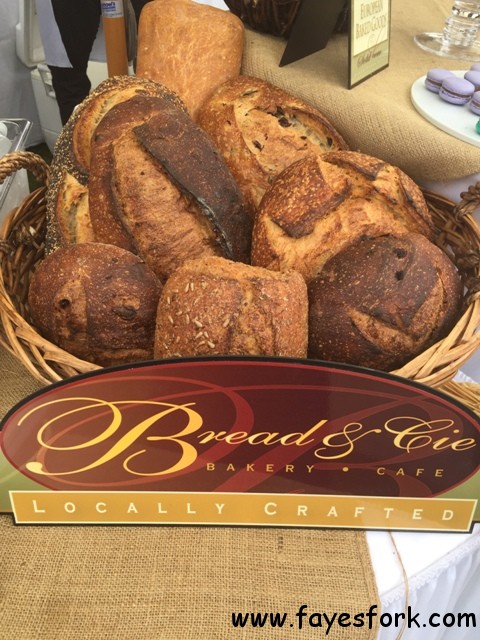 Bread and Cie was also there sampling their macaroons and I believe a chocolate meringue cookie as well.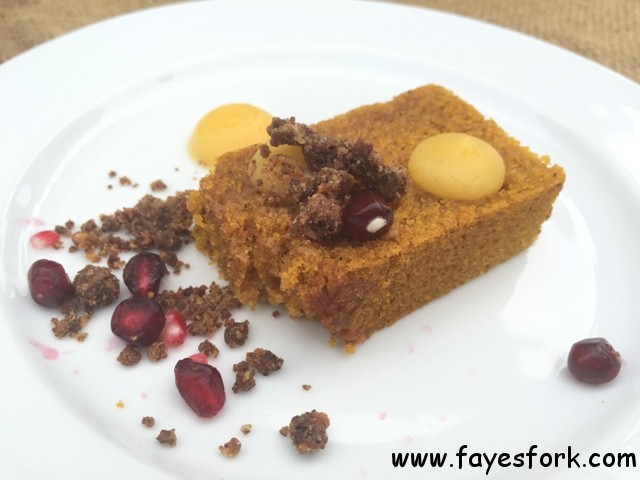 Pumpkin Bread, Rosemary Glaze, Pecan Crumb and Pomegranate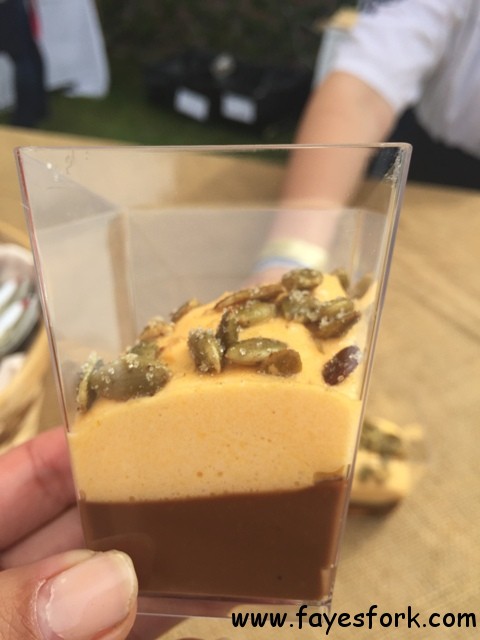 Dark Chocolate Crémeux, Tahitian Squash Mousse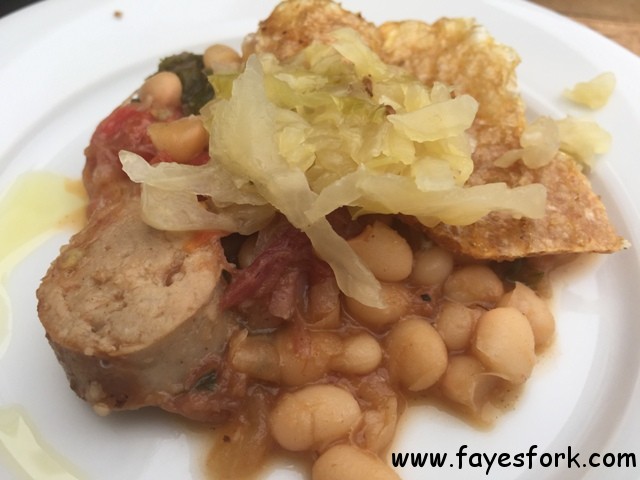 Mastiff Classic Bratwurst, Sauerkraut Casserole, Confit Ham Hock, White Beans and Herbs
I have fond memories of Mastiff Sausage Company from seeing them at Green Flash Brewing Company. Friend liked the bratwurst while I liked the fried chicharron on top.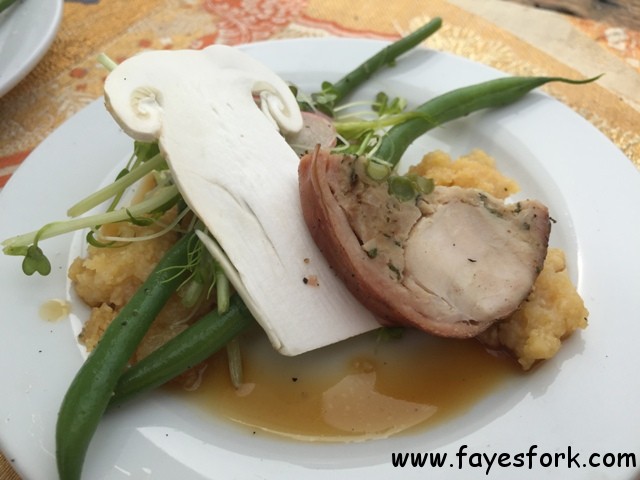 Whole Oak Roasted De Bruin Rabbit Savory Herb and Porcini Stuffing, Golden Door Garden Beans Creamy Polenta, "Jus Royal"
I wasn't sure if I had ever heard of The Golden Door other than it's a fancy getaway spa type resort. Chef Frey and Chef Ryan were so easy to talk to and it was fun seeing them prepare this dish. Friend enjoyed the rabbit and said the porcini stuffing was done nicely. I particularly enjoyed the 'jus royal'.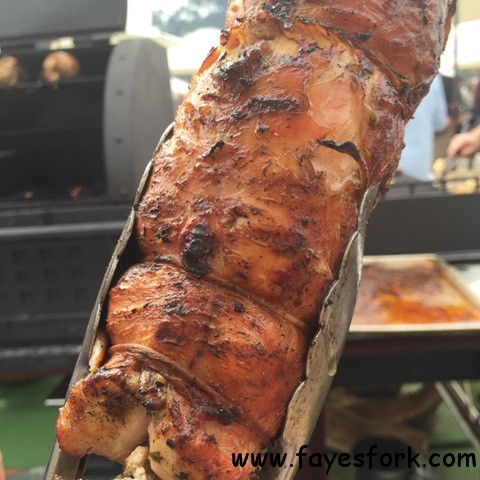 Chefs took out a freshly oak roasted rabbit for me. Can't you just smell the oak-y deliciousness right about now.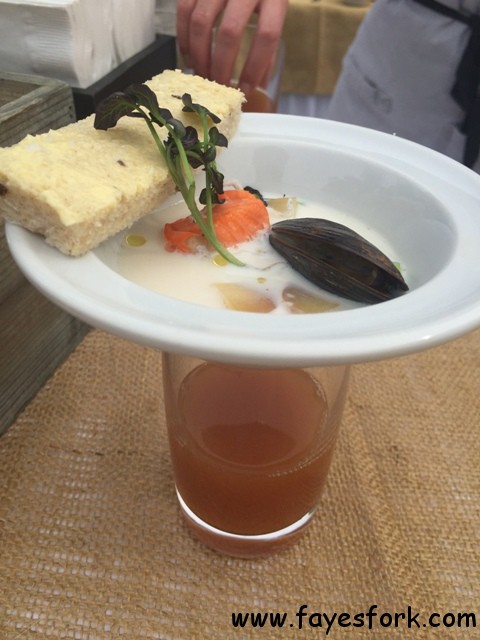 Smoked Chowder, Mussel, Jako, Salmon, Potato, Pumpernickel, Butter & Salt
The chowder had a thinner soup base to it but still tasted very much of fresh seafood. I was a bit salmoned out by this point but thought the milky broth tasted nice. The glass underneath the chowder was freshly pressed apple cider. I'm not sure if people noticed a younger guy pressing fresh apples right next to this particular station …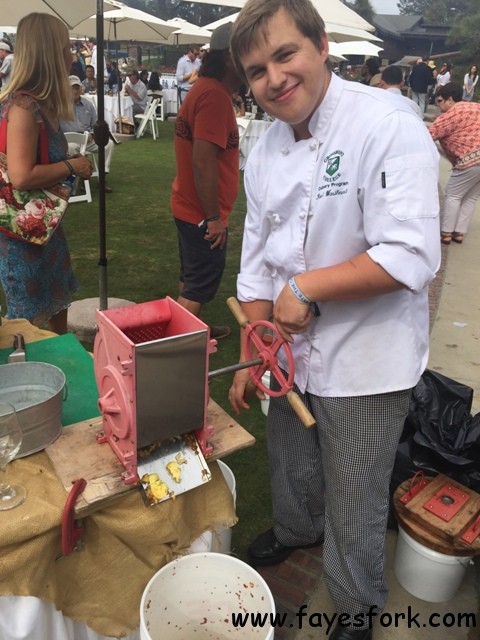 The fresh pressed cider had such an intense sweet apple taste to it. I asked if they added any sugar and they proudly smiled 'no'.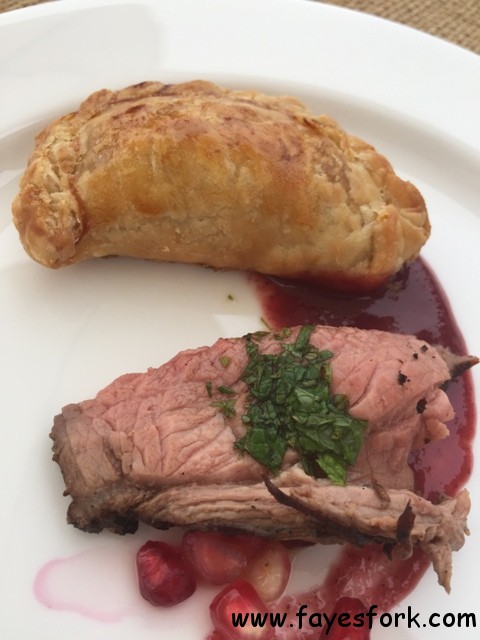 Roasted Leg of Lamb, Mincemeat Pasty, Pomegranate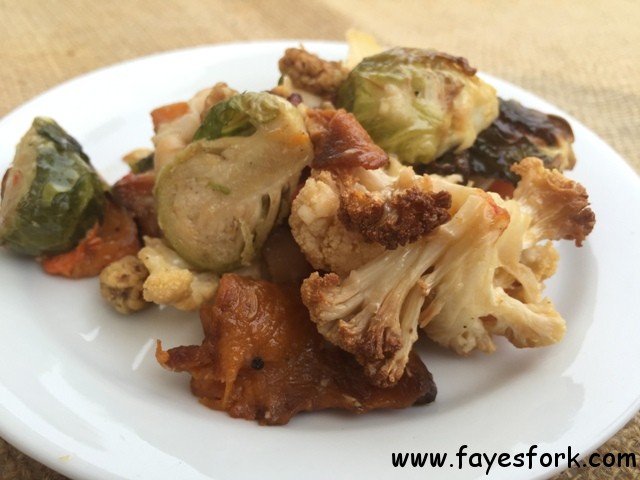 Autumn Ingredient Salad: Brussel Sprouts, Cauliflower, Squash, Mulberries, White Beans, Pomegranates, Horseradish Vinaigrette
And with that we were pretty much done. The food was plentiful and I loved how real utensils (plates, forks, glasses) were used for the samples. That's something I don't believe I've seen at previous food events so kudos to Celebrate the Craft for yet another paying attention to detail factor.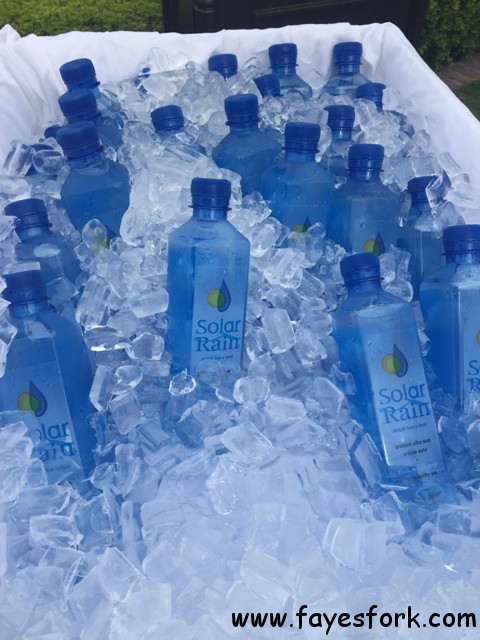 The weather was humid so these complimentary Solar Rain bottles of ice cold water were much appreciated by each patron.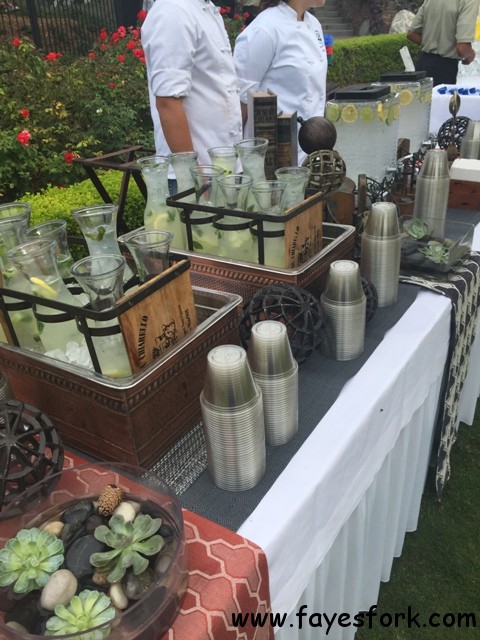 Flavored waters and lemonades (?) were also provided.
Overall, I enjoyed myself at the 13th annual Celebrate the Craft festival. The memorable moments for me at this year's Celebrate the Craft were 1) meeting the chefs ; 2) trying copious amounts of unlimitless food; and 3) taking in all the beautiful scenery The Lodge at Torrey Pines offered.
My only suggestion would be to offer more seating areas. A patron had mentioned to me that people fight over the tables as people reserve the tables with their sunglasses, drinks, etc so that no one else can use the table(s) the entire time. I did notice that and it was hard to fully enjoy the dishes under the sun while standing for a few hours.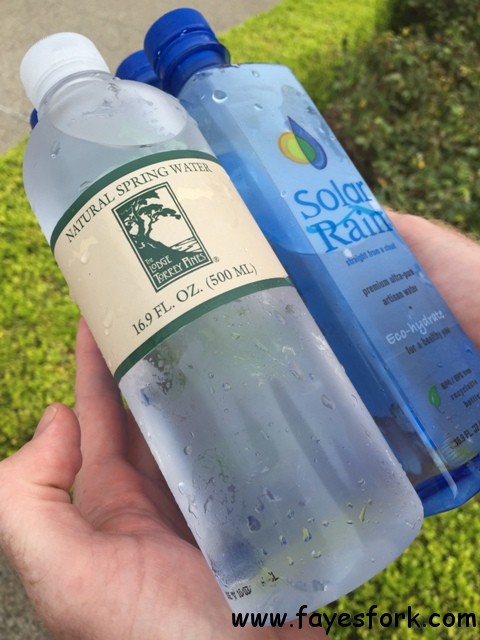 We grabbed a few bottles on our way out as it was getting pretty humid that afternoon.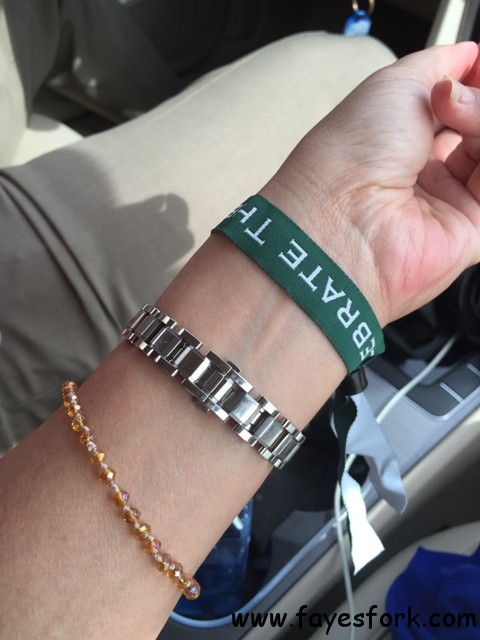 I also wanted to show you the entry bracelet they gave you at Celebrate the Craft. The wristband was cloth and had a noose you tightened once they put it on you. I hadn't seen this in past events so thought this was pretty nifty.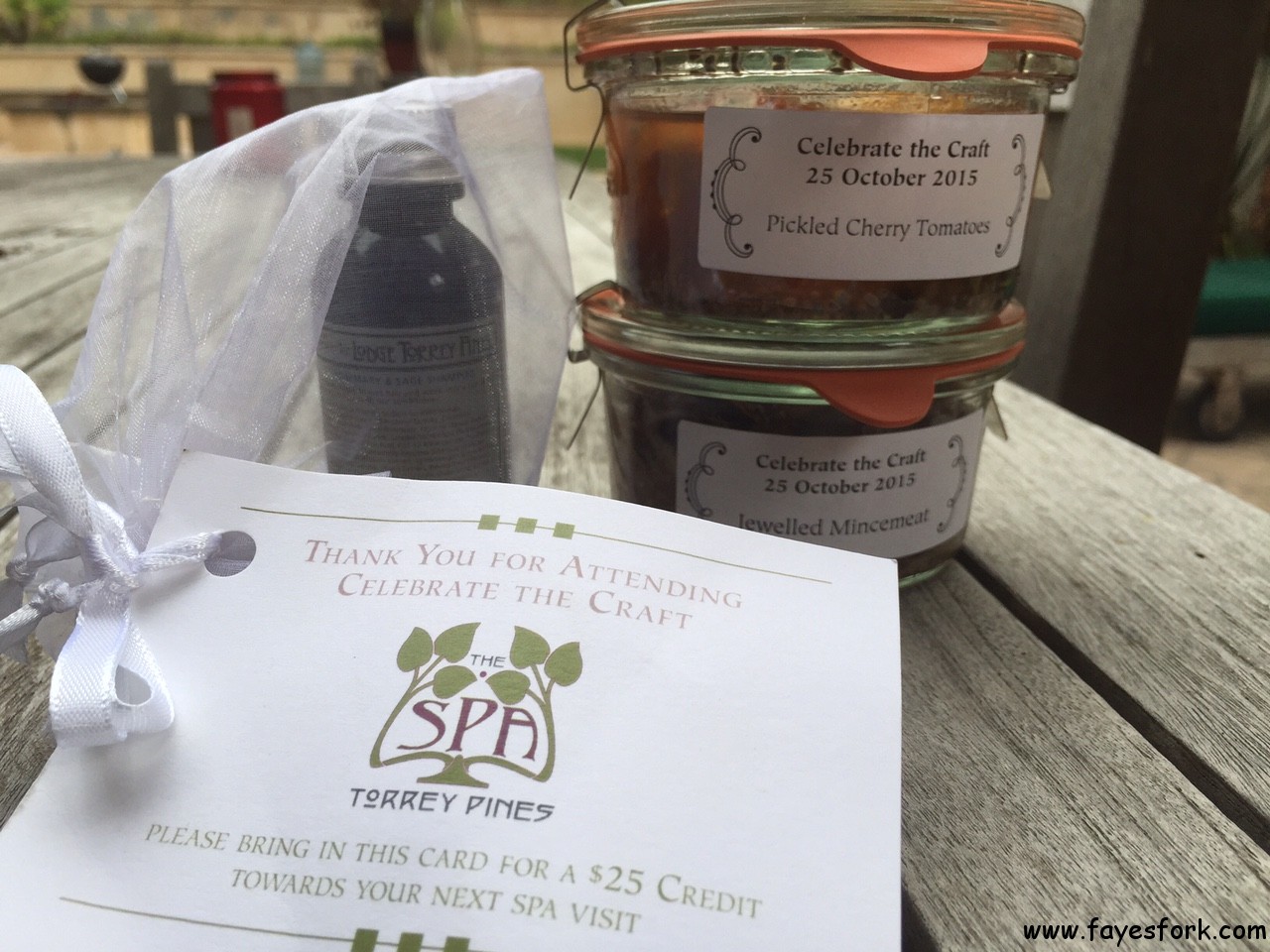 And of course. My swag. Chef Kelli (from A.R. Valentien) gave out adorable jars of her mincemeat (same used in her mincemeat pastry sample) and her pickled cherry tomatoes. The Spa at The Lodge were on site that day offering complimentary 15 min chair massages to patrons as well. The Spa gave out $25 future vouchers to any spa service as well as spa samples (yes!). So yes, it was a successful Sunday (minus the Chargers losing…why).
CELEBRATE THE CRAFT 2015
@ THE LODGE AT TORREY PINES
11480 N Torrey Pines Rd
La Jolla, CA 92037
Disclaimer: I was given a complimentary pass to this event. All opinions stated here are my own.