My friends and I always complain how there's no affordable all you can eat Korean BBQs for lunch here in San Diego. We've paid the full dinner AYCE price at many places but never felt we ate enough, for lunch, to warrant the $22+ dollars. So I was curious when I kept seeing Roadem BBQ  $9.99 AYCE lunch special when I was driving through Convoy. I read that it's a limited all you can eat option with only five proteins to choose from. That's totally fine with me especially if they're offering banchan as well. So Cdj and I decided to visit Roadem BBQ the other day to check out this all you can eat lunch option.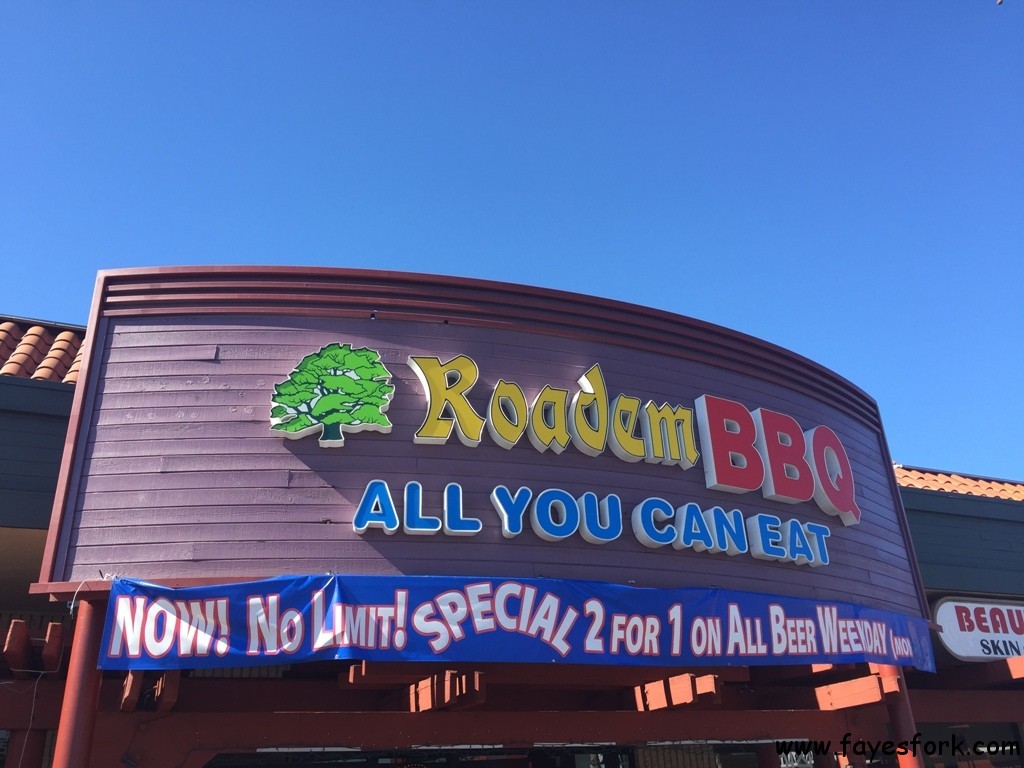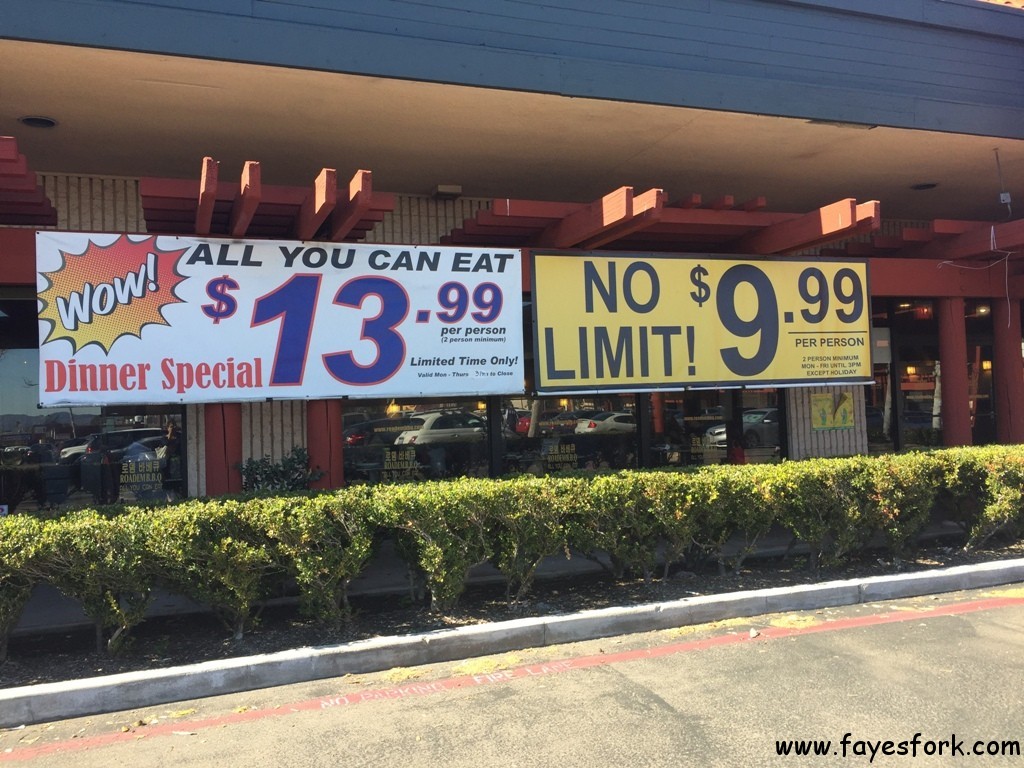 The $9.99 AYCE lunch special is valid Mon-Fri until 3p. There's a two person minimum and you have a max of two hours to eat.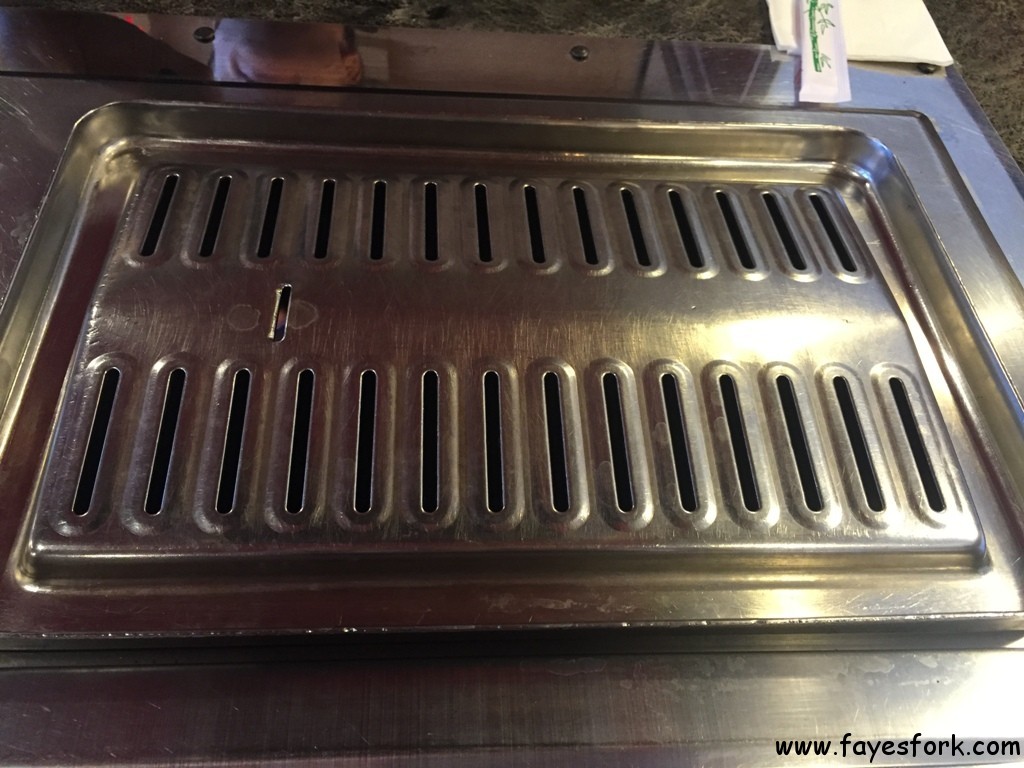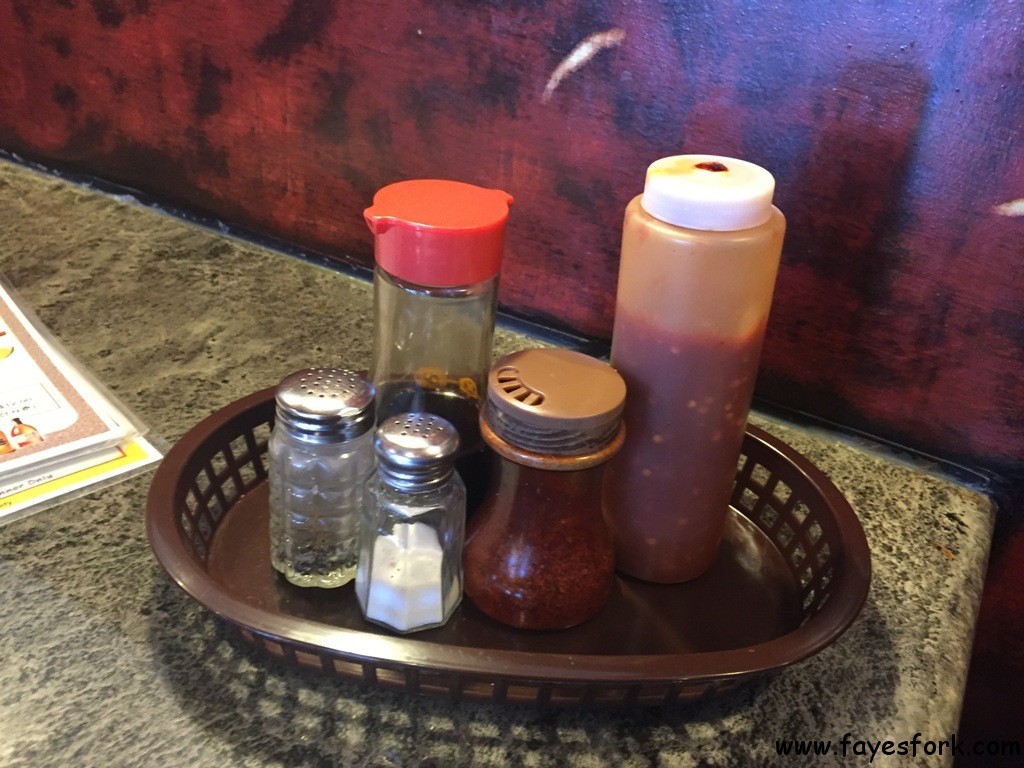 I liked getting water this way as it's one last thing to ask  your busy server (for refills).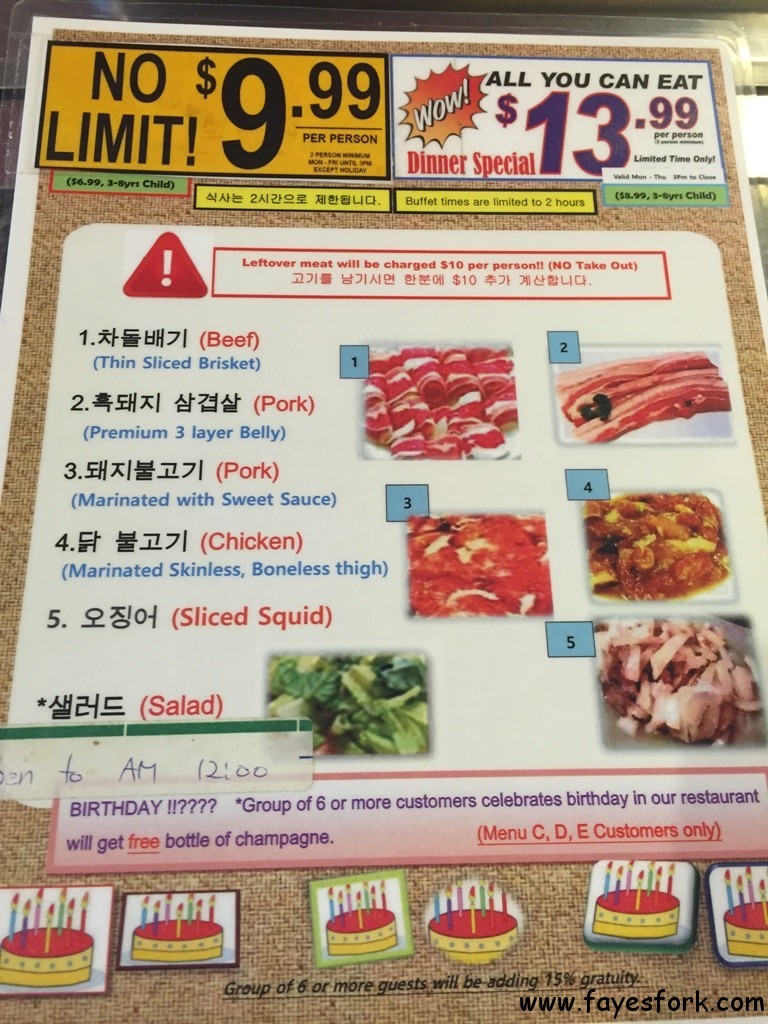 The proteins include : thin sliced brisket, premium 3 layer pork belly, marinated pork with sweet sauce, marinated skinless/boneless chicken thigh, and sliced squid.
We placed the order with the gentleman who sat us in the booth and waited. And waited.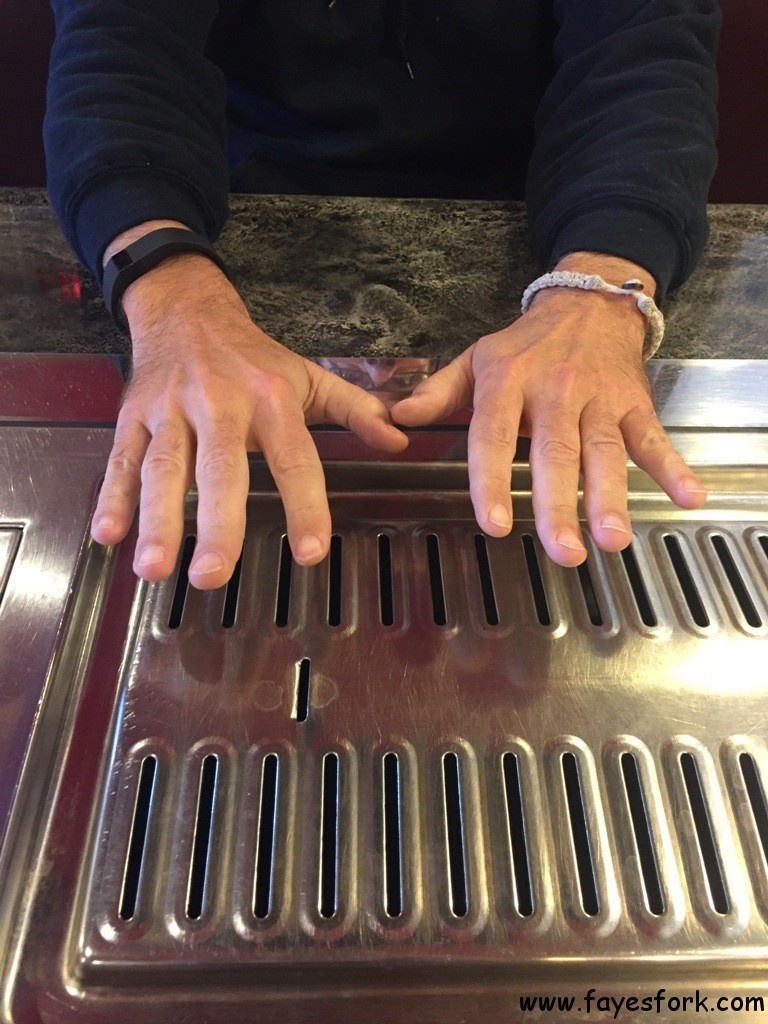 This is what Cdj does when he's cold and hungry. We weren't sure what was taking so long to bring out raw meat. The restaurant was surprisingly packed with hungry patrons already grilling (Cdj noticed most of the customers were non-Koreans).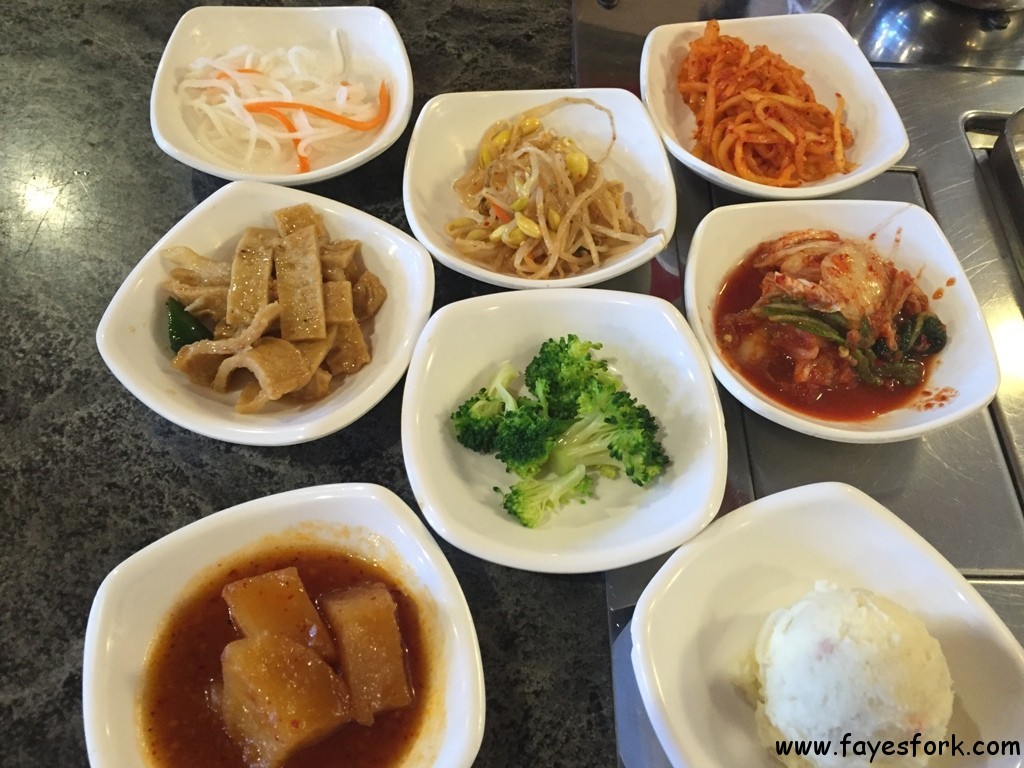 There was a nice variety of complimentary banchan that finally came out. It included stewed potatoes, potato salad, broccoli, kimchi, fish cake, bean sprouts, pickled daikon.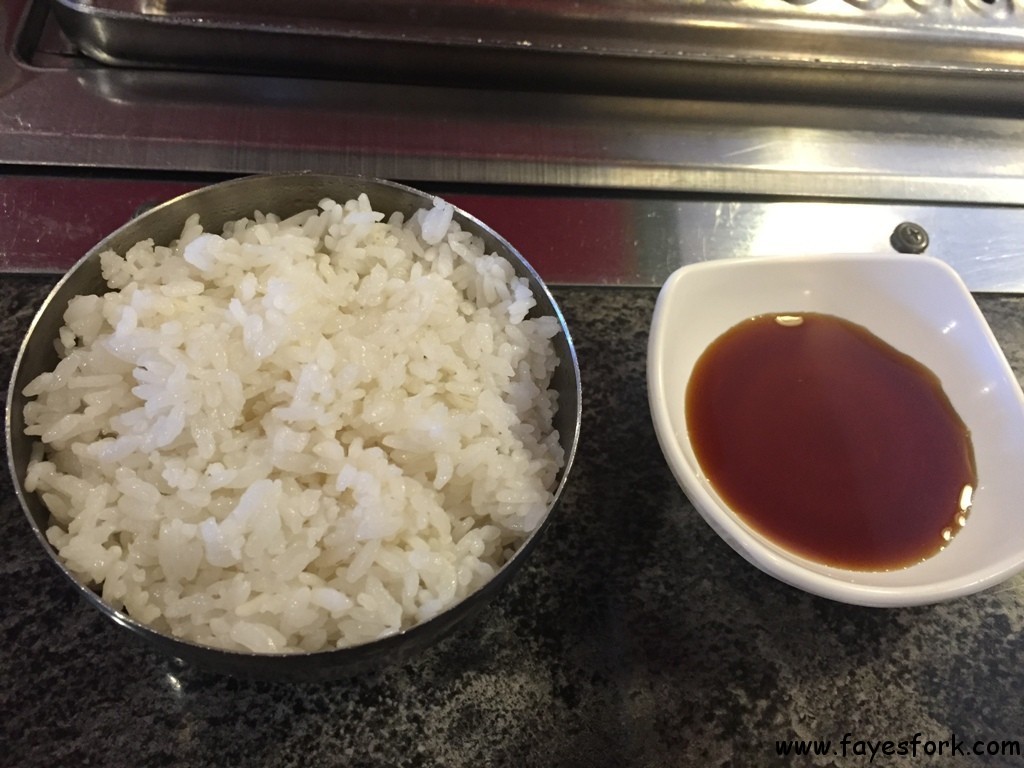 We each received a bowl of steamed rice and a side of sweet soy dipping sauce. I asked if there was a sesame & salt/pepper dip which the guy said no.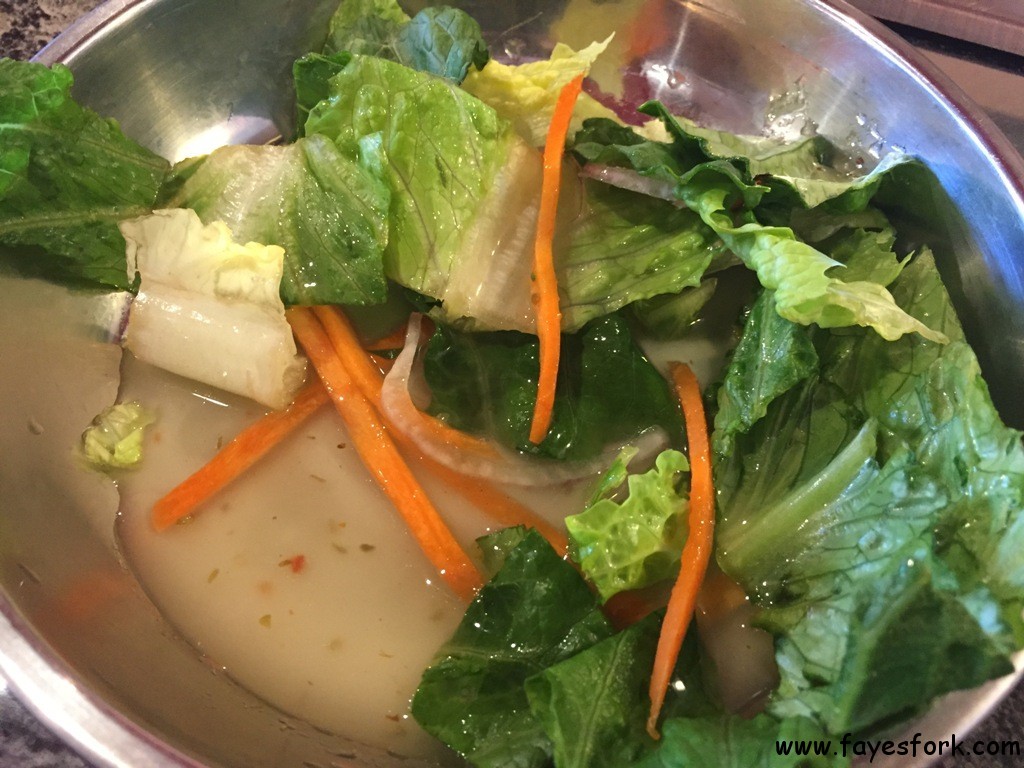 The $9.99 AYCE option comes with a salad which was brought later after we requested it. I found it strange that the dressing was a thick generic Italian vinaigrette.  The greens tasted refreshing nonetheless.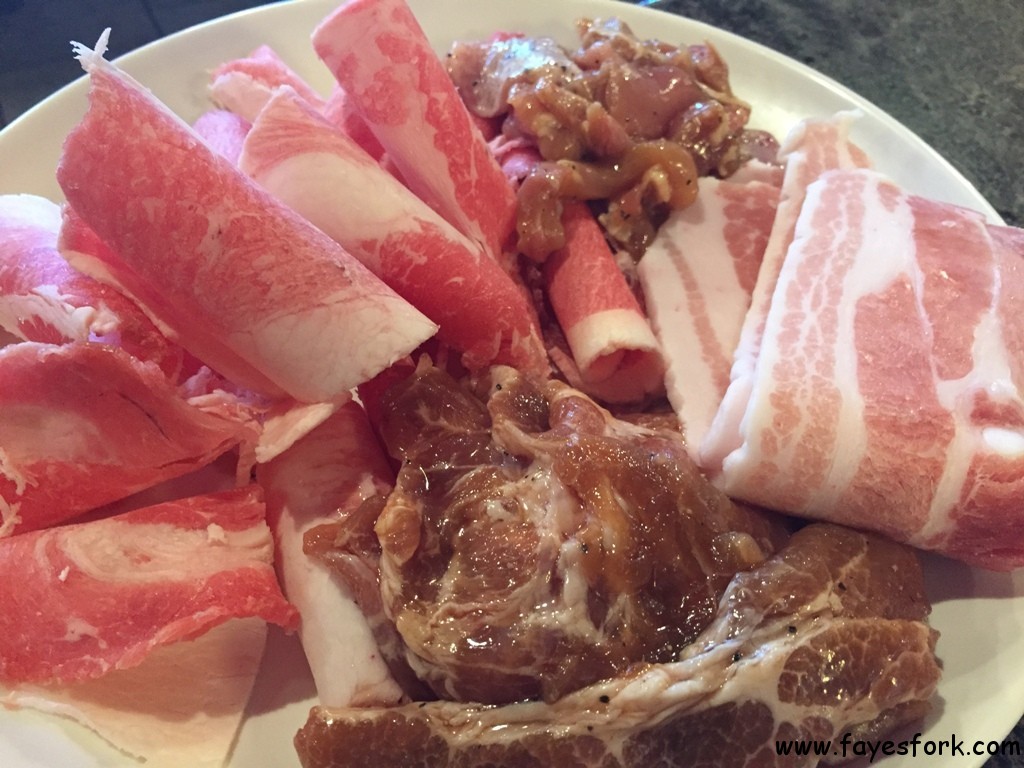 We ordered 4 out of the 5 options: brisket, chicken, pork belly (aka thick bacon here) and marinated pork.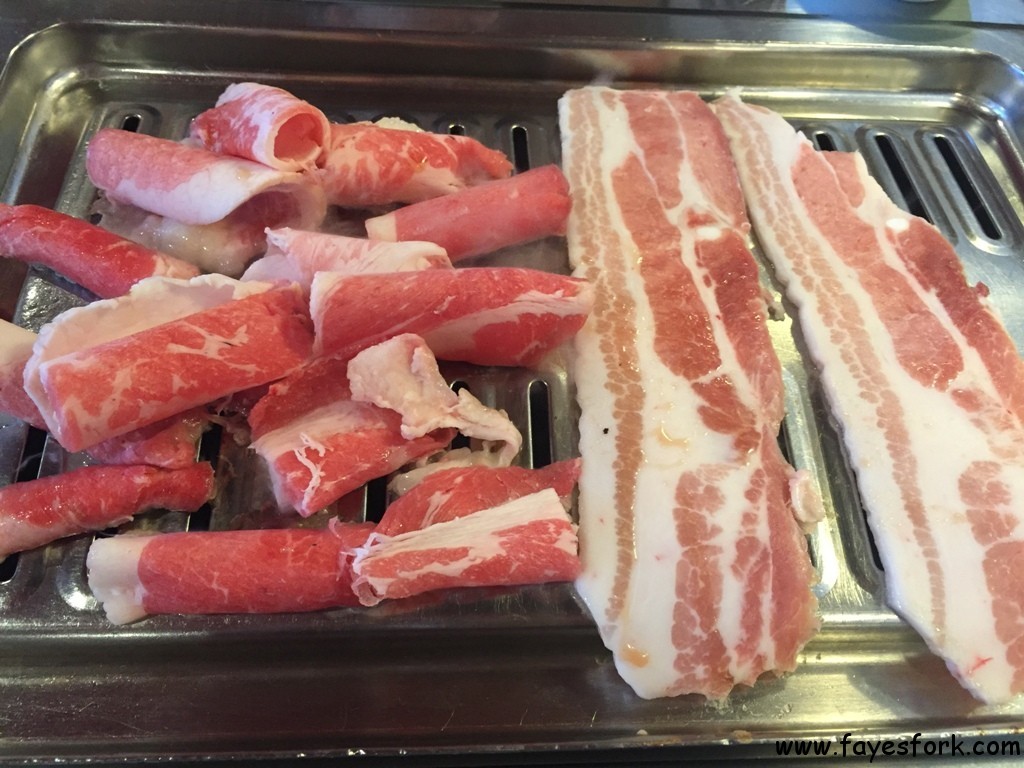 This is the brisket and pork belly grilling on the gas grill. You can control the temperature of the grill with the knobs that are besides it.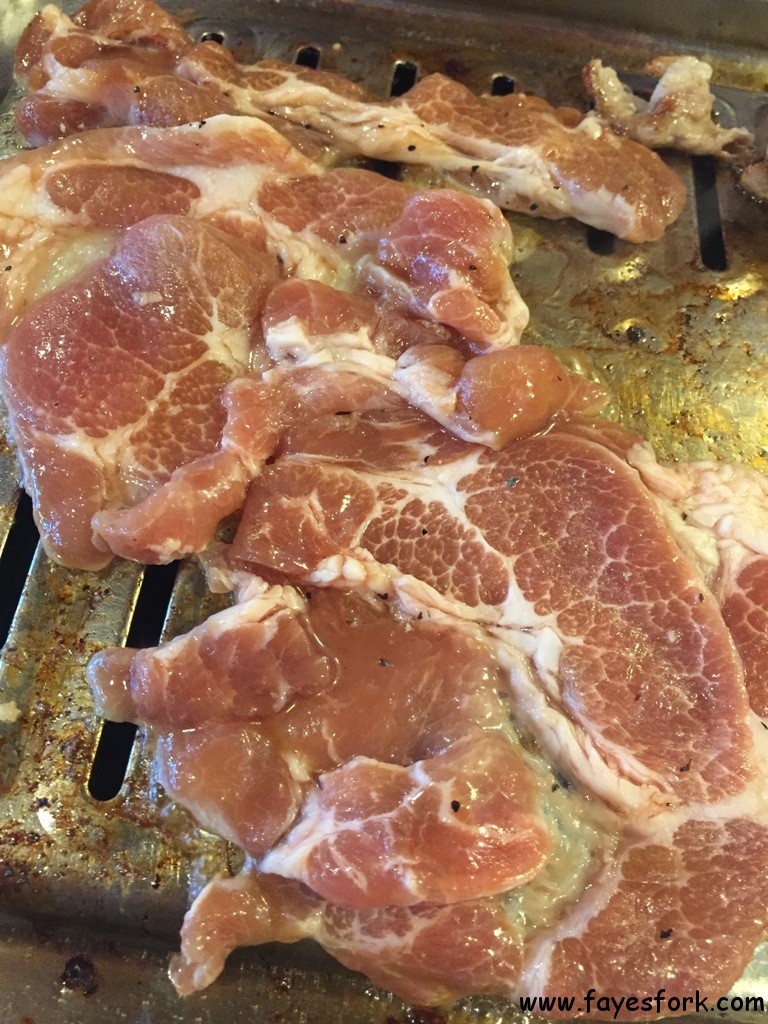 We had a hard time getting the grill hot for some reason so it took a bit to cook the first round.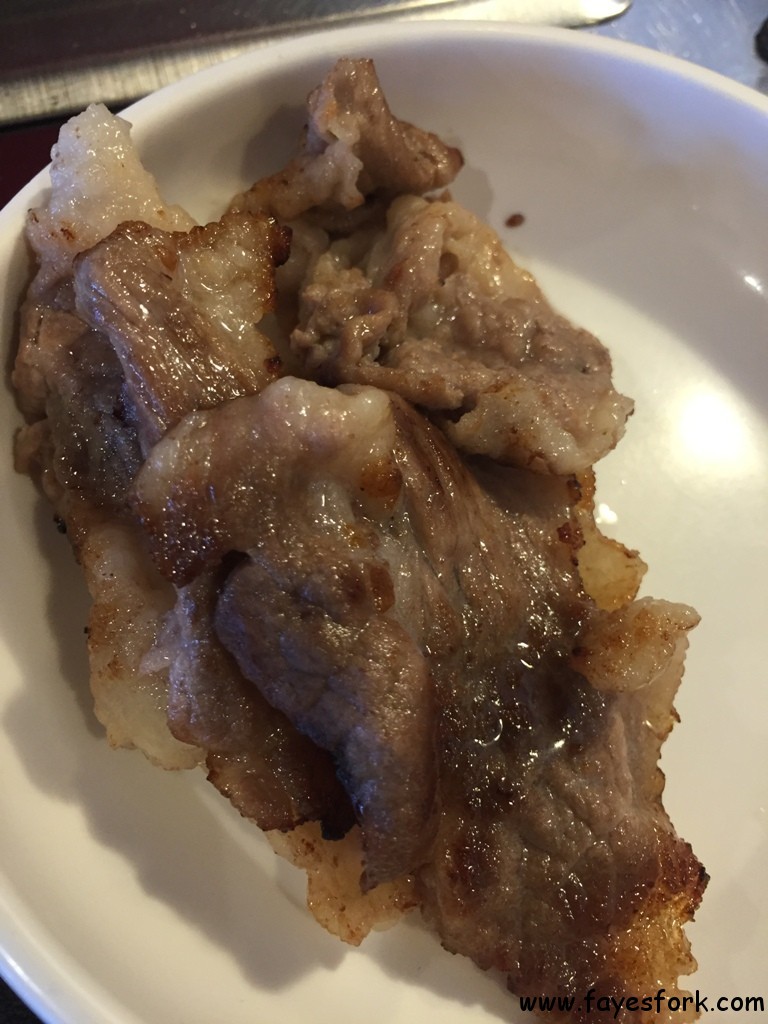 This is the brisket which got a nice char from the grill. Some slices were fattier than others but I prefer that as it keeps the thin slices from drying out. We thought the brisket was ok but it required a dip in the sweet soy every time.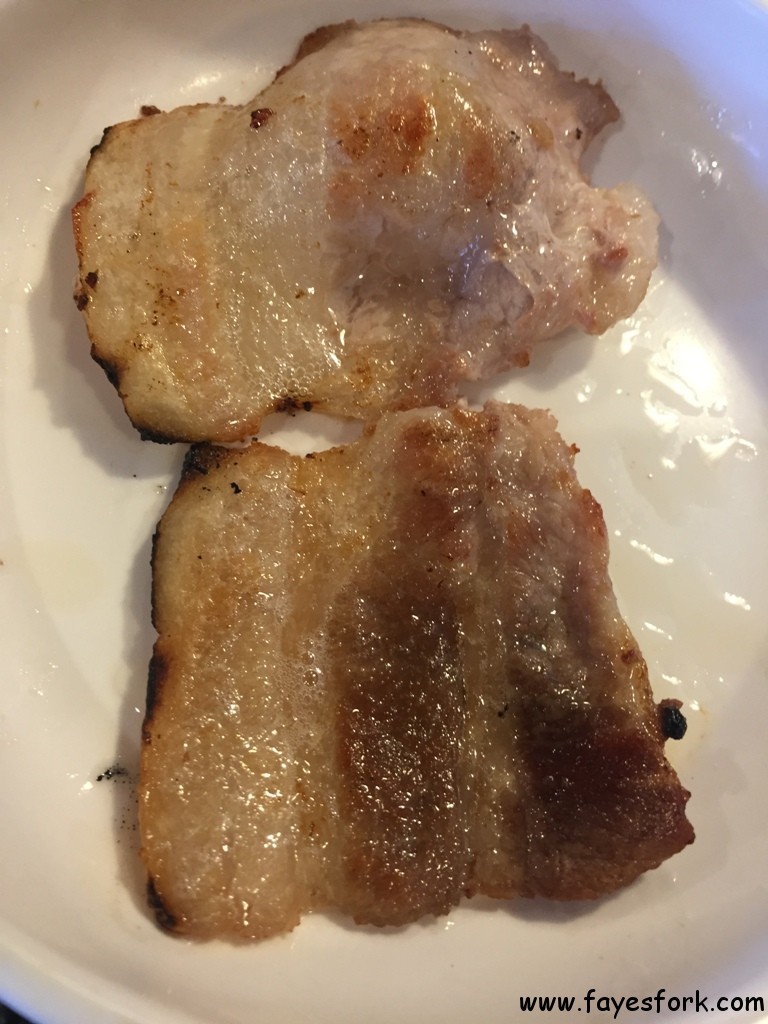 We weren't a fan of the pork belly. The fat part of the belly grilled nicely but didn't have the porky lusciousness that I look forward to when eating grilled fat. It tasted bland, almost tough.
I didn't get a picture of the chicken grilling as we both didn't like the protein. I usually prefer dark meat but the marinated chicken tasted rubbery to the both of us.
I wanted to try the squid but had a feeling I wouldn't like it. Plus Cdj doesn't prefer squid at a KBBQ. So perhaps another time.
We stuck with the brisket for the next two rounds which is kind of sad. But none of the other proteins warranted another try that day for us. Cdj commented that the brisket tasted bland compared to other places we frequent often (namely Jeong Won and Manna BBQ). I reminded him that we're also paying $13 bucks less for this meal than we would have paid at those places. Then he reminded me that we would have also had a ton more variety to choose from. Then I reminded him that we're fatties and need to eat less so this $9.99 deal wasn't too shabby.
Service was slow in the beginning, got better towards the meal, then slowed down again at the end. They bring the check to you but it was faster for us to pay at the front. I saw other tables being served the steamed egg custard (Gyeran jjim) but our server said that's not included in the $9.99 so that's something to consider (if you like the steamed egg). Also note that fountain soda costs $2.75 (nice one Cdj). The $9.99 AYCE lunch option isn't bad and is a nice way to get your KBBQ-fix on a budget in the middle of the day.
ROADEM BBQ
4344 Convoy St
Ste I
San Diego, CA 92111
(858) 279-0300