A bunch of us were waiting patiently for the opening of Westroot Tavern. We only recently noticed their restaurant signs go up and final completion of their outdoor patio. So I was excited when one of my best friends said she was free one afternoon to meet for lunch to finally try out Westroot Tavern. Be warned that many of their menu items has "COMING SOON" pasted next to quite a few dishes and those 'coming soon' items aren't listed on their website yet.  I had called Westroot before the lunch and spoke to a nice gentleman, David, who gave me a run down of what items were and weren't available the day of our visit.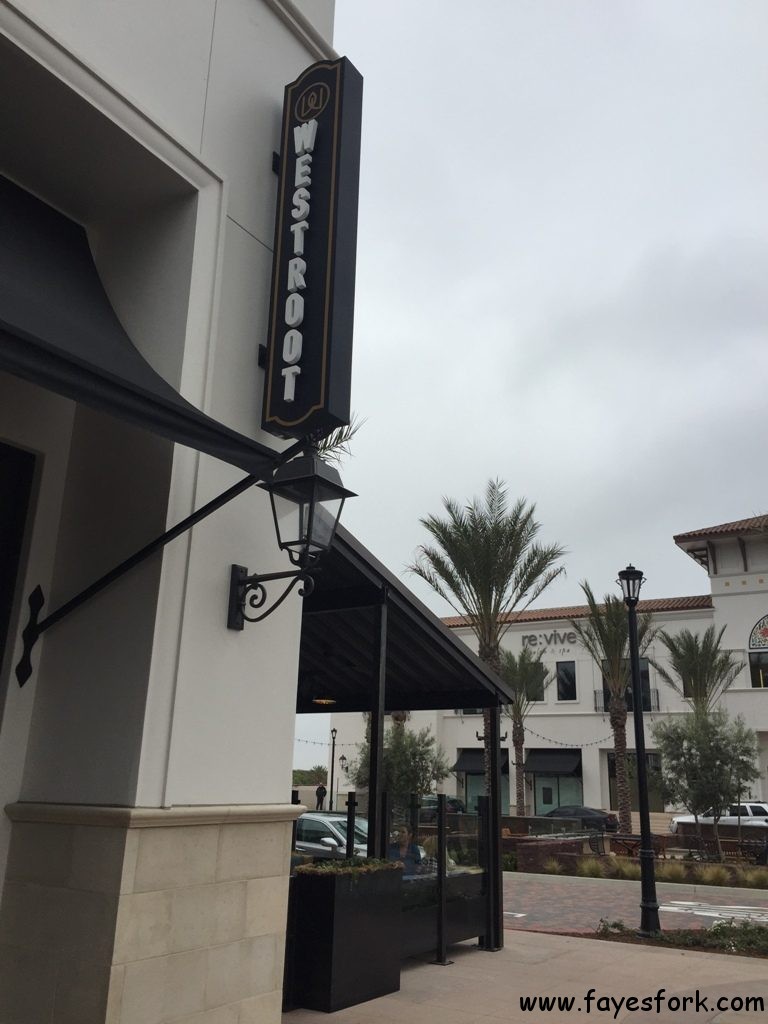 They are located in the same strip mall as Dolce at the Highlands. We parked on the side of Crunch gym located next door.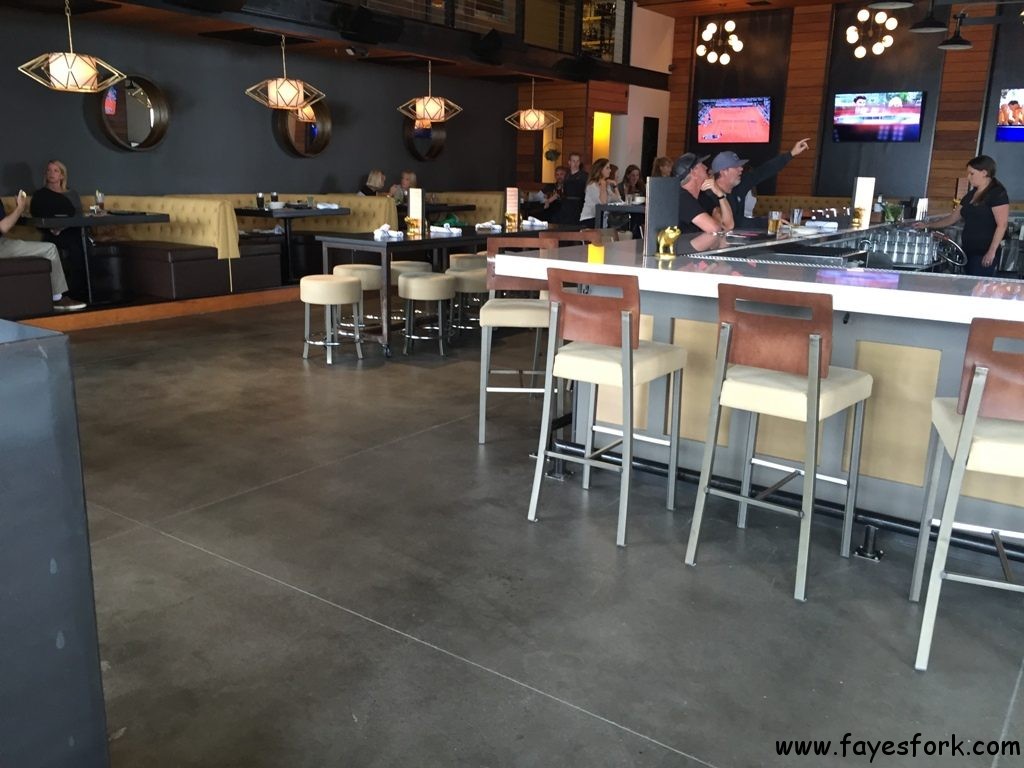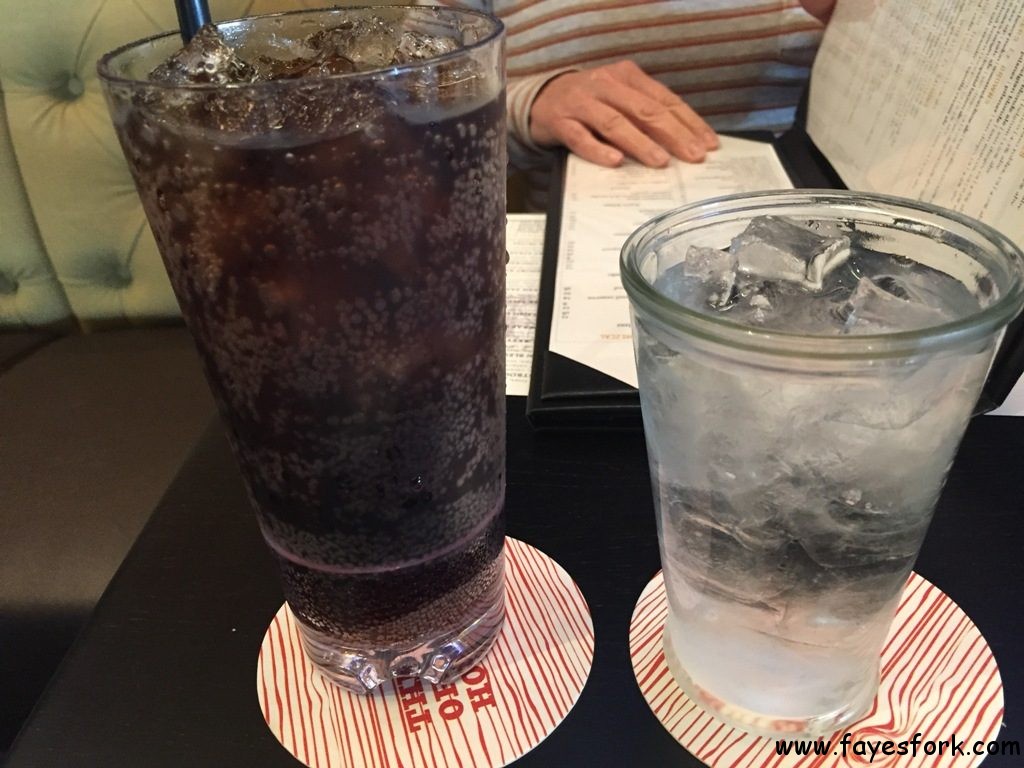 The fountain soda was $3 with free refills.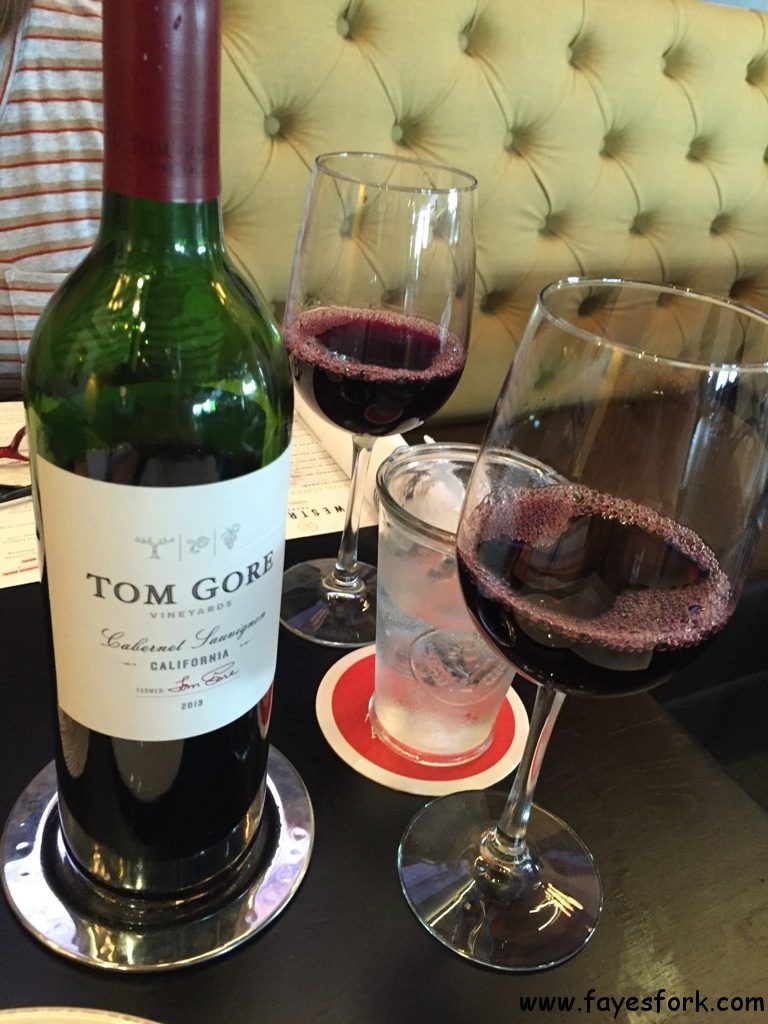 Friend ordered this bottle of Tom Gore for us to try. It was a really nice, soft cabernet that had light tanins.
They have happy hour Mon-Friday here at Westroot Tavern. I believe it's 3p-6p and most of their drinks are half off. Take advantage of this because a pint of Ballast Point Sculpin is $9 bucks (regular price – yikes).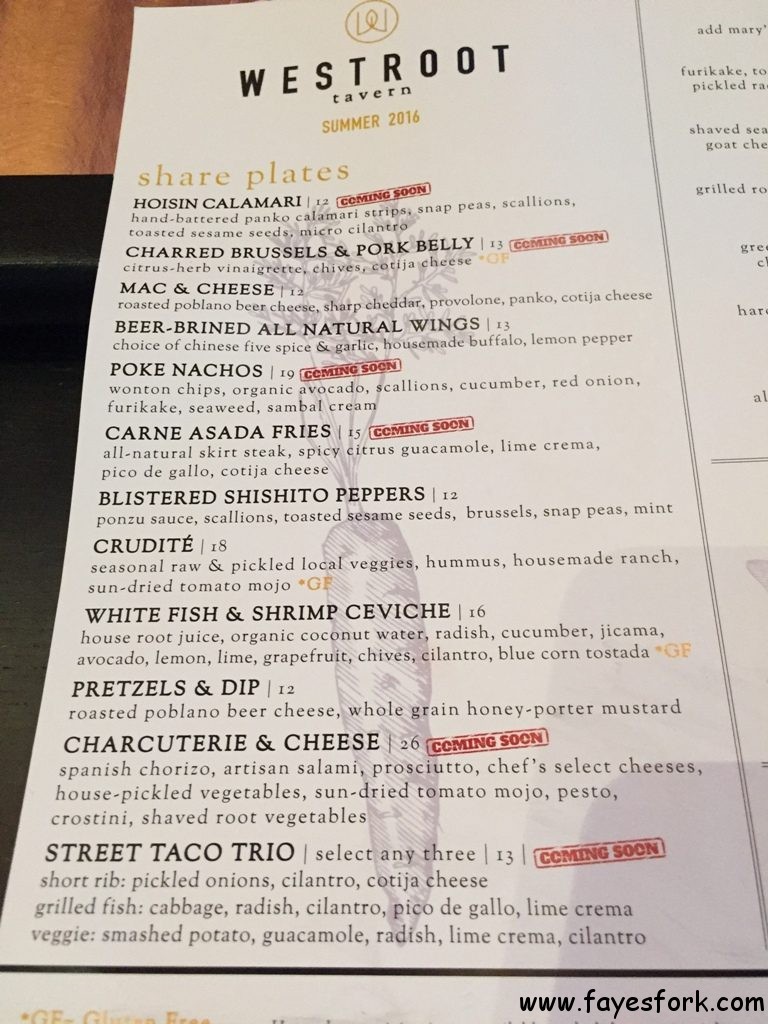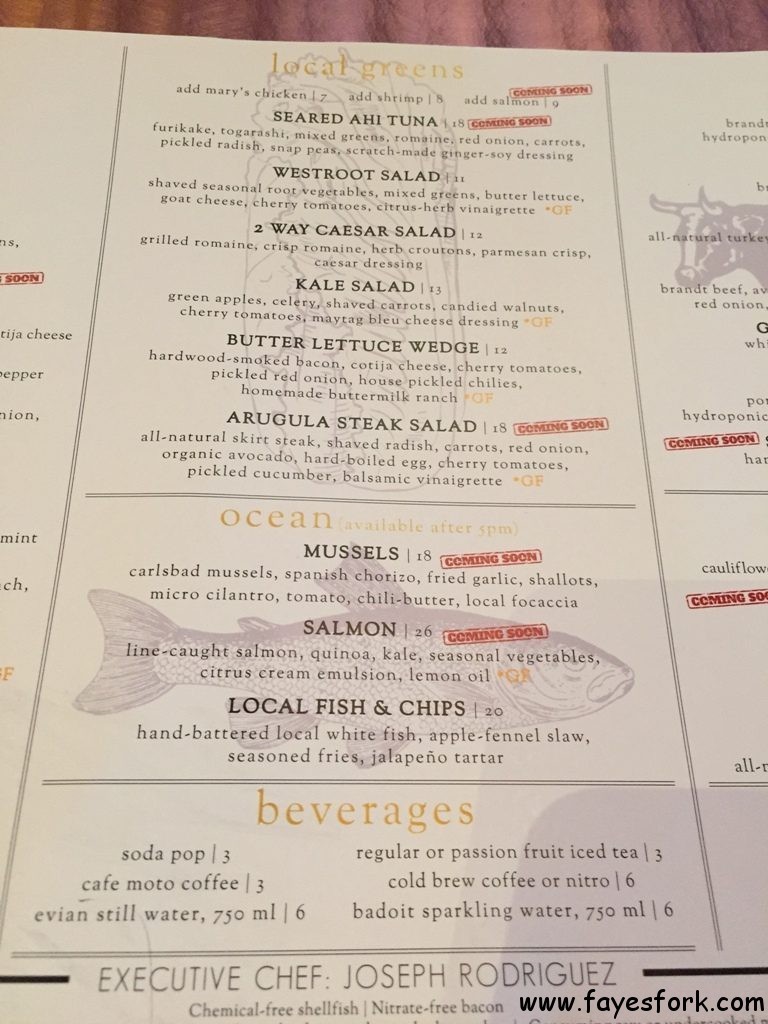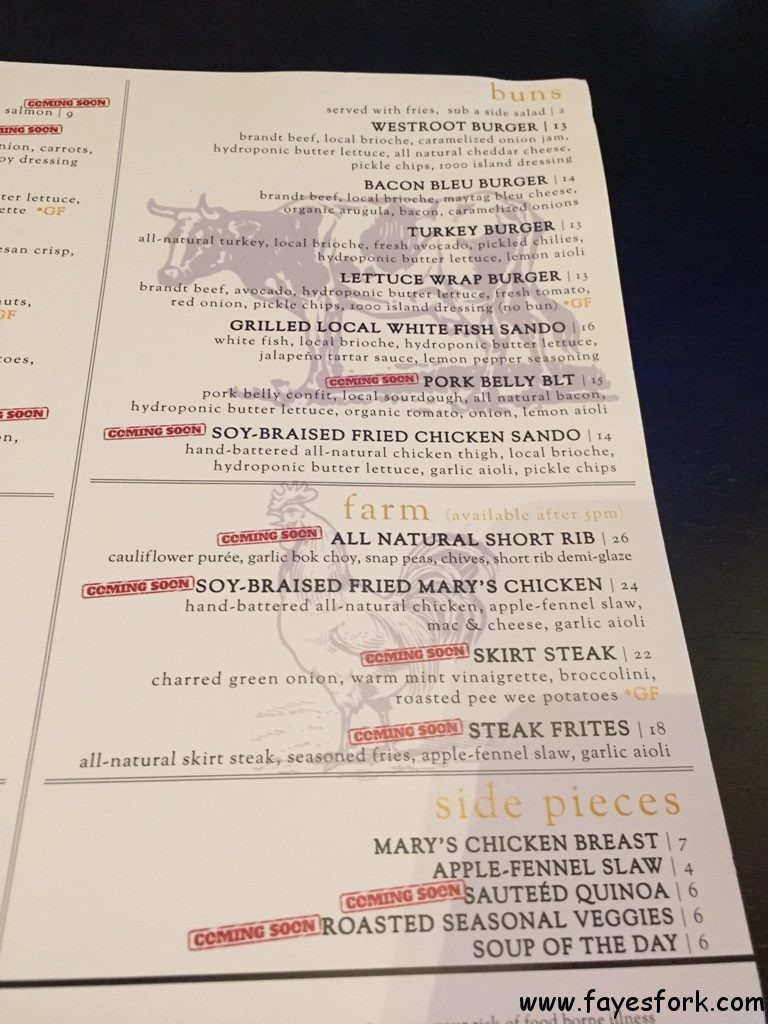 So yeah, quite a few of those red 'coming soon' flags on the menu.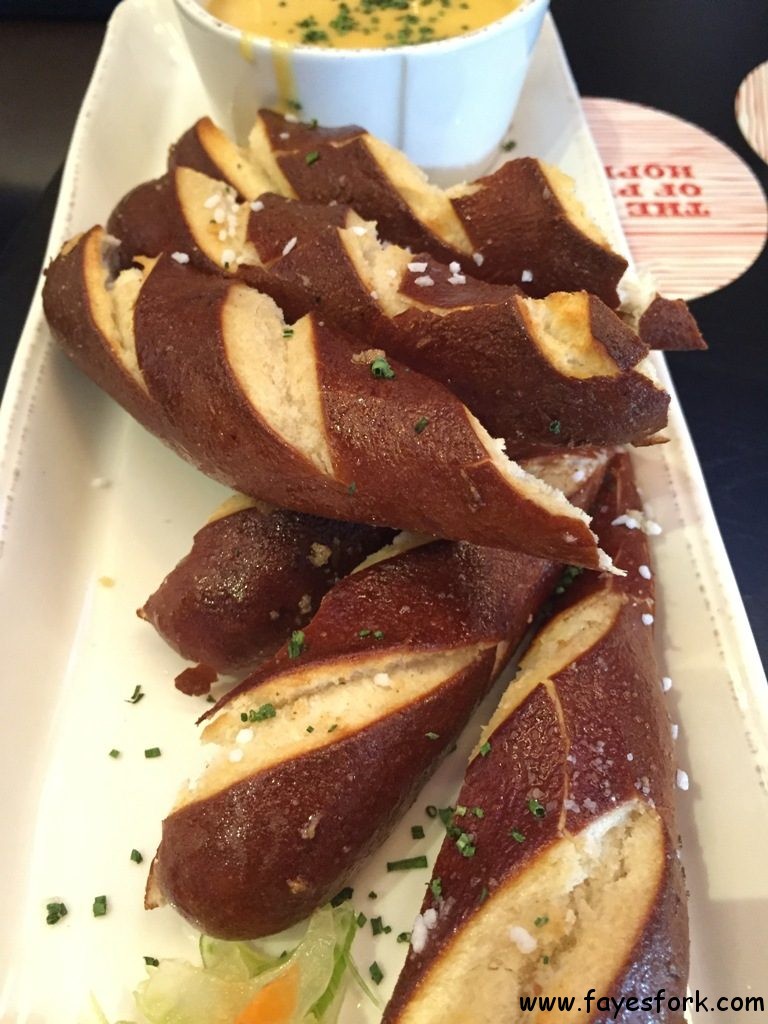 roasted poblano beer cheese, whole grain honey-porter mustard, shaved root vegetables
David had said their pretzels aren't made in house but they're purchased from Bread & Cie I believe. The pretzels were served warm.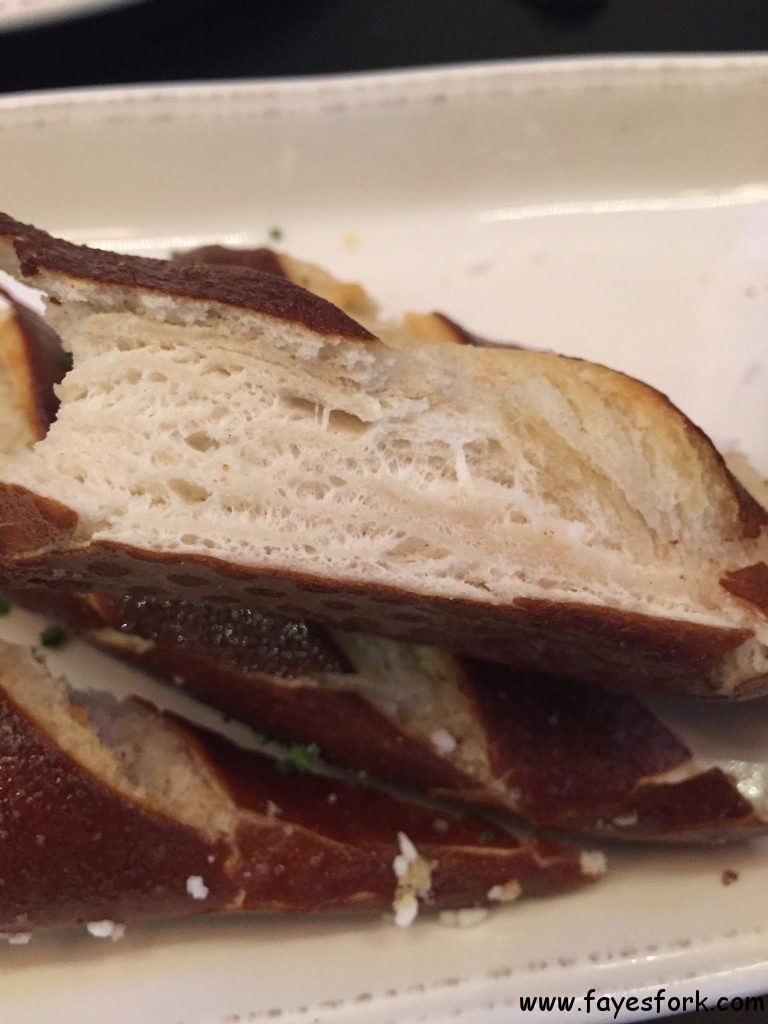 The pretzels were ok but tasted a bit dry. They didn't compare to the pretzels we had from Karl Strauss (who purchase theirs from SD Pretzel Company remember).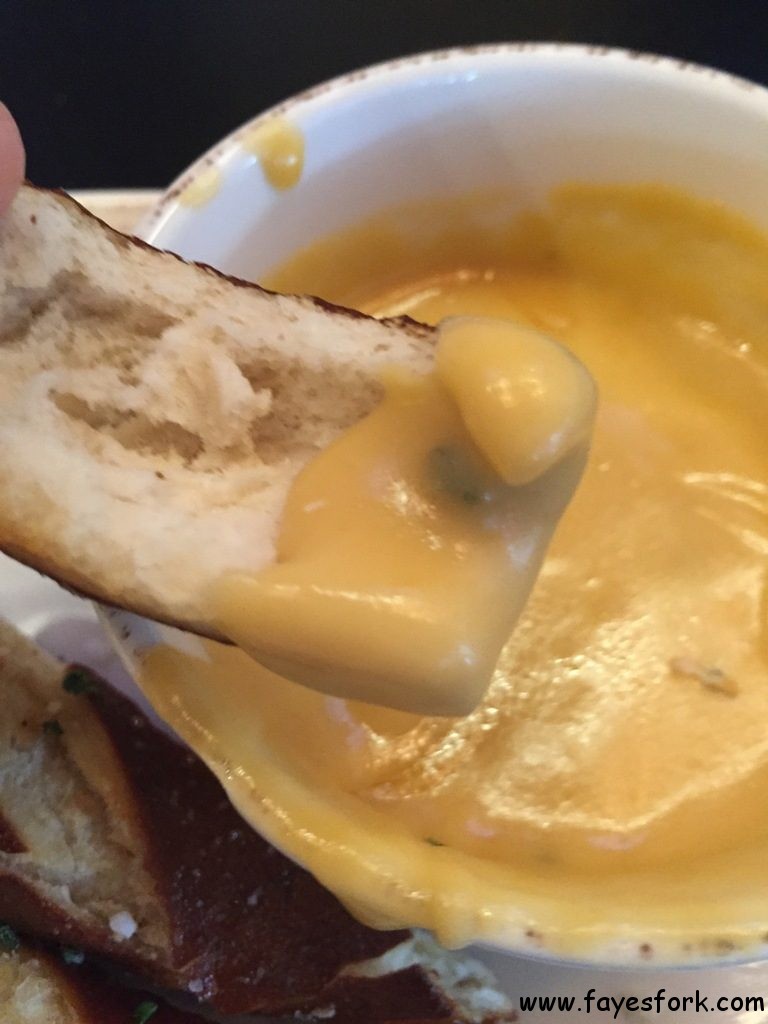 The roasted poblano beer cheese was nicely creamy and helped aid the dryness of the pretzel.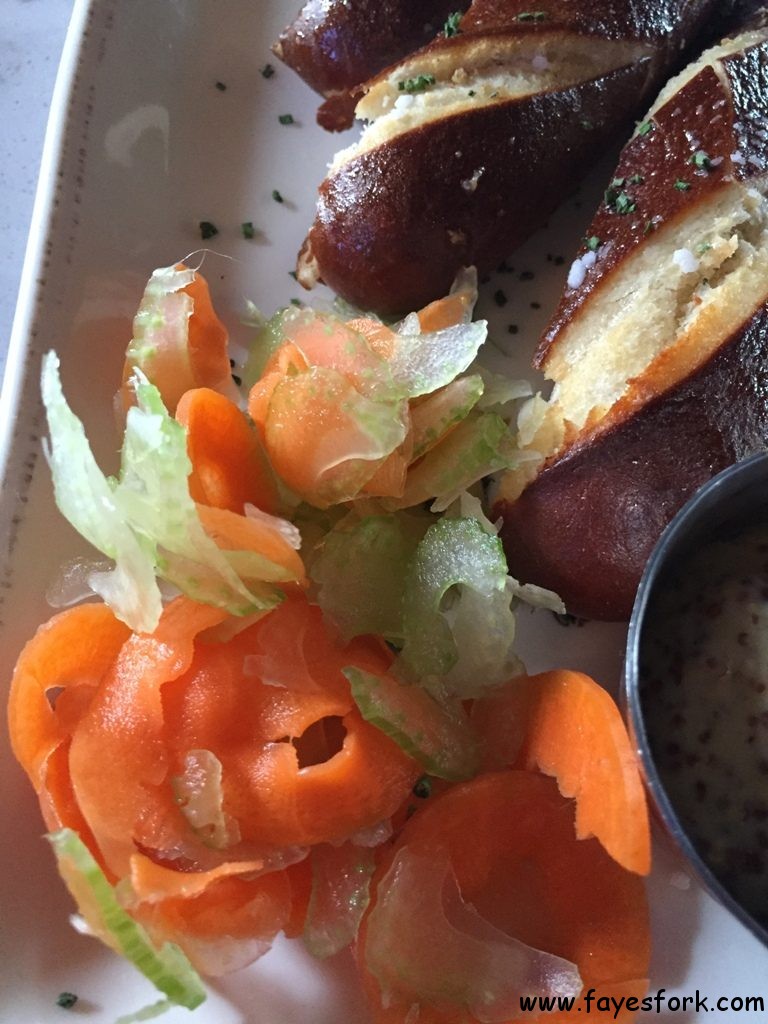 I also want to say the owners somehow have an affiliation with Barleymash downtown as David said they do quite a bit of pickling of their vegetables here at Westroot Tavern. But the side of shaved carrots and celery with the pretzels weren't pickled (not that the menu stated it would be – just in my head I thought these veggies would be pickle-tart).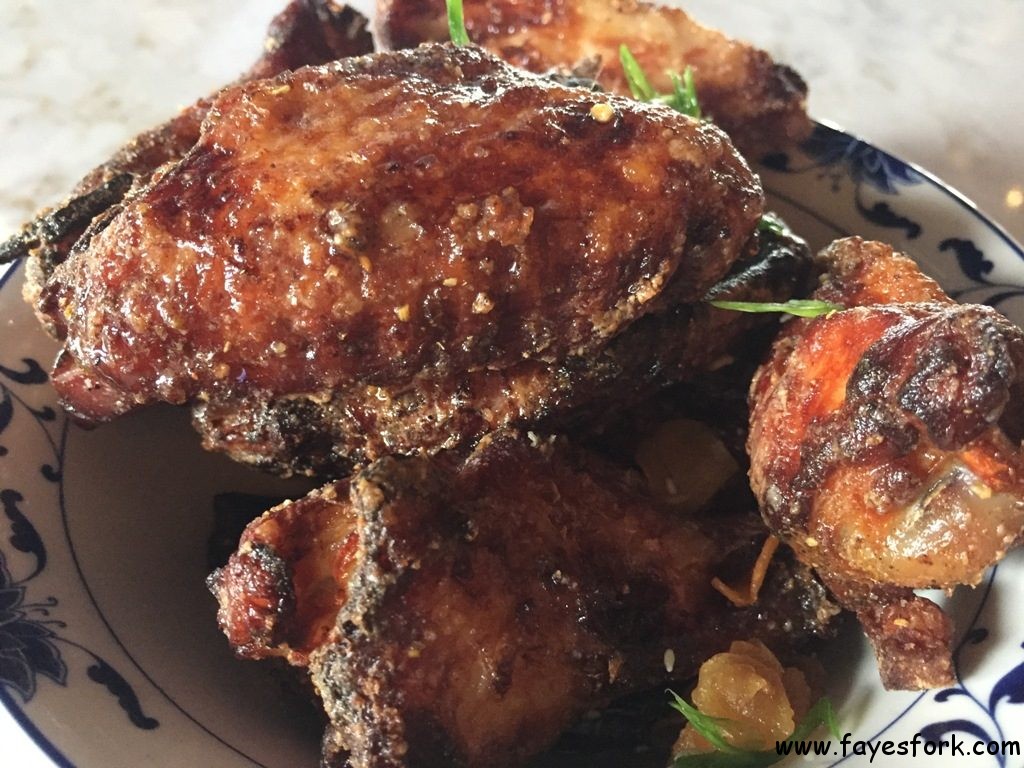 choice of chinese five spice & garlic, housemade buffalo, lemon pepper
I chose the Chinese five spice & garlic for these deep fried (beer brined) chicken wings. I can't remember the last time I had beer brined wings so I was curious.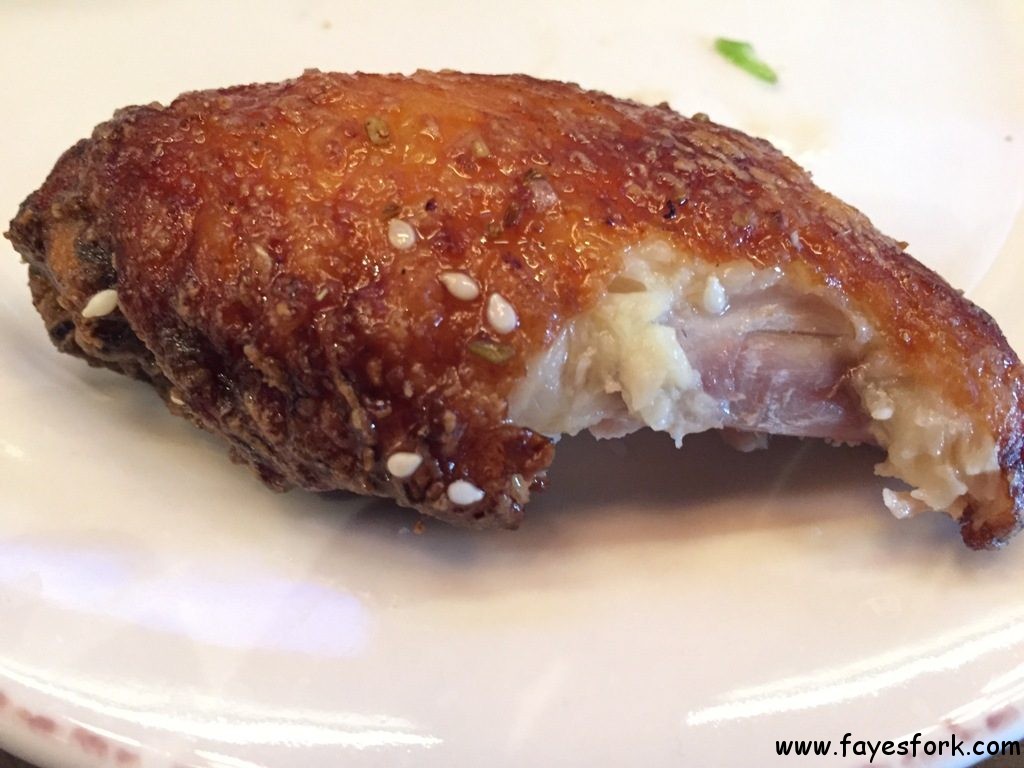 Surprisingly, the wingettes were incredibly moist and juicy. There was a nice crisp to the chicken skin and the meet tasted flavorful. Friend didn't like the spice of the wings and didn't know how to describe it. I didn't either until I thought about it (and ate the leftovers with sis). The wings honestly tasted like roasted duck marinade. You know what I'm talking about – the dark soy marinade they put on top of the roast duck before they send out the plate. THAT'S the taste. I didn't mind it but it was a bit too much for friend.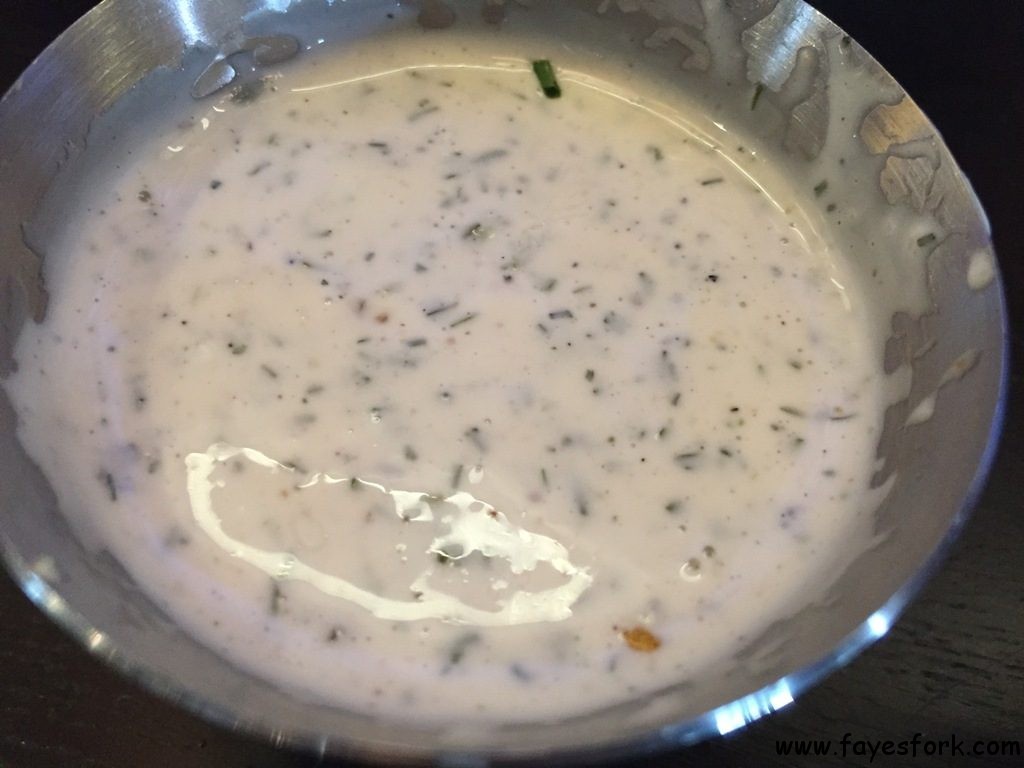 Our server asked if we wanted a side of ranch with the wings which friend happily accepted. The server warned their ranch was dill-forward. Can I just say – this was an AMAZING ranch dressing. I don't normally eat wings with any side dressing but dang man. This was a darn good creamy, refreshing, and dill inspired ranch dressing.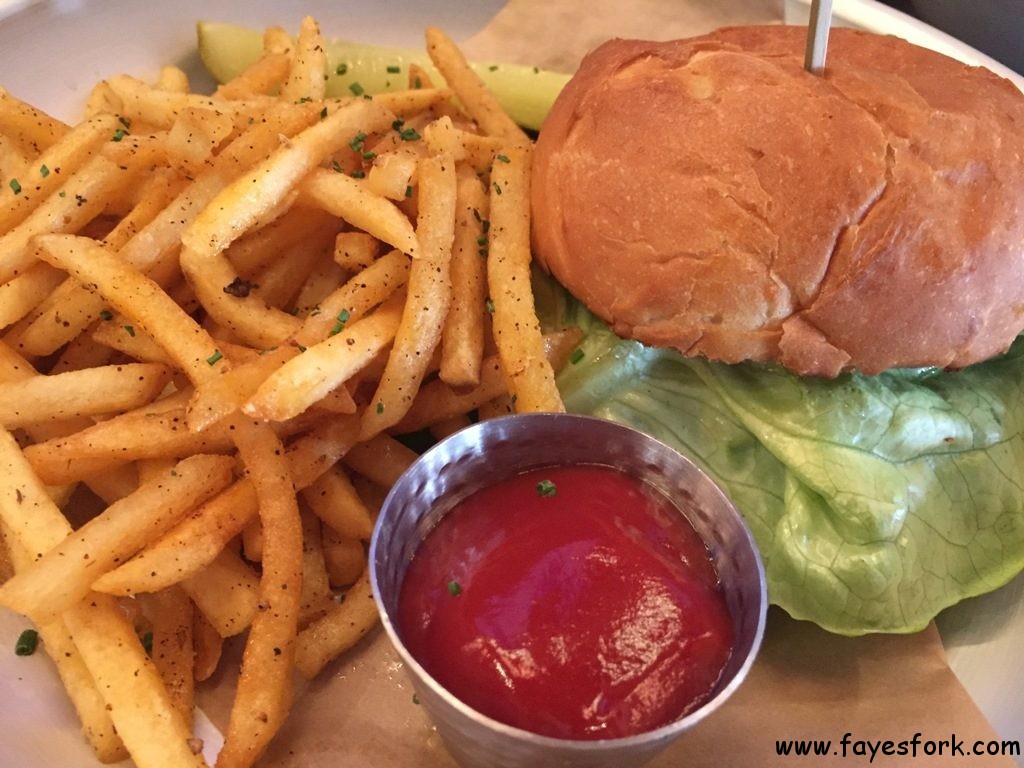 white fish, local brioche, hydroponic butter lettuce, jalapeño tartar sauce,  lemon pepper seasoning
Their fish of the day was halibut. They didn't offer fish and chips that day so I thought trying the fish in a burger would be fun. Their online menu says there's sharp cheddar cheese but luckily their printed menu had omitted that. I'm not sure I would have liked cheese on a grilled halibut burger (but then again, I don't seem to mind the cheese on the fried filet of fish at McD – don't judge).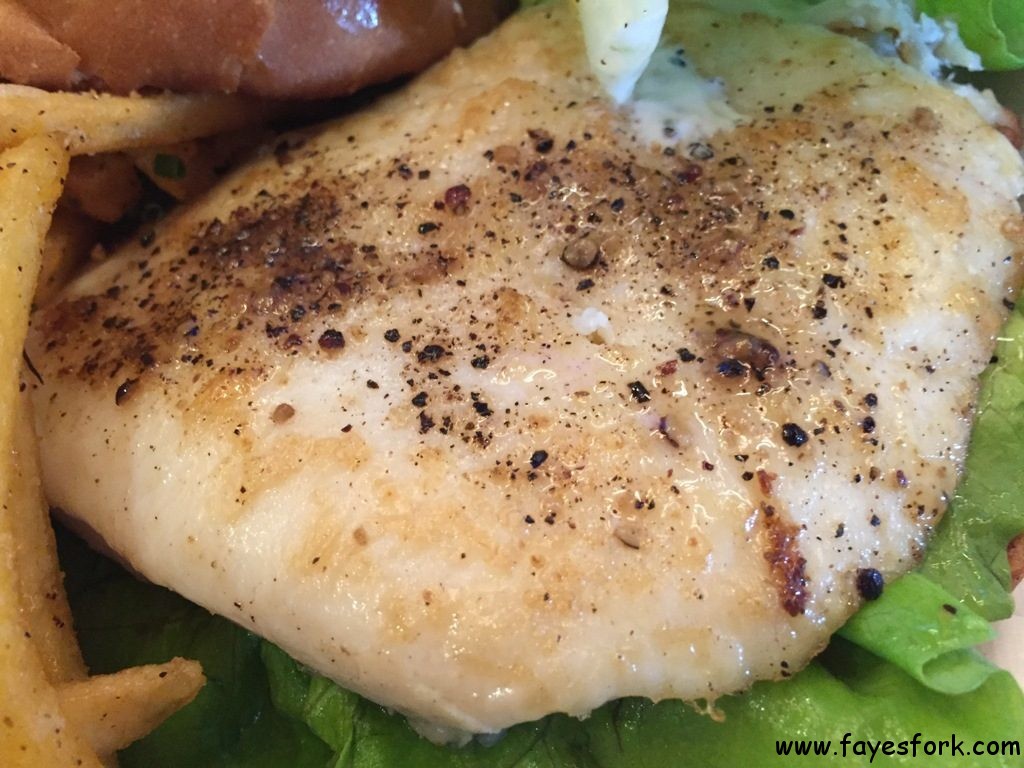 The halibut was prepared fine and looked like it was seasoned appropriately. But I didn't like the flavor or texture of this fish burger. The fish tasted bland and asking for extra jalapeno tartar sauce didn't help. Everything fell apart once you cut the burger in half. Friend and I commented that the beautiful hydroponic lettuce was JUST too large for our burgers.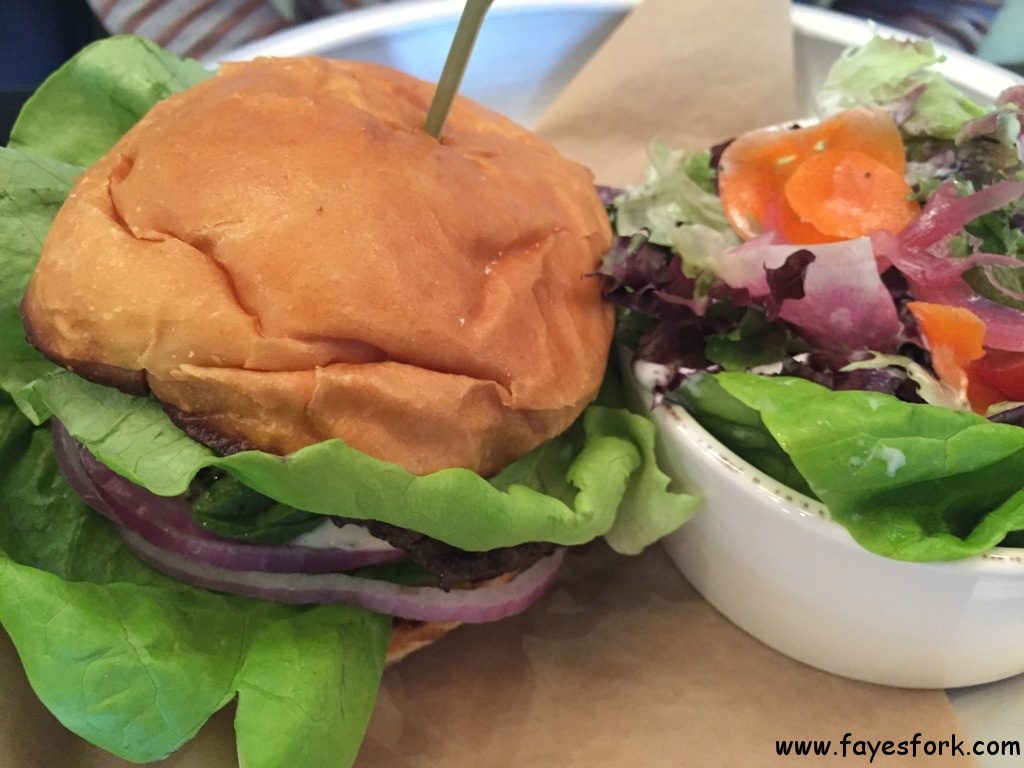 brandt beef, avocado, hydroponic butter lettuce, fresh tomato, red onion, pickle chips, 1000 island dressing
Friend ordered the lettuce wrap burger BUT with a bun. She also upgraded the side of fries to a salad. Again, look at the huge hydroponic lettuce leaves that are on top and bottom of the burger. The lettuce was wider than the burger.
Side note: I'm wondering if they get their butter lettuce from Go Green Agriculture in Encinitas where San Diego Restaurant Week threw a Launch Party.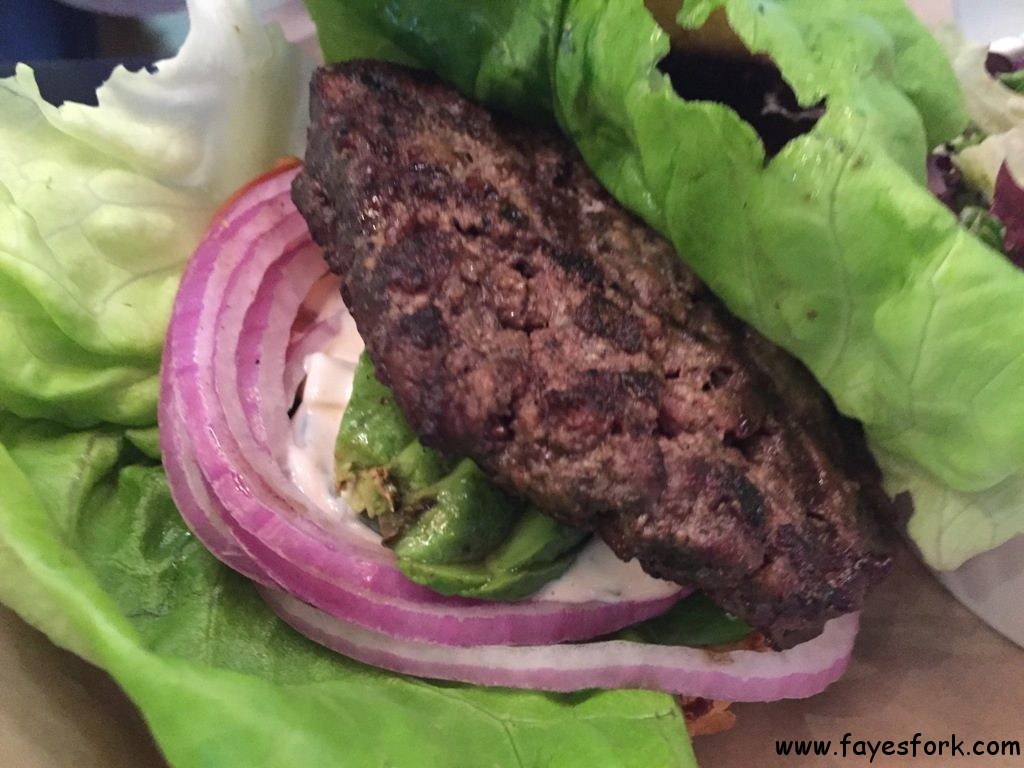 It's a nice hearty burger with all the fixings but she also ended up pulling out both lettuce leaves towards the end.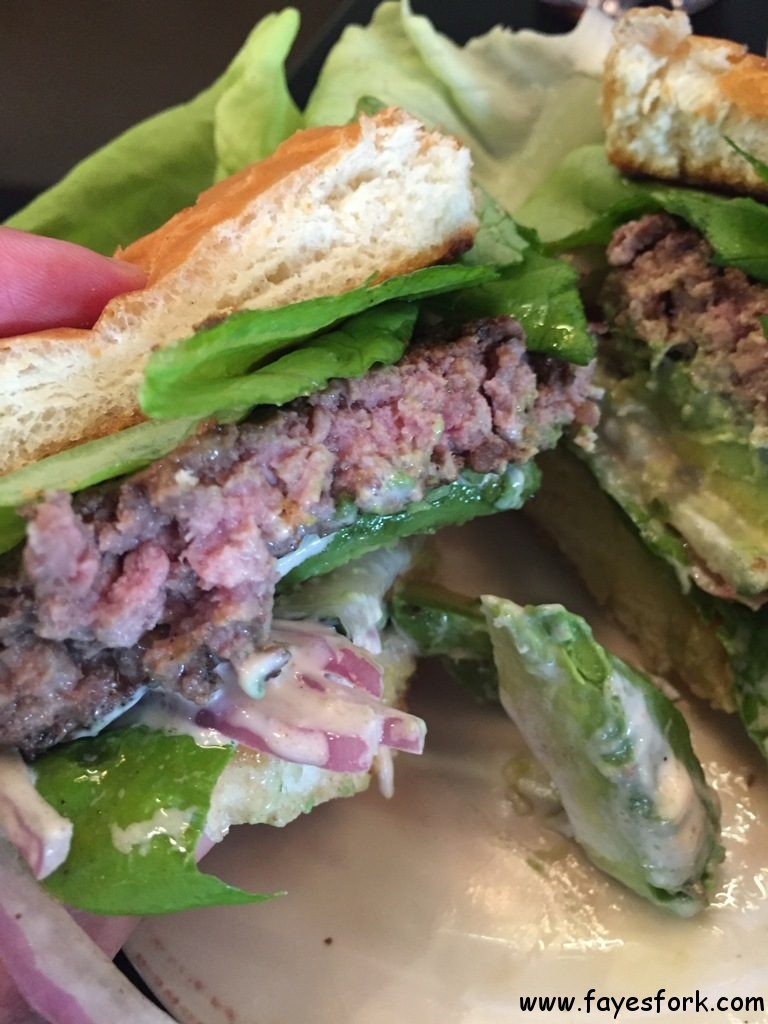 Her burger also fell apart when we cut into it. The patty was prepared a decent medium but tasted dry. The ripe avocado and sweet red onions were nice in this burger.
Service was fine but you could tell they're still working out kinks with the new opening of their restaurant. The restaurant was really busy all through lunch but died down considerably towards the later of the afternoon. There were groups of women, couples that just finished working out from the gym next door, business suits (friend commented the guys were handsome too), and even singles having a drink at the bar. I'm not sure I'd return for the food unless they add more items (or remove the 'coming soon' from a few items) but I'd return for happy hour with friends. Westroot Tavern is a beautiful restaurant with lots of tvs and a cozy patio with firepits. It's worth a visit if you're in the area.
WESTROOT TAVERN
6025 Village Way
San Diego, CA 92130
(858) 720-6645