We took a late train from Hualien back to Taipei. I only had a few days left here in Taiwan so my mom was making the most of it. One of those surprises was an excursion to Addiction Aquatic Development in Taipei. Now I know you might be laughing at the name and wondering if I'm writing about an amusement park or what. But no, Addiction Aquatic Development, also known as Taipei Fish Market, is a seafood fanatic's dream.
They are known for their ten areas inside this industrial type building and location. The ten areas include live seafood, made to order sushi, seafood bar, shabu shabu, charcoal grill bbq, a beautiful supermarket, cooked foods, Tresors de la Mer (a fancy restaurant I'll post about soon), fruit section, and flowers.
Imagine Catalina Offshore Products merged with Liberty Public Market and had a seafood baby. That sounds ridiculous but hopefully you'll understand when you see the pictures of Addiction Aquatic Development.
First off, let me share what was waiting for us when we came home to my grandmother's…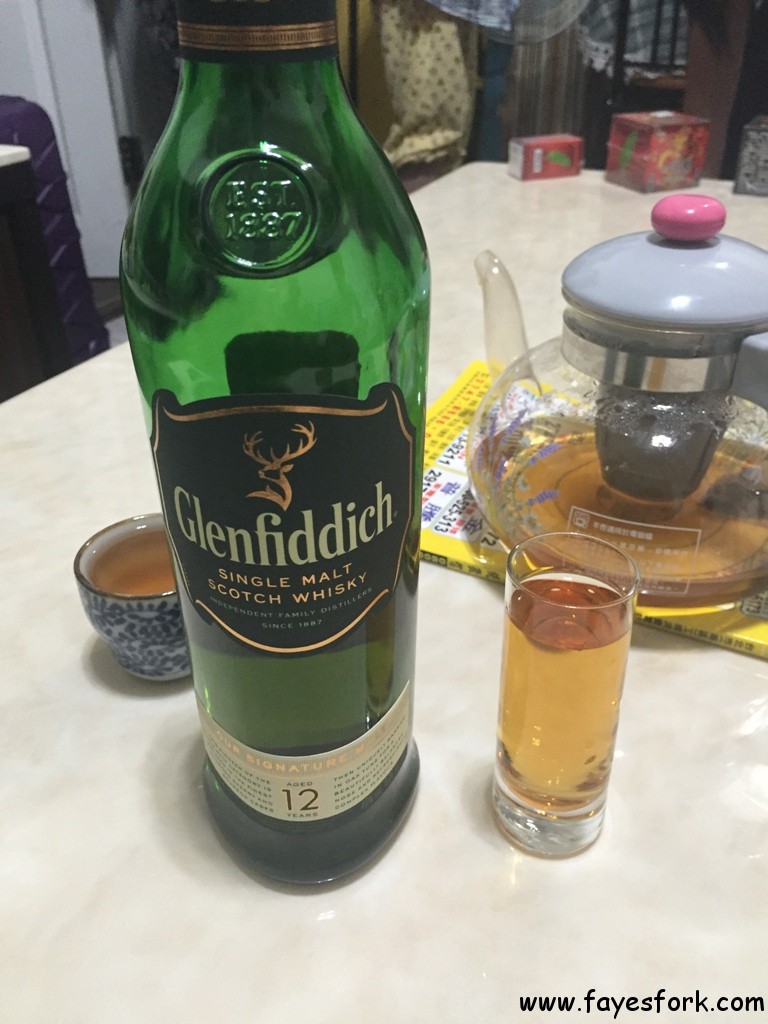 My great uncle's son and grandson surprised us by meeting us downstairs to help with luggage. I haven't seen them in years. Great uncle brought a single malt whiskey for us to drink to celebrate.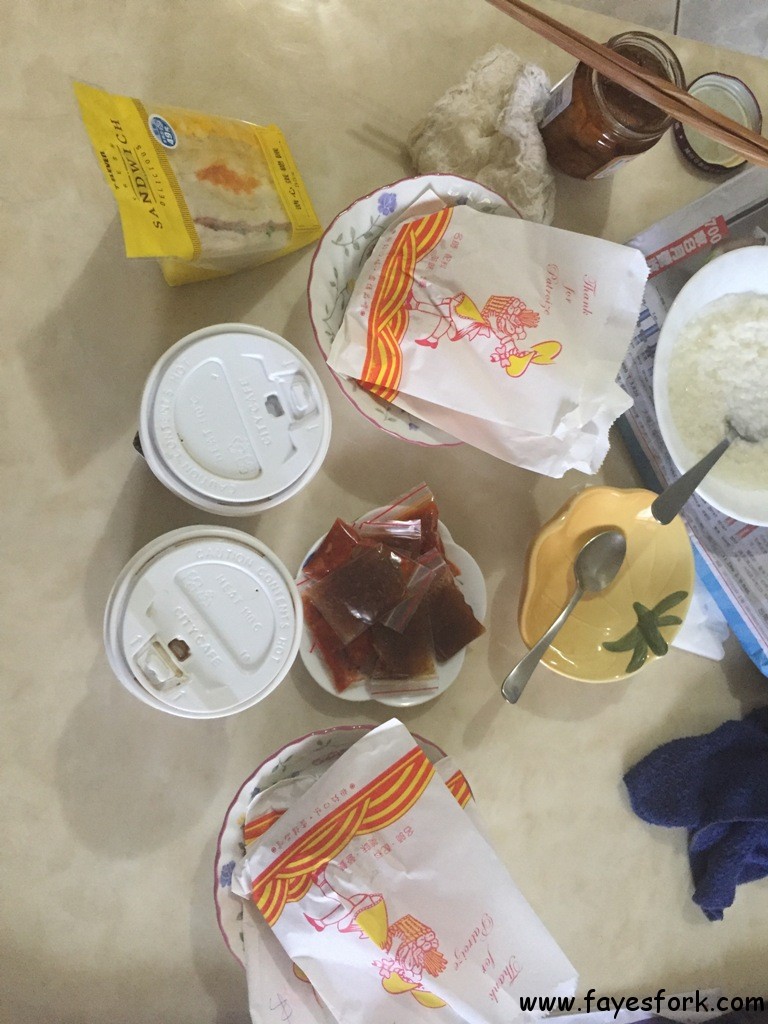 The whiskey was the best jet lag medicine EVER. I slept until 9:30a and found breakfast waiting on the table when I woke up. My great uncle got up early and visited street vendors to pick up some of our favorite breakfast snacks.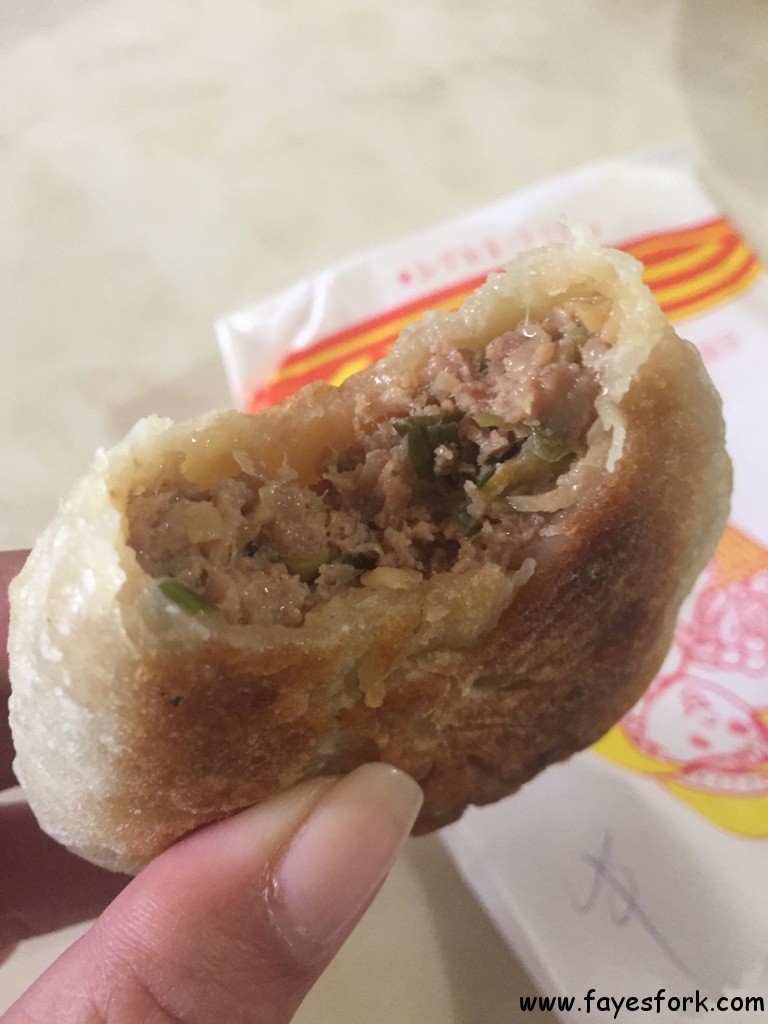 Mmmmmmmm. The beef is so juicy, soupy and greasy in this pan fried shao bing.
My family wanted to take the bus to Addiction Aquatic Development. That was fine by me as it's one of the best ways to see the city.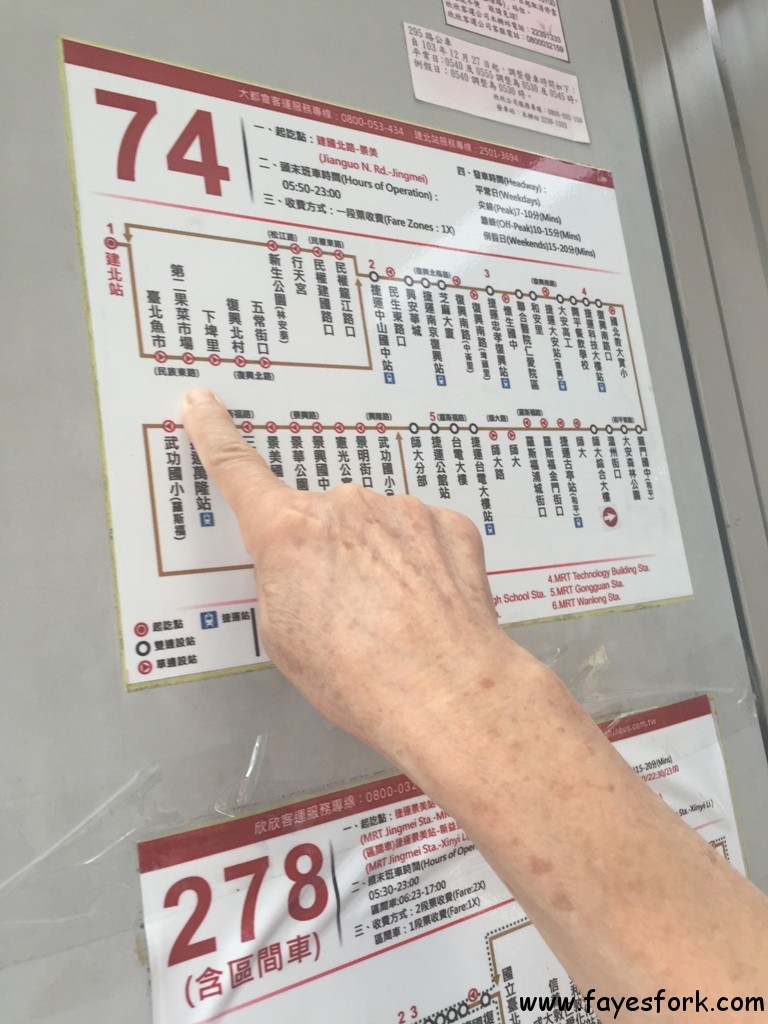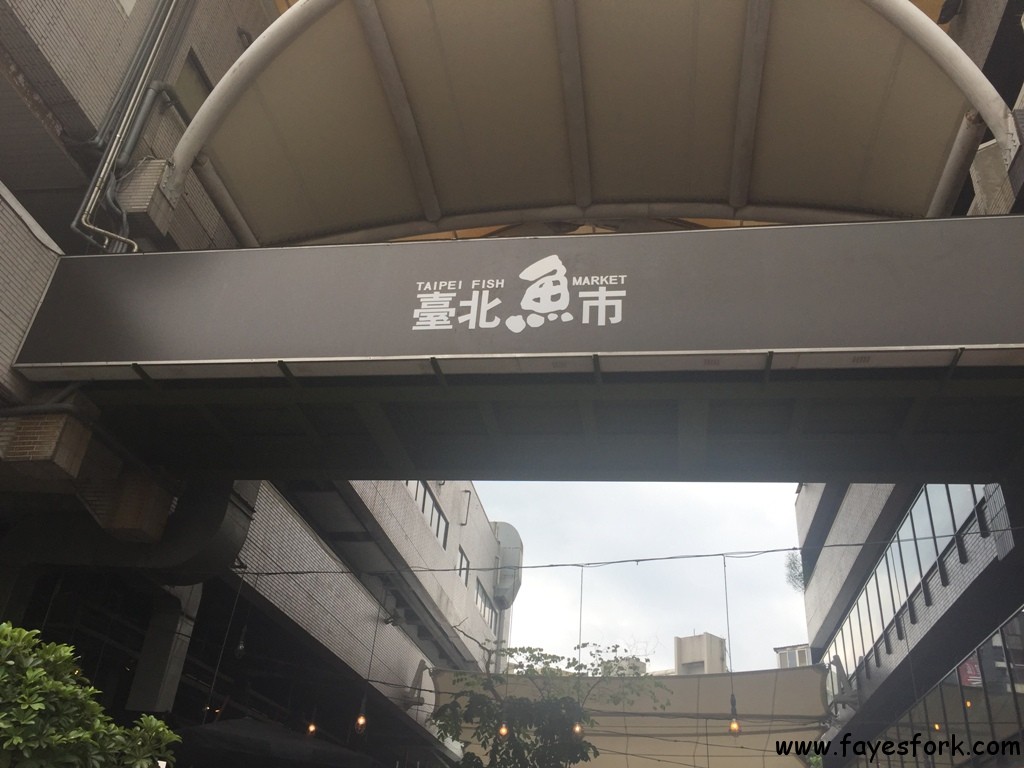 It took about 35 minutes on the bus to arrive to the fish market. Here is the entrance to the charcoal grill restaurant part of AAD.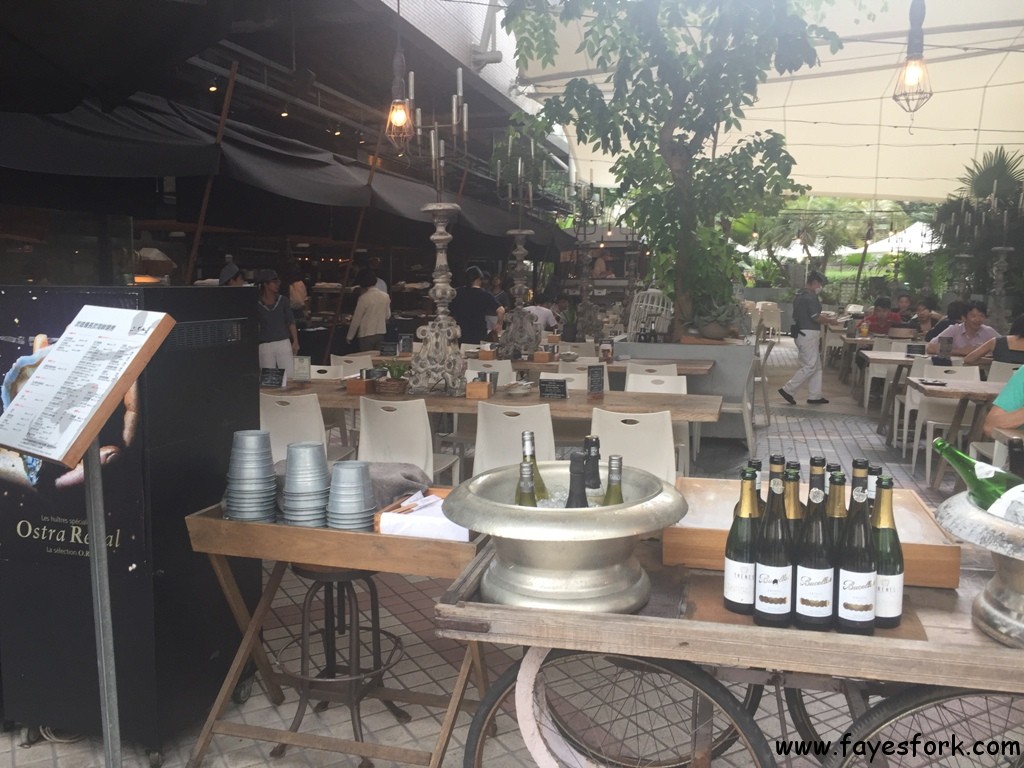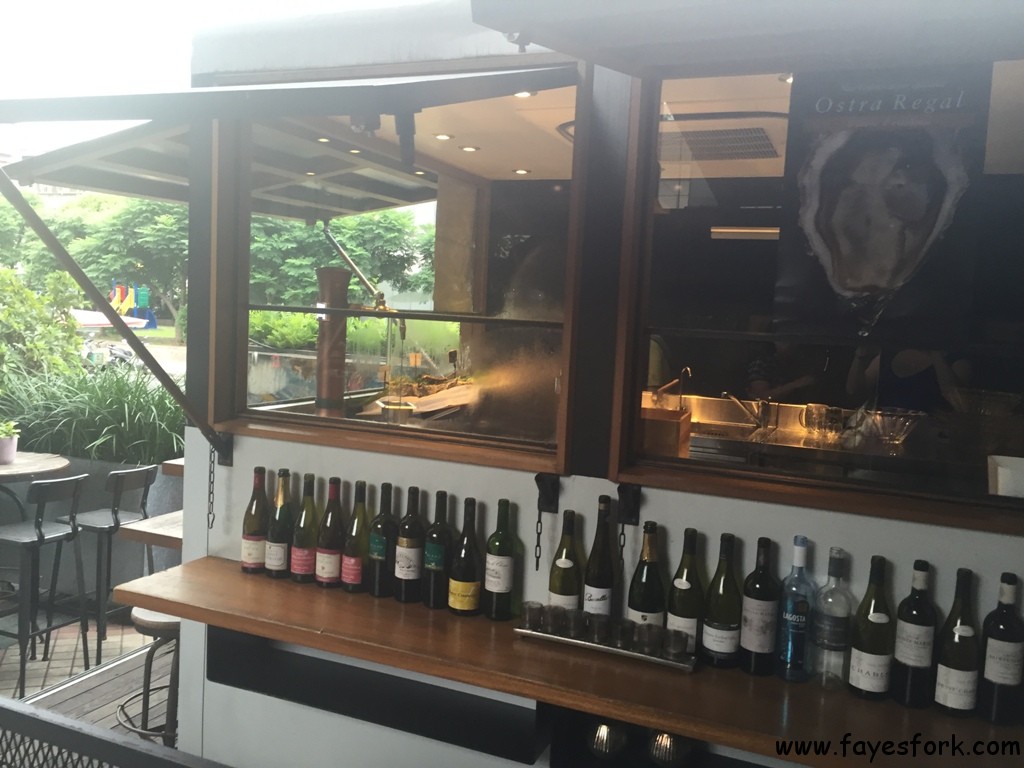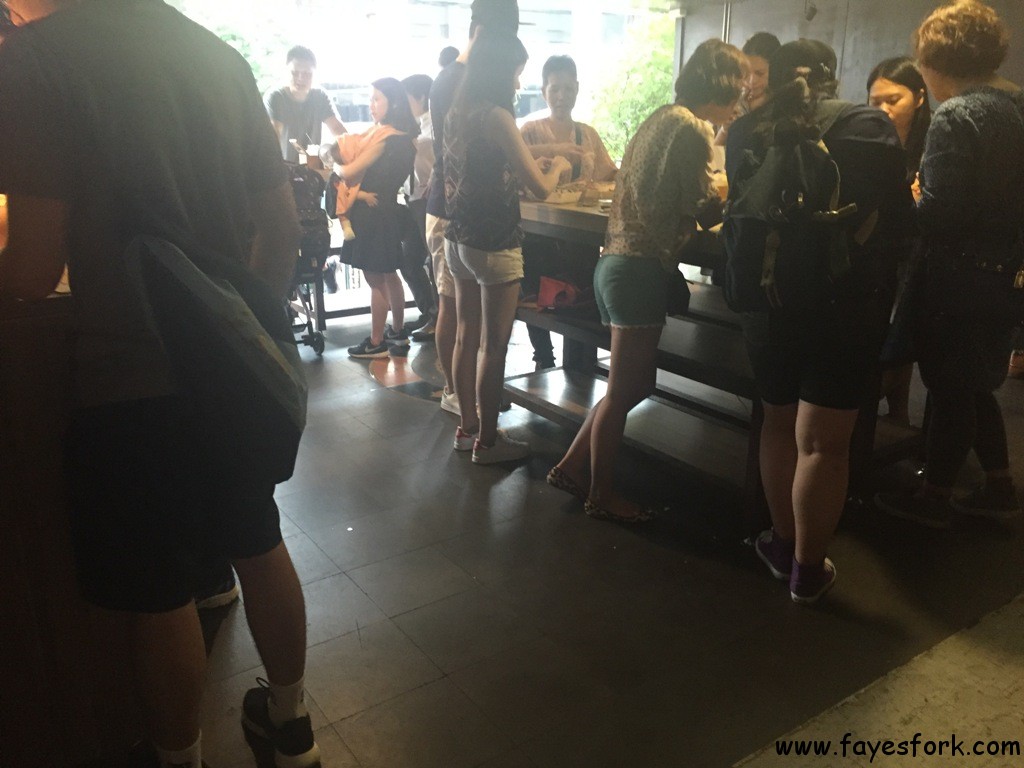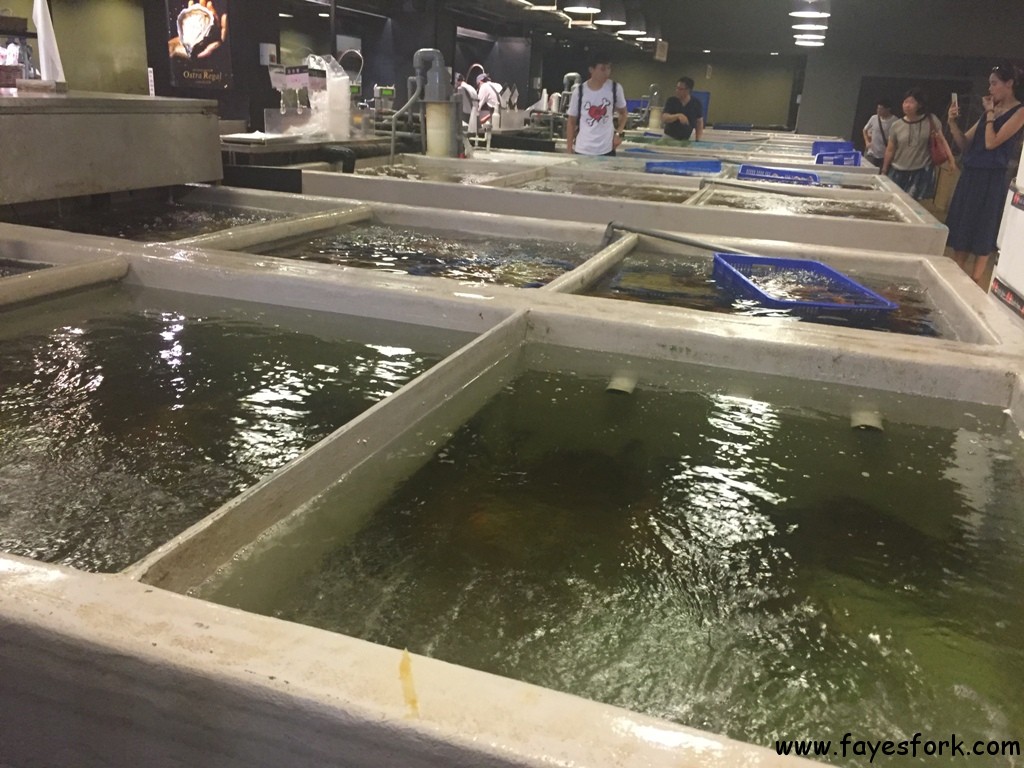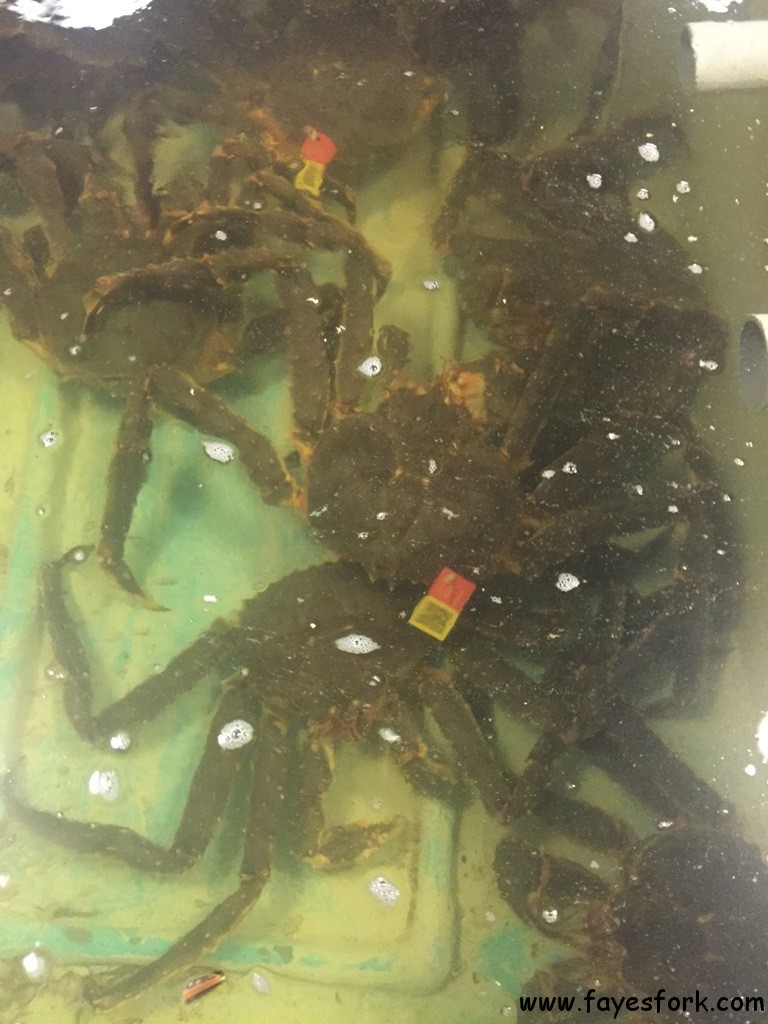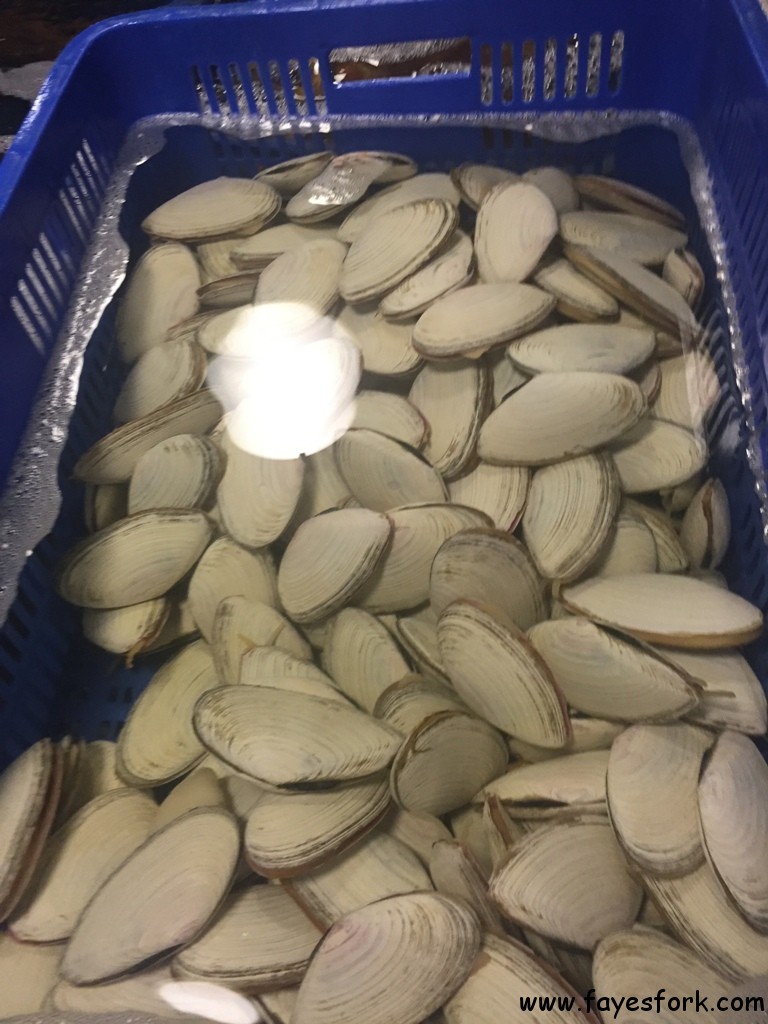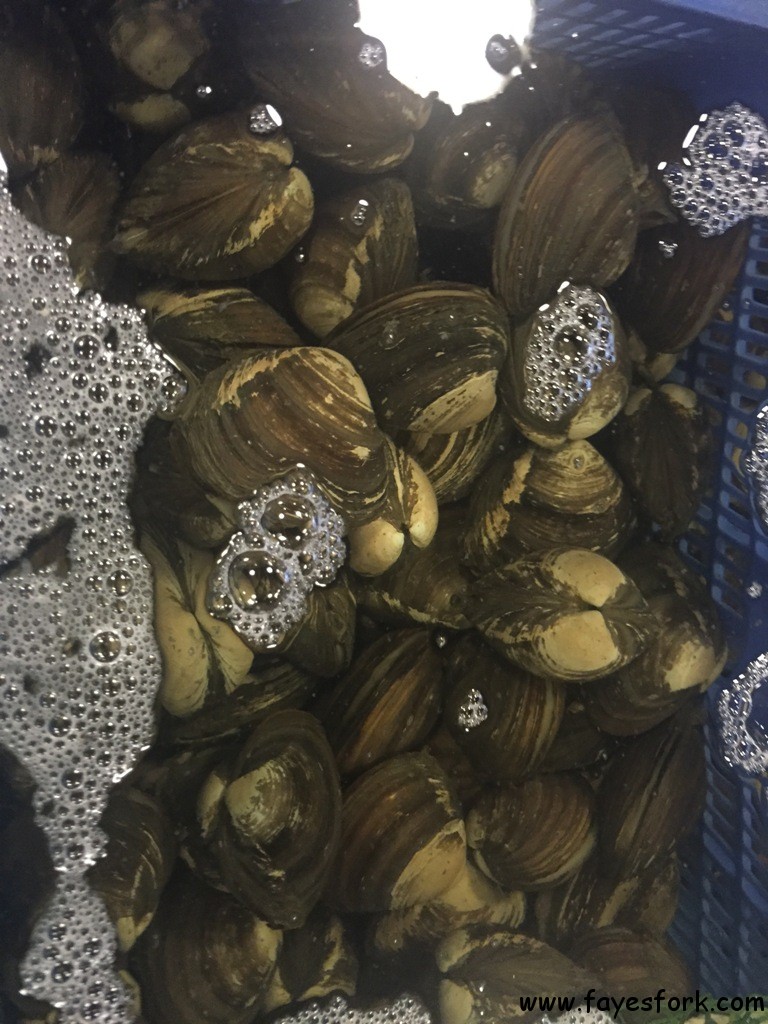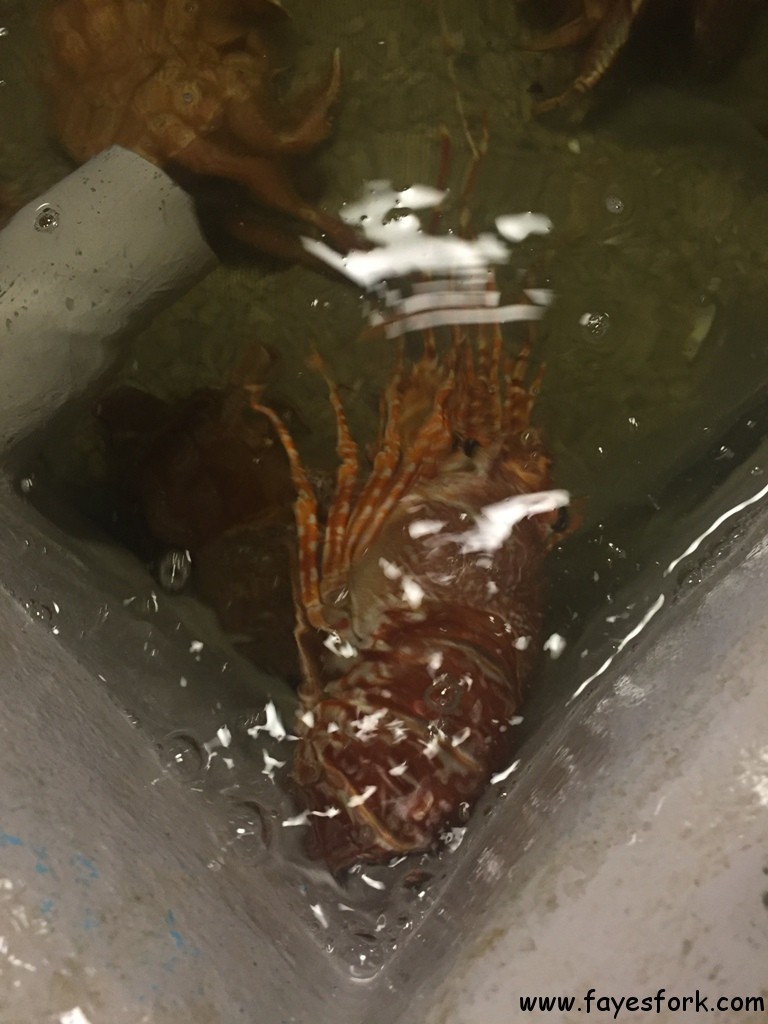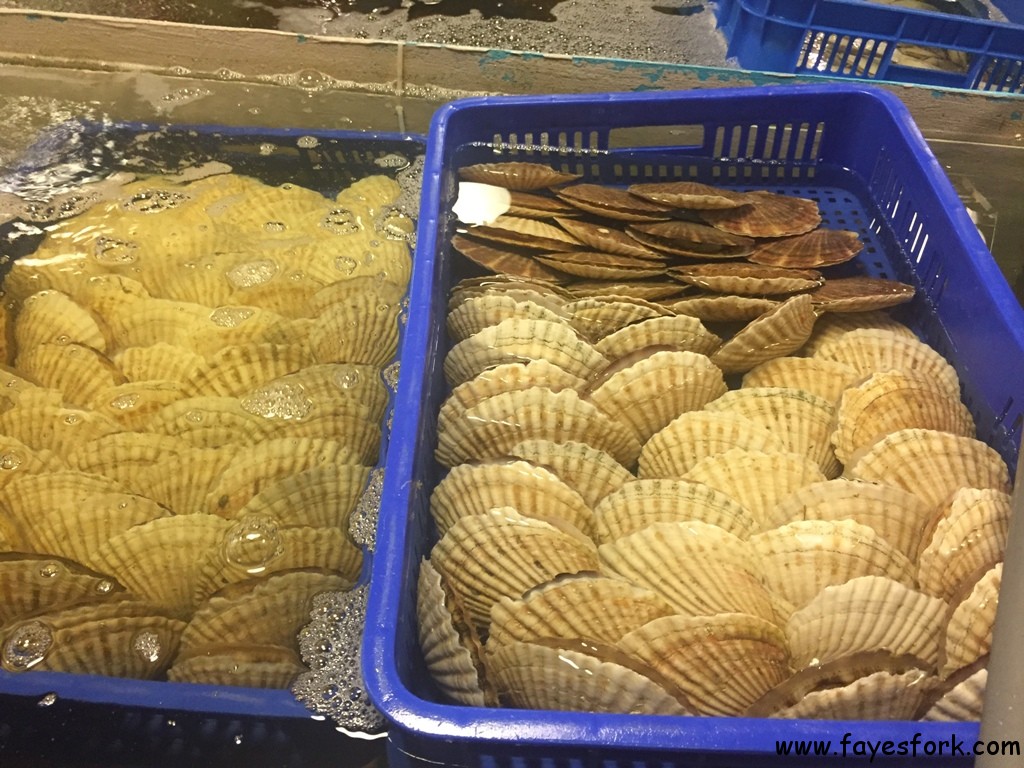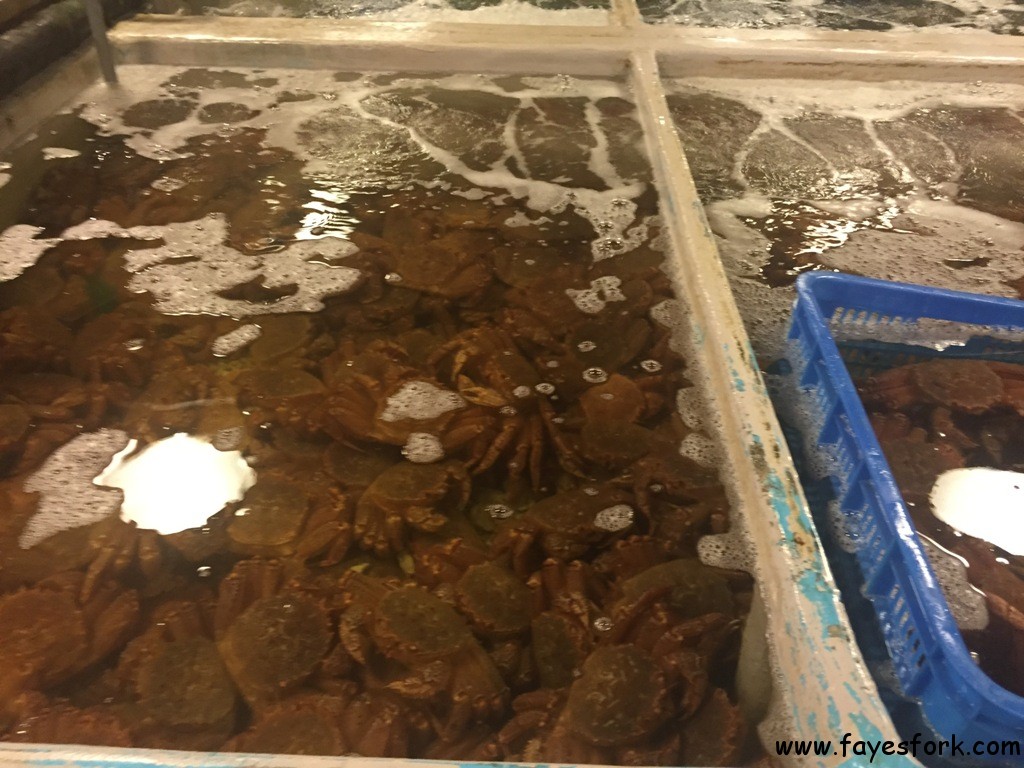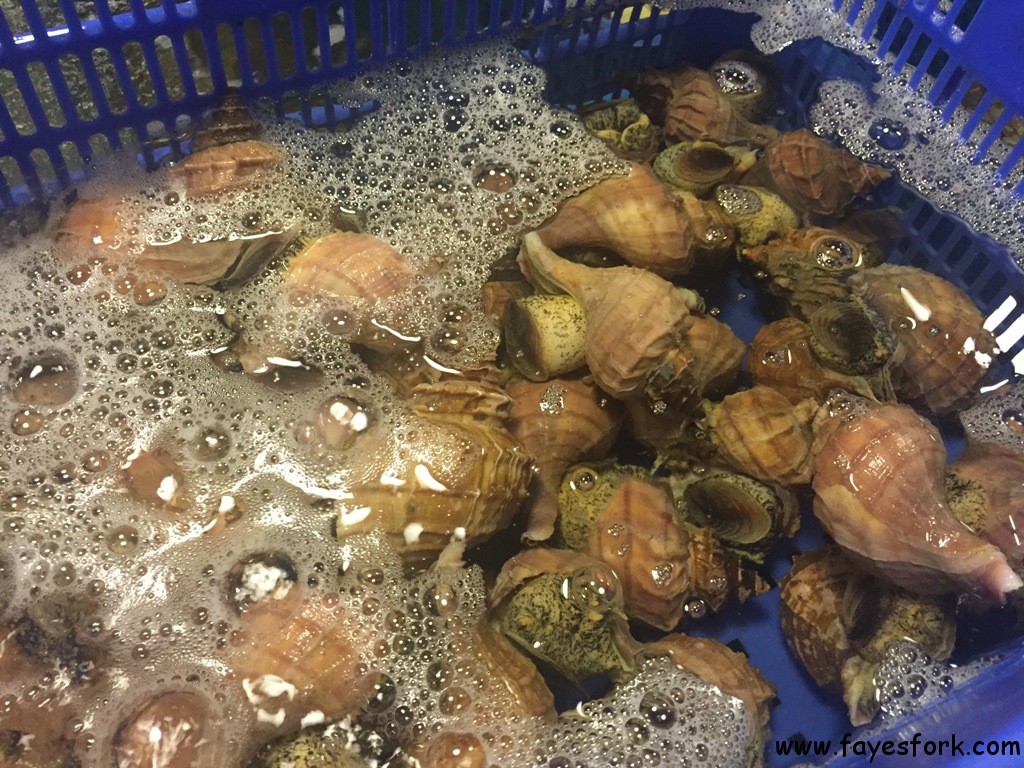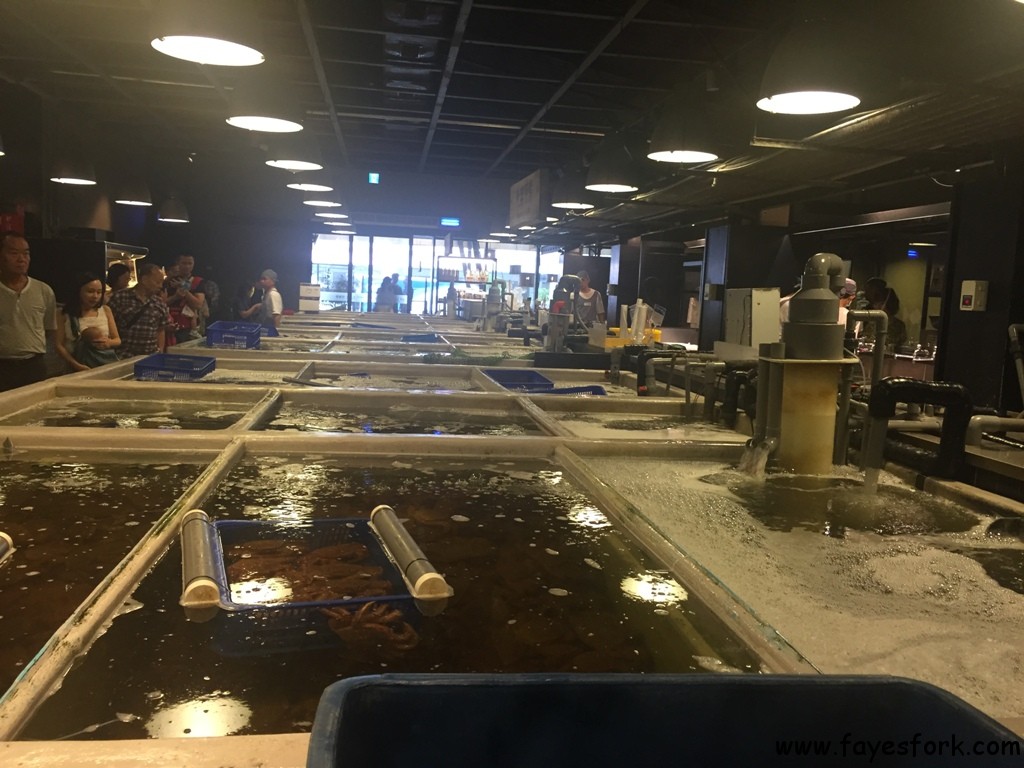 Did I mention the live seafood area is air conditioned!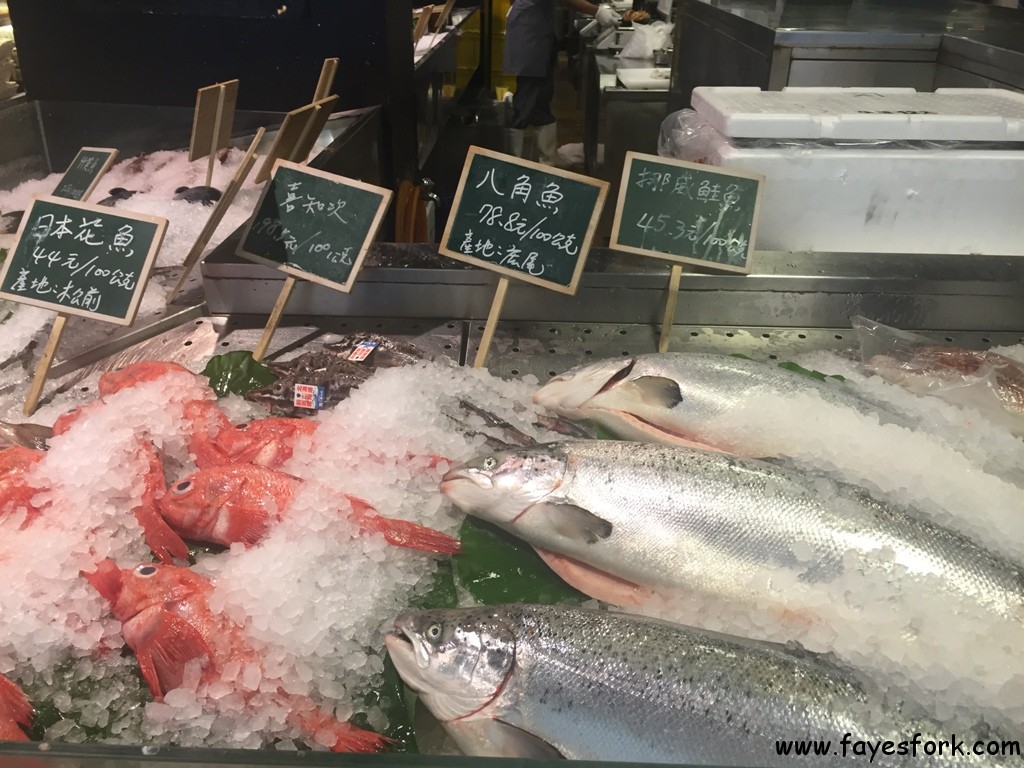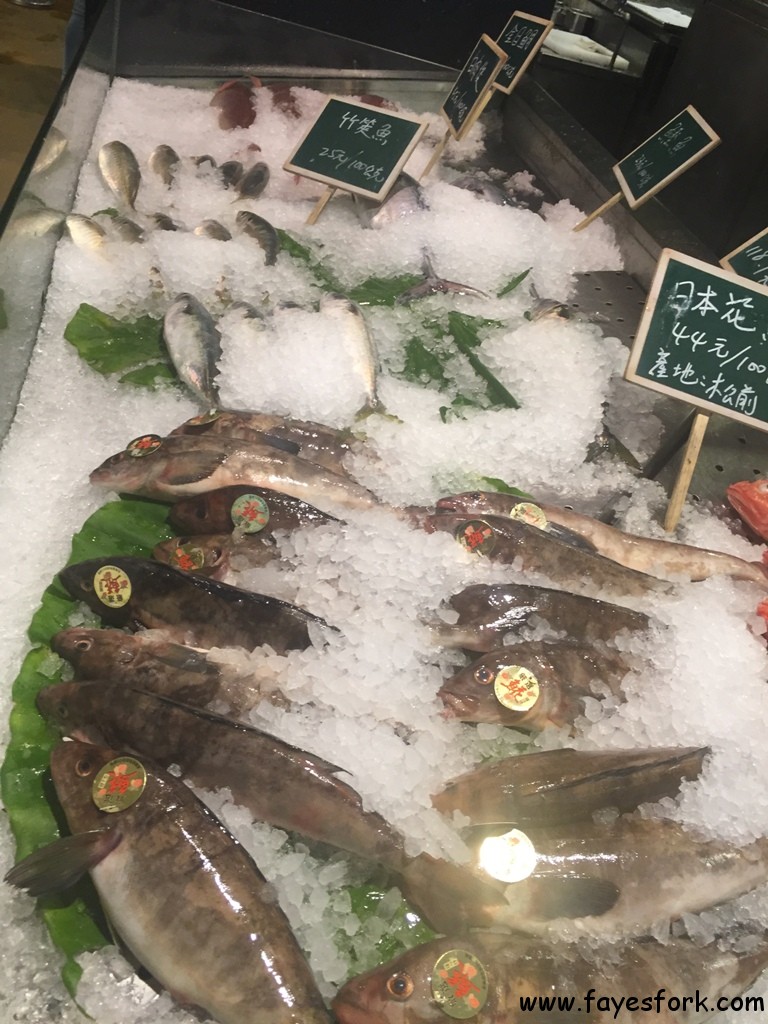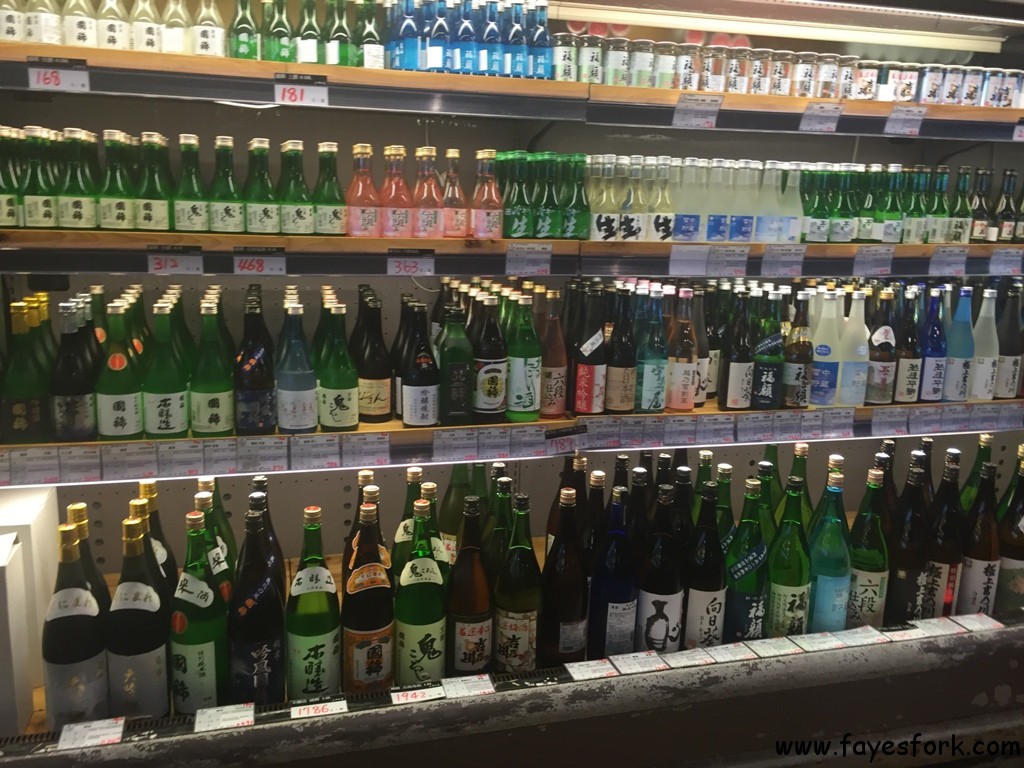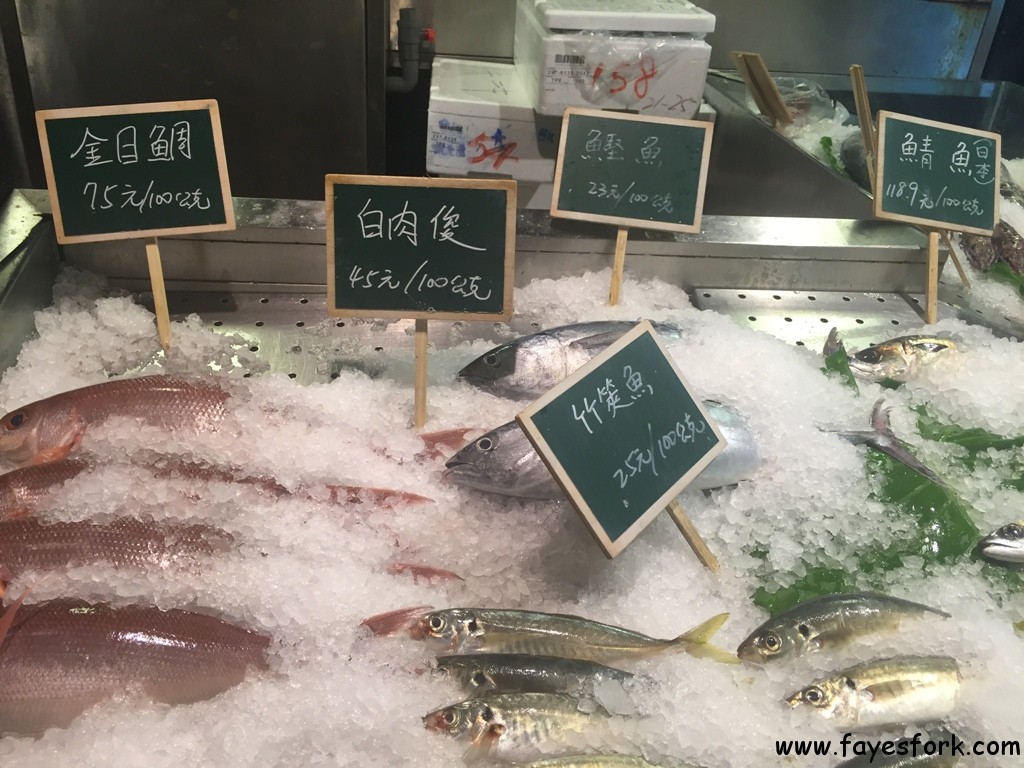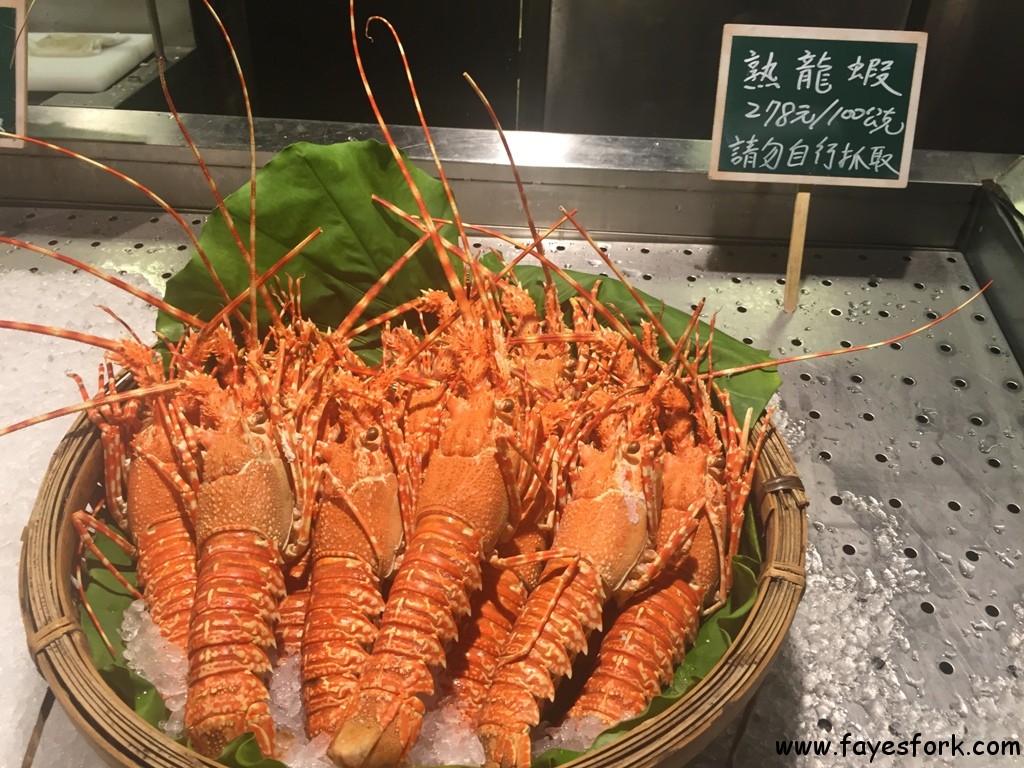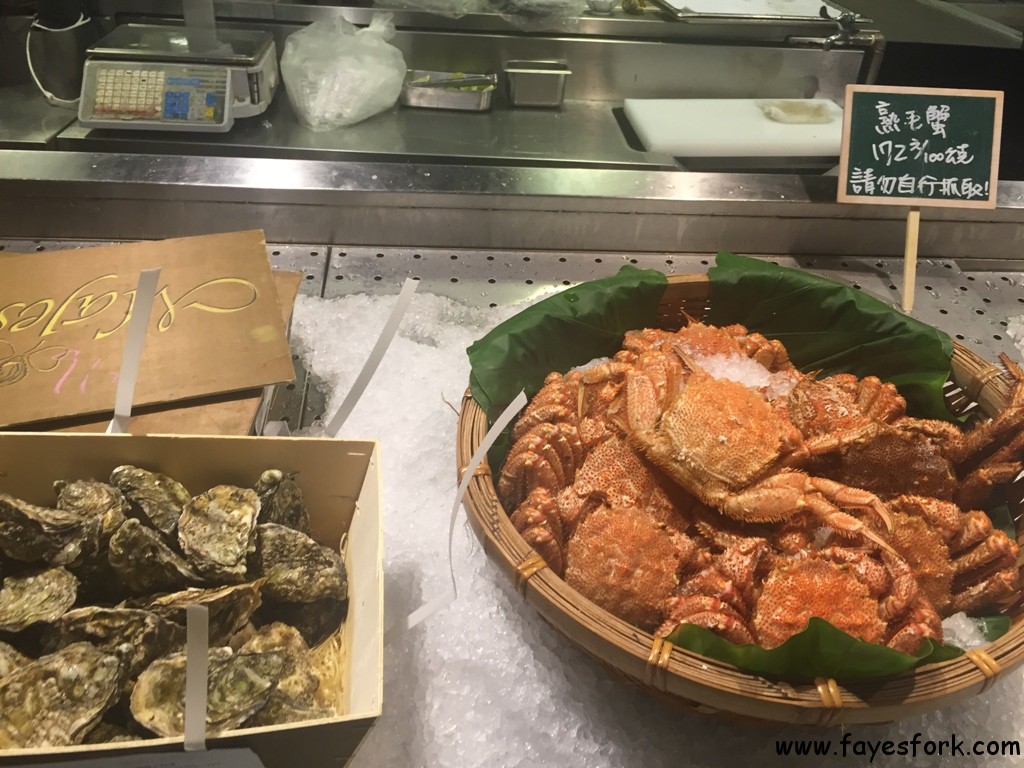 My great uncle scoffed that one live oyster cost $90NT (about $3US).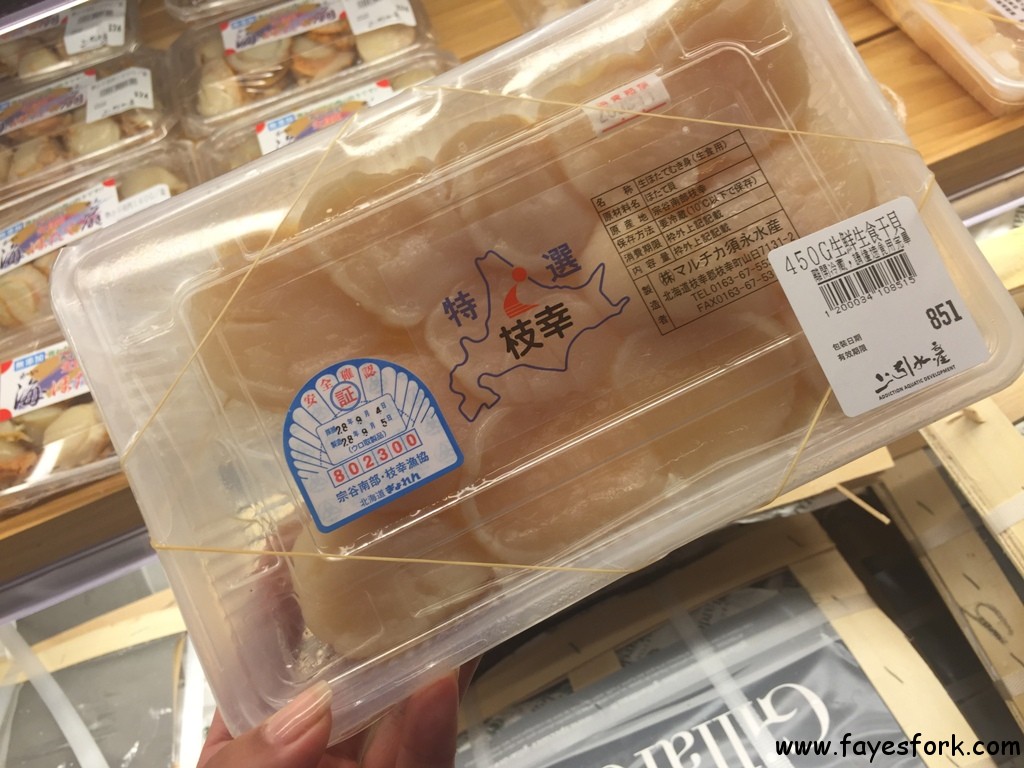 I about lost my mind when I saw these sliced raw scallops. I don't know if they were shucked, sliced, packaged that same day?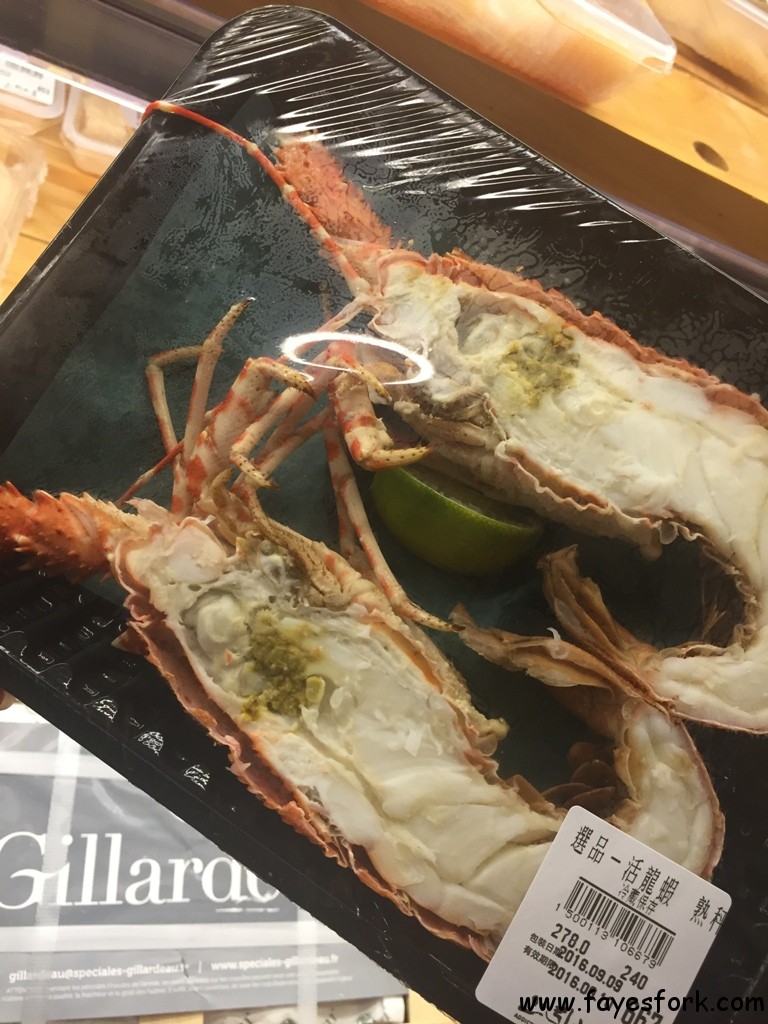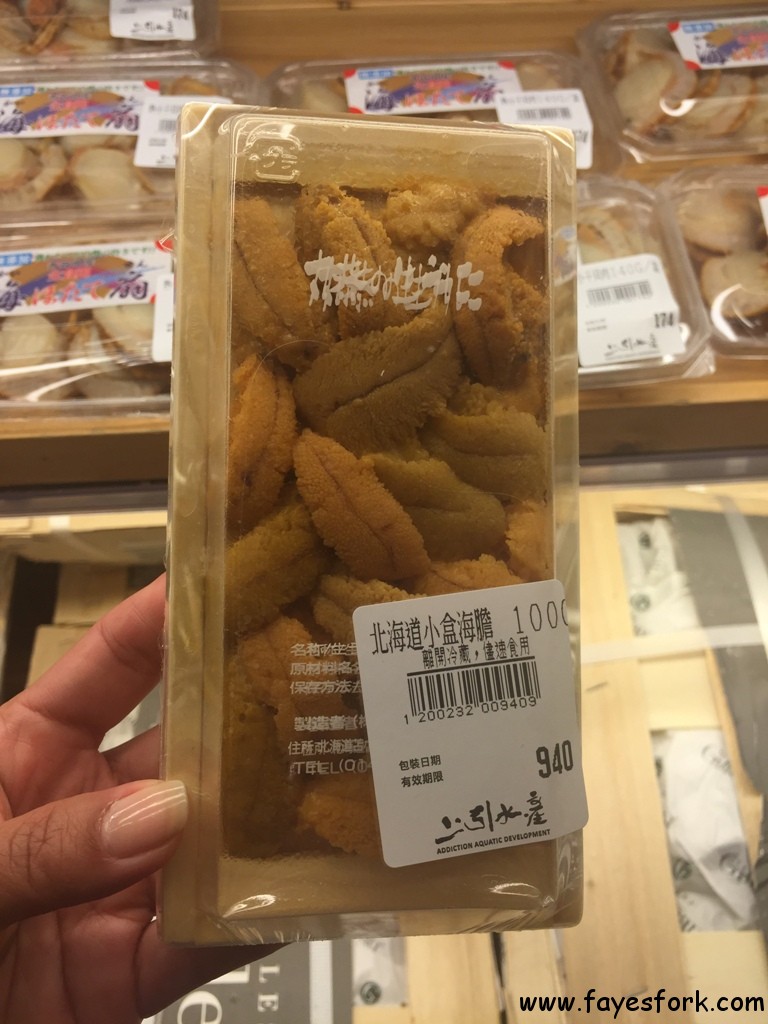 You then walk up a ramp into the supermarket and indoor area. It's also air conditioned.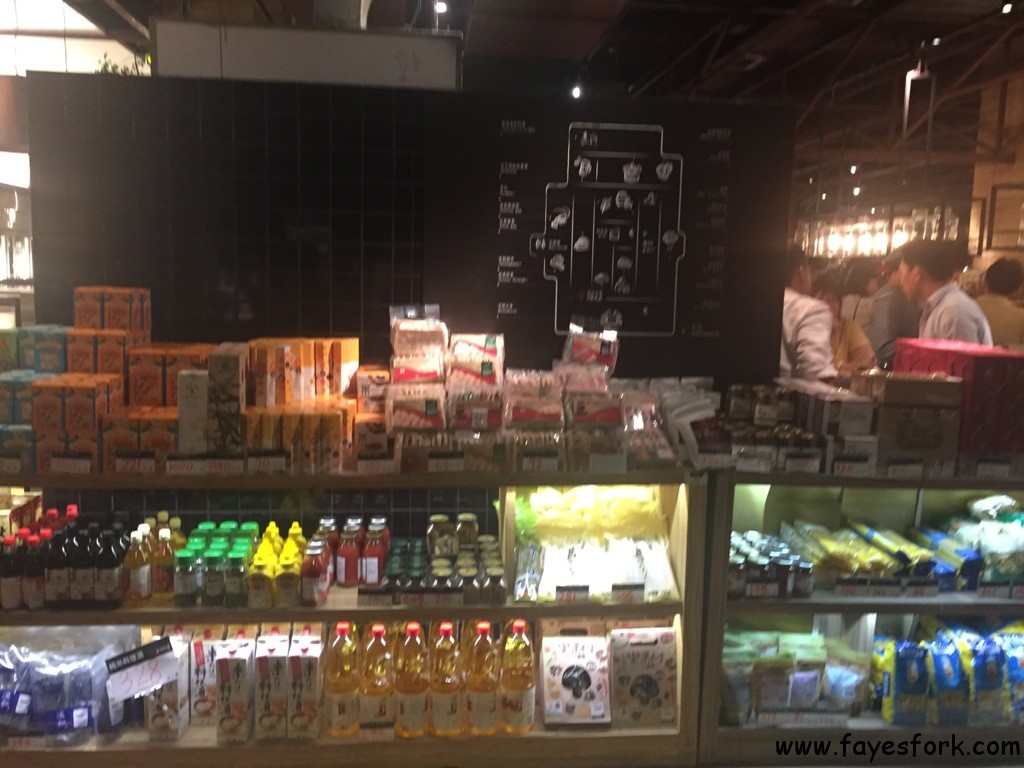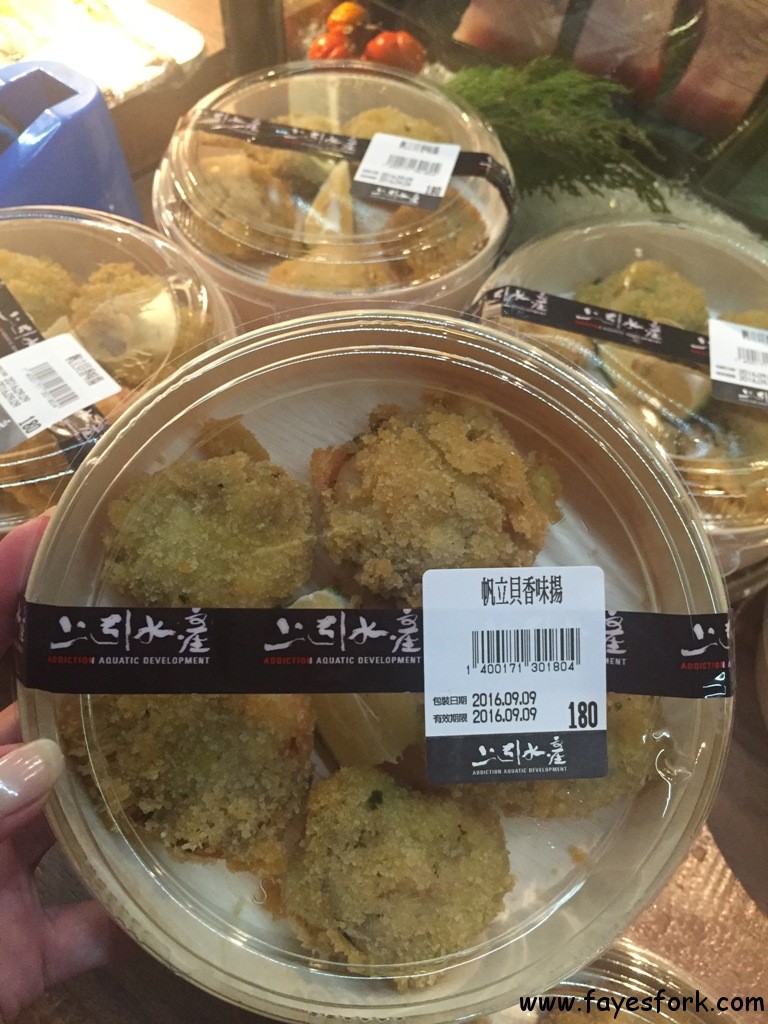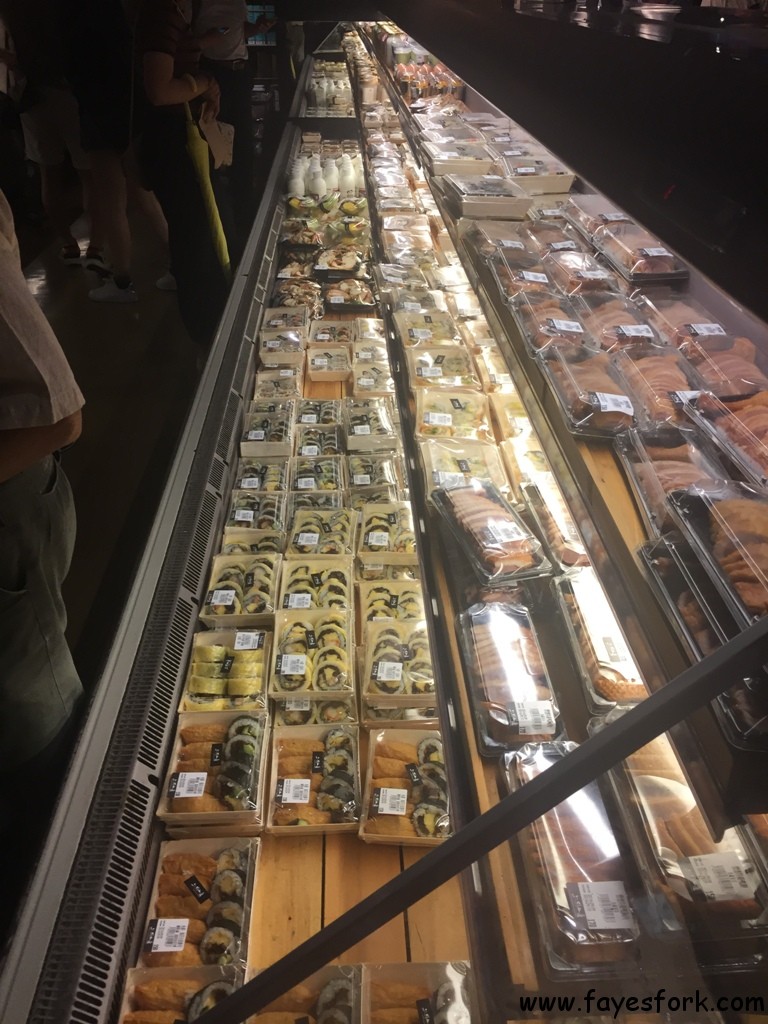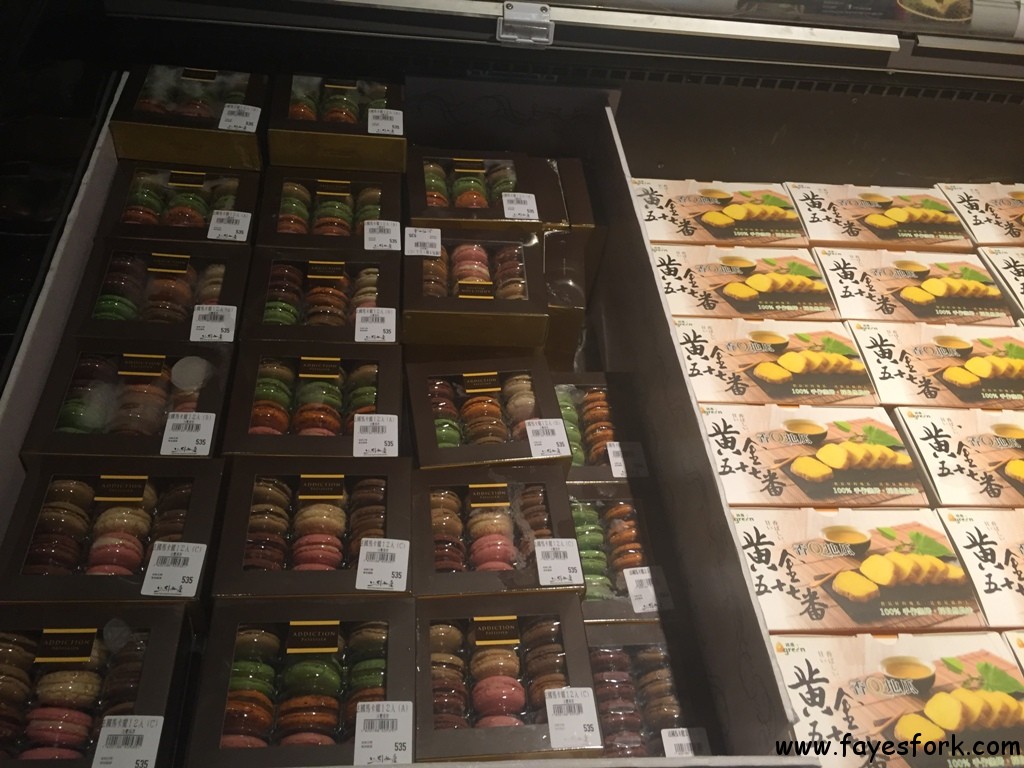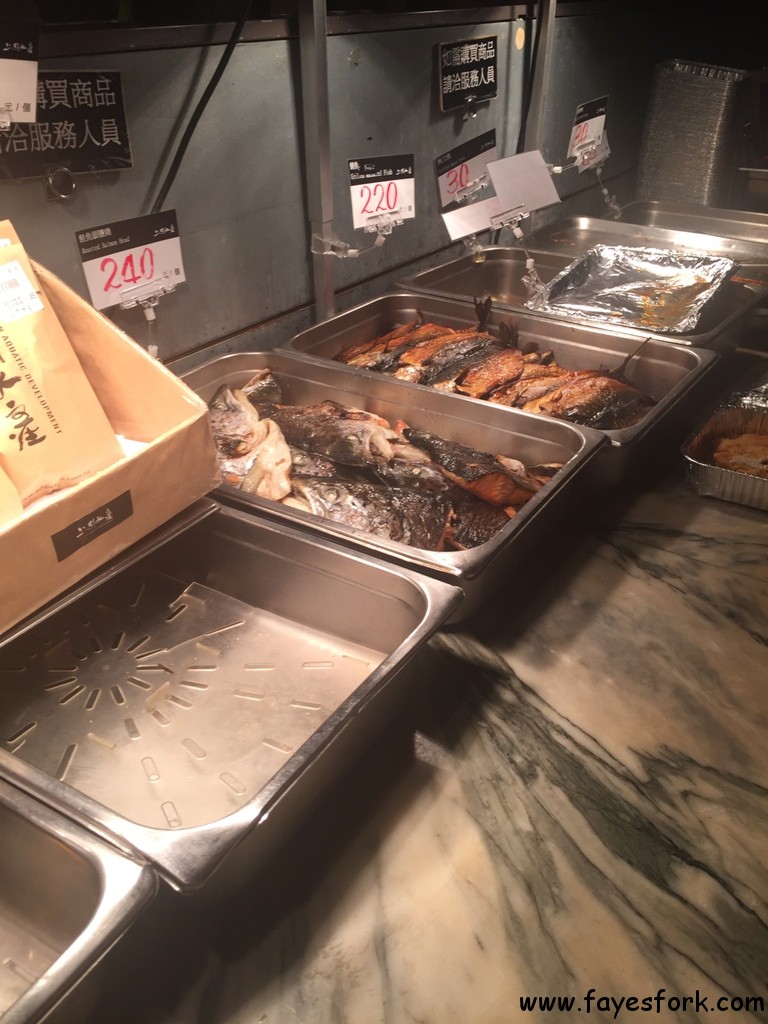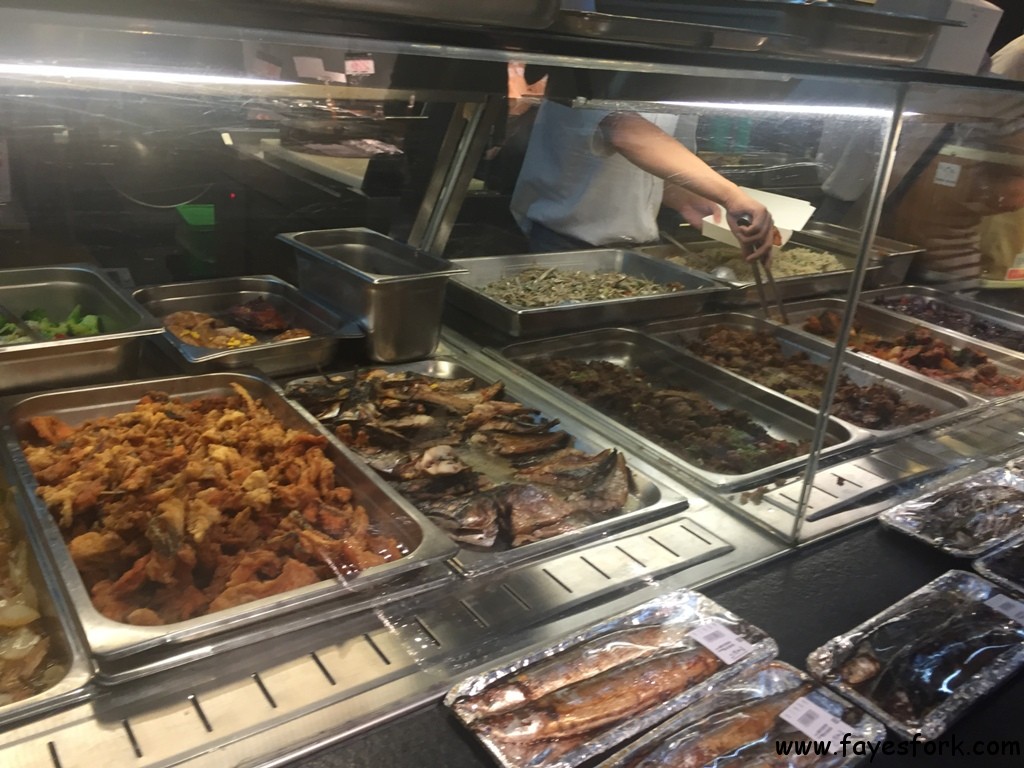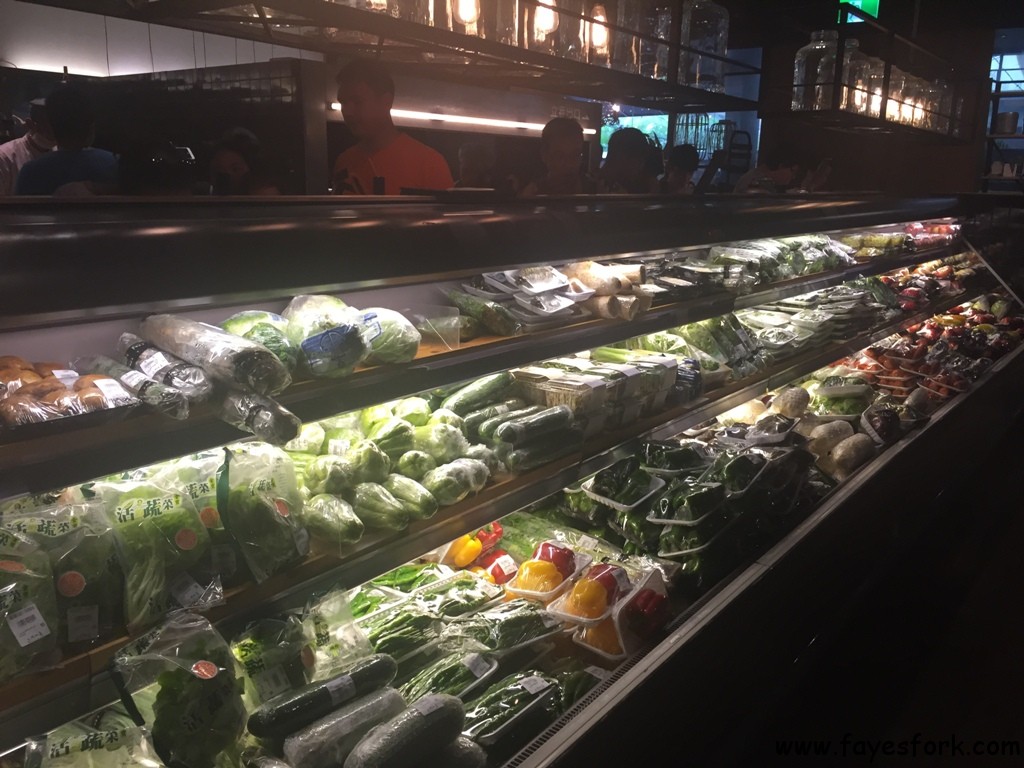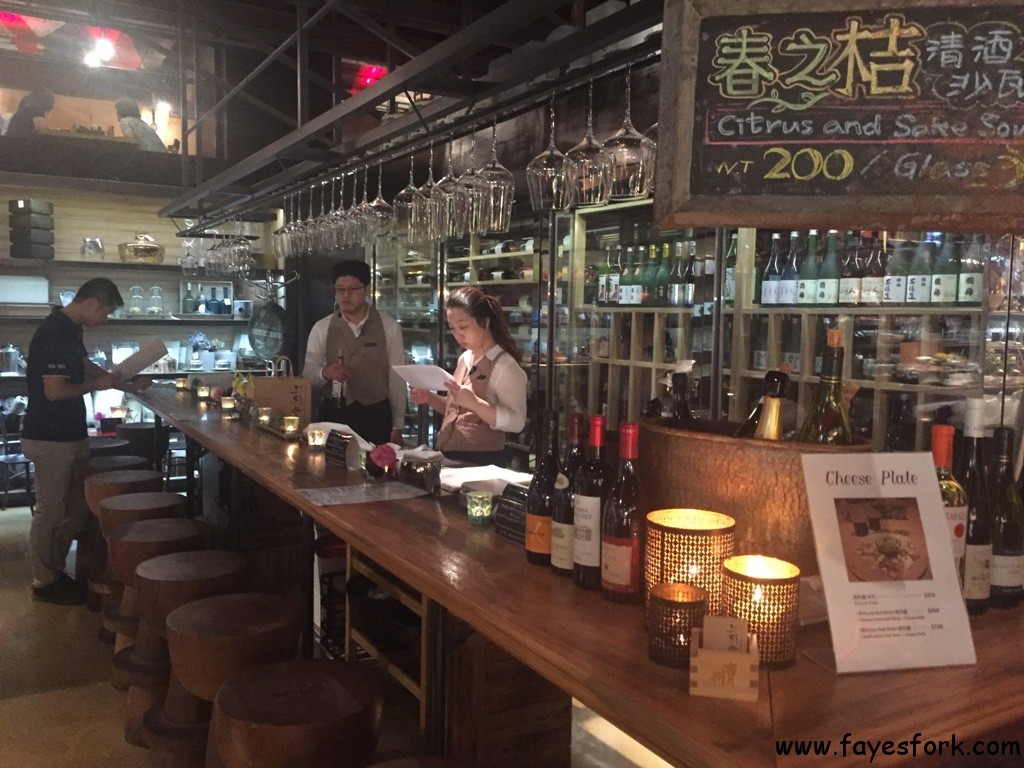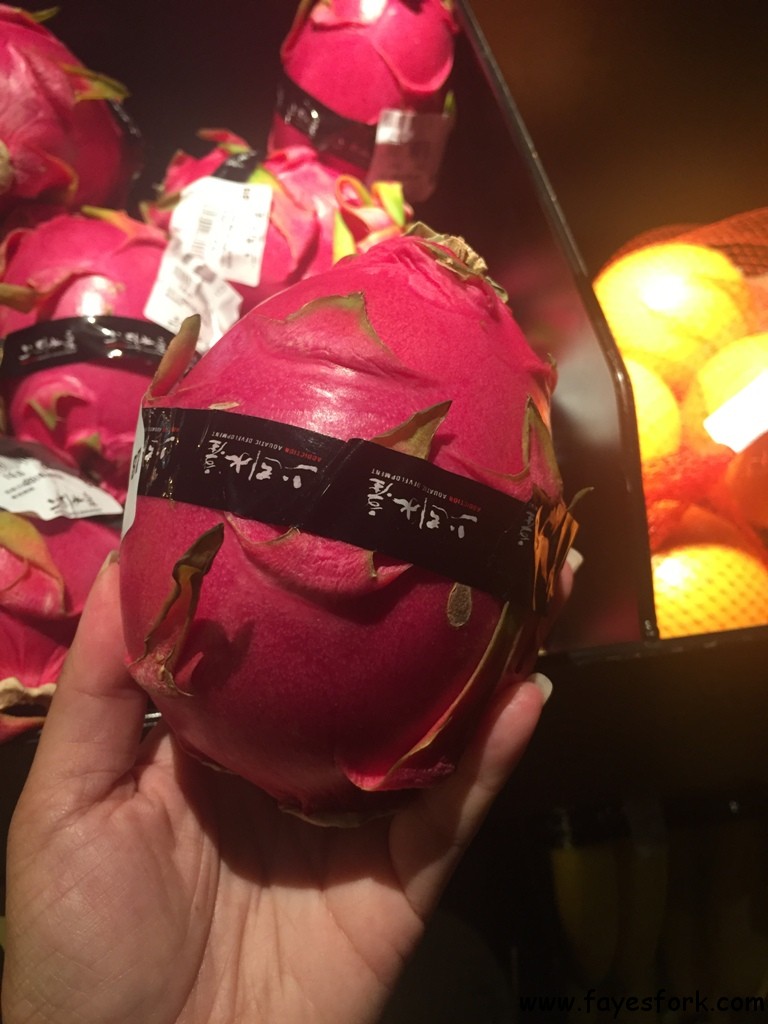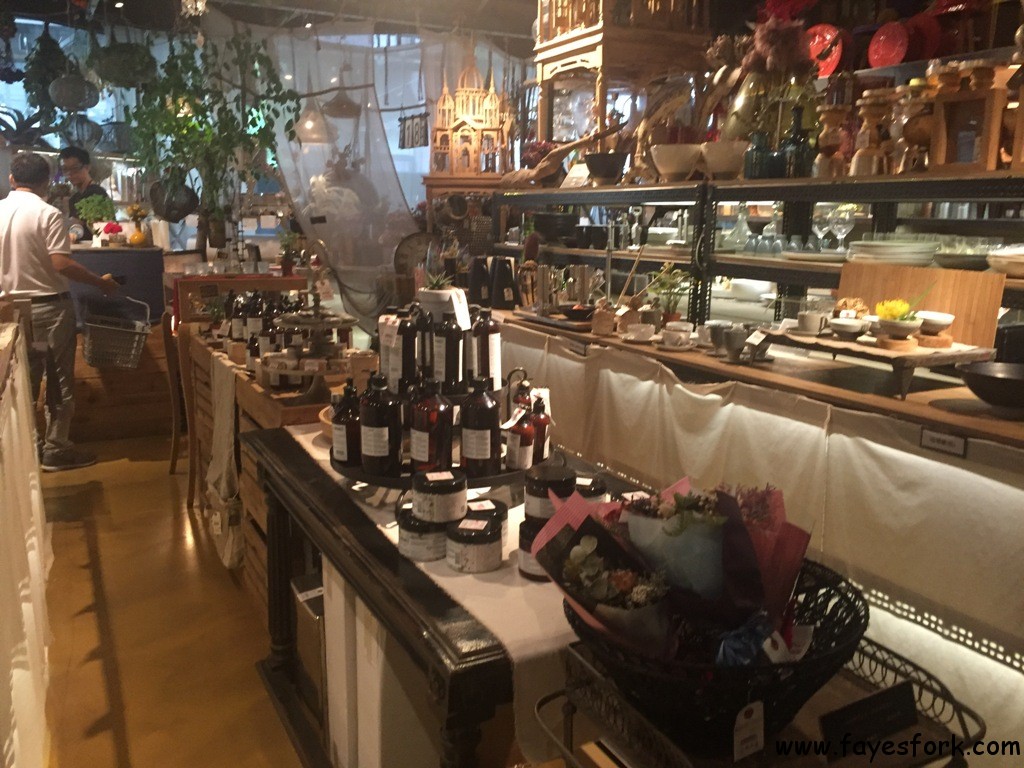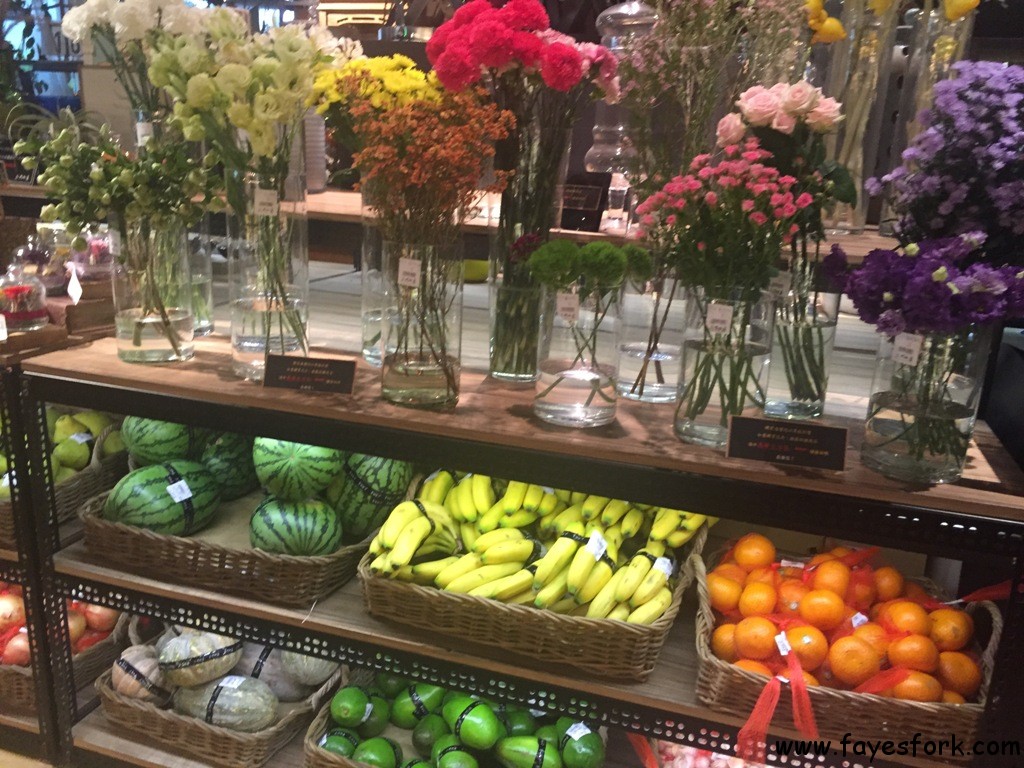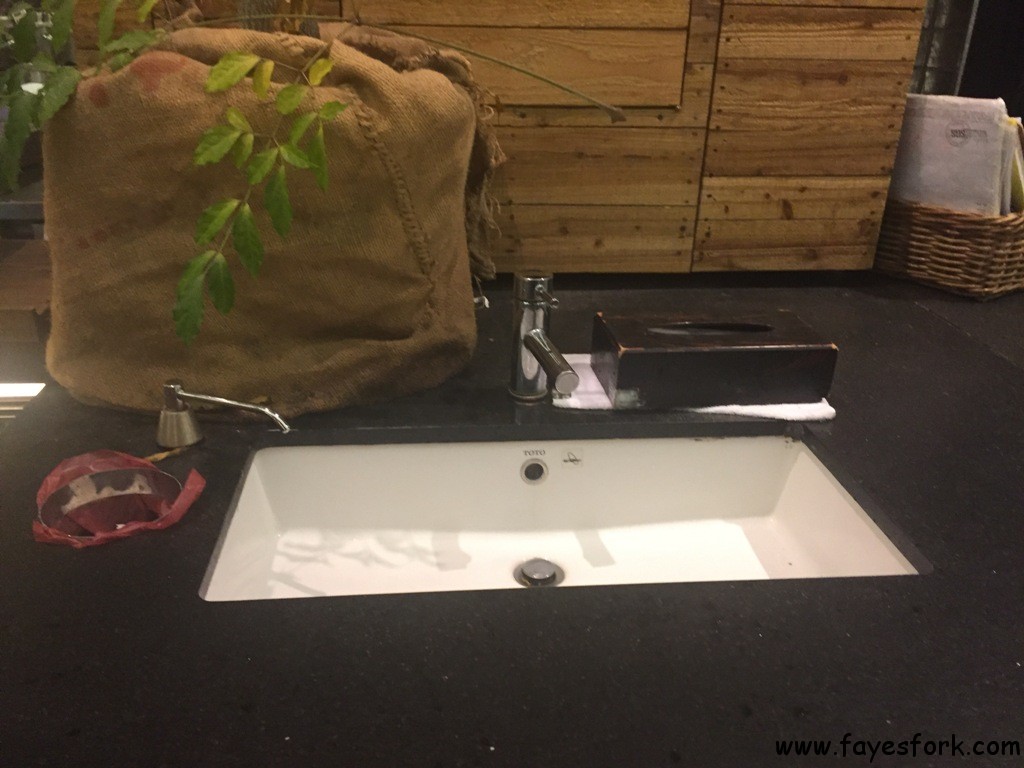 The sink was next to the sushi bar.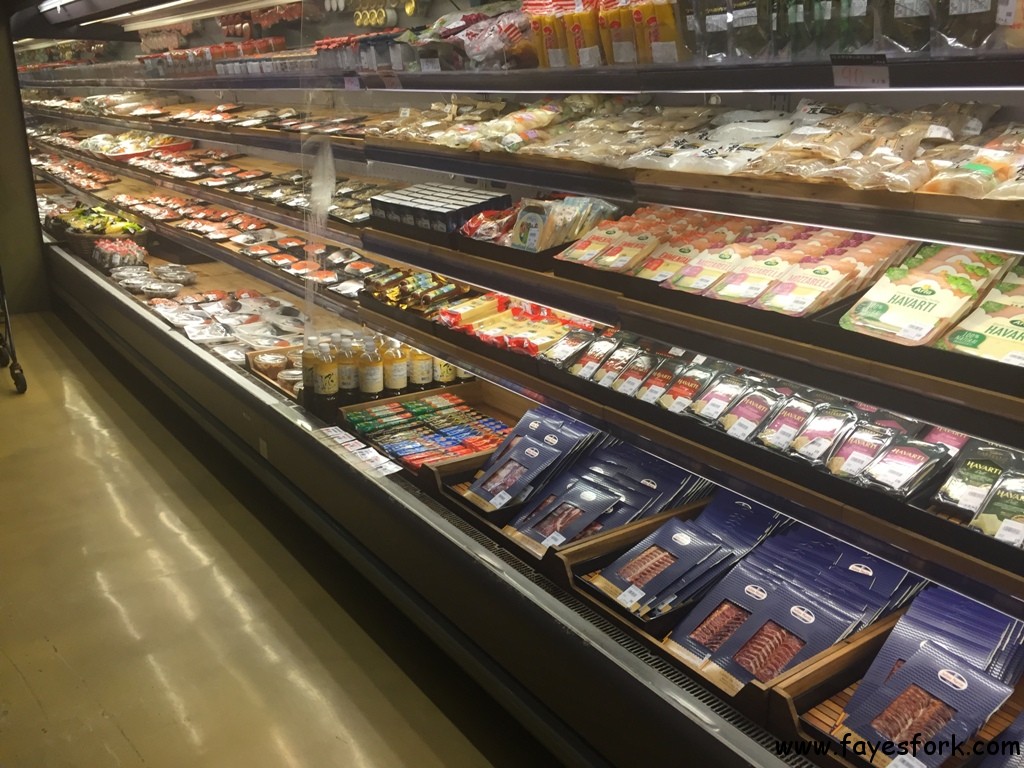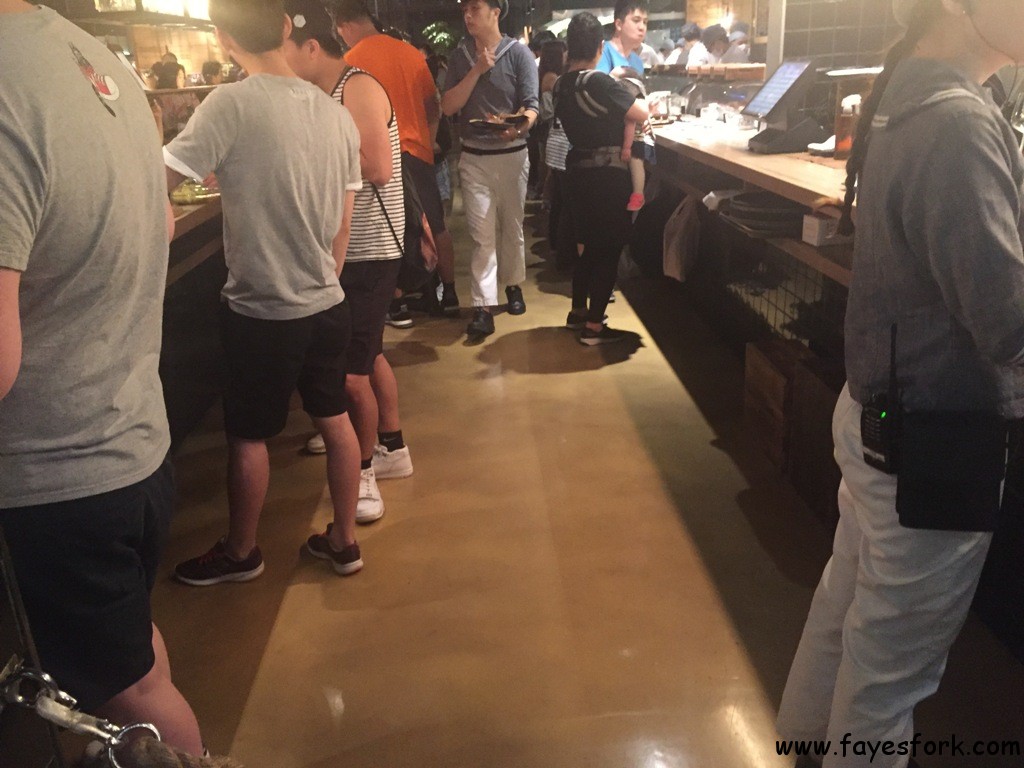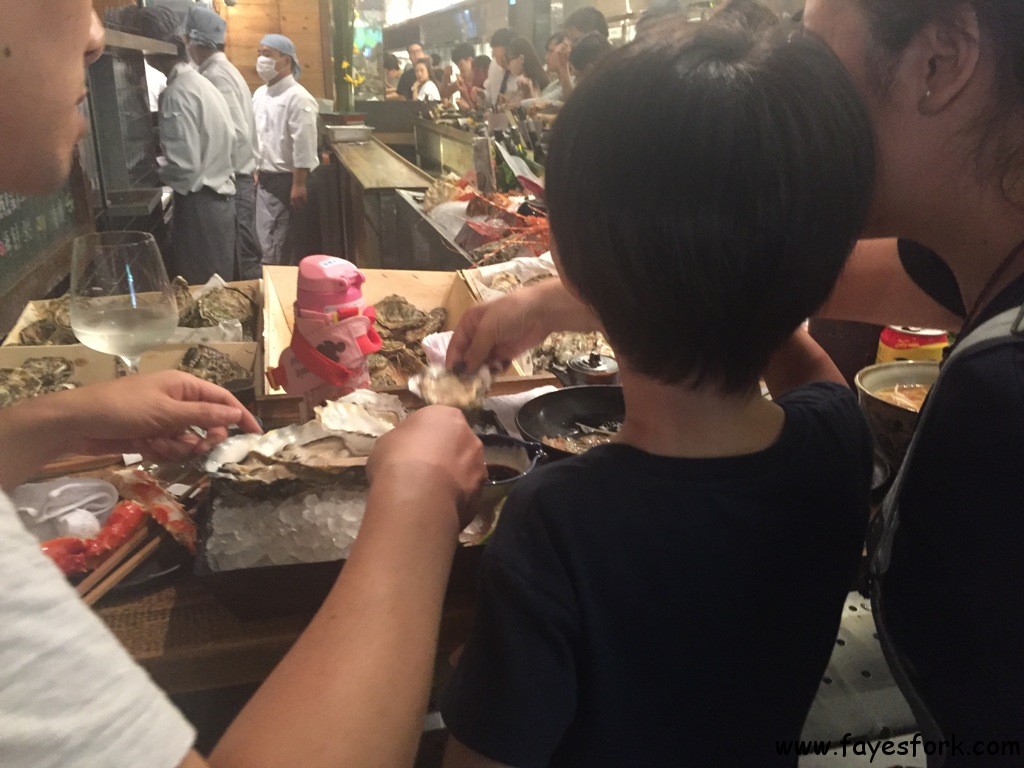 The sushi bar was packed. I found it amazing how many young children were eating sushi. This one was getting ready to eat a huge raw oyster 🙂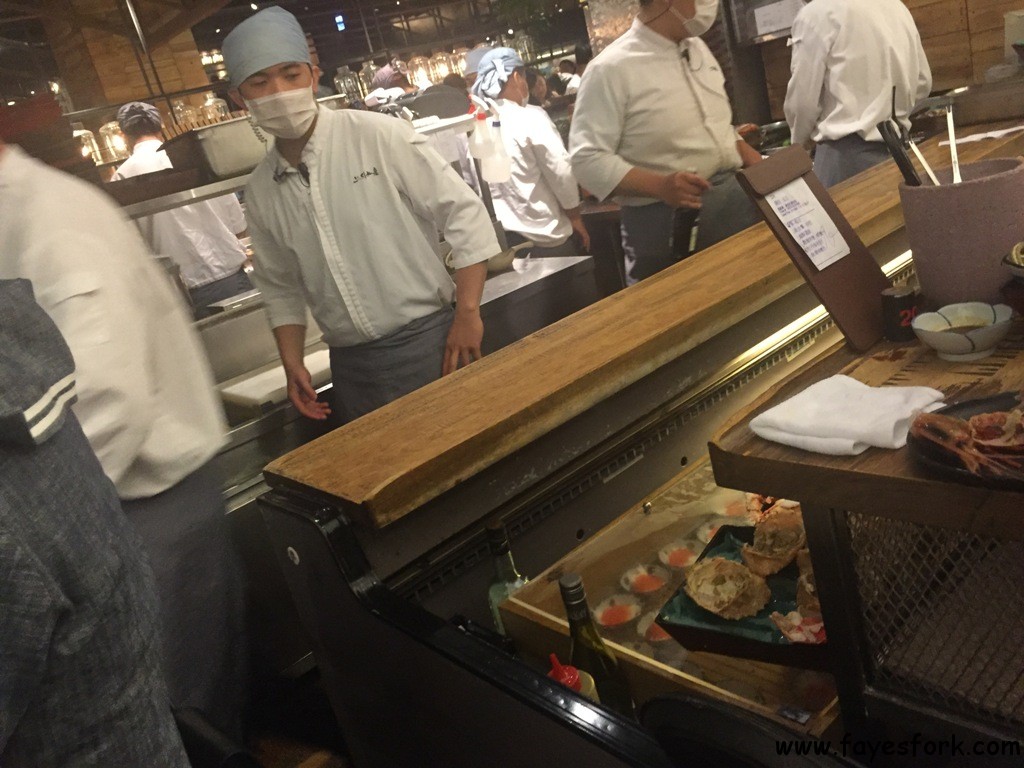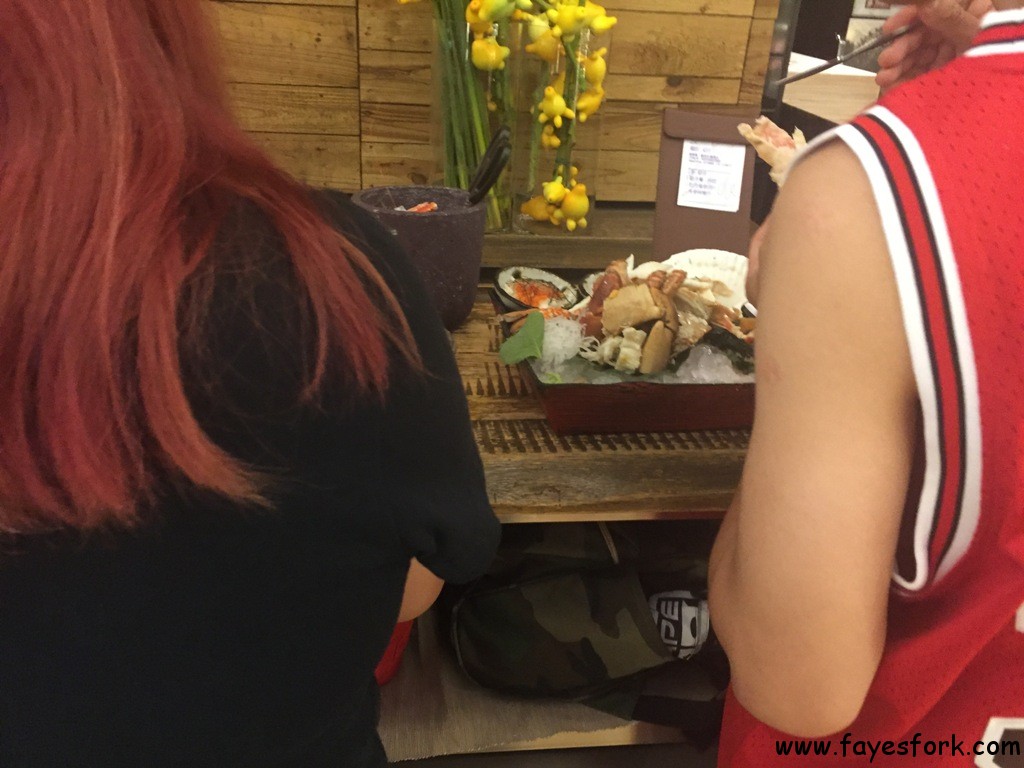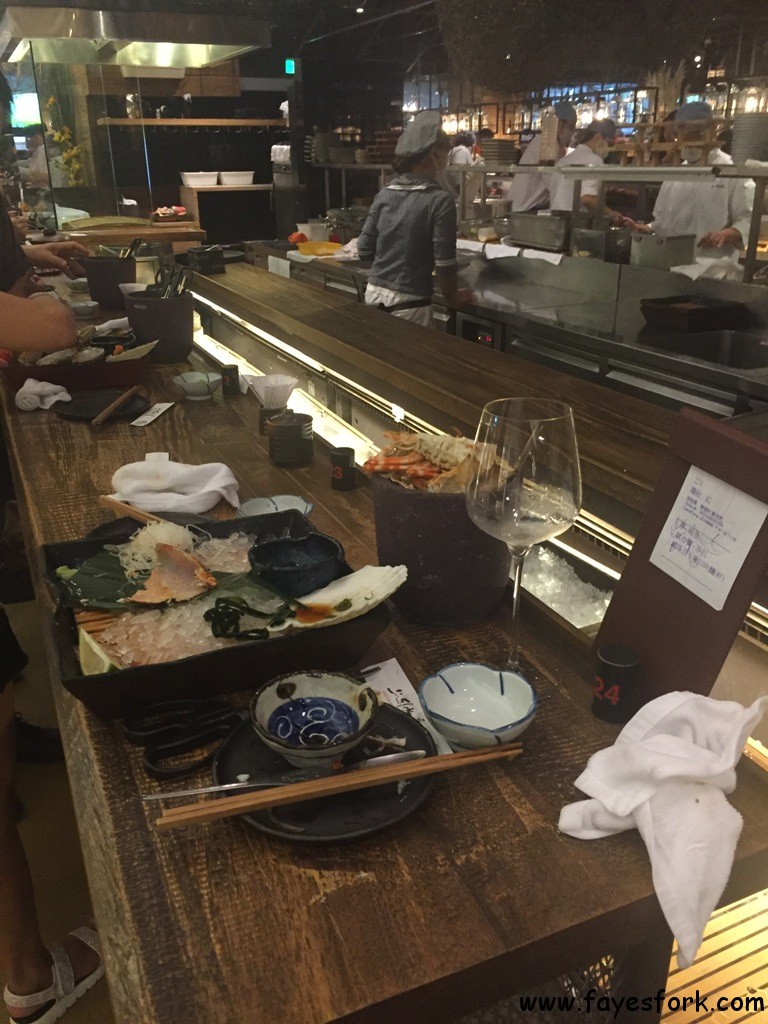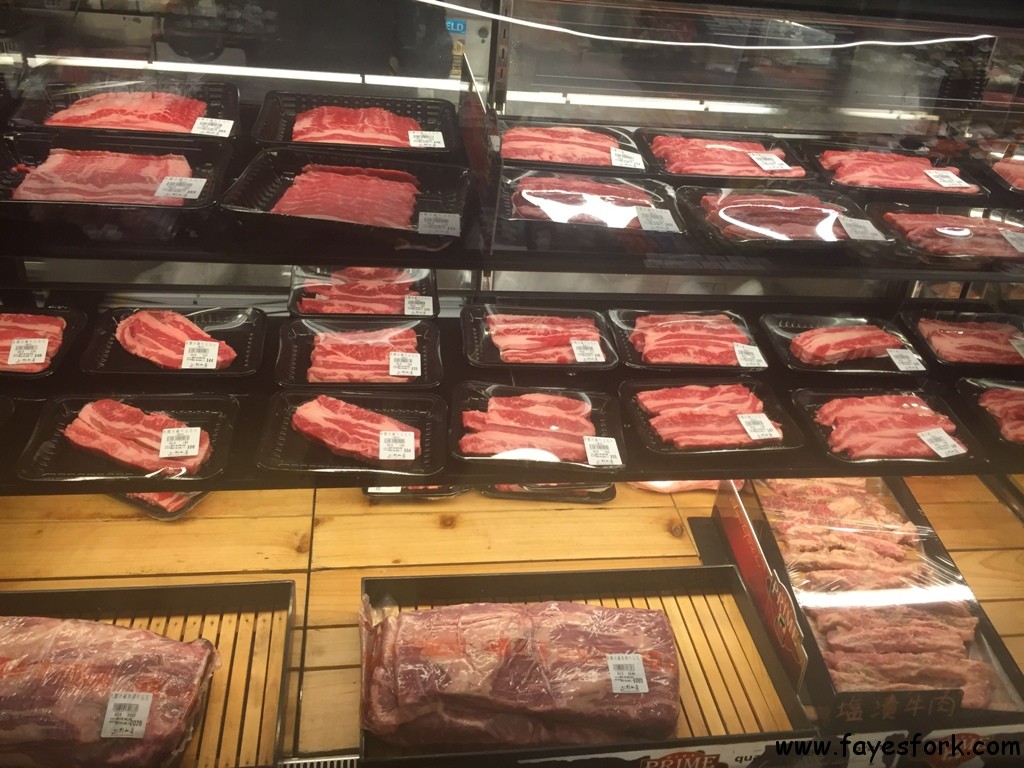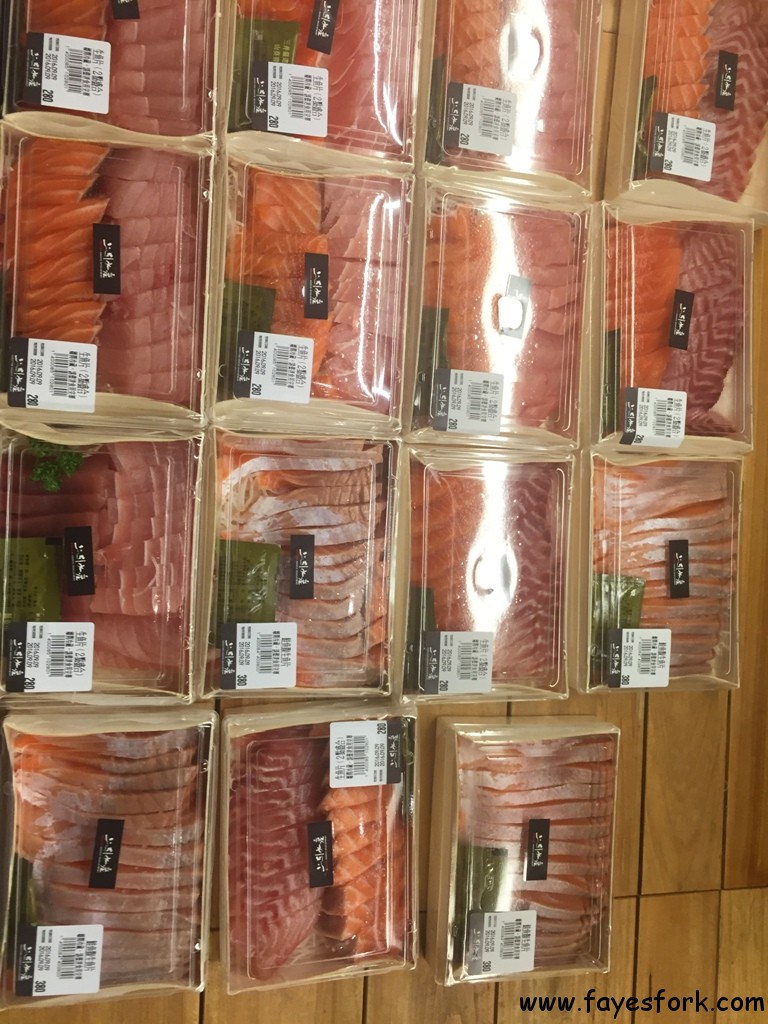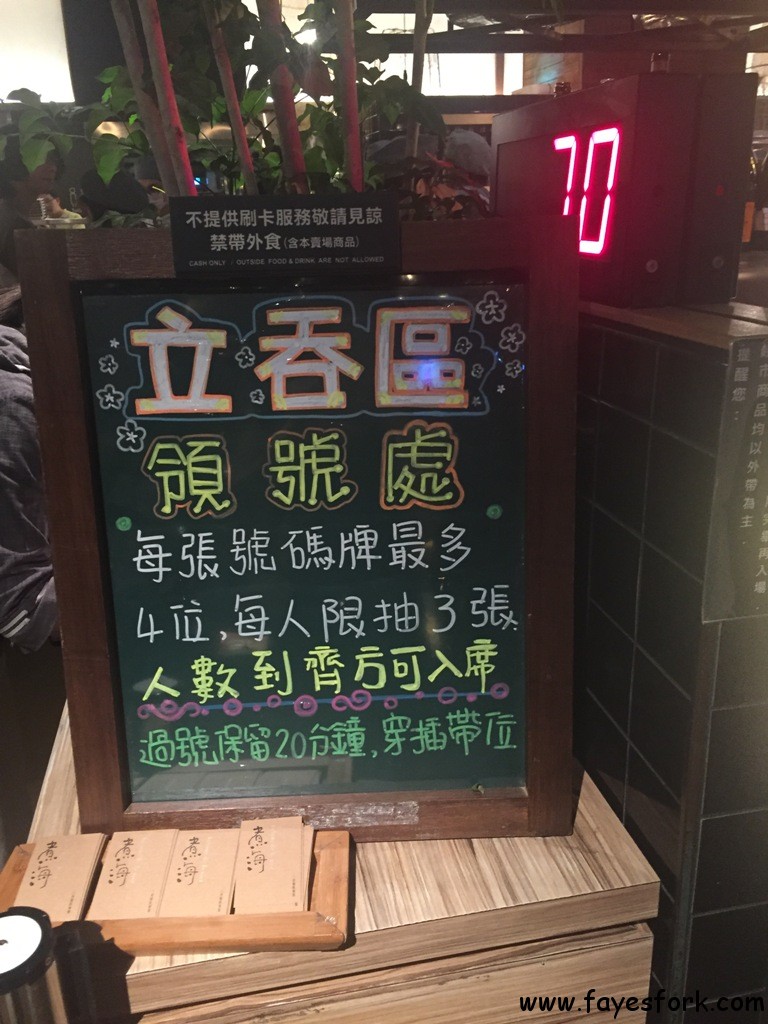 So this is the hostess stand where you have to get a number and wait to get seated at the shabu and sushi restaurant area. It can be a long wait. And keep in mind, the sushi restaurant area is STANDING only.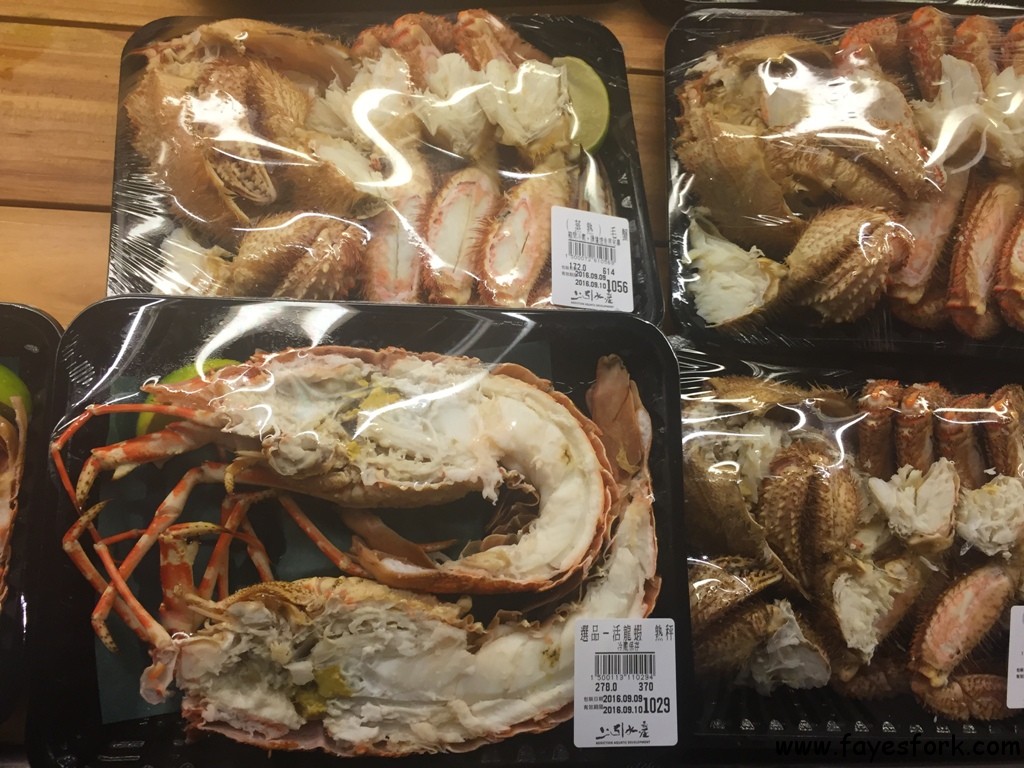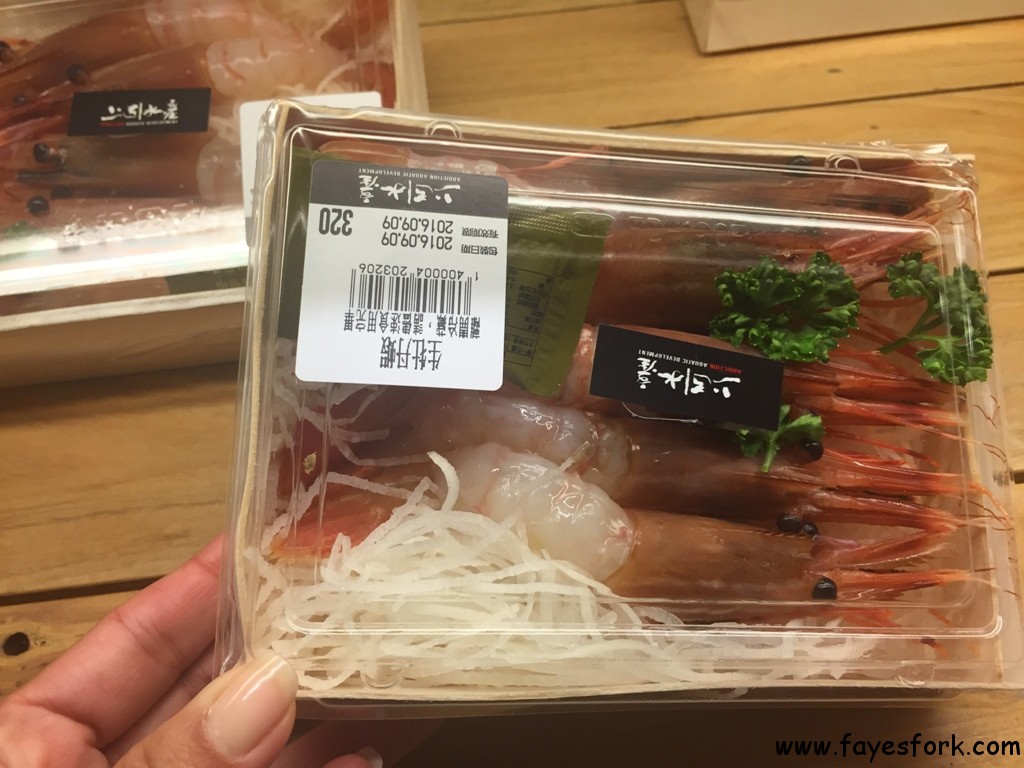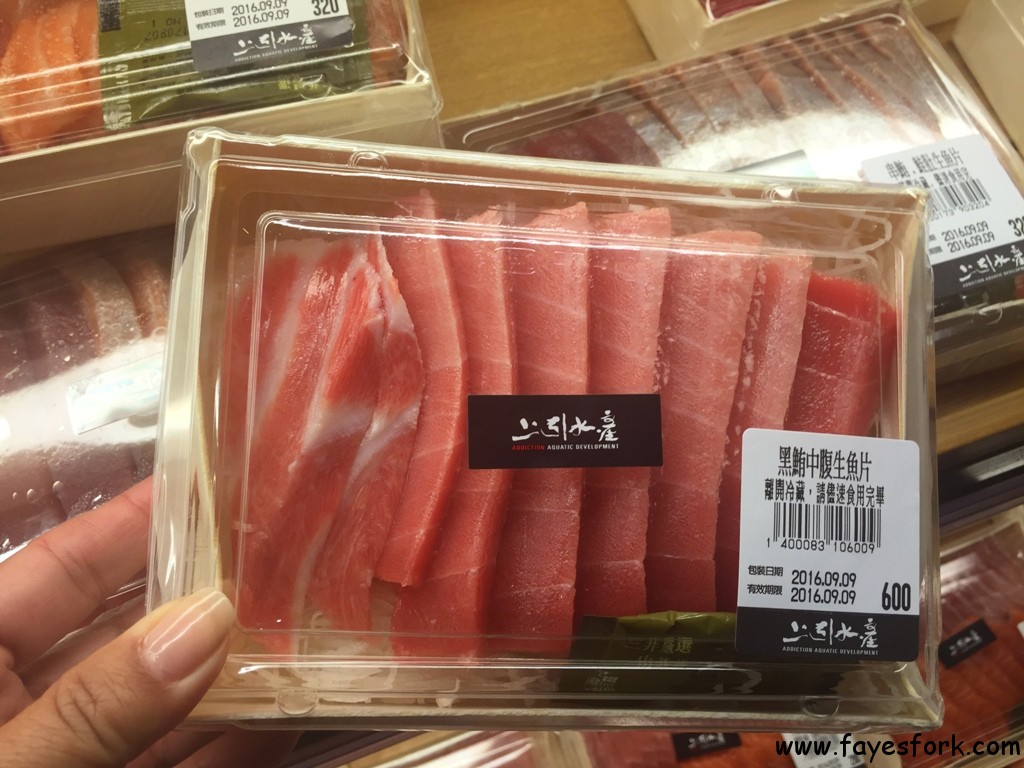 Look at the giant slices of sashimi in this package!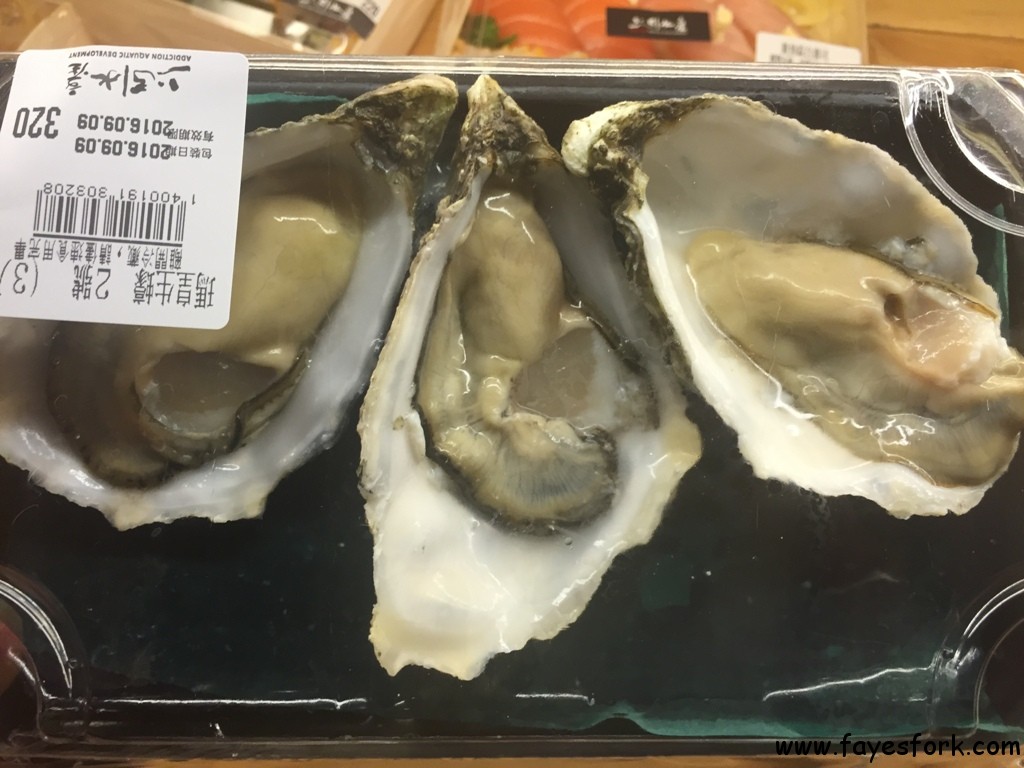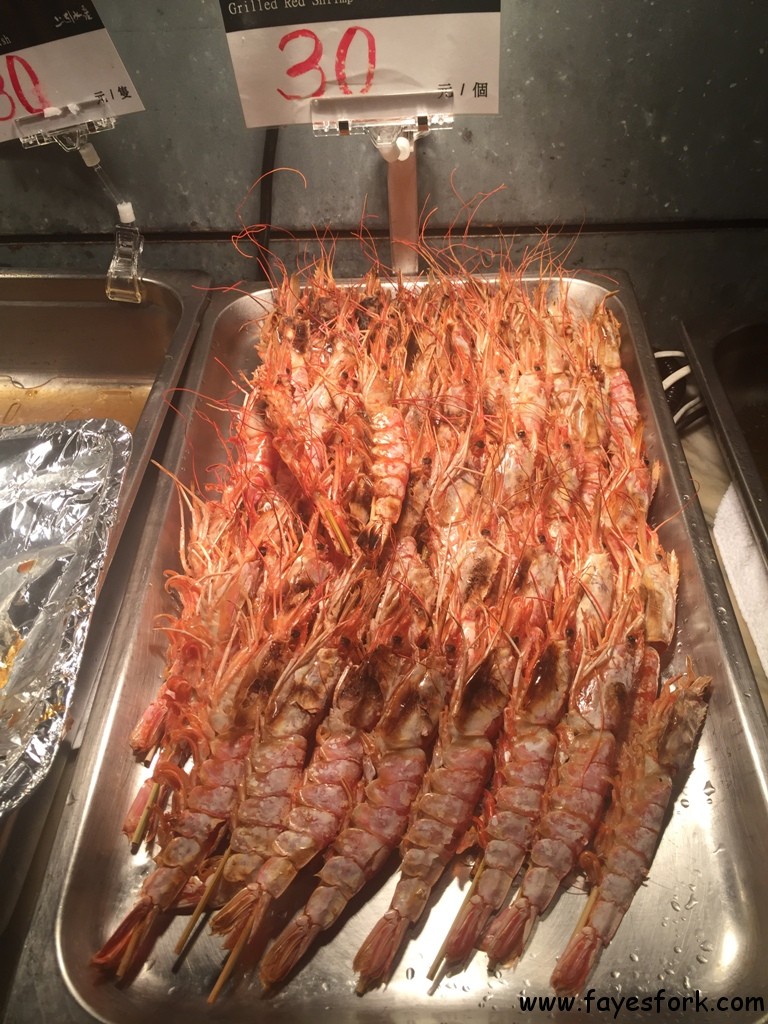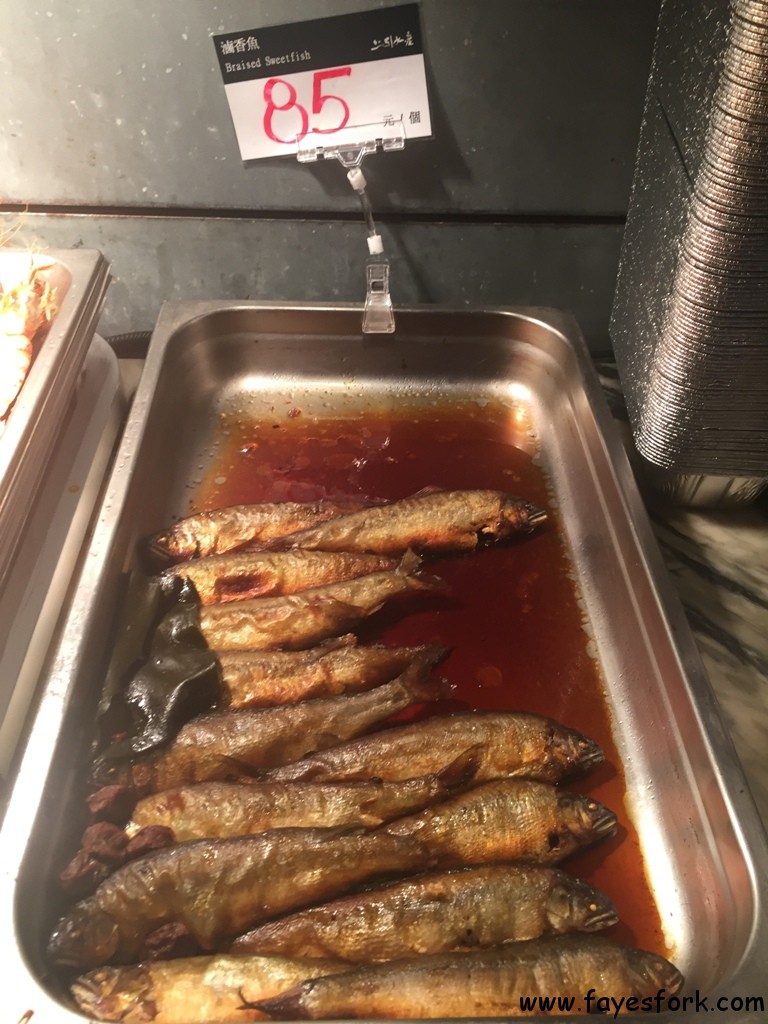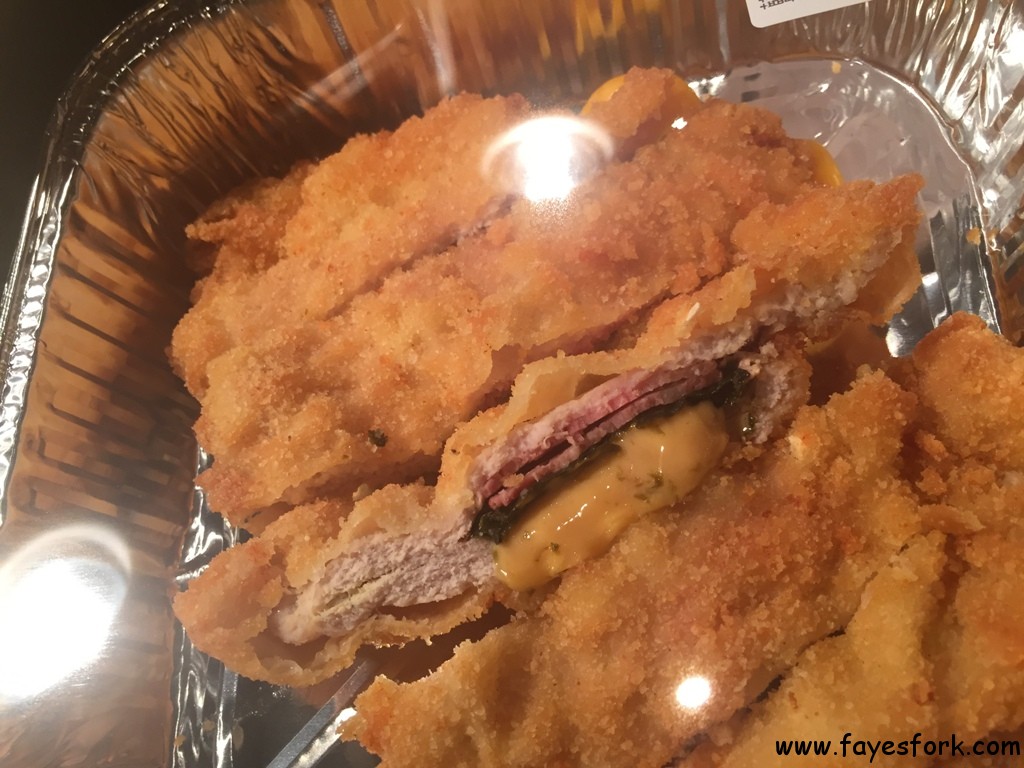 I think this was a fried pork cutlet stuffed with cheese and ham.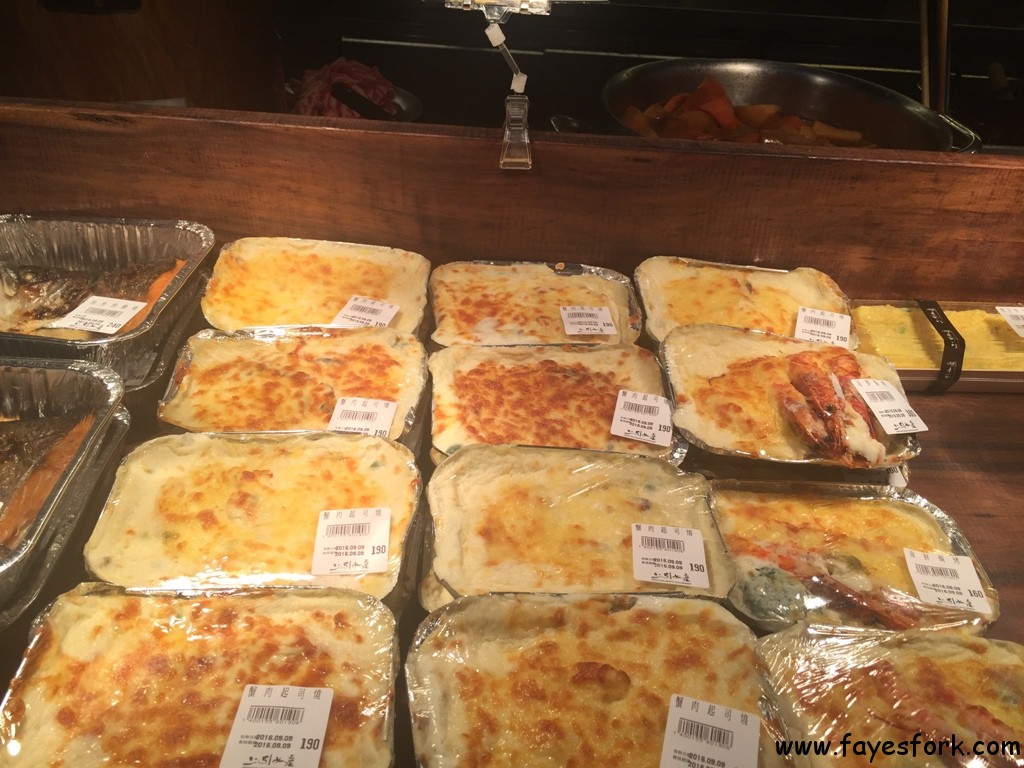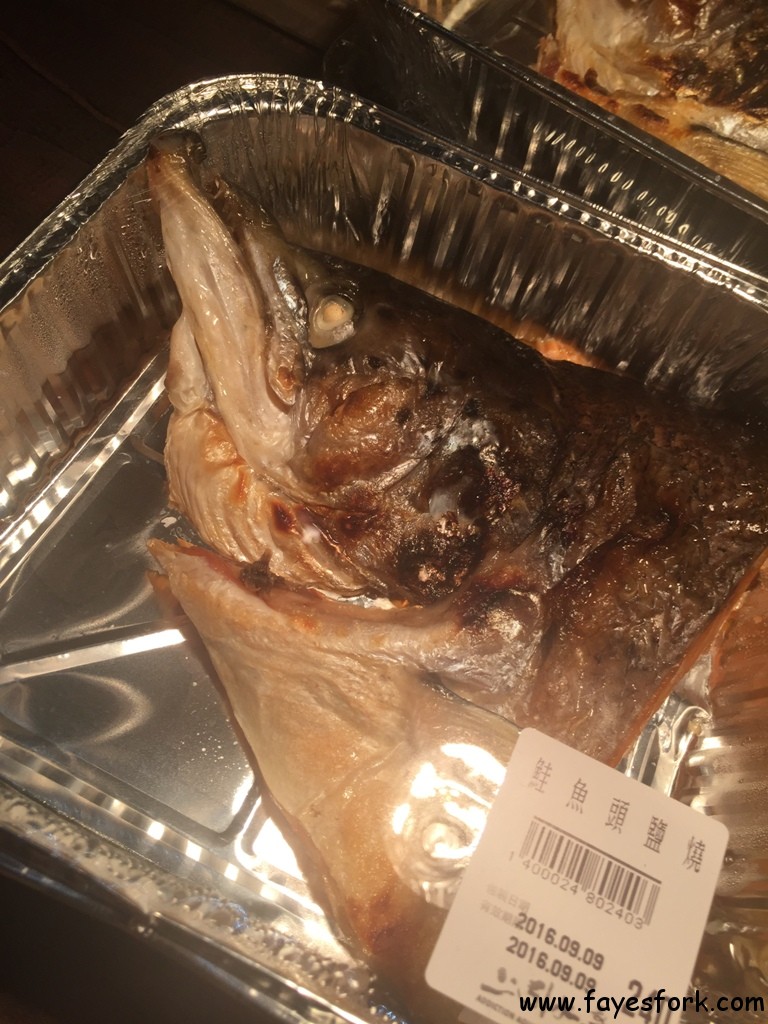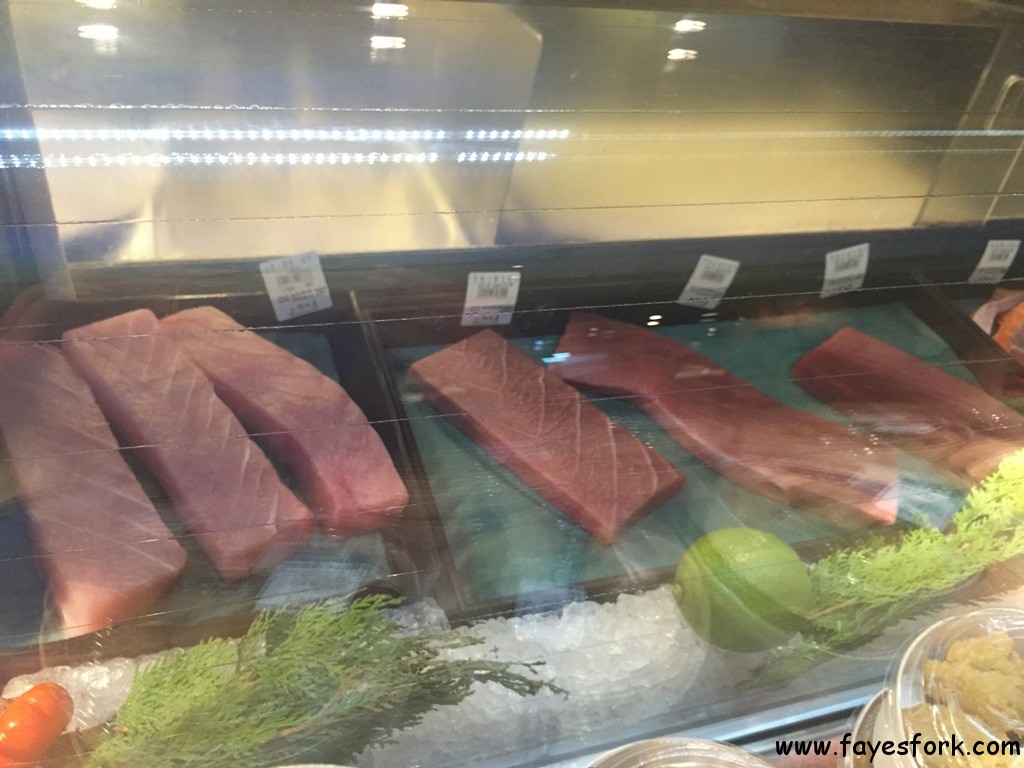 I was in awe of these fatty tuna bellies . I want to return to solely order and eat this.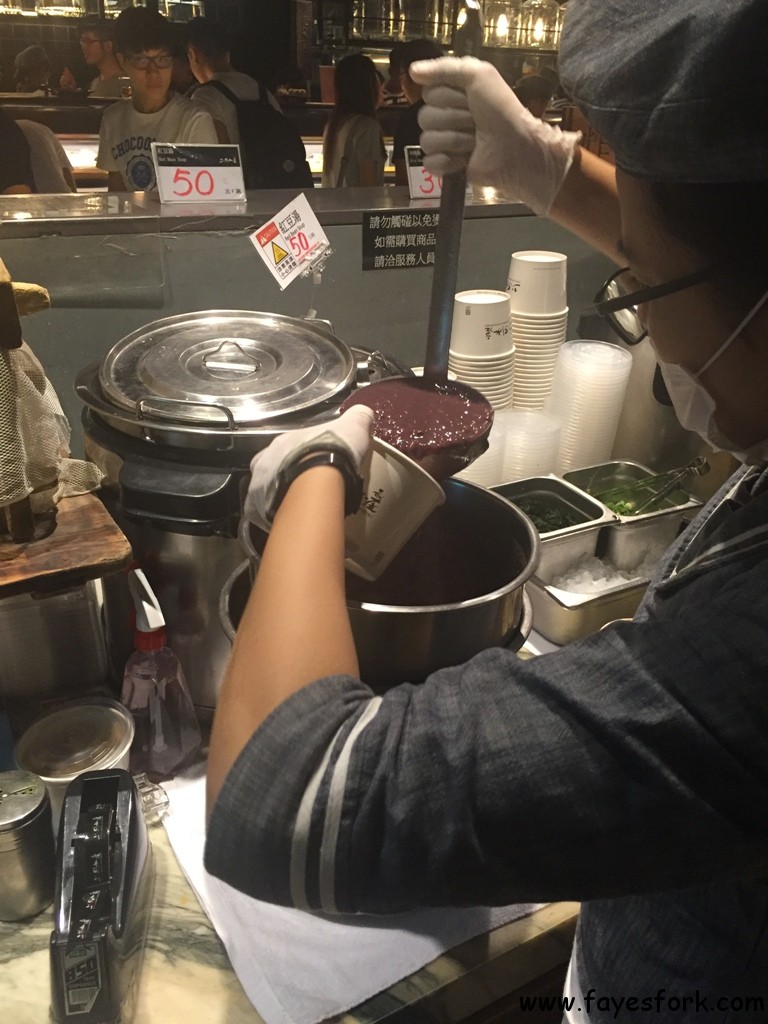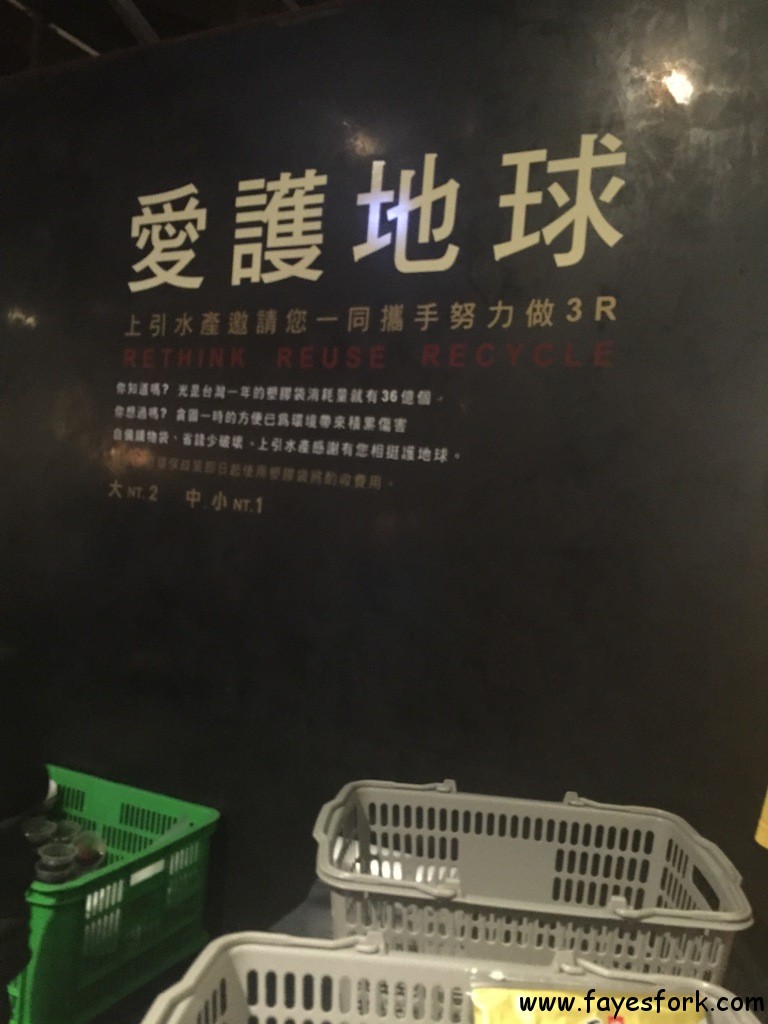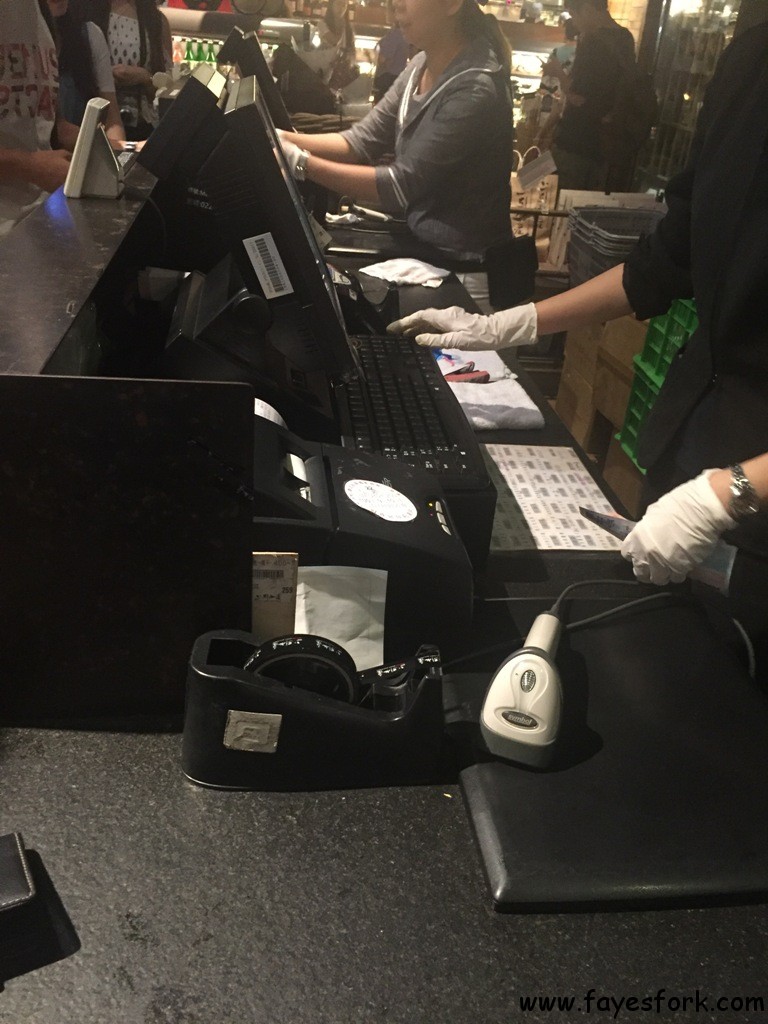 BIG NOTE HERE:
***** CASH ONLY !!! *****
I found this insane as your purchase can add up very quickly with merchandise and food! There is an ATM outside the market.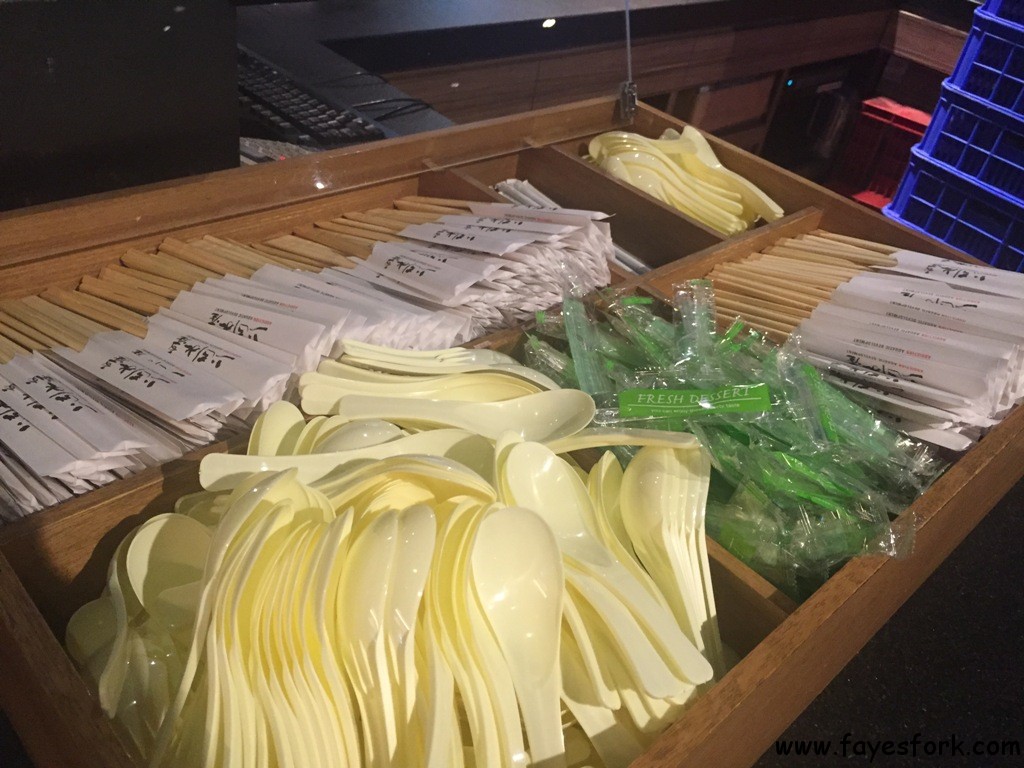 Addiction Aquatic Development does offer disposable utensils with your purchase.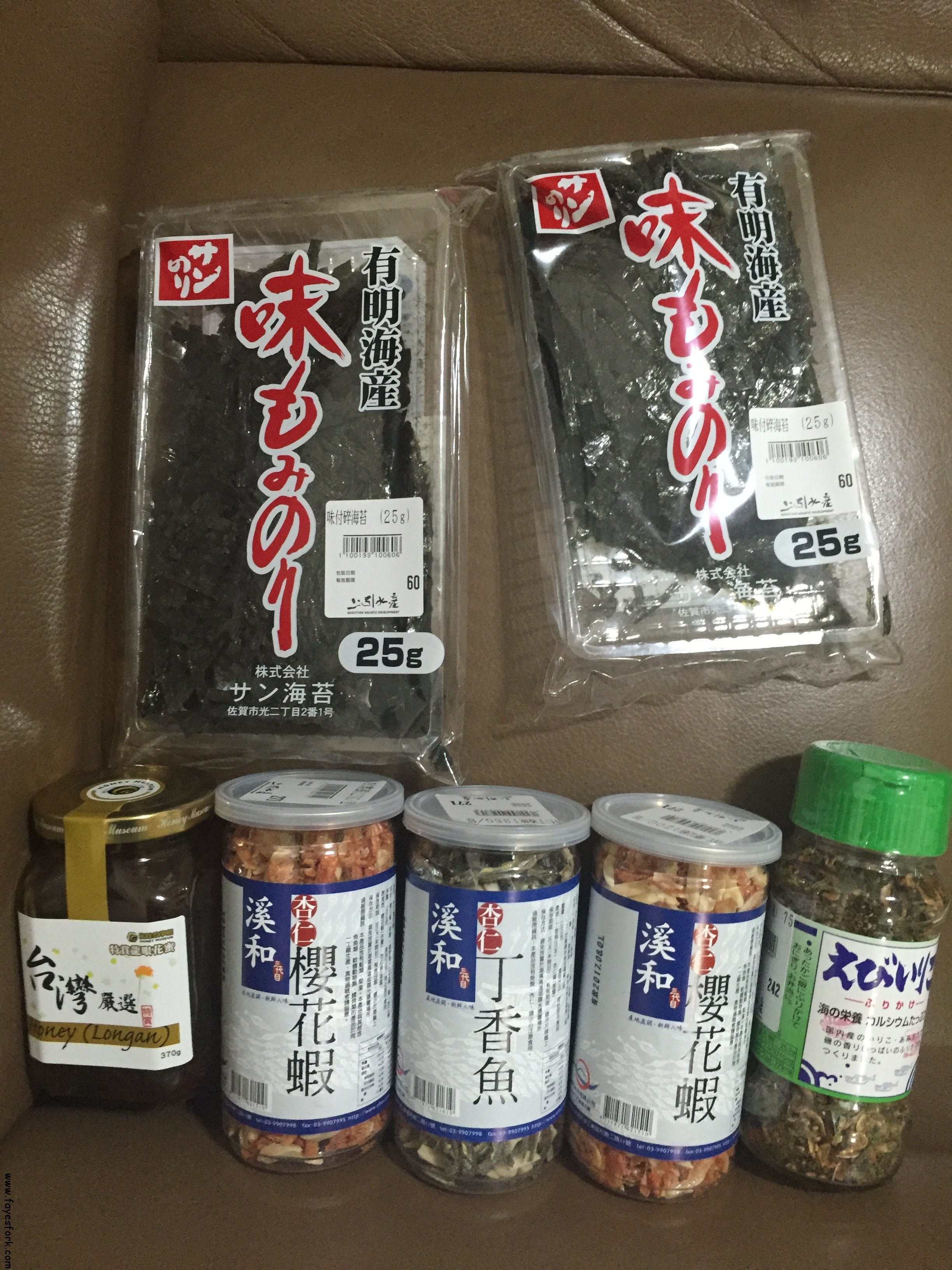 Here's my mom's purchase for my grandmother. She likes to make sushi so I hope to try out her recipes with the above ingredients. I didn't realize the honey is longan which I've never seen before.
The overall experience of Addiction Aquatic Development was so much fun.  We went on a weekday before lunch so it wasn't too bad BUT it was still crowded. I can't image what this place is like on weekends.
We didn't buy any perishables to eat from the market as we didn't want the standing-while-eating option for my grandma. So my mom treated all of us to Tresors de la Mer which is a restaurant that's part of Addiction Aquatic Development.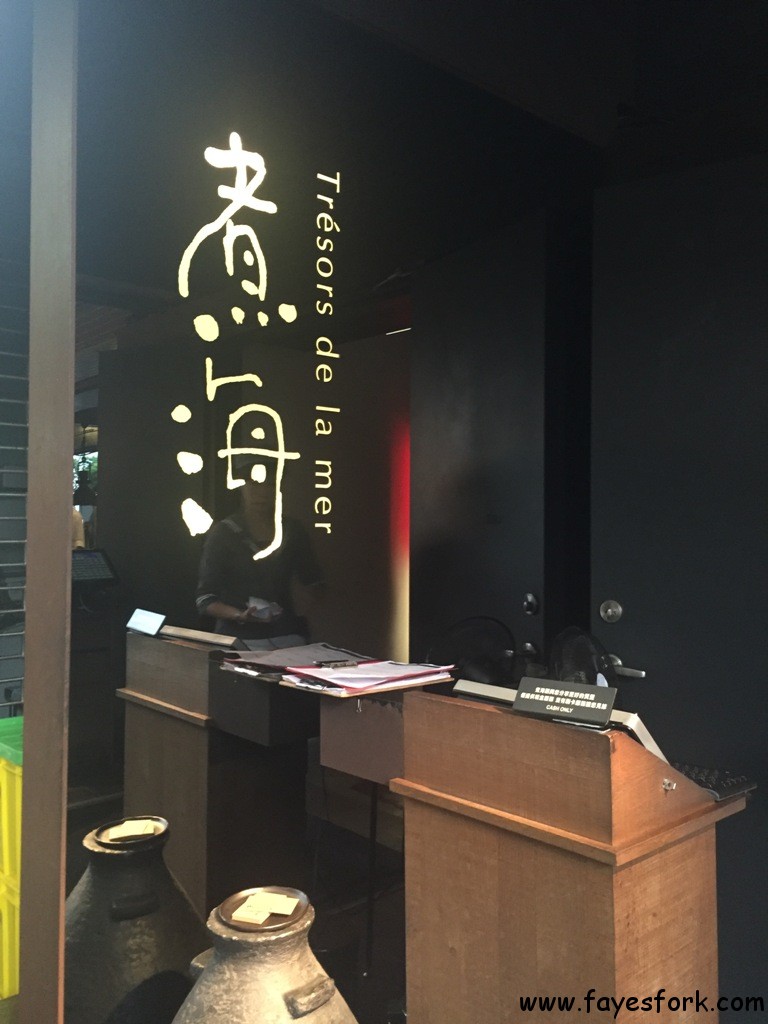 Here is a sampling of what we had at Tresors de la Mer. It was a fancy meal and a memorable experience that I will share in the next post. Grating fresh wasabi was never so much fun 🙂
ADDICTION AQUATIC DEVELOPMENT
????410?2?18?
Zhongshan District, ???104
Taiwan