I don't visit this part of town often but recently discovered Crust Pizzeria in a Torrey Hills strip mall. They make their pizza dough and pizza sauces fresh daily. They also import their 100% fresh mozzarella from Wisconsin. The restaurant also offers salads, sandwiches, and a few entrees. There's also wine as well as draft beers. Friend told me about Crust Pizzeria as she's been here many times for lunch and has enjoyed her meals. So we met up some time ago at Crust Pizzeria for me to try them out.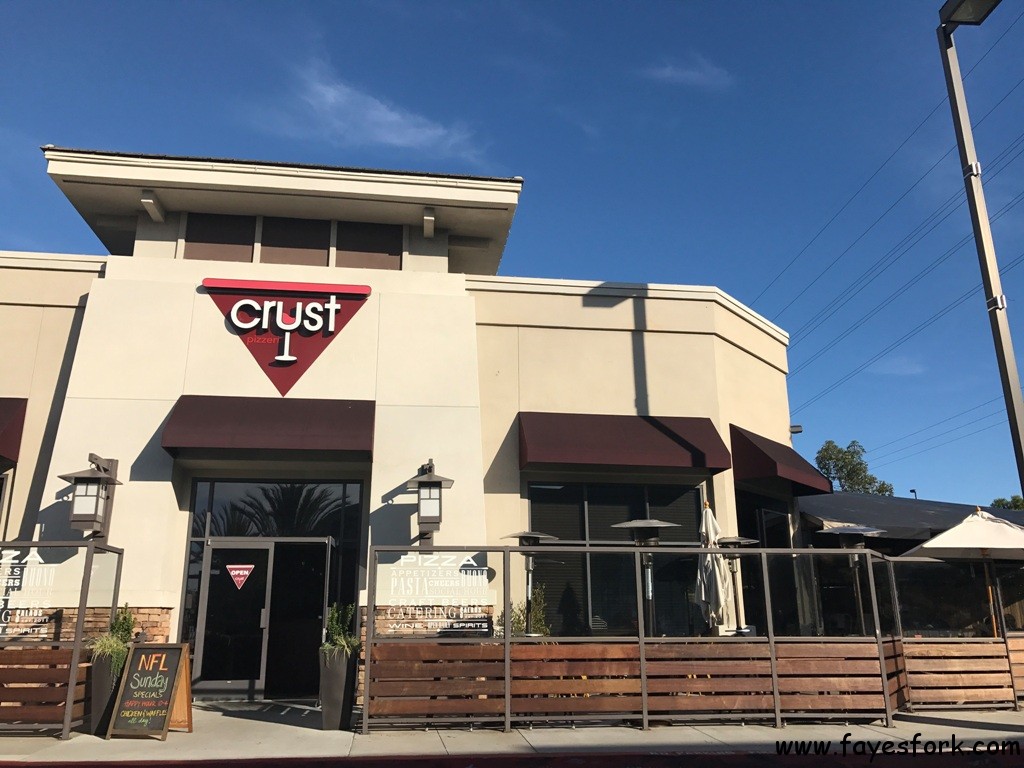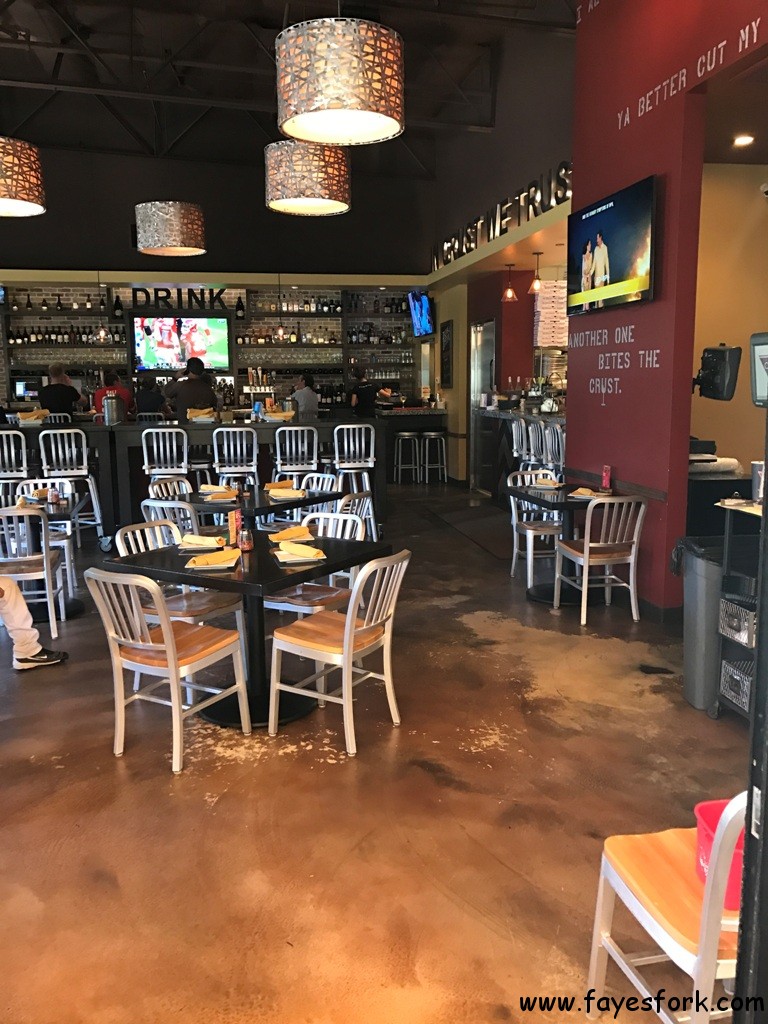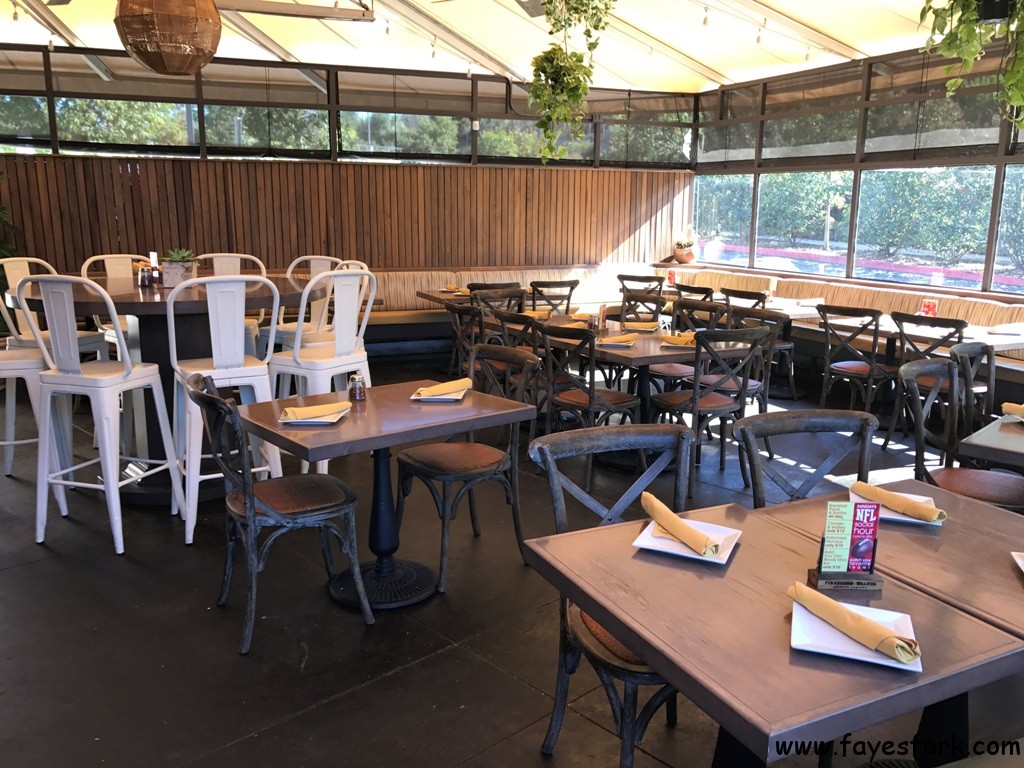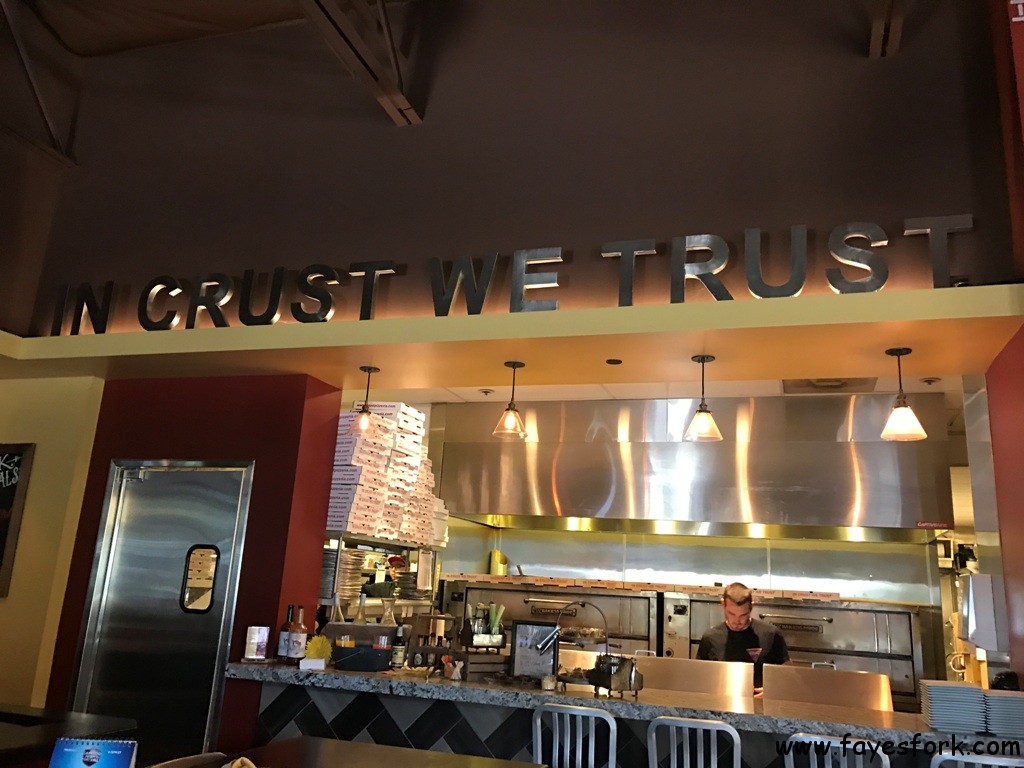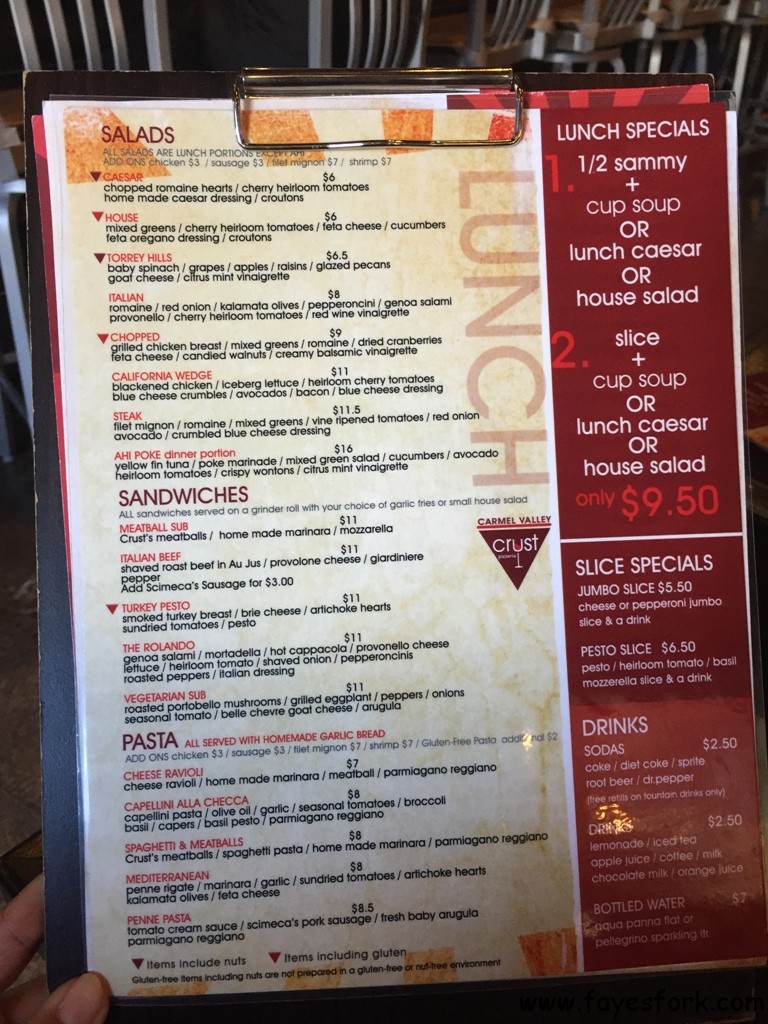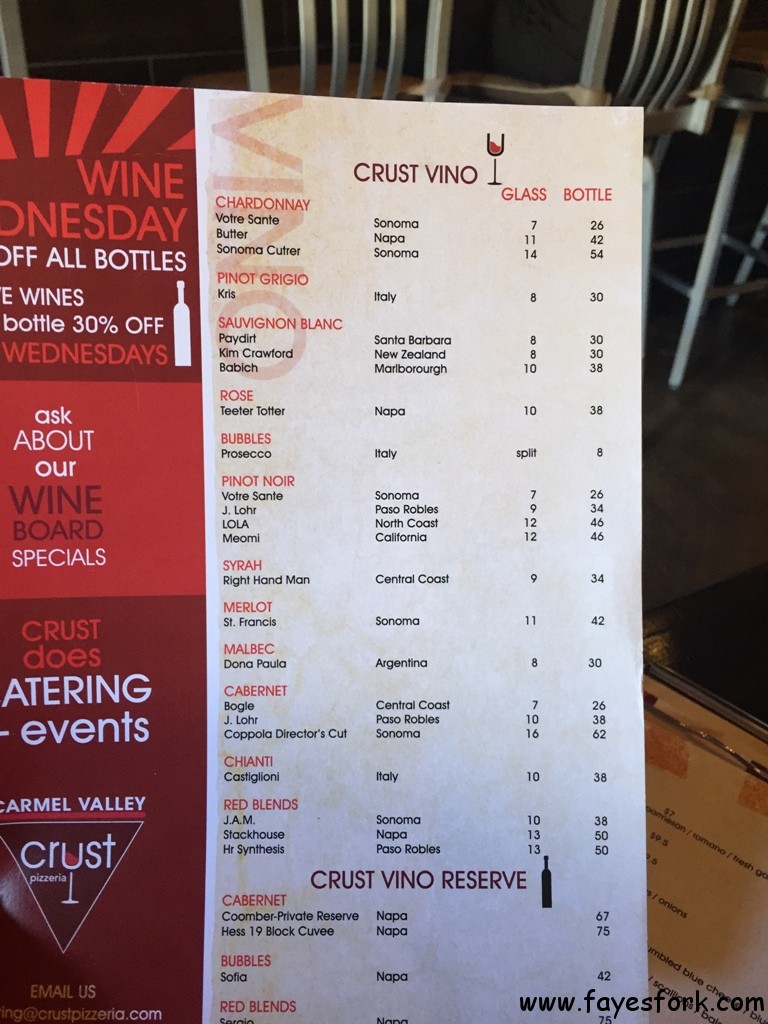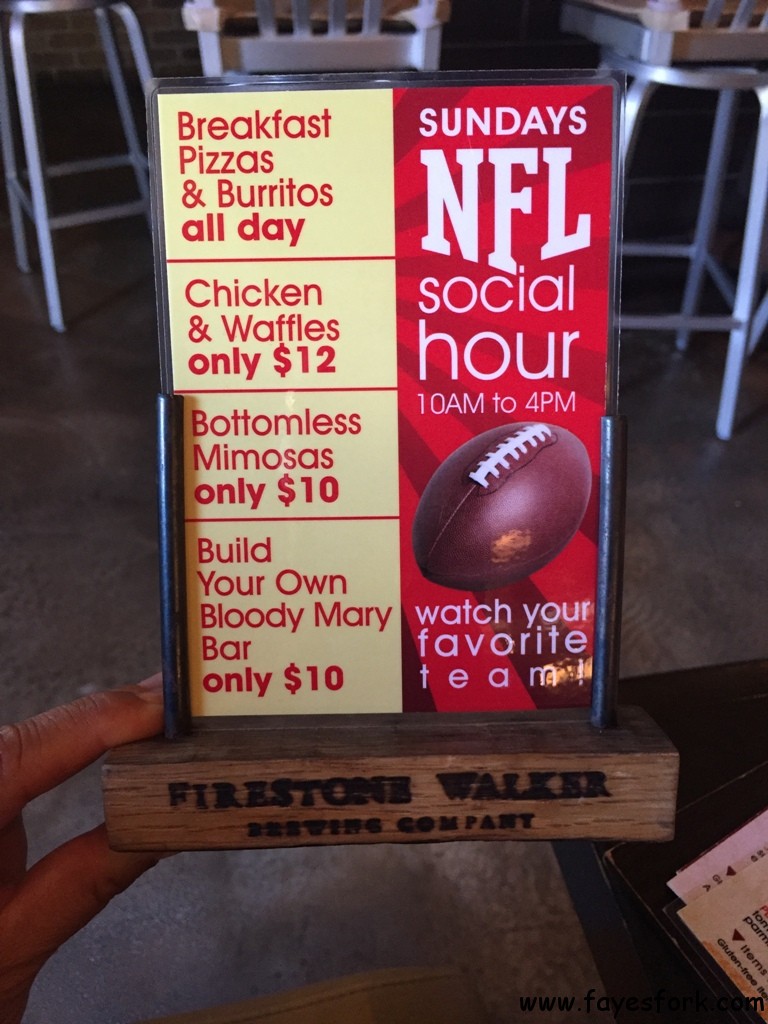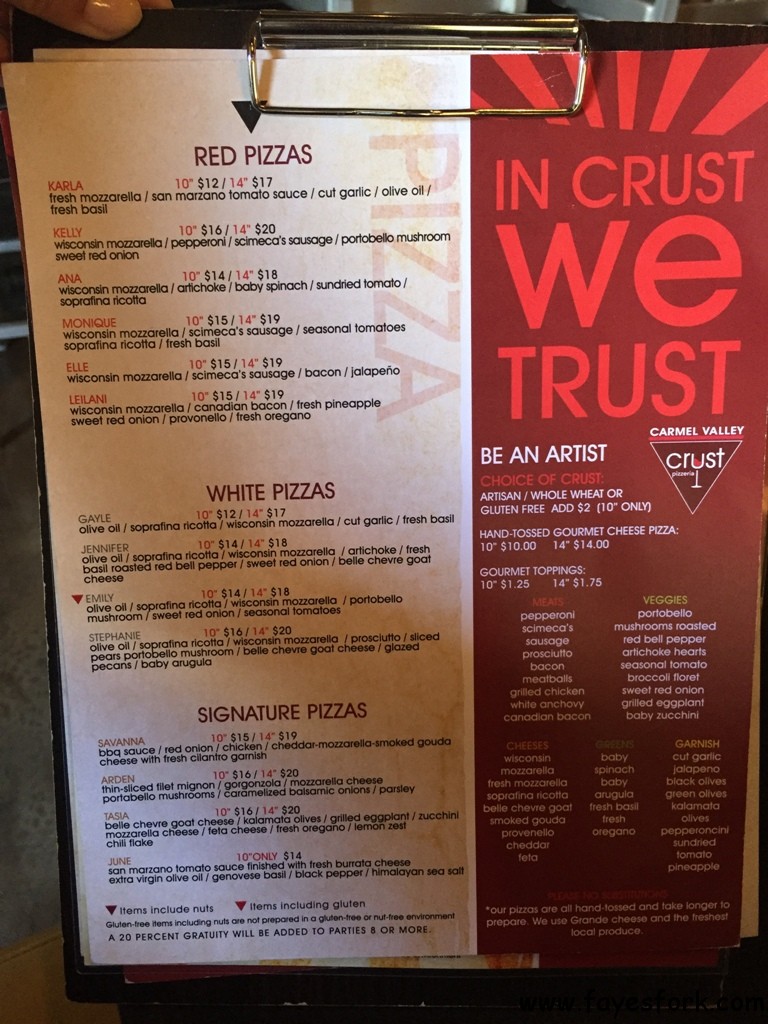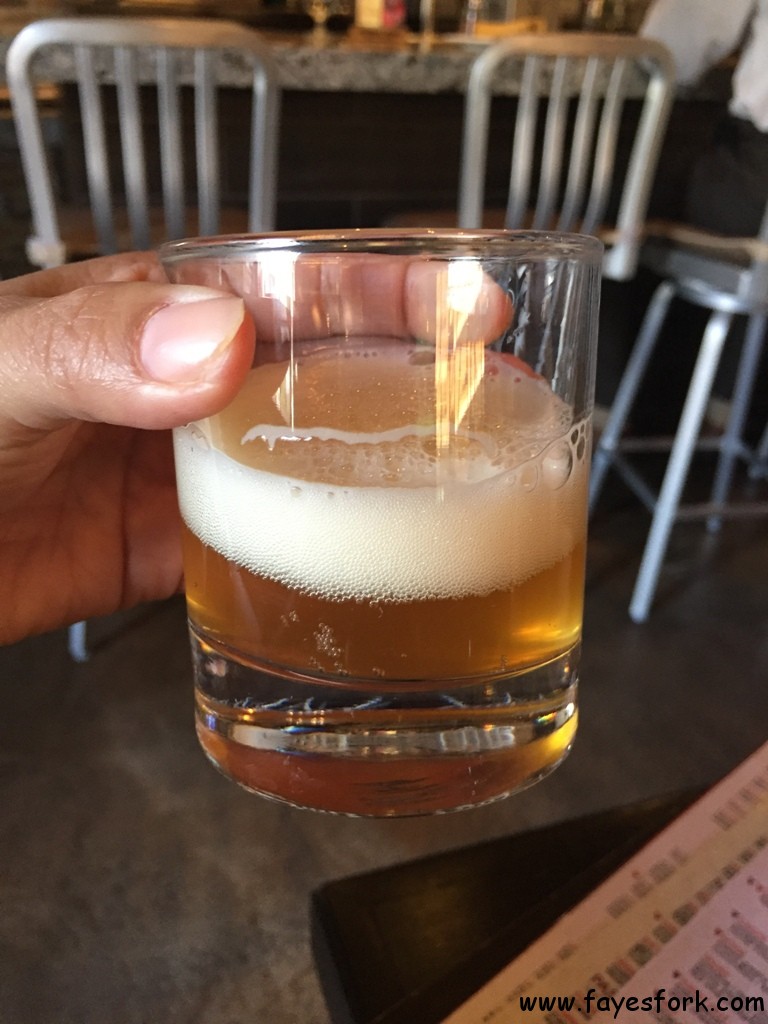 The friendly server let me sample the above beer (can't remember what it was now).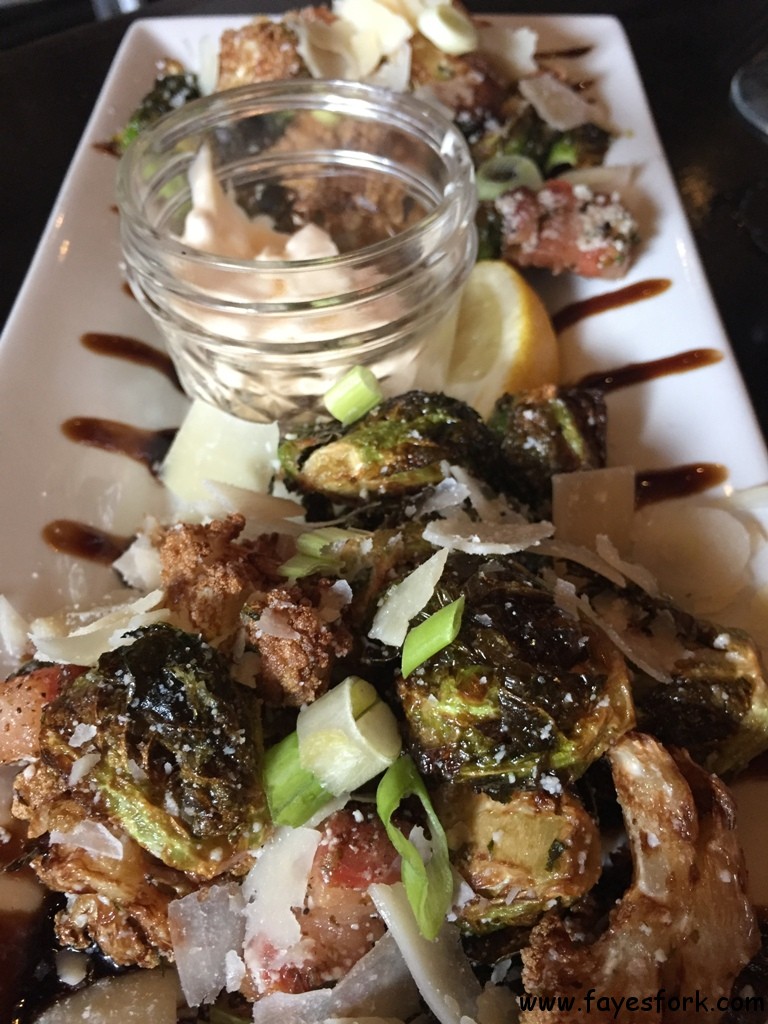 The brussel sprouts and cauliflower are deep fried but tasted a bit soggy. They're sprinkled with romano cheese and parmesan. The pancetta tasted burnt. The garlic aioli was the best part of this dish.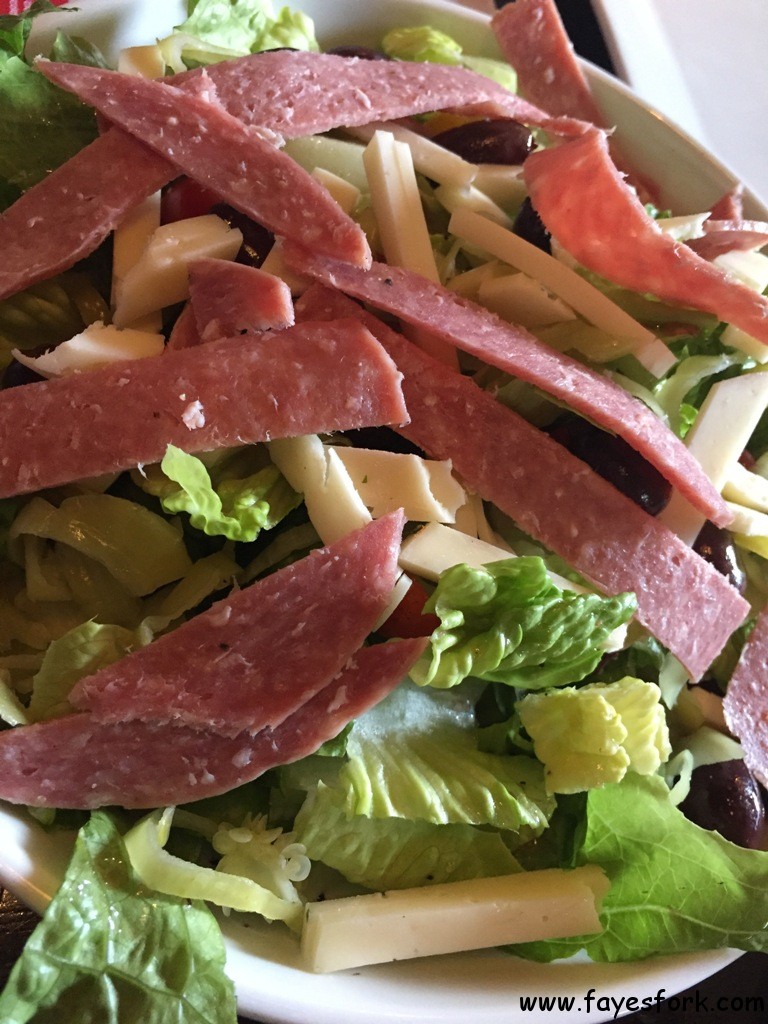 Friend orders this salad every time she visits Crusts. The salad comes with romaine, red onions, olives, pepperoncini, salami, provolone, cherry tomatoes, and a red wine vinaigrette. It's a nice size portion and tasted fresh. The cold cut meats were plentiful as was the cheese. I was surprised I'd like this salad but would order it again.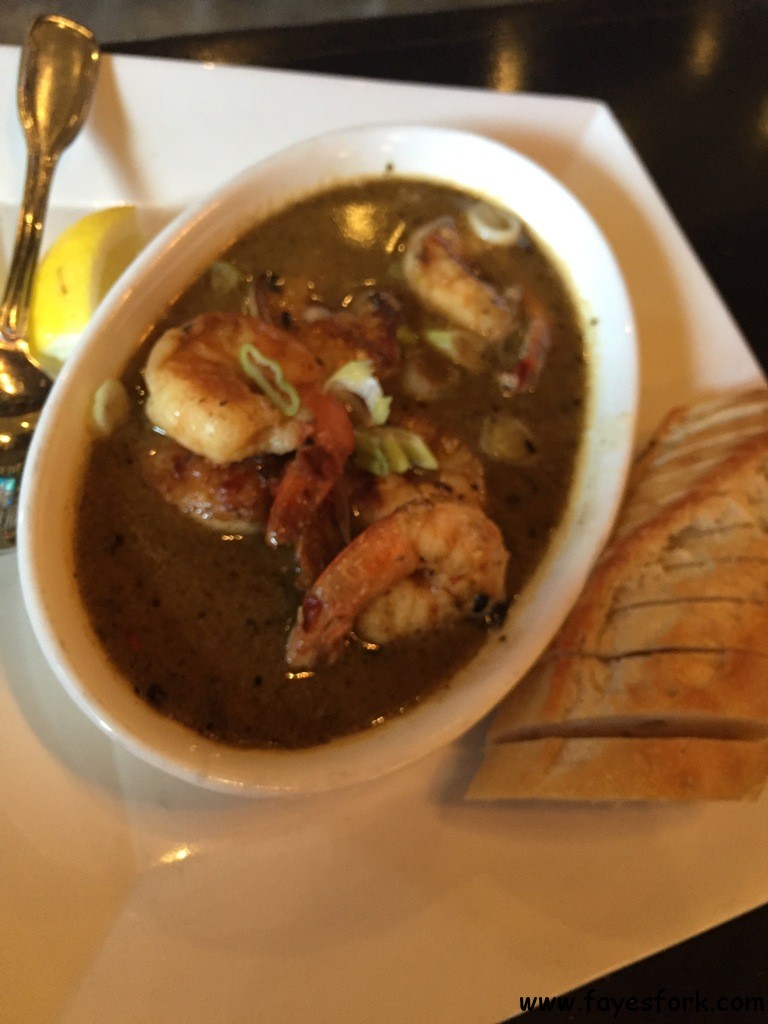 This was an appetizer we decided to share. I thought it would be similar to the bbq shrimp at Ruth Chris but no. The few pieces of shrimp in this dish were over cooked and rubbery. The spicy herb beer sauce was lackluster and had no seasoning. We  enjoyed the baguette on the side though.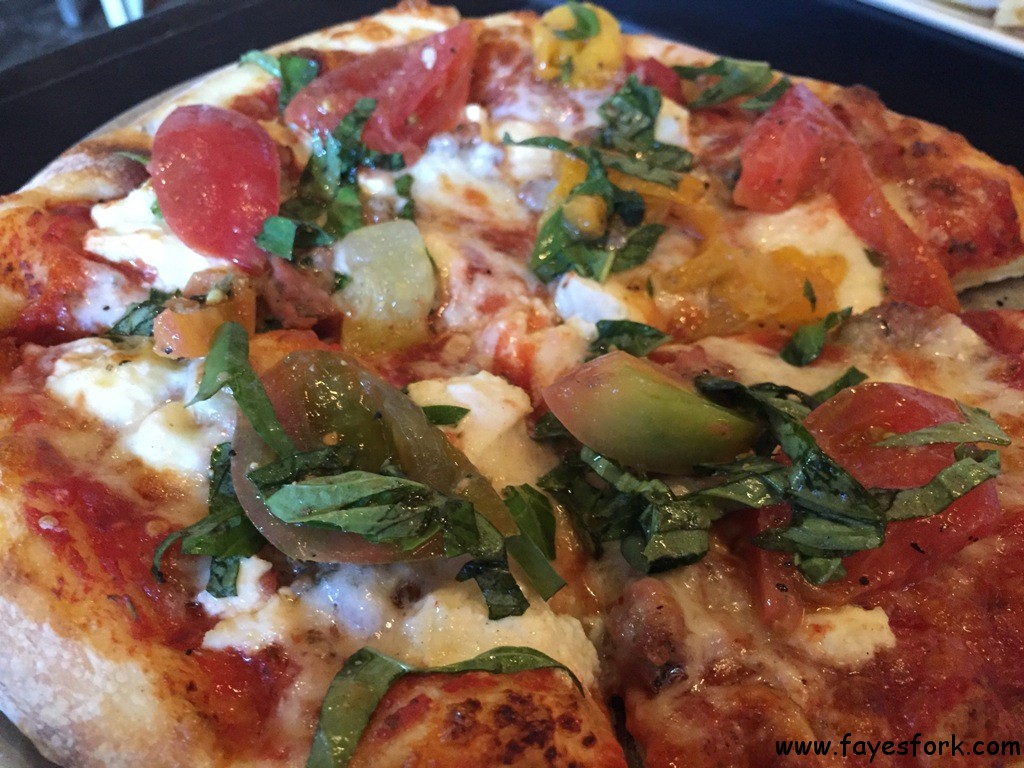 I cannot remember the name of this pizza. All their pizzas are named after women (I think after exs' of the staff?). The crust was nicely crispy but the cheese was a sparse.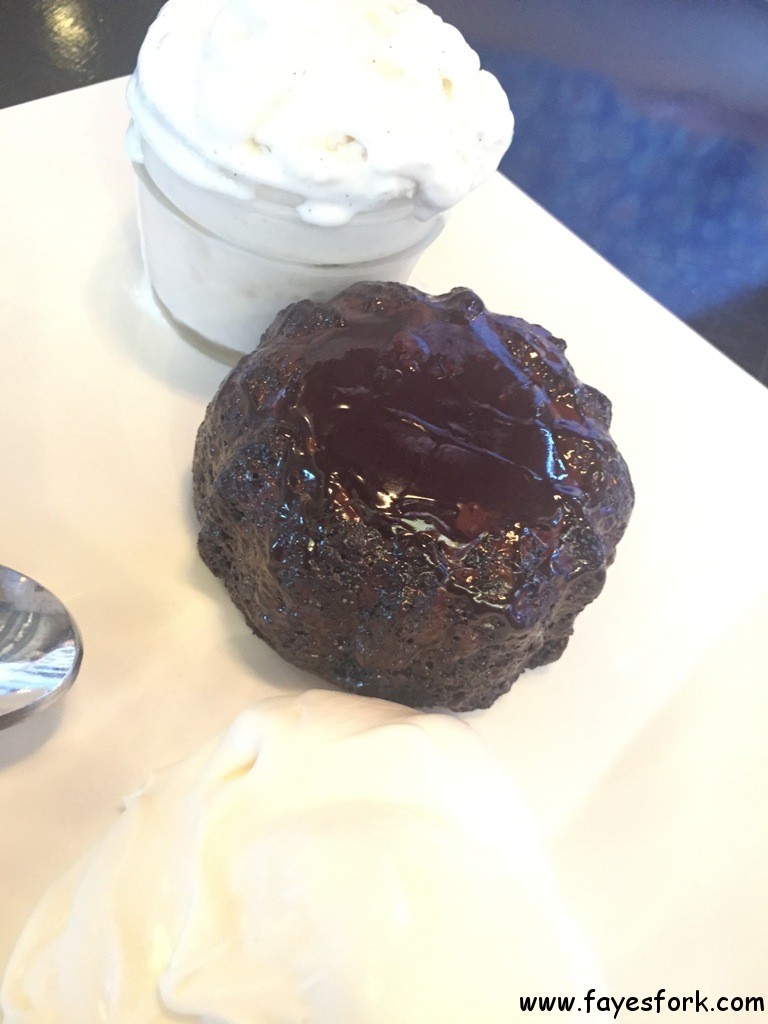 The lava cake tasted microwaved. We wouldn't order this again.
My next visit came a few weeks later on a Sunday.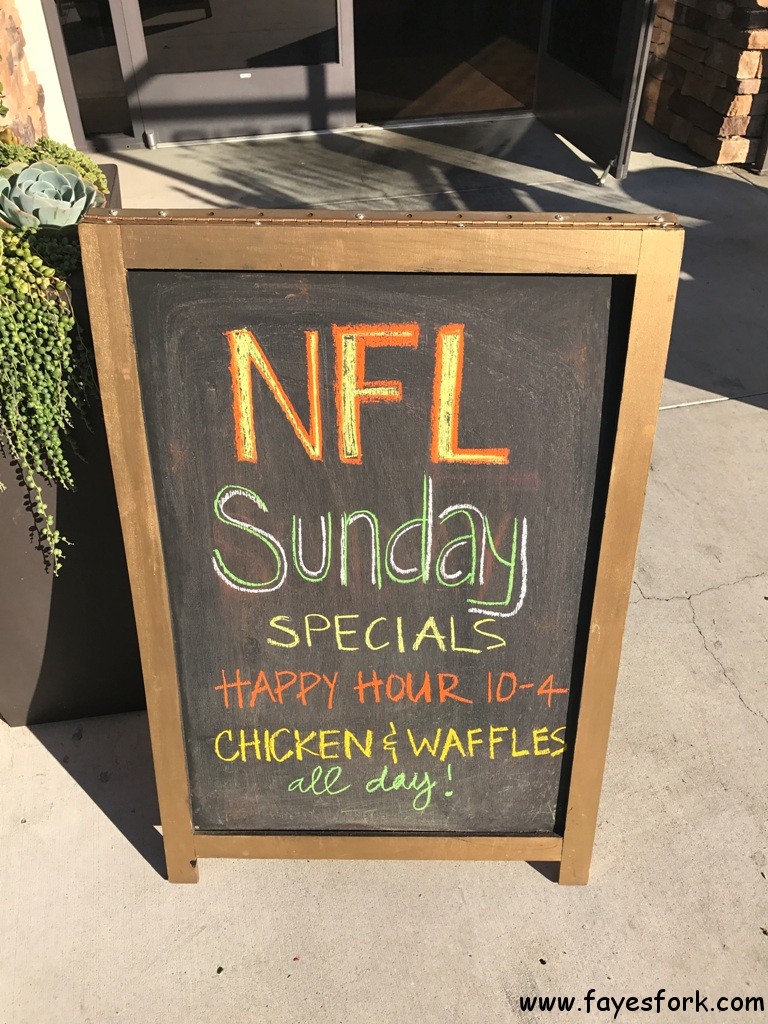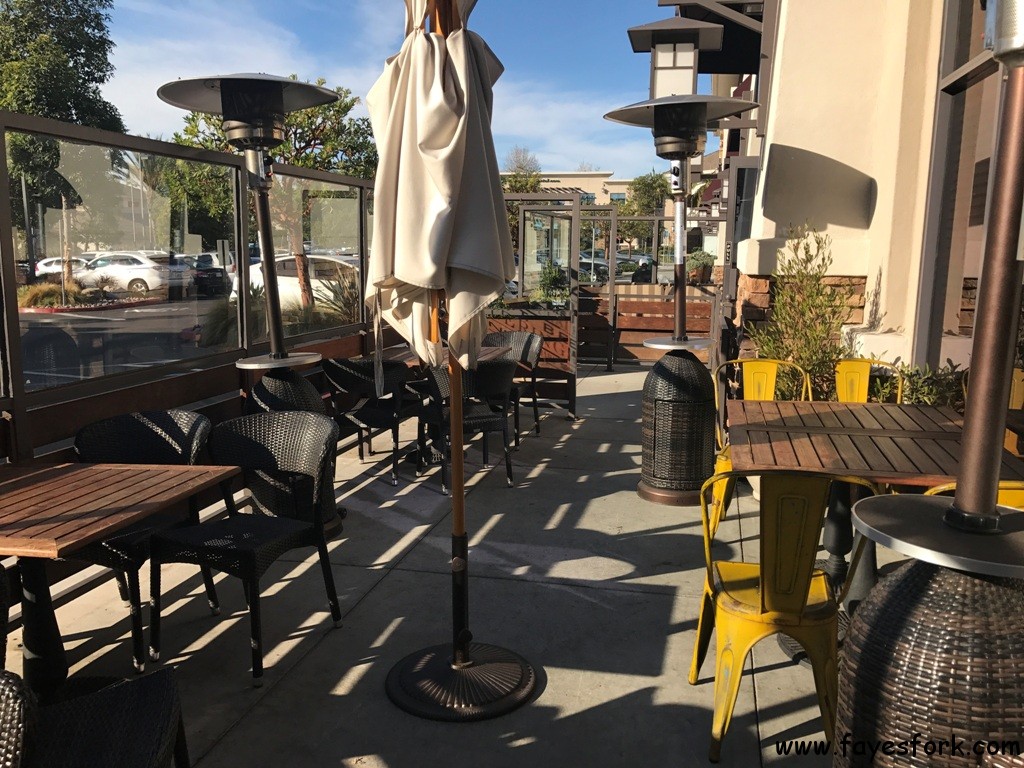 The weather was amazing so we decided to sit outside. There's one table which has sight of one TV playing football.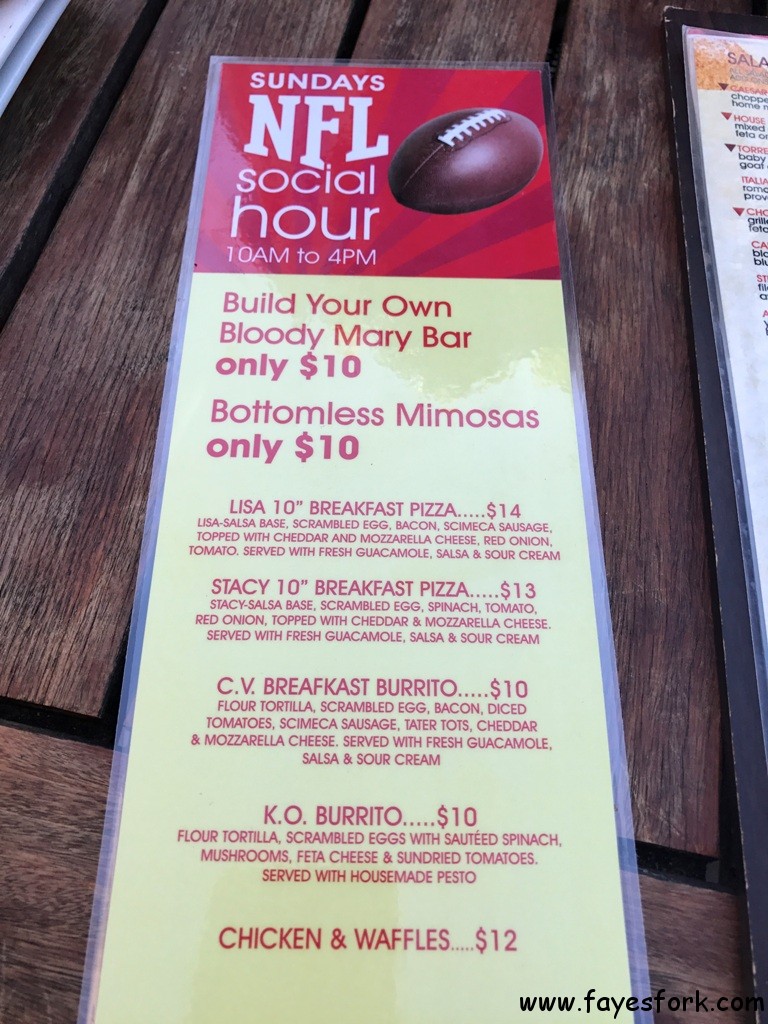 Build your own Bloody Mary Bar?!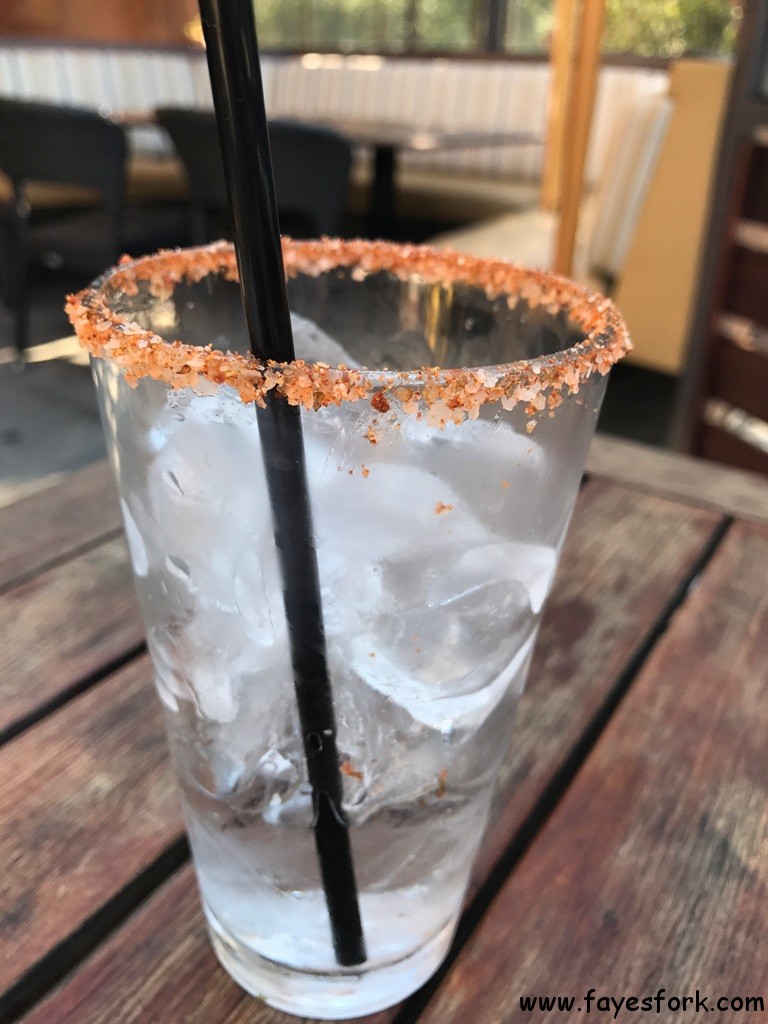 I think you get a choice between vodka and tequila. You can also choose a spicy salt rim for the bloody.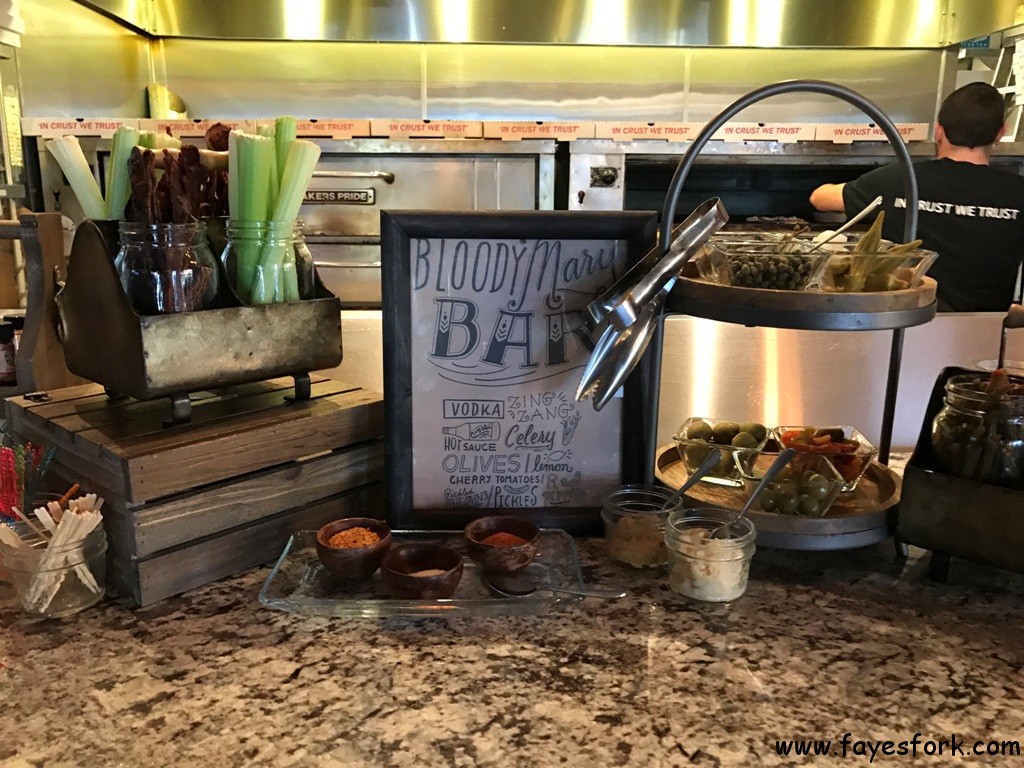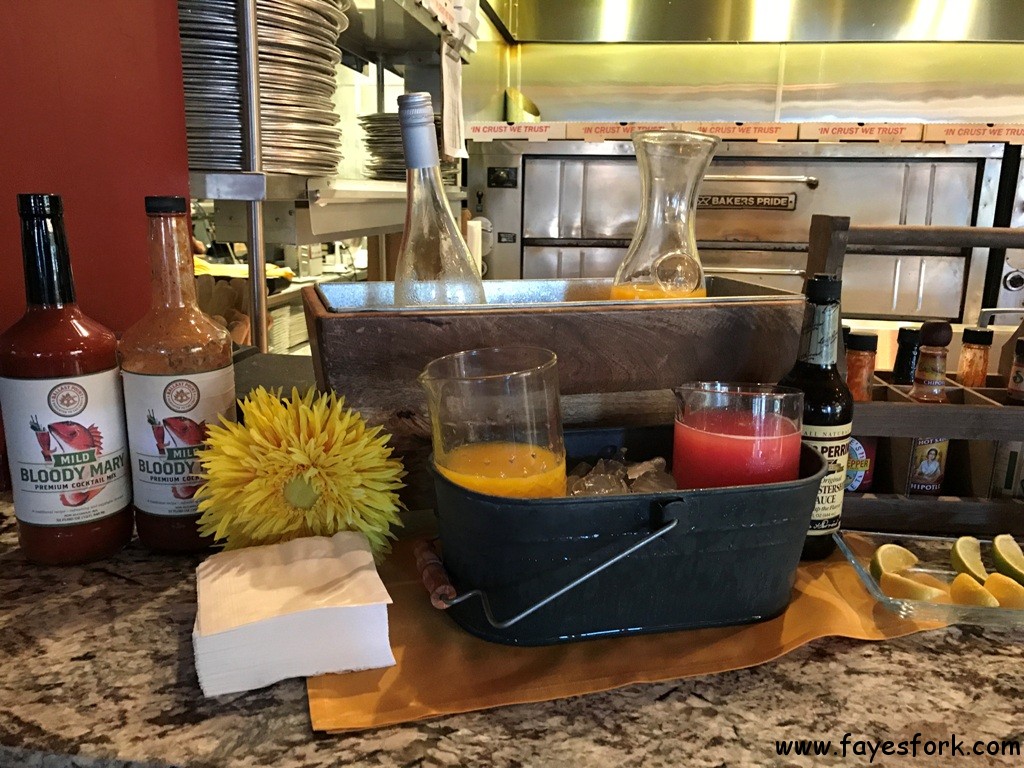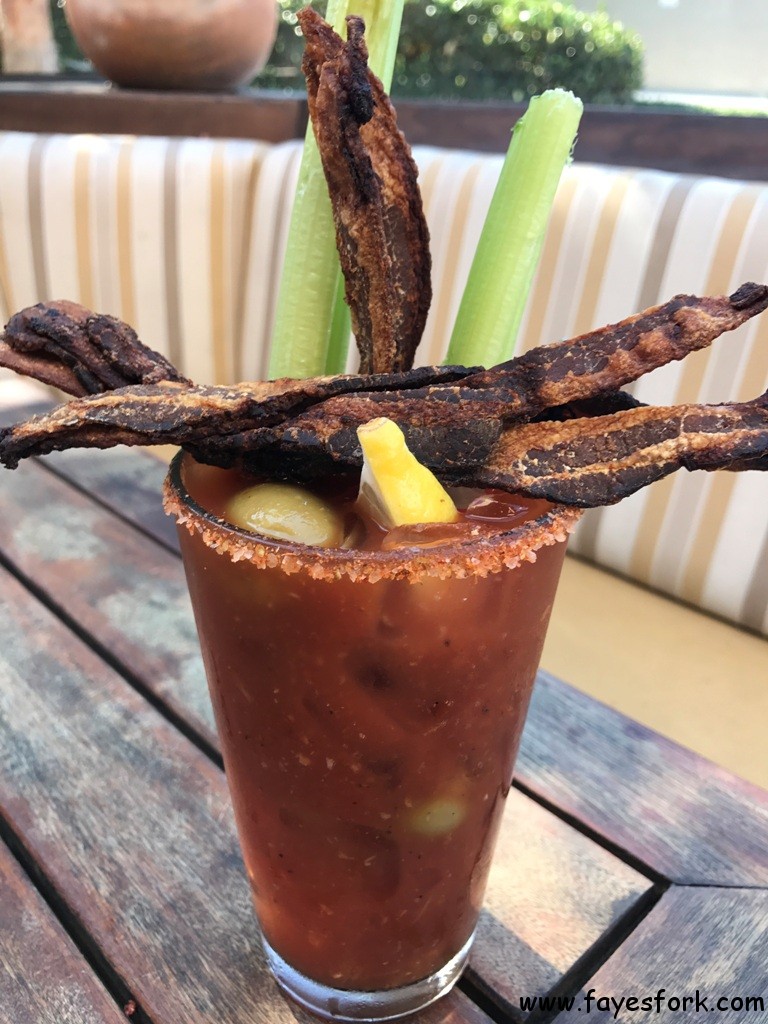 And voila . We threw in some olives, celery sticks, and a mound of bacon. The bacon tasted too burnt and crispy. The Ballast Point bloody mary mix was alright – just a bit bland for me. The bloody mary bar here at Crust Pizzeria is small but a fun experience to try out once.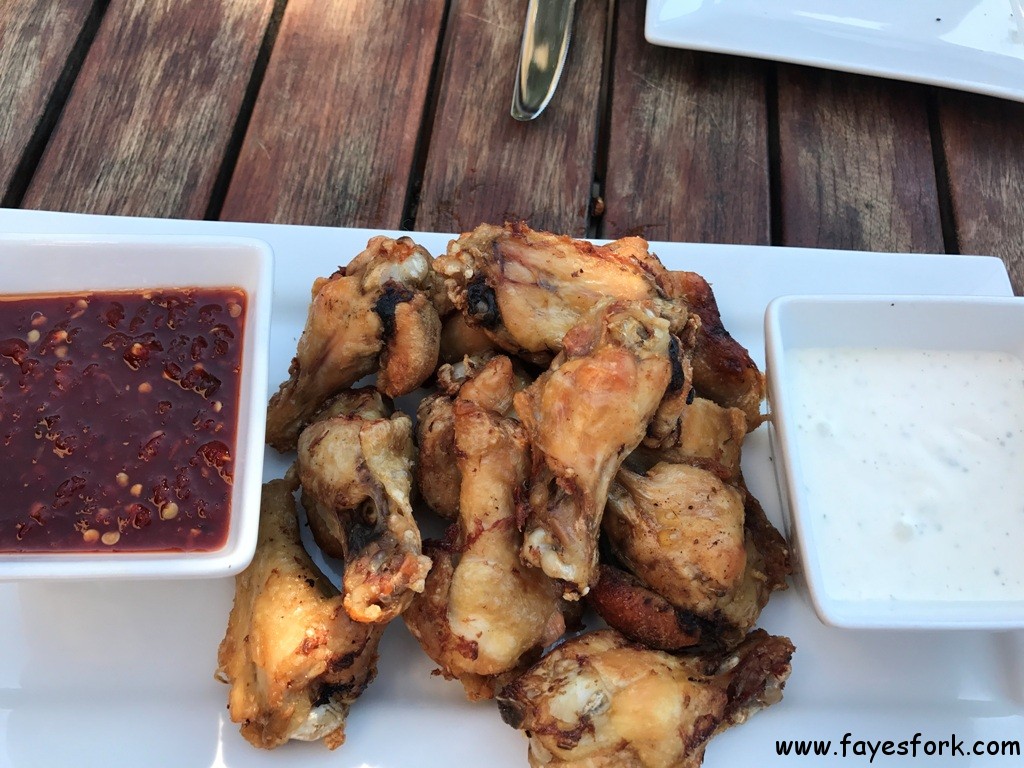 We saw these wings on their happy hour menu so had to order it. We asked for the wings to be naked (sauce on the side).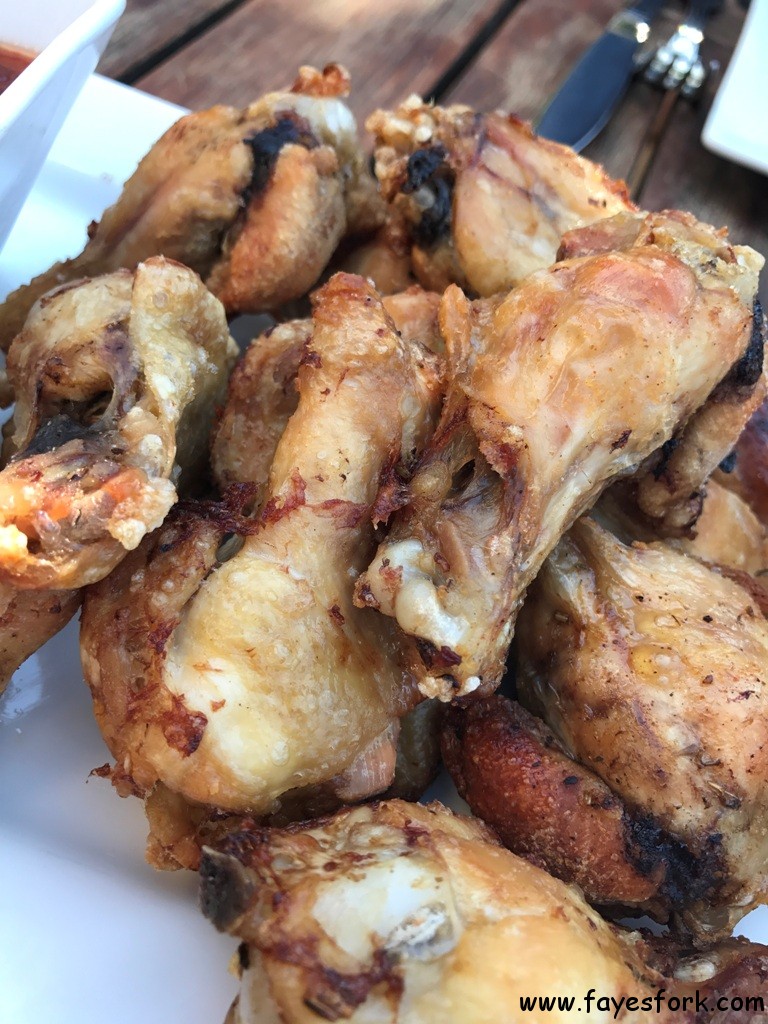 There were so many wings! We thought the $6 price tag was a steal until we realized we were given the full order instead. The wings were crispy but many of the pieces were dry.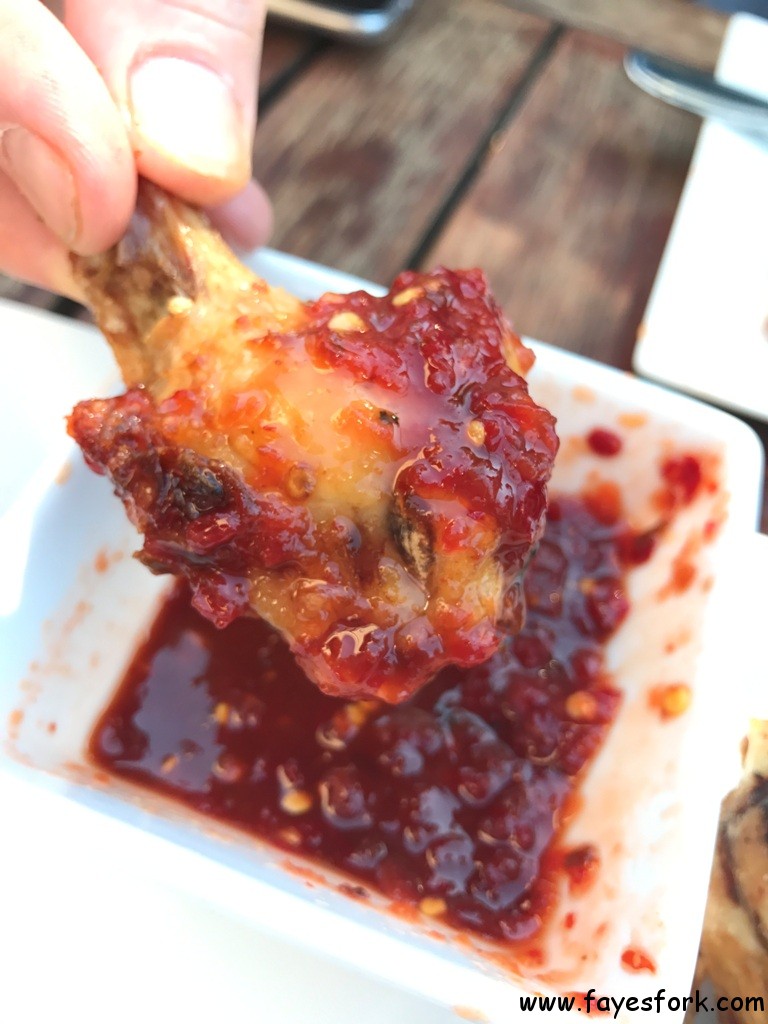 BUT. The honey sambal sauce was delicious. It had a sweet spicy kick that I enjoyed with the wings.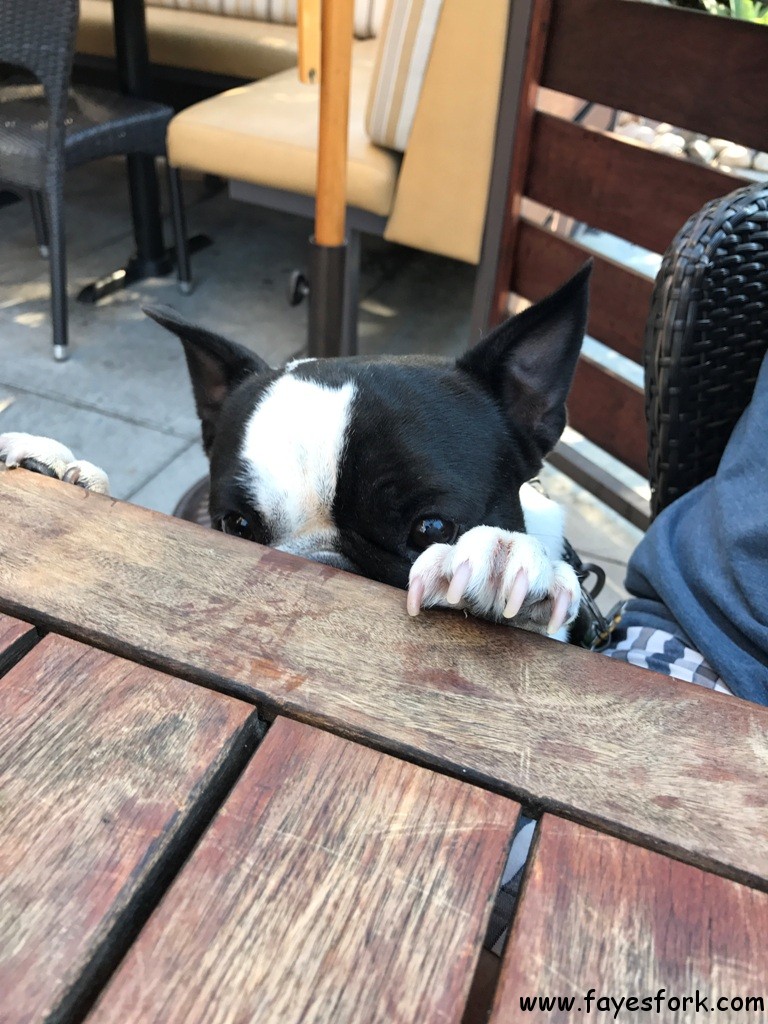 And yes. The patio is dog friendly. This one was excited about all the dishes.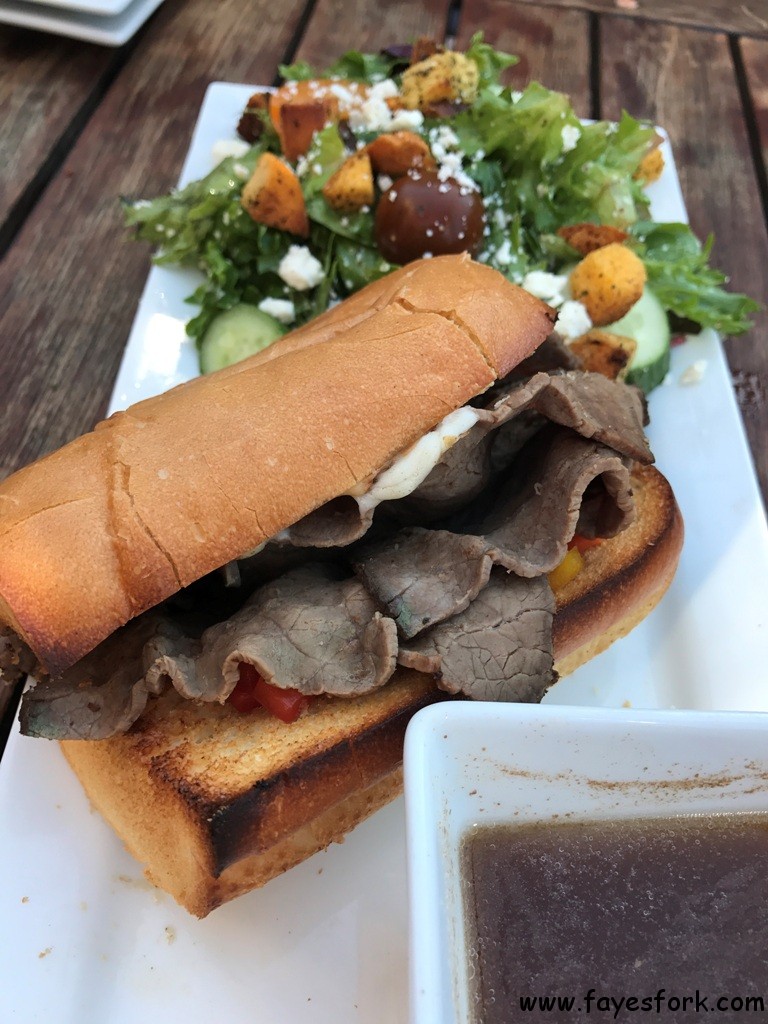 They have a nice lunch special. You can get a 1/2 sandwich and salad for $9.50. We opted to try the Italian beef which consisted of shaved beef, giardiniere peppers, provolone. The french roll is toasted.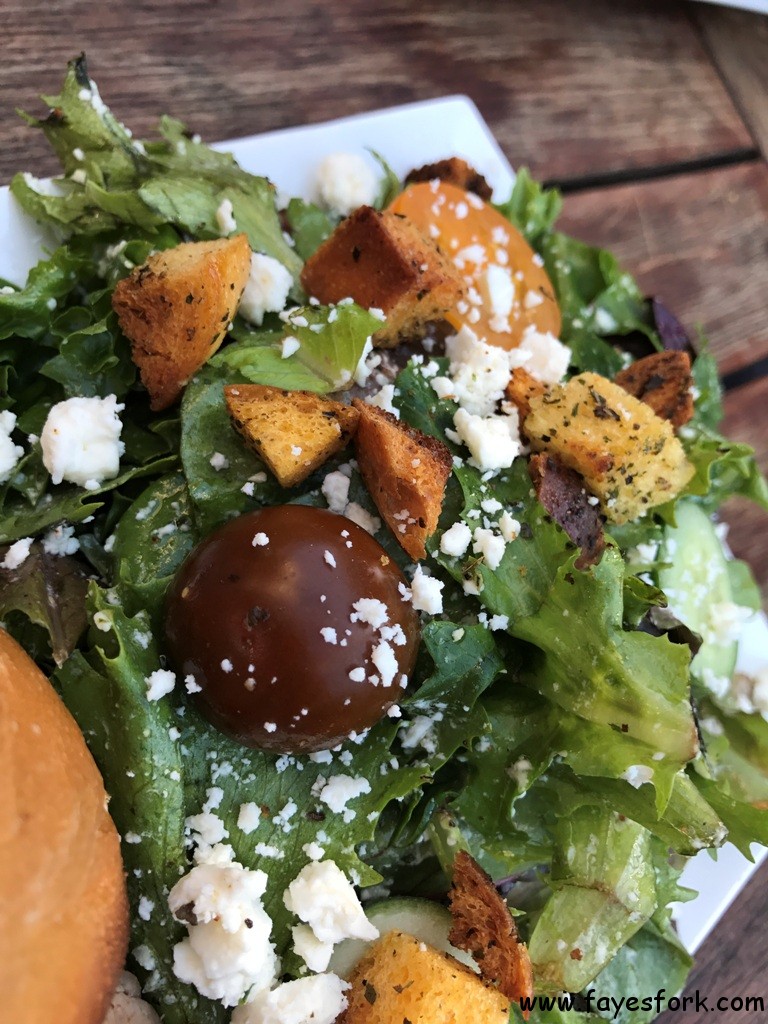 The side salad was amazing. Truly delicious with the sweet ripened cheery tomatoes and feta cheese. I would order this side salad as a main dish in the future.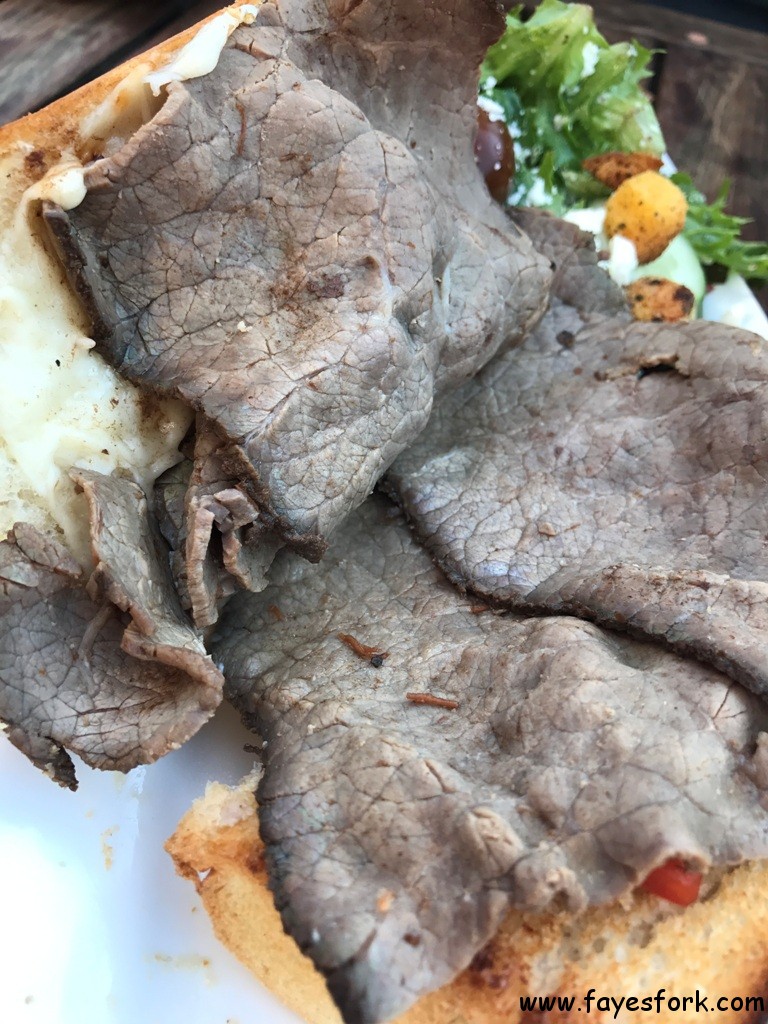 The sandwich wasn't very good. The shaved beef tasted dry and not even the melted provolone (or au jus) helped. The bread was nicely crunchy though.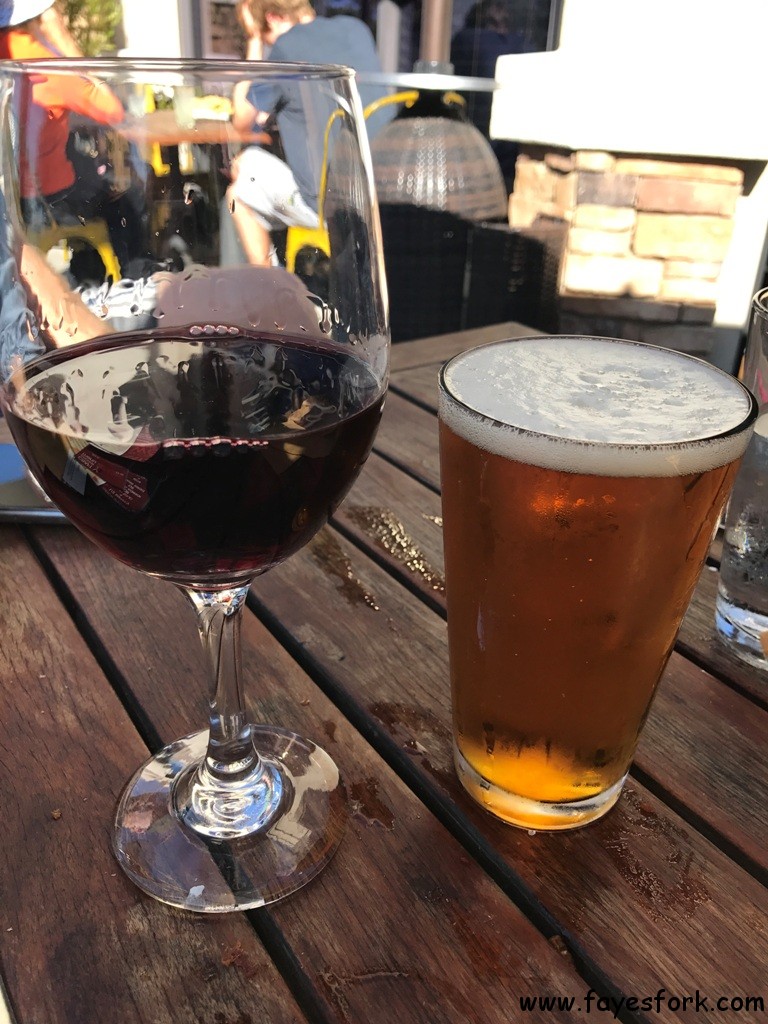 The house red was only $5 during happy hour but the Sculpin was $7 (so not much of a deal on the beers).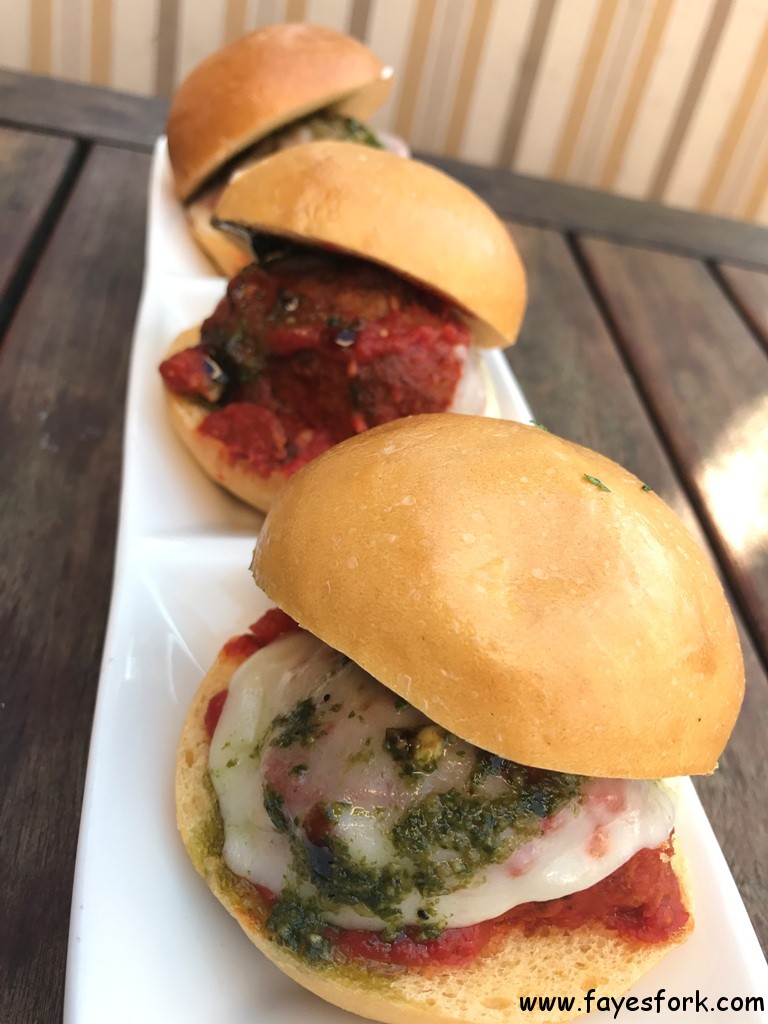 The presentation of these three sliders were pretty. It's an alright deal at $2/slider during happy hour.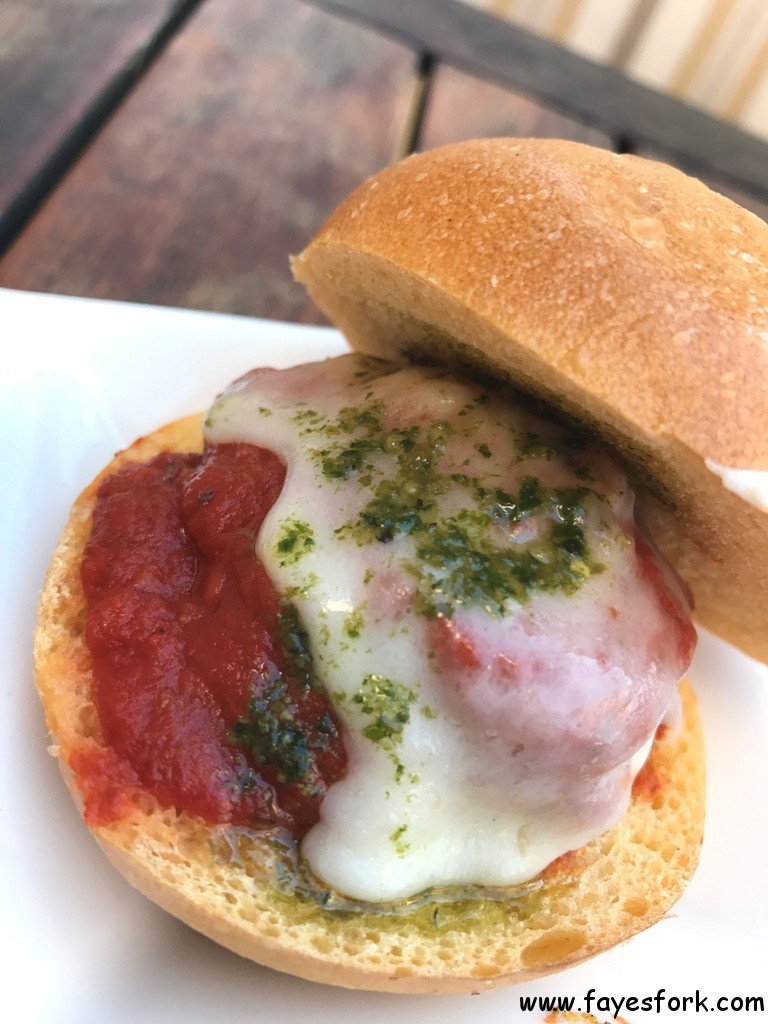 The warm meatballs were covered with mozzarella cheese, pesto sauce, and marinara sauce.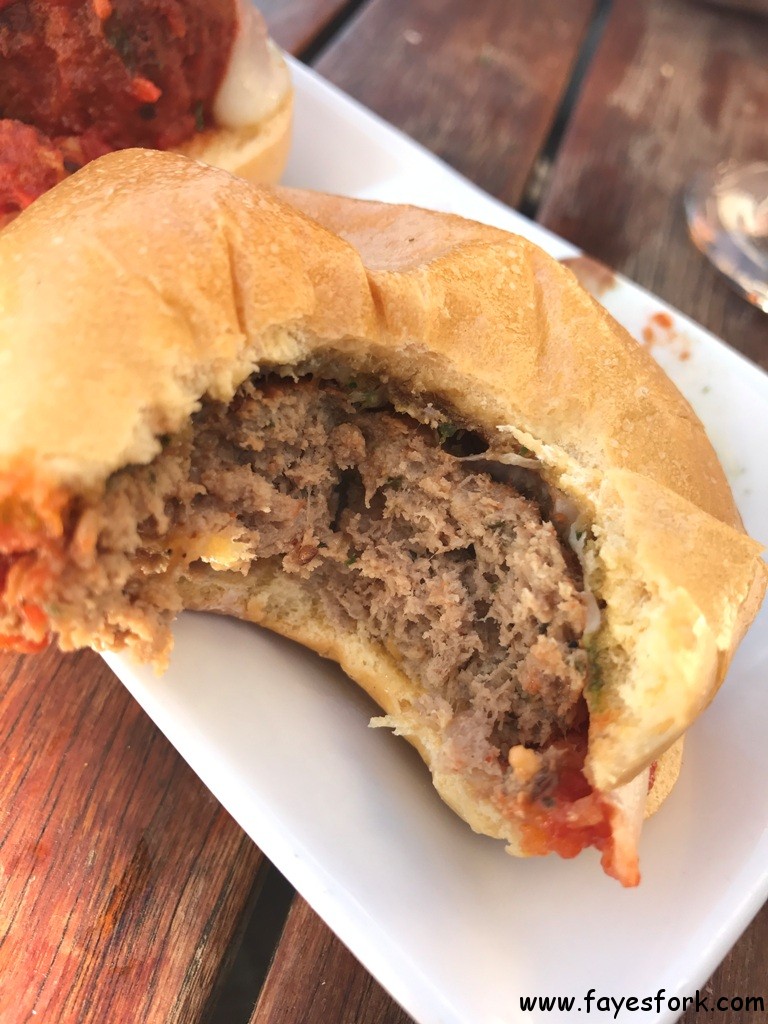 The meatball was good. It was tender and flavorful.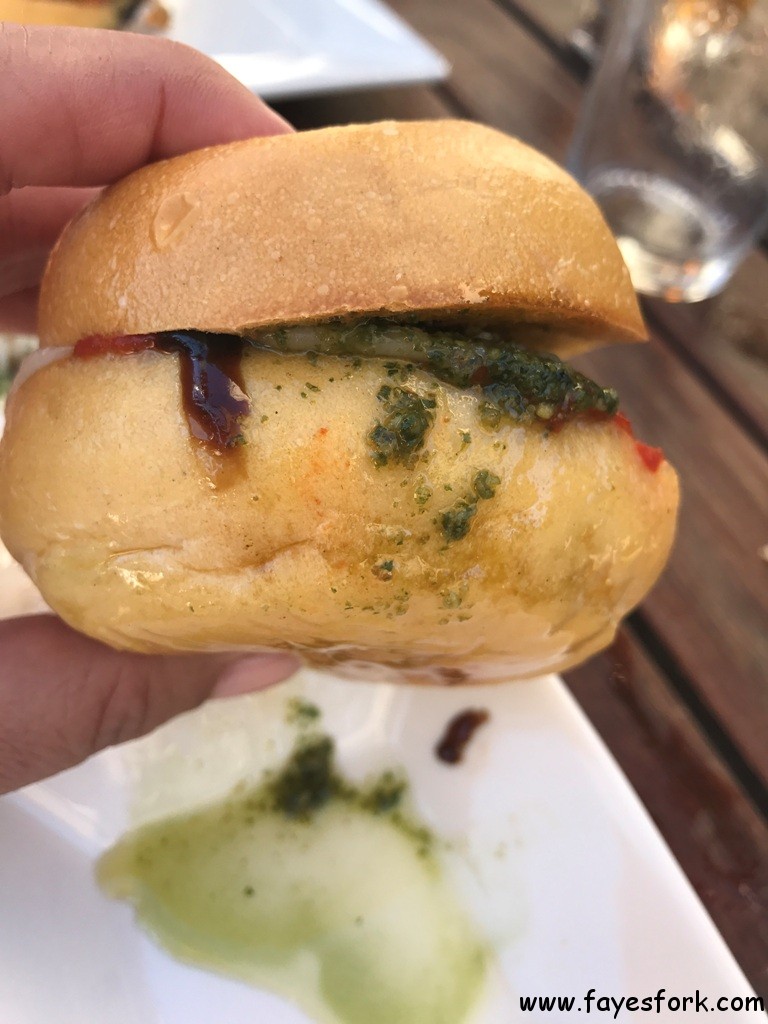 We actually enjoyed the toasted brioche bun and the savory pesto sauce in the sliders. They paired well with these sliders.
Service was great and attentive. The restaurant wasn't too busy for a Sunday so the atmosphere was laid back. We appreciated the staff and how they seemed to be incredibly warm and genuine to the patrons (and dogs!).
So third visit…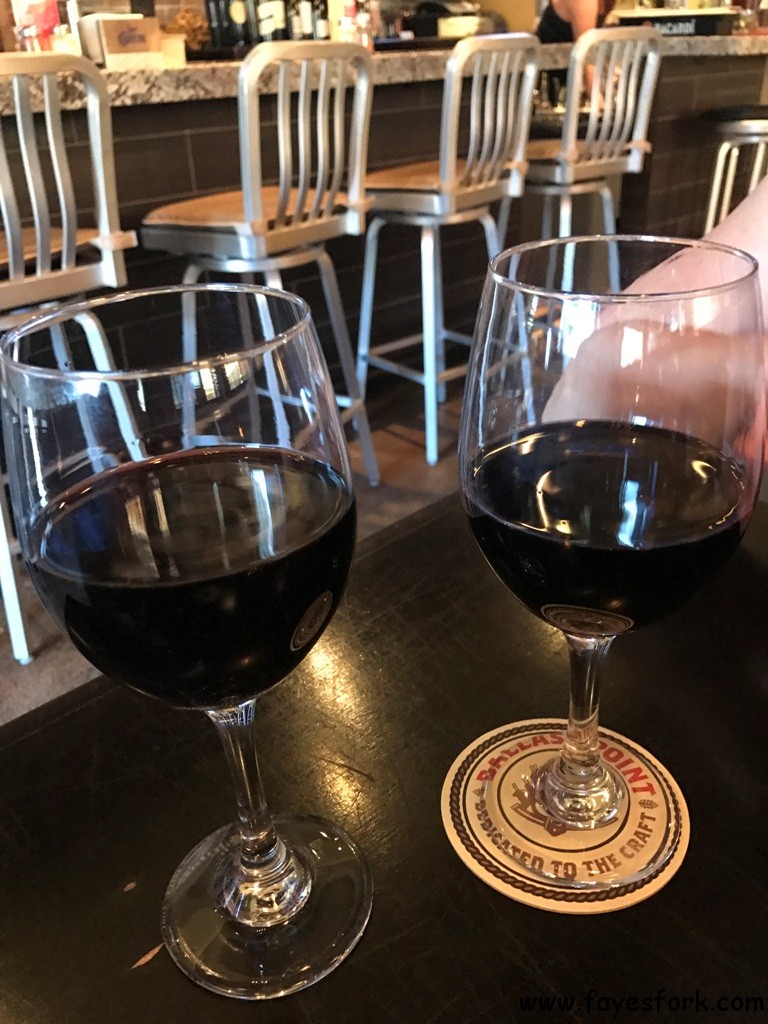 Sometimes meeting a friend for a late lunch and a glass of wine is the best remedy for a tough day. I'm not sure which wine friend ordered for us.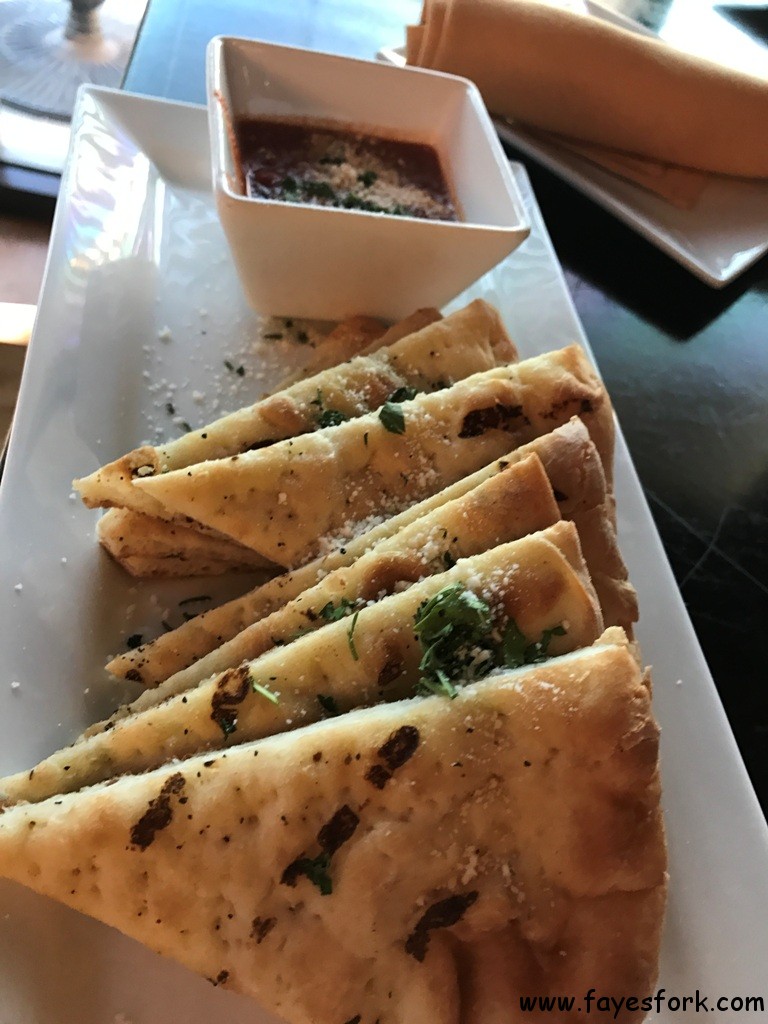 I'd like to think we are cool girls and that's why we learn about the 'in house' secrets. The awesome server said there's complimentary baked pizza dough if you request it! It's sprinkled with some parm cheese and parsley.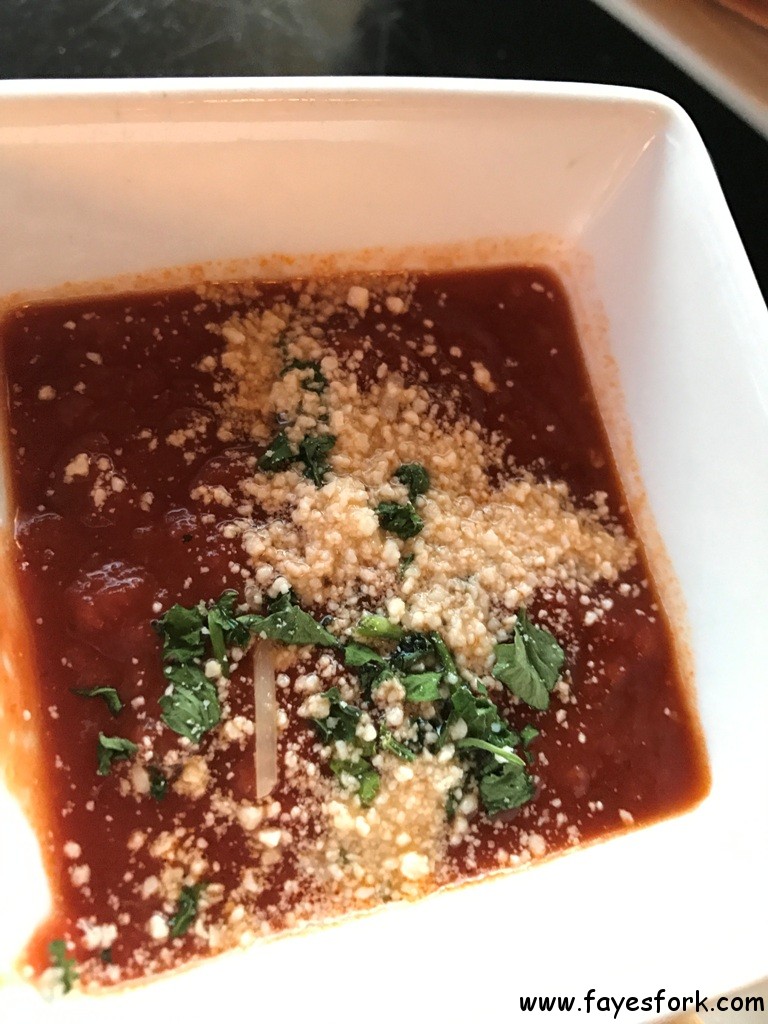 The sliced pizza dough is served with warm marinara sauce. The bread was alright. They weren't very hot so it tasted like cold pizza dough. Regardless, it was a complimentary dish we appreciated.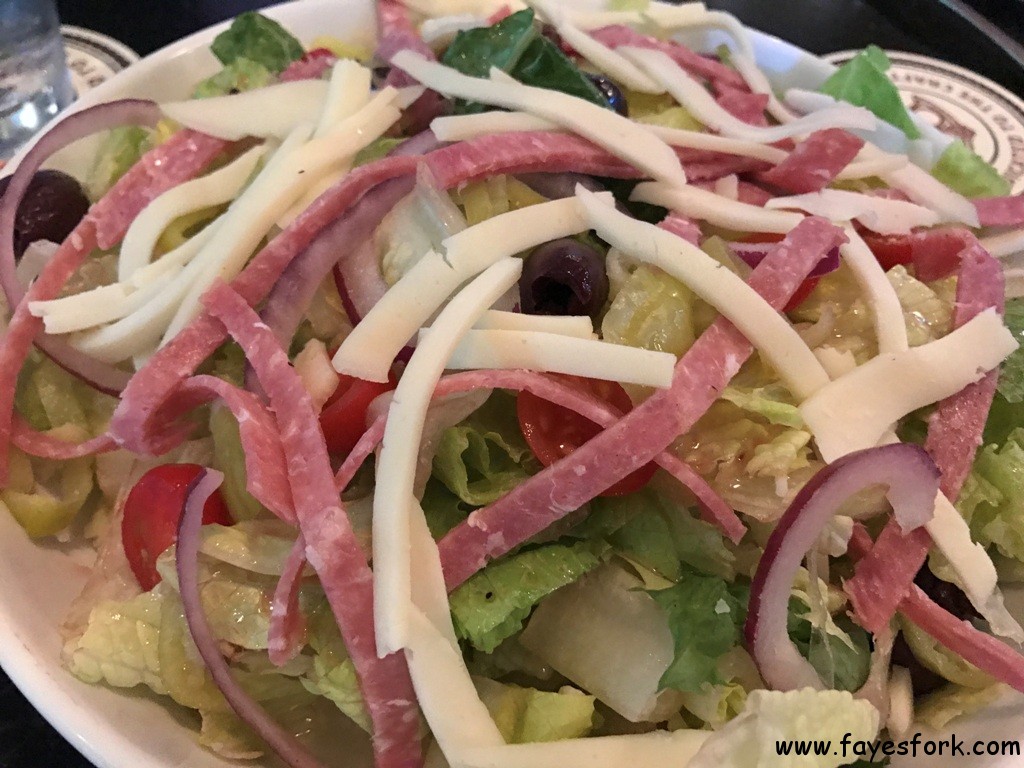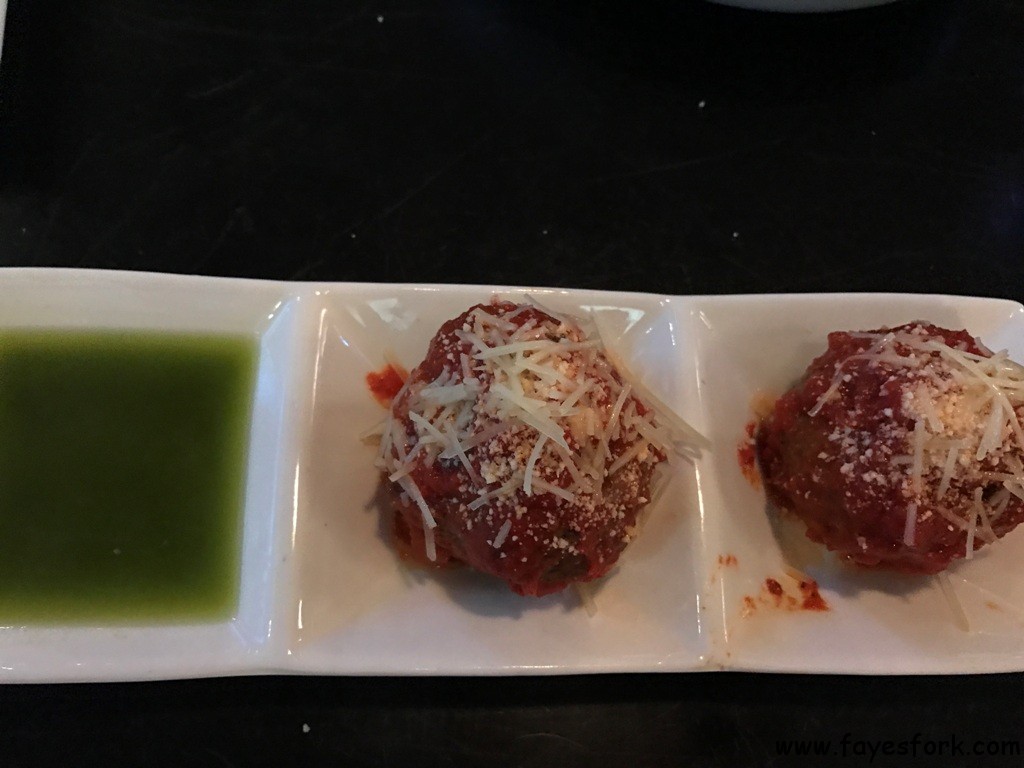 I wanted to try the meatballs a la carte as I enjoyed them in the sliders a week prior. You get two decent sized meatballs for $9.50. It also comes with a side of their house made pesto sauce.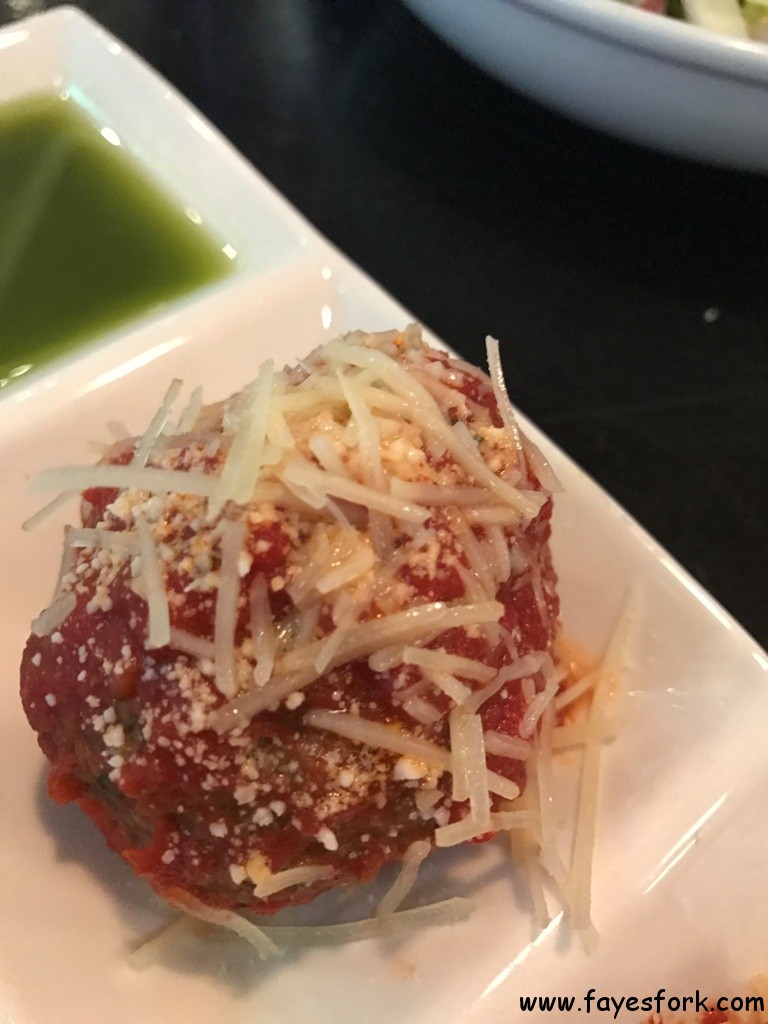 The meatballs tasted fine but would have been better if served hot. The pesto sauce was incredibly delicious. They do charge extra if you ask for a bit more (of the pesto).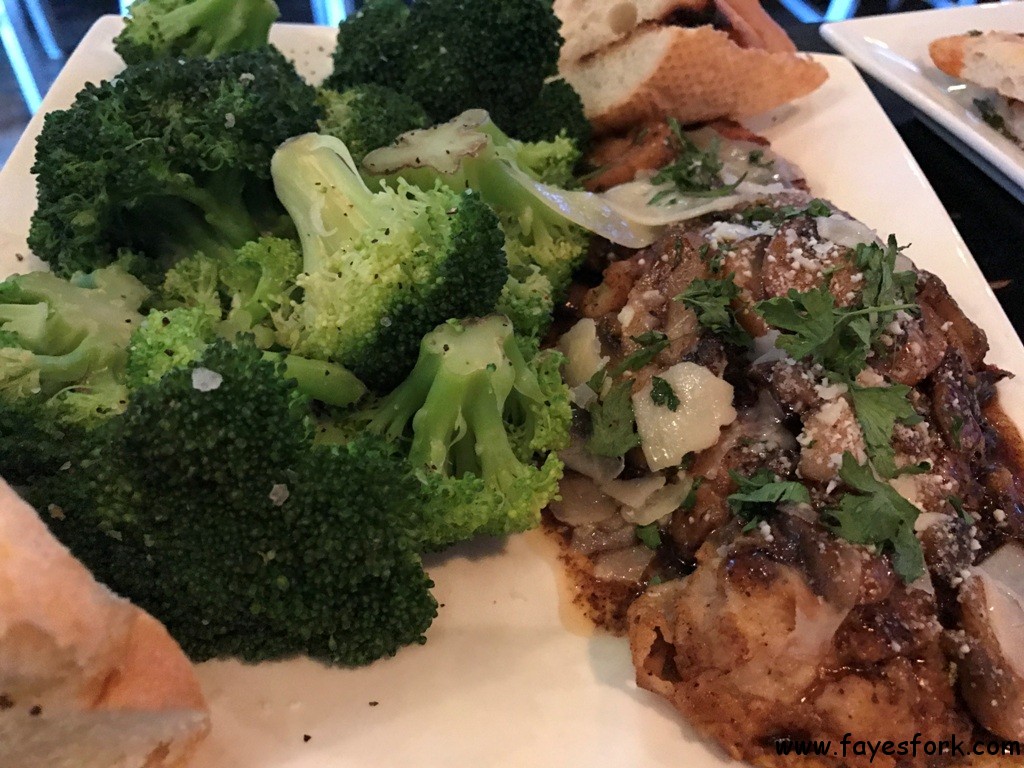 I had been eyeing this entree for some time now. The chicken breasts are sauteed with a mushroom marsala sauce. I asked for extra broccoli (instead of the pasta it usually comes with). The chicken was extremely dry, bland, and was lukewarm. There was barely any marsala sauce. The shaved parm cheese on top didn't even melt. The steamed broccoli could have benefited from being sauteed in garlic.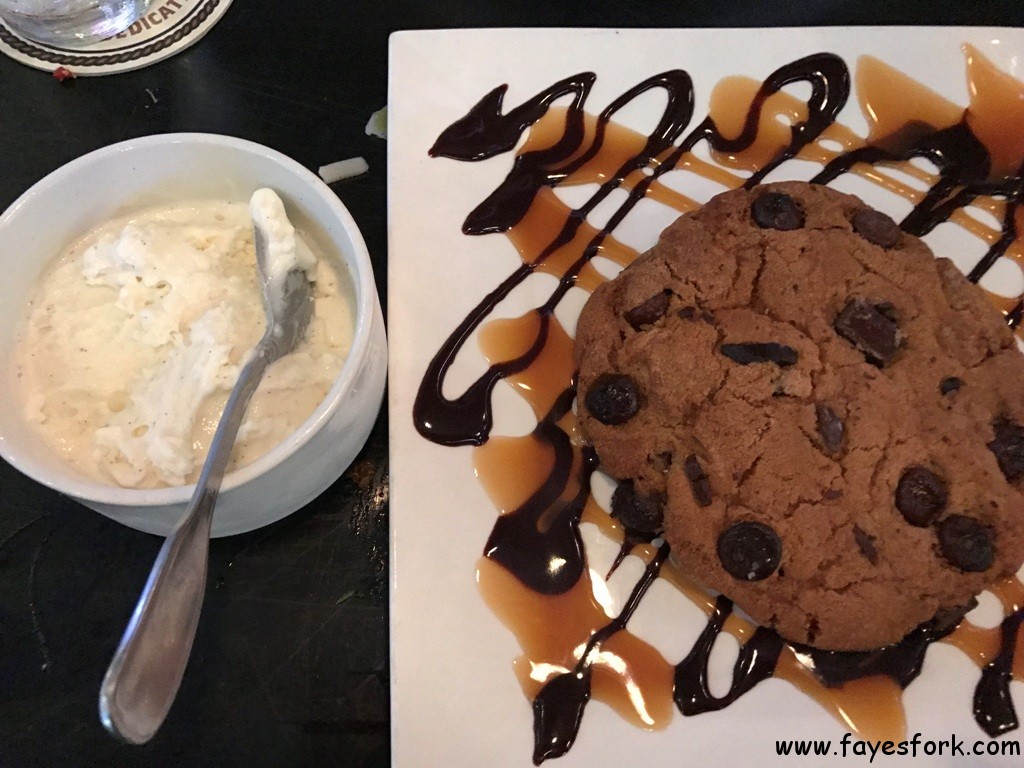 I love my friend as she rarely eats desserts but will order one so we can share whenever we go out. This chocolate cookie was large but tasted supermarket-bought. The chocolate chips tasted stale and the cookie dough tasted almost sandy. We wouldn't order this again.
Service was friendly and fun on my last visit. We never felt rushed and they were sympathetic every time we had to get up to take phone calls. The seating is dark by the bar area but is comfortable. I'd recommend Crust Pizzeria for lunch and/or happy hour if you're in the area.
CRUST PIZZERIA
4653 Carmel Mountain Rd
Ste 311/312
San Diego, CA 92130
(858) 350-3400