I was curious to see what Trade Winds Tavern was about. I had seen them slowly take over the previous location. I didn't know much about Trade Winds Tavern except seeing the mural of the girl every time we passed by. I didn't know if the tavern would be Asian themed in regards to decor, food, and ambiance. We had a chance to visit Trade Winds Tavern recently for a media event.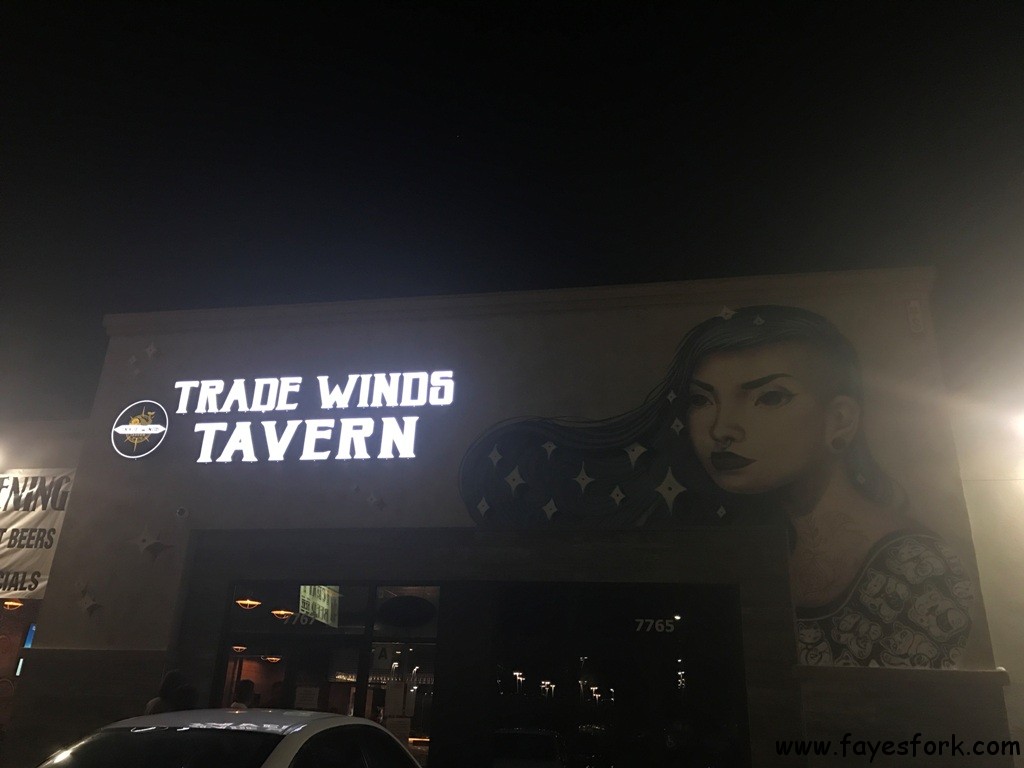 Trade Winds Tavern took over Char House.  I knew Char House had closed down but didn't know the new ownership until I read Kirk's post.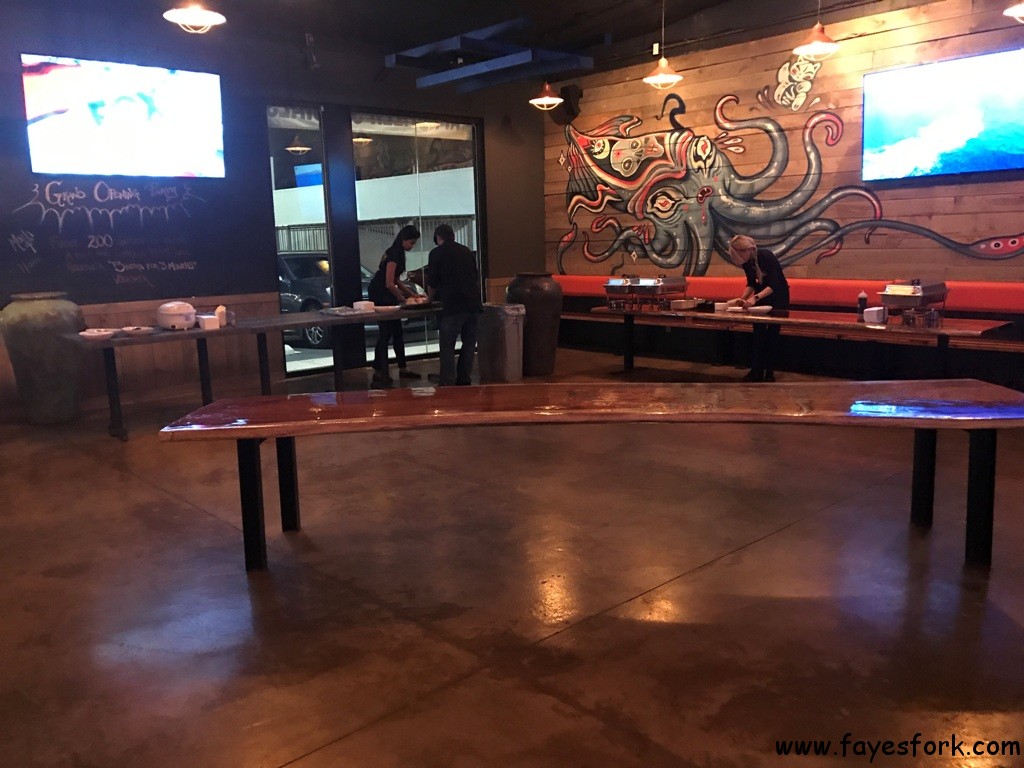 The interior was more of a bar set up that evening. There were flat screen tvs playing sports and there was a DJ playing music. The murals on the walls were creative. Anyone else notice the long lacquered wooden tables seem to be from Char House.
We were one of the first guests there and bumped into one of the owners, Sylvia. She reminded me so much of an Aunt in Taiwan. She was incredibly warm and kind. I asked if she was from Taiwan and she smiled and said no she's from Vietnam. She owns a few other restaurants in San Diego. I gasped when I learned she owns the vegetarian restaurant Sipz! Sylvia said she knows Taiwan well because she loves the vegetables from that country and uses it in her cooking.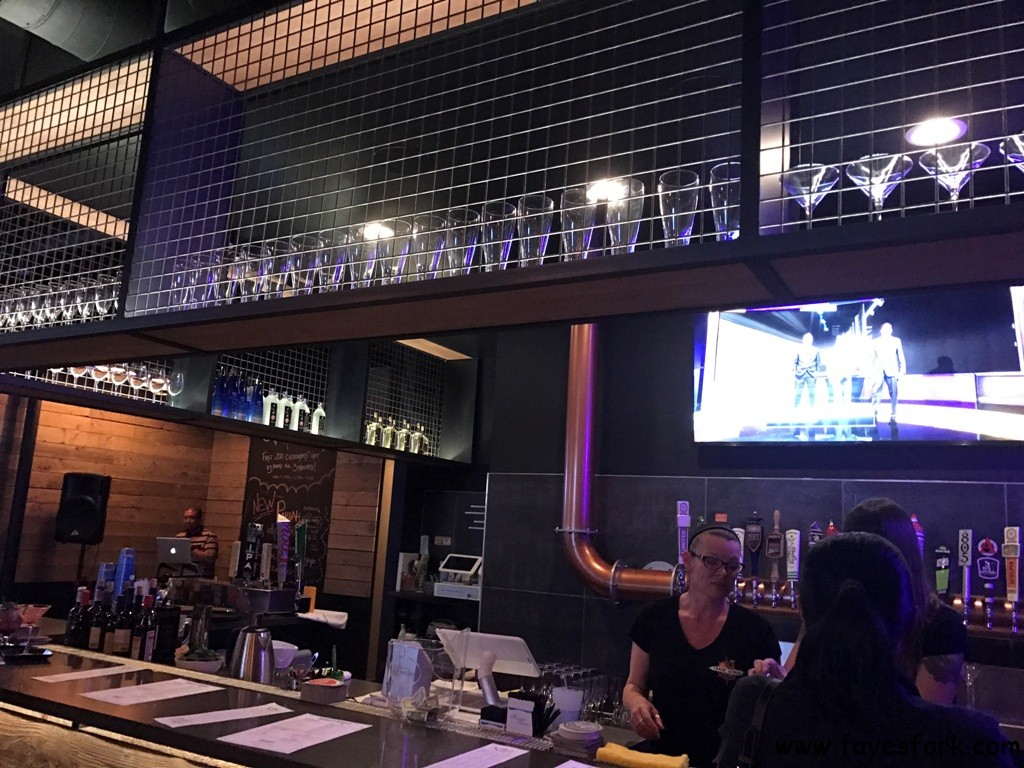 The bar is set up where Char House's open kitchen used to be.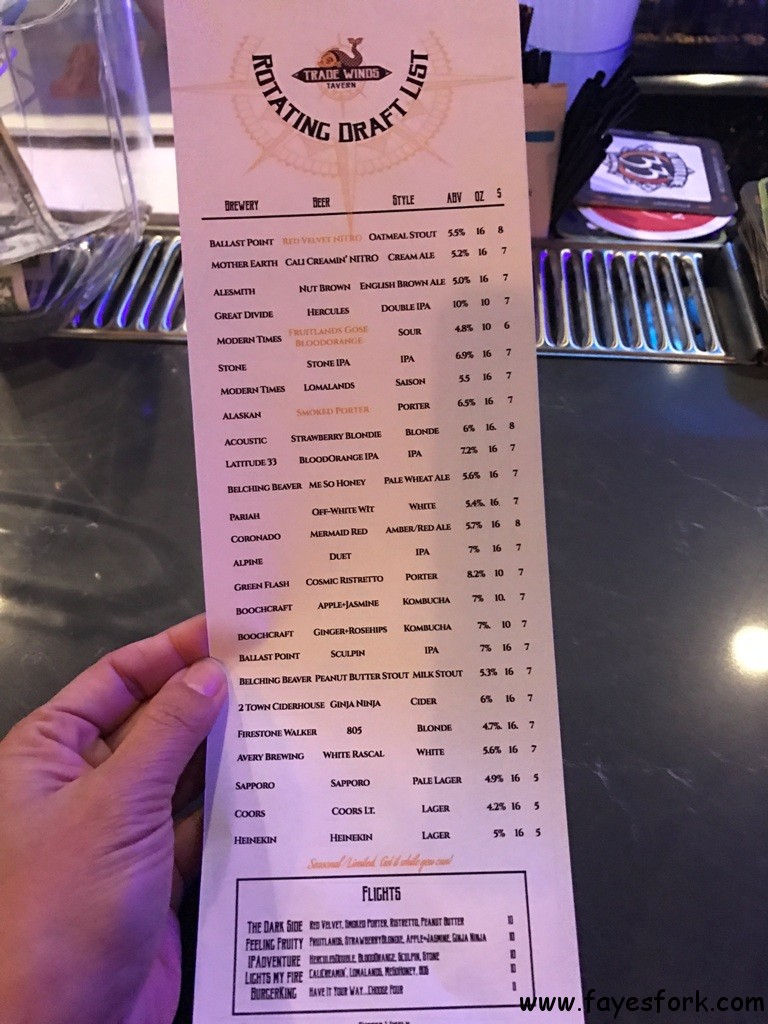 Trade Winds has an extensive list of craft beers.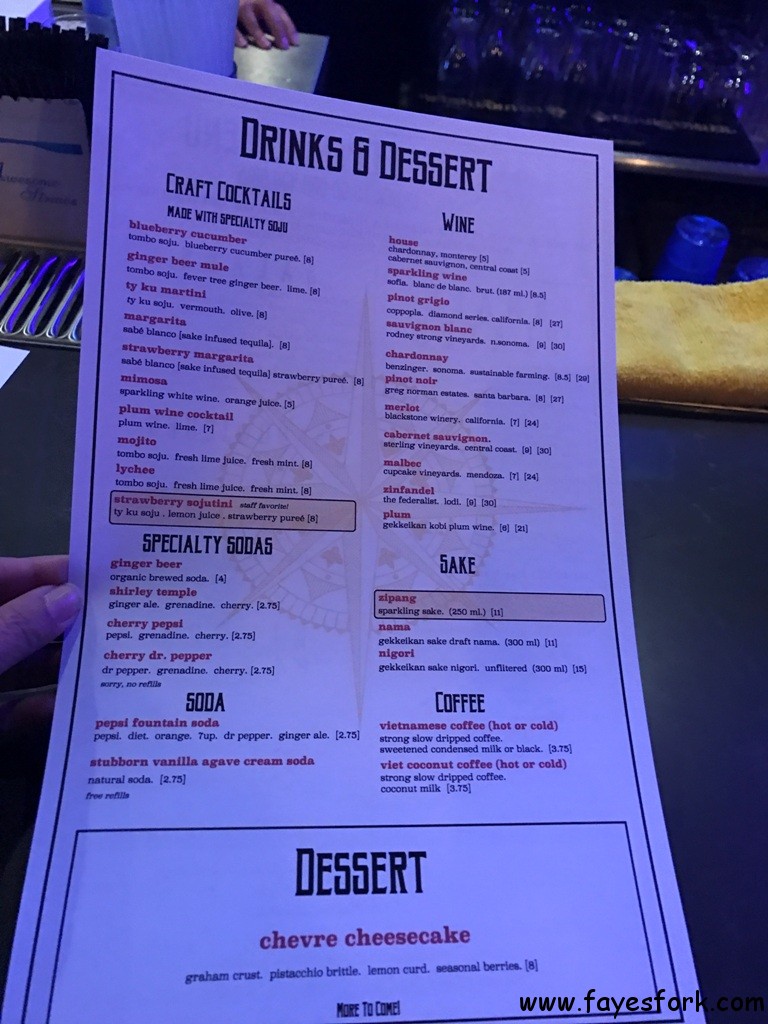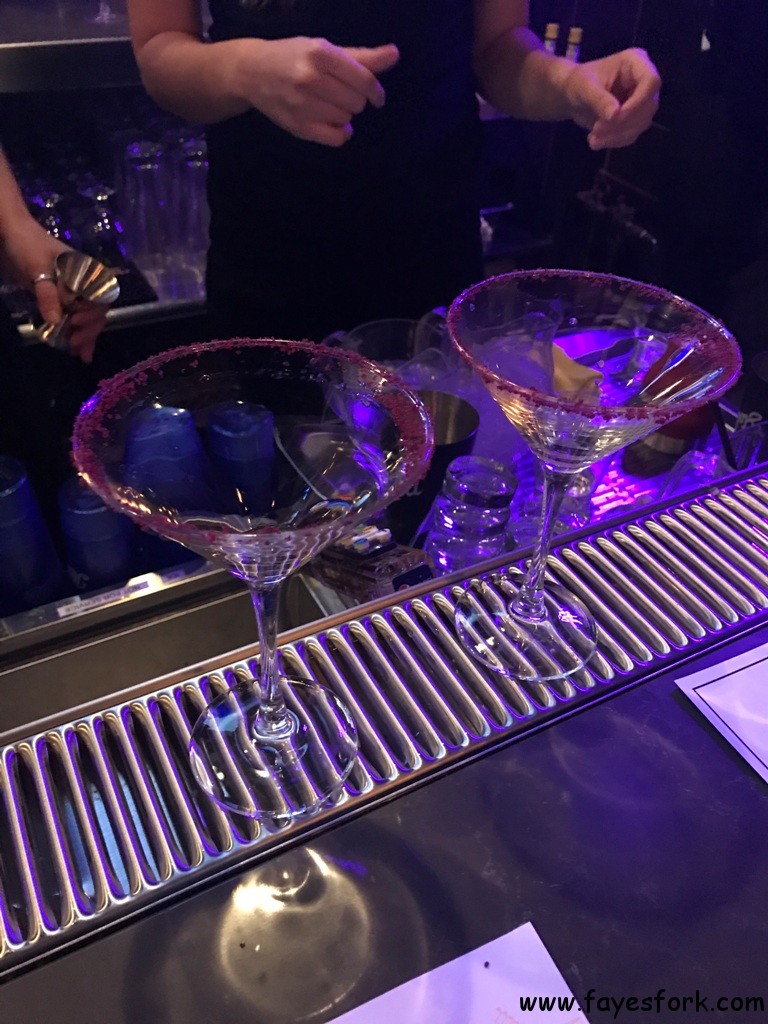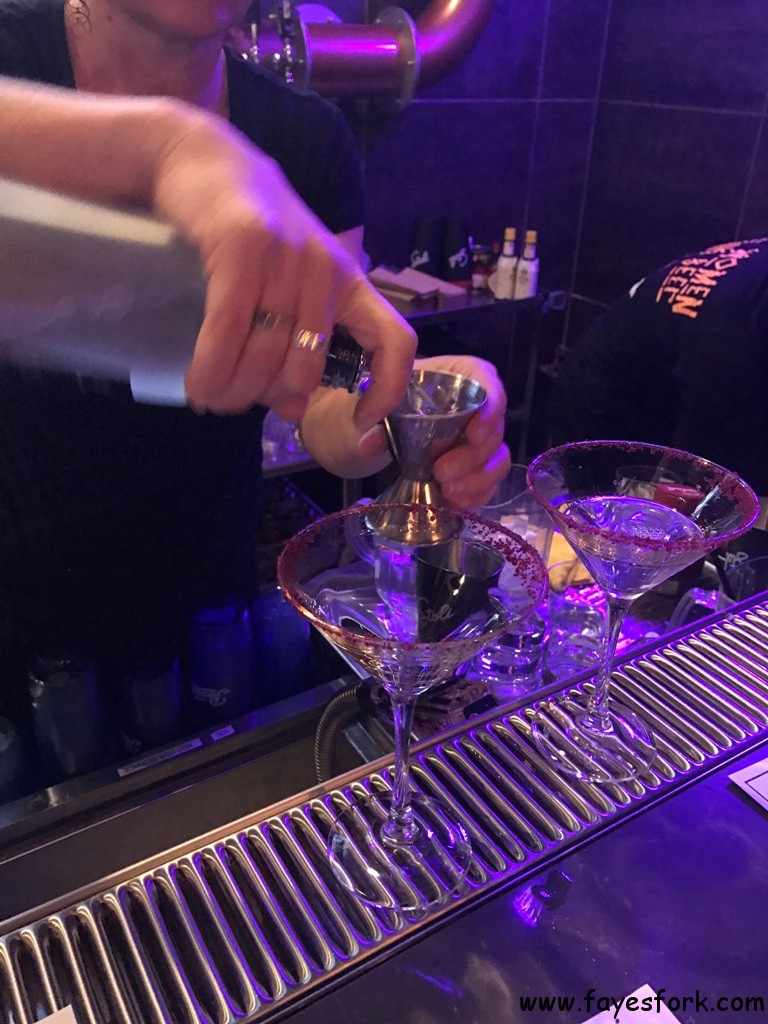 I think this is their strawberry margarita. My past secret life was a bartender so I'm always fascinated when I see bartenders making drinks. I couldn't help but notice the girl next to me picking up this same drink and giggling as she tried to walk back to her table with a full drink. It turned to be Lynn from Oh-SoYummy !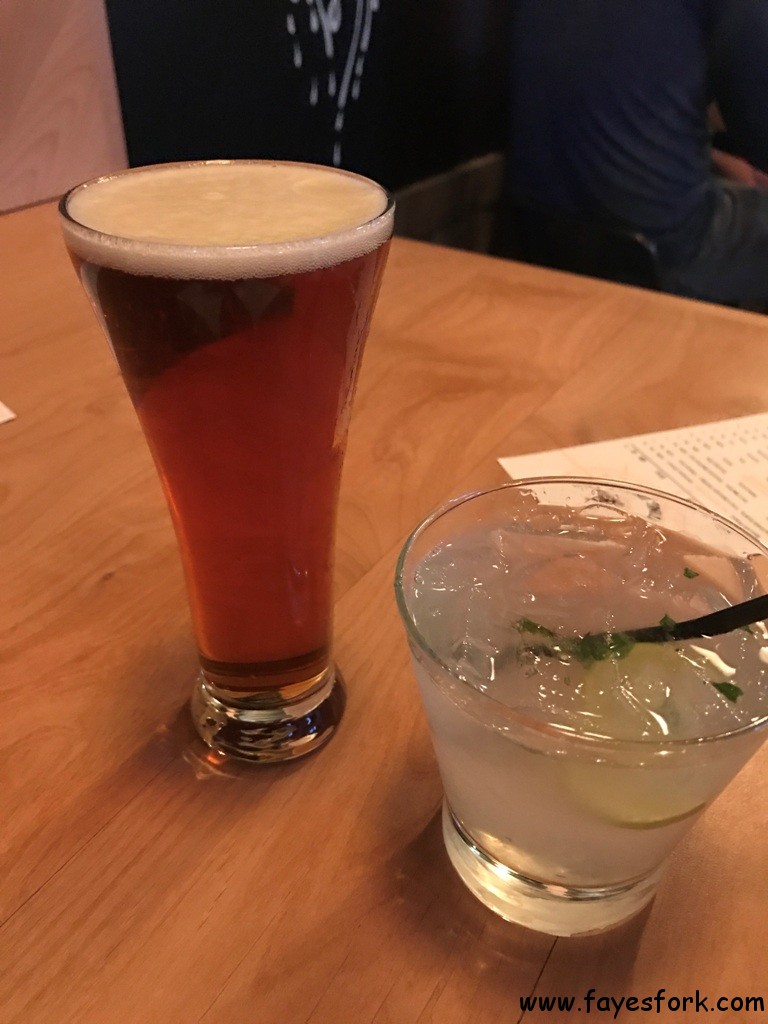 We were surprised to see Hercules from Great Divide as that's one of our favorite IPA beers. It's a smaller pour due to the ABV. My mojito consisted of tombo soju, fresh lime juice, fresh mint. It tasted nicely of soju but was lighter in alcohol.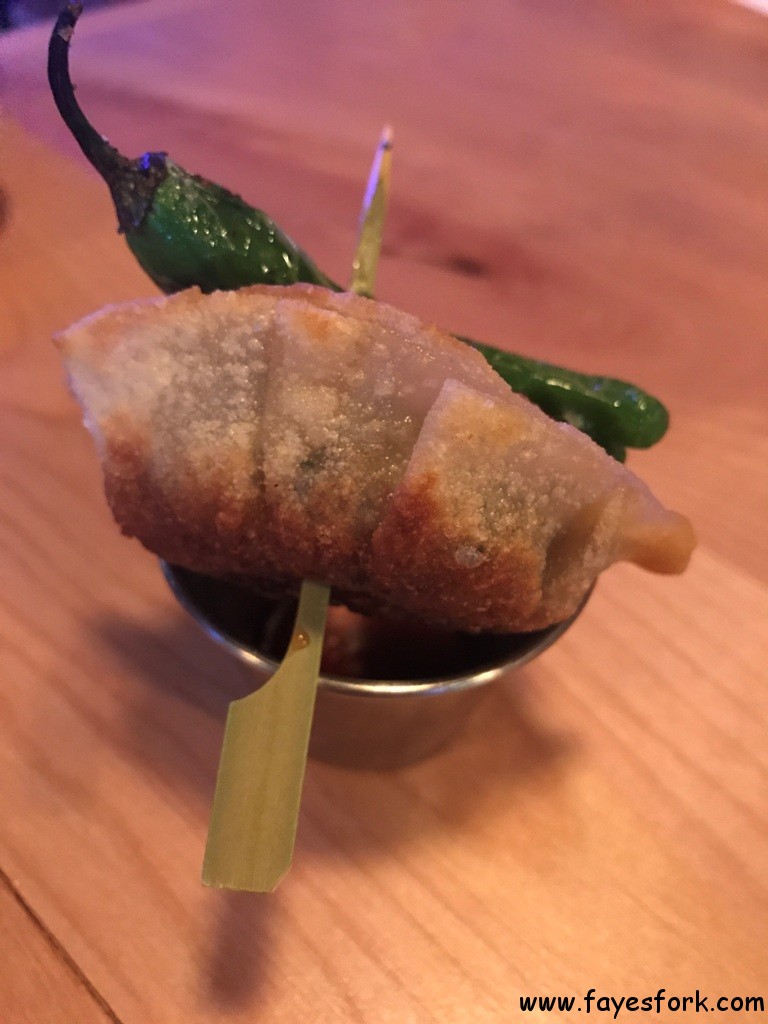 The mushroom gyoza was presented in a tiny ramekin with a fried shishito pepper attached. The homemade ponzu sauce was at the bottom of the ramekin. We enjoyed the deep fried  gyoza.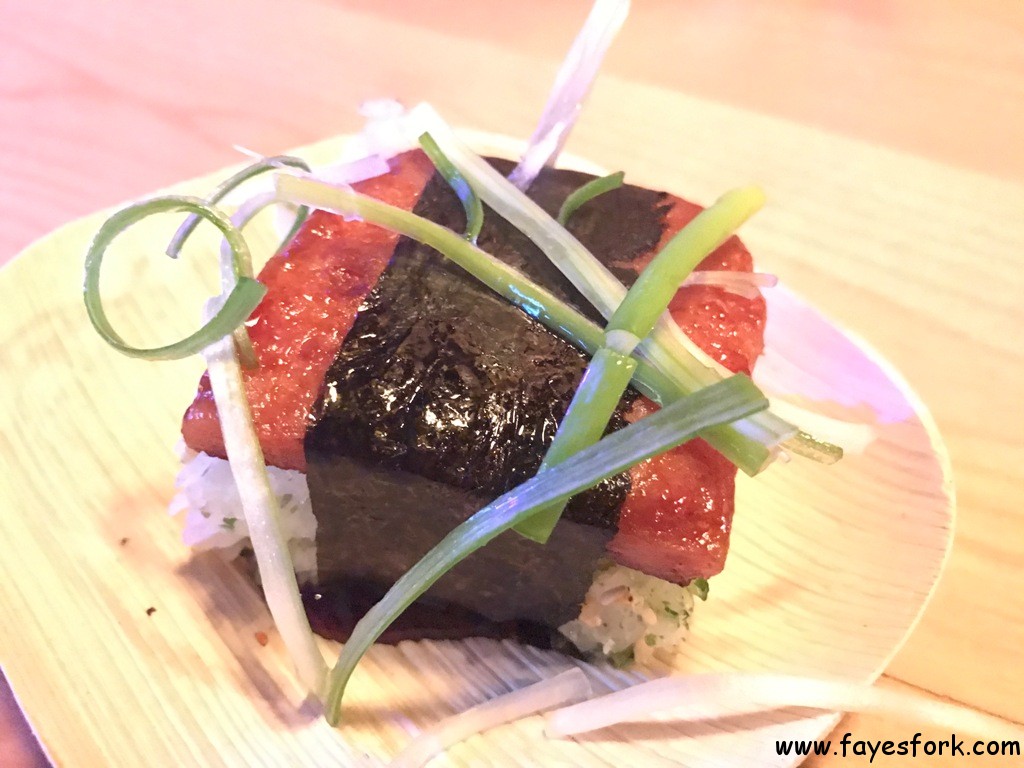 The grilled spam was placed on top of furikake seasoned rice and wrapped with seaweed. Friend said the spam tasted meaty but the rice a bit dry.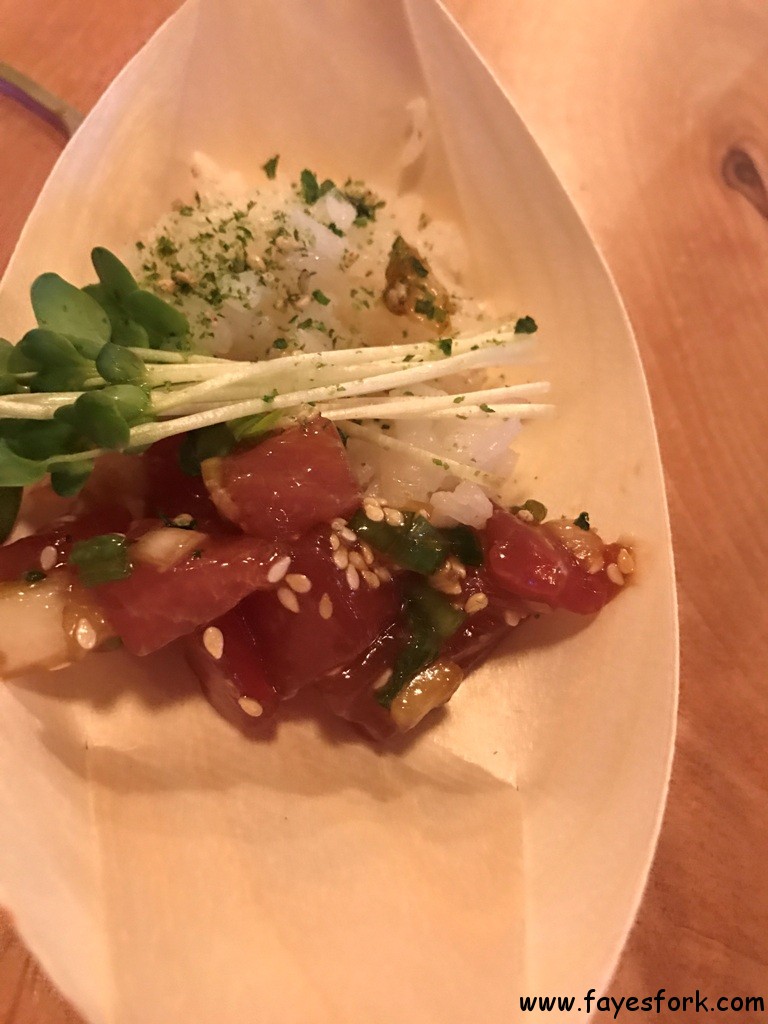 The diced fresh tuna was delicious in this poke. The poke marinade wasn't too thick or sweet. I liked the radish sprouts as it added a nice bitterness to the dish.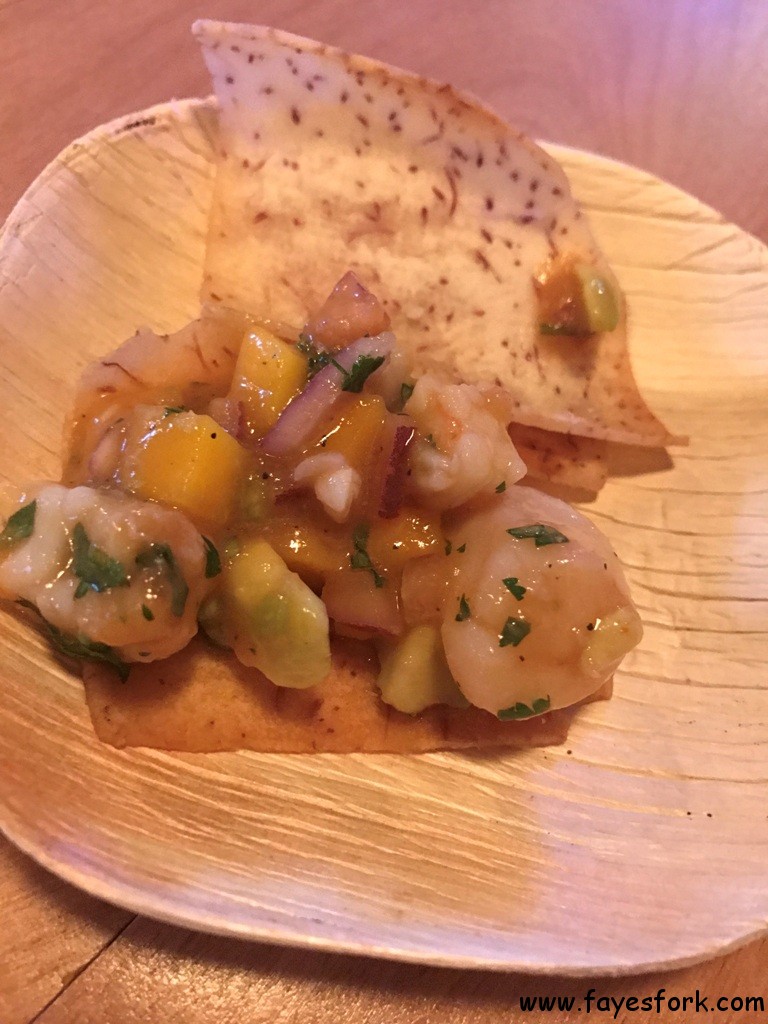 The homemade taro chips were awesome for the ceviche. They were freshly fried and perfectly salted. The ceviche had white fish, scallop, shrimp, and diced mangos. I might have preferred the poke over the ceviche as the ceviche tasted sweeter than I preferred. But the seafood in the ceviche was delicious.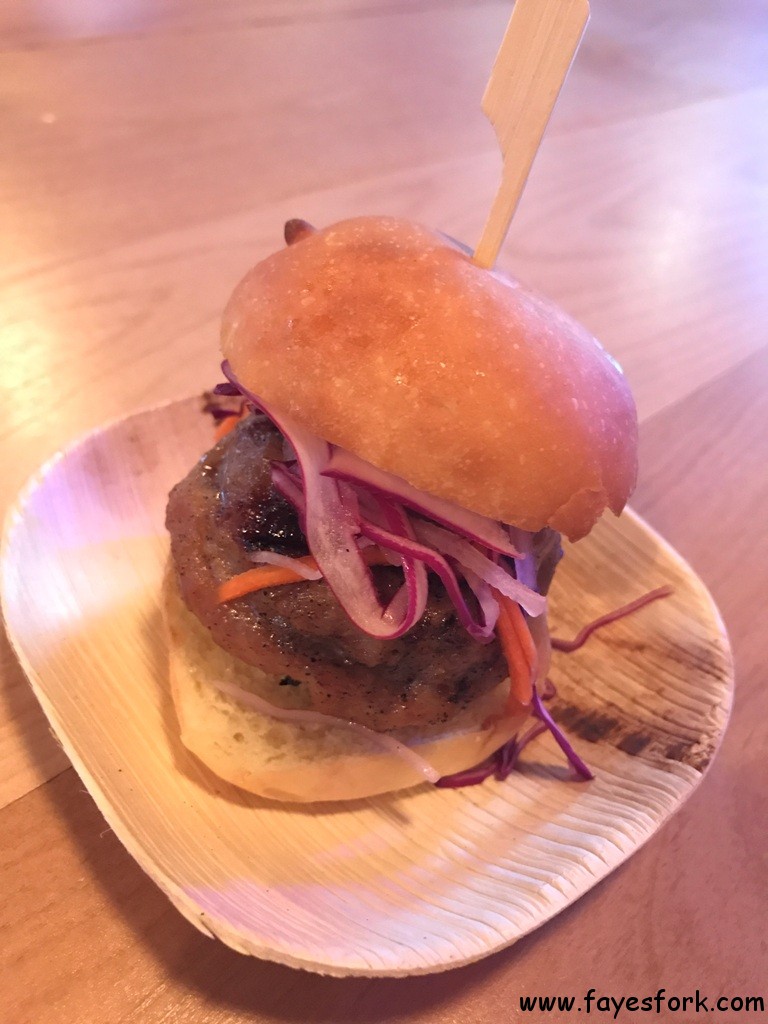 They sampled their grilled pork slider that evening. Friend thought the slider tasted like a banh mi with the marinated pork patty and pickled vegetables.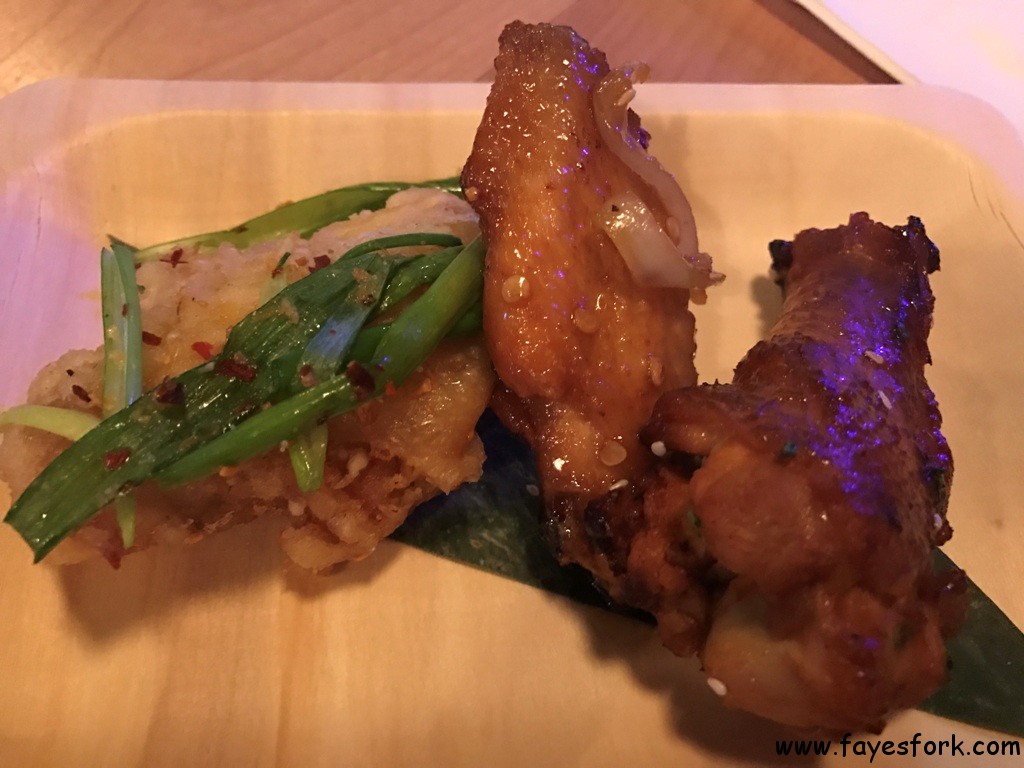 Trade Winds Tavern offers three type of chicken wings:
huli huli: smoked sweet soy pineapple glaze
viet: caramelized fish sauce, jalapeno, basil
salt n pepper: crispy garlic bits green onion
Our favorite was the salt n pepper. It had a thick crunchy batter and the garlic was just right on the wing. I thought the batter was a bit too thick but friend enjoyed it. Friend commented the huli huli was too smokey for him.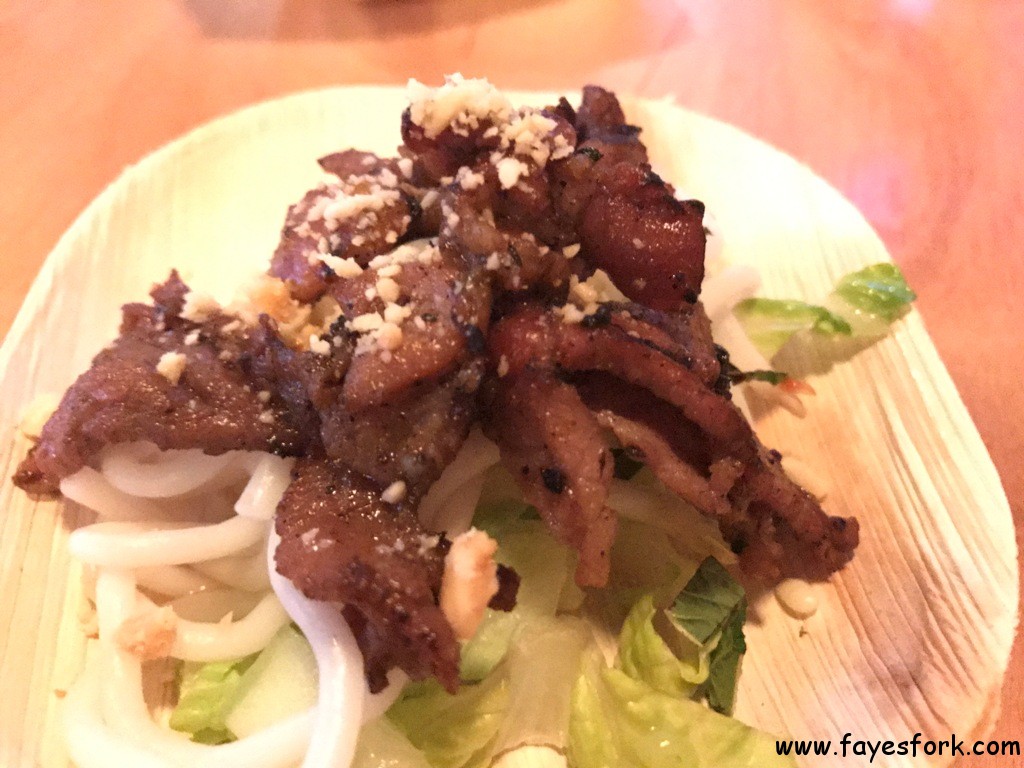 We smiled when we received this bun noodle salad. The marinated grilled pork was tender and not too sweet. The noodles were nicely cooked and seasoned well with sweetened fish sauce.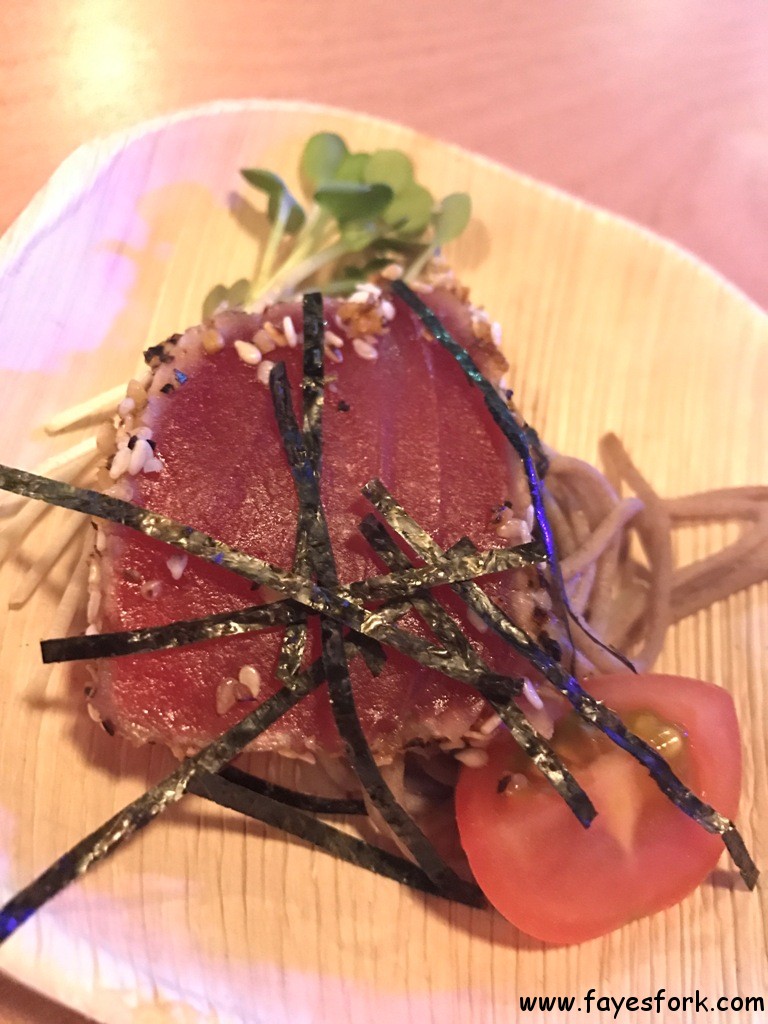 I liked the fresh tuna here at Trade Winds. The rare slice of tuna was coated with sesame seeds and then seared.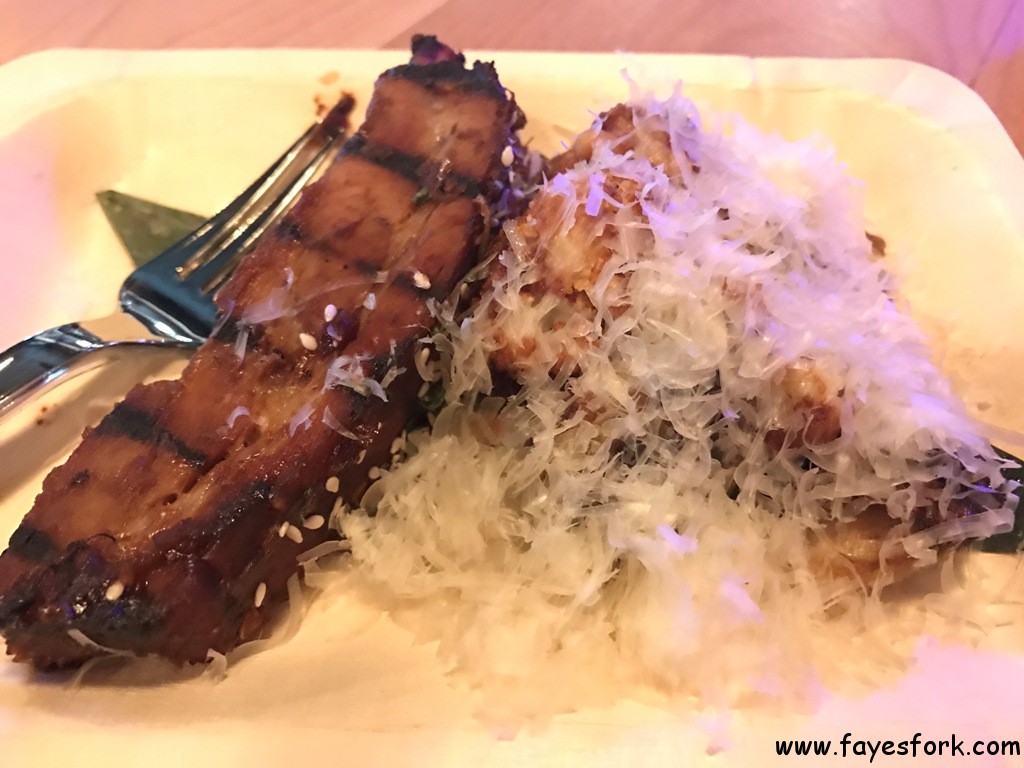 The baby back rib was braised, smoked, and then seared. I'm not a fan of smoked meats so the rib (and huli huli wing) wasn't my thing. The meat had a nice chew to it and friend commented 'it's so sticky it could pull your dentures right out!'. I thought that was a compliment to the rib as you had to use a lot of napkins when you ate the meat.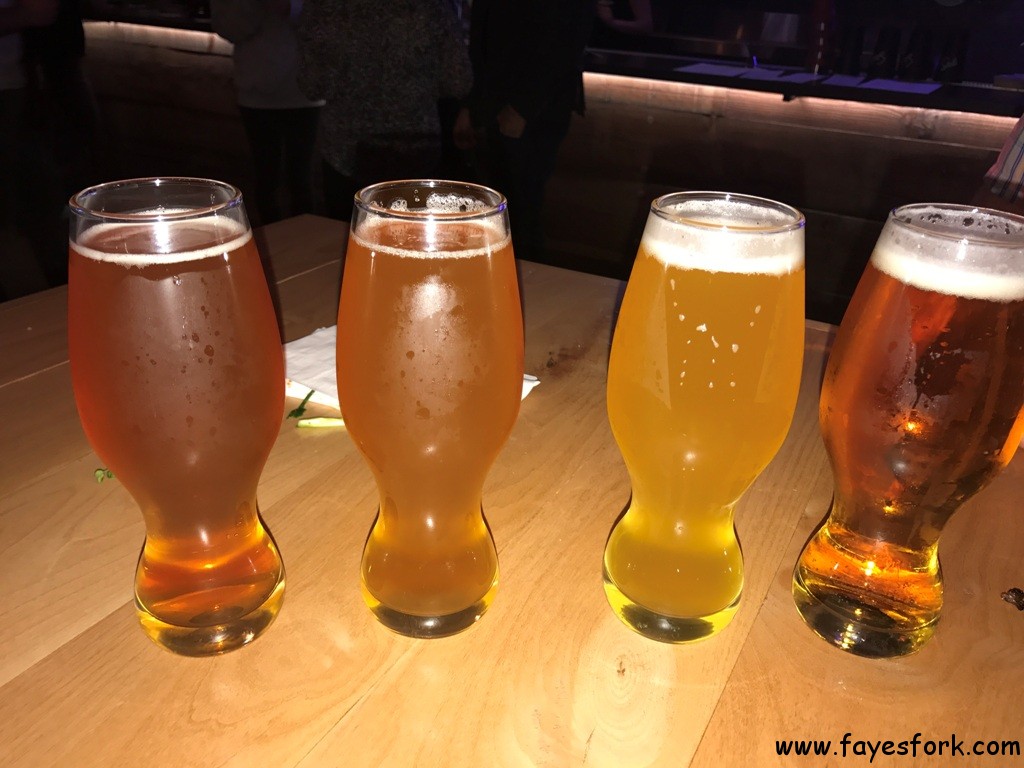 The Burger King at Trade Winds Tavern is supposed to be a 'have it your way…choose four' beers flight. The above picture would have been the best sample flight EVER but there was a miscommunication between friend and the bartenders. The bartenders must have misheard friend and gave full pours instead. We all laughed together and appreciated good beers regardless. Lynn came over to take a look at our bounty and sampled the beers we were given.
From left to right: Acoustic Strawberry Blonde, Belching Beaver Me so Honey, Avery Brewing White Rascal, and Firestone Walker 805.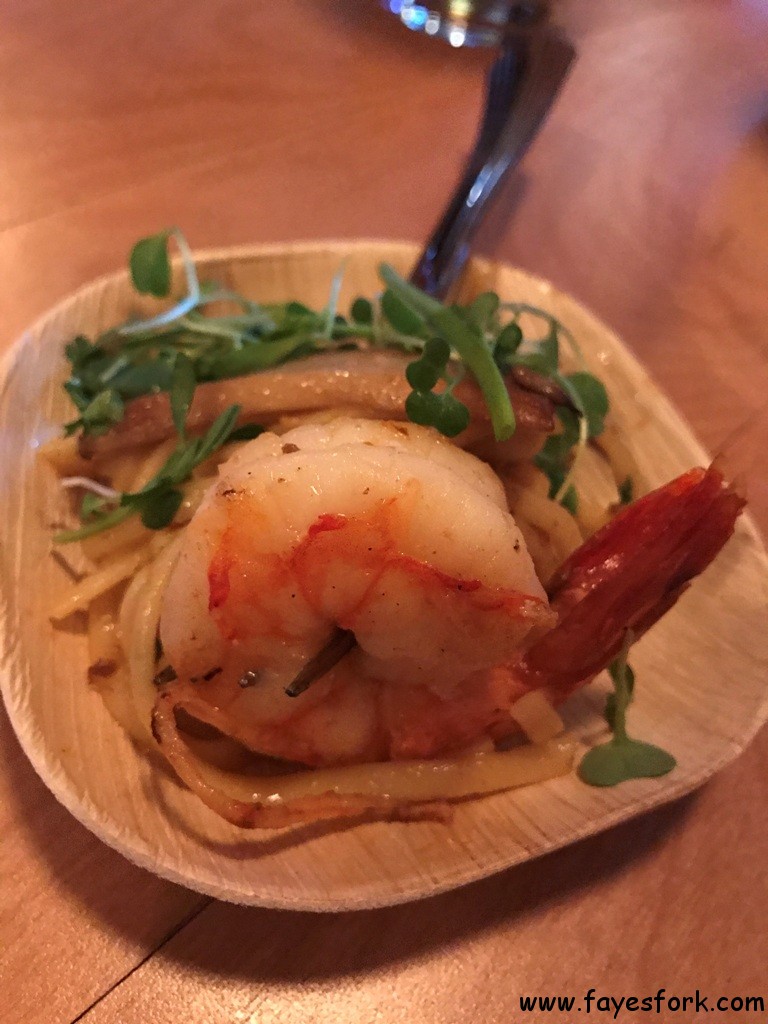 The black tiger shrimp was presented beautifully. The shrimp was cooked a tad too long. We LOVED the linguine in this dish as it tasted of the rich caramelized garlic & shallot shrimp sauce.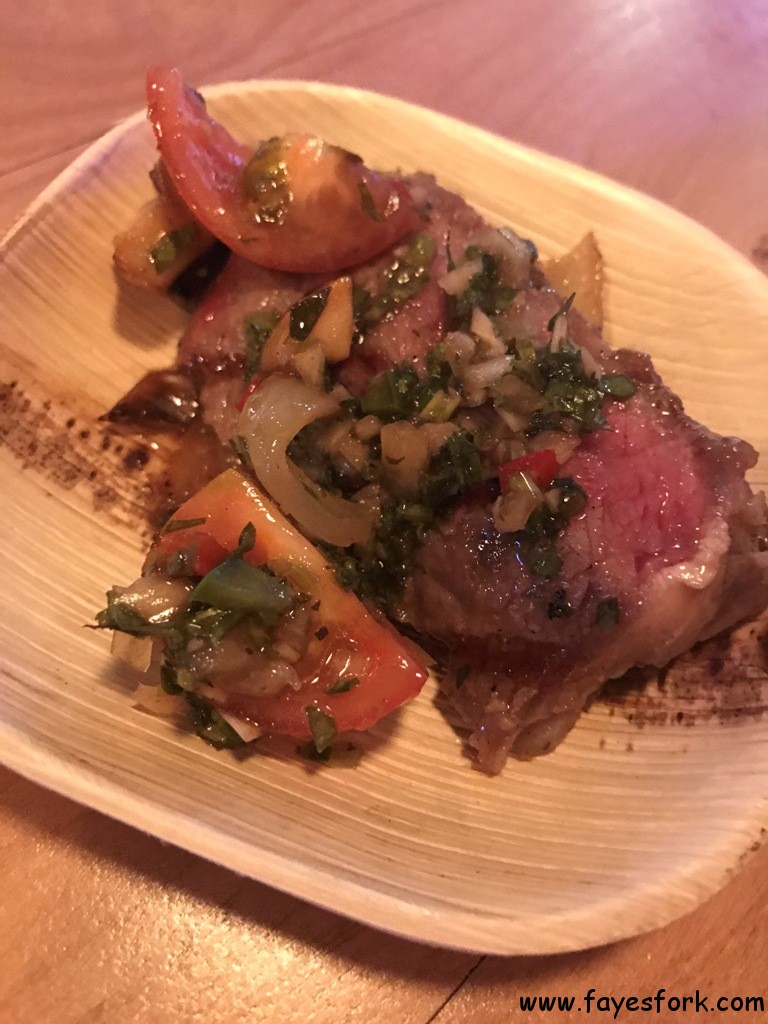 I was excited to see this last sample. I read such great things about this ribeye and was sad when a few sizzling platters came out and I couldn't snap a picture. The steak was prepared medium and topped with their cherry tomato chimmichurri sauce. Friend said the steak tasted fine but something we could make ourselves.
The staff that night couldn't have been more gracious and helpful. They knew details about each dish and would clear plates/refill waters/etc very quickly. We also met Rachel who was another owner. I cannot say enough how hard working, personable, and kind she (and Sylvia) were to everyone that night. Many thanks to Huynh, Rachel, and Sylvia for introducing us to Trade Winds Tavern through their food and drinks.
Their Grand Opening is set for March 4, 2017. Friend pointed a fun fact he found on their menu: The first 200 people to come in and buy a beer and small plate will receive a voucher entitling the bearer to purchase unlimited beers at $3 for 3 months. 
So take advantage of this grand opening special if you've been eyeing Trade Winds Tavern –
TRADE WINDS TAVERN
7767 Balboa Ave
San Diego, CA 92111
(858)  430-6815