I'm not into hotel restaurants as they're usually fancy and expensive. Grand Del Mar has been known for it's grandeur. I've had friends visit their fancy restaurant for special occasions and tell me how expensive things were. That was beyond my budget. A blogger friend told me the hotel has a coffee shop that's affordable and has free wifi. There's free self parking too so I didn't have to fret about paying for valet. Then I heard of The Clubhouse Grill which is their casual restaurant overlooking their famous golf course. Friend and I decided to pay a visit as we both thought it would be a fun lunch.
The Clubhouse Grill is not located in the main hotel. You have to drive past the resort and up a hill. There's self parking in this section as well. We had a hard time finding The Clubhouse Grill so the valet had to help direct us.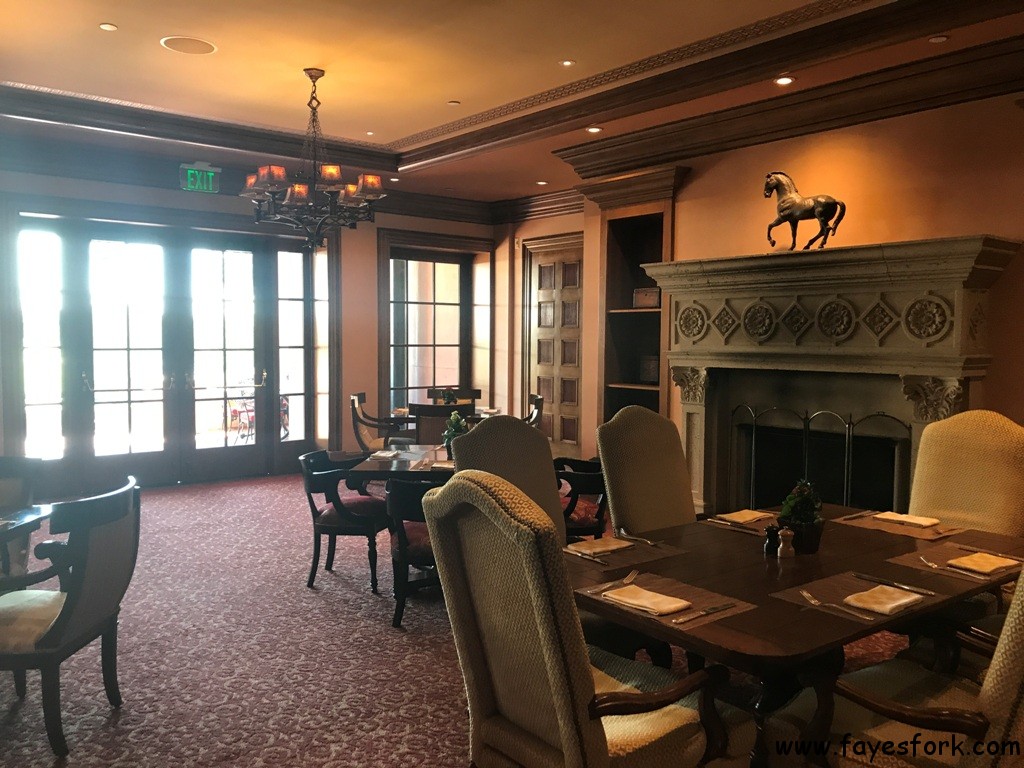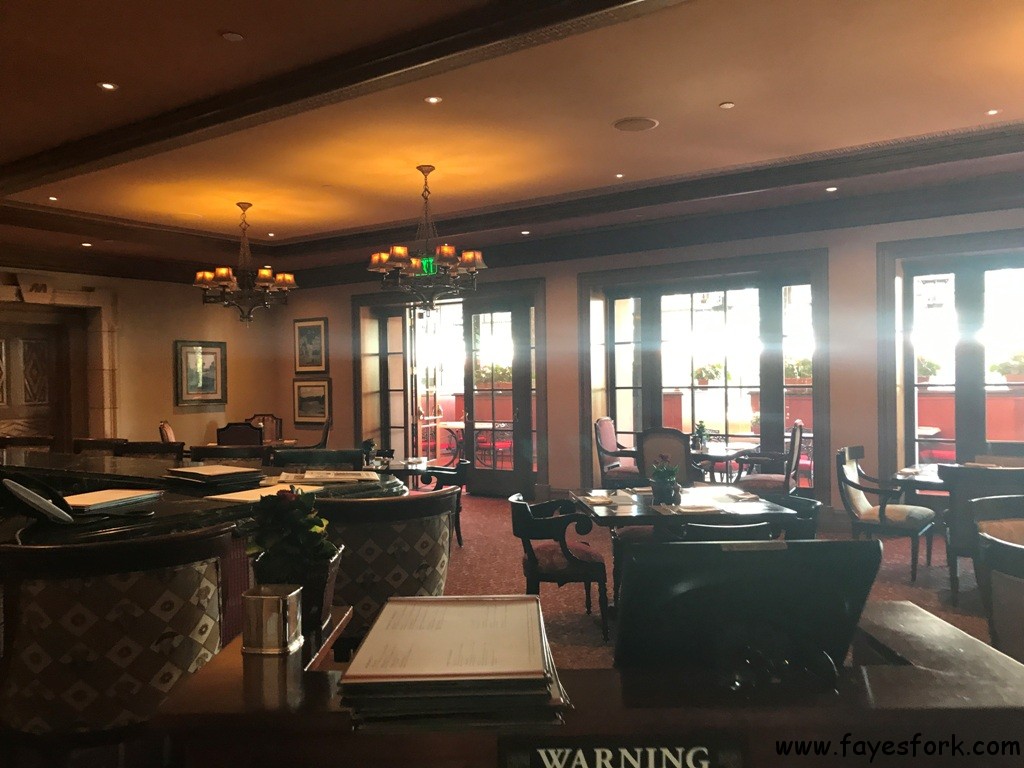 We were disappointed by what we initially saw. The interior was stuffy and empty. This wasn't what we had imagined at all. It felt dated and country club-ish. We whispered to one another that The Veranda at RB Inn was so much better.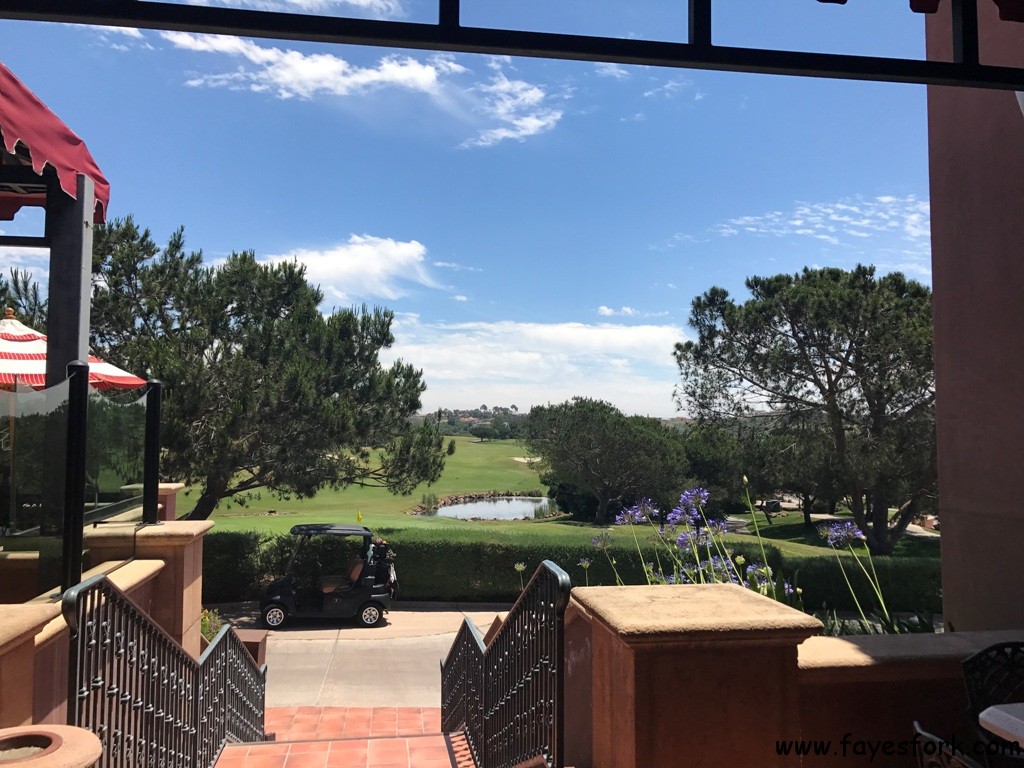 Luckily, the outdoor patio was open and pretty.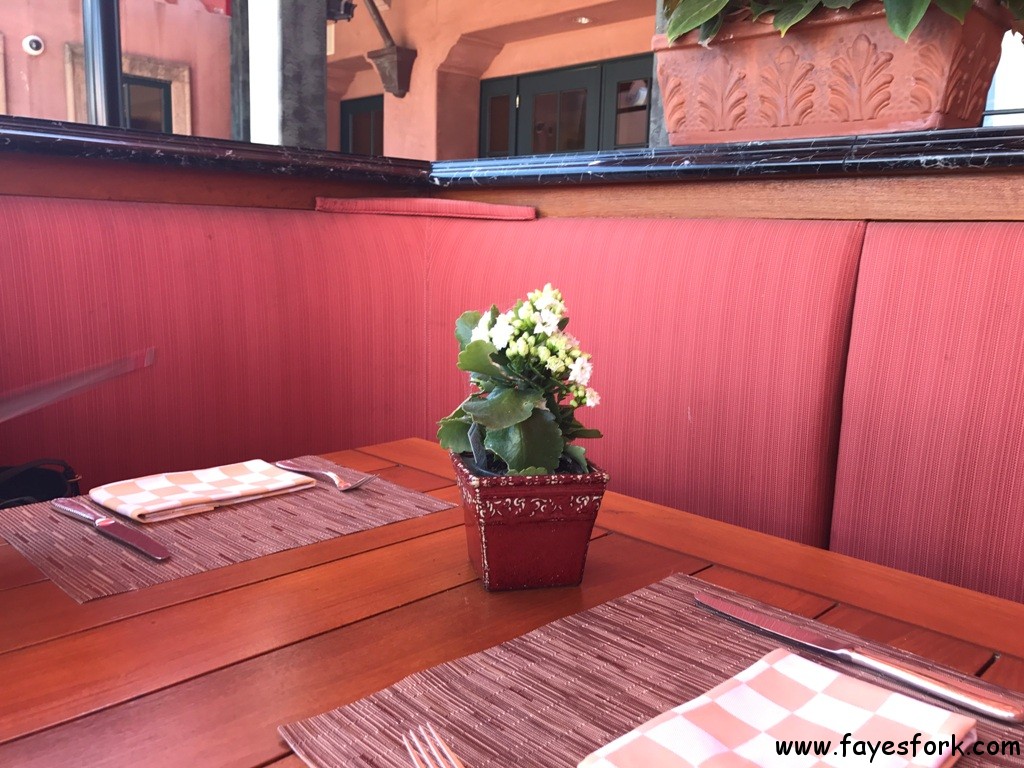 They have a few beautiful booths.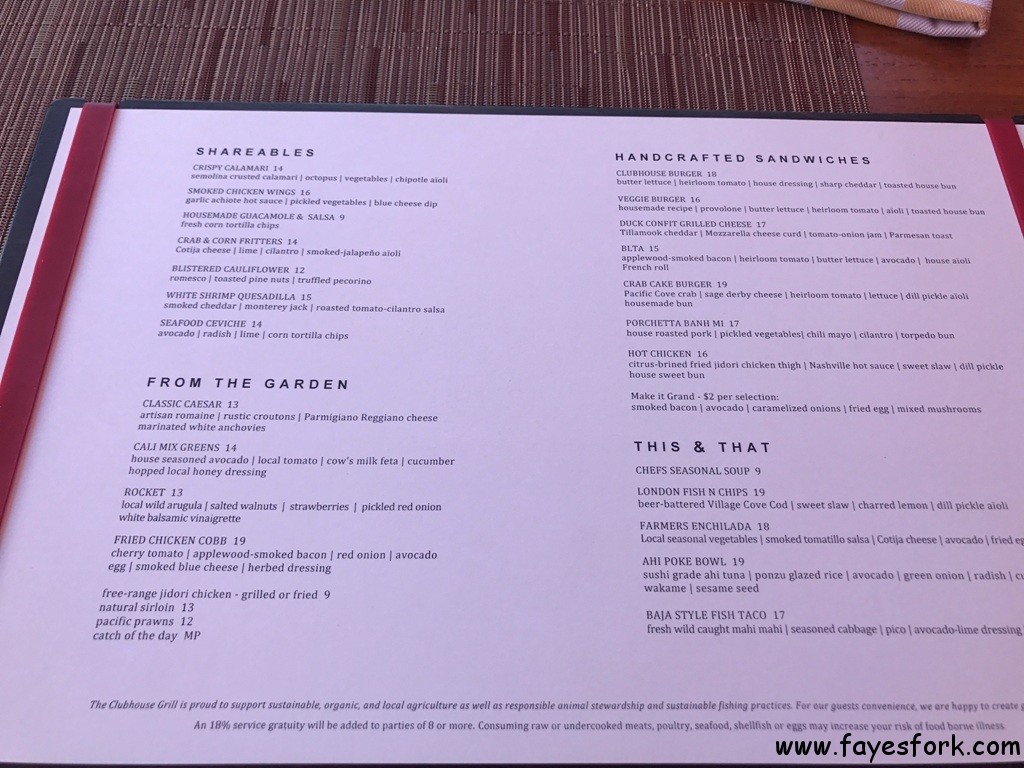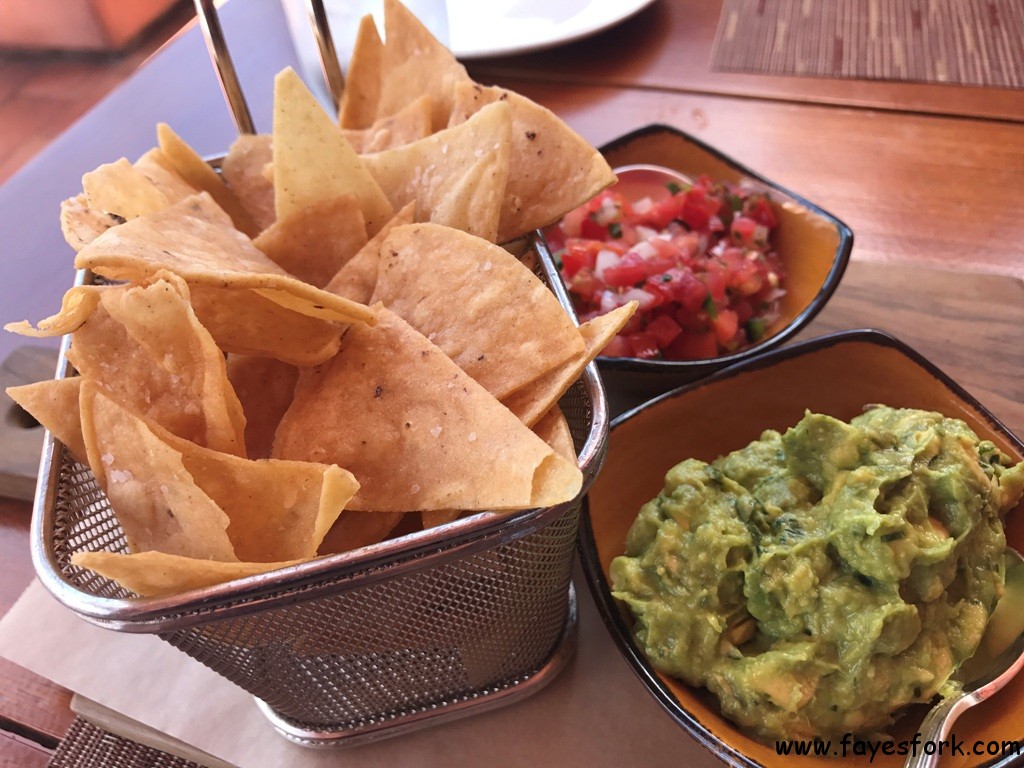 This was a nice presentation served on a wooden board.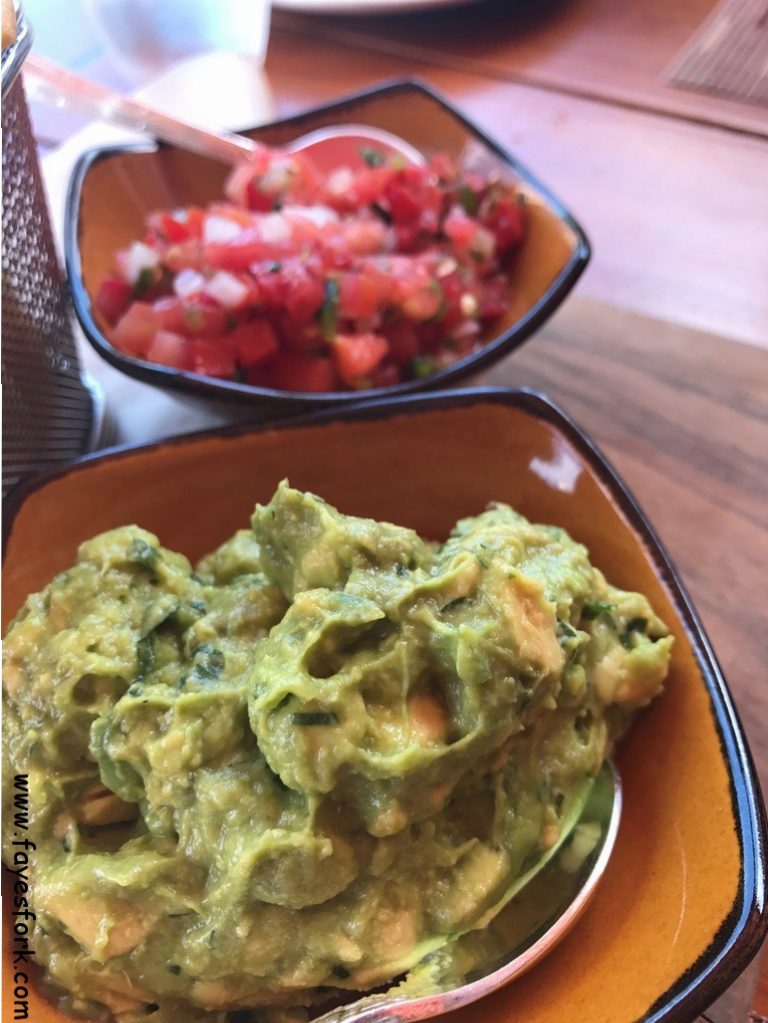 The guacamole was freshly made and thick.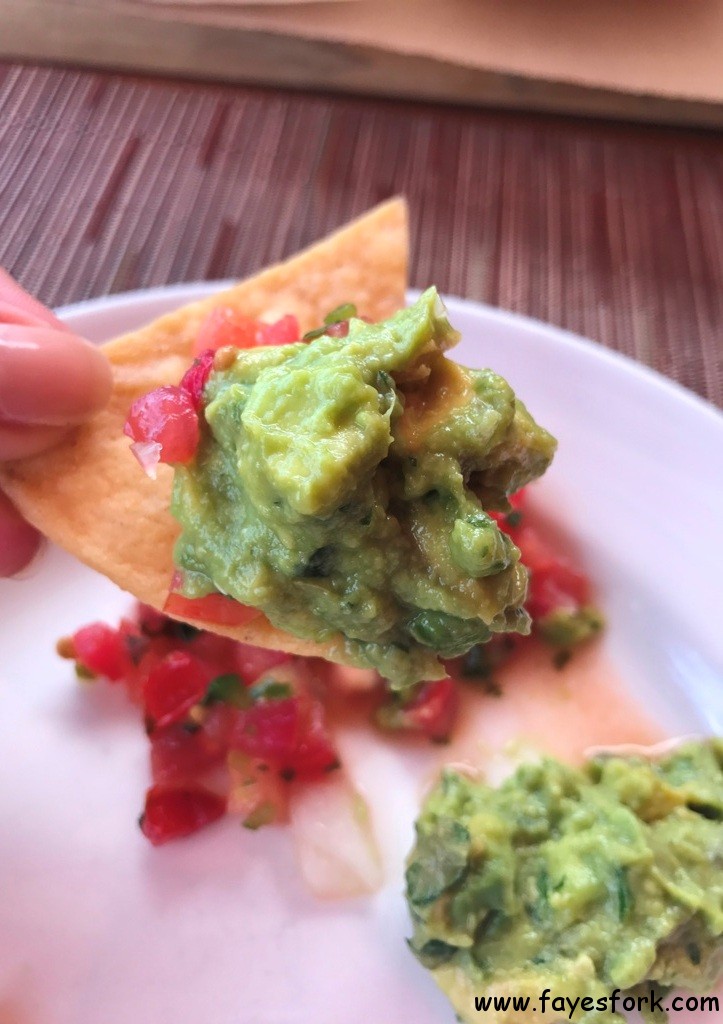 We enjoyed the guacamole on the freshly fried tortilla chips. The chips were perfectly salted.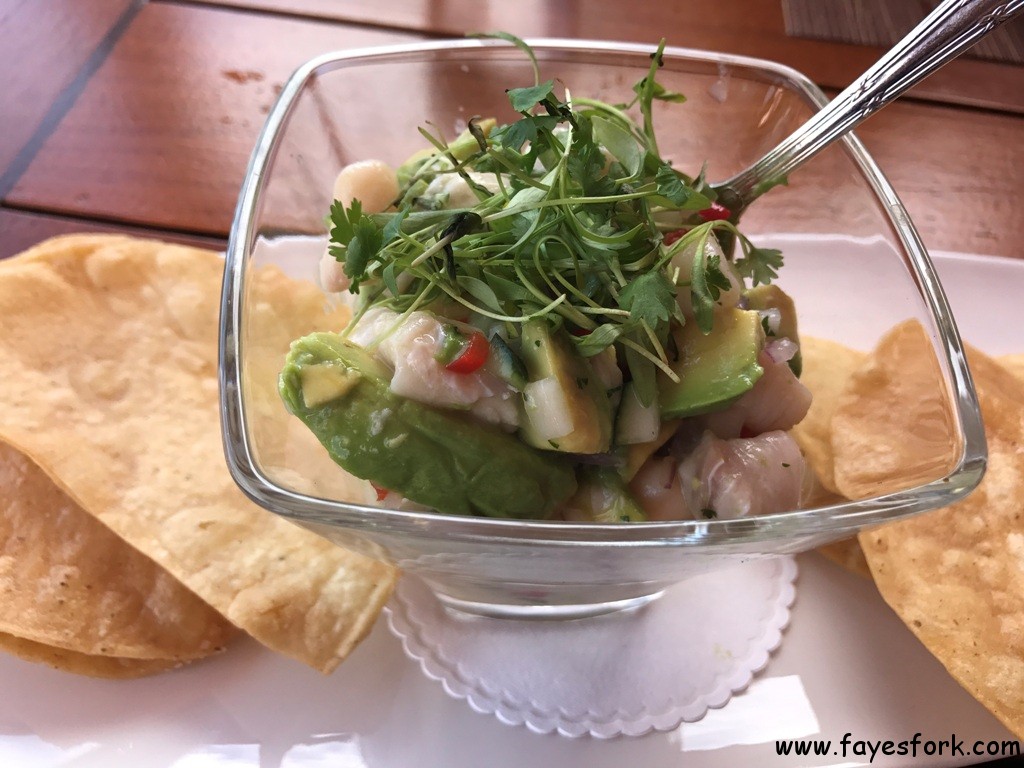 Friend has been on a ceviche kick lately which is odd as she's normally not a seafood person. The ceviche comes out with half discs of fried corn tortillas.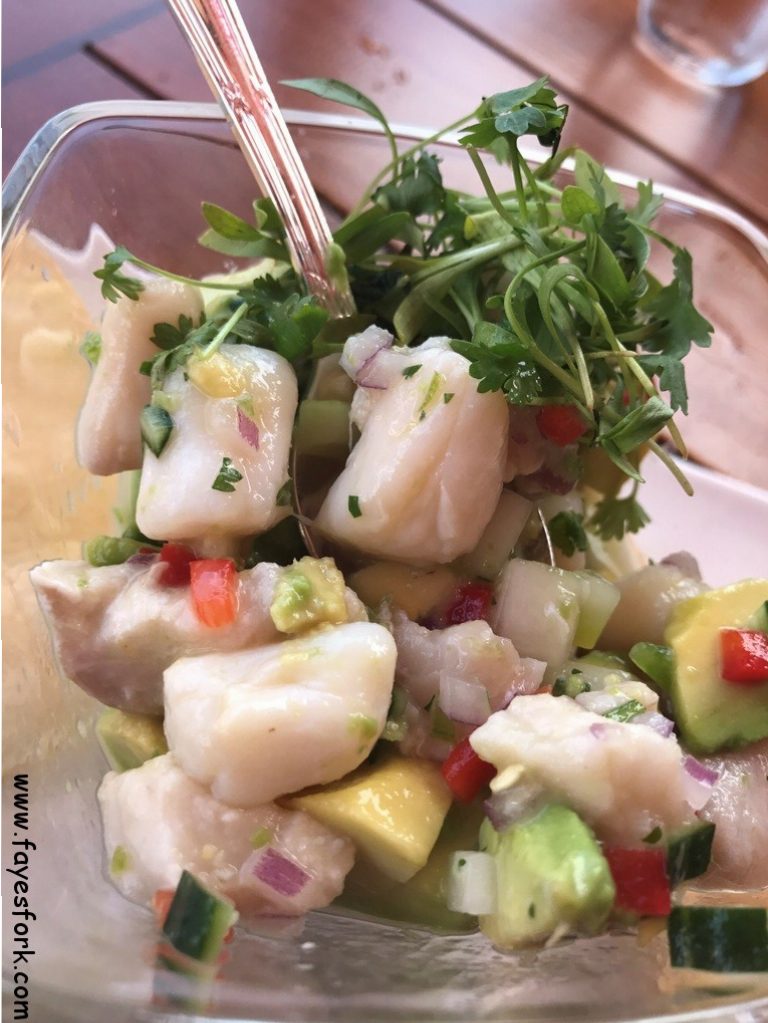 The ceviche wasn't very large. It consisted of bay scallops, halibut (?), avocado, cucumbers, onions. I think it was topped with cilantro microgreens. The first bite wasn't pleasant as something tasted awfully fishy. Friend couldn't take more than a bite. Perhaps it was just a piece or two as the ceviche tasted better towards later bites. I'm not a fan of bay scallops and would have preferred larger (and fresher) scallops. The large half discs of fried corn tortilla chips were delicious.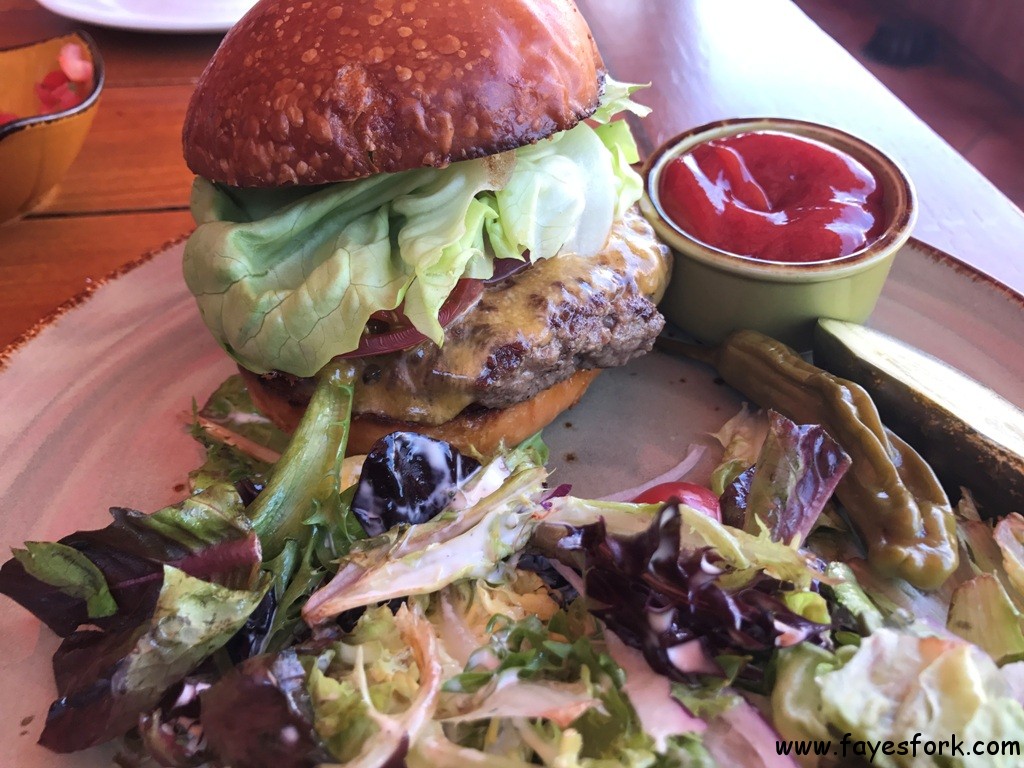 Now THIS was a proper burger. I mean, just LOOK at that glistening patty covered with melted cheddar cheese.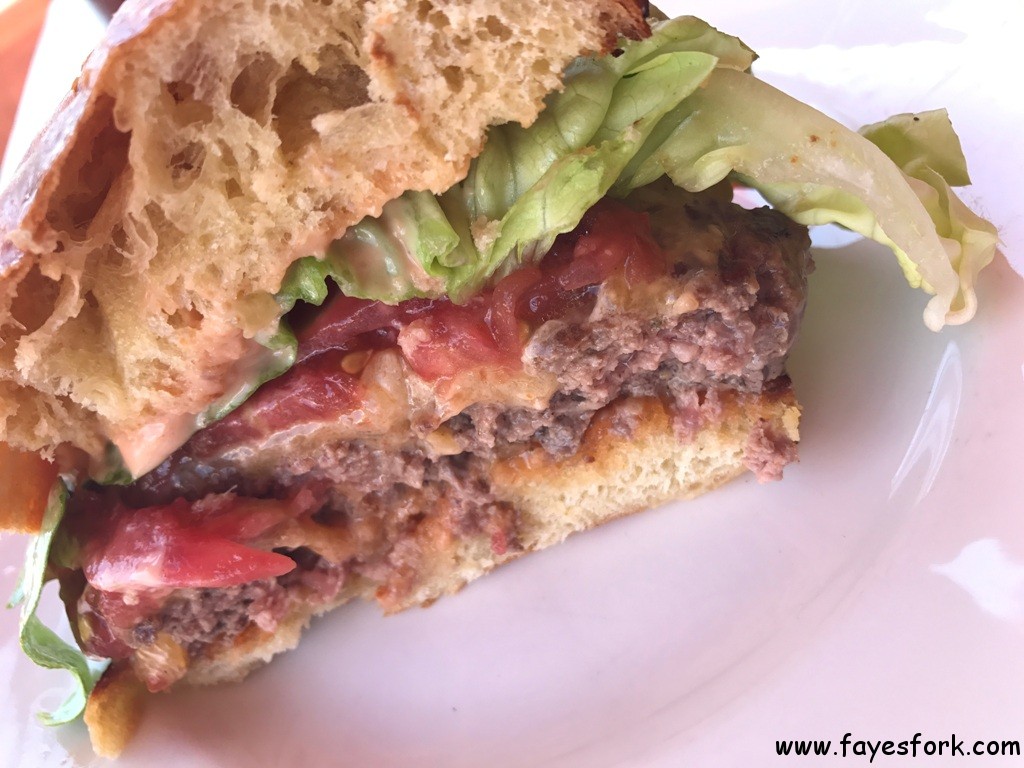 The burger was prepared medium and was decently juicy. What we enjoyed the most was the sweet brioche bun that they make in house. It was so soft, mildly sweet, and just wonderful.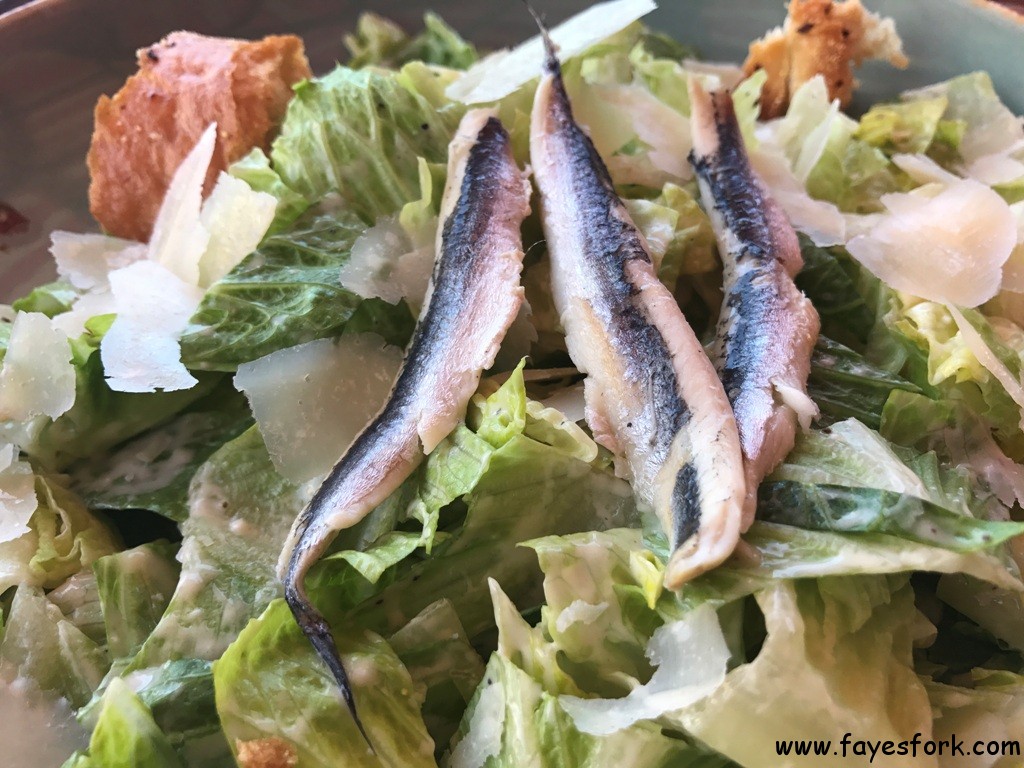 I don't know why I chuckled when I saw the caesar salad placed in front of me. The three pungent pieces of anchovy were eye catching. I truly enjoy anchovies in my caesar salad dressing but I don't particularly enjoy anchovies, naked, on top of my salad. Just me. And also friend. The salad wasn't memorable as the romaine lettuce was soggy and the dressing tasted too light.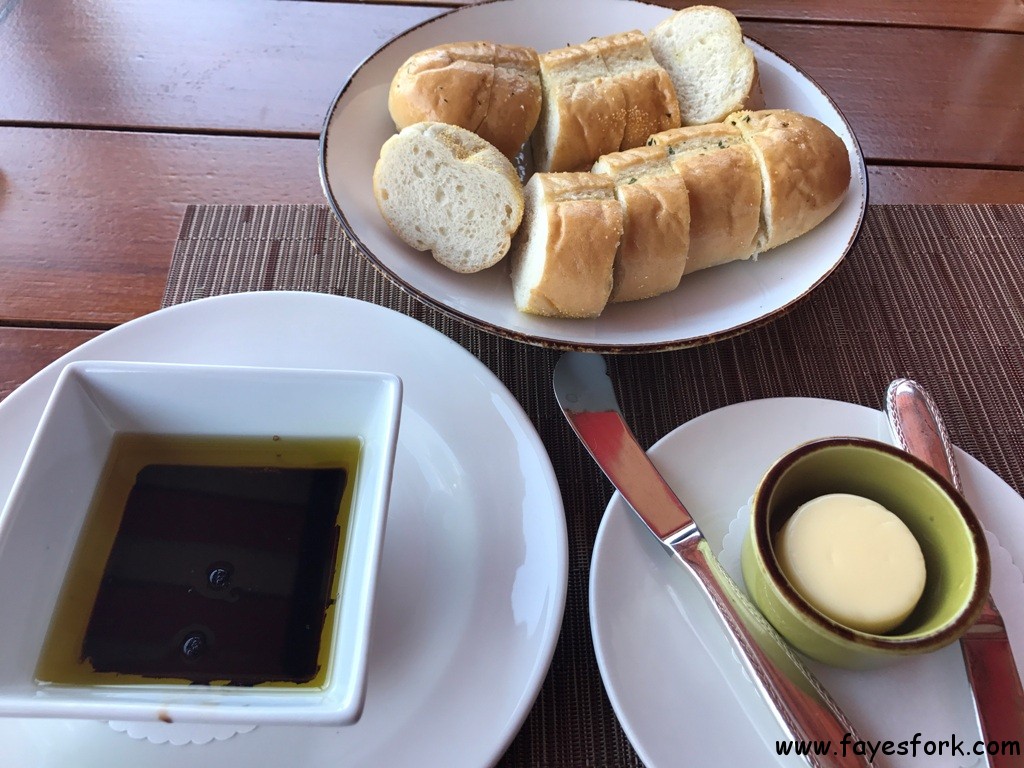 We liked the brioche bun so much that we asked our server if The Clubhouse Grill offered complimentary bread. He said yes but it will take a bit to bake. He said it was made in house but not as good as the brioche. The french loaf was brought out with a side of butter and oil/vinegar. The bread wasn't very good at all. It tasted like store bought frozen dough that was later baked in your own oven.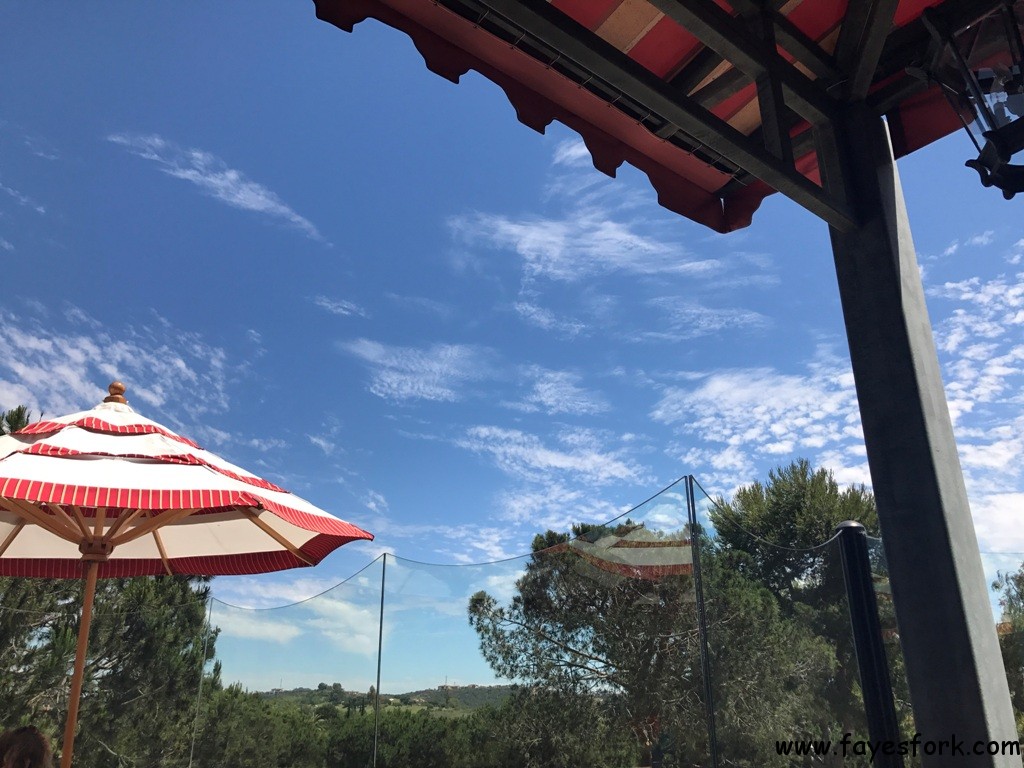 The sky was beautiful that day. It was warm outside but there was a nice breeze. The patio was relatively busy but then died down. It made for a quiet meal with little interruption which is what two friends need sometimes to catch up.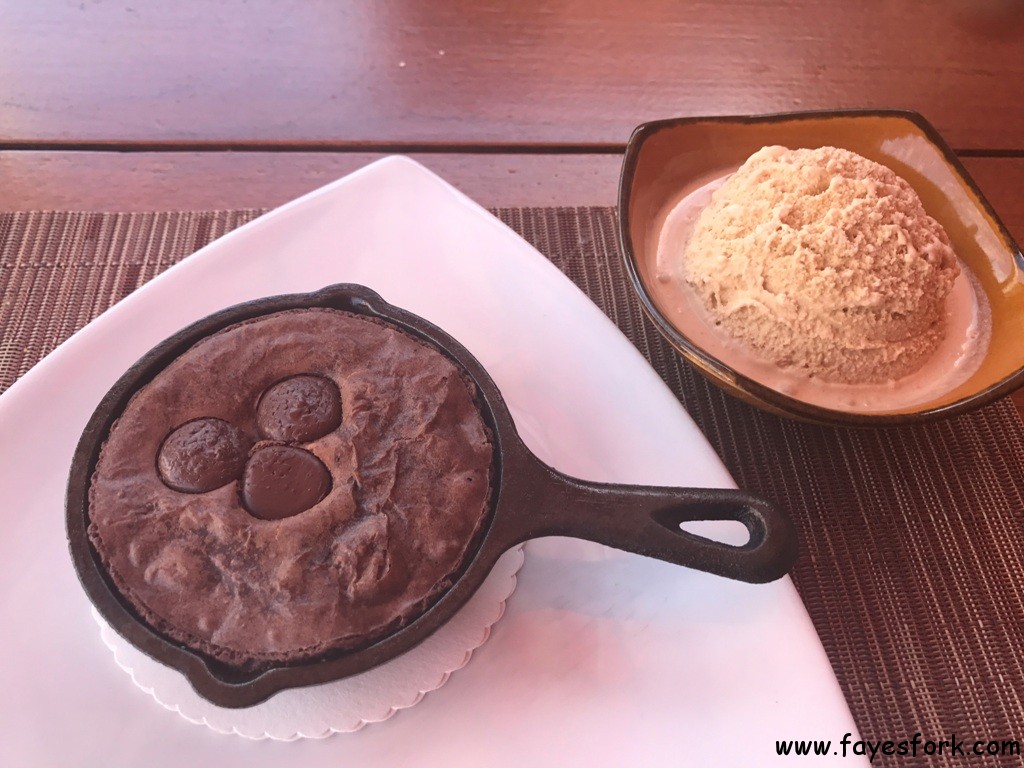 Our server said the brownie is baked fresh to order.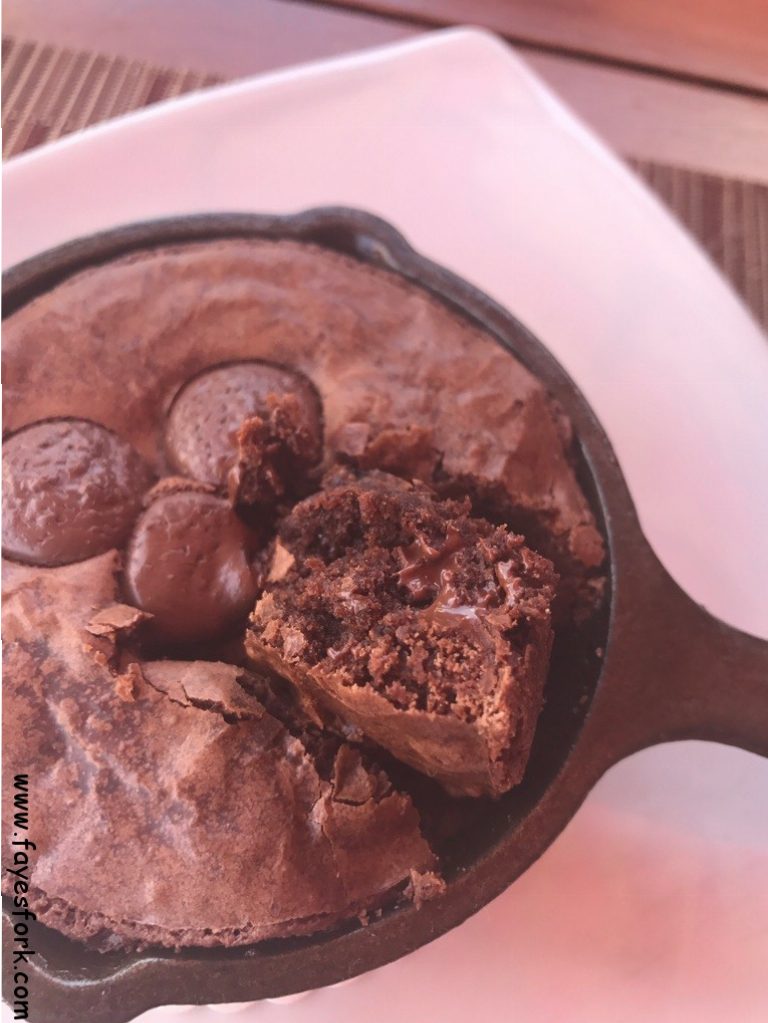 Friend and I thought the brownie was meh. The batter wasn't the sticky yummy goodness you like from a good brownie batter. It was dry.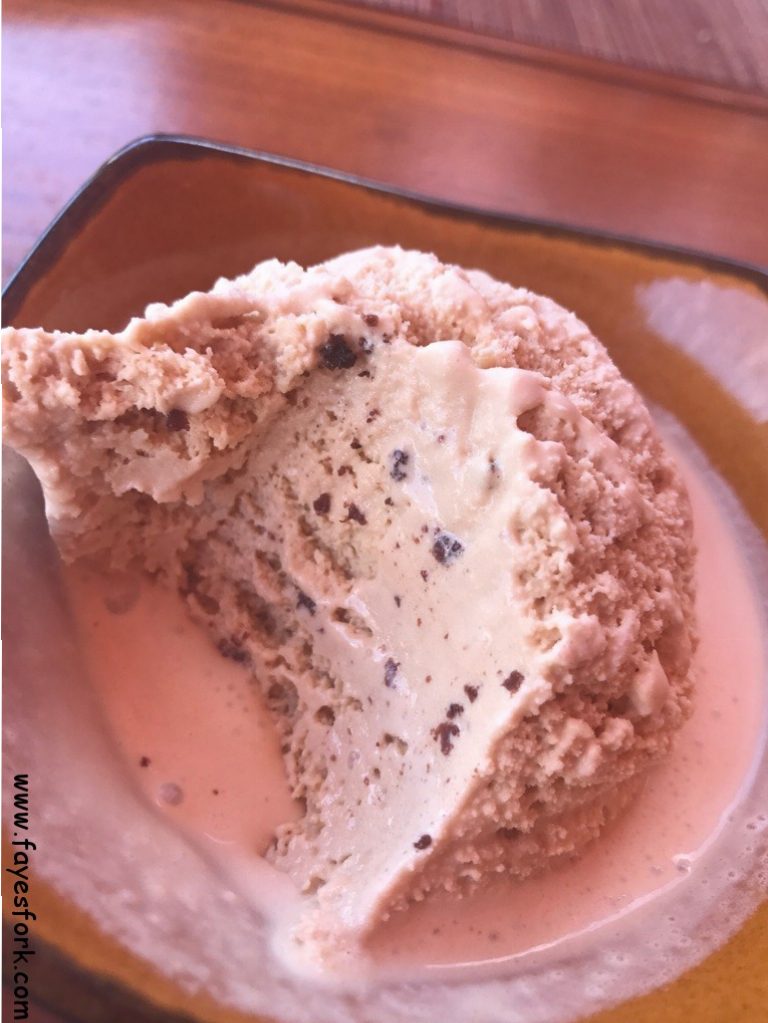 The cinnamon ice cream was nice though.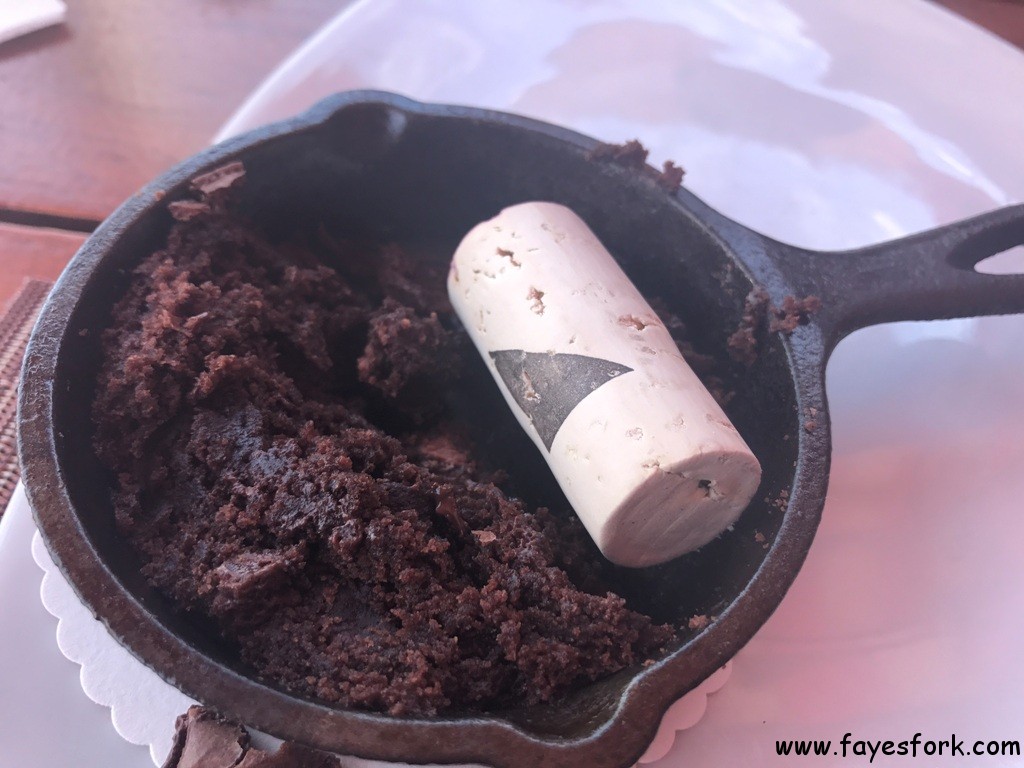 I had to showcase how tiny this brownie skillet was. I adore tiny items so thought the cork was a good way to showcase the size of this skillet.
Service was nice. He was a younger gentleman with a welcoming smile. We also appreciated his honesty about certain dishes. Would we return any time soon to The Clubhouse Grill ? Probably not. The food wasn't spectacular and the ambiance is stuffier than what I'm personally comfortable with. The Veranda at Rancho Bernardo Inn is still my go to place for hotel/golf club eats. Now I'm day dreaming about a staycation.
THE CLUBHOUSE GRILL
5300 Grand Del Mar Ct
San Diego, CA 92130
(858) 314-2700