My appetite the last few weeks has been a bit off. I haven't been as hungry so discovering new places to eat hasn't been a priority. Friends have been wanting to try out BJ's Restaurant & Brewhouse so we finally had a chance to visit (twice) in the last week. BJ's Restaurant is located in La Jolla Village. The brand new building was built from ground up. They took over the previous location that housed TGIF (does anyone else remember eating there when they were younger). I actually visited BJ's Restaurant & Brewhouse a few months ago and sat at the bar. I thought the food was mediocre and found the restaurant to be cramped. Fortunately, the last two visits were better.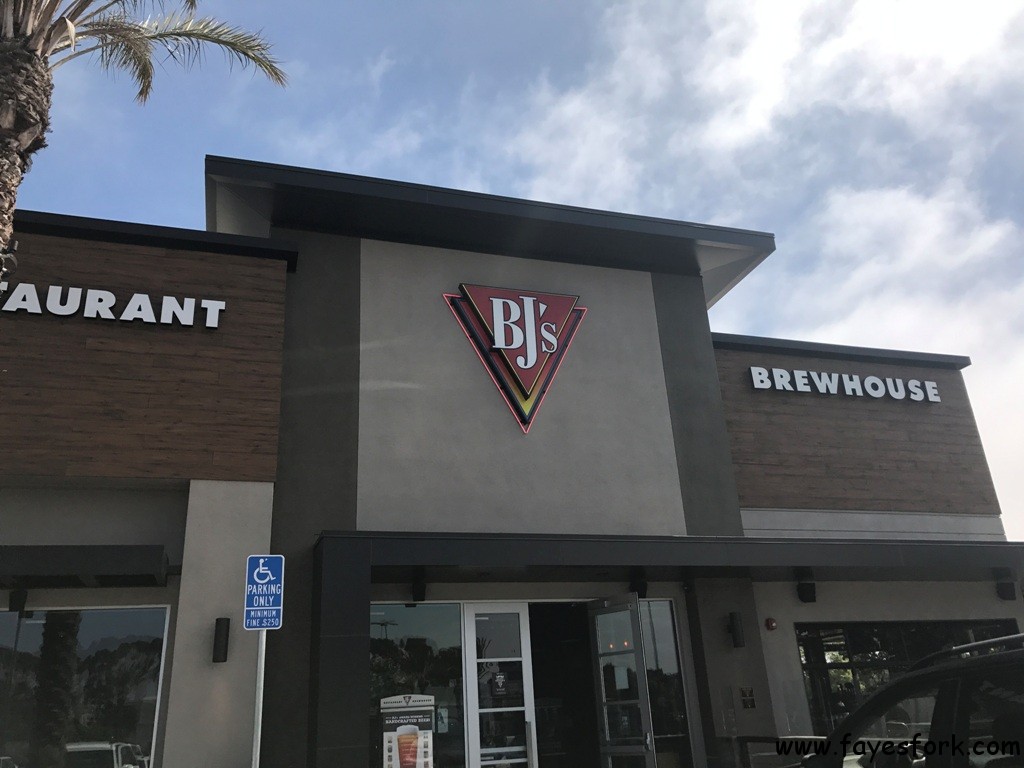 BJ's is located right next to Mendocino Farms. I actually received a buy one get one free coupon for Mendocino so will have to re visit sometime soon.
BJ's Restaurant & Brewhouse offers lunch specials Mon-Fri so I took advantage of that on our first visit. They have an unlimited salad and soup combo for only $8.95. Ashley, our server, was the funniest girl. She was incredibly helpful and kind.
Back story – this is how I'm accustomed to unlimited-Asian 'anything'. I asked Ashley if I would be dinged if I didn't eat the potatoes in my clam chowder. Friend was trying not to spit out her water while I asked this. Ashley didn't miss a beat and said 'well, no, but we just ask that you don't throw the potatoes at adults, just throw at kids'. Friend and I just found our server crush for the month. Ashley said I could try as many soups and salads I wanted. Sold.
The clam chowder was a decent size in a shallow large bowl. It had a nice amount of clams but the soup was salty and lukewarm at best. It would have tasted much better hot.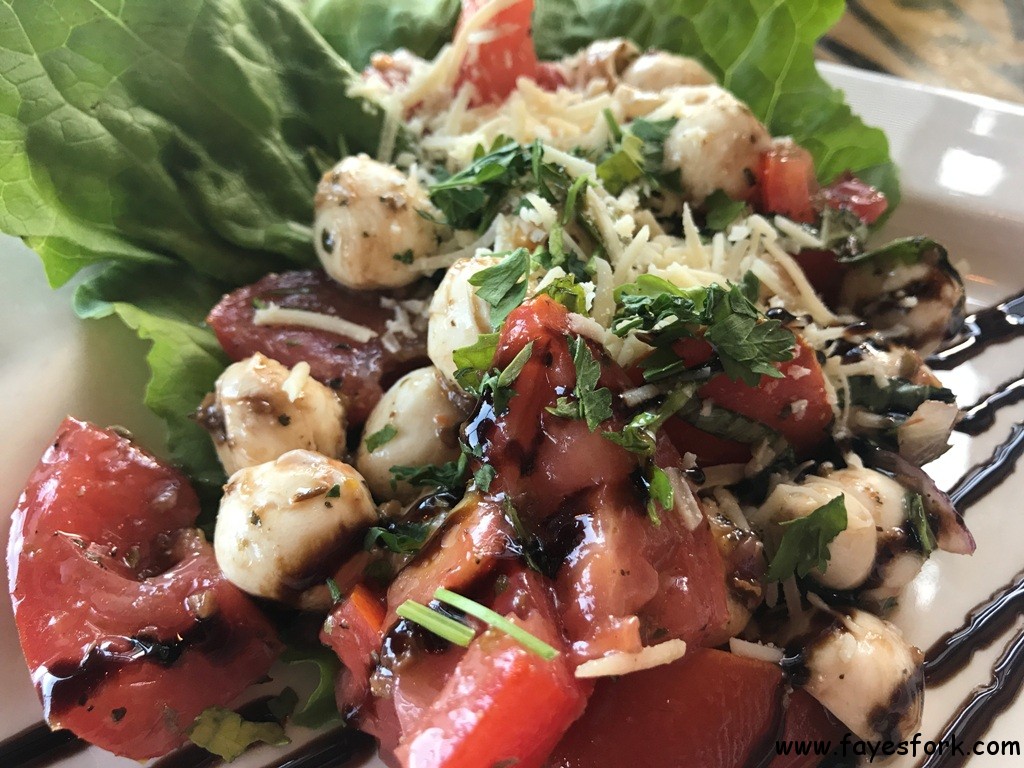 You can choose between house, Caesar, wedge or fresh mozzarella and tomato salad for the special. I opted for the mozzarella and tomato salad. It was FABULOUS. Straight up fresh and yummy. The small spheres of cheese were plentiful. The parm cheese and fresh parsley brightened this side salad to another degree. I am in love with this dish.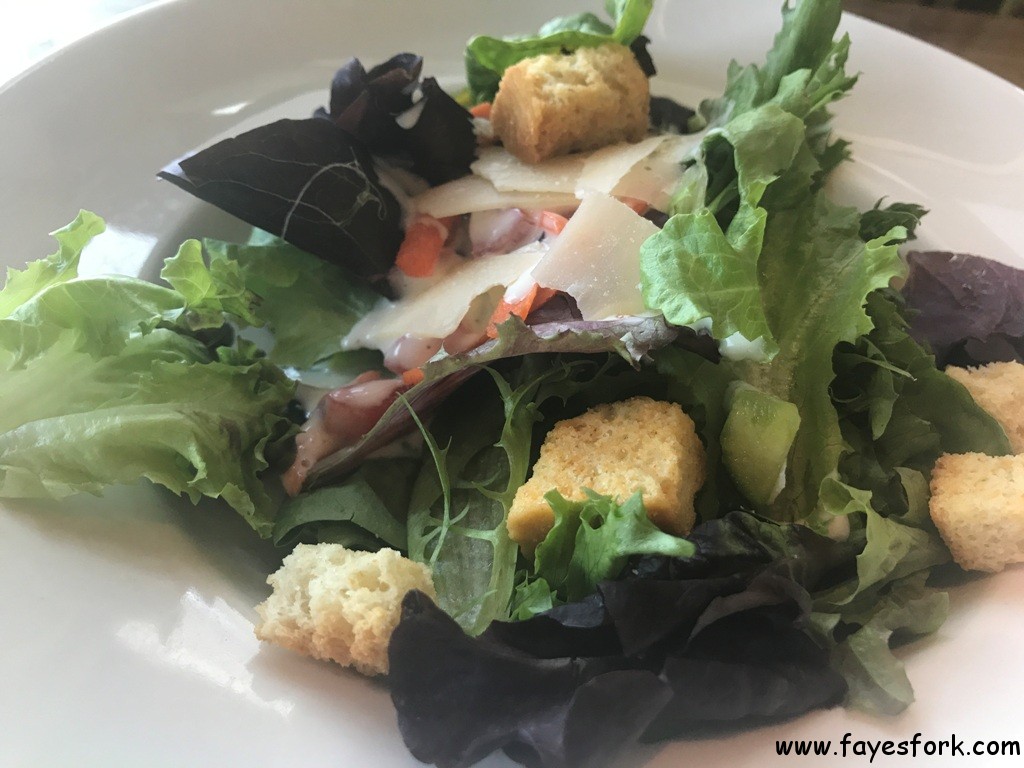 Friend order tacos but subbed out the bistro grains for a side salad. Nothing much to write about here as it was a standard salad (and didn't compare to the mozzarella and tomato salad).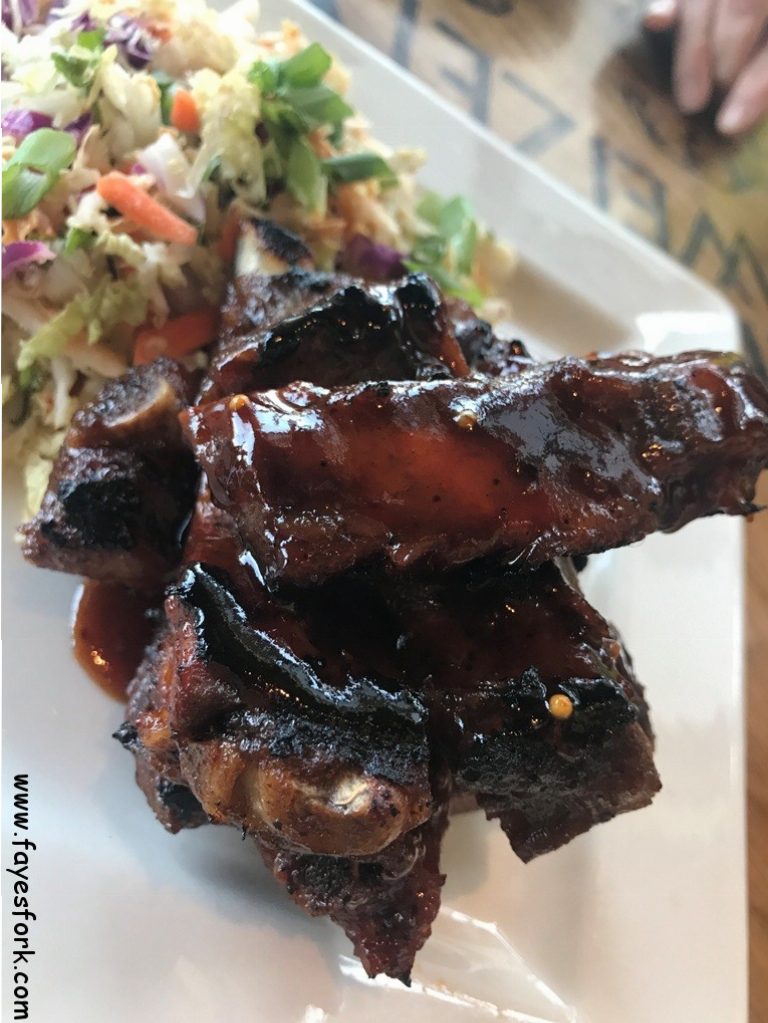 BJ's Restaurant currently has a promotion. Spend $9.95 on any entree and you get a free appetizer on the house. Friend's entree was over $9.95 so we opted for the root beer glazed ribs. The ribs weren't very meaty and tasted dry. The sauce wasn't too sweet but it also didn't taste much of root beer.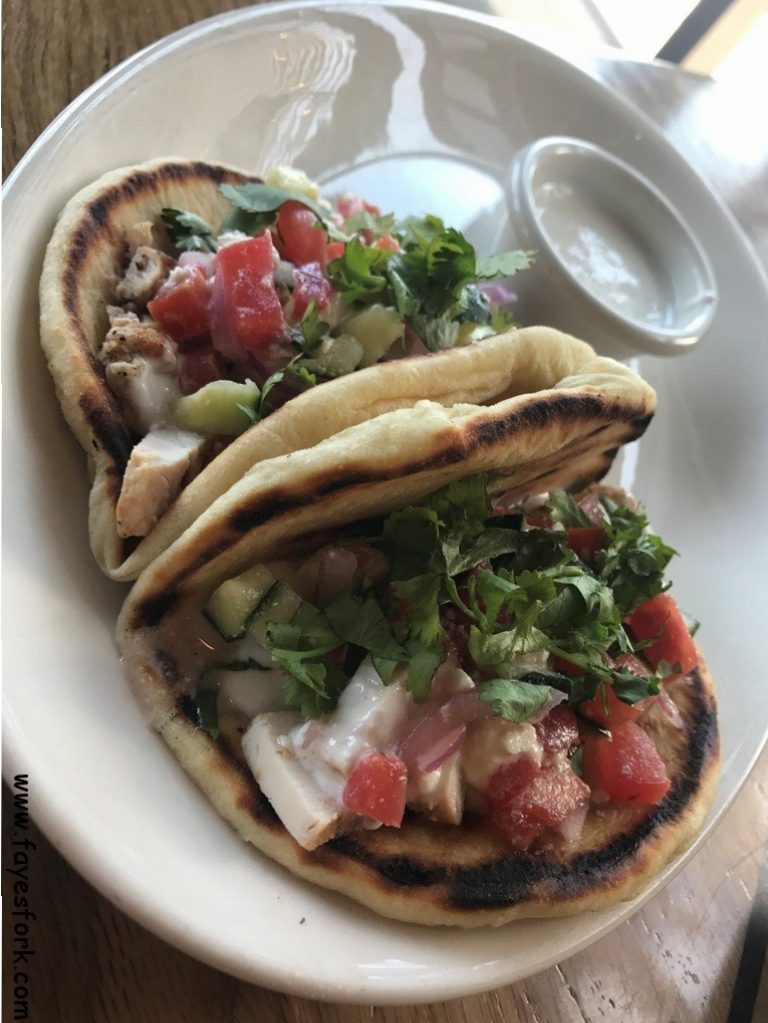 Friend has been here before with co workers and said these tacos are pretty good. I was surprised when the tacos came out served on toasted pita bread. I immensely enjoyed the flavors of these Mediterranean inspired tacos. The bite size pieces of chicken were tender. The red wine vinaigrette tasted tart and refreshing. The feta cheese paired well well the tomatoes and red onions. The pita bread was perfectly toasted and was warm & soft. The chicken was a bit scarce though.
Of course I had to try the Chili here at BJ's restaurant. We were surprised it came topped with cheese, green onions, and sour cream.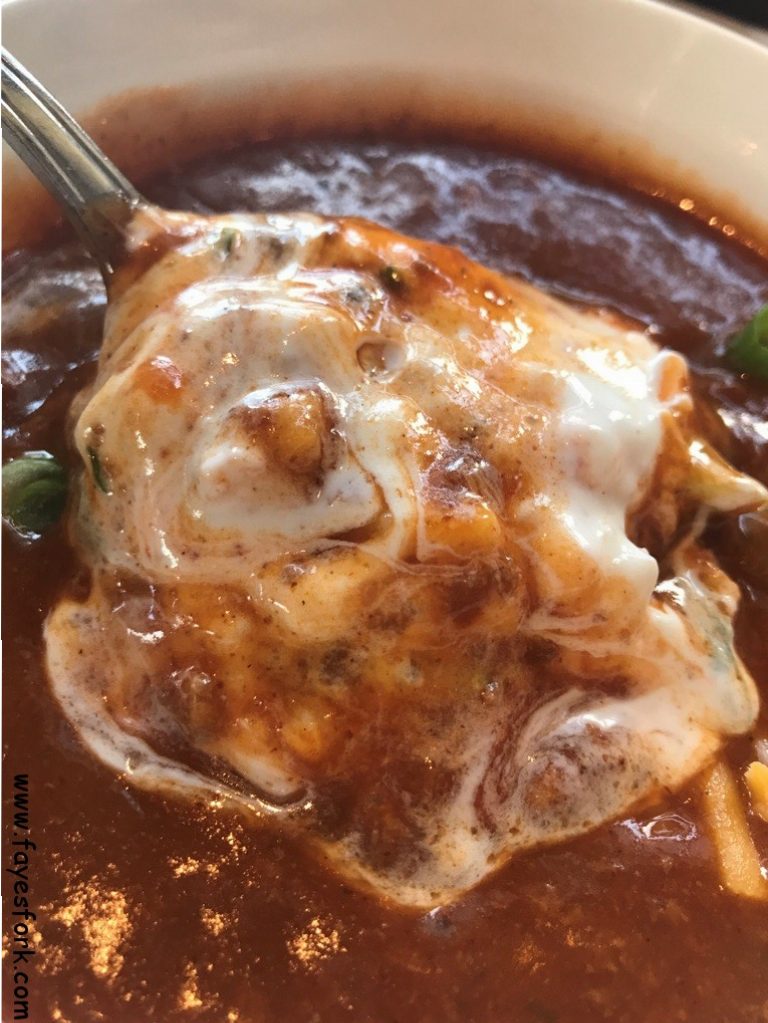 The chili has beans. Unfortunately, the chili had a strange after taste that we weren't fond of. Was it too smokey perhaps? It was hard to pinpoint but we couldn't manage but a bite or two. The soup was also lukewarm.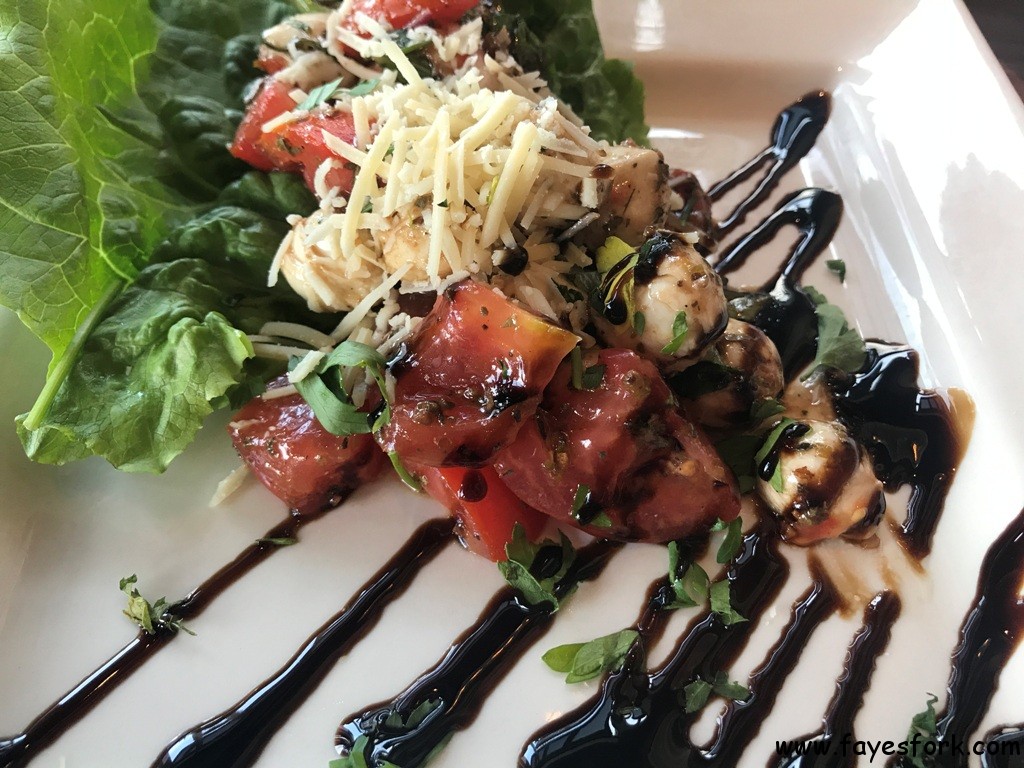 Yes. I ordered another round of the mozzarella and tomato salad. Don't forget you can choose from any of the other salads too.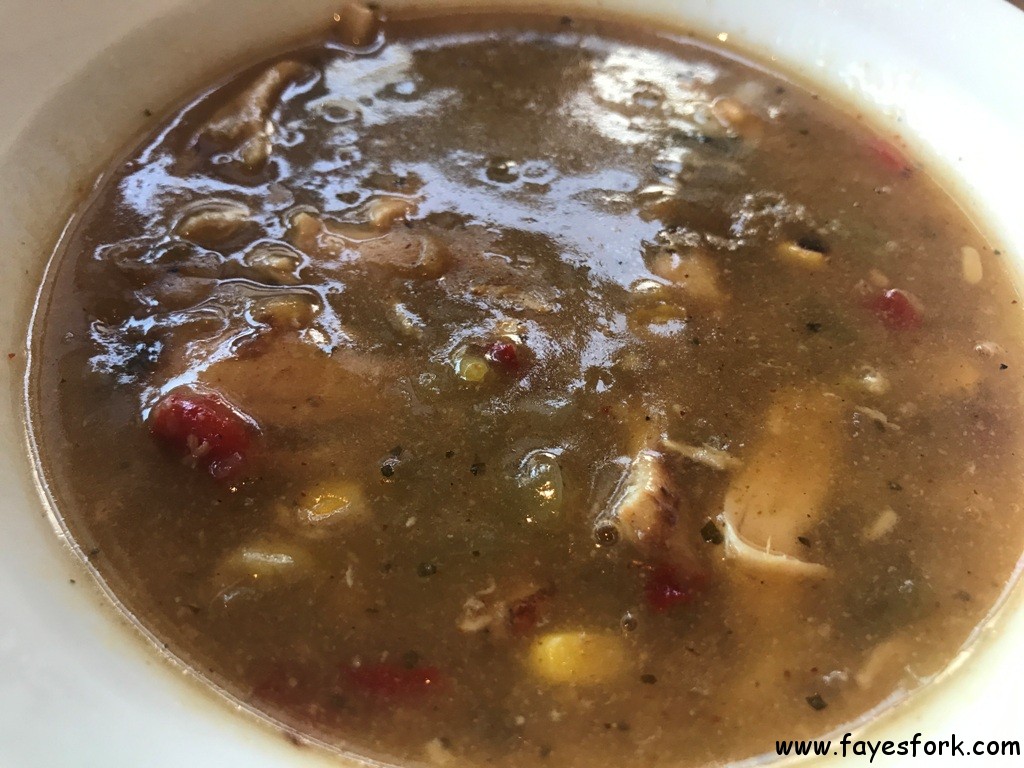 The soup had corn, avocado (!), peppers, celery. It was a thicker soup (I asked for no tortilla though).
This chicken soup was very salty and again lukewarm. We were seeing a trend in the soup temperature now.
This was probably our favorite soup of the day but it wasn't hot enough. The chunks of broccoli were tender and you could taste the cheddar in this soup. It would have tasted 100 times better if served hot as the creaminess of this soup tasted off when served only warm.
I am a dummy for free things so I was happy when the following arrived at our table (for free!). All for downloading the restaurant's mobile app –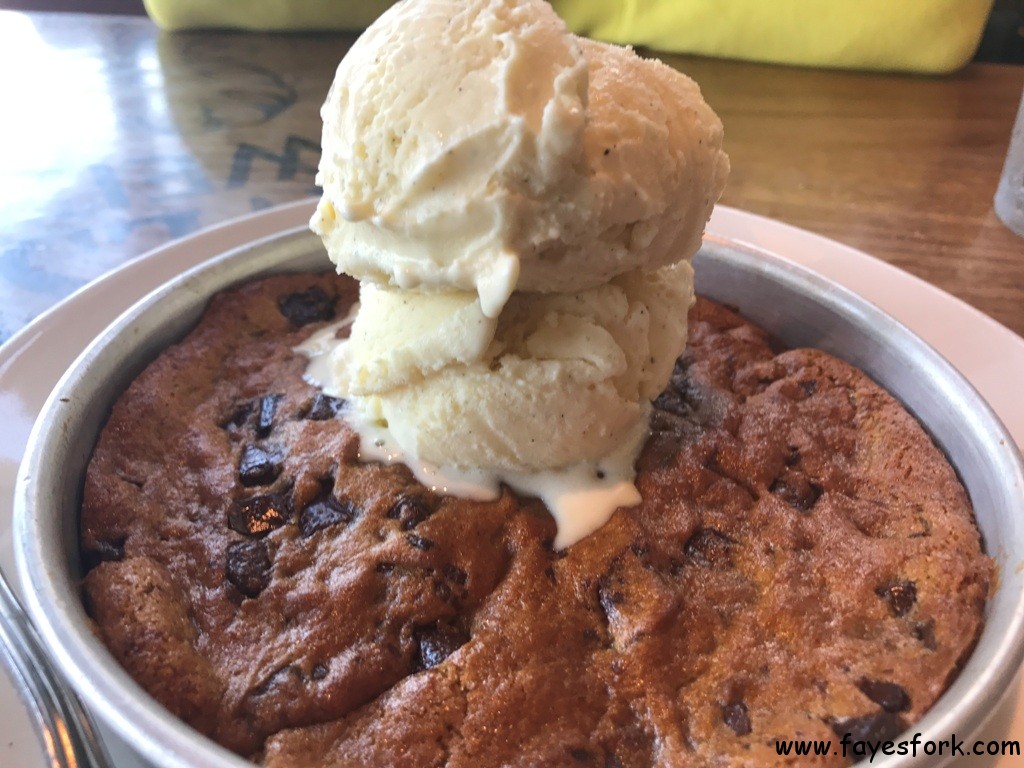 I'm pretty sure this is the full sized portion and not the mini portion but hey, who's complaining.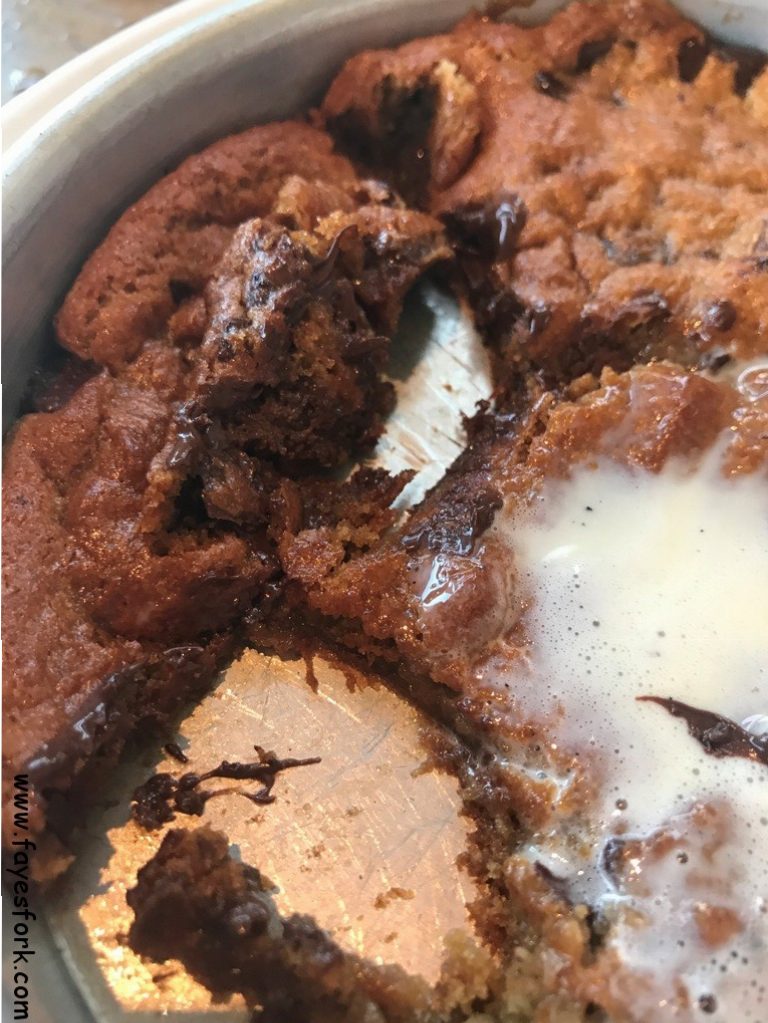 The chocolate chip cookie was baked fresh to order. It was thin, crispy, yet creamy with the molten chocolate chips. I liked the thinner cookie. My last experience with this type of pizookie was at Nicky Rotten's in Coronado. That version was good but the one here at BJ's is pretty darn good. I had requested the ice cream on the side but friend liked it on the hot cookie.
Service was amazing. Ashley usually works evenings but we were lucky to have her work the lunch shift that day. It was a fun long lunch that never felt rushed. I knew I would be back again.
Like, two days later.
I had errands to run in the area so Cdj met me for lunch after church.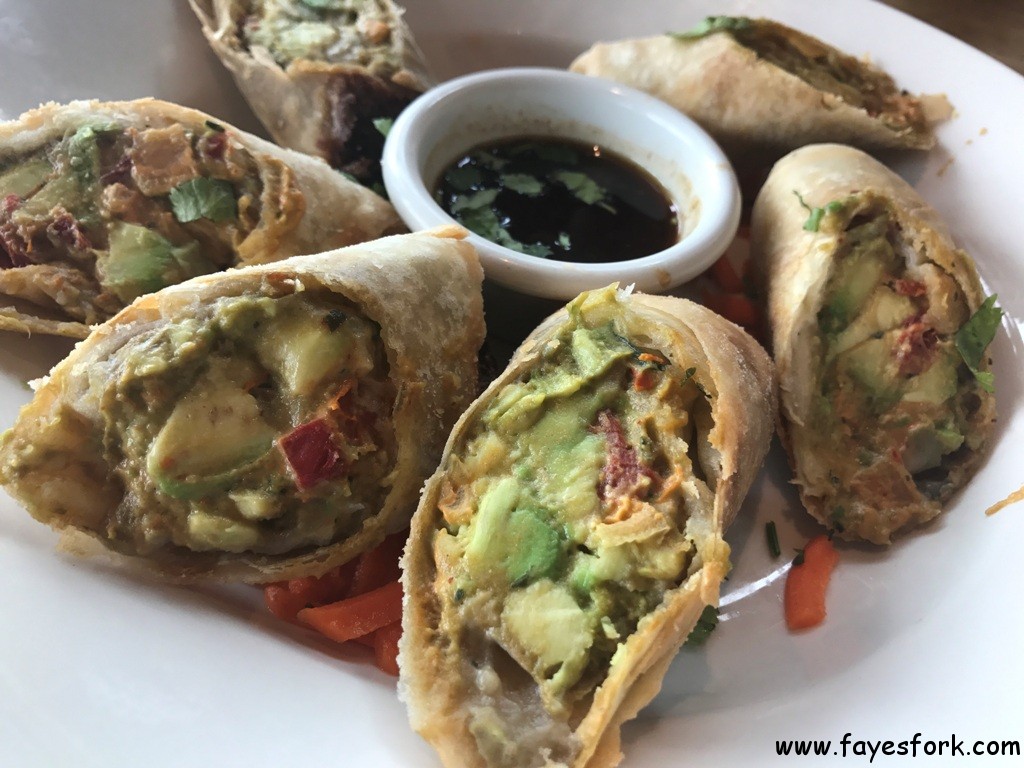 And of course his entree was over $9.95 so we got a free appetizer. I was hoping the avocado egg rolls would rival the version I adore at Cheesecake Factory. It didn't. I was worried the cream cheese would be off putting but you could only taste a bit of it. The egg roll wrapper was nicely crispy. There was a decent amount of avocado but that was about it.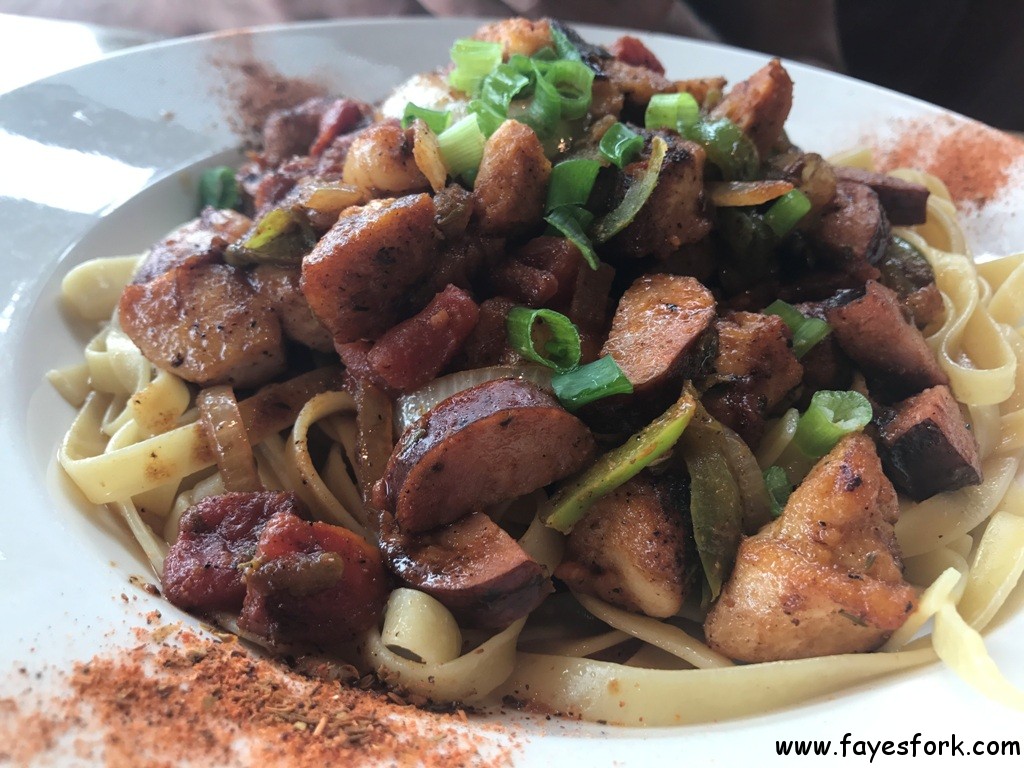 Cdj requested pasta instead of rice pilaf for his jambalaya. It was hearty dish.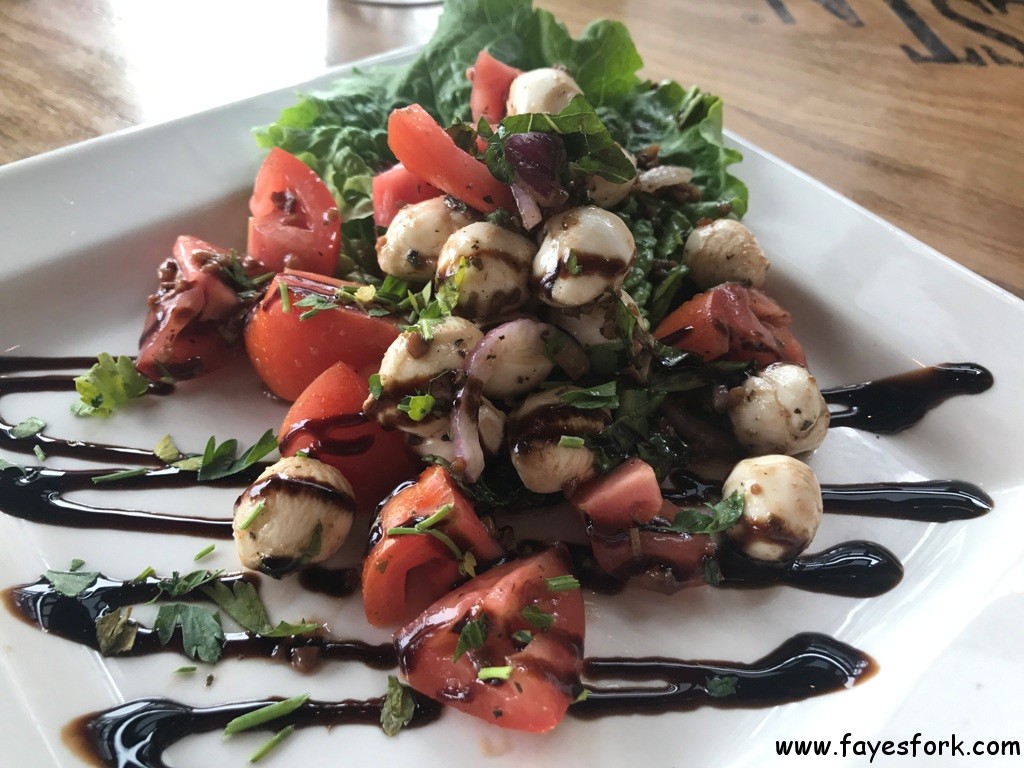 I ordered the same pita tacos as friend from the last visit. BUT, our nice server let me sub out the bistro grains for, yes, you guessed it – the mozzarella and tomato salad. This side salad was simply amazing – sweet from the thick balsamic glaze, salty from the parm cheese, toothsome from the beefy tomatoes and soft cheese.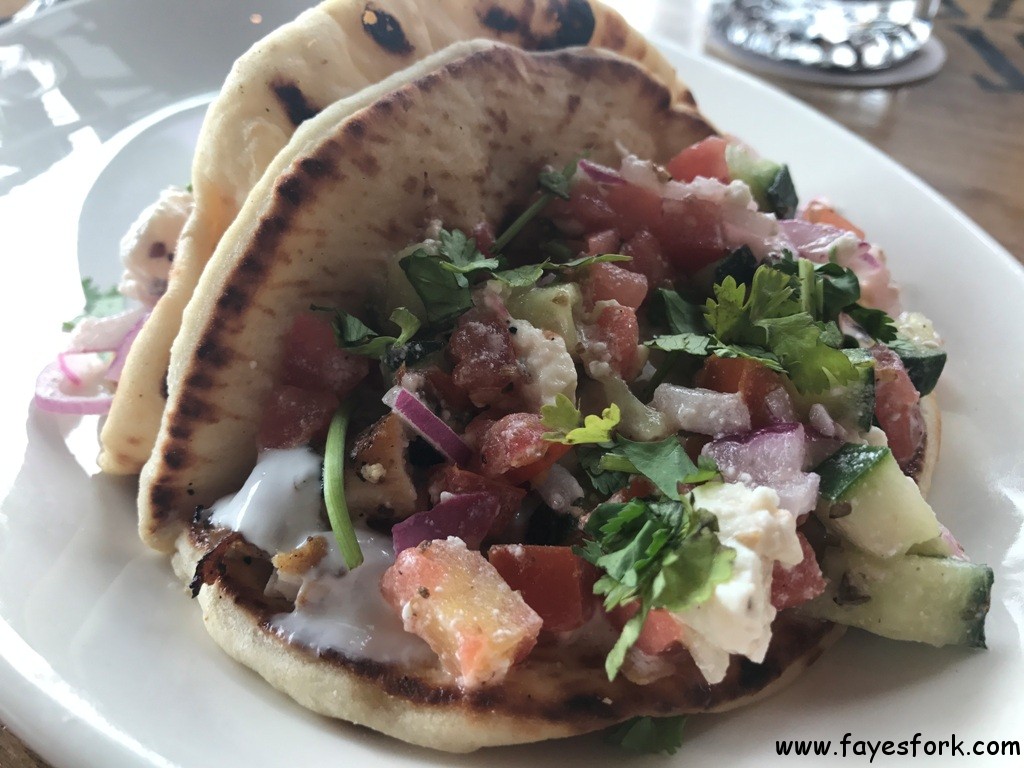 You get two pita tacos with the order so it's not a big portion. I wish they could add more chicken but it's satisfactory for the $10.75 price tag.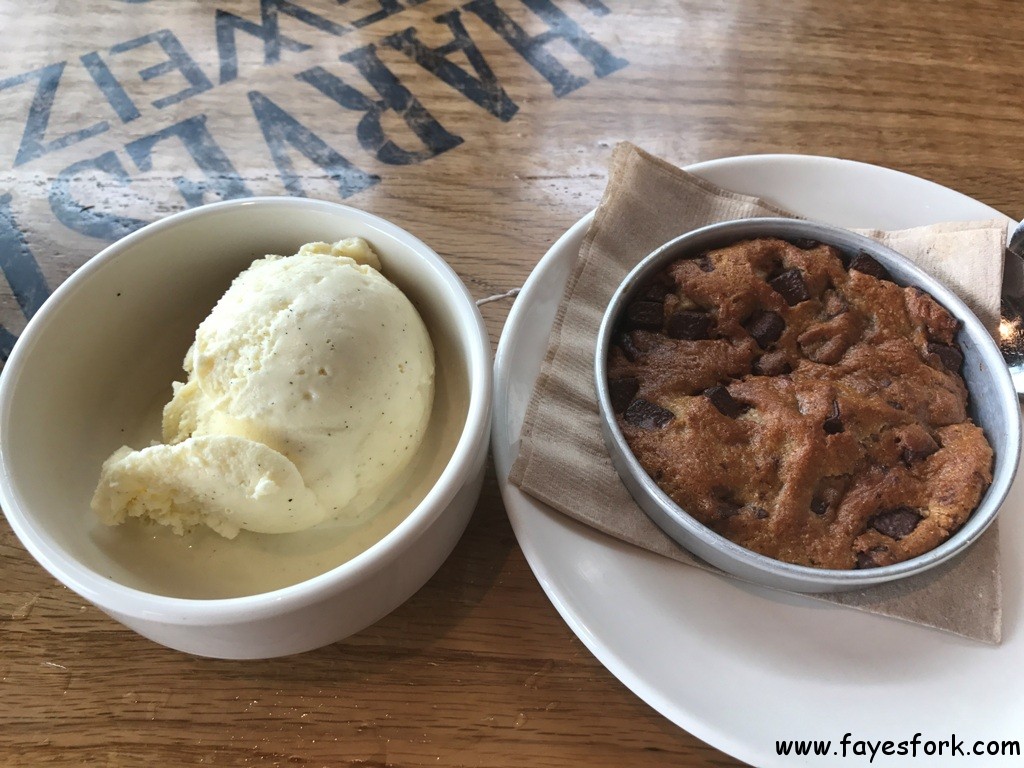 I downloaded the mobile app on Cdj's phone in order to get the free pizookie. That's what you do for your friends 🙂 This was definitely the mini pizookie.
The chocolate chip cookie came out hot.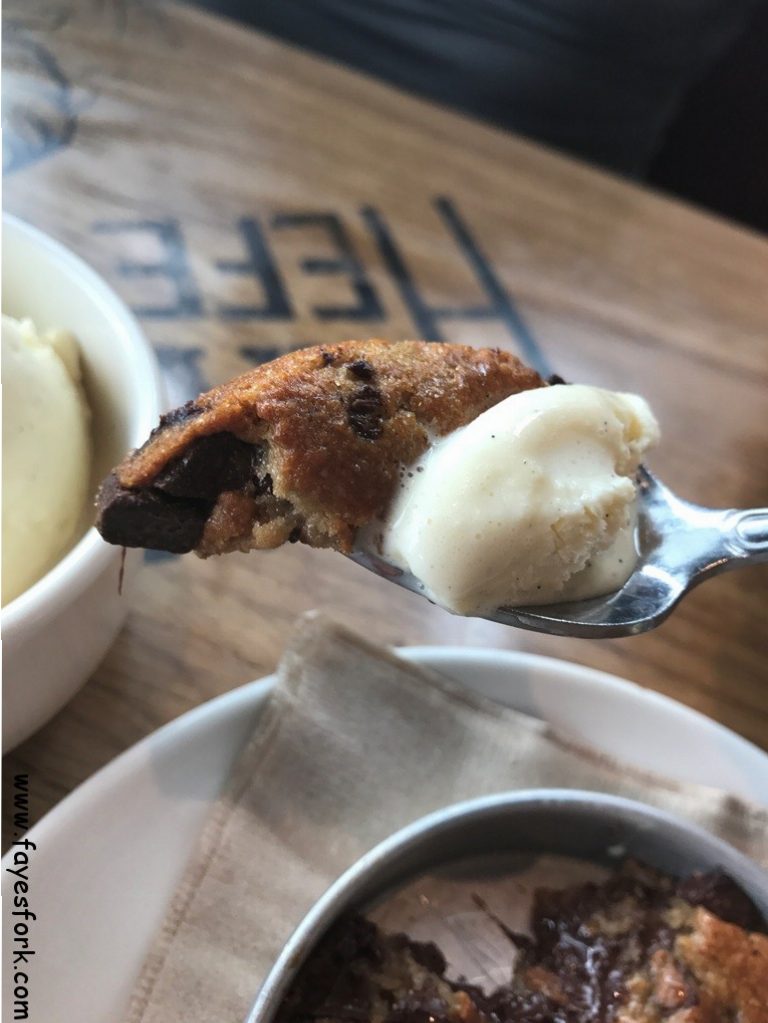 I don't often eat sweets but can't understand how you can end a meal here at BJ's Restaurant & Brewhouse without ordering a Pizookie. Funny as cousin used to rave about this dessert and sis & I would make fun of her for it because we thought the dessert was ridiculous. There are a variety of pizookies you can order.
Service was fine on the second visit. Don't forget to have your receipt added to your app in order to earn points. I forgot both visits so had to input the information myself (good thing mom always taught me to save receipts). The menu here at BJ's Restaurant is huge so I would come back to try out more items (or lunch specials). I hope they continue to offer the mozzarella and tomato salad as it appears to be new. Overall, aside from lukewarm soups, the visits here have been good.
BJ'S RESTAURANT & BREWHOUSE
8785 Villa La Jolla Dr
San Diego, CA 92037
(858) 257-3640