Friends and I all met for a quick lunch one afternoon. I was stressed from work and needed a break. Tasty Pot recently opened in Mira Mesa. I've heard of their Convoy location but never wanted to try them out. I'm over the hot pot craze (for the time being). But we figured we give Tasty Pot a try since they have discounted lunch prices.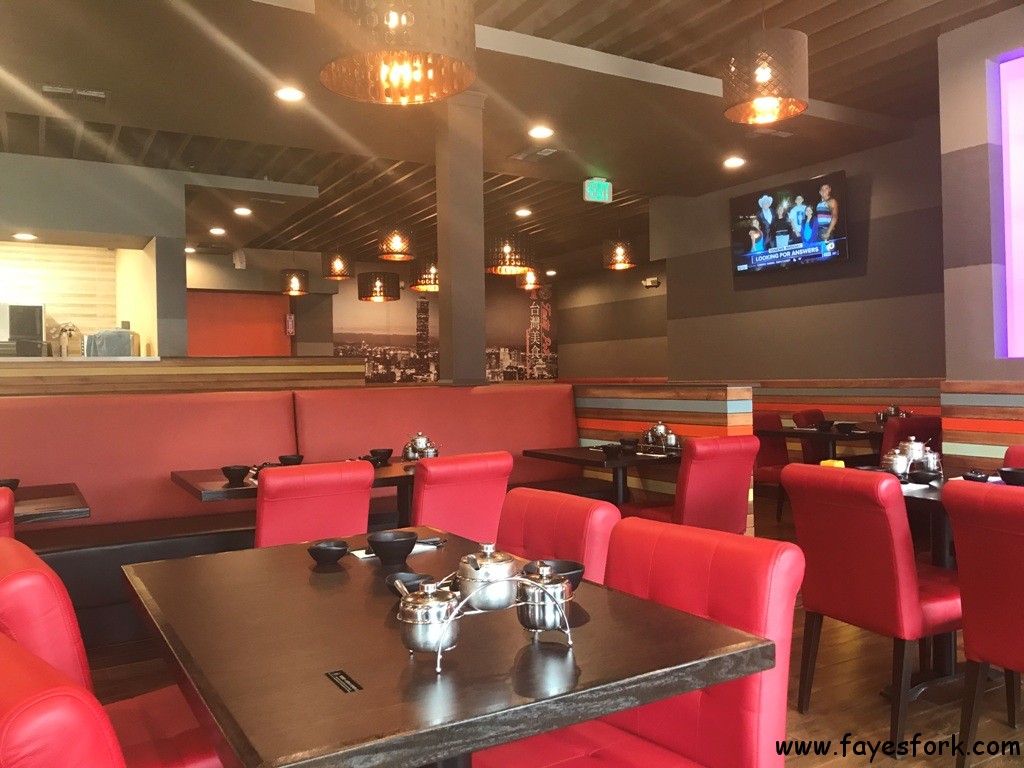 I was running late so I didn't take a picture of the front. It's where Tofu Ka used to be located. We were the first customers that day. The room is well lit and nicely decorated.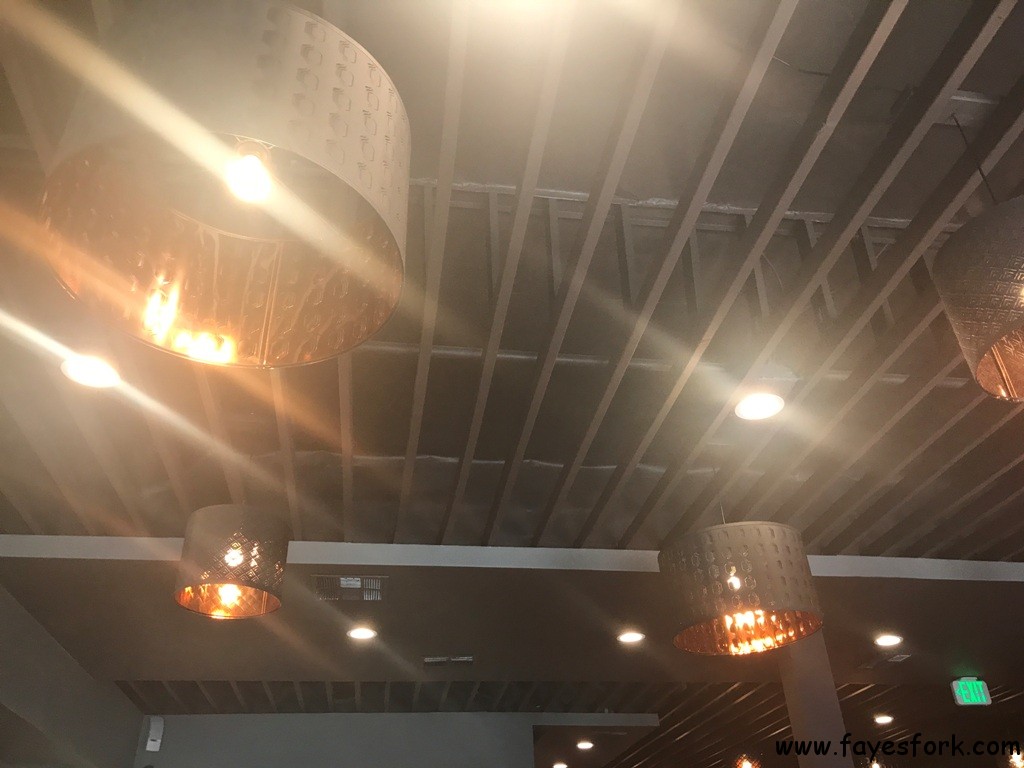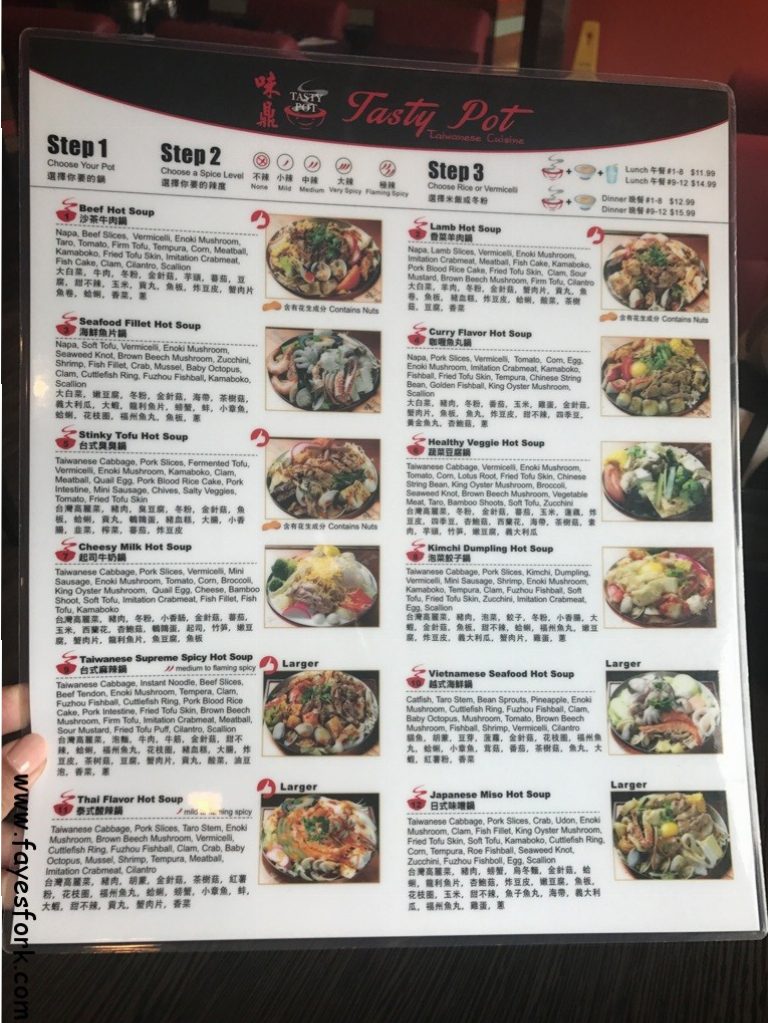 Friends thought you could build your own hot pot. Not sure why they thought that. The hot pot options are pre set here at Tasty Pot. You can add more items for an additional cost.
Note :
Hot Pots #1-8 = $11.99
Hot Pots#9-12 = $14.99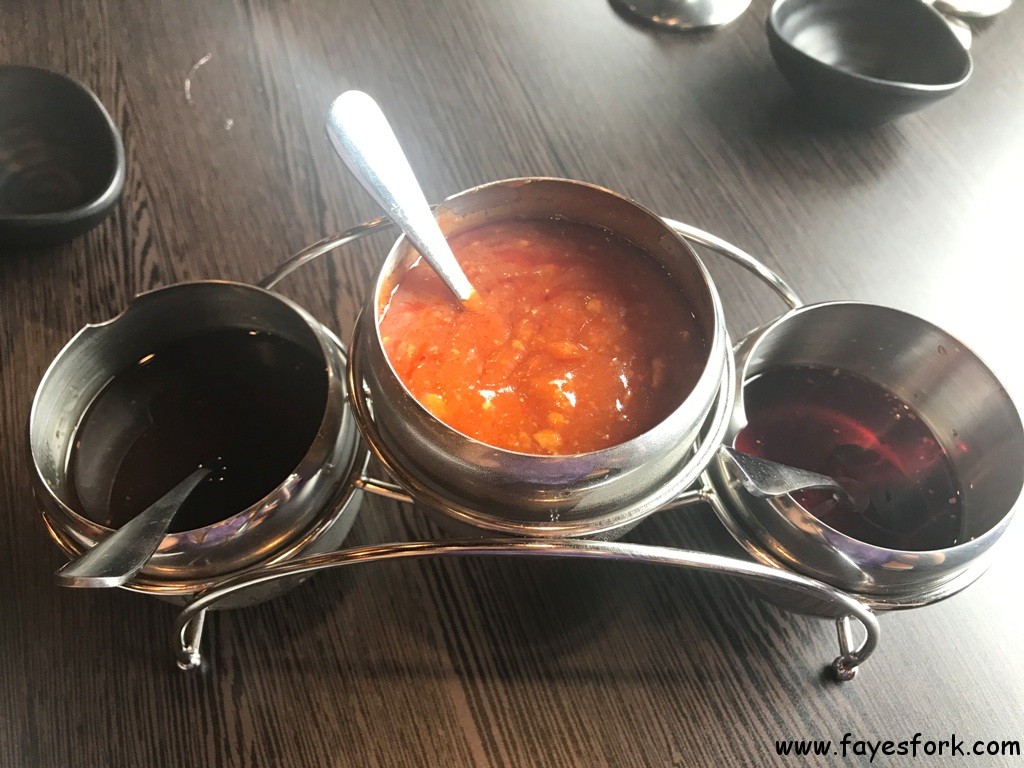 There are three sauces already on the table: garlic soy, fermented chili, and chili oil. The sweet garlic soy was my absolute favorite. It reminded me of dumpling sauce or another garlic dipping sauce is prevalent in Taiwanese cuisine.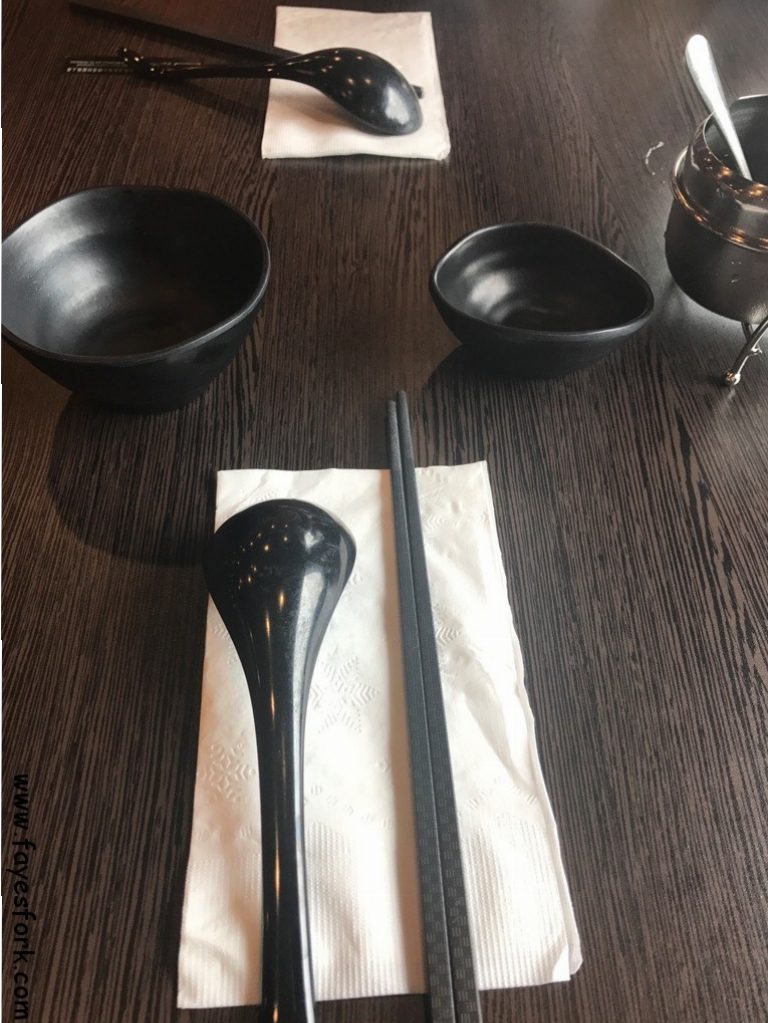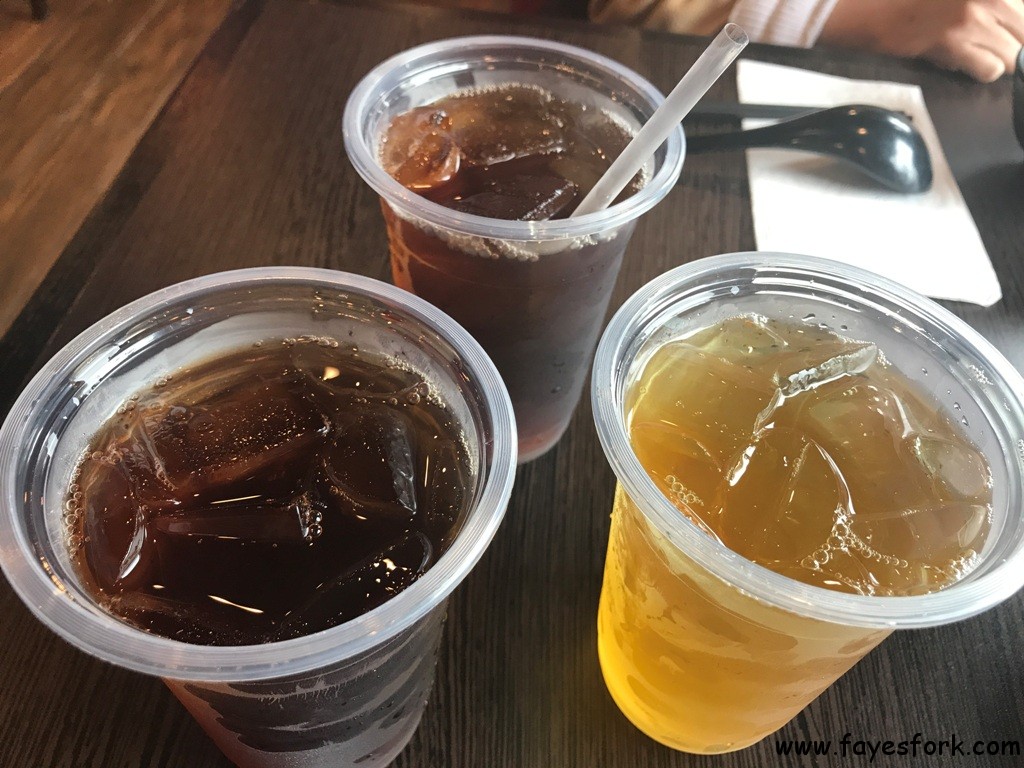 You get either an iced black or green tea for lunch. Ashley, our server, was the sweetest server. She brought the teas out but friends didn't think they were sweet enough. So Ashley took them back and added more simply syrup.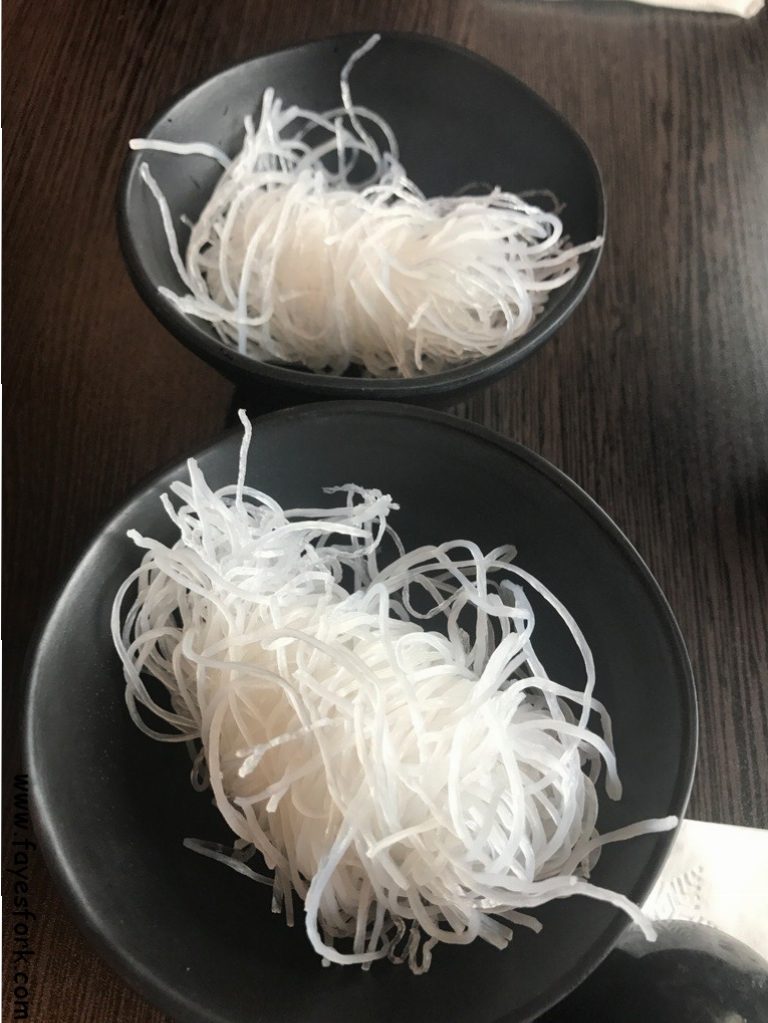 Your hot pot comes with a side of vermicelli.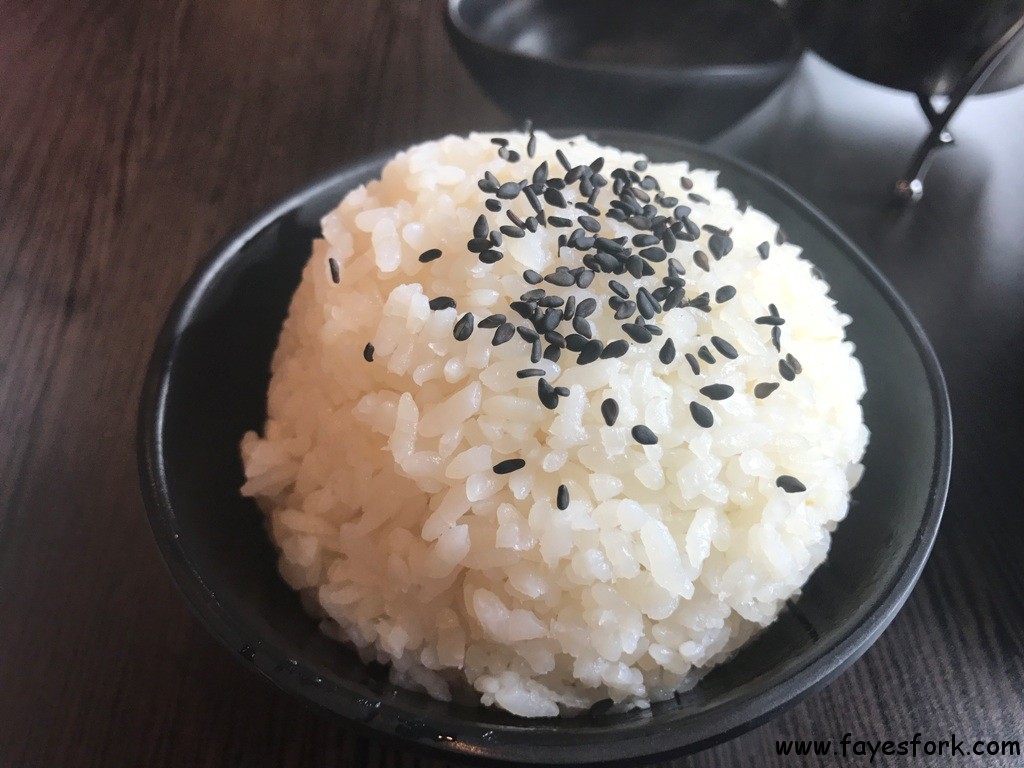 Or a side of steamed rice (topped with black sesame seeds).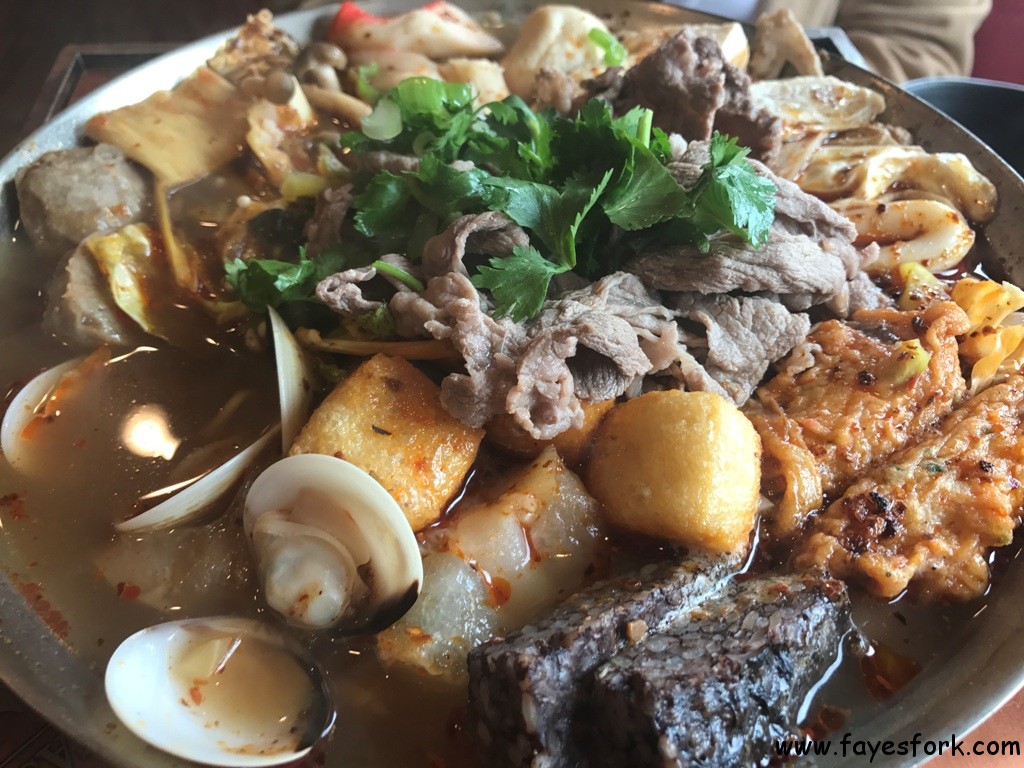 I would have ordered this but I'm not a fan of pork blood and intestines. Friend obviously is. This hot pot comes with clams, cabbage, beef slices, ramen noodles, enoki, fried tofu skin, tofu, sour mustard, cuttlefish, fried tofu puff, beef tendon.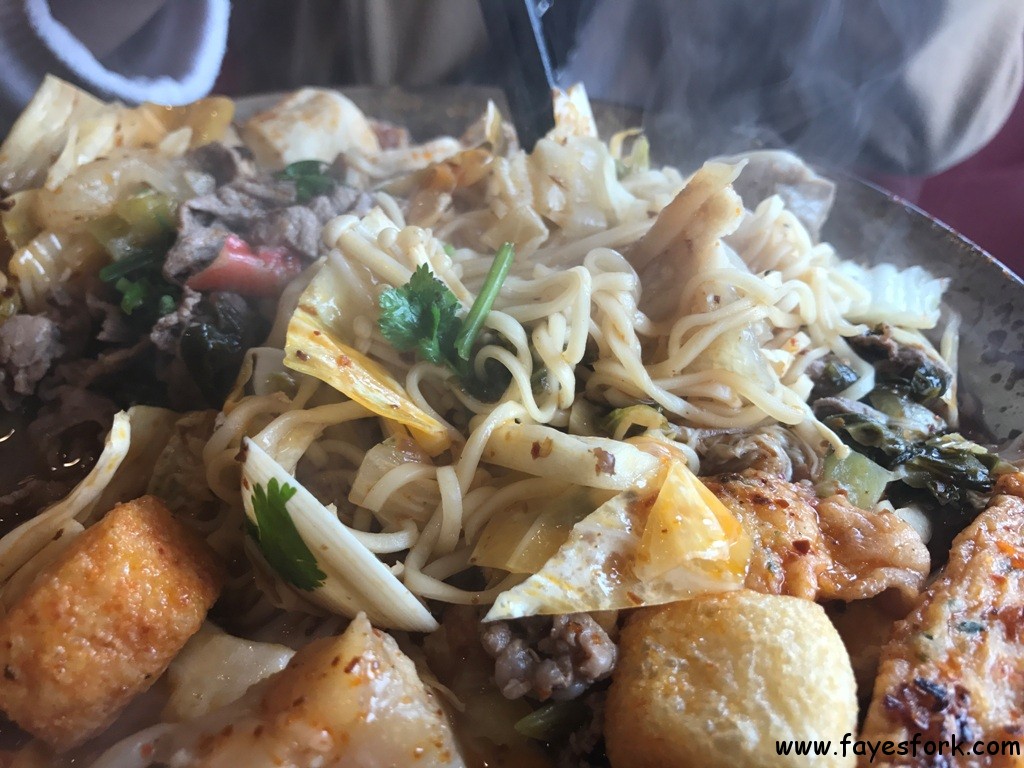 This was a larger sized hot pot priced at the higher $14.99 price tag. It was filled to the brim with quite a bit of everything. The ramen noodles still needed time to cook which was great as it absorbed all that delicious broth. Friend requested medium spicy but said it tasted more ridiculous spicy (which she managed).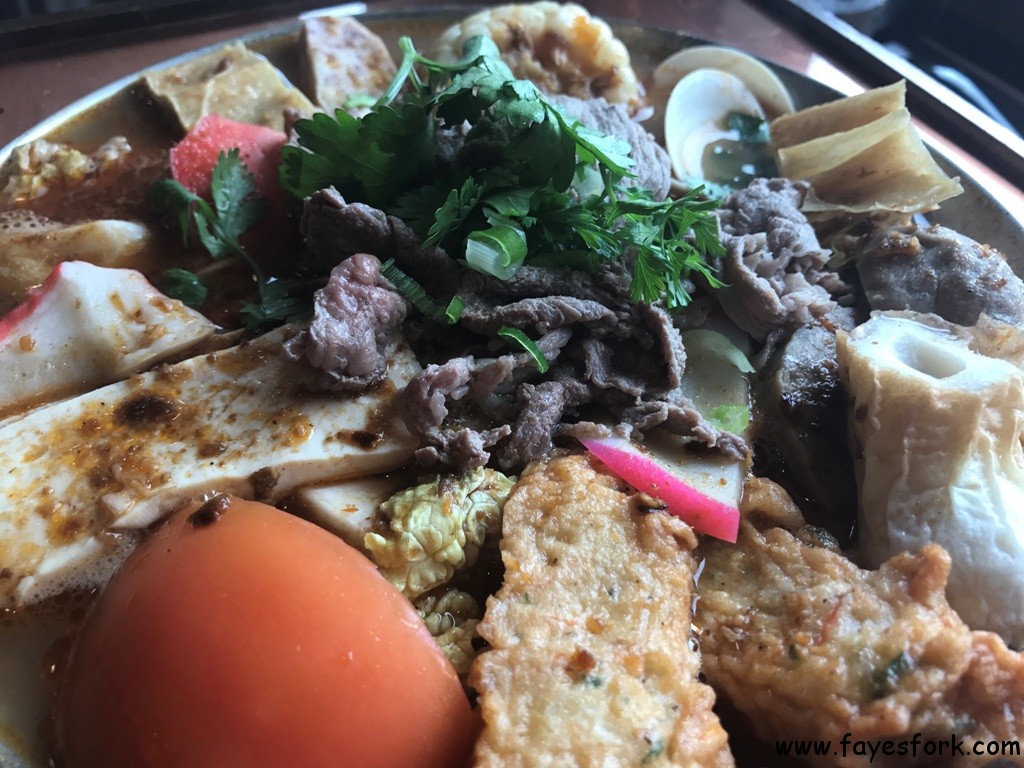 This hot pot was well presented with sliced beef, cabbage, enoki, corn, taro, tofu, tempera, fish cake, fried tofu skin, tomato, clam, cilantro. The sliced beef was deliciously tender. We wished there were more. The broth was light and enjoyable. She actually said QT Pot down the street was just as good.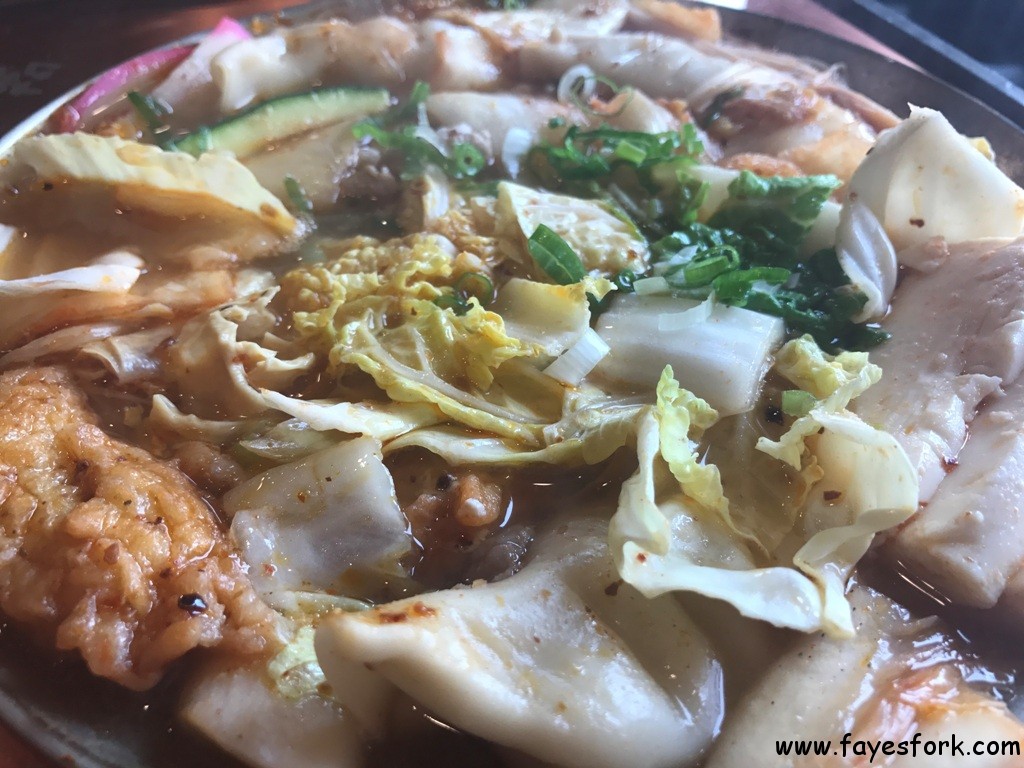 I ordered the kimchi dumpling hot pot which had about five large dumplings. The hot pot also had cabbage, kimchi, pork slices, one mini sausage, one shrimp, enoki, tofu, fried tofu skin, clams, zucchini, imitation crab. We all realized that the sliced meats are quite good here at Tasty Pot as the sliced pork in this hot pot was great. The dumplings had a thick wrapper and a pork filling that tasted fine. But there was just A LOT of cabbage. In all three hot pots.
I had asked for the spiciest level for the hot pot but mine tasted more medium. So Ashley brought the above chili oil to add to the hot pot.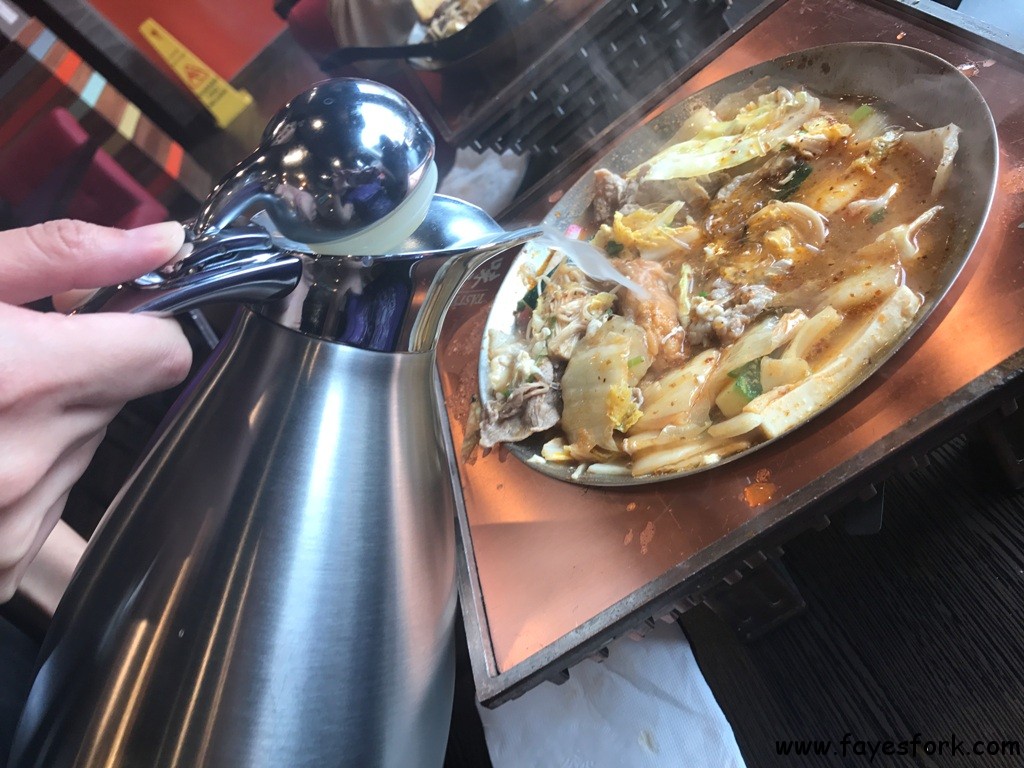 There's also free broth refills.
That's where the photos stop because I had to take a 45 min work call. I felt horrible as friends waited and finished their hot pots without me.
Overall, we enjoyed Tasty Pot in Mira Mesa. I'm a bit burnt out over Little Sheep Mongolian (which just opened in same neighborhood). We liked how Little Sheep is still affordable at $11.95 (for lunch) but Tasty Broth was a nice change of pace to QT Pot and Little Sheep in this area. Friends wondered why they don't offer a build your own hot pot option though. Service was great with Ashley always tending to our hot pots and drinks. I'd recommend Tasty Pot if you're in the area.
TASTY POT
9379 Mira Mesa Blvd
San Diego, CA 92126
(858) 492-7939