Pokewan recently opened in the Del Mar Highlands shopping center. The poke shop is located on the bottom level next to the yogurt store and Pappalecco (which does anyone else read/enunciate as Poppa Let Go). Pokewan has received decent reviews. The owners also have a stake in Love Boat Sushi. I visited one late afternoon and was lucky that the restaurant wasn't too busy.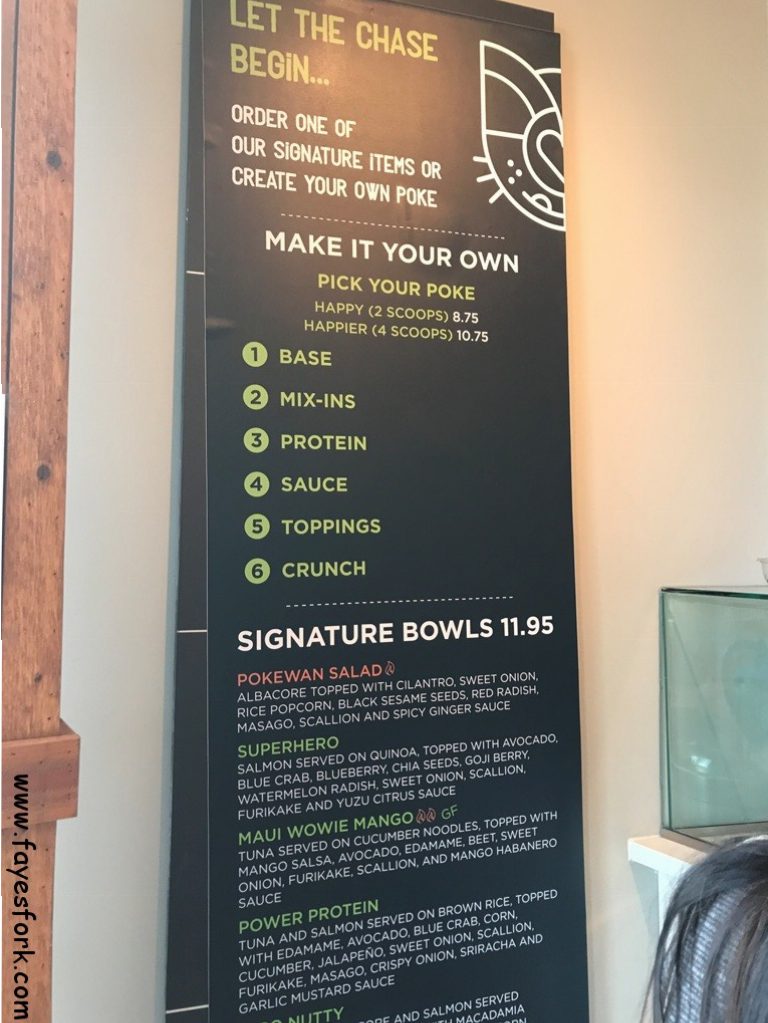 It felt different ordering poke here at Pokewan. There seems to be extra steps I wasn't too fond of at first. There are two containers on top of your designated tray : a paper container and a plastic bowl. Look at the top right of the following picture –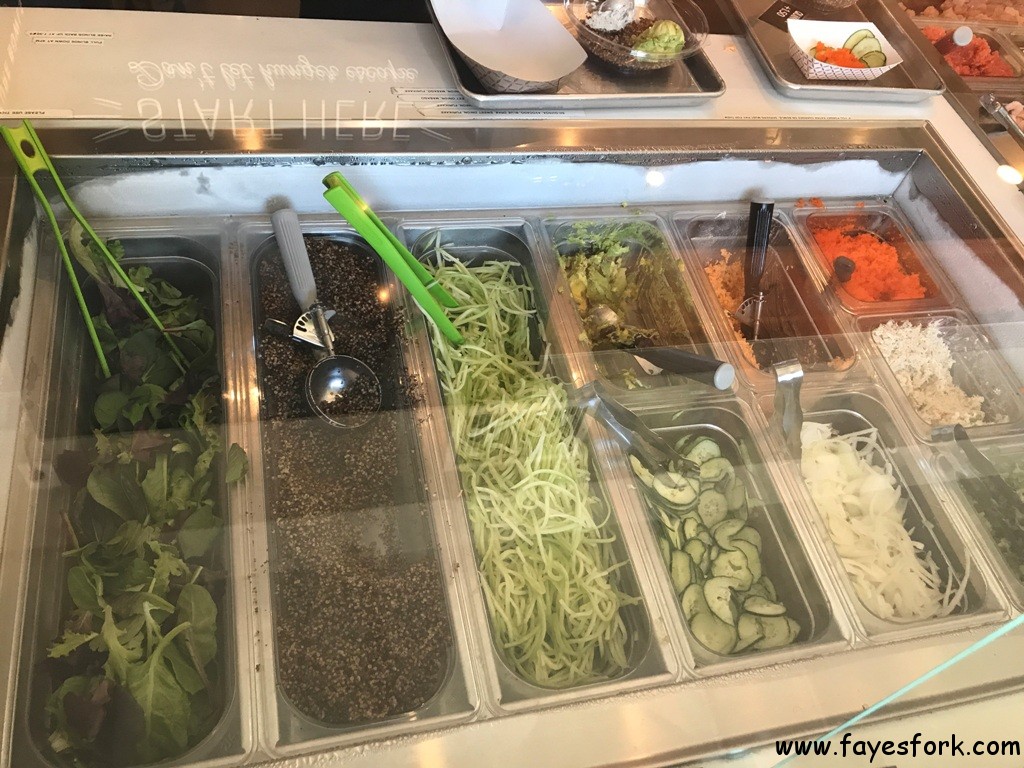 I love how Pokewan offers cucumber noodles (+1.50 extra). That's another great low carb poke option. I didn't feel like splurging though so I had opted for the mixed greens. They put the base in the round plastic bowl. I also added avocado and imitation crab (no extra charge!) which they put on top of the lettuce mix. The scoops were generous.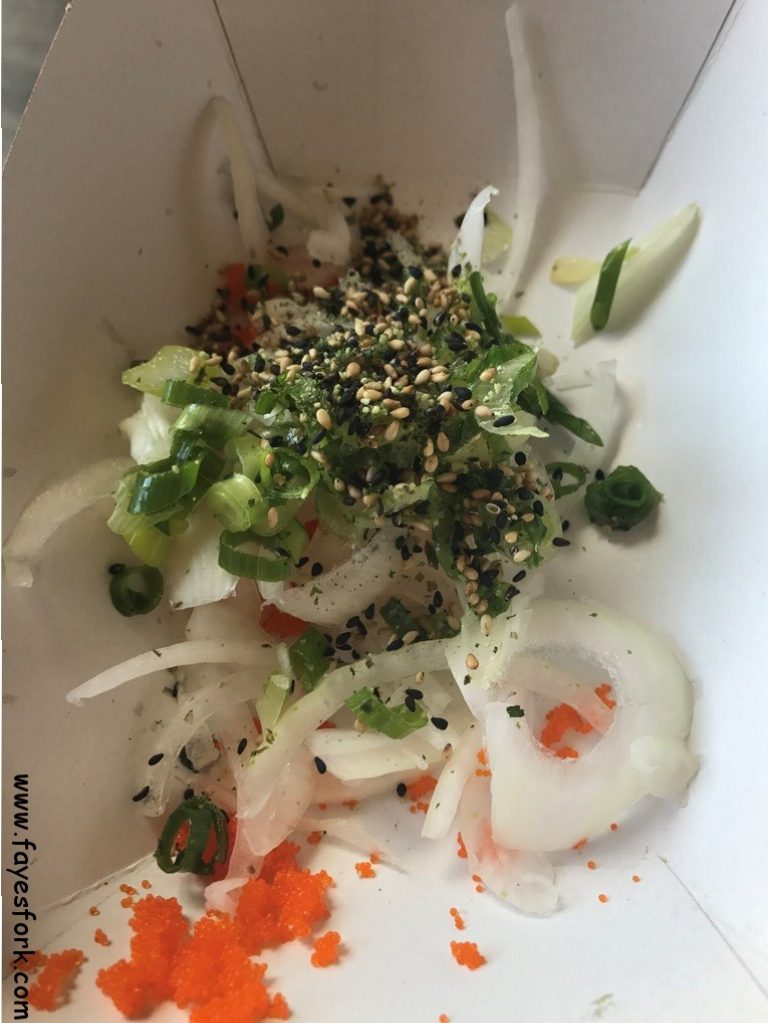 Then they put your poke mix in's in the paper container. I opted for tobiko, onions, scallions, furikake.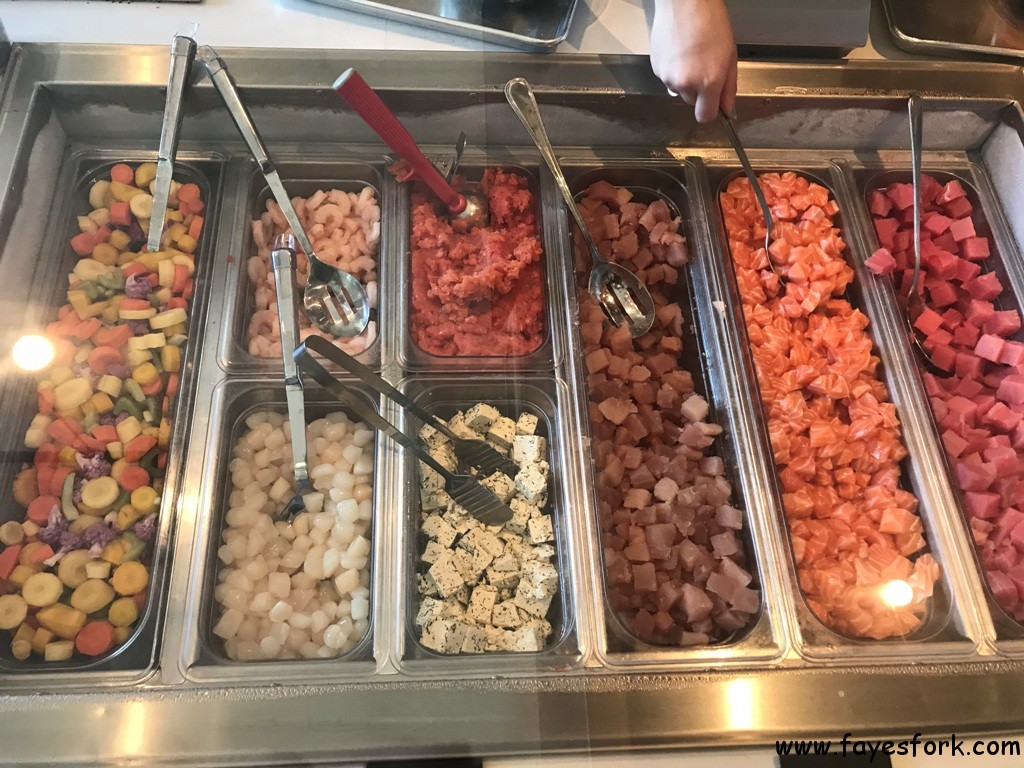 You then choose your fish.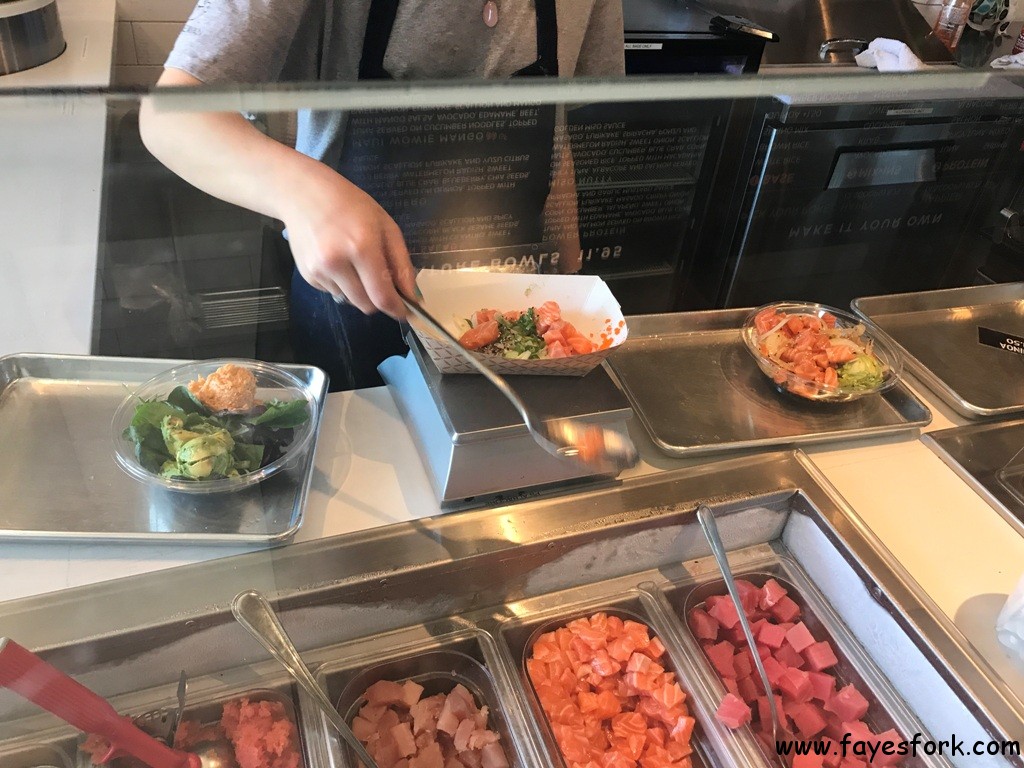 I choose the "Happier" portion which comes with four scoops of fish. They weigh out the portion which made me sad as I thought the amount would be tiny. The girl said its 50 grams per scoop (I think?). She put my container of mix ins on a scale, tare the weight (bravo on that), and then adds the scoops of fish. I opted for 3 scoops of salmon and 1 scoop of scallop.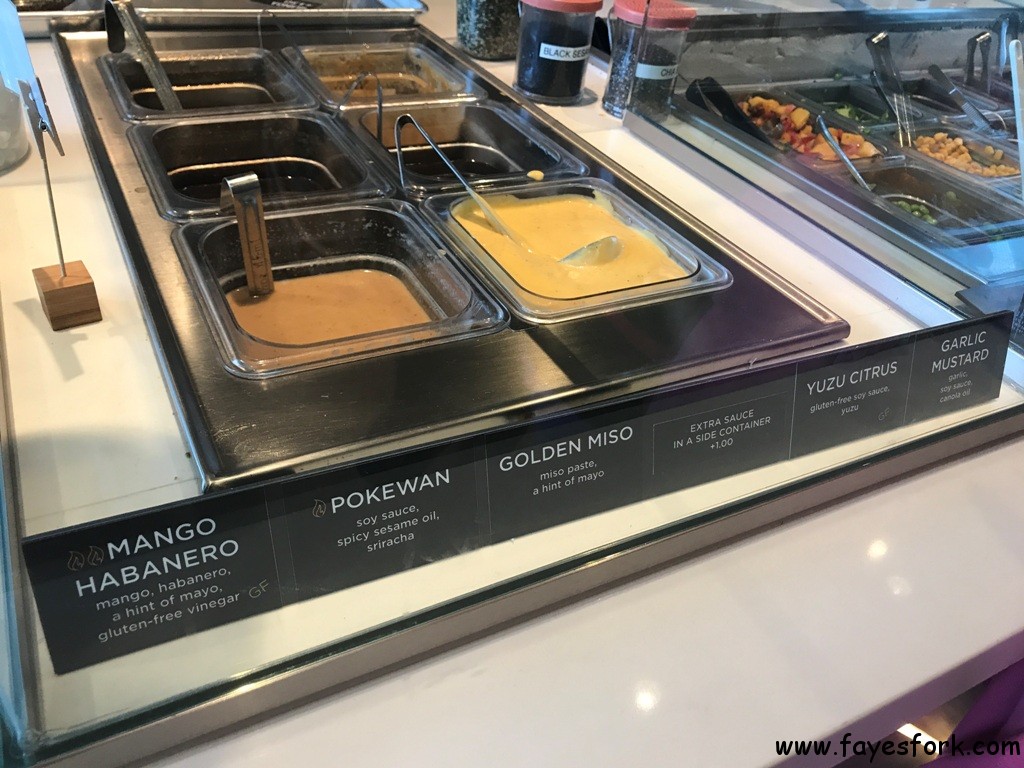 You then choose your sauce. I went with the pokewan which had soy, spicy sesame oil, and sriracha. They add the sauce to your fish and mix ins. They then pour the poke on to your base.
They have such an eclectic selection of toppings. Some were mind blowing to me (for poke) : corn, beets, mango salsa, blueberries (!).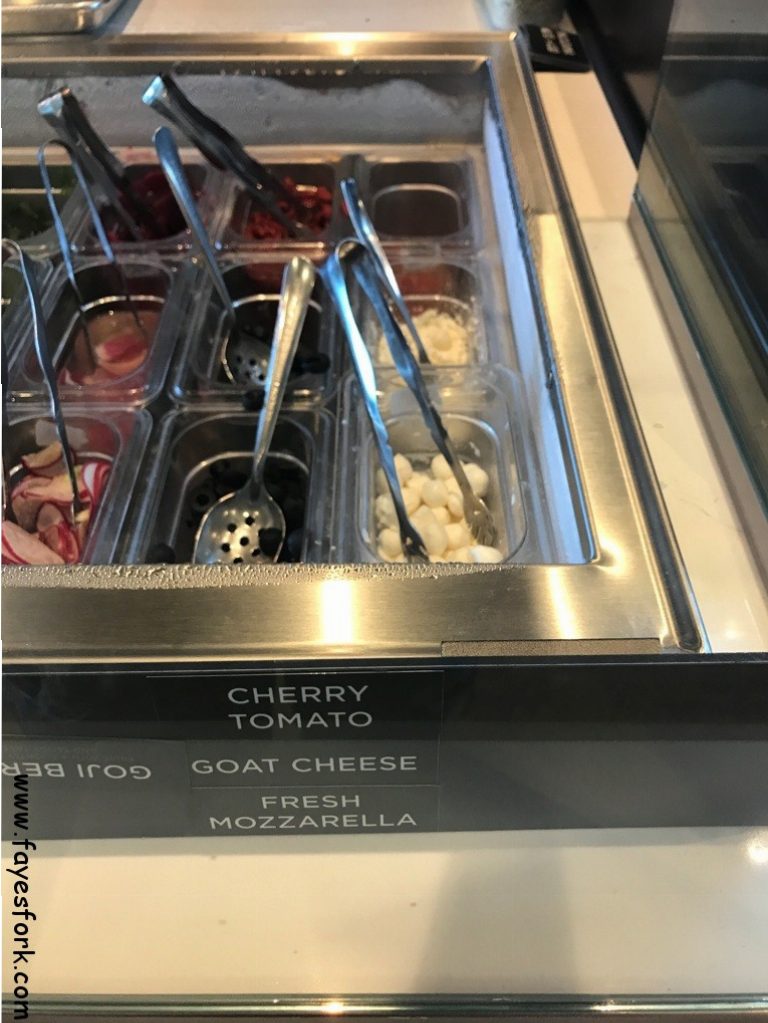 I did a double take when I saw the cheeses (no extra charge). I personally wouldn't add goat cheese or fresh mozzarella balls to my poke but I guess others would.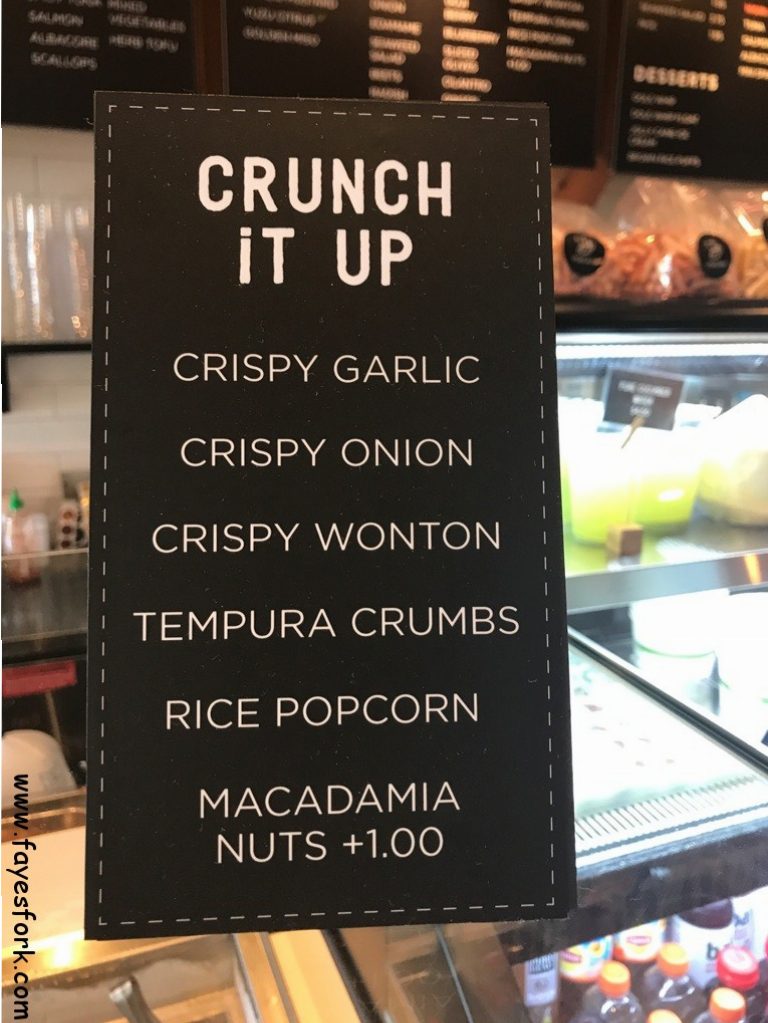 I thought this was fascinating as I haven't seen this option before. I choose the crispy garlic which Olivia generously placed on top of my finished poke creation.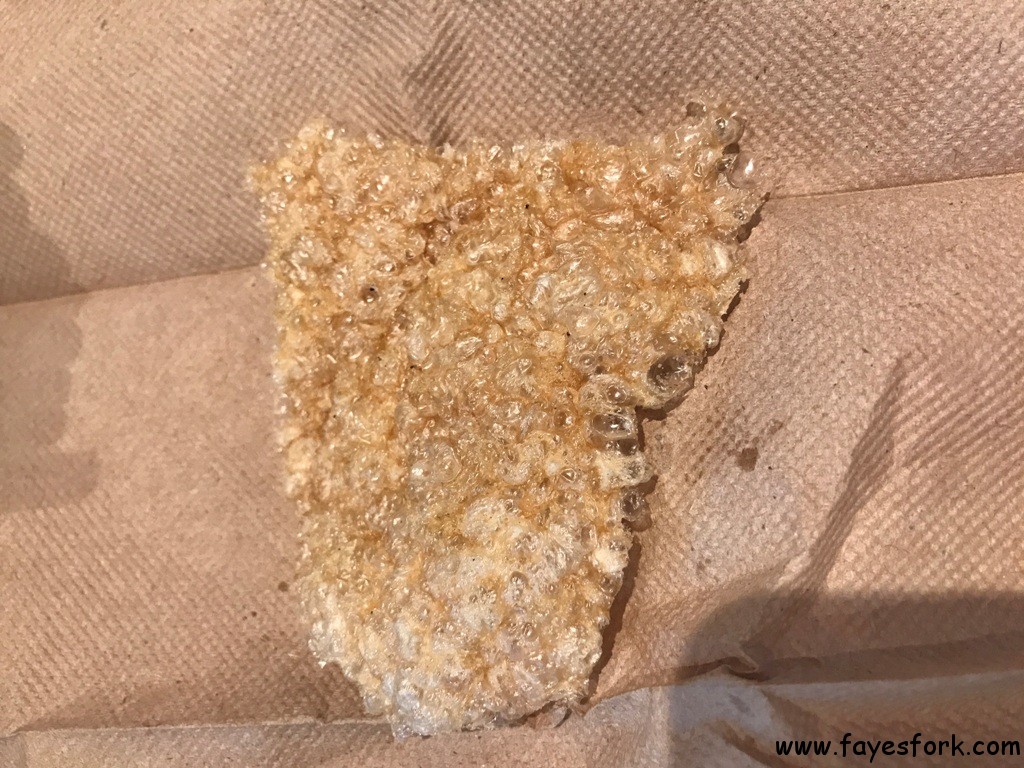 She also gave me a sample of their fried pork skin. I think they sell this by the pound?
Gosh. For free? They gave me a logo'd plastic bag for my order. Their Love Boat Sushi restaurant is labeled on there. It's such a cute bag.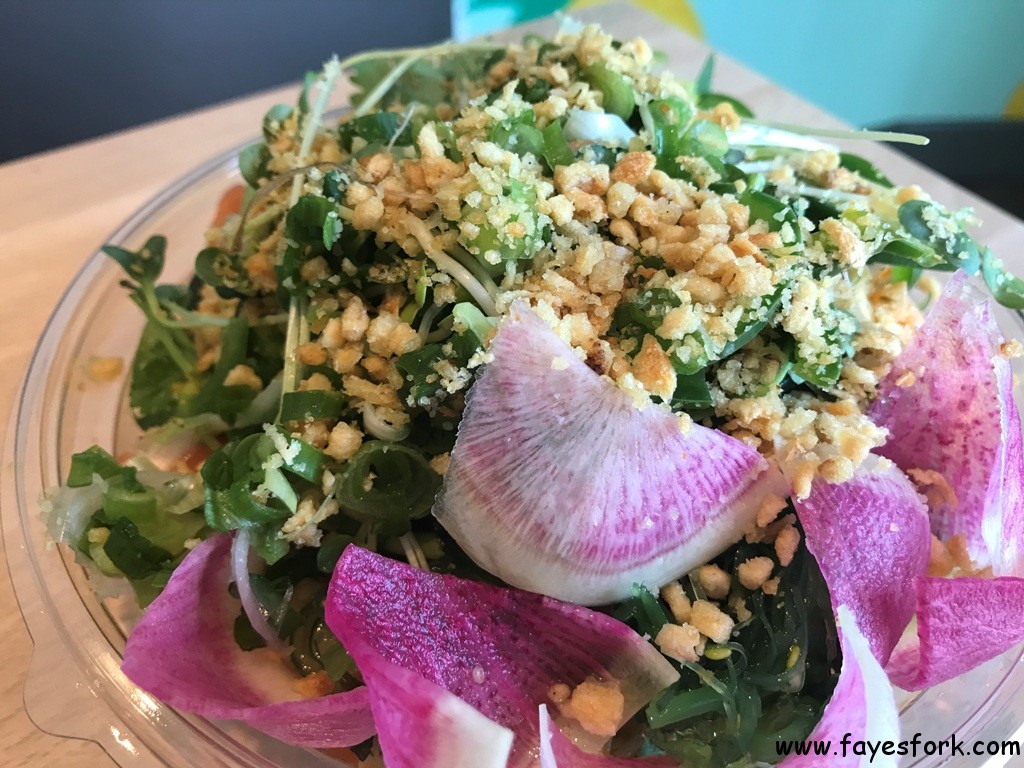 I think my poke creation came out pretty. I wanted to take a quick picture before they put a lid on top of the poke (I ordered it to go). My toppings consisted of watermelon radishes, seaweed salad, jalapenos, cilantro, and topped with the crispy garlic.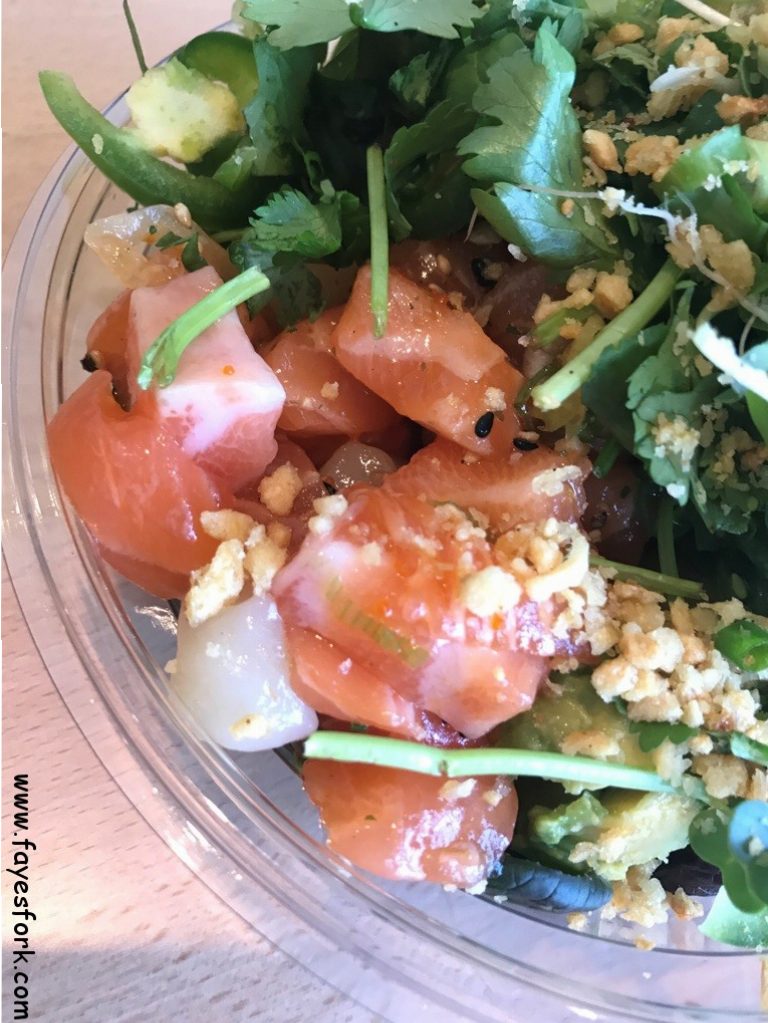 The salmon looked very fresh. Can you see the large sliver of jalapeno on top. The poke felt heavy which was a great sign that it was a substantial order for $10.75.
Olivia also pointed out that they sell sushi here at Pokewan. The sushi is half off after 4p I think.
I also noticed their fresh coconut water. Does anyone remember my fresh young coconut obsession some time ago. I think Olivia said they use about 3 young coconuts to make one serving of their coconut water. If that's the case, then the $4.95 isn't a bad deal.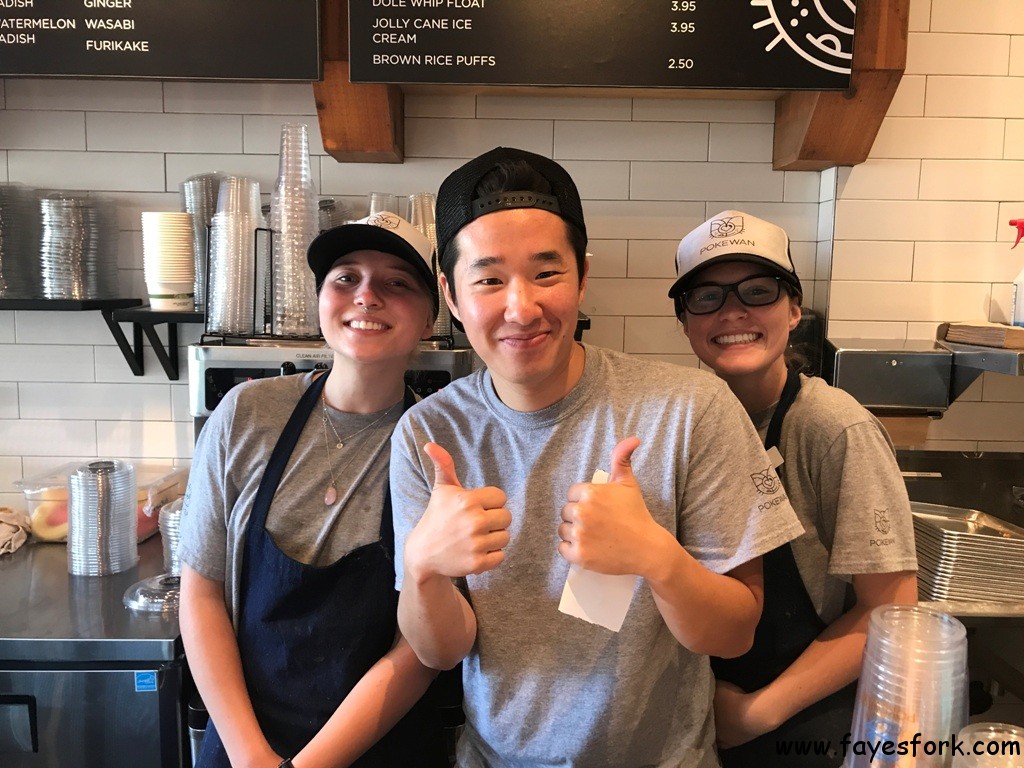 Olivia is the one on the left. I think the gentleman is the chef prepping all the items in the kitchen. I also noticed something  behind them that got me so curious.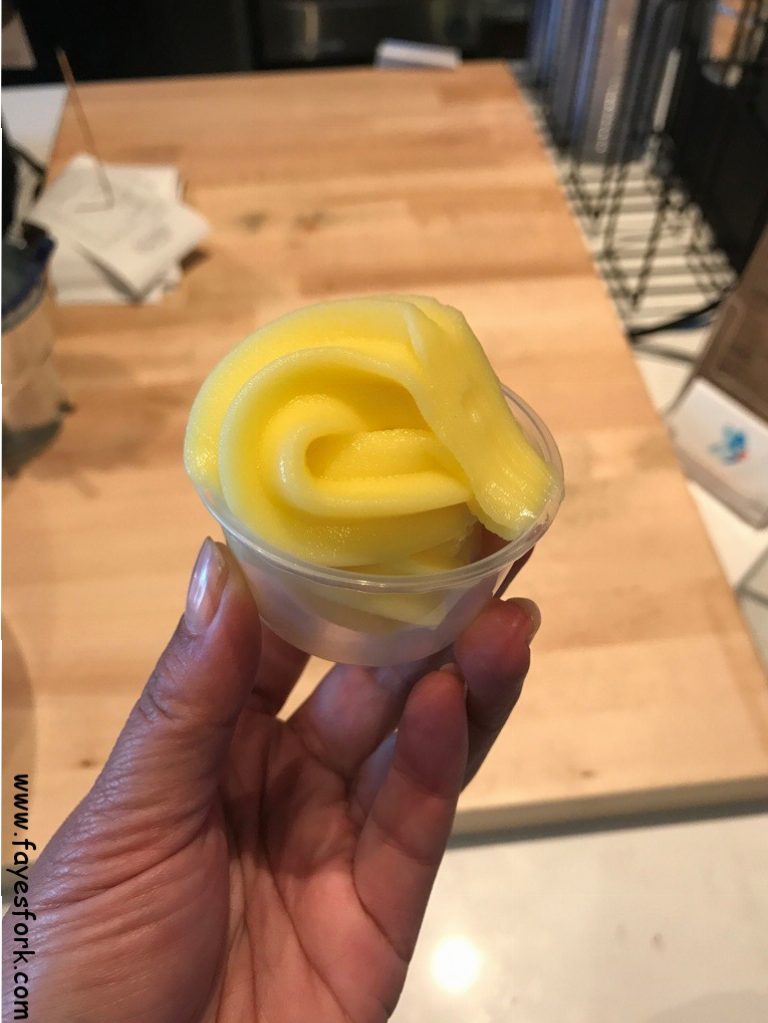 Yeessssss. They have dole whip here at Pokewan and I was offered a sample. It's dispensed like froyo/soft serve from their ice cream machine.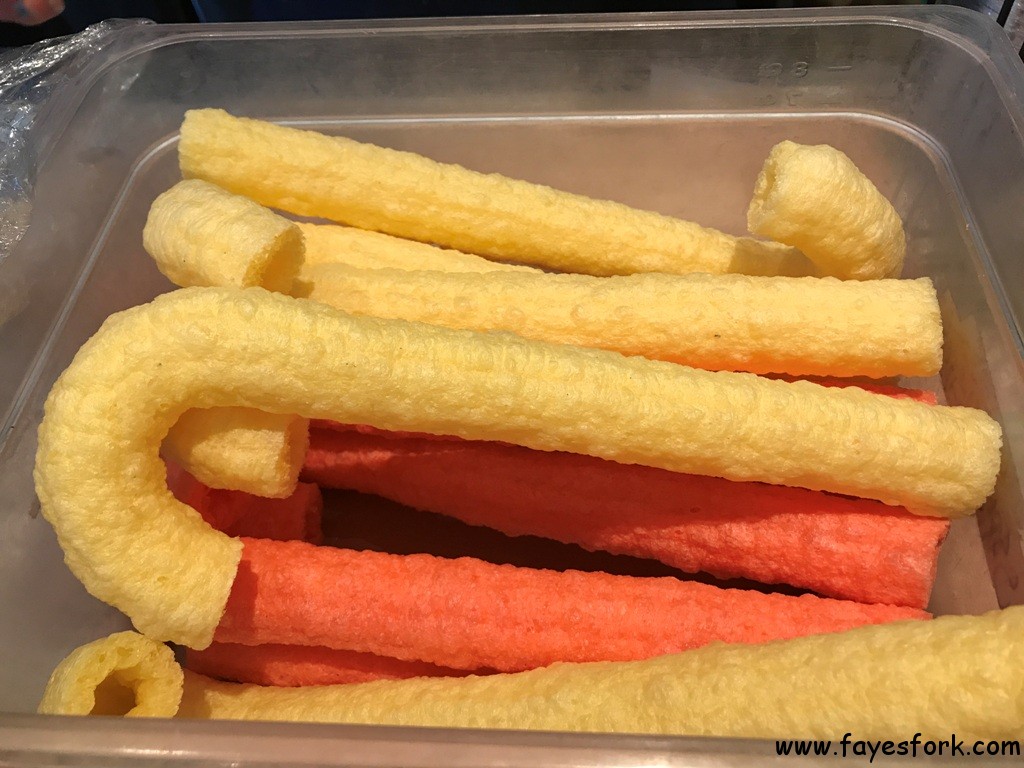 I also asked about their corn canes which I had read about. The nice girls showed me the container of their corn canes which is filled with vanilla soft serve. I think Olivia said you get a free corn cane on weekends from 2-4p if you purchase a large poke bowl.
The staff couldn't have been any nicer or more helpful that afternoon.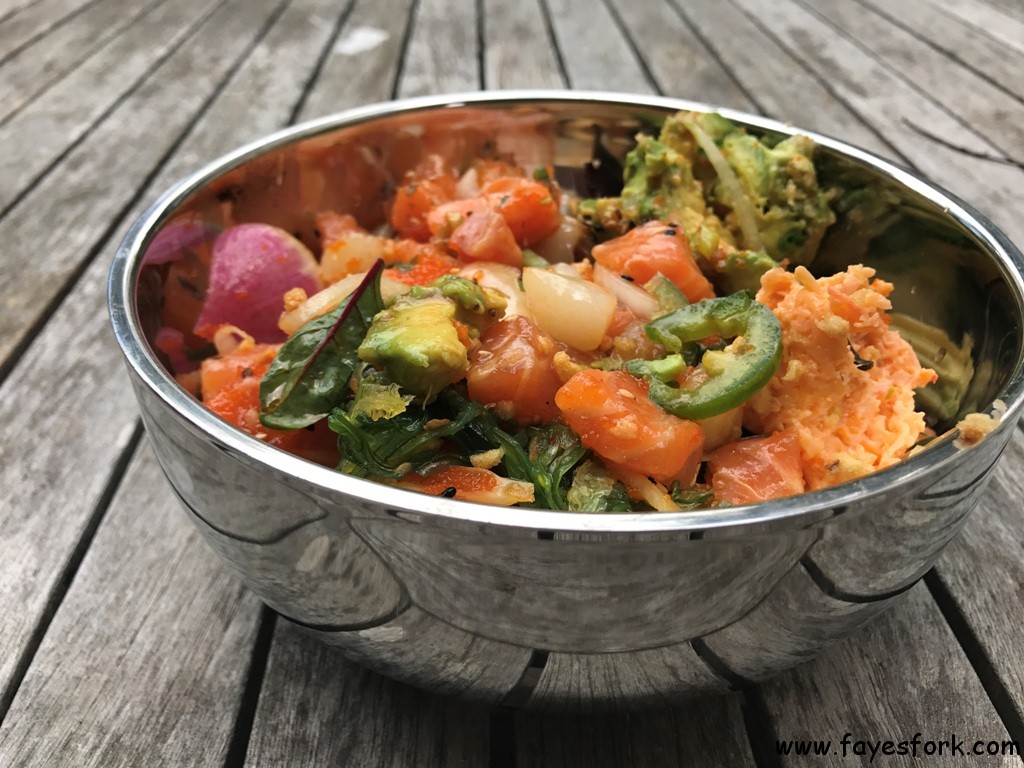 I wanted to show how substantial the four scoop serving was. Keep in mind I got a mixed lettuce base. I could only imagine how much heavier the serving would have been with rice. The above is a Korean style bowl that measures 7.5″ wide and 2.5″ deep. My poke serving filled about 3/4+  of this bowl.
The poke tasted ok. I would probably try another sauce next time (perhaps the yuzu citrus) and request more of it as the poke didn't seem to hold on to much of the sauce. Most of the sauce dribbled to the bottom of the bowl and coated the lettuce. I might opt for no base in the future. The fried garlic was too much for the poke as it overpowered the salmon and scallops. The bay scallops were nicely plump.
I thought all the add ins were too much. The slippery seaweed, the heavy avocado, the thick scoop of imitation crab (needed more spicy mayo) were actually distractions to the simplicity I wanted from the salmon and scallops.
Don't get me wrong that the quality of ingredients were great. I just might have added way too much to my bowl to get my money's worth (and to calm my excitement from so many toppings to add).
I would recommend Pokewan. It's a fun way to get introduced to poke if you haven't tried so in the past. The portion size is generous and the quality of the ingredients was good. I'd return to try another creation (and sauce). Then finish it off with a big ol' order of ice cold delicious dole whip.
POKEWAN
12925 El Camino Real
Ste AA4
San Diego, CA 92130
(858) 847-2881