I've been bumping into random friends who've almost made it their mission to get me to be social and return a hug. It's been humbling and heart warming. A close friend has been keeping tabs on me the last few weeks and will give me something to look forward to almost every week. It's like keeping a mouse occupied with just the thought of a piece of a cheese. Hence why we met for lunch at Cafe Japengo recently. Friend knows my penchant for Open Table and this reservation earned me 1000 points. It had been years since either of us had visited Cafe Japengo.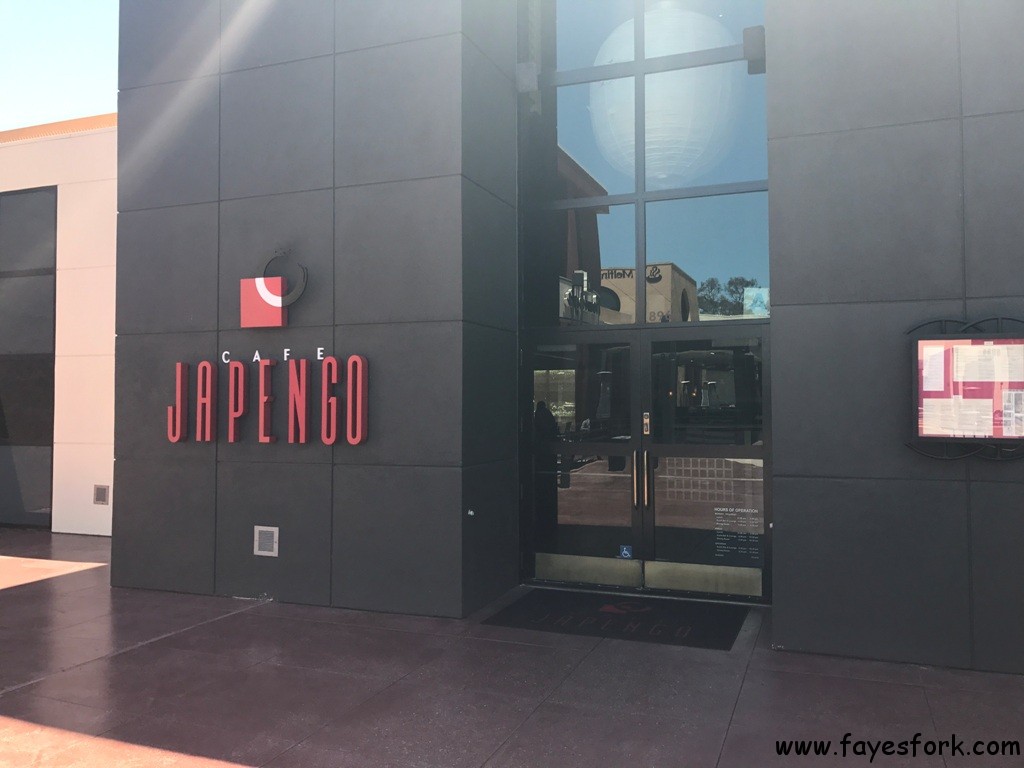 It is a trek to get to Cafe Japengo if you self park. You park below ground and must go through the parking, the pool, the stairs, the valet, and THEN you arrive at Cafe Japengo.
The hostess was nice and checked us in promptly. The restaurant was empty when we arrived. We understood why OpenTable offers 1000 points during certain lunch hours.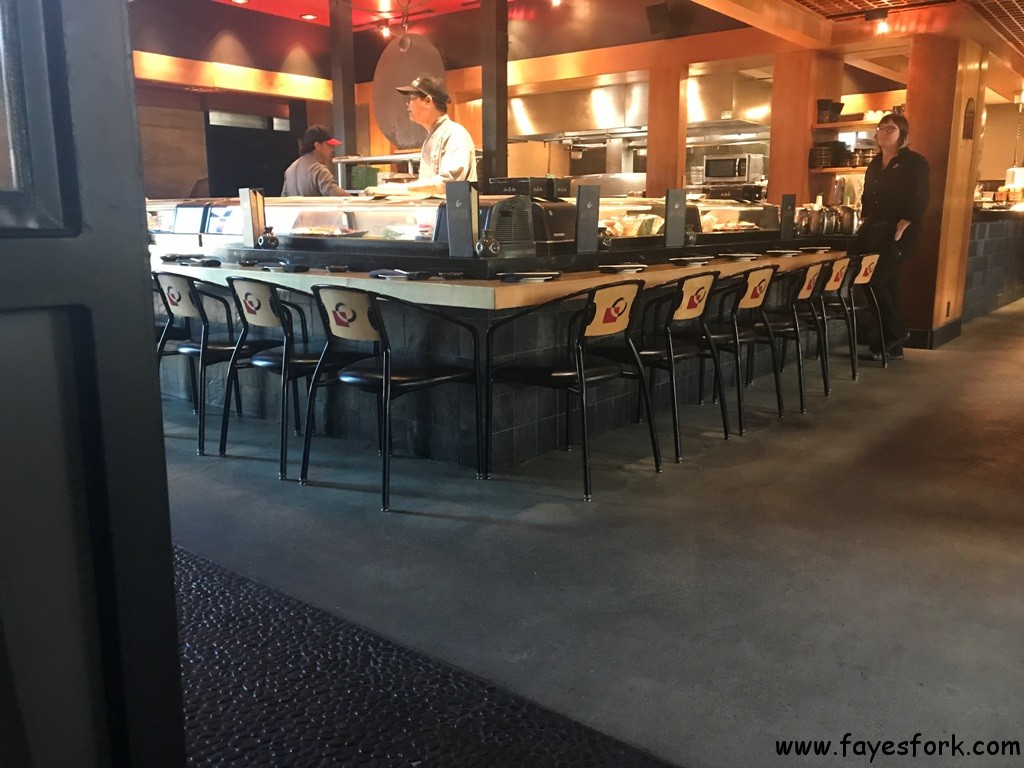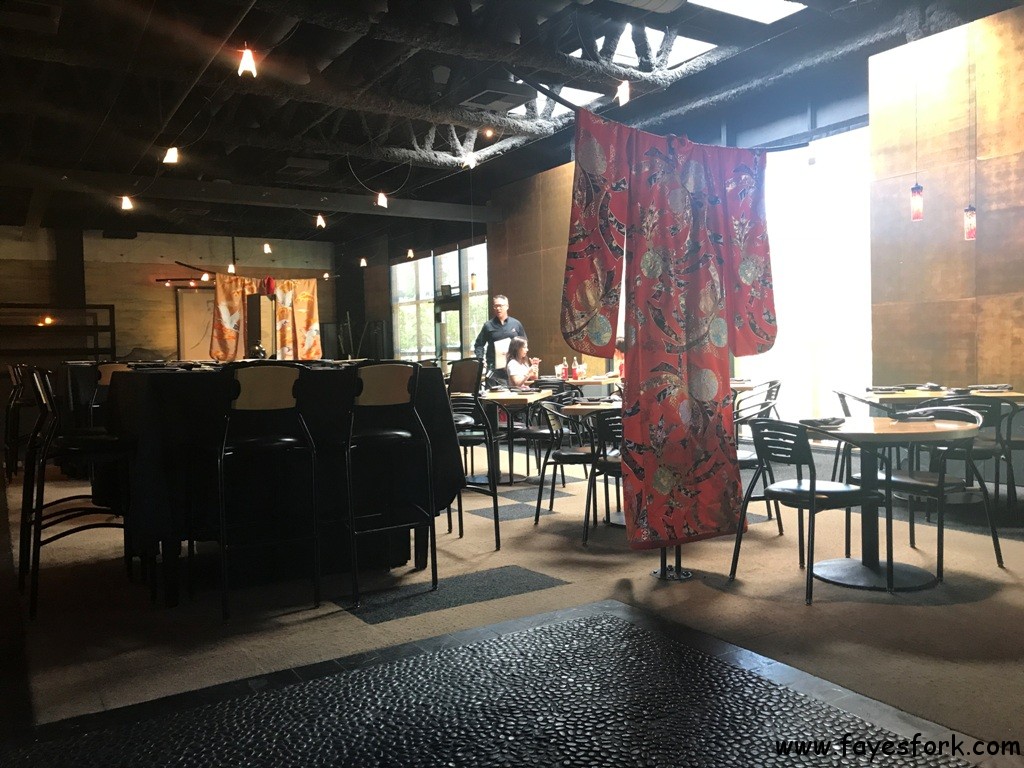 It is really dark inside Cafe Japengo. We were seated in a comfortable booth but it almost felt eerily dark for a lunch outing.
Our server was curt and didn't make us feel welcomed. A smile would have gone a long way. She seemed to be in a hurry and wanted us to order quickly. The restaurant was empty and we had just sat down so what was the rush. We ordered drinks and I asked if we could use the Yelp check in for the free nori fries. She was annoyed and said no, we cannot , because we were getting the lunch drink discount, so NO. It was such a cold hearted reply to a simple question.
Our server was going to automatically add another dumpling to this serving (as it comes with three dumplings so she assumed we'd want two each). I stopped her as we were going to order another appetizer. What you see above is $4 dollars PER dumpling.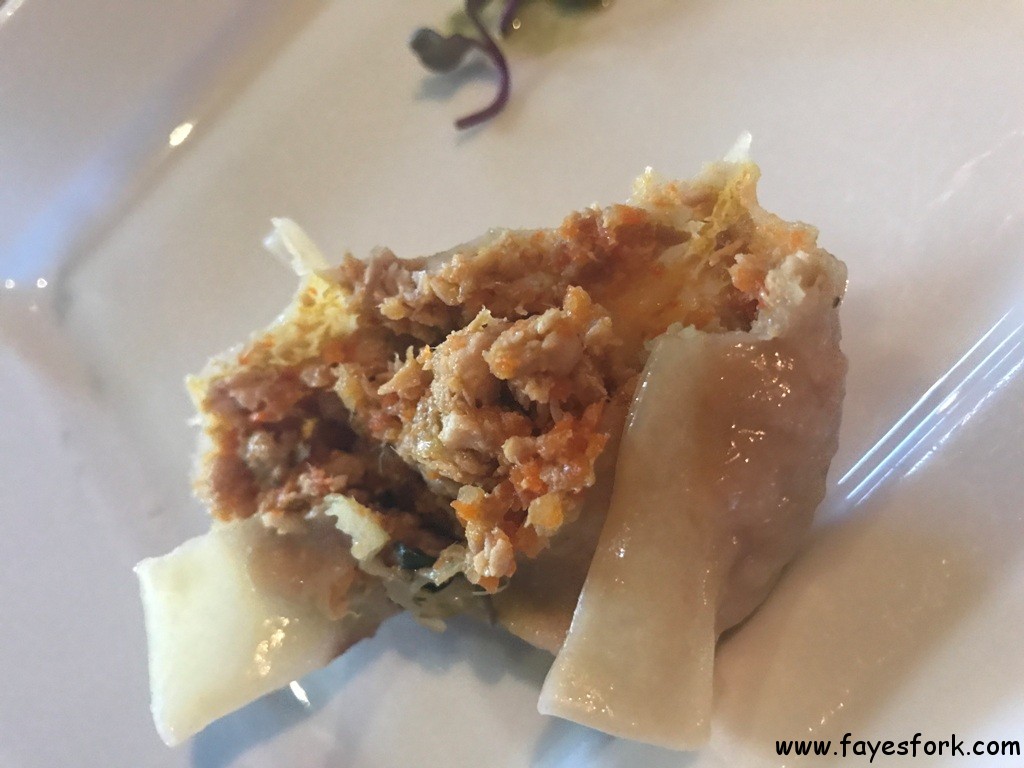 This was a terrible pot sticker. Not sure why they label this a potsticker as it was more a siu mai or a steamed dumpling. The ground chicken was horrible. It had the scent and consistency of Alpo so taking a bite was difficult. Friend and I only managed to take two bites. One whole dumpling was left over. I mentioned to our server that something tasted sour and she said it's from the cilantro pesto sauce. We didn't really buy that but ok. We were grateful she comped us for this dish.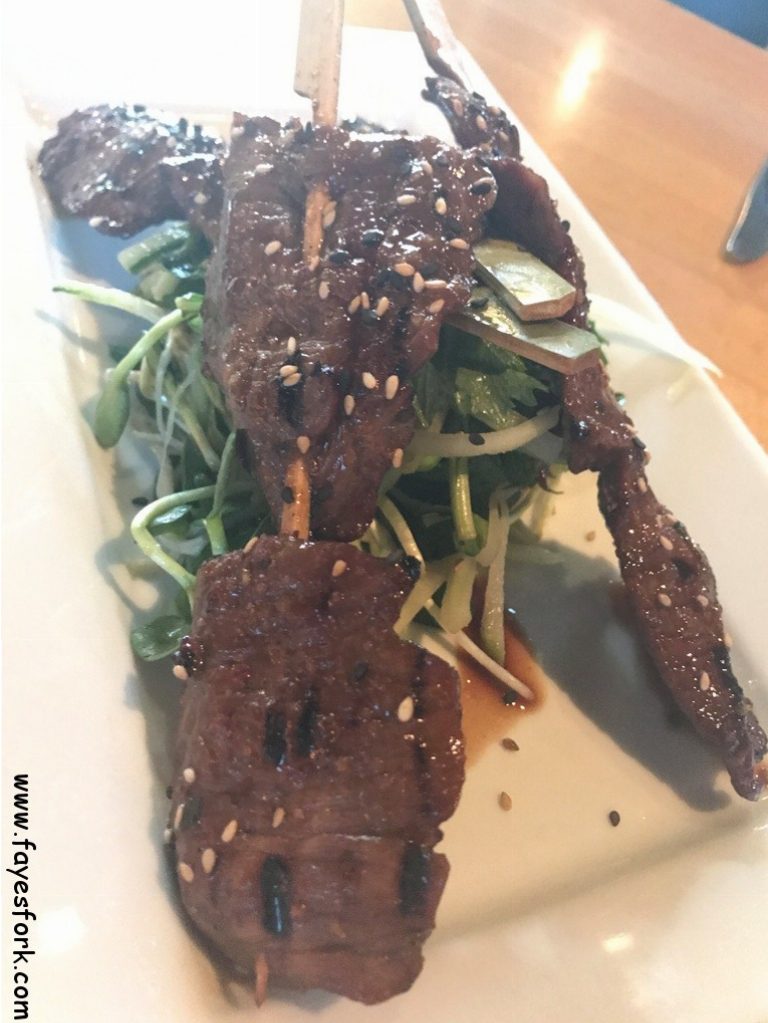 There were four beef skewers to an order. The marinated beef tasted slightly sweet and nicely grilled. They meat itself was on the tougher/chewier side. We enjoyed the lightly dressed mizuna greens underneath the skewers.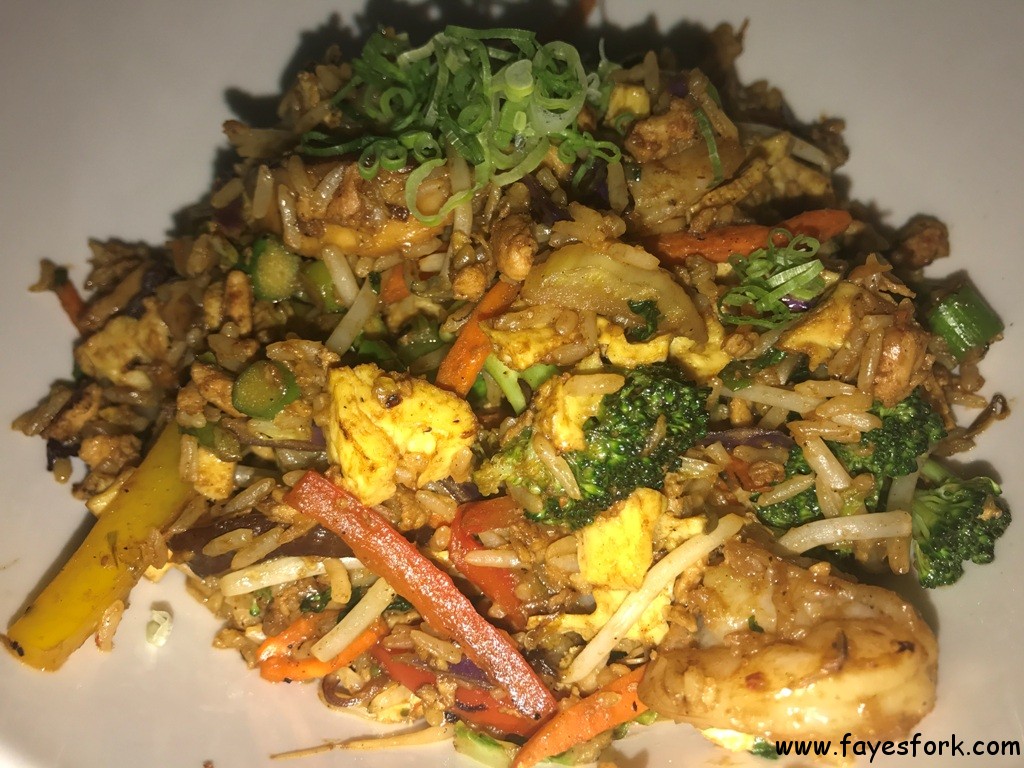 FYI, their website states this dish is $20 but their current printed menu states $23 (why I'm pointing that out will play out later). I'm not sure how any fried rice could cost $23 at lunch but we are in La Jolla. The fried rice tasted haphazardly prepared. It was messy, not well wok'd, and the components seemed to all slide off one another. Each element didn't taste cohesive with the other. Friend ate the few pieces of shrimp and that was about it. The grains of rice tasted brittle and dry.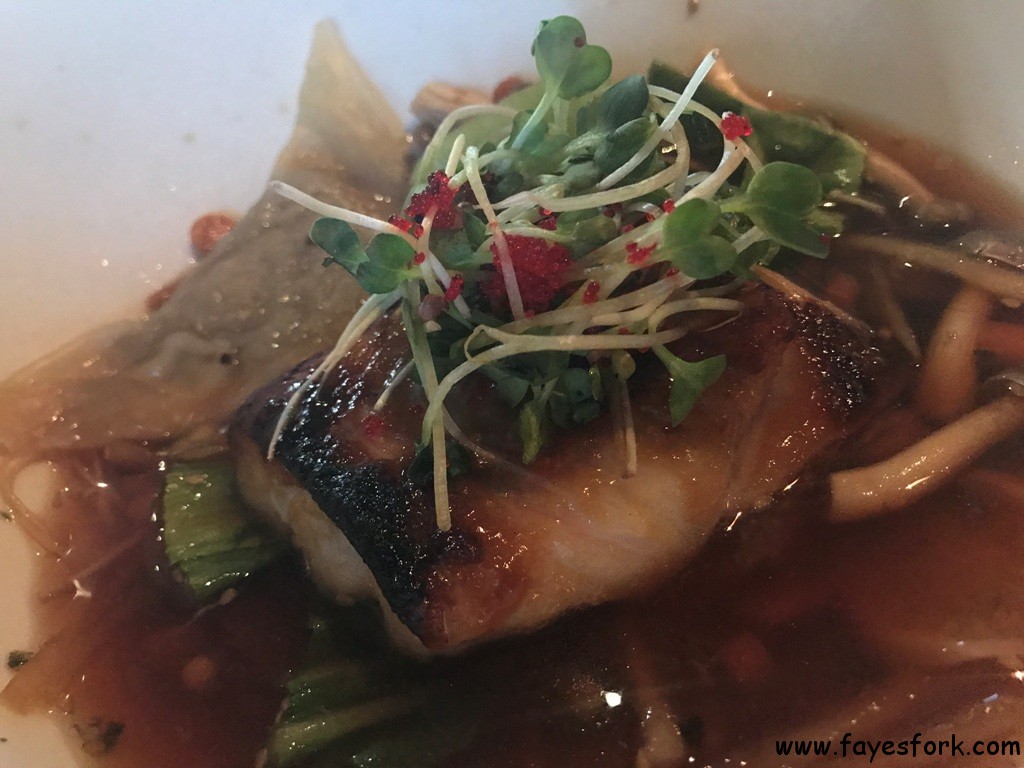 Their website says this dish is $26 but it was listed as $30 on their lunch menu the day we visited. I was intrigued by the concept of this miso butterfish in the truffle broth with the shrimp dumplings. The portion was fine but it almost resembled a bowl of Asian soup (with a hunk of fish) on top. There was quite a bit of broth.
I was scared at first as there was a strong fish scent coming from the bowl. But, the miso butterfish tasted fine. It parted in half easily (not sure if that was on purpose). The fish was fatty and relatively moist.
The soy tasting broth had a faint essence of truffle. The broth would have benefited more by being served hot. There was just so much broth that the butterfish ended up (literally) drowning in it.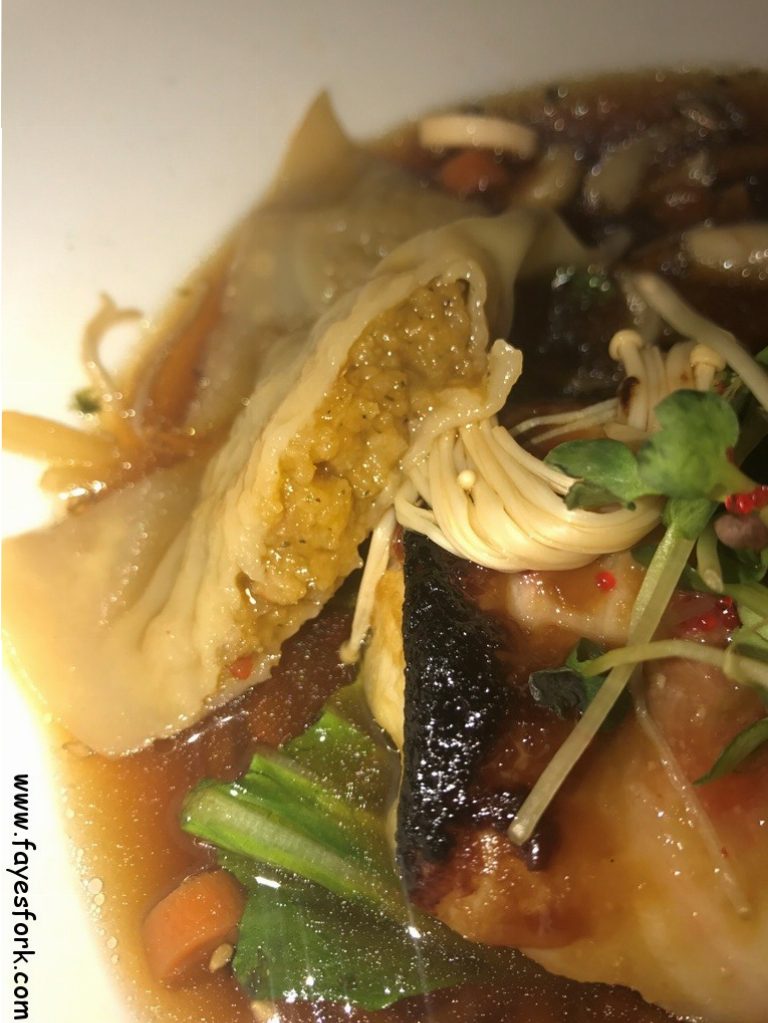 The menu says shrimp dumpling(s) but there was only one, triangle shaped, wonton-like dumpling. I didn't try this shrimp dumpling as the potsticker appetizer we tried prior didn't taste right.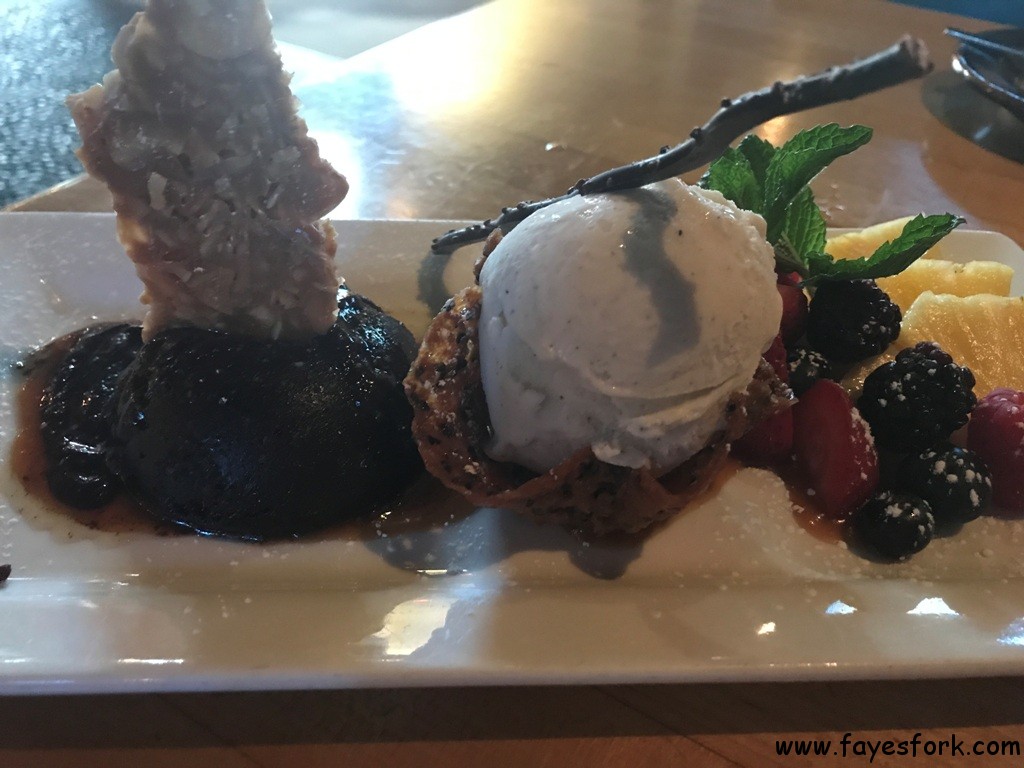 Close friends never end a meal without dessert. Hence why friend ordered this lava cake for us to share.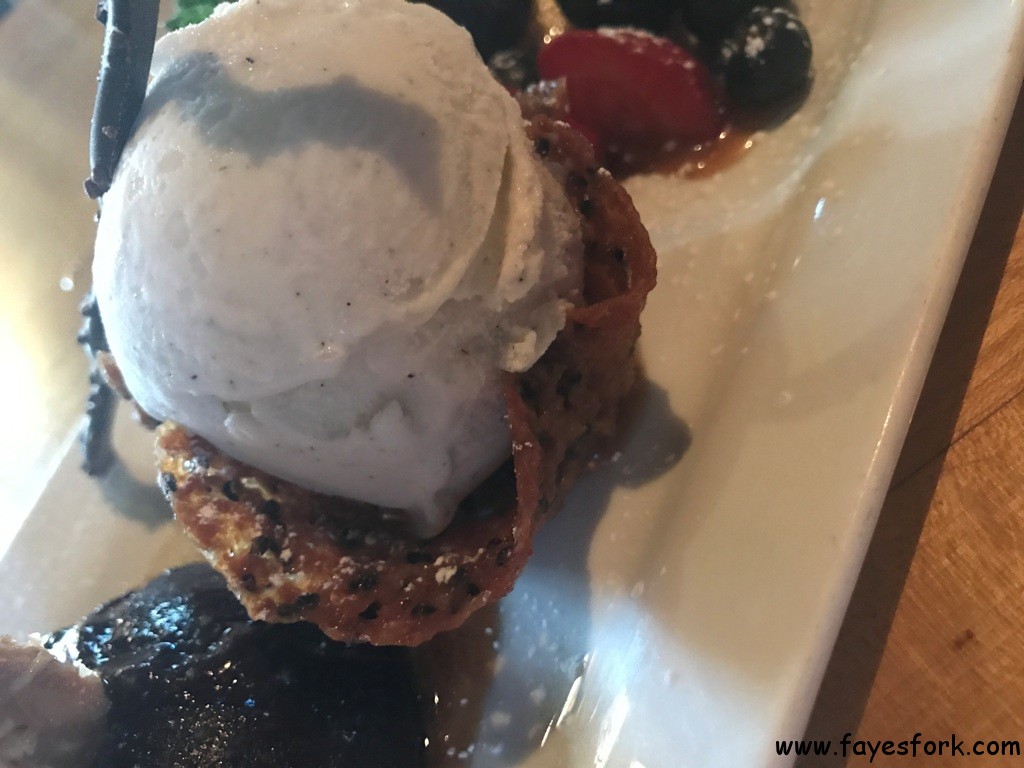 The vanilla ice cream is served on the side in a sugar laced waffle cone. Usually the ice cream is served on top of the hot lava cake so this presentation was great for me. The ice cream tasted cold and wonderful. The sugar lace bowl had sesame seeds and was so amazingly crunchy and delicious.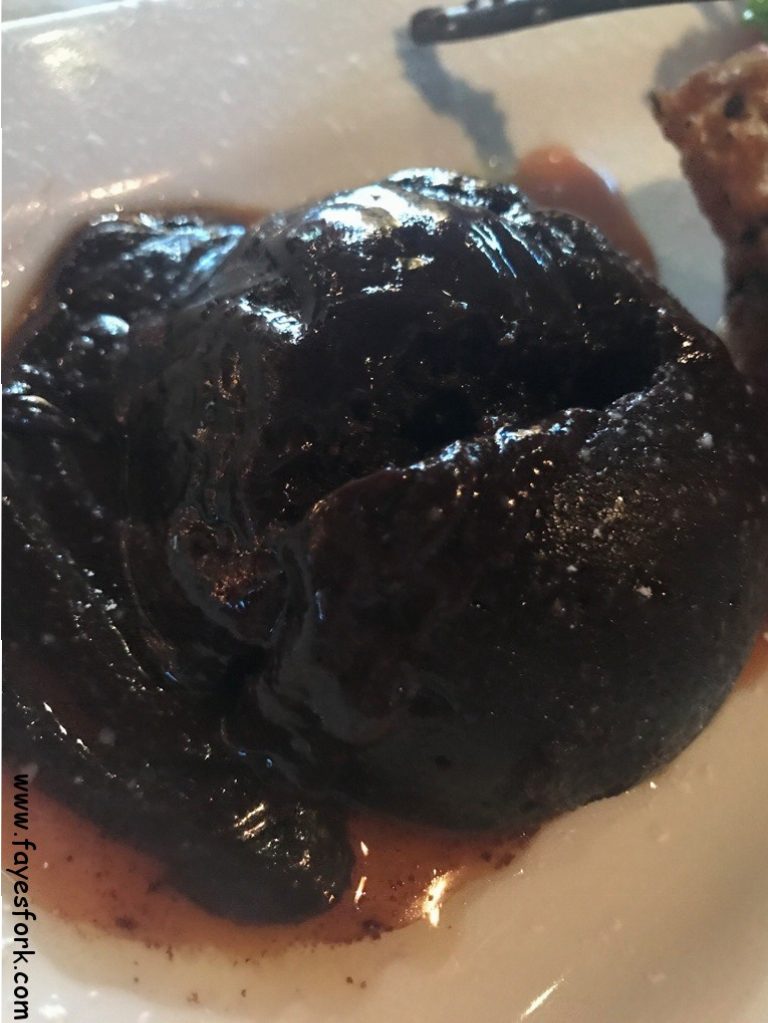 There wasn't as much chocolate ooze as we had hoped. The cake itself was dry but the molten chocolate part was nice. We actually thought dessert and the wine were the winners that day.
We were ready for the check. I always reconcile the bill as that's what I've been taught. We appreciated the potstickers being taken off the bill. But, I noticed that we were charged $35 for the miso butterfish. I thought I read the lunch menu wrong as I was sure it said $30. We brought this to our server's attention who later brought out a revised bill. She said she manually entered the wrong price. So yeah, reconcile your bills friends.
Would we return anytime soon. Probably not. Friend joked that we would return if OpenTable offered 2000 points for the next visit. I used to eat at Cafe Japengo years ago with single girlfriends and then club it up next door. Times have changed and so has this restaurant. It was nostalgic returning but the food, service, and prices wouldn't warrant another visit for me. Perhaps it was an off day for the kitchen and service.
Friend commented that she'd rather visit Roy's for lunch and still earn 1000 OpenTable points there. She prefers the service and food there.
They do validate your garage parking. I read it was for two hours. We were a little over two hours but didn't have to pay an additional parking fee when we drove out.
CAFE JAPENGO
8960 University Center Ln
San Diego, CA 92122