I'm learning above and beyond is meant for special people in your life. You don't offer that to someone who doesn't feel the same. We recently celebrated V's birthday. She loves the ocean. She's the worst food critic for someone who rarely eats out. So I thought it only fitting to surprise her with lunch at C Level by the harbor in San Diego. We could not have asked for a more beautiful day to celebrate.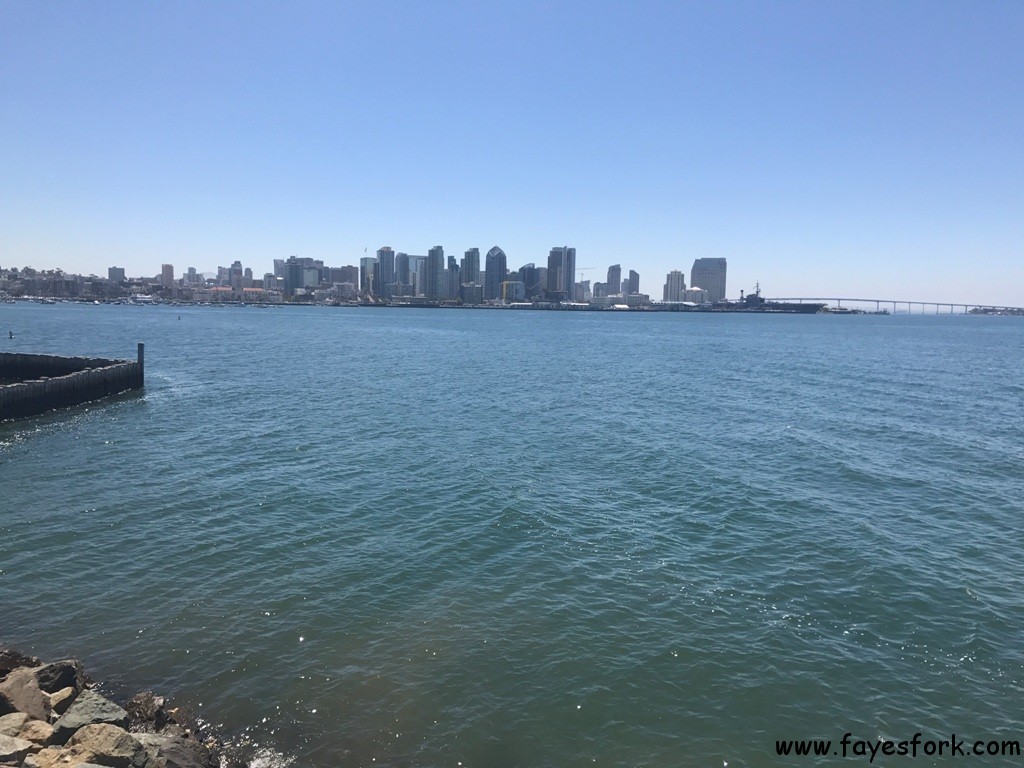 Here is the view of the harbor from C Level. There is self parking but it's limited. There is valet but it seemed pricey. C Level opens at 11a for lunch and it's first come/first serve for their outdoor seating.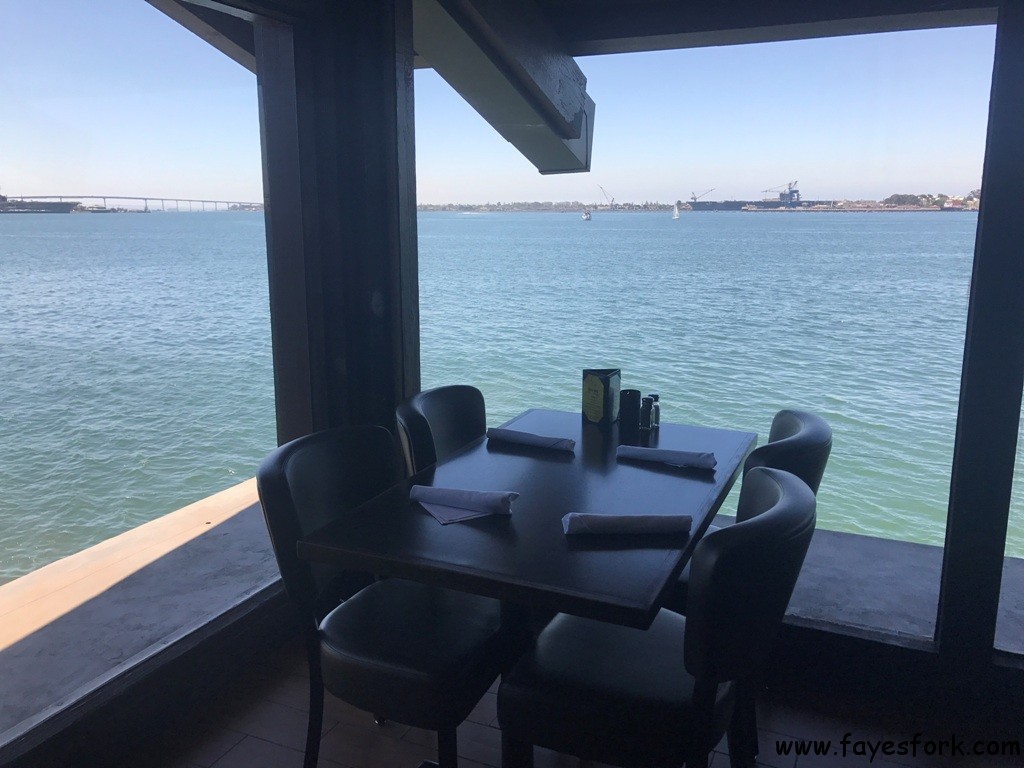 Seeing the beautiful views from inside the restaurant brought back some fond memories. I had a romantic date here many years ago that still makes me smile when I think about the guy.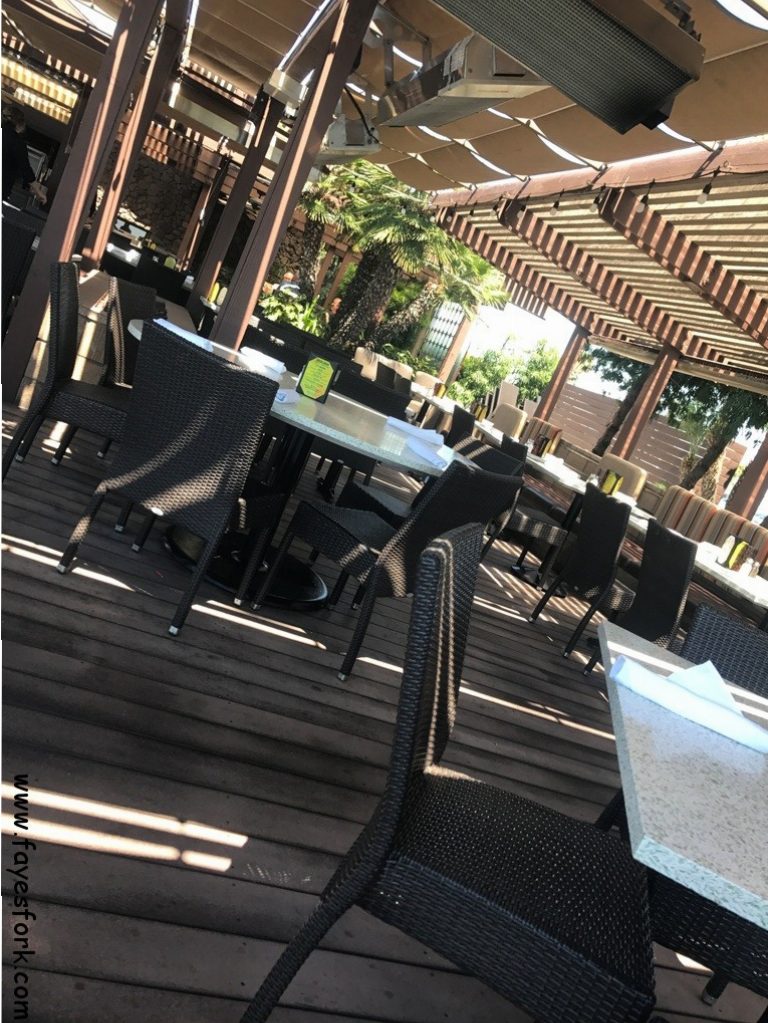 Their outdoor patio seating has breath taking open views of downtown and the water. V could barely speak as the hostess walked us to our table.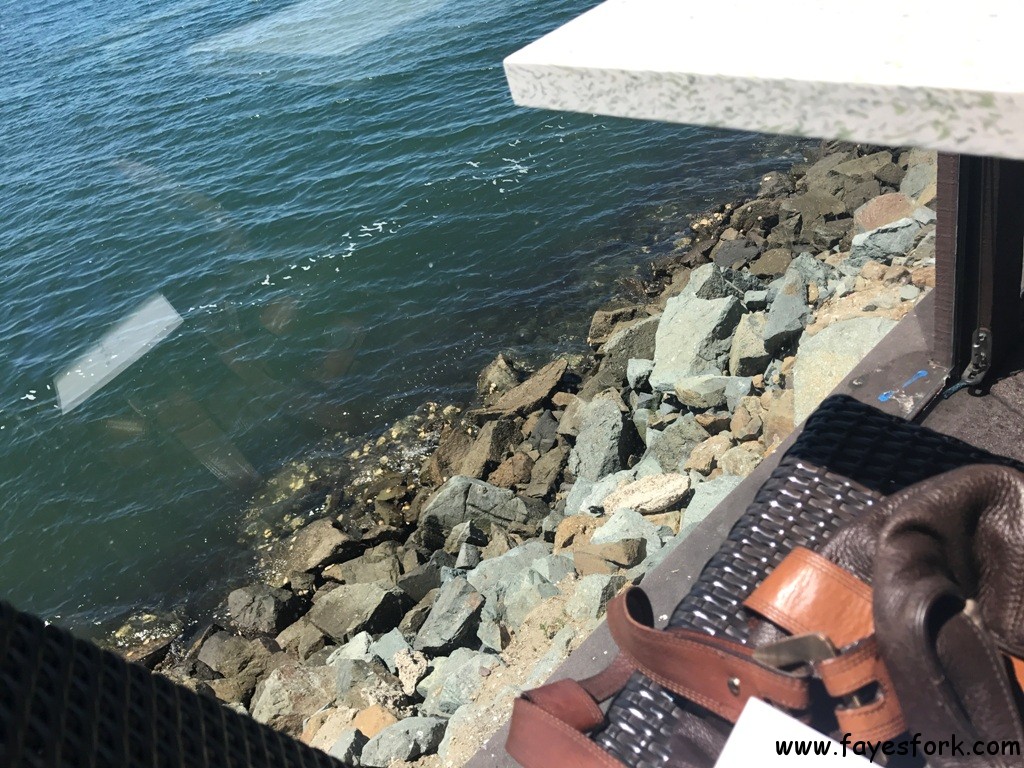 V whispered 'omgggg' when we sat down. She said she's never had a table this close to the ocean. The table was great but the hot sun would beat down on us during most of the meal. They have shades but it didn't work well blocking the sun.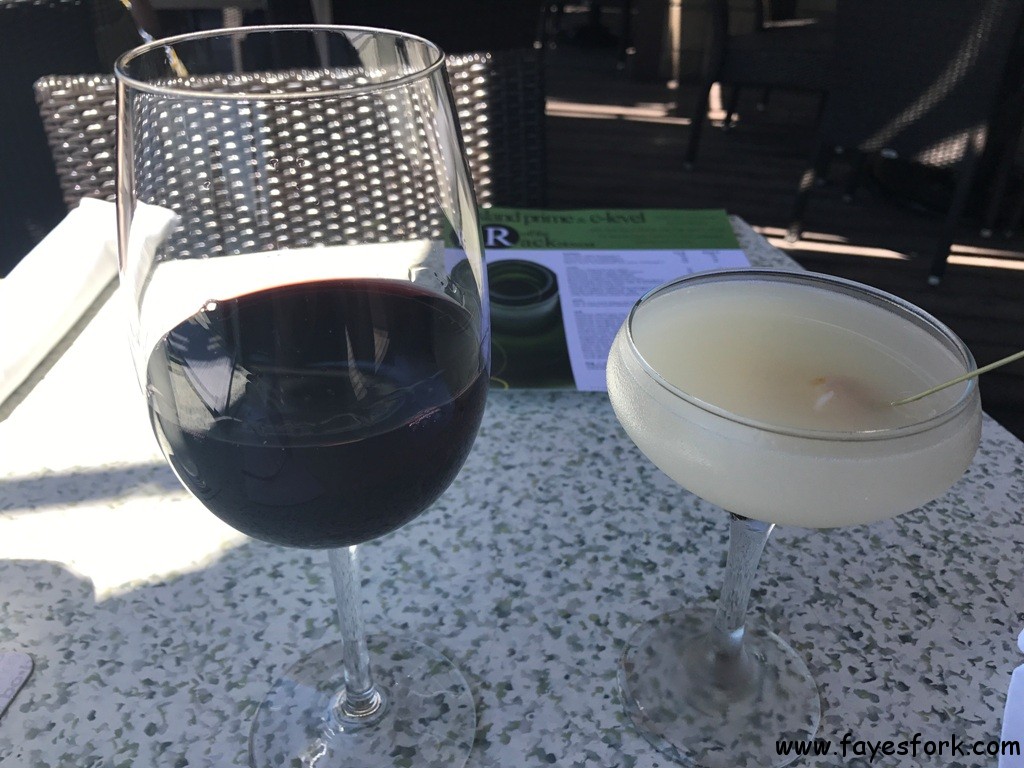 It's a tradition for V to drink on her birthday because, well, normally she doesn't because she's uptight. The drinks are pricey here at C Level. The tempranillo was about $11 and the lychee martini was $13.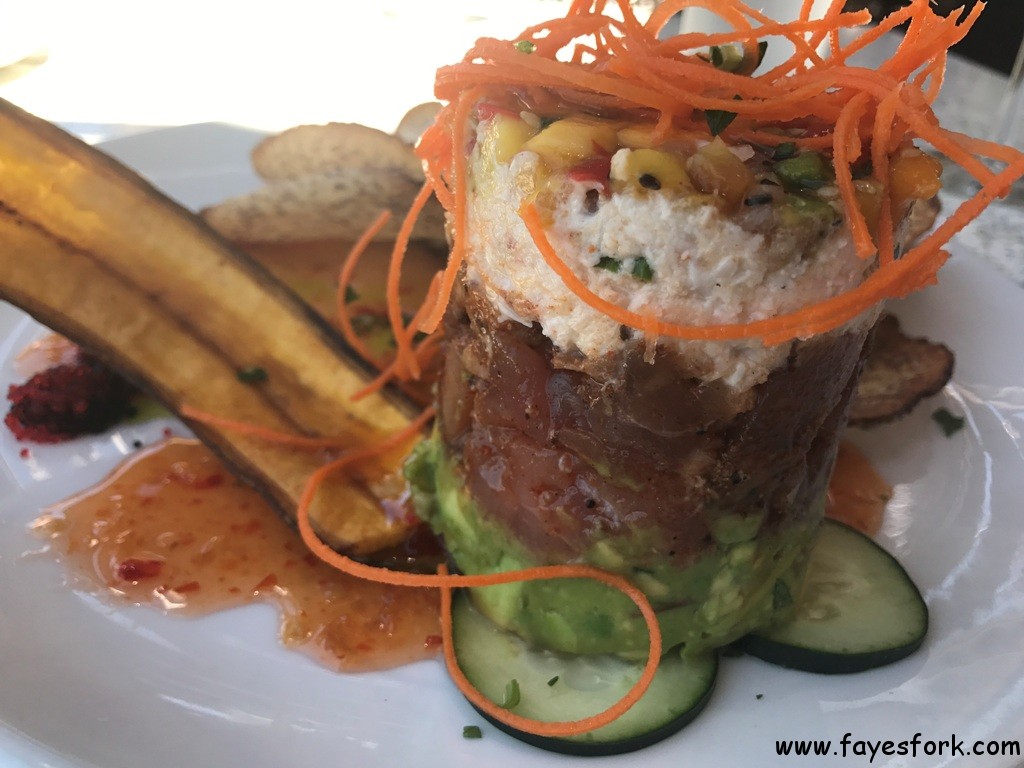 You're given an appetizer coupon when you sign up for their email notifications. It's $10.99 off any appetizer so I opted for their famous ahi stack.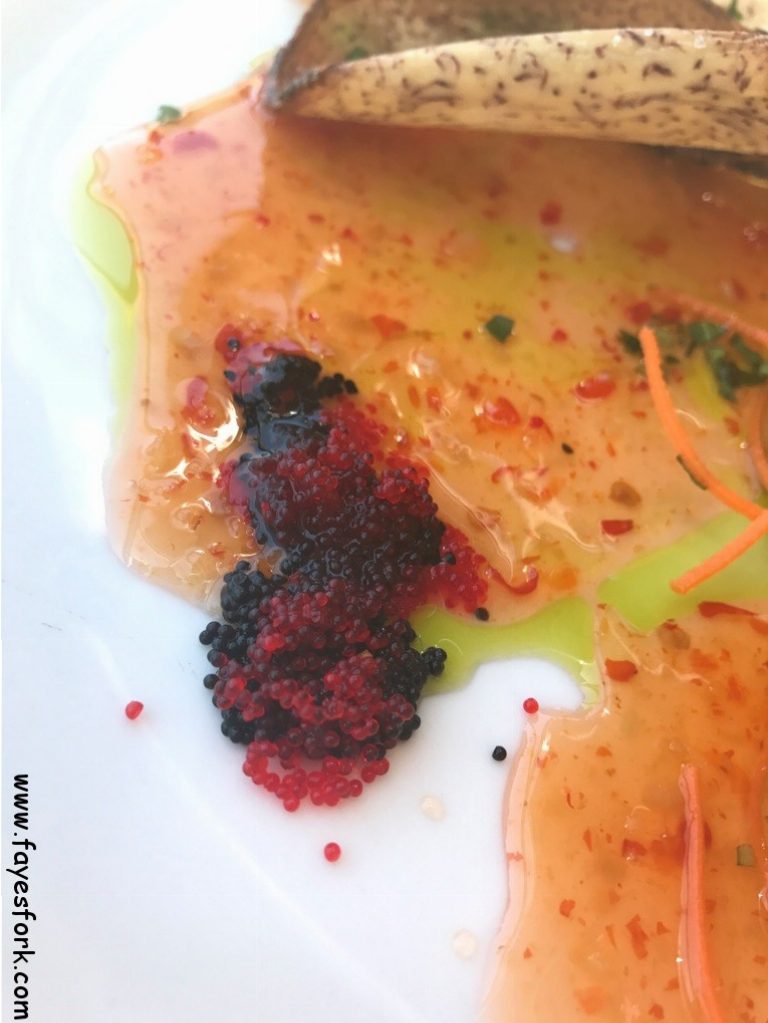 This was the caviar which pretty much was multi colored tobiko eggs. They tasted super salty which I didn't like.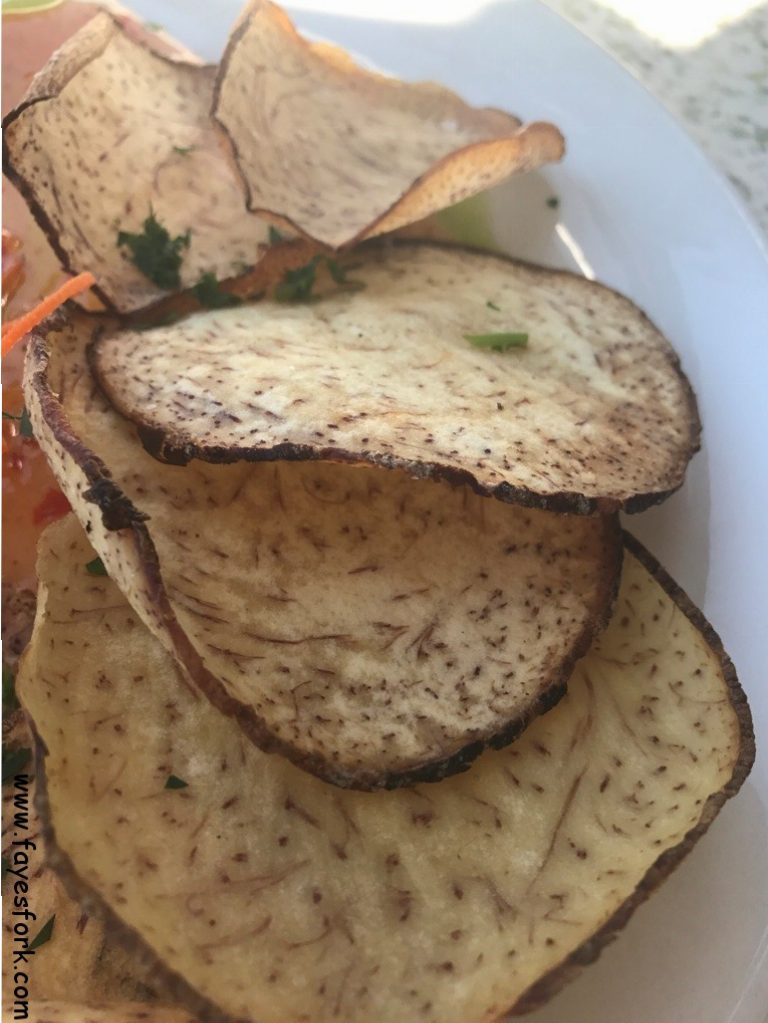 The side of fried taro chips were crunchy and V loved them.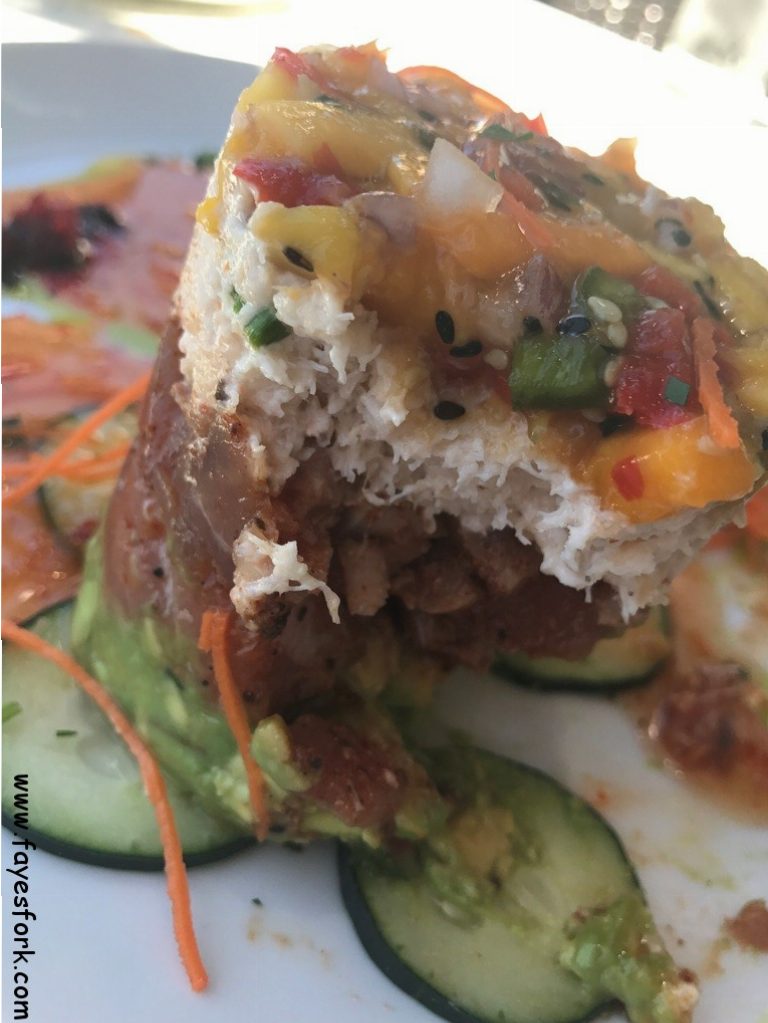 The ahi tuna wasn't as bright fresh red as I hoped. But, I'm realizing now that this was 'seared' ahi tuna so perhaps that's why the color looked a darker red. The tuna was sinewy in some bites. I would have preferred less mayo in the blue crab salad as it was hard to taste any real blue crab in that mix. The overall dish would have been benefited from being served colder.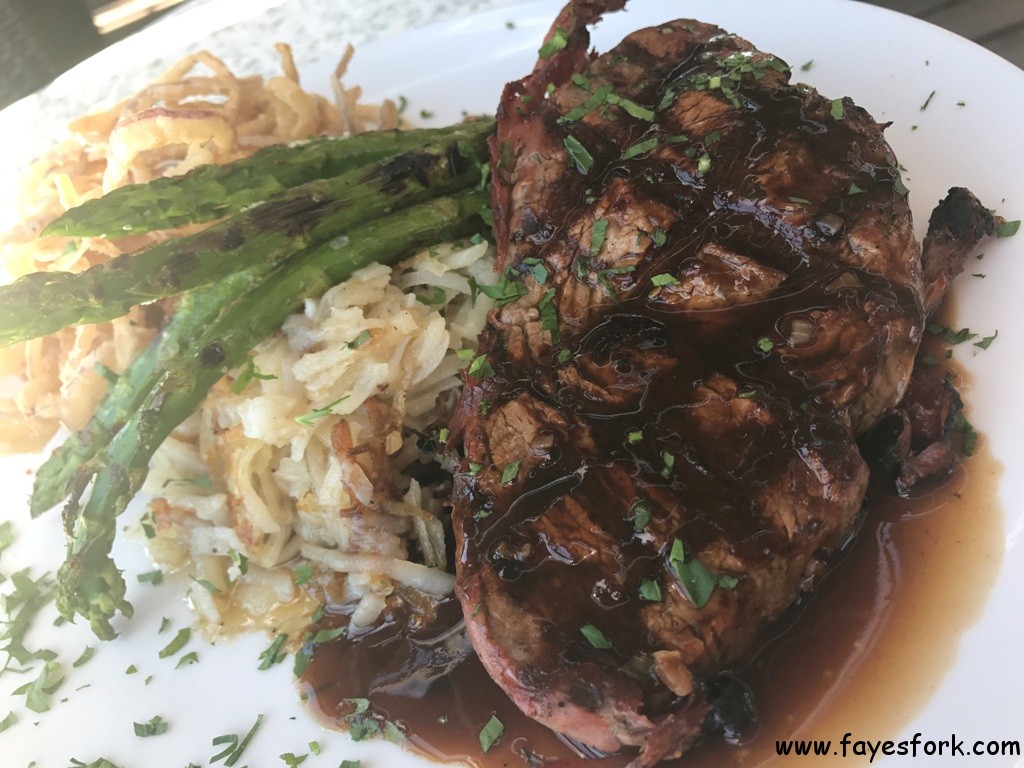 Nice job V. She originally wanted to fish & chips but then changed her mind to the filet mignon. Our server, Liz, asked if she wanted the filet butterflied which she did. She requested medium-well for the filet (I know, gasp!).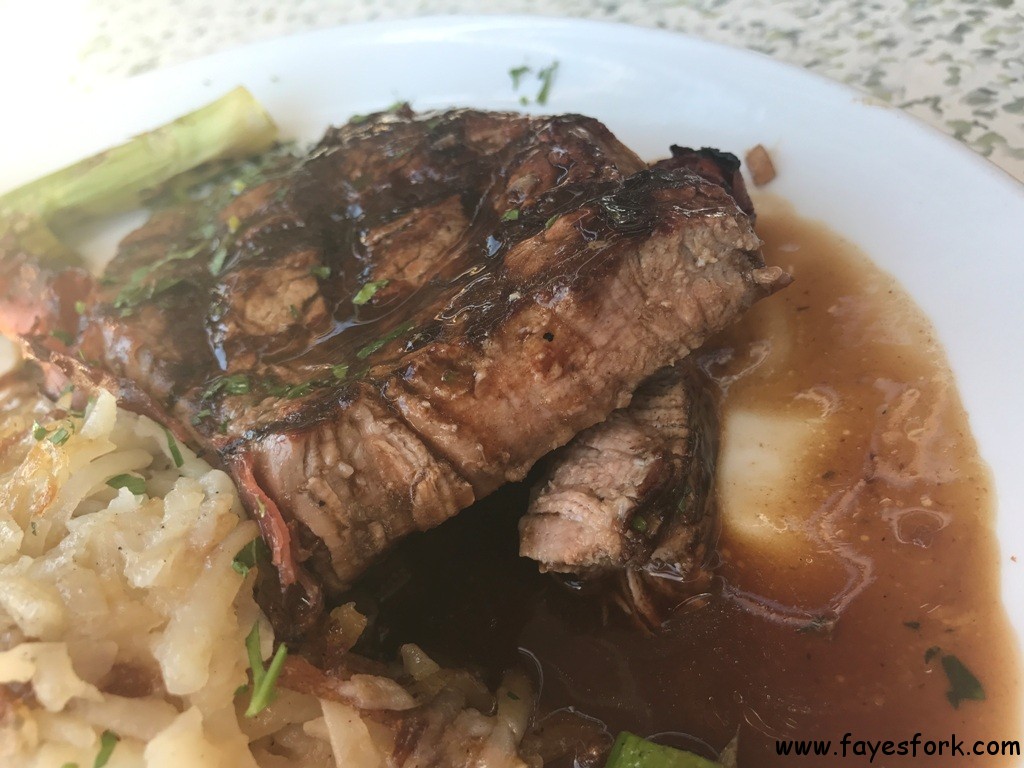 The filet looked more well done to me but V said it tasted incredibly tender and flavorful. Then I remembered the filet was butterflied (hence why it was thinner). The bordelaise sauce was rich and smooth. The potatoes truly looked like breakfast hashbrowns. V liked this dish and polished it off.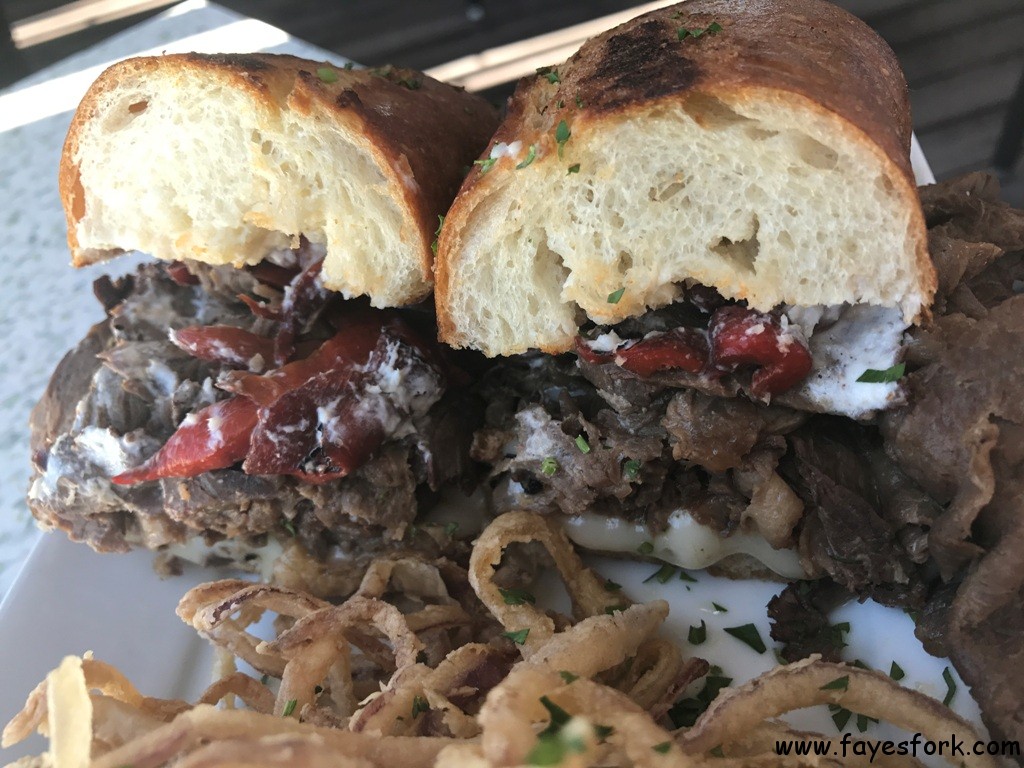 This was a nice order for $18. The french dip is cut in half and served with a side of crispy red onion rings. Unfortunately, the slices of beef were dark and dry.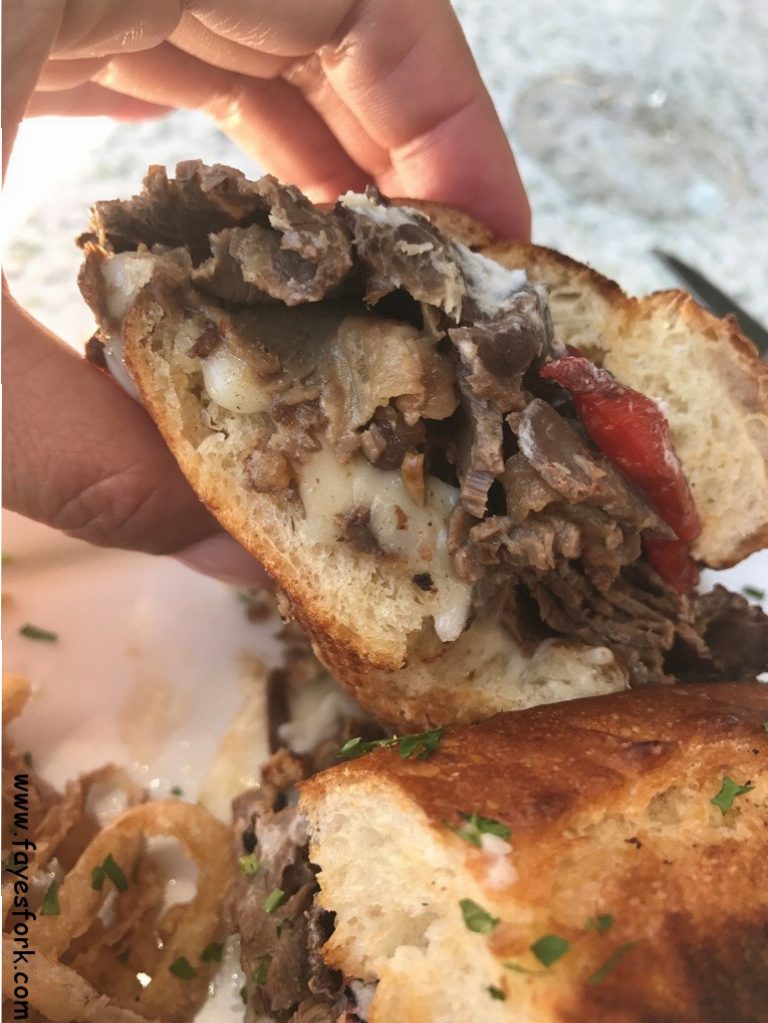 The meat wasn't very tender nor did it have much taste. The side of au jus didn't help either. The roll was nicely charred but that was about it. I took most of this sandwich back to work.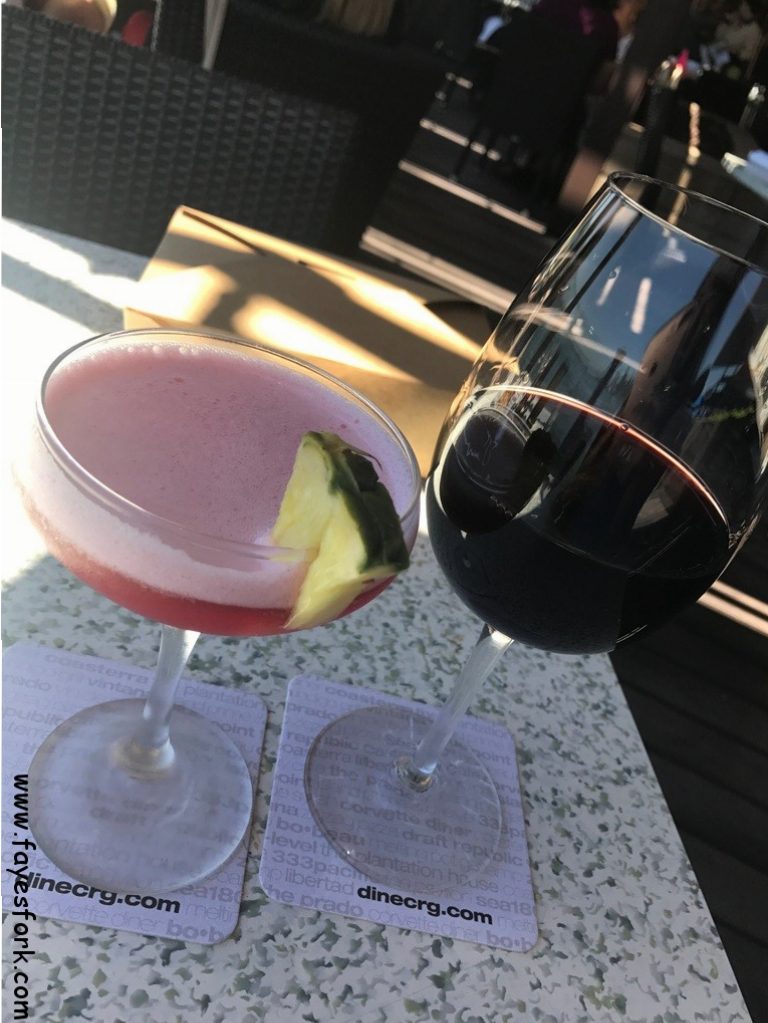 We just discovered V's favorite drink. The black bramble martini was sweetened with fresh blackberry puree so it made the vodka much smoother to drink for V. She enjoyed this drink quite a bit.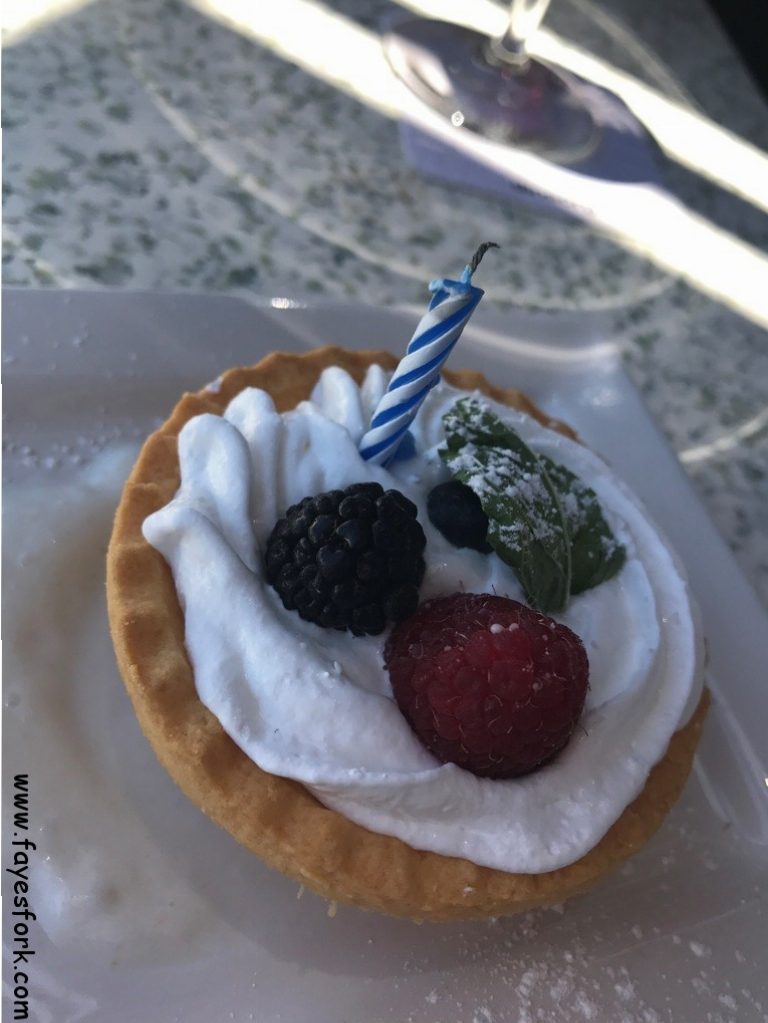 C Level gave us a complimentary tart for V's birthday. I think it had custard in it. V liked it but it was her wish upon the candle that was most memorable for me.
I was hoping the free birthday dessert would be the mud pie but Liz said it's only the tart. No worries as I figured I'd just pay extra for the special dessert (it was either that or surprise V with a trip to Extraordinary Desserts after lunch). But we were enjoying the time at C Level so ordering dessert here was the more efficient choice.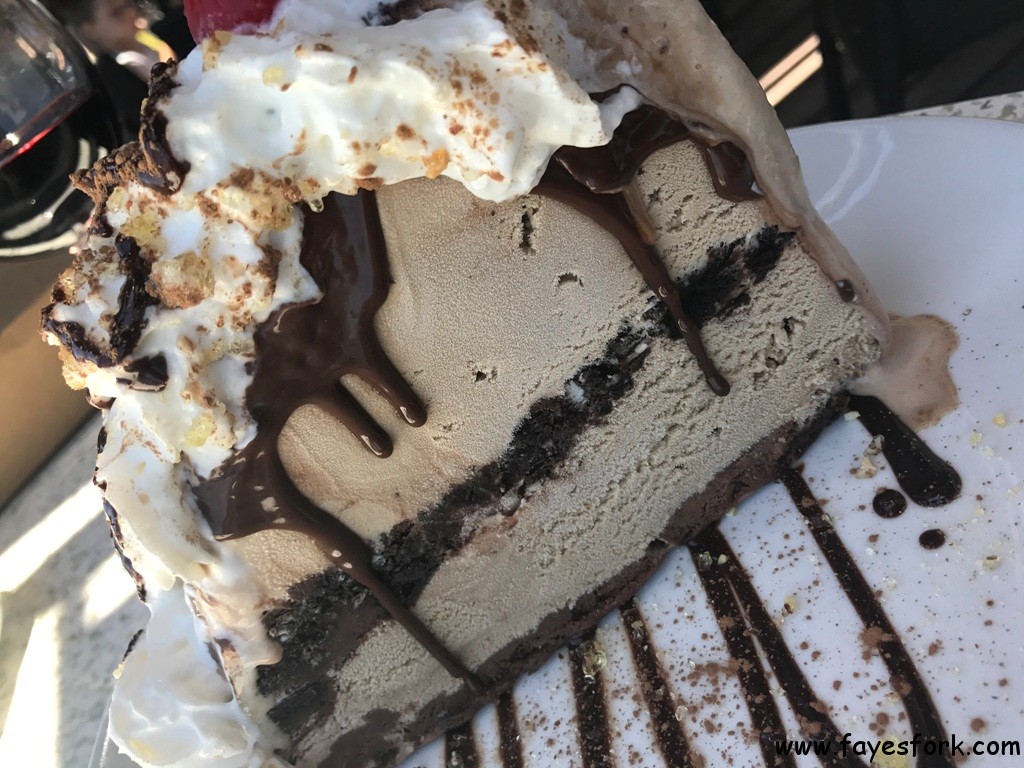 I heart this picture. V oooo'd and ahhhh'd when it was placed in front of her (she had two desserts now in front of her). This was a substantial hunk of mud pie. It was mind blowing good on a very warm day. The coffee ice cream tasted light and sweet; the homemade fudge (in between and on bottom) was thick and delicious. There was some crunchy bits (toffee?) somehow in the bites too.
Ashley, the manager, came over to wish V a happy birthday. She heard it was V's first visit. She said the mud pie was on the house and thanked us for coming. It was a thoughtful gesture that made our day.
Service was great and we never felt rushed. We got to the restaurant around 11:05a and a few patio seats were already taken. So people must know to get here early to get the best patio tables with a view. I would return to try out their happy hour because the harbor views are that beautiful. Coasterra Restaurant is literally right next to C Level! The back patio has a small walkway that connects to Coasterra. So make sure to explore Coasterra when you visit C Level.
C LEVEL
880 Harbor Island Dr
San Diego, CA 92101
(619) 298-6802
We took some time walking around to take pictures. The breeze outside was unreal and truly a breath of fresh air for us.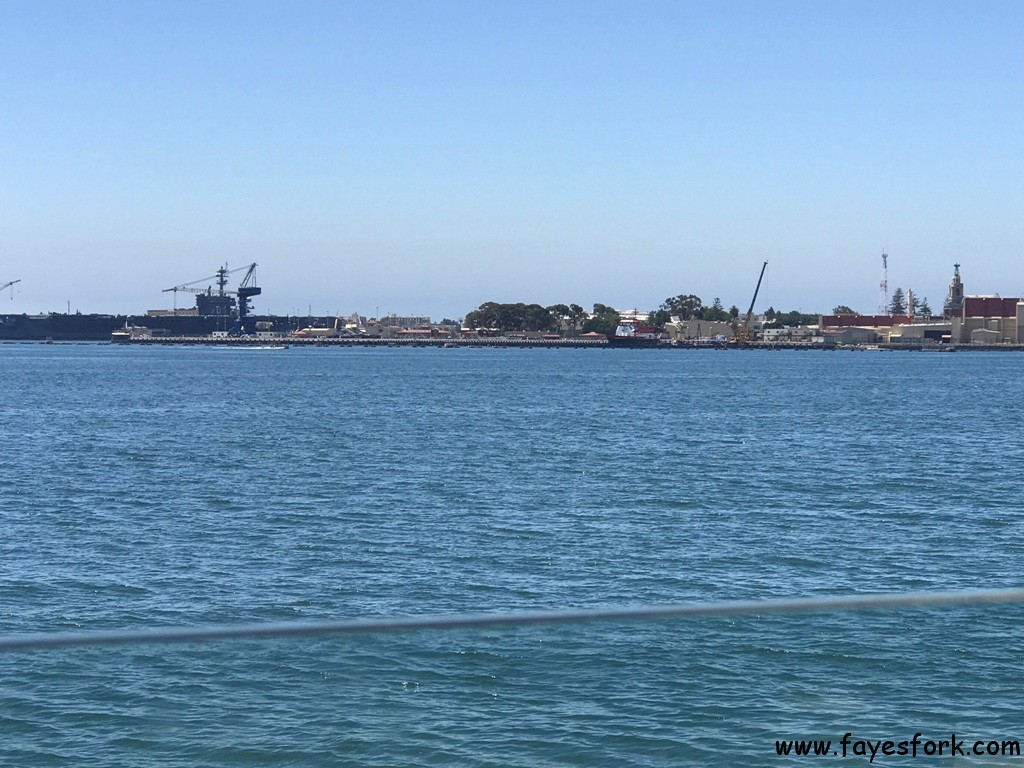 This is the ship yard? I don't know. I wish I could have been a better tour guide.
I am so grateful for V. She's been a calming force in my work and personal life. Her fierce loyalty and compassion towards those she cares about it inspiring to me. You don't mess with her.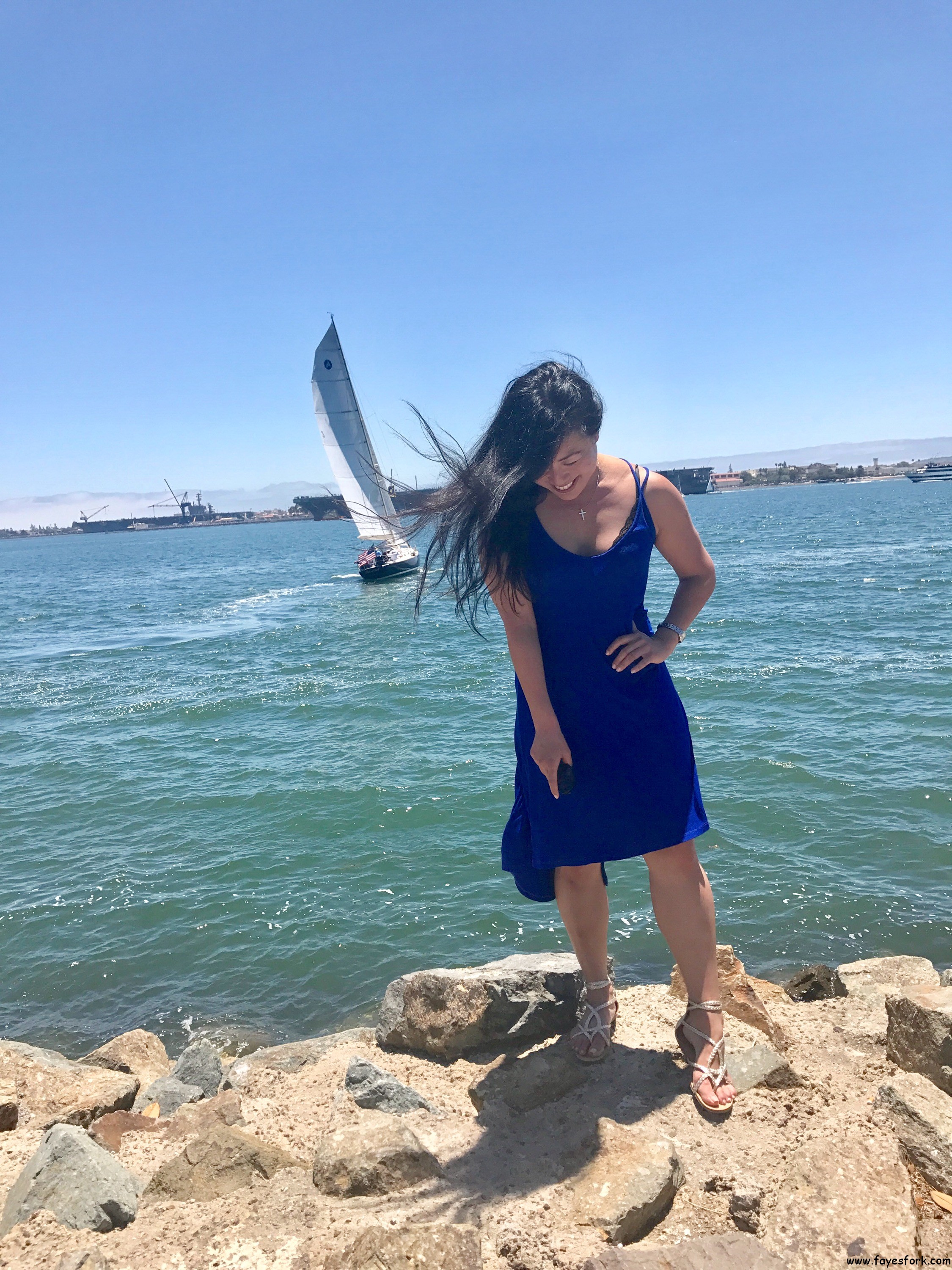 Her daily encouragement is a reminder of what life is all about it. She's helped me keep my spirit calm and my perspective bright. So thank you V for all you do and for who you are.
Happy 4th of July 2017 weekend everyone –