My sister has mentioned several times to visit Ken Sushi Workshop for a dinner date. She and Peanut enjoy this restaurant for special sushi dinner nights with their husbands. This unassuming restaurant is located in a business park with California Bank & Trust. One of the chefs used to work for the infamous Sushi Ota and decided to open up his own restaurant here in North County. Prices are on point to match that of Sushi Ota (meaning it's pricey here at Ken Sushi Workshop).
Friend has been here before and thought the restaurant was overrated. So I was impressed when he remembered that I wanted to try Ken Sushi Workshop and surprised me with a weekend reservation for our second dinner date.
Ken Sushi Workshop is in the same business complex as Kabob Lounge. I didn't have an issue finding parking that evening. They have an outdoor patio but we opted to sit inside due to the humidity. It's not a large restaurant so reservations are recommended.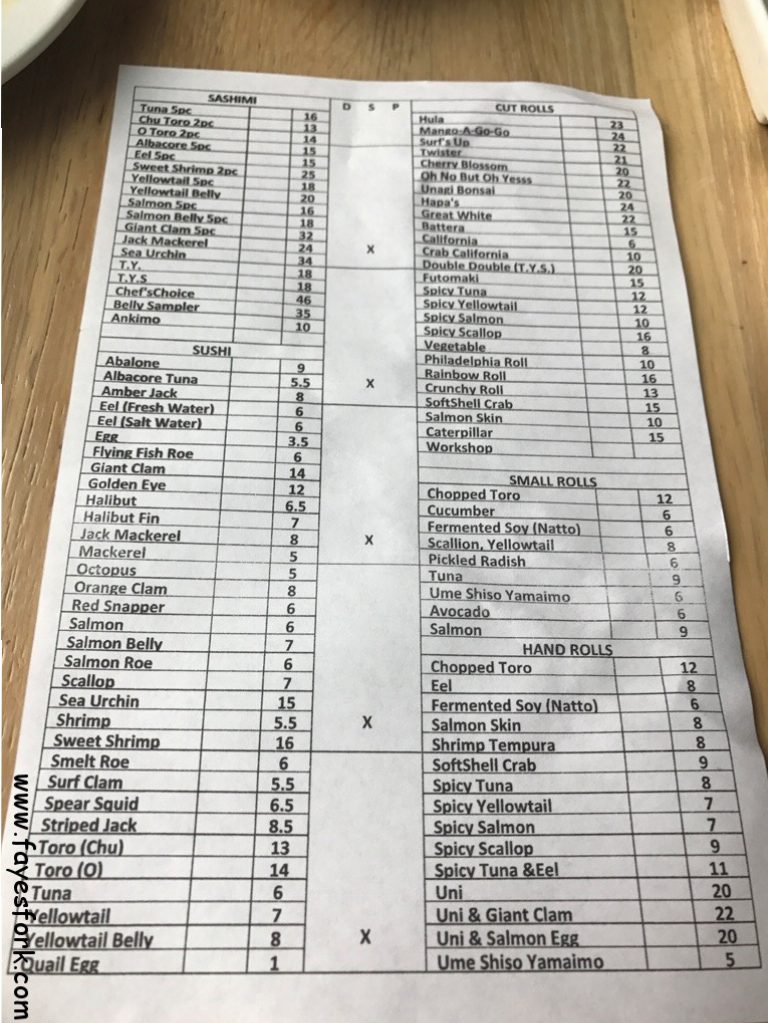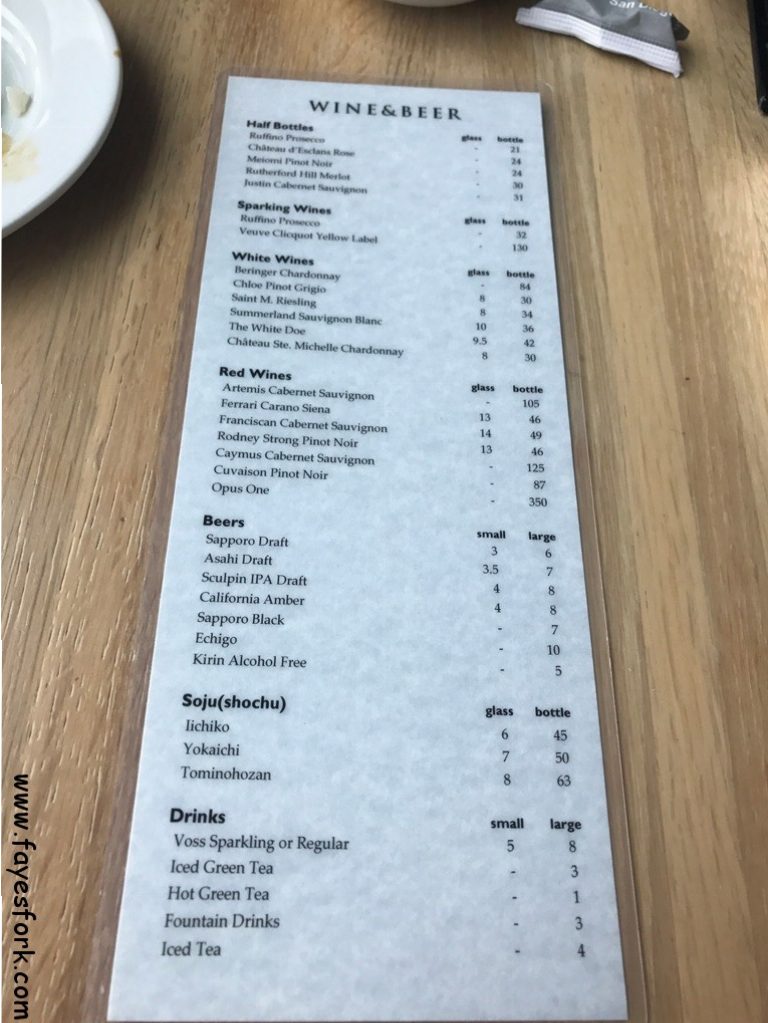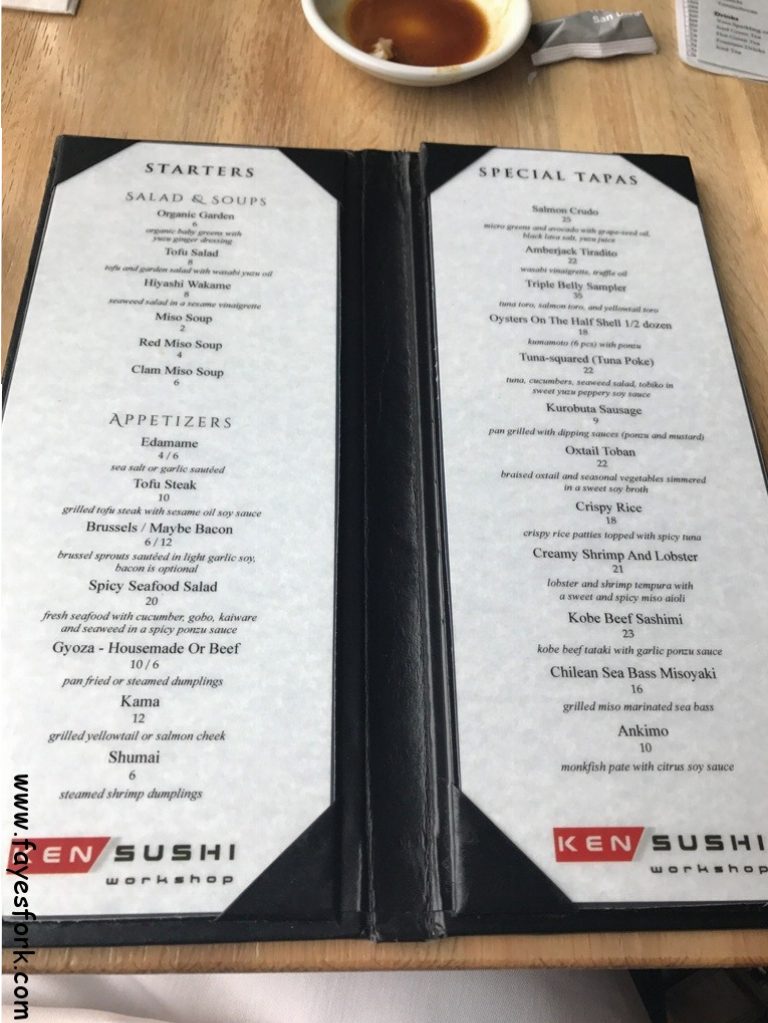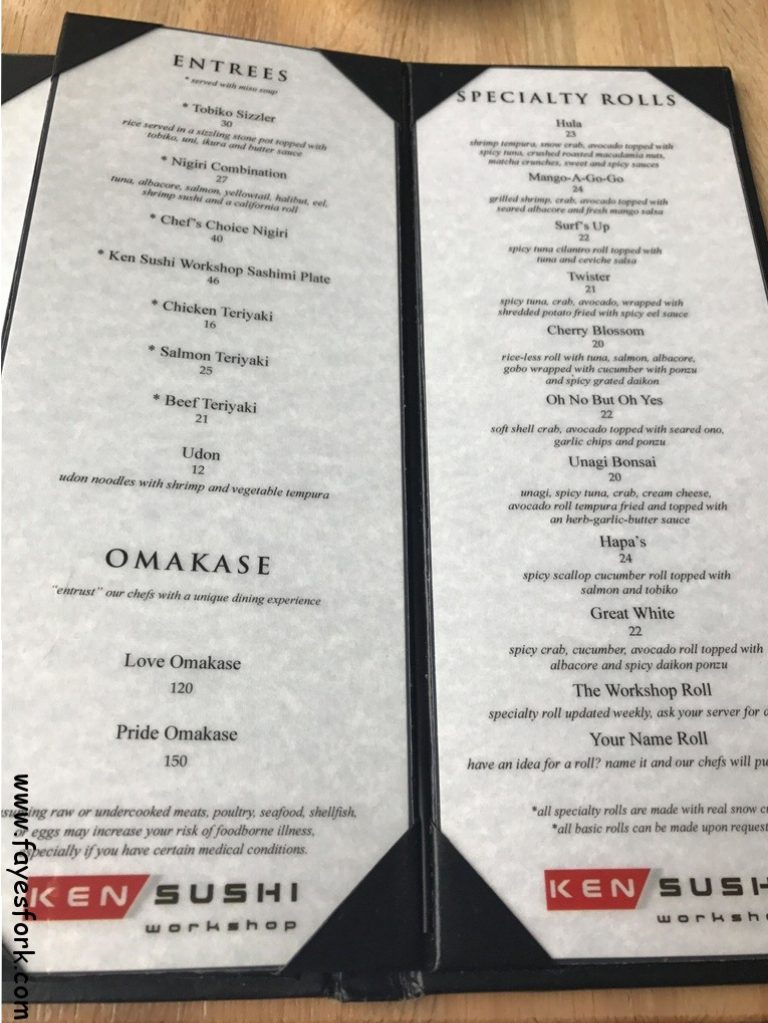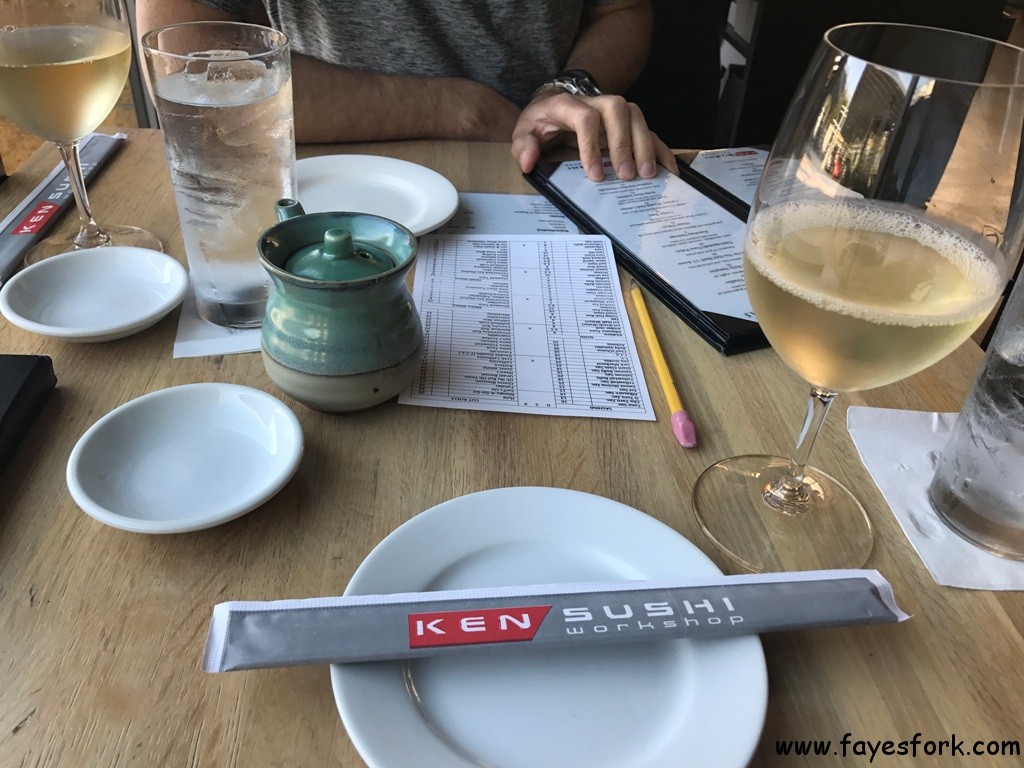 He ordered two glasses of the pinot grigio which was about the best drink I've had all summer. It was chilled, lightly sweet, and just heavenly on a warm evening.
Friend took suggestions on what I wanted and ordered from there.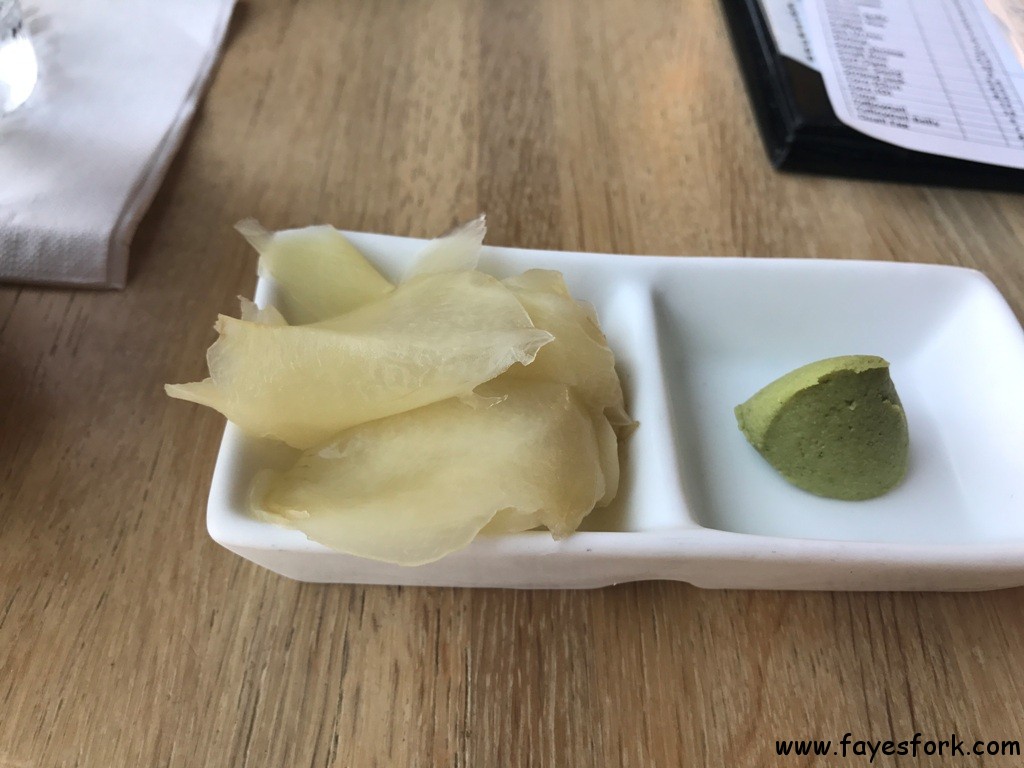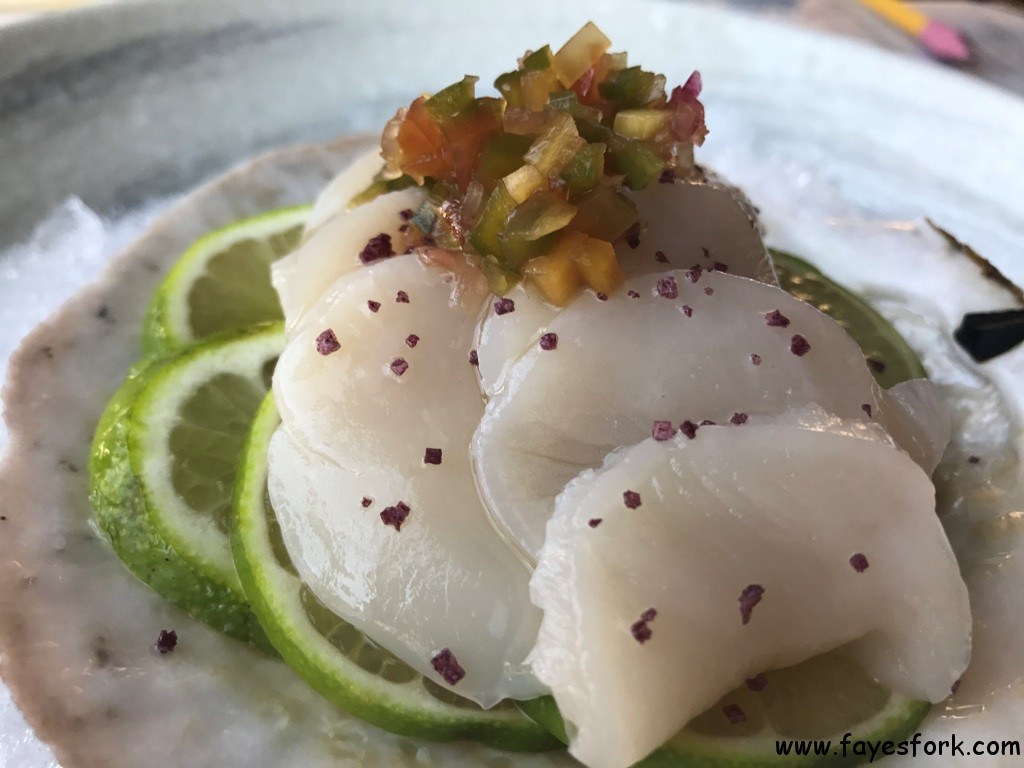 This was one of the restaurant's specials of the day. The live scallop was served over sliced limes and presented on a huge bowl of ice. It was a stunning presentation. The scallop tasted briny. I love scallops but this special wasn't my favorite.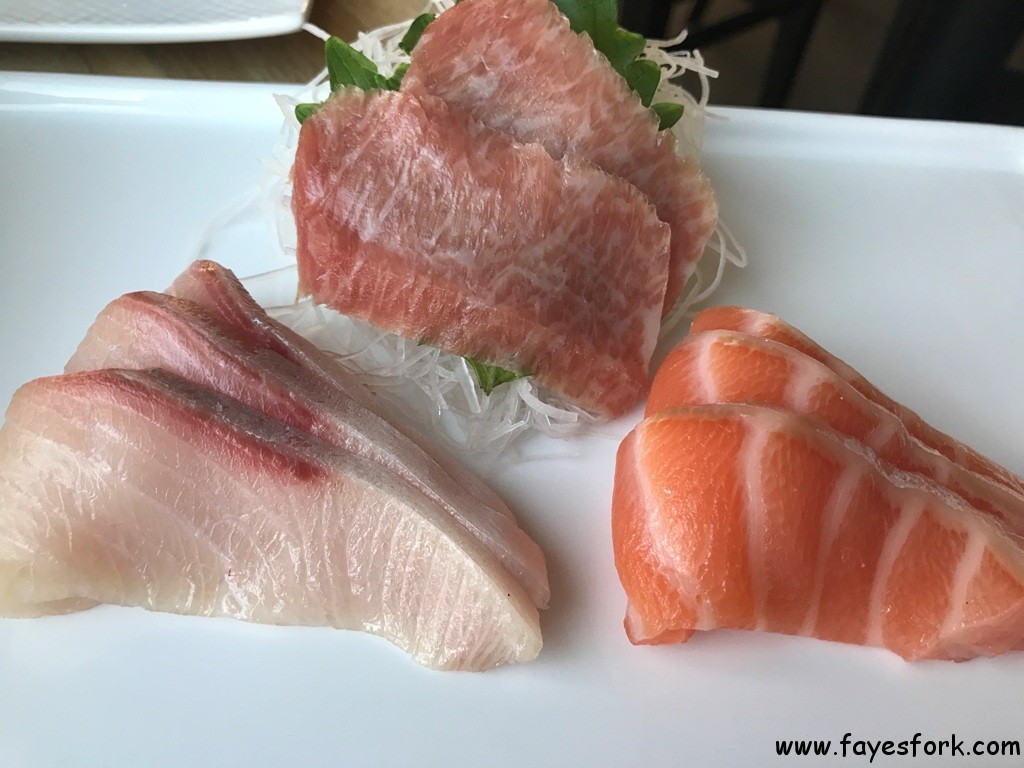 I couldn't believe this tri-belly sampler was $35. There were two slices of toro and three slices each of hamachi and salmon. I thought the sampler would be more breathtaking for the price but no. I haven't had fatty toro in ages because the price was always too high. The version here was alright but not as melt-in-your-mouth luscious as I had dreamed of. The hamachi and salmon didn't taste like fatty belly. They tasted more like average sashimi.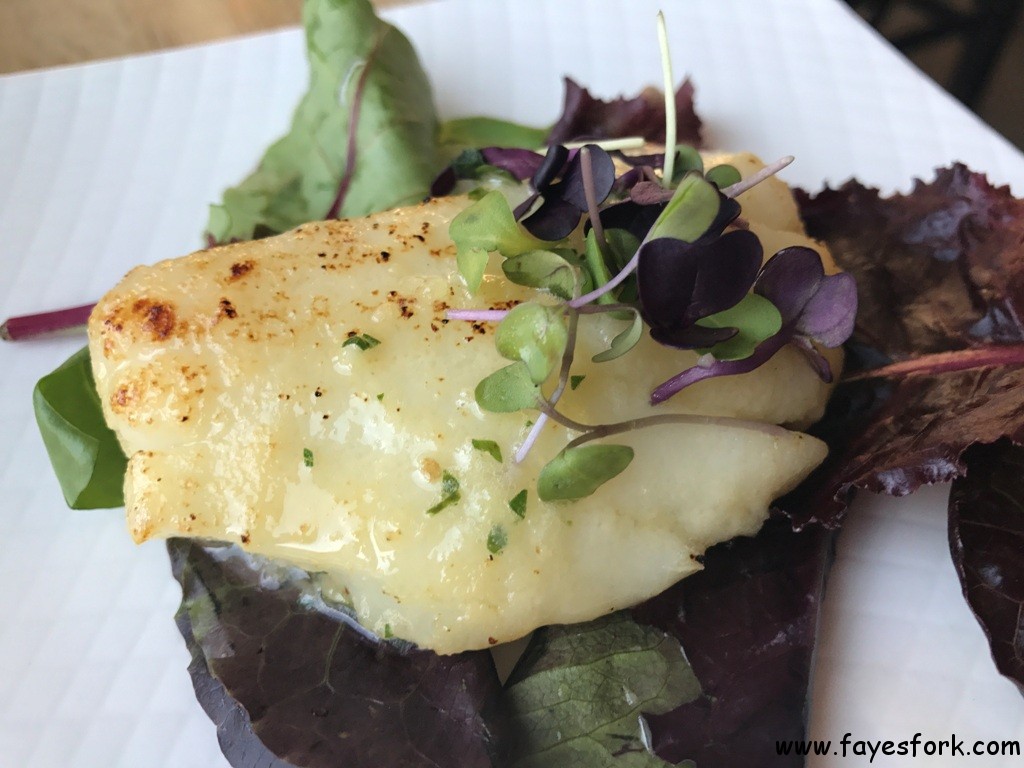 Be still my beating heart. Chilean sea bass is my favorite fish in the entire world. I don't even want to look at the price right now because it was 'that' expensive. What took me aback was the portion size. The small piece of sea bass was the size of a Costco card (remember the good ol' days when I would use my costco card to gauge drink or food sizes).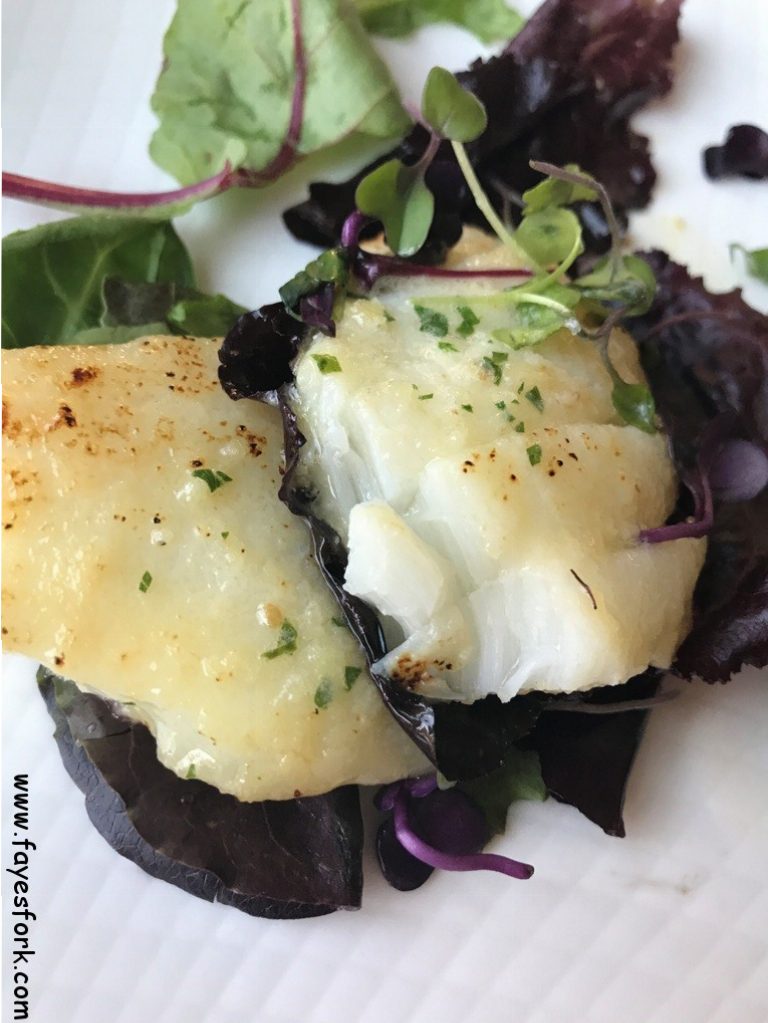 The Chilean sea bass was prepared misoyaki style so there was nice sweet and salty taste to this incredibly buttery fish. It was well prepared and I enjoyed this small piece of sea bass which was literally four bites between two people.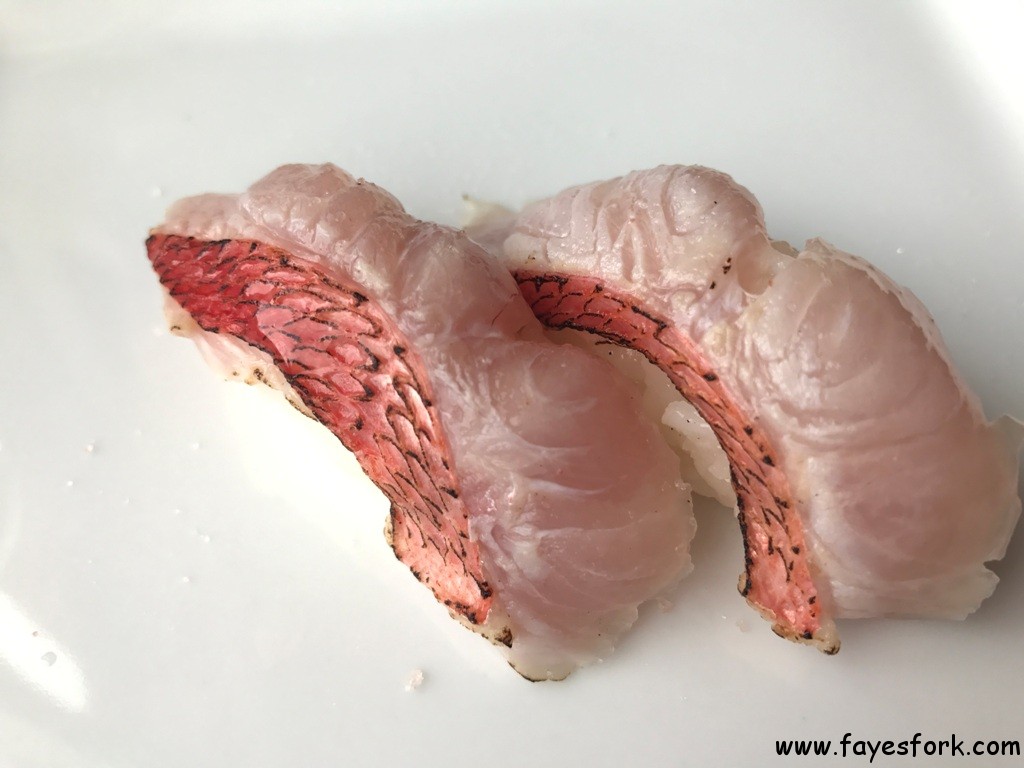 The skin color of this red snapper nigiri was so pretty. I haven't had red snapper nigiri in so long so this was a nice choice to try out.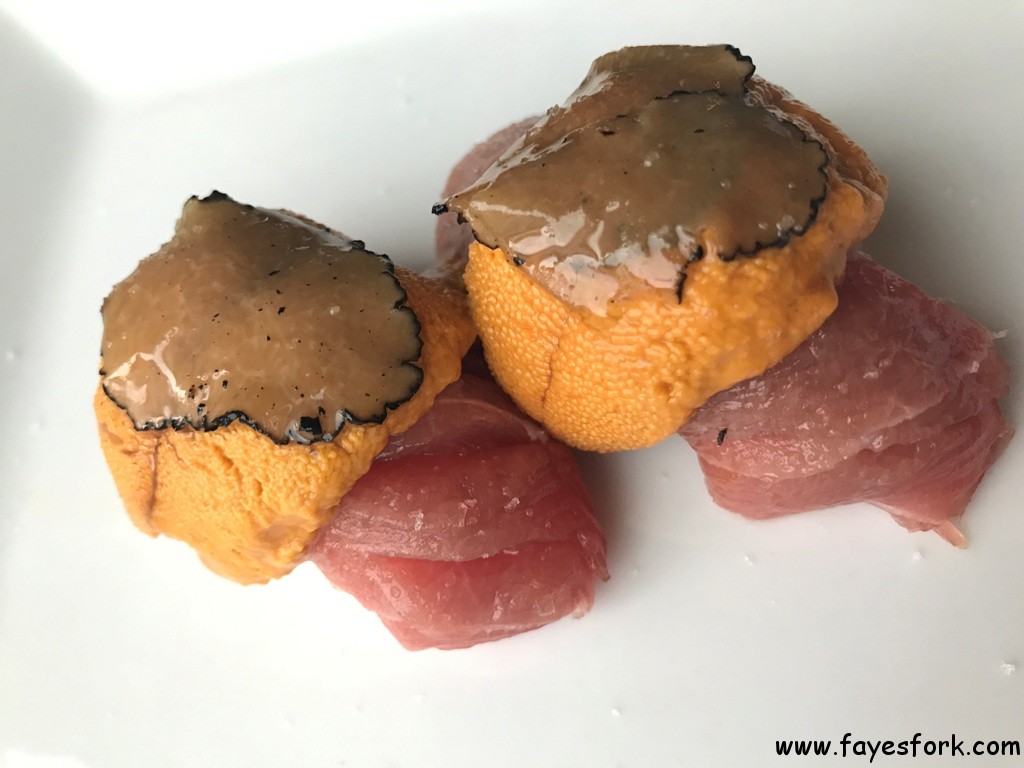 Can you please take a moment to visually drool over the above picture. I had heard about this 'off the menu' nigiri. In fact, my close friend Peanut had ordered it years ago and sent me pics.
This nigiri consists of fatty toro belly topped with fresh uni and a slice of black truffle. I mean, gosh, LOOK AT IT. The sushi chef instructed the server to tell us to NOT add any soy or wasabi to this nigiri. It's to be eaten AS IS.
It was a unique and memorable mouth full of textures and tastes. You could absolutely taste the truffle. I could taste some of the creamy uni. But the toro was lost in this nigiri. The toro was more memorable in the belly sampler dish earlier.
I don't know the price of this special nigiri and didn't even want to ask.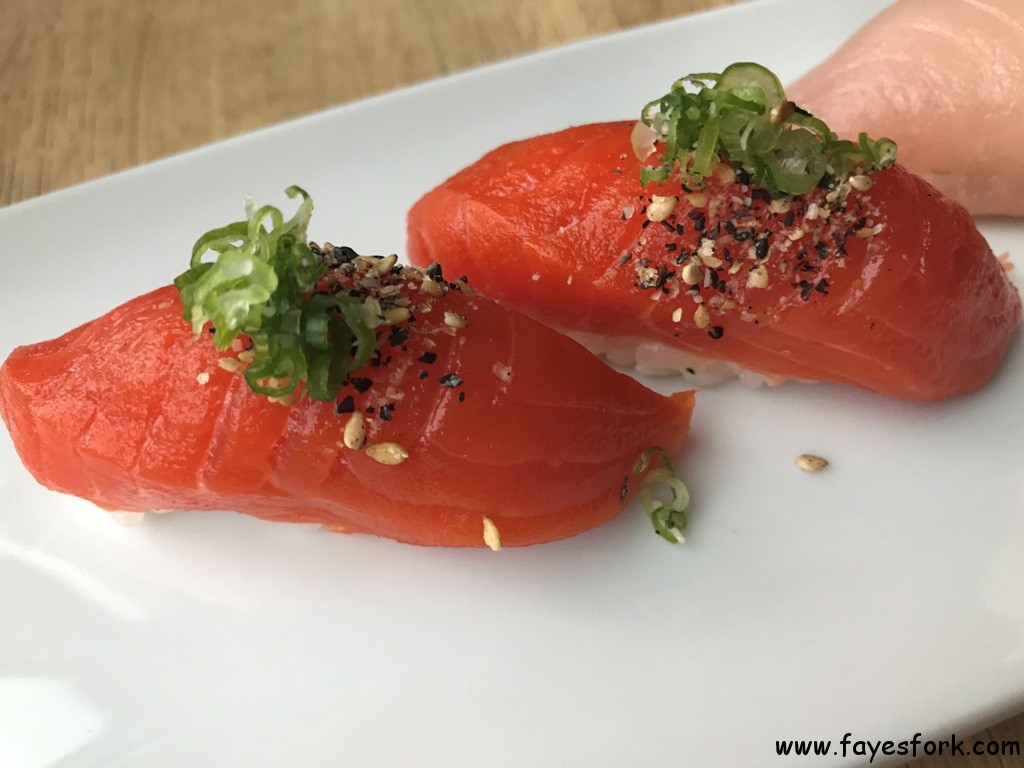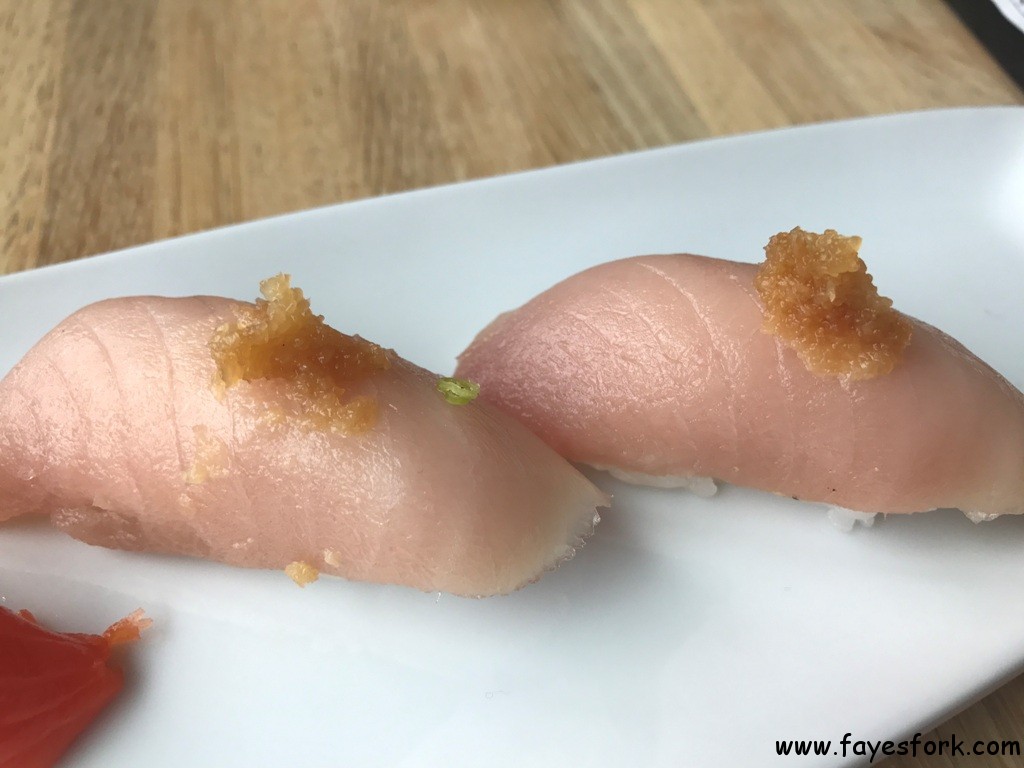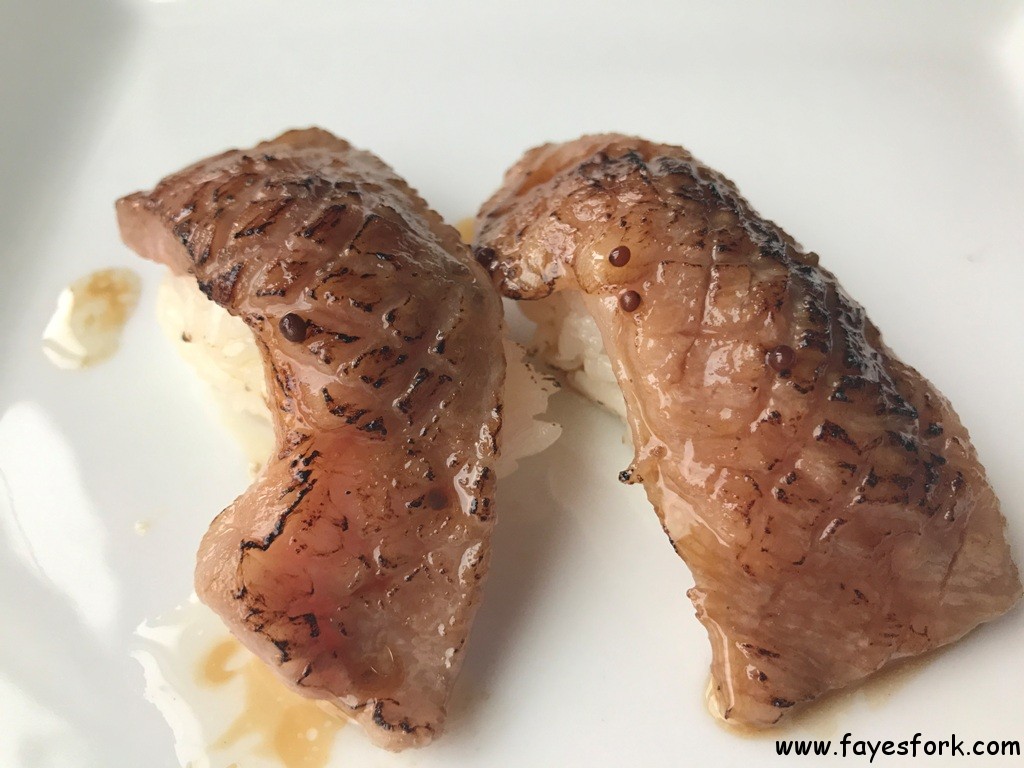 I can't remember the last time I tried legit Japanese Wagyu beef. Our server confirmed this beef indeed was wagyu. The beef was scored and then torched. It was served medium rare over sushi rice. The beef tasted nicely fatty but that was about it.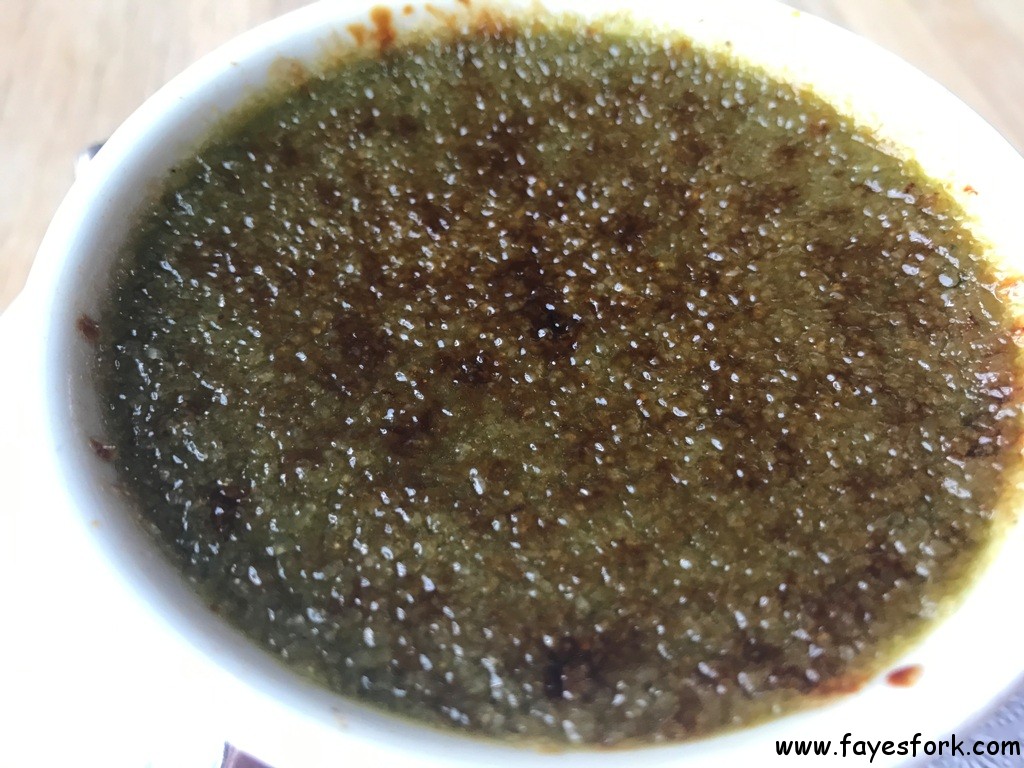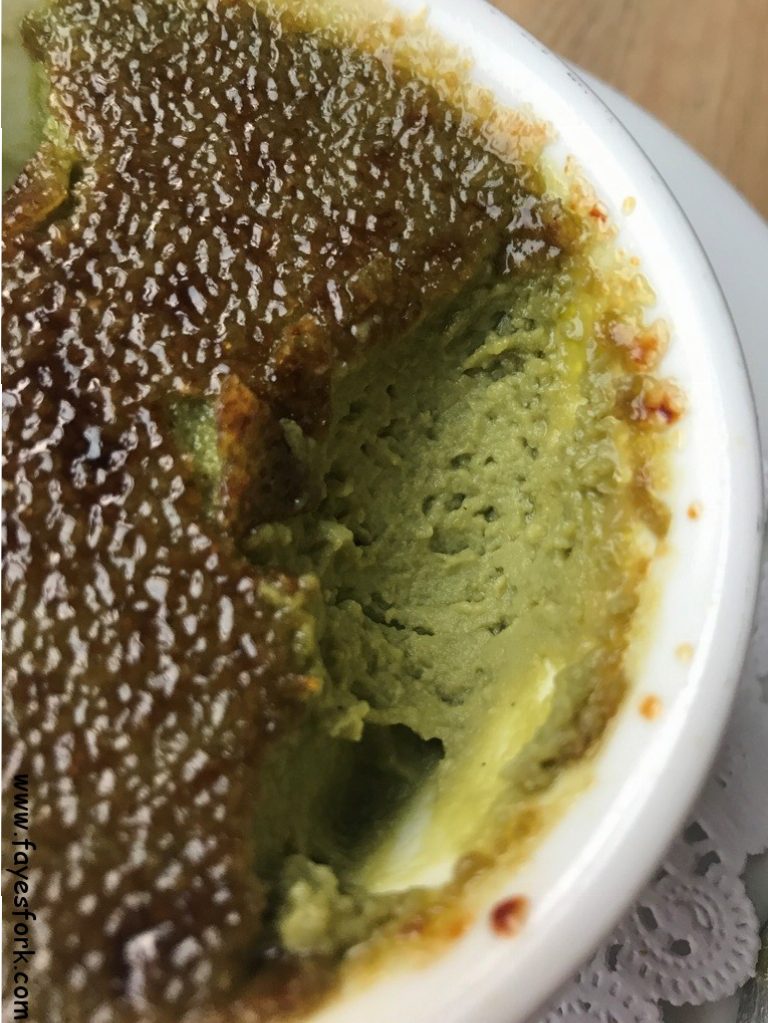 The green tea creme brulee is made in house and was a delicious fun way to end a meal.
Service was pleasant and unobtrusive. We spent about two hours at the restaurant and never felt rushed. The restaurant was packed by the time we finished our meal. I might have peeked at the bill when friend went to restroom. Let's just say it made me appreciate the evening even more. I would recommend Ken Sushi Workshop if you wanted to splurge on a date night or you're a sushi enthusiast. I wasn't blown away by the sushi but a few of the dishes were nice. I have friends who thoroughly enjoy this restaurant and consider Ken Sushi Workshop better than Sushi Ota.
KEN SUSHI WORKSHOP
11375 El Camino Real
San Diego, CA 92130
(858) 793-1200
He had told me about a look out point close to the restaurant that had views of the ocean. I decided to check it out so we jumped in my car and drove up the hill.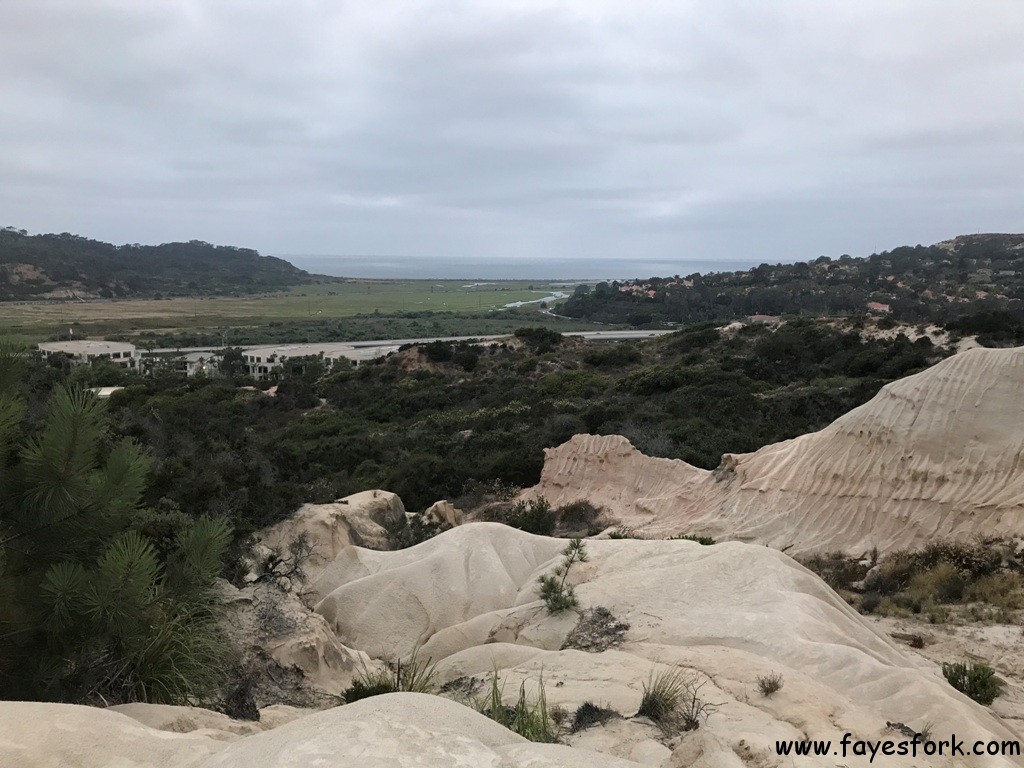 It was about 100 yard hike, in heels, to this look out point. There was inadvertent hand holding due to a few treacherous climbs. This would have been a beautiful view of the sunset had it been clearer that evening.
So how do you thank someone for a thoughtful date…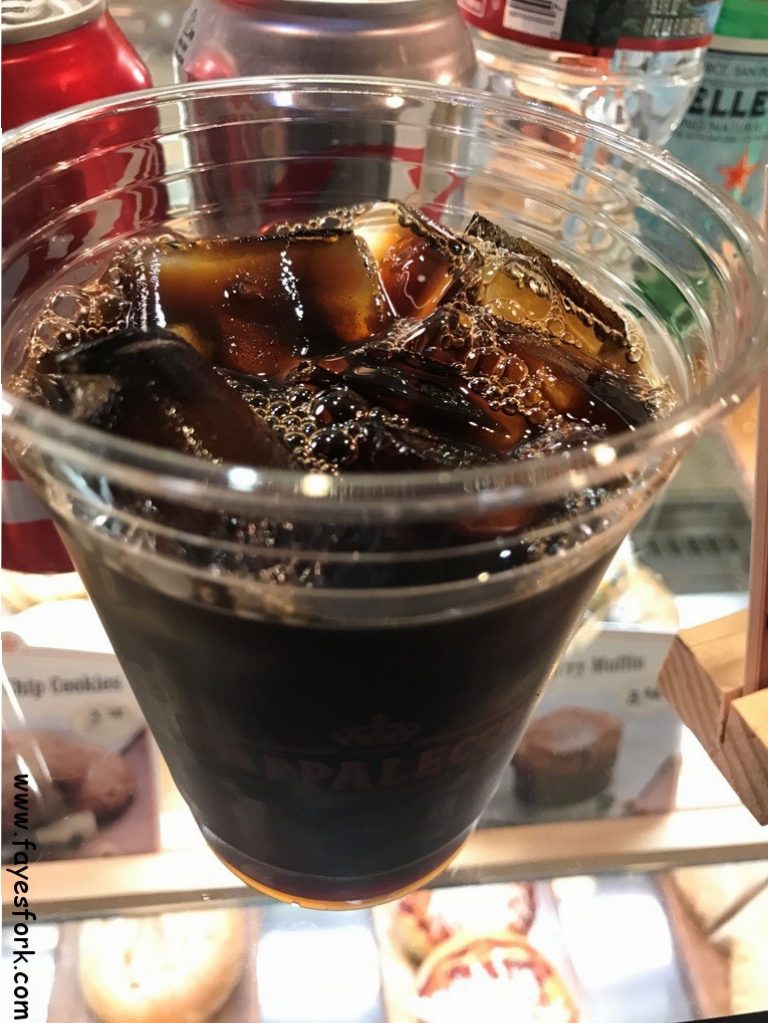 Taaa daaahh. We drove to a nearby strip mall and shared some coffee 🙂
Have a great weekend everyone –