I've seen Waypoint Public at various events through out the years. They offered samples but none of which I can currently remember. Cdj visited their North Park location some weeks ago after watching fights at a nearby bar and swore he had one of his best dinners at Waypoint Public (then again, he'd probably give 5 stars to every restaurant he goes to). I heard a new Waypoint Public location was opening in Del Sur of San Diego. I've visited the location a few times now for brunch, lunch, date, and dinner. Waypoint Public del Sur offers pub style dishes and has an extensive selection of craft beers.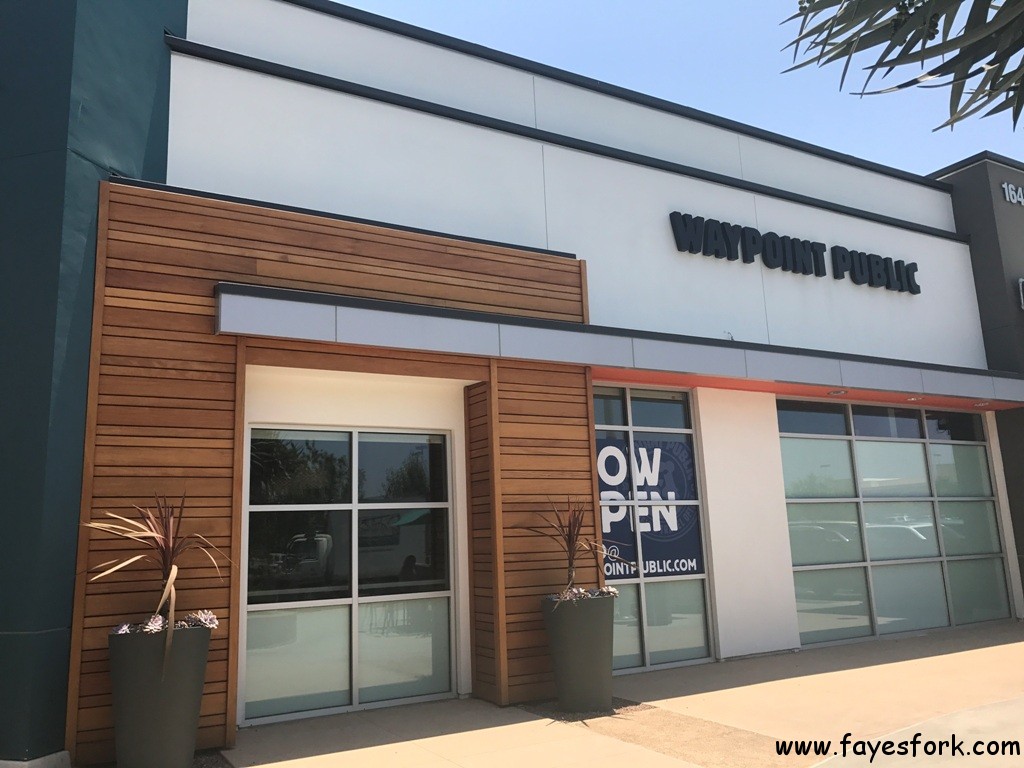 This Waypoint Public del Sur location is located next to Board & Brew and Piacere Mio.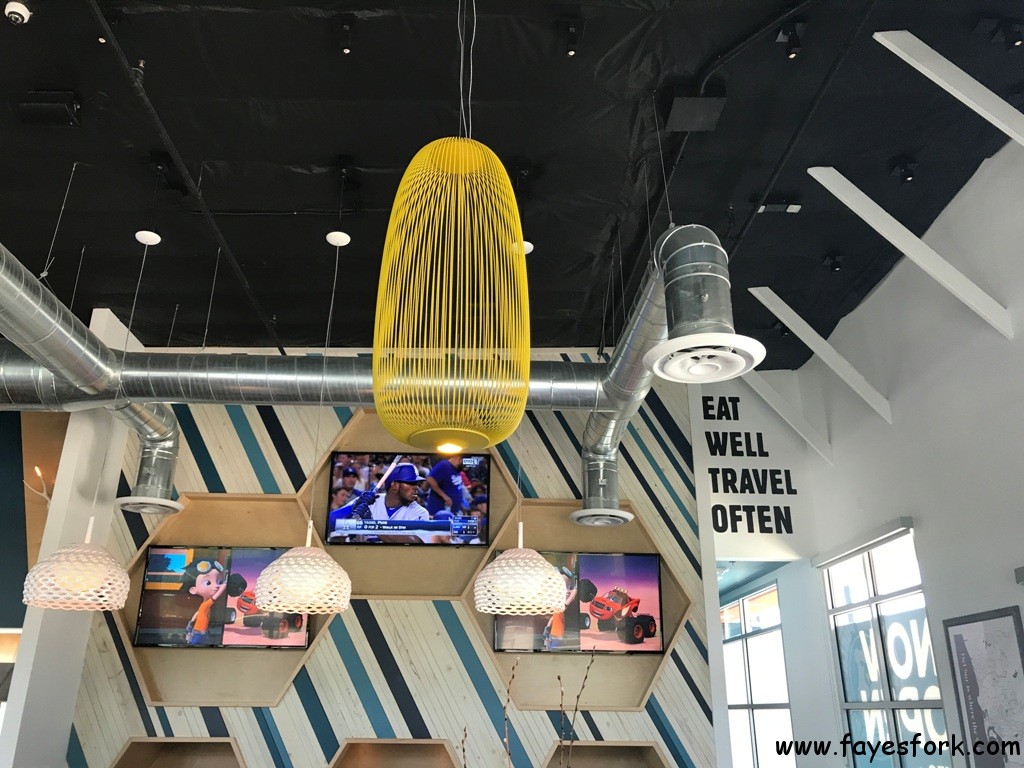 I was surprised there wasn't a wait for brunch that Sunday late morning we visited. Plus, the restaurant was well air conditioned.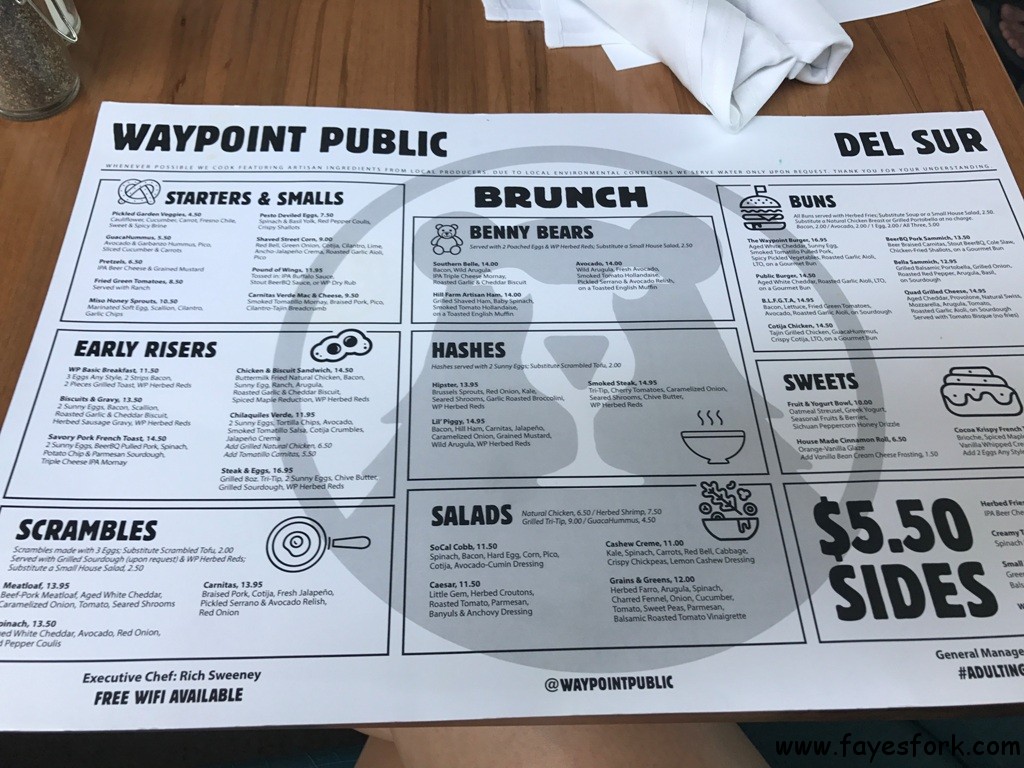 Brunch is offered on Sundays here at Waypoint Public del Sur.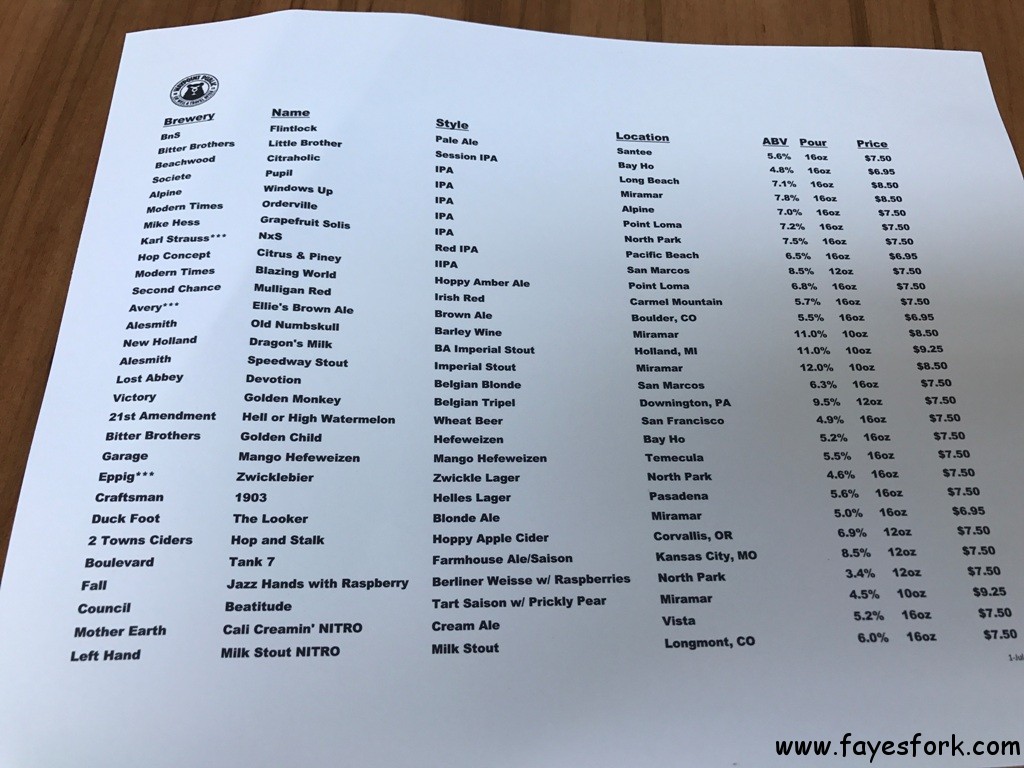 They have an incredible selection of craft beers here at Waypoint Public del Sur. I learned later that the drinks with asterisks are discounted during happy hour.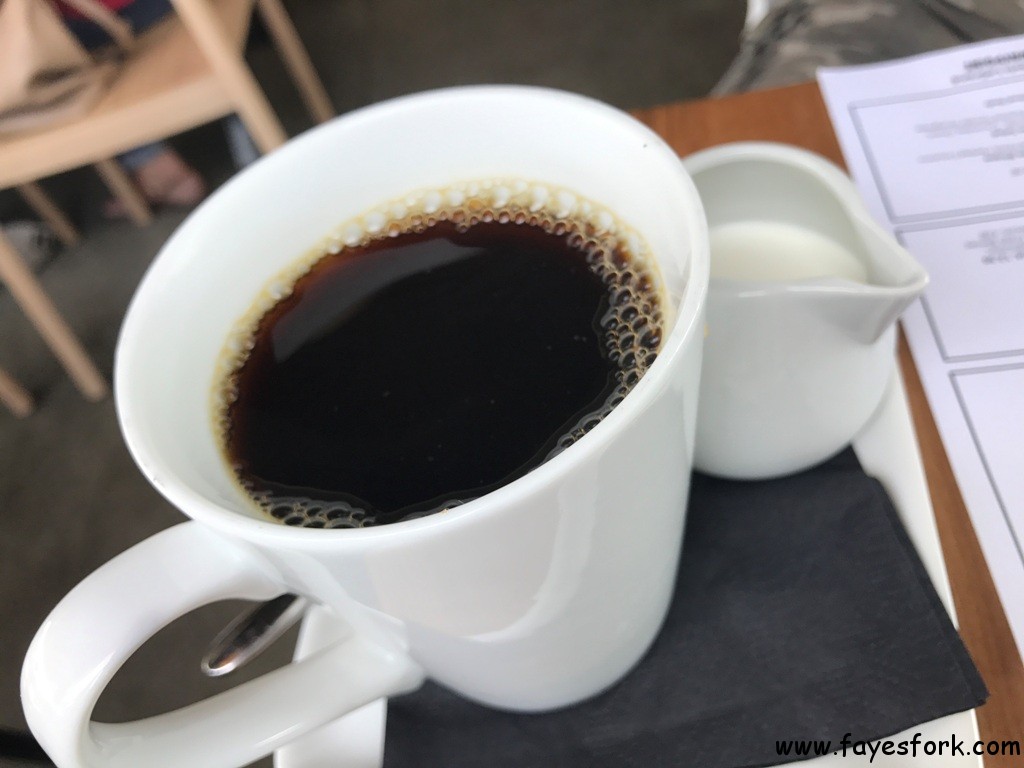 The coffee has free refills.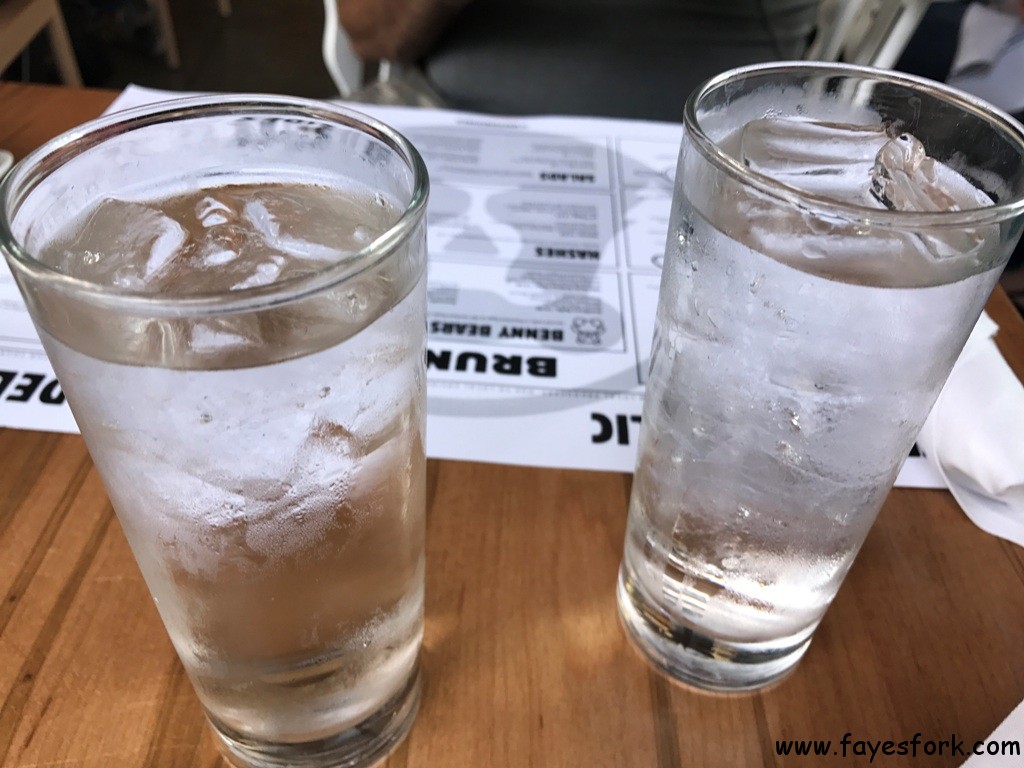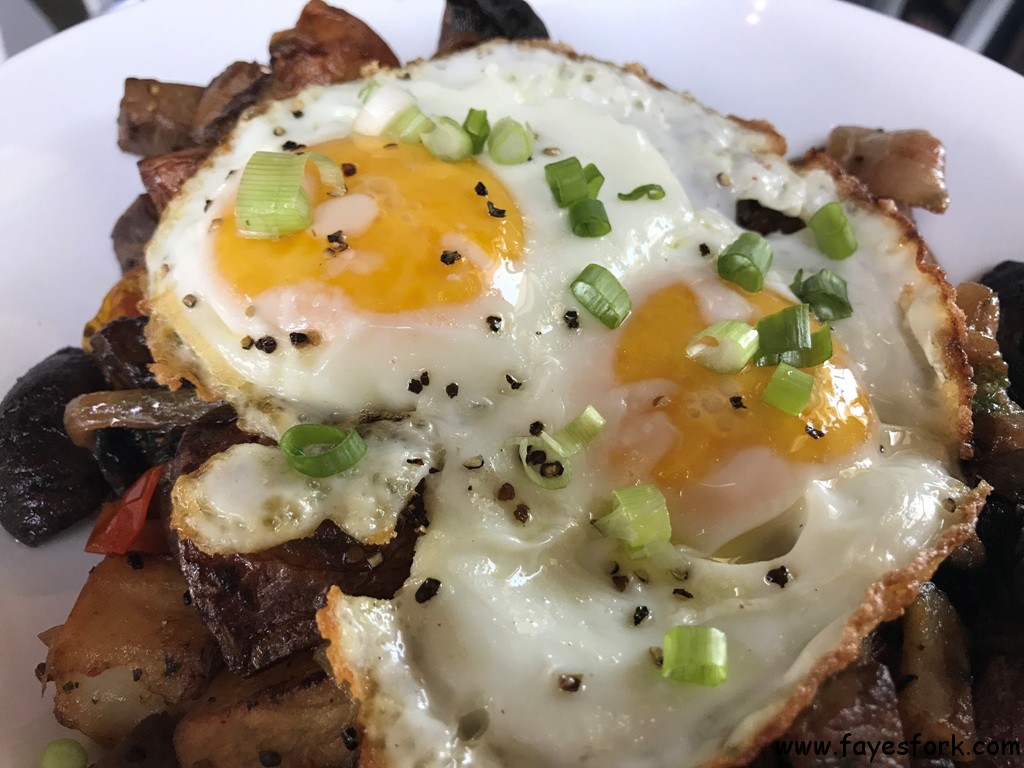 Cdj ordered the tri tip hash. It came topped with two fried eggs.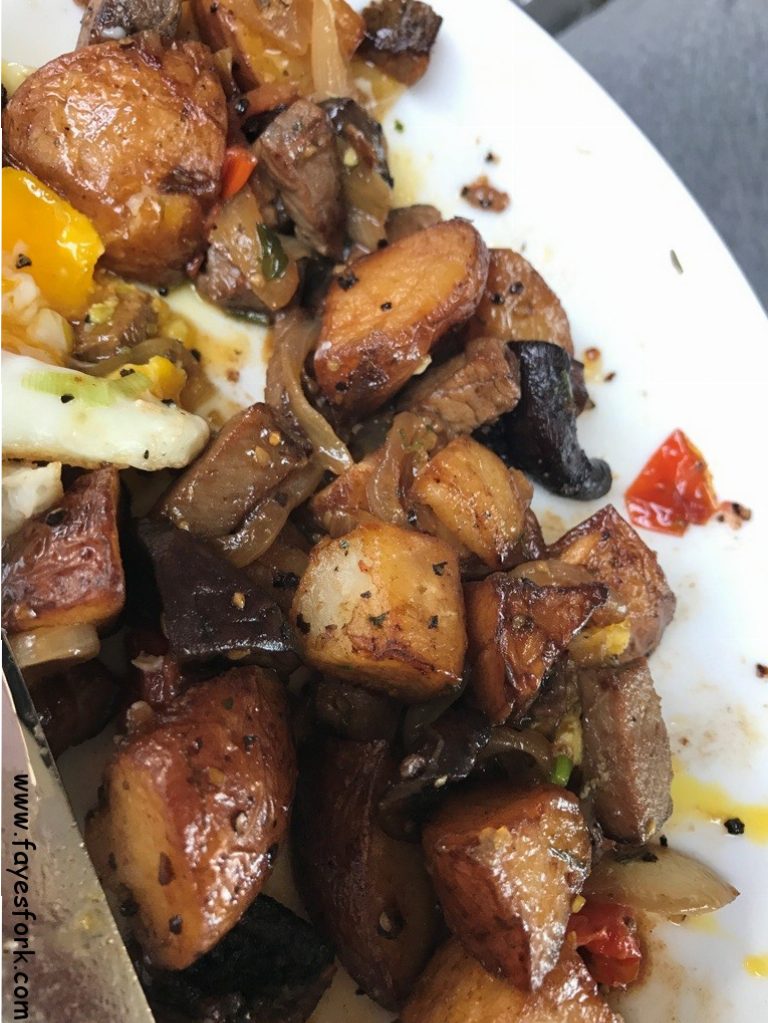 There wasn't very much tri tip which tasted mostly dry to him. There were a lot of potatoes.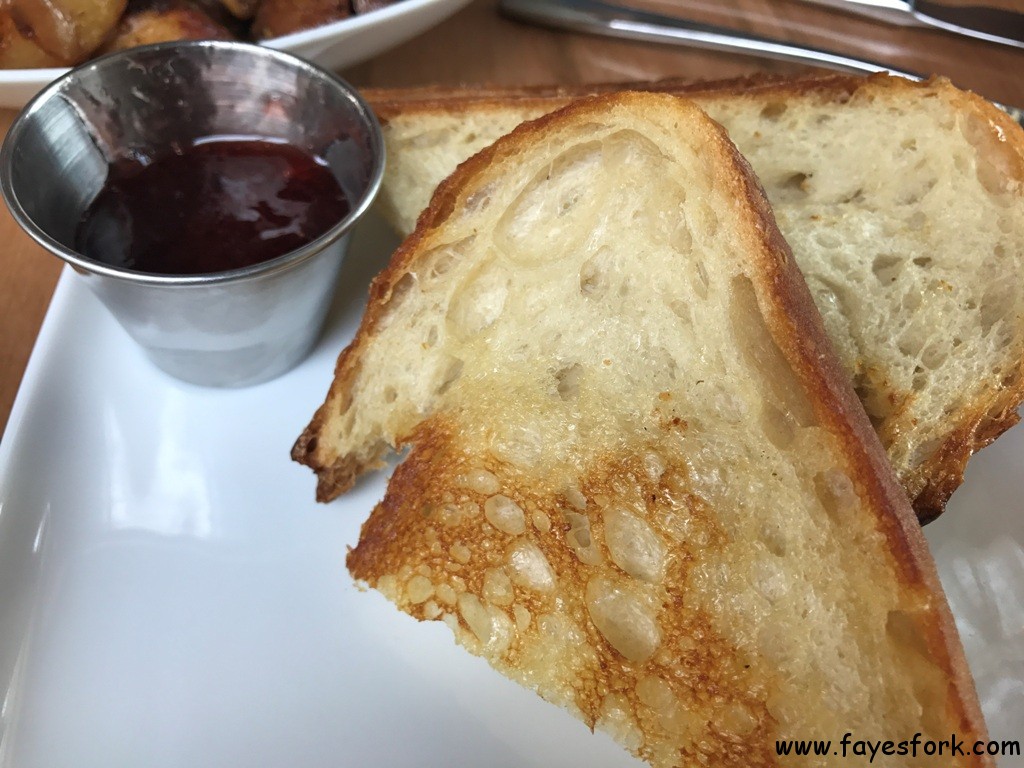 Cdj is a hippo after a work out. He can't get enough carbs. He thought his hash came with a side of toast but it did not. Not sure how much this side of sourdough cost.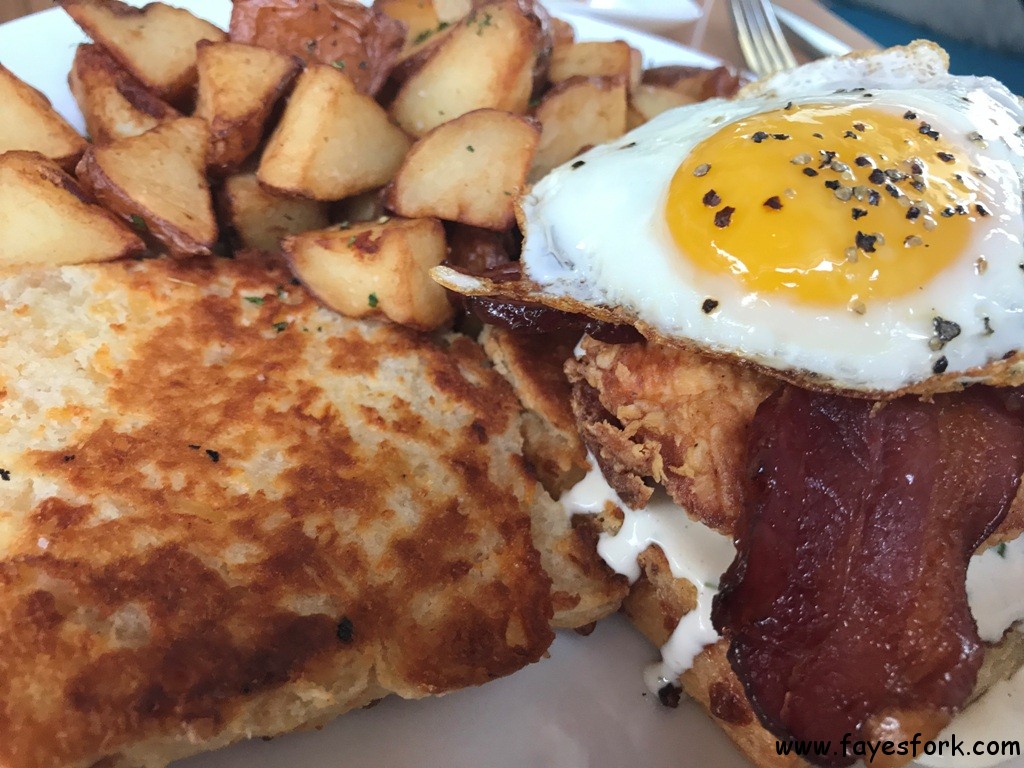 Goodness this was a generous portion. I'm not a yolk person but love the appearance of a beautiful sunny yolk.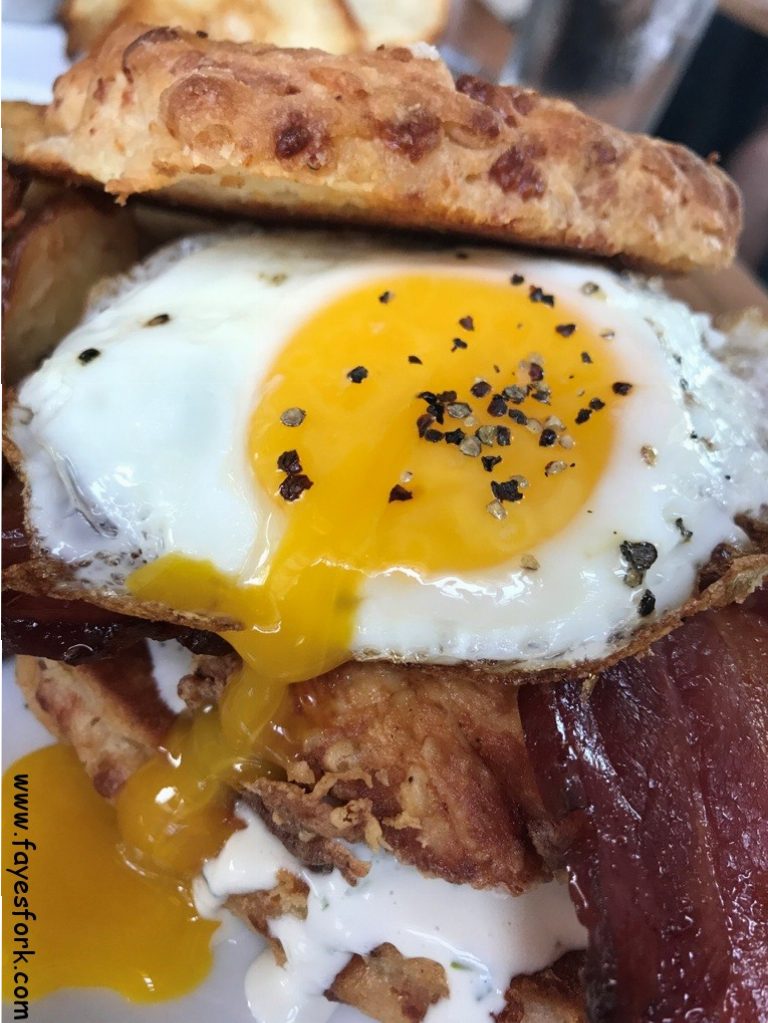 Yes. A gratuitous shot of runny egg yolk. The egg was cooked perfectly and the molten yolk had no issues forming a yolk puddle on the bottom of the plate.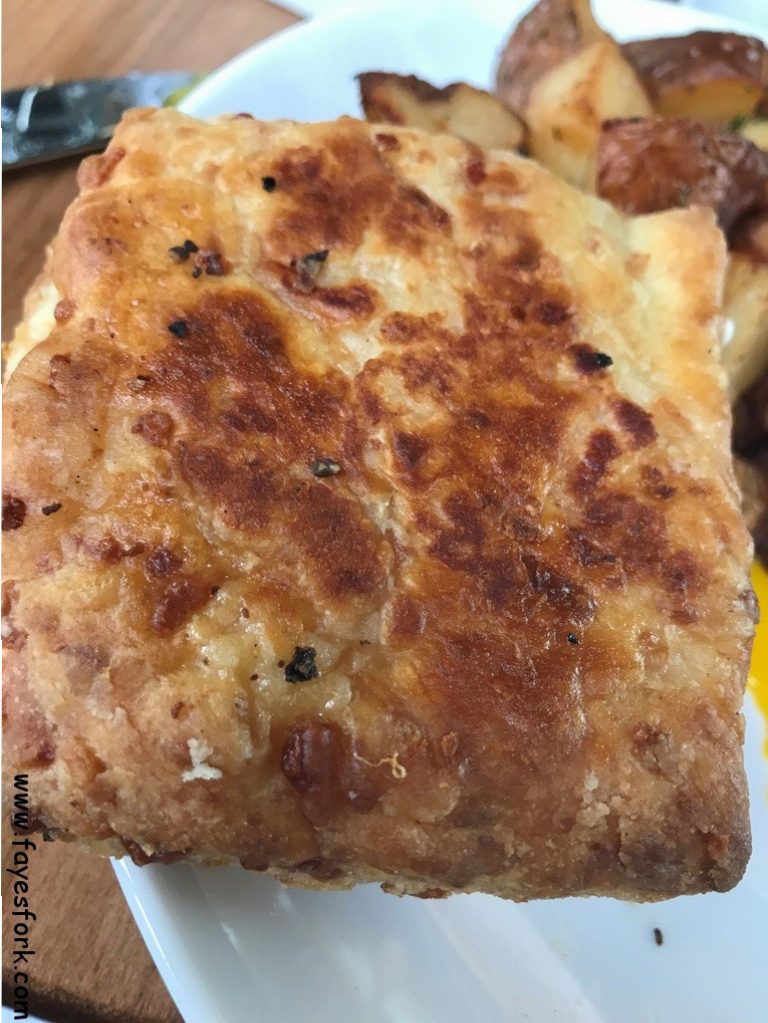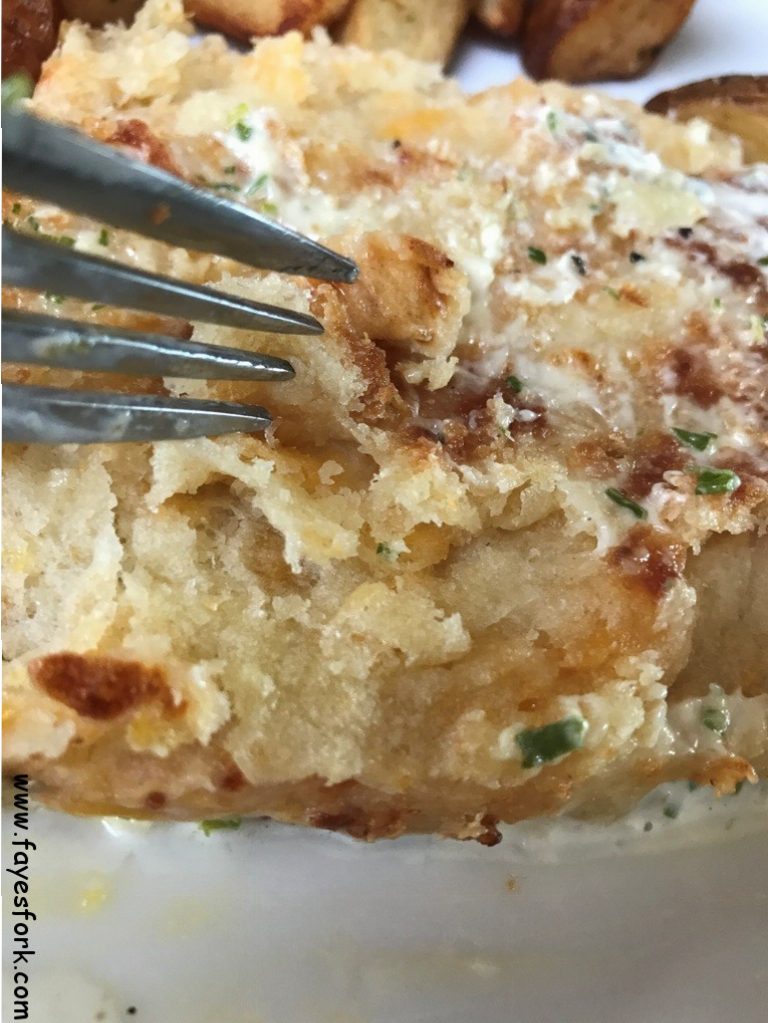 My favorite part of the sandwich was the biscuit. It was a delicious herby and buttery biscuit. The exterior was crispy but the interior was righteously fluffy.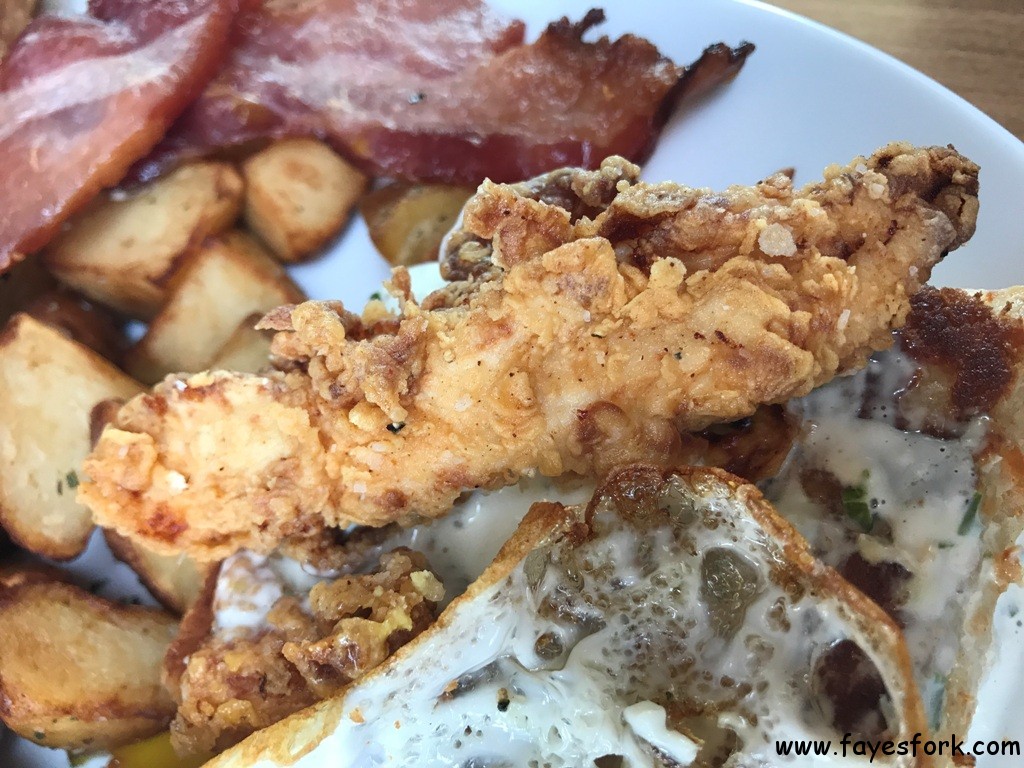 The breaded fried chicken breast was ok. Perhaps a bit dry but decently seasoned.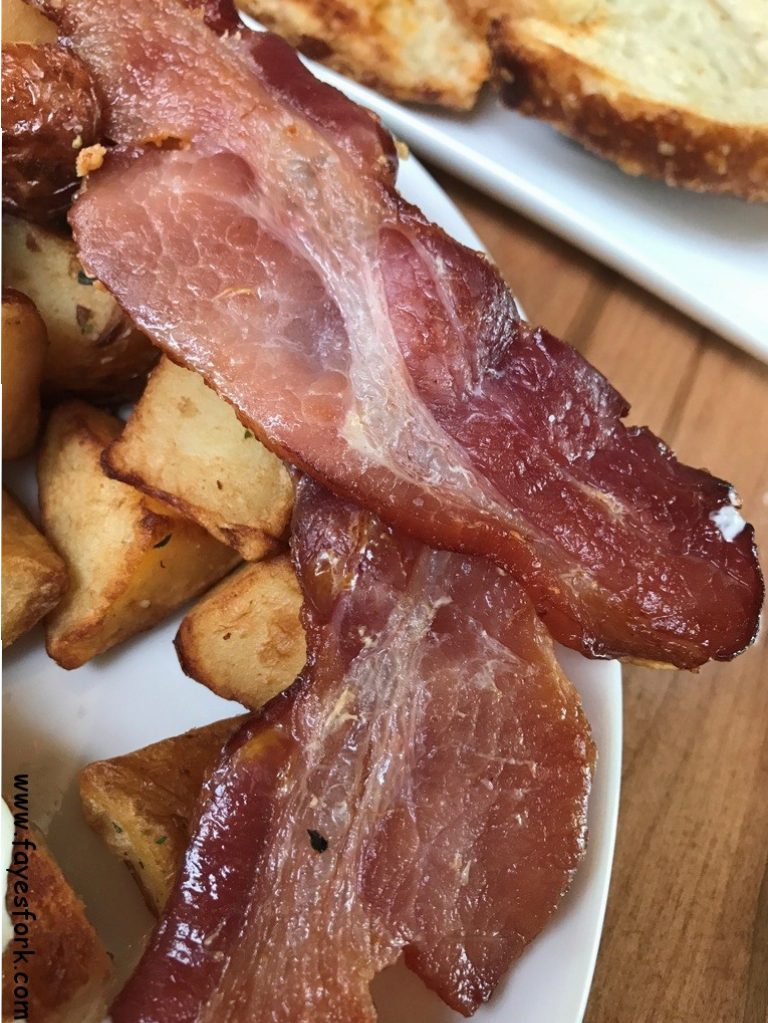 The two thick slices of bacon were unpleasantly chewy. I mostly ate the chicken and the biscuit separately.
Travis, the manager, was hard working. I'd see him seating people as well as busing tables. He told us about their special date night menus for the up coming months. It includes a bottle of wine as well.
Service wasn't good at all that brunch. We were rarely checked on and there were lag times to get refills and the check. Our server was busy with other tables as well as being the bartender for her tables.
I wasn't impressed with brunch but figured I'd try out Waypoint Public del Sur for lunch. Friend and I were in the area and decided to stop by.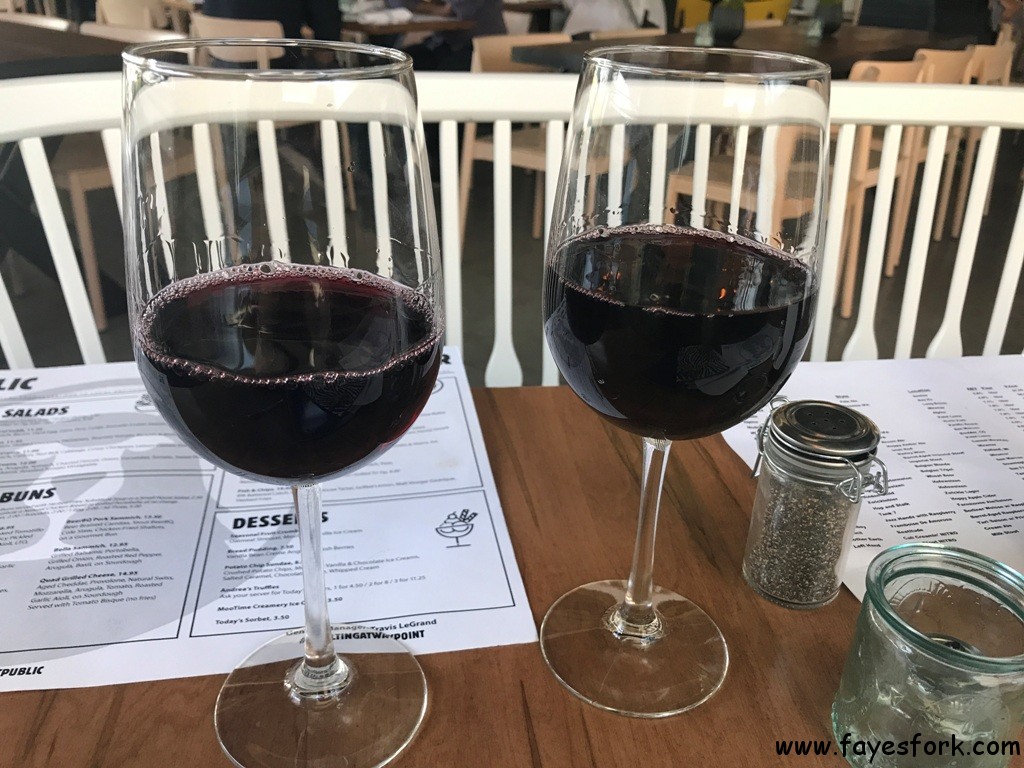 We opted for the WP dry rub. There were about seven wings which I guess is about a pound of wings (as listed on the menu). Some were over fried and pulling away from the bone. No bueno.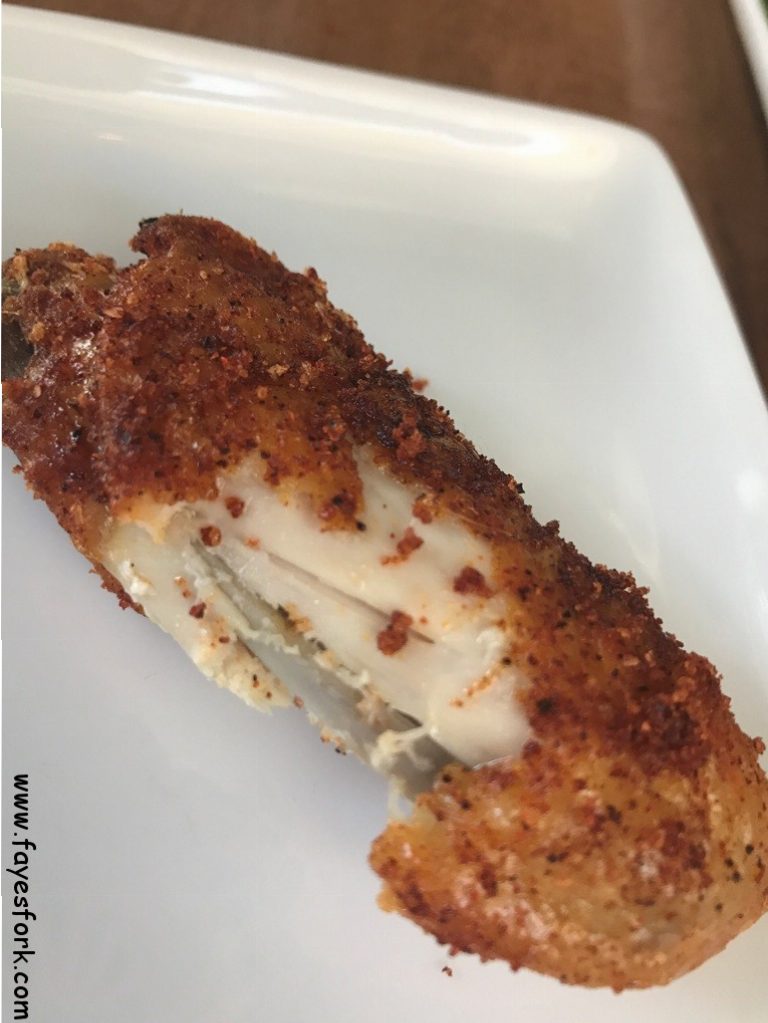 But, the dry rub was fantastic. It tasted like BBQ pringles to me. The seasoning was sweet, salty, and almost savory. This would have been a fantastic appetizer had the wings not been over fried.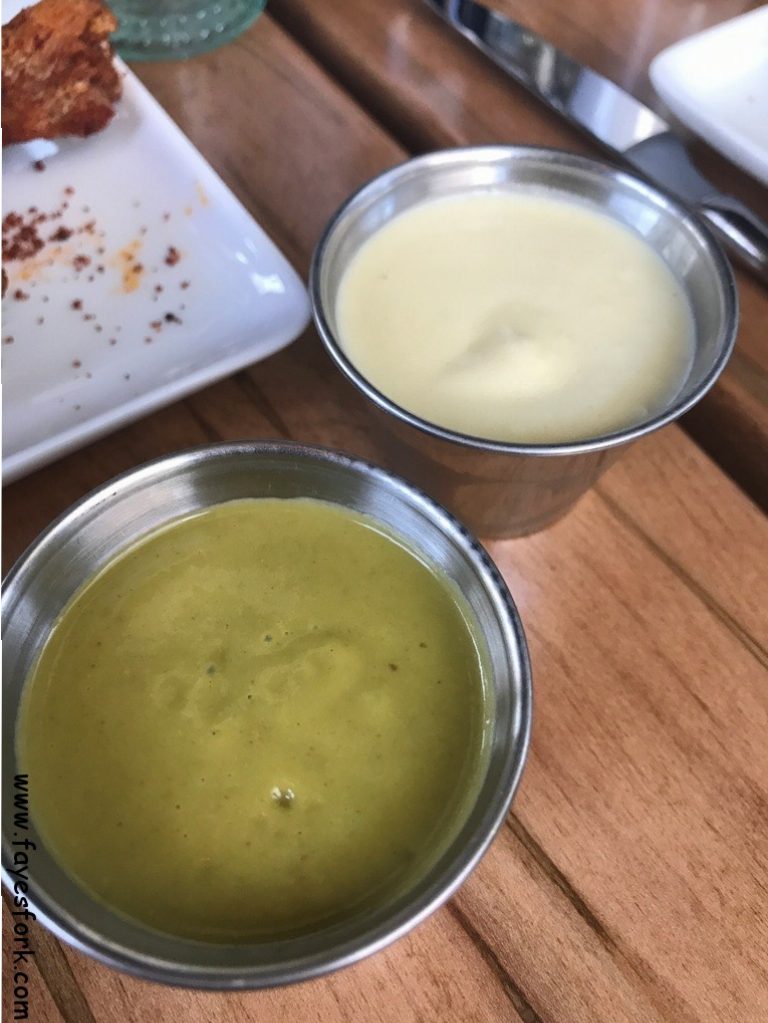 Friend wanted a salad but wasn't sure about the dressings. So we asked our server if we could try two of them. She brought out the avocado-cumin (for the cobb) and the banyuls & anchovy dressing (for the caesar). I think banyuls is a type of wine? Anyhow, I really liked both dressings. The avocado-cumin had a nice tart tang to it. But the anchovy dressing was amazing. It had a deep rich umami to it that sold us immediately.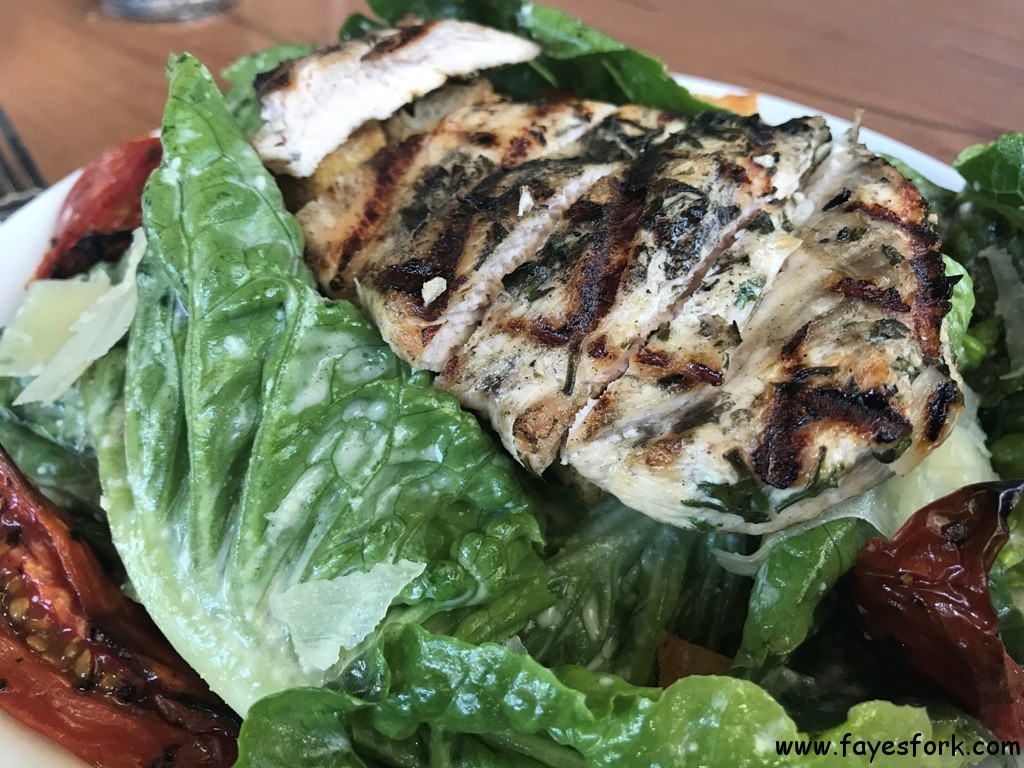 Friend added chicken which was an additional $6.50. The serving size isn't very large for $18.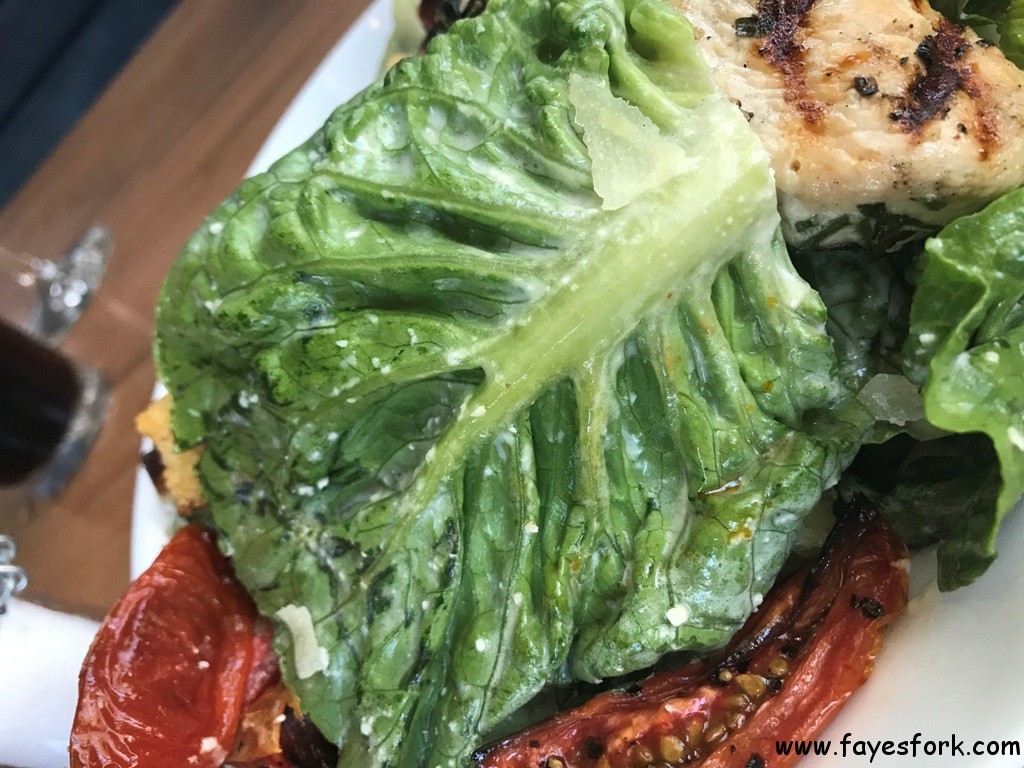 We had an issue with the size of the little gem lettuce. It was huge and difficult to eat. All of the lettuce pieces were this size. It would have been better had the lettuce been chopped into smaller and more manageable bites. Also, the lettuce was very wet. It made the delicious anchovy dressing slide off each piece.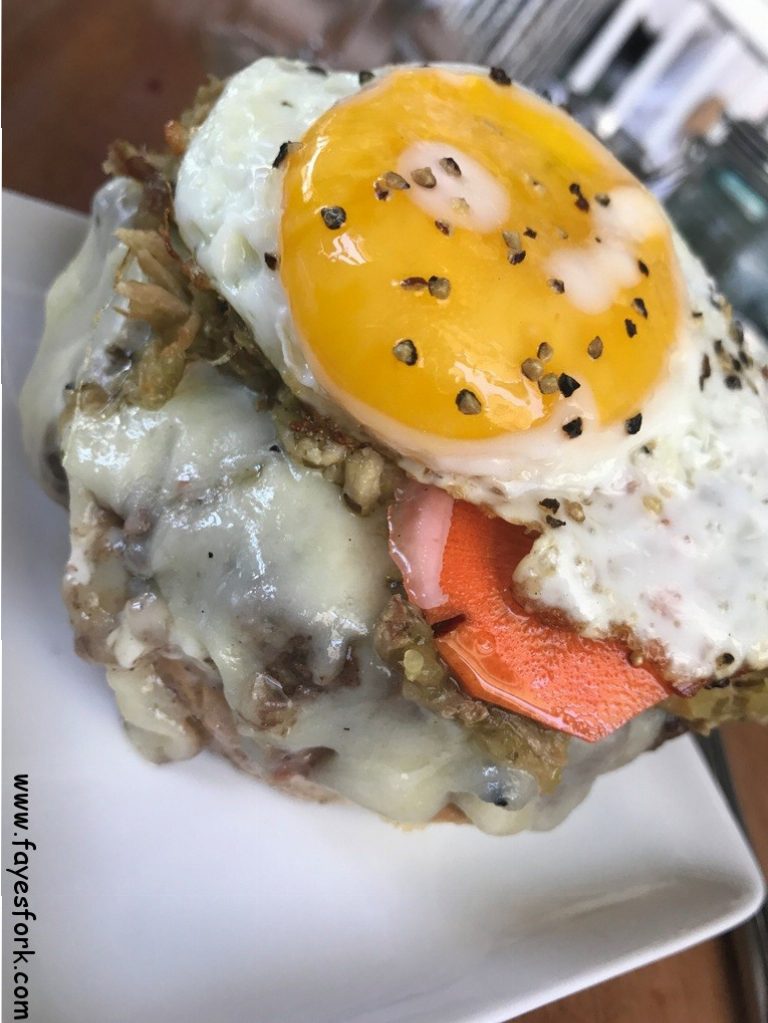 I'll admit I got this burger because of the possibility of a good photo. Who does that.
This was a nice sized burger for the price. There was a lot happening with this burger.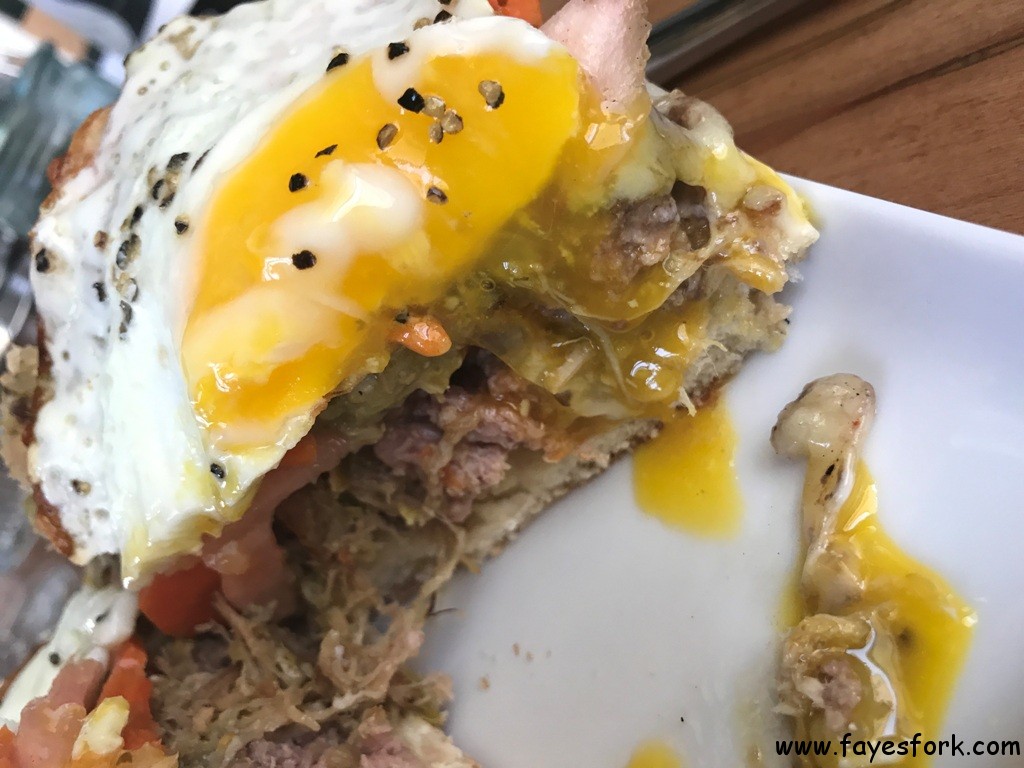 I requested the hamburger patty to be medium rare which it kinda was. The pulled pork tasted salty and dry. The egg was wonderfully done (similar to the biscuit sandwich from brunch). The pickled vegetables (carrots and onions?) were tart but was a distraction to this burger. I might try a simpler burger on a future visit.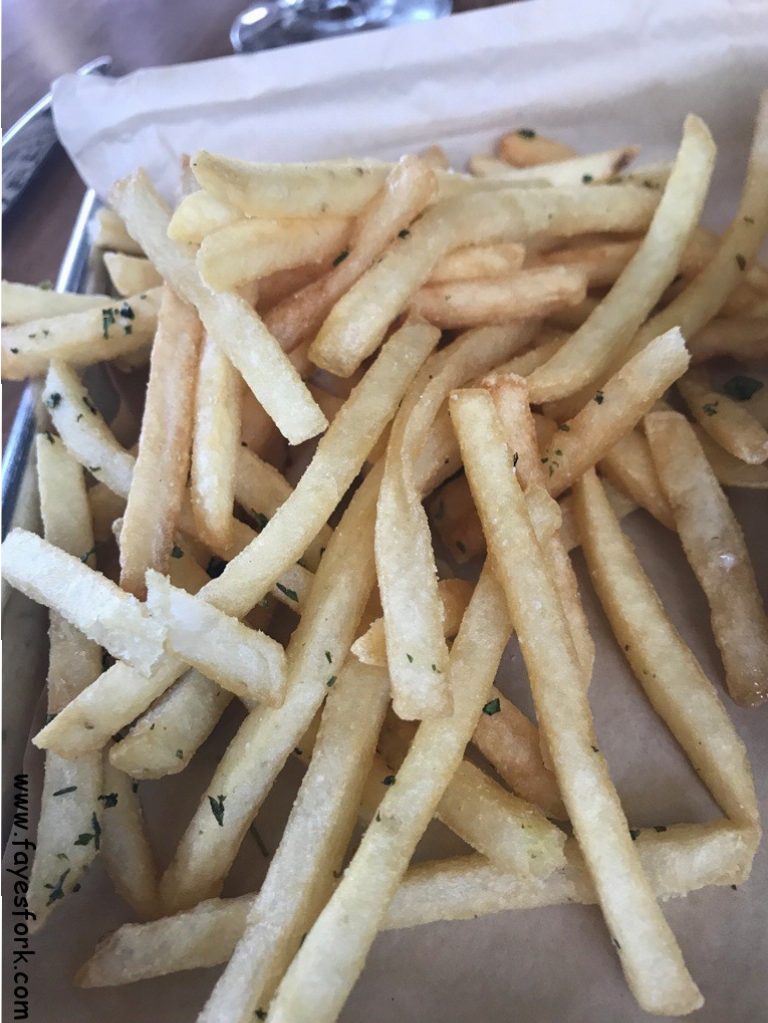 I requested the fries to be extra crispy which they were. They tasted hot and crispy.
Service was alright the second visit. Our server had to leave so she left the check before we were even done. Not a big deal but it would have been nice had someone replaced her for our table. We were left alone and unattended for the remainder of our meal.
I visited Waypoint Public del Sur again on the weekend for a date. We figured it would be a laid back, air conditioned, fun happy hour to try out. I called beforehand to make sure there was happy hour which the hostess said yes. Unfortunately, the bartender, after we sat down, told us no. There's no happy hour at Waypoint Public del Sur on weekends.
Oh well. So one of my girlfriends decided we needed to try out the happy hour the following week. I think happy hour is from 4-6p? We were both in the area and off work.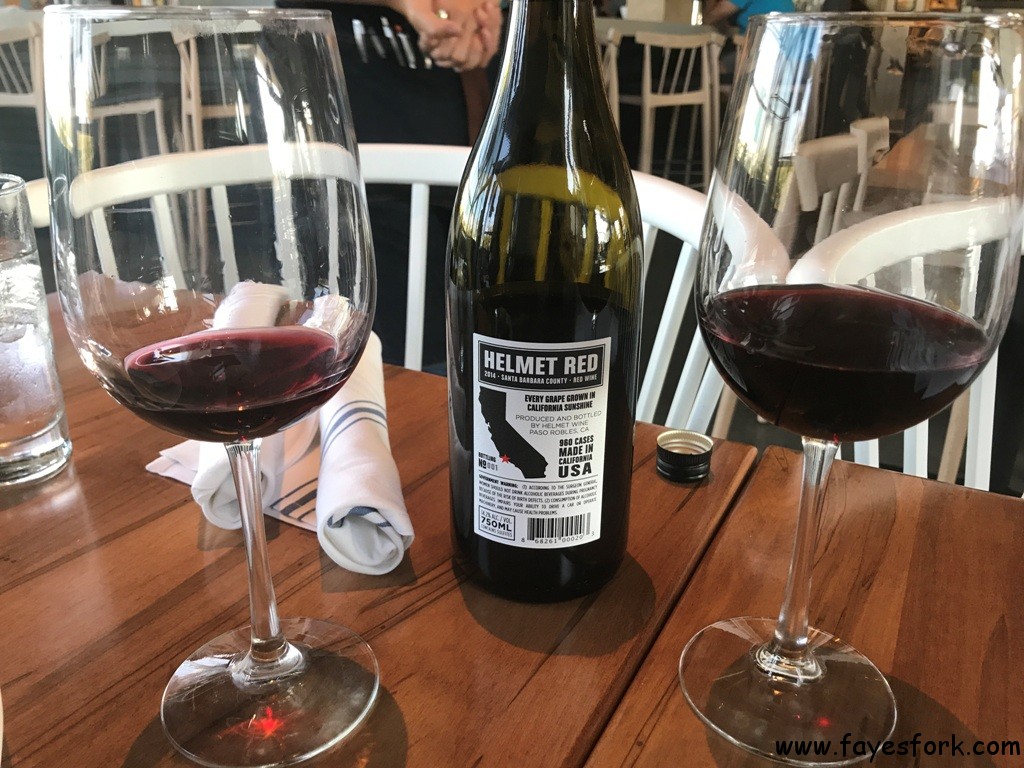 Only two wines were offered during their happy hour. Boo. So we opted to try the Helmet Red which I had enjoyed on a previous visit. This was about $44 and was a nice red blend wine to enjoy on a warm early evening.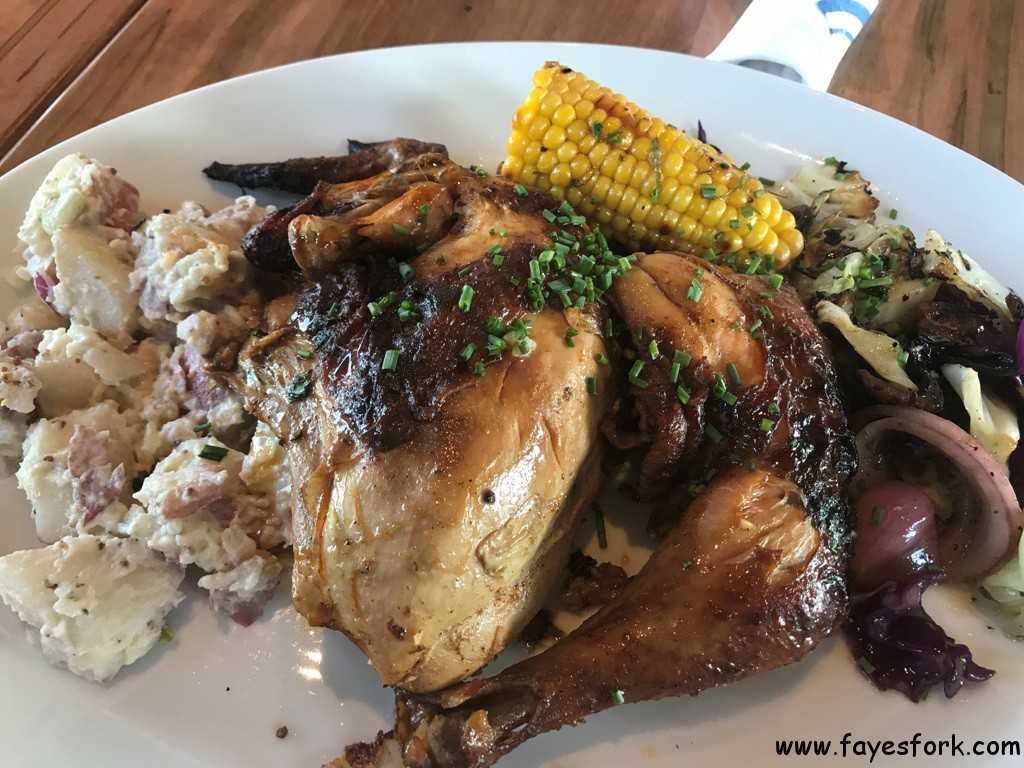 Dinner entrees are only available after 5p so friend decided to try their beer can chicken. We were surprised it came out so quickly after she ordered. The chicken didn't look very appealing. The chicken was lukewarm and the skin limp.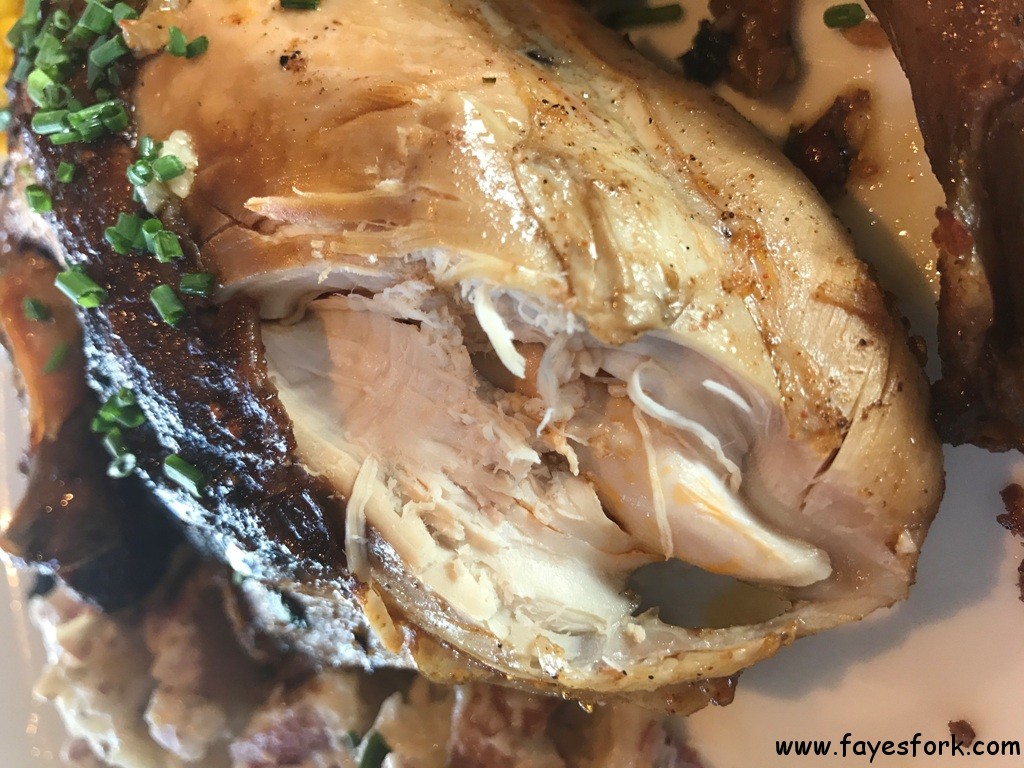 The chicken breast was very dry. She didn't touch the white meat after her one bite. The chicken thigh and leg was a bit moister but still not very tasty. I asked our server if they prepared the beer can chicken fresh everyday. She said yes. She then went to the kitchen and returned to say that they prepared it fresh but then they warm it up, sous-vide style (in a warm bath), when an order is placed. Maybe they didn't warm it up long enough. We wouldn't order this dish again. The charred cabbage slaw was wonderful though – I would order that as a side dish next time. Friend enjoyed the cold potato salad (it looked like warm smashed potatoes to be until she clarified).
Service on the third visit was great. She was attentive and friendly. Waypoint Public del Sur is a family friendly restaurant that is a nice addition to this area. Perhaps they are still working out their menu. I'd visit again if I was in the area.
WAYPOINT PUBLIC DEL SUR
16480 Paseo Del Sur
Ste 105
San Diego, CA 92127
(858) 312-8398