I still like Liberty Station. I have urges to visit once in awhile. I'm even trying a new spin studio in this area. We decided to pay a visit a few weekends ago and have lunch at the Liberty Public Market. It was another hot and humid day so I wanted something indoors. I got there first and decided I didn't want to try anything inside the Liberty Public Market so Officine Buona Forchetta was my second option. Officine Buona Forchetta recently opened and has received decent reviews.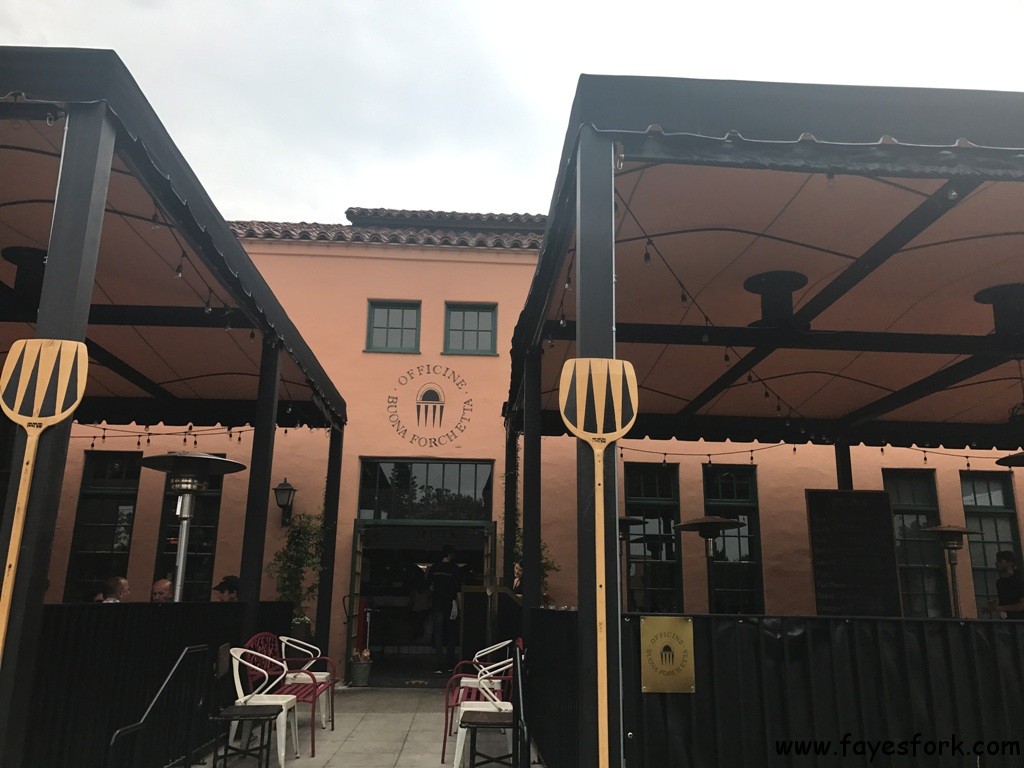 Officine Buona Forchetta is located by Breakfast Republic, Liberty Public Market, and Stone Brew. They have an outdoor patio (in front and in back).
It was a sweltering humid day. We opted to sit inside hoping there would be cold a/c blasting.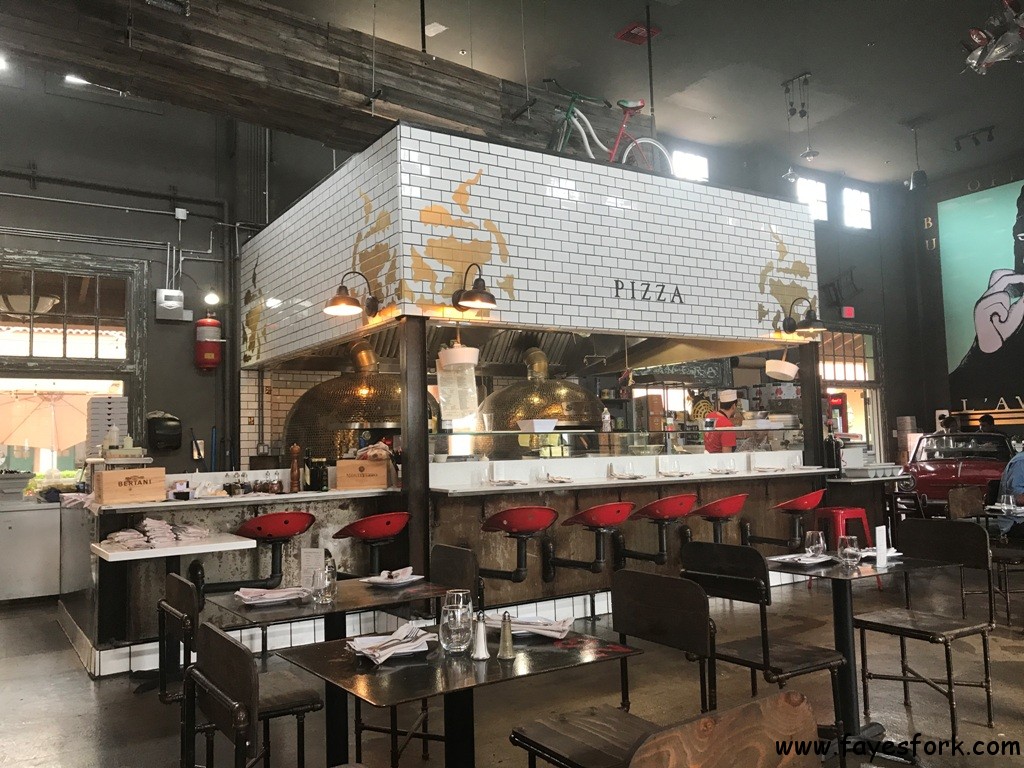 It's an open restaurant with bar seating that overlooks the huge wood burning ovens.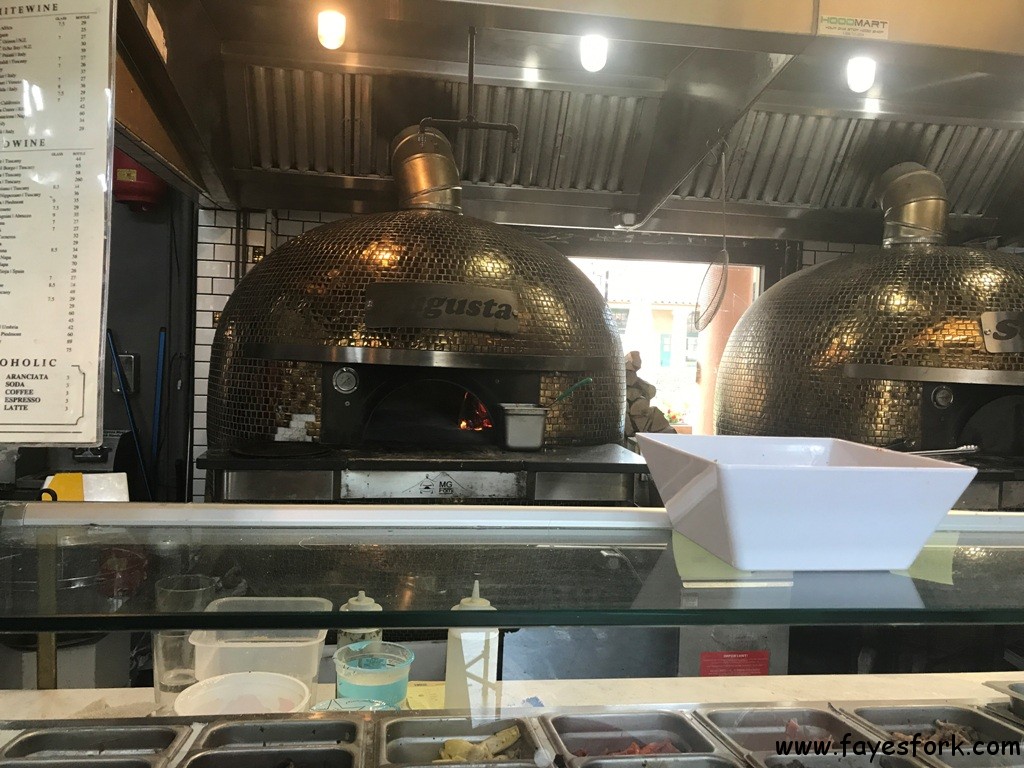 So the a/c was pretty much undetectable that afternoon especially with all the doors open.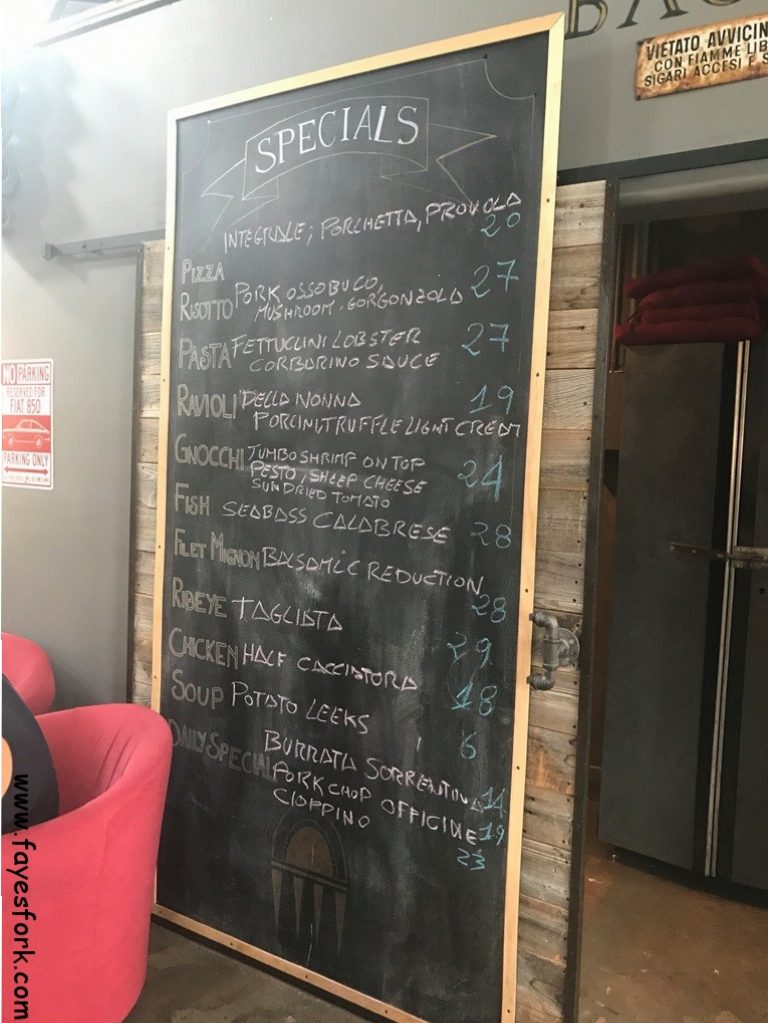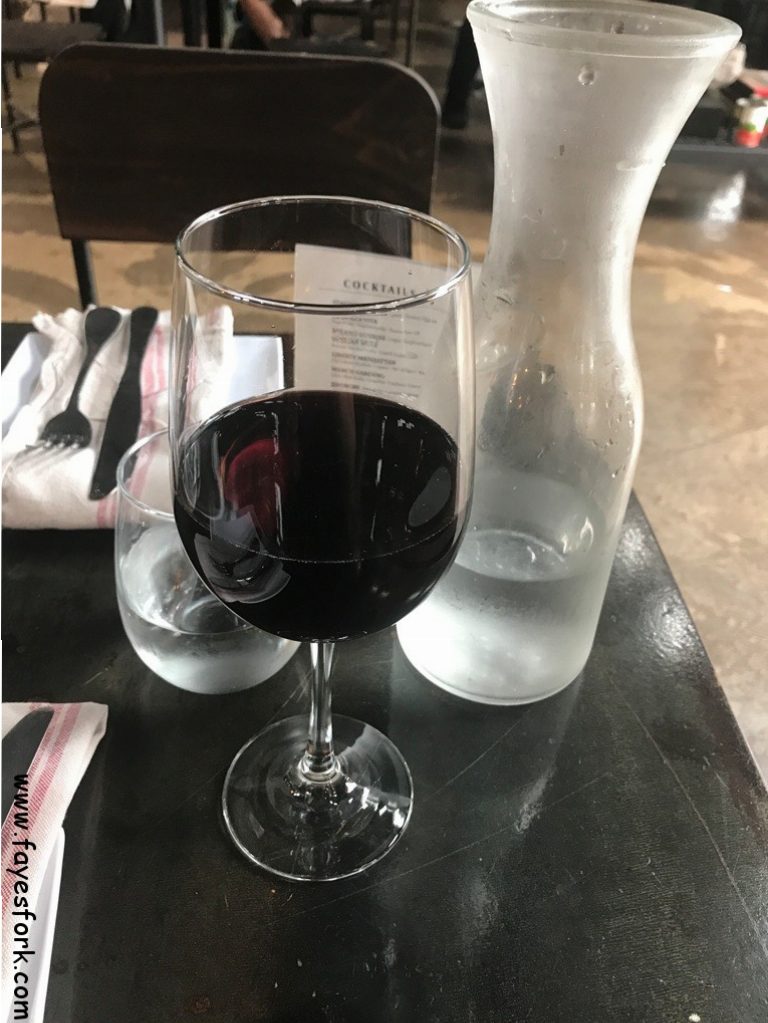 A glass of their house red wine is only $5.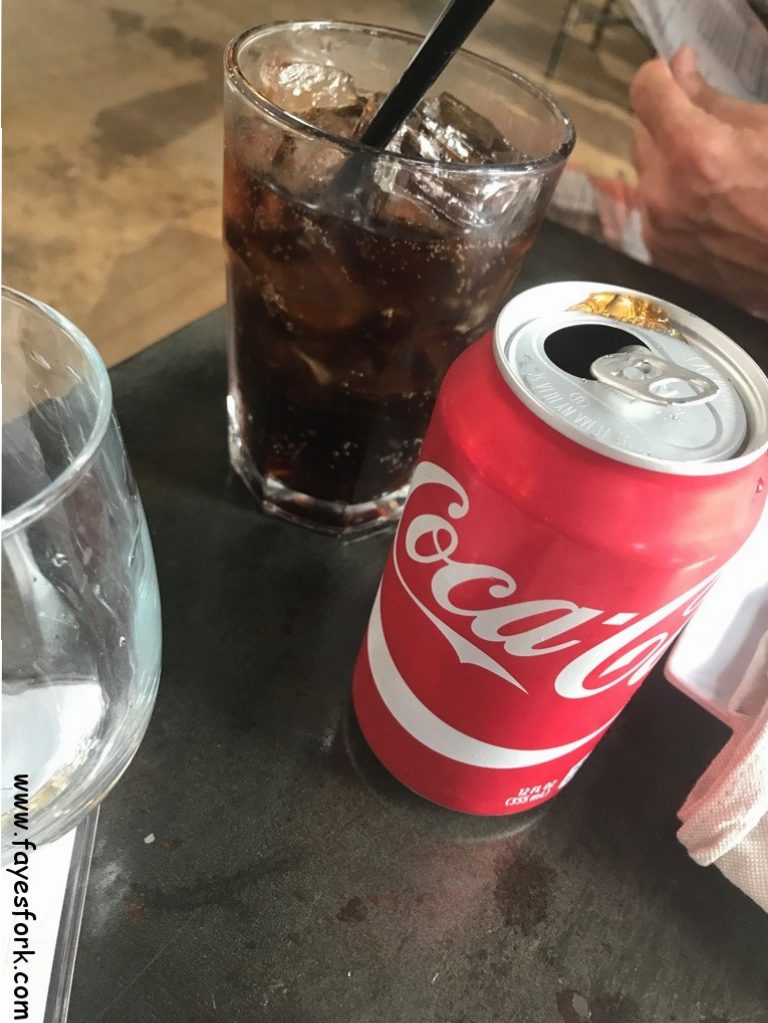 They sell cans of coke for soda here.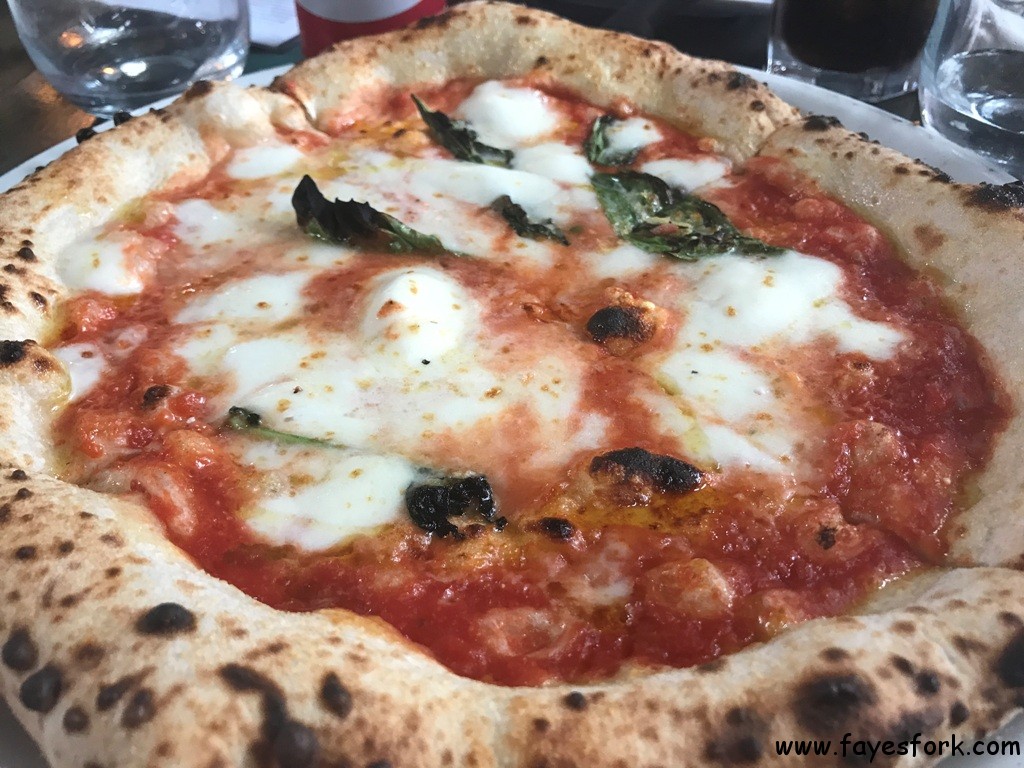 We decided to split a simple margherita pizza for an appetizer. I've been craving carbs so bad lately.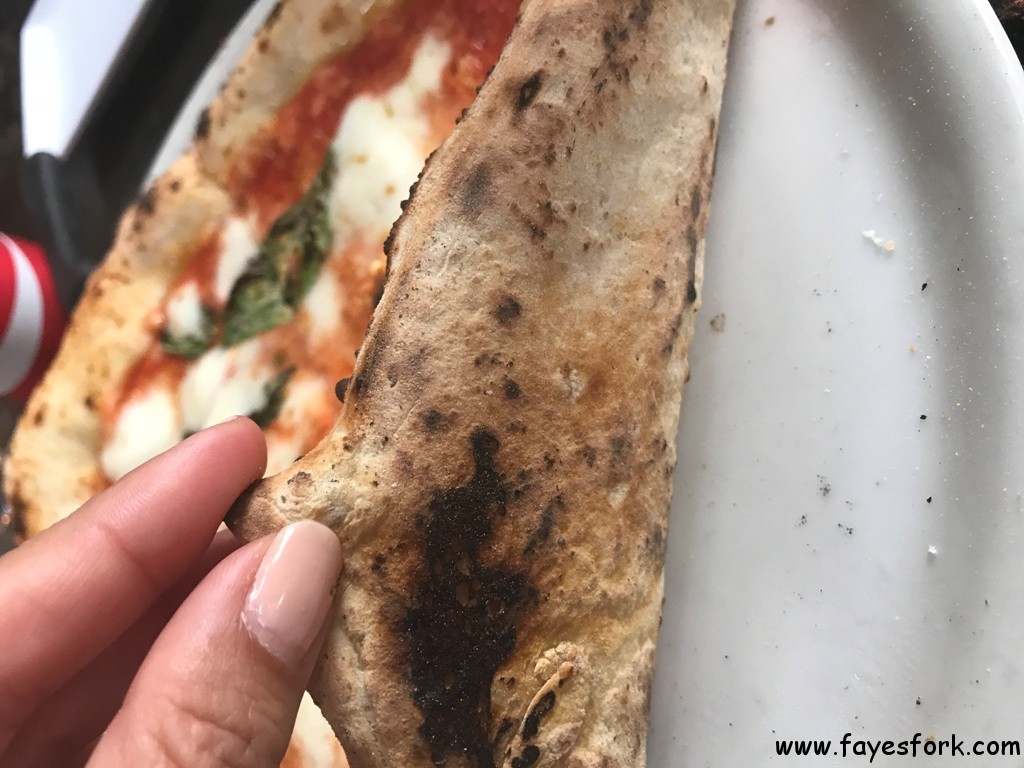 There was a nice char to the crust.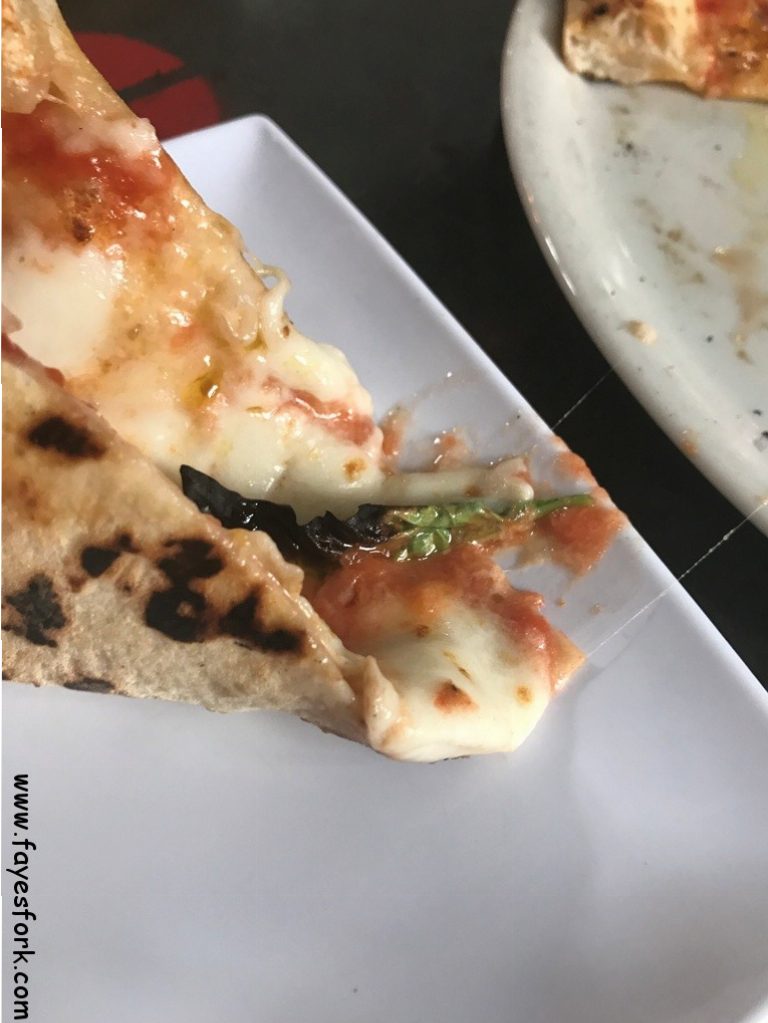 The center of the pizza was pretty limp. I'm not sure if it's meant to be this way as it was the first time I had to eat a slice of pizza the New York way (folding it as Cdj, who's a New Yorker, often eats his pizza). The tomato sauce tasted fresh and I enjoyed the creaminess of the mozzarella. But the soft pizza center with limp dough wasn't my thing.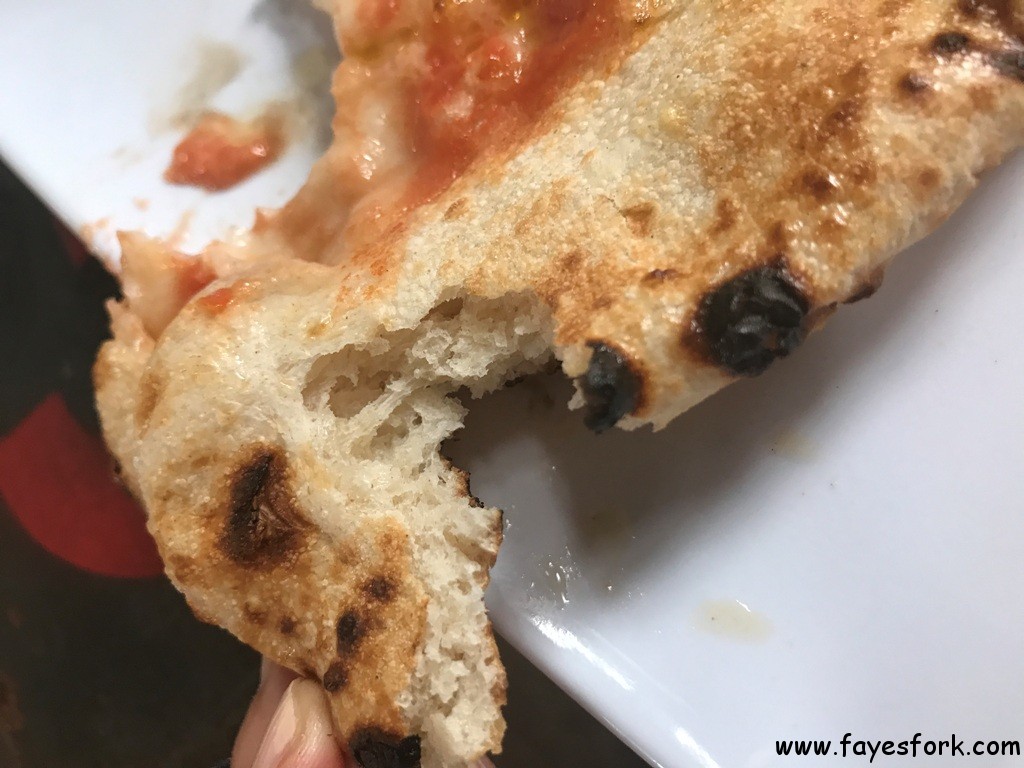 I did like the chewiness of the puffy crust.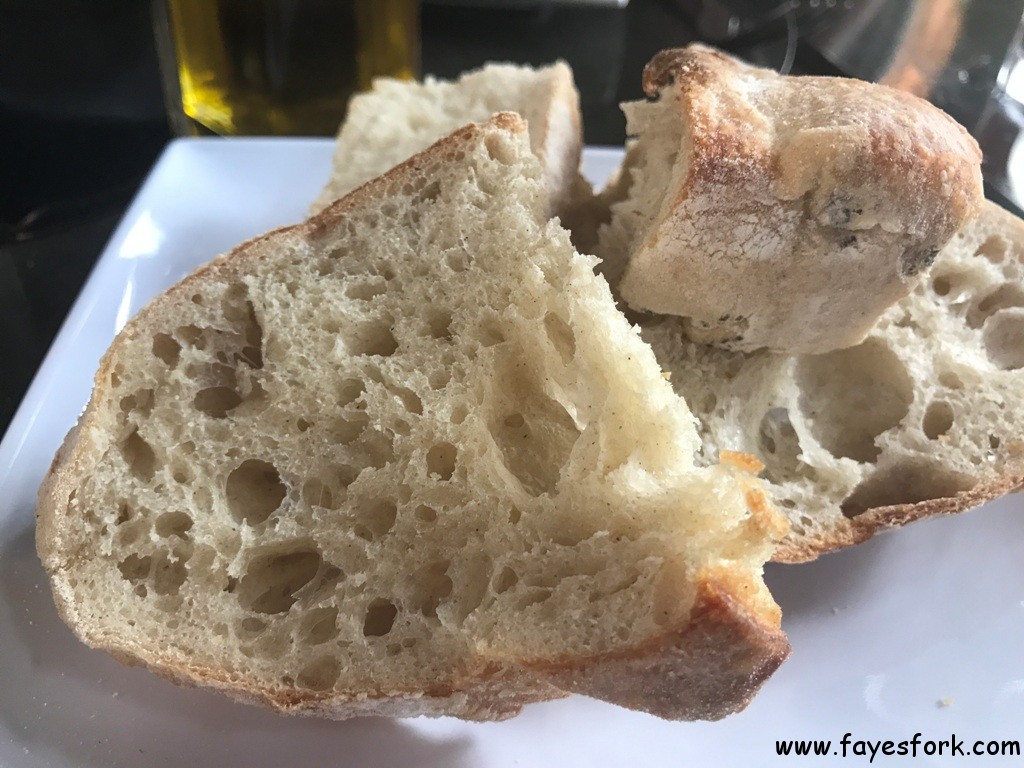 They give house bread when requested so make sure to ask. The bread tasted meh at room temperature. It didn't taste very fresh. The side of olive oil and balsamic vinegar was nice.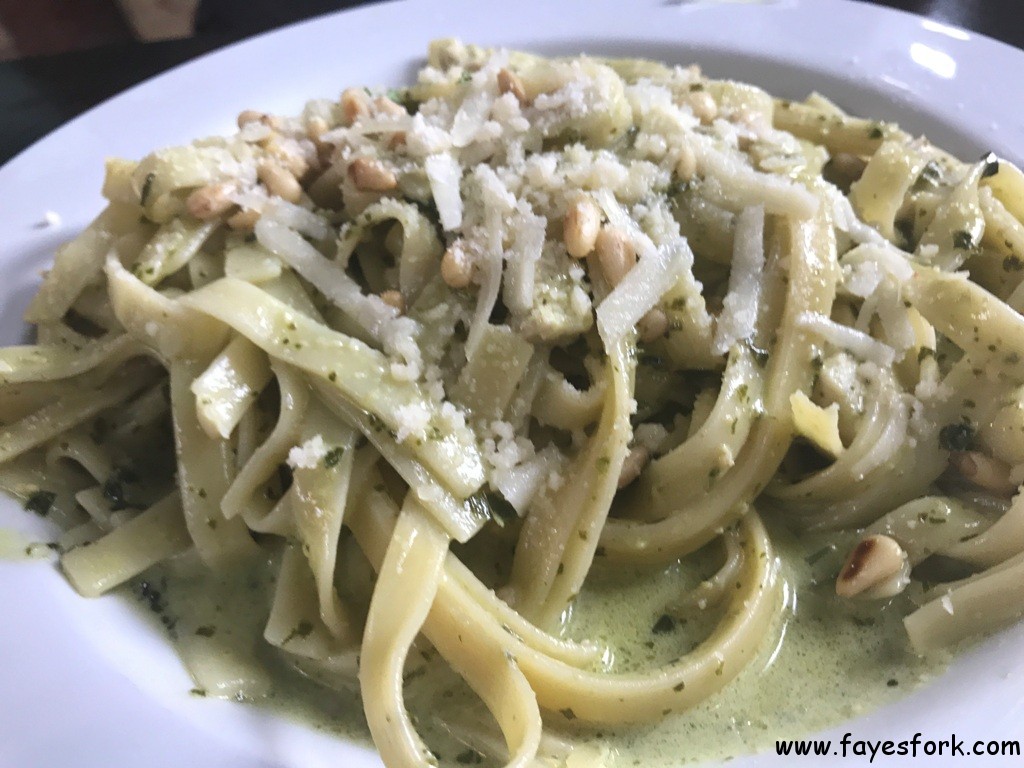 It's all about carbs for Mr Cdj. You can choose from a variety of pastas here at Officine Buona Forchetta and add a pasta sauce to your liking. I was surprised he opted for fettuccine pesto as he kept saying he wanted meat (there's a bolognese sauce available as well). He asked if they could add sausage to the pasta and our server said no, only chicken and something else.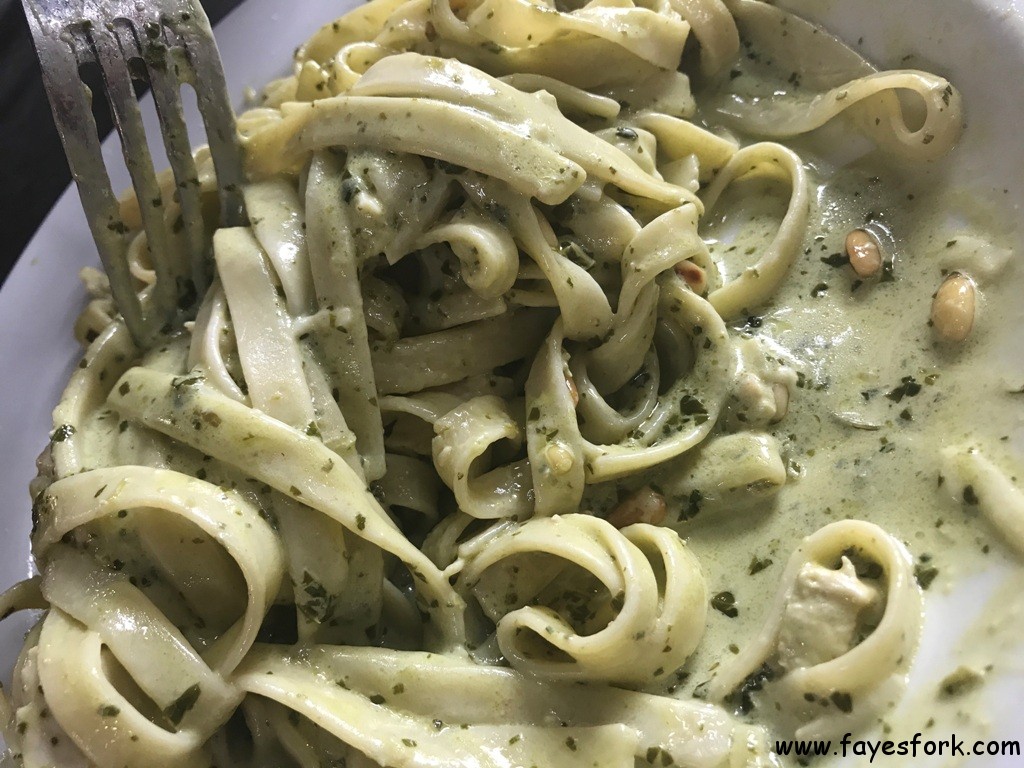 We weren't sure if there was any chicken in the pasta (see pic). There was a small amount of tiny pieces of chicken and that was it. The pasta tasted hard and over boiled. The pesto sauce lacked much basil or nutty flavor. They didn't drain the pasta well as the pesto sauce didn't stick to the noodles and you can see the bottom of the bowl had runny watery pesto sauce.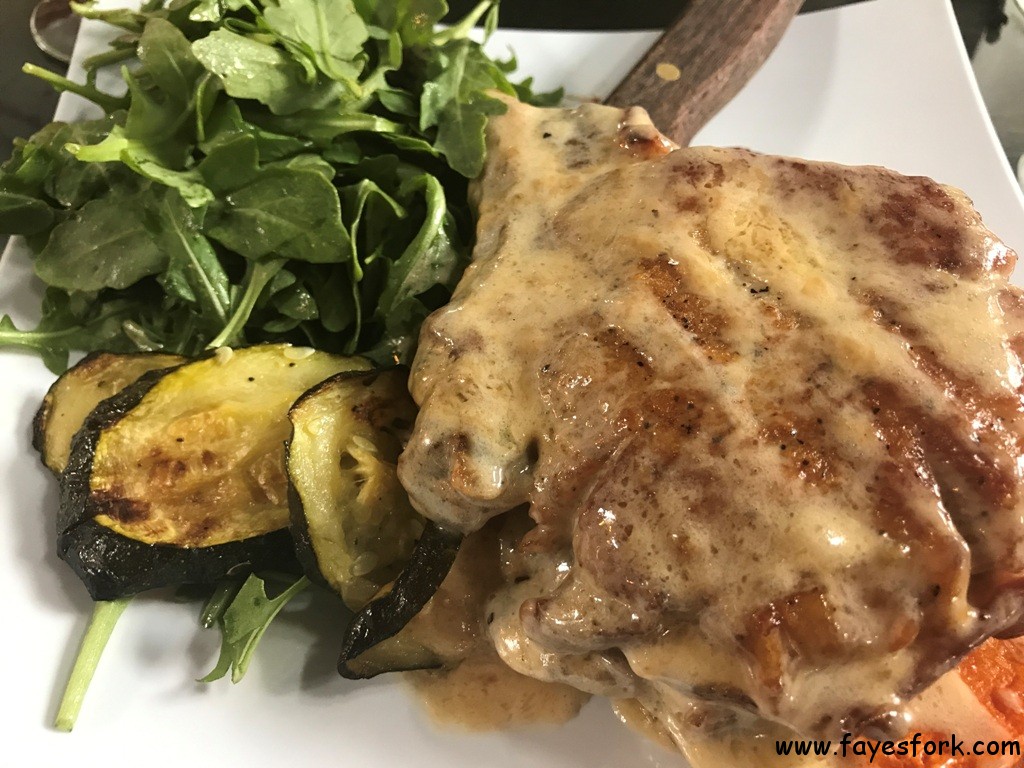 I didn't see this pork chop on their website so was curious about it when I saw it on the menu that day. It said it had scamorza 'stuffing' which I didn't understand. Was there breading stuffed inside the pork chop? The server said no, scamorza is a type of cheese, so there was no bread in the stuffing whatsoever.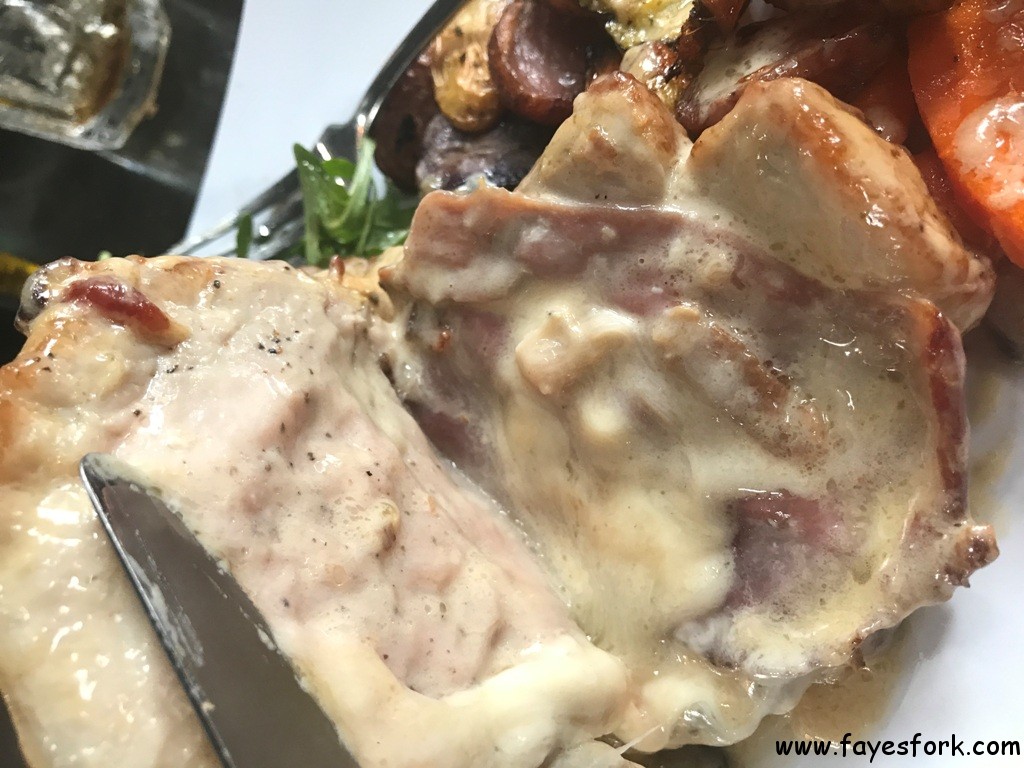 The pork chop was already sliced in half. Here is  a picture of the scamorza and speck stuffing. Unfortunately, the pork chop was extremely dry. Very very dry. The scamorza cheese was nicely melted but the speck even tasted dry. The pancetta brandy sauce was the saving grace for this dish. It was rich, creamy, and delicious. I only enjoyed the sauce as well as the grilled zucchini.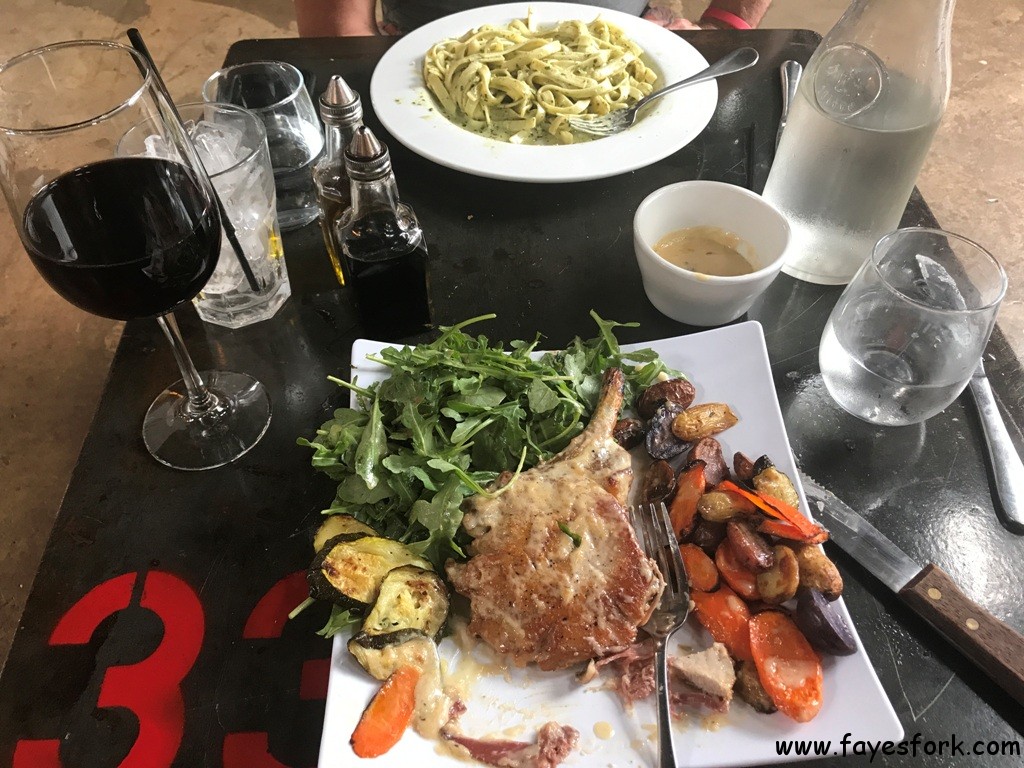 This is what it looks like when two people can't grasp their food concept so well. I thought I'd help Cdj by giving him some of my entree.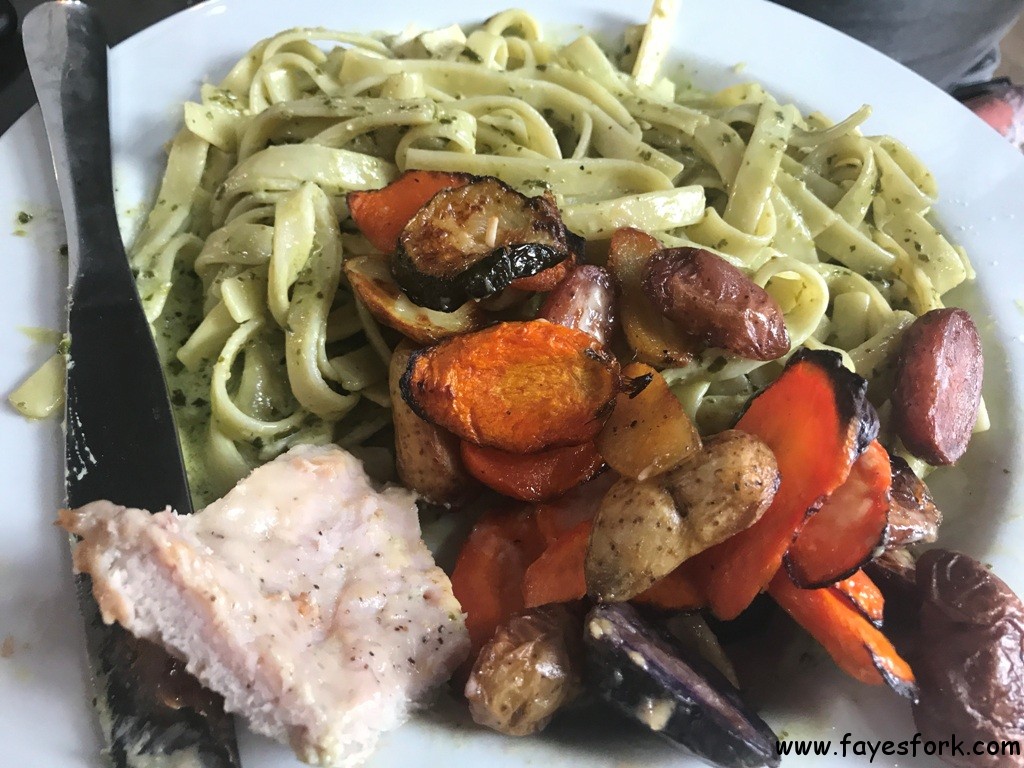 Who we kidding. I gave him everything I didn't want on my plate. That's what friends are for.
Service was nice. He helped me move tables in the beginning when it was getting too warm. He placed us near the entrance where there was a better breeze.
The art and interior of Officine Buona Forchetta is eclectic.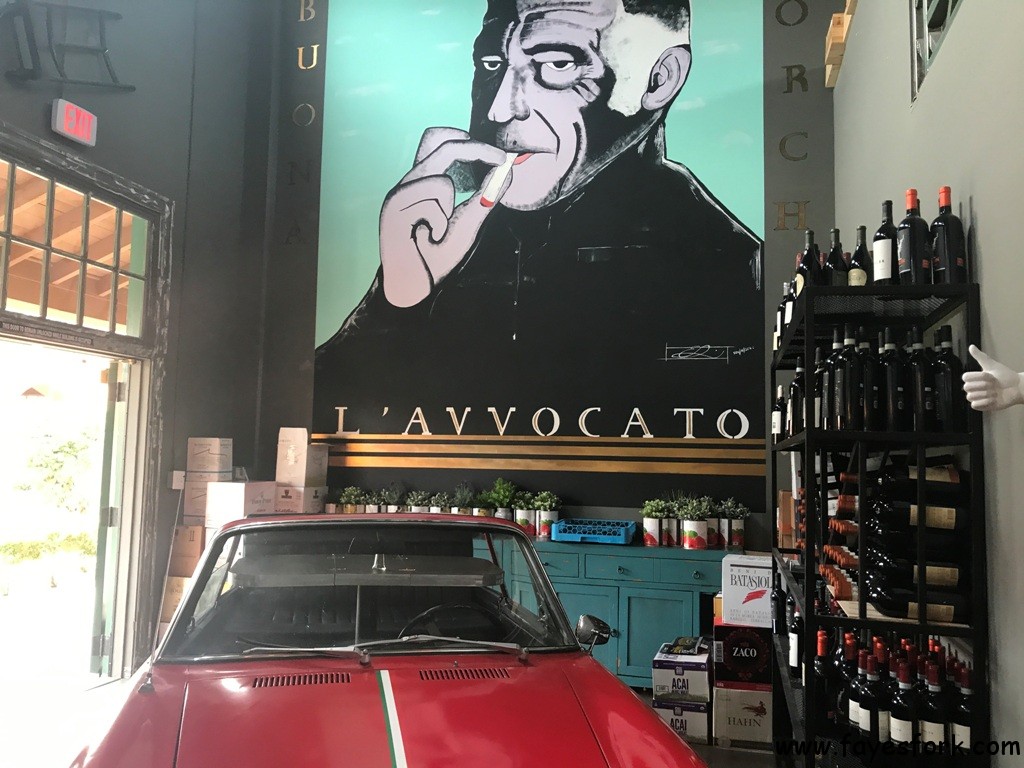 I kinda like the creepy man smoking a cigarette. Do you also see the red car ?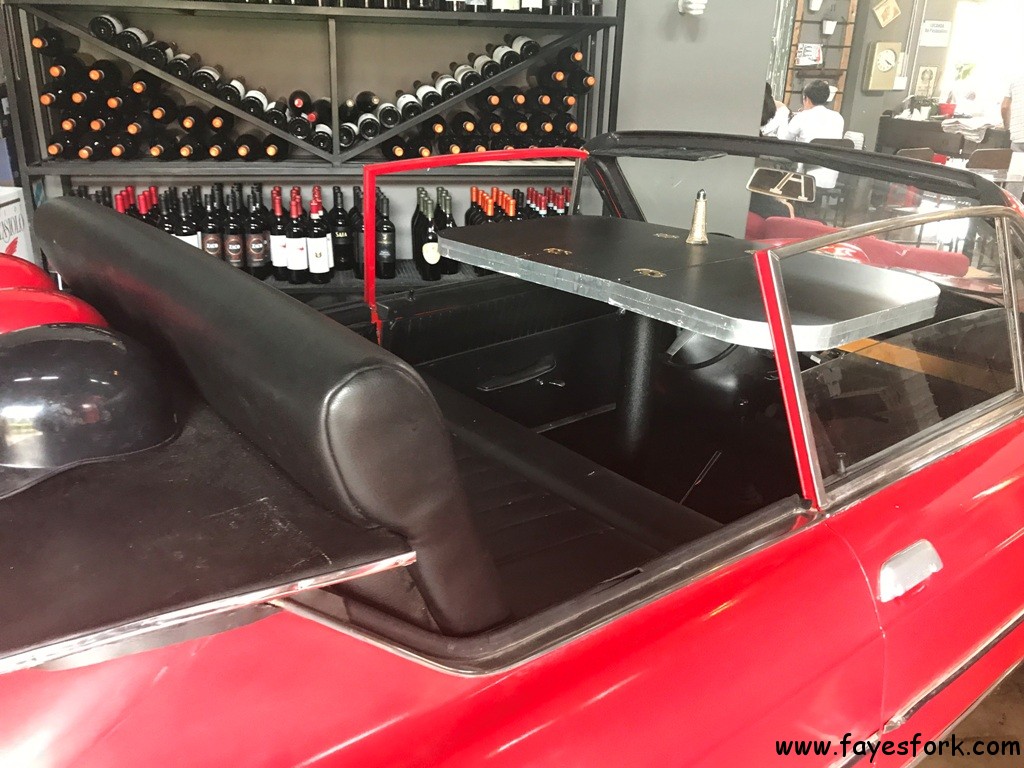 It's also dining seating for two!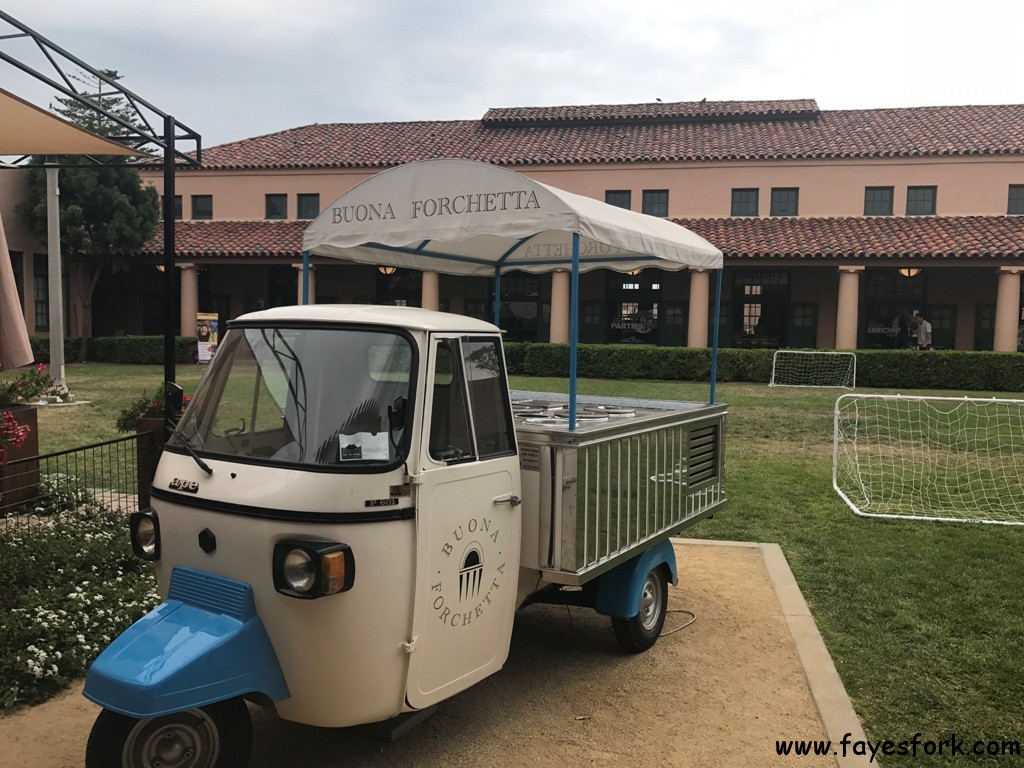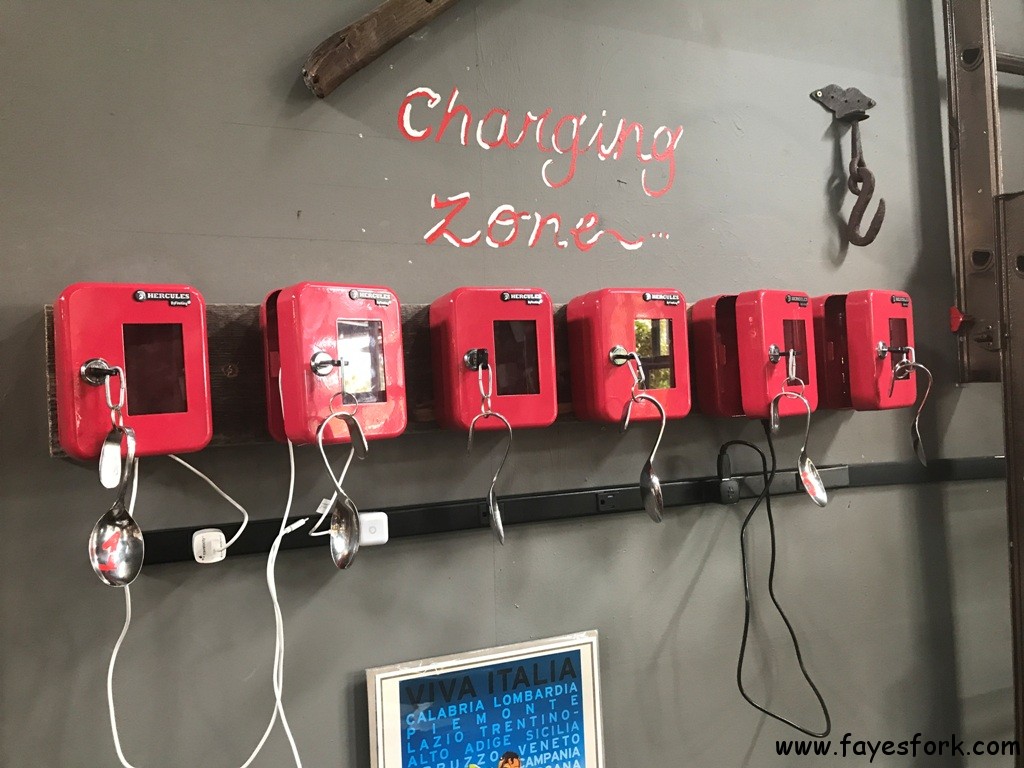 I LOVED this. You can charge your phones here and supposedly lock up the phone in the cabinet while it charges. That totally didn't work with our iPhones as ours couldn't even fit in the red tins. Fun concept though.
I'm not sure if I'd return to Officine Buona Forchetta anytime soon. The lunch wasn't very promising and the restaurant was stuffy (temperature wise). Perhaps the kitchen had an off day. It's a beautiful venue with nice staff though.
Officine Buona Forchetta
2865 Sims Rd
San Diego, CA 92106
(619) 548-5770