Carbs. What more can I say. It's a girl's best friend. I've been on a weird pizza craze lately. Not even sure why. I'm not much of a crust person. I'm even more not a deep dish crust kinda person. I went to a Yelp spin event and they gave us a coupon for a free personal size pizza to try out at Fresh Brothers. Fresh Brothers is located off the 56 freeway and is next to Nothing Bundt Cake (another good diet place).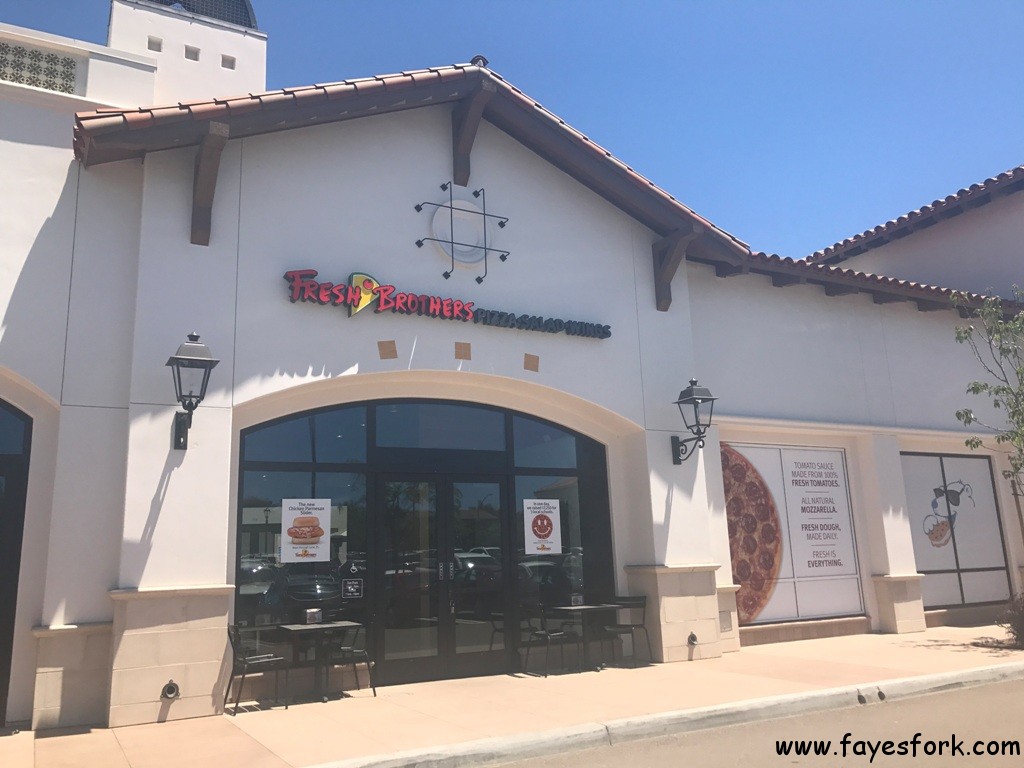 This is their back entrance by Nothing Bundt Cake. They share the same shopping center as Crudo, Westroot, and Wokou.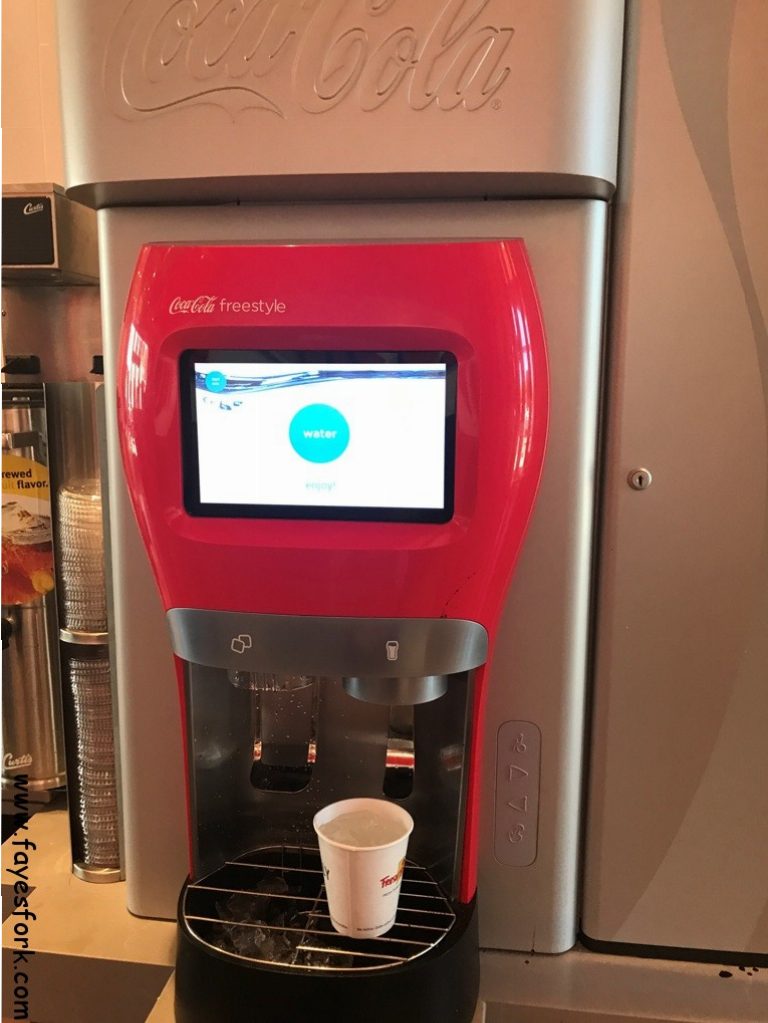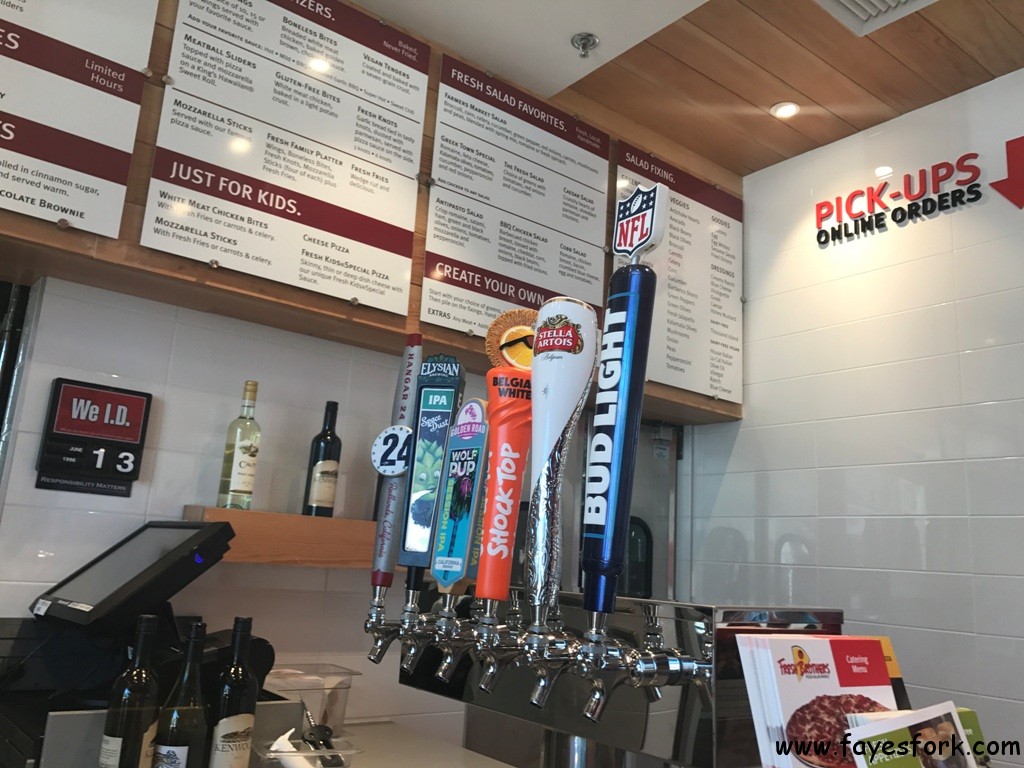 They have a few beers on tap. You order from the cashier, they give you a number, and you pick a table. The restaurant is small but well air conditioned.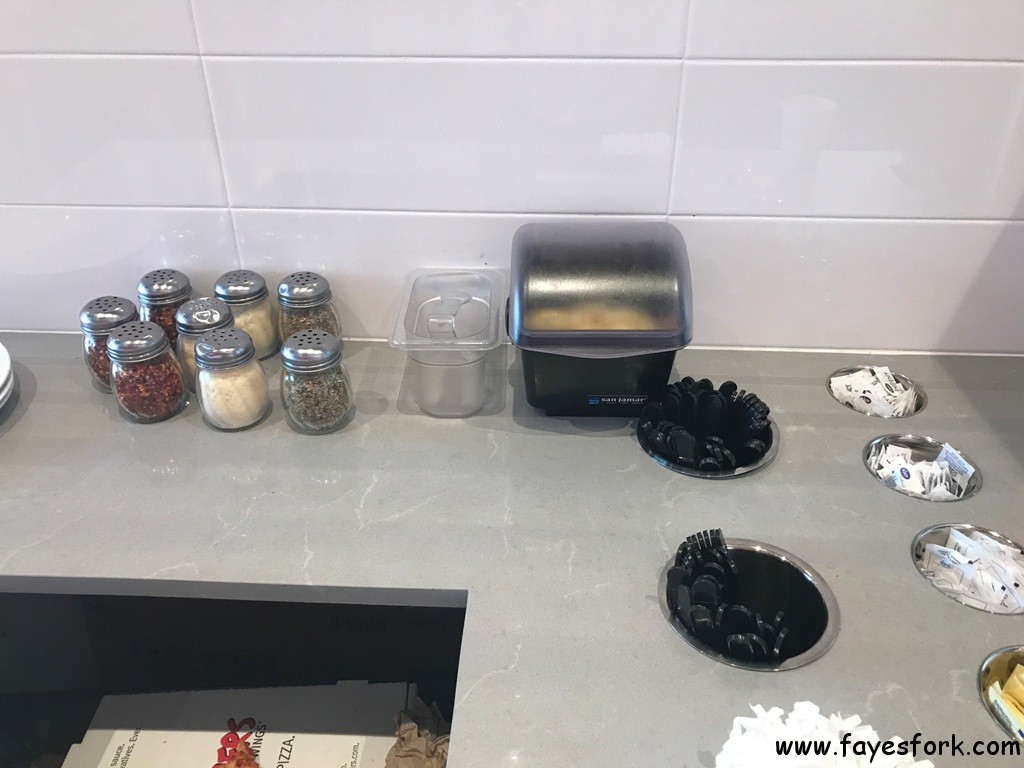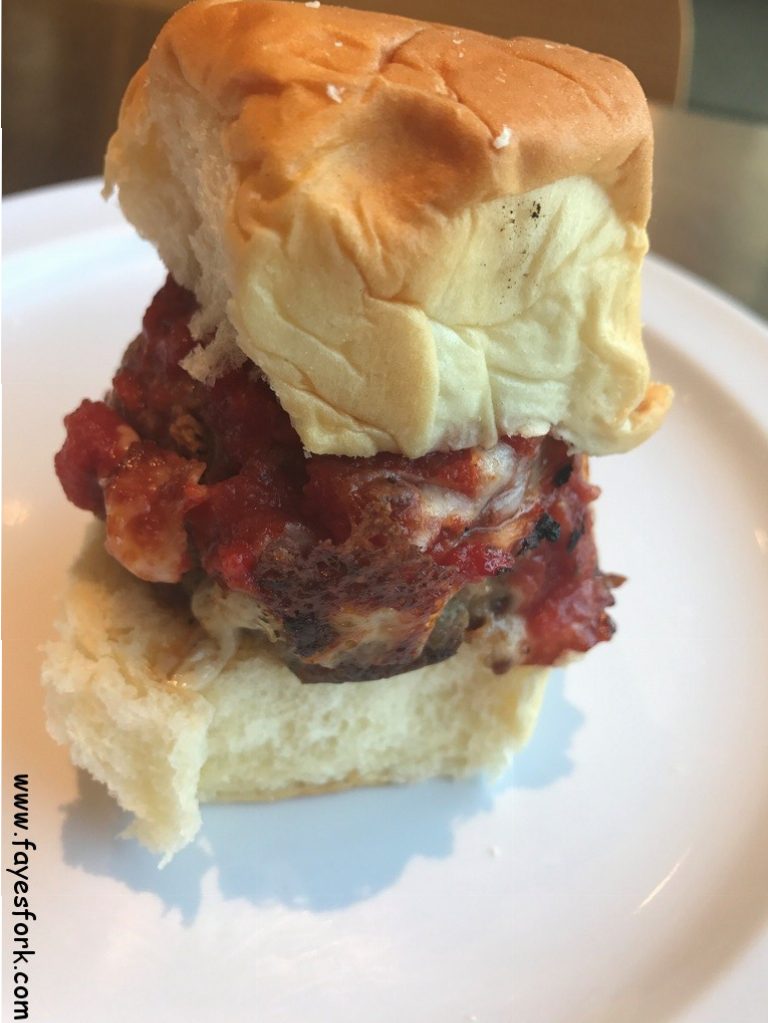 You get a FREE meatball slider with yelp check in! It's served warm on top of sweet Hawaiian bread.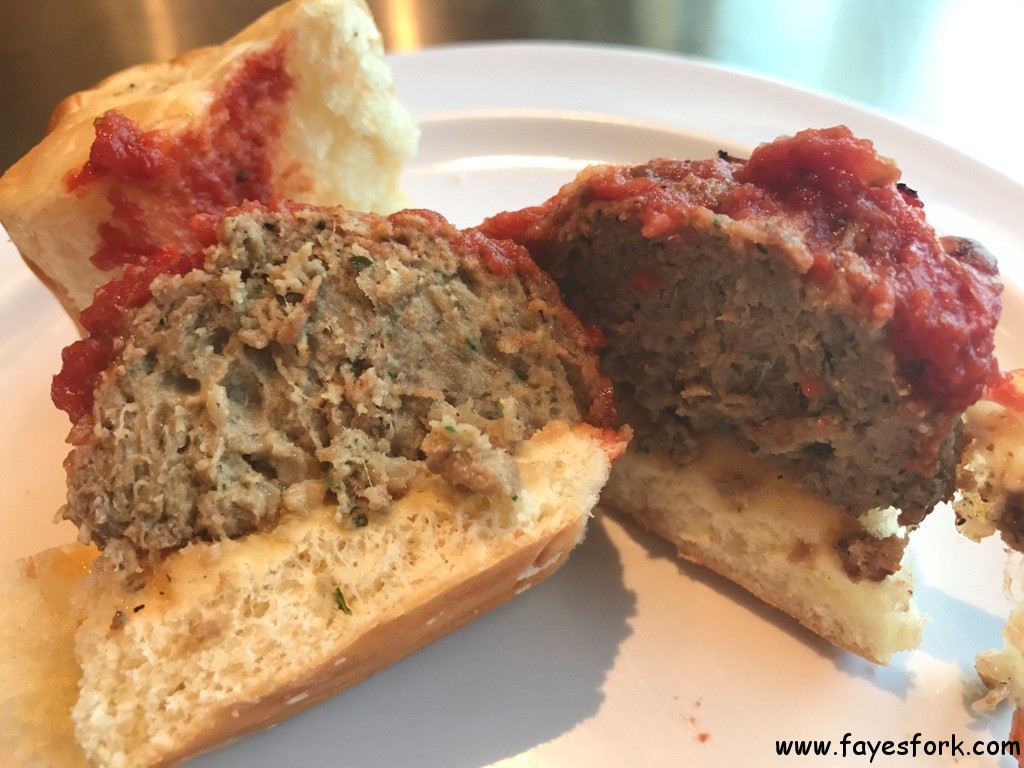 Unfortunately, the meatball was lukewarm. I'm not sure if they microwaved the meatball as it tasted dry. The sweet bread was delicious though.
Oh nooooo. That's what I thought when someone brought this to my table. I had a feeling this deep dish pizza would be my next obsession. It's a hearty portion for being a personal size. They don't up charge if you want the deep dish option. Mine came with a choice of one topping so I opted for sausage.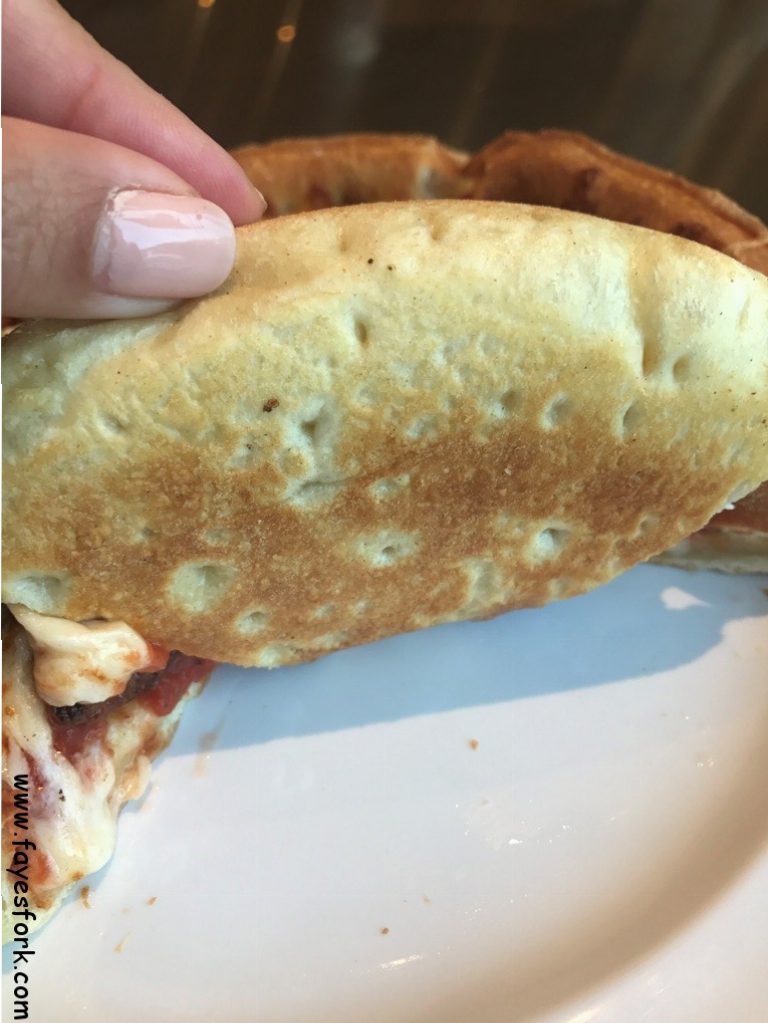 This was a beautiful bottom of a crust.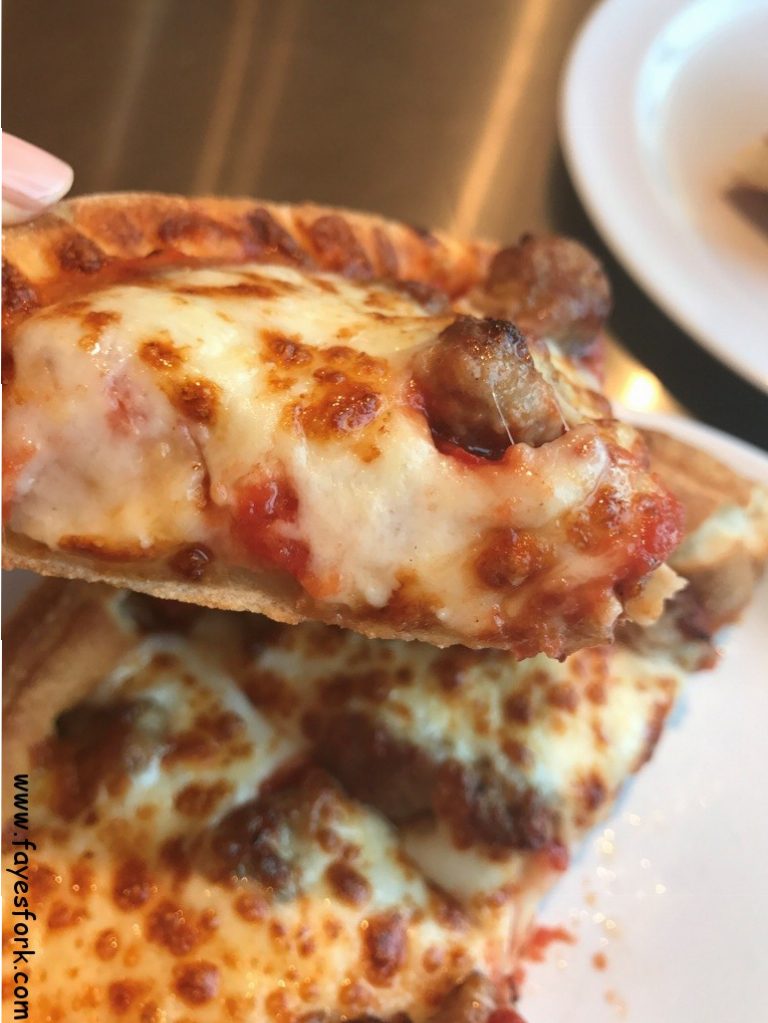 I appreciated the sturdiness of the crust. It wasn't limp in the middle (sorry Officine Bueno Forchetta).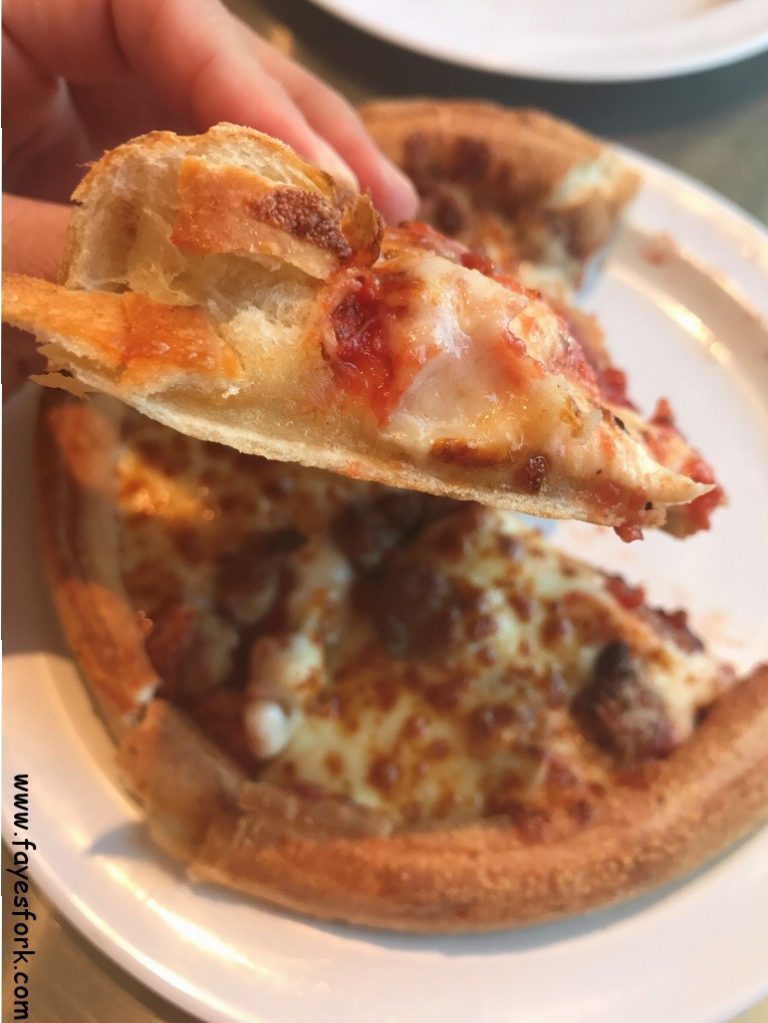 Let me tell you what intrigued me about this deep dish crust. The outer crust tasted like freshly baked bread hot out of the oven and interior of the crust was soft like a pillow. You know – what really good fresh baked bread should taste like. It was confusing at first, to someone who doesn't eat pizza crust, but I remembered this was their deep dish version so the crust was thicker and heartier. I really enjoyed it.
The sauce tasted fresh and bright. There was a nice amount of cheese. I would have liked more sausage but hey, this is a personal size, so it's alright.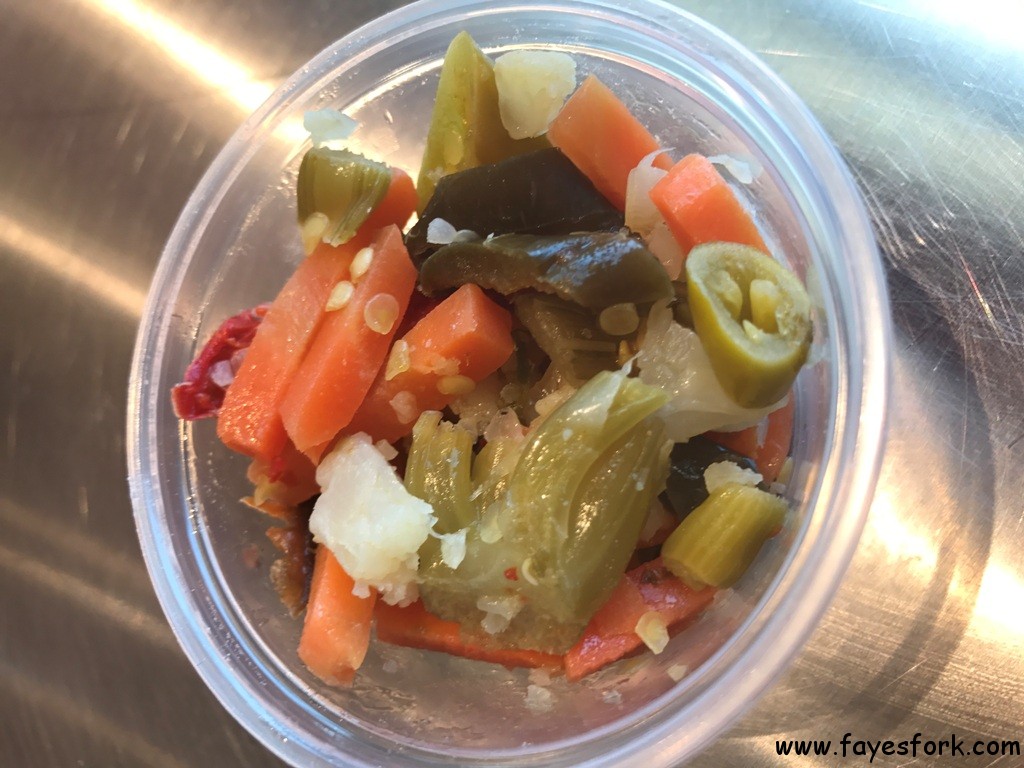 Tom, the manager, was checking on each guest. We had a fun chat about the owners (who are brothers from Chicago I believe). I told him I had visited Chicago some time ago and he brought this out for me try. I STILL cannot pronounce this – Giardiniera. He said people get this ON their pizzas. Must be a Chicago-ian thing.
2nd Visit:
Turns out friend likes Fresh Brothers too. She comes here once in awhile for a beer, salad, and a pizza. We both appreciate that Fresh Brothers is pretty much the only eatery in this center that blasts their a/c. The others just open windows and doors.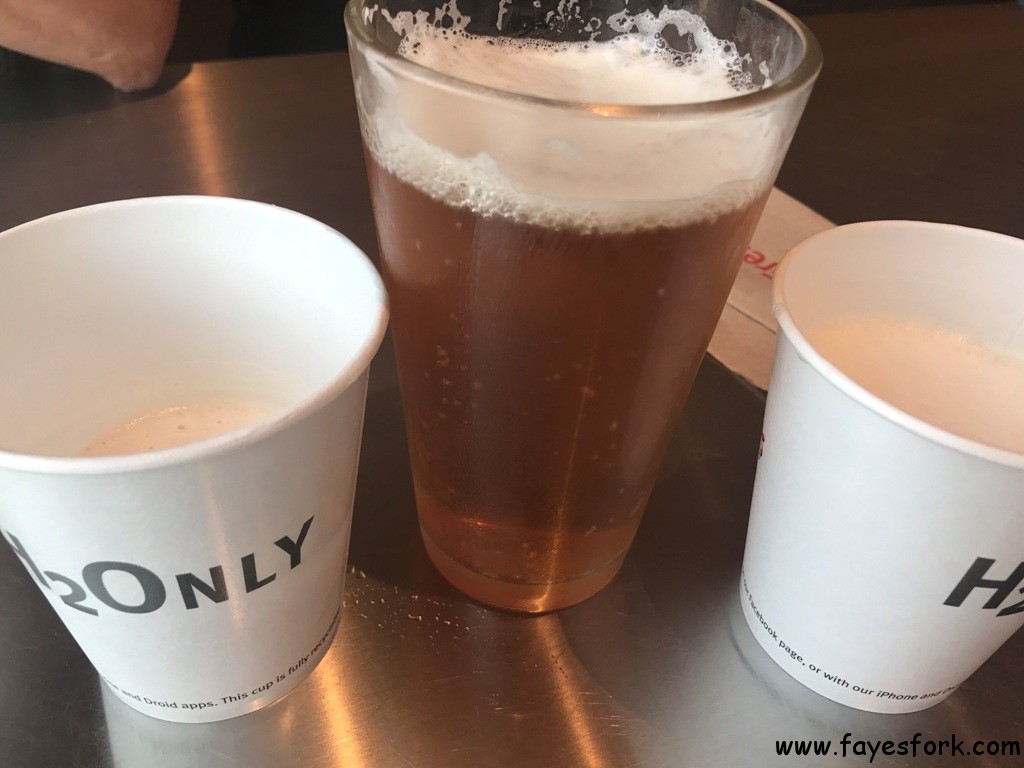 Tom was working that day and gave us a sample of the Wolfpup IPA. He was surprised I knew about this IPA. Friend had another IPA (can't remember the price but it wasn't too bad).
We both opted for the personal pizza + salad or wings combo special.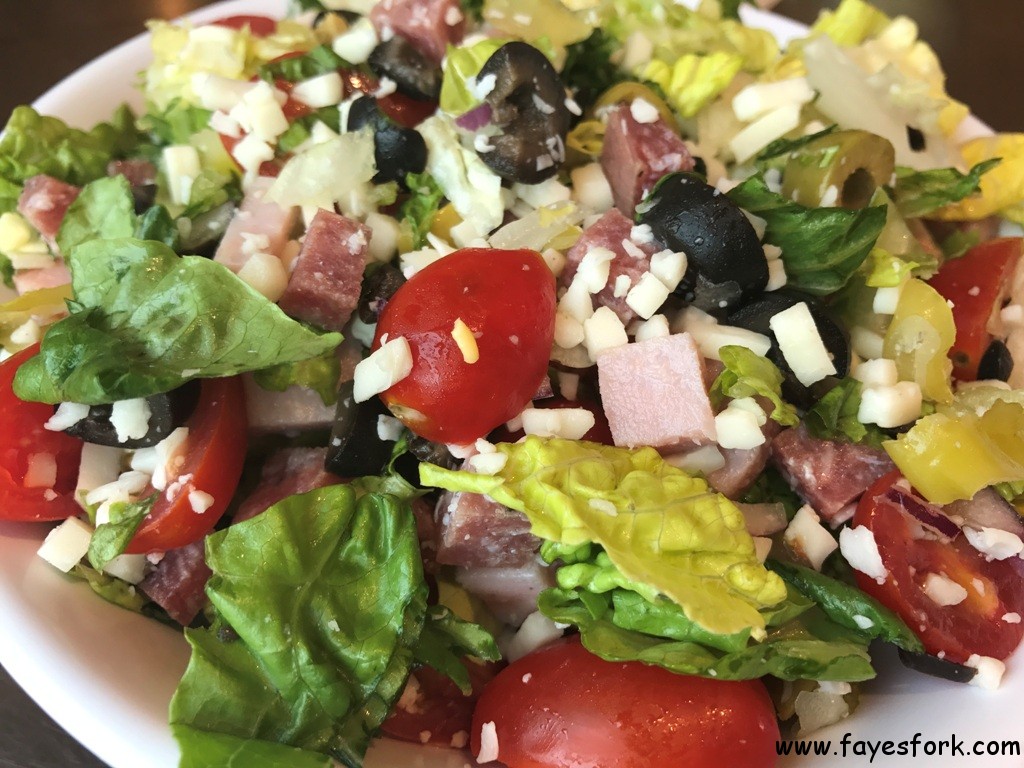 You can choose ANY of their salads to pair with the personal pizza. The combo is only $11.99. Friend choose the antipasto salad and this was a very generous serving. They do NOT skimp on the salad toppings my friends.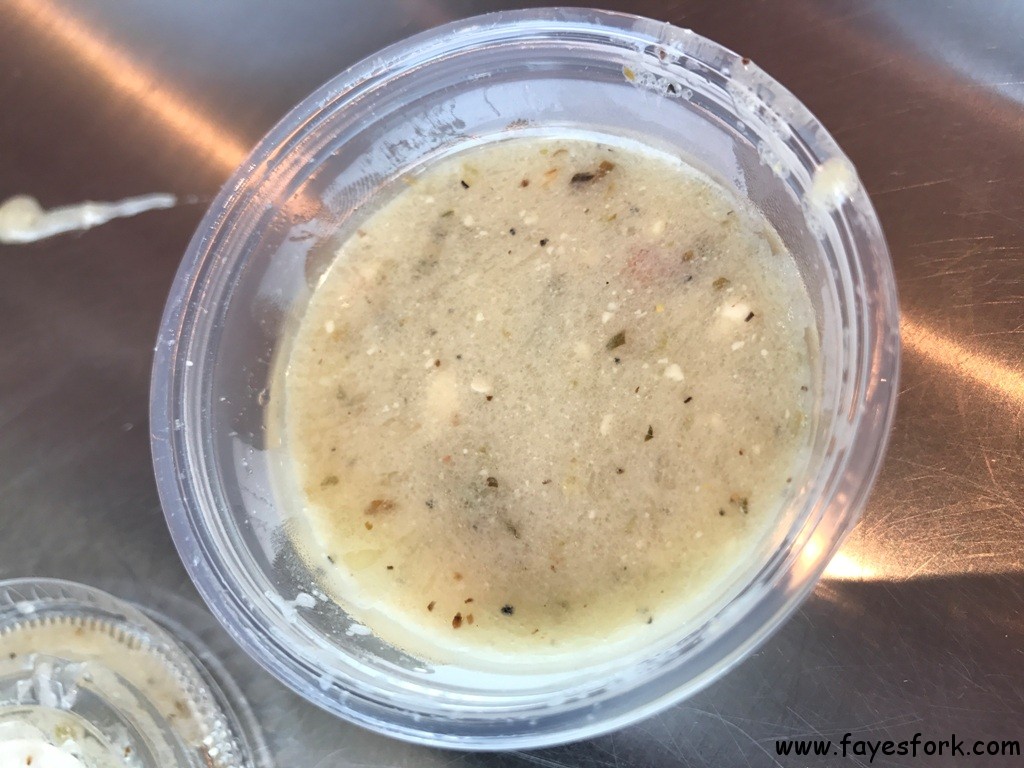 Friend loves their tart Greek dressing. We thoroughly enjoyed this incredibly fresh tasting antipasto salad (well, I would have omitted all olives and salami).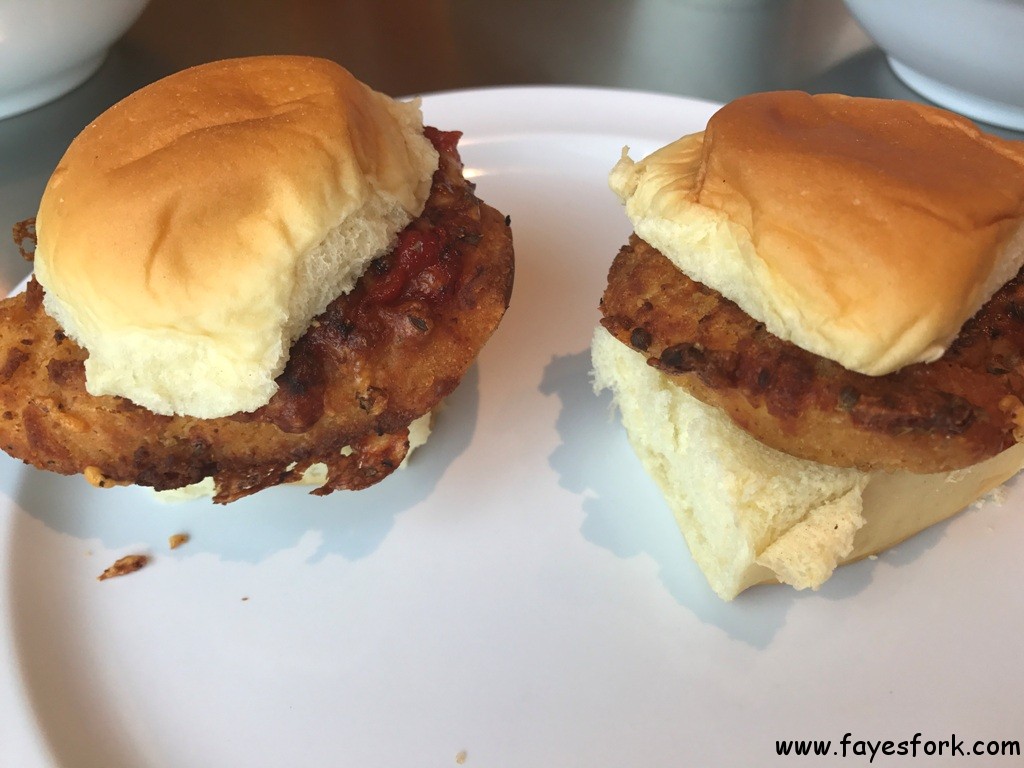 FREE. Yes. F.R.E.E. With yelp check in. Tom was super kind and gave us an extra chicken parm slider.
The chicken parm is baked here. I don't think they have a fryer. It wasn't bad. The chicken was decently tender. Again, the Hawaiian sweet bread was great.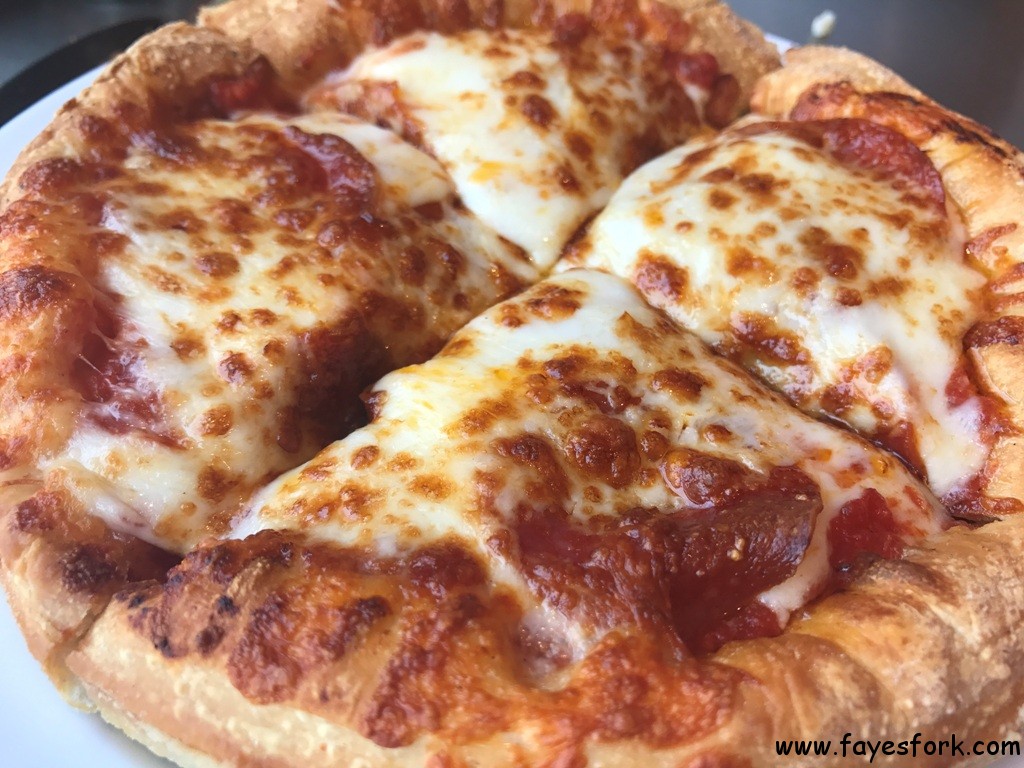 Look at this photo. This deep dish pepperoni pizza tasted as delicious as this photo depicts. It's again a hearty portion, especially with the side salad.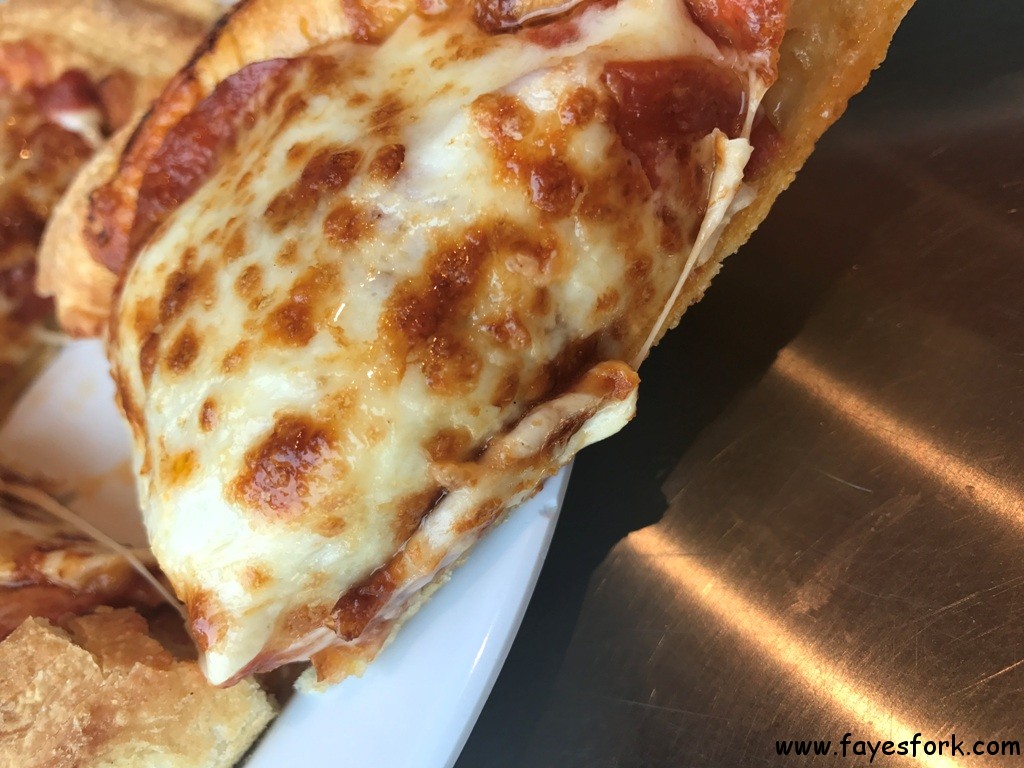 They gave friend a thick serving of mozzarella cheese – look at the center of the pizza in this photo.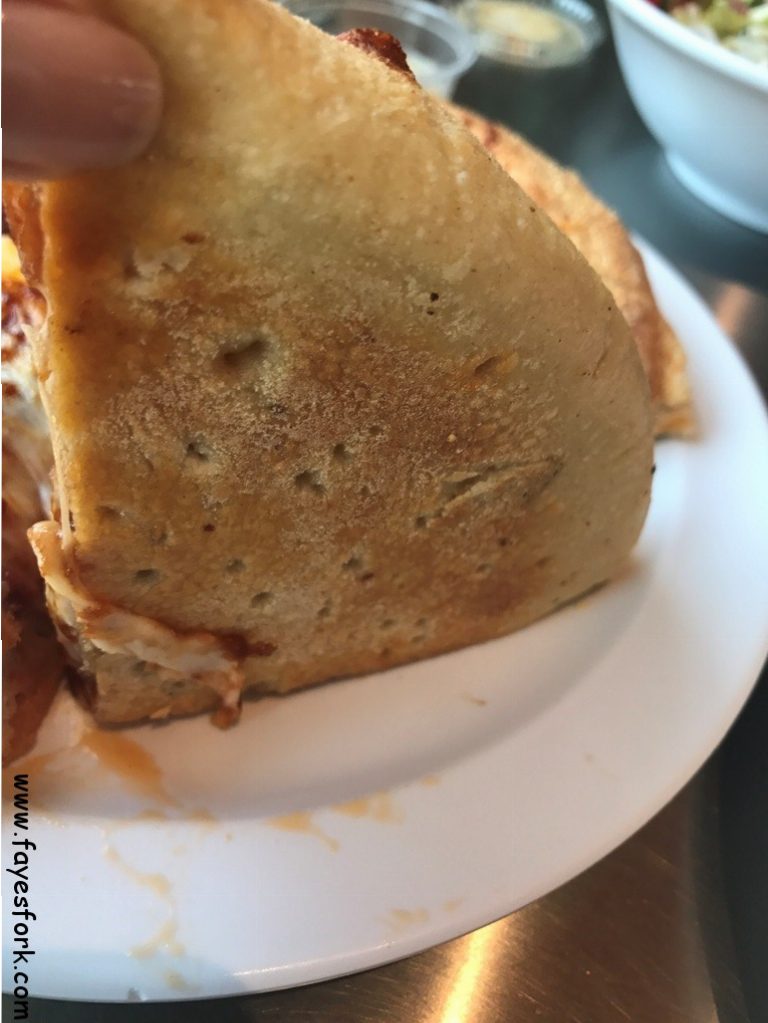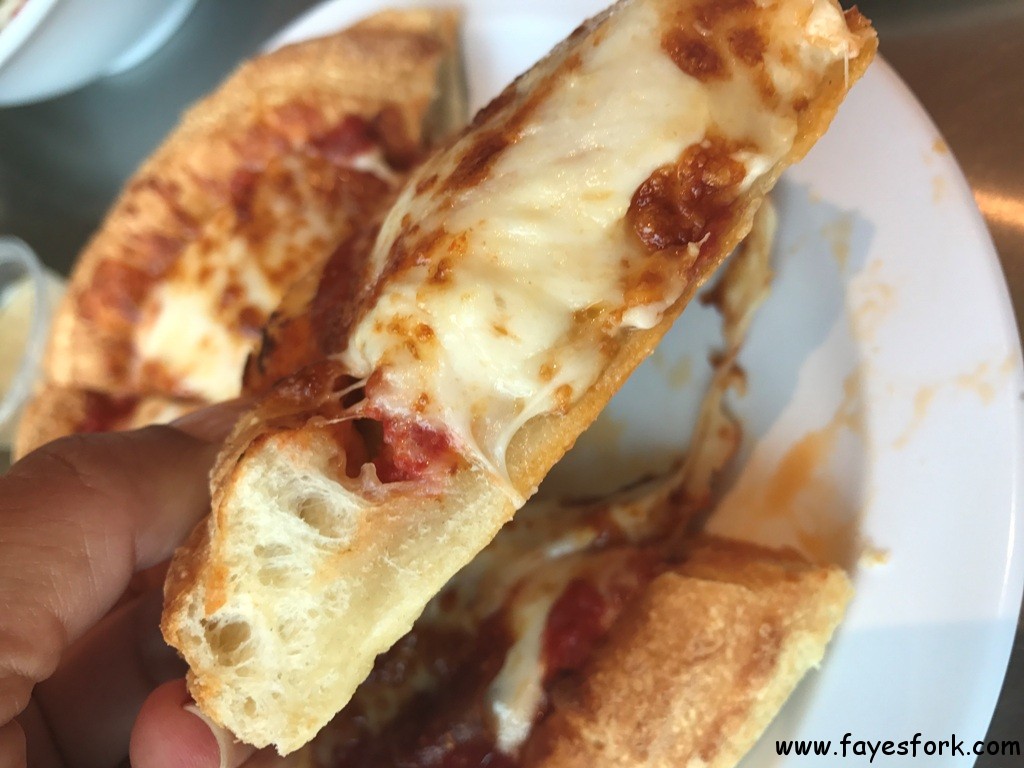 Friend agreed that the deep dish crust tastes like freshly baked bread. There's a nice satisfying crunch to it.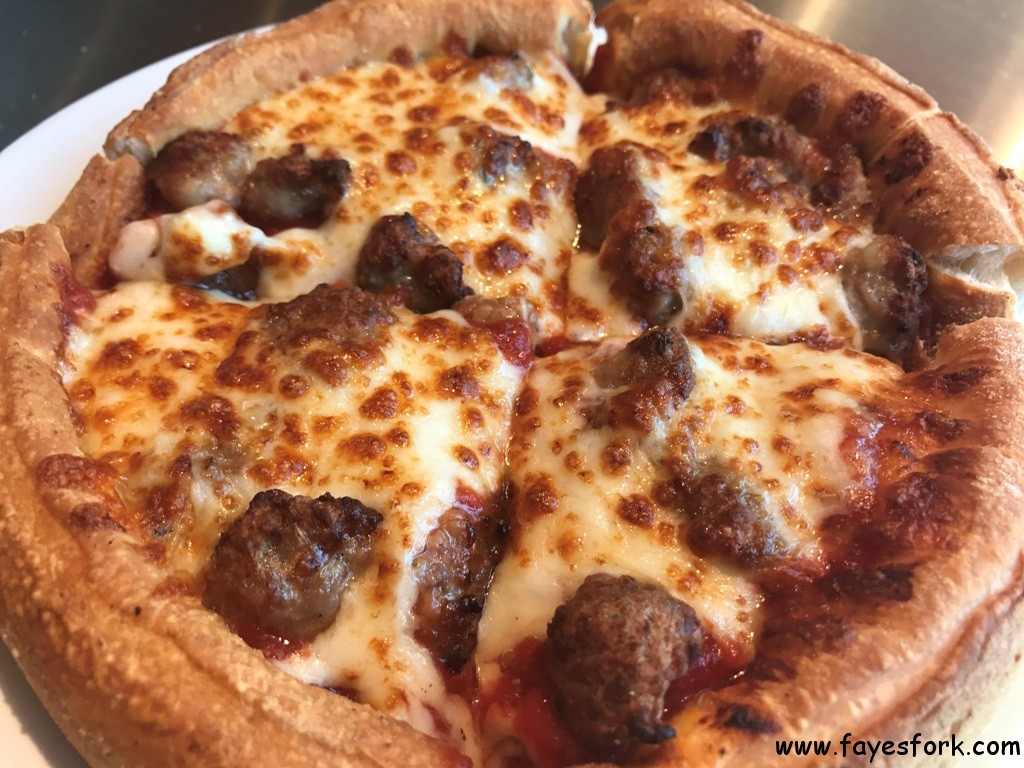 Yeah. It's hard for me to even want to try another pizza at this point.
The pizza is sturdy. I was surprised the cheese didn't slide off when I was taking this picture. There was a nice amount of sausage this time around. I enjoyed this deep dish pizza again on this visit.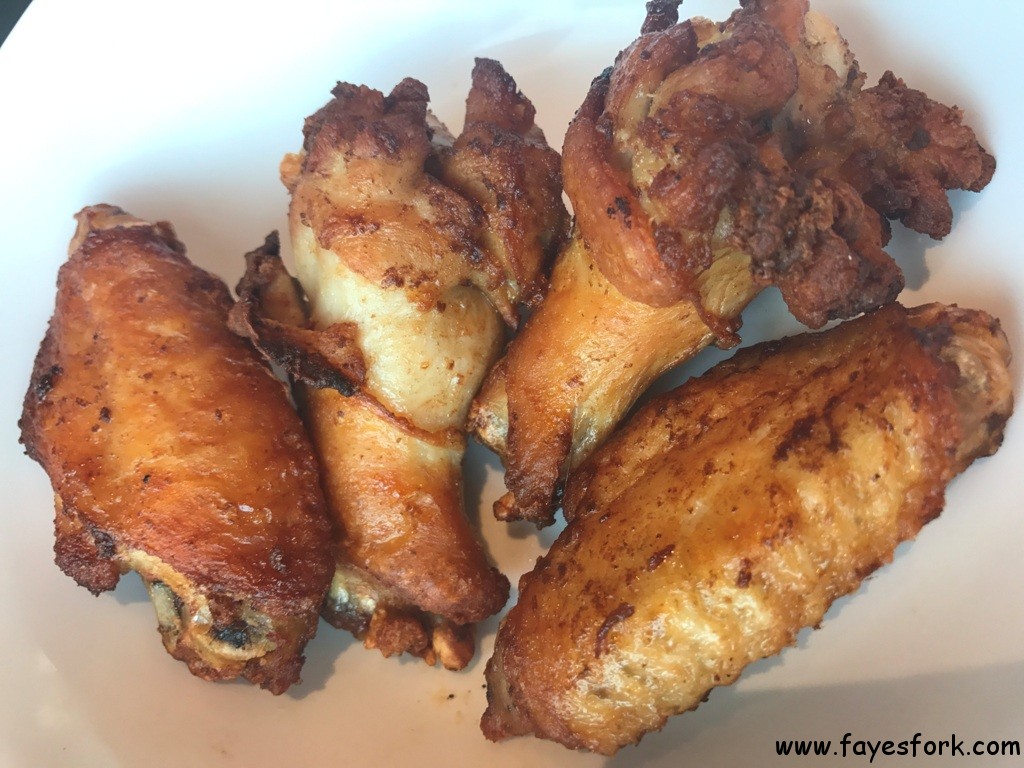 You can add a side of chicken wings to your personal pizza. My pizza with the wings cost a total of $11.49 (before tax and tip). The wings are baked here at Fresh Brothers. We opted for sauce on the side.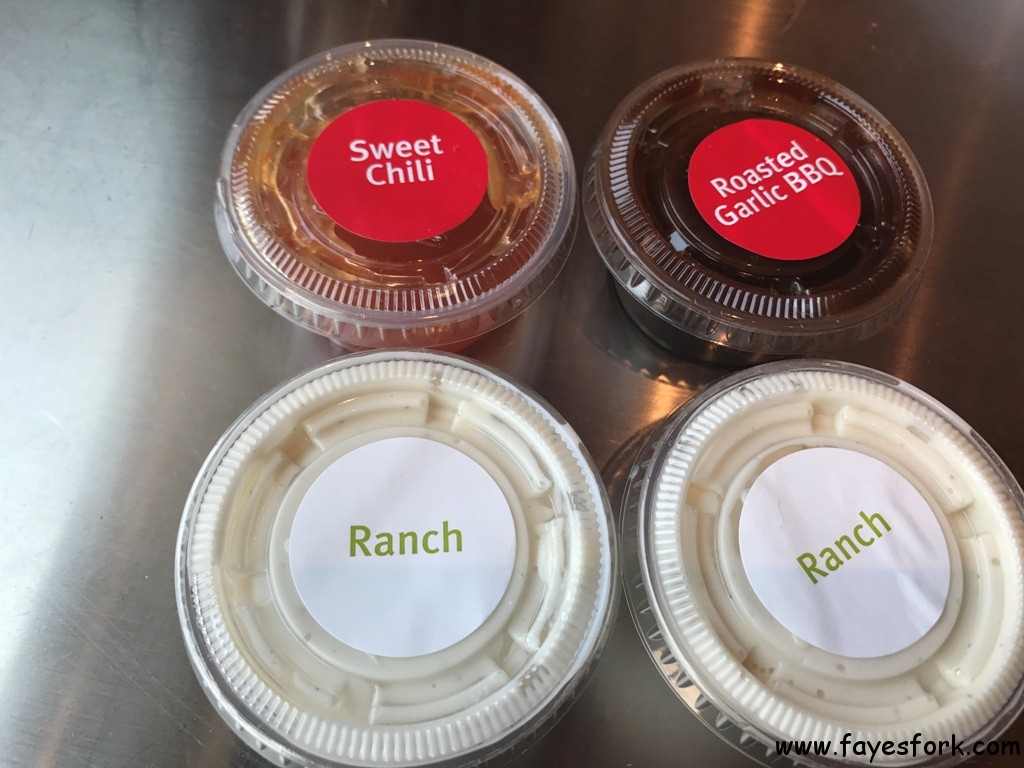 They let us try a few sauces for our wings. I liked the sweet chili the most.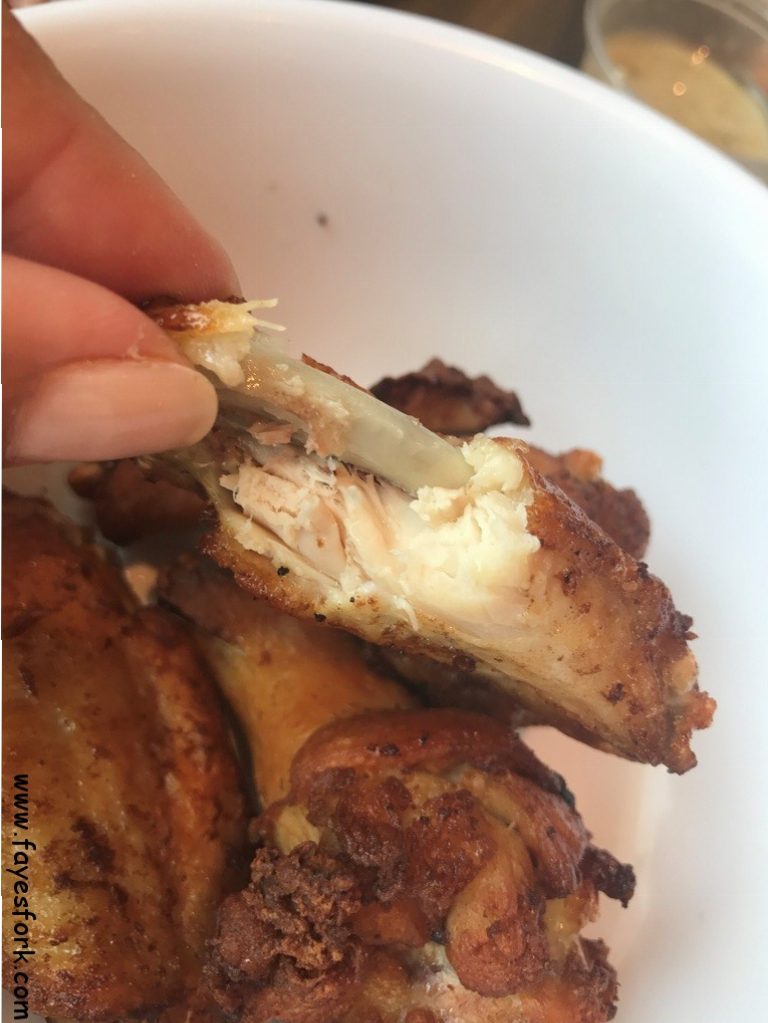 The wings were meh. I hate typing that as it was the least favorite item for the both of us. They tasted very dry and the skin wasn't crispy at all.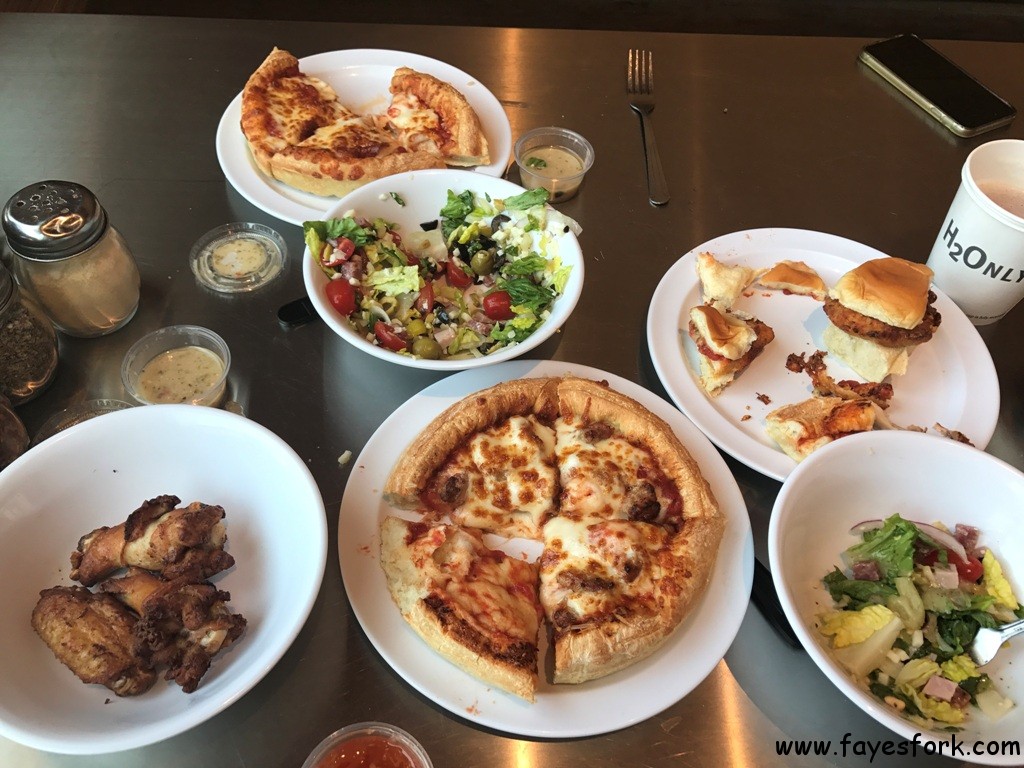 This was lunch for two people. Each combo costs $11.99 and $11.49. Not a bad deal.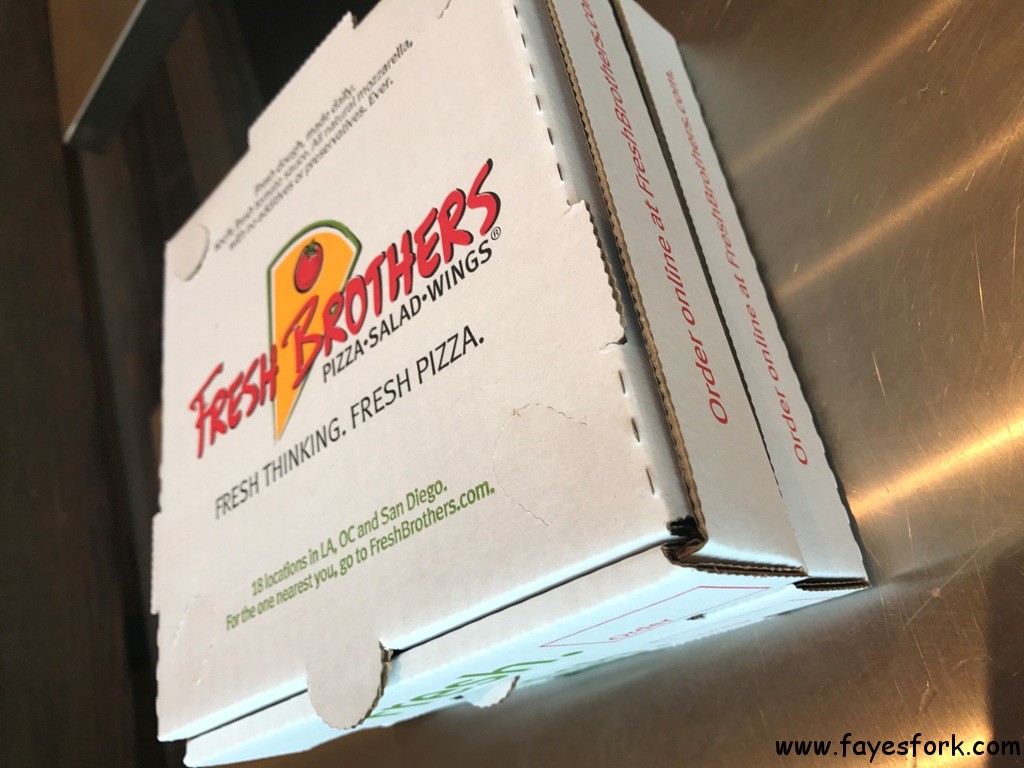 We barely ate our pizzas as we were getting so full. Their take out box is pretty nice.
NOTE: the deep dish pizza, for me, re-heated wonderfully in the oven at 350 degrees for about 8 minutes. The crust tasted crispy.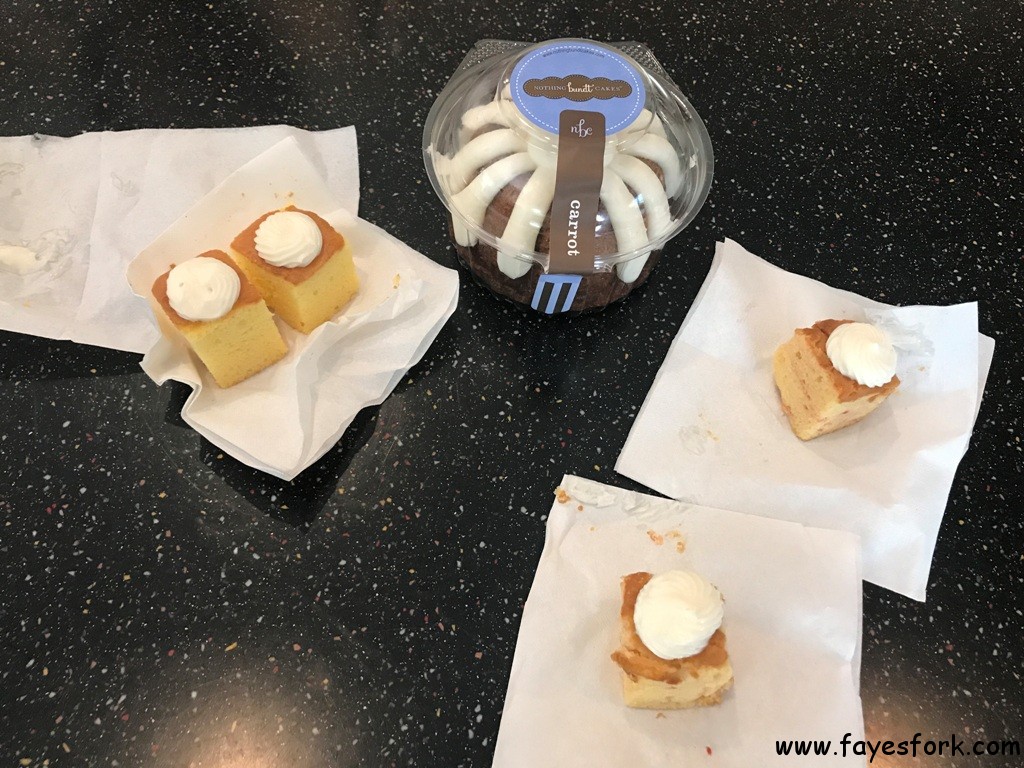 My family was in town so friend wanted to buy my grandma a 'hello' bundtlet from Nothing Bundt Cake. We also added a few samples we didn't eat to the gift bag 🙂
3RD VISIT:
I'm trying to spend smarter for meals. So, why not re visit Fresh Brothers for their $11.95 pizza and salad combo.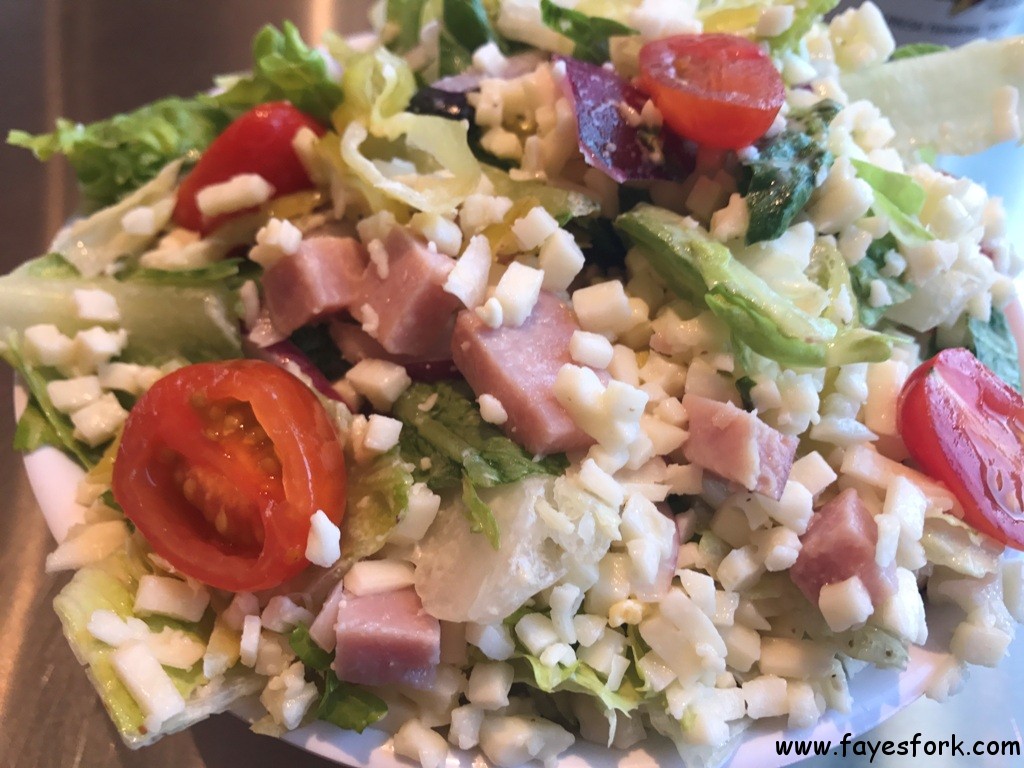 I CANNOT explain how piled HIGH this salad was. I asked if I could substitute out the black and green olives and salami for something else. They gave me extra mozz cheeese. The computer system didn't let them sub out more ham in lieu of salami but it didn't matter as this customized antipasto salad was substantial, fresh, and delicious.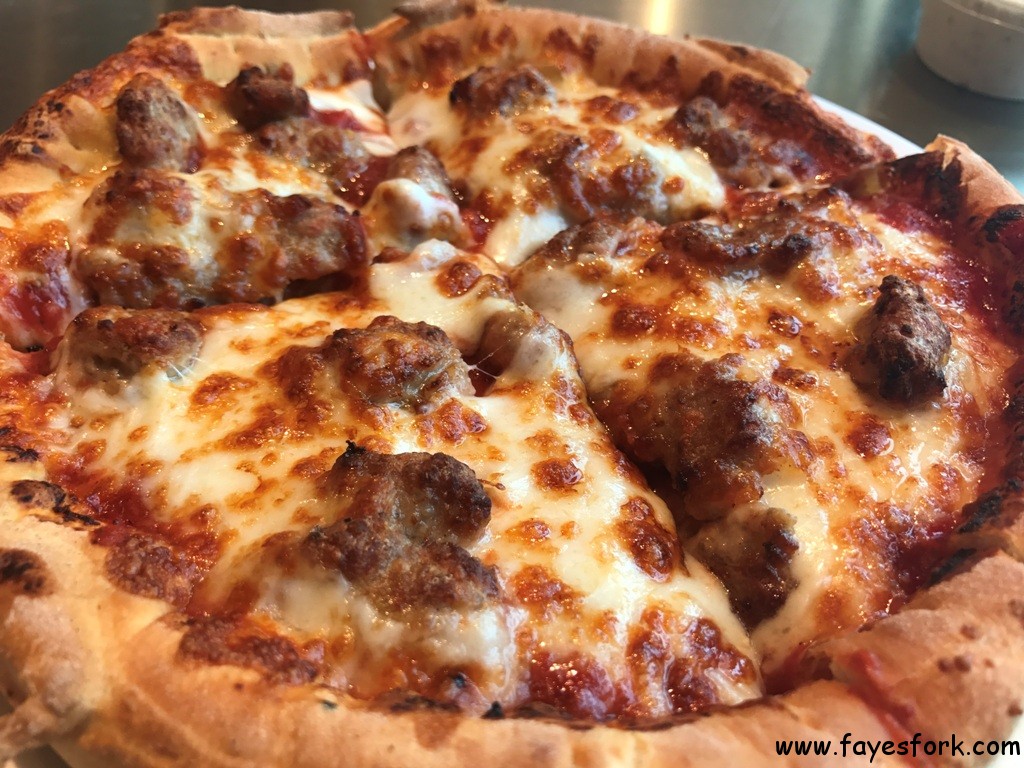 No need to write more about this, yeah, you guessed it – personal size deep dish sausage pizza. Tasted pretty darn good this visit too.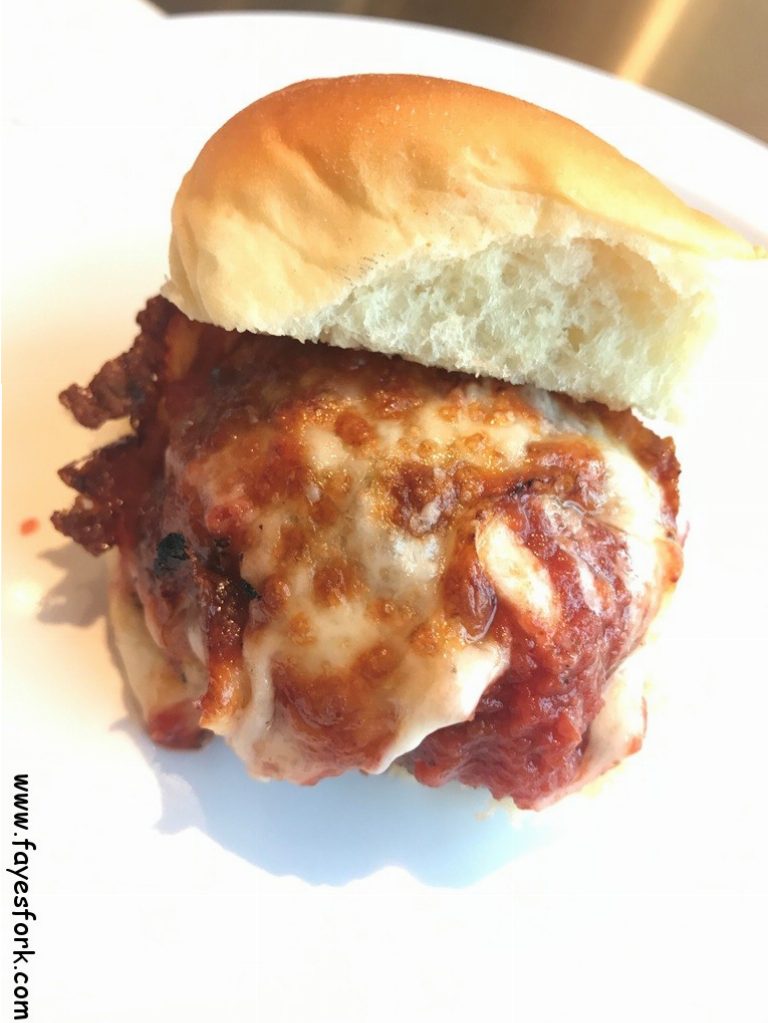 Still available for free. Just check in on Yelp.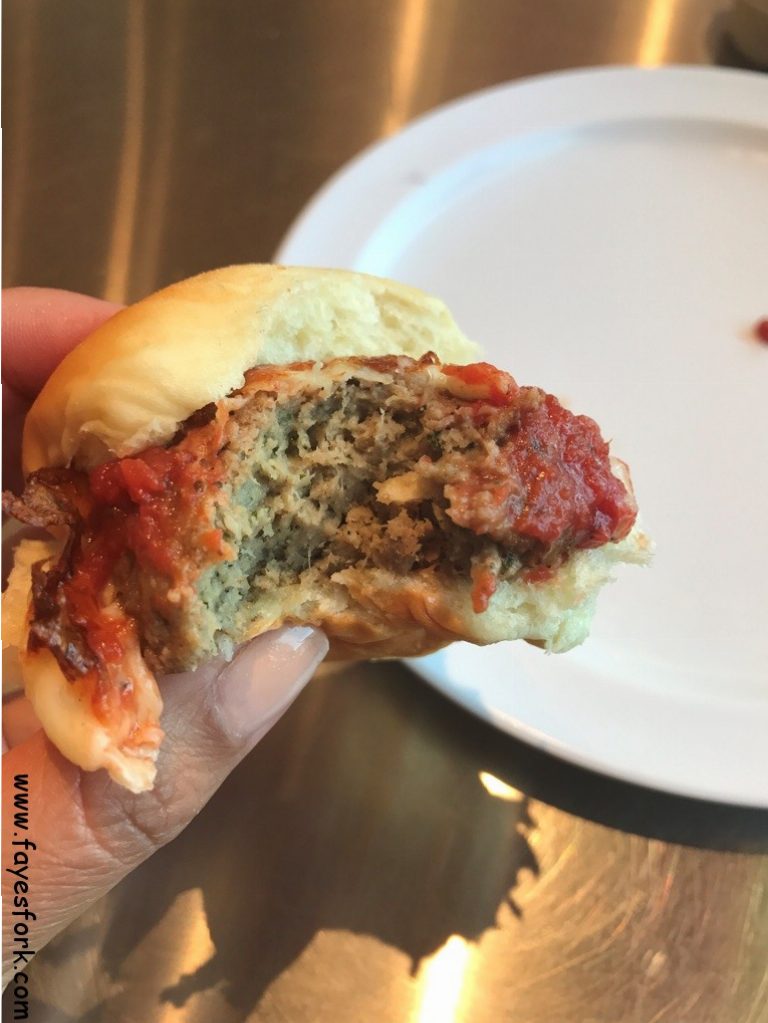 The meatball slider on this visit was much better than before. The meatball was served hot and was nicely juicy.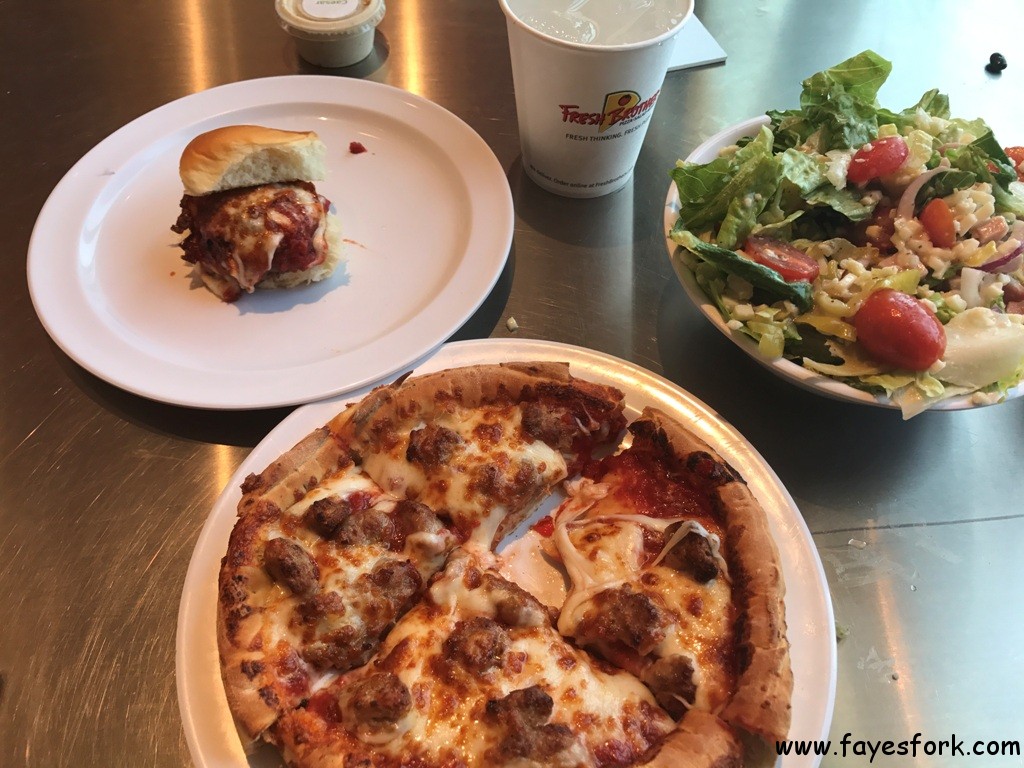 This was a very sweet deal at $11.99.
4TH VISIT
I was in the area and wanted to order something for sis.
Guess what type of pizza.
I was worried that the deep dish wouldn't be very good if taken to go.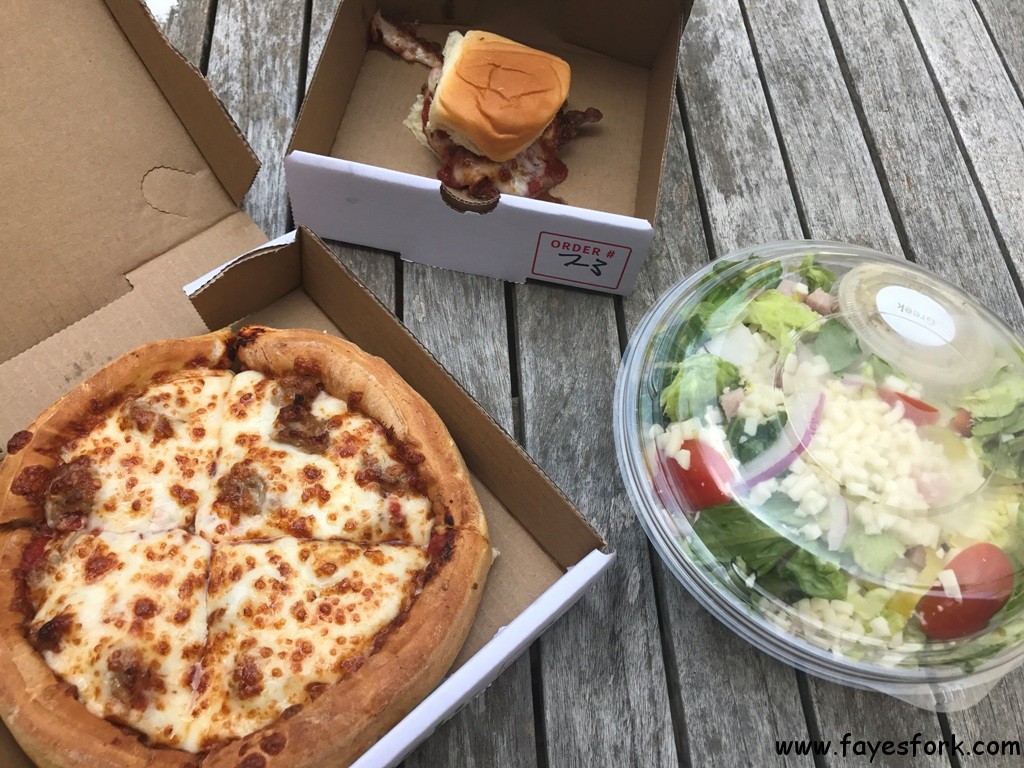 Everything was packaged very well. They even let me use my yelp check in to get another free meatball slider.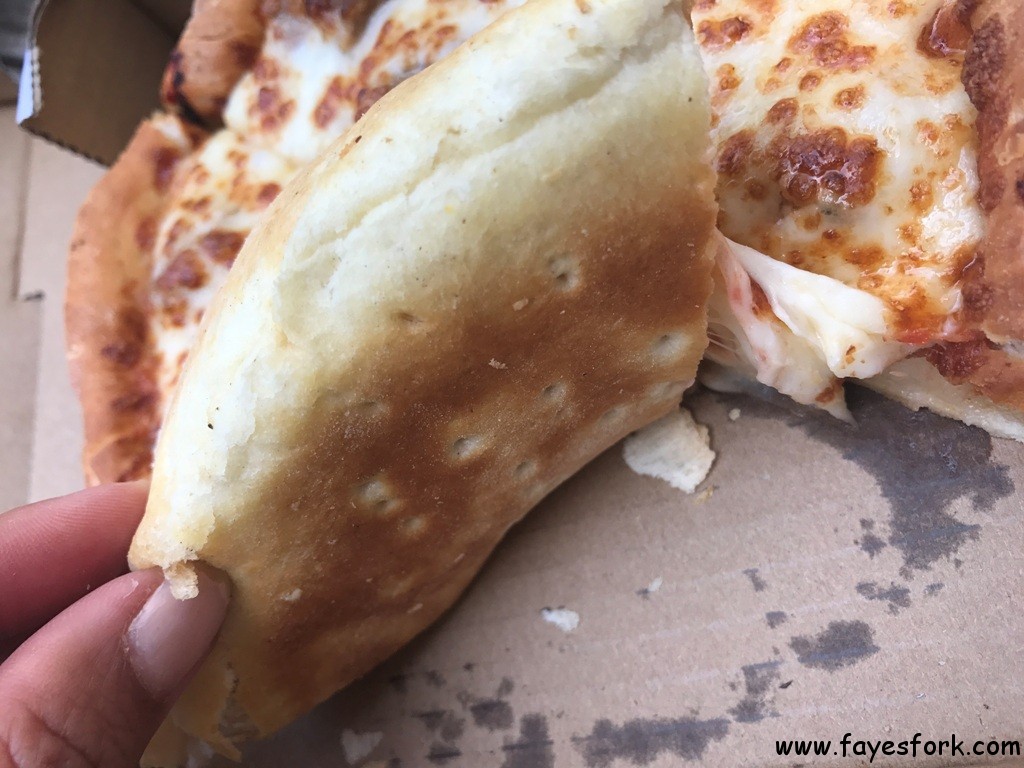 The dough was softer and not cooked as crispy. It tasted much better re heated the next day in the oven.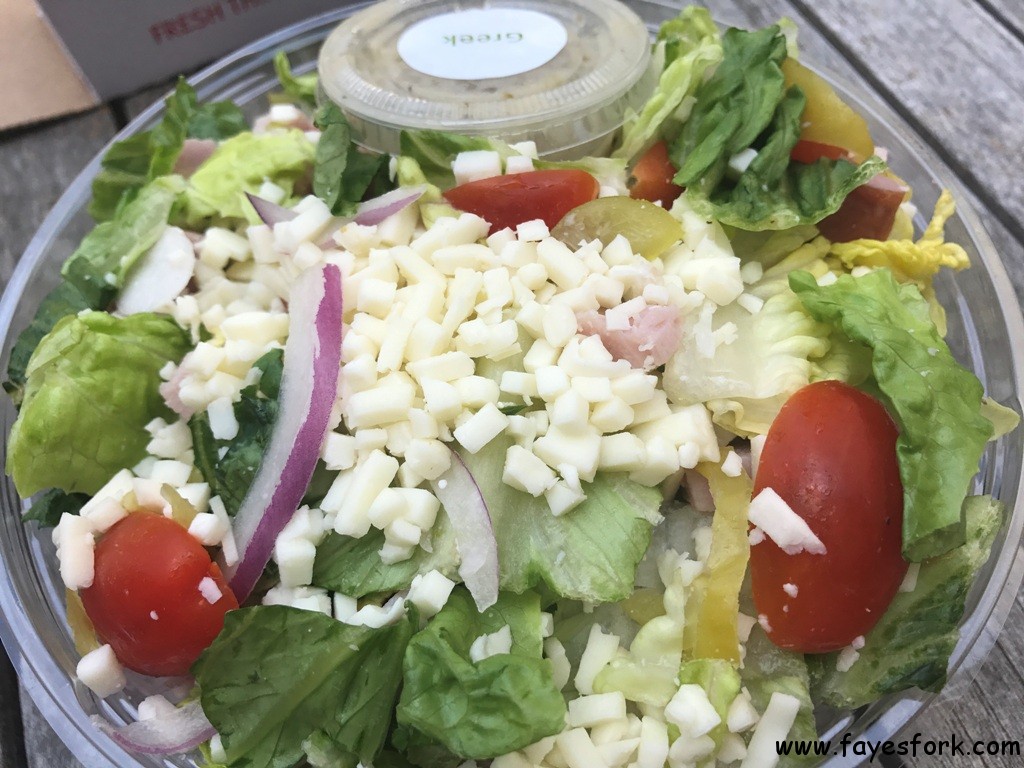 Sis was a fan of their antipasto salad as well. The to go portion was still as generous.
This slider looked to be the freshest yet. Look at the oozy melted mozzarella cheese covering the fat meatball. Sis was in awe that this was free with our purchase. I might have to add a correction that the yelp check in slider might be free with a purchase.
Needless to say, I am a fan of Fresh Brothers. The staff has always been kind and accommodating. The location is comfortable with the cold air conditioning. The actual seating isn't the best with hard benches and metal chairs. But we were never there long enough to really care (as cold a/c trumps hard benches any day). I hope Fresh Brothers does well and keeps succeeding.
FRESH BROTHERS
5950 Village Way
Ste 103
San Diego, CA 92130
(858) 252-7000