There's been so much anticipation waiting for Fung Fung Yuen to open in Mira Mesa. They took over the now defunct Hometown Buffet building sometime ago. Fung Fung Yuen serves dim sum and then some (sorry, had to type that). People must lose their minds about dim sum because Fung Fung Yuen has been receiving crowds of people since it's softening last week. The dim sum is served by servers with carts. A group of us went this week to try out their dim sum offerings.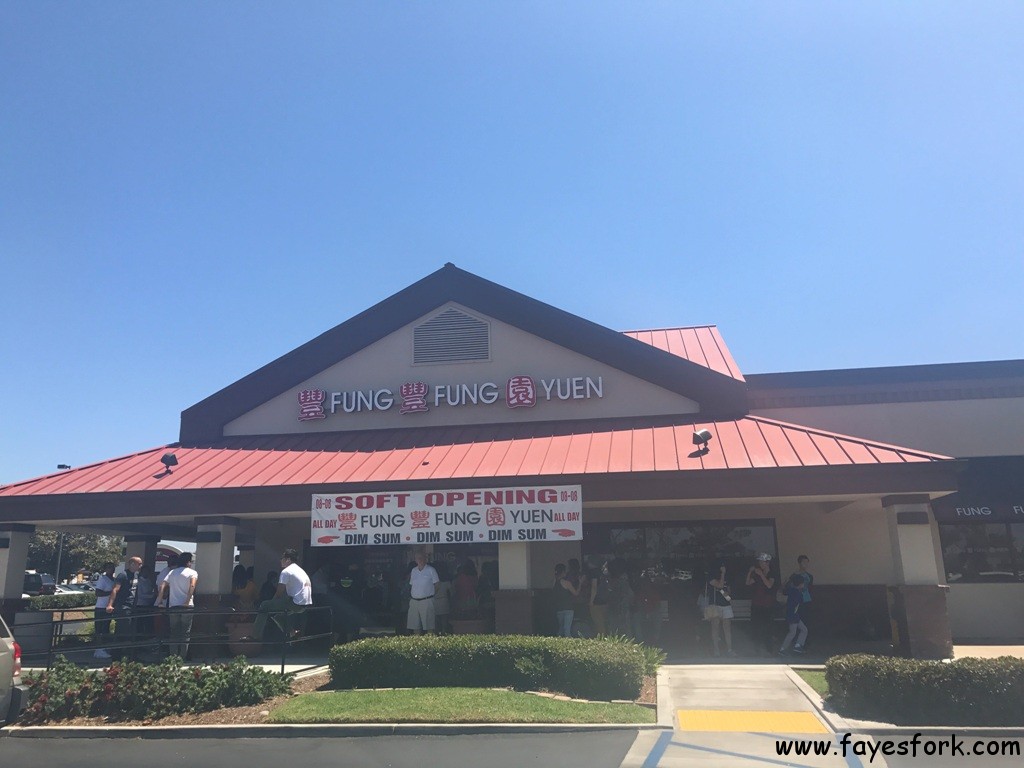 The restaurant is huge. We arrived around 11:10a and there was no wait. This was the wait, in front of the restaurant, around 12:15p. Madness for a weekday. Kirbie visited during their soft opening week.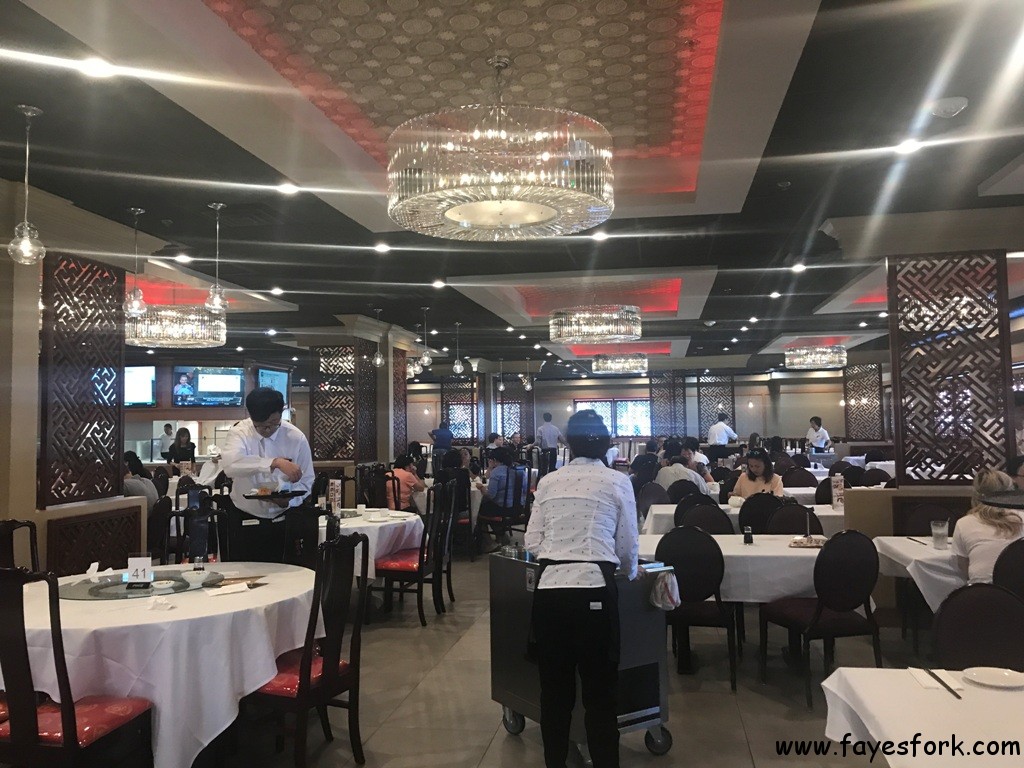 We were surprised at how spacious the restaurant was. Plus, they had the air conditioning blasting which I loved.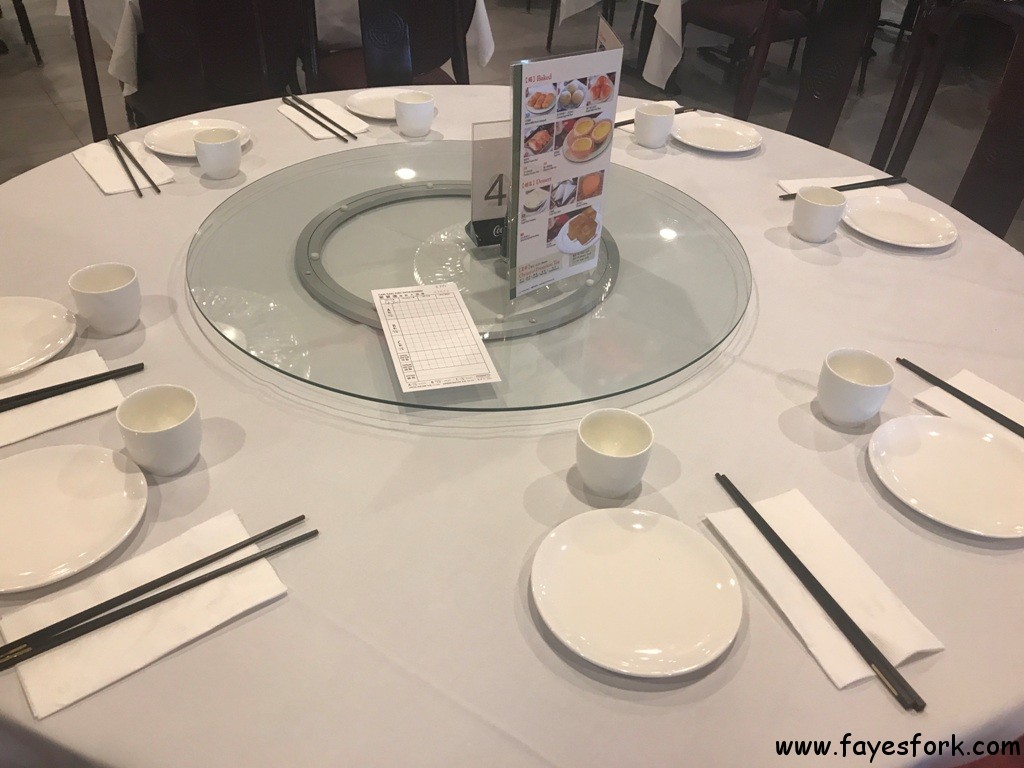 We immediately knew it would be a slow lunch as we barely saw any dim sum carts. Someone came over to us to ask if our server had spoken to us. We said no and a server eventually came over to take our drink orders. He wasn't the friendliest man and only mumbled to us. We could barely understand him until I started to speak Mandarin to him.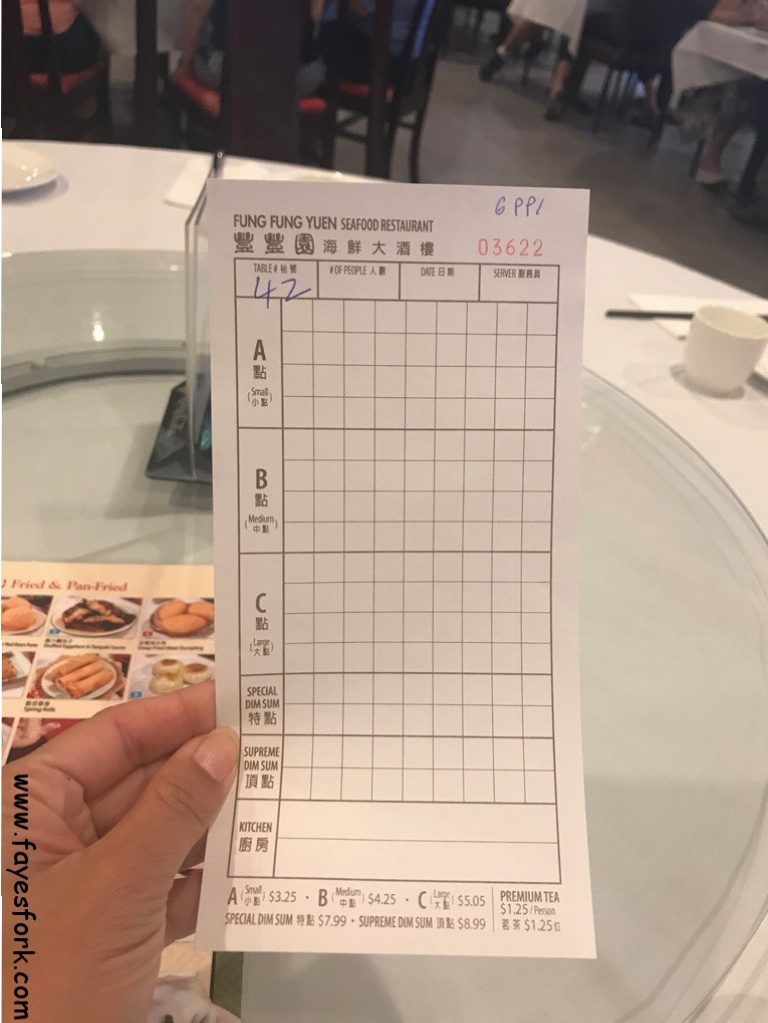 Here are the prices (as seen on the bottom of the dim sum check list):
A = $3.25
B = $4.25
C = $5.05
SPECIAL = $7.99
SUPREME = $8.99
It's $1.25 per person for tea.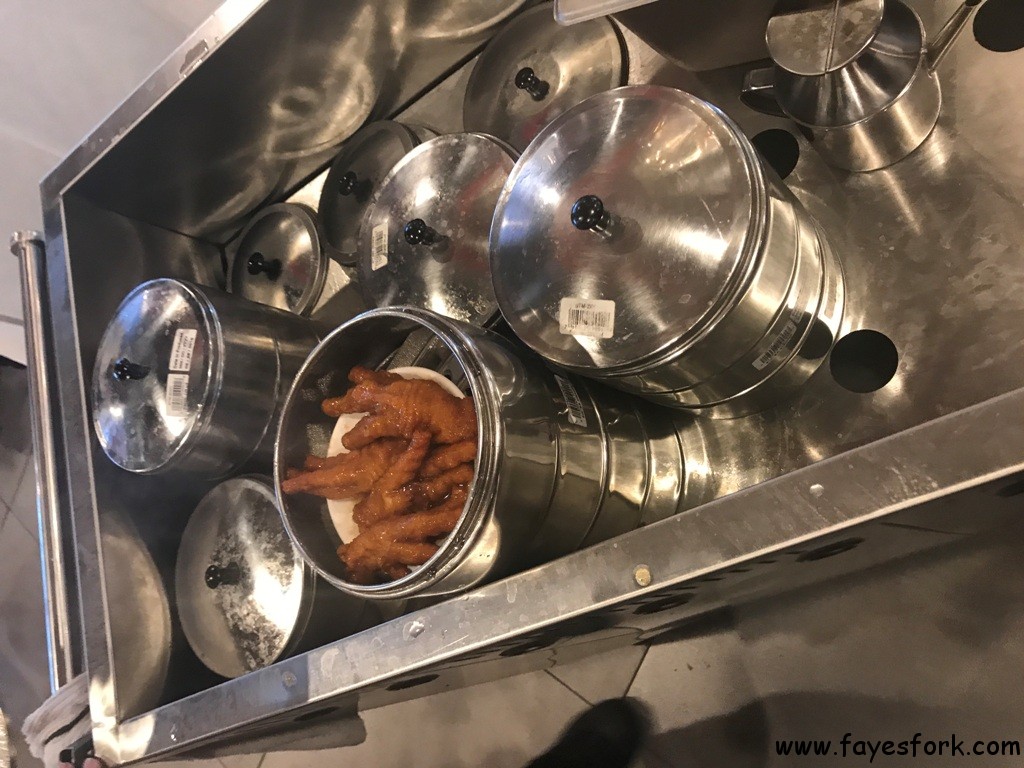 A dim sum cart arrived ten minutes after we got our tea.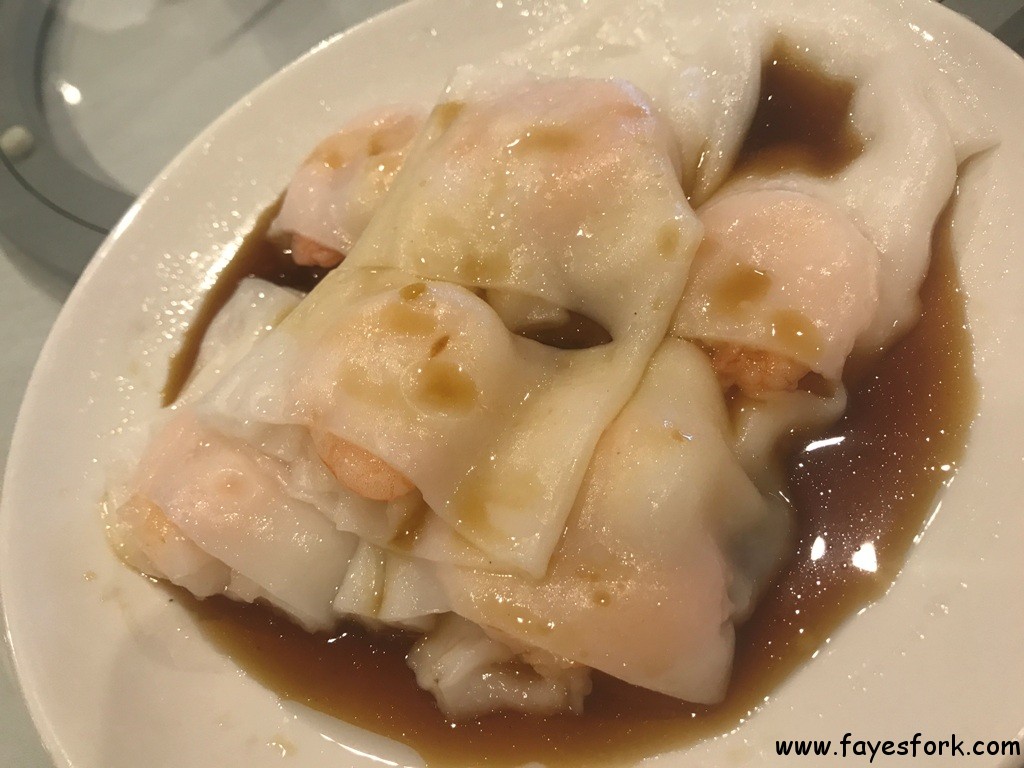 There was a decent amount of shrimp in the rice rolls but everyone thought the shrimp tasted rubbery.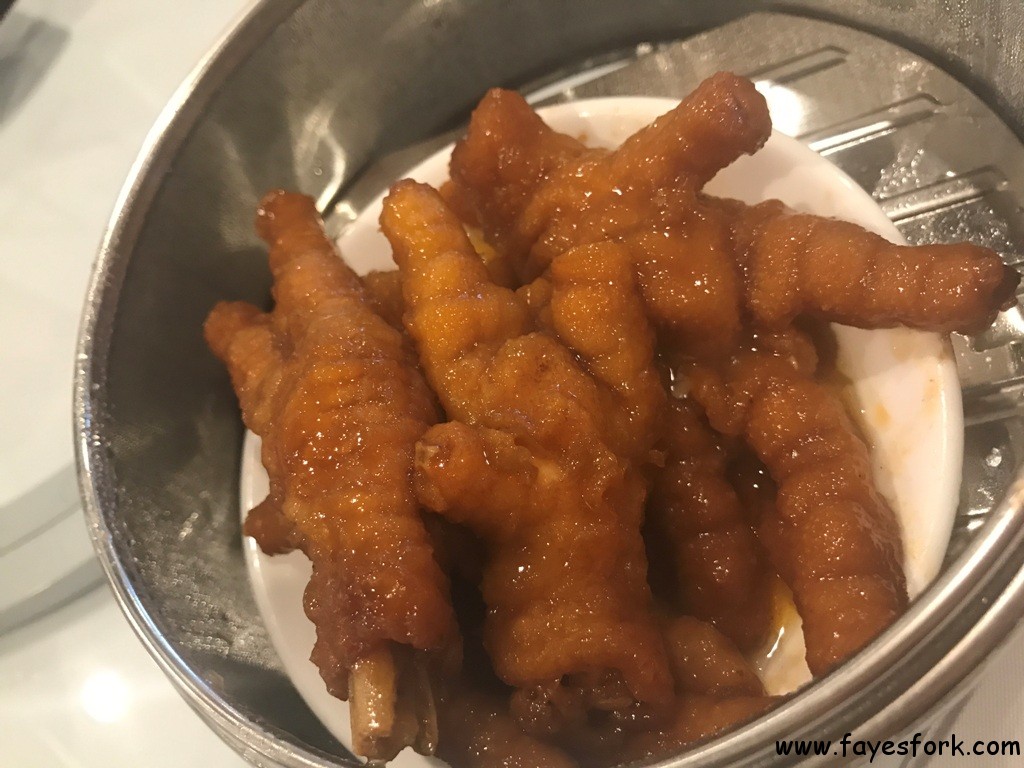 The chicken feet was stewed nicely.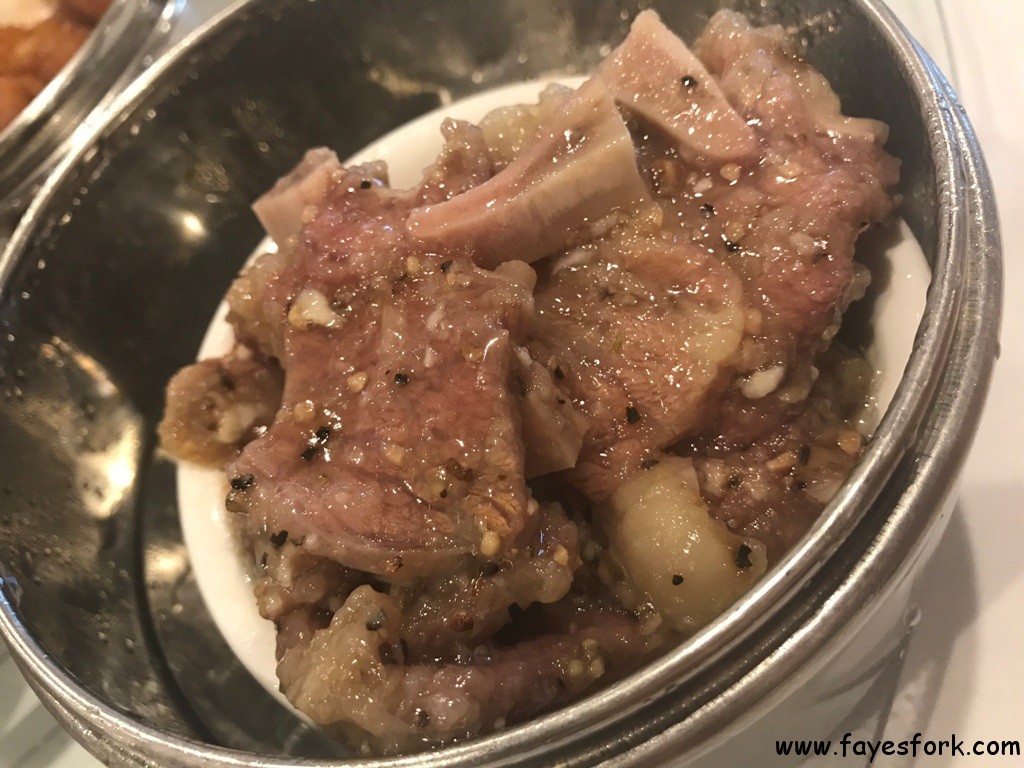 Sis accidentally ordered this as she heard 'spareribs' spoken in Mandarin by the server. Instead these are stewed/steamed beef spare ribs. I was hesitant so eat these as 3/4 of the pieces appeared raw.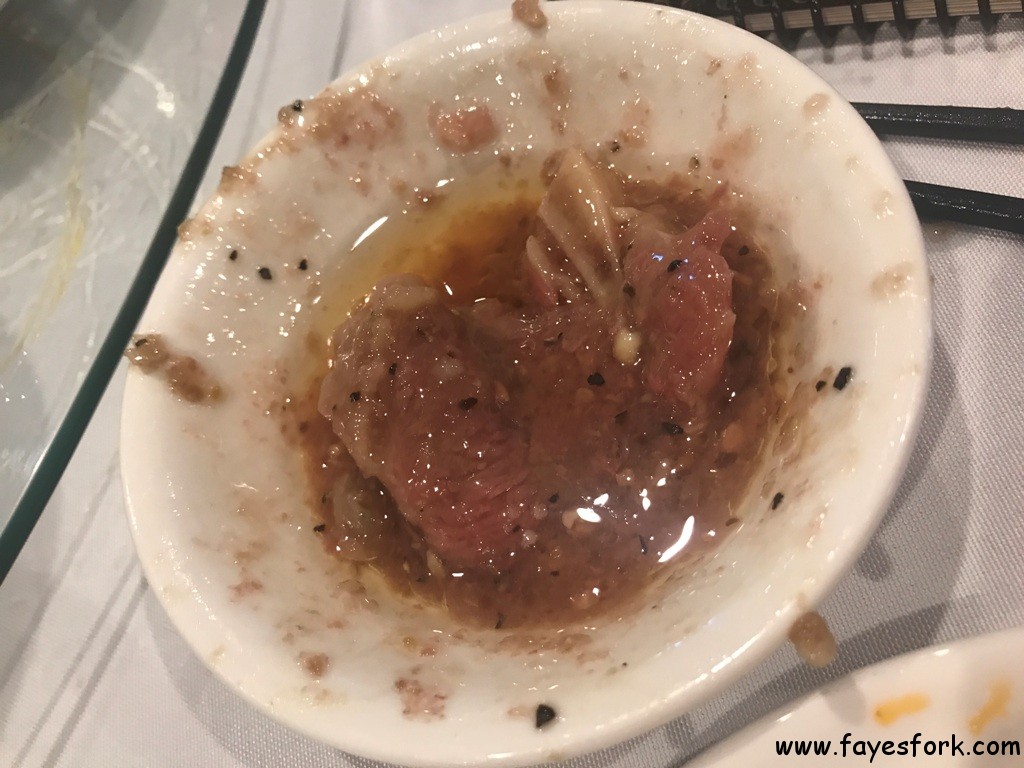 But it's beef so we figured it would be safe. Many pieces were fatty which I personally liked but others didn't. I thought the oily garlic pepper sauce was amazing. This was my favorite item of the day.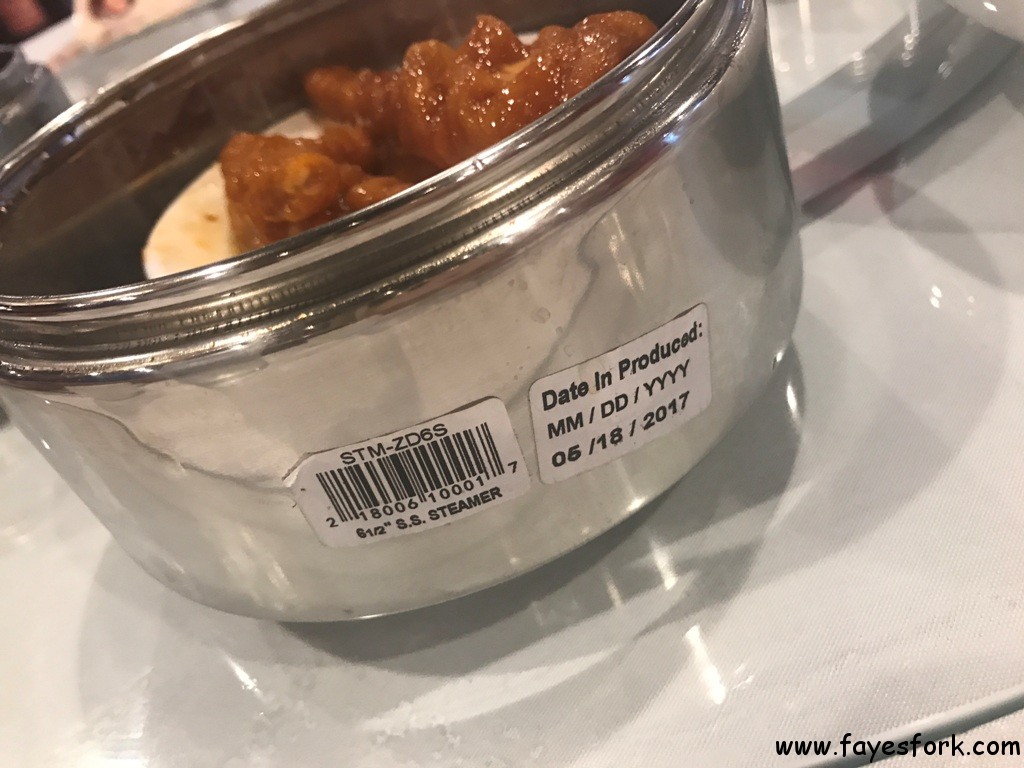 Friend noticed the steamer trays still had labels attached to them.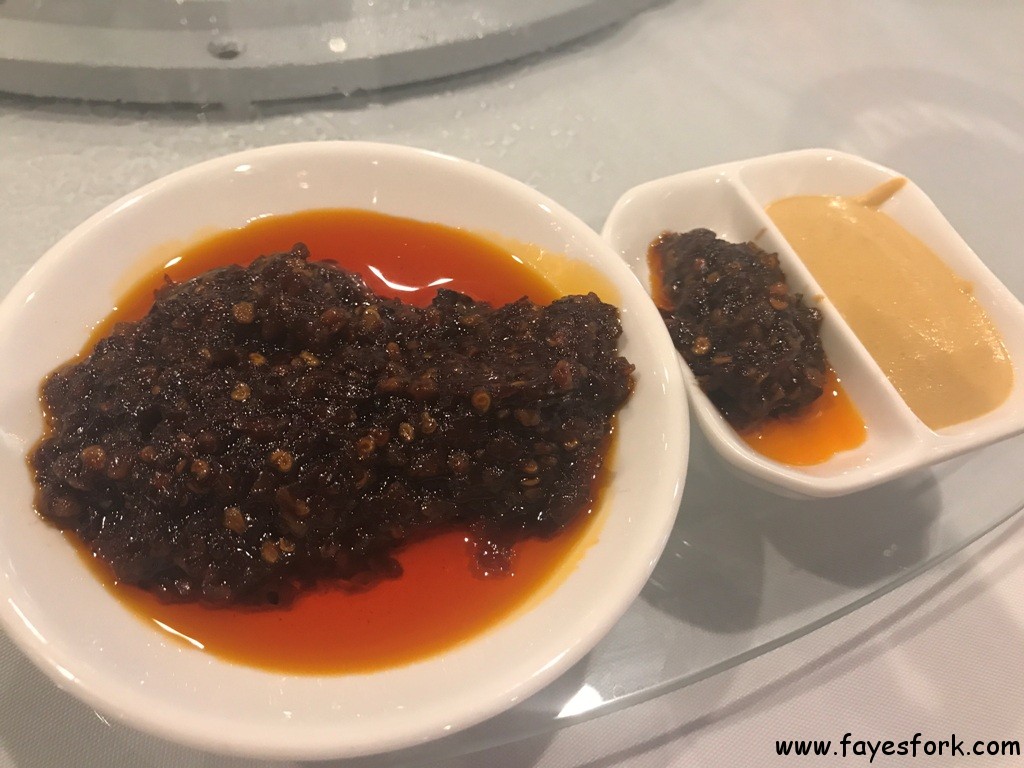 Their chili sauce is SPICY even for a hard core hot sauce fanatic like me.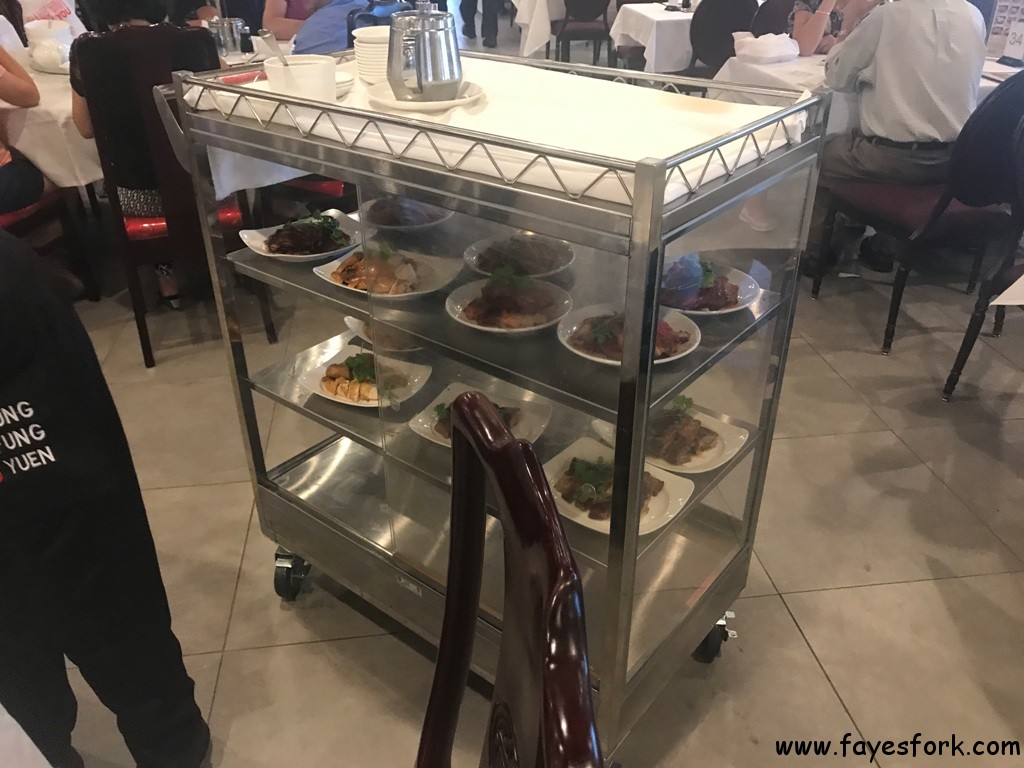 This cart offered a few of their roasted meats.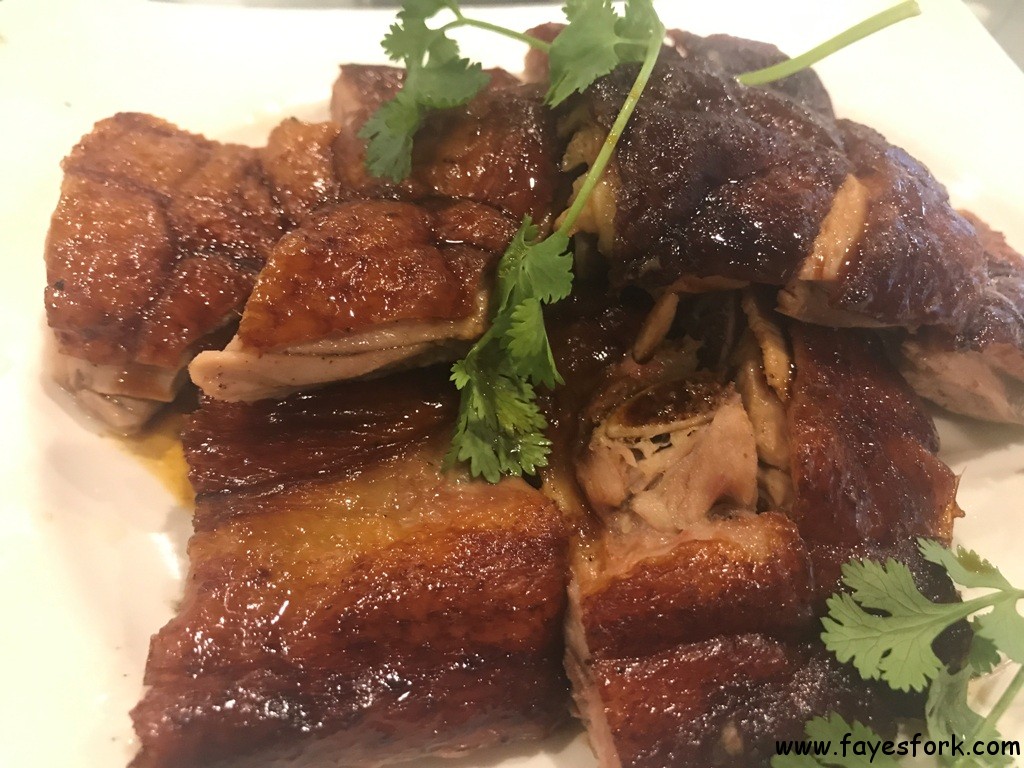 The friendly cart woman let me pick out the roasted duck plate. We both thought the above plate looked the freshest. We enjoyed this roast duck (I think this was $8.99) but there was barely any meaty pieces of duck on the plate.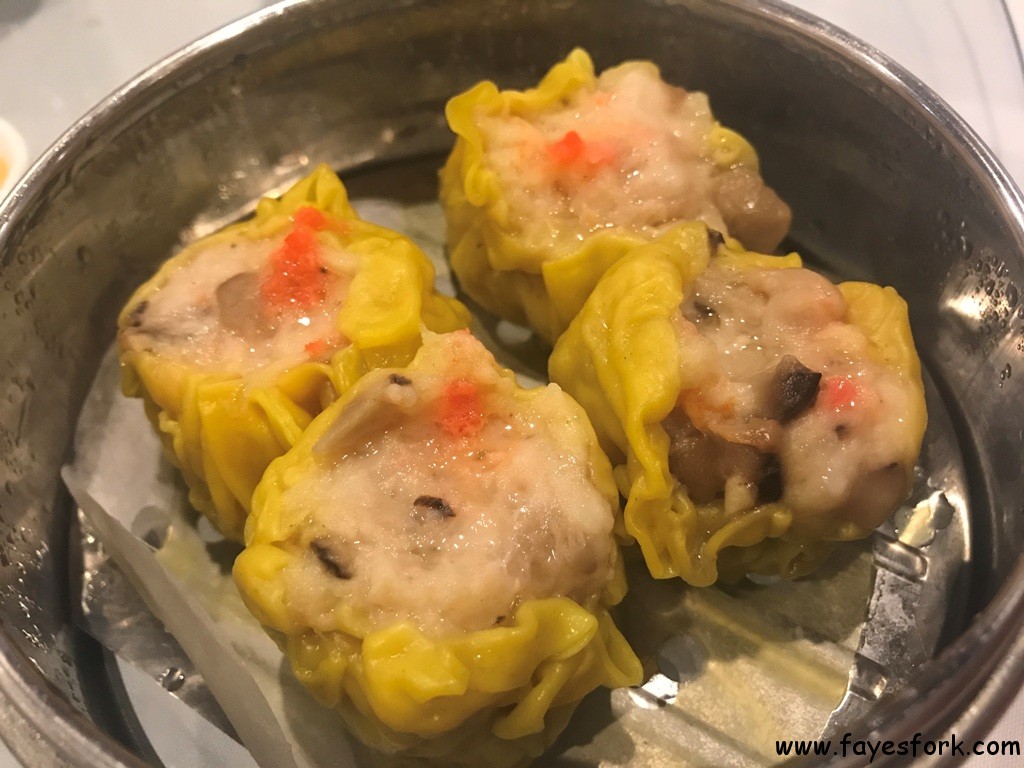 We could taste the freshness of this shumai. The pork filling was juicy, hot, and tender. There was a nice 'squish' of this dumpling that we all enjoyed.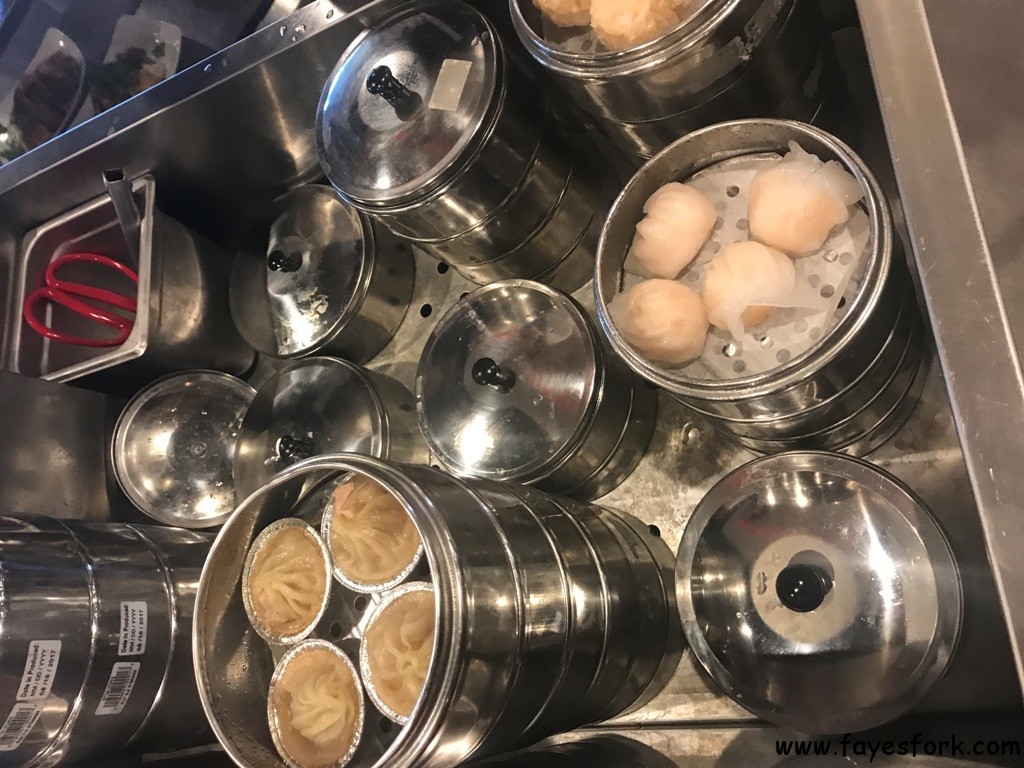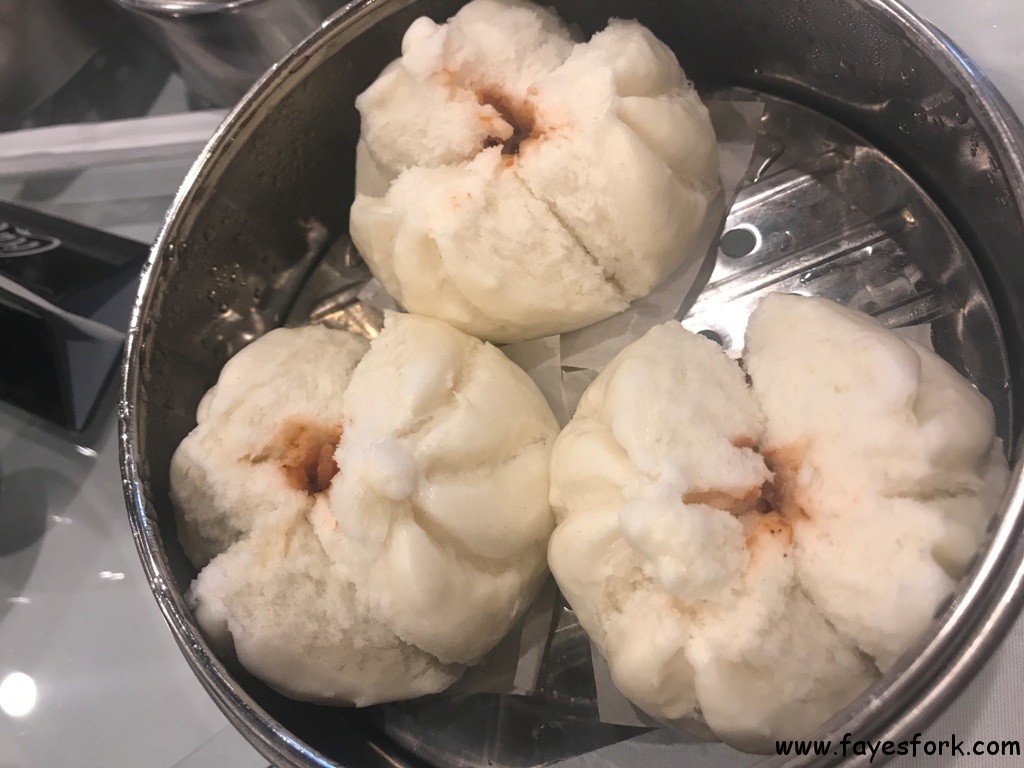 There are three buns to an order.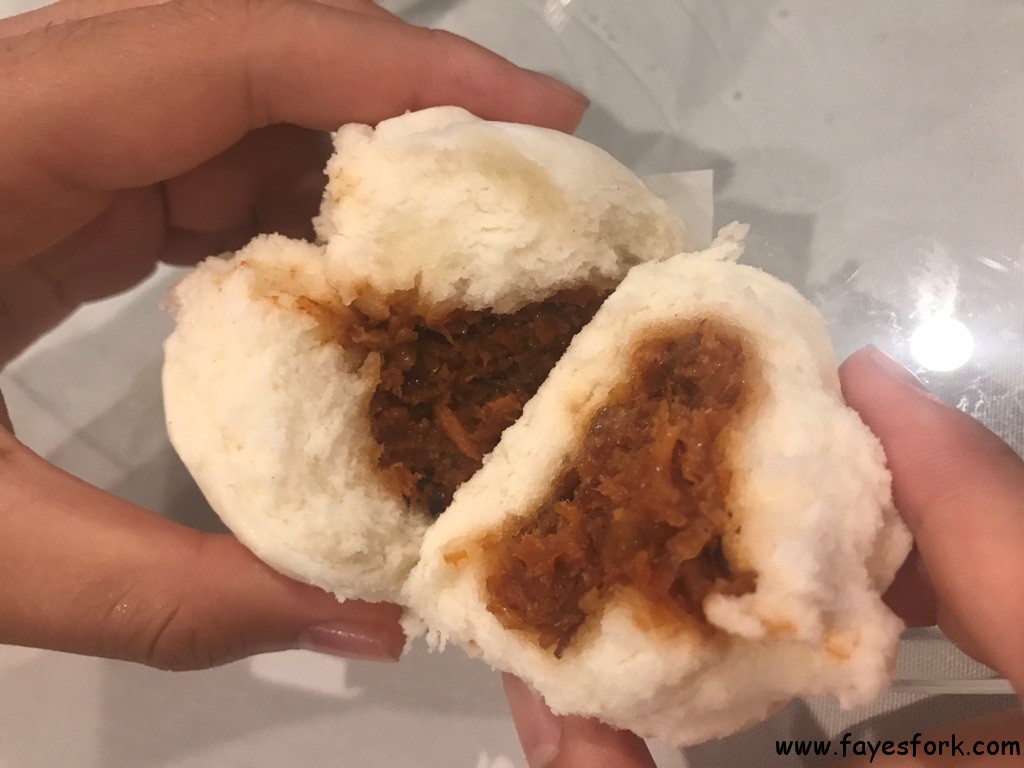 The bbq pork filling was unpleasantly mushy and bland.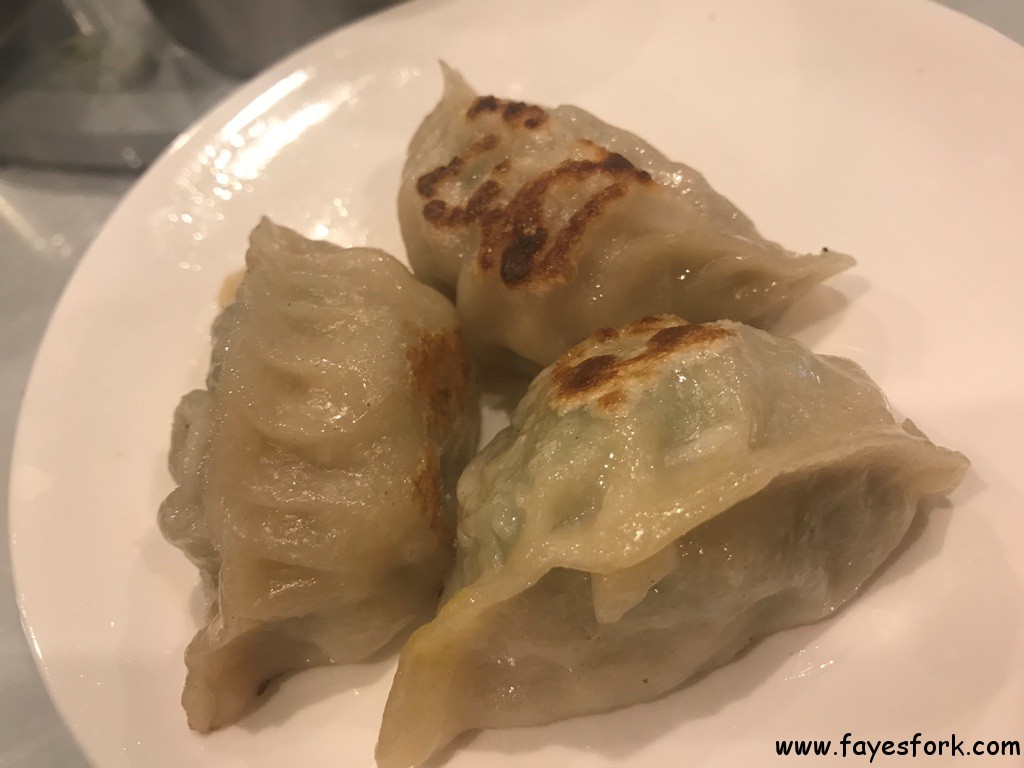 The potstickers had a nice sear to it.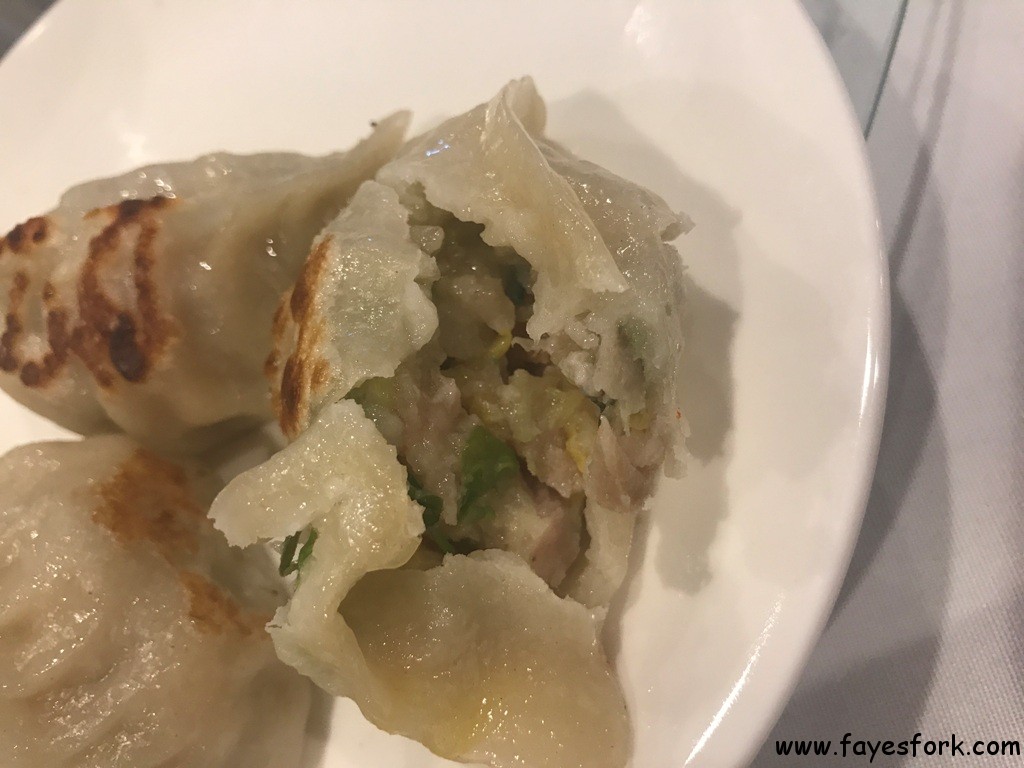 Friend liked the dumplings and the pork filling but thought the wrapper was a bit tough and chewy.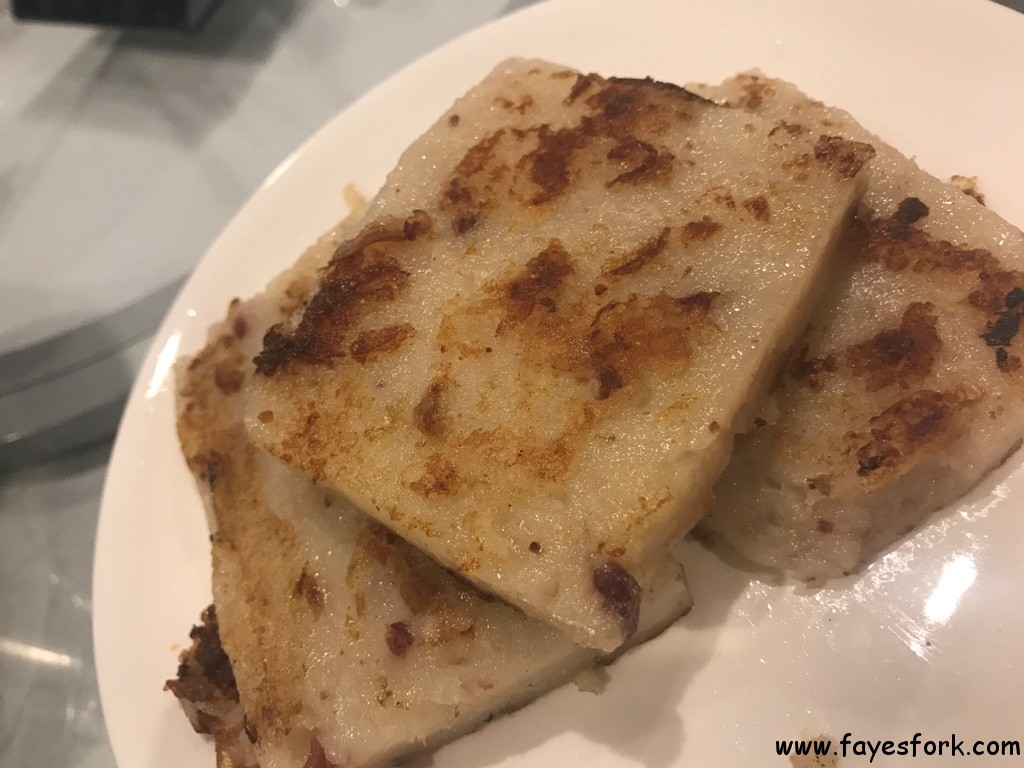 We had asked the cart lady if these turnip cakes were just made and she said yes. Well, that was false as the turnip cake was cold. The square patties of turnip tasted absolutely bland and lackluster.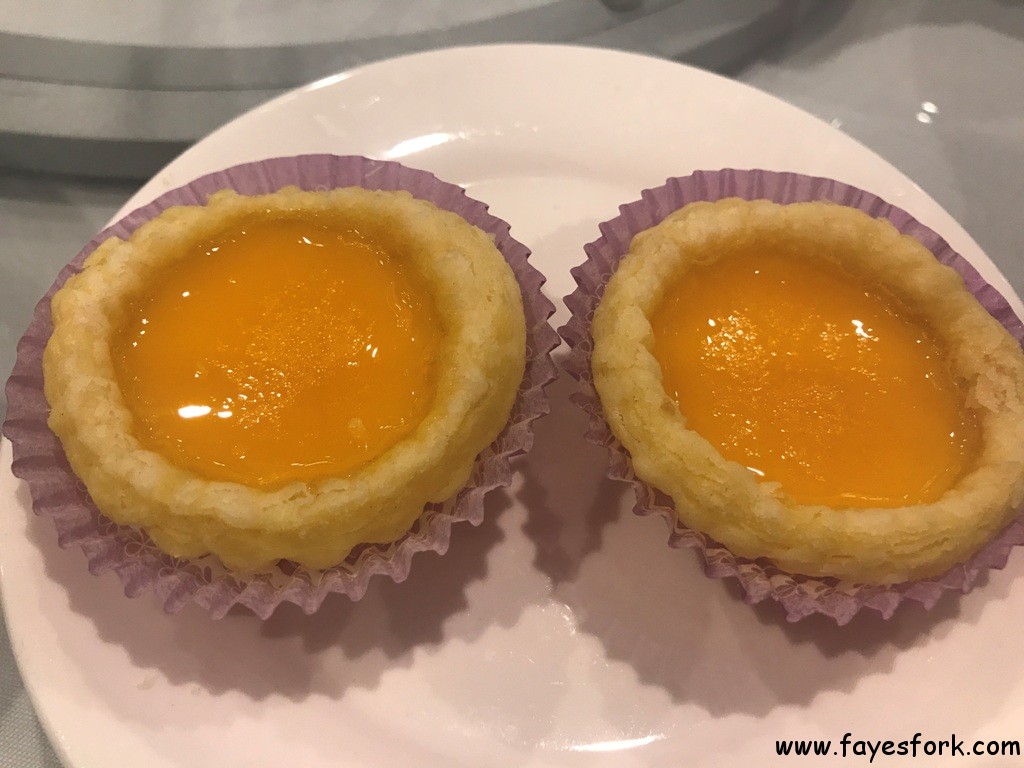 There are three to an order. Friends said the pastry tasted nicely flaky and the custard was smooth and sweet.
We literally sat for a good 15 minutes with no carts coming to the table. We would ask our waiter if we could order dim sum off the menu and he would mumble, no, wait for the carts. We noticed other servers saying this to other tables as well.
So we ordered these chicken wings off their regular menu as that seemed to be the ONLY way our waiter would bring something from the kitchen.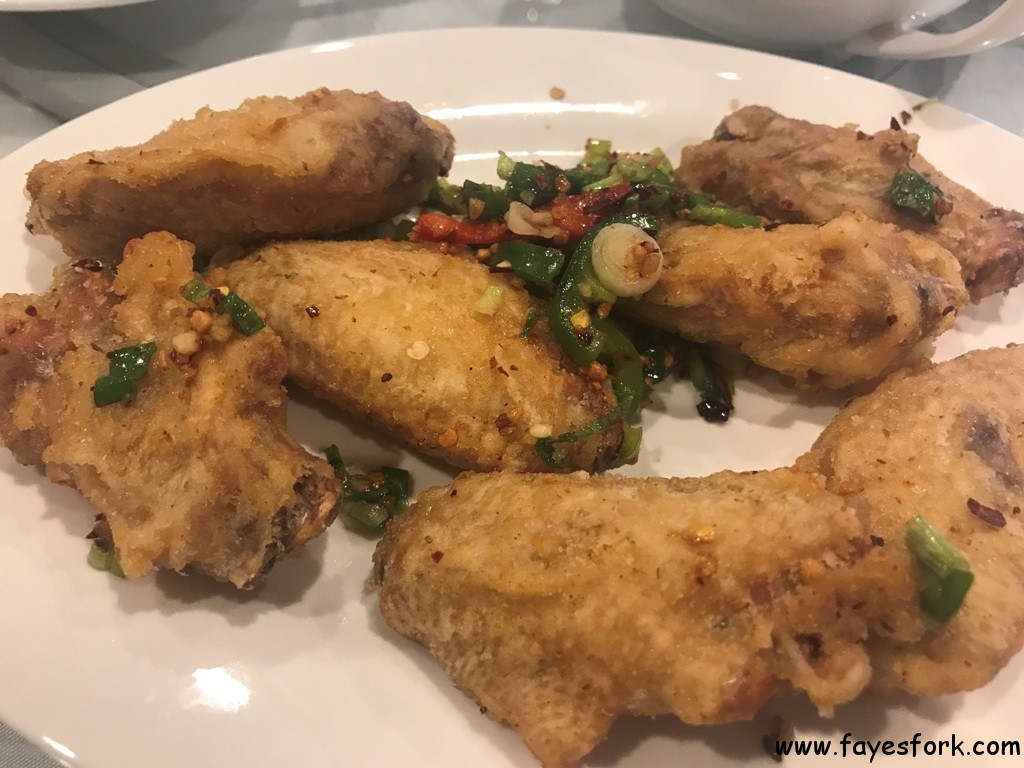 You get 6 pieces for $8.99.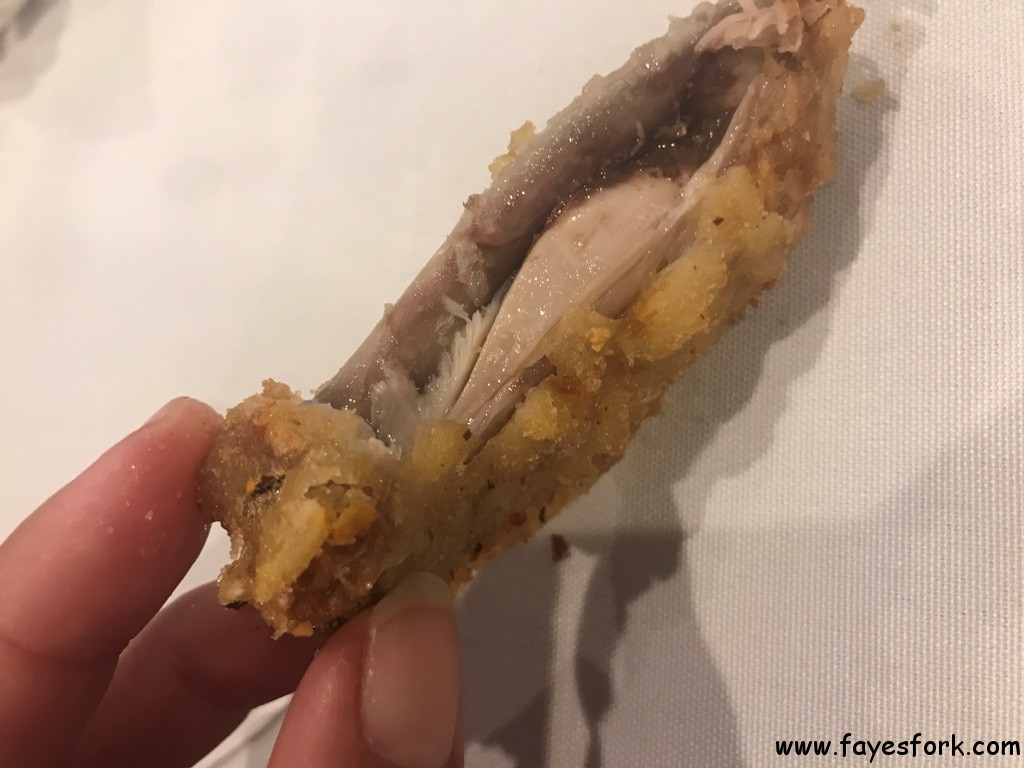 The wings were battered and deep fried. They're then tossed with garlic, scallions, and jalapenos. We enjoyed these crispy wings but all agreed the version at QT Pot, down the street, was better and more affordable.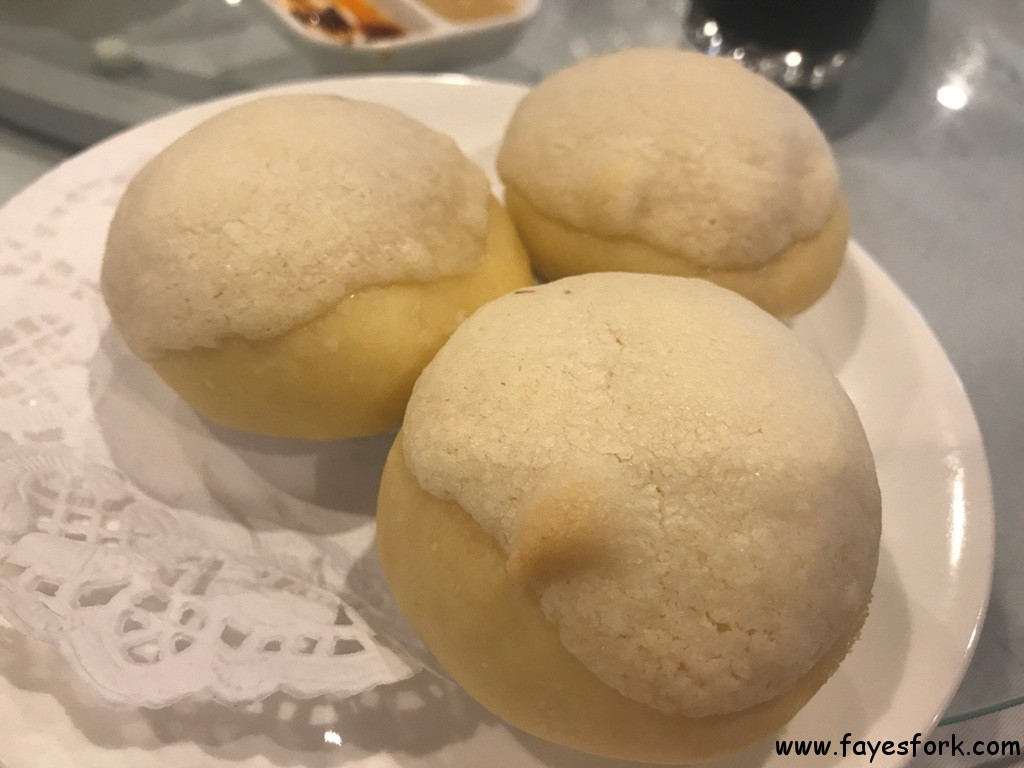 We noticed a server bringing out a tray of four servings of these buns to another table. We tried to flag her down but she gave the table the entire four plates. I think the only way to get stuff done here at Fung Fung Yuen is to be aggressive. We told our server we wanted these buns so he brought out a plate minutes later.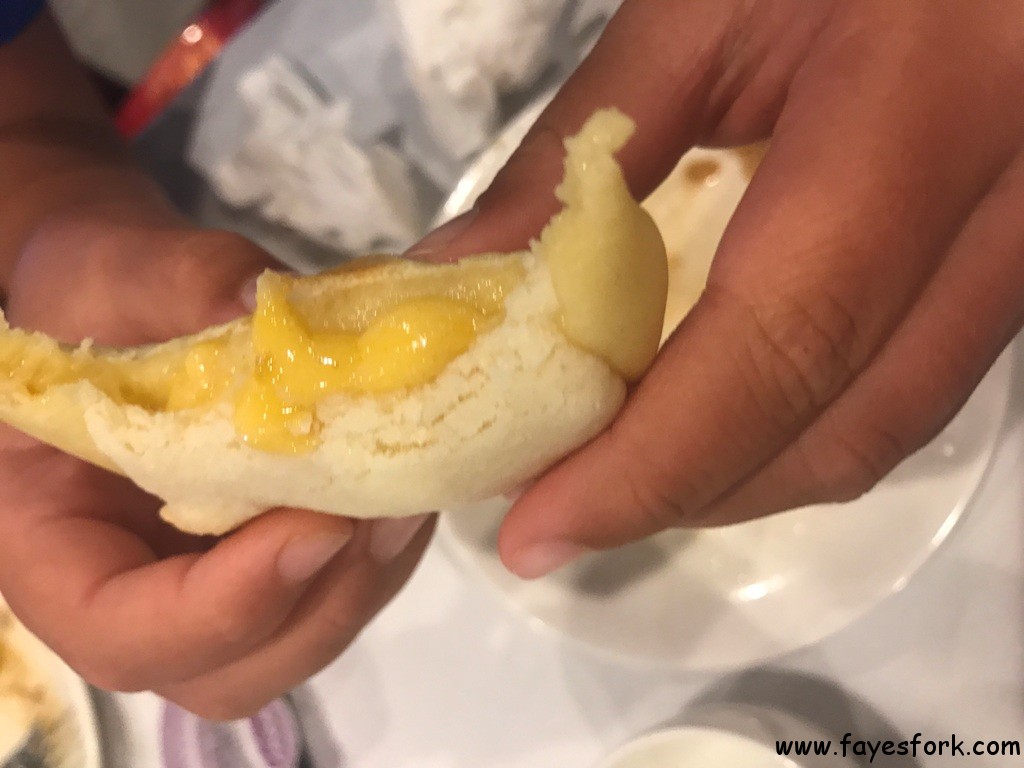 The buns tasted sweet and the dough was nicely soft. The creamy center was fine.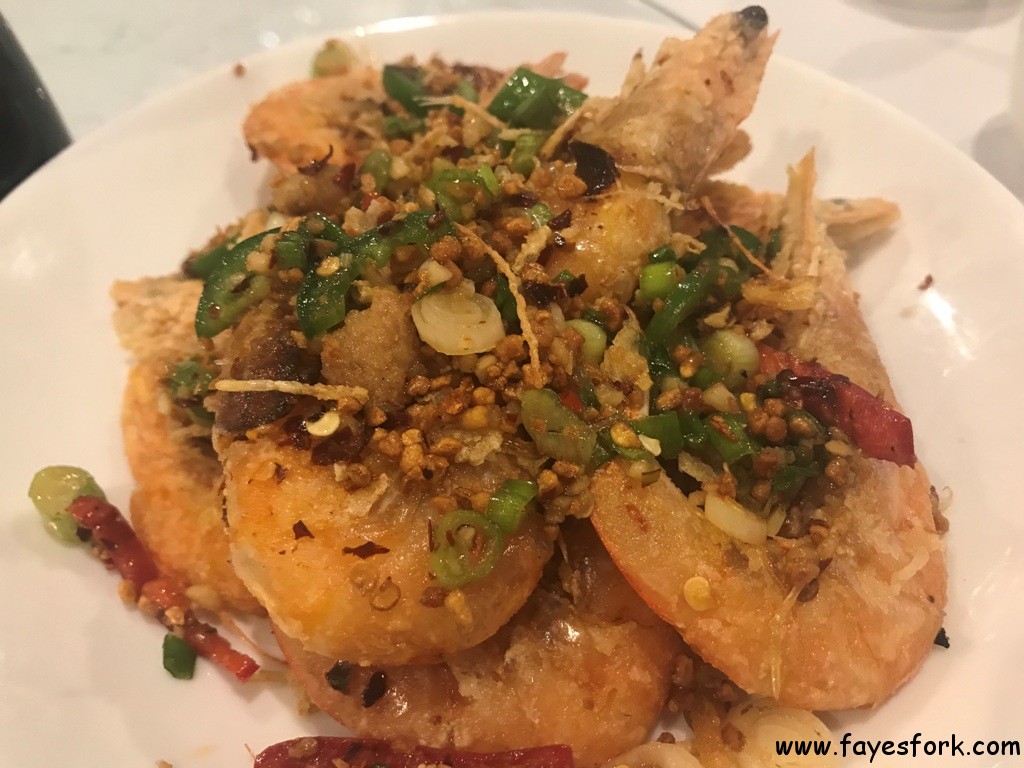 This was a last ditch effort to try one more item that dismally came around via cart. The salt pepper shrimp had the same coating as the chicken wings. But the shrimp tasted rubbery and didn't peel away from the shell. Usually it's great eating the shell when it's battered and fried like this but that wasn't the case today.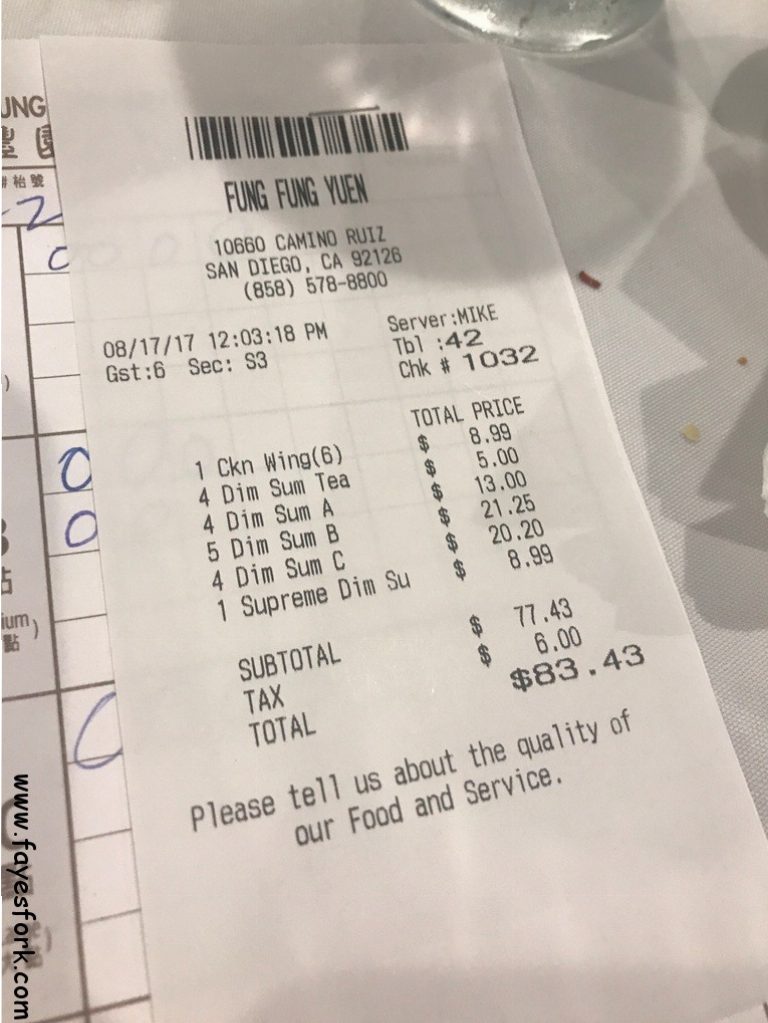 Our total wasn't abysmal.
We were pretty much in and out of Fung Fung Yuen in an hour. The wait time for carts to come to your table was very slow and the offerings were limited. We didn't get a chance to see a few favorite dim sum items (stewed pork ribs or the lotus wrapped sticky rice). They had some nice staff but the overall experience wasn't memorable. Sis even commented, gasp, that she preferred the scantron dim sum at Pearl in Rancho Bernardo. It'll be interesting to see if Fung Fung Yuen gets repeat customers as most seem to new patrons wanting to try out this new dim sum restaurant in Mira Mesa.
Here is their dinner menu:
FUNG FUNG YUEN
10660 Camino Ruiz
San Diego, CA 92126
(858) 578-8800