I've been missing my friend Peanut. It's been fun catching up with her via texts/phone calls. She's now a busy mama to a beautiful girl but that doesn't mean the two of us ever stopped gossiping or talking smack. She's my ride or die girlfriend and someone who is fiercely loyal. She also introduced me to Filipino food. Speaking to her recently made me want to try out Mama Cinia Rice & Noodles in Mira Mesa. Mama Cinia opened last year and has had nice success. It's a small cafeteria style restaurant with limited seating.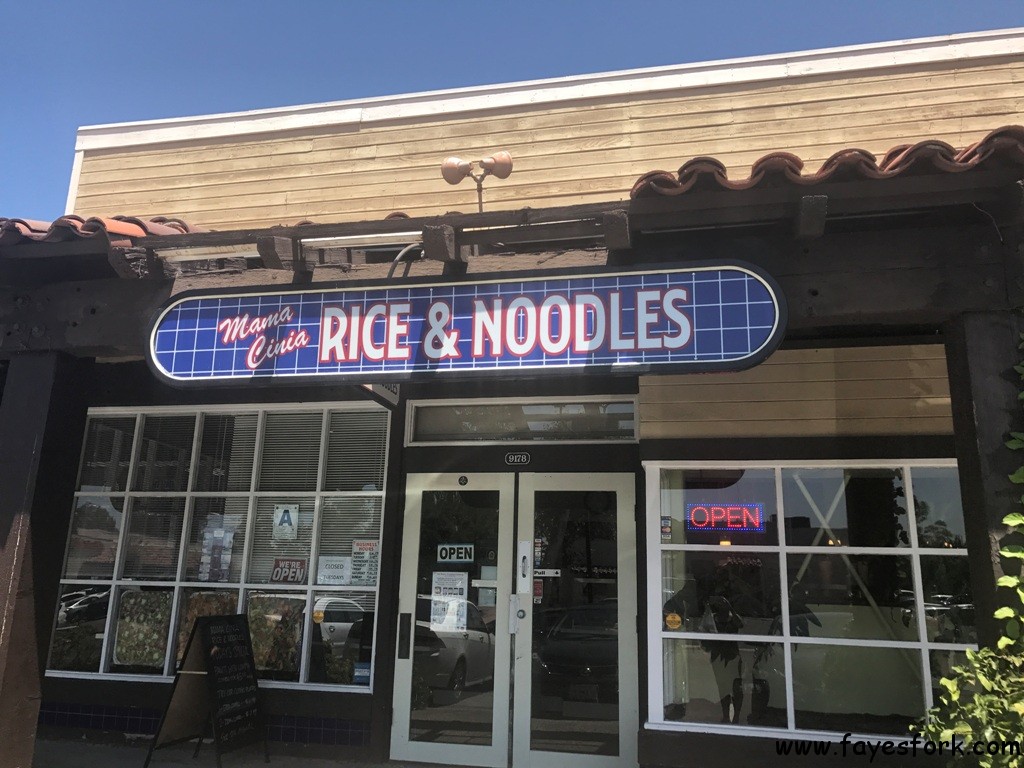 Mama Cinia Rice & Noodles is in the same plaza as Pho Cow Cali.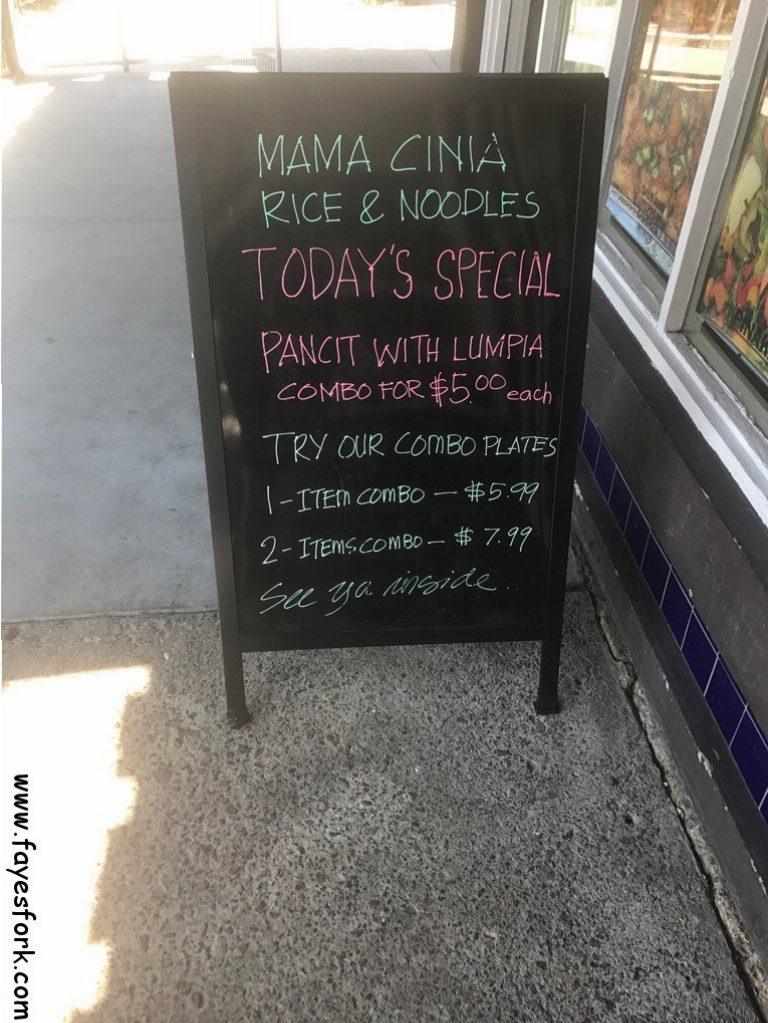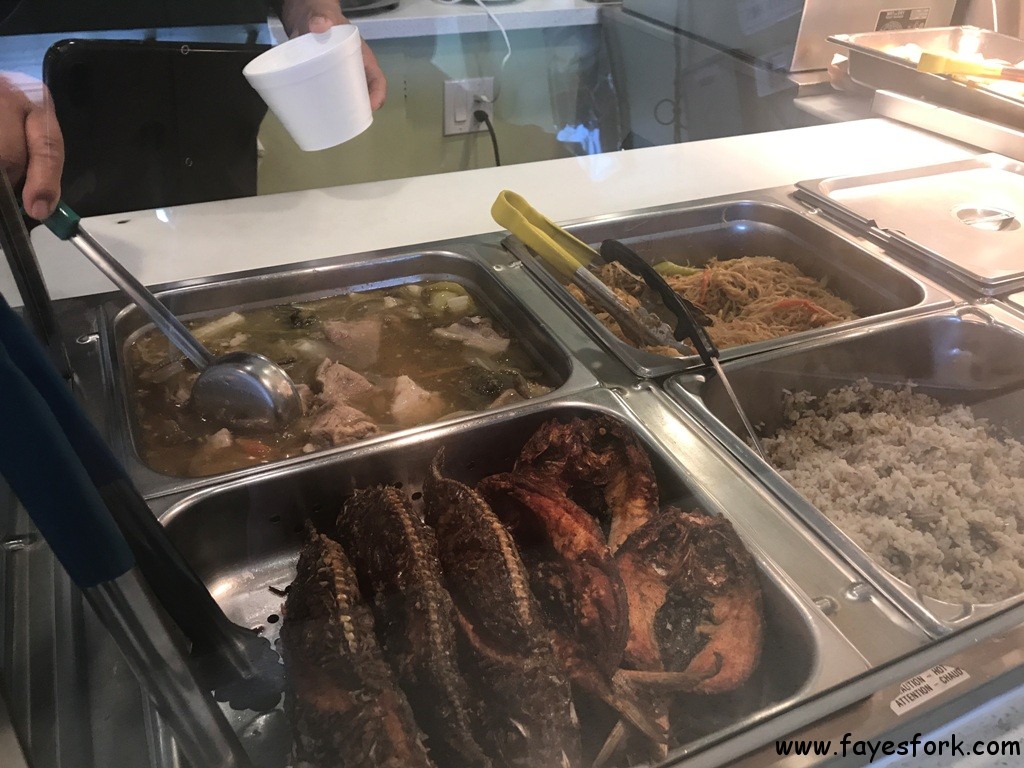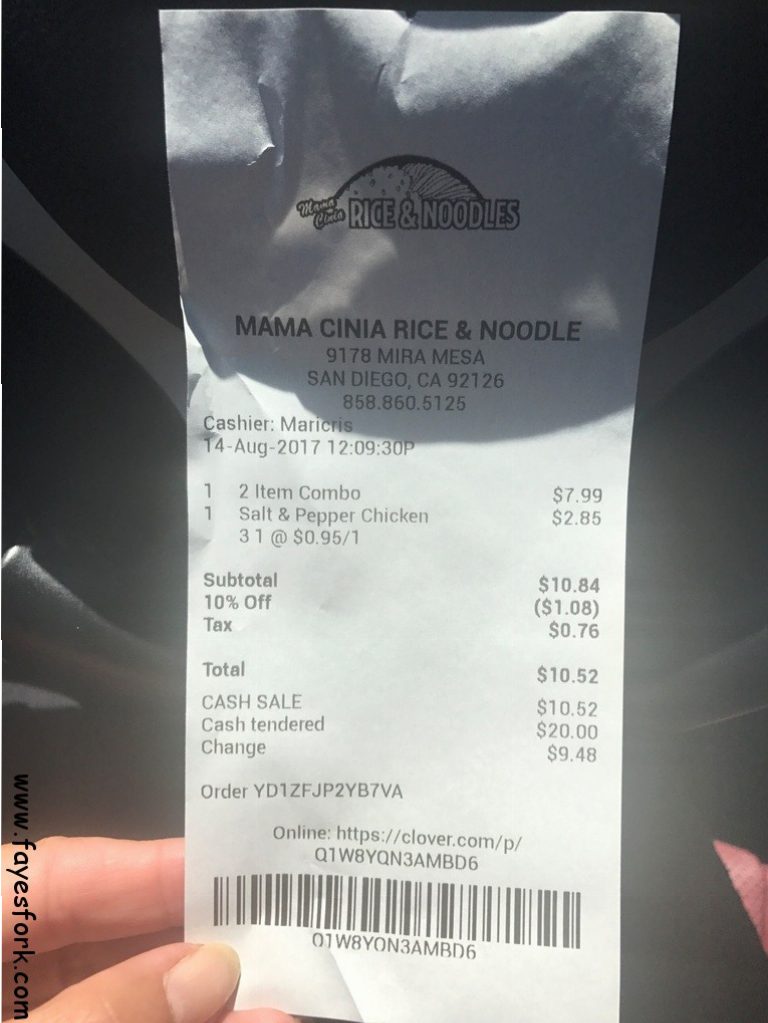 Don't forget to check in on Yelp to receive 10% off your order.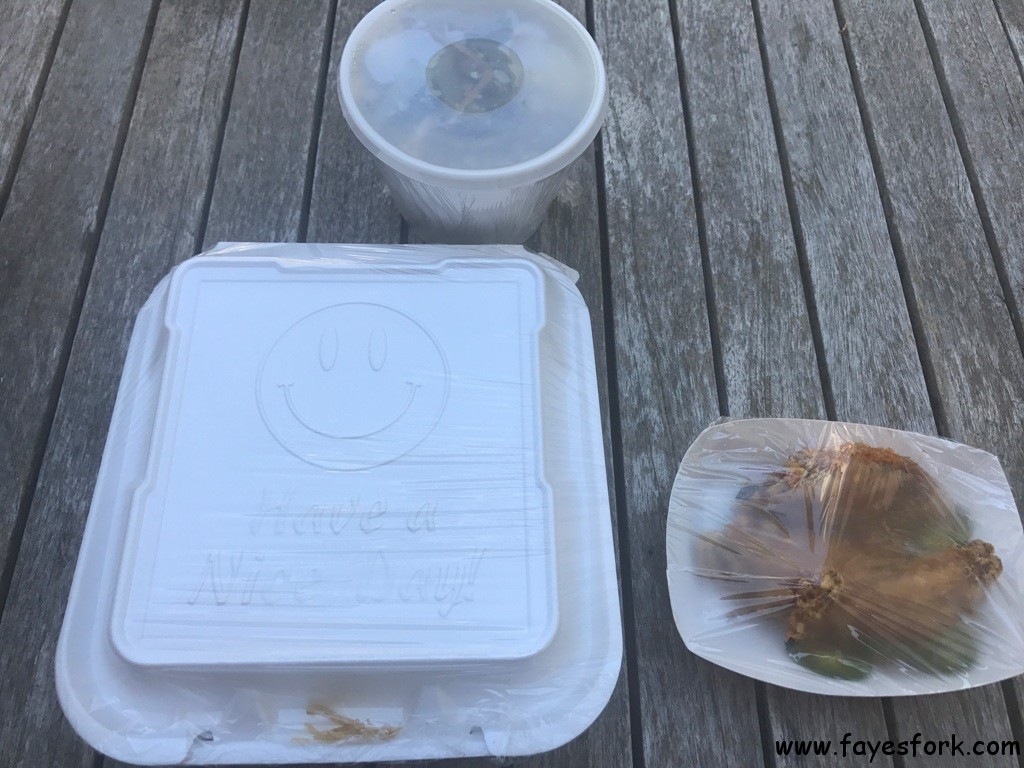 I appreciated how they wrapped each item in plastic wrap.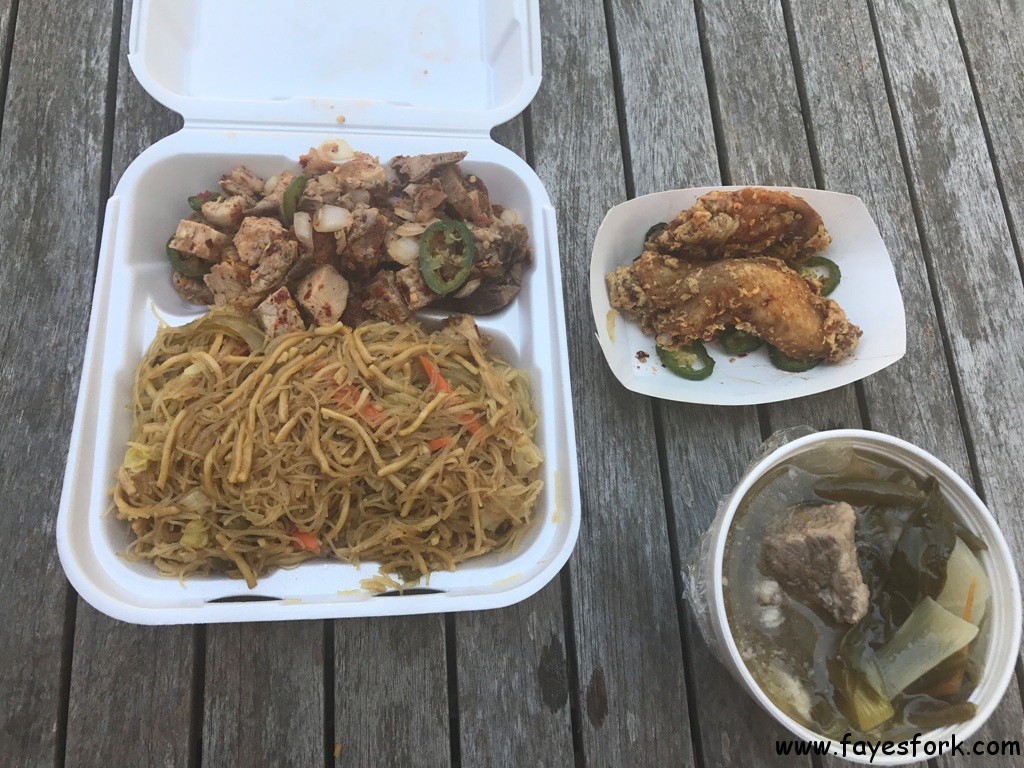 All this for $10.52. Not bad. You are able to choose the soup as one of your entrees.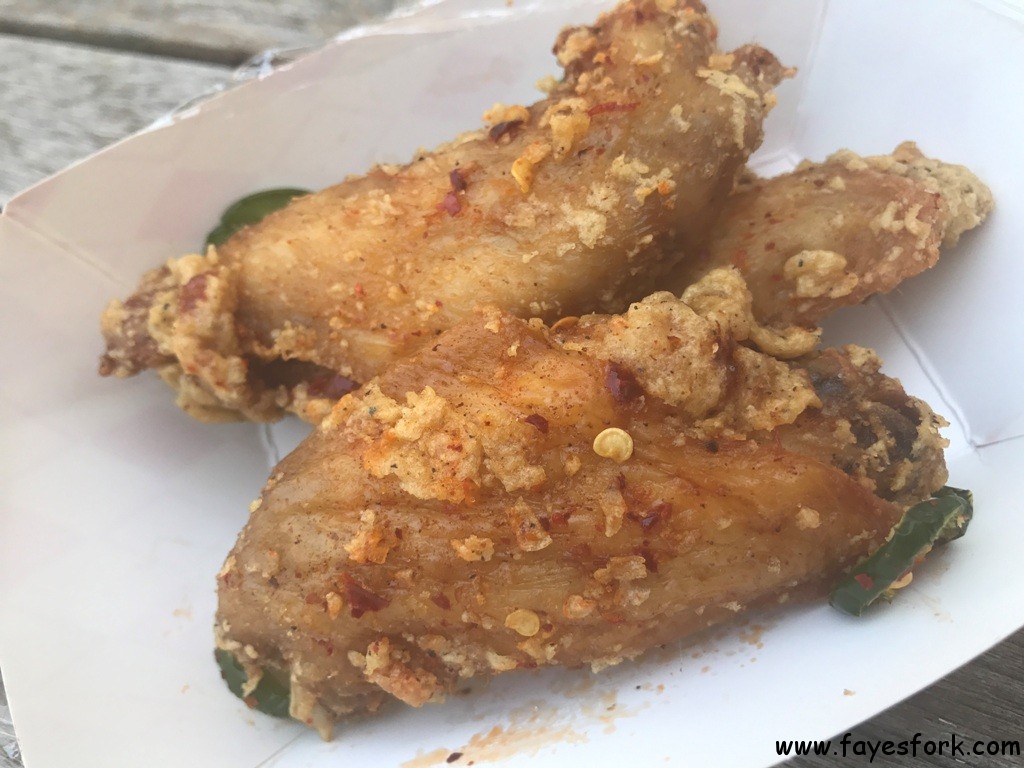 The fried chicken wings are .95/each. They're lightly battered and deep fried. I enjoyed the fried jalapenos and the savory seasoning. Unfortunately, the skin wasn't too crispy and the wing was lukewarm at best. I'd want to re try these wings when they're fresh outta the fryer.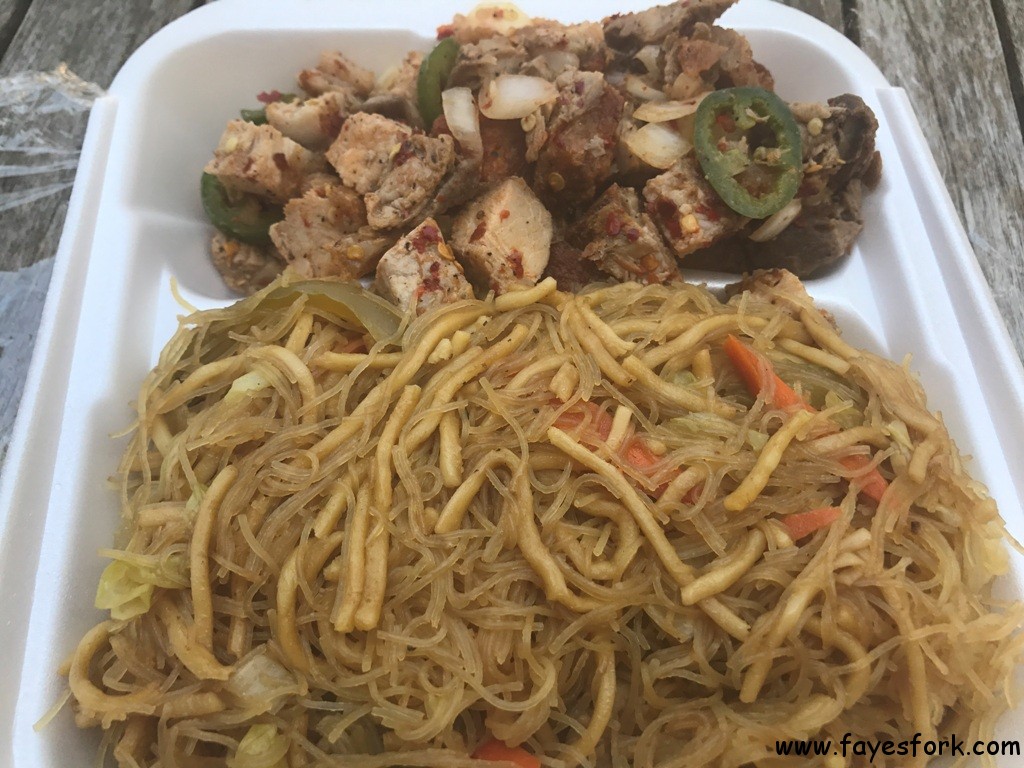 The website says they charge $1 extra for pancit I think. But I wasn't charged for that on my visit. The owner gave me a super generous portion of the sisig. There wasn't much sisig left in the warming tray so perhaps he was trying to get ready for a new batch. I had a bite of the pancit and liked it. The noodles weren't mushy and there were even a few pieces of chicken.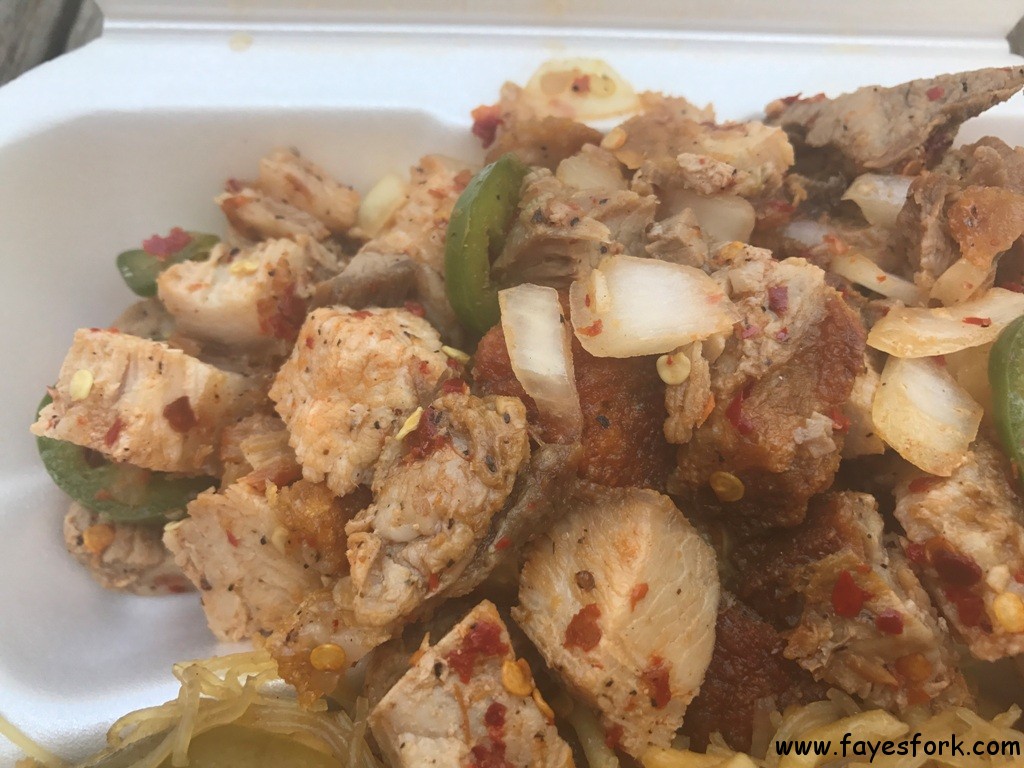 The pork sisig was enjoyable. The fried pork pieces had a nice tenderness and tart flavor to it. The pork skin wasn't rubbery either. I liked their liberal use of jalapenos and chopped onions as well.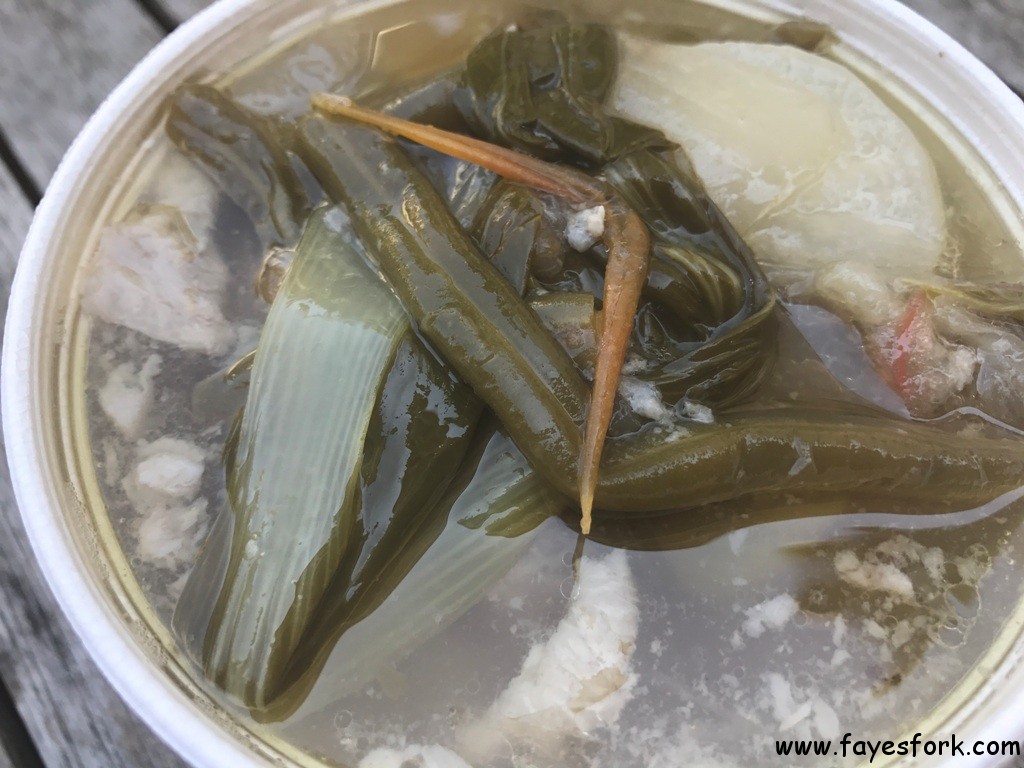 I fell in love with this soup when Peanut lived with me and made this one night for dinner. The version here at Mama Cinia was delicious and hearty. There was a delicious layer of pork fat on top of the soup (do you see it).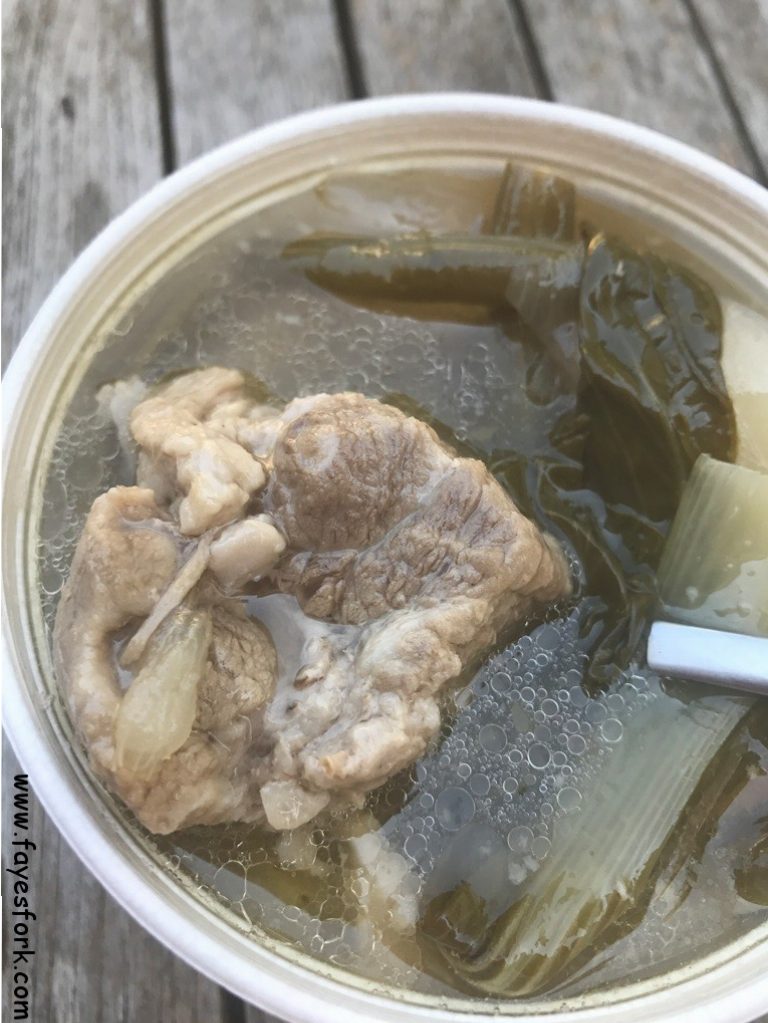 There were about 4 meaty pork spare ribs in the soup. This was a super generous portion in my opinion. The broth tasted tangy and tart. You could definitely taste the tamarind. I personally love the melted pork fat feel on the back of my tongue when I drank this soup. The soup also had green beans and I believe baby bok choy (?).
Marvin, the owner, was so welcoming. I didn't exactly fit in as I initially just stood there not knowing what or how to order. A super cool Vietnamese girl, ordering in front of me, helped point out a few of her favorite items. Then another customer did the same to guide me. Marvin says they no longer offer lechon as a combo entree option as the prices of the meat has gone up. You can still order lechon by the half tray though.
I re visited just a few days later as I was craving the sisig and sinigang again. This time they offered lechon! But, they were sold out of the sisig and didn't offer the sinigang as the soup option that day. He said they only make ONE portion of the sisig a day and when it's gone, it's gone. So it's best to come before noon to try out their sisig.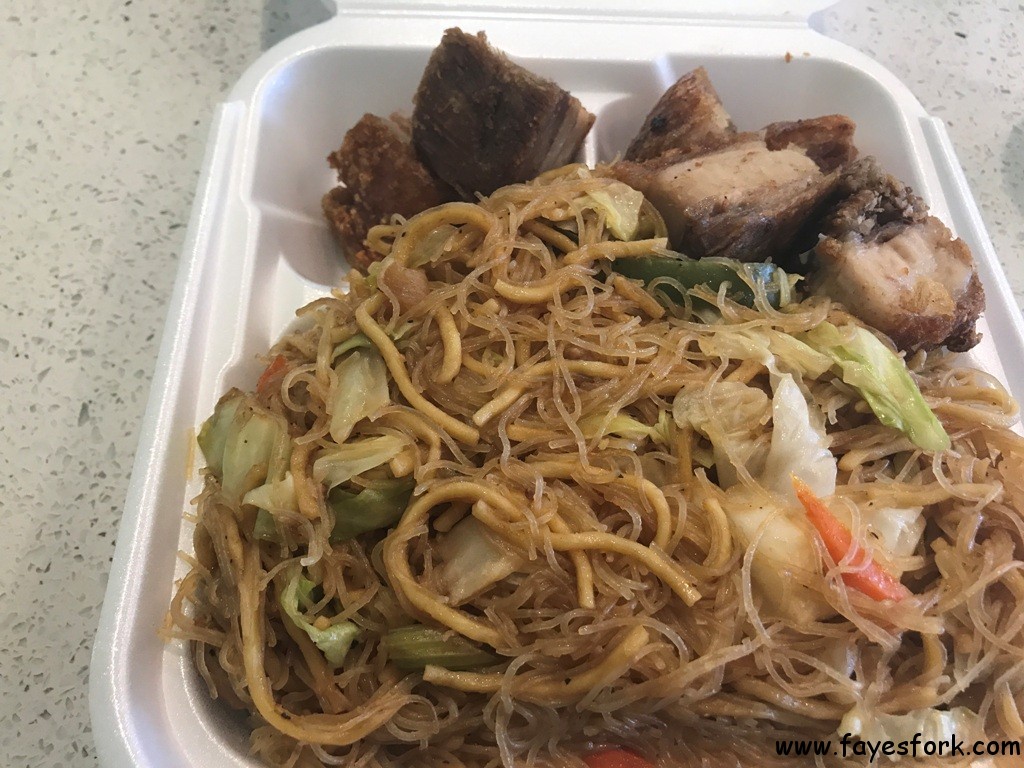 They did charge $1 for the pancit upgrade in the combo. There's also an additional $1 for the lechon option. They do give you a large serving of the pancit for the up charge. The pancit has celery, onions, green peppers, cabbage. They use two different types of noodles for their pancit here at Mama Cinia Rice & Noodles.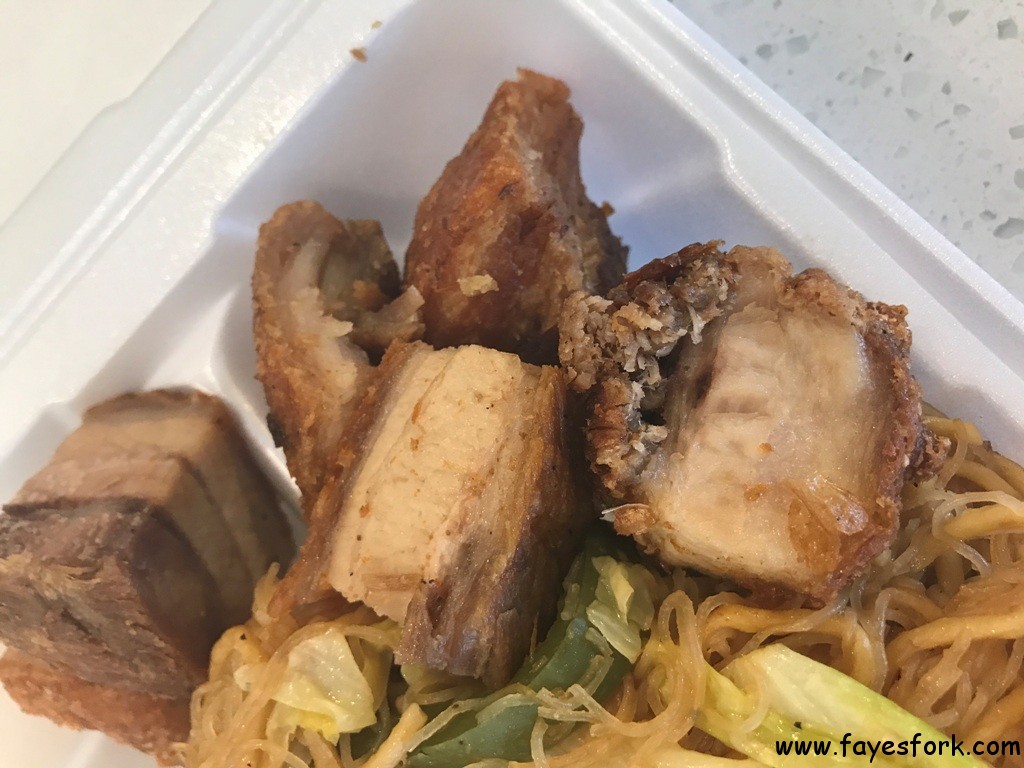 I think I received about 6 nice pieces of fried pork belly. Some pieces were better than others. The skin wasn't as crispy but probably because these were an earlier batch. They re heated well in the oven for leftovers the next day.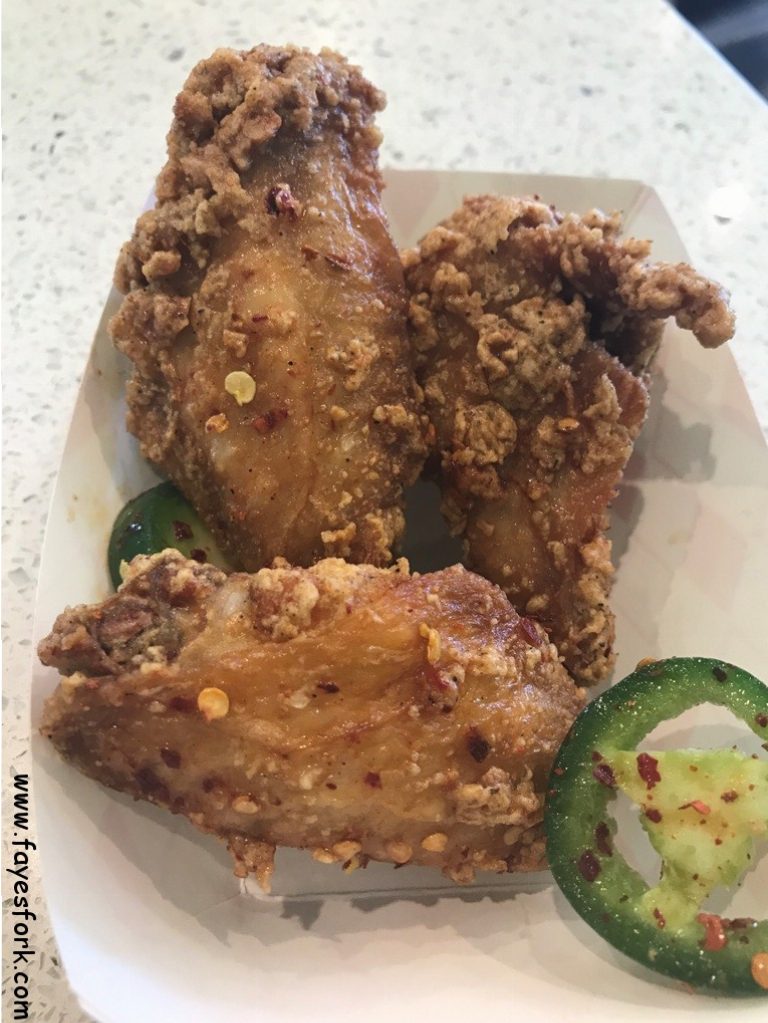 I was beaming when I noticed their empty bin of chicken wings as that probably meant they were frying up a new batch. They apologized and said it would be about 5 minutes for the fresh back to come out. I had to order the wings as my second entree if they were being prepared fresh like this. A nice woman brought out three wings to my table. I would have hoped for another wing or two with the combo but understand they do sell these wings at .95c a piece so it's not cheap.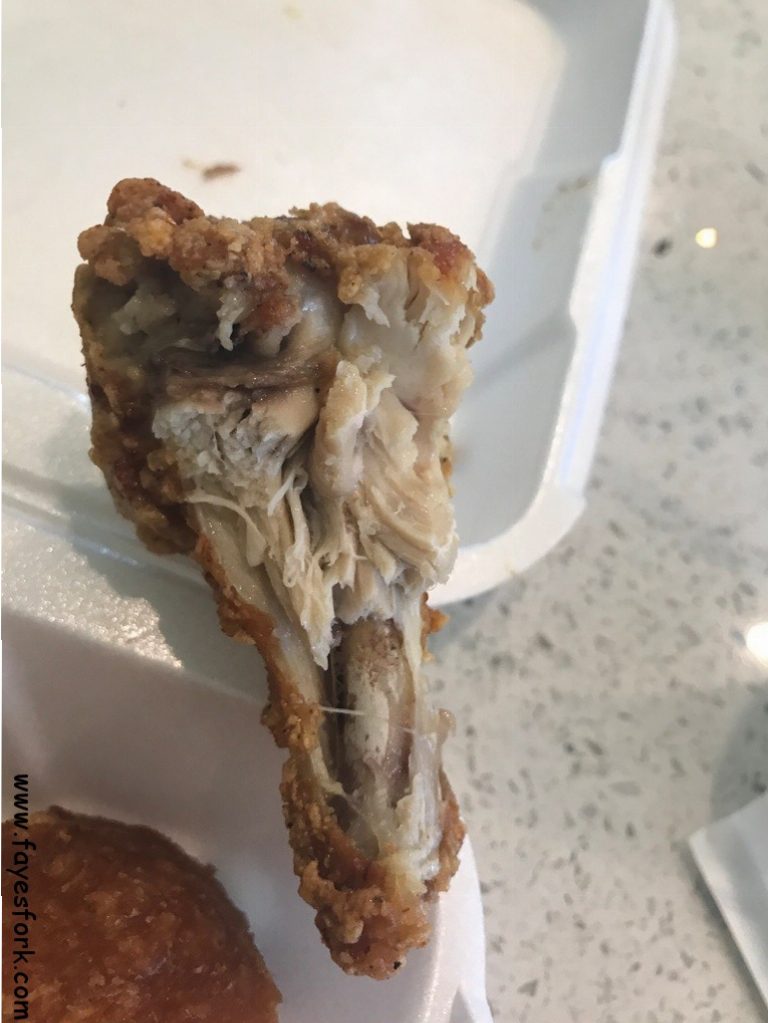 The wings were a hundred times better when right out of the fryer. The batter was thick and crunchy as well as nicely seasoned with ample salt, pepper, chili flakes, and jalapenos. The wings were decently juicy.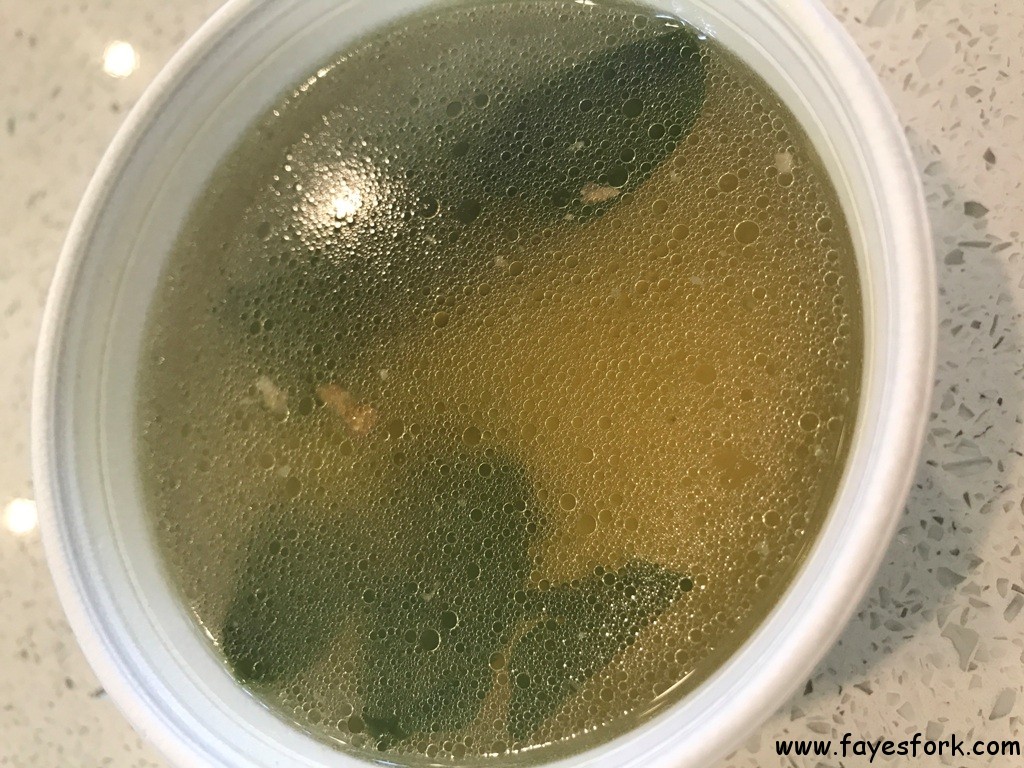 Marvin told me immediately they were out of the sinigang but I should try their ginger soup. I didn't get this as an entree but they gave me a side of this soup instead. It had a faint essence of ginger and was a great side item to have in between the heaviness of the entrees.
Again don't forget to check in on Yelp to receive a 10% off discount. I sat inside the small restaurant for lunch this time around and it was nice. Customers are happy and I believe there's a/c. There's a self serve water station should you get thirsty as well. I recommend Mama Cinia Rice & Noodles if you're in this area. Marvin and his staff are truly such nice people.
MAMA CINIA RICE & NOODLES
9178 Mira Mesa Blvd
San Diego, CA 92126
(858) 860-5125