It was a surprise to see Carnitas Snack Shack close its doors in Del Mar. There was so much hype and adoration for Carnitas Snack Shack that eventually died down. We even stopped visiting as the food was inconsistent and tasted, well, unhealthy. So, it was an even bigger surprise when signs for Mendocino Farms went up to take over this restaurant space. The remodel took some time but the interior and patio are beautiful. The colors, design, and layout is completely different. I visited twice in the last week so here's my take on the newly opened Mendocino Farms in Del Mar.
Before the start of the post, did anyone else witness the solar eclipse?! I did right before my first visit to Mendocino Farms. A group of boy scouts were at a park and they were so gracious and kind. They let me use their contraptions to view and witness the solar eclipse.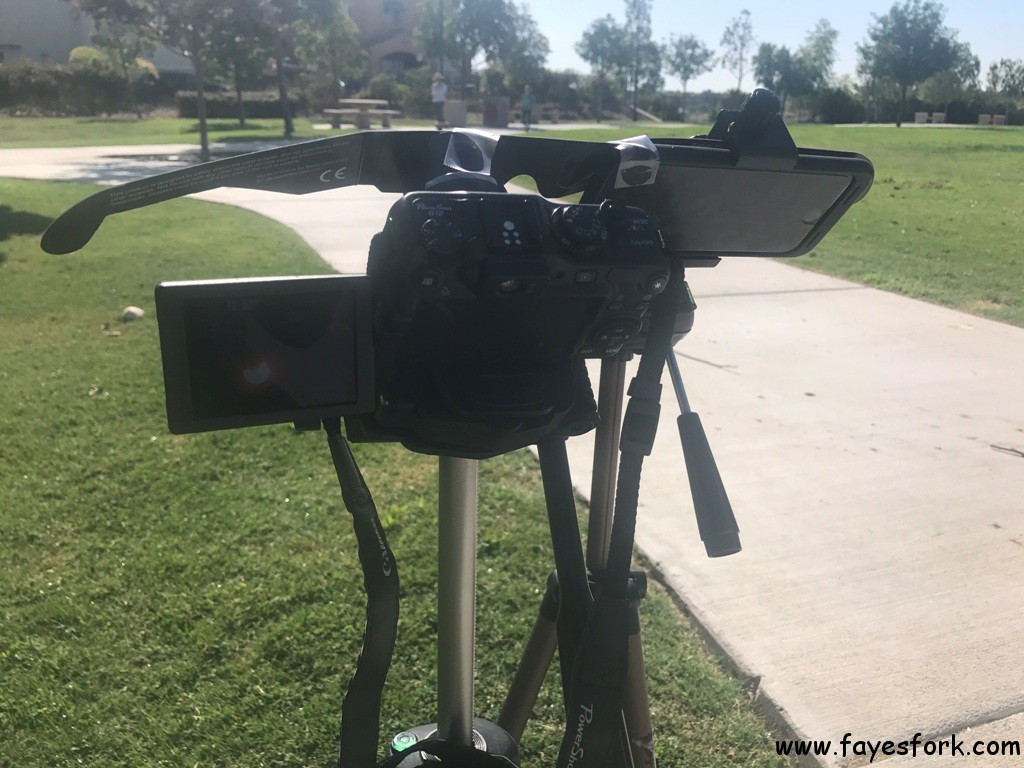 They taped the safety glasses over the camera and phone lenses.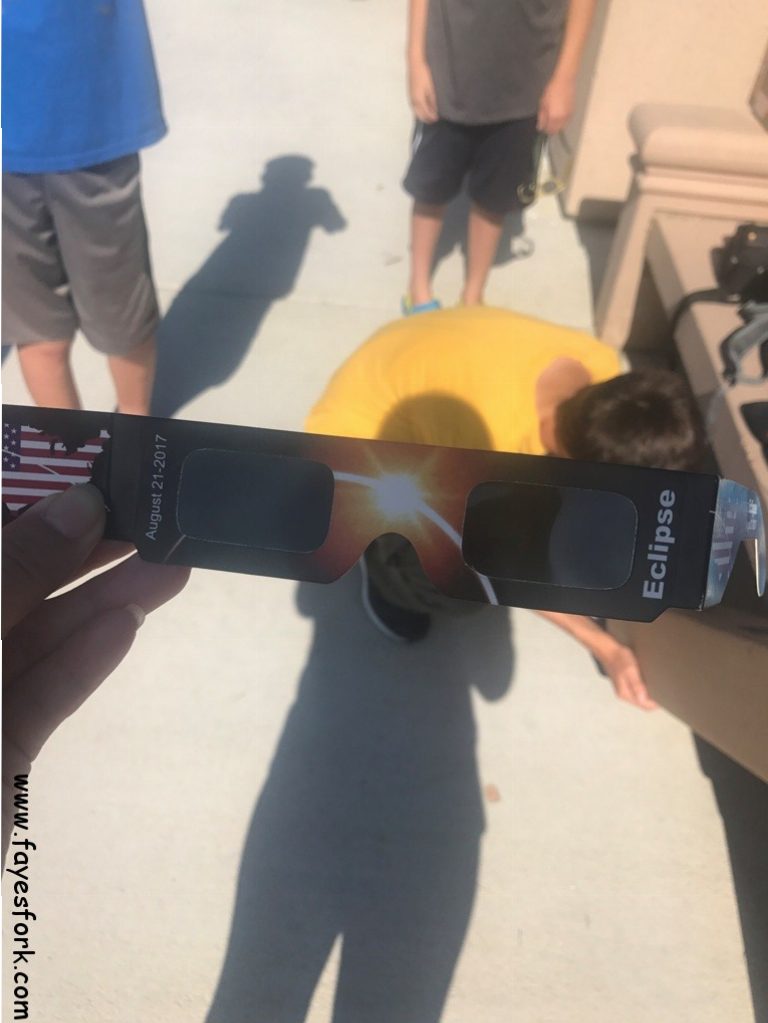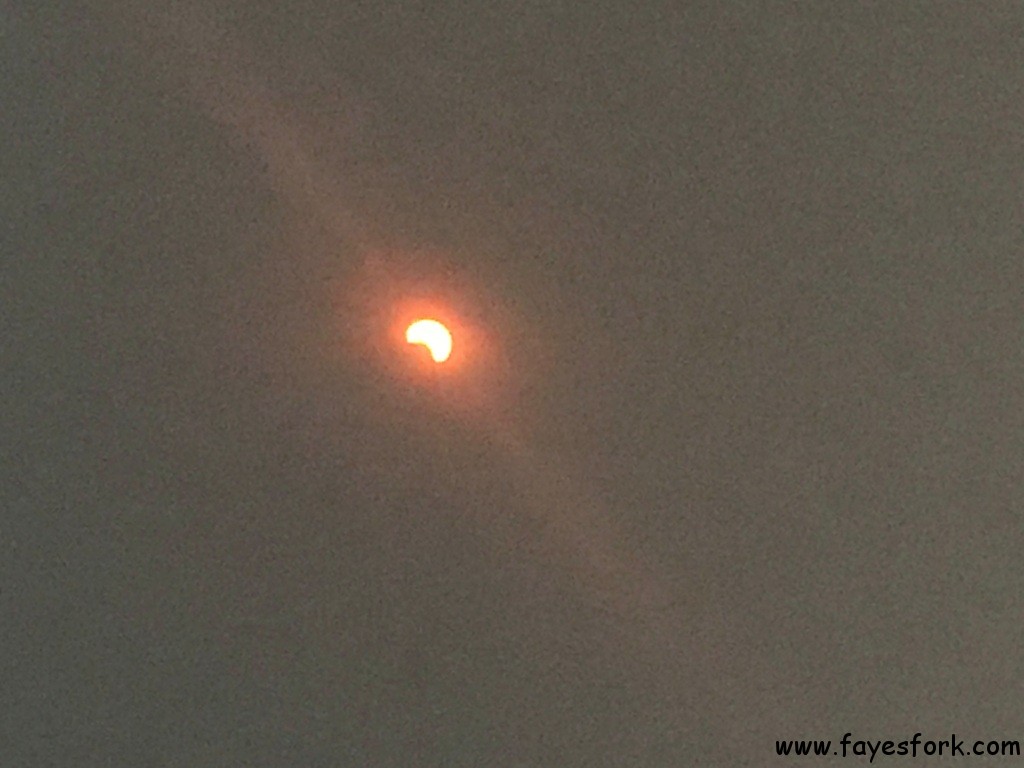 You'd think I saw my first unicorn or something because I was screeching like an idiot when I saw the eclipse thru the glasses. It really was breathtaking and just FUN to witness the eclipse.
Ok moving on…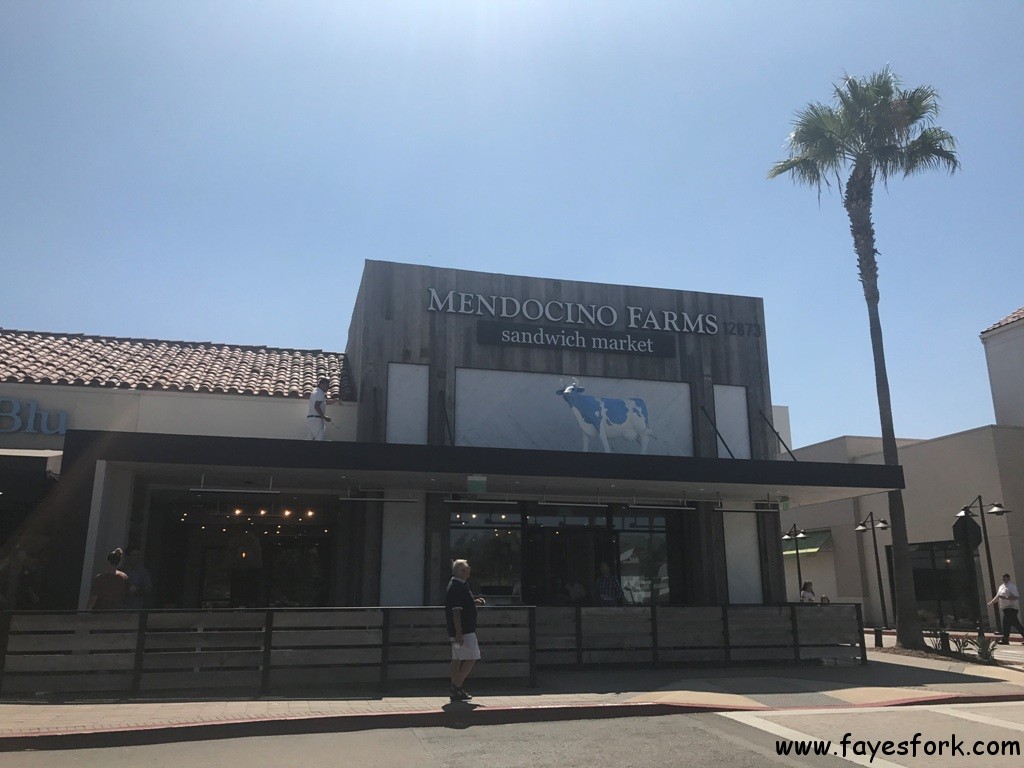 My girlfriend is friends with the owner of Mendocino Farms and was invited to their soft opening. I was cautious about attending as my experience at their La Jolla location was lackluster. But I was super curious about the remodel and redesign of this location.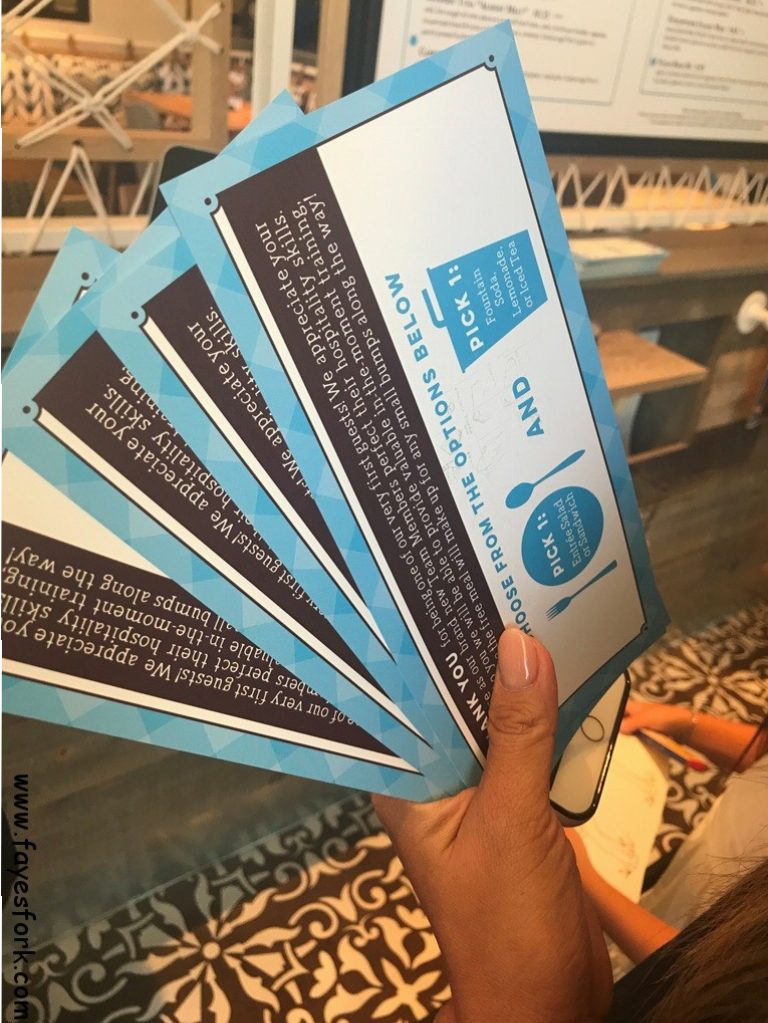 These were the golden tickets for the soft opening. It let you choose one salad/sandwich and a fountain drink to try compliments of the house.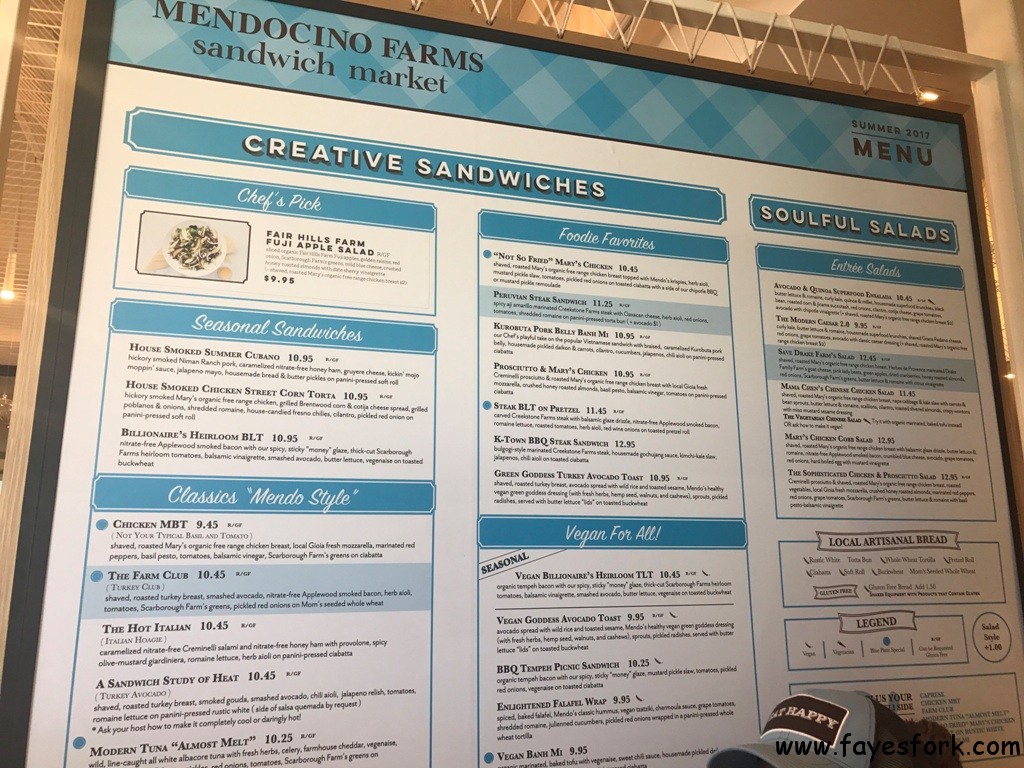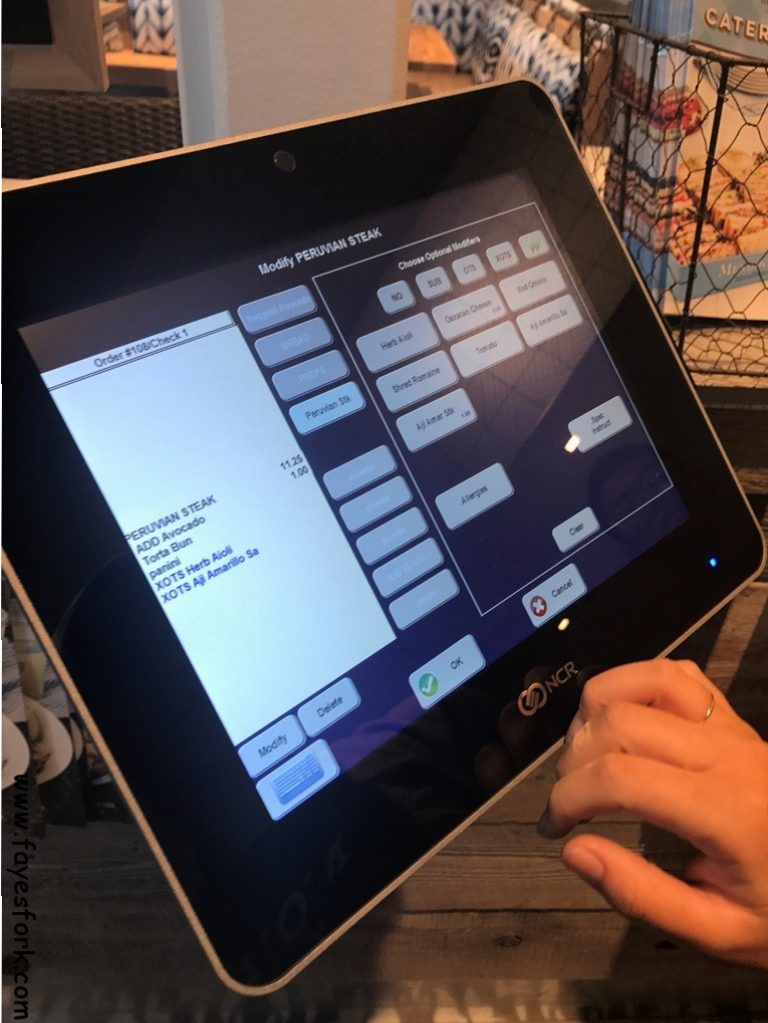 There were two girls at the entrance with iPads taking orders.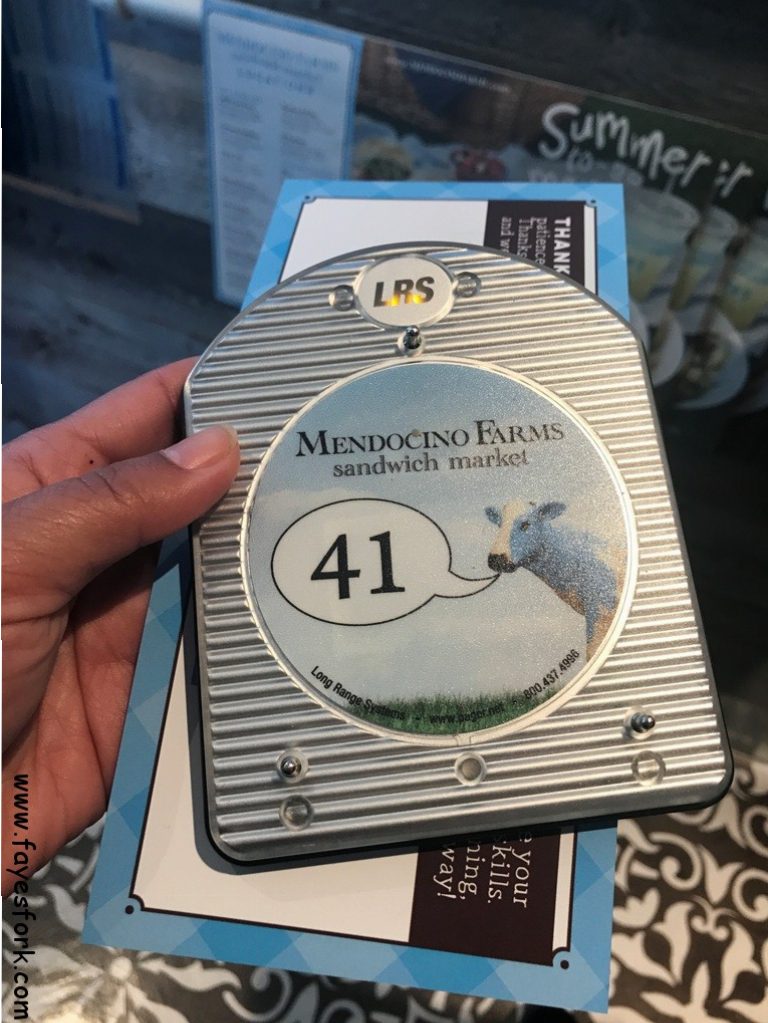 You get a pager and walk to the cashier to pay.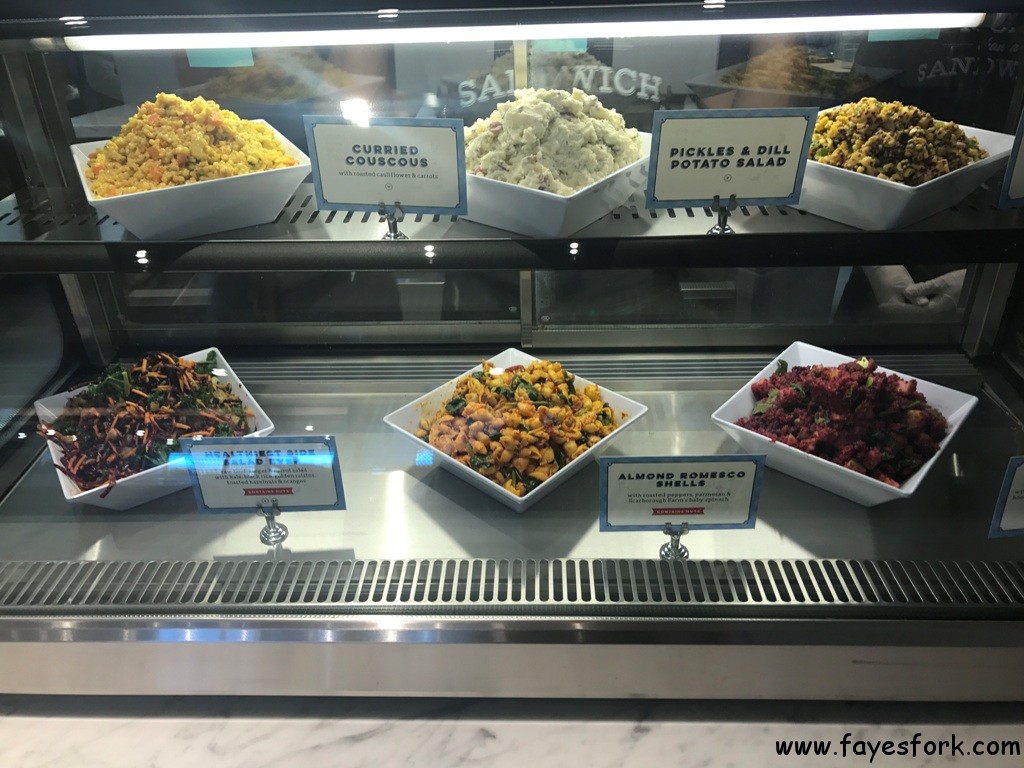 You pass by the pre made salad bar before the cashier. Make sure to ask for samples as they're happy to hand them out.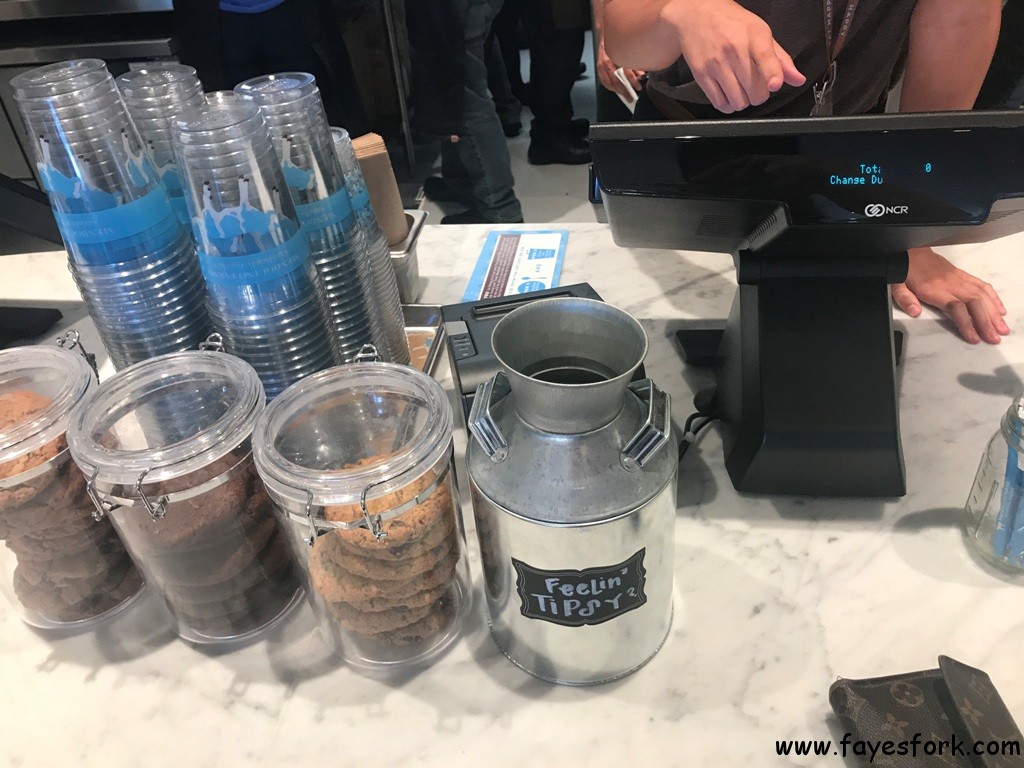 Cashier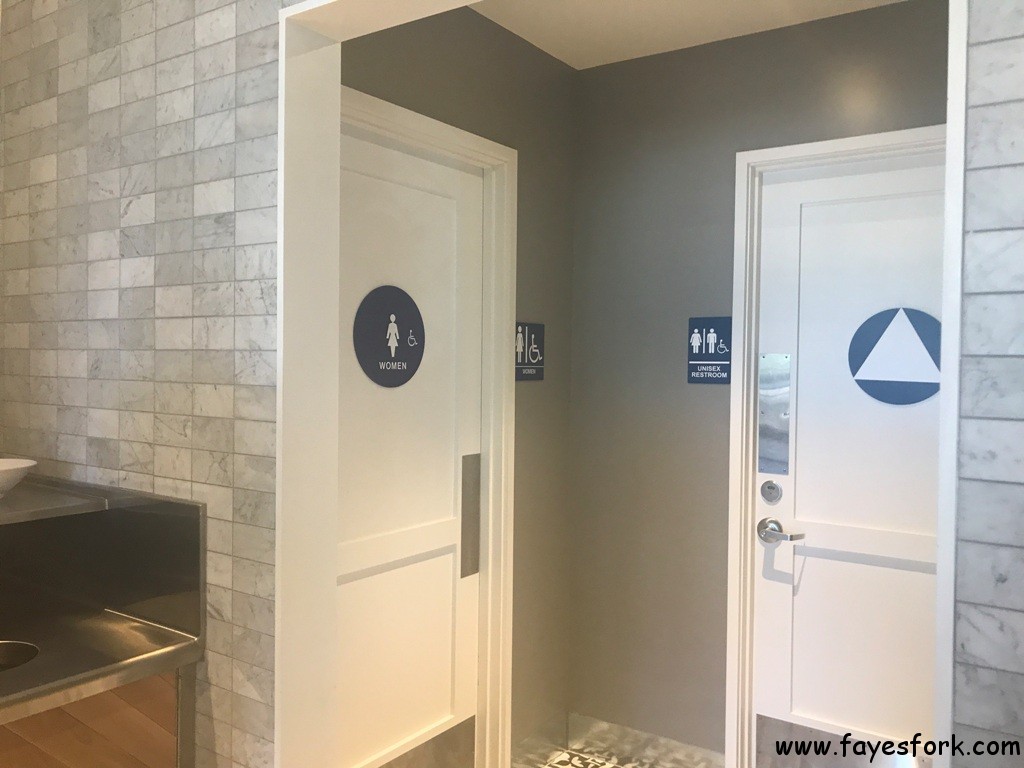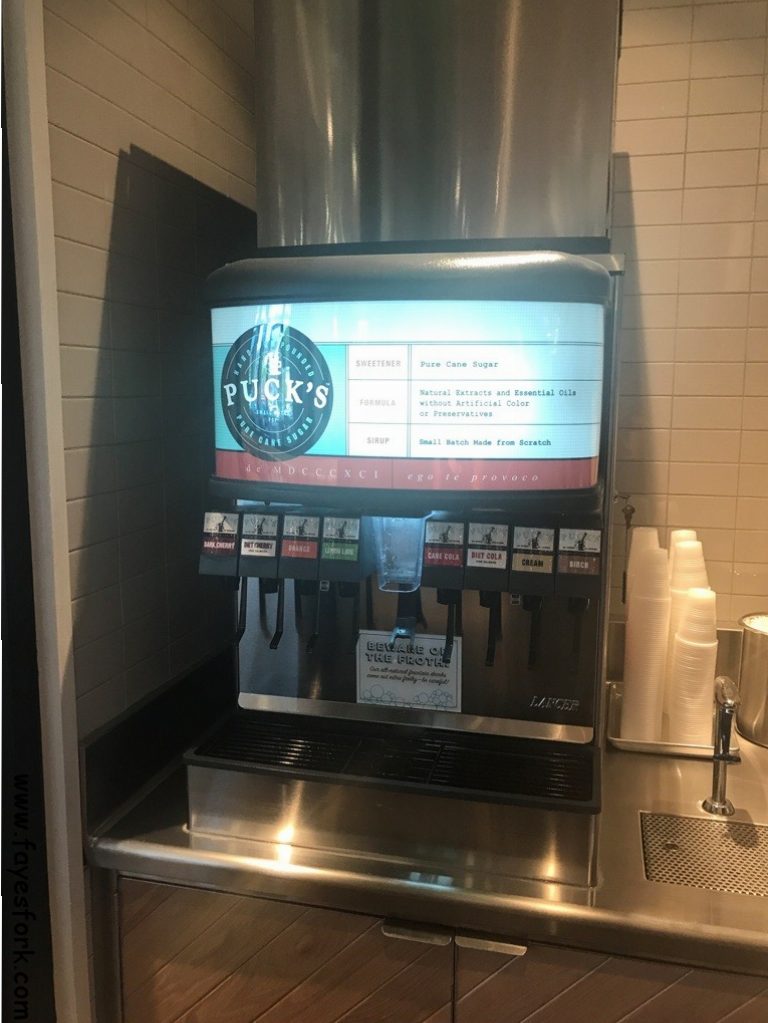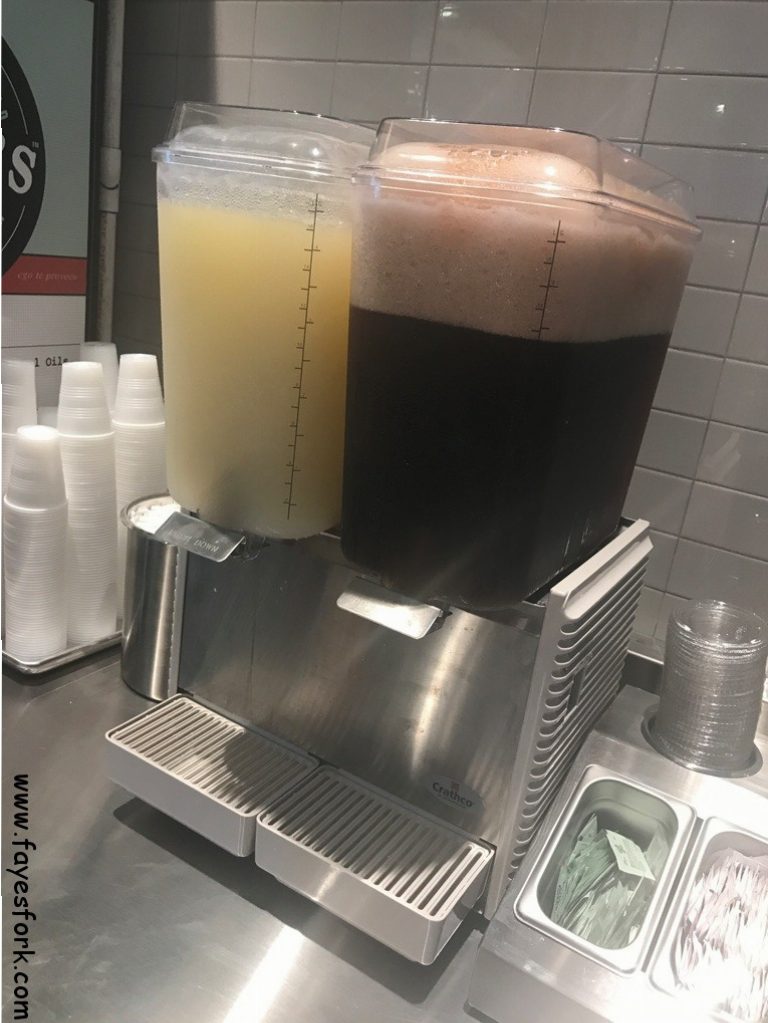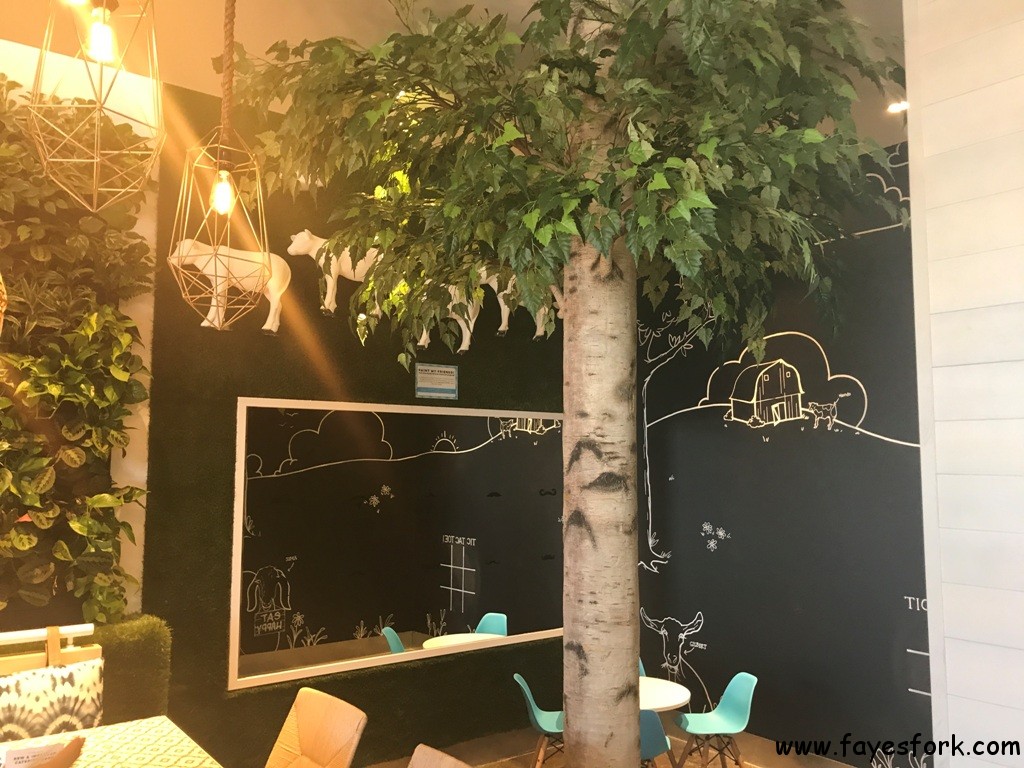 They have a cute kiddie area where they can use chalk to draw on the chalkboard wall.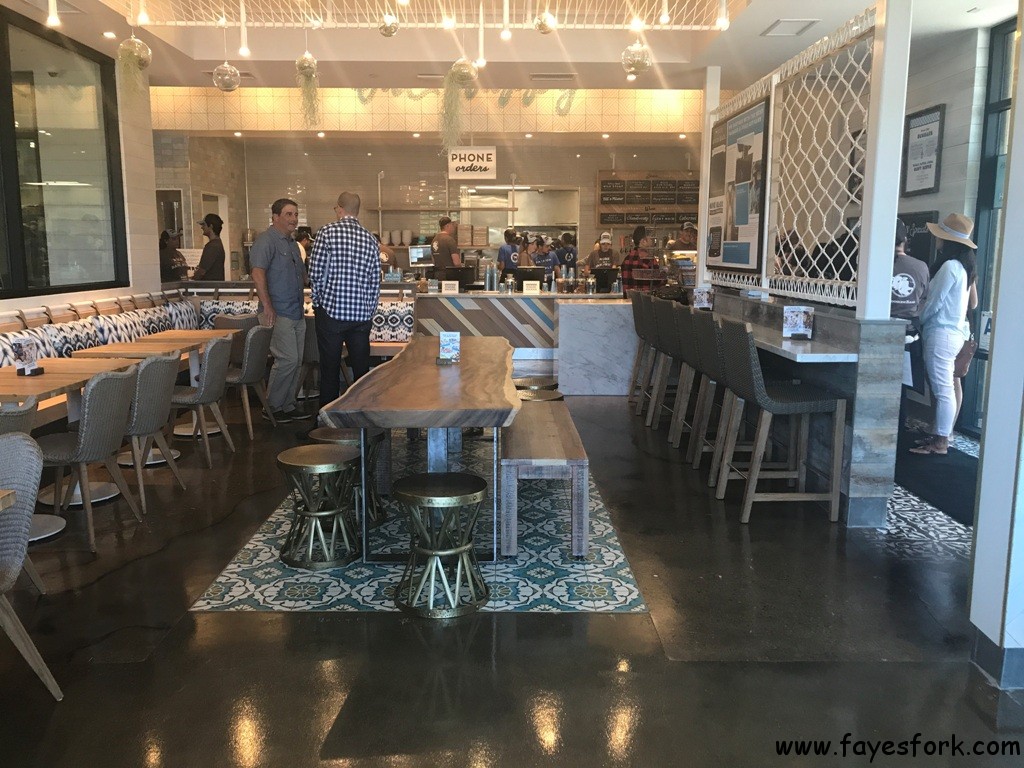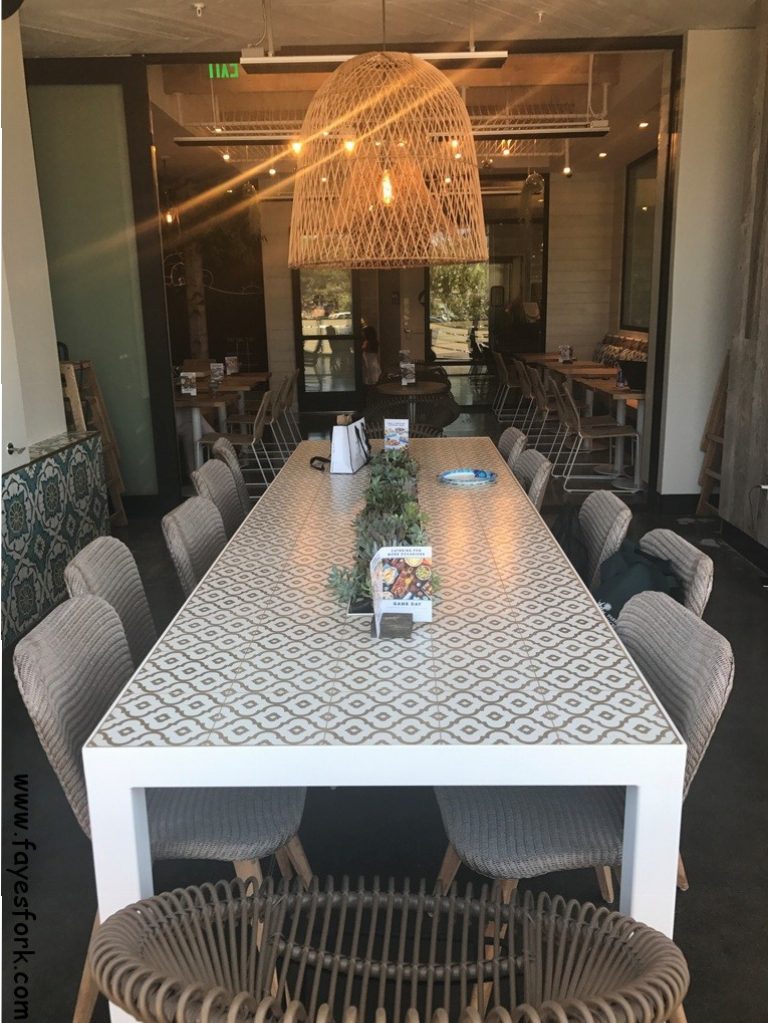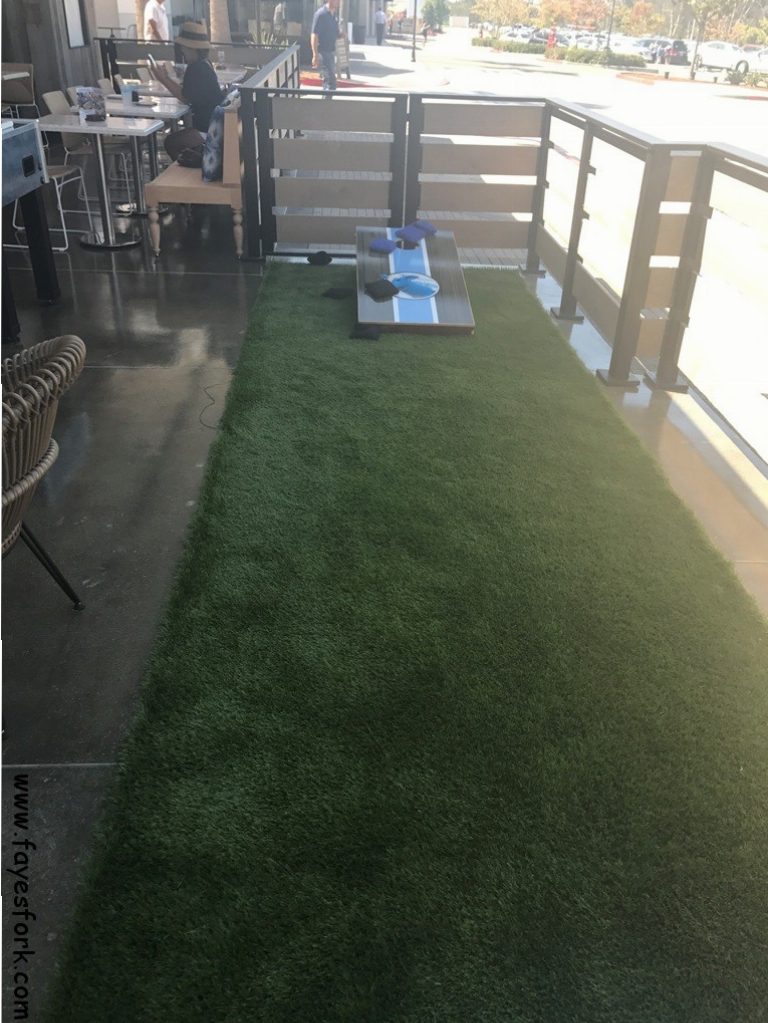 Look at what they've done to the patio! How cool is this. I can't remember the last time I played cornhole so it was fun tossing the bean bags with friend's daughters.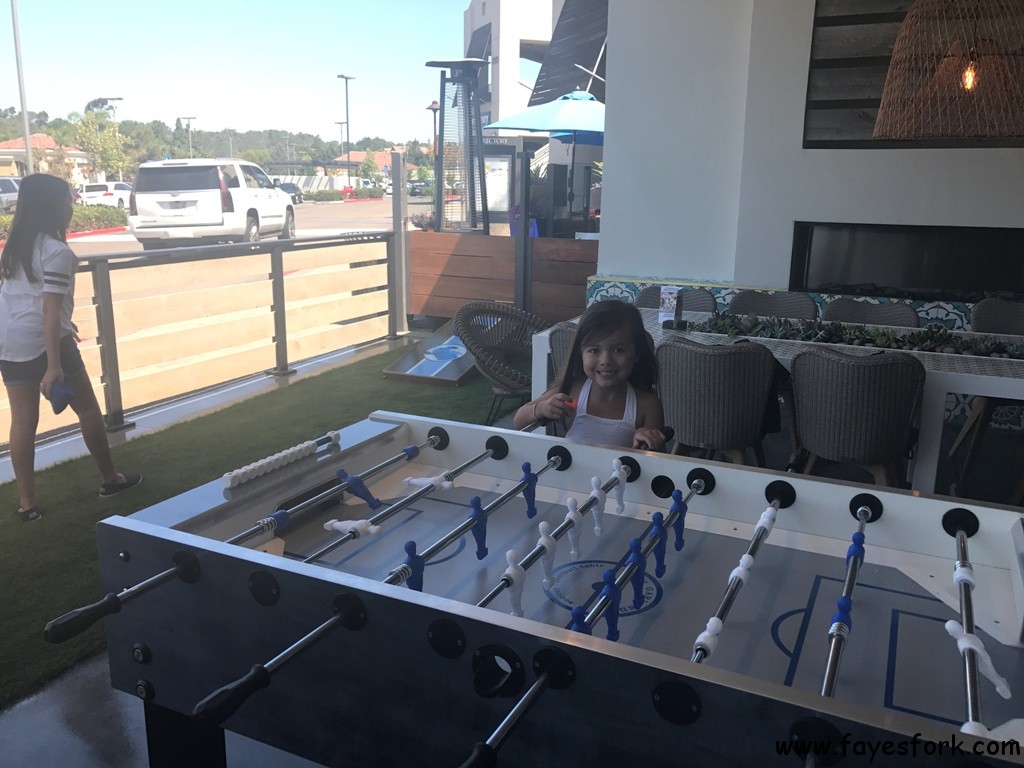 I can't for the life of me remember the name of this game.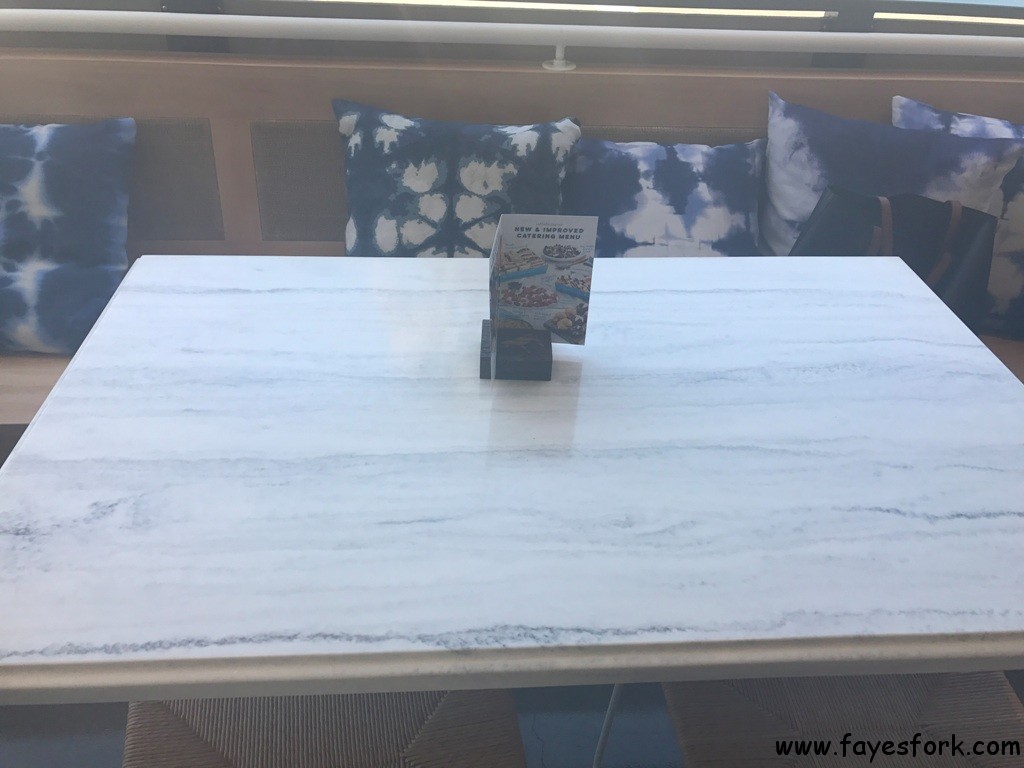 The patio seating is comfortable with pillows for the benches.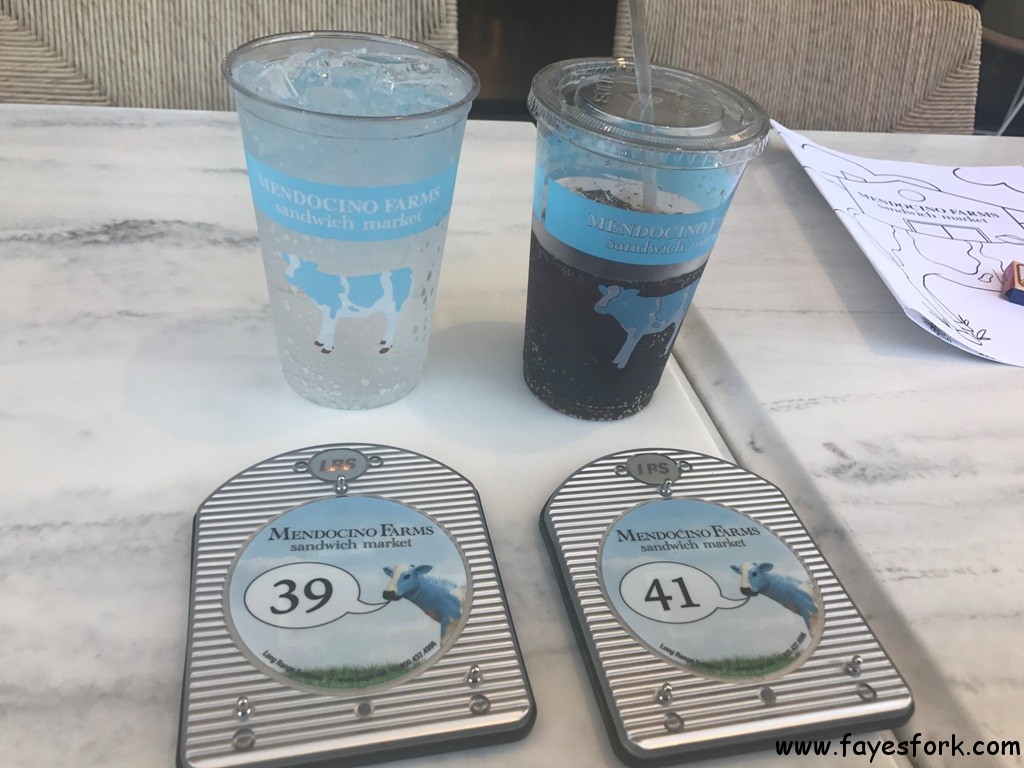 Friend's daughter ordered this as she's had it before. She insisted I take a bite as it's a spicy sandwich. There was a good amount of salami and ham in this sandwich. The warm ciabatta was well toasted.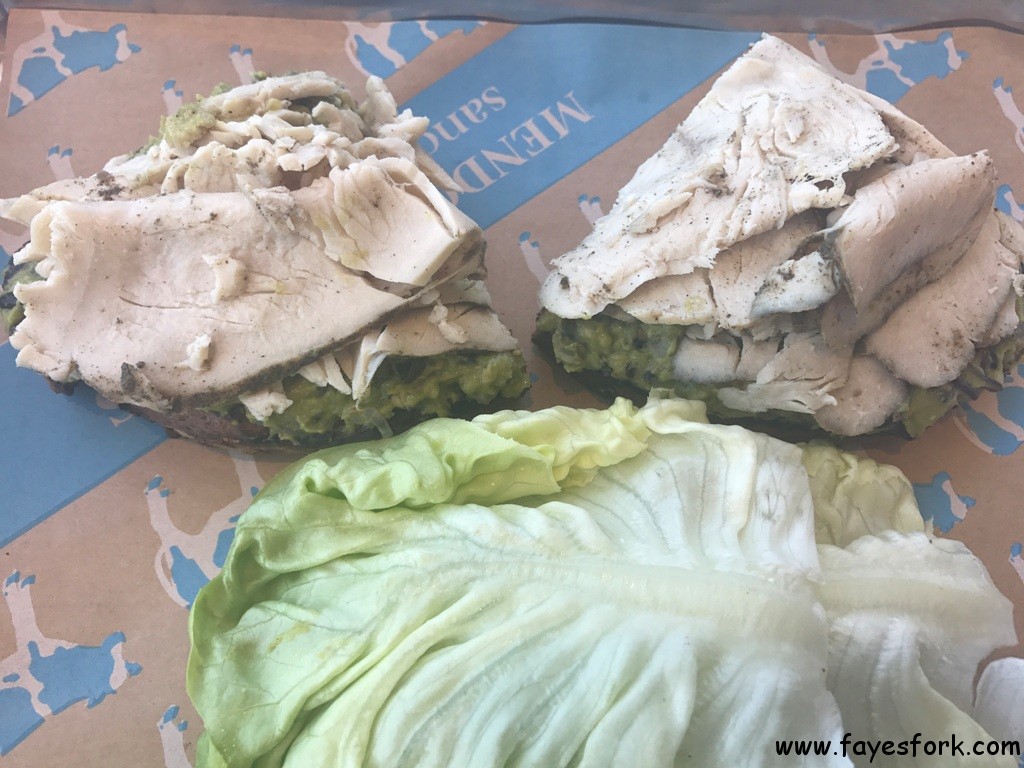 Friend ordered this for her little one but not sure exactly what it is on the menu. I think it's the Green Goddess Turkey avocado but with no pickled radishes or sprouts.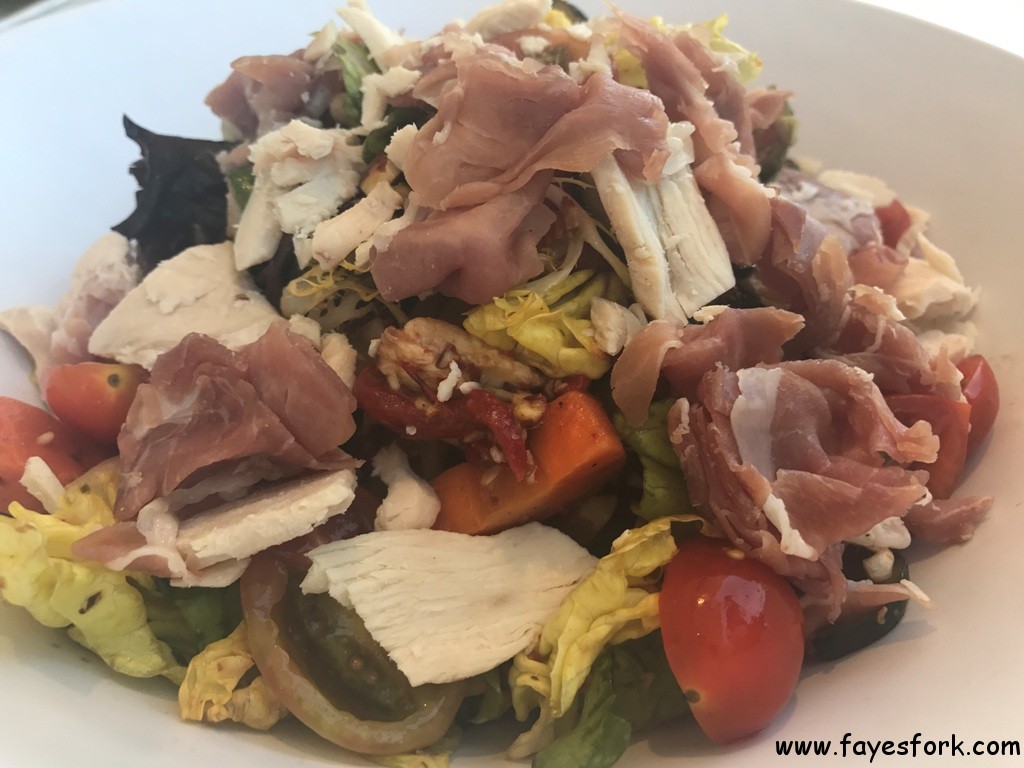 I was so happy when friend ordered this as I wanted to try this salad most of all. I was shocked by how much I LOVED this salad (and that's hard for me say with salads). The prosciutto was salty and fatty. The shaved roasted chicken slices were tender and yums. I'm usually not a fan of a bunch of random vegetables together in a salad but enjoyed the roasted zucchini and peppers. The crunch of the honey roasted almonds was a nice contrast to the soft meats and mozzarella.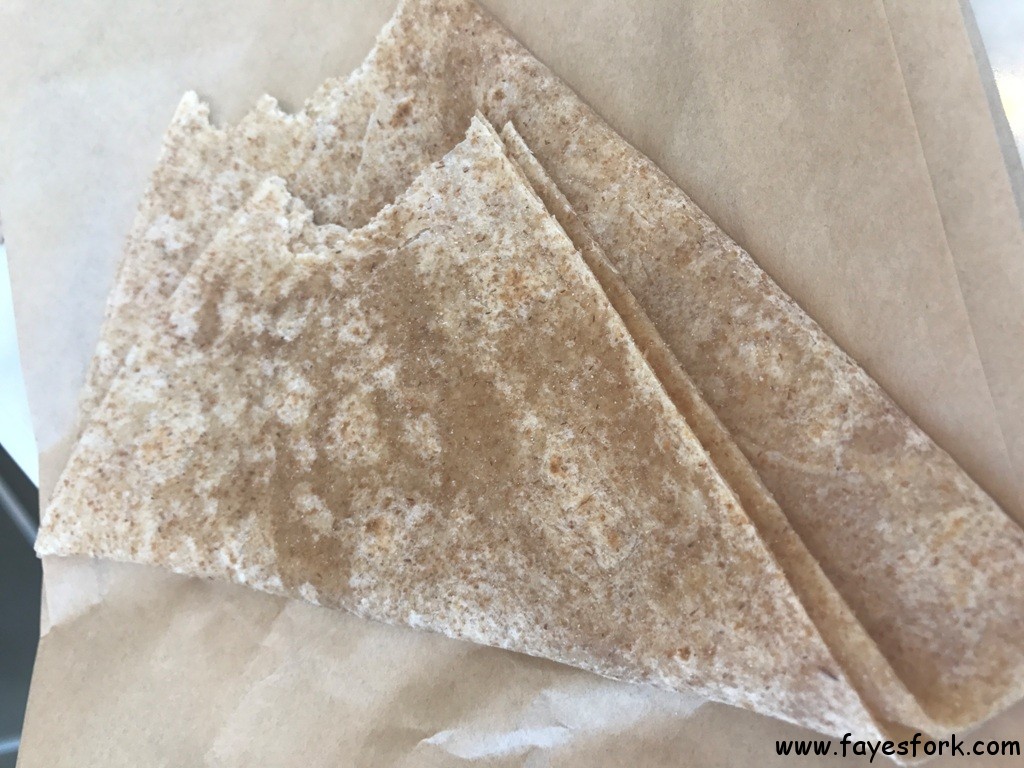 We didn't notice the side of tortillas that came with the salad until much later.
Friend was happy I ordered this Peruvian sandwich as she wanted to try this sandwich as well. This was a nice sized sandwich. I also added avocado.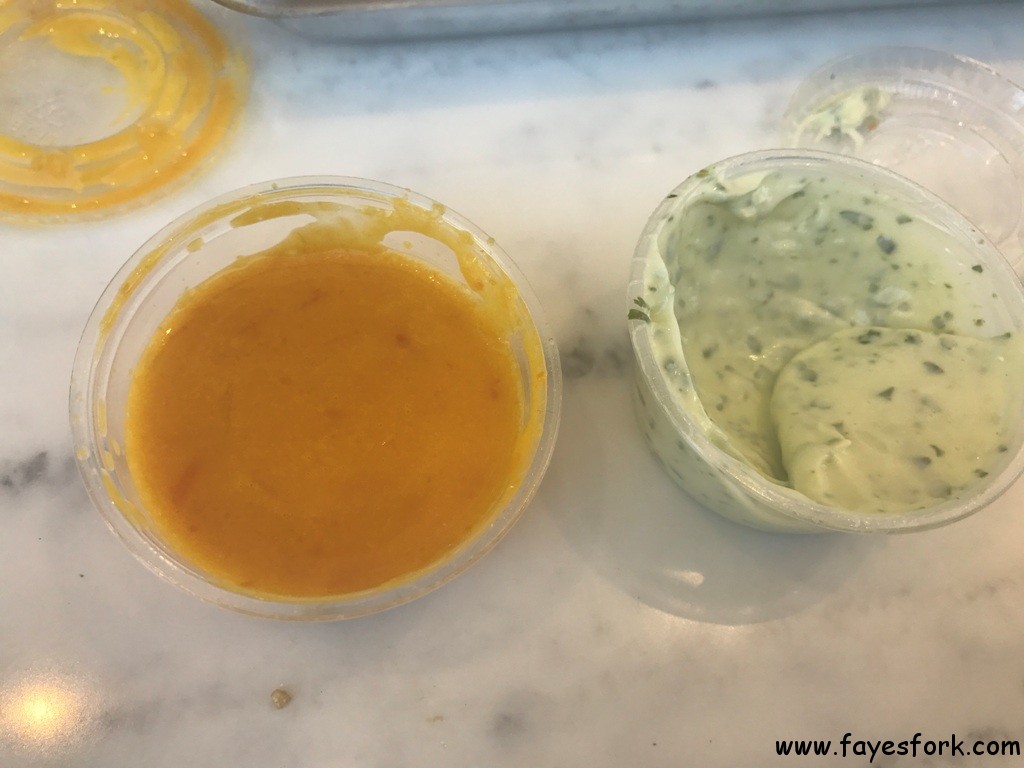 I asked for extra spicy aji amarillo and herb aioli.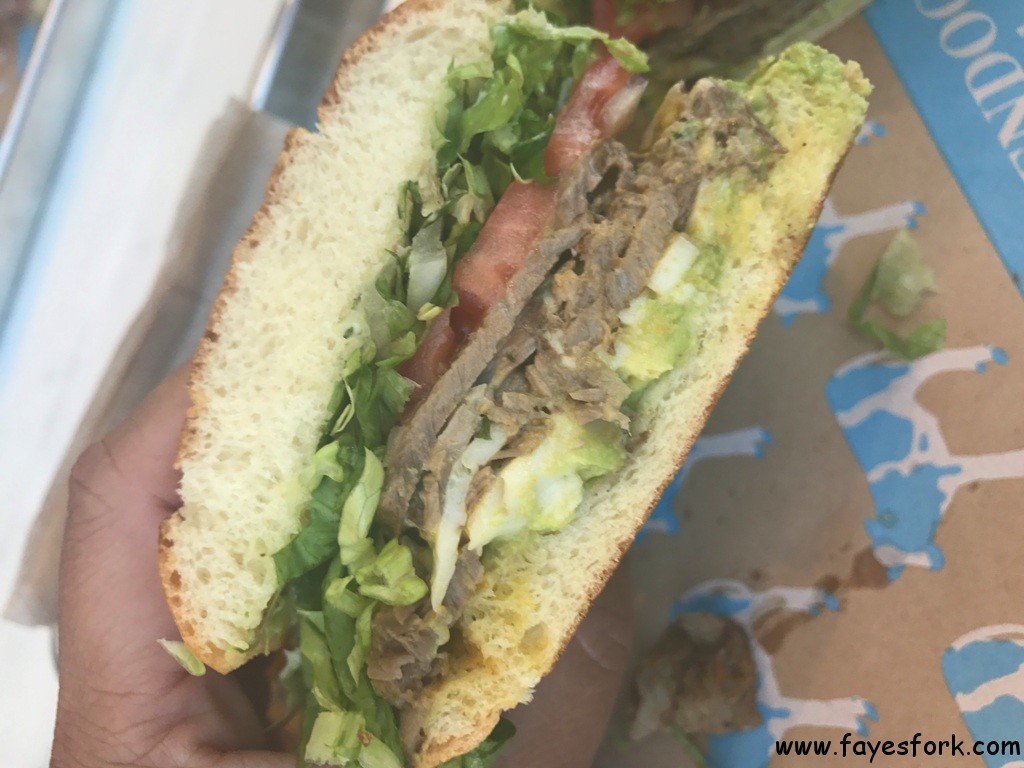 We all enjoyed this sandwich. It was fun taking turns taking bites out of each sandwich with everyone. The beef was tender and the Oaxacan cheese was wonderfully milky and soft. I'd add extra herb aioli to my bites. I thought the aji amarillo sauce tasted more tangy than spicy.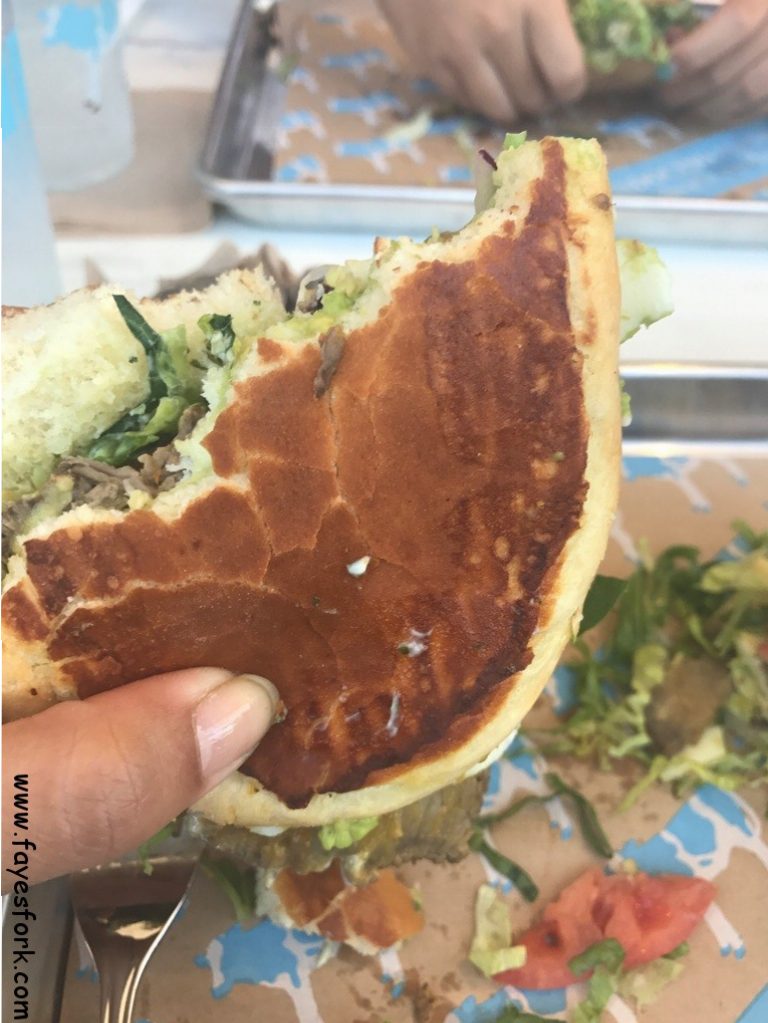 The bread was toasted nicely.
Service was incredible. You had senior servers training new servers. They would shadow the new servers and make sure everything was done correctly. Linda N. was the senior server we noticed the most. She had such a friendly smile but her discipline was on point. I was very surprised by how much I liked our meal and experience. I almost didn't feel a need to attend the Yelp event a few days later but. hey, who can say no to free food and drinks…
YELP EVENT:
Yelp partnered with Mendocino Farms to host a catered dinner reception. There would be samples of food and drinks available to those who got in.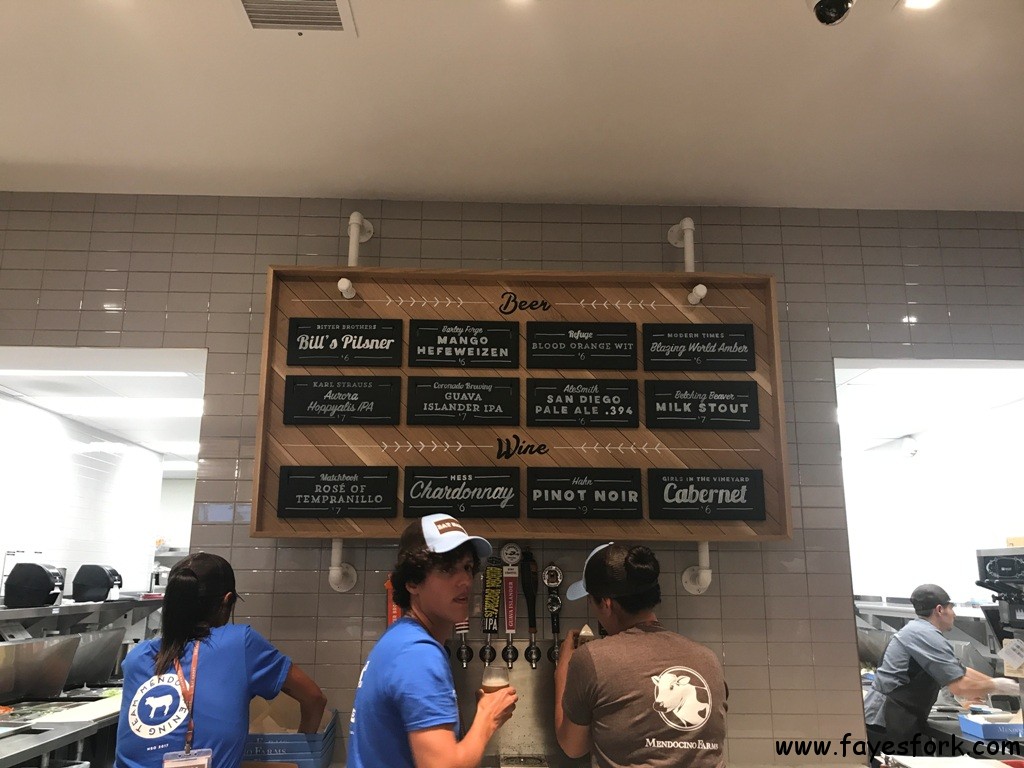 They have eight local brews on tap. Nice right.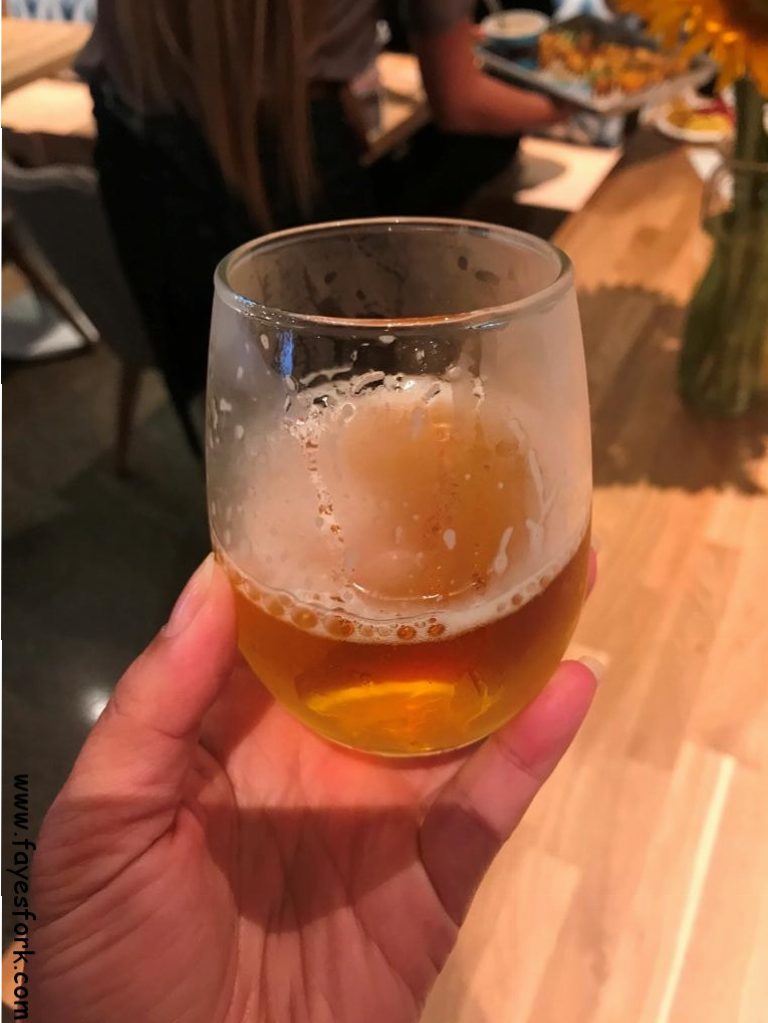 I sampled the Guava Islander IPA from Coronado Brewing. I really enjoyed this easier to drink IPA.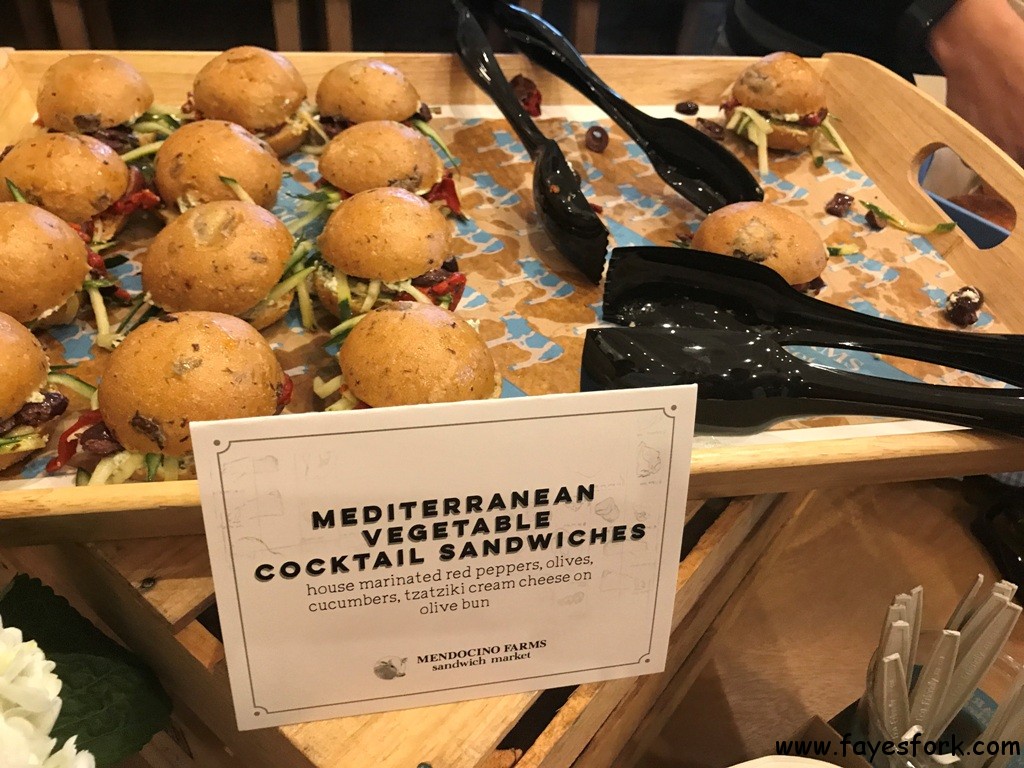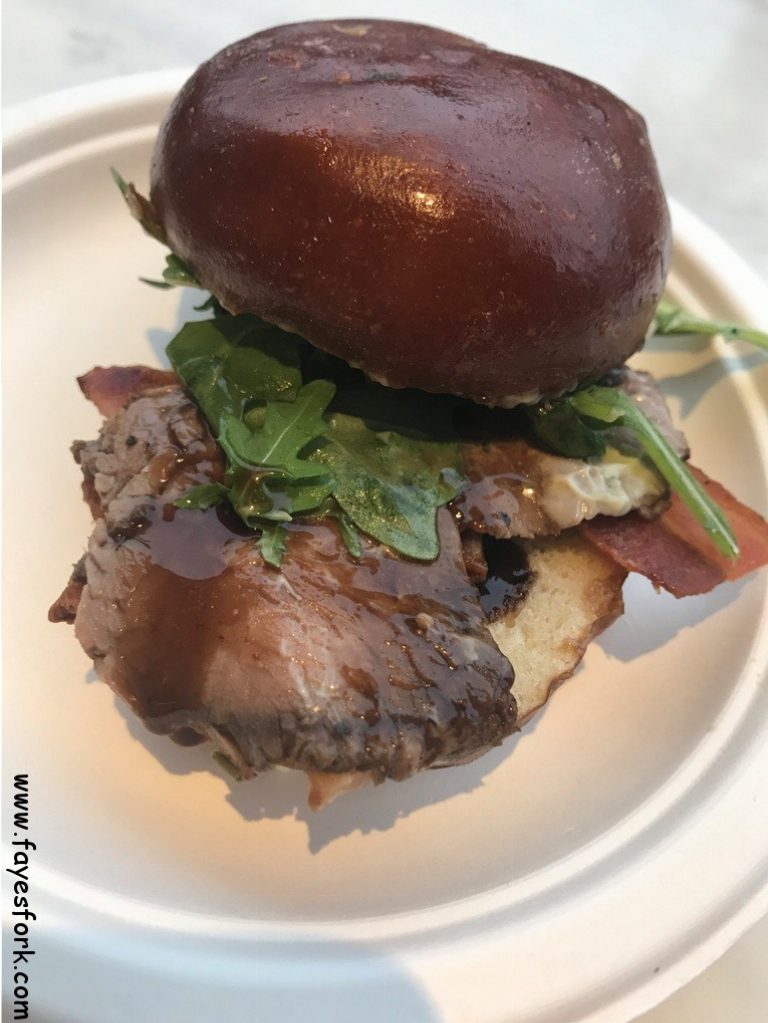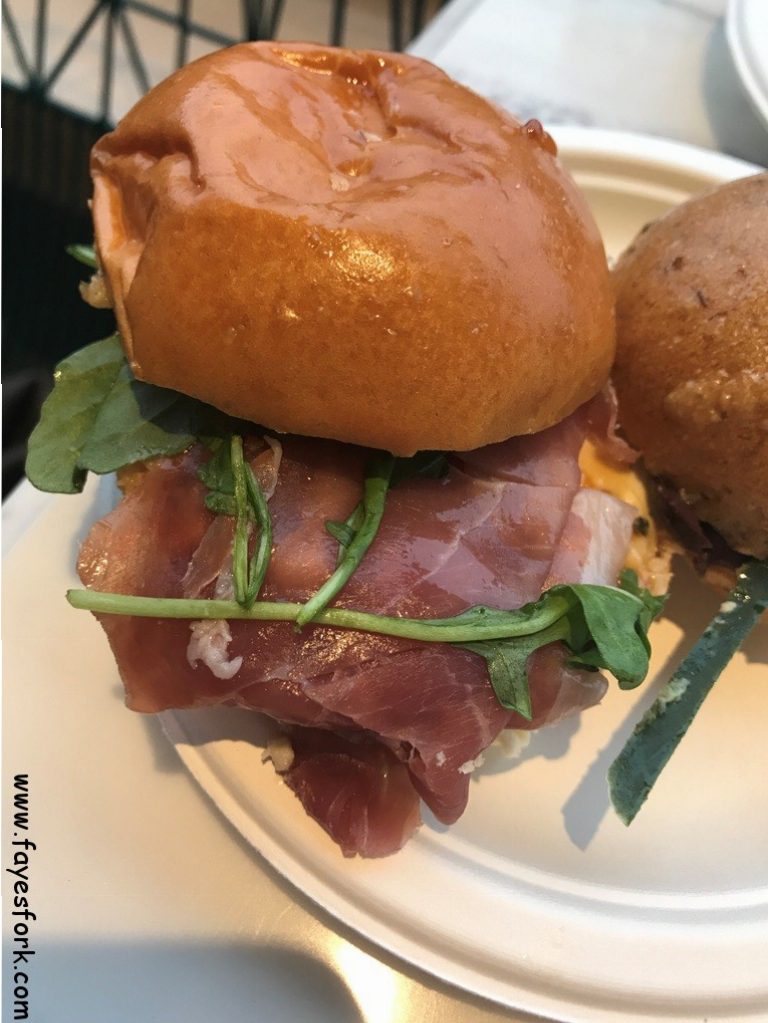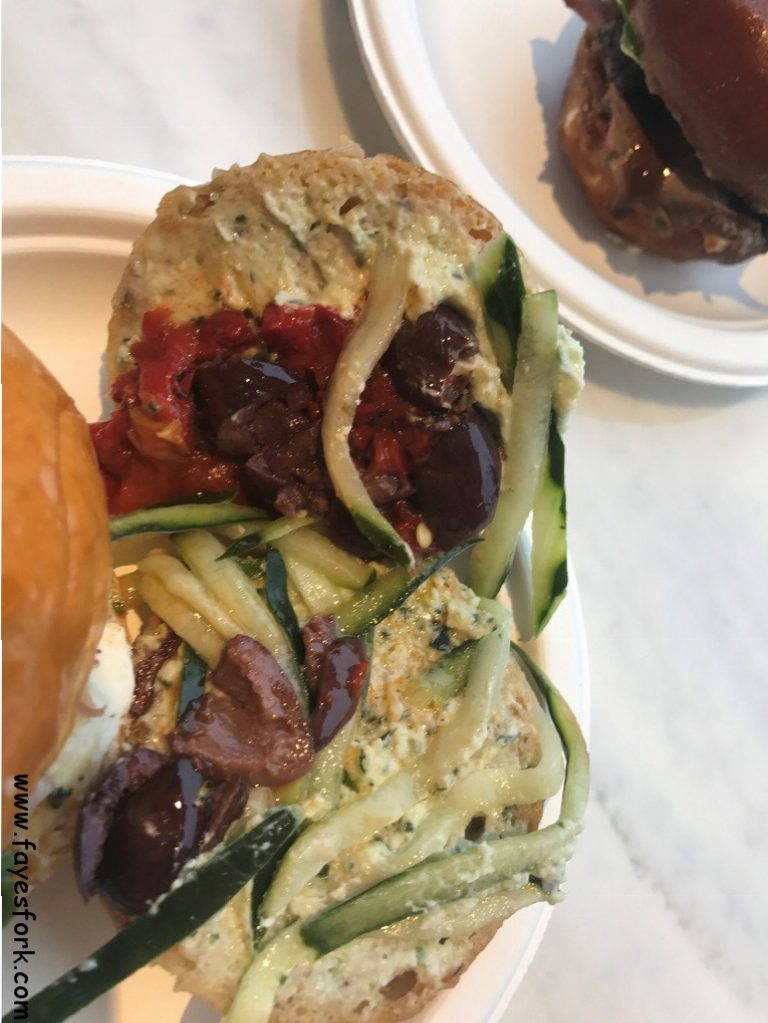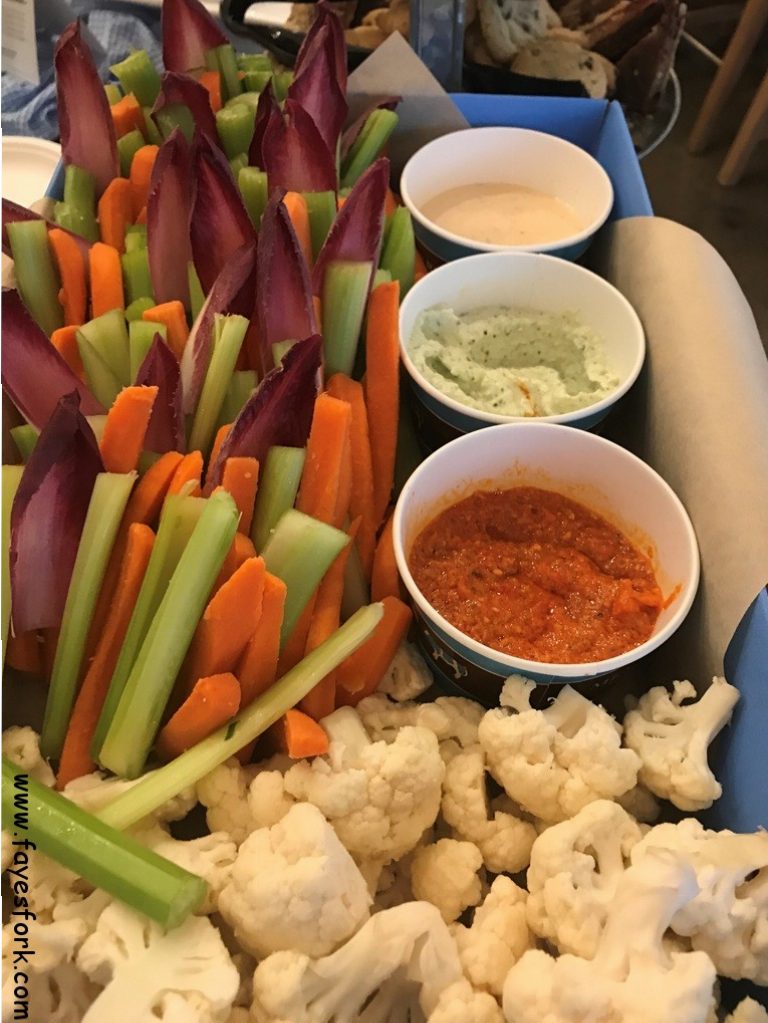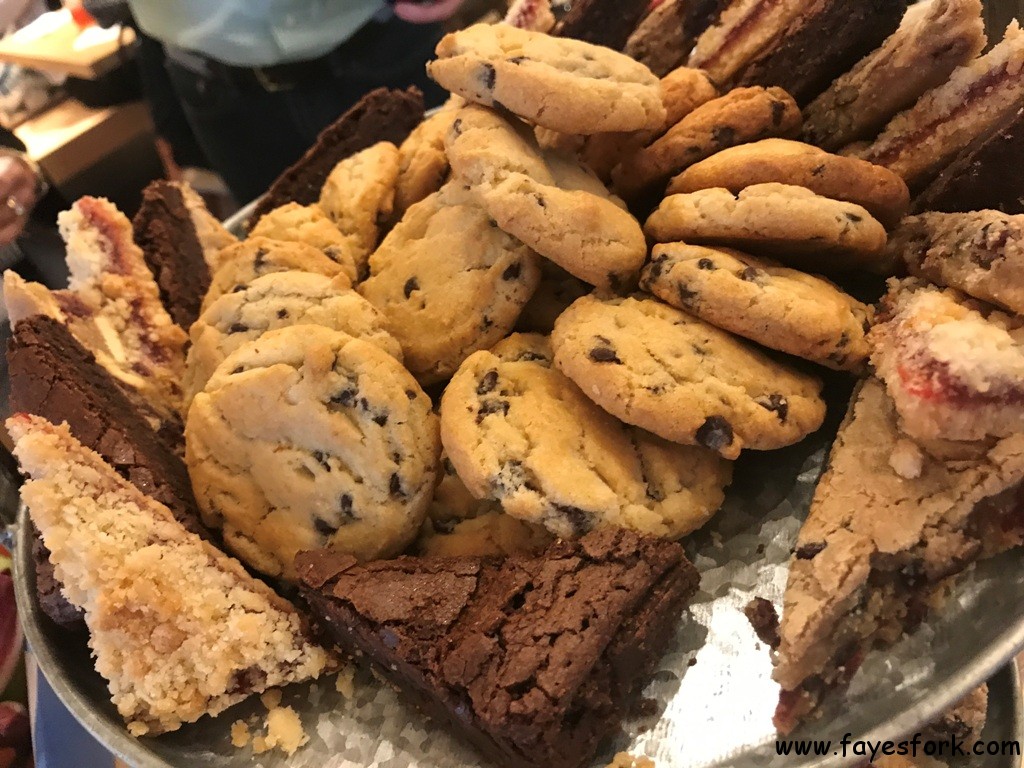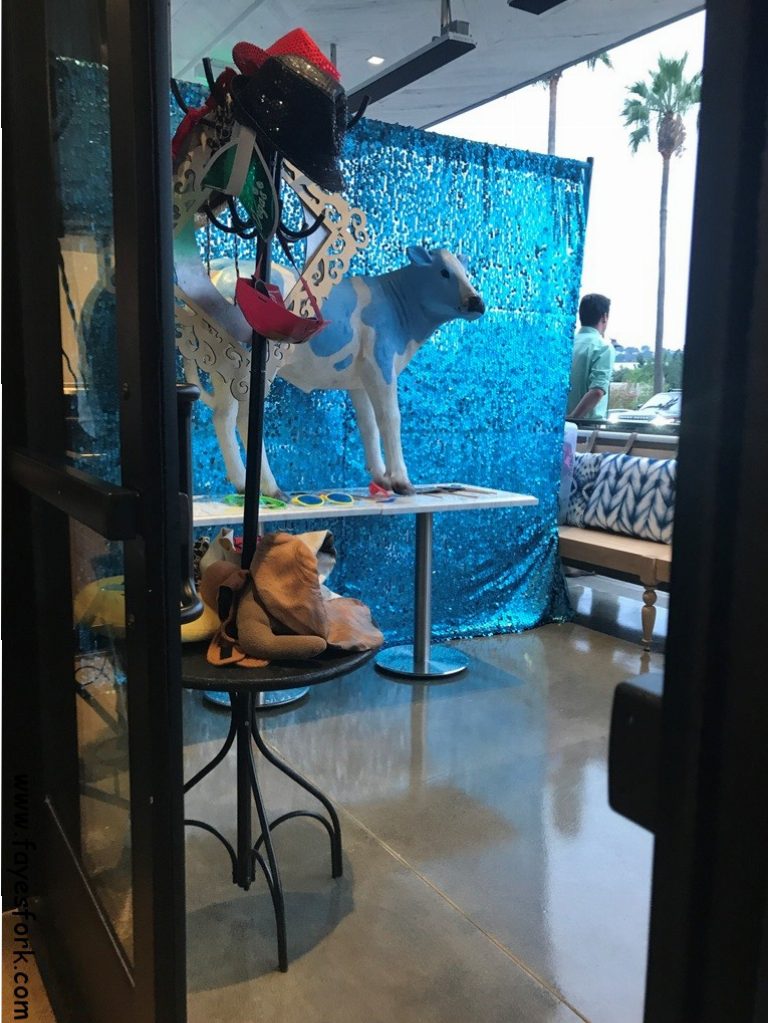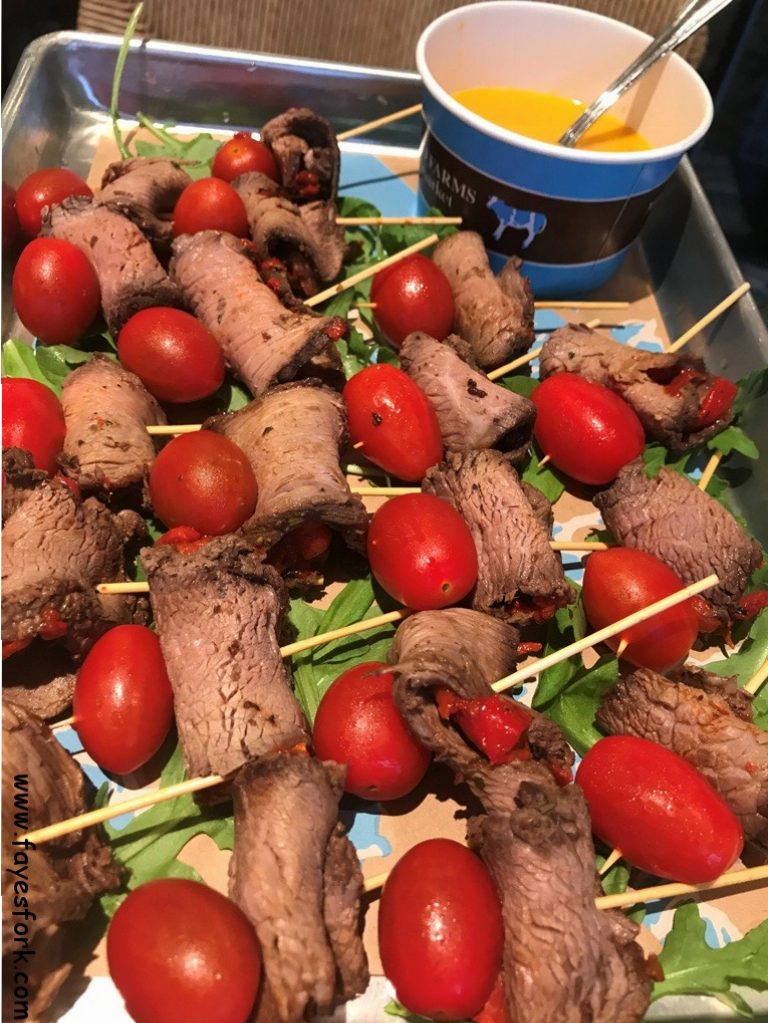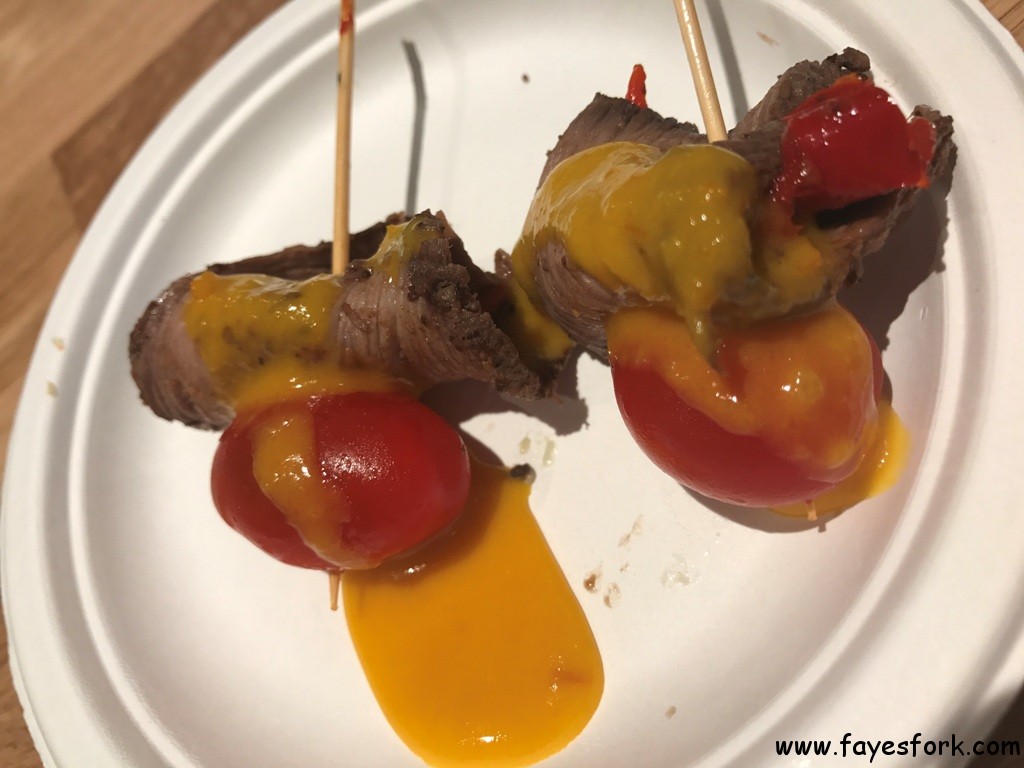 I think this is the same beef they used for the Peruvian sandwich I tried a few days earlier. It came with a side of the aji amarillo sauce.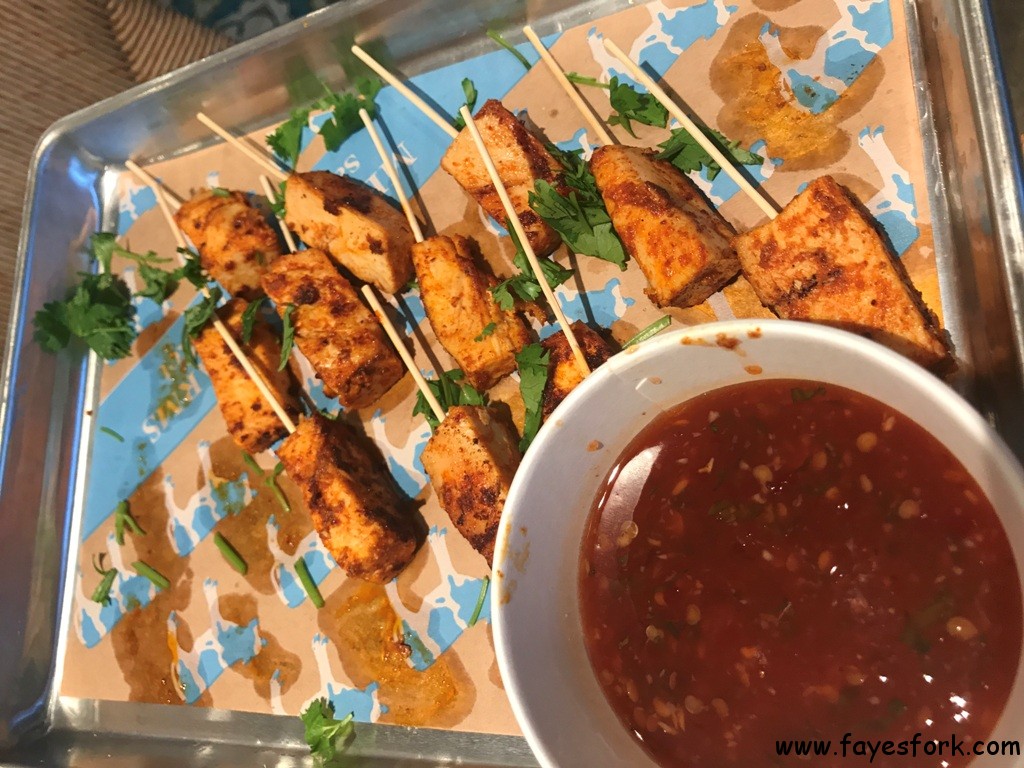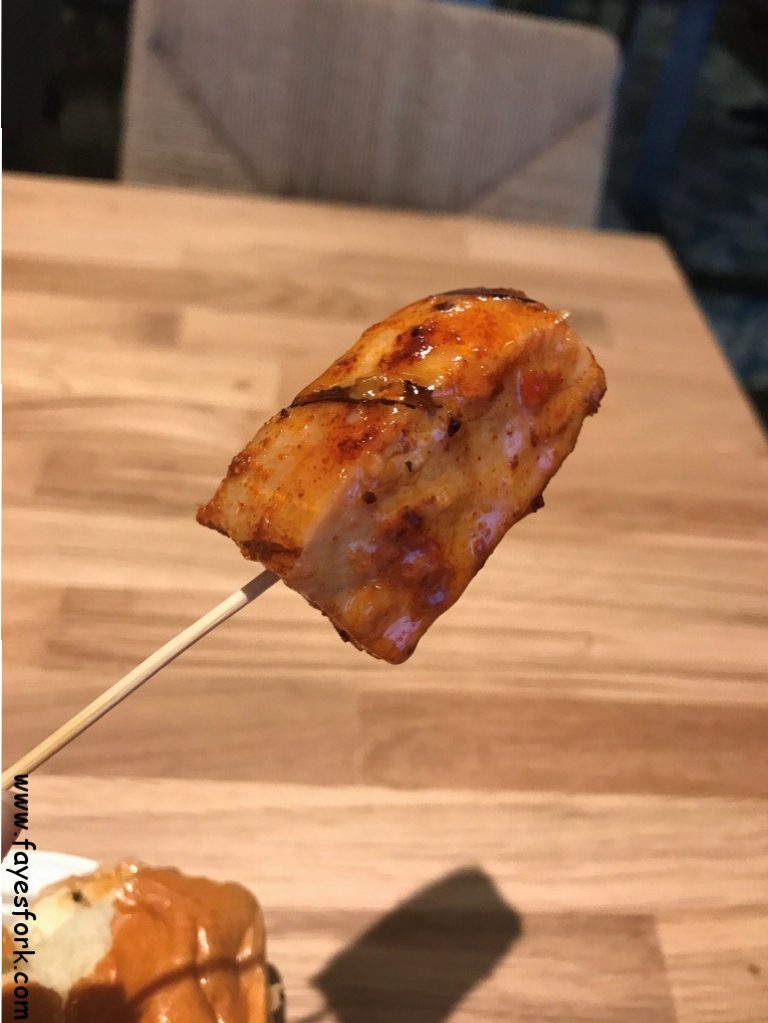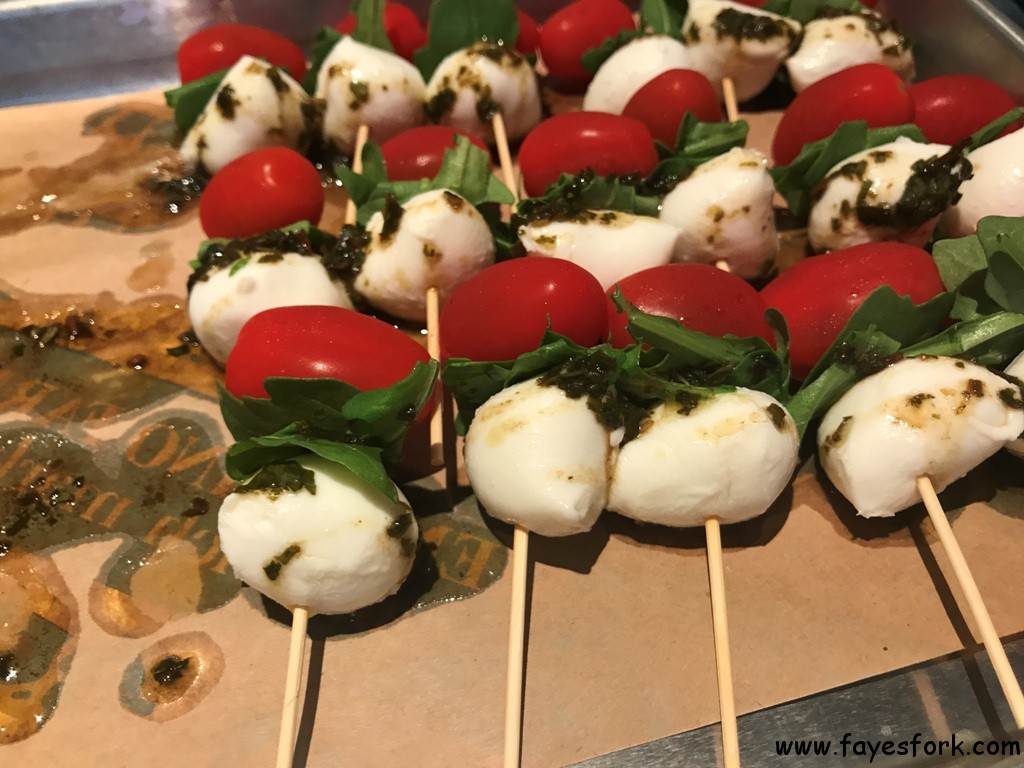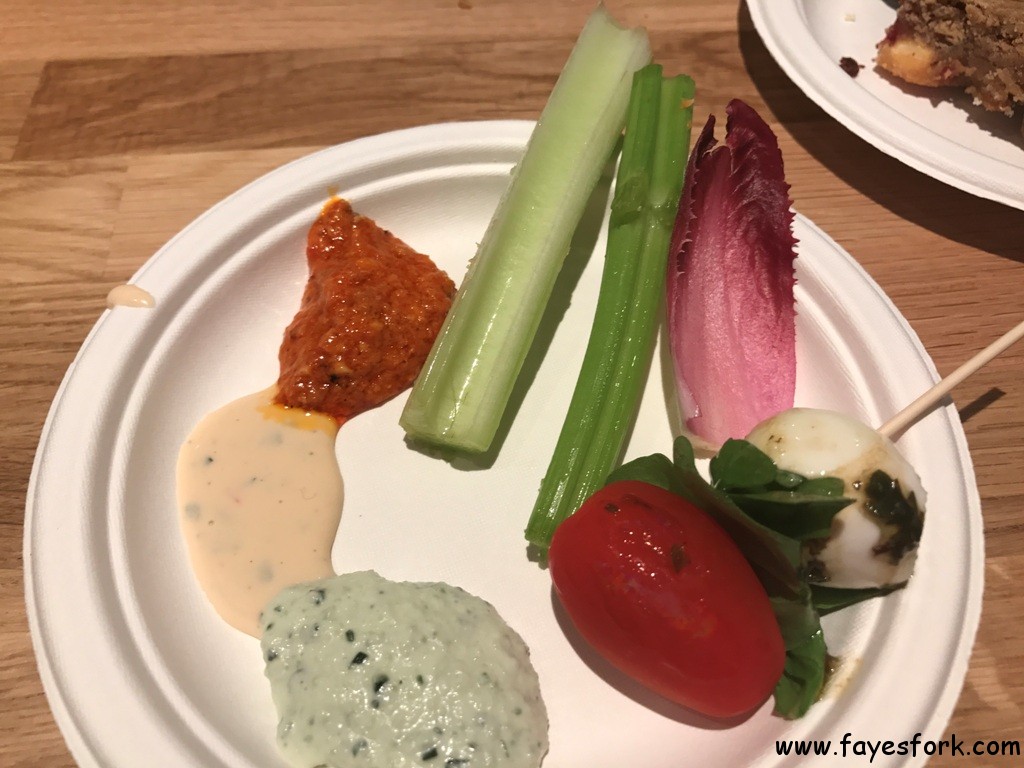 I tried all three of the dips. I think one was hummus. I'm not sure what the red one was but it was my favorite – it tasted nutty.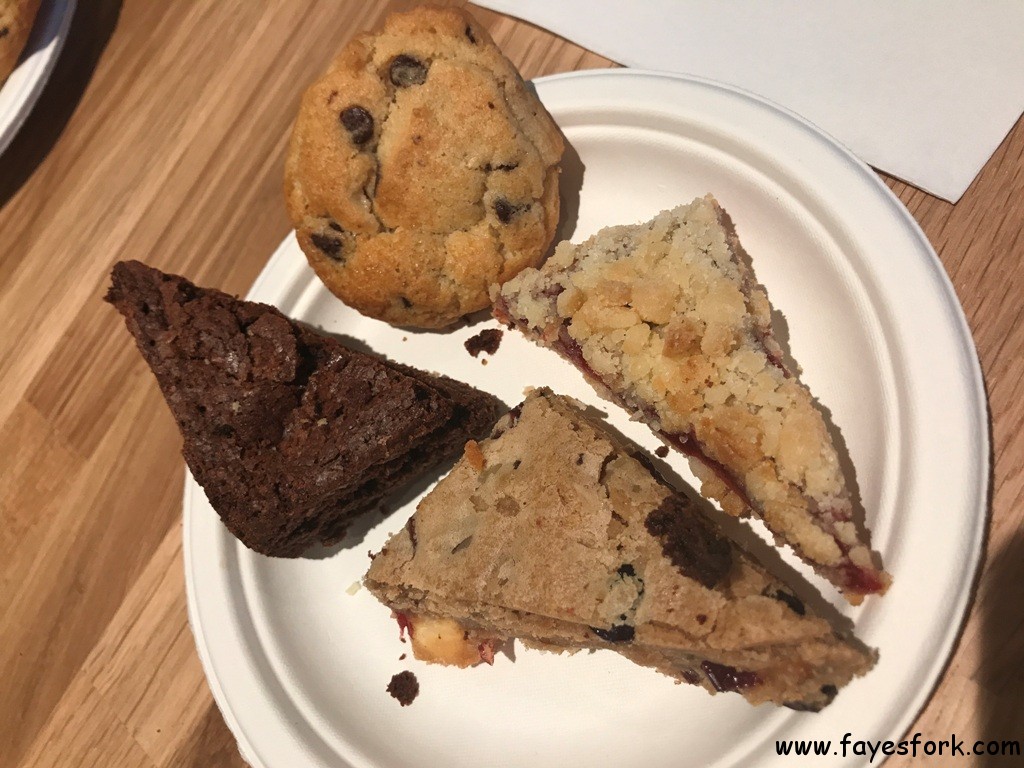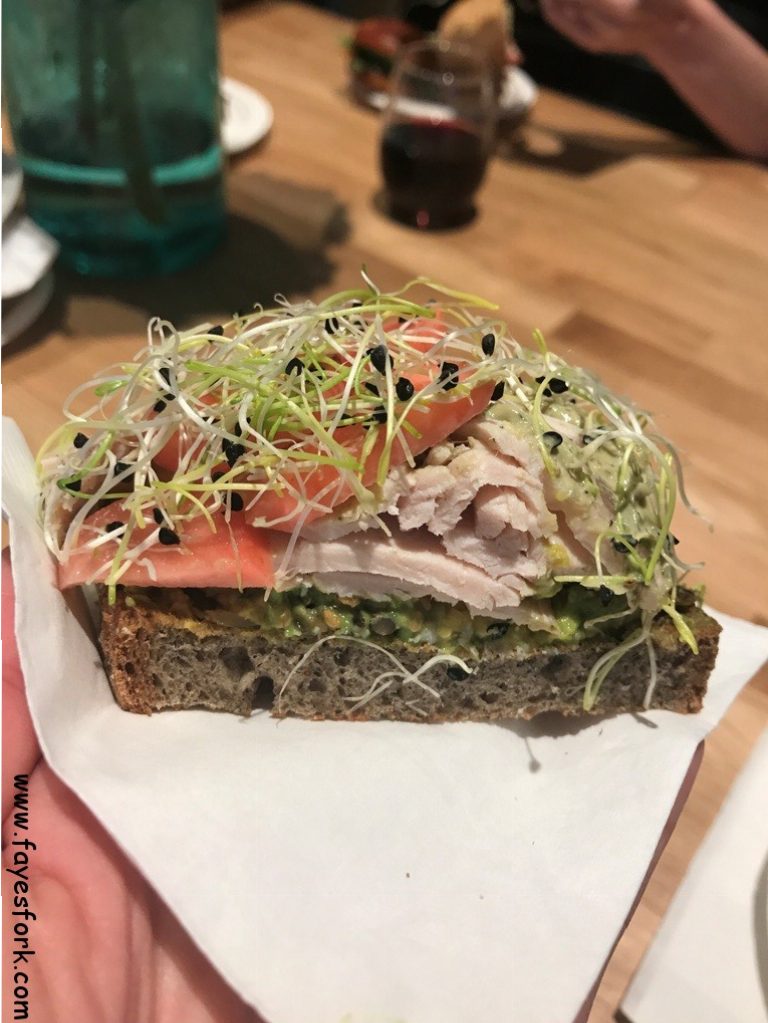 I actually sampled this at my gym some months ago if you can believe it. They hosted an event with the gym and gave away generous samples of this beautiful green goddess sandwich.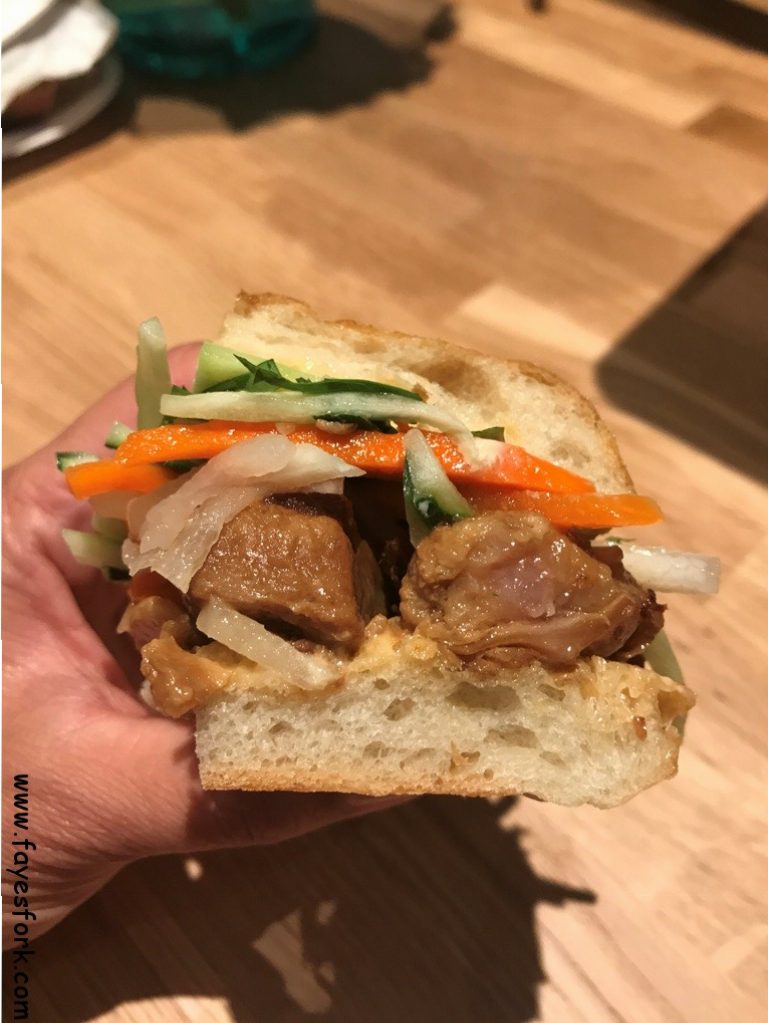 This was A MUCH better version than the one I had at their La Jolla location. The pork was lusciously fatty and didn't taste too sweet. The pickled daikon was nicely tart. I would have added more jalapenos.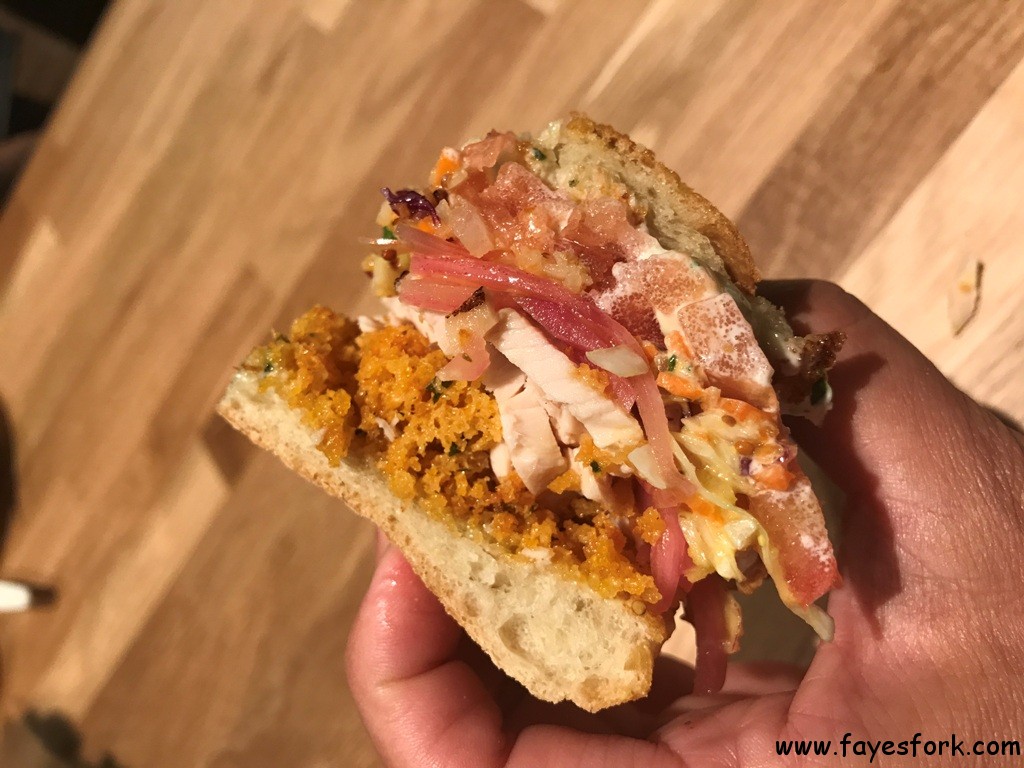 I had no idea what to expect with this sample. I was amazed at first bite. It tasted like a fried chicken sandwich but there's only sliced chicken in this sandwich. The 'crunch' or texture of breading is on the bottom of the filling  – do you see it? I asked the owner, Ellen, about this when she came over to say hello. She said it's crunchy polenta! The taste and texture literally is consistent with fried chicken batter. I also loved the mustard pickle slaw.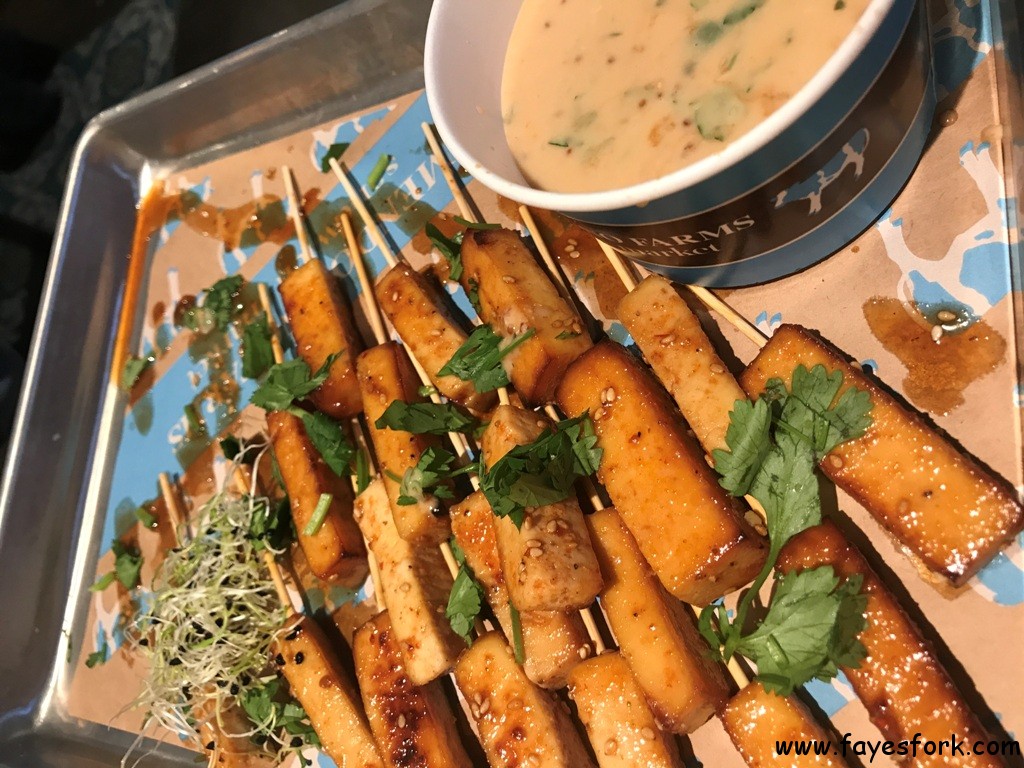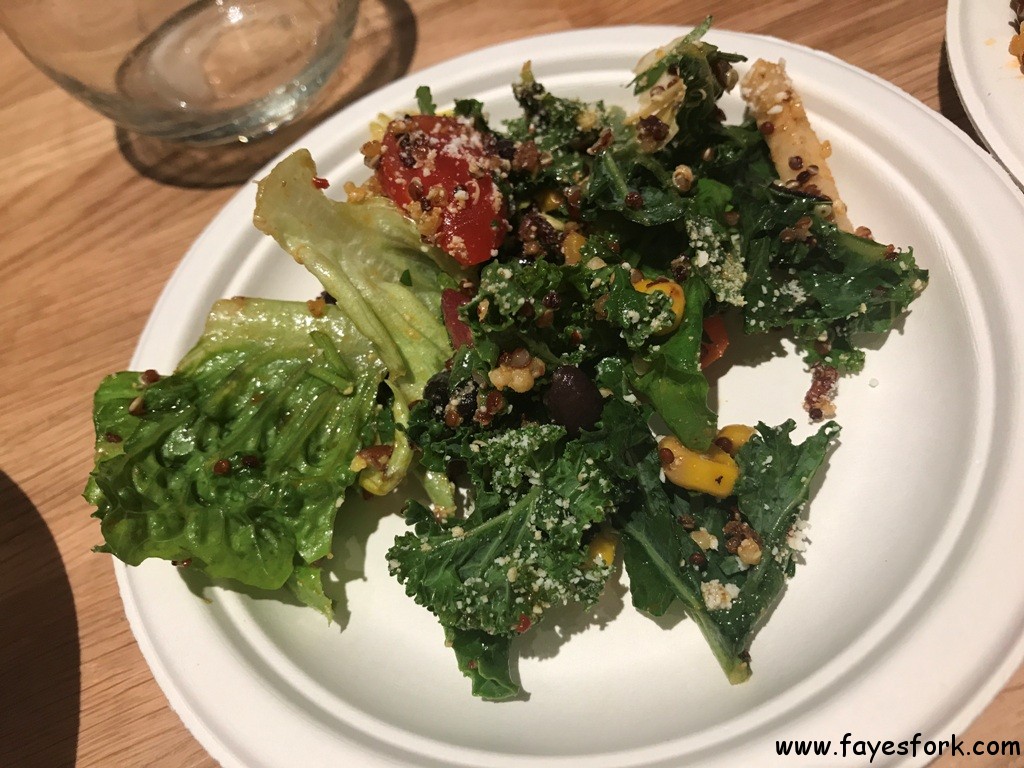 This was table mates salad.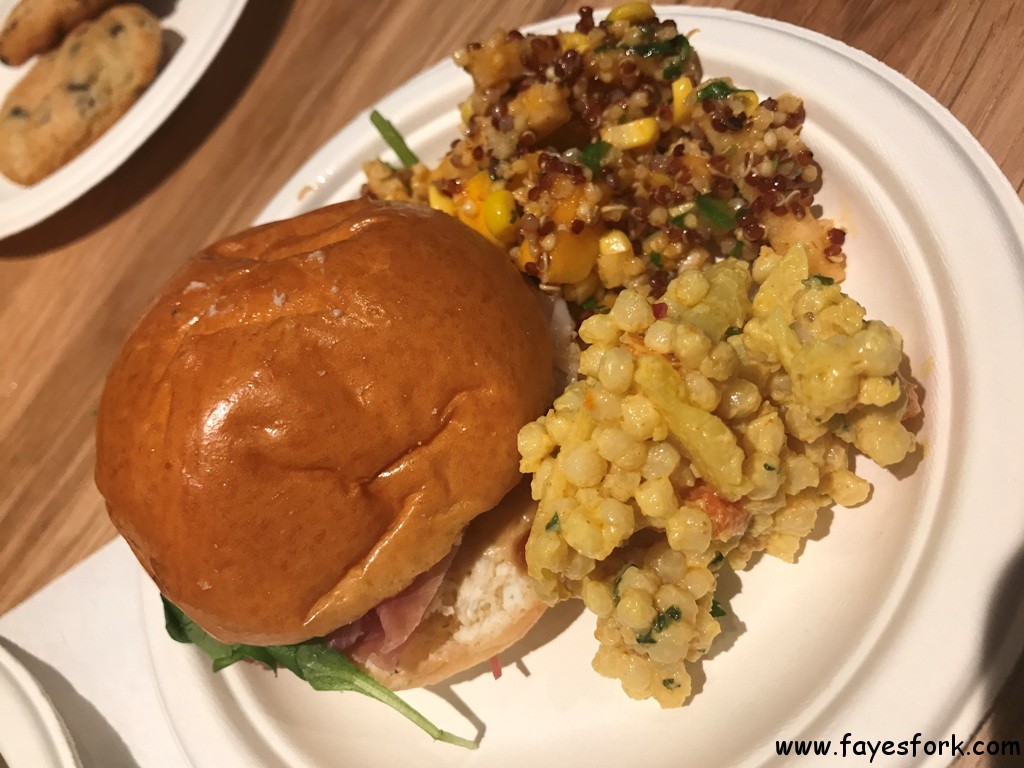 She also sampled some of their salads.
I don't often socialize at Yelp events as I'm not as social as fellow yelpers. I found it serendipitous that I bonded with non-yelpers that evening. All girls. All girls who were relatable and funny AF. Case in point…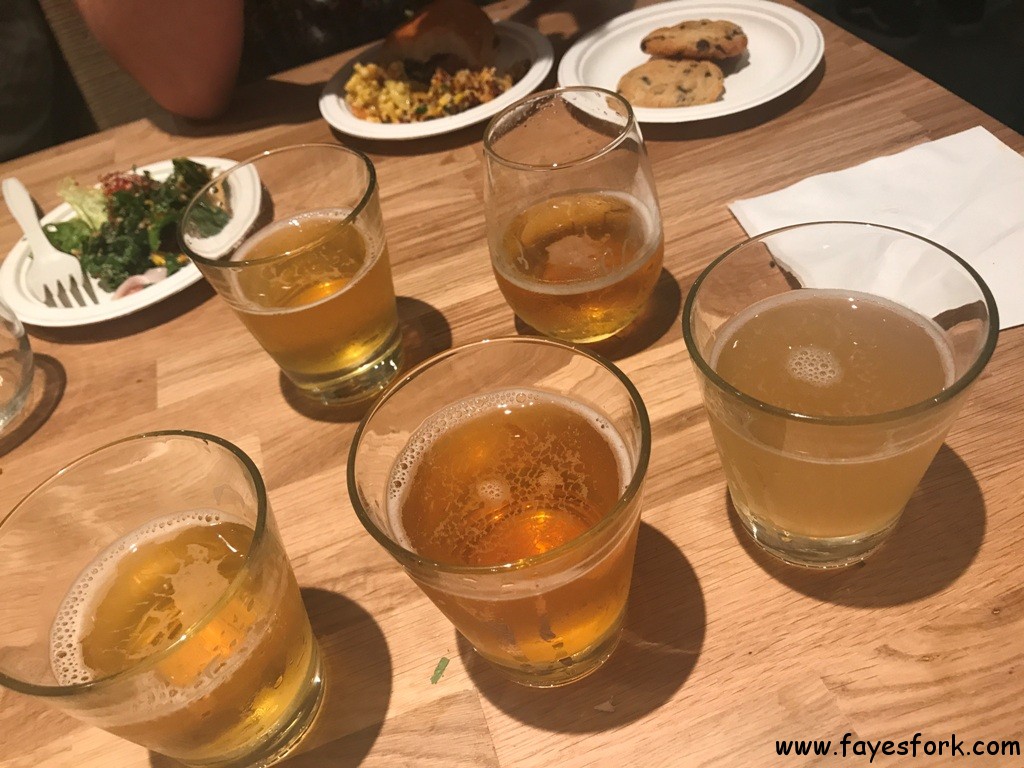 The lines were long to get alcohol so one of the girls would go up with me and help me get the attention of the 'bartender' to get me drinks. It was the funniest thing ever as it reminded me of my clubbing days at, say, Stingaree downtown. Joking aside, the company that night was fantastic and alot of laughs were shared.
I was a lucky girl to have tried Mendocino Farms twice in one week. Ellen was the most gracious owner. She came up to me later as we know the same friend. It was heart warming to meet her (and her daughter) as you couldn't ask for a more humble woman. She greeted everyone the same warm way.
I foresee Mendocino Farms doing well at this Del Mar location. It will be interesting to see how they fare with busy crowds. The ordering system in the La Jolla location was tedious but hopefully it'll go more smoothly at this new location. I will be back to try another salad and/or sandwich soon.
MENDOCINO FARMS
12873 El Camino Real
San Diego, CA 92130
(858) 436-0000