Sis and I finally had time to catch up the other day over lunch. She picked me up and we headed to Menya Ultra upon my suggestion. We argued  back and forth about trying Menya Ultra due to the long wait and lines during peak hours. We were lucky to have had no wait for a midweek lunch around 11:10a.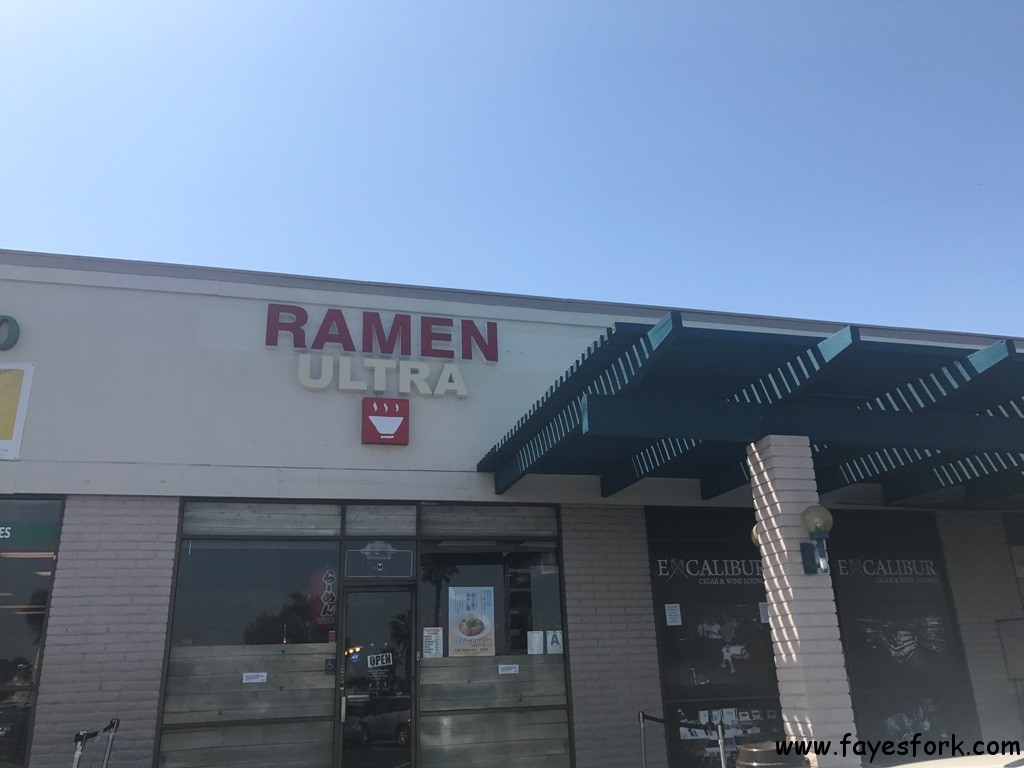 mmm-yoso was one of the firsts to visit when Menya Ultra opened.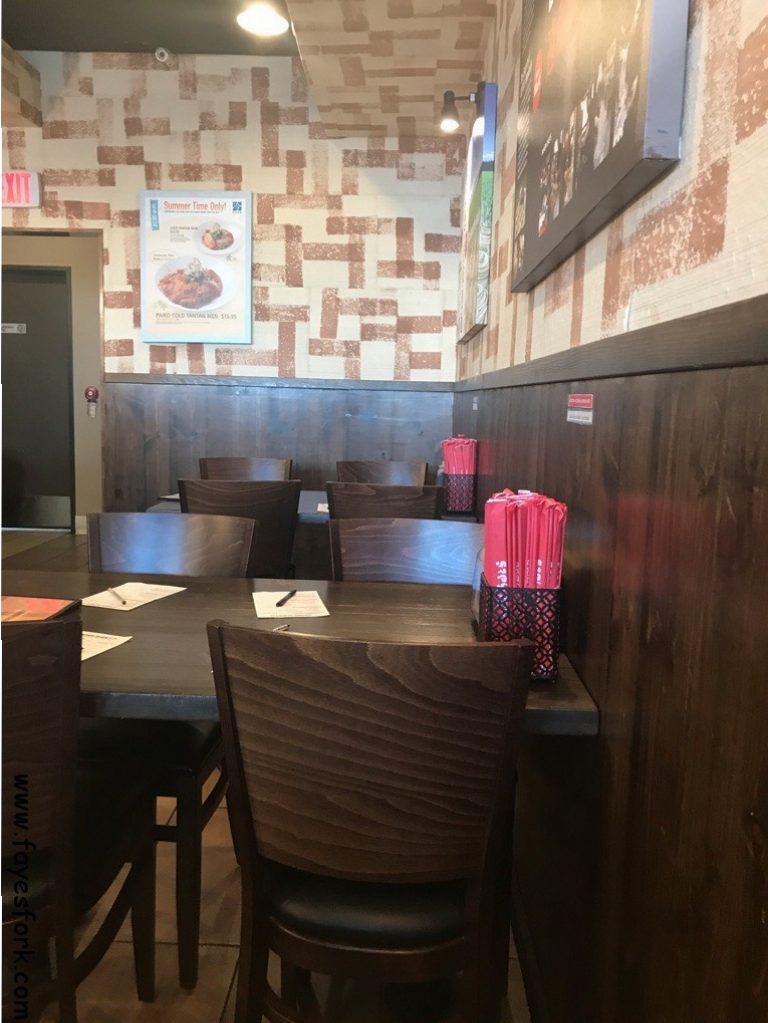 There is a smell of cigar inside Menya Ultra. Their neighbor is a cigar shop so there ya go. It didn't bother us after we started eating.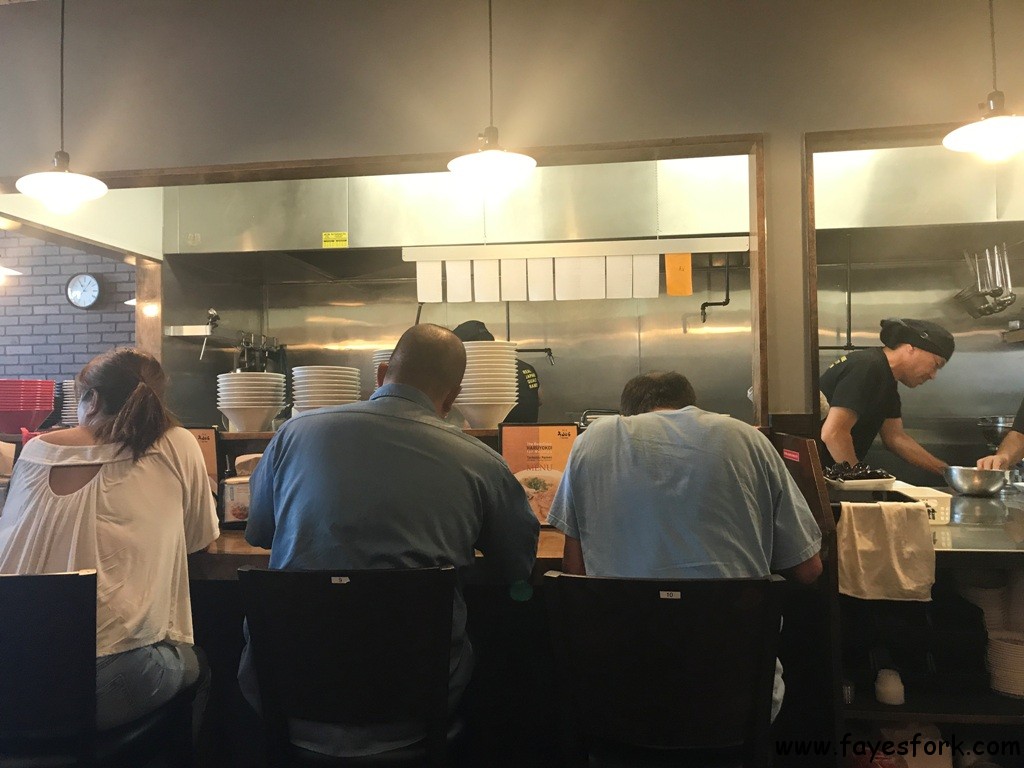 There's also a small bar seating area where you can see the kitchen. There's also bar seating where you only face the wall which sis found odd and depressing at the same time.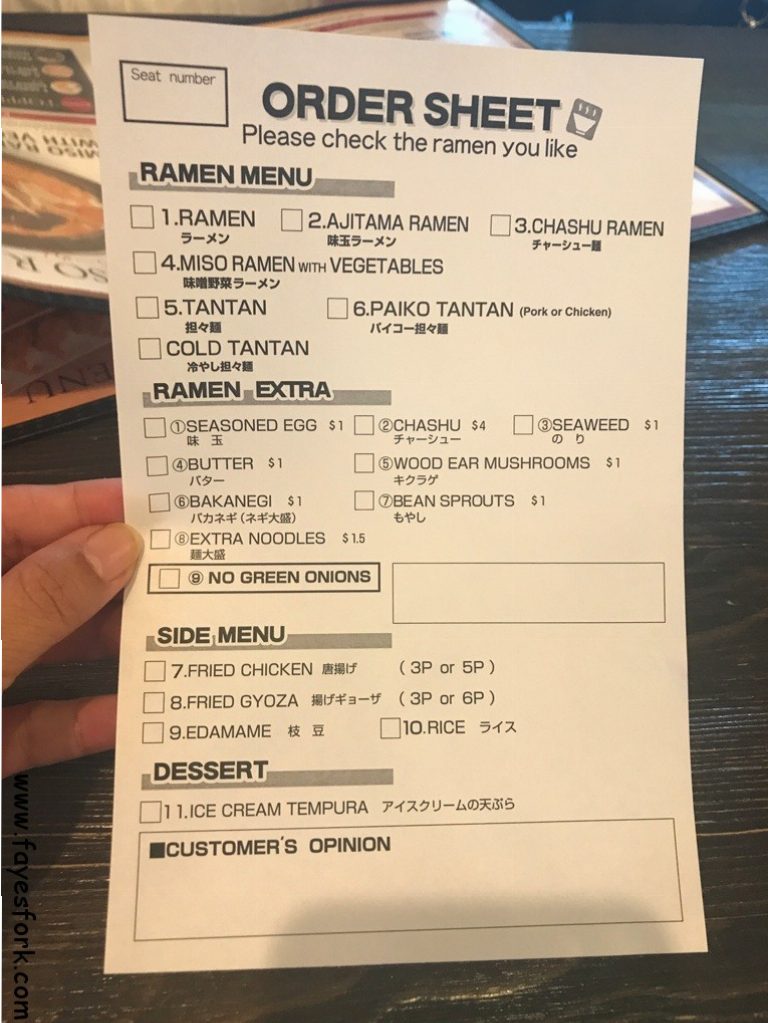 We grimaced when we saw a pat of butter costs $1.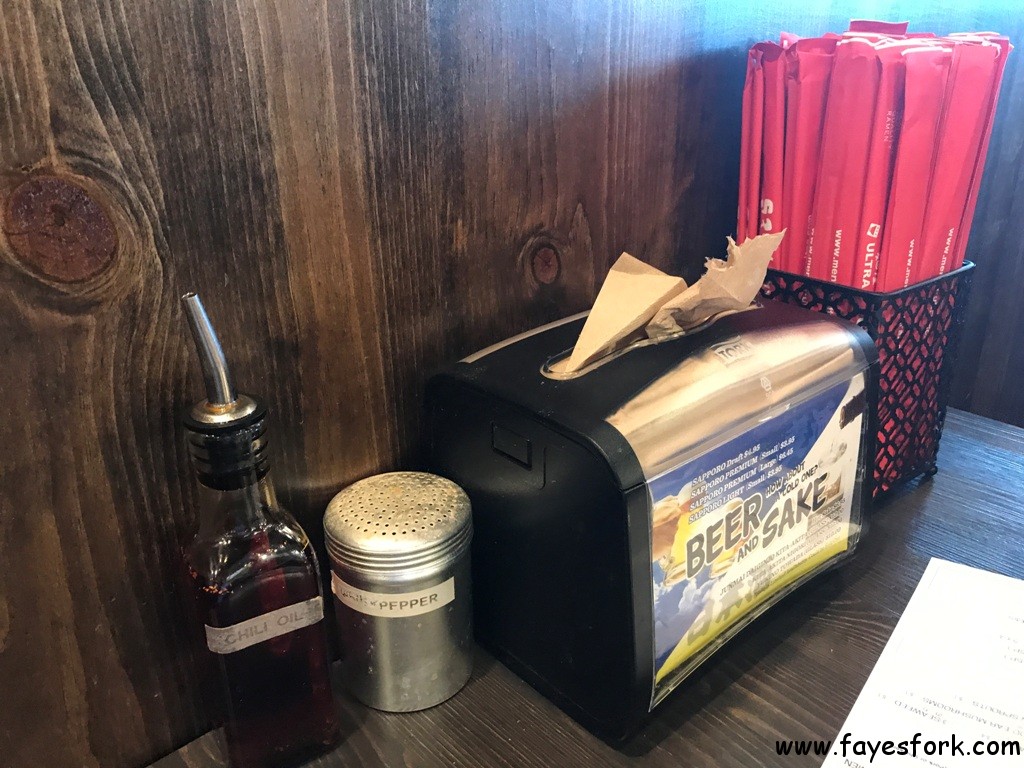 There's chili oil and a salt/pepper shaker on each table.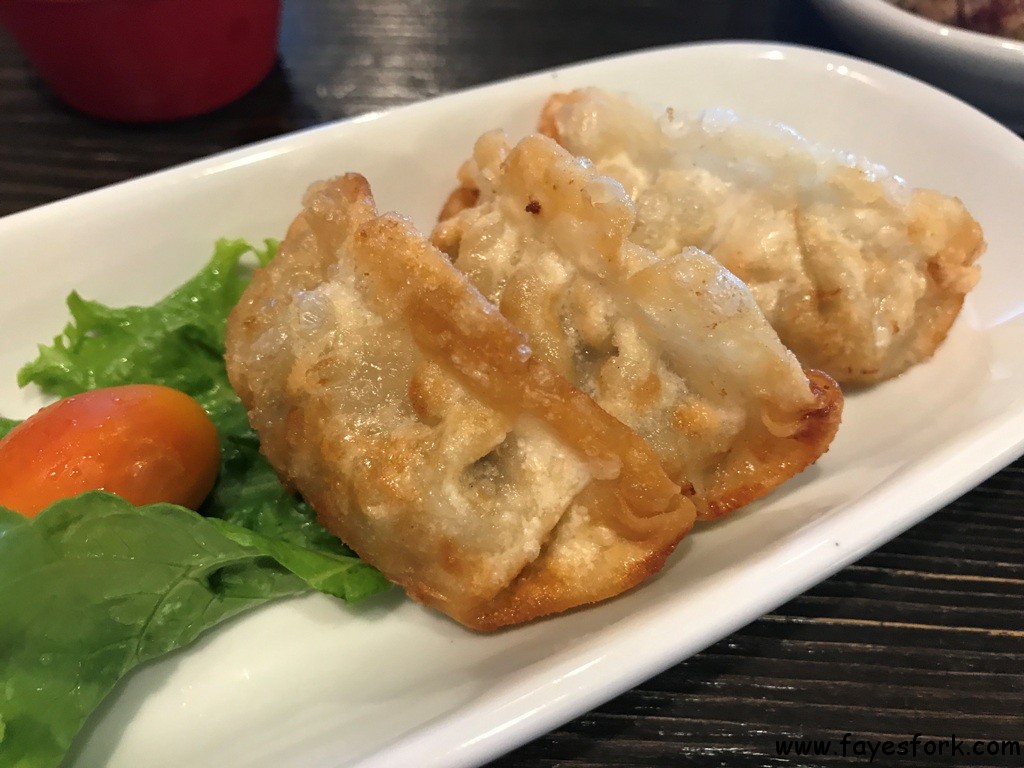 You can order 3 or 6 pieces of gyoza. Our three cost $2.45 which wasn't too  bad. The dumplings are deep fried.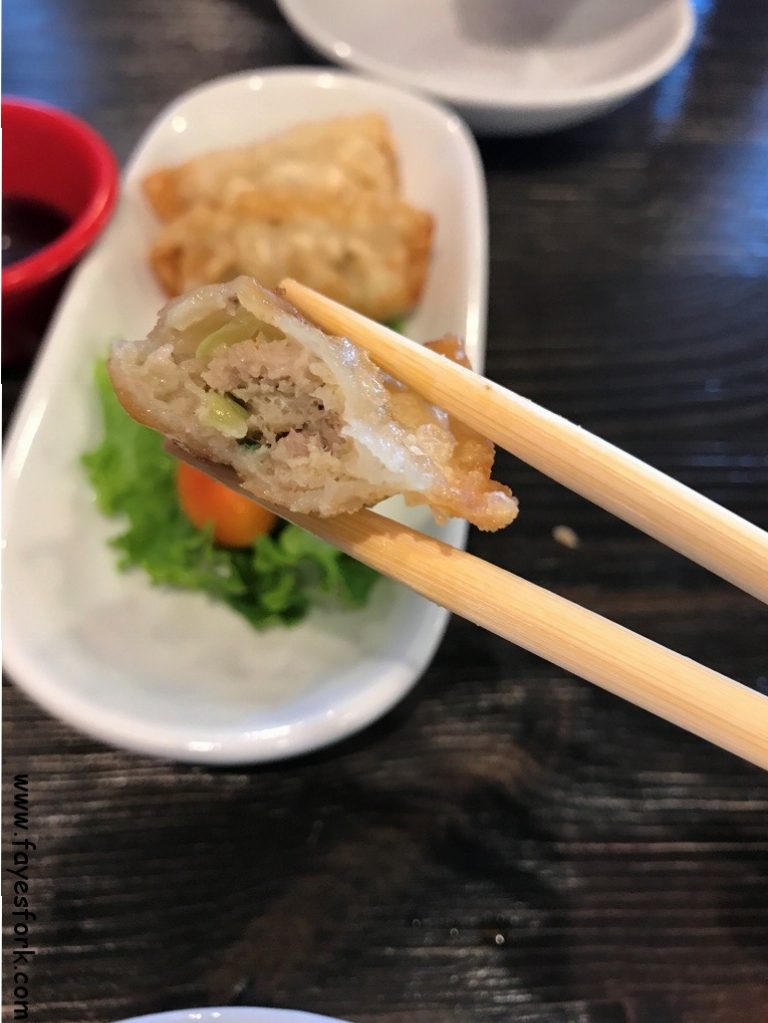 The simple filling consists of pork and cabbage. The dumplings were fried nicely but there wasn't very much filling. Not sure if these are house made as they tasted average to us.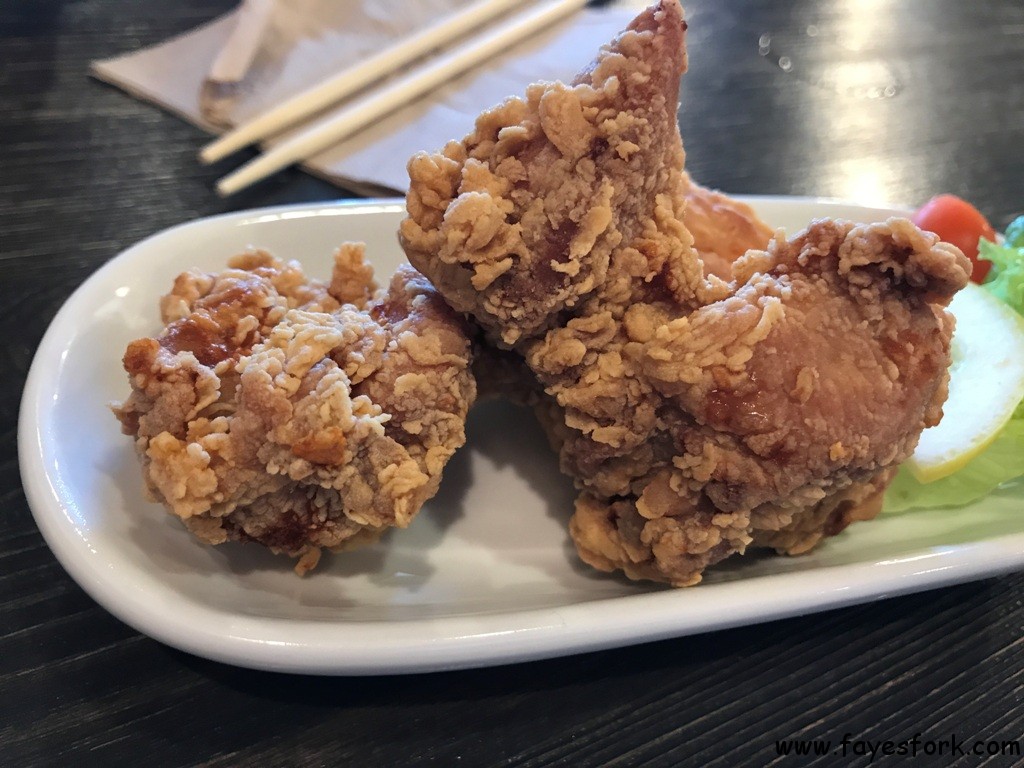 We ordered the three pieces of fried chicken. I'm just realizing now that it was only $2.95 for the three decent size thigh meat chicken pieces.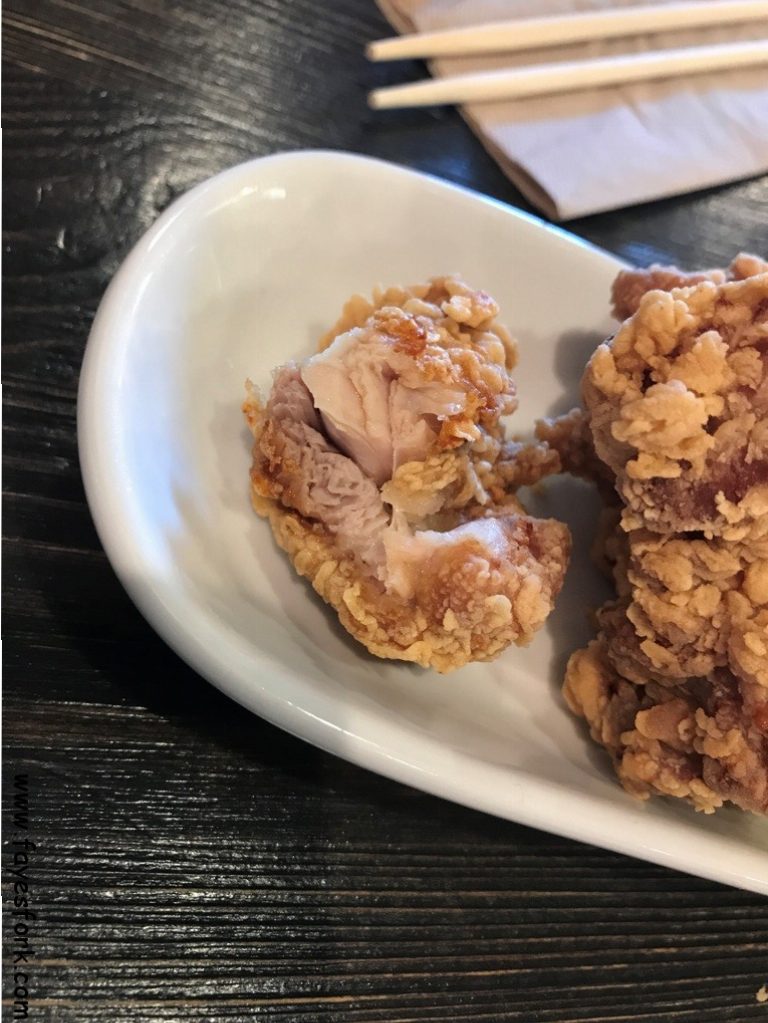 Sis liked the crunchy batter. We both thought the dark meat tasted tender. They didn't offer any kewpie mayo or sauce to accompany the fried chicken.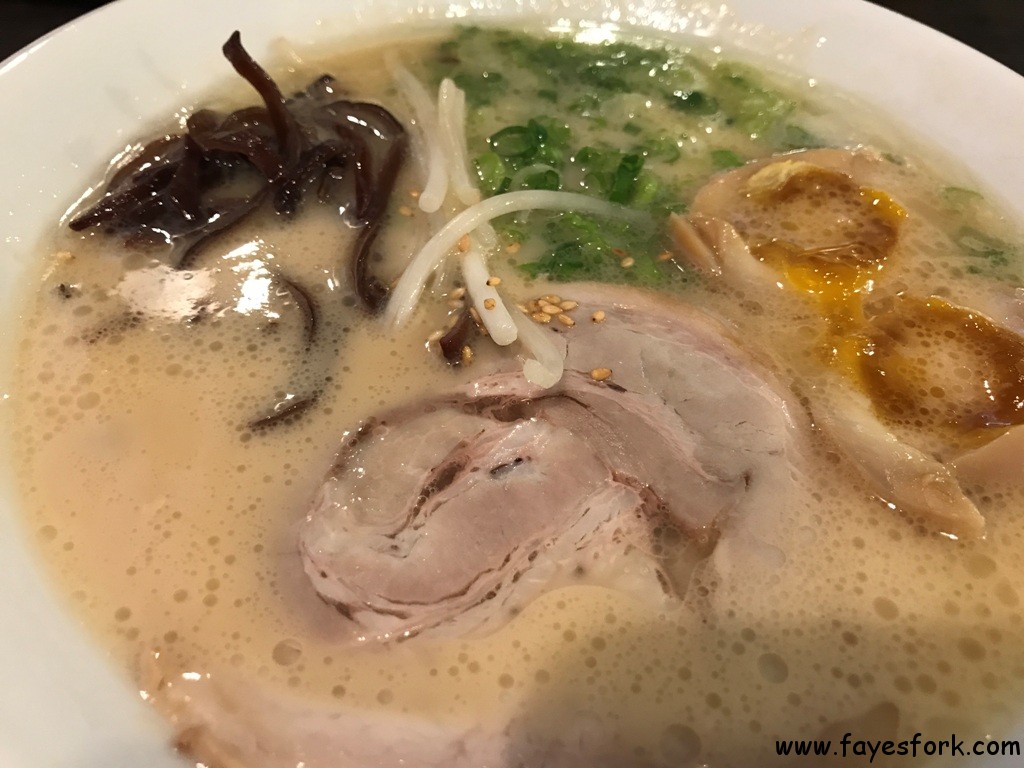 The Ajitama ramen comes with a soft boiled egg and I think two slices of chashu. There are also scallions, bean sprouts, and woodear mushrooms.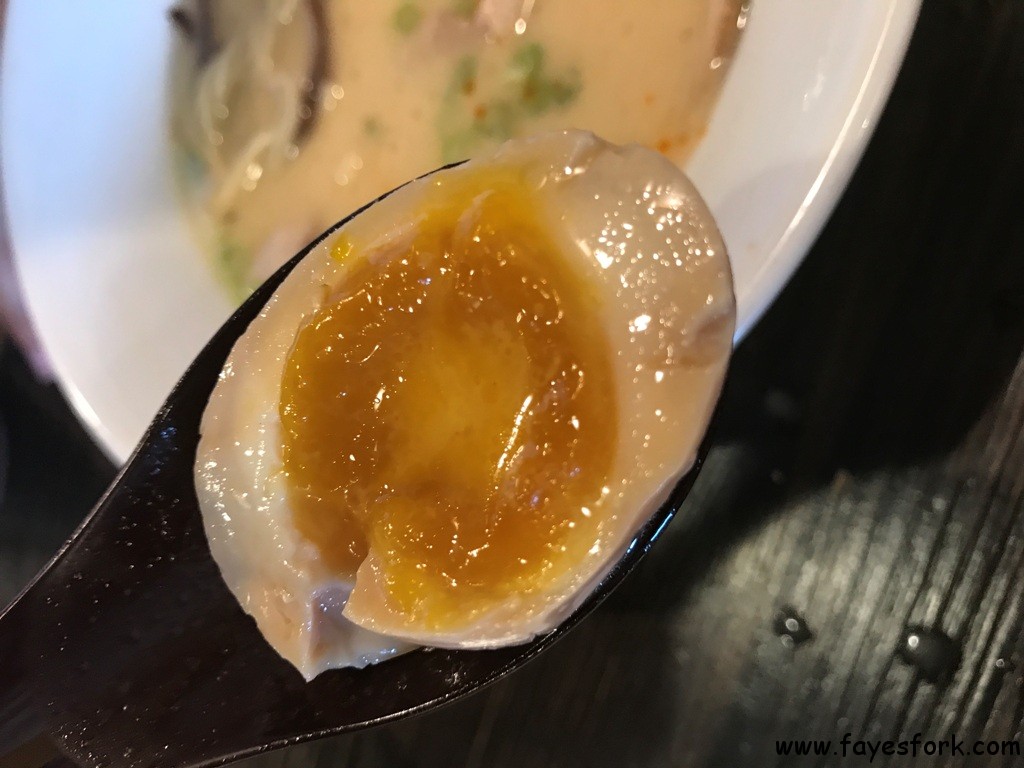 The egg tasted very much like a Taiwanese soy stewed egg to us.The yolk was nicely soft and creamy.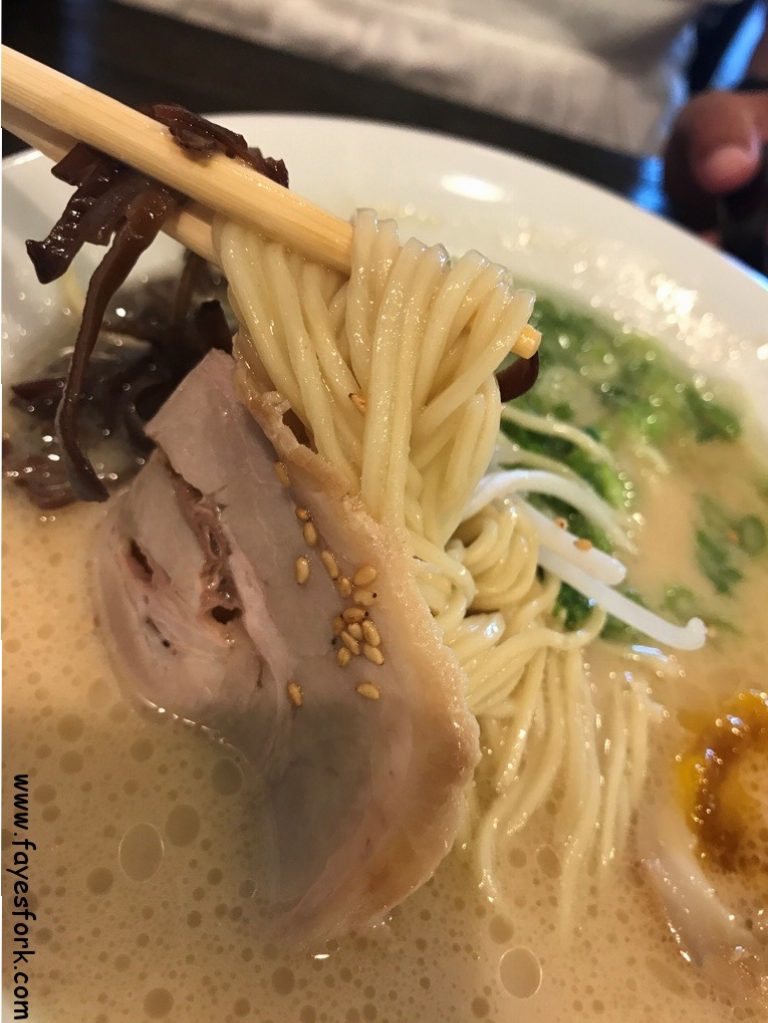 We had read so much about the noodles here at Menya Ultra. They give you A LOT of it in the ramen. The noodles were cooked fine with a nice chew. The tonkotsu ramen broth is what we weren't impressed with. It tasted lighter than what we were hoping for. We were expecting a creamier and fattier broth. Sis actually brought up Ramen Yamadaya which I thought she had forgotten about. Many years ago she exclaimed the tonkotsu broth at Yamadaya tasted like butter (which we actually missed while at Menya Ultra that day).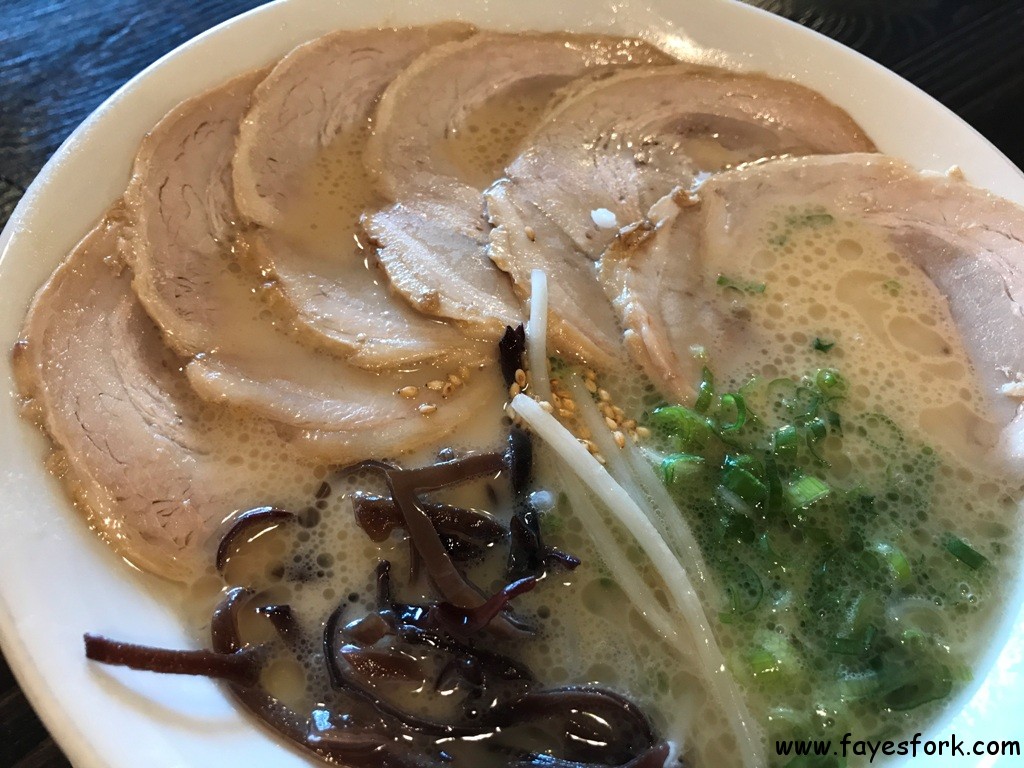 This was the pricier ramen at $12.95. They give you six slices of chashu pork which is wonderfully tender and fatty. The components are the same as the Ajitama minus the soft boiled egg.
I focus more on the broth than I do with noodles so I usually take mine out so that I can enjoy the broth more fully. My tonkotsu broth didn't taste hot. It was a step above lukewarm.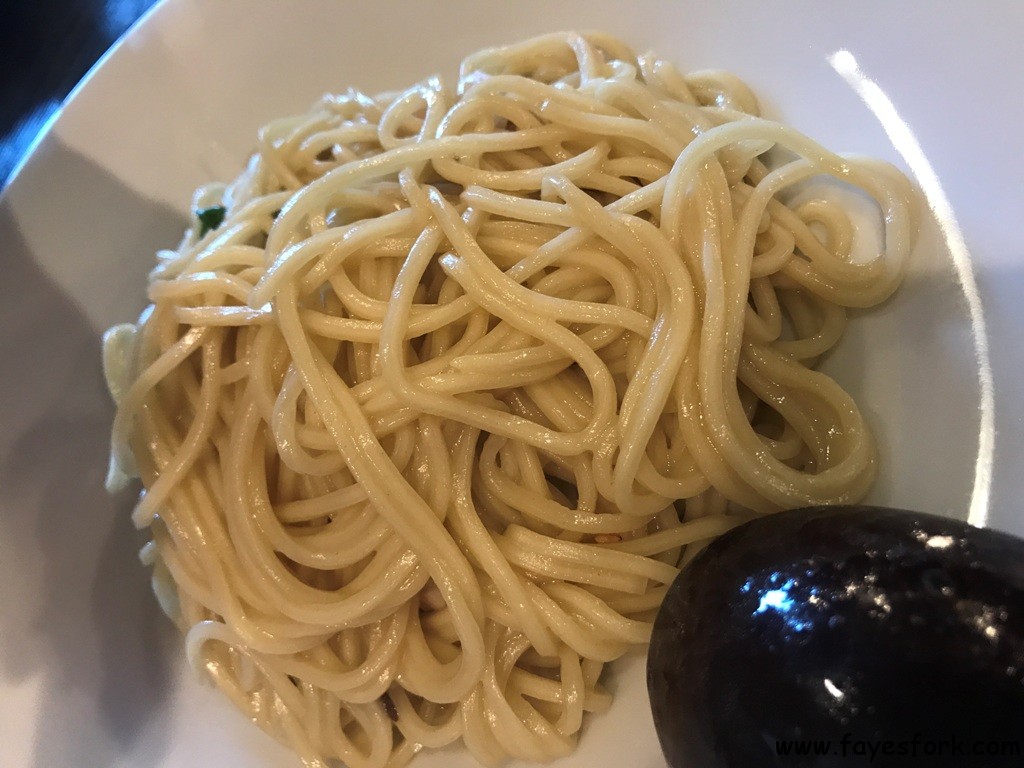 Again, there's quite a bit of ramen noodles in each order so some people will love that. My noodles were cooked as nicely as sis'.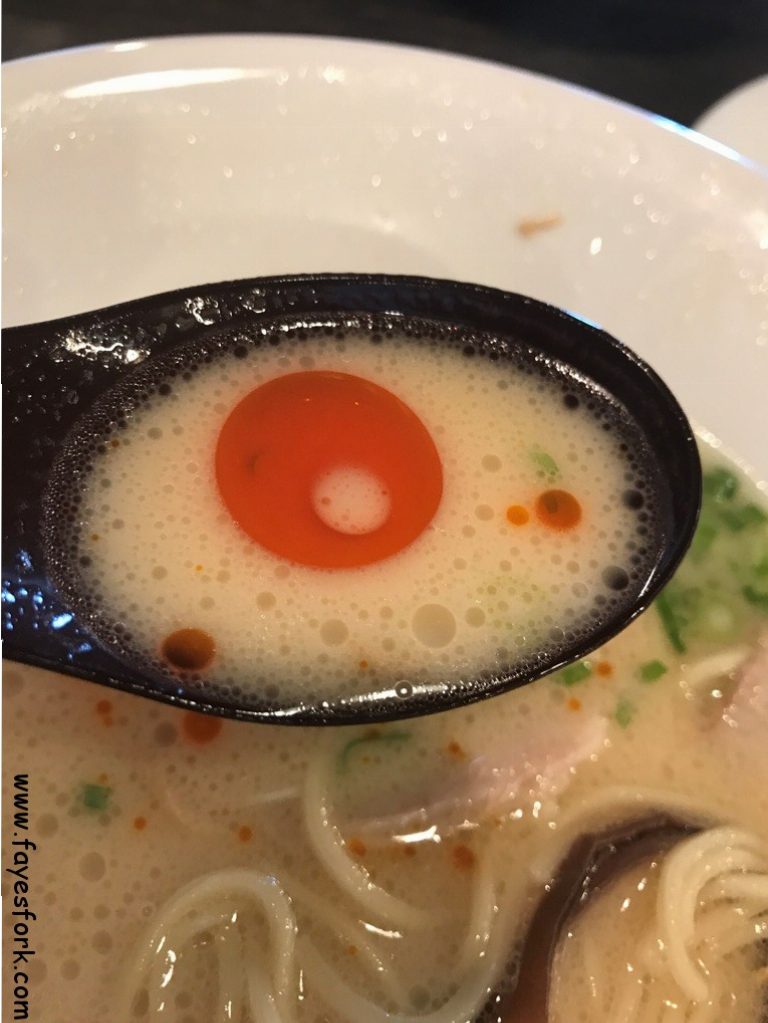 There's chili oil on each table. We would add a bit to a spoonful of the broth to test it out. There was a slight heat kick but not enough where it warranted adding the oil to the entire bowl.
Service was quick and efficient. Our food came out at a nice pace. Appetizers were served first and then our ramens came out about ten minutes after that. So it's nice to see them pace the food appropriately. There wasn't too bad of a wait when we finished our meal and went outside. Overall, we were glad to have finally tried out Menya Ultra in Convoy. But we weren't impressed with our ramens that day. Sis and I both agree that we wouldn't wait in line for Menya Ultra.
MENYA ULTRA
8199 Clairemont Mesa Blvd
Ste M
San Diego, CA 92111
(858) 571-2010