I thought I'd written off Red O in La Jolla after my last experience here. So I wasn't going to rsvp for a Yelp event that was being hosted with Red O. Then it hit me that, gosh, a lot has changed and transpired in my life since my last visit here. Forget that the experience at the restaurant wasn't great. But, instead, what has changed, in my life or in yours, in the last five months or so. Food for thought I suppose. The Sunday brunch visit to Red O recently had me smiling and counting my blessings yet again.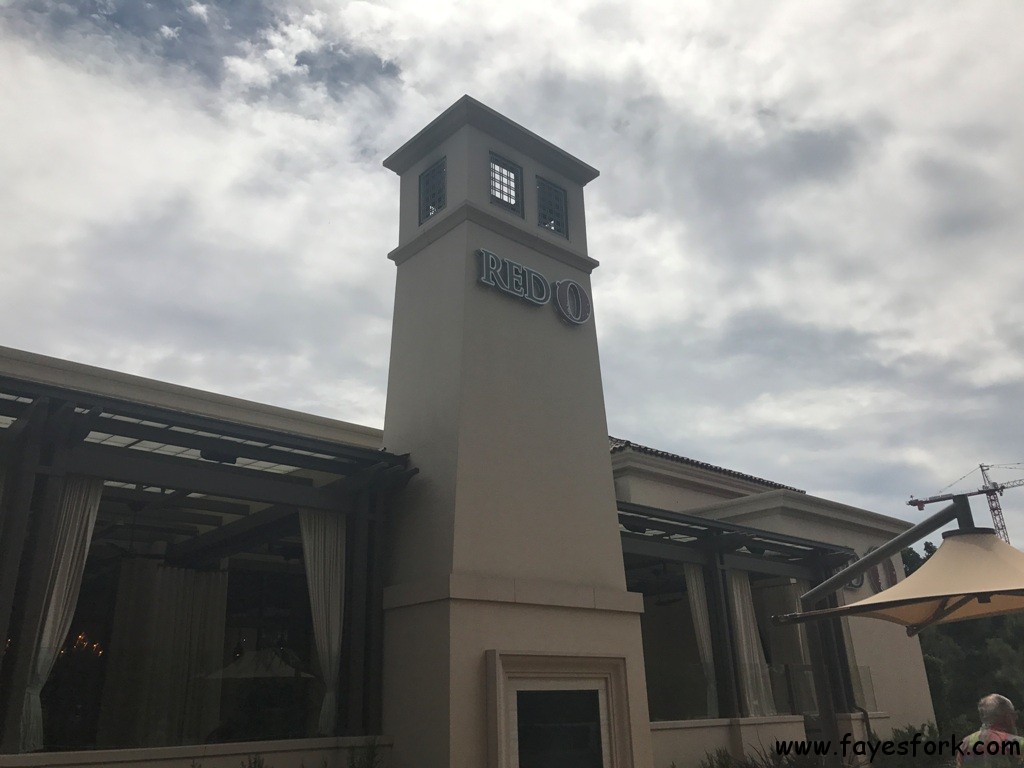 Red O took over the old Donovan's. It's located across from UTC and on the same side as Specialty's Cafe.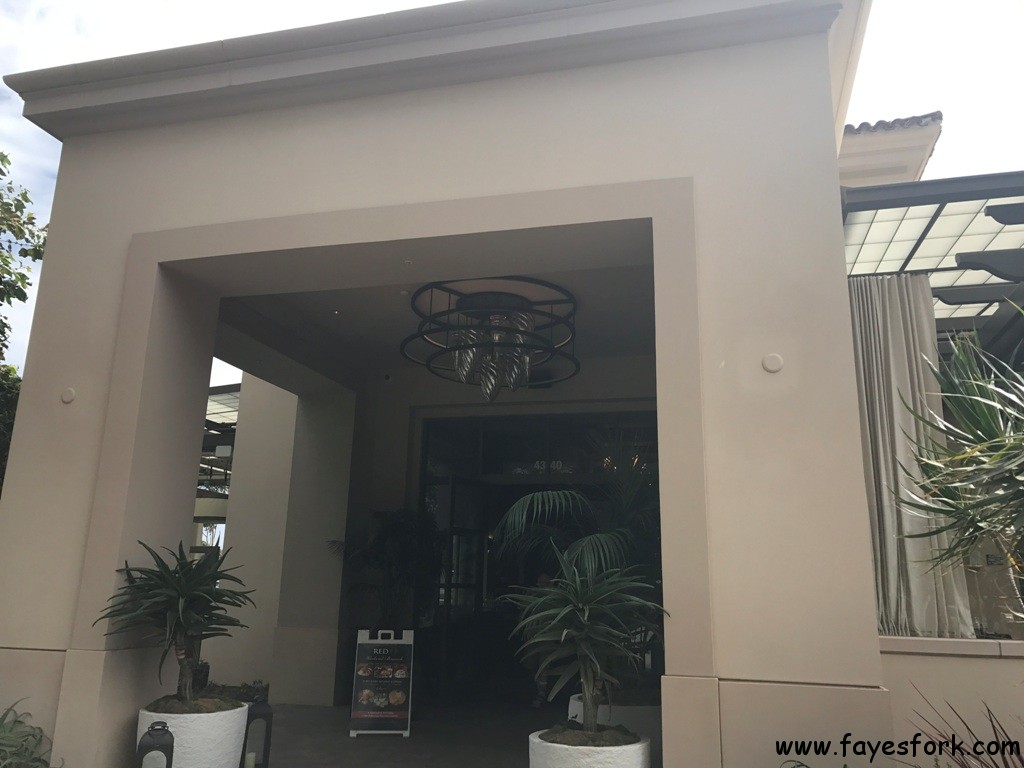 There's one entrance to Red O which is just past the cul de sac by the valet guys.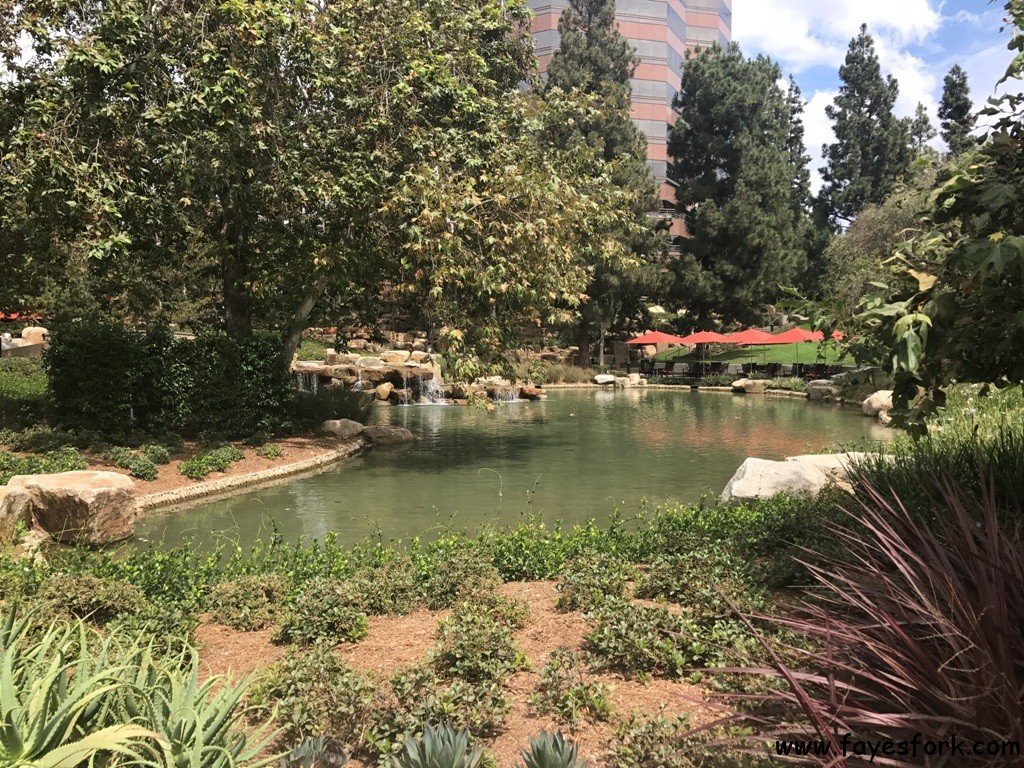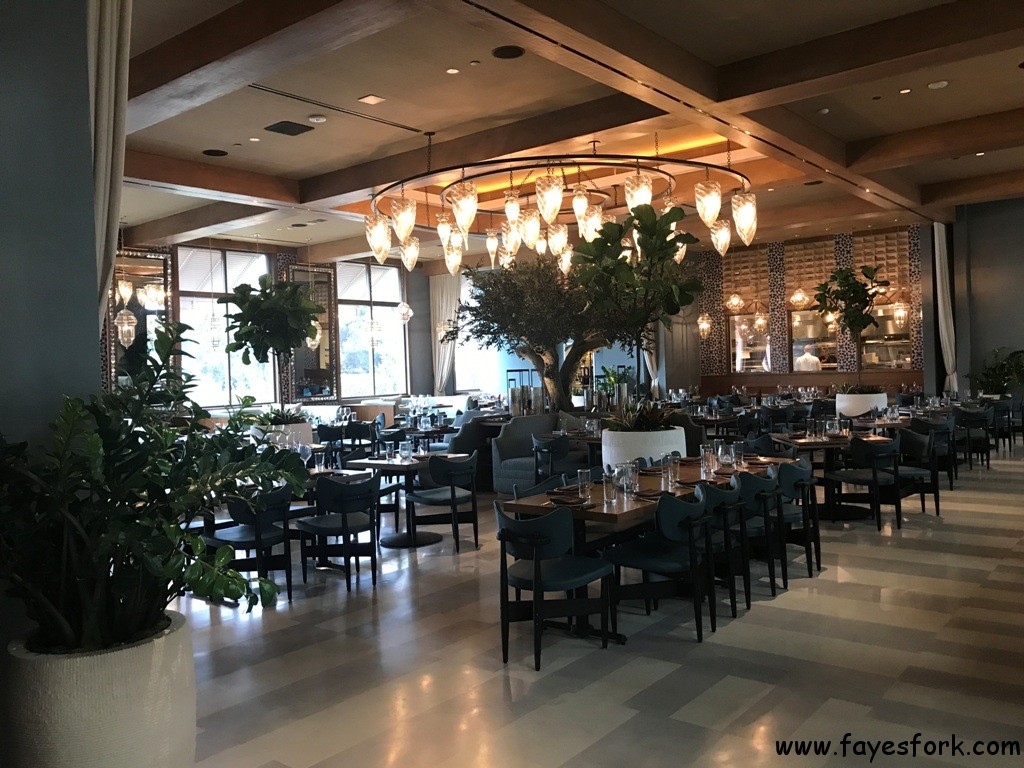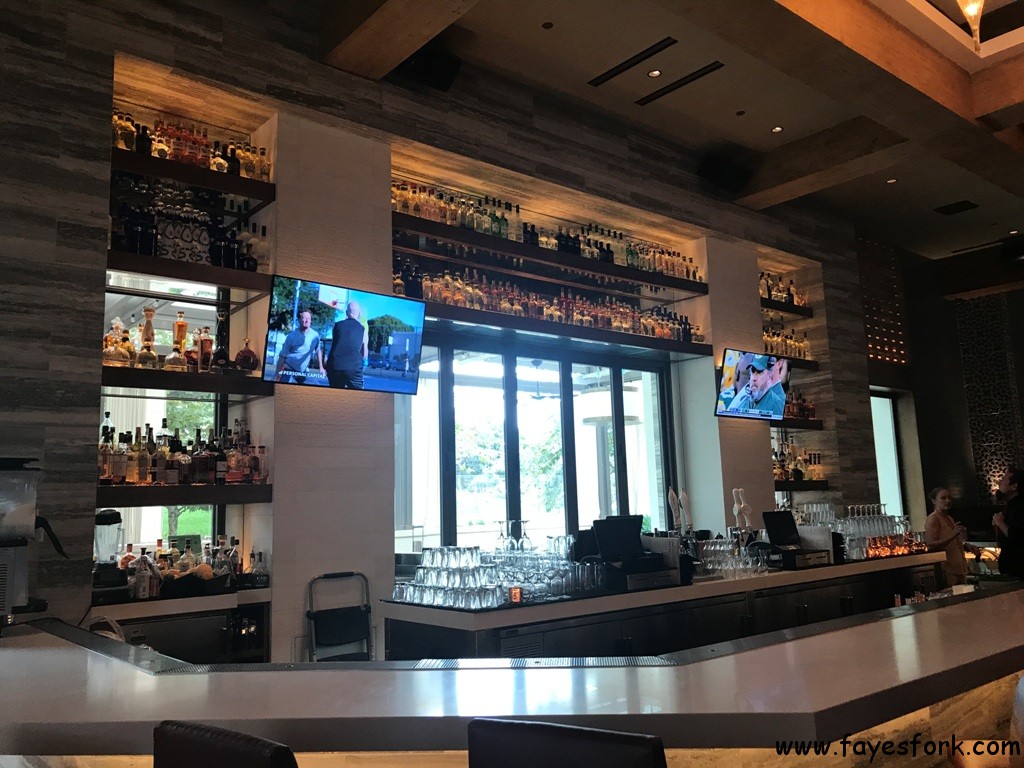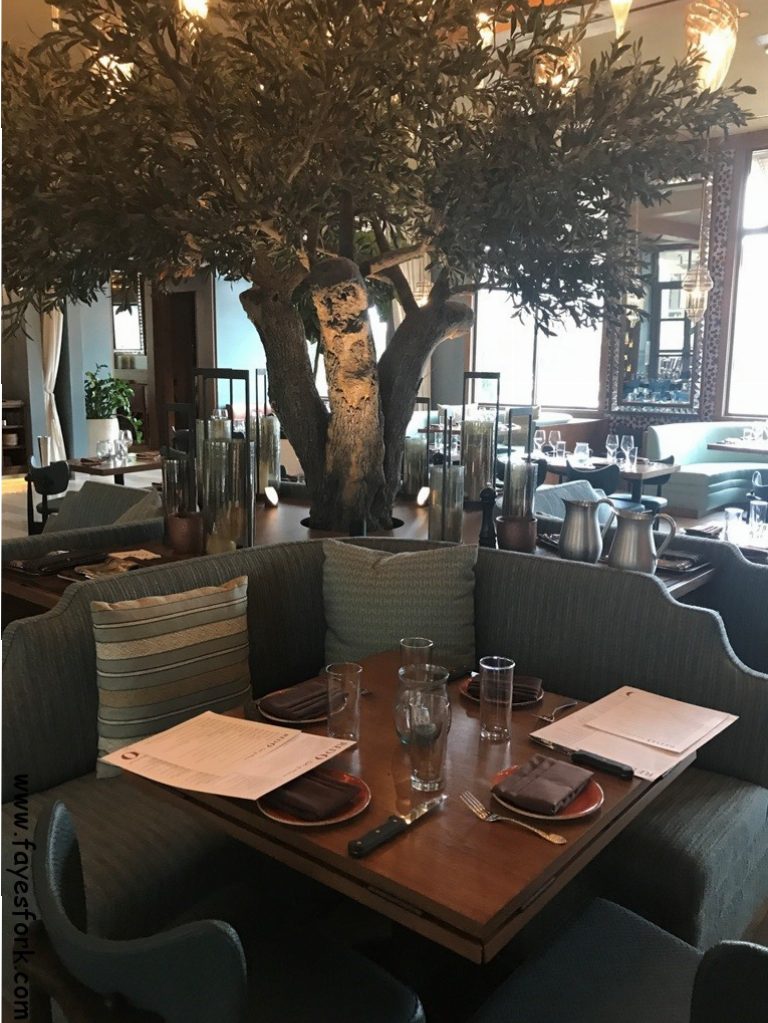 I always joke that I get into the most romantic events with my most non romantic friends. This table was beautiful. The plush booth wasn't as comfortable though – the panel underneath, to make the table into a 6 person table, was quite low so it hit our knees every time you crossed your leg. Regardless, it was a MUCH better table than the table, by the kitchen, we had for Cdj's birthday dinner.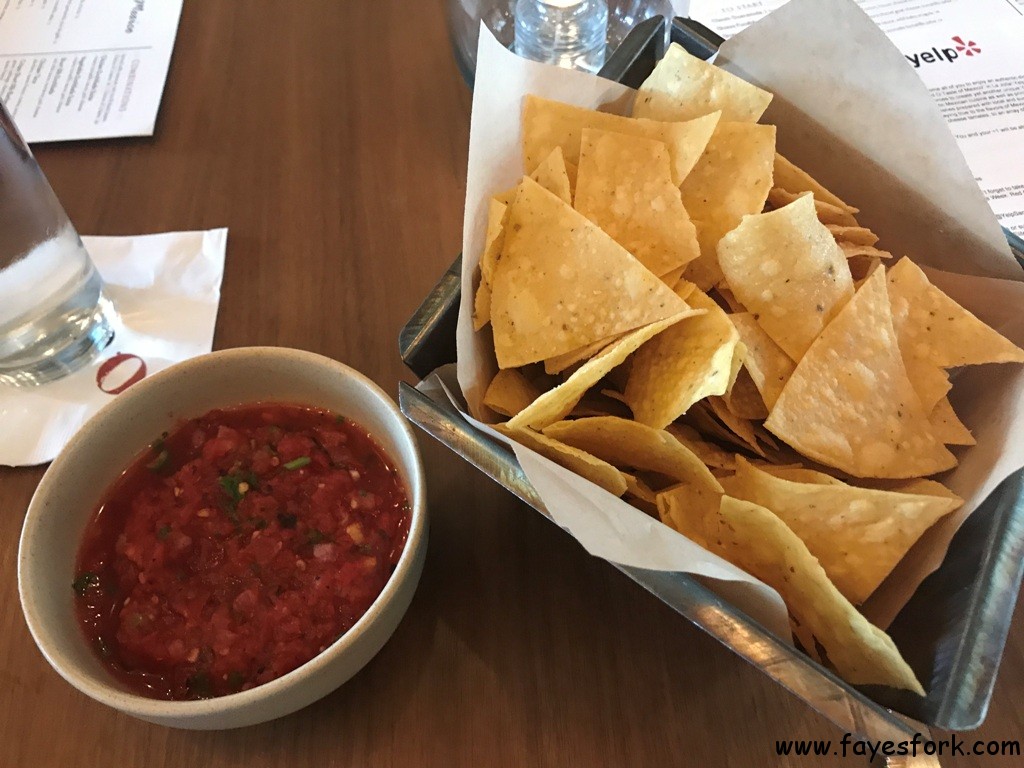 The chips tasted even better this time around. They were salted just right and wonderfully warm.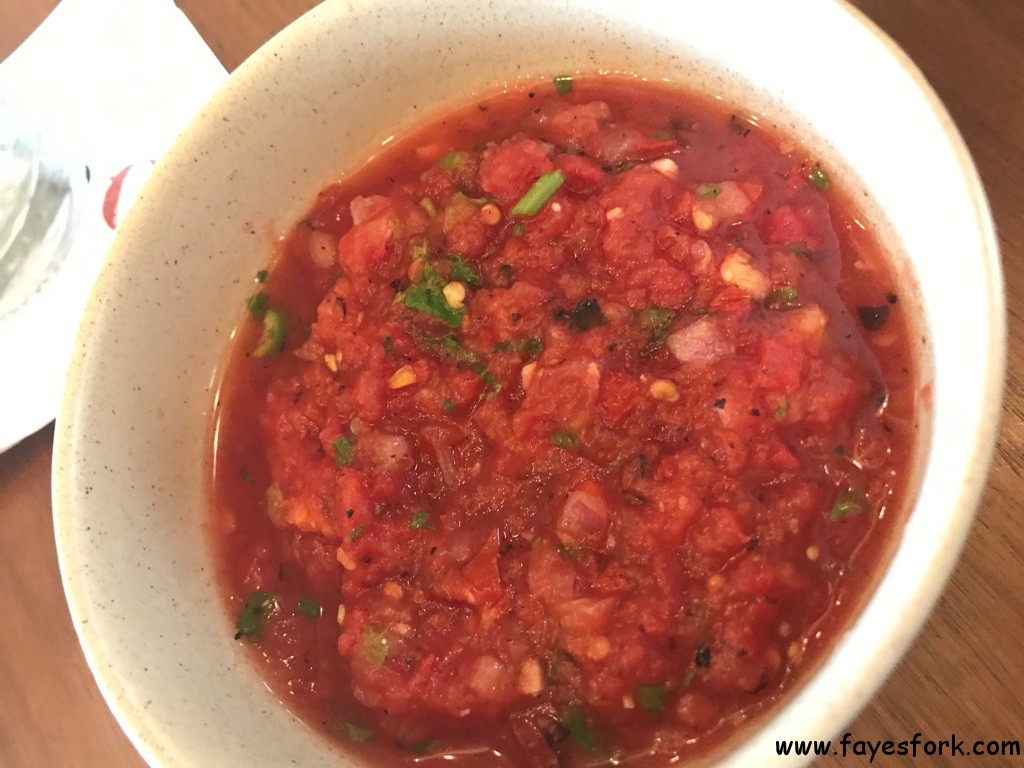 The tomato salsa tasted fresh and bright with onions, jalapenos, and cilantro.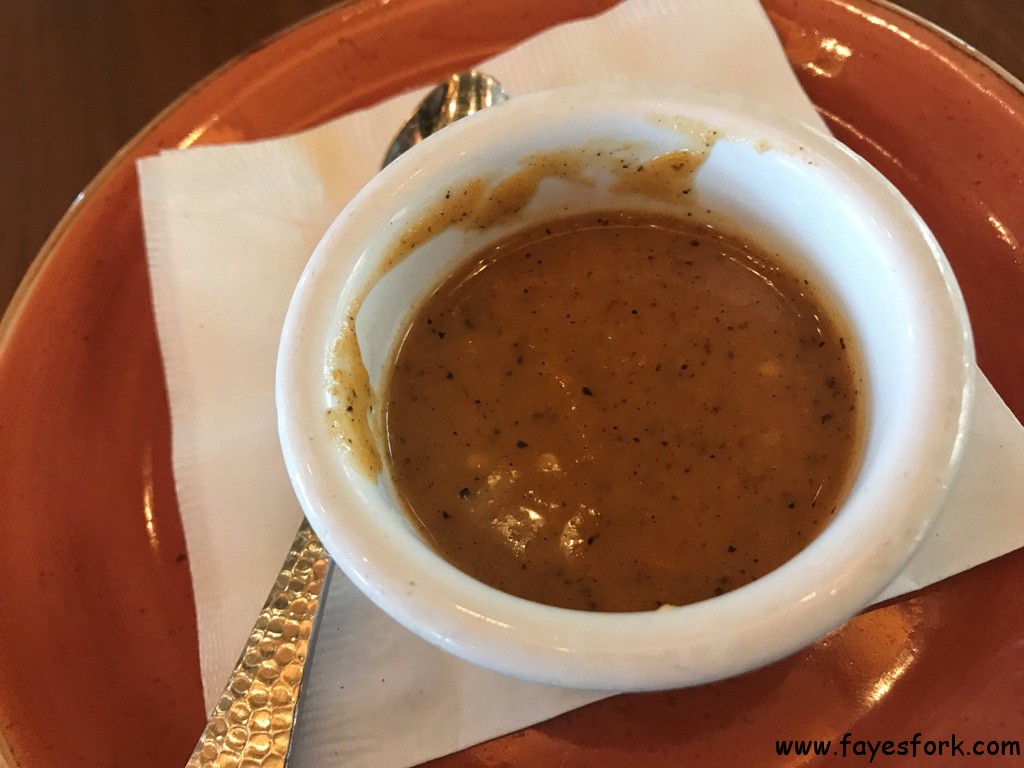 Cdj loved this habanero salsa. Yes it had a kick but I didn't like the smokiness of it.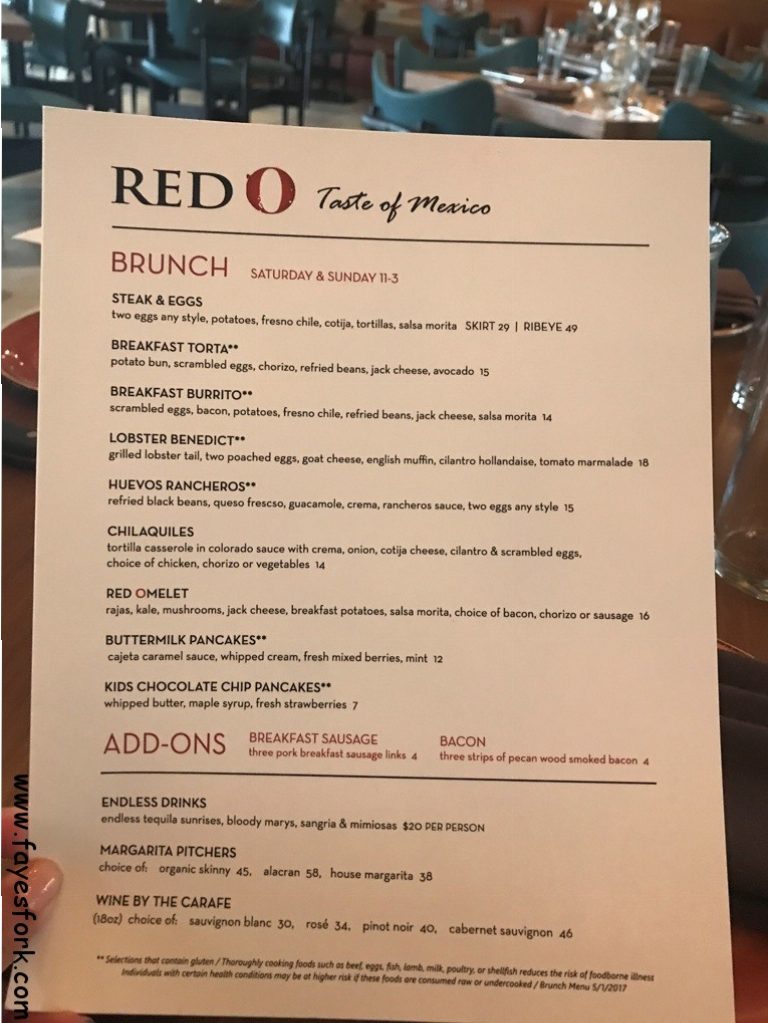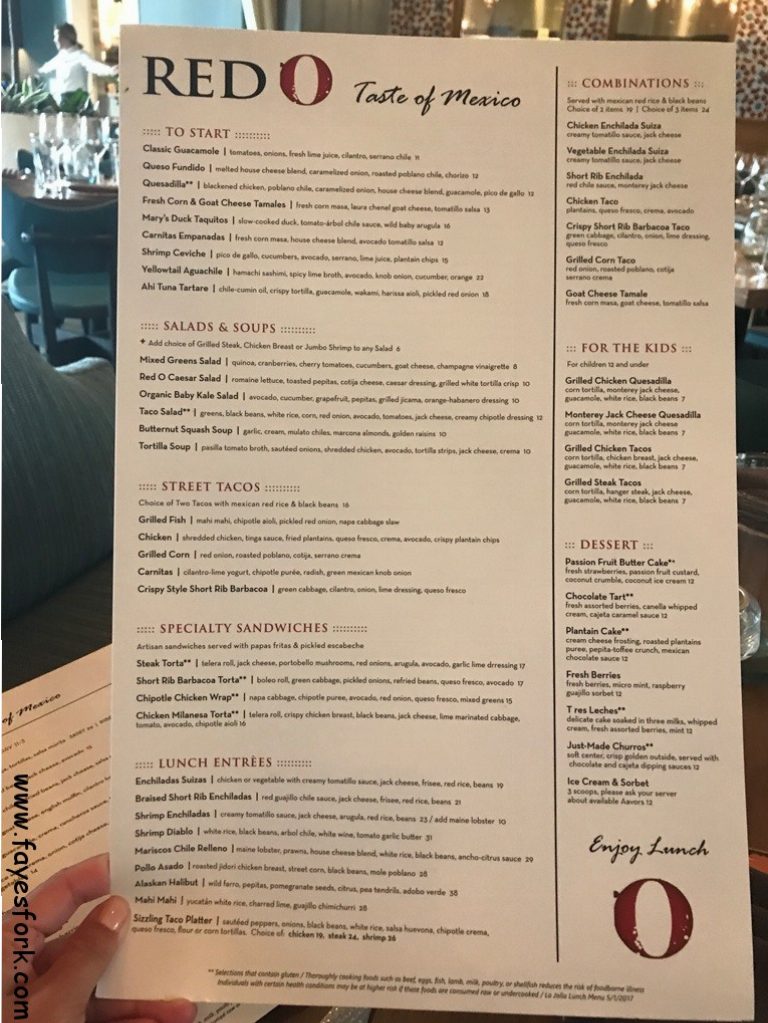 They offered both the brunch and lunch menu that Sunday at 11am.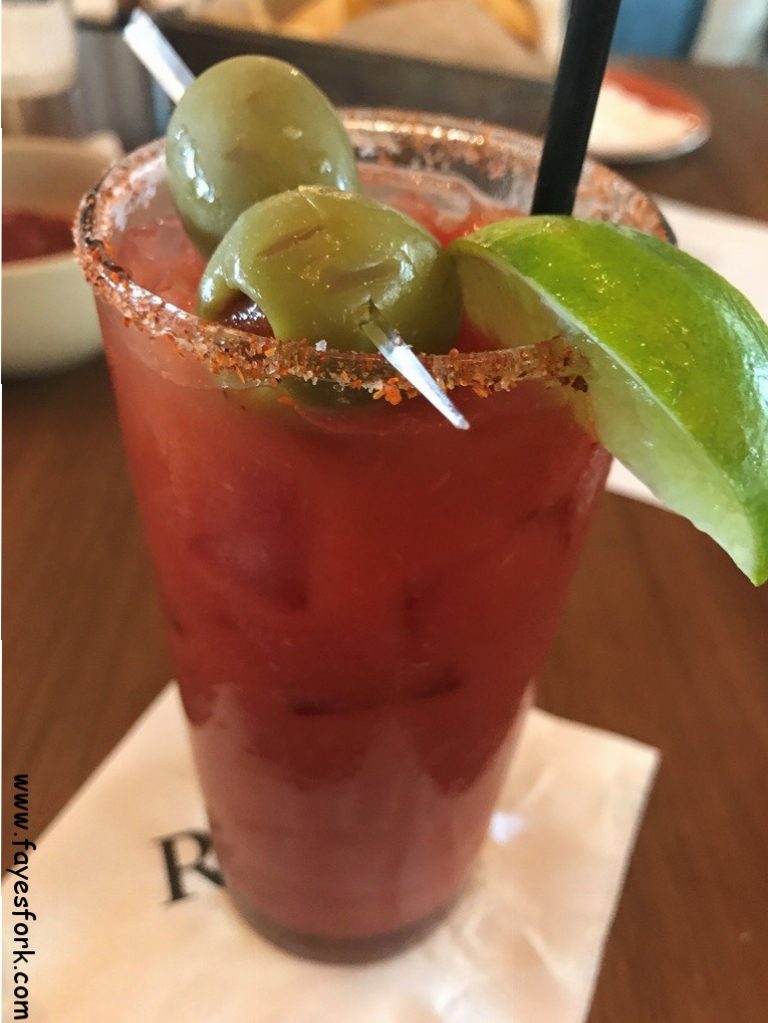 I believe they have a bottomless bloody mary offered during brunch here at Red O for $20 (that wasn't an option that day). I can't remember if they use a house bloody mix. The bloody mary was refreshing with lots of ice and wasn't too strong. I enjoyed the spicy salt rim on the glass.
The coffee tasted strong but smoothed out after adding cream. It was endless refills.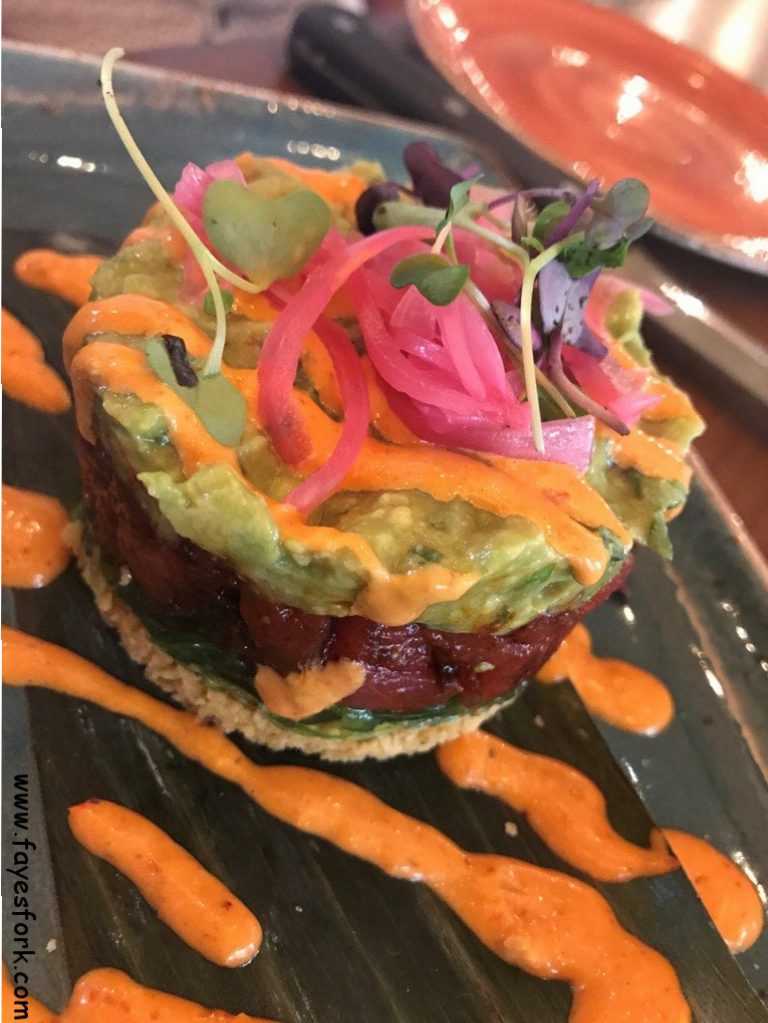 The presentation is still stunning. The ahi tuna tasted fresh. The bottom base is crushed tortilla chips so you get a crunch with each bit of tartare. Something tasted smoked in this dish – perhaps the harissa aioli.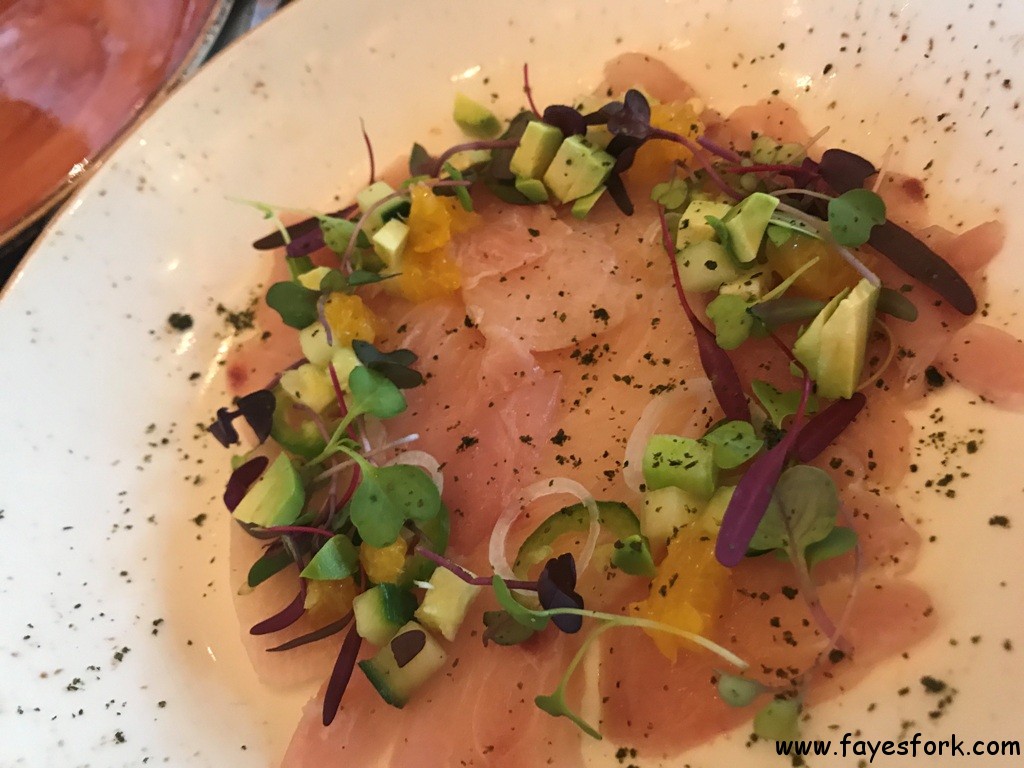 The hamachi sashimi was sliced thin.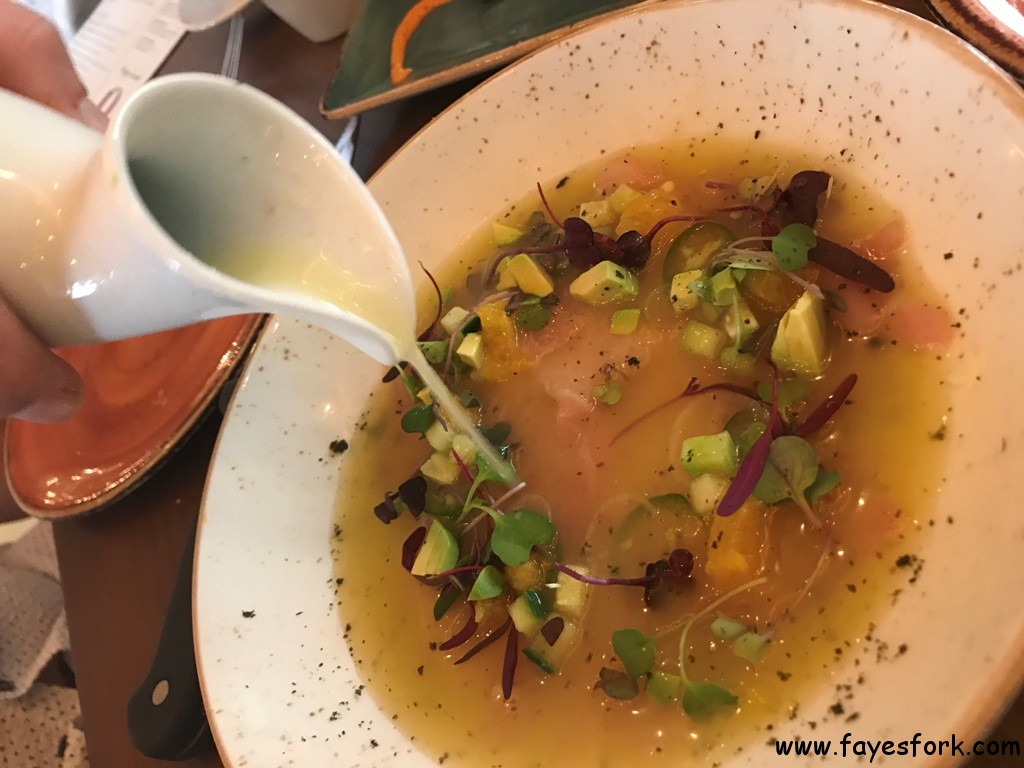 John, the assistant server, poured the cold spicy lime broth over the hamachi.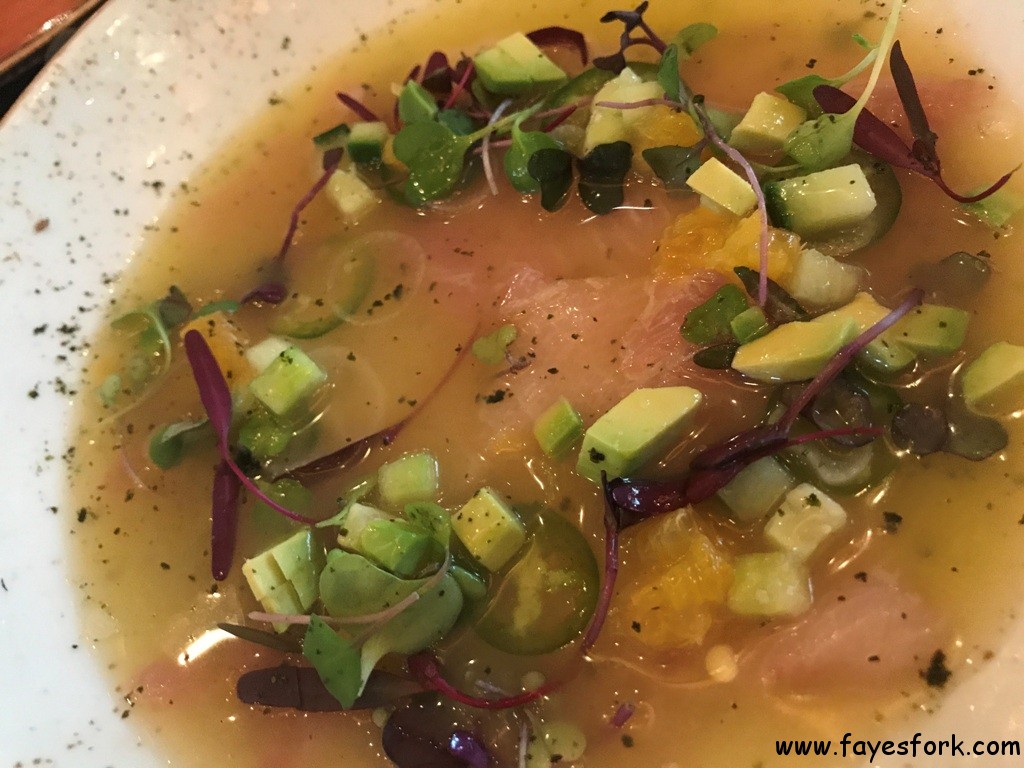 You can let the broth cure the hamachi if you like but I like mine raw so I ate mine quickly. The hamachi tasted quite fresh. Some pieces looked more like fatty belly pieces which I loved. The cold broth was tart and it did taste spicy especially with the raw slivers of jalapenos.
This was the priciest red wine they had on their wine menu. I had eyed this cabernet in the past and joked with friends how a recent date told me he made a girl go dutch at the end of a date because she ordered a $41 glass of red wine. This was a nice glass of red that was easy to drink and enjoy during the meal.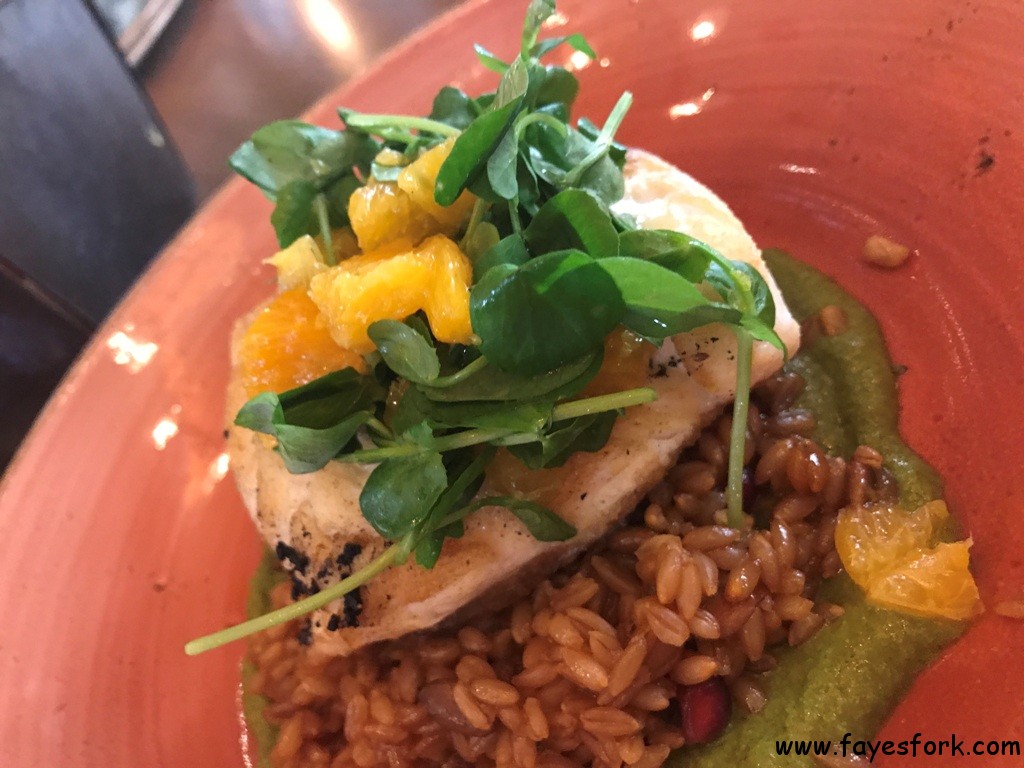 I ordered the halibut as I was curious about the fresh seafood entree here at Red O.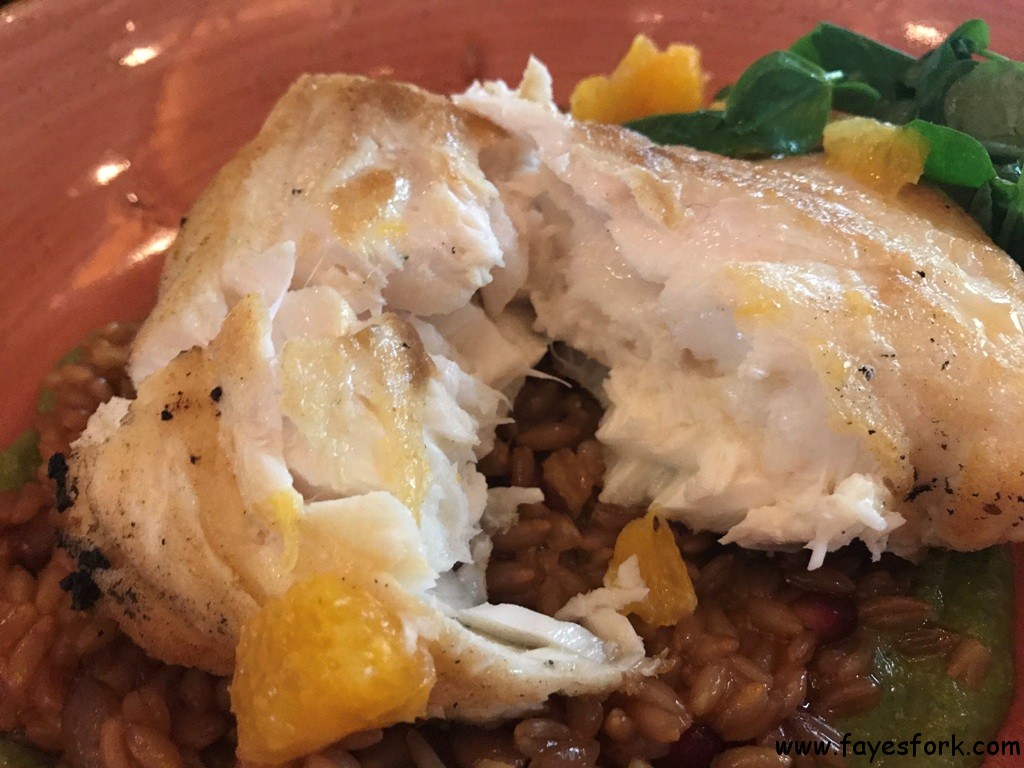 The halibut was pan seared on both sides. The interior tasted alright but the exterior tasted dry and unseasoned. It wasn't a very succulent piece of fish. Cdj liked the wild farro underneath.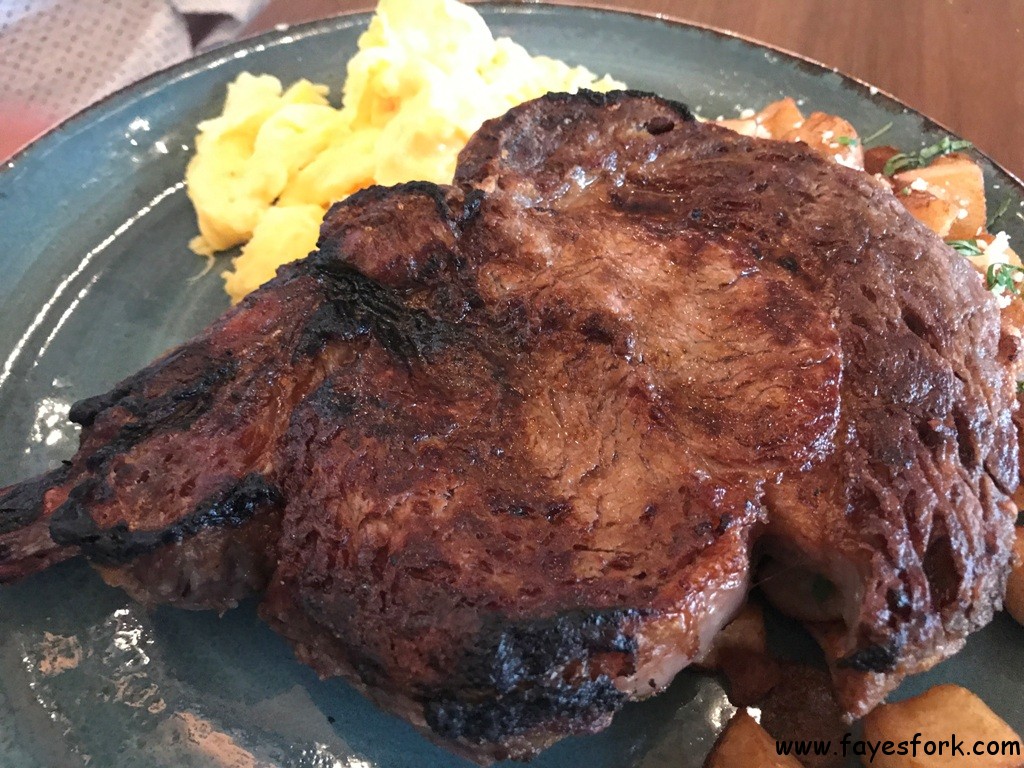 $49 for steak and eggs isn't usually within my budget so I was grateful this breakfast item was an option for this brunch event. The ribeye was large. I requested the eggs to be scrambled. We knew something was off when we cut into the steak.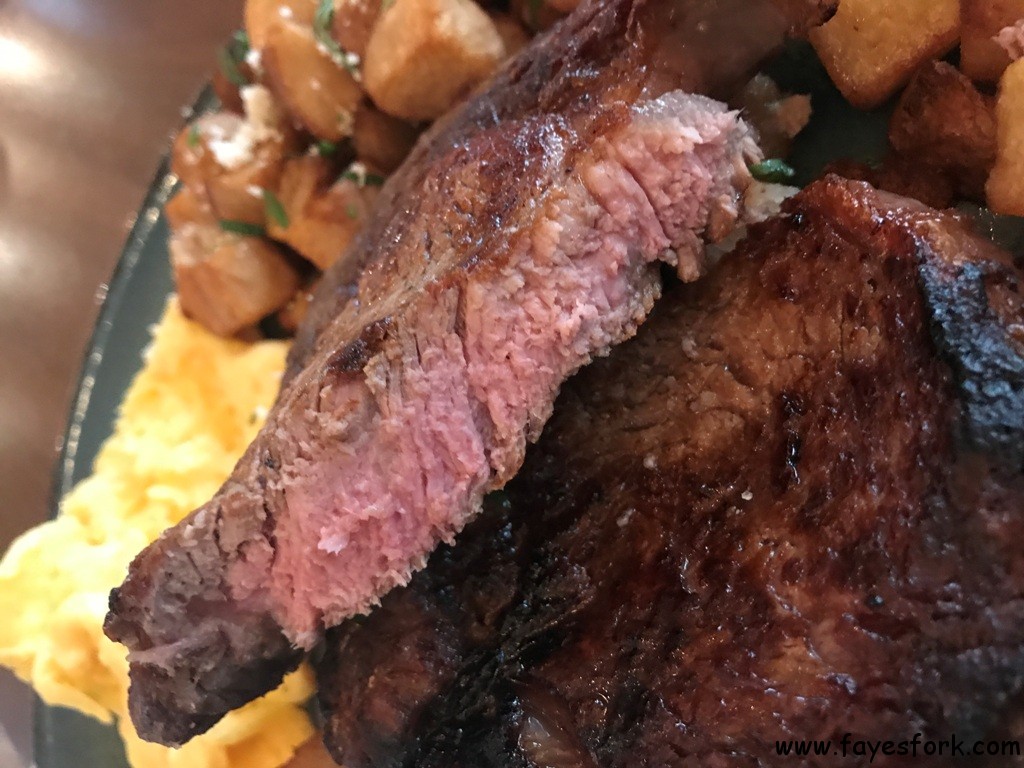 It was prepared more medium well-plus. We had requested medium rare. Deborah was so quick to catch this as we didn't even say anything. She happened to be walking by, took one look at it, and said no, let me bring you another. She even left the above plate on our table so we could have something to eat while they prepared another steak.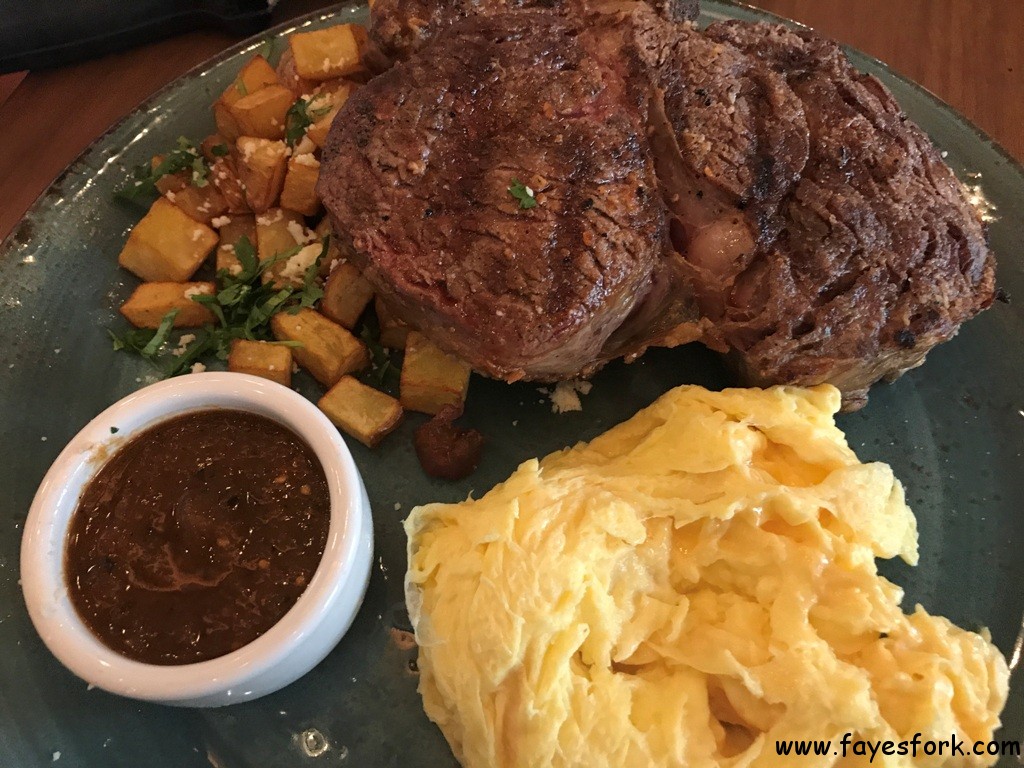 They brought out an entirely new plate with eggs too. The eggs were actually better this time around. We could immediately tell this steak was going to be rarer and more deliciously bloody.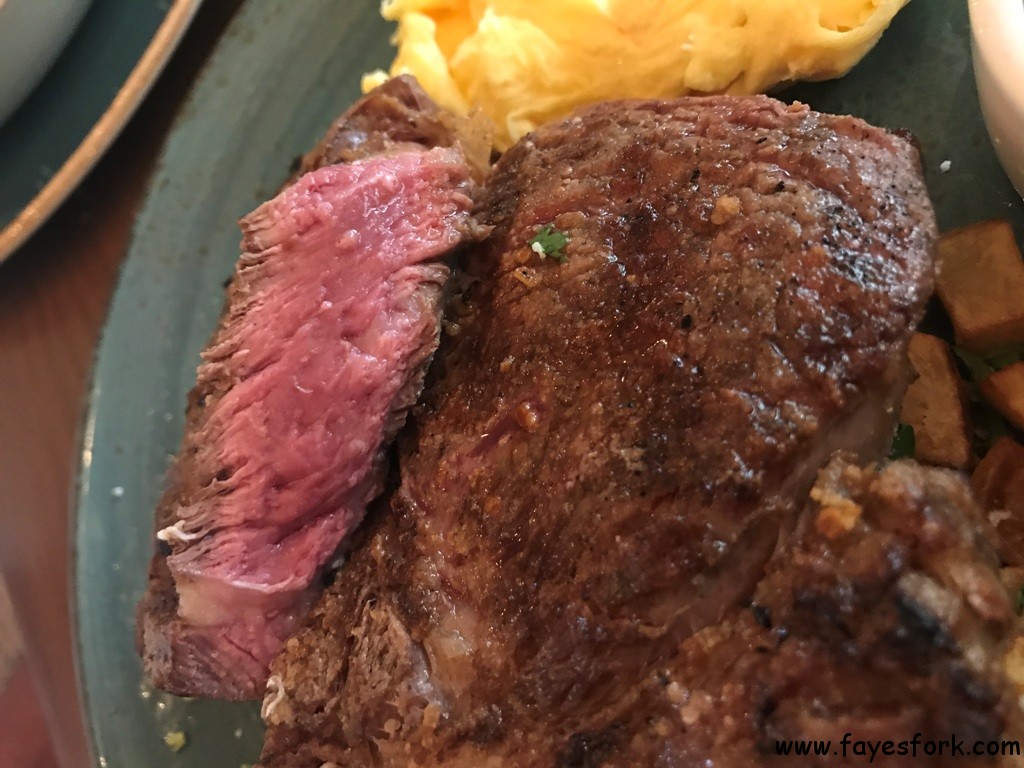 Nice. Real nice. The ribeye was grilled much better this time around and it needed very little help from the knife to cut. It was a fatty ribeye, which I like, but can see others not. They don't have A1 sauce here.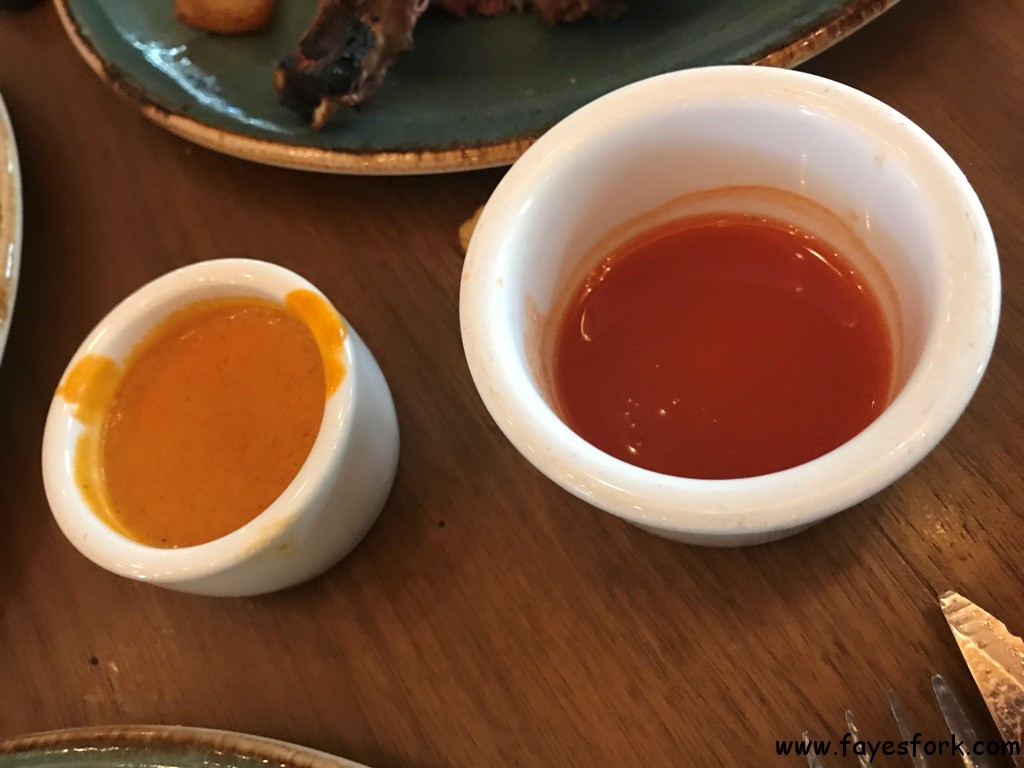 Instead, they can offer you the crema sauce (on the left). This is the same crema sauce they poured over our tomahawk steak during our last visit. The tabasco sauce is poured into a small ramekin. I felt the steak needed more salt and pepper but was able to adjust accordingly.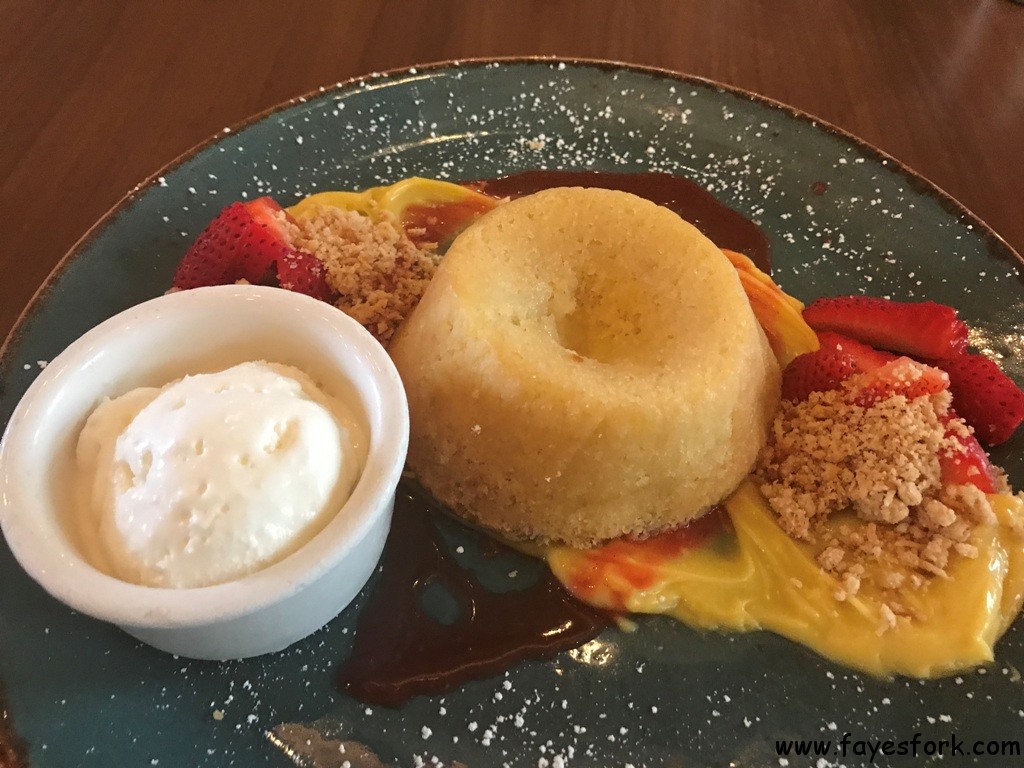 I don't have a lot of Yelp friends but a few sat down next to the tree booth next to us. The guy also happens to be my spin instructor so that was a fun treat. His wife suggested this dessert as it was her favorite. We asked for the coconut ice cream to be on the side. My favorite component was the super tart passion fruit custard. It was so puckering-tart which I enjoyed.
Service was outstanding. I know it's probably on par with these hosted Yelp events but that didn't matter to us. Deborah was out of this world amazing. Michelle, the manager, was the same. And even John and Theodore (the busboy) were great. The overall service was vastly improved from the birthday dinner celebration here some months back. The food was nice but the ambiance and service were top notch for us. This would absolutely be a great place for happy hour or date night. Their happy hour runs seven days a week from 3p-7p. They still have amazing valet service but it's $8 during peak days. Take advantage of their self parking structure now – I think they validate for 3 hours so that's convenient.
RED O
4340 La Jolla Village Dr
San Diego, CA 92122
(858) 291-8360
I was taking pictures of Cdj in front of the pond and garden when I heard someone talking to me from a distance. I turned around and saw this friendly gentleman walking towards us.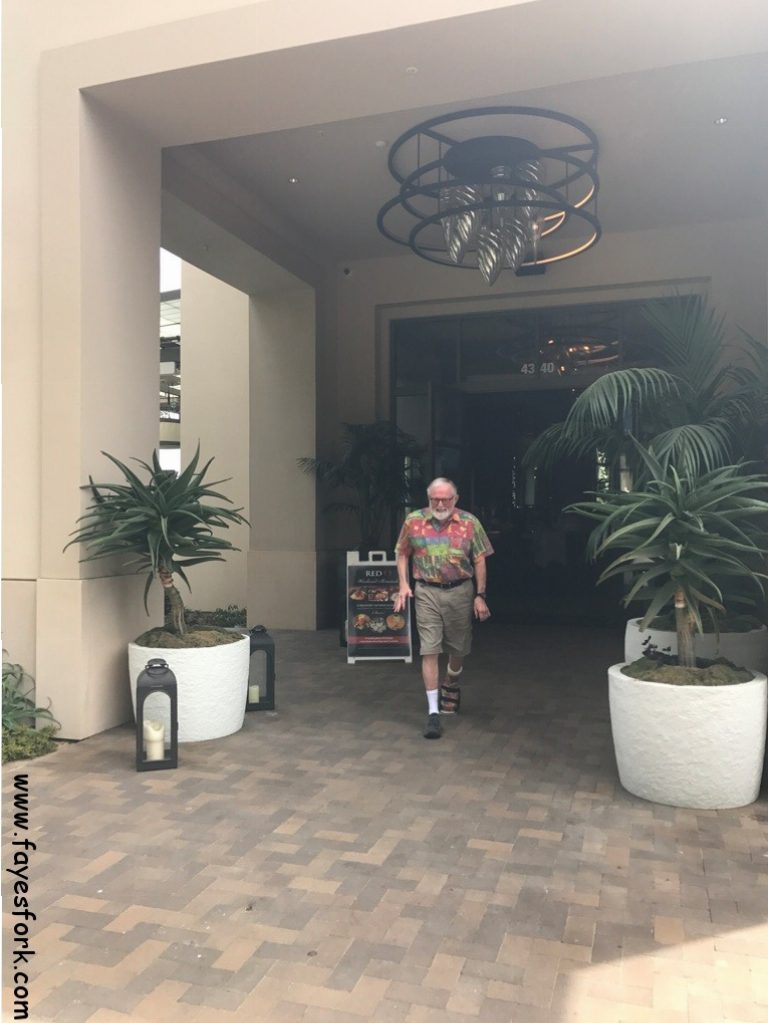 I'm a naturally guarded person but I'm learning to let that down at times. We traded a few compliments to one another but the funniest thing we noticed was…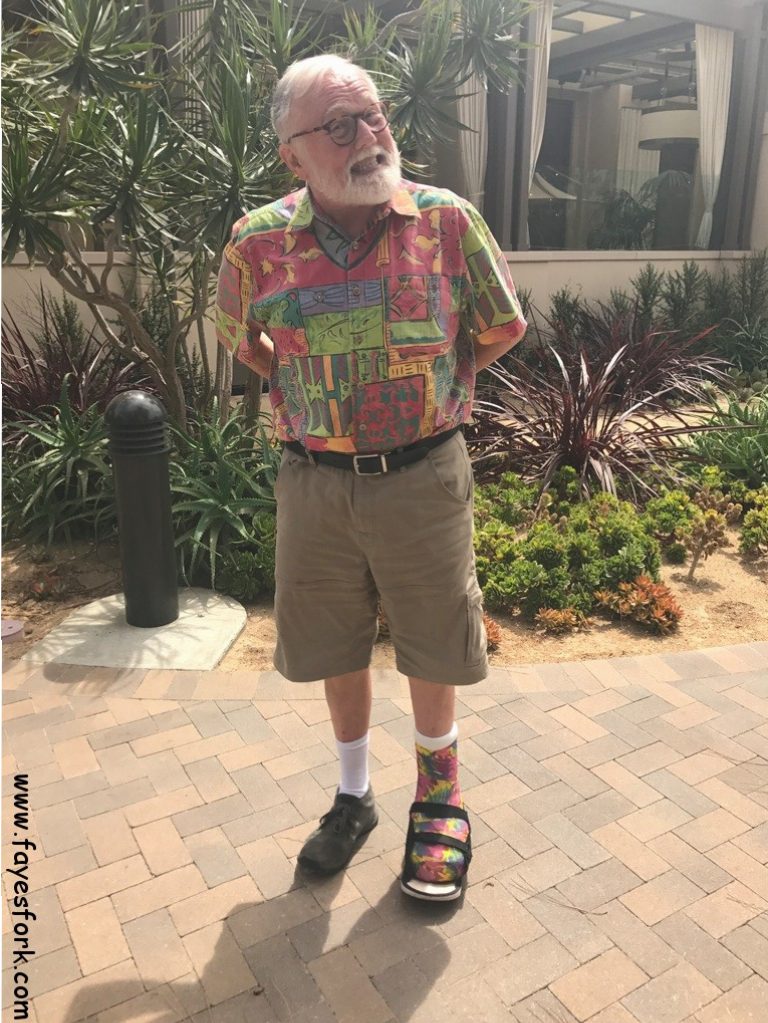 His shirt matched his cast (he approved me taking a pic)! His disposition, smile, and attitude was fetching. It's fascinating how many new people I've met this summer like this friendly stranger. My pastor taught me, some months ago, "Sometimes you need fresh eyes to help you see what you've become blind to".
Speaking of which, look what I recently picked up: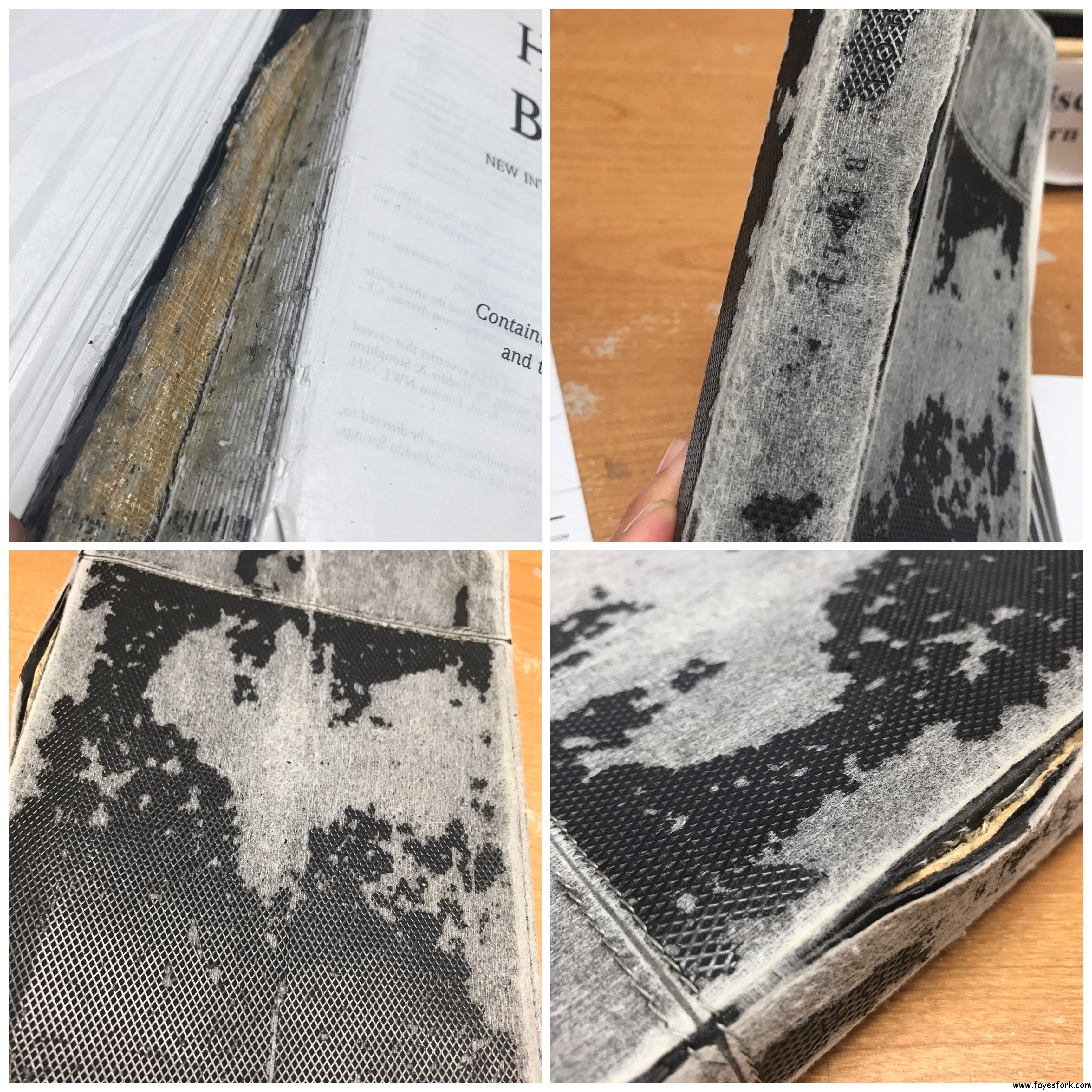 My 10+ year old bible has been through quite a bit. But it was hanging on. I didn't want a new bible as you can imagine how full of notes, personal notes, I've taken over the years inside this bible. This bible has sentimental value that I can't possibly put into words.
I found a restoration specialist. She's not cheap. It was $90 to rebind and recover the front/back but she would use synthetic leather. Or, add another $70 for her to use real leather. I struggled for a bit with the decision but the final product…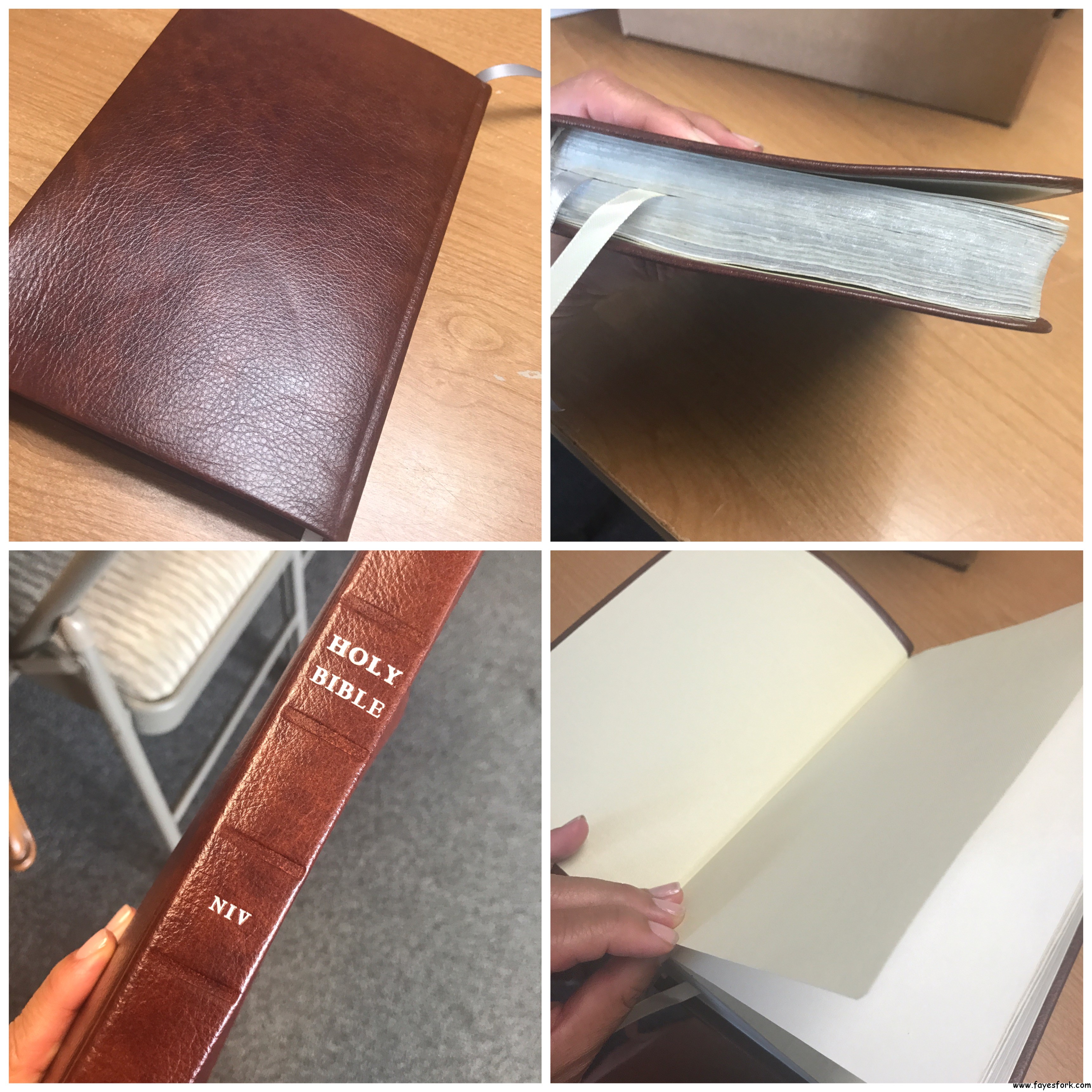 I love it. It only hit me, after sending pics to sis and best friends, that I paid $160 for a bible. That coulda probably bought me a stack of bibles but it bought me MINE 🙂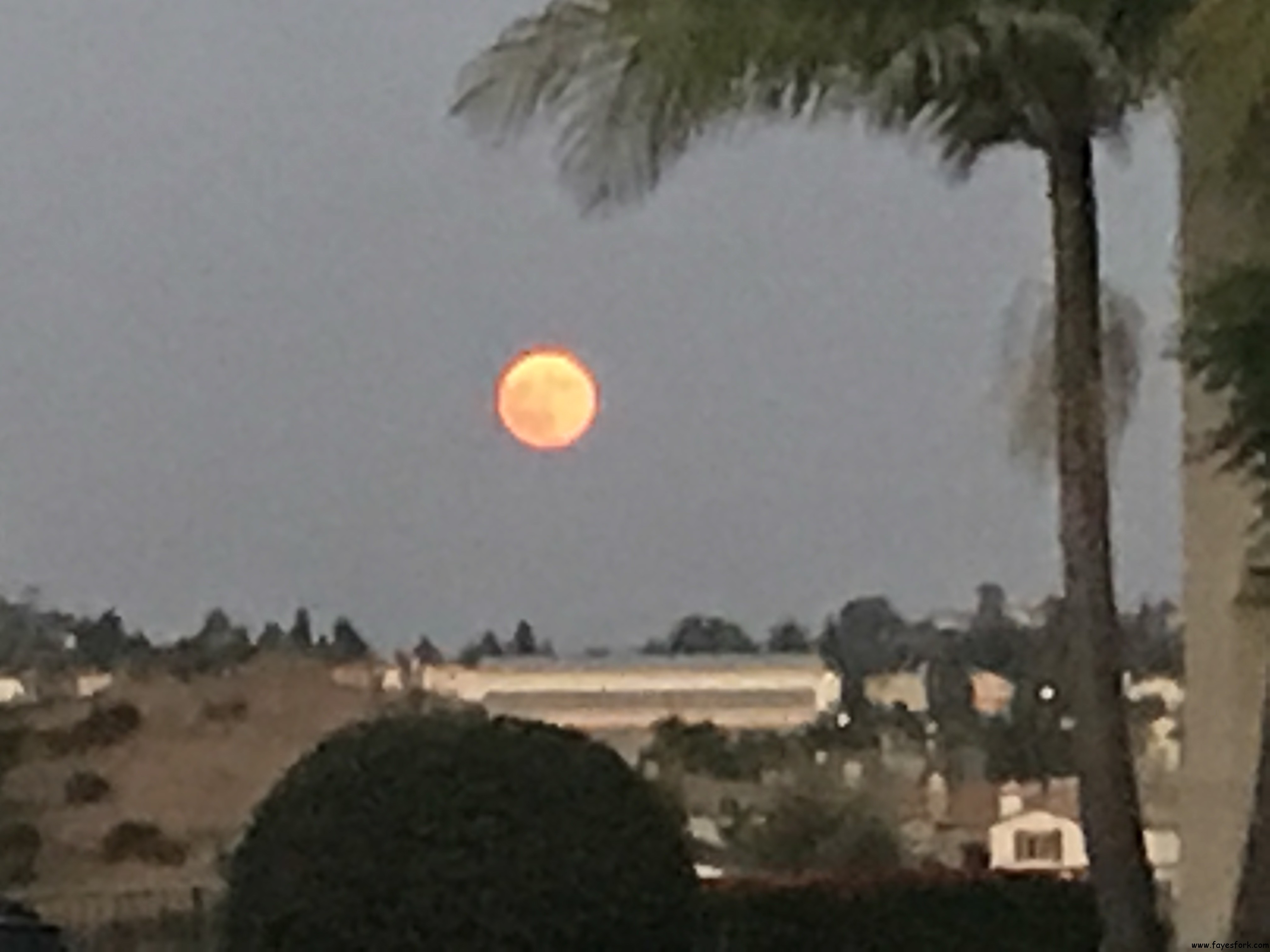 And the view of the red moon that night. Goodness gracious was it beautiful.
Happy Friday everyone –