I didn't realize I was MIA from writing until recently. That is an utmost great sign that, well, I have a life. Seriously. My friends think: more posts = no life ; less posts = life. Kinda have to agree. I recently returned from San Francisco. It was a trip of a lifetime. I can't wait to share about it but for now, I wanted to write something, anything, to keep these blogging fingers active. One of my best friends, Peanut, lives in San Francisco. She wanted to do dinner at 10p (San Frans must eat late). She suggested Mister Jiu's which has one Michelin star and is located in Chinatown. Supposedly it's THE IT place right now.
Just to preface this, I'll elaborate in separate post though, Cdj and I went to watch the Giants v Padres game beforehand. We couldn't believe how the stars aligned for us to get highly discounted tickets on a night where the Giants were playing OUR home team (thanks Kat!).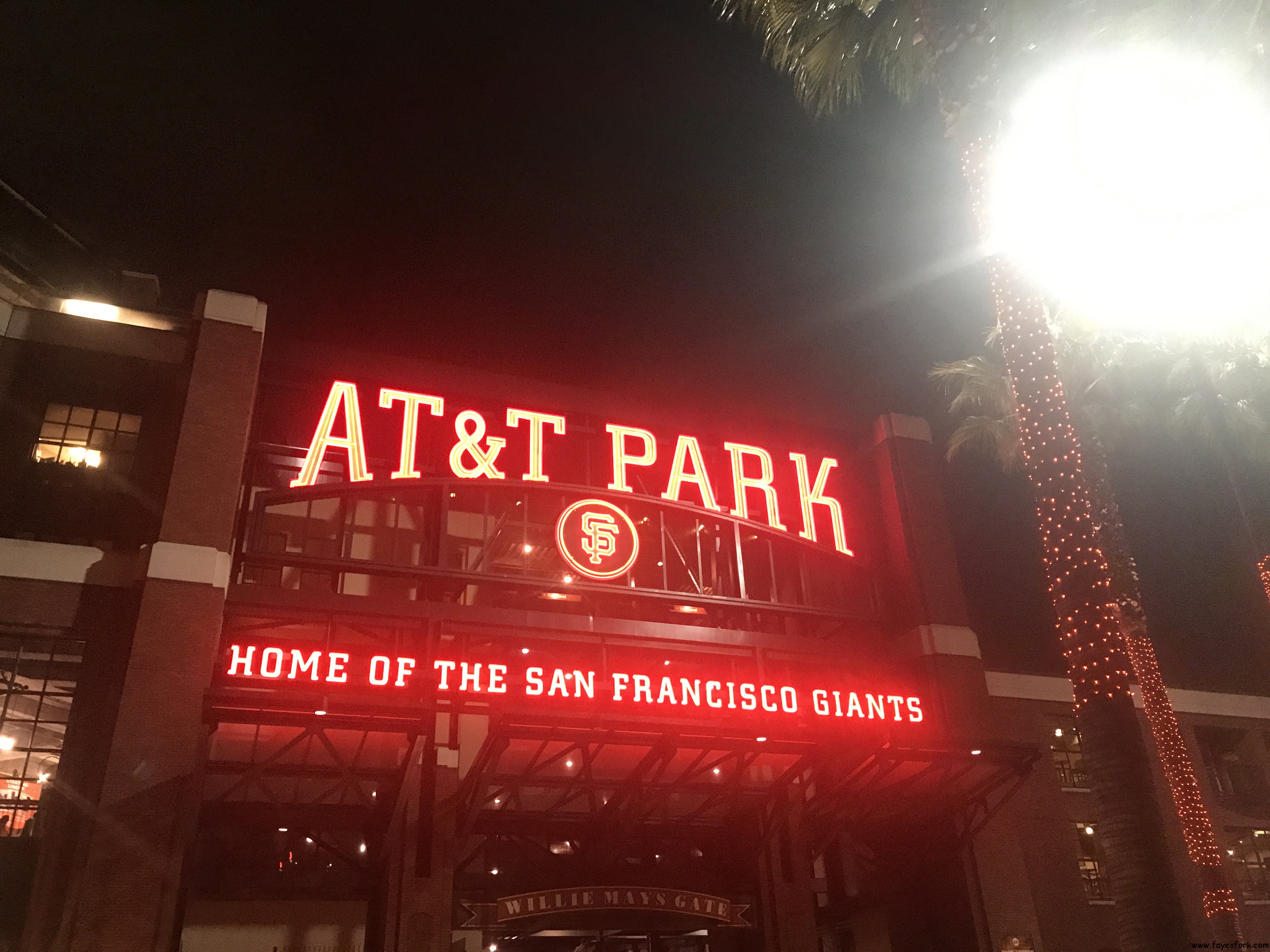 I was so hungry and they had $1 dog day so I ordered, um…FOUR hot dogs for us to share. He didn't even want more than one. But I had to order the max possible because I'm a squirrel. I was full after two dogs but tried to eat a third one because I didn't want to waste a buck. So, I wasn't exactly hungry when we got to dinner 1.5 hours later.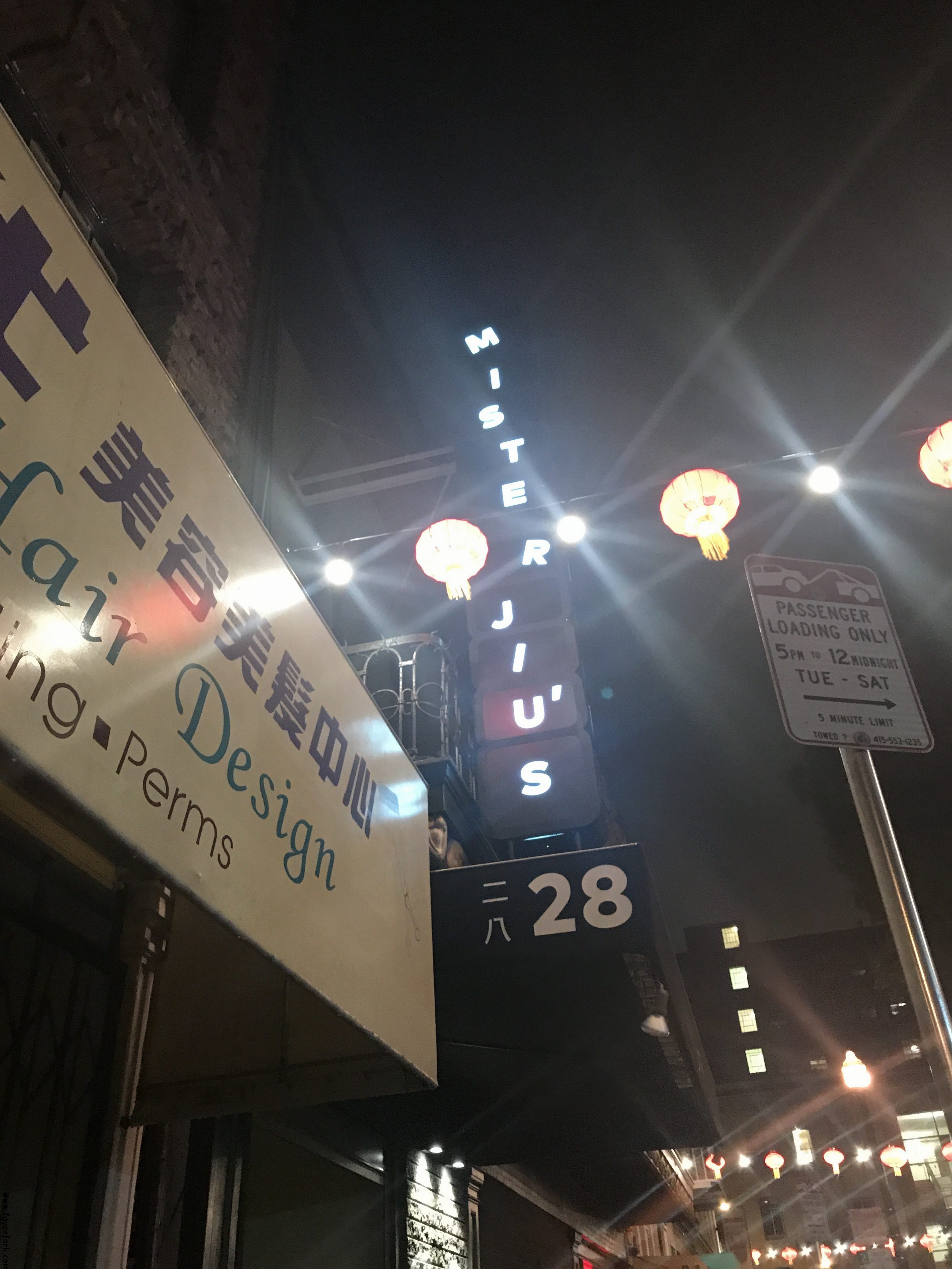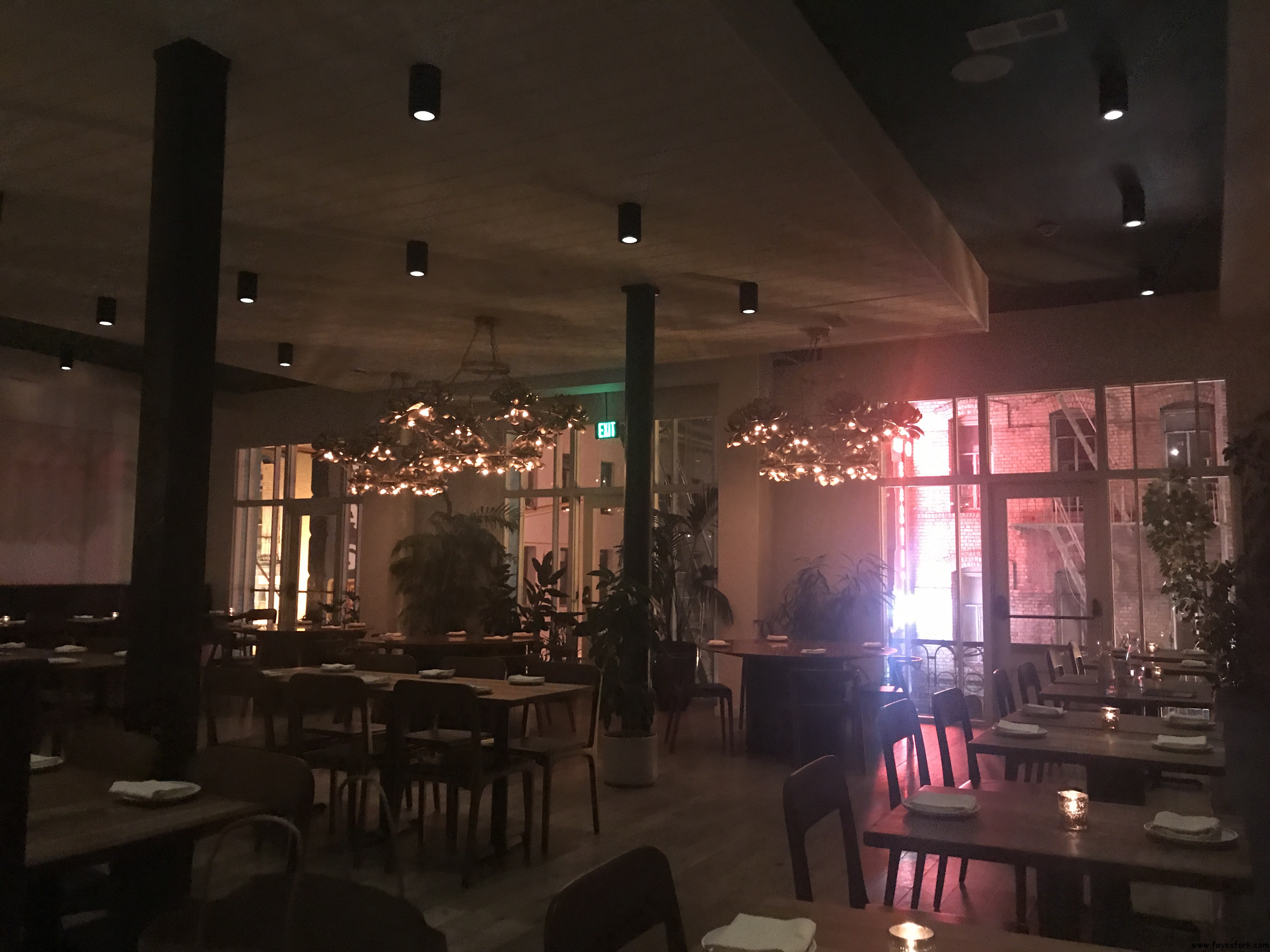 The pic above was taken after dinner. The restaurant was full when we arrived.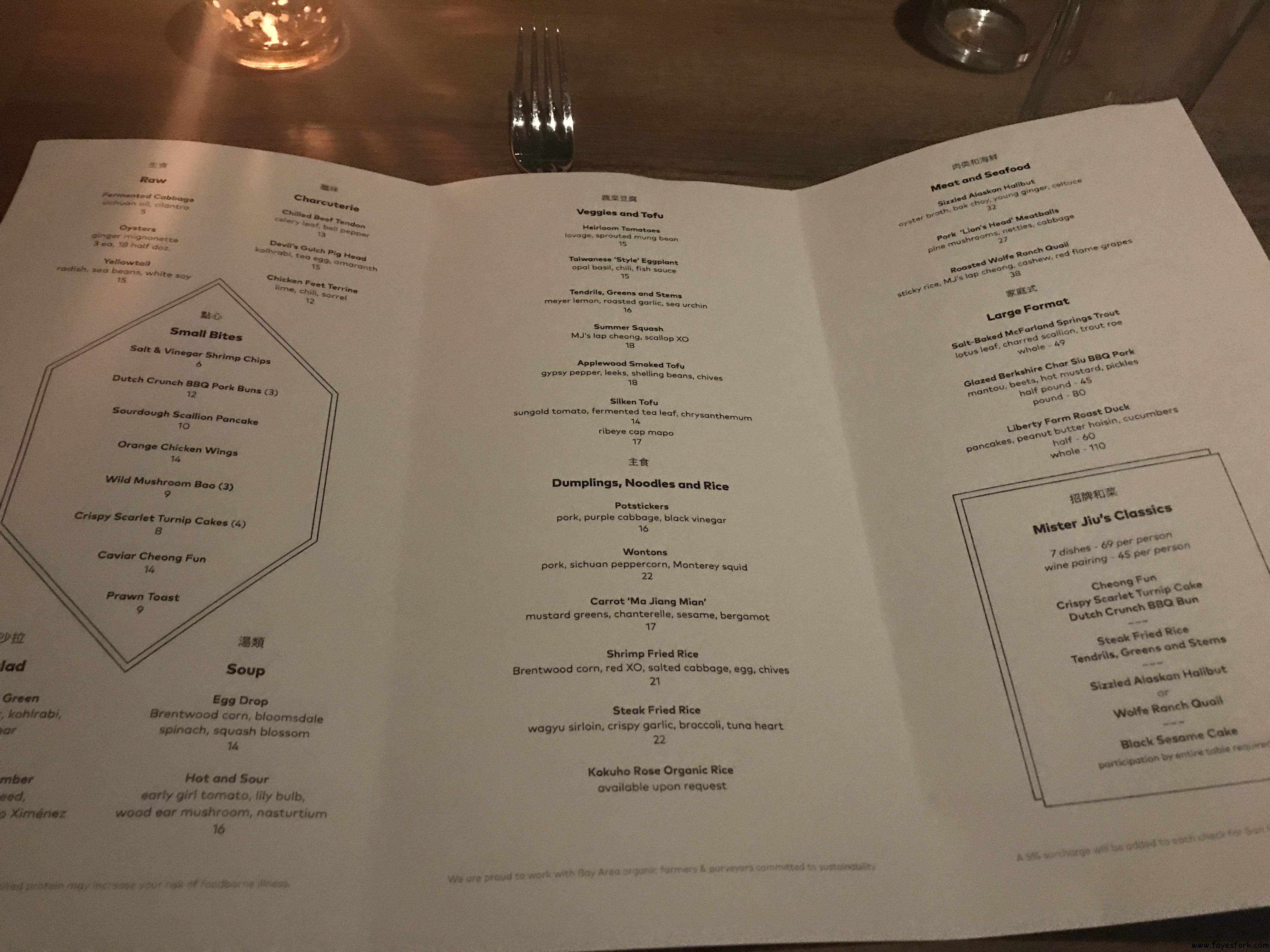 We all opted for the 7 dish tasting menu for $69 per person. I thought this price was fair, especially for a Michelen star restaurant. BUT, I just didn't think I was hungry enough. Didn't matter – the company on hand was what meant the most to me .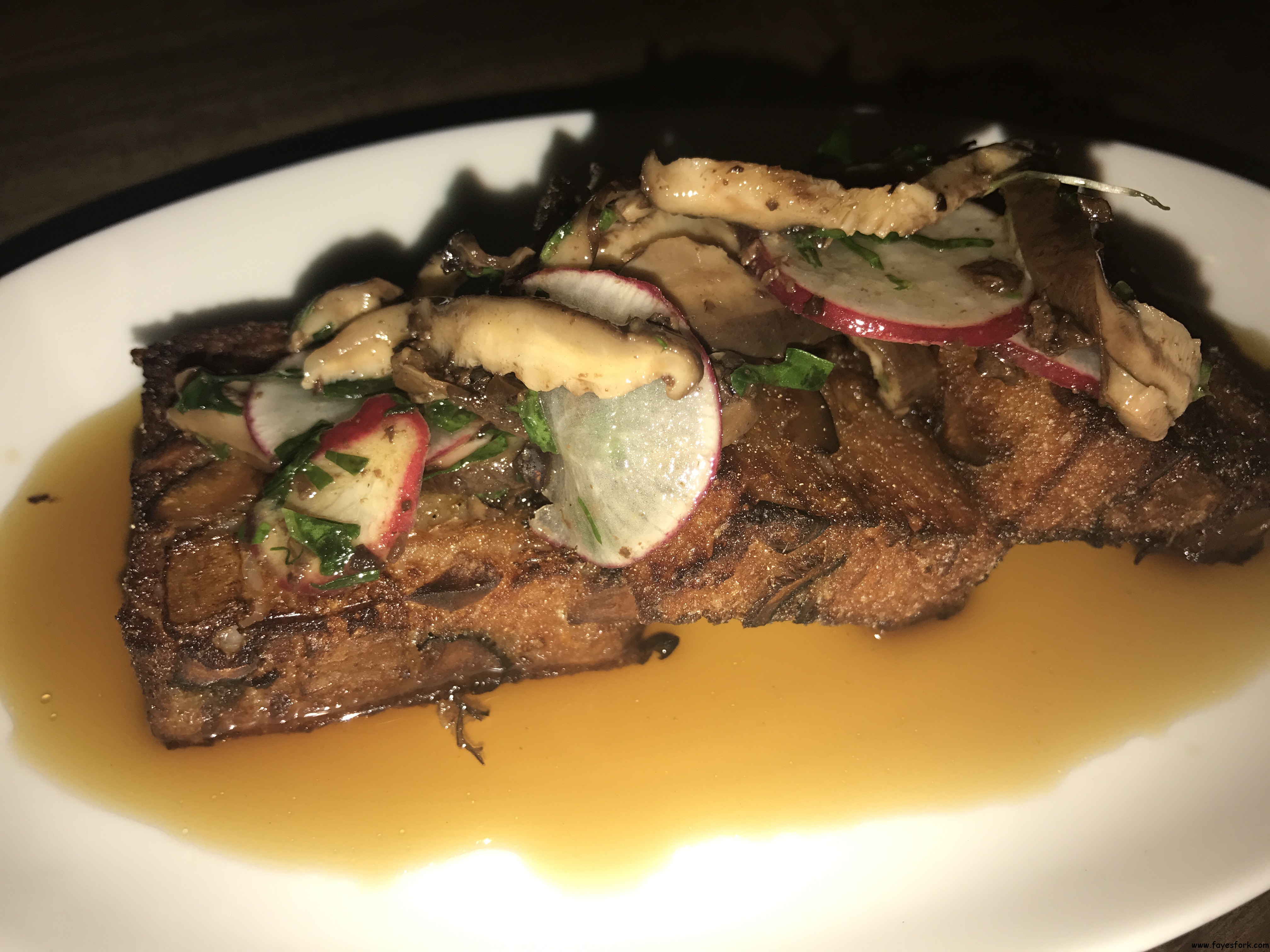 It's hard to see what in the world this dish is. It's fried turnip cakes. Each person received one turnip cake. They were topped with mushrooms. The mushrooms tasted overly tart and sour. I didn't like them at all. The exterior of the turnip cake was nicely crispy but the interior didn't taste good. There was a dryness to the cake that I didn't like.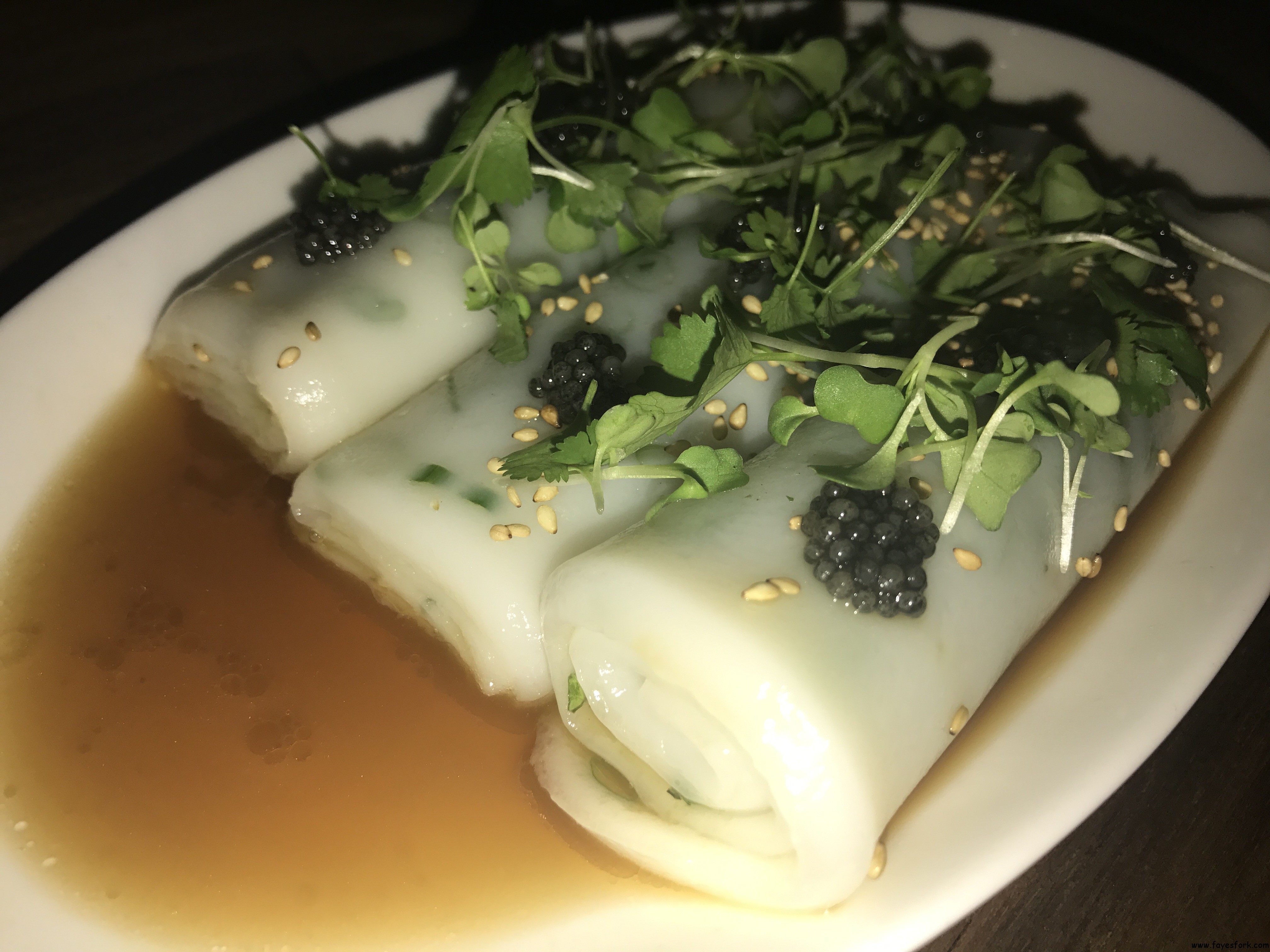 This was the fanciest cheong fun rolls I've ever seen. There were pretty microgreens along with the black caviar. The rice rolls tasted homemade. Peanut enjoyed this appetizer the most.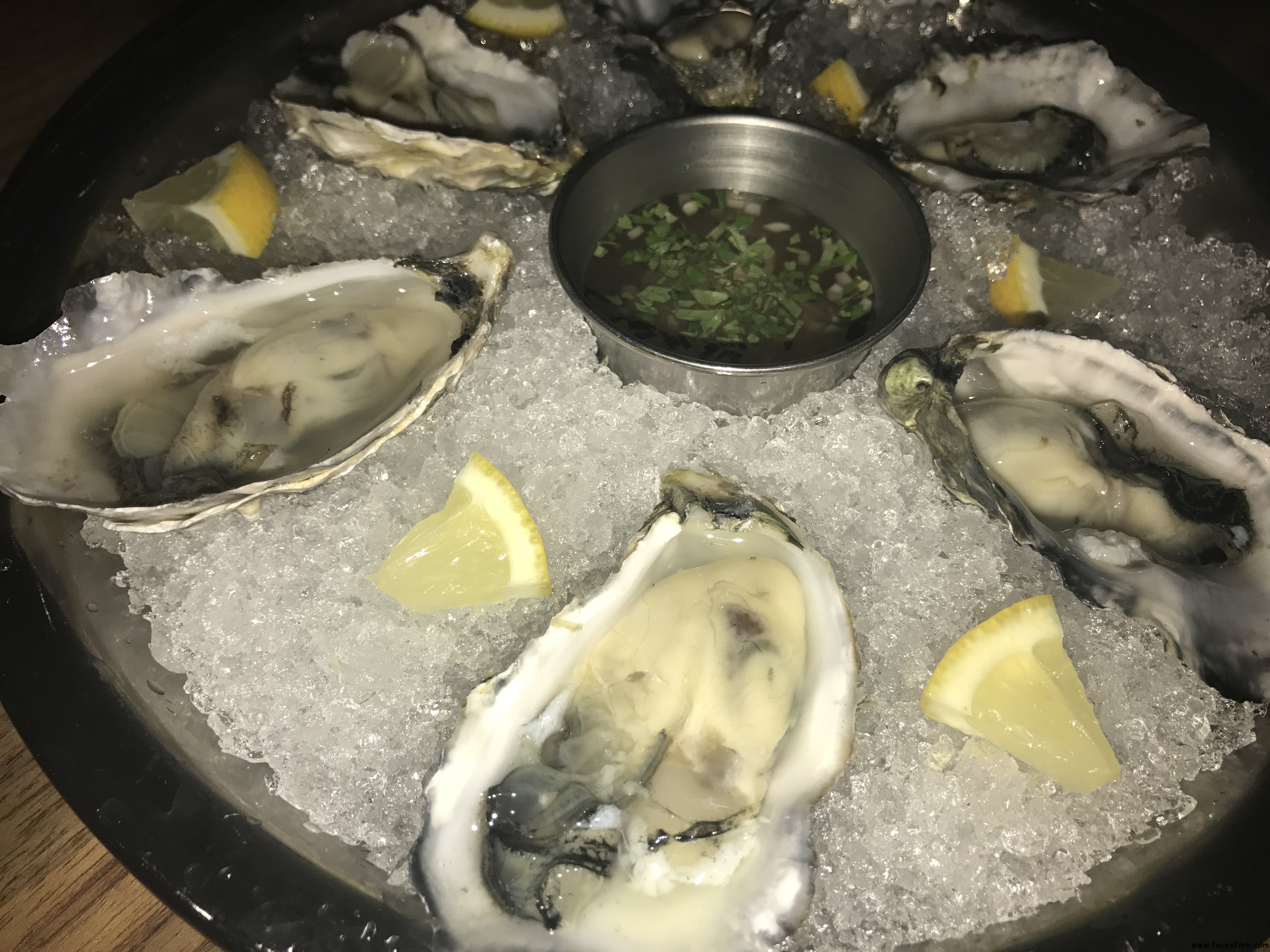 The 7 course meal was to include their famous dutch crunch baos. Unfortunately, they ran out. So the chef offered to sub the item for either a small salad or two oysters. I can't remember the last time Cdj looked so mortified (over food). He thought it extremely unfair we weren't allowed to pick any item off the tapas menu if they sell out of something. He and Peanut thought offering a salad was unjust.
So, that being said, we opted for the 2 small oysters a piece. They were tiny oysters but tasted fresh and delicious.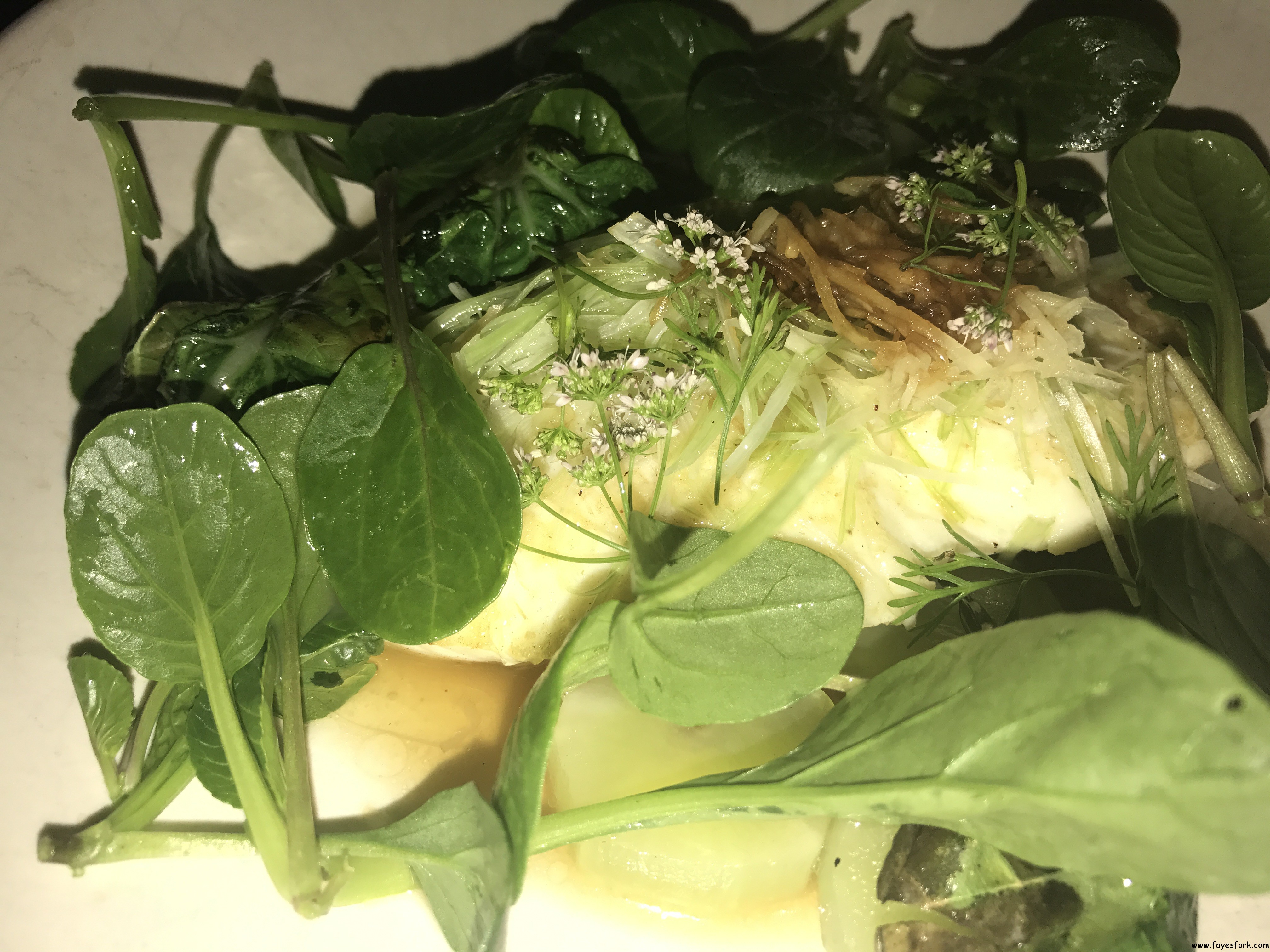 Each person could choose between the halibut or quail for their entree. I opted for the halibut. It wasn't a large portion and it didn't come out sizzling. The halibut tasted fresh and moist. I enjoyed the ample young ginger slices on top.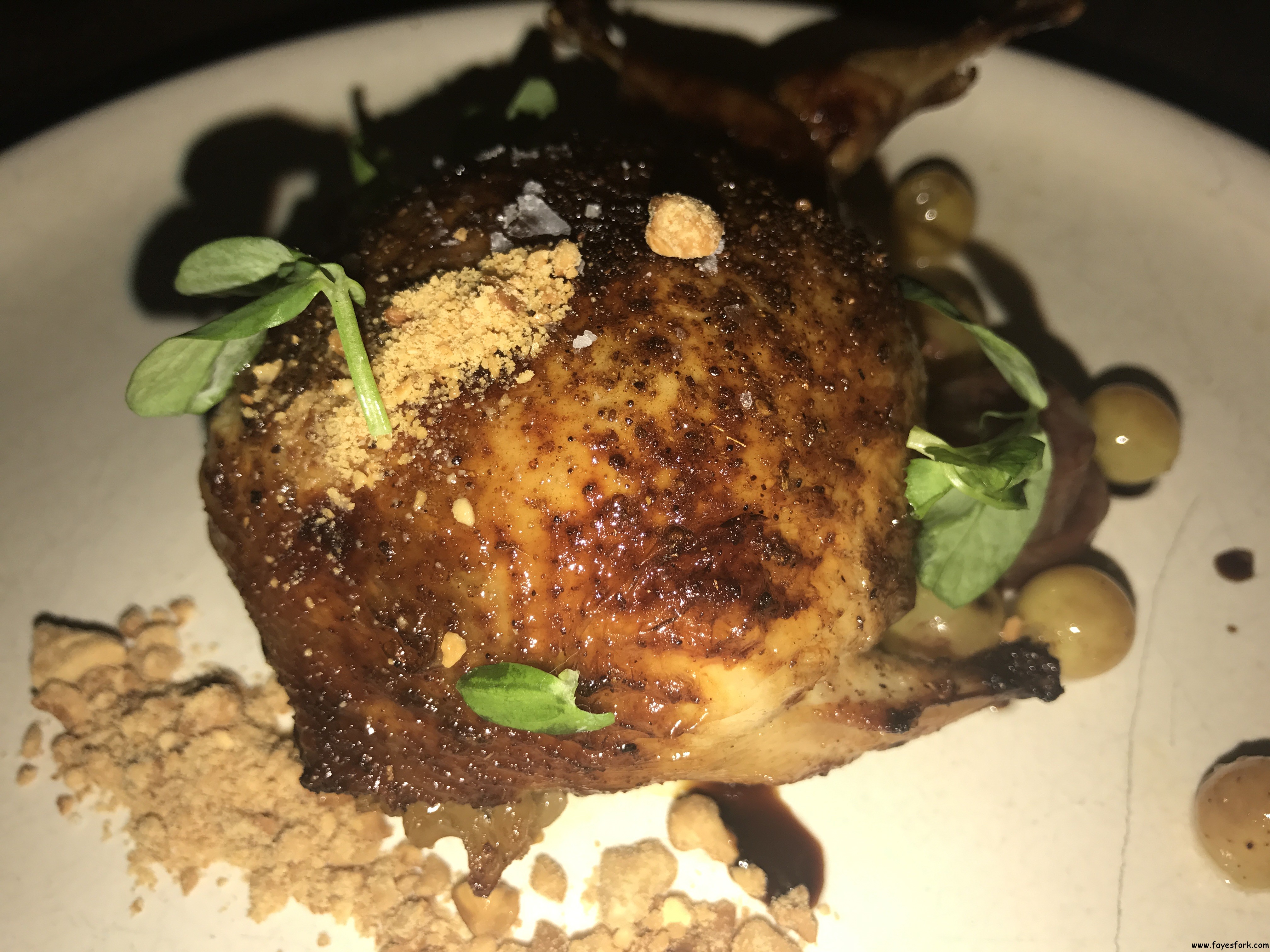 Peanut and Cdj both ordered the quail. The stuffed chubby quail looked delicious. Friends said the meat tasted juicy and flavorful.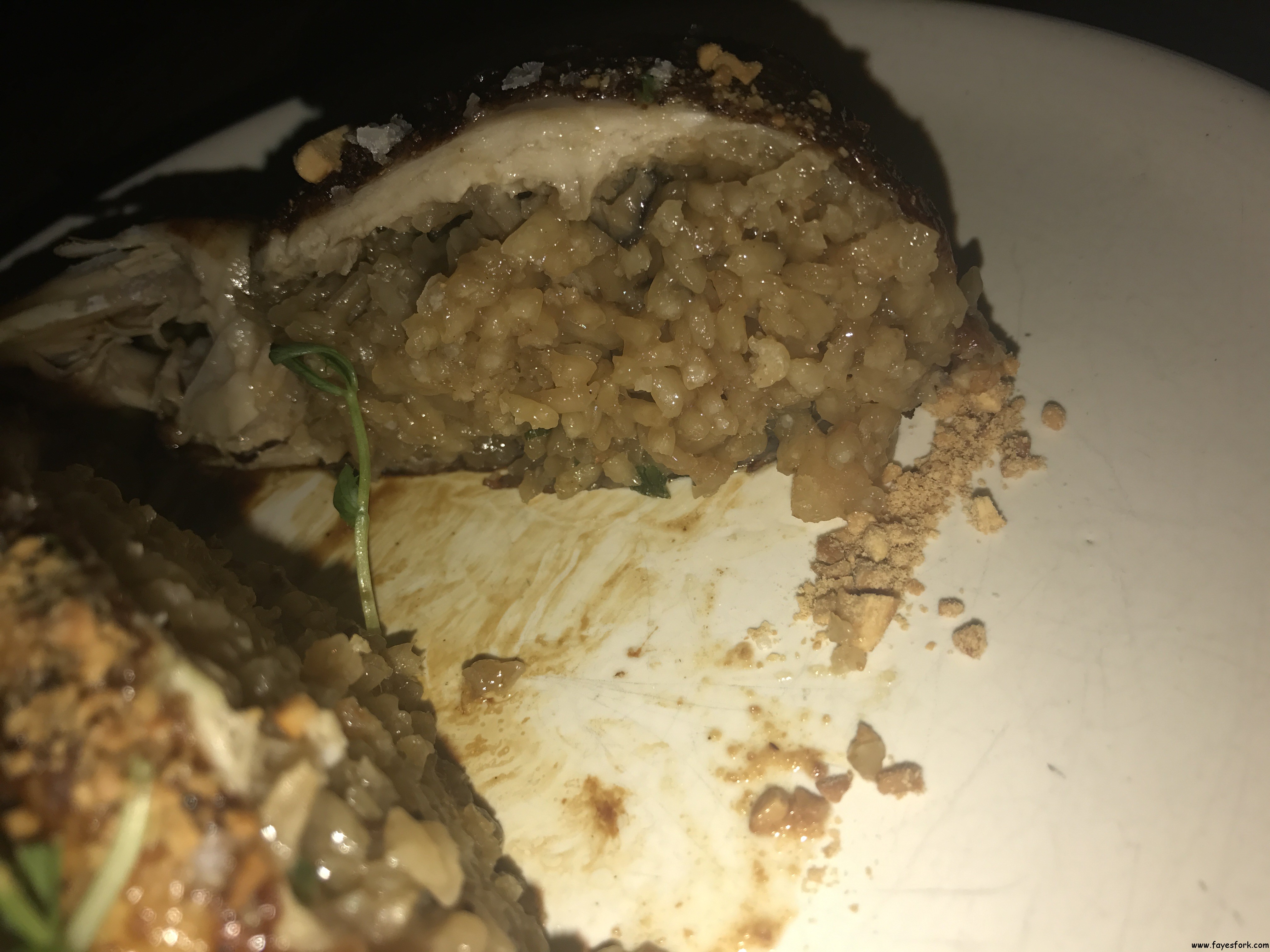 What I personally liked was the sticky rice stuffed inside the bird. The rice was sticky and fragrant from absorbing all the quail drippings.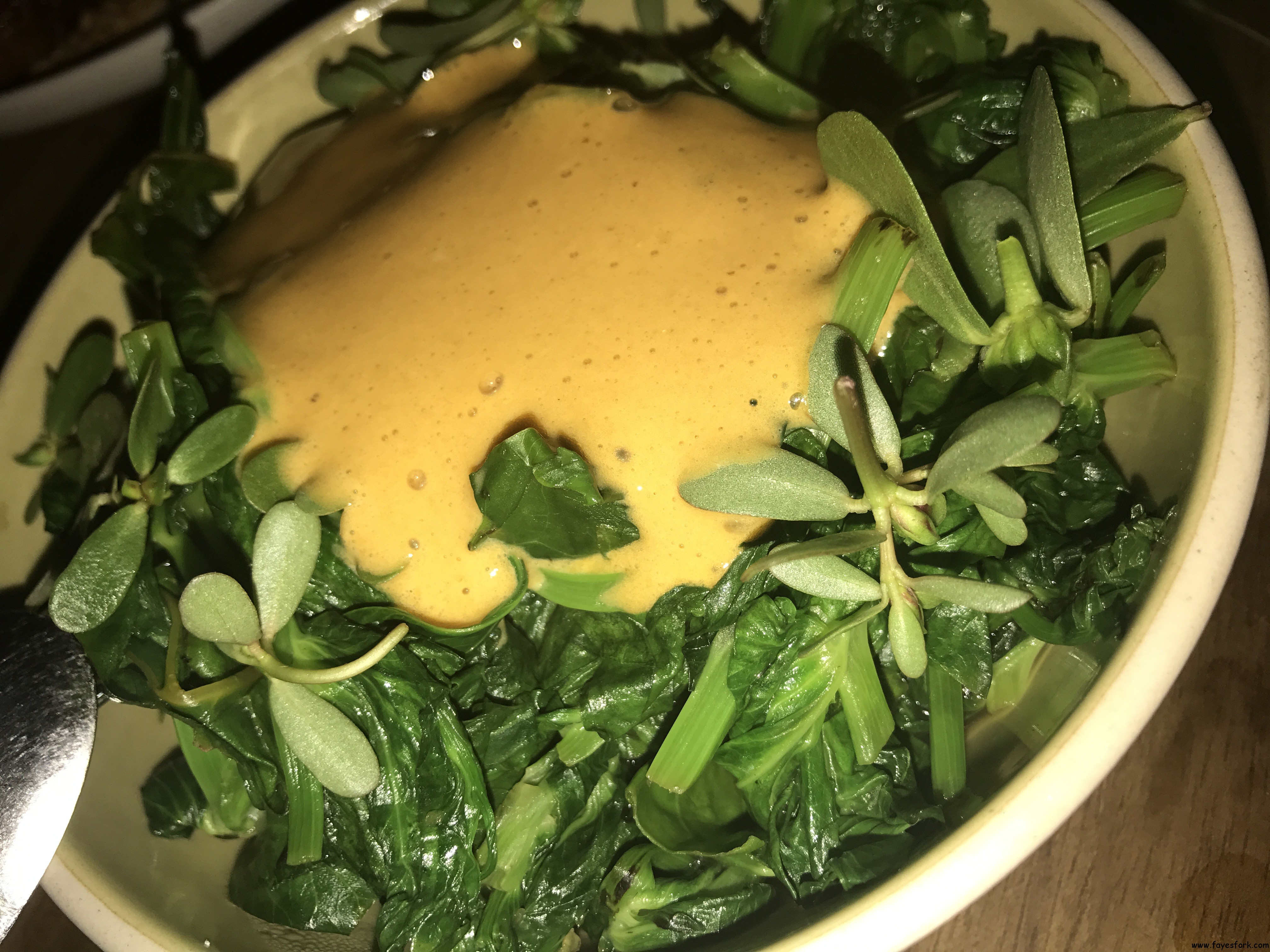 The pea tendrils came out with the entrees. It was served in a large bowl for us to share. The tendrils were topped with a lemon sea urchin sauce. The tendrils were prepared well but they were over salted to a point of making this dish hard to eat. We weren't sure if the tendrils were at fault or if the sea urchin sauce was perhaps the salty culprit. Regardless, no one really touched this dish.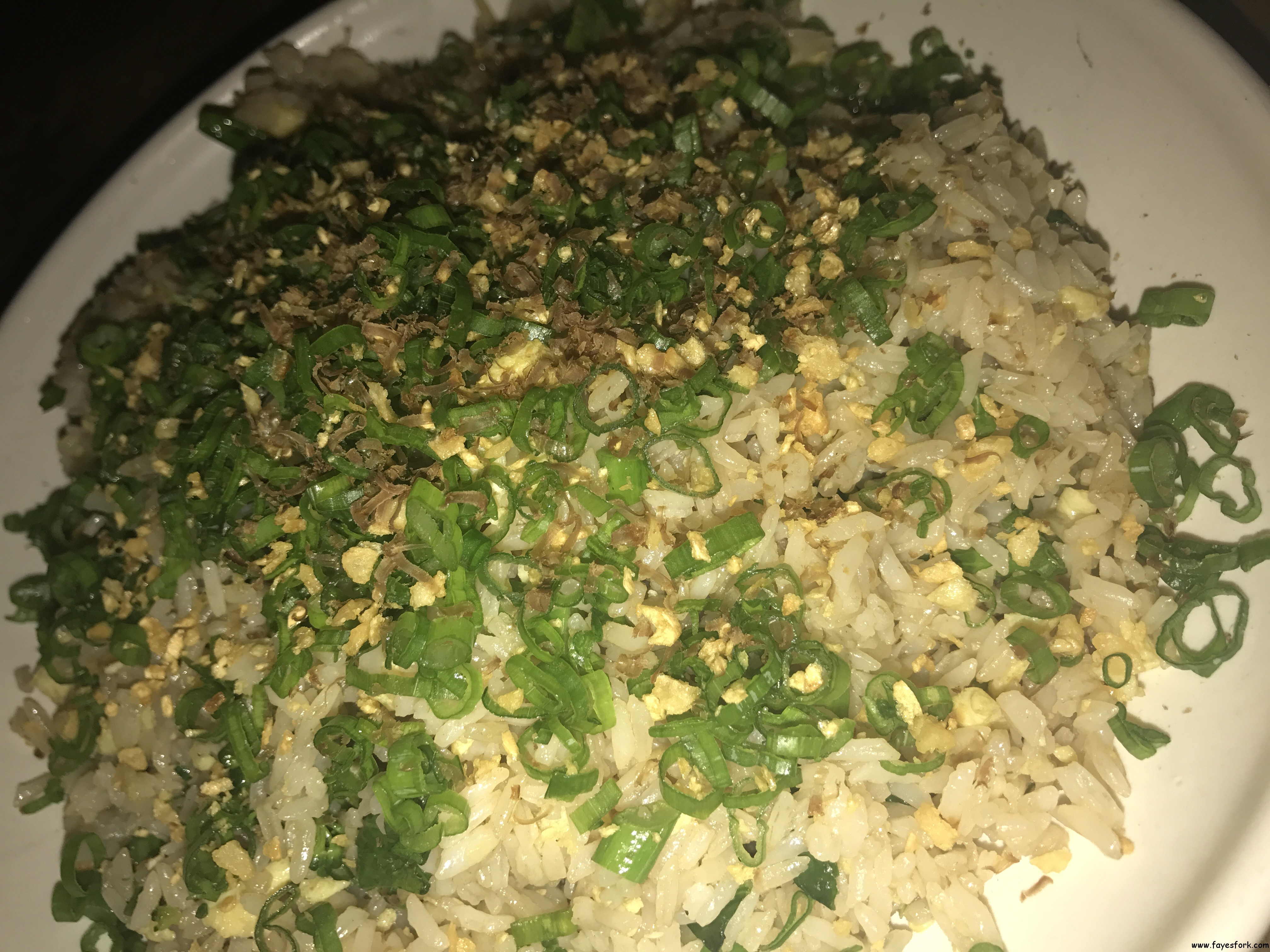 I found it sad that my favorite dish of the evening was the steak fried rice (and the sticky rice stuffed inside the quail). I don't eat rice that often but wanted to eat something that I could really enjoy. The steak was tender, juicy, and plain yummy. The rice was wok fried nicely and the crispy garlic added a nice aroma to this shared dish.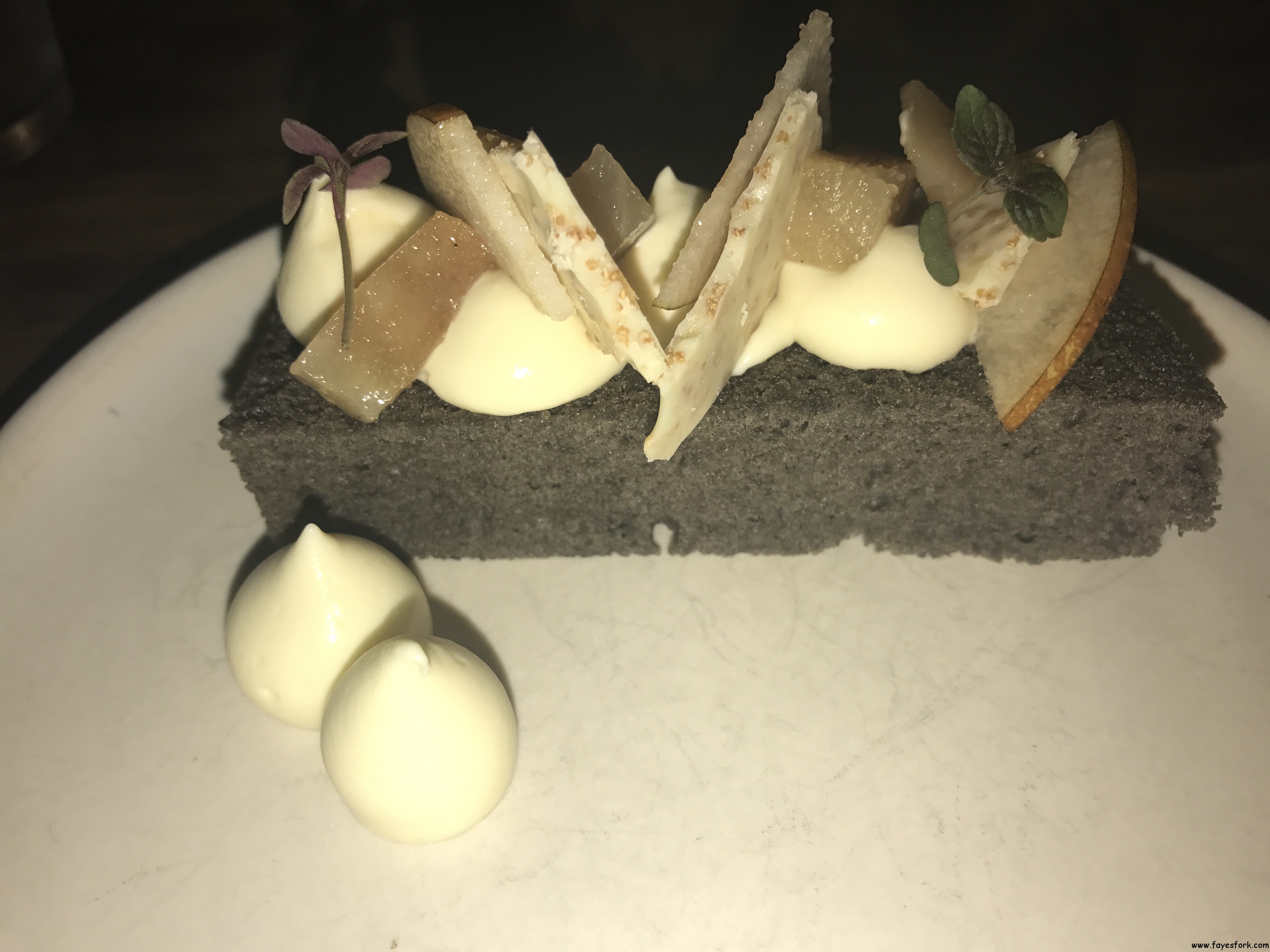 You didn't get a choice for dessert. We all received the black sesame cake. I thought the black sesame cake tasted bland and the ginger too strong in the mousse. Friends thought the dessert was ok though. I gave my cake for Peanut to take home.
Service was ok. The first three course came out ridiculously fast. Almost too fast. We felt our each plate was taken away after someone noticed a last bite because another new dish would be placed in front of us so quickly. I felt the value of the 7 courses was fair but then again, I wasn't terribly hungry coming into this. Peanut was disappointed overall with the meal but Cdj thought it was a 'better than fine' meal for him.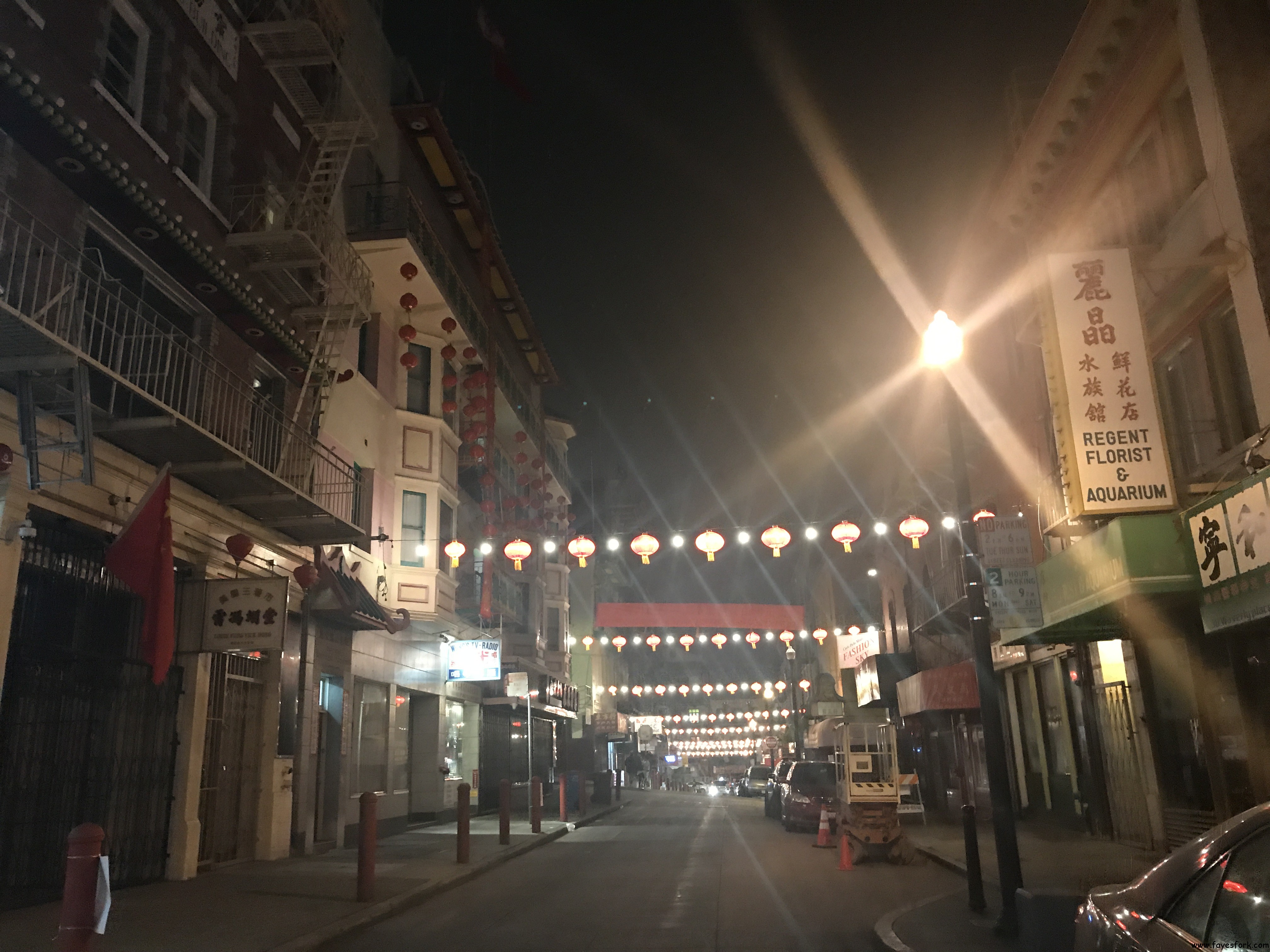 This was the view of the street outside Mister Jiu's. A few patrons were outside and we all commented how beautiful the strung lights were.
I was glad to have finally tried out Mister Jiu's and it was a wonderful way to end my first evening in San Francisco with two of my best friends.
MISTER JIU'S
28 Waverly Pl
San Francisco, CA 94108
(415) 857-9688