My girlfriends and I recently met up at the newly opened Breakfast Republic in Carmel Valley. This location took longer than expected to open but the restaurant is sleek, modern, and inviting. I've never visited any Breakfast Republic so I was excited to finally try out their menu with two of my friends. We visited bright and early on a weekday so that I could still make it to work on time. There was no wait that morning for us which was great.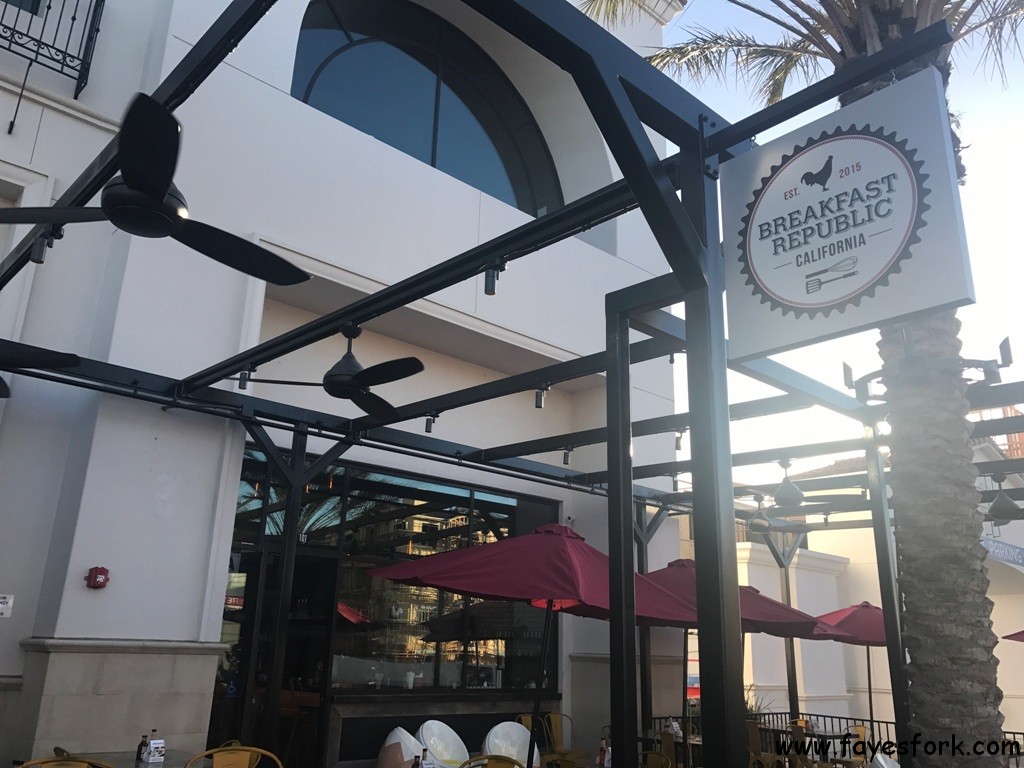 Breakfast Republic is located next to Westroot Tavern and across from Wokou Ramen.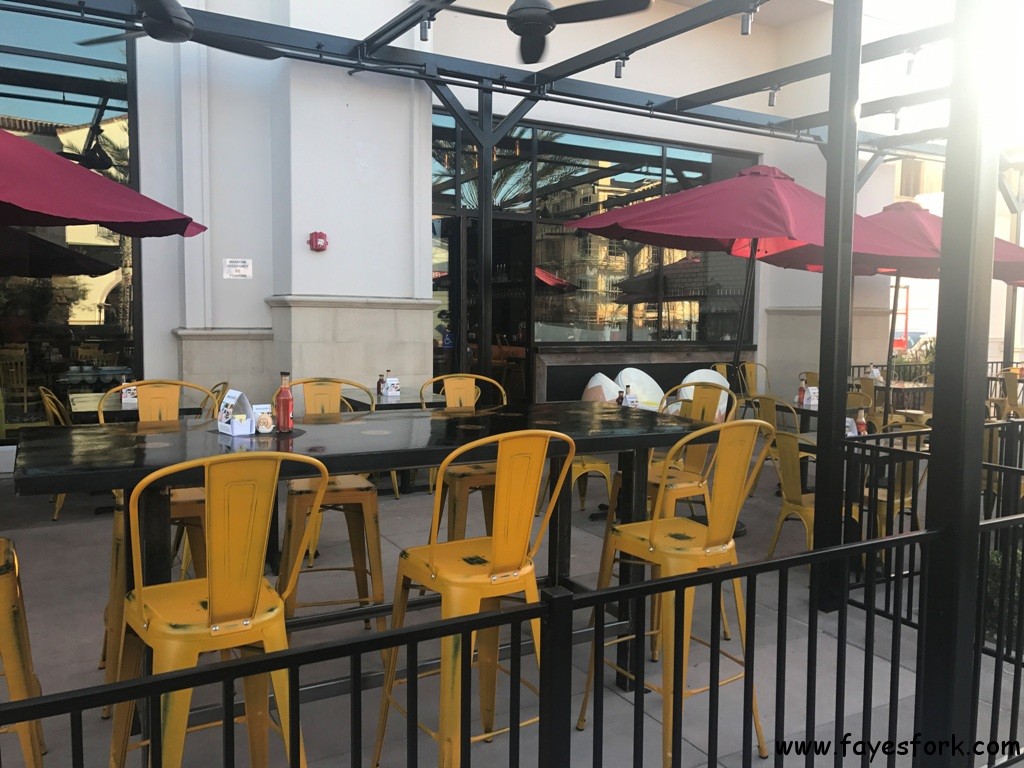 I was surprised to see an outdoor patio. I've seen the restaurant build-out over the months but hadn't been back in awhile so this patio was new to me.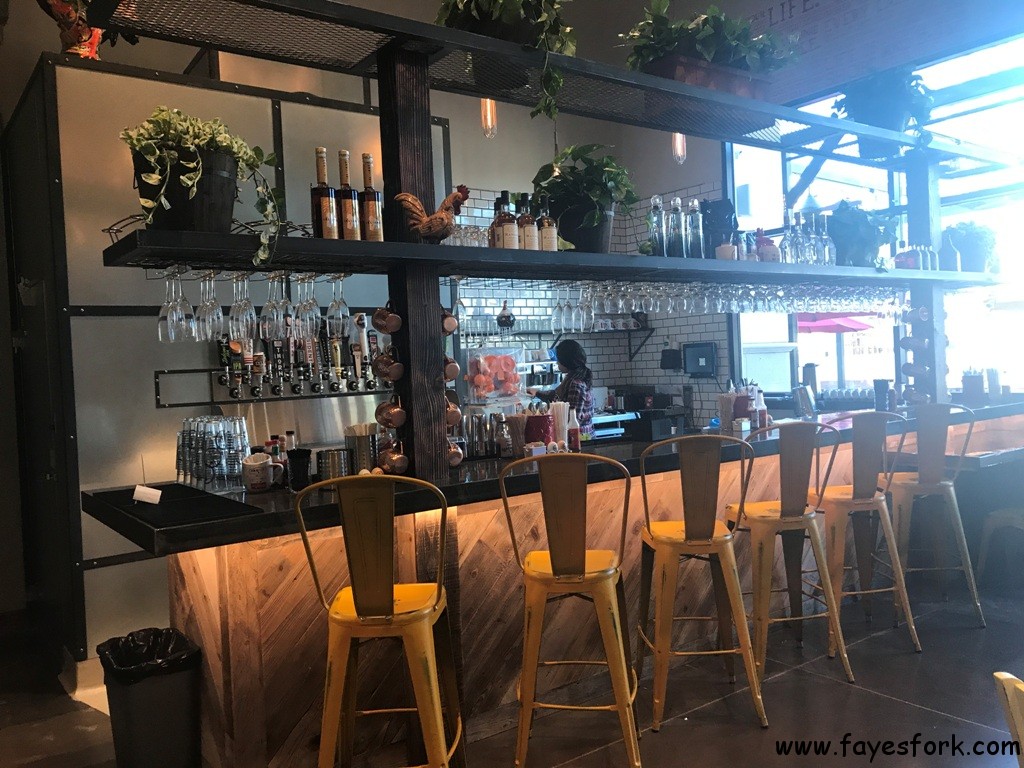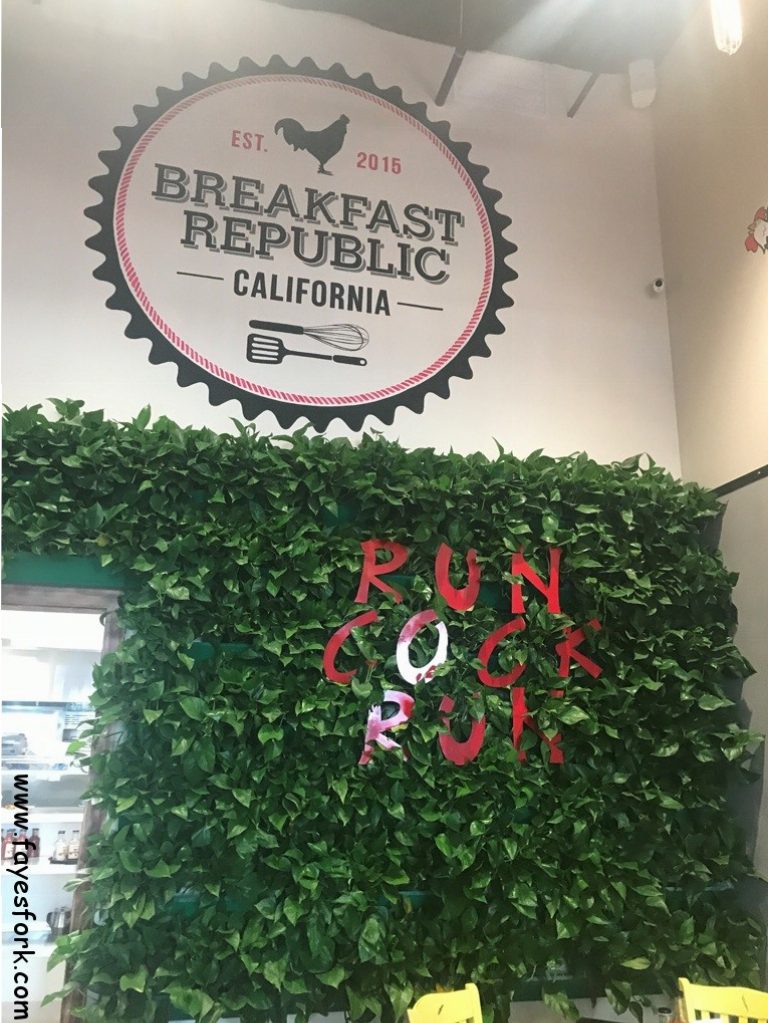 Diana and I gasped when we noticed that the plants on the wall were REAL. The wifi password here at Breakfast Republic is written in the plants (RunCockRun).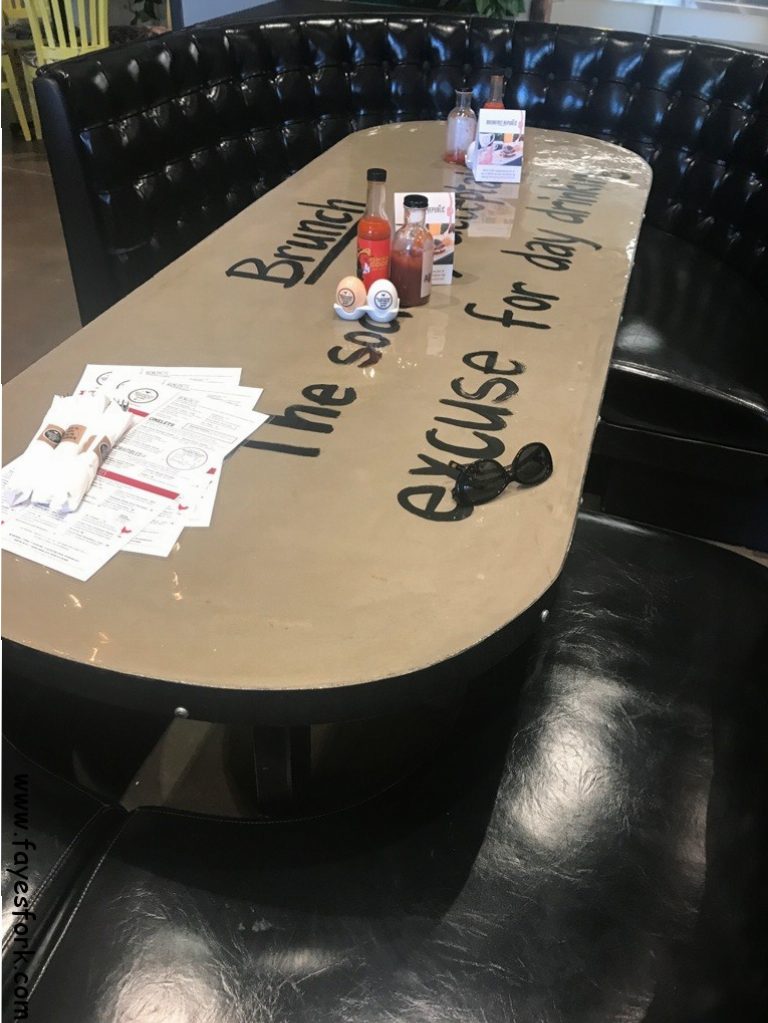 They sat us at this super huge booth table.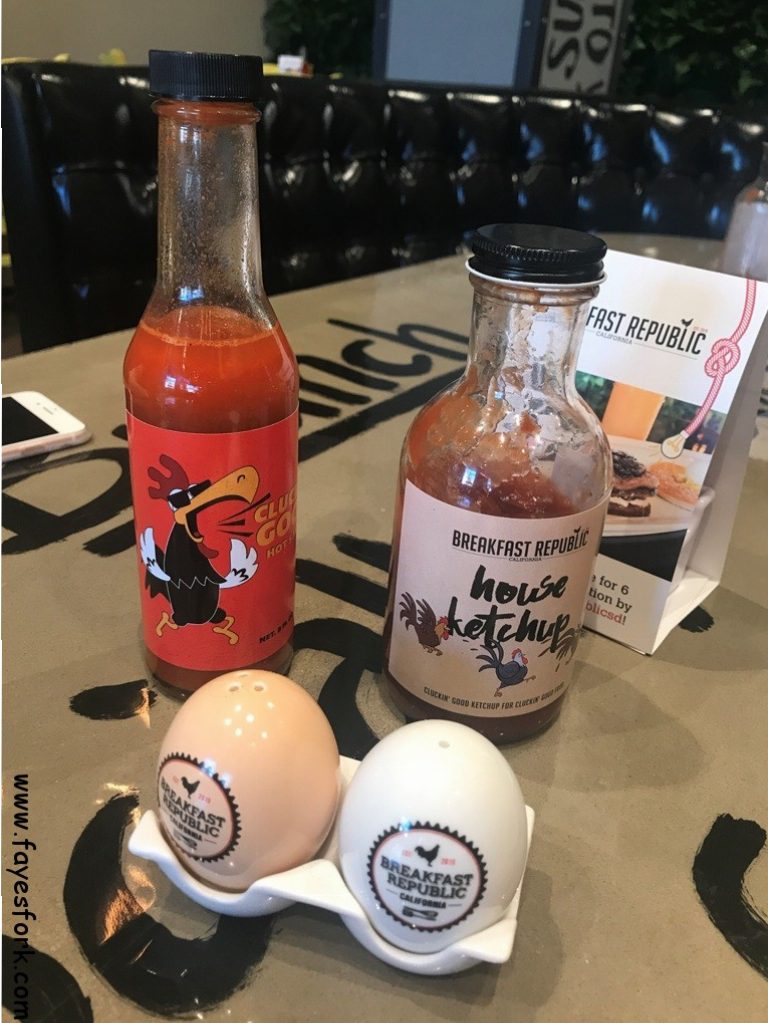 Breakfast Republic makes their own ketchup blend and hot sauce.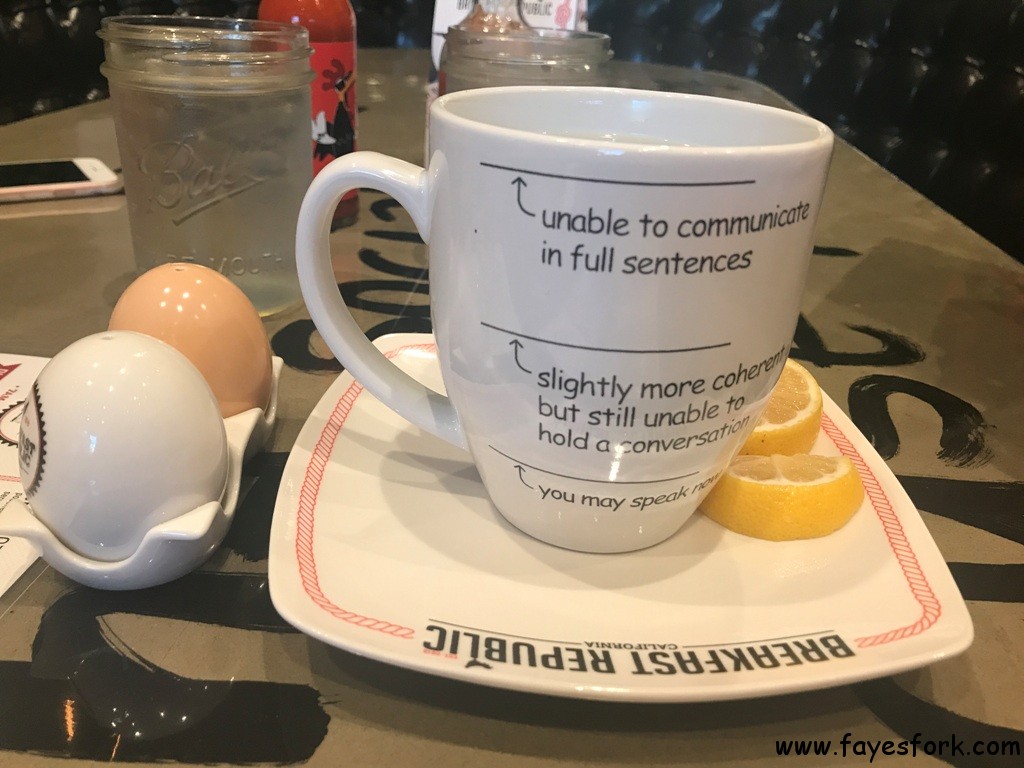 Michi ordered hot water with a side of lemon. How can you not fall in love with the mugs here at Breakfast Republic (this would make for the most excellent Christmas present – ahem ahem).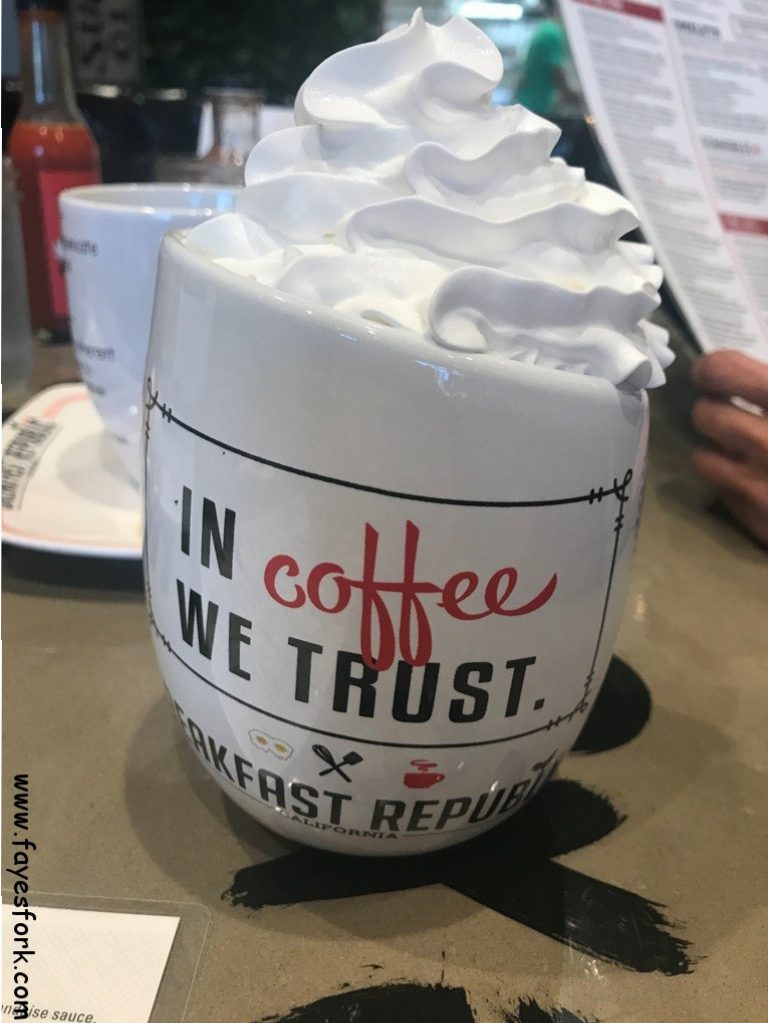 I ordered the 16oz latte (I think there were two size options) and asked for breve. I also asked if they could top it with whipped cream. The serving is quite large. I didn't think the latte tasted like much though – it was more lukewarm and the espresso could have been stronger. I was also disappointed by the canned whipped cream. I was hoping they'd make their own whip cream here at Breakfast Republic.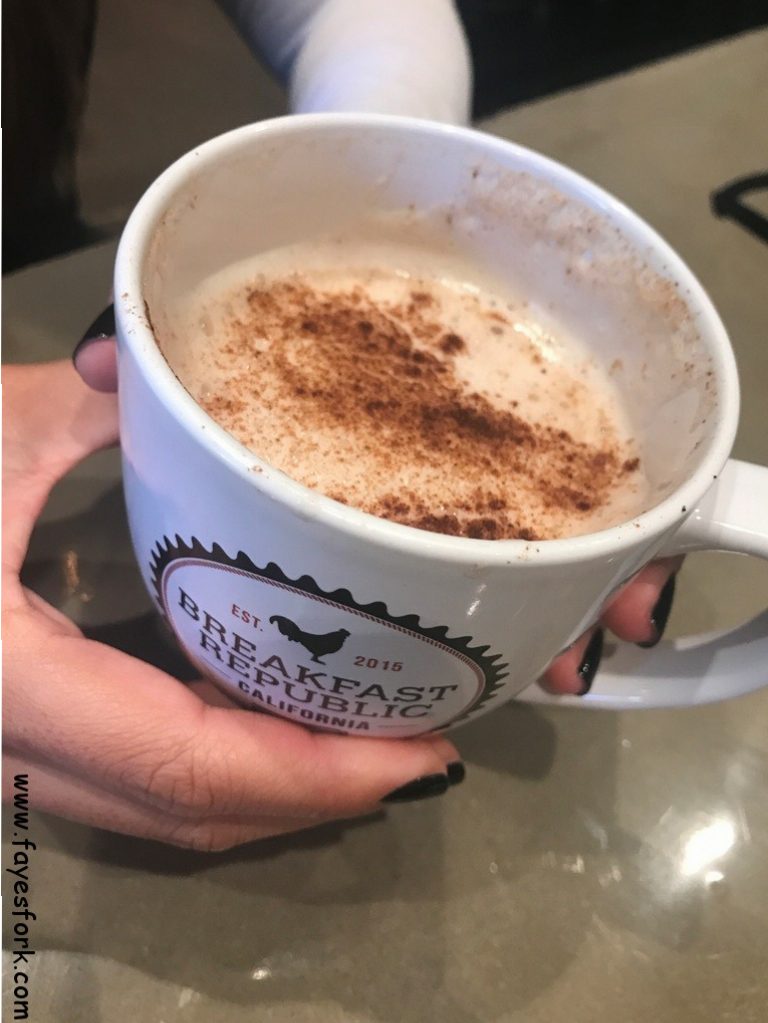 I think this was a Chai. Friend said it was good (she substituted the milk for almond milk I believe).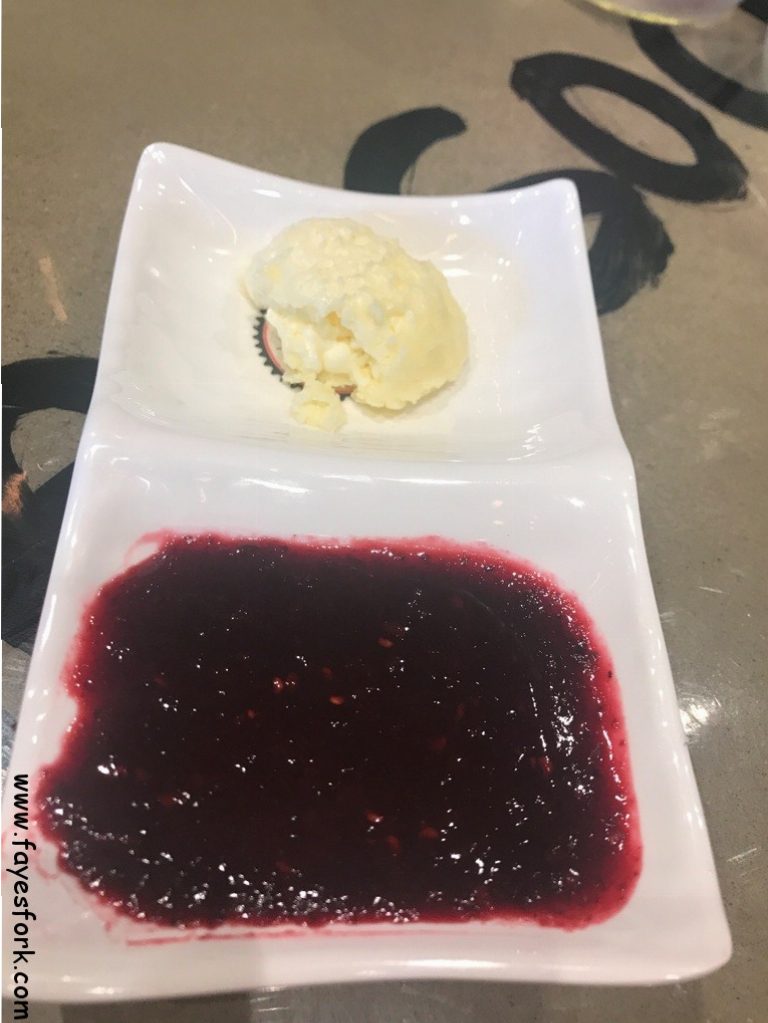 The side of butter and jam arrived first to our table.
Michi ordered a flight of pancakes for us to share. We opted for churro, lemon coconut, and pineapple upside down pancakes.
The serving plate is HUGE. Michi is tiny so this plate was probably the size of her body frame.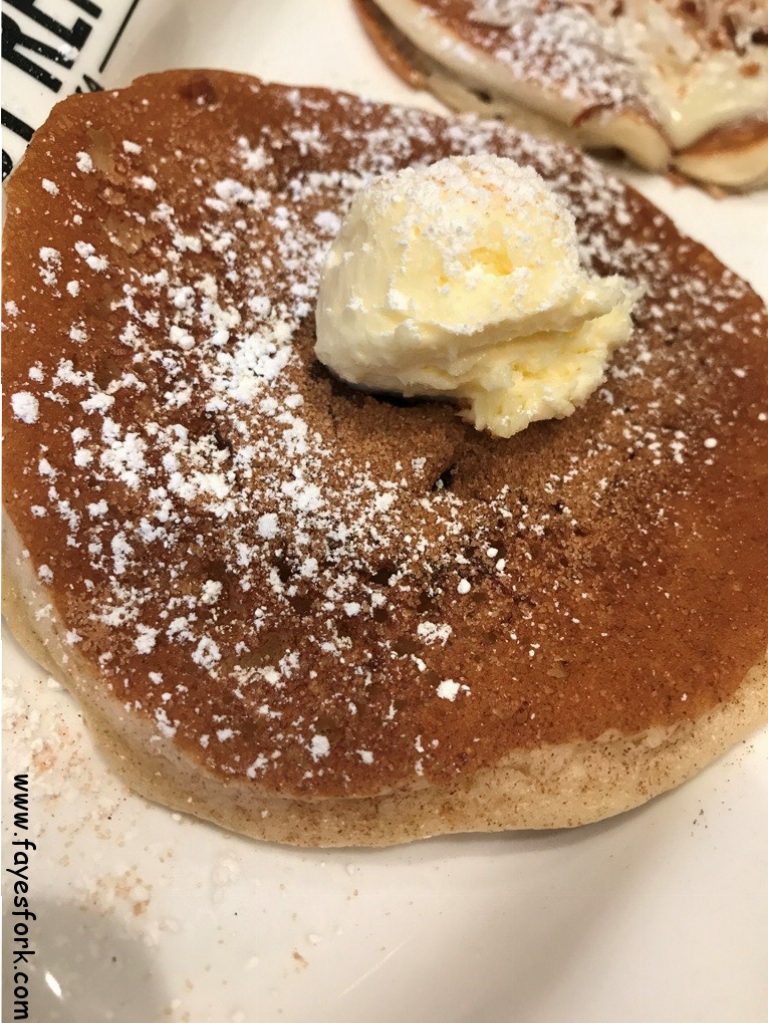 There was a nice cinnamon essence to this pancake.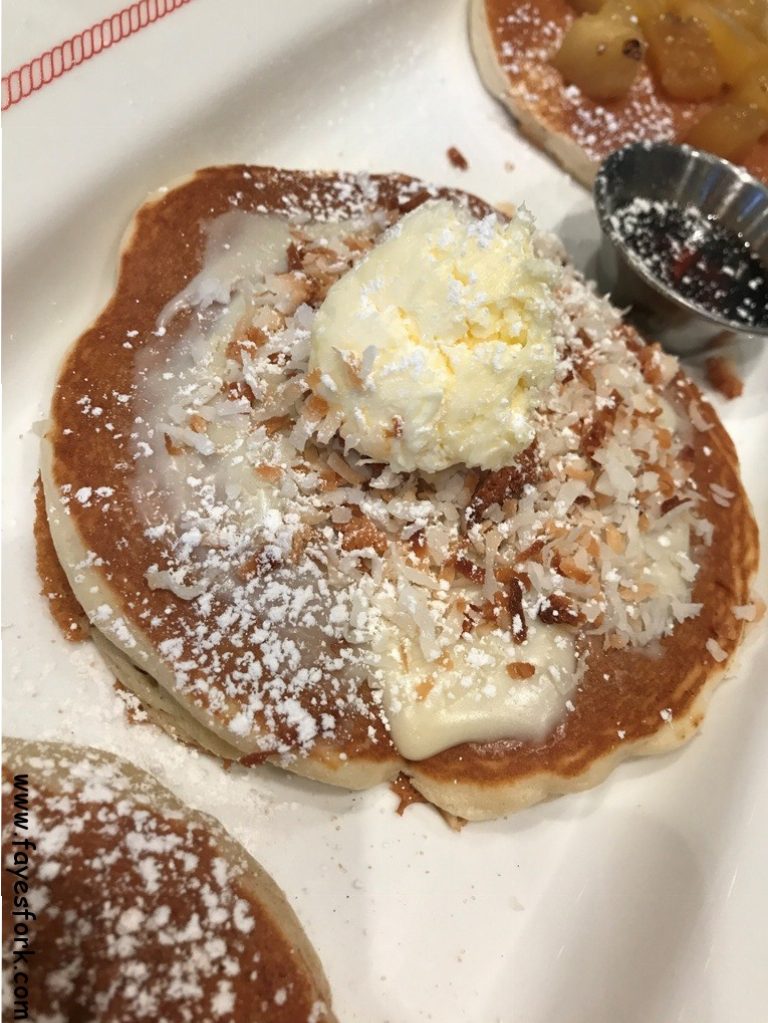 The lemon glaze was a bit sweet.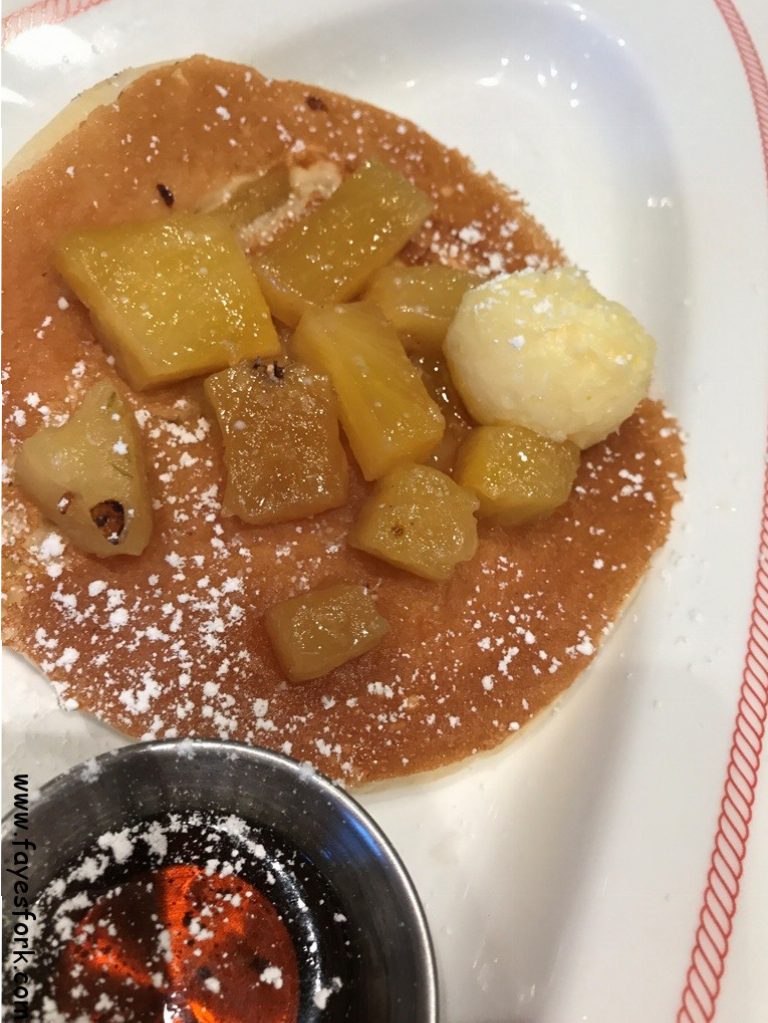 We weren't sure if they used canned pineapple. I really enjoyed the pineapple butter. Overall, the pancakes were alright. The pancake batter tasted standard but the toppings were what made them unique.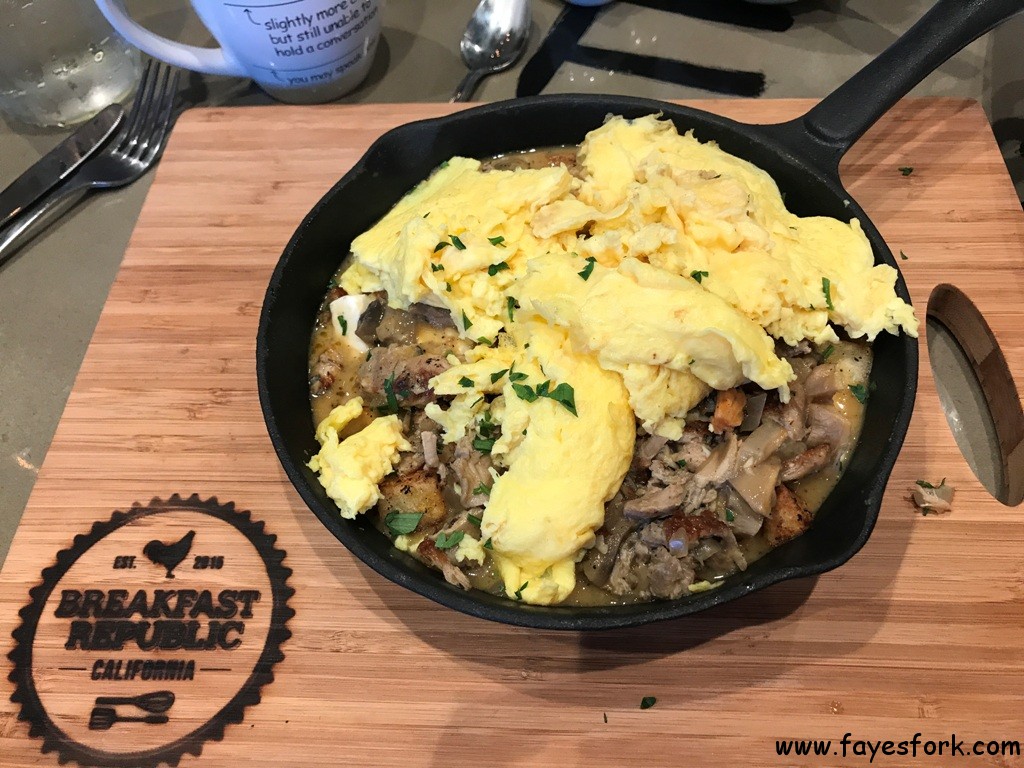 This was the special of the day. Our server explained it's the restaurant's version of poutine except they use their house potatoes, mozzarella, duck, and rosemary gravy. It's then topped with three eggs. I asked for lightly scrambled eggs and extra gravy.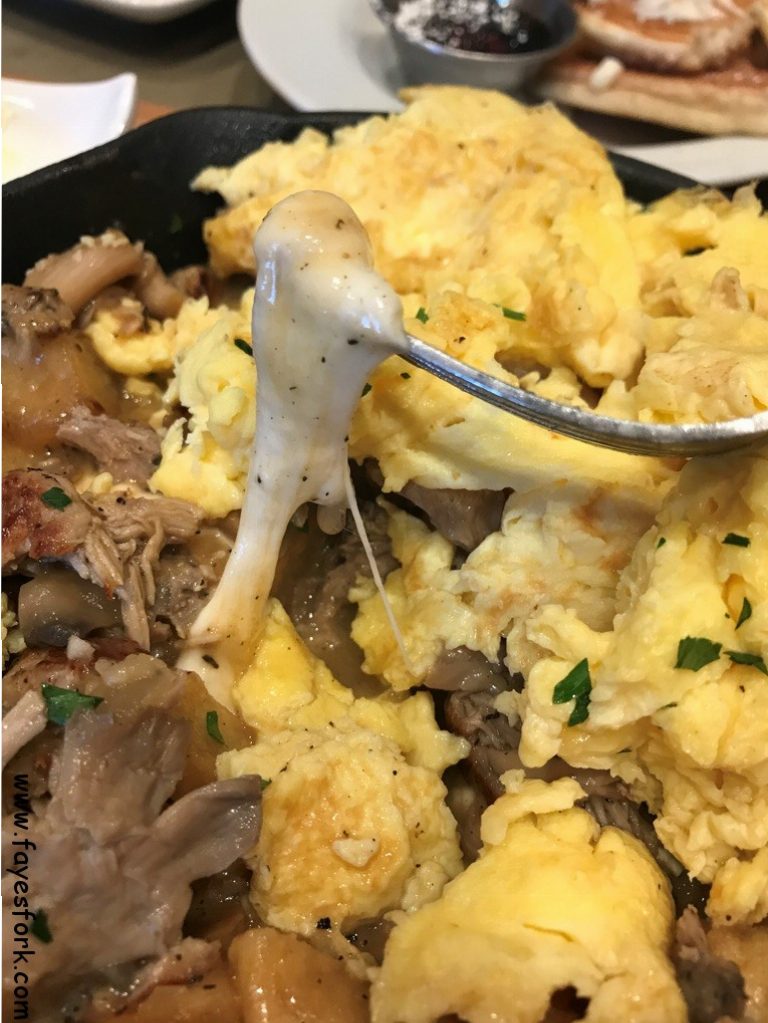 Unfortunately, the eggs were scrambled too long and tasted dry. I liked the mozzarella 'curds' inside the poutine but there wasn't very much of it. The shredded duck was ok. There were also sauteed mushrooms in the poutine which tasted too salty. The gravy was thinner but was a nice addition to this poutine. The three of us agreed this was our least favorite dish that morning.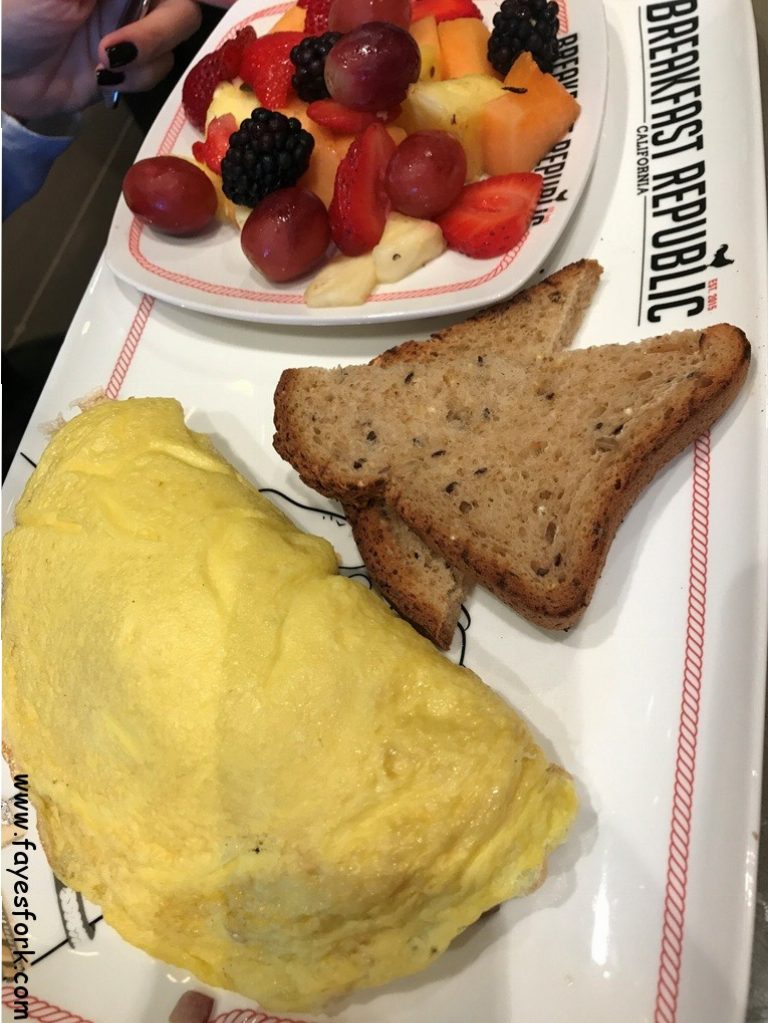 Diana opted for this omelette. It's a nice sized portion that comes with toast and a side of fruit. This omelette had red onion, potatoes, green bell peppers, jalapeño, and jack cheese. She enjoyed it.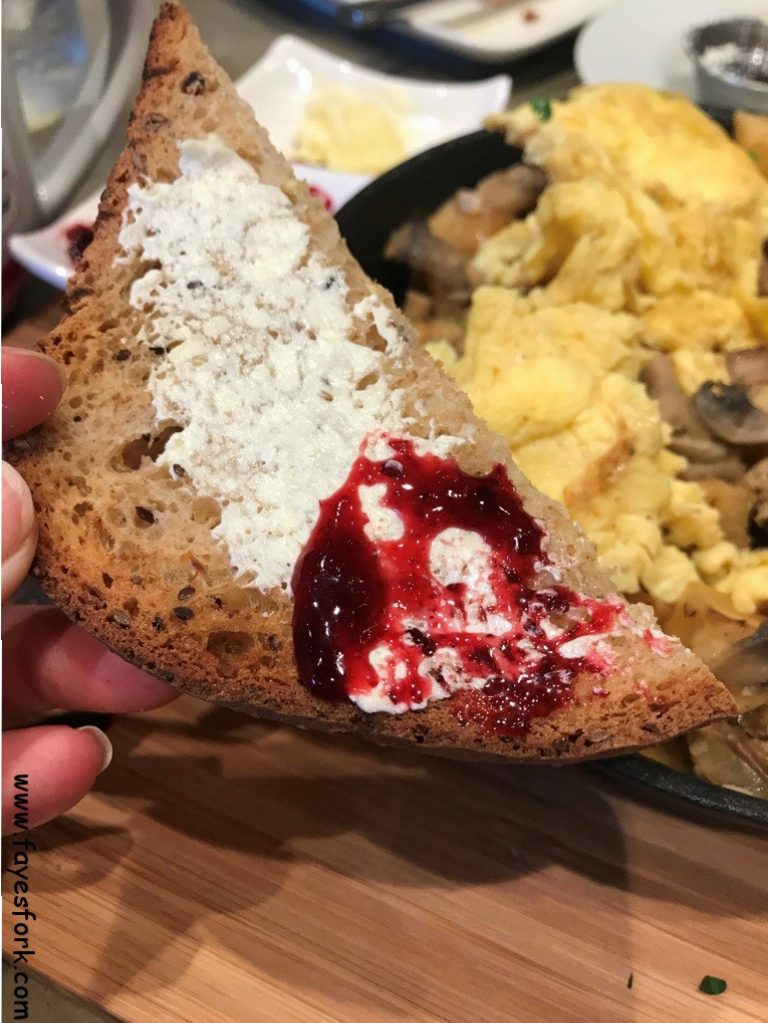 She also chose their gluten free bread which she made me try. I'm not sure if the bread is made in house? Regardless, it's a nice option for those who are gluten intolerant.
Enid, our server, was kind and efficient. The dishes come out quickly and clean up (clearing plates) was equally as quick. Breakfast Republic has a variety of items to choose from so I'd return to try out other items. This location is bright, open, and a wonderful addition to this part of San Diego.
BREAKFAST REPUBLIC
6025 Village Way
Ste 101
San Diego, CA 92130