This cooler weather has been making me happy. It rained (at least in my neck of the woods) Sunday morning which made me cozy up on the sofa even more before I headed to church. The cooler weather also makes me hungry. I guess it's the whatever-bear-that's-supposed-to-be-hibernating-in-the-winter in me. Gosh, is it almost winter too? I had seen Handoo Korean BBQ on Yelp and also driving by when I'm in Convoy. Handoo Korean BBQ took over Mapo some time ago. They currently have a 10% off grand opening special.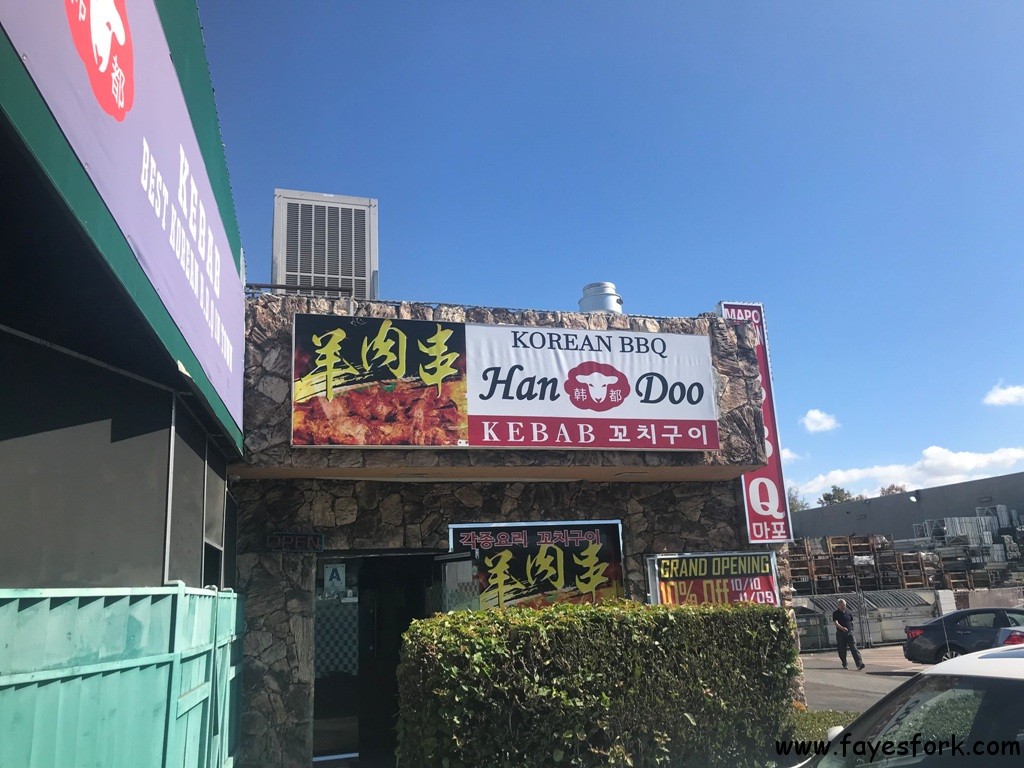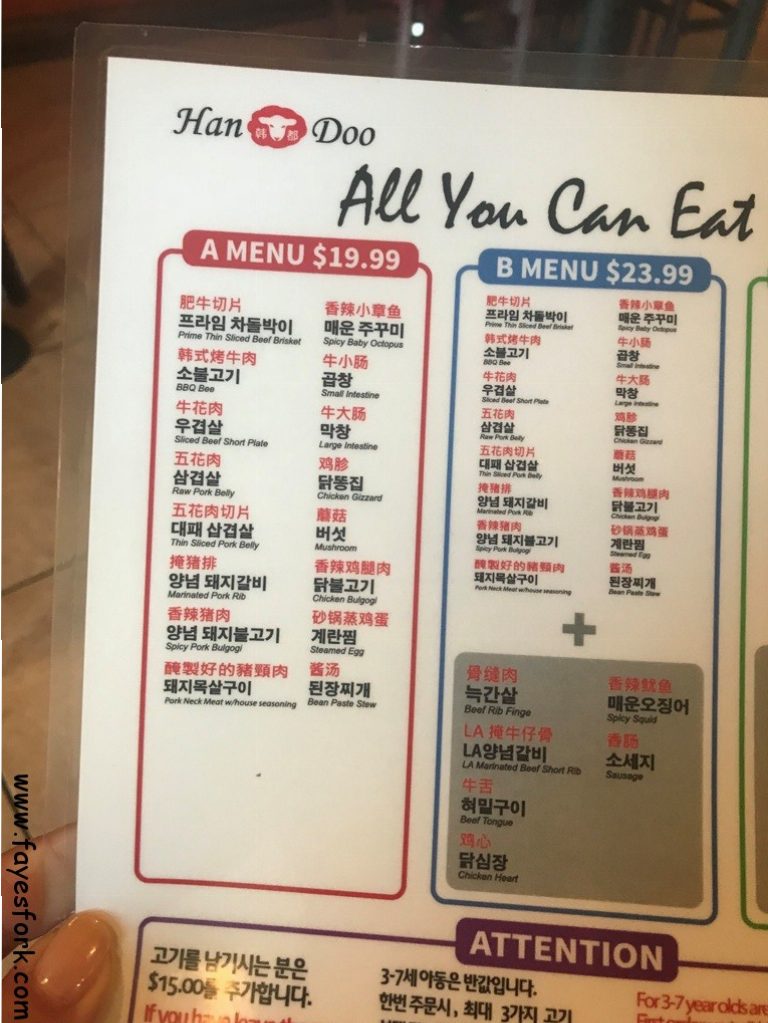 OPTION A: $19.99
OPTION B: $23.99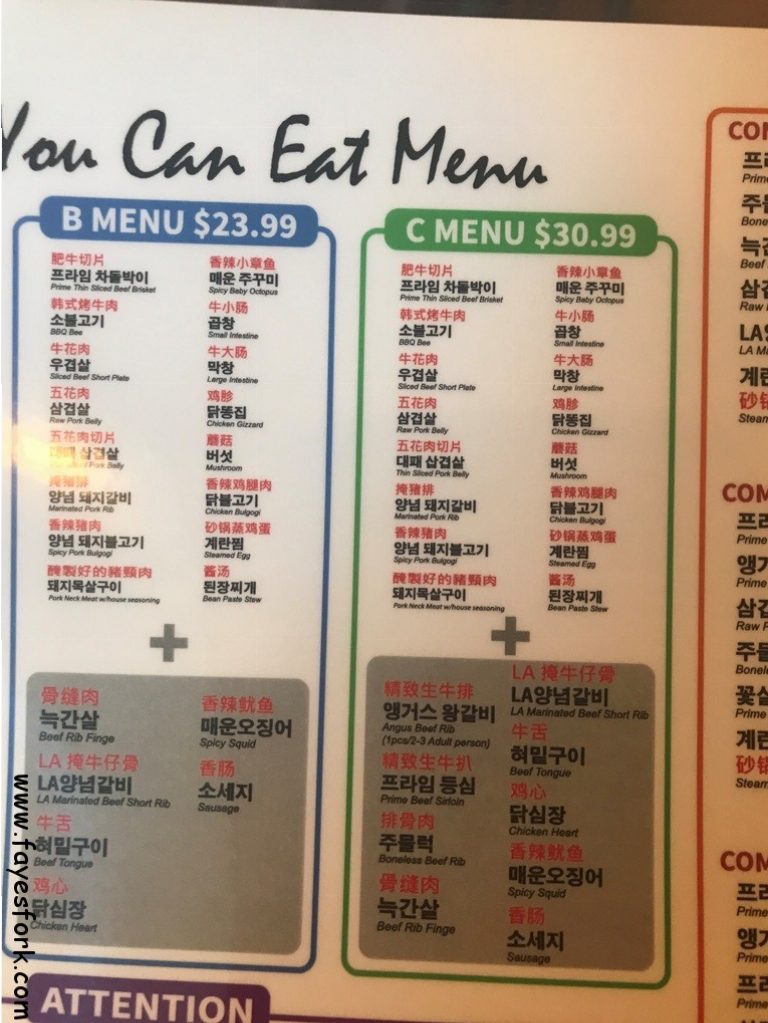 OPTION C: $30.99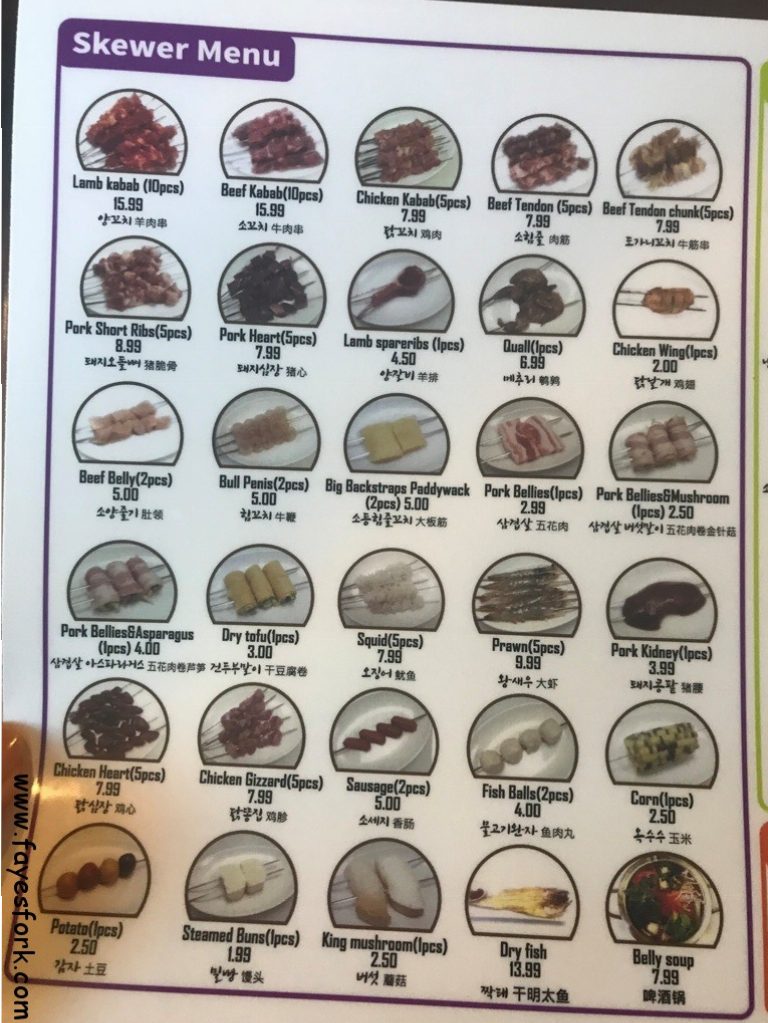 They also have a fun skewers option here at Handoo Korean BBQ. They have a neat contraption that let's you grill these skewers, on your own, at your table. I'd like to return to try this but the prices look expensive.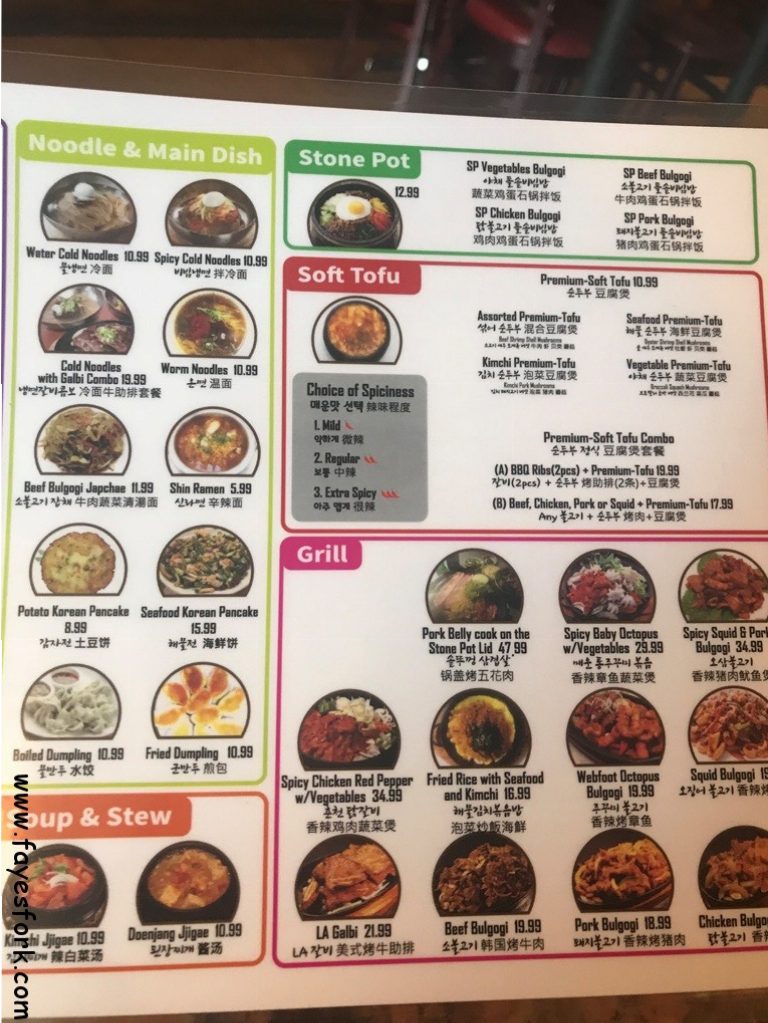 They also have non-AYCE menu items.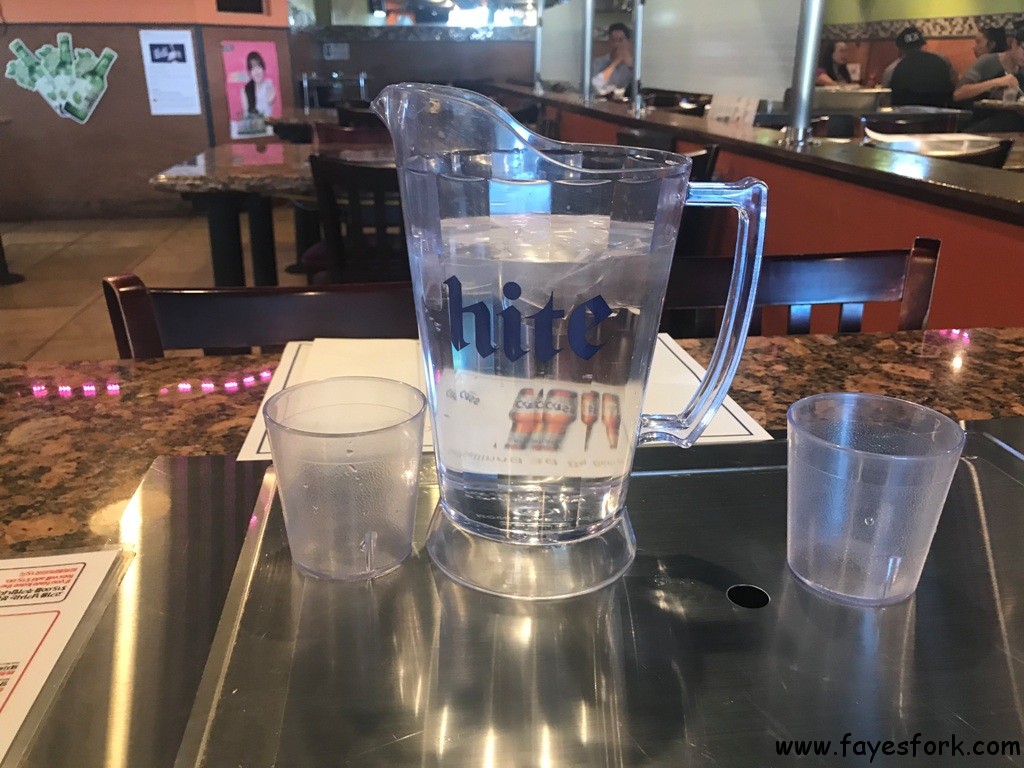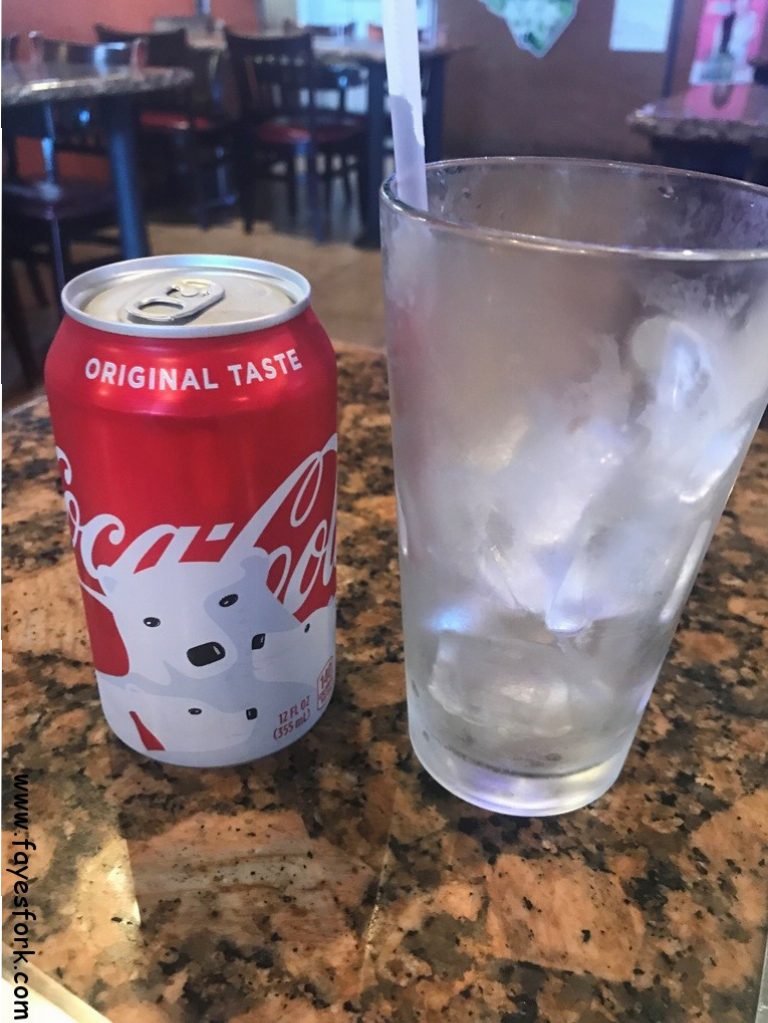 $1.85 for ONE can of cola. Yikes.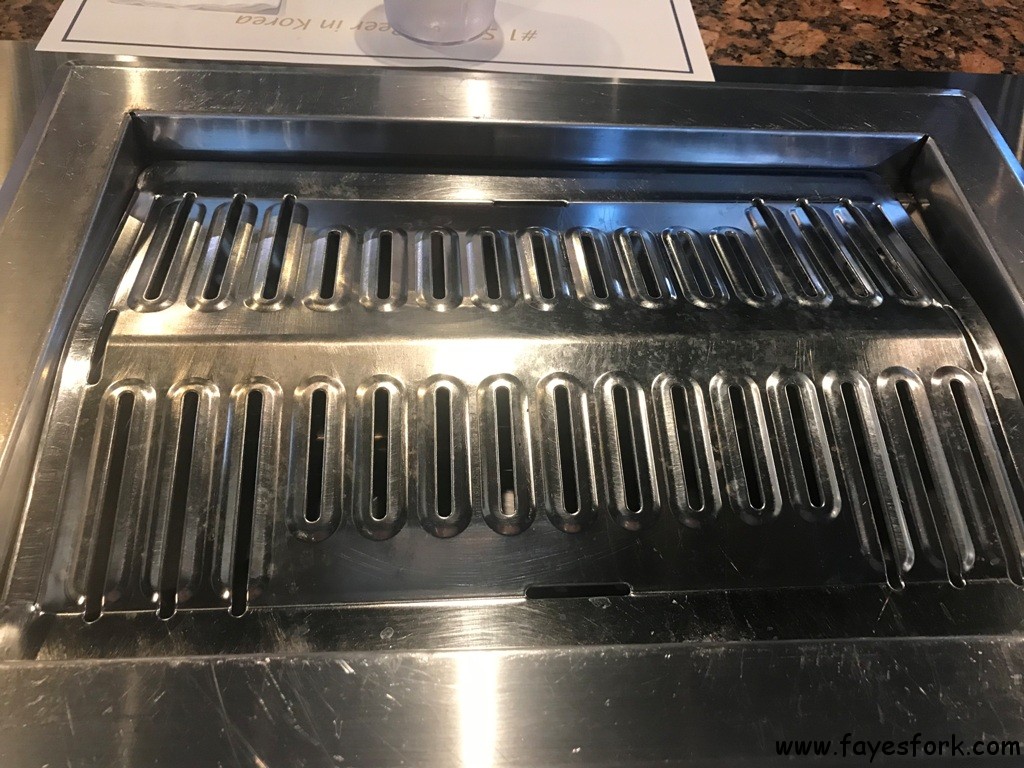 We decided on the Option B $23.99 as it offered the LA Marinaded Beef Short Rib.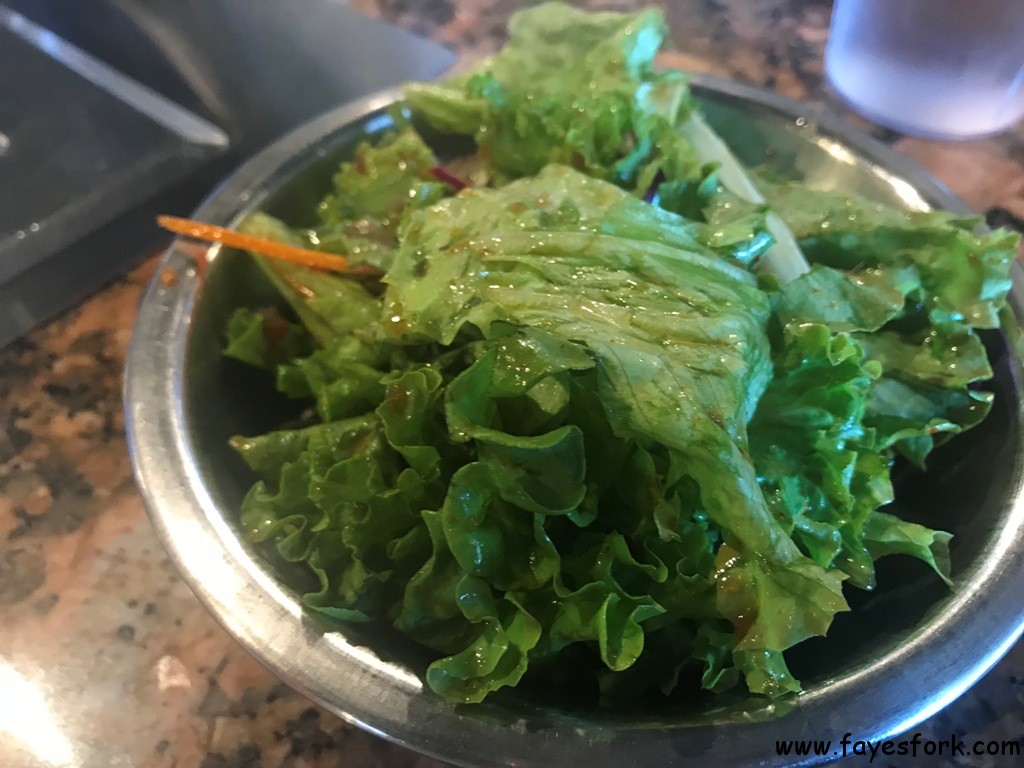 The salad had a light sweet dressing. The leafy lettuce was nice to eat in between the meats.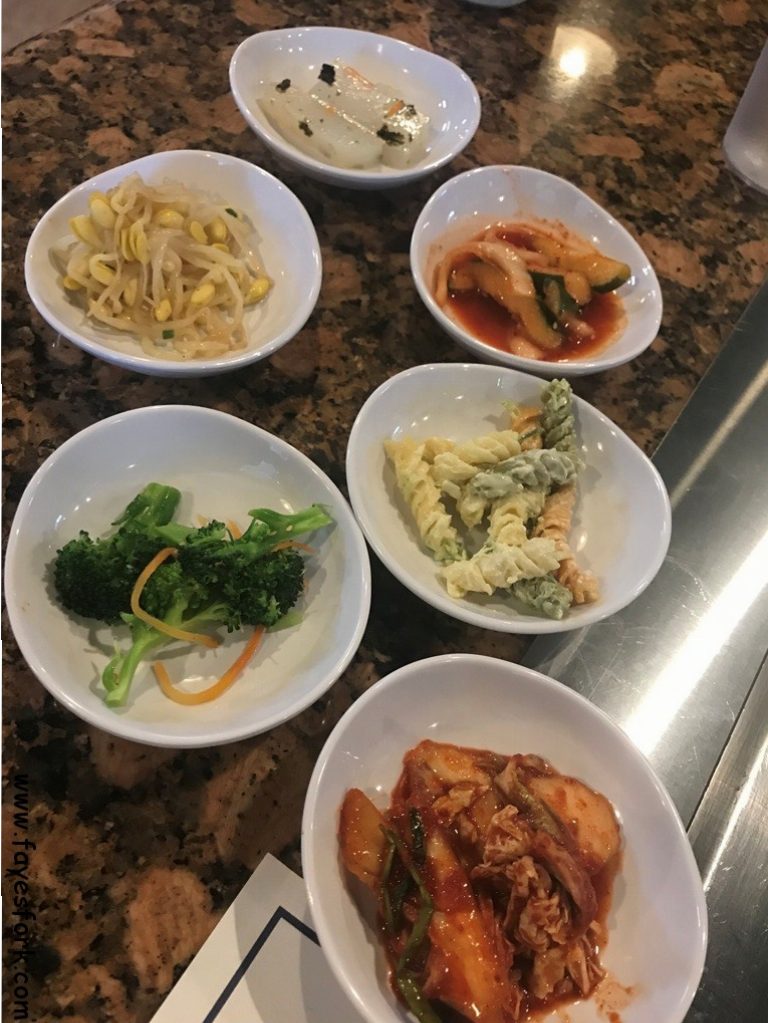 This included kimchi, broccoli, pasta salad, bean sprouts, cucumber salad, and some jelly.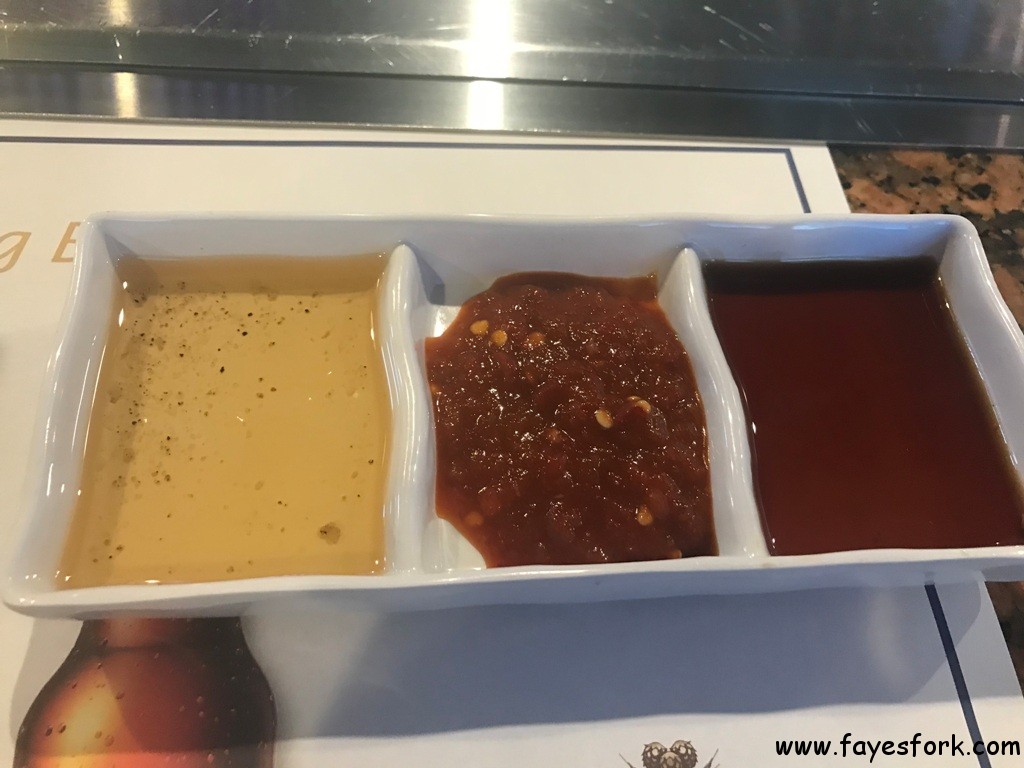 There were 3 sauces: sesame oil, sambal, and sweet soy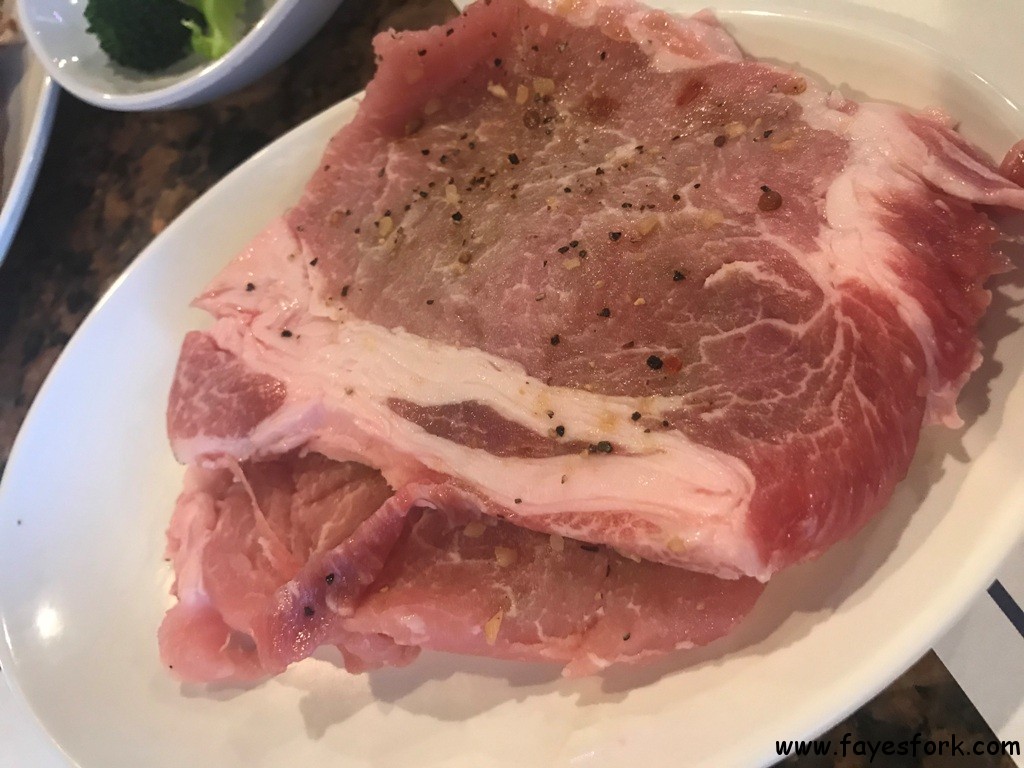 This looked like pork chop to me (minus the bone). This was a wonderful cut of meat. It had a nice house seasoning (garlic, salt, pepper?) and you could tell this wasn't a cheap cut of meat as it tasted really good once grilled.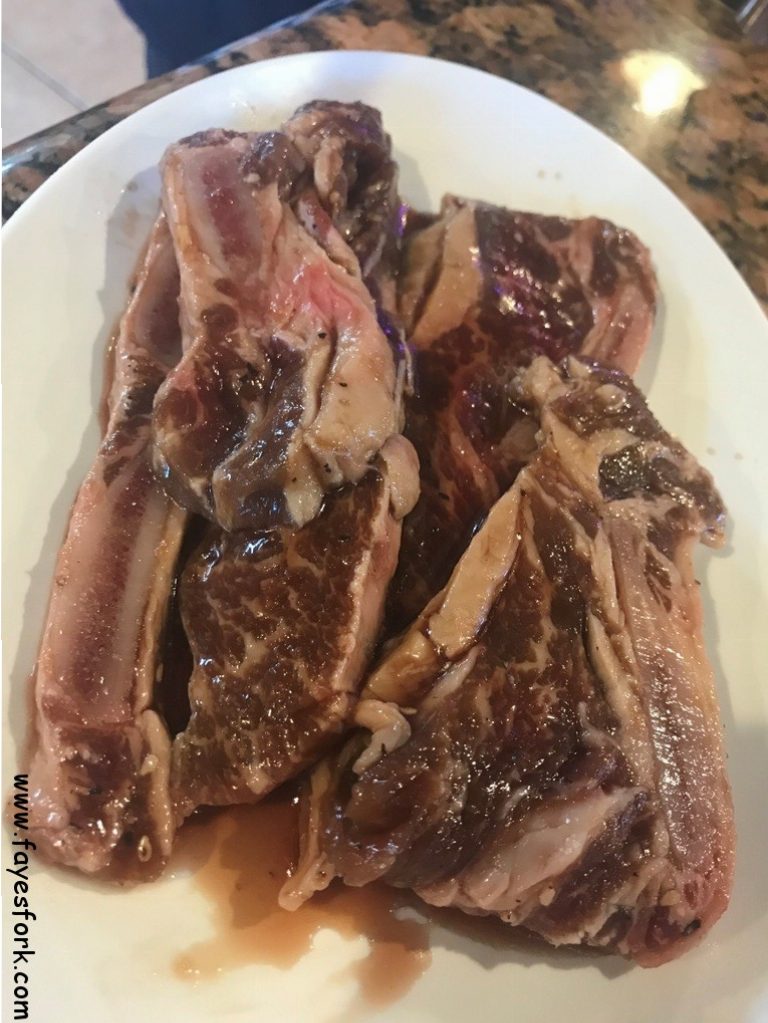 I was excited about this. I don't think I've visited another AYCE KBBQ that offered bone in short rib (galbi). This is usually an expensive cut of meat.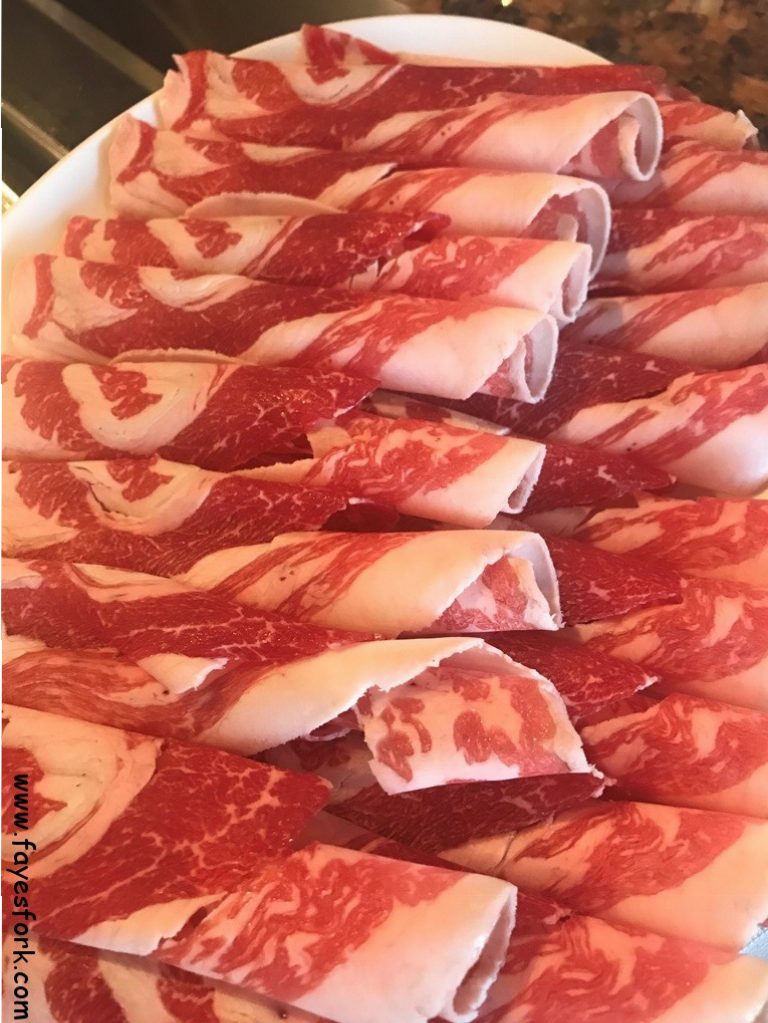 This was a bountiful plate of brisket.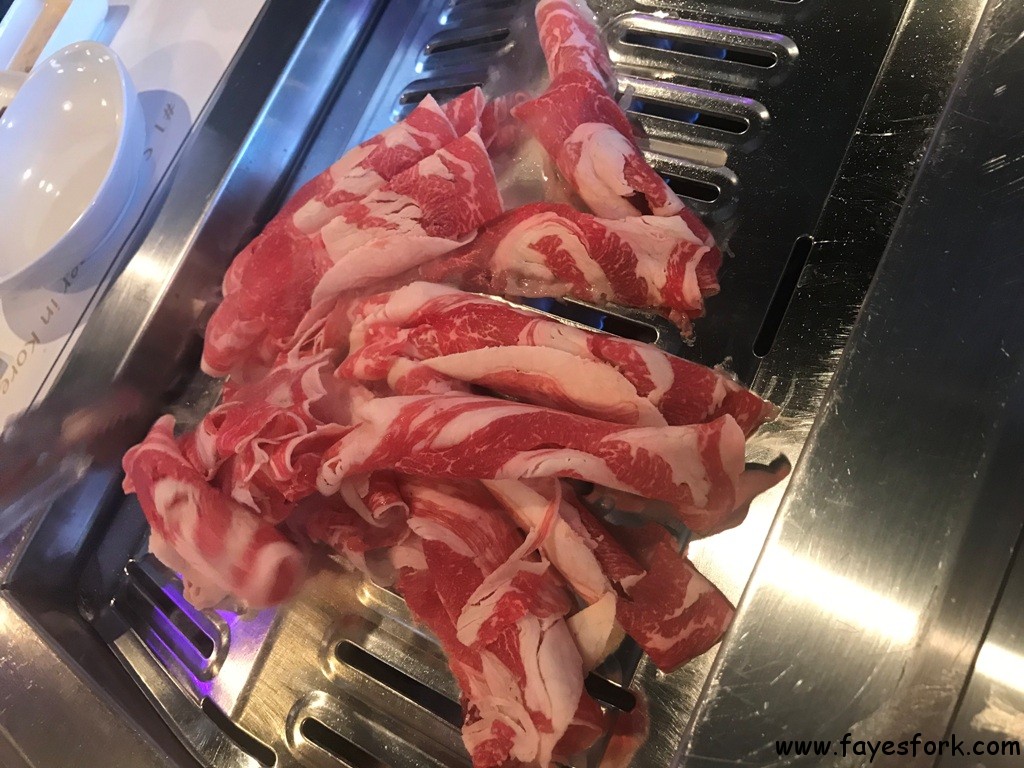 I didn't like how the waiter dumped the entire plate of brisket onto the grill. We didn't want to eat that much brisket to start.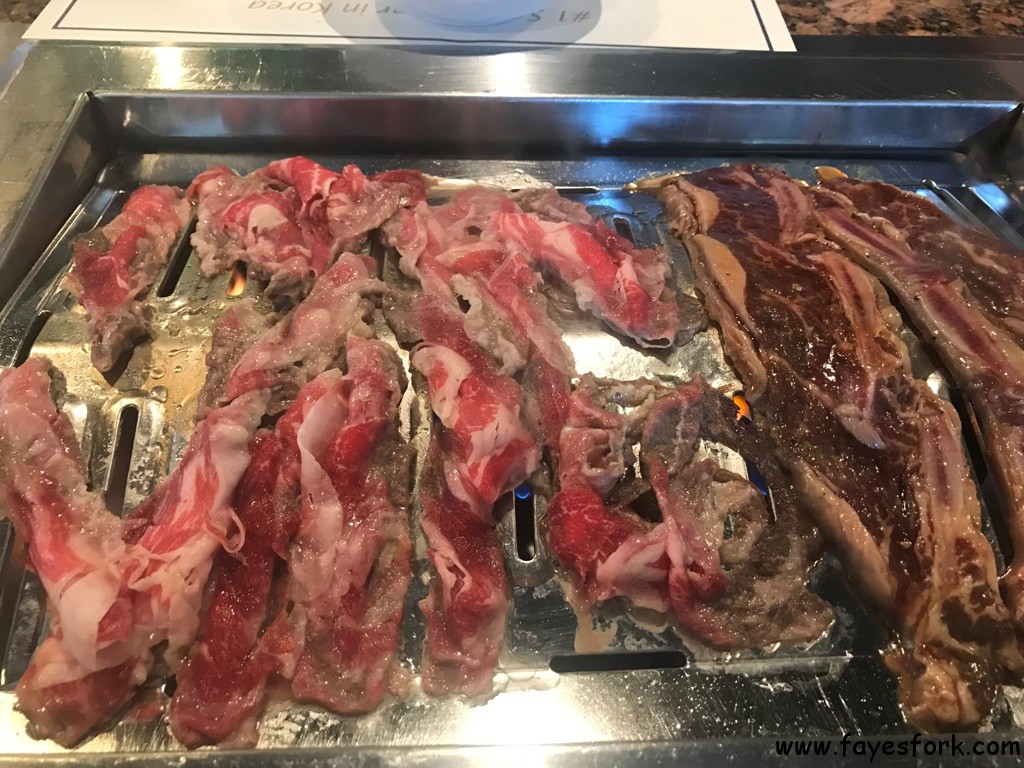 Here's the brisket and galbi grilling. We had to increase the heat of the gas grill as the temperature was so low that it was almost stewing the meats.
The brisket was very good. It was one of the best briskets I've ever had at an AYCE. The meat was sliced thin but had just the right amount of fat/flesh ratio to it. It tasted tender and fatty. I enjoyed it with the sweet soy dipping sauce. This brisket could have been used for shabu shabu meat as it was that tender.
The galbi was delicious as well. I love short ribs on the bone as it just gives it extra flavor. The marinade was nicely sweet. The meat was nicely fatty and it grilled well.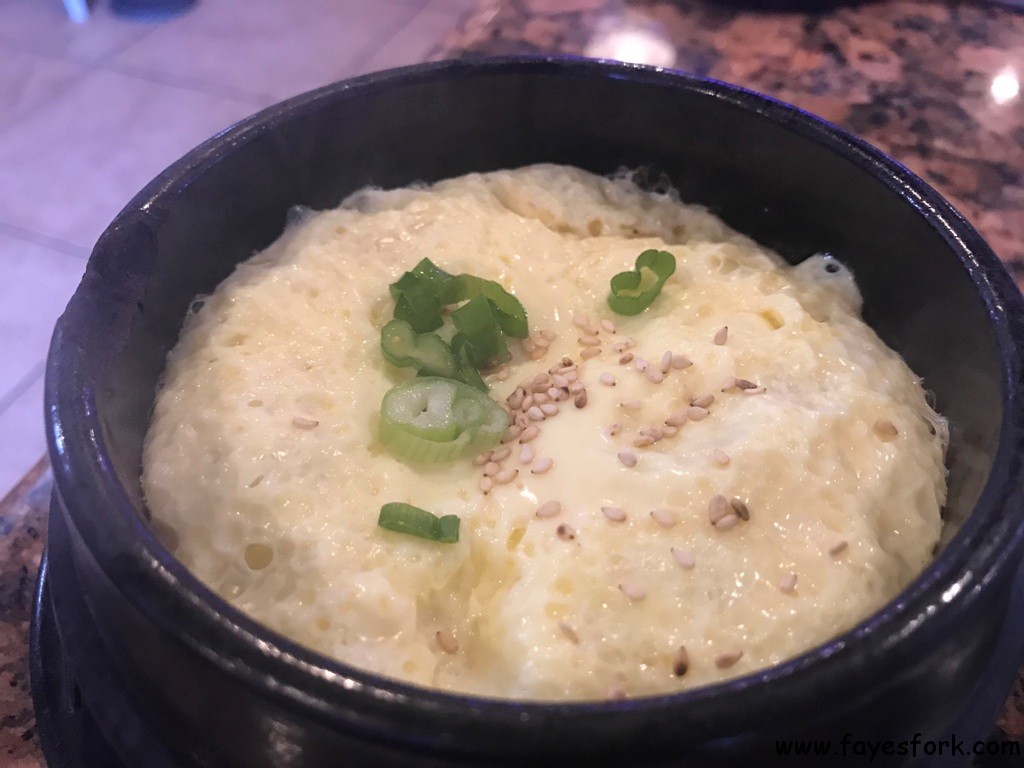 STEAMED EGG
The steamed egg (Gyeran Jjim) arrived shortly thereafter. You have to request this from the menu (it's included with all 3 AYCE options).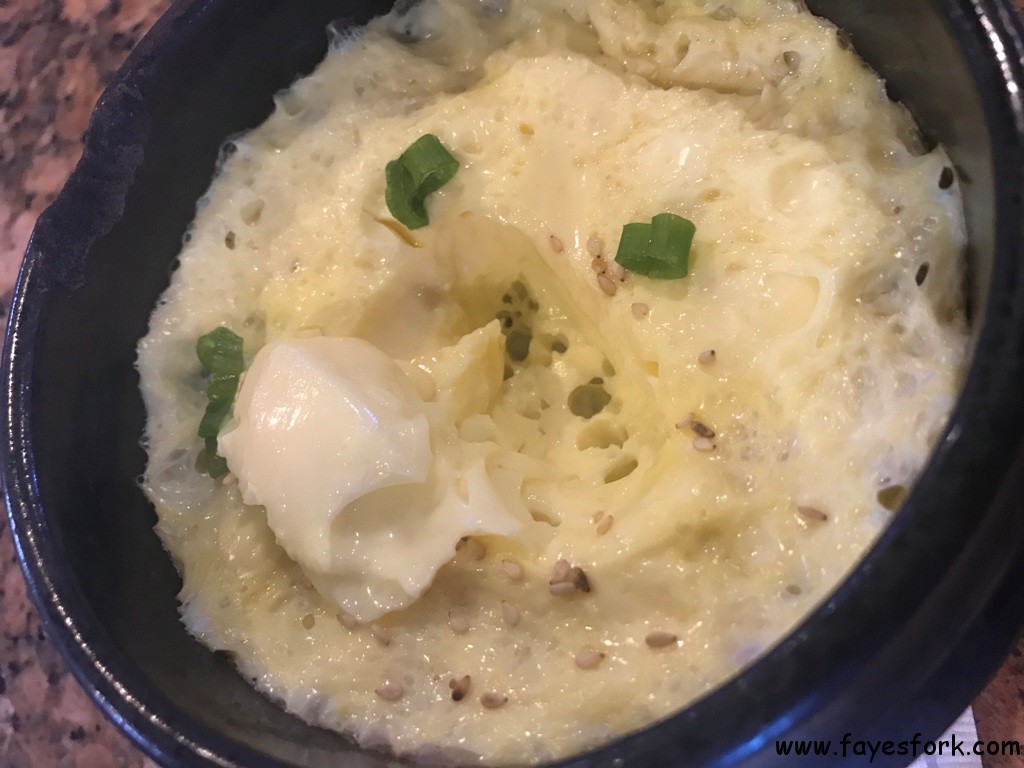 The steamed egg tasted over done.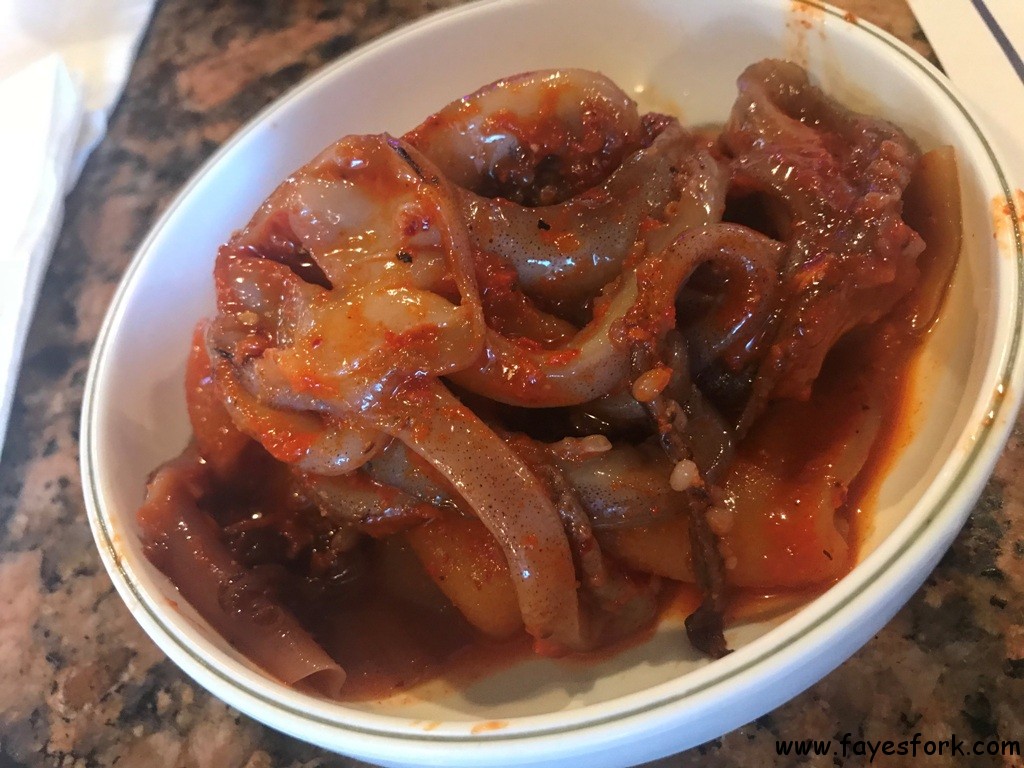 SQUID
I had asked for a small portion of the squid but three large pieces came out.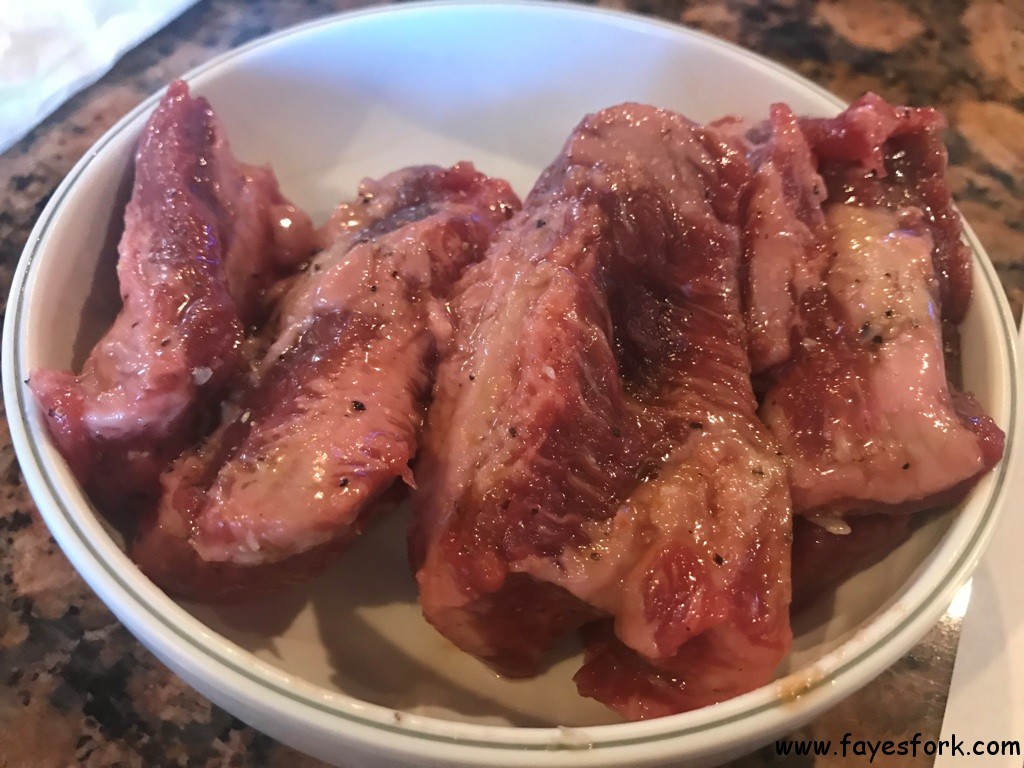 This was a large order with about 7 pieces.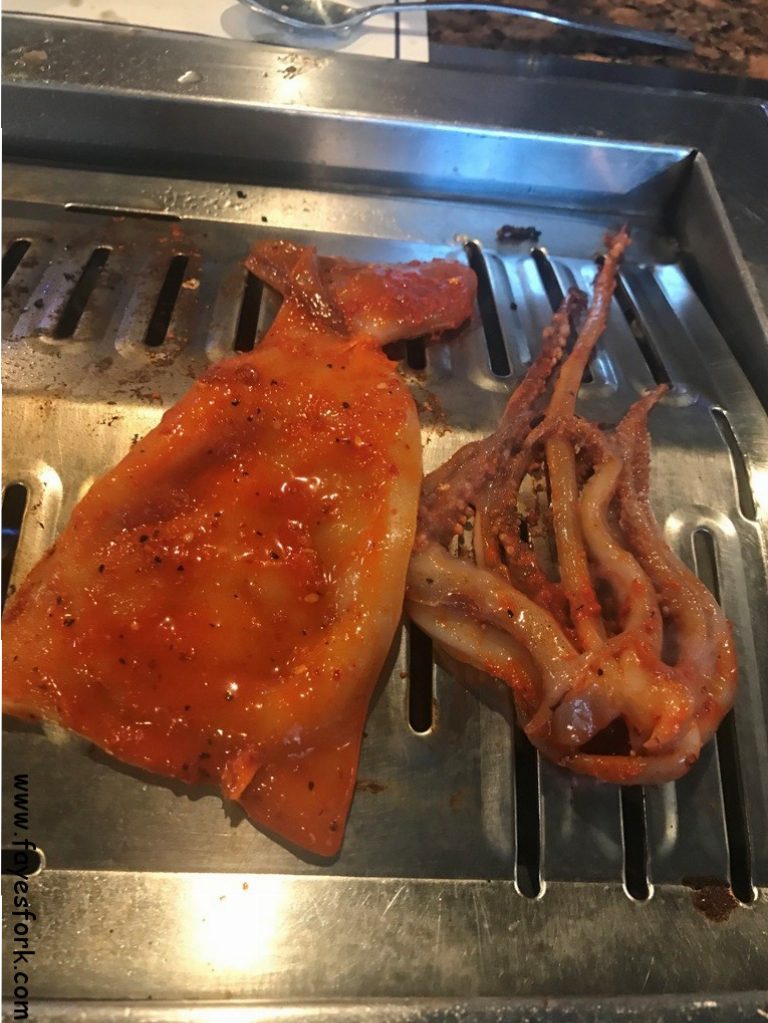 Look at how ginormous this is. I could almost feel it swimming in the ocean. I'm not a tentacles kinda gal so this serving was hard for me to consume.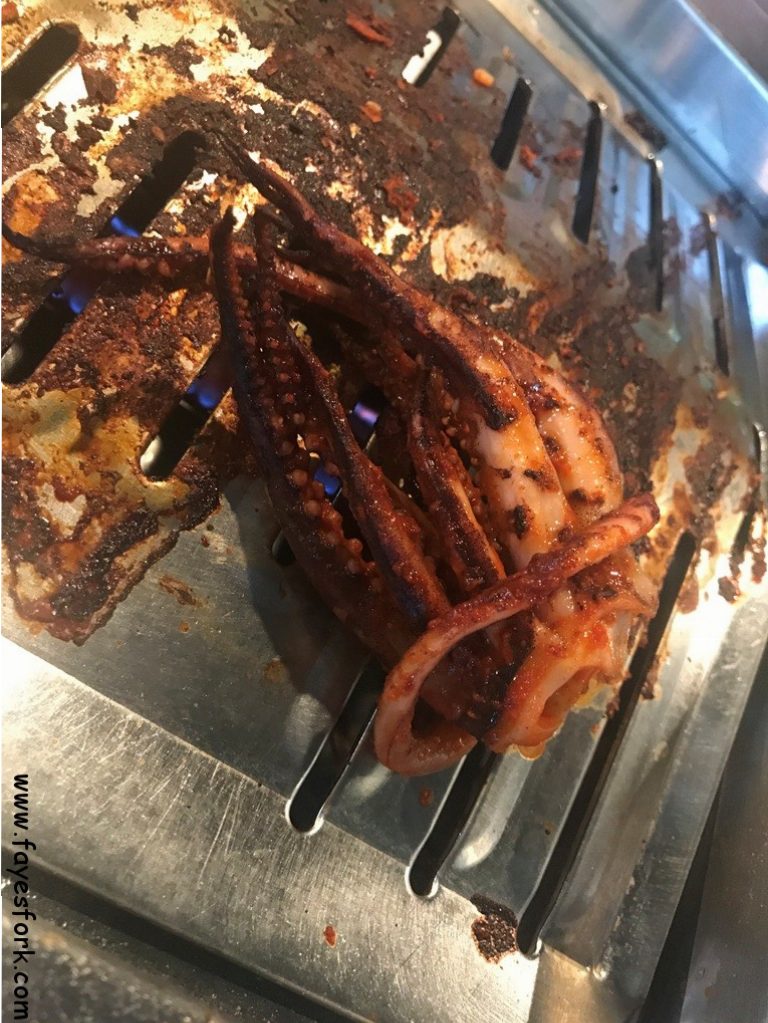 The tentacles got crispy on the grill which was nice. But Cdj had a hard time looking at the opening mouth/beak of the squid.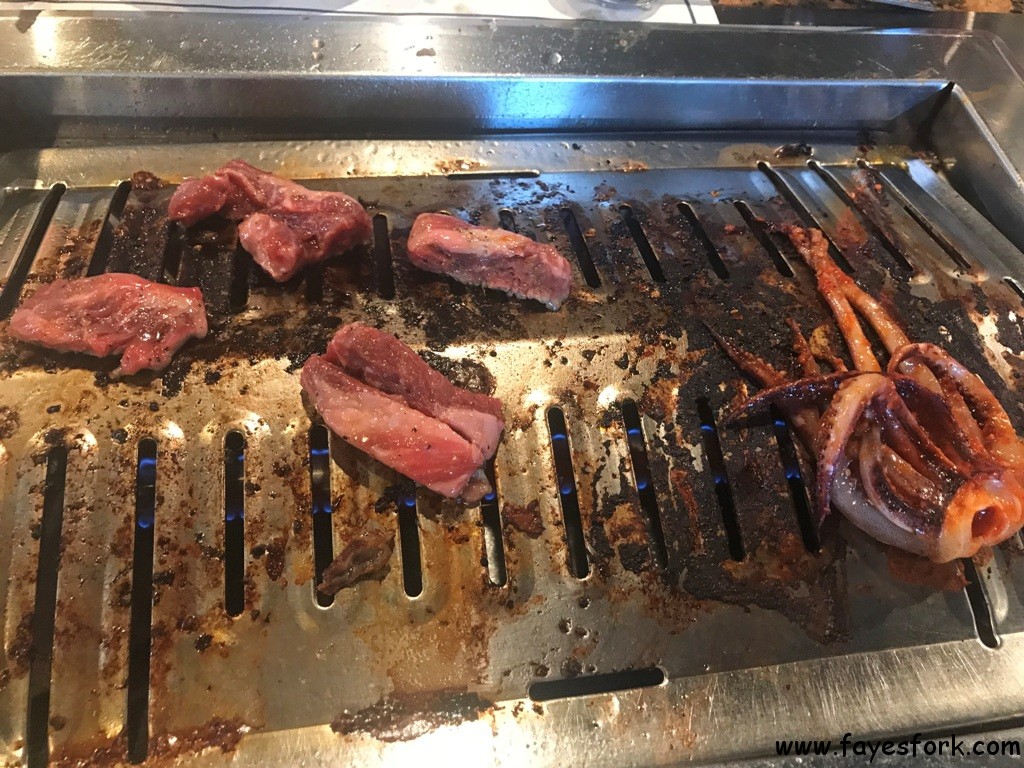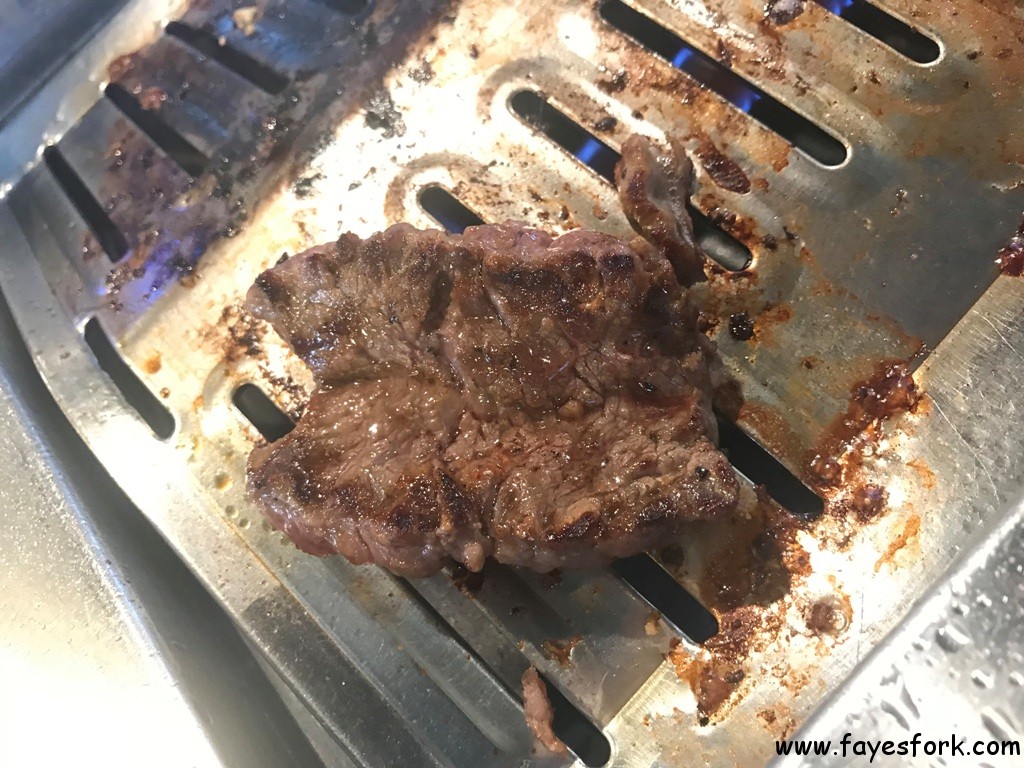 The beef finger was tough and hard to chew. It was our least favorite (along with the squid).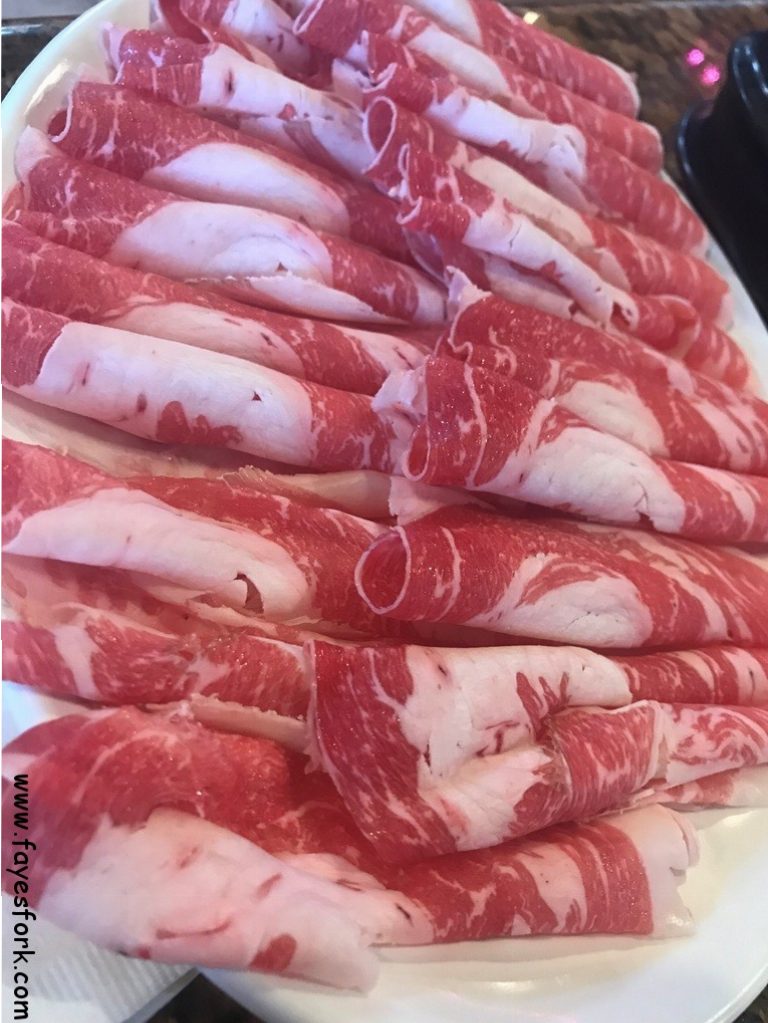 2ND ROUND BRISKET
Cdj ordered another round of brisket since he loved it so much.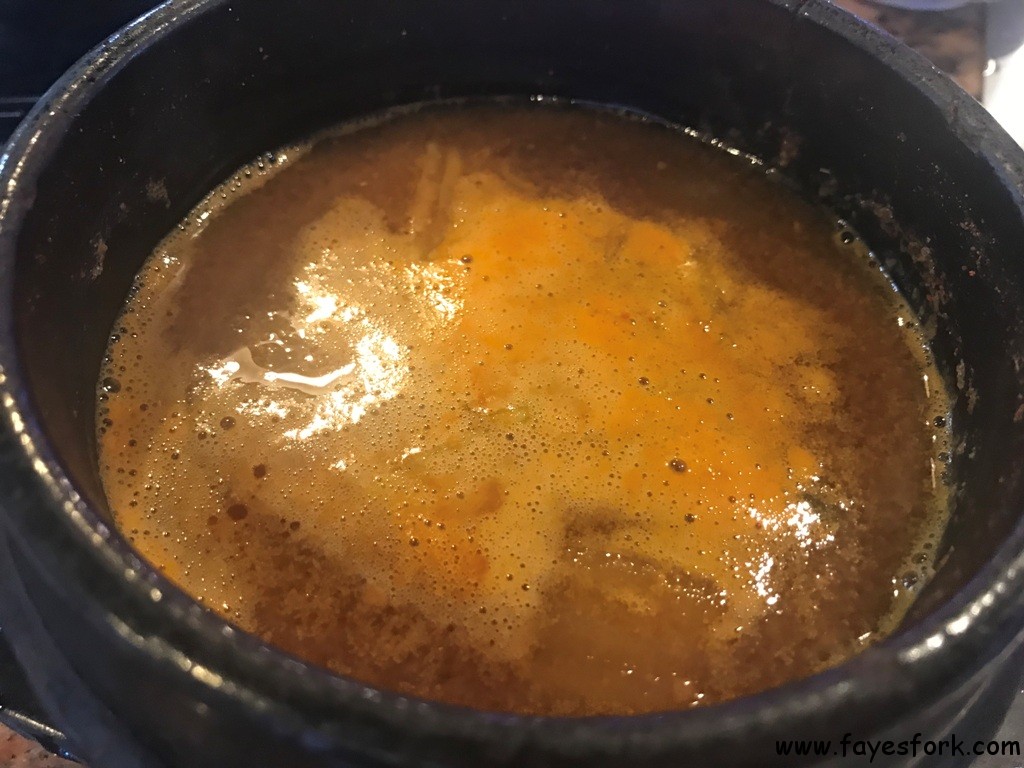 You have to order this from the menu. The stew tasted too muddy for me.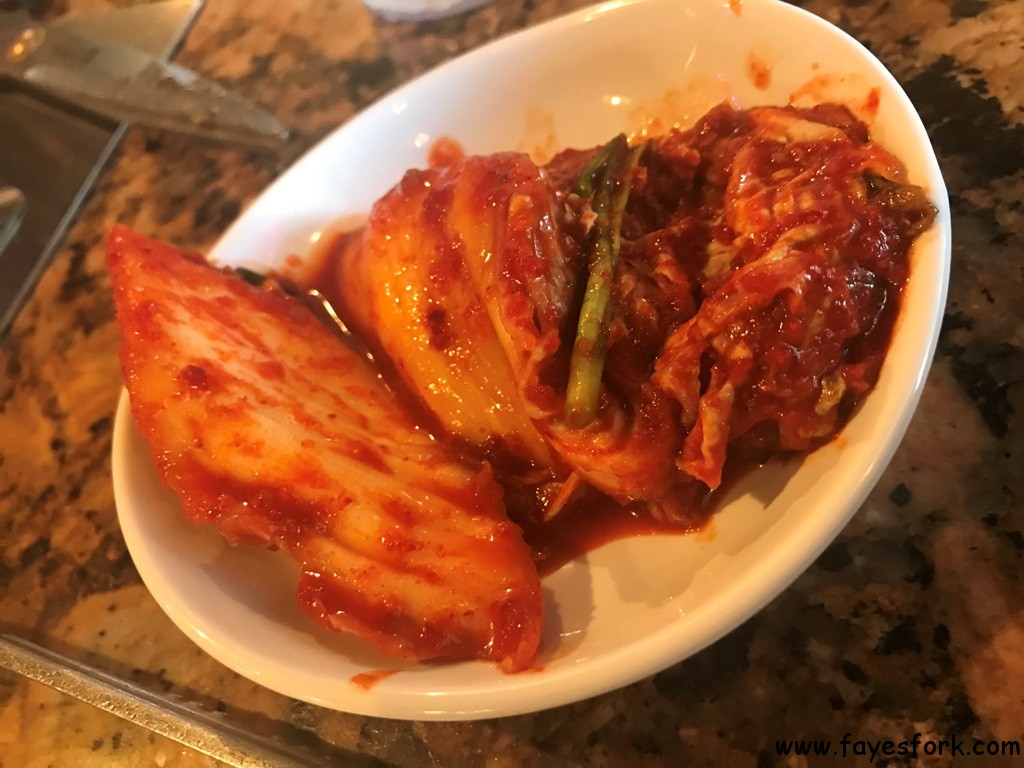 I must say that the kimchi was my favorite banchan of the meal. I don't normally enjoy kimchi but this one was so creamy with the fermentation. There was almost extra chili paste folded in between the cabbage. I'm hungry for this kimchi as I type this.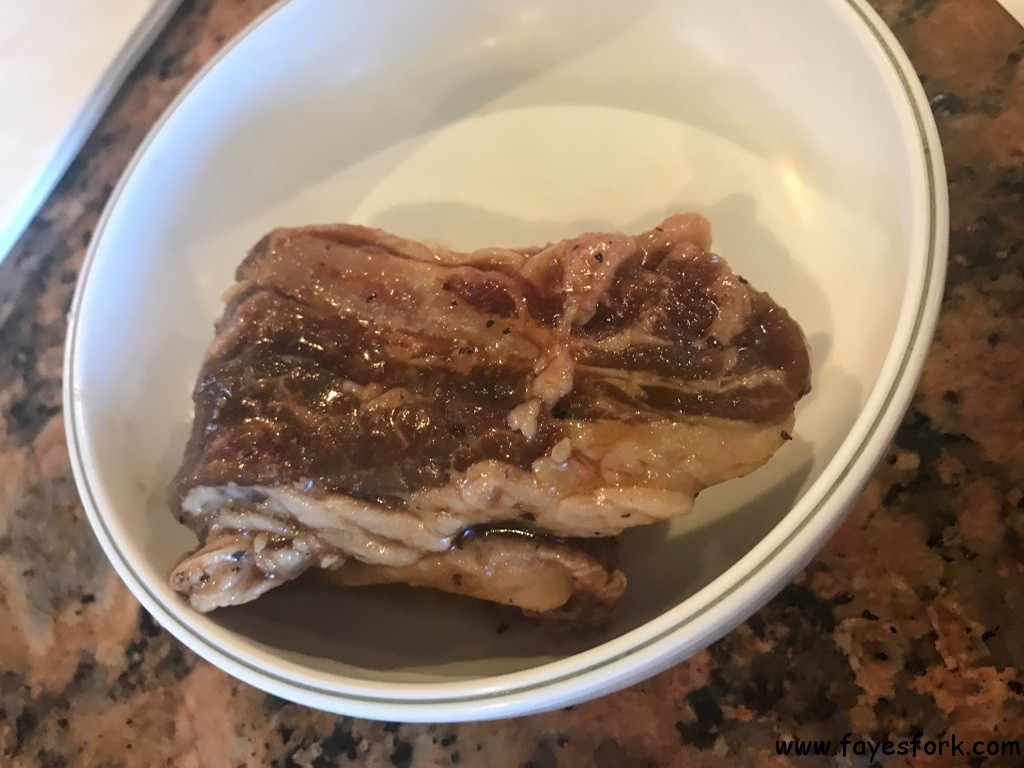 I asked for just one more piece of galbi as we couldn't finish two. Be careful as they do charge for over ordering / uneaten food (rightfully so).
I think we actually ordered a 3rd round of brisket since I was determined to get my money's worth. It was a huge mistake as we had meat sweats at the end and my stomach felt terrible.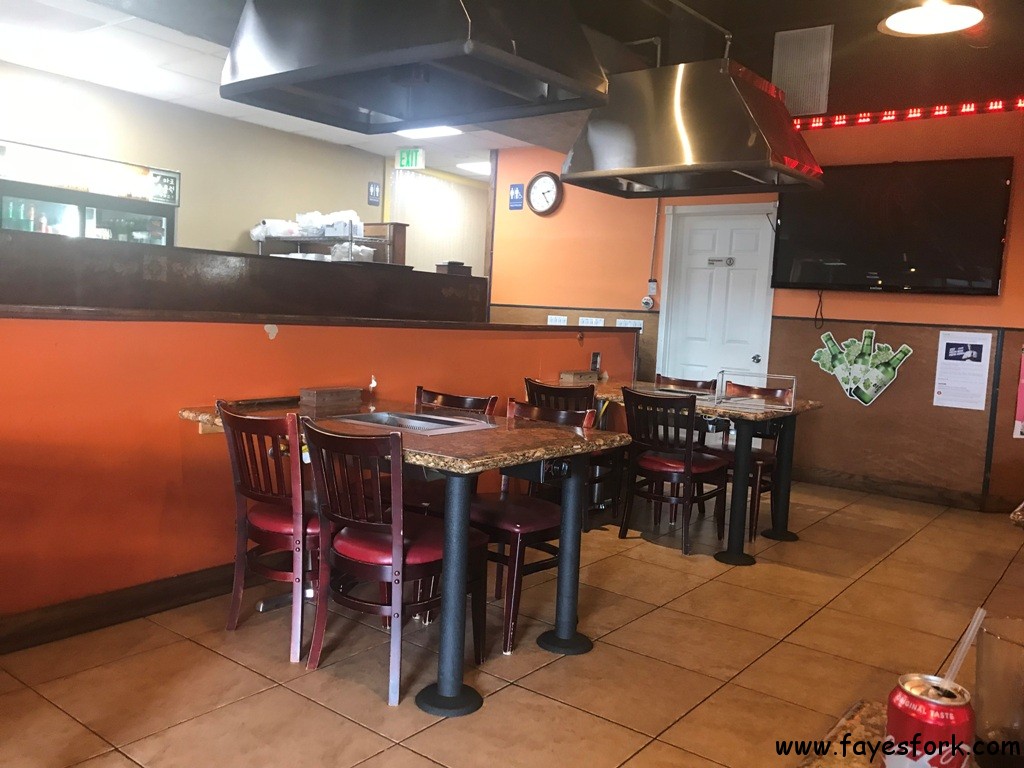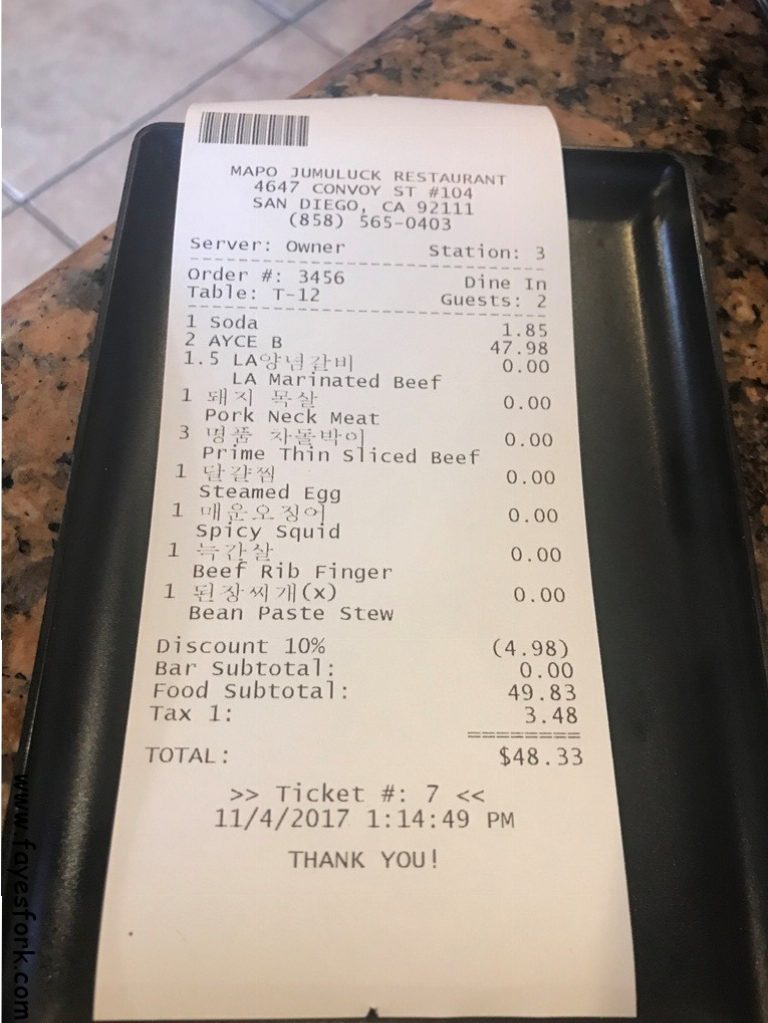 10% off!! We didn't even have to ask. I think this promo is until November 9, 2017.
Service was alright. We had to flag down servers to take our orders or to get refills of banchan. Sometimes an order was forgotten but no biggie as it wasn't a busy day (so reminding them of an order was easy). I heard Mandarin being spoken among the two servers so I'm wondering if Handoo Korean BBQ is owned by non Koreans. I'm coming back this week to have dinner with Annie so maybe that's when we'll try the skewers. I recommend Handoo Korean BBQ if you're in the mood for an AYCE option of Korean BBQ.
HANDOO KOREAN BBQ
4647 Convoy St
Ste 105
San Diego, CA 92111