I think I would have blogged more if I was able to translate half the restaurants' names I went to when I visited Taiwan. All relatives seemed to have different translations. Hui Lan Wan Superior View Restaurant was one of the grandest places I've ever visited for dinner. The presentation of each dish BLEW MY MIND. The pictures in this post won't do justice for any dish. You'd have to be there to really gasp at the grandioseness of the chef's whim.
Hui Lan Wan Superior View Restaurant is located in Hualien. Probably about 30 minutes from Taroko Gorge. It's a stand alone restaurant and is quite large.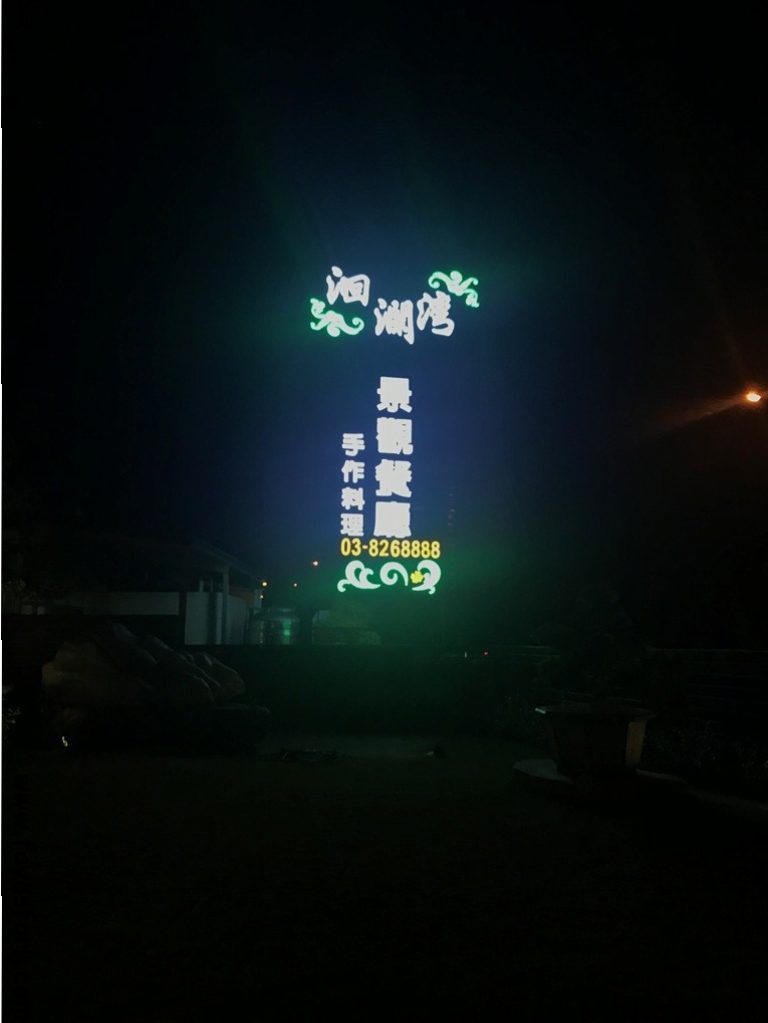 My mom has been here before with clients. The restaurant parking lot was empty the evening we visited. The family tried to convince my mom to cancel the reservation as an empty restaurant can't be a good sign. She assured us Hui Lan Wan Superior View Restaurant was an excellent choice for us to try that night.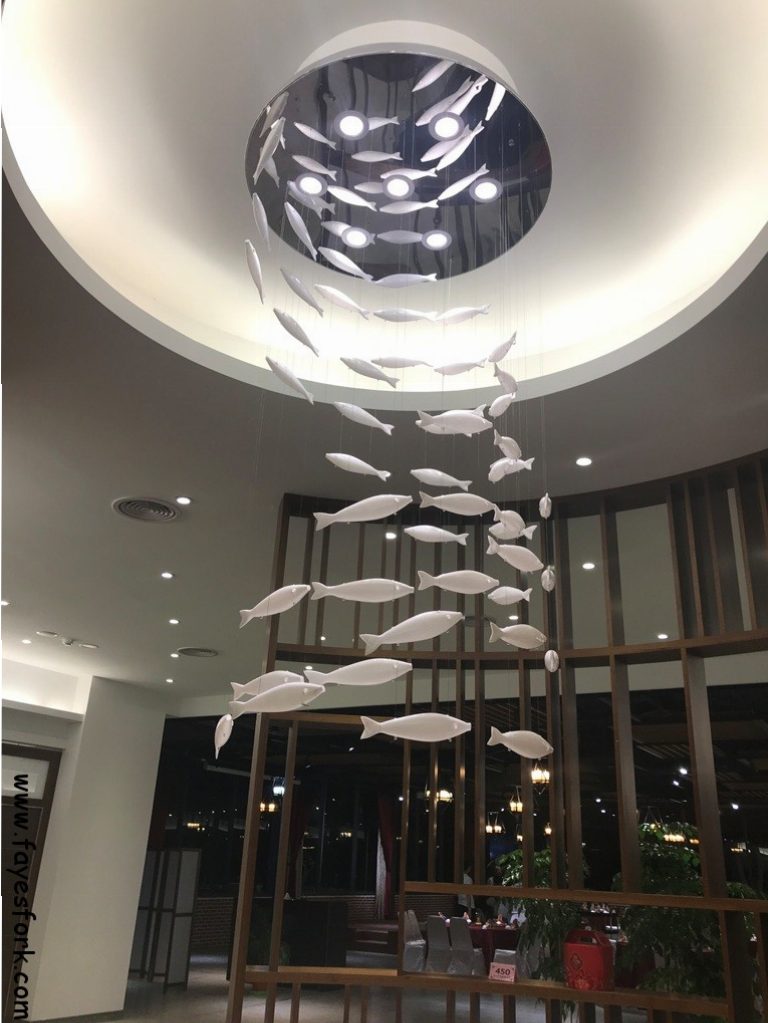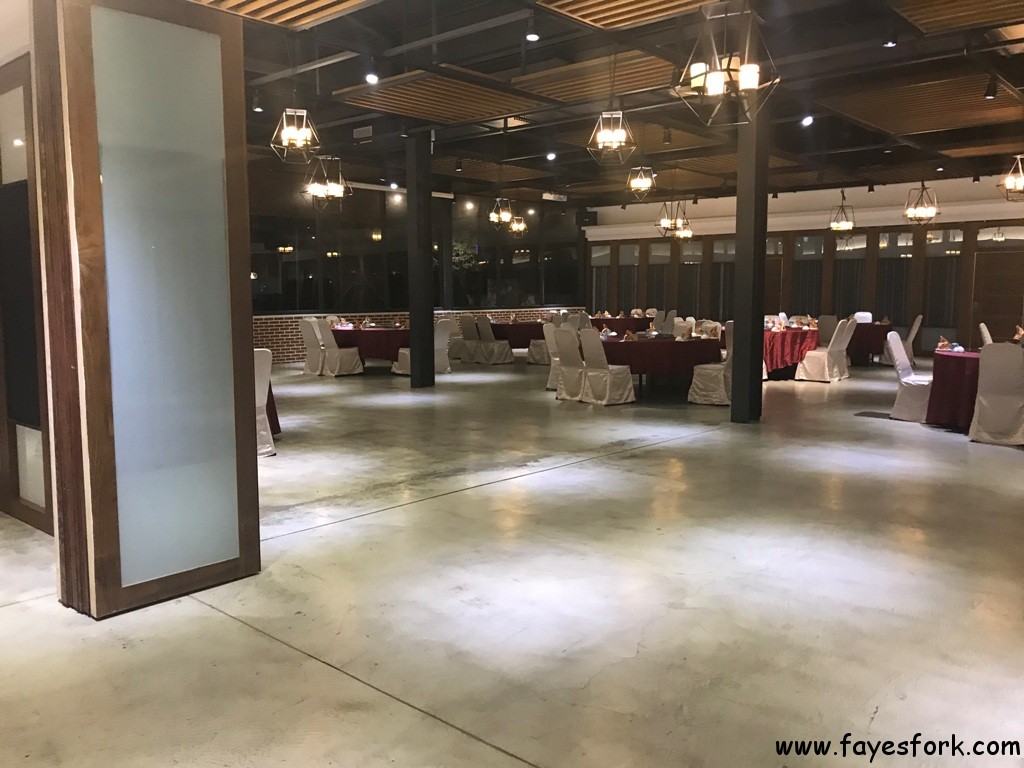 The backyard of the restaurant is supposed to be quite beautiful with plants, trees, water. I think a lot of weddings take place here.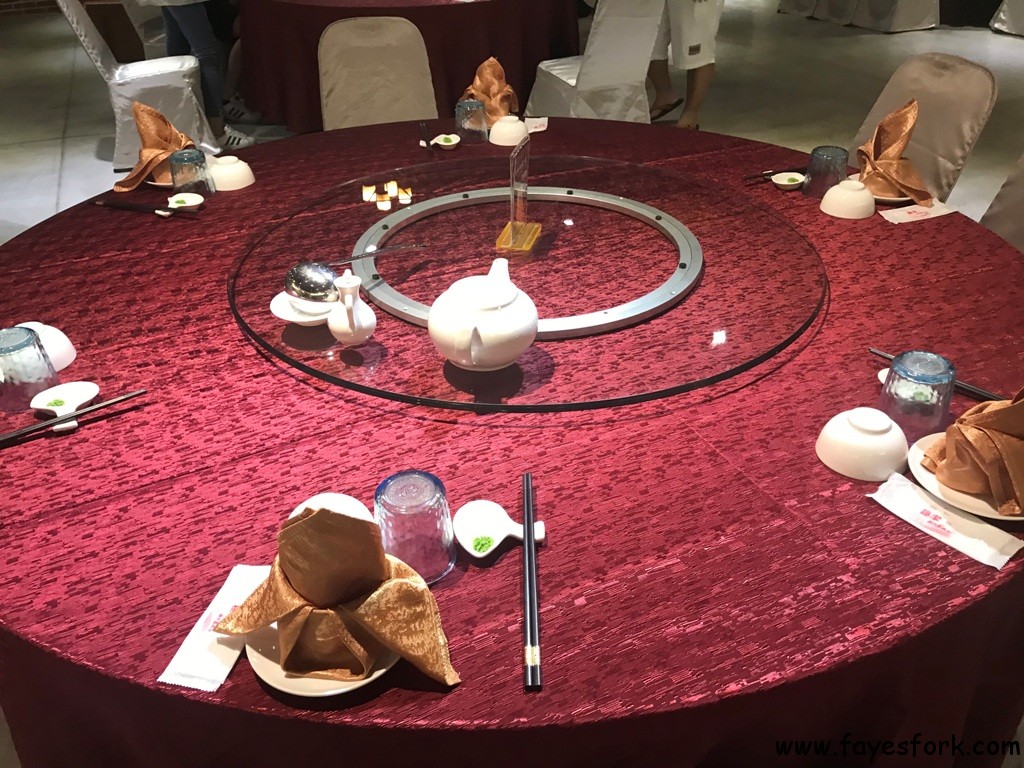 The table setting is formal and elegant.
My mom said that there's NO menu. You simply tell the restaurant how many people are coming and they plan accordingly. Didn't sound too amazing but I love it when I'm wrong when it comes to underwhelming food expectations.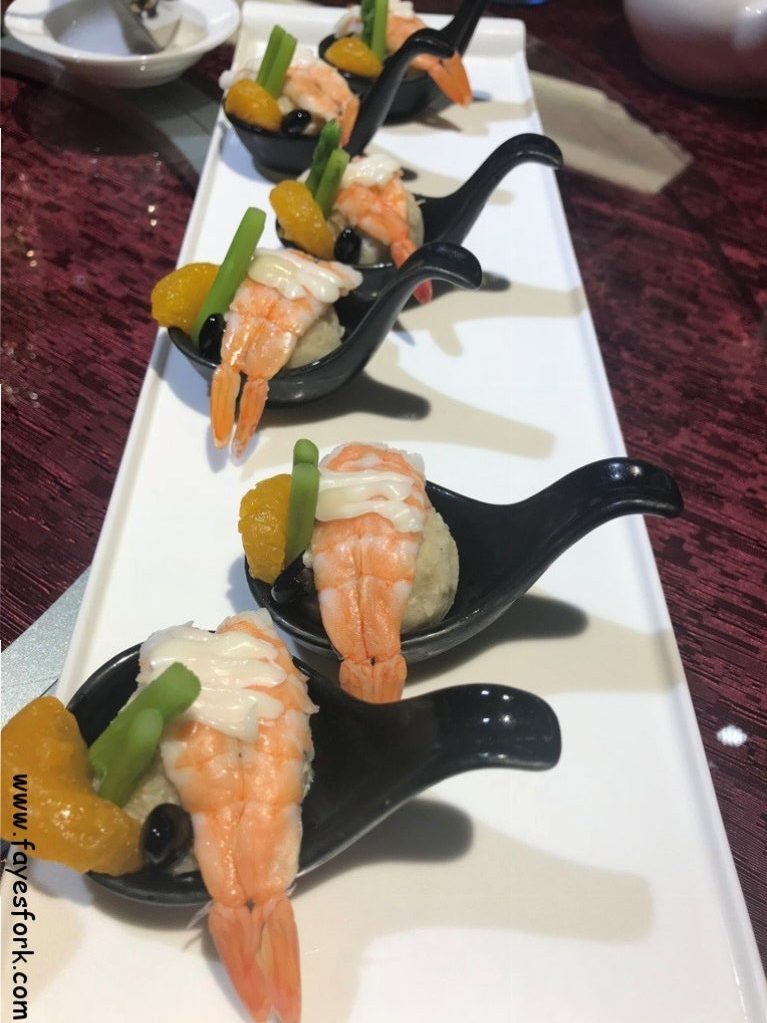 The shrimp was served over slightly smashed potatoes.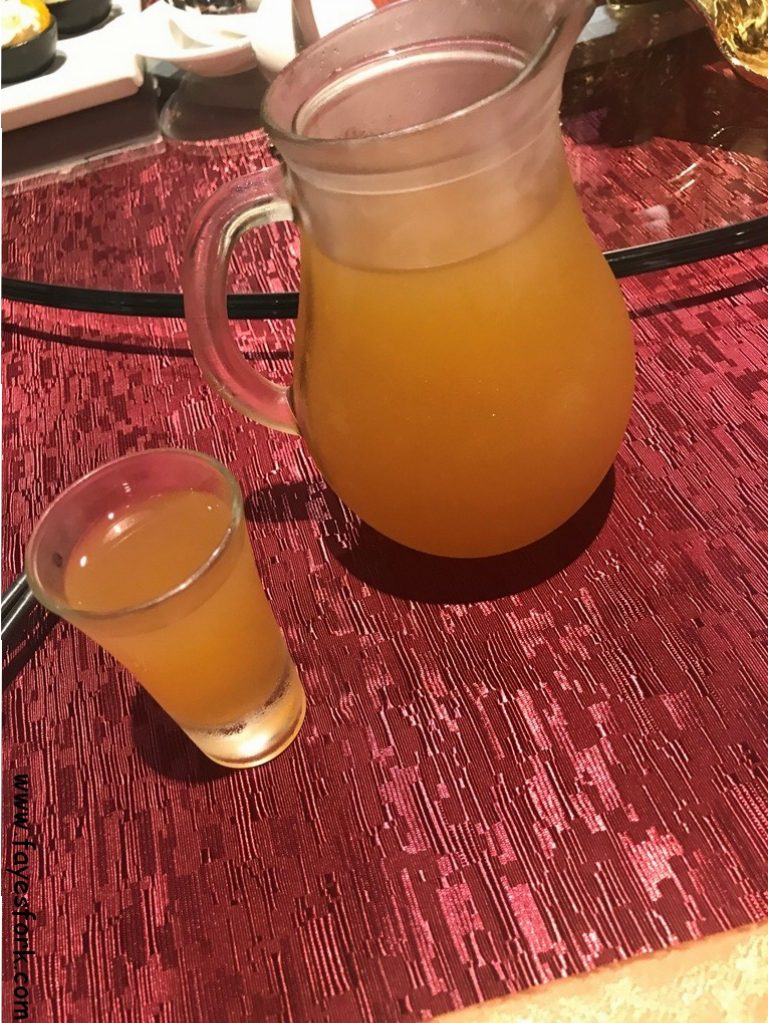 You get a free juice drink with Facebook check in.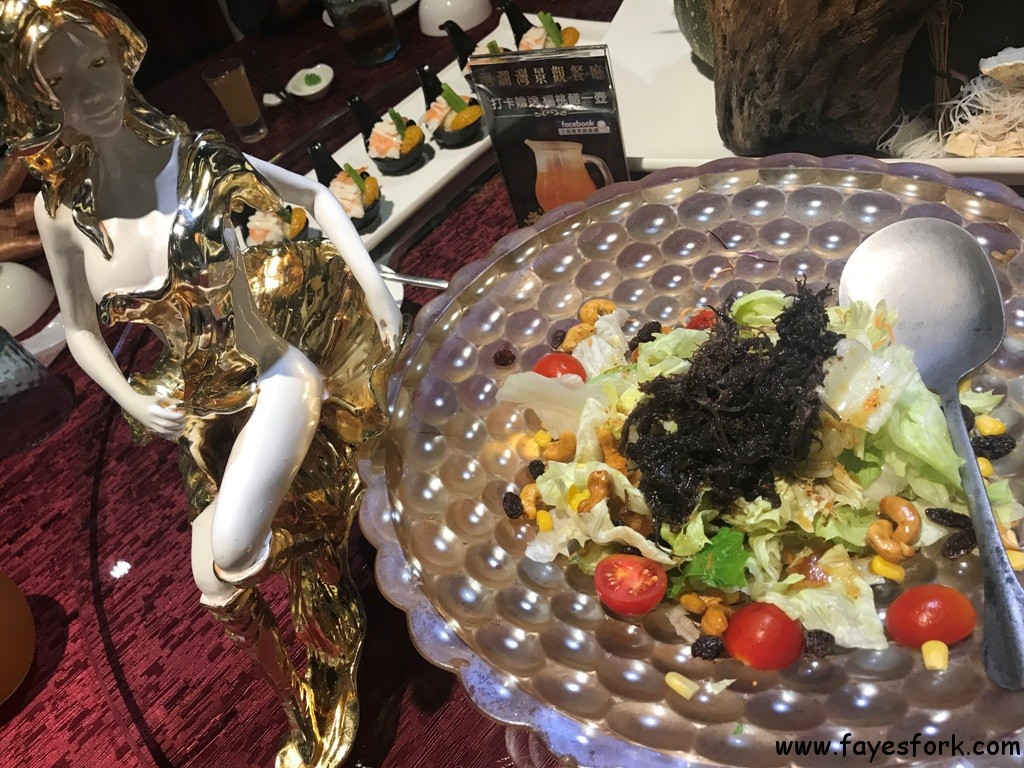 This salad bowl dish was remarkable. The salad itself was refreshing with lettuce, cashews, fungus, and a light dressing.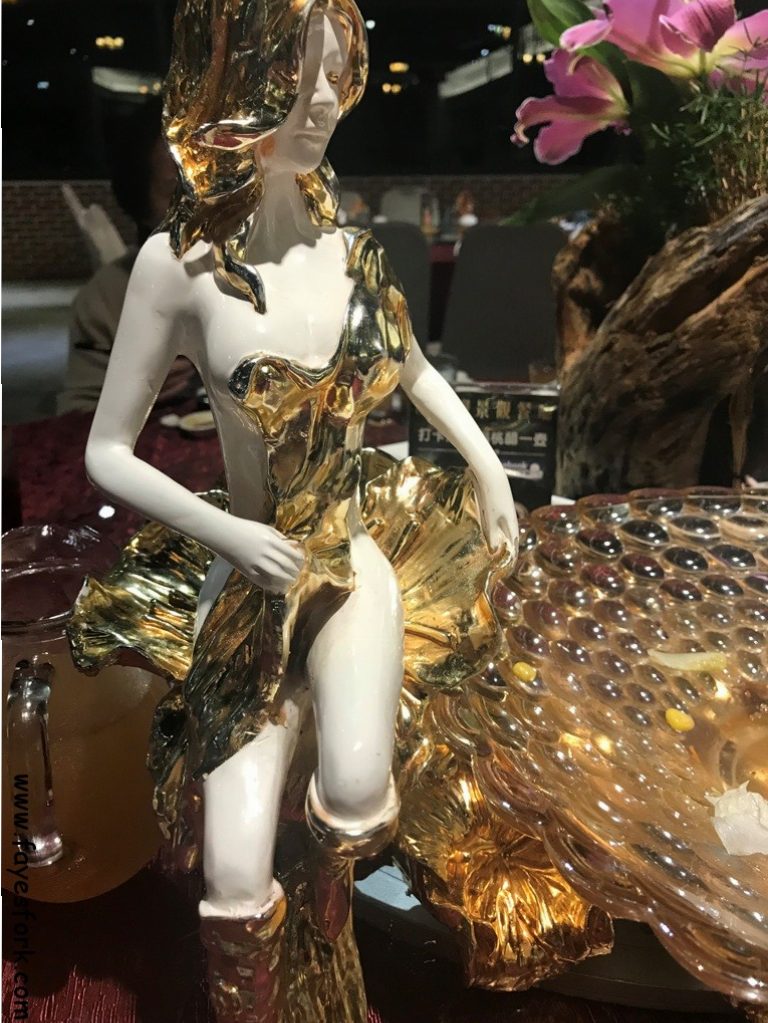 But the size of this gold dish was so big. This gold plated woman was the size of my forearm.
Holy. Cow x's 100. This was the most opulent sashimi platter. This plate took up almost half of the lazy susan on our huge table. There was a tree bark, abalone shell, carved whole squash, dried stems. It's accompanied with four types of sashimi, abalone salad, sea snail salad, lotus flowers, imitation crab, prunes, and some fruit. The sashimi was alright with the salmon being my favorite.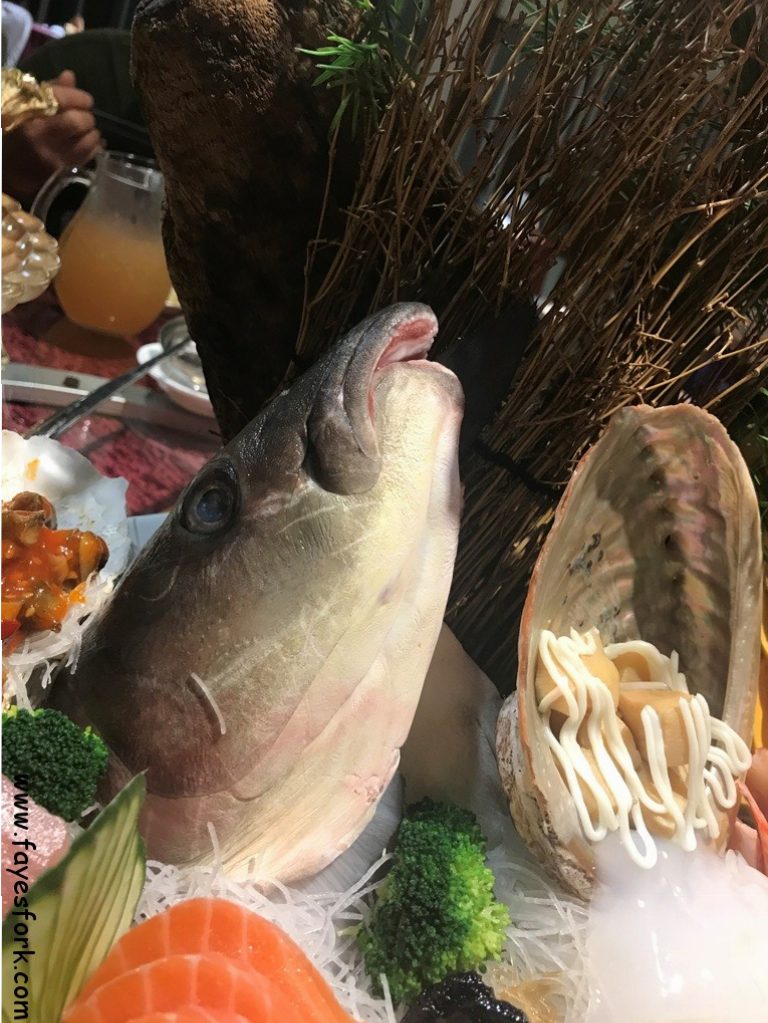 Do you see this entire half fish head! I was sad when they took the platter away with the head.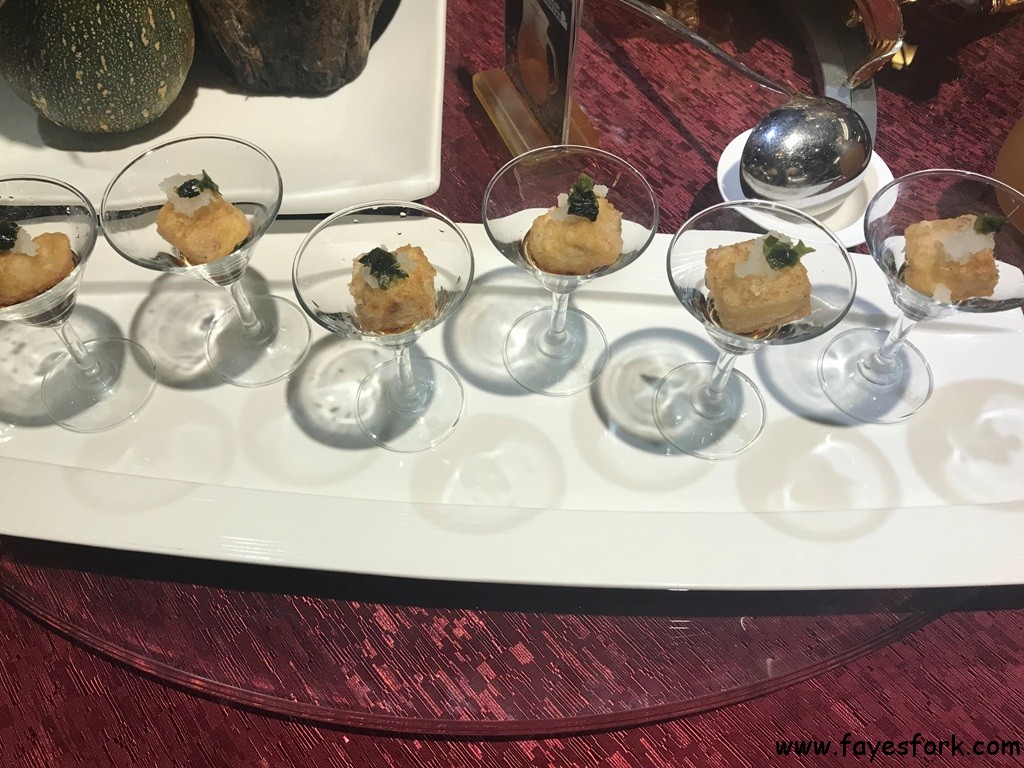 I thought this was fried tofu but the waitress said it was a seafood combination mixed together and then deep fried. It was my favorite dish of the evening.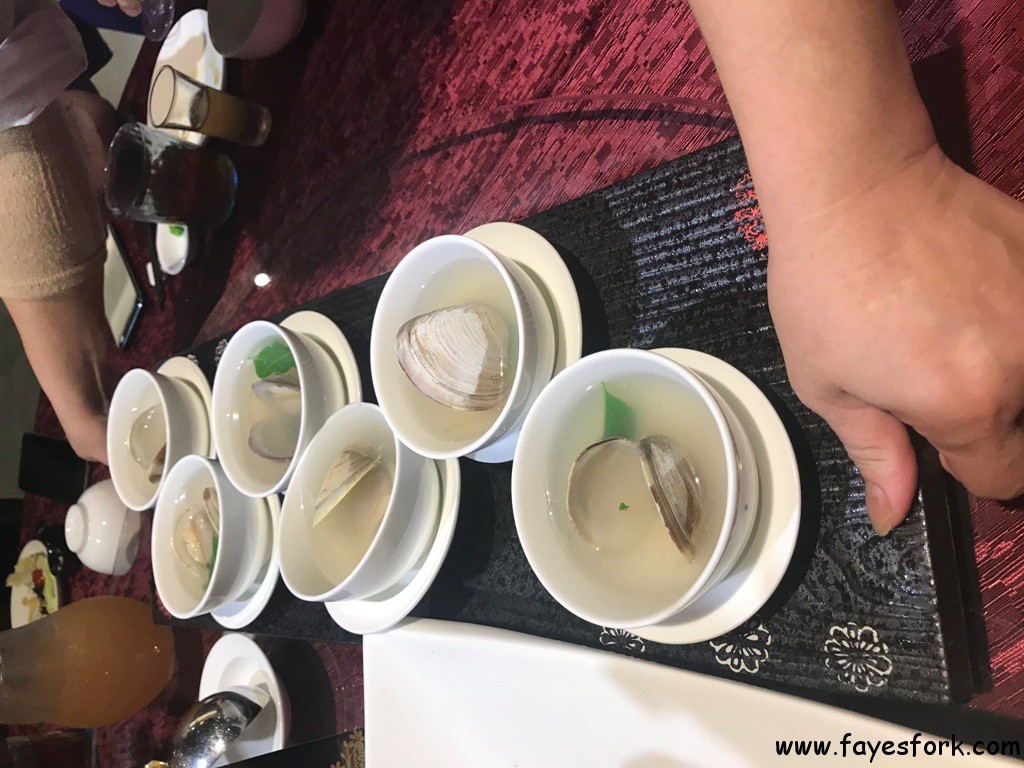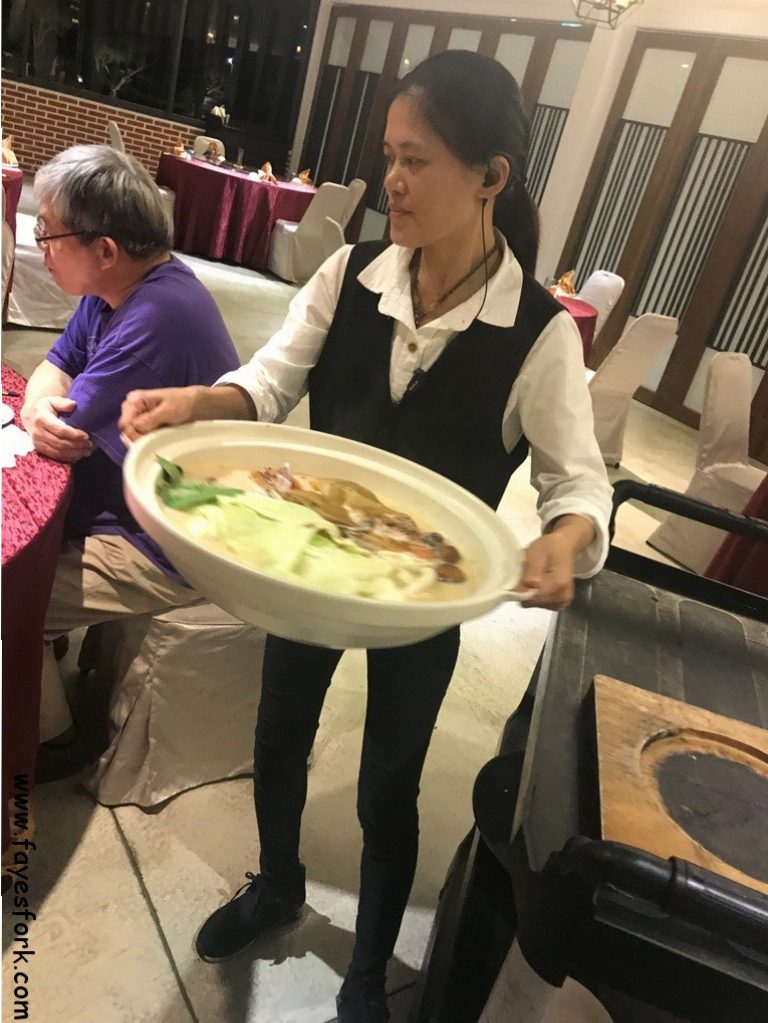 Please observe the cauldron size hot pot the server brought out. Each dish literally had to be carted to each table as they were so huge.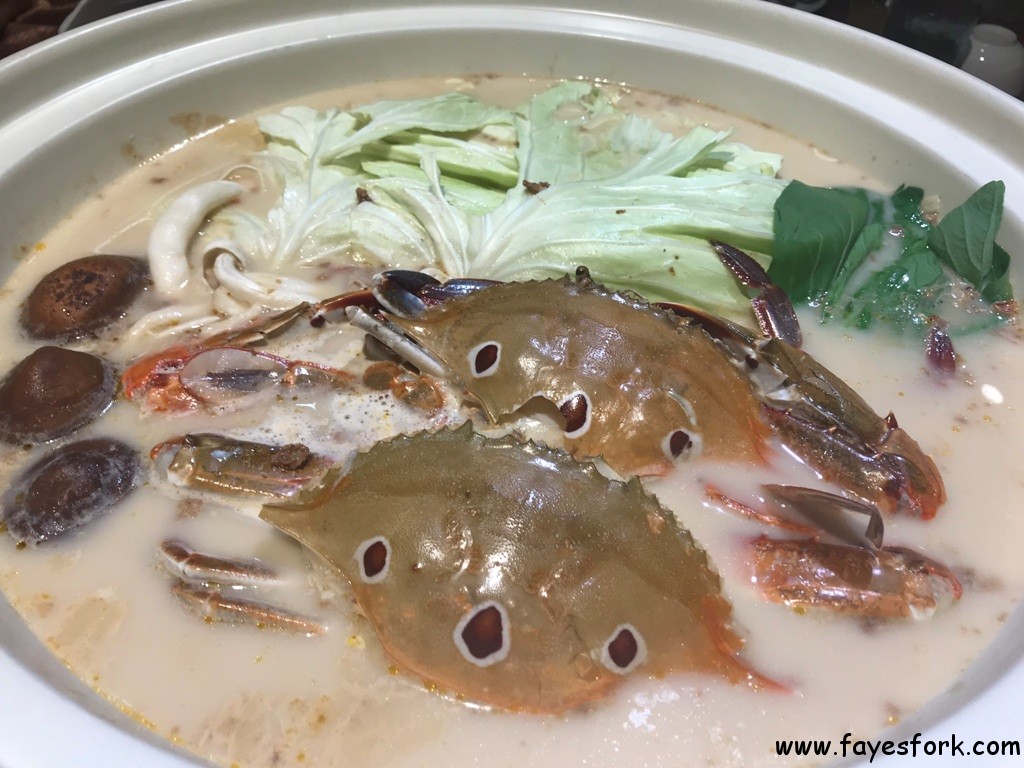 The crab had cute faces. The broth was milky – my family said it was coconut milk?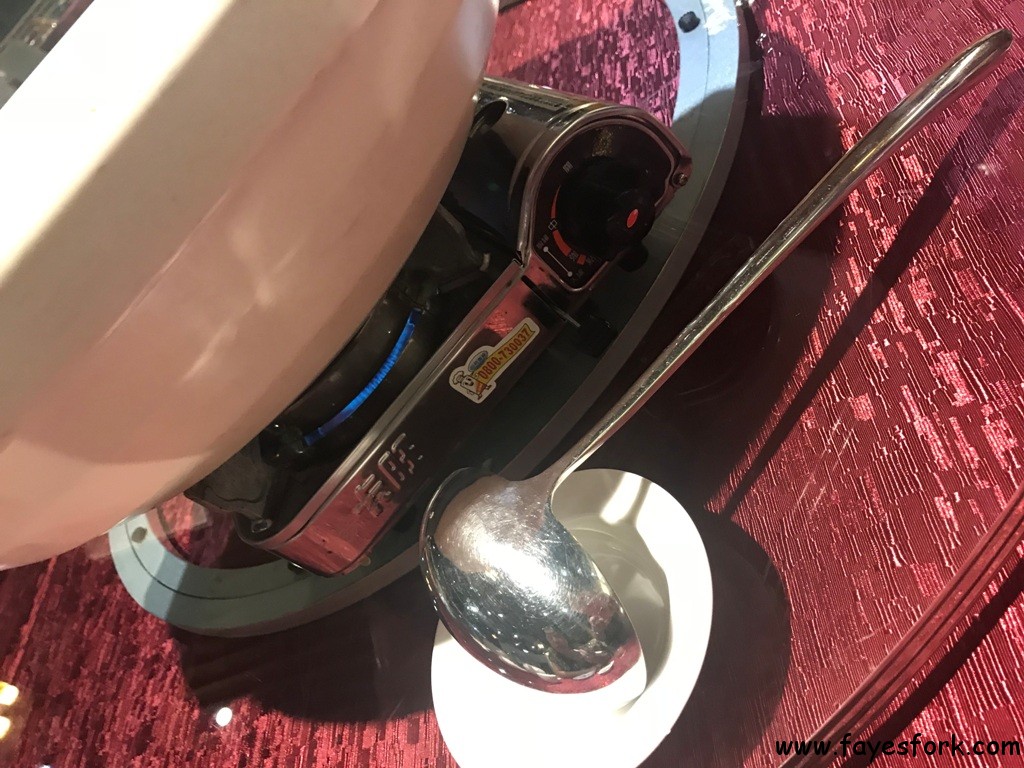 They set the hot pot on top of the gas burner to keep it warm during the meal. It took forever to start simmering as the pot was so big.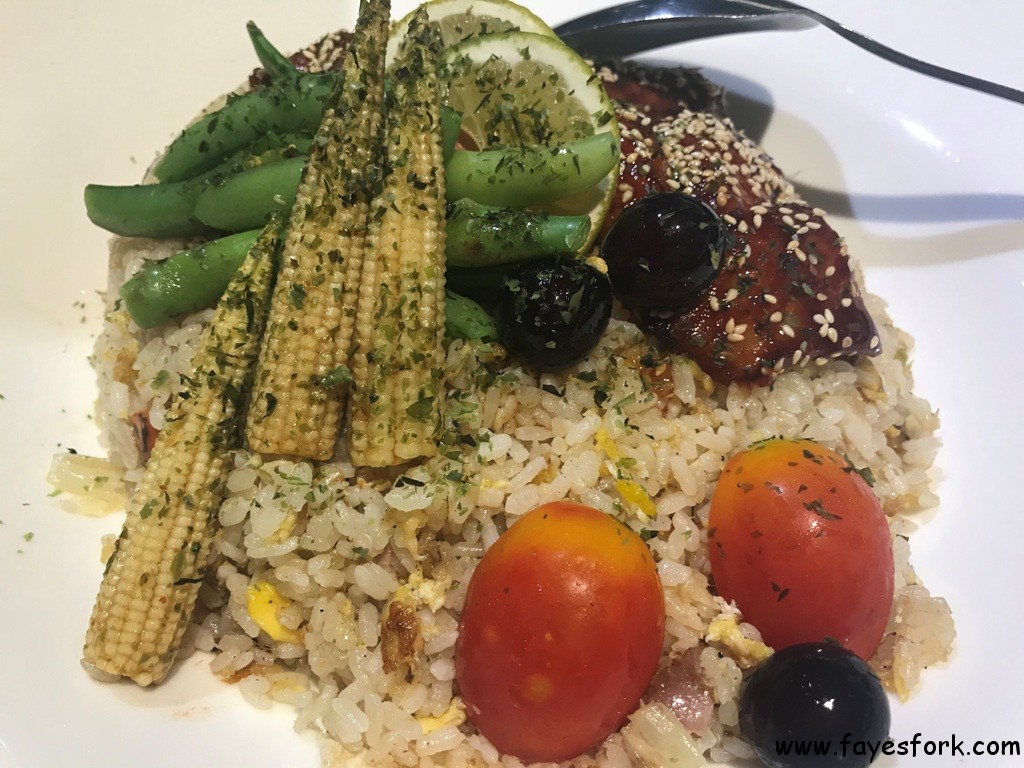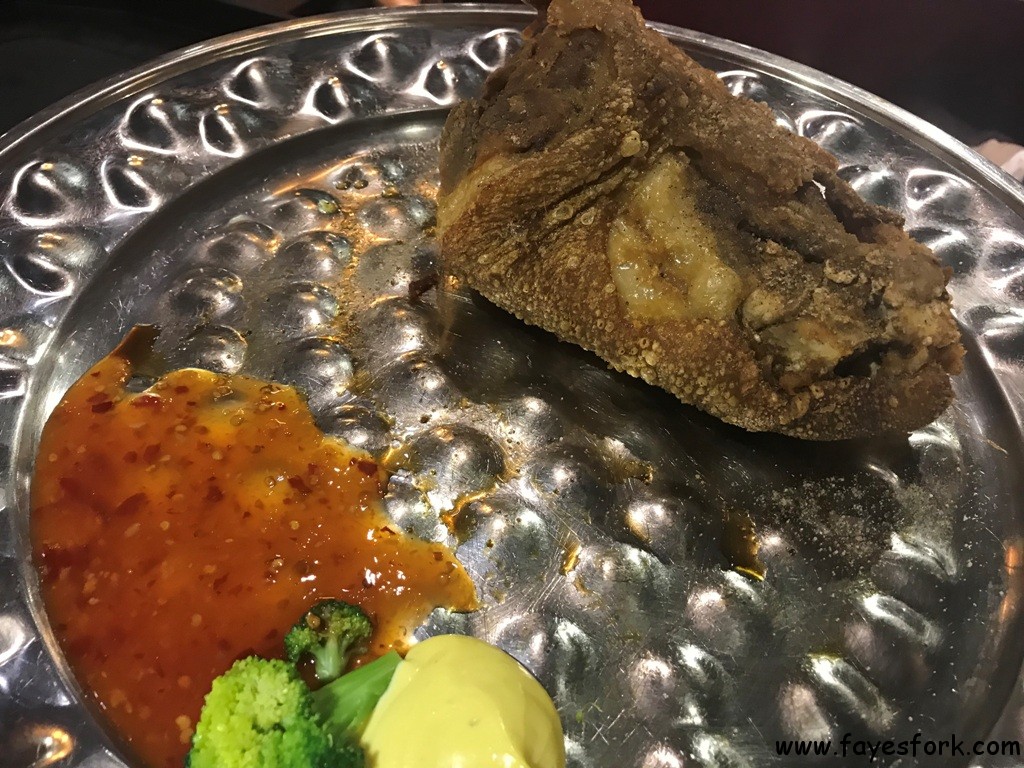 This fried pork hock was also large. It came with a side of sweet & sour sauce as well as a savory mayo I think.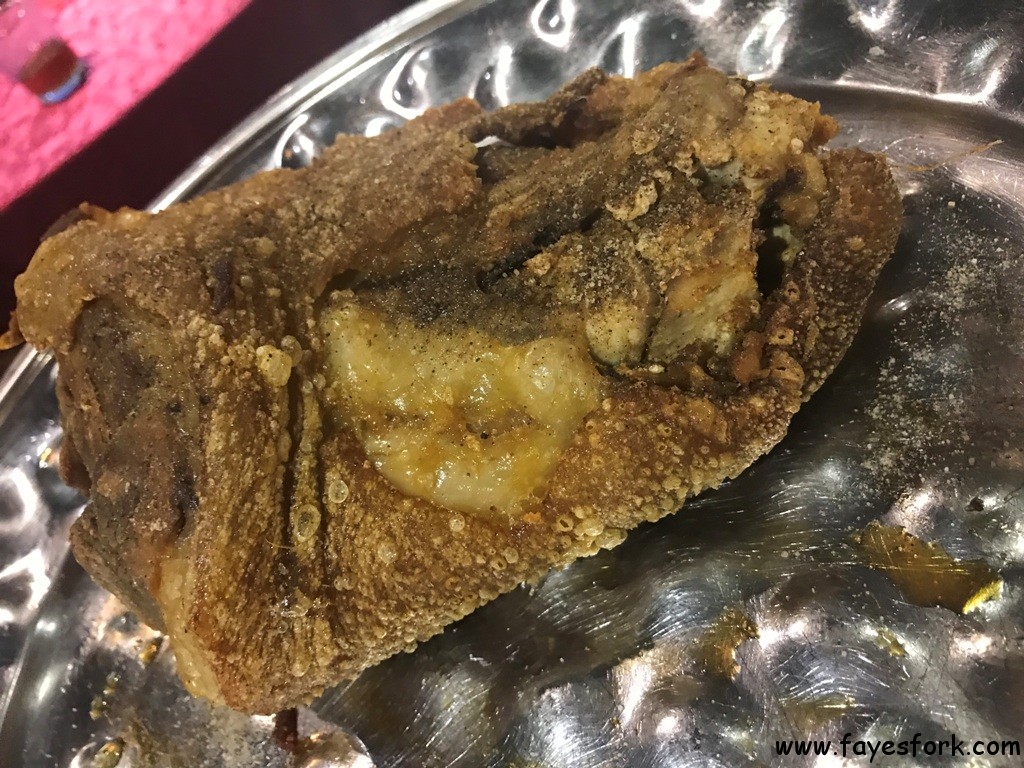 The pork skin was perfectly crispy.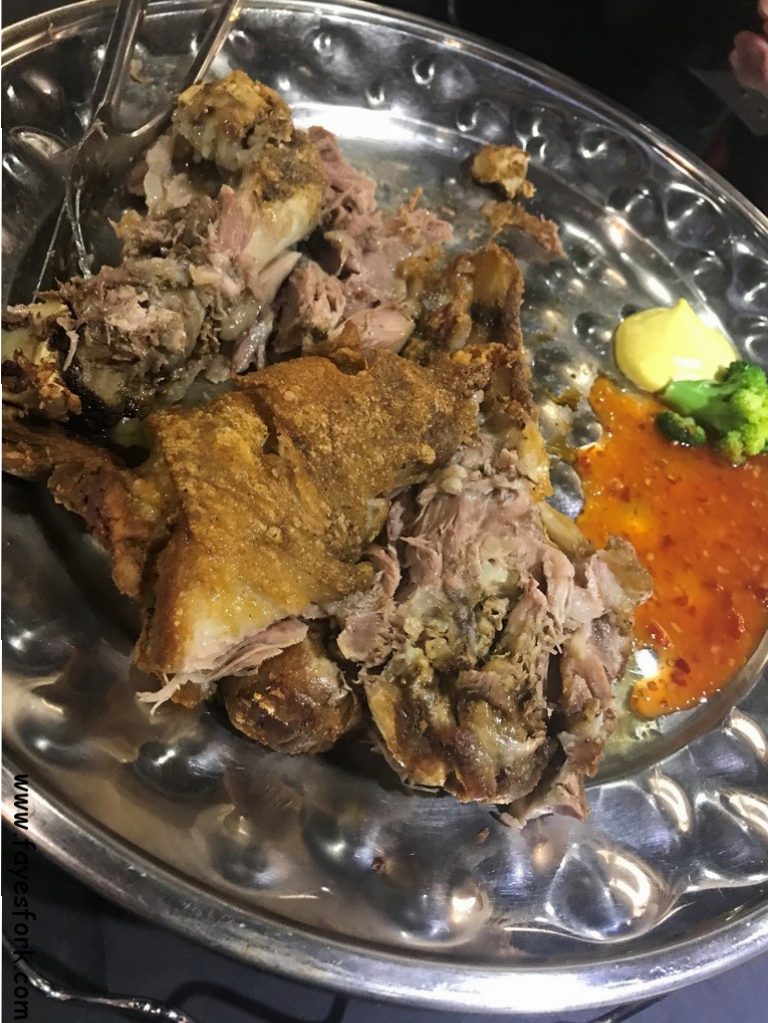 And the flesh was juicy, tender, and quite flavorful.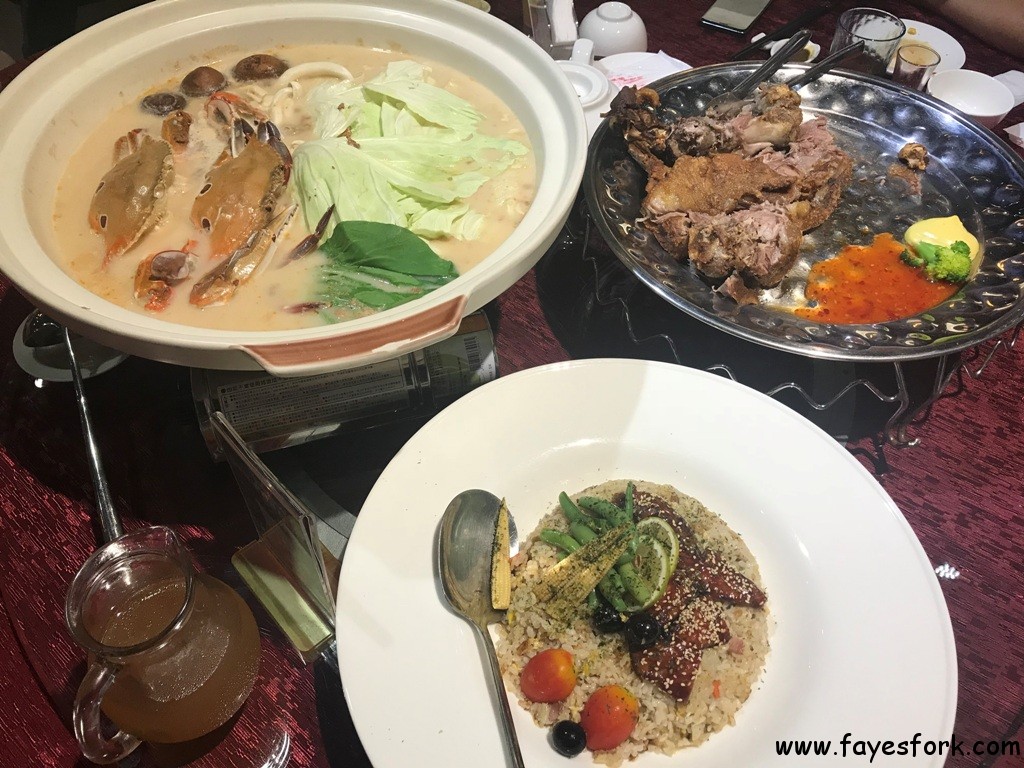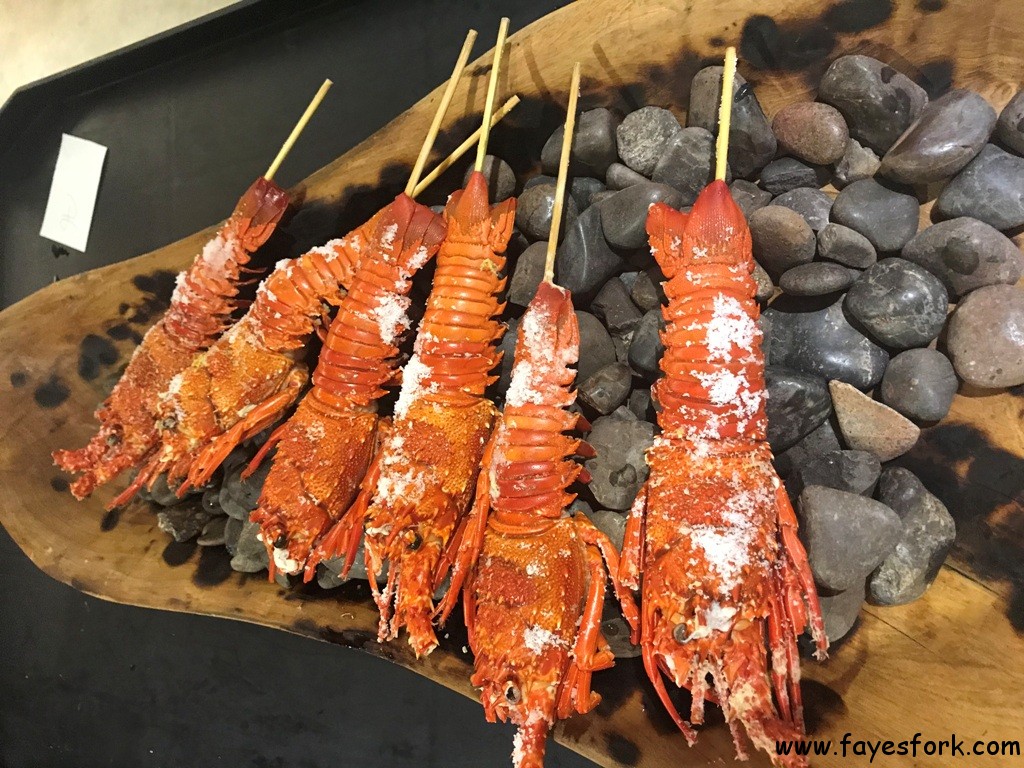 The presentation of the lobsters was grand. It's served over hot rocks. The waiter pours alcohol on the lobster and then lights the dish. A fun fire show ensued that had everyone clapping.
Hui Lan Wan Superior View Restaurant does a nice job with final presentation of the dish.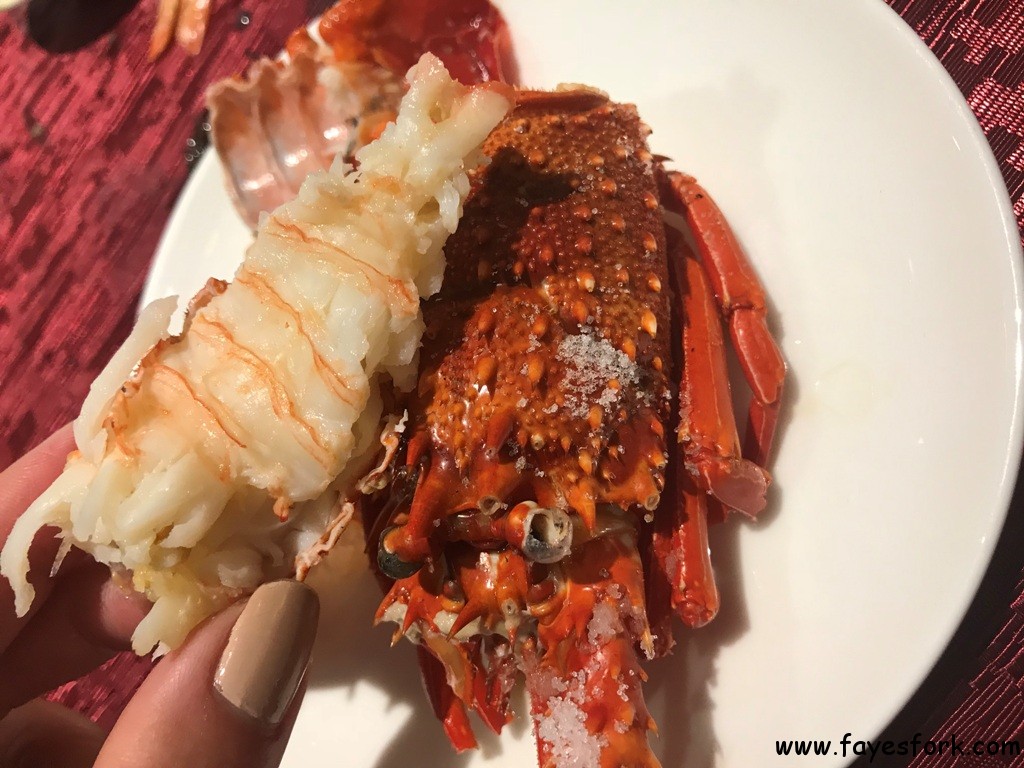 The lobster was ok – a bit bland and tough.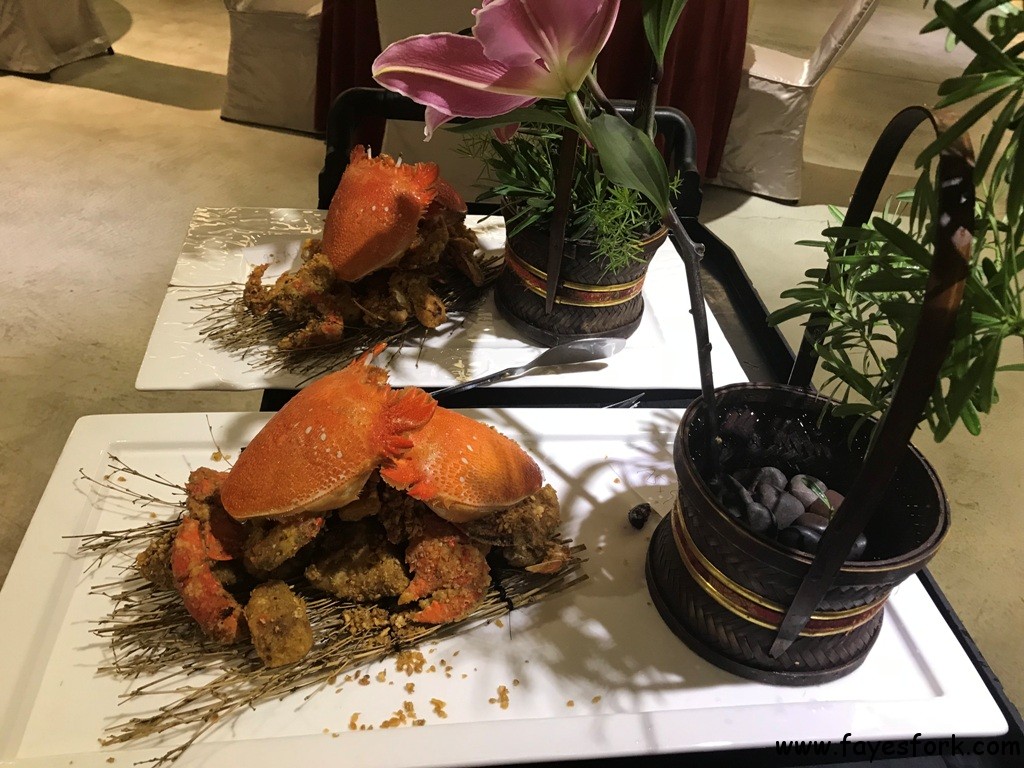 SALT & PEPPER CRAB
Do you see that live plant next to the fried crab! It's a REAL torso sized plant.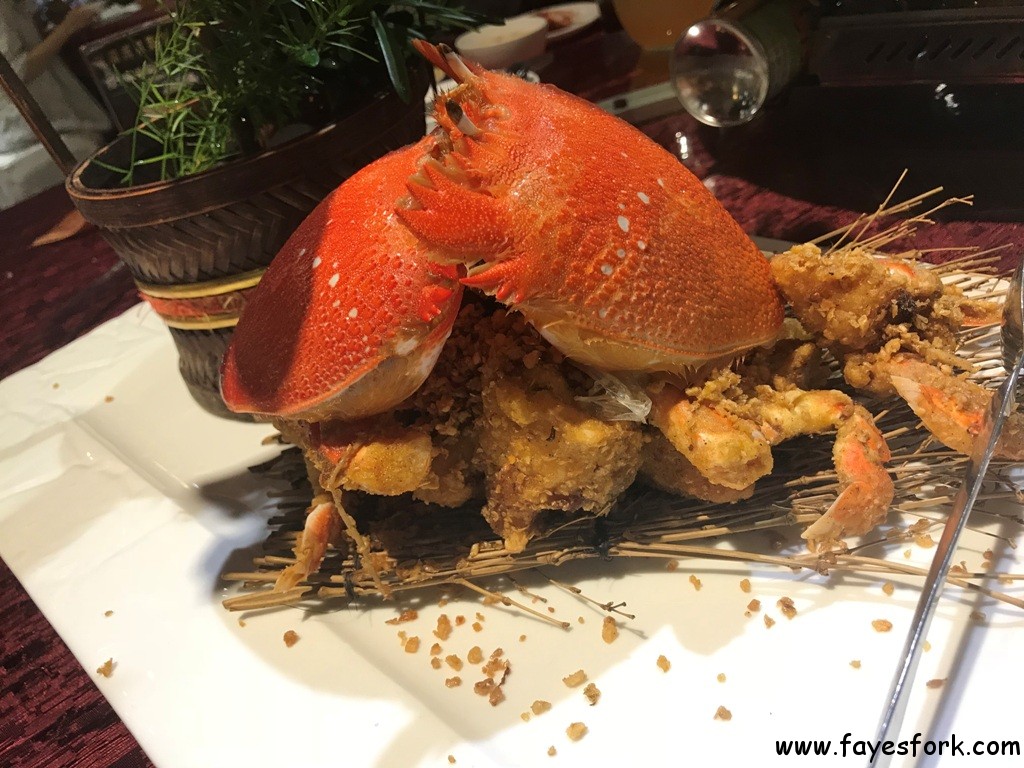 There were nice pieces of freshly fried crab under the shells.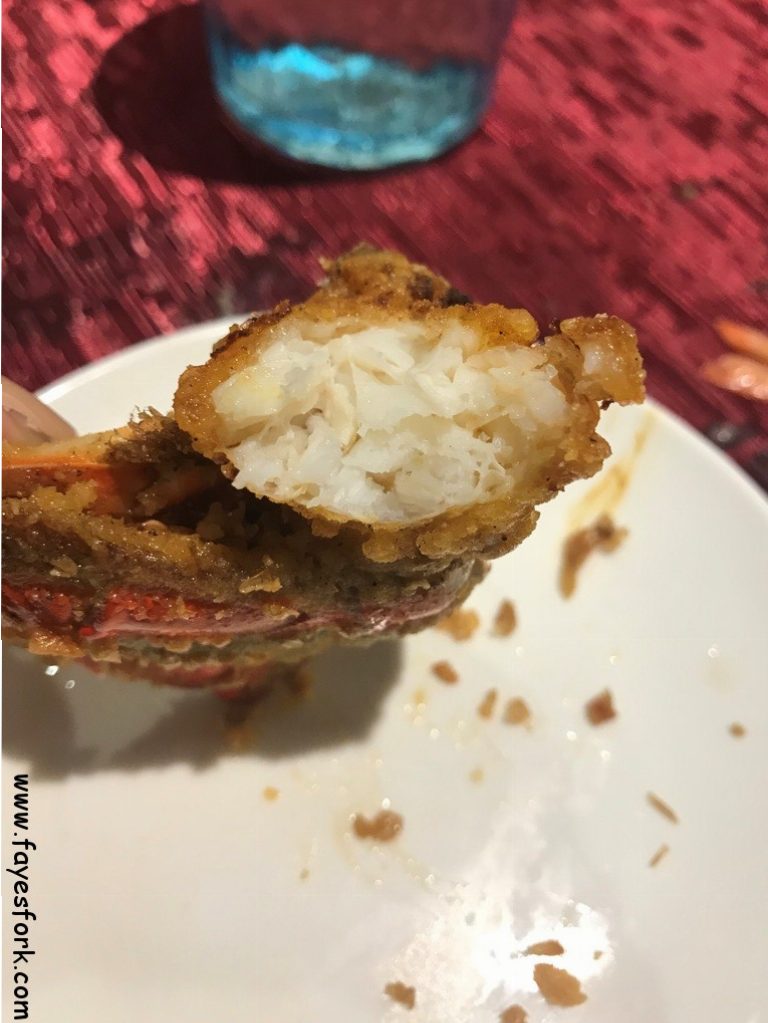 The crab meat tasted sweet but it was a pain extracting all the flesh out.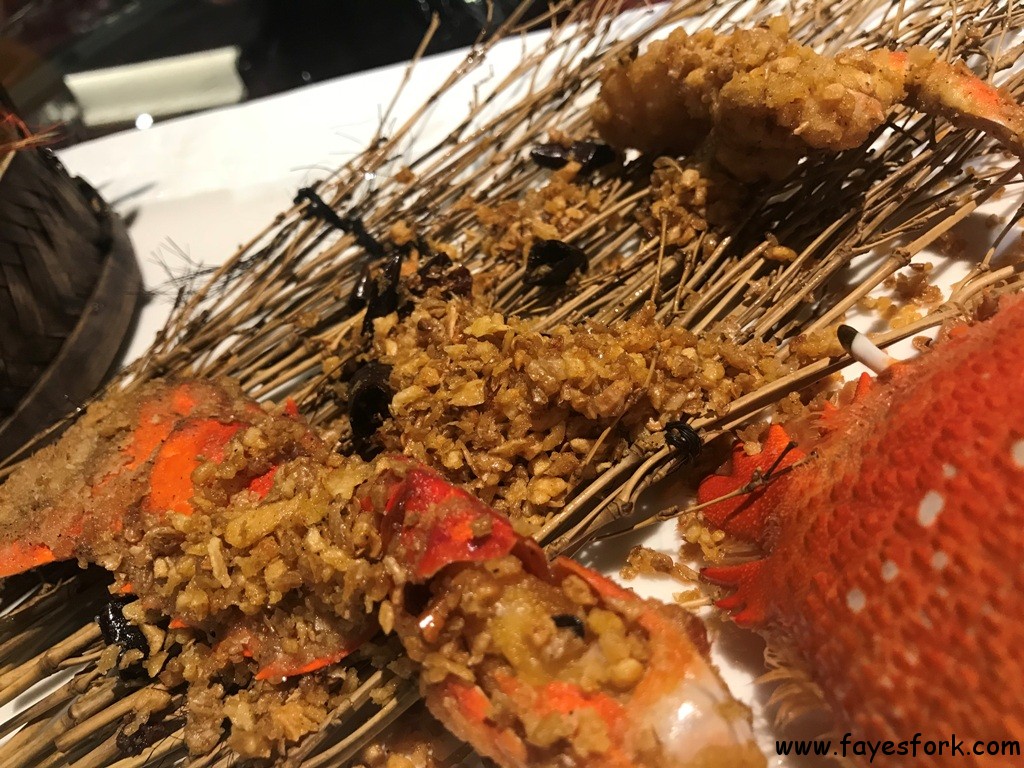 Oh but the fried garlic pieces were so good.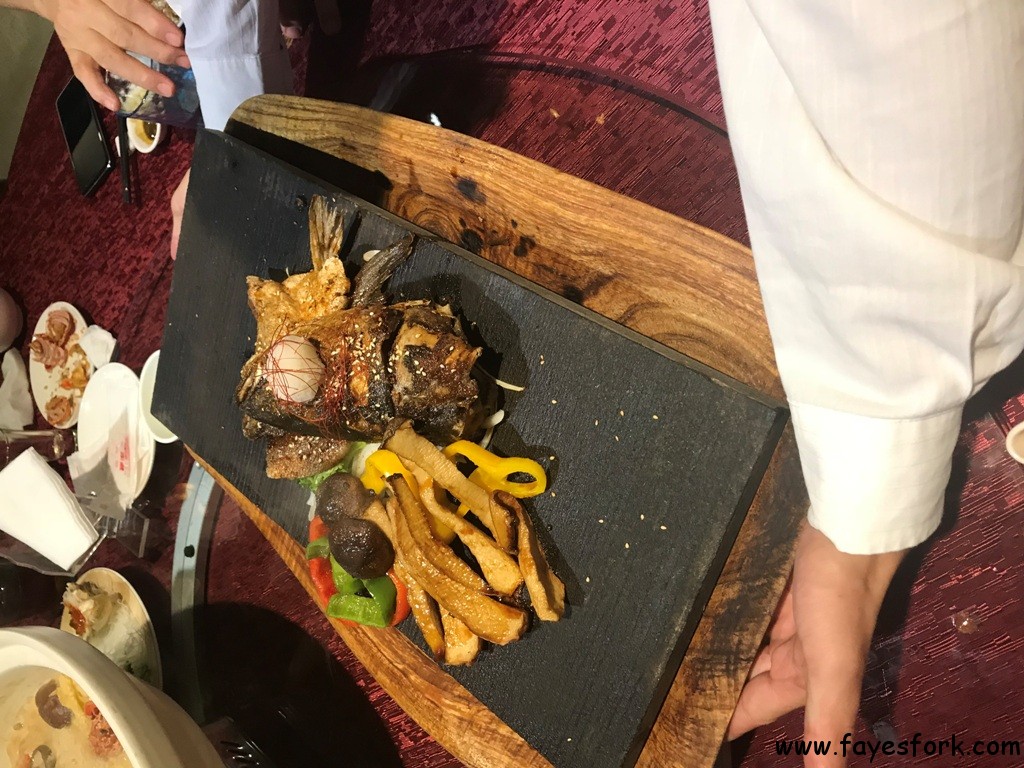 Our last entree was the kama served on the biggest and heaviest serving platter. My great uncle nudged me to say that this is where my fish head went from the sashimi platter.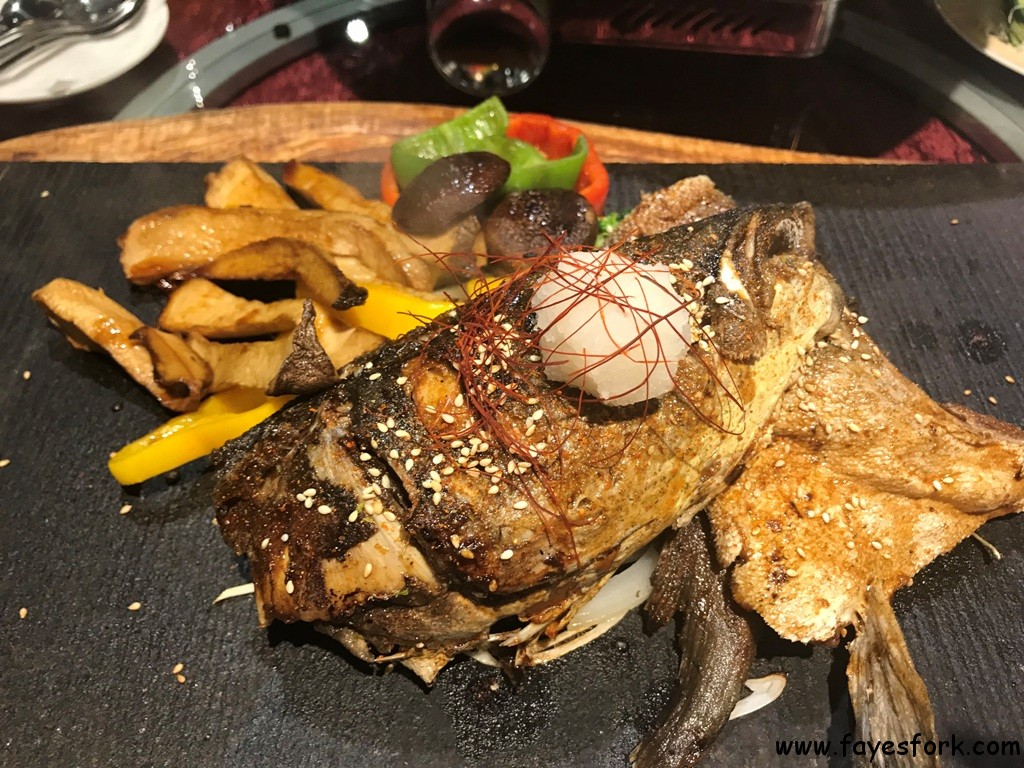 The fish head was prepared very simply with salt and pepper. There wasn't much sauce with this. The mushrooms and peppers sizzled away while we disassembled the fish head to share.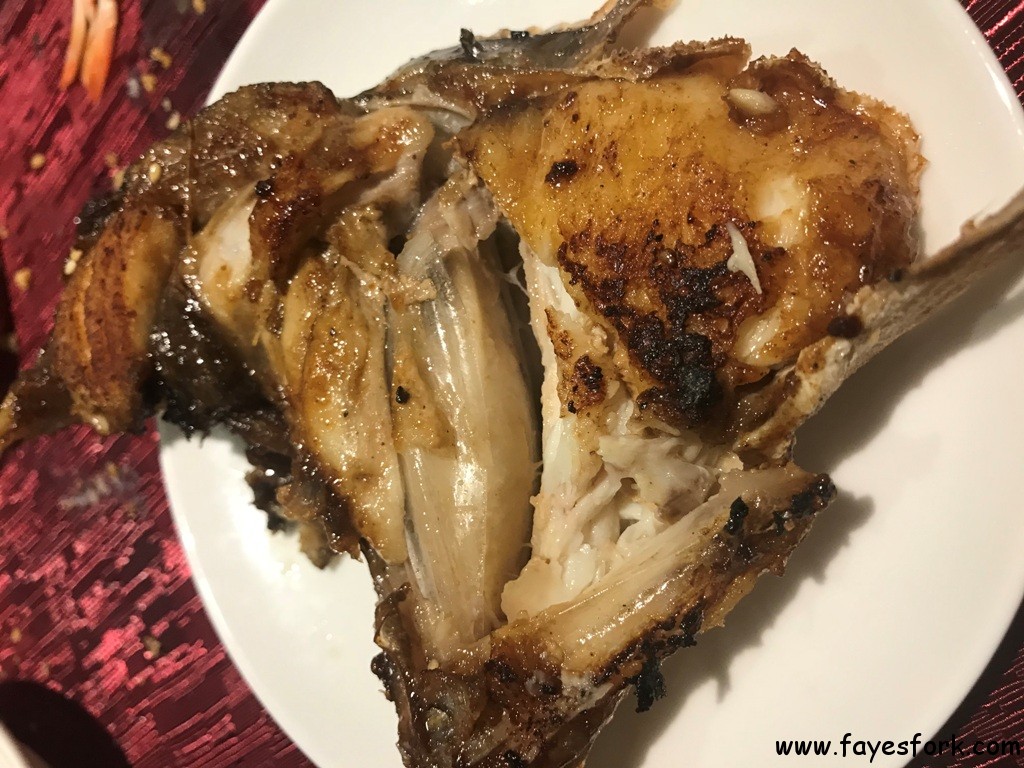 I was allotted the precious kama. This was one of the largest kamas I've eaten and it was very hearty. The fish tasted meaty and satisfying.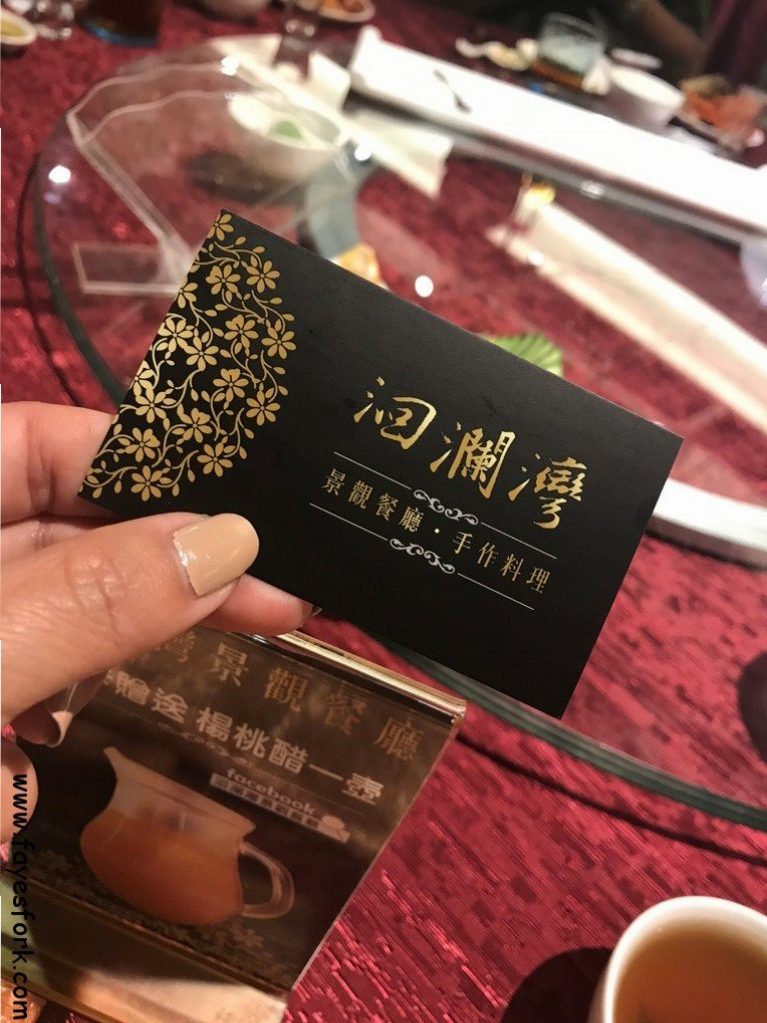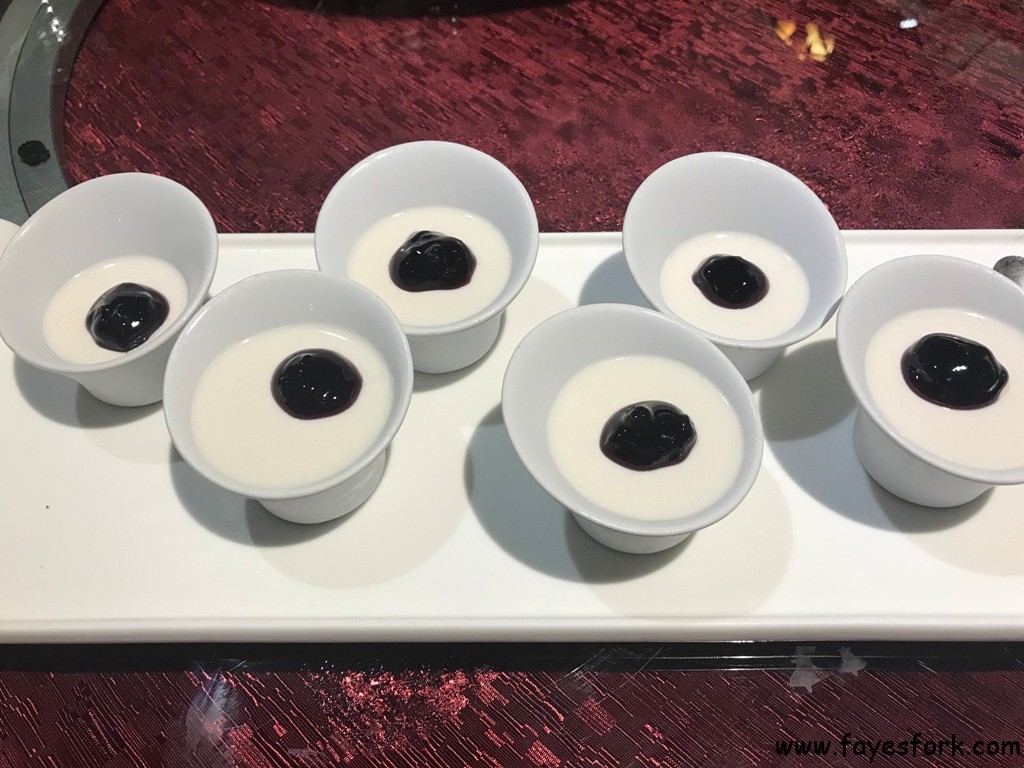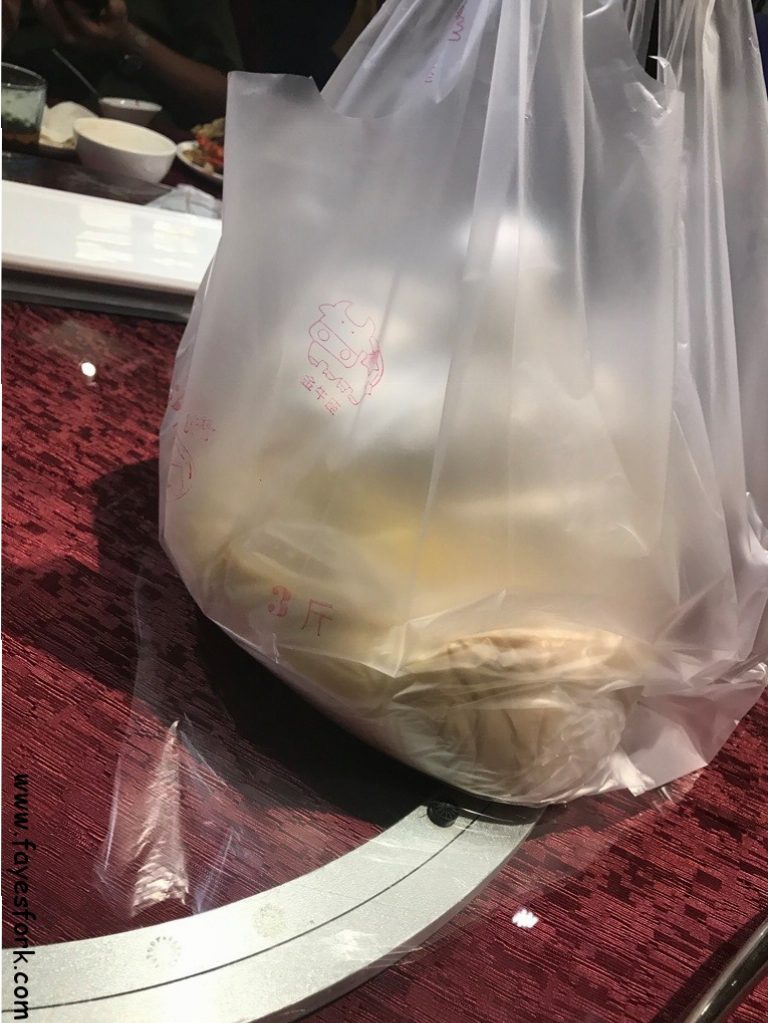 This is how they bag most to-go items. Even for soups.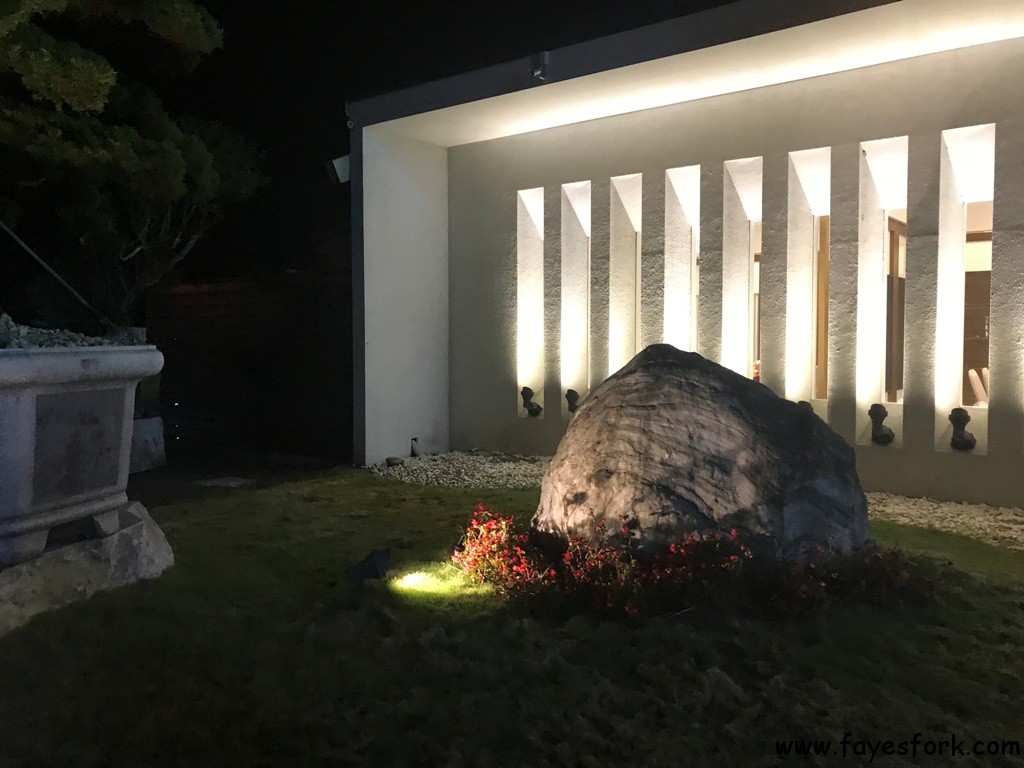 This was the view of the restaurant when we finished dinner. Food wise though was just ok. Service was alright. My uncle joked with staff that they must have been exhausted (or frustrated) from carrying such heavy dishes to tables that evening. Overall, it was a super fun dinner as I had never seen dishes presented in such grand fashion.
Hui Lan Wan Superior View Restaurant
No.6-5, Jiawan, Xiulin Township, Hualien County 97243, Taiwan
+886 3 826 8888
The best part of the trip, this time around, was the late night conversations I would have with my elders.
I had horrendous sleep issues/jet lag when I first arrived. I'd sleep maybe an hour and then be wide awake. Let me show you my great-uncle's cure for jet lag –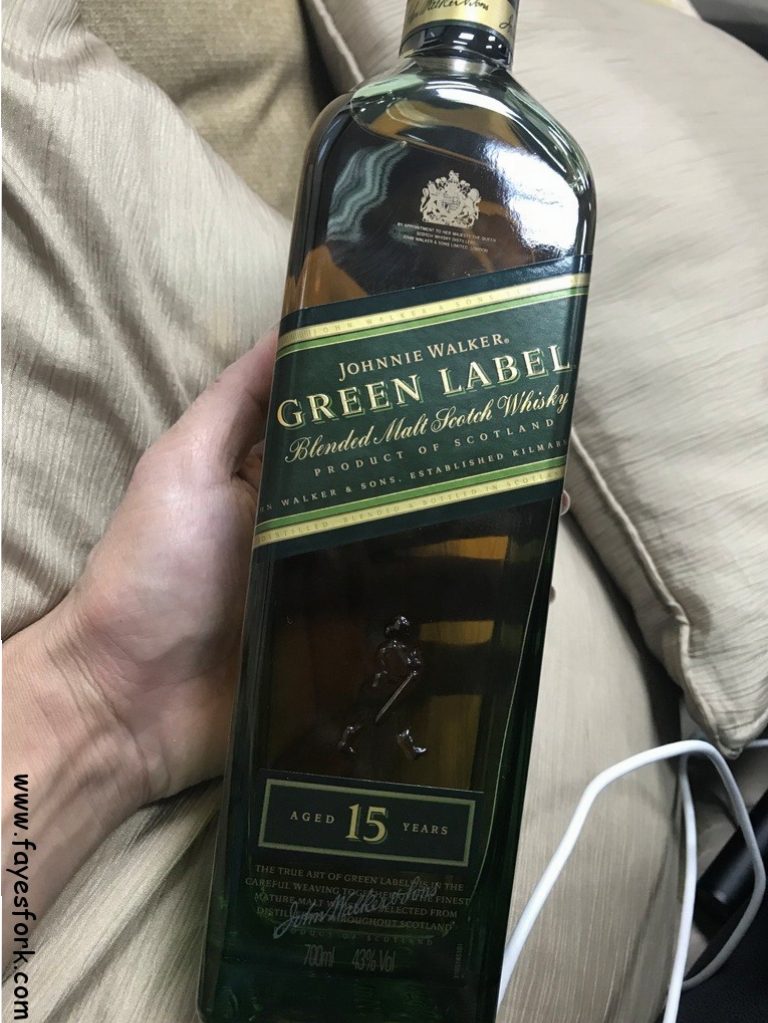 The GOOD stuff. Not the "$2.49" cheap stuff I'd buy (from, ahem, Trader Joes). He told me to go to the kitchen to get some glasses.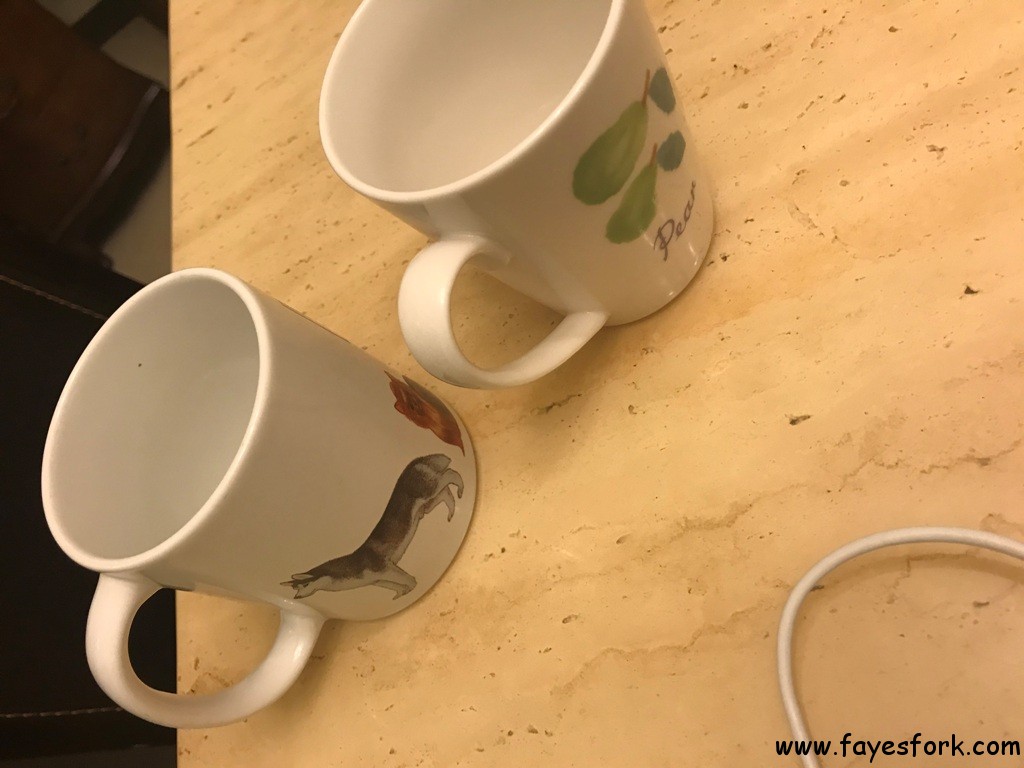 I couldn't find any glasses so brought these out. He about fainted in embarrassment that I was related to him. He said there's no way we are drinking Johnny Walker Green outta coffee mugs.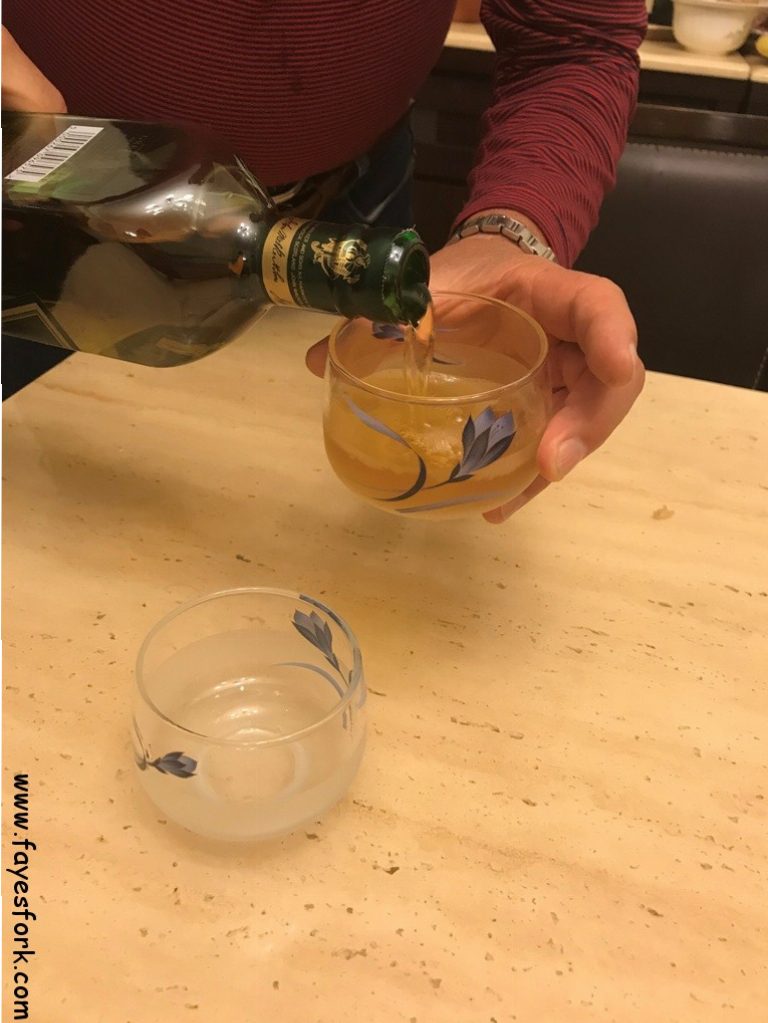 Makes me smile when I see the above cup correction. Needless to say, I was a neat-scotch-whiskey drinking girl when I was in Taiwan. A far cry from the norm two buck chuck in California.
Happy Friday – only 10 days 'til Christmas !