It is so starting to feel like Christmas. Did you know tomorrow, 12/21, is the first day of winter. I didn't until a few weeks ago. But you would never know it with the 75 degree weather we're having here in our beautiful San Diego. My cold is starting to break – I feel fantastic for the first time in a very long time. Part of that reason has been spending some quality time with best friends trying to catch up before the weekend. V recently found a new restaurant, Larsen's Steakhouse, in La Jolla. Larsen's Steakhouse recently opened in the renovated UTC mall in La Jolla.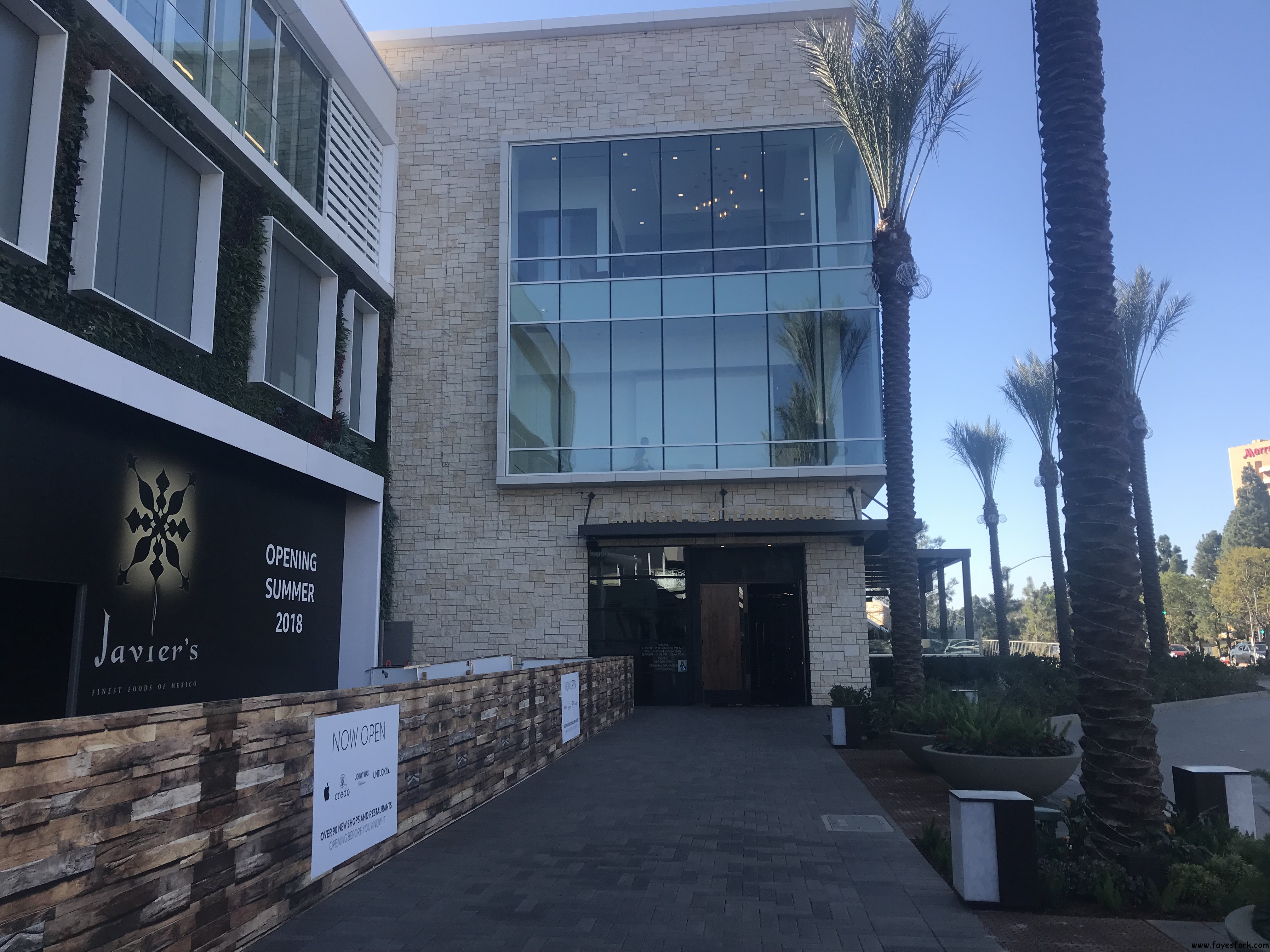 Laren's Steakhouse is located on the corner of La Jolla Village and Genessee. It would be tough to find street parking due to all the construction and traffic craziness. There are parking structures but good luck finding a space during this busy shopping time of year. The restaurant opens at 11a but it's almost impossible to get someone on the phone when you call.
There is valet parking by the escalator on this side of Larsen's Steakhouse. The valet parking is $8. I didn't like the valet experience. I'll elaborate more on that at the end of this post.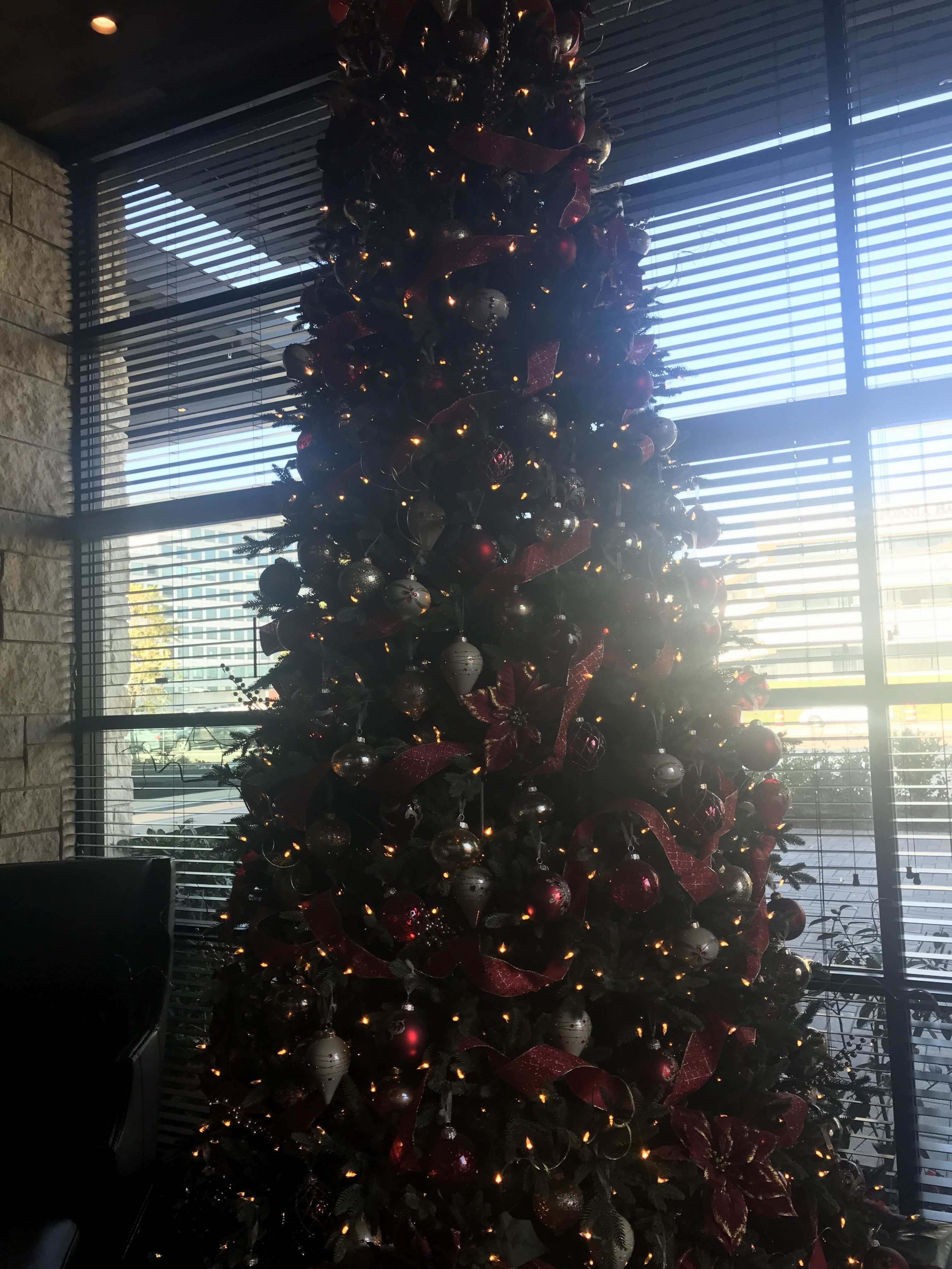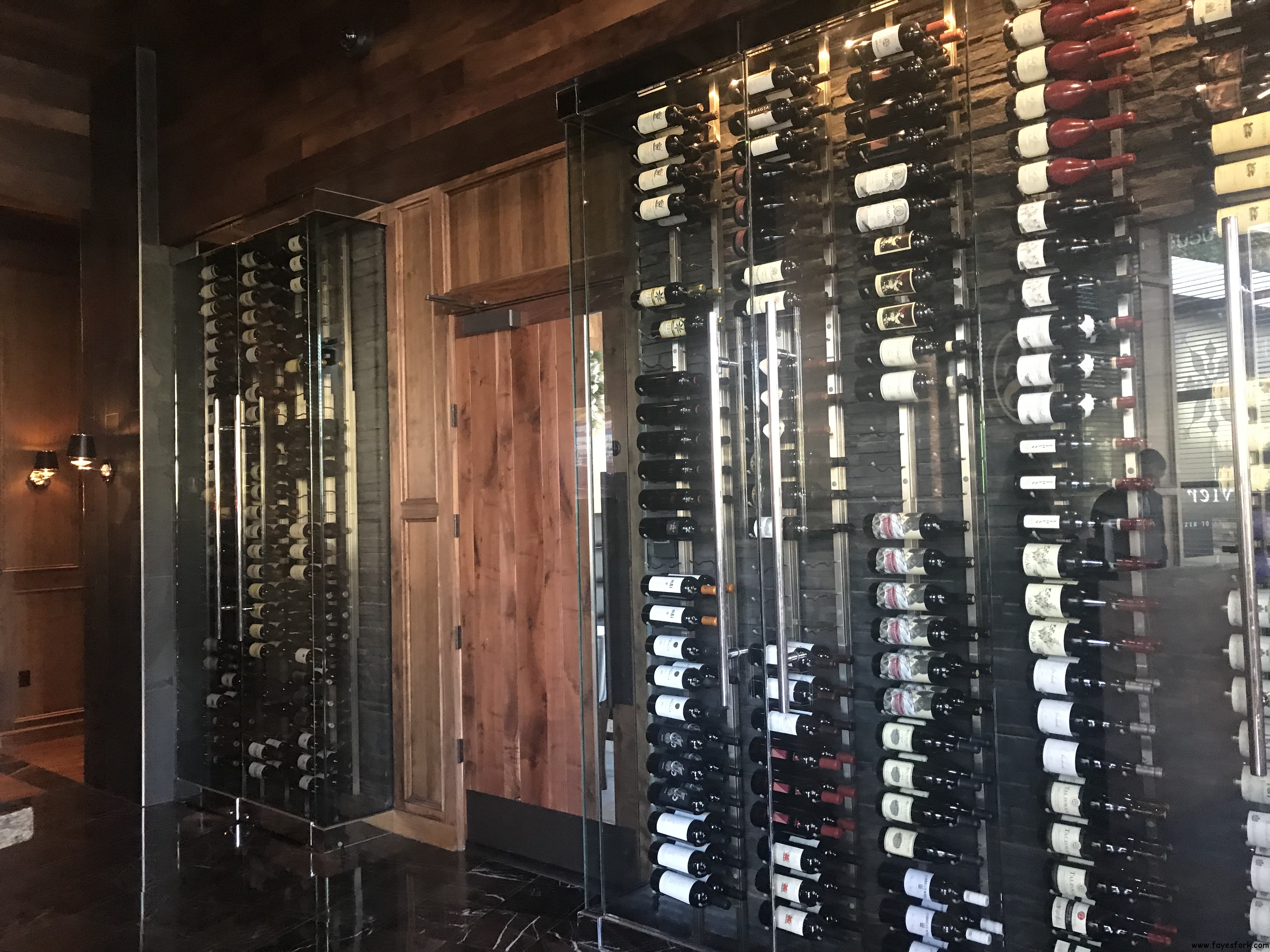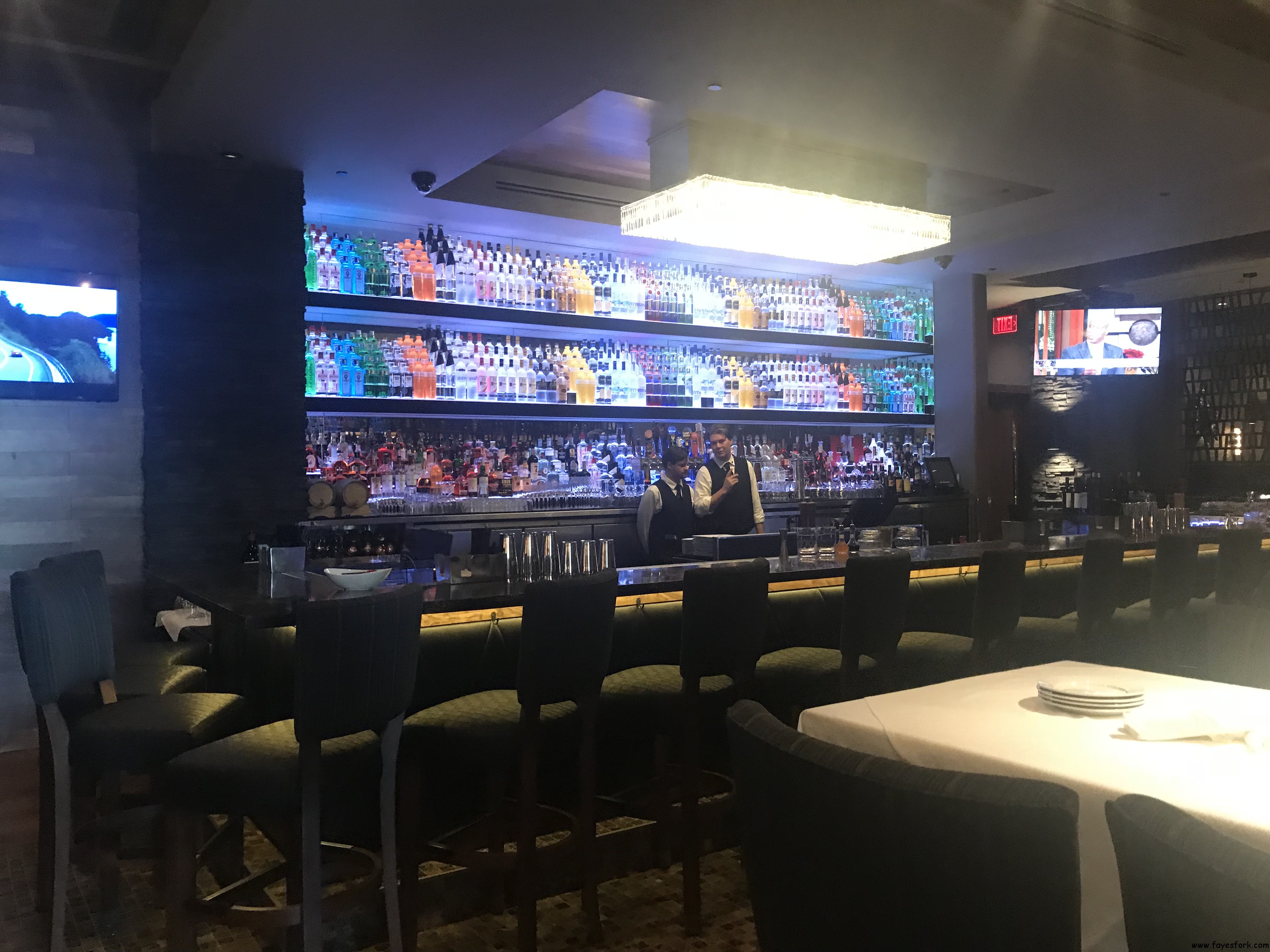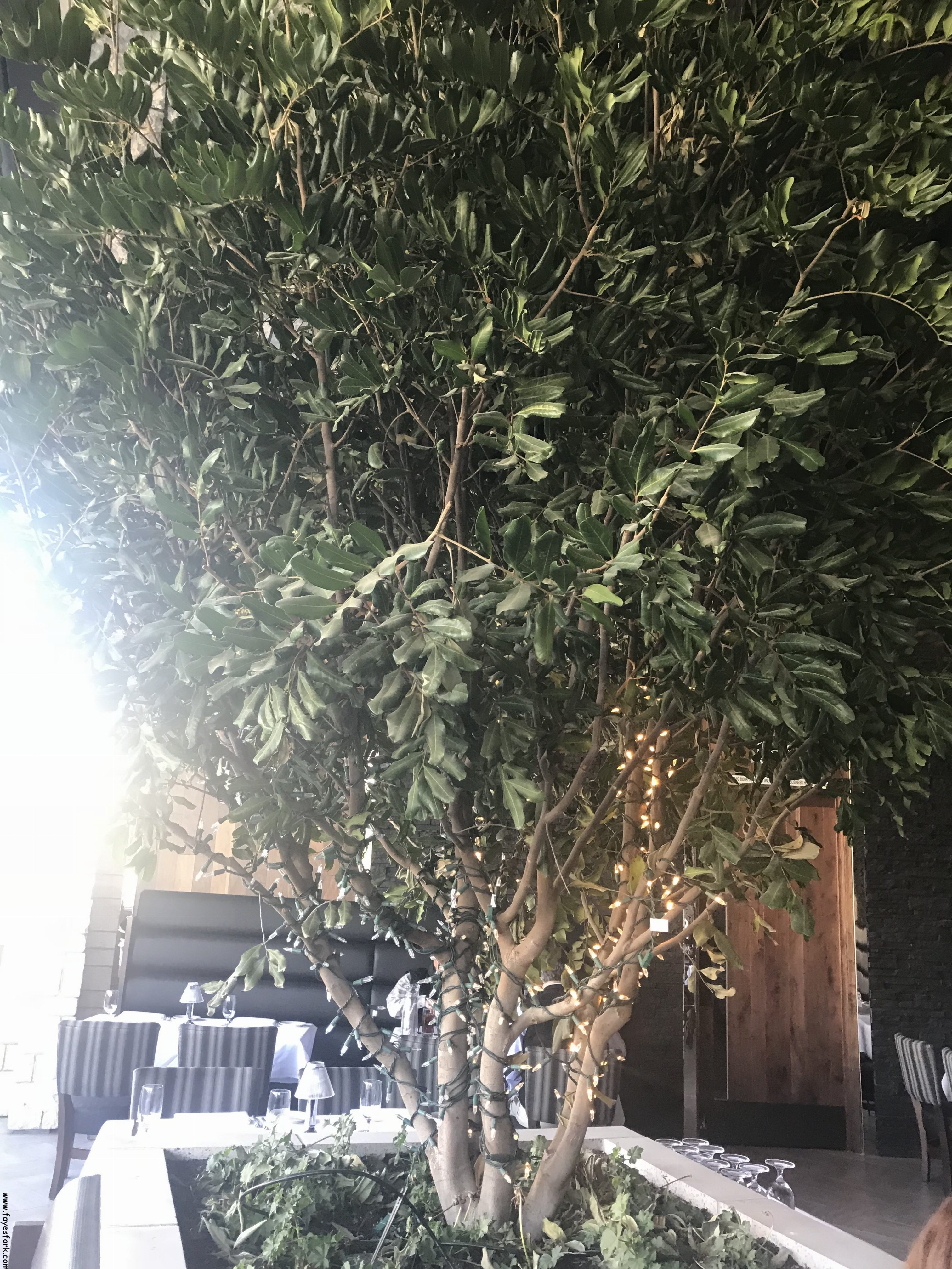 Our outdoor table was under this tree. I'm not sure if this is a real tree but it reminded me of the beautiful tree at Red O which is just across the street.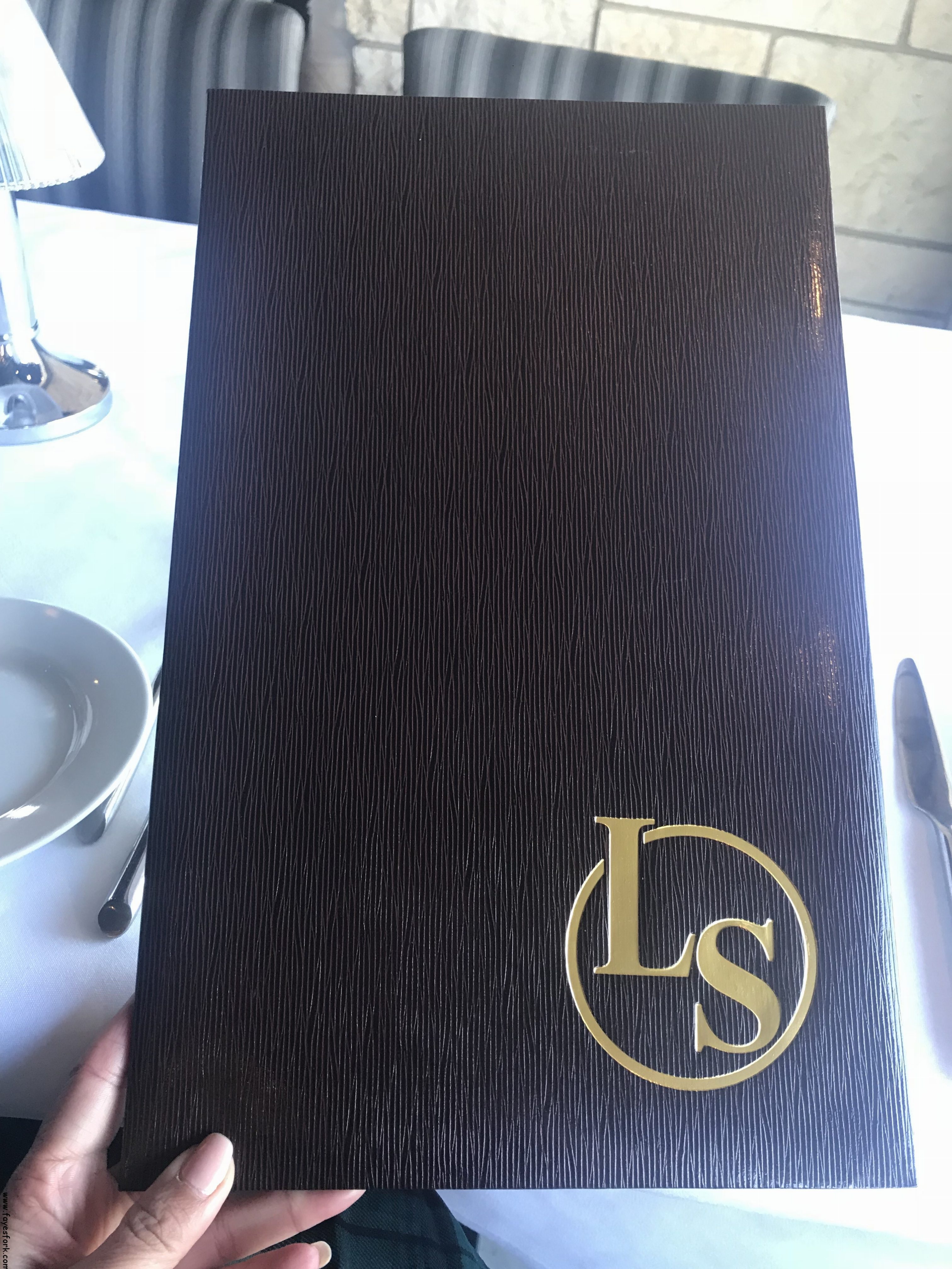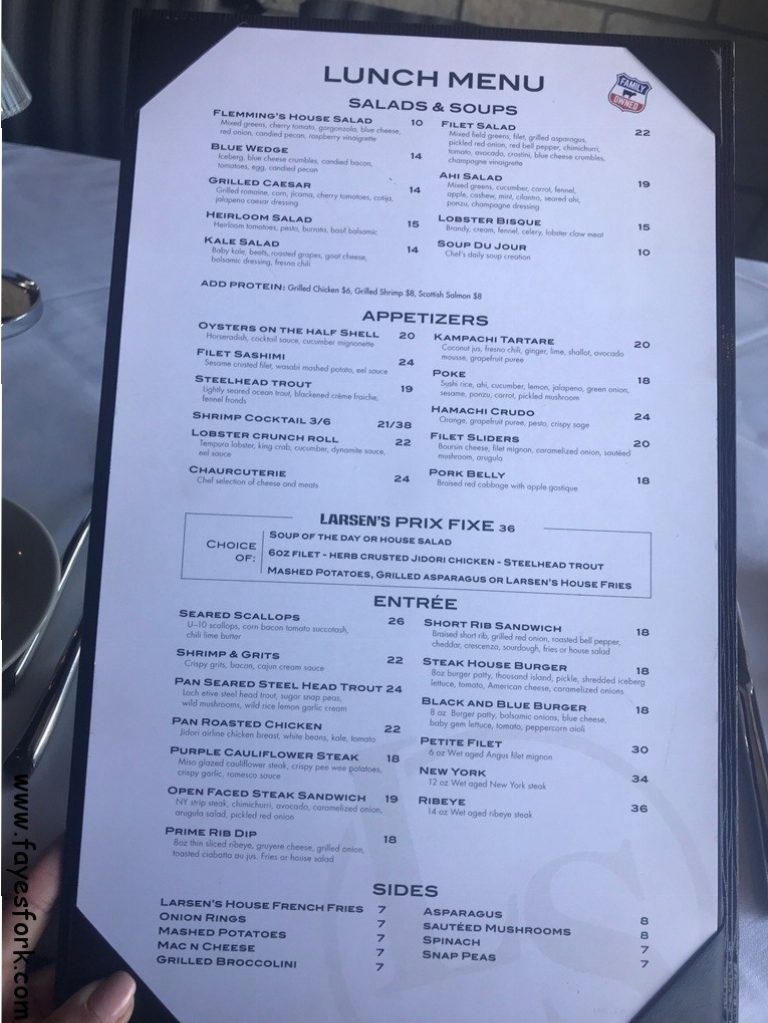 They have a more 'affordable' lunch menu here at Larsen's Steakhouse. We opted for the $36 Prix Fixe option that day.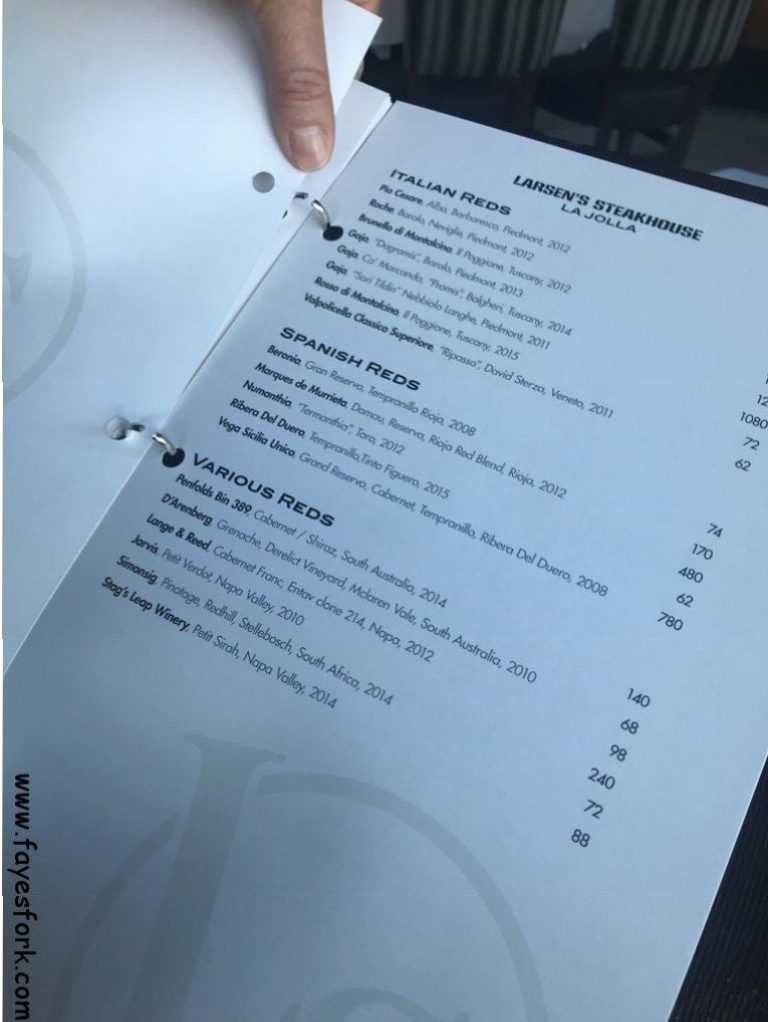 There's also an extensive wine list. I think we saw a bottle of red for $1900. Friend had issues with the wine menu as the pages kept falling out and the binder rings were broken. Strange for a brand new restaurant.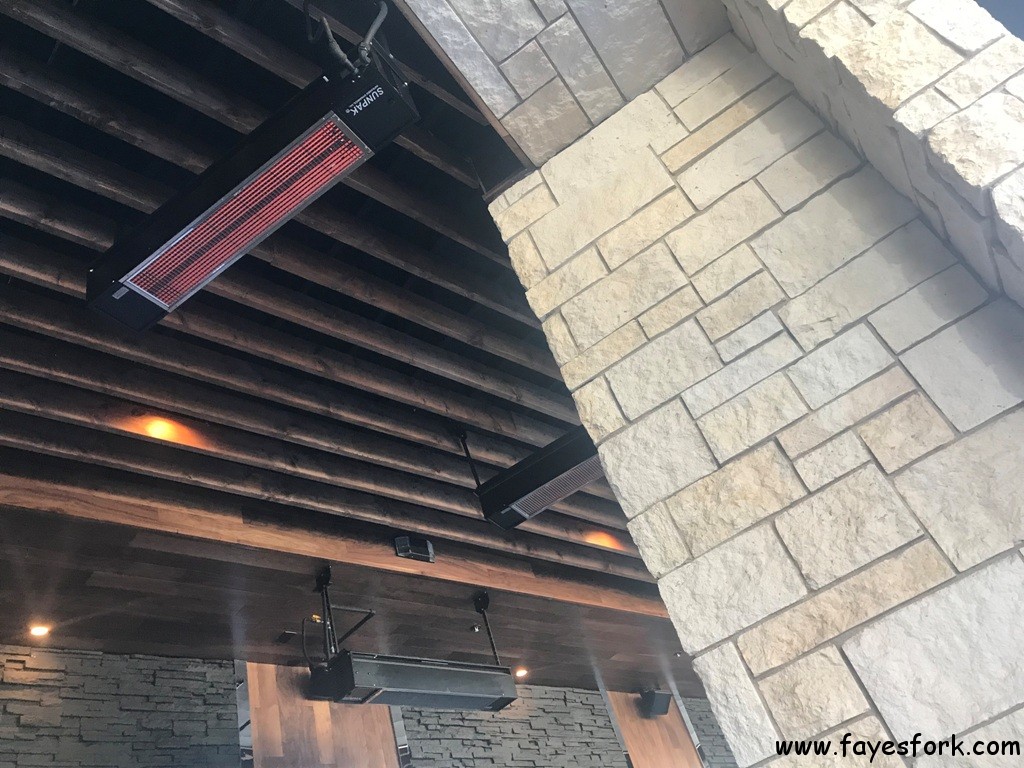 Our outdoor table was nicely warm with ceiling heaters.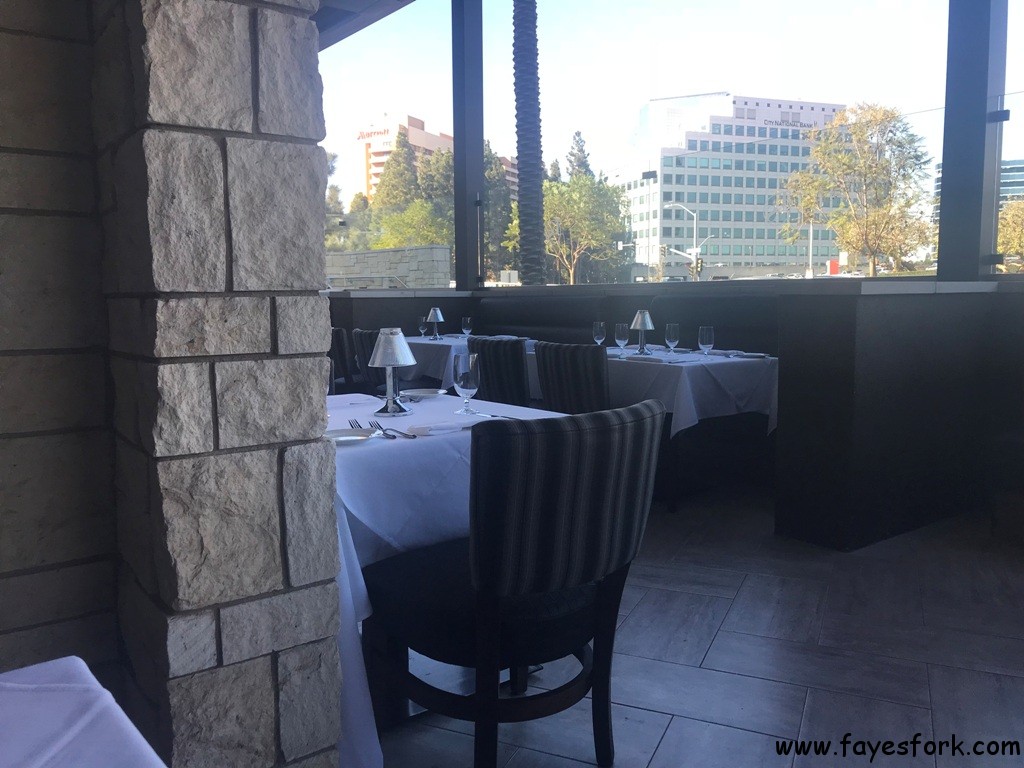 The outdoor seating seemed better as the inside has no window tables. Please note that the outdoor seating gets REALLY loud from the trolley construction nearby. It was unbearable at times (no fault of the restaurant).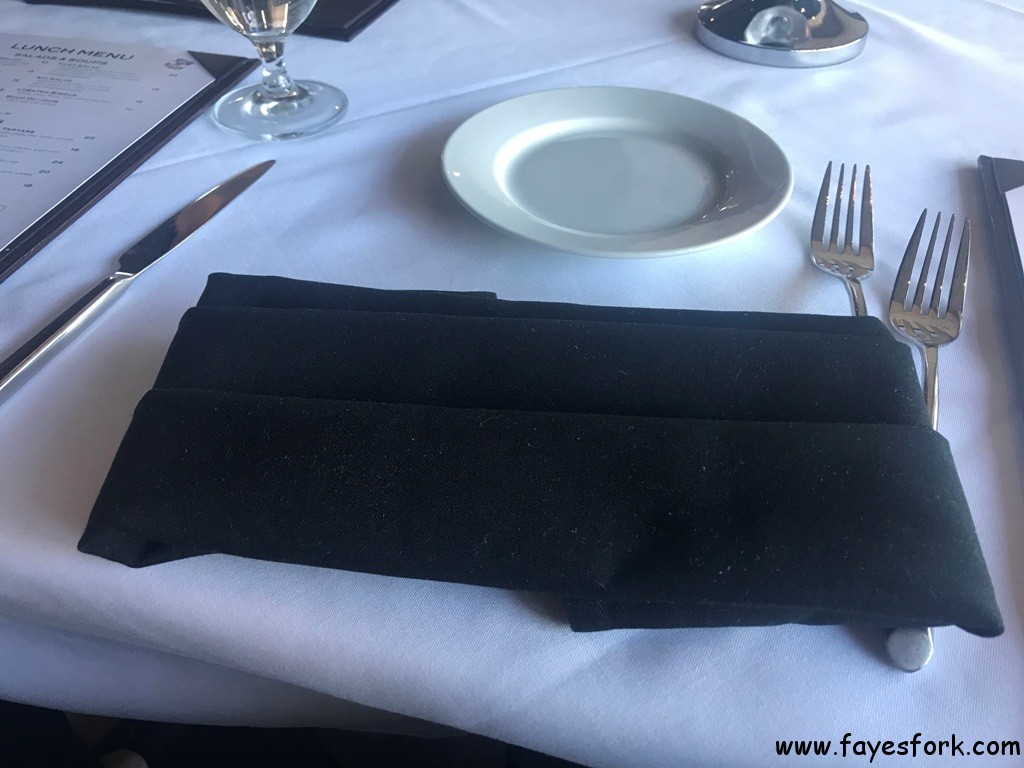 Friend requested black linen cloths over their white ones. This helps if you're wearing any type of black slacks/skirt/dress.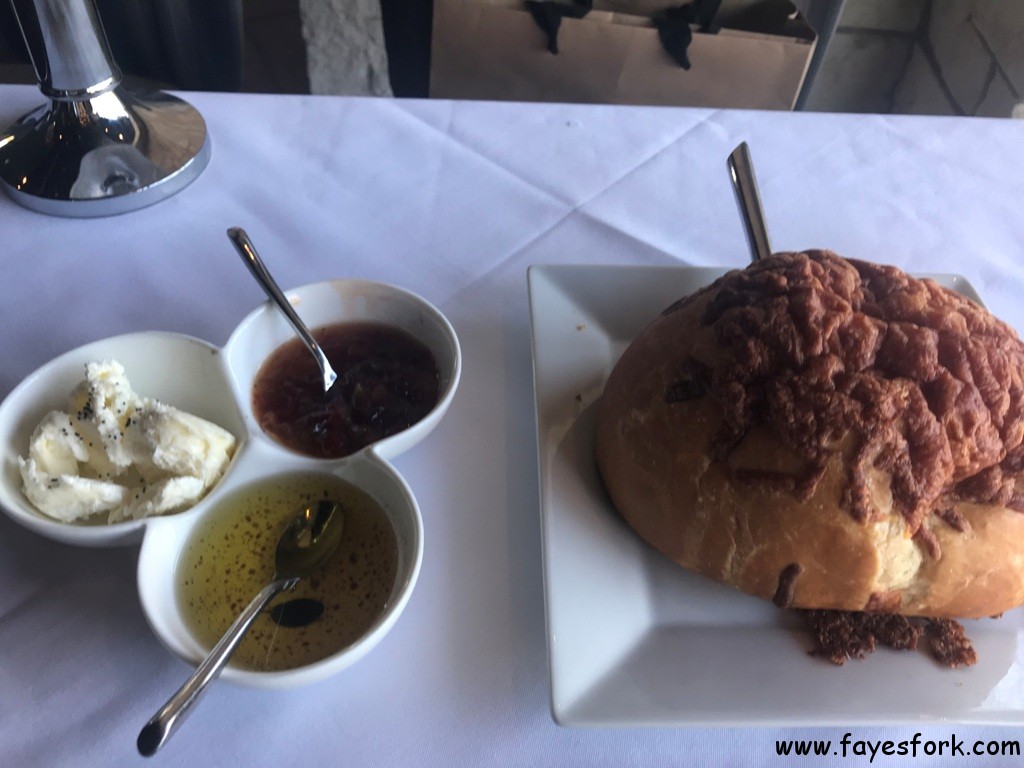 I had heard so much about their freshly baked complimentary bread.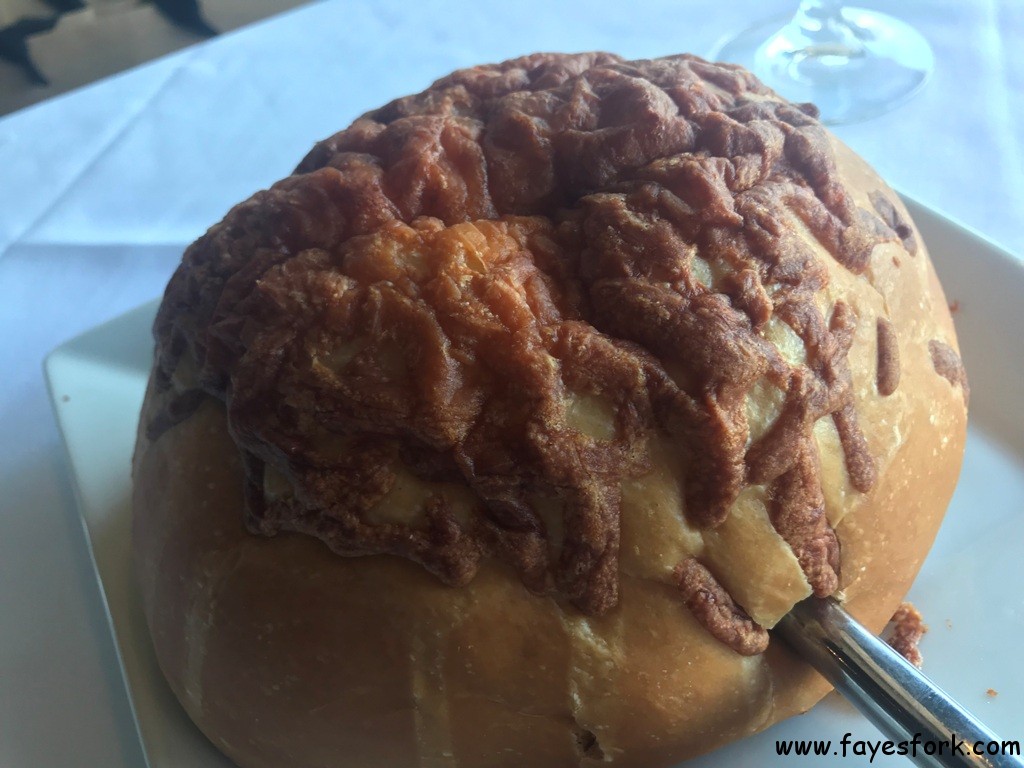 The round loaf comes out HOT and steaming with a stabbed knife. It has baked cheese on top.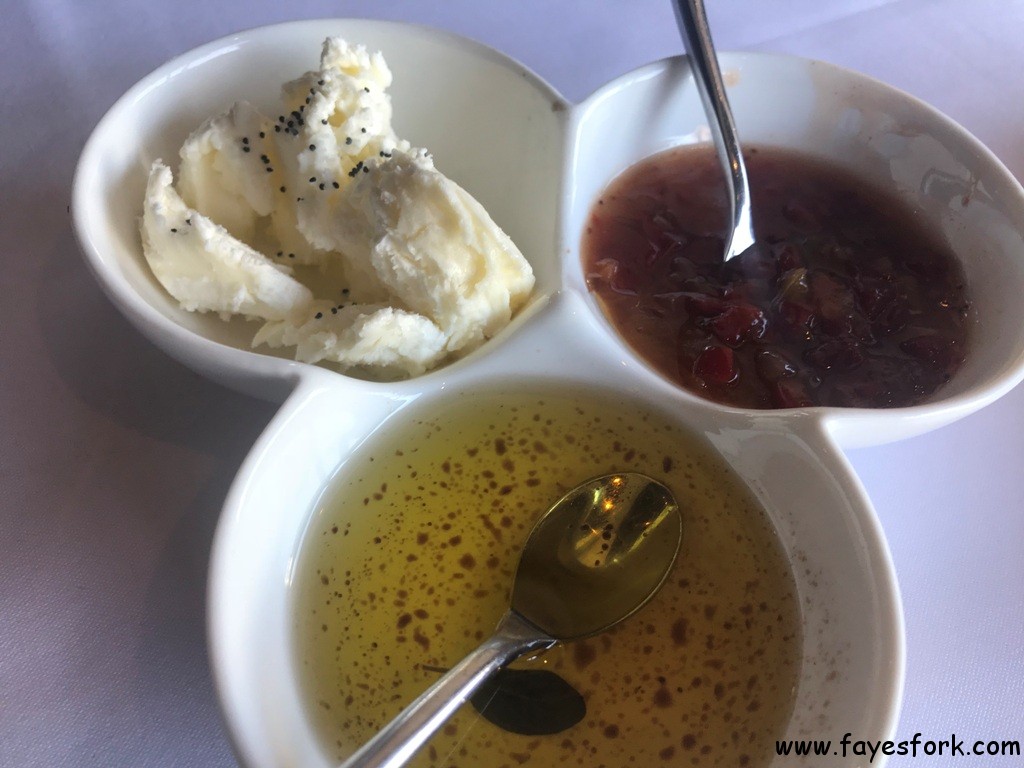 There are three condiments – whipped butter, chutney, and olive oil.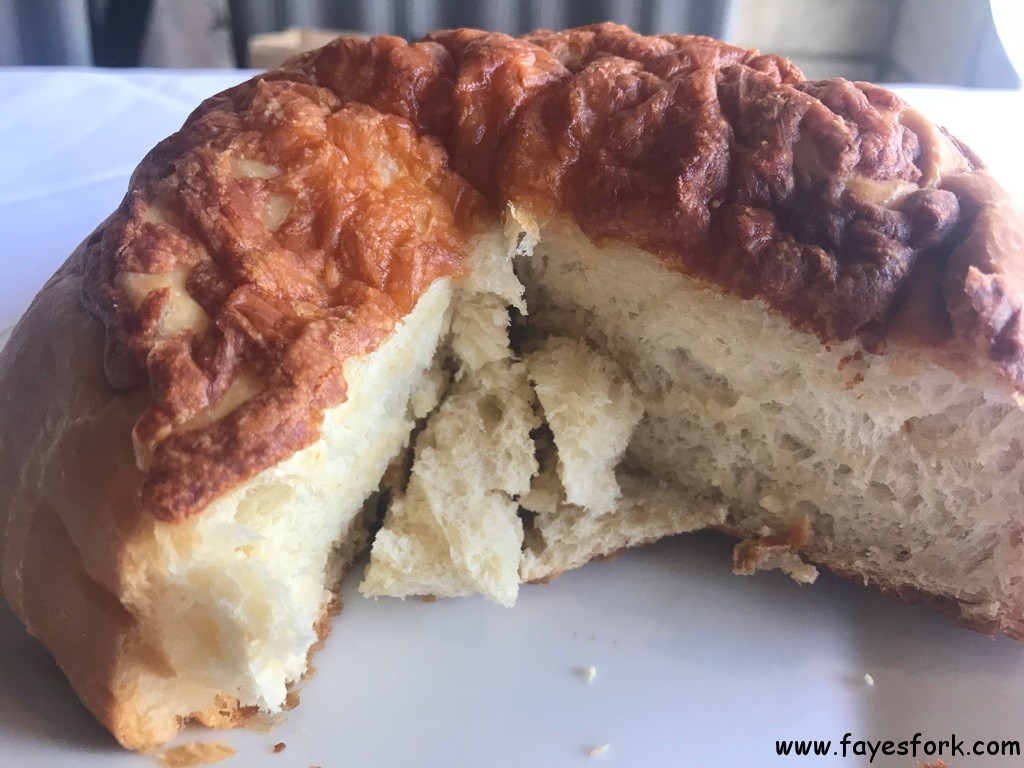 And my goodness people. This bread was unreal. It tasted like Hawaiian sweet bread but less sweet. The dough was so soft and pillowy.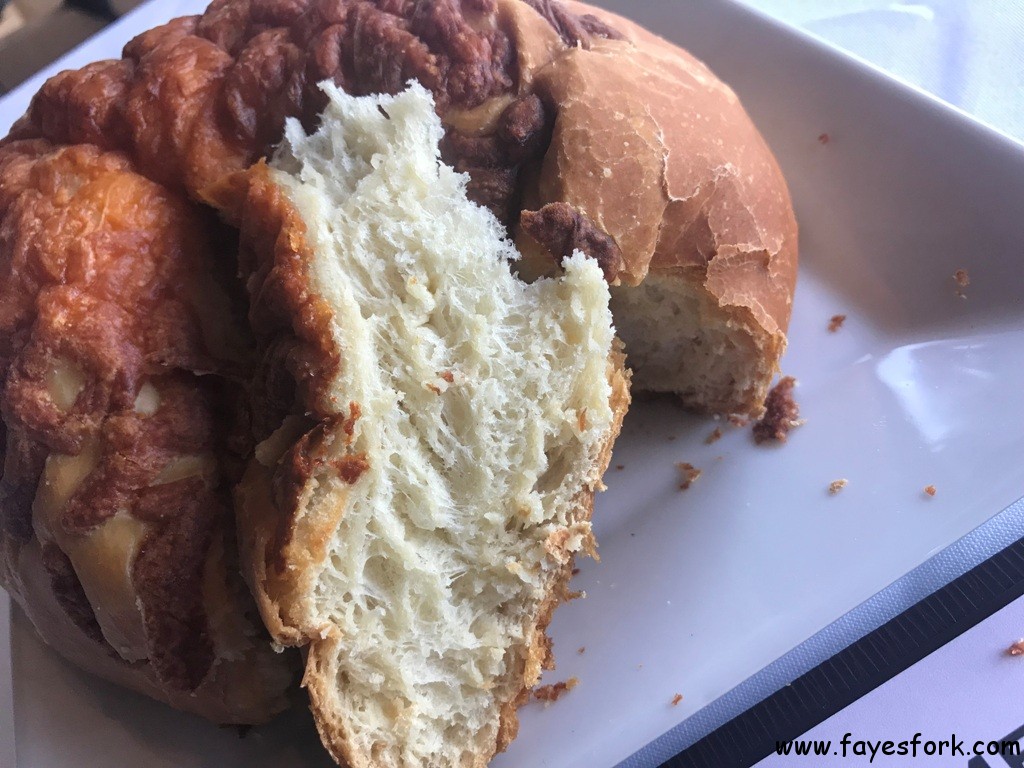 I wish they offered a serrated knife as the regular knife kinda smushed the bread when we cut into it. No matter as the bread still tasted heavenly.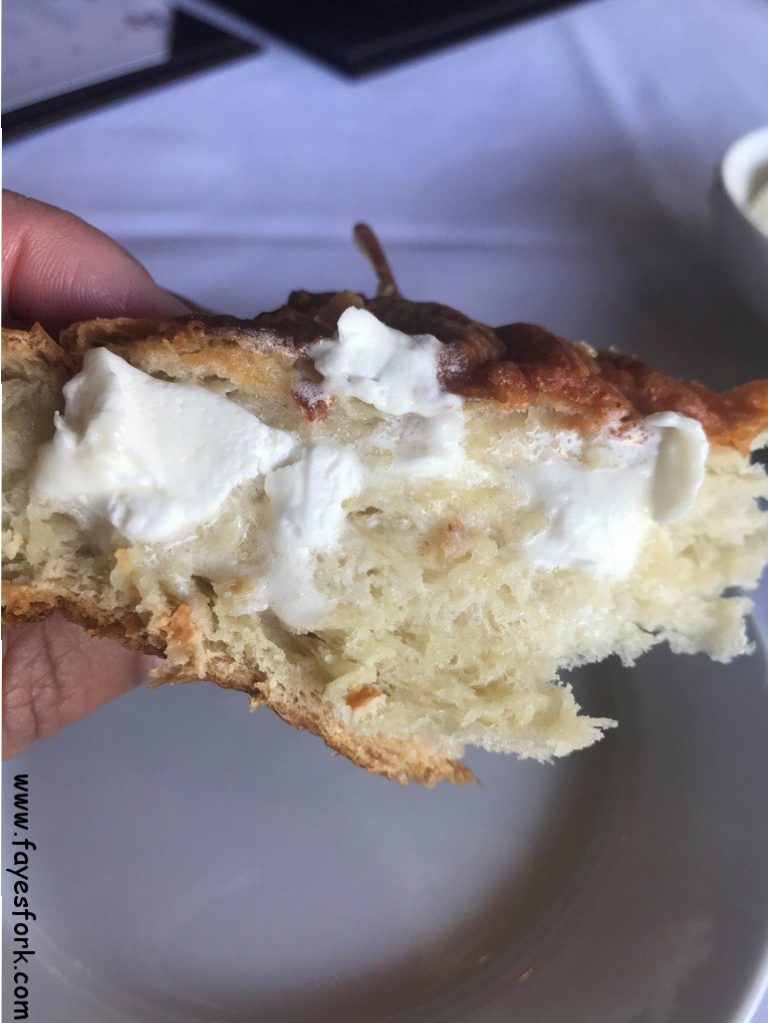 We both preferred the whipped butter on our bread. Olive oil was bland and the chutney/jam was too sweet. It took all my 'you've been going to the gym every day' guilt not to eat the ENTIRE round of this bread.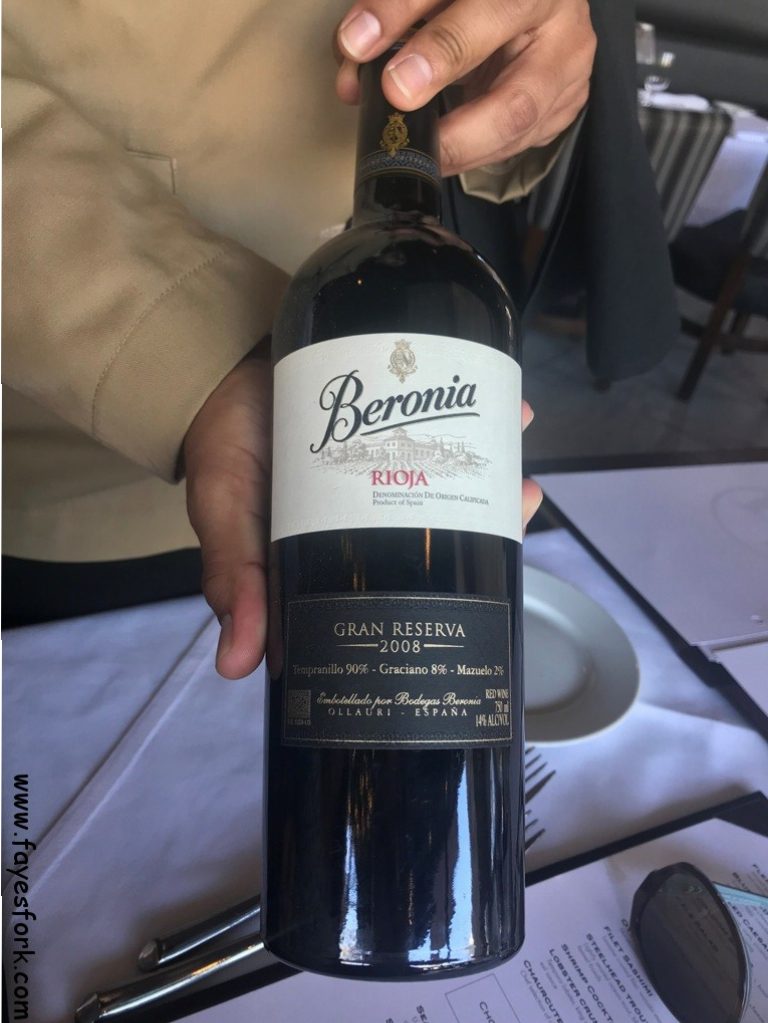 It took quite a long time for our server to bring the wine. There isn't exactly an affordable or reasonably priced bottle of wine here at Larsen's Steakhouse. Friend picked out this tempranillo for us to share as she figured it would be pleasant to drink with our steaks. She liked the wine while I thought it tasted too dry (and overpriced).
She had to take a work call so I excused myself to the restroom.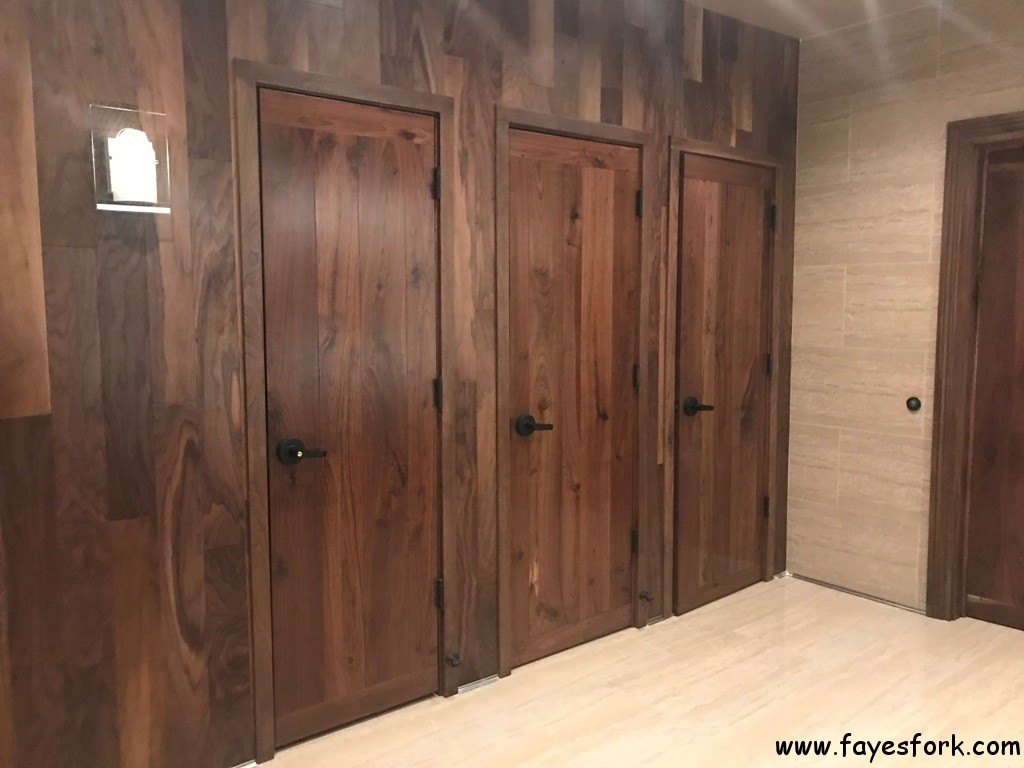 So fancy and pretty.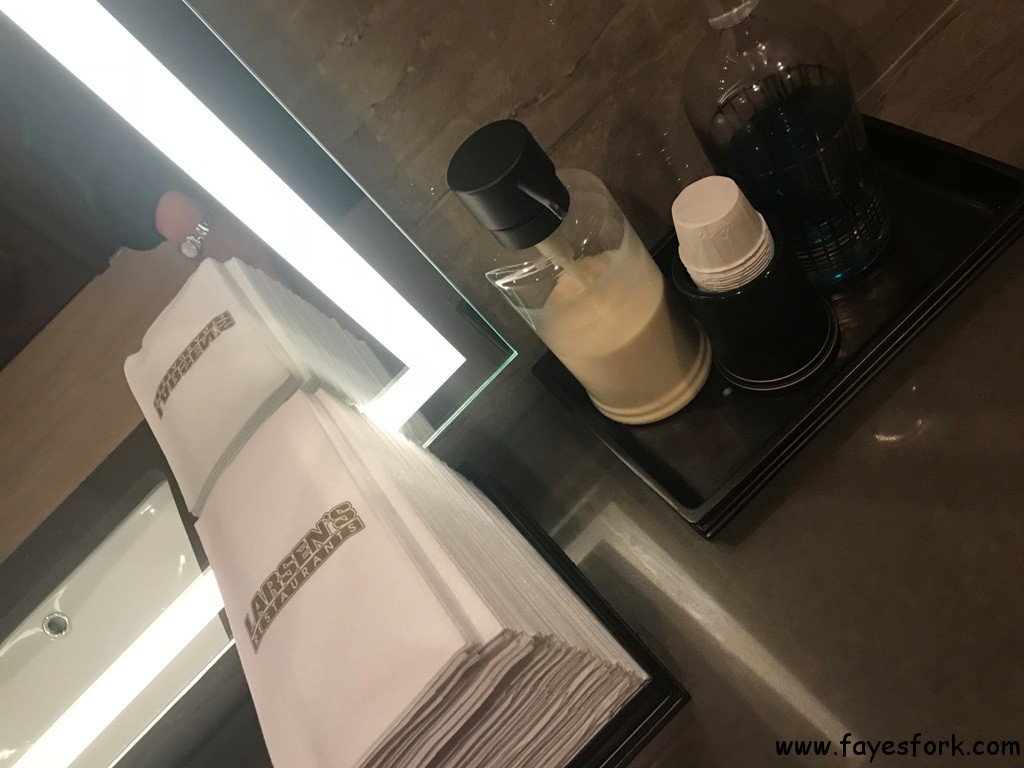 We joked that you know it's an upscale restaurant when they have these expensive thick napkins, mouthwash, and lotion.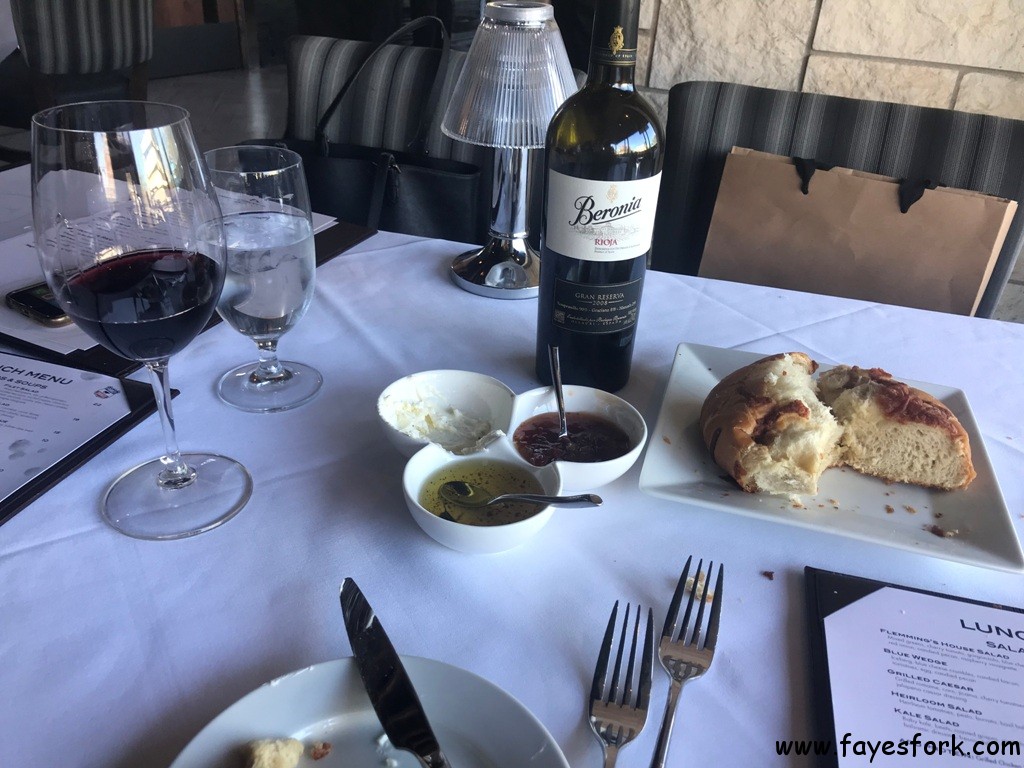 So this was pretty much for some time while we waited to order. We weren't sure why there was such a lag time to order as the restaurant didn't seem busy.
It even took a long time for us to get our starters.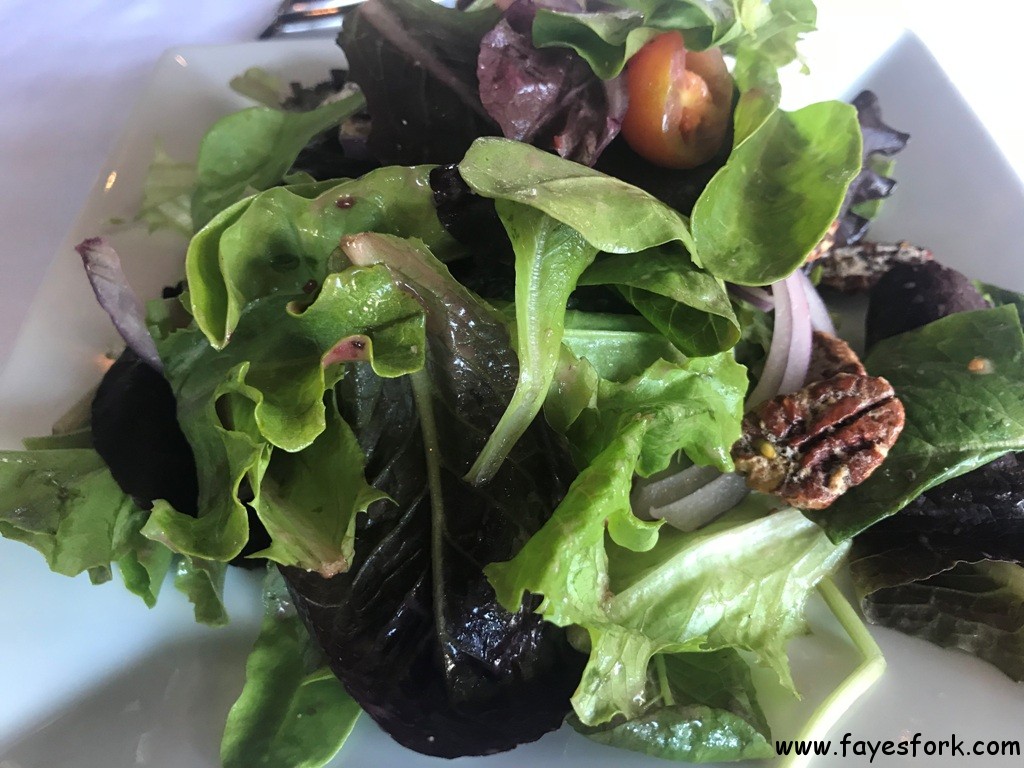 It's a small salad. I don't think they dried off the greens well enough as the dressing tasted watered down.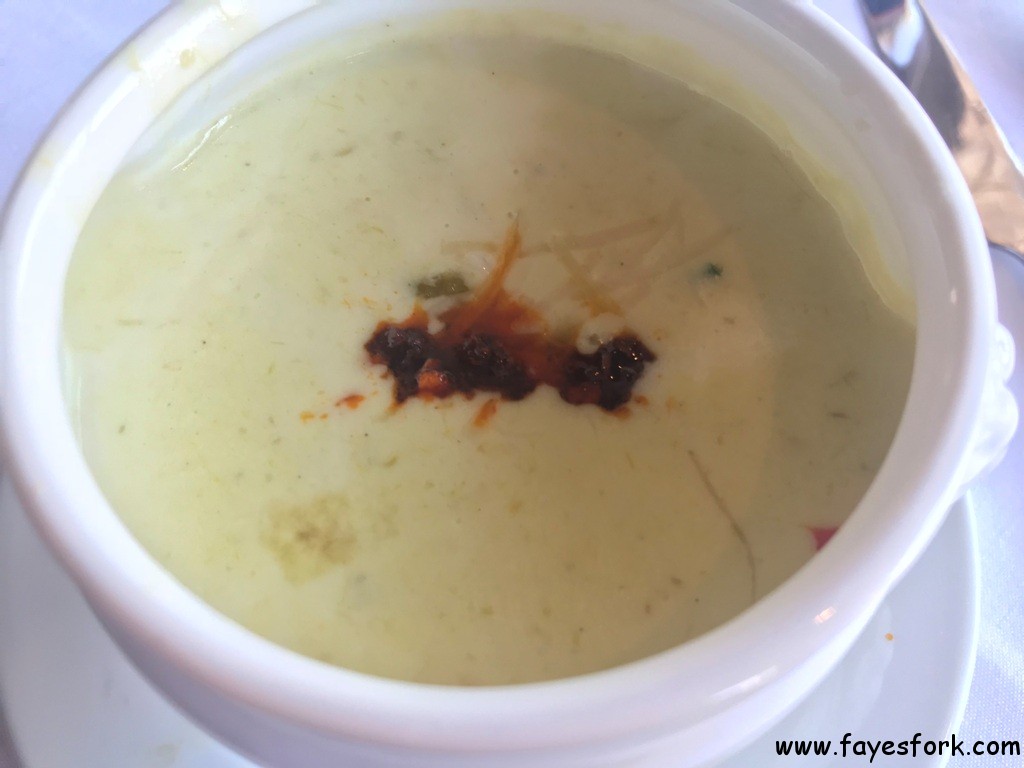 This was their soup of the day. I wish our server had given more details to this soup when he set it down. It tasted lukewarm on first sip but was hotter towards the bottom of the bowl (was it sitting out for a bit waiting to be taken to our table?). The soup was nicely creamy. I had stringy bites here and there that looked like cheese? Overall an ok soup.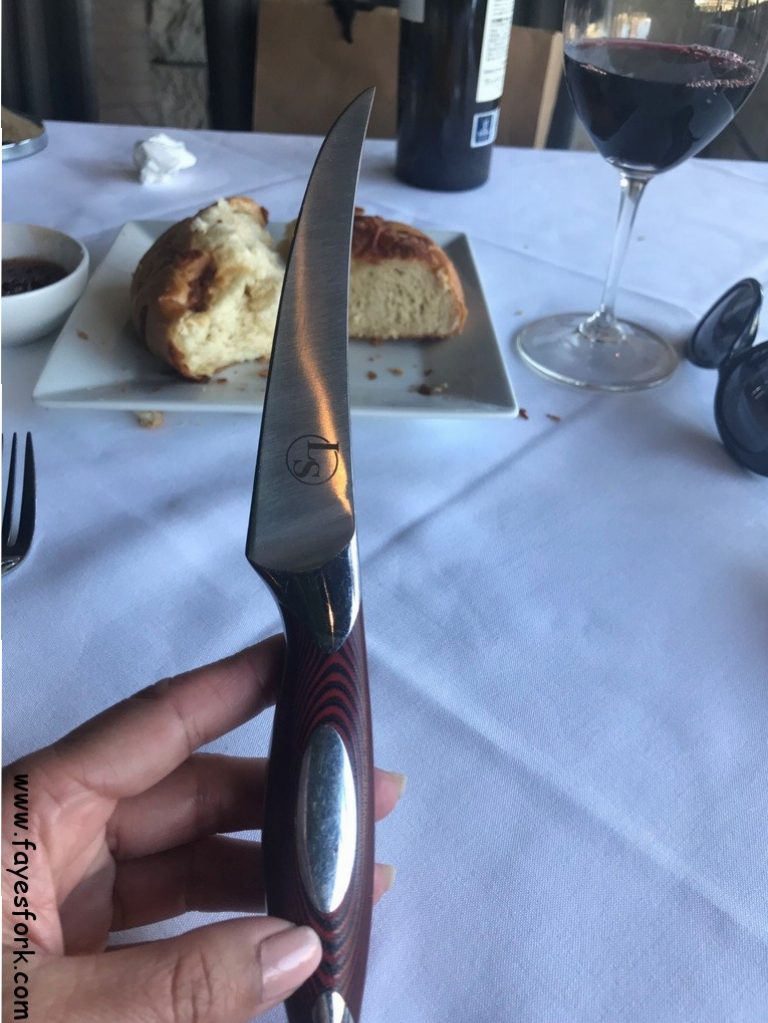 Our server brought out steak knives after our starters.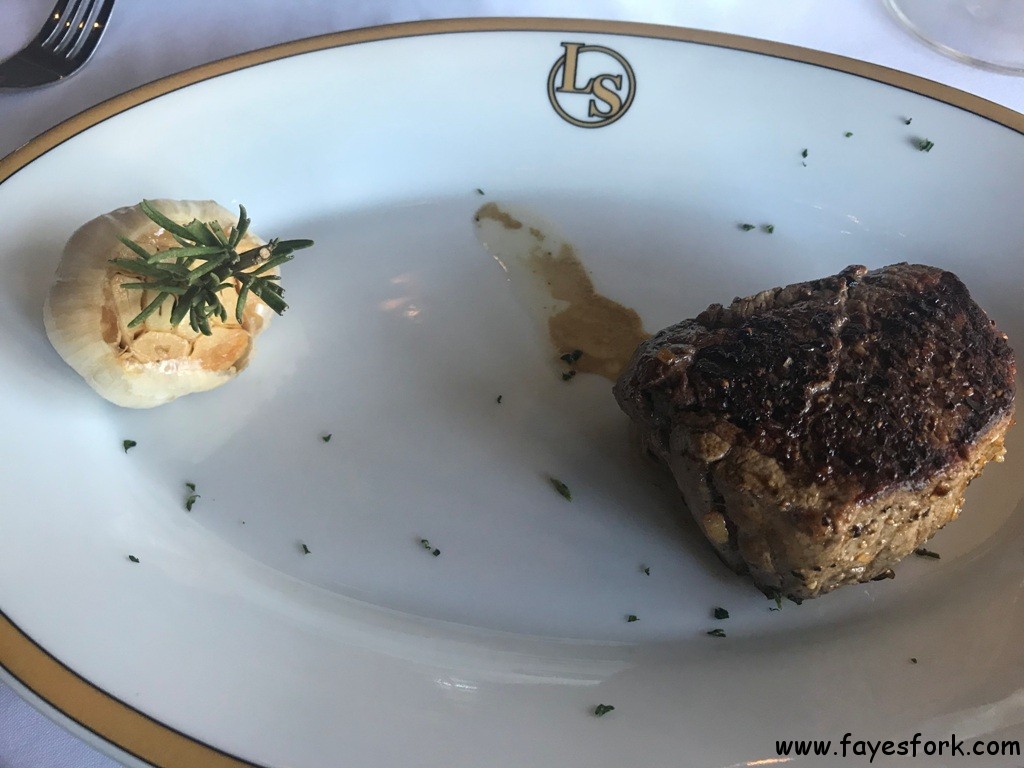 The 6 oz filet presentation was simple on this large plate. It's not exactly the largest portion but it is a $36 prix fixe lunch. The filet comes with a roasted garlic.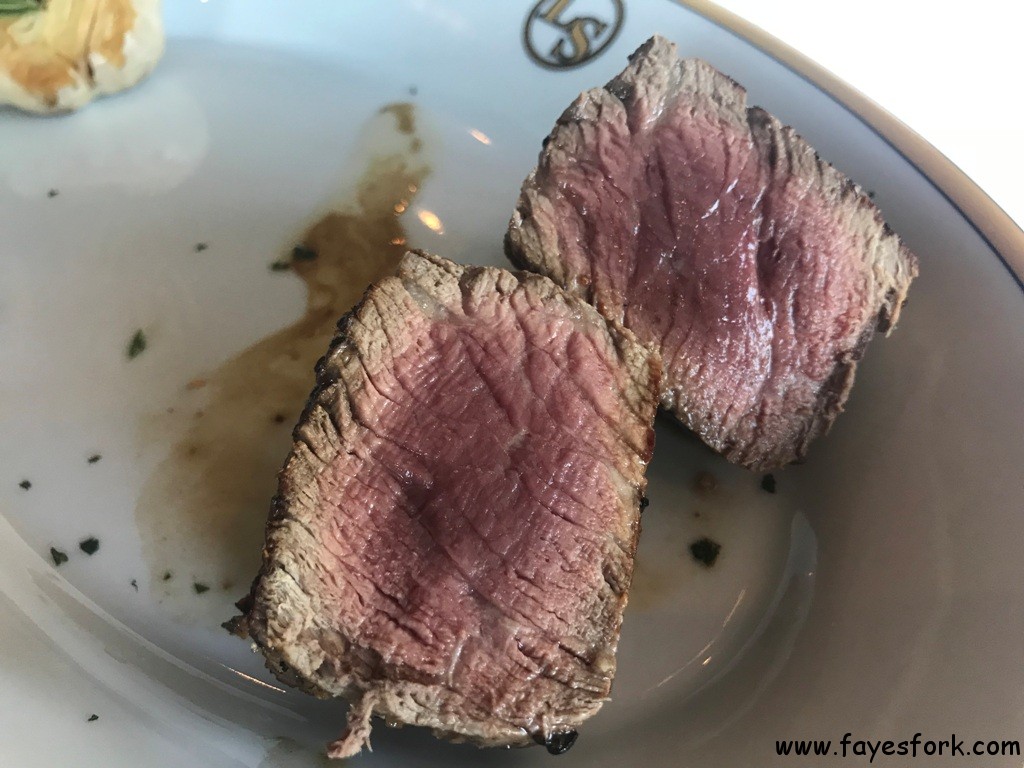 This was her medium rare-plus filet. Friend thoroughly enjoyed her steak. She said it was very tender.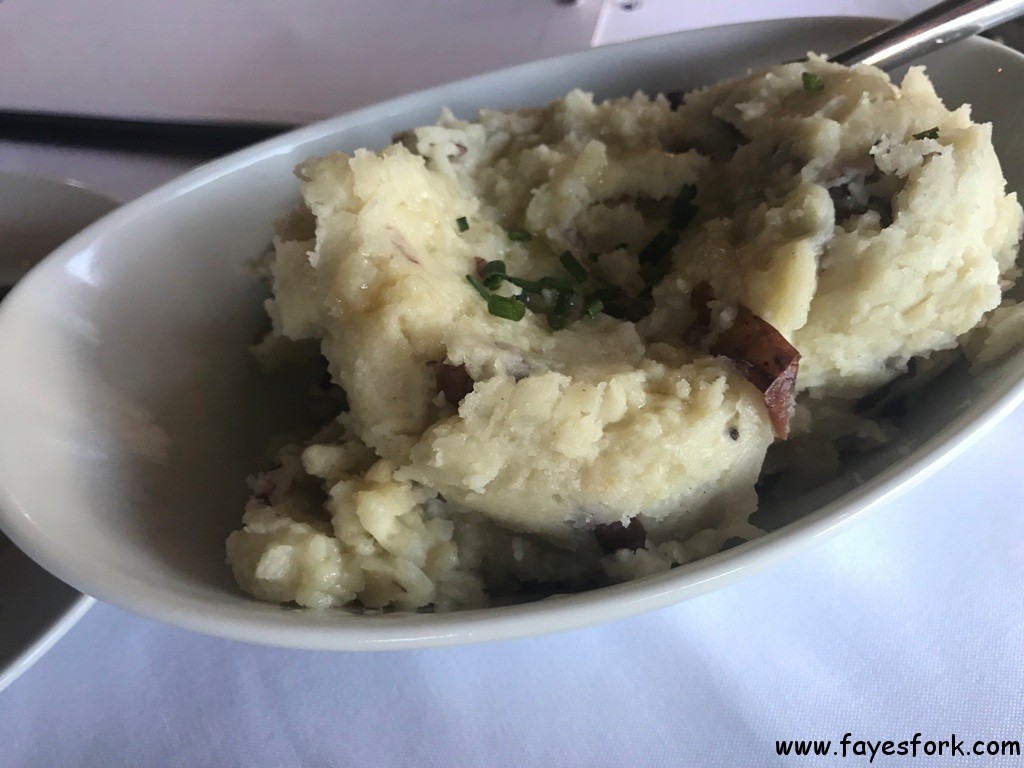 This was a nice generous portion of their mashed potatoes. The skin was left on so it was more of a chunkier mash to us. It was a decent version but we prefer a creamier buttery mashed potato.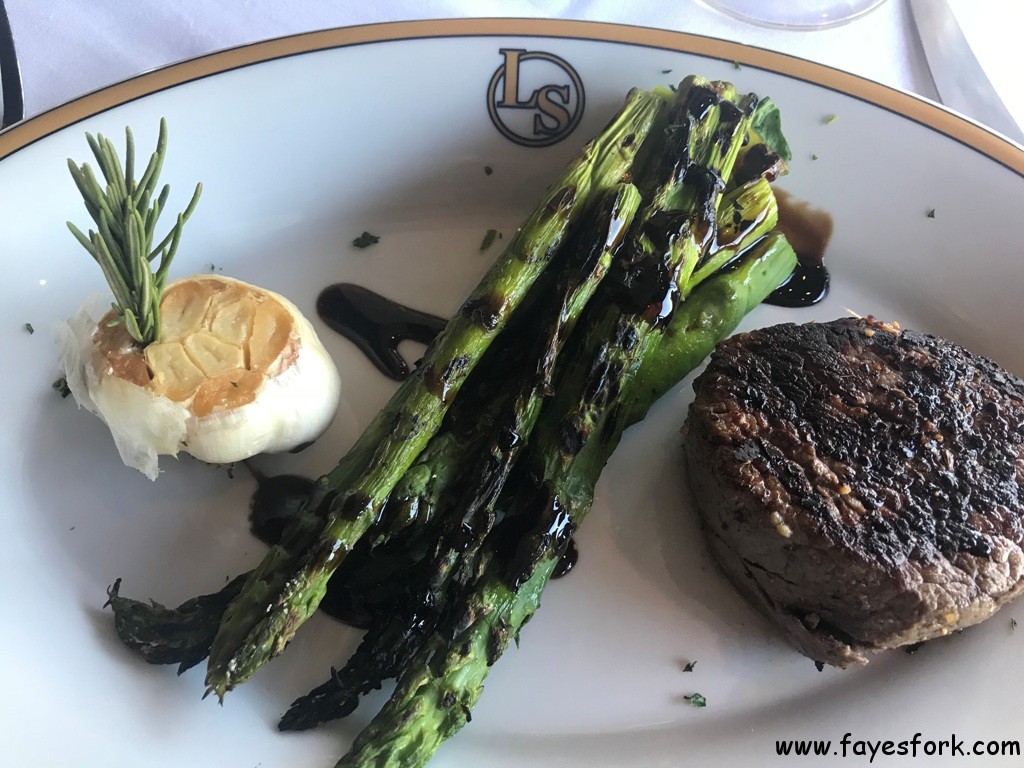 I requested my prix fixe to come with grilled asparagus. I was happy with the six stalk of asparagus, drizzled with thick balsamic, that came on the plate.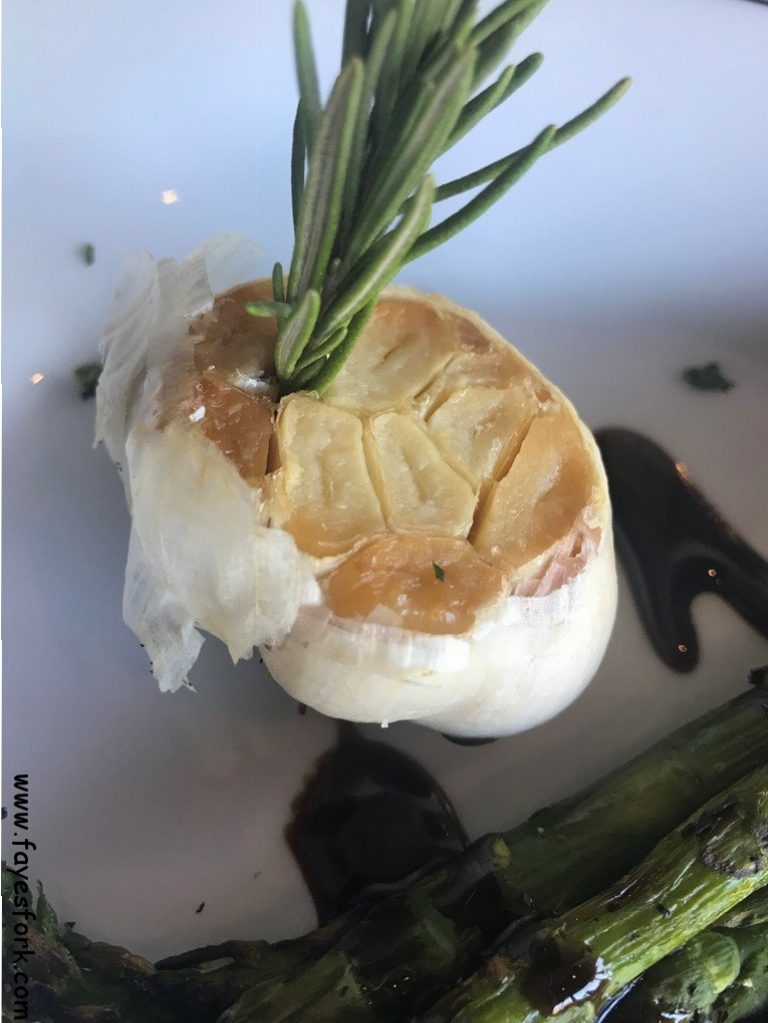 I normally love whole roasted garlic bulbs but the version here was cold. The cold temperature made it difficult to extract the garlic cloves. They should keep these roasted garlic bulbs warm in the oven before they serve them.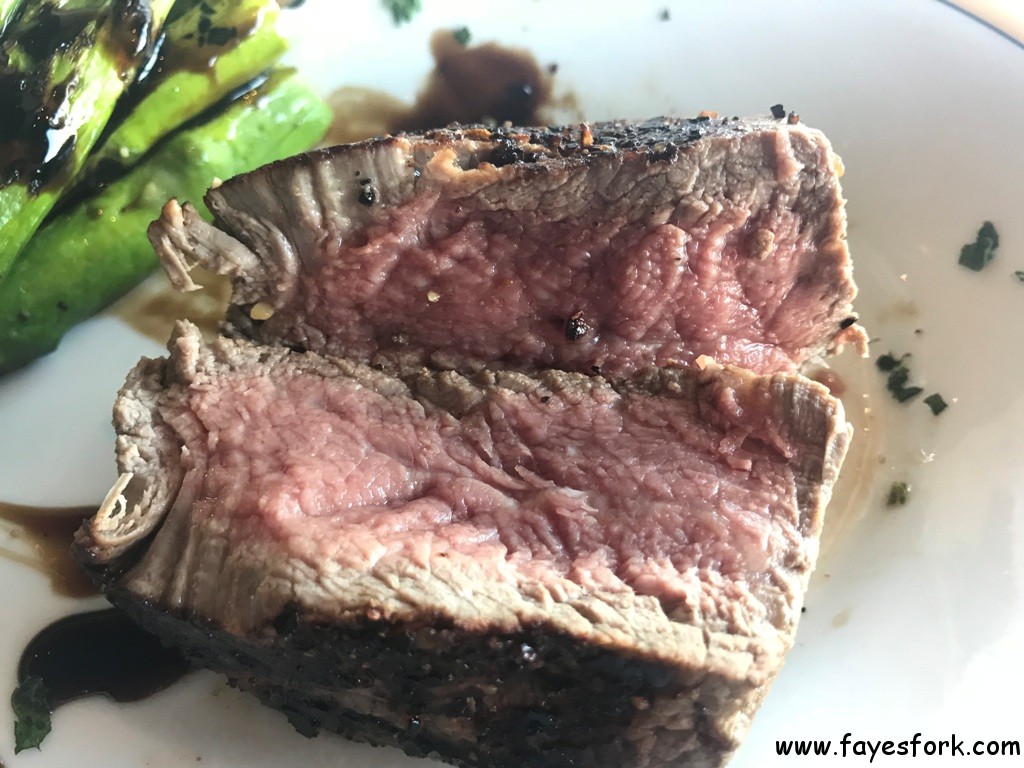 This was my medium rare steak. I thought they might have placed our filets on the wrong plates as mine looked more well done than friend's. The steak knife sliced through the filet so well (we debated if it was the knife or the tenderness of the steak). I would have preferred more seasoning on my steak as it tasted a bit bland on it's own.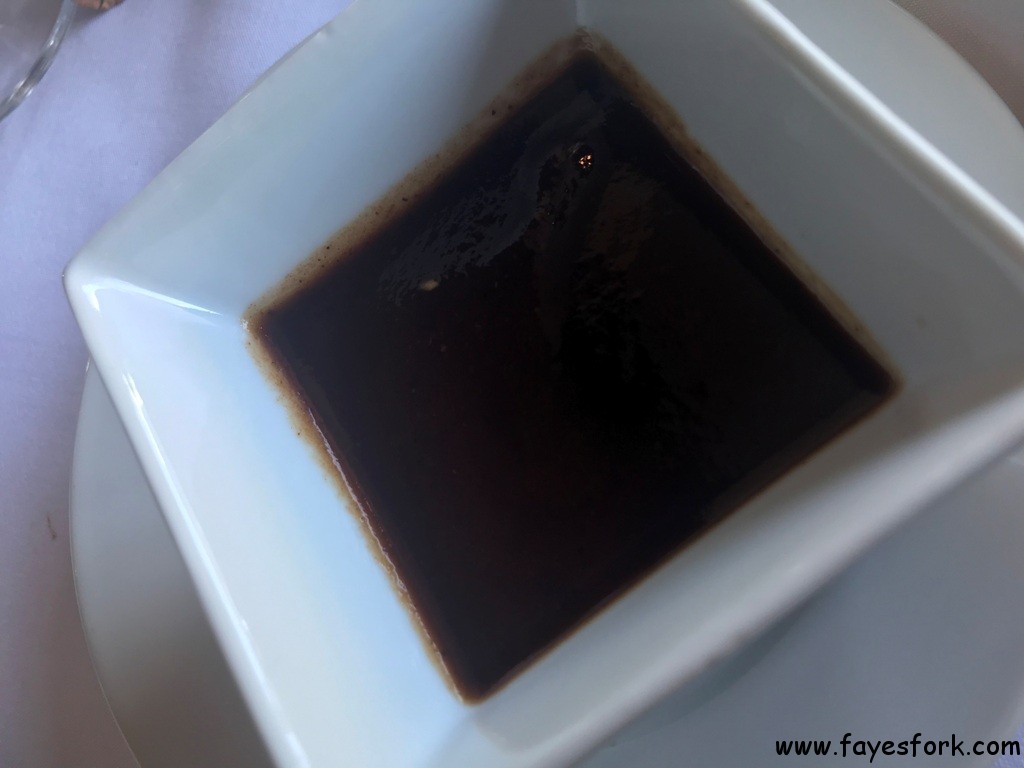 We asked for a side of steak sauce (because isn't it tacky to ask for A1 at a fancy steak restaurant). We both enjoyed eating our steaks with this sauce (not sure if it was homemade but it tasted exactly like A1 – not a bad thing).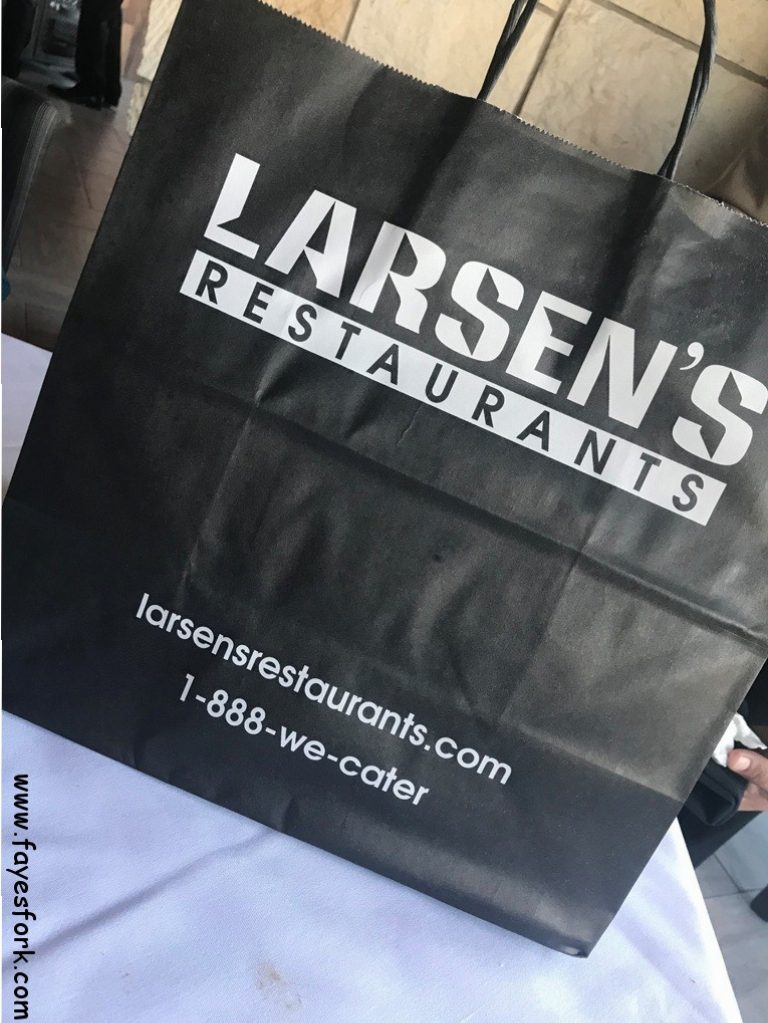 I only ate half my steak and asparagus. The to go packaging was nicely done and is a nice vessel for free advertising if you walk around the mall afterwards.
Service was so-so. We didn't feel it was up to par with the location or reputation of Larsen's Steakhouse that we had read so much about. The pace of the drinks and food was slow and uncomfortable. Normally we'd like to stick around and enjoy dessert/coffee/etc but we both agreed to go elsewhere. Maybe we'd come back to try their happy hour but right now we both agree that the prix fixe was enough for the both of us.
LARSEN'S STEAKHOUSE
4301 La Jolla Village Dr
Ste 1050
San Diego, CA 92122
(858) 886-7561
We went to Bazille at the new Nordstrom afterwards. I'm not a fan of the new Nordstrom but have been curious about their new sit down restaurant that also has a bar.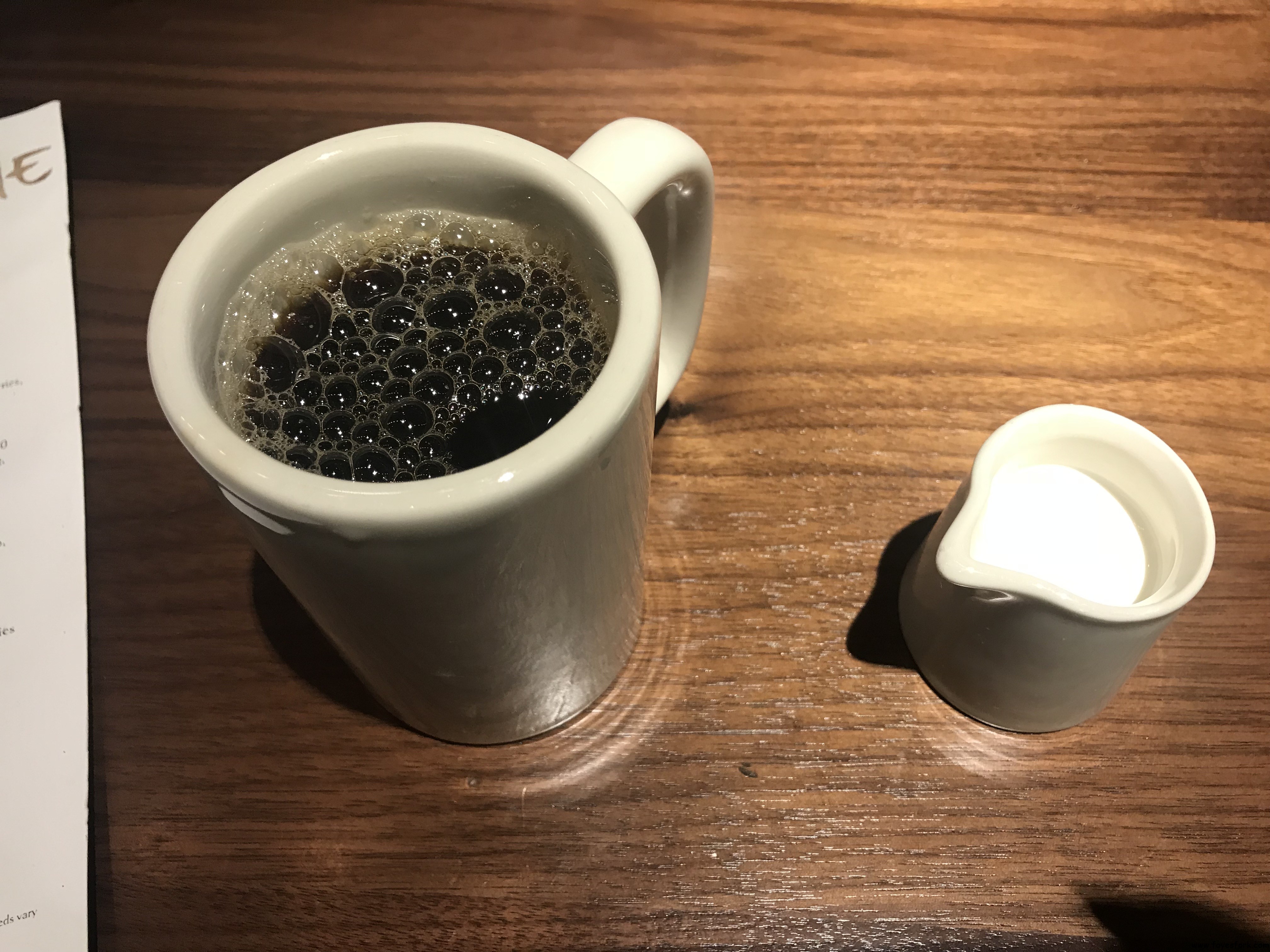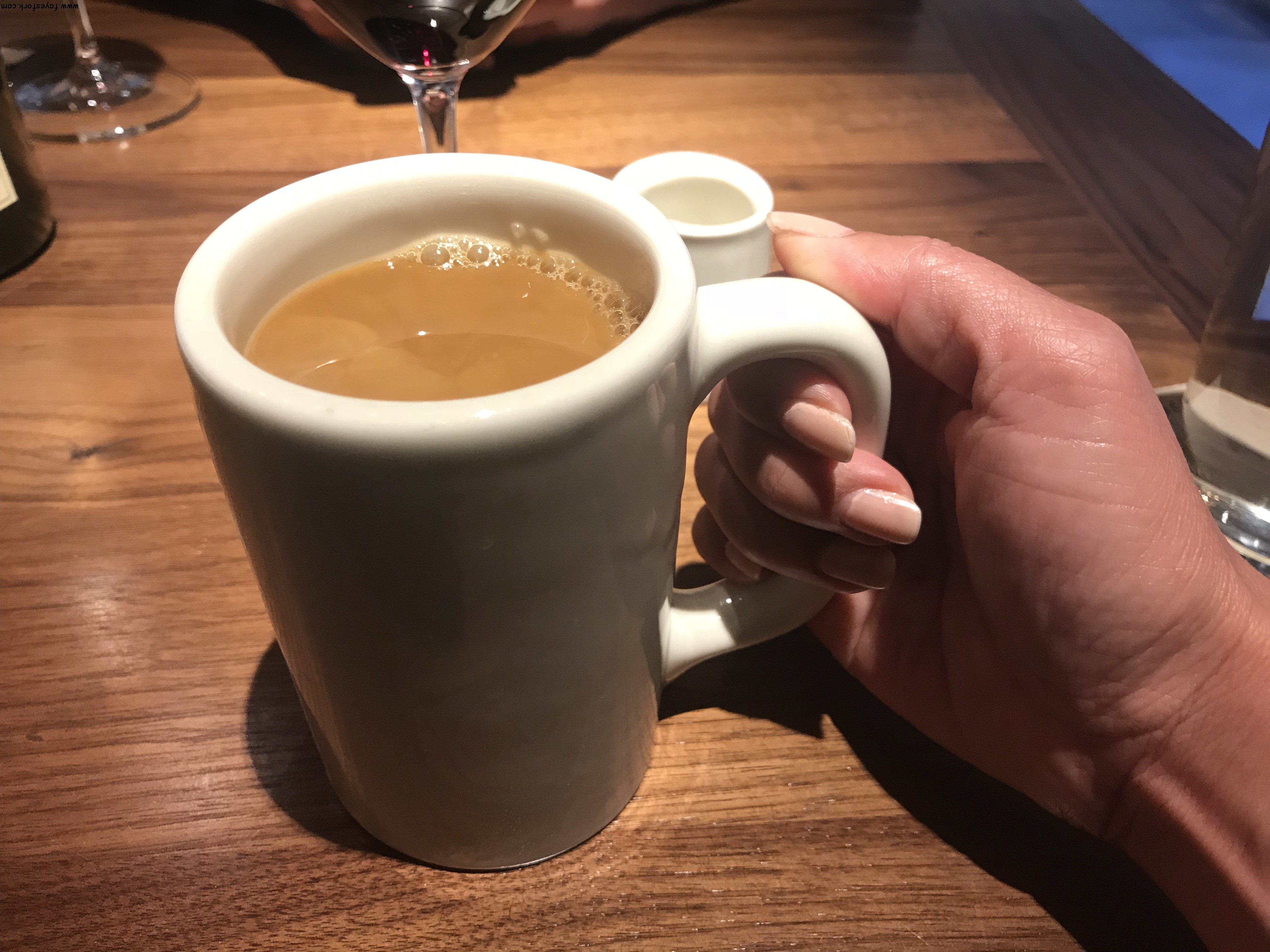 I know this is silly but this coffee mug was great. The handle was so comfortable to hold.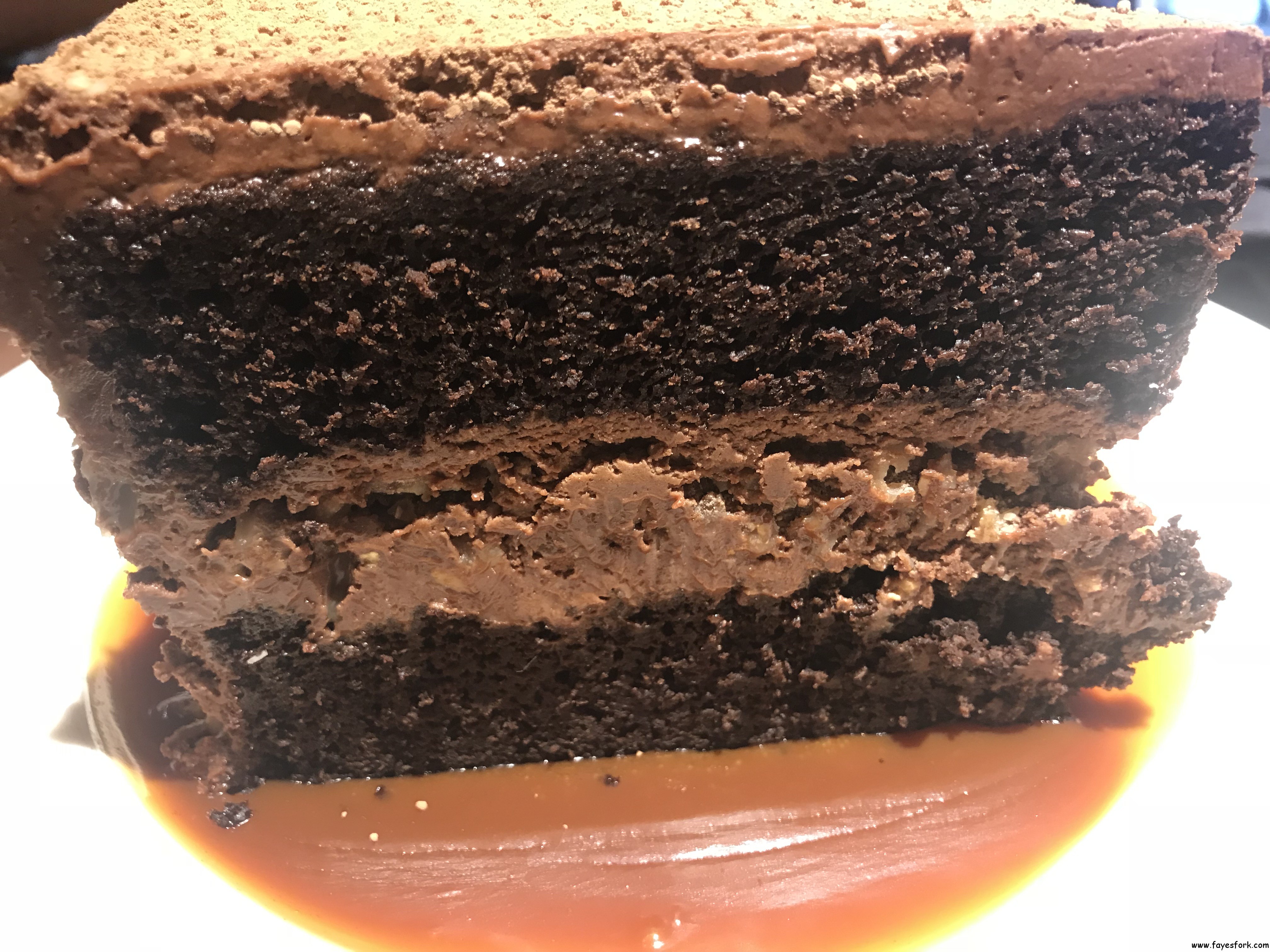 We weren't really hungry but I wanted to treat friend to something as she treated for lunch. This chocolate cake had a heath bar mousse that was quite delicious. She has family in Oregon so I bought her a bottle of Bazille's monthly signature wine that happened to be from Oregon. It was an amazing bottle of wine.
Our server, Oscar, was outstanding. He was incredibly personable and welcoming. Friend and I spent the next 1.5 hours here at Bazille. I plan on taking sis here for lunch sometime soon.
In regards to the mall's valet parking: it is $8. Be aware of that. The valet is through Westfield Shopping Mall and not through Larsen's Steakhouse (I think). There is no time limit for your valet parking time (I was told by Larsen's hostess you could valet all day).  Friend paid for the valet but gave too much money to the valet guy. Let's just say I pointed it out to him but he did nothing to return the money. That's not cool nor is that ethical. It's an unnecessary bahhumbugh move during this time of year (or any time of year actually). Here's hoping he shared the extra money with the nice gentleman who actually drove our car to us and had a sincere disposition –