I'll admit that I buy into the 'over hyped'. At times. But, sis and I have agreement that no new place is worth a more than 15+ min wait nowadays. We've all heard of Shake Shack coming to the revamped UTC mall in La Jolla. I personally didn't have much knowledge of this burger joint. I mean, sorry, but I'm a loyal fan to the ridiculously affordable, freshly made, yummy burgers at In n Out. It sucks to wait at In n Out but their burgers are worth it. V and I decided to take a long lunch and try out Shake Shack. I told her the wait would be 40+ minutes but she really wanted to try their fries. Um, ok. Fries? Sure. Why not. So we jumped in my car and drove to UTC. I got the surprise of a January 2018 lifetime when we arrived –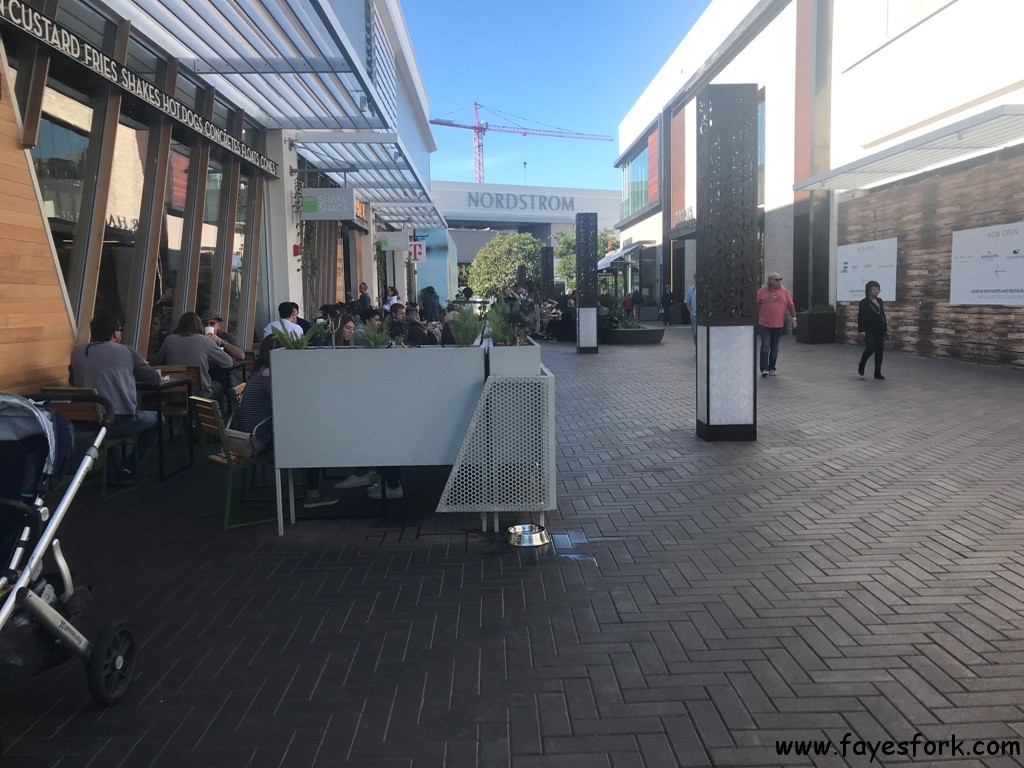 Where the hell was the line. I grabbed V's hand and started running to the front IN CASE I somehow was hungry and just delusional.
No. I was sane (friends would disagree on that statement). This was the view from the front of the line. What the hell is happening. Where was the 40+ minute line to wait to just order food here at Shake Shack?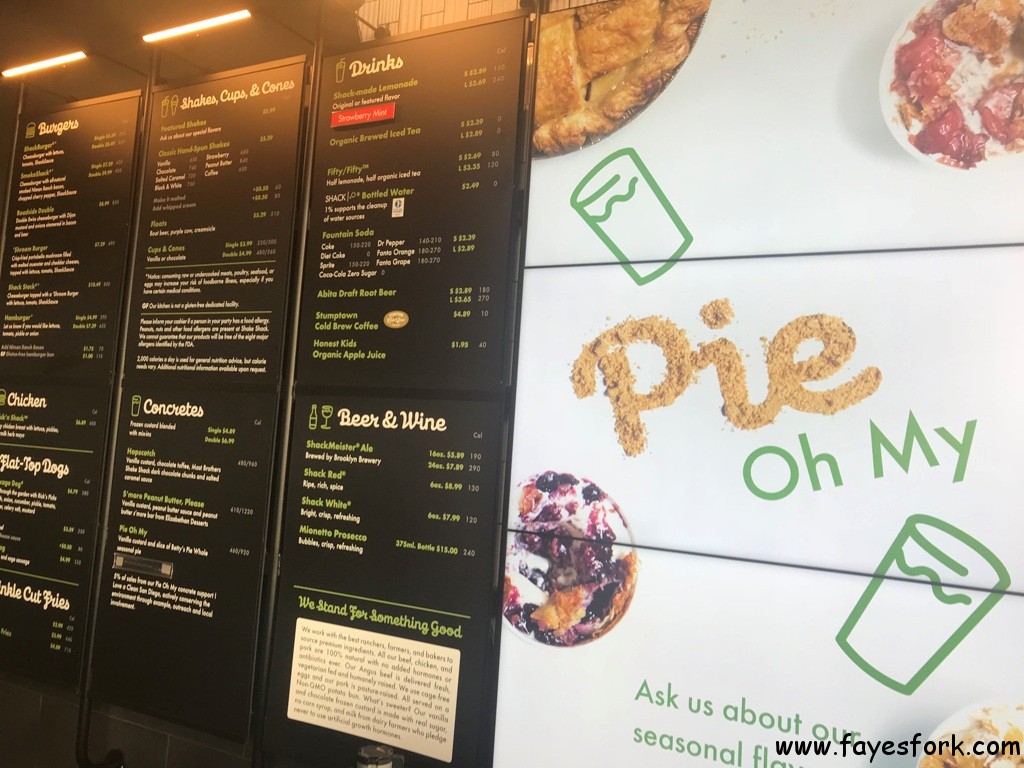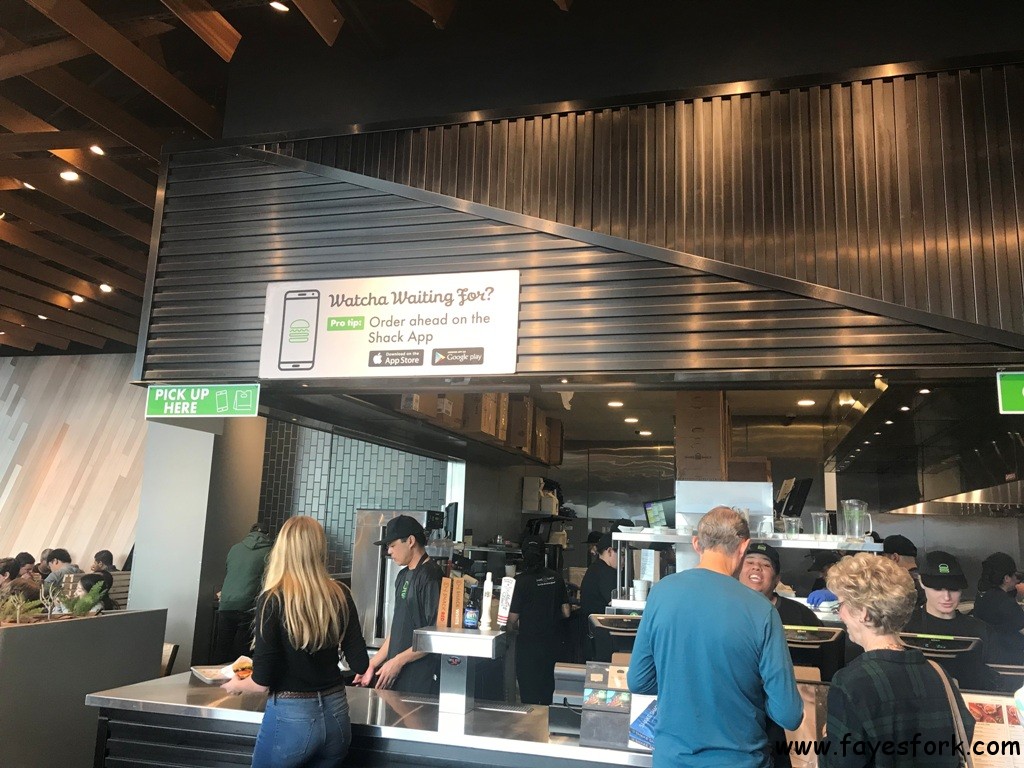 Do you also see the 'Watcha Waiting For' sign on top. I'm going to have to check out that app and see if it comes in handy.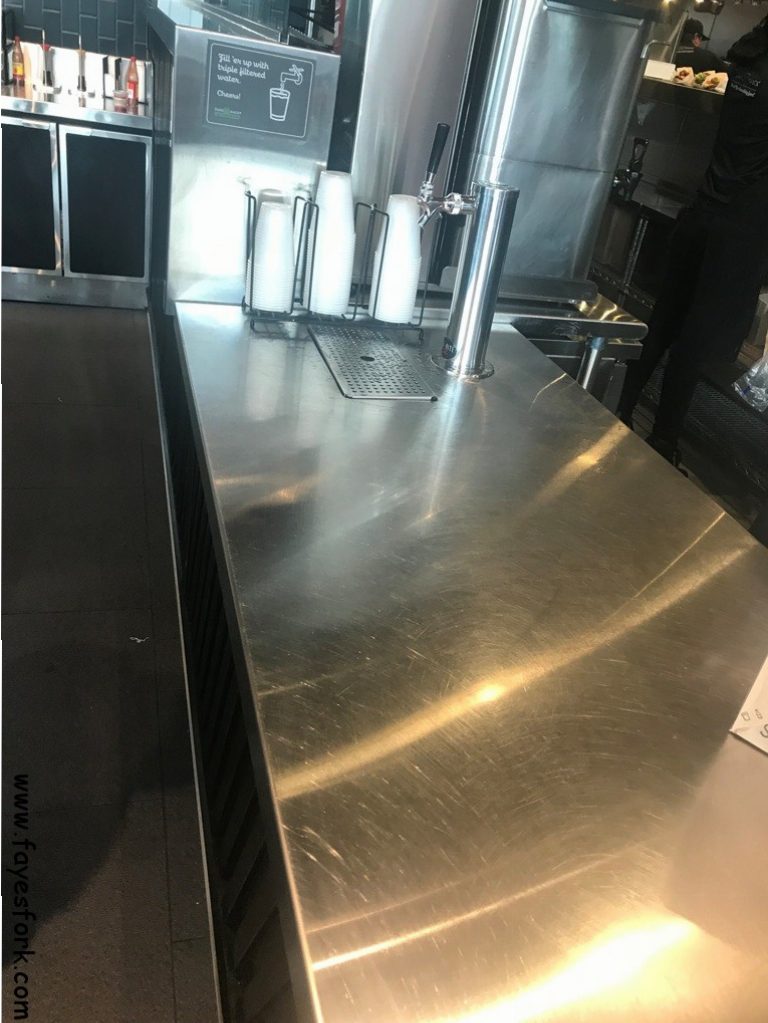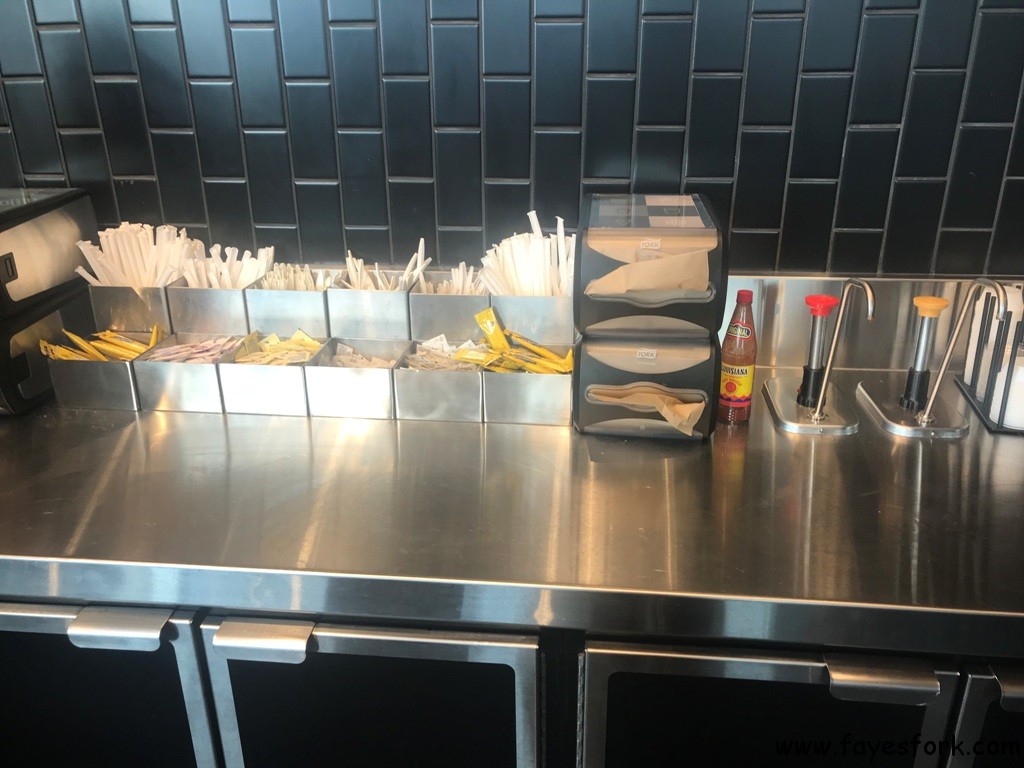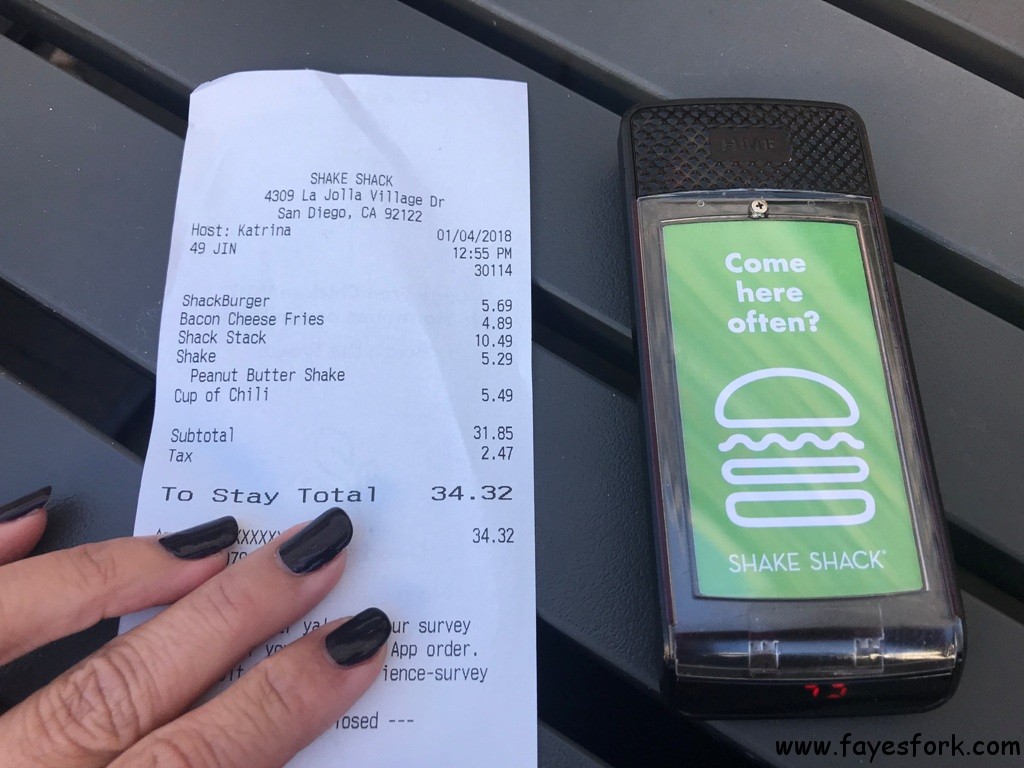 It only took us about 12 minutes to get to the front of the line to order. You order with cashier, pay, and she hands you the receipt with a pager. The pager lights up when your food is ready to be picked up.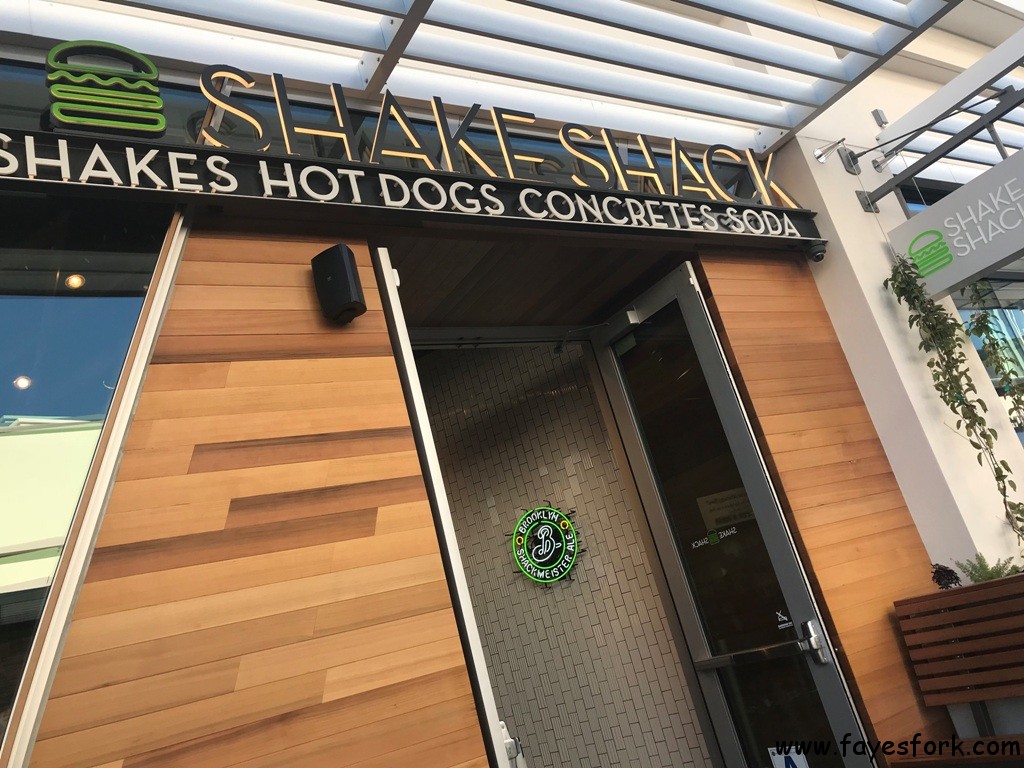 Here is the view of the front door, with NO wait, after we sat down after we ordered. Weird right?! NO wait.
This was all for V's fries. She obviously is a fan of mayonnaise which is served in these spiffy to go packets here at Shake Shack.
Our pager buzzed about ten minutes later.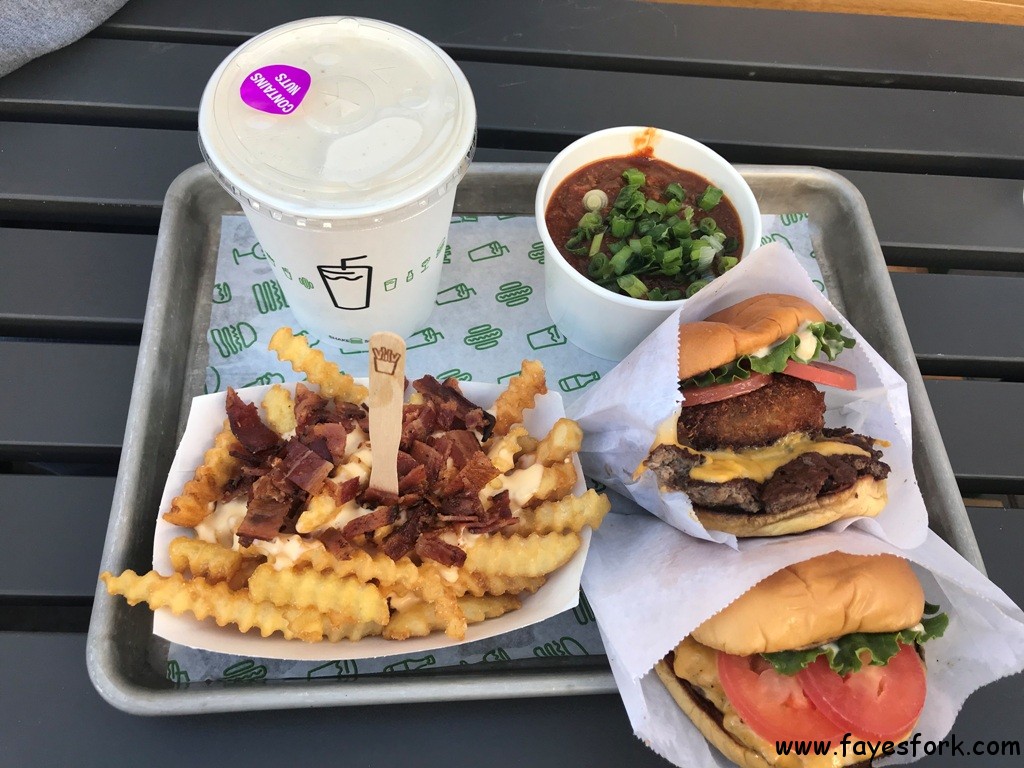 I thought the serving would be bigger or more grand for $35 bucks. What came out, served on a tin platter, didn't seem all that magnifico. We ordered a shake, bacon cheese fries, cheeseburger, chili, and a Shake Shack burger.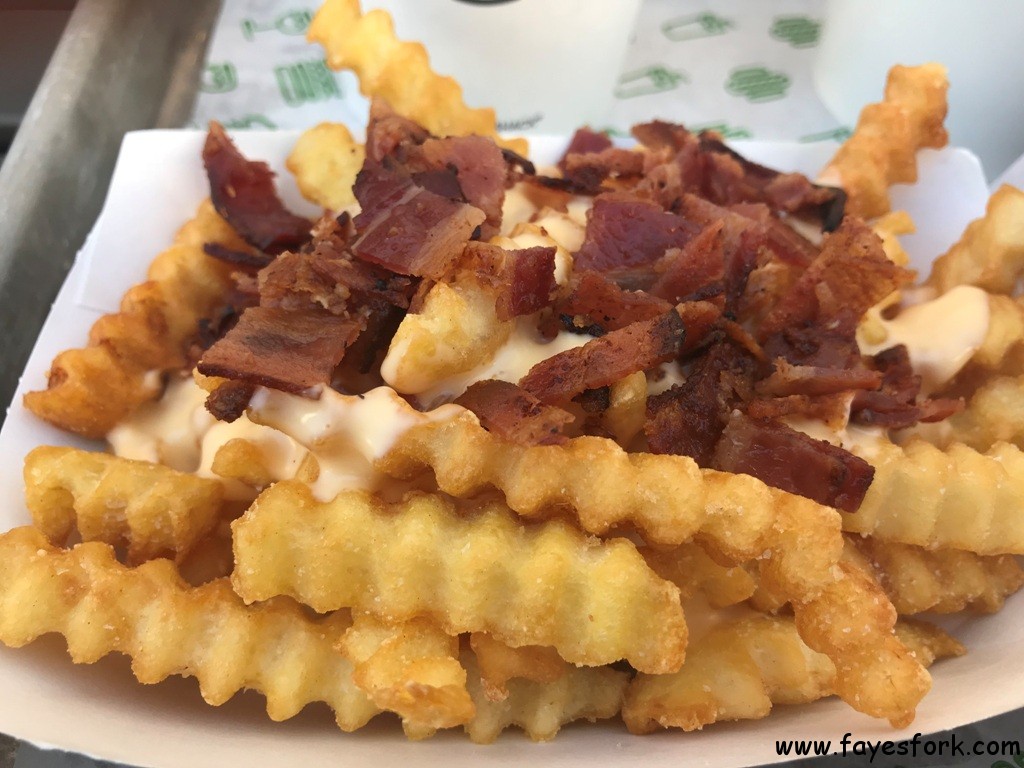 We were dismayed the fries were small for $4.89 topped with bacon and cheese. There wasn't much cheese. V thought the fries were boring and not what she had expected. We were sure the fries weren't fried to order as we saw a large amount of similar fries sitting under warmers when we ordered.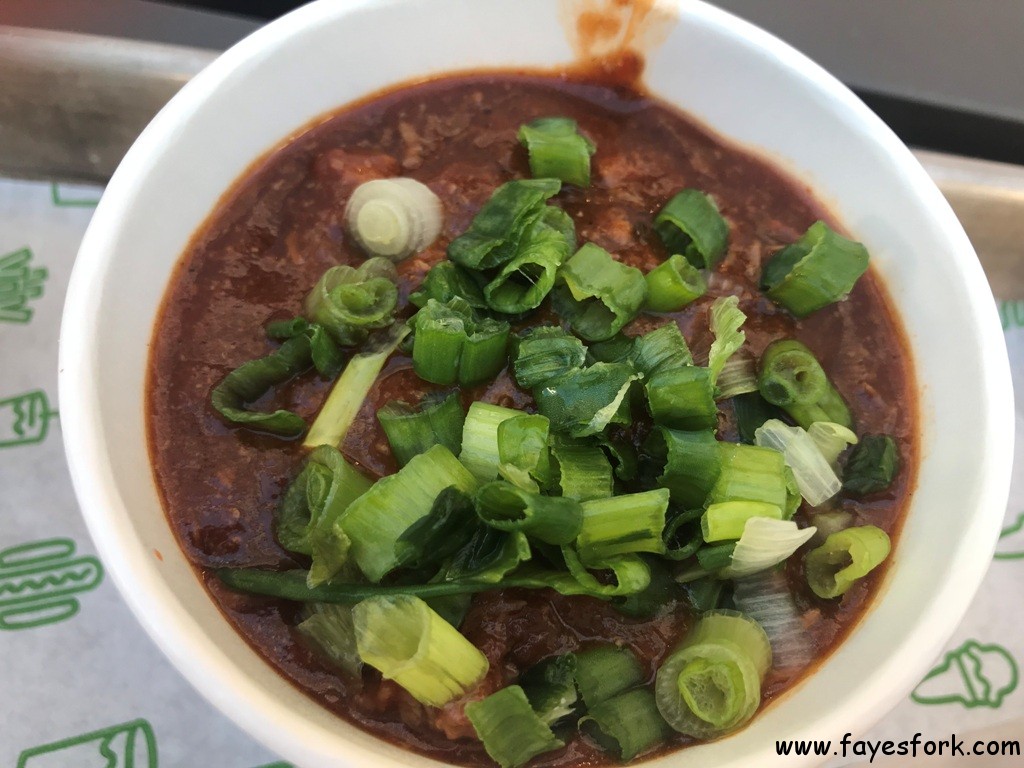 They had a big ol' advertising sign for chili so I had to order it. I'm such a sucker. I didn't know my size options nor did I know the price. I didn't realize a cup costs $5.49 for this small portion. I was happy it had no beans.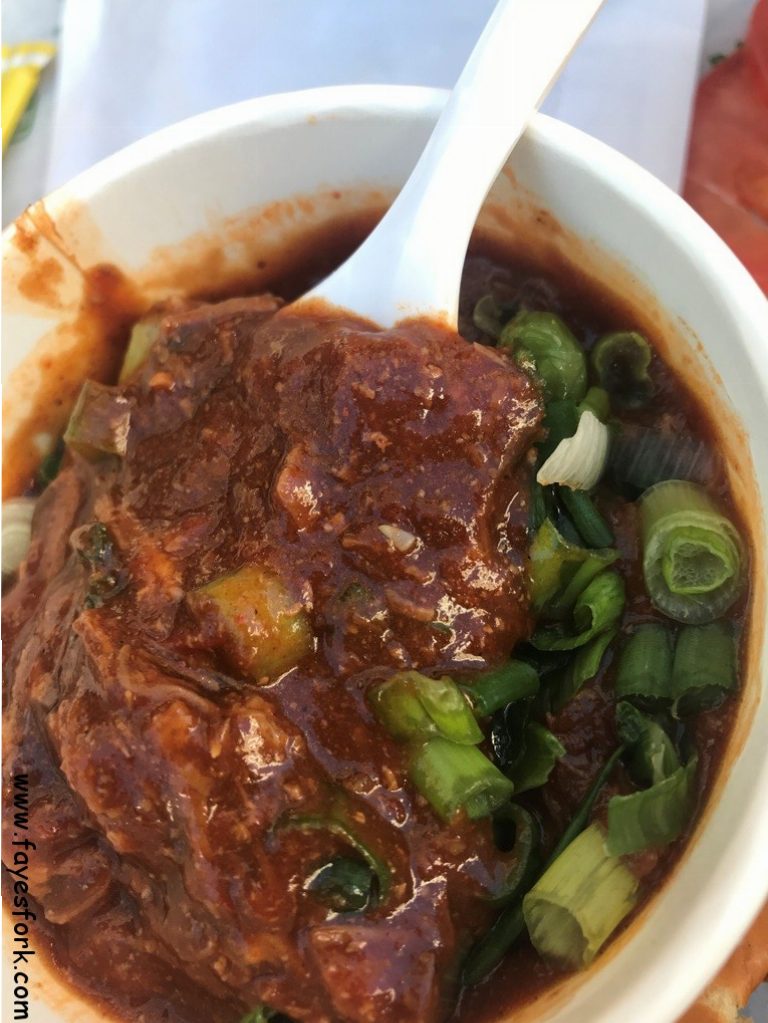 There were some nice pieces of beef in the chili but it otherwise had a thick mushy soup consistency. It was extremely salty. The green onions helped a bit but I only managed to finish half of this. Maybe this chili would go well on top of the fries, burger, or hot dog here at Shake Shack.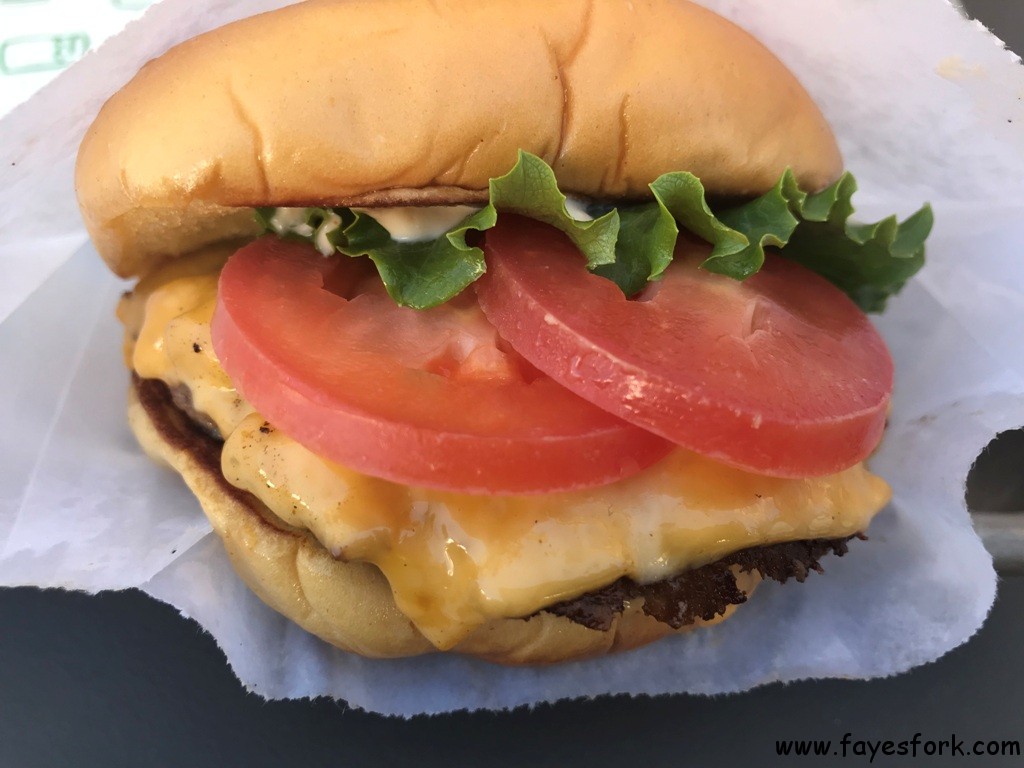 Gosh this was a tiny cheeseburger.
V has itty bitty hands. I wish she had Brock Lesnar sized hands as that would make the $5.69 price tag more reasonable. Unfortunately, she has small hands which easily palmed this burger.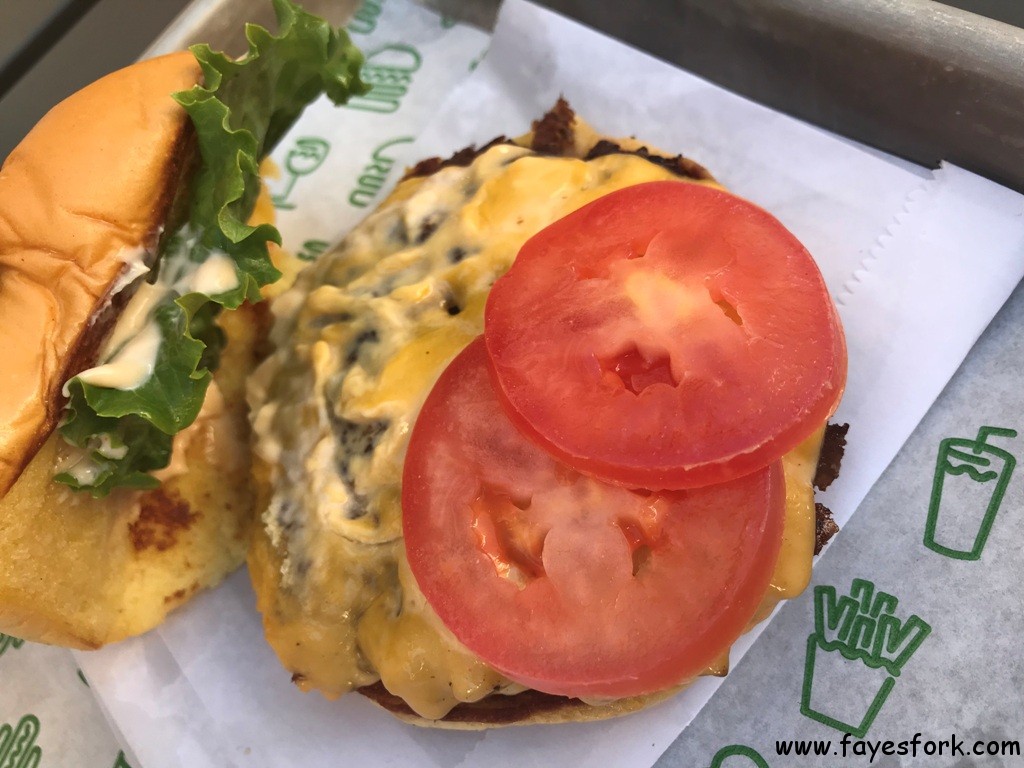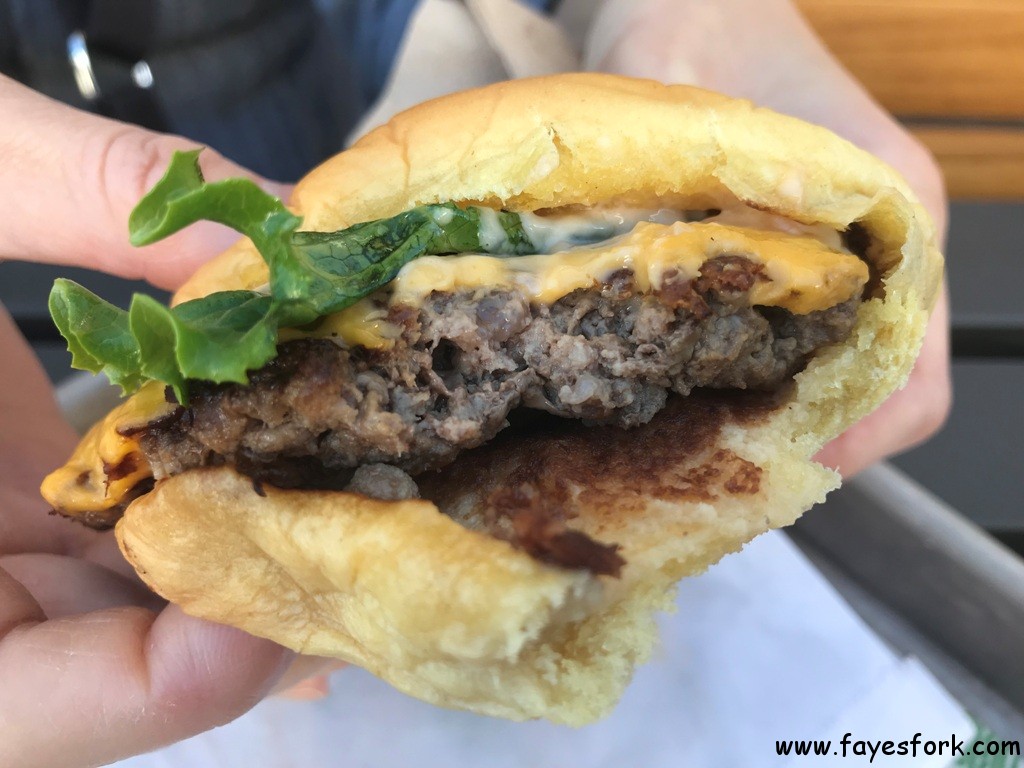 BUT, she loved the burger! She said it was nicely seasoned and was prepared well-done which is how she prefers beef. She didn't like the bun as much though as it was too soft for her.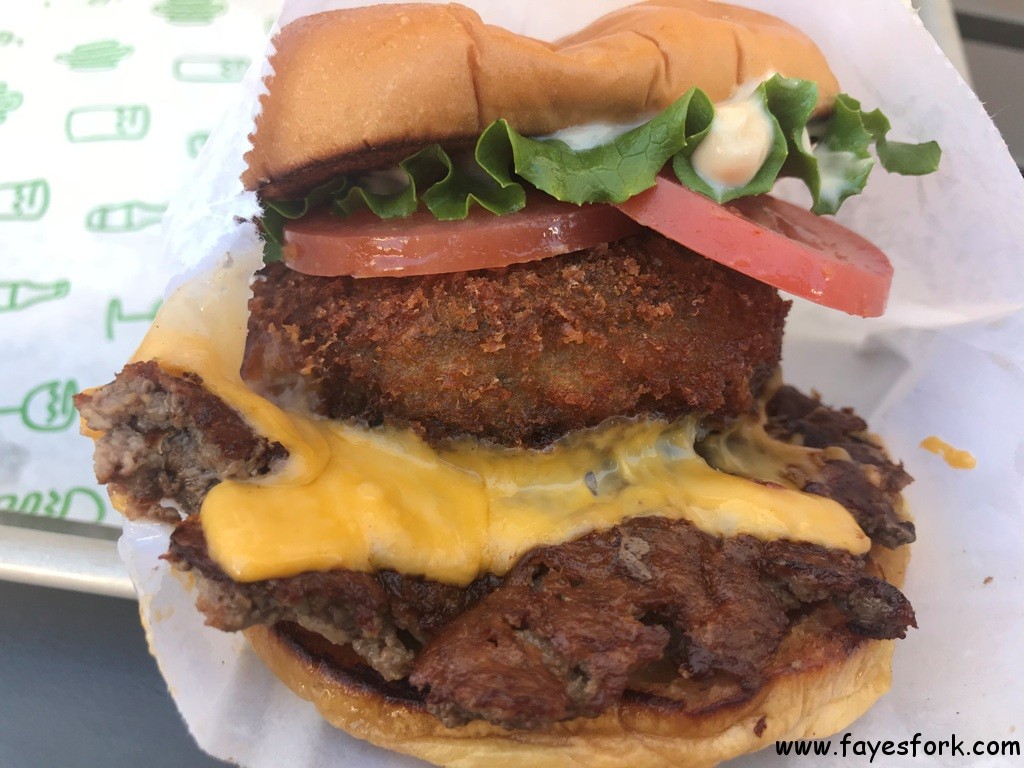 I ordered this because of Kirbie's post. I would have never thought a deep fried, cheese stuffed, portobello mushroom would work well with a burger. But just look –
Could there be such a thing as 'love at first bite'.
Oh yes. Yes, there can. Look at the oozey hot cheese coming out from the thick mushroom. And here's what happens when you squeeze the burger a bit more because you have a thing with oozing cheese –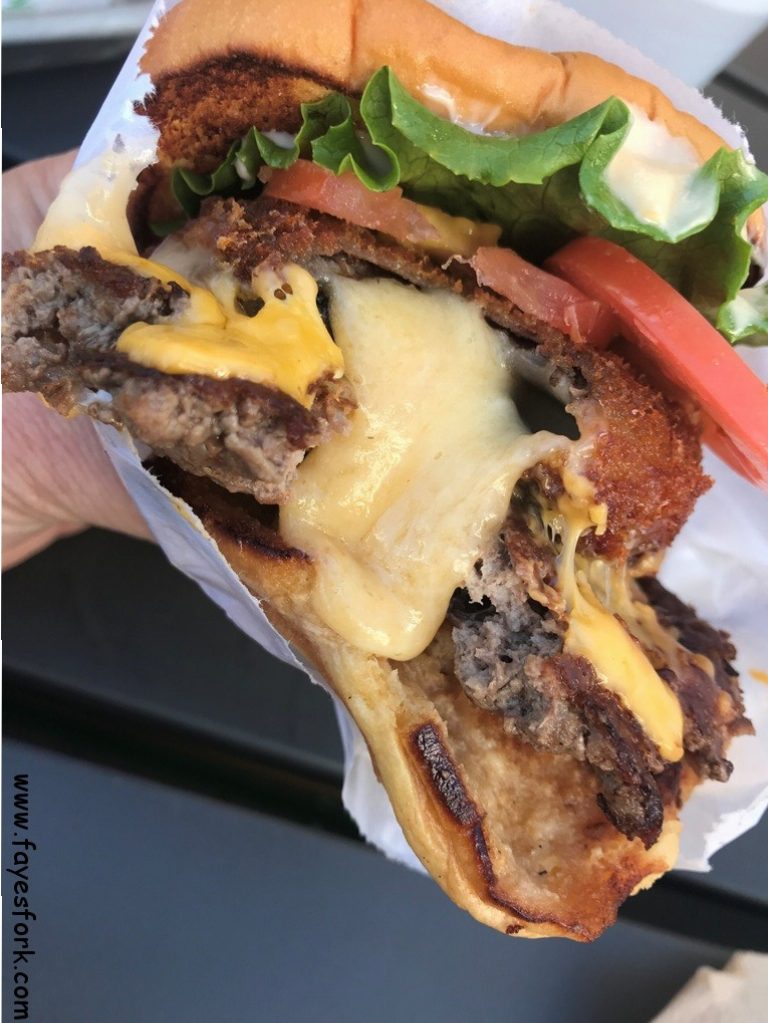 Oh yes. Make it bleed cheese *even more* my 'shroom burger. This was, without a doubt, the most surprising burger I've had in a very long time. The meat patty was thin but had a nice beefy flavor to it. I liked the cheddar cheese that went on top of the patty. The breaded deep fried mushroom had such an unexpected depth to it. I normally don't understand (nor like) bacon on burgers. But I understand this deep fried mushroom . It added an amazing crunch to the burger. It added an unreal 'cheese ooze' to this burger…
I'm not sure what's in their trademarked shacksauce. I tasted something garlic (?) in the burger (which I loved). Was it in the sauce – was it in the mushroom? This burger here at Shake Stack was the highlight of the year for me (granted, it's like 5 days in so ok). That being said, though, the $10.49 price was expensive.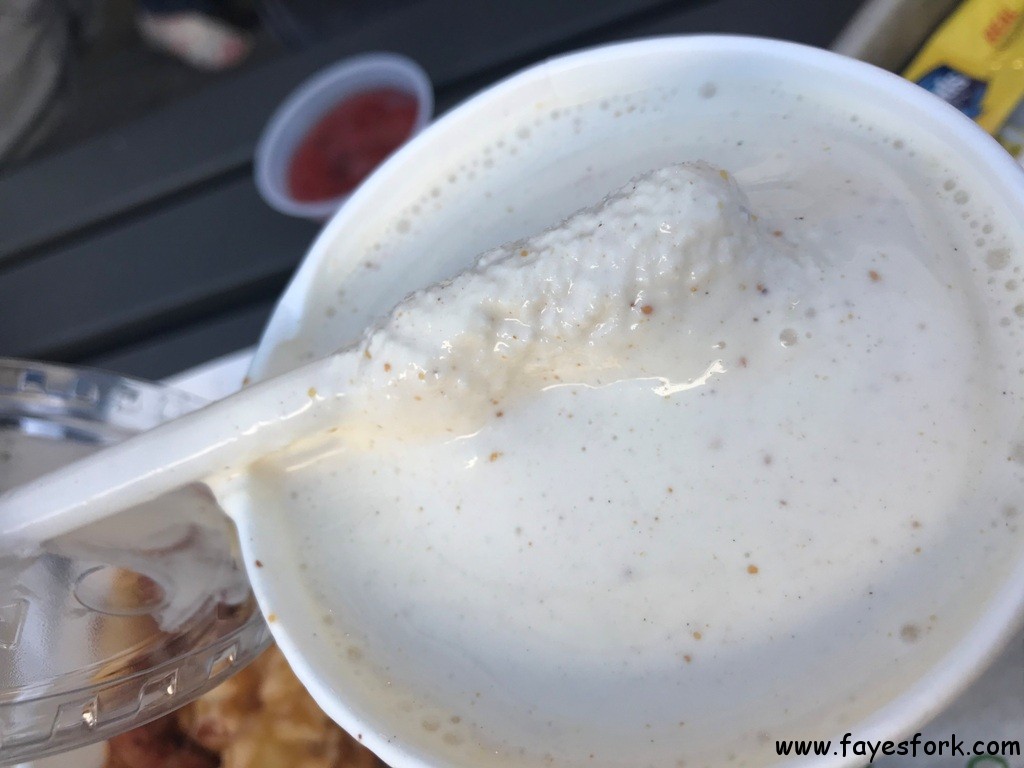 Note that the shakes advertised online do not reflect what they have at this UTC location. We were all ready to order their Shake Attack milkshake or something but no. They didn't offer it. So V went with a vanilla shake with added peanut butter. Again, we both shook our heads at the $5.49 price tag for the serving. She didn't like this shake at first. She quickly said it was salty and I was about ready to get up and ask for a re-do. But she mixed the shake with the straw and said it was 'better' after that. She wouldn't order this again.
I have to say that I joked with V that the reason it's called Shake Shack is because everyone shakes their head when they see the price tag and portion size of the items 🙂 Service was nominal as you order, wait, serve yourself, bus yourself. I don't see a meal lasting long here as people seem to eat quickly and then give up their table for waiting patrons (we're so thoughtful and polite here in San Diego huh). This was a surprising enjoyable meal. Soo also enjoyed his visit here. The wait time was nothing and the 'shroom burger was just so very good that day. I hope to return soon to validate that burger for a second time.
SHAKE SHACK
4309 La Jolla Village Dr
Ste 2350
San Diego, CA 92122
(619) 391-1570