I was in San Marcos with some work people. I asked if they've ever tried Phil's BBQ which they replied 'hells yeah it's awesome'. They asked if I've ever tried any of Phil's BBQ locations. I shrugged and said yeah, like ten years ago. They both said something so incredibly funny …"don't you think Phil's deserves annnnotttther chance after *TEN* years".
Oh. Hmmph. Yeah, I guess so. I mean, ten years is enough time to hold a ridiculous food grudge. What grudge you ask. I visited their Sports Arena location and just didn't like the long wait and the food. No harm, no foul. Phil's BBQ just wasn't my thing.
Fast forward 10+ years late, I have visited Phil's five times in one week. Yeah. FIVE. In ONE week.
Actually, because this post has been in the pipeline for a few weeks, I've visited a few more times after that.
This is what CDJ calls sophisticated-salad-itis. I ate Mendocino Farm's sophisticated prosciutto salad like six times in one week. I tend to inadvertently burn myself out when I like a particular dish or restaurant. Phil's BBQ was my newest obsession. I couldn't get enough of it.  I can't remember the last time I took so many photos of food. At the same restaurant. Over multiple visits.
My first visit was late at night with a co worker.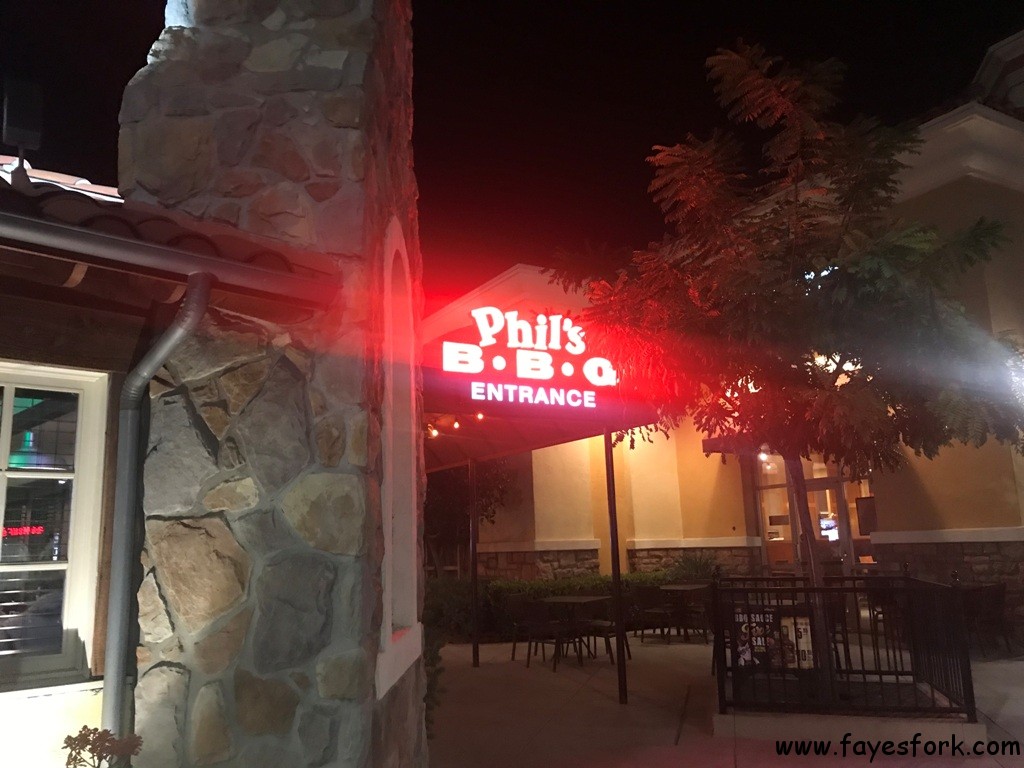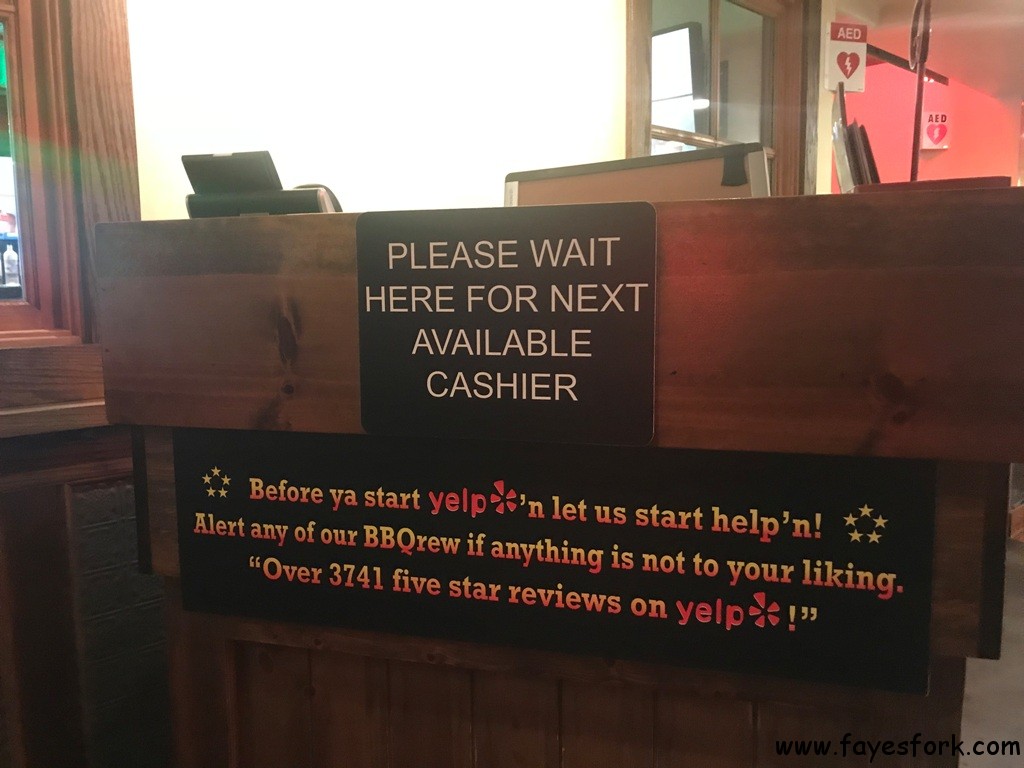 There was no line that night. You can order from the cashier in the restaurant or head to the bar where it's full service. The bar is the ONLY place you can buy alcohol. You cannot buy alcohol at the regular cashier area.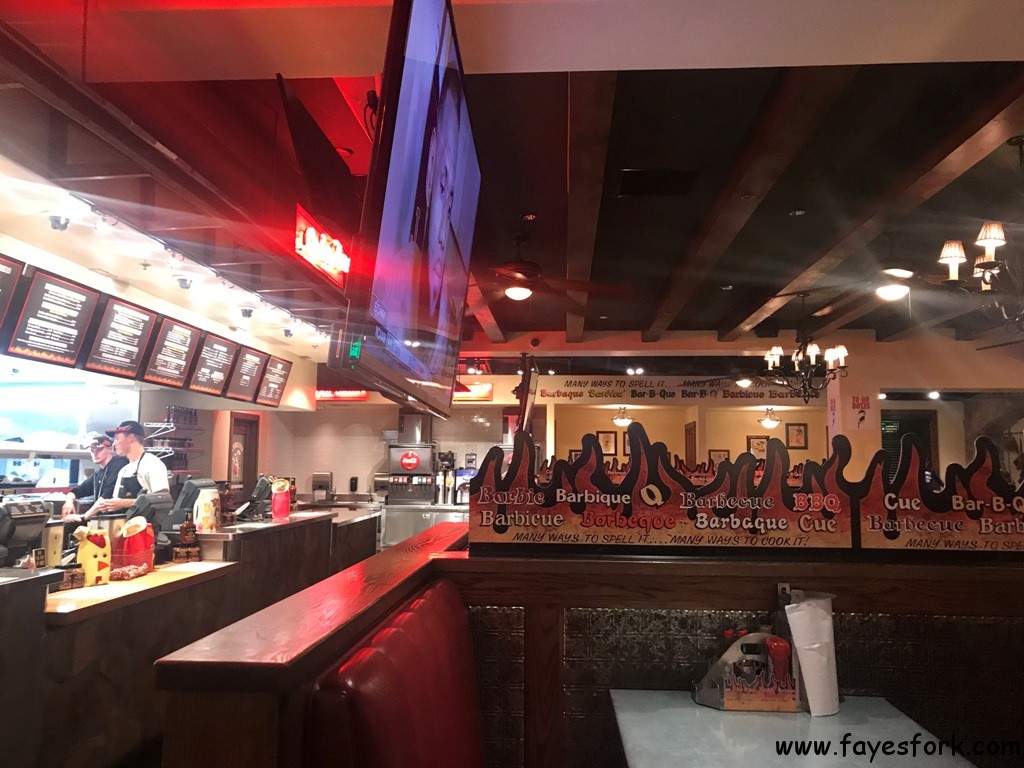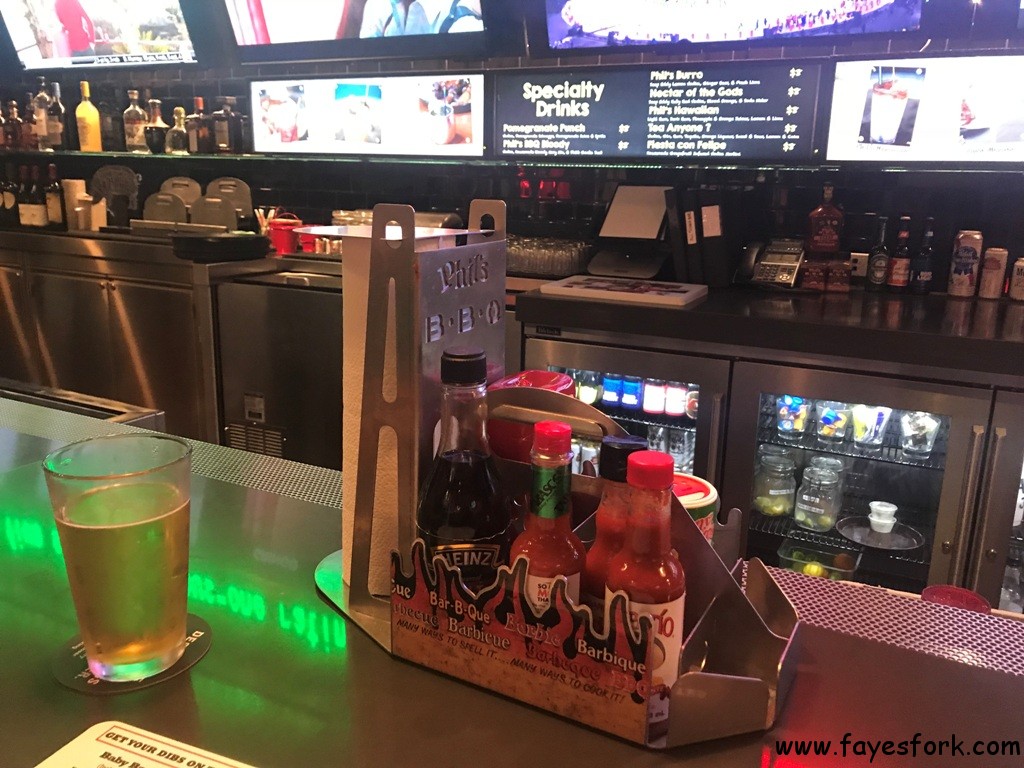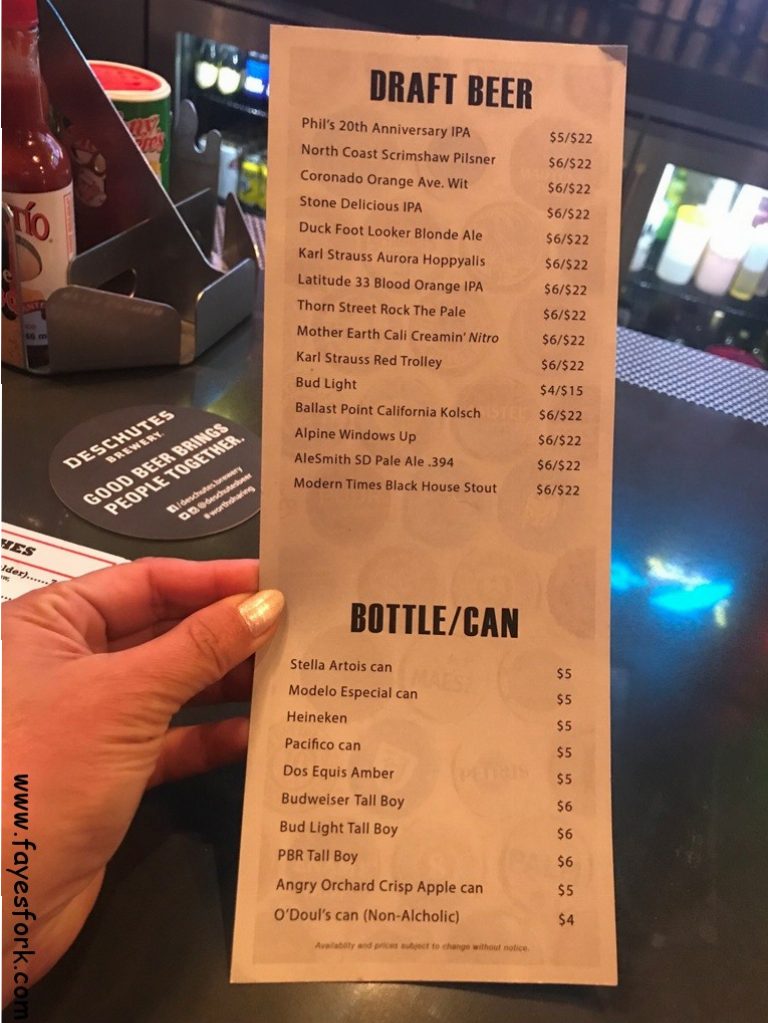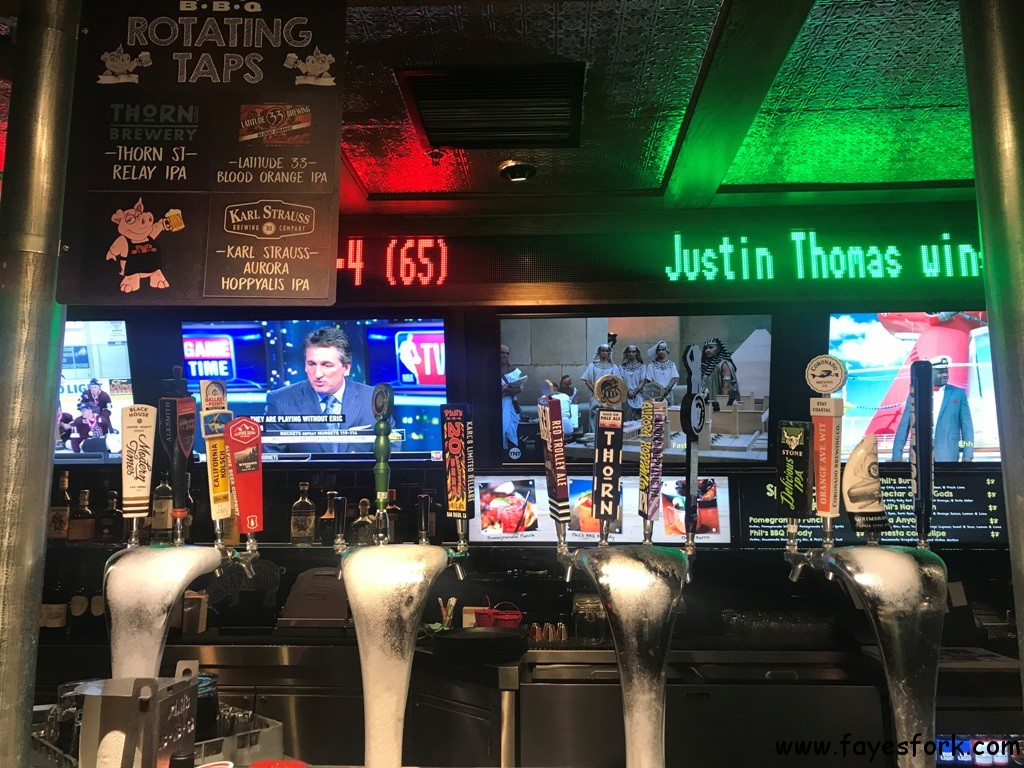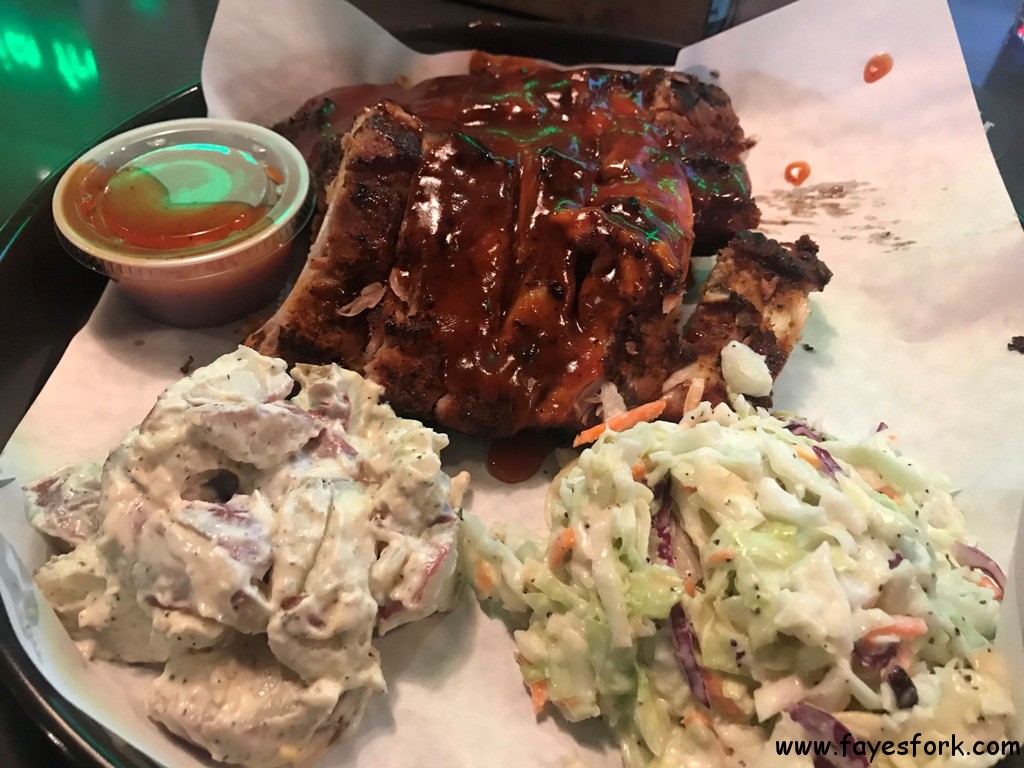 We decided to share a full baby back ribs with two sides (potato salad and coleslaw). The food came out so fast – probably less than five minutes.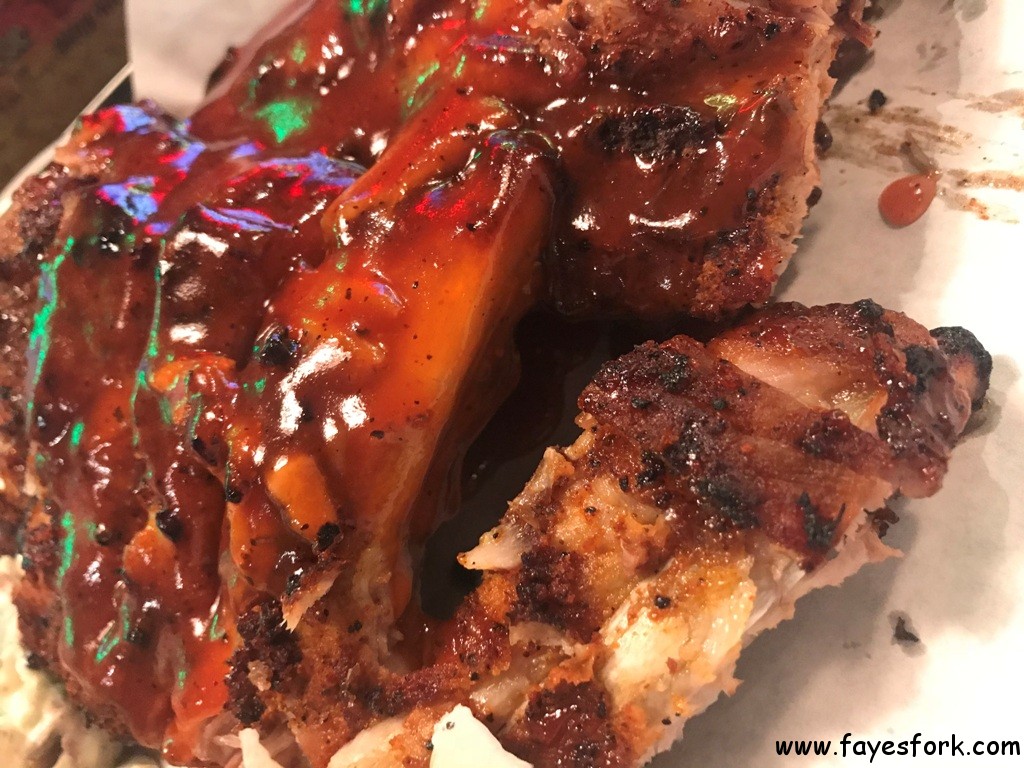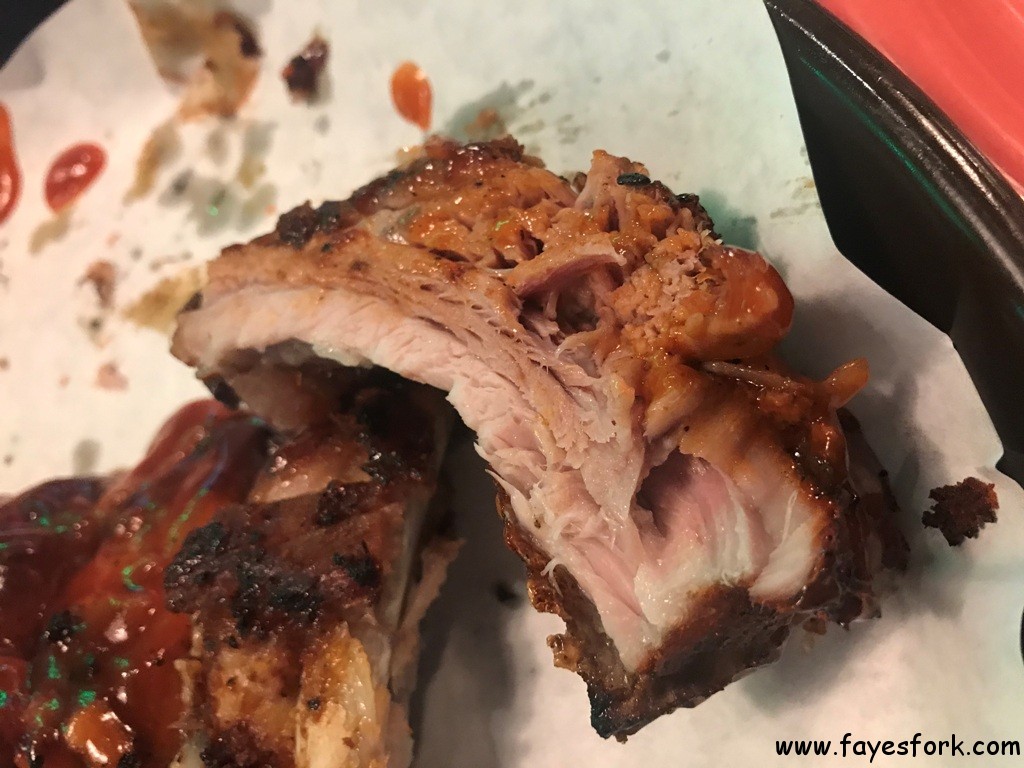 The pork was decently tender but I wasn't exactly blown away.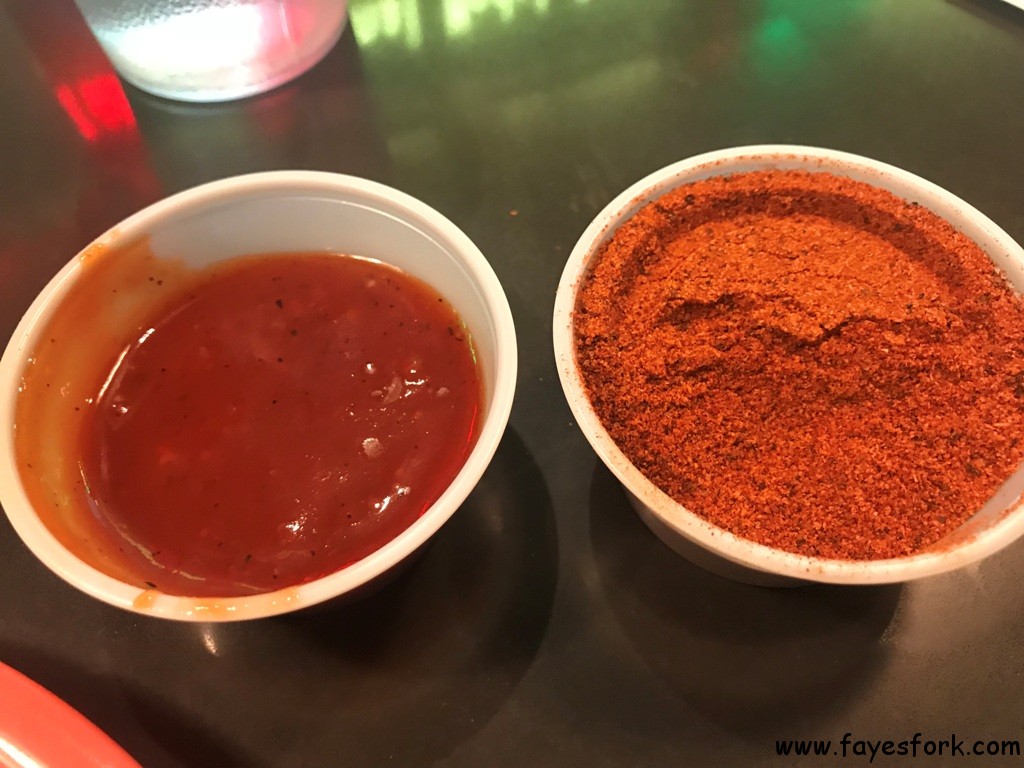 There's only one bbq sauce here. It's simple I suppose. I really enjoyed the dry rub. I used the rub instead of the bbq sauce when I ate the ribs.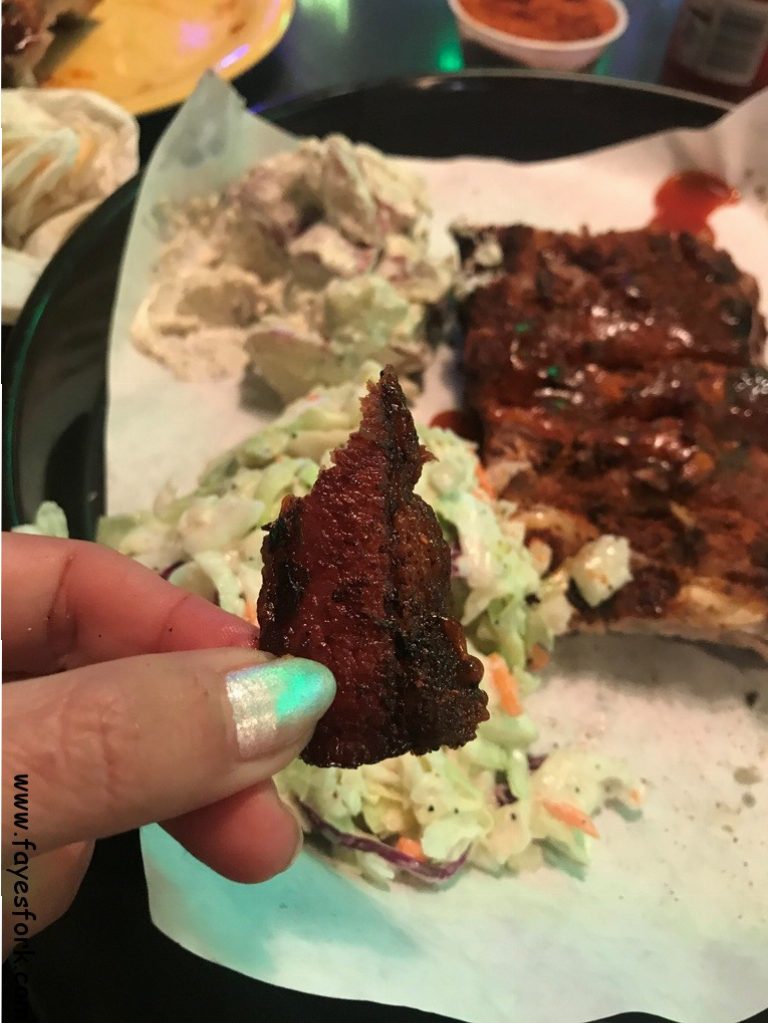 We found a piece of bacon in our ribs. Free of charge.
Next visit:
It's actually easy eating alone at the bar here at Phil's BBQ. It wasn't very busy for lunch that afternoon.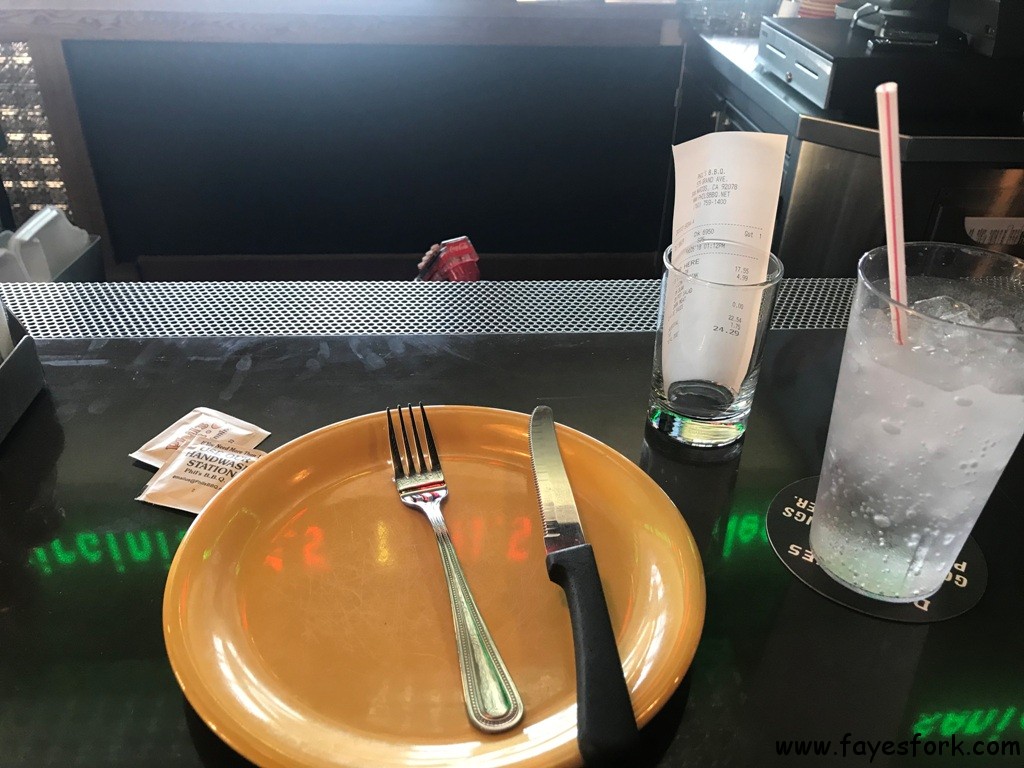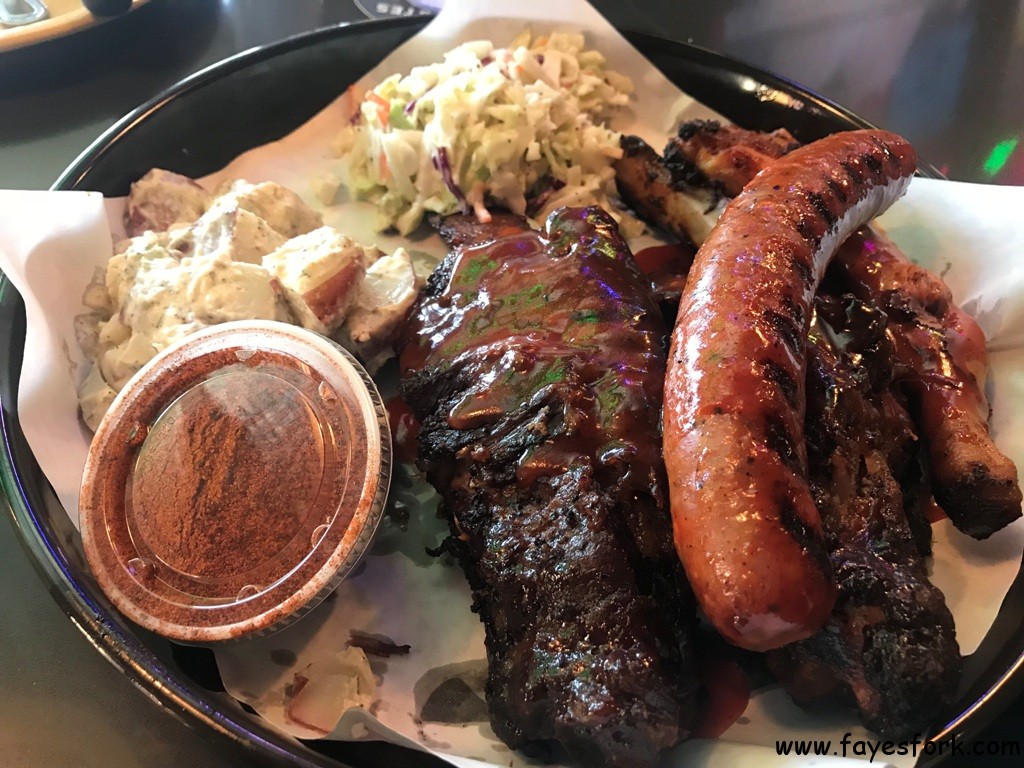 The bartenders always ask how a girl my size can eat this much. Not sure if that's a compliment. I ordered this Best of Both as I was going to take leftovers back to work. Plus, I wanted to give the beef rib bone to Lifu. You can also add a sausage link (with a drink) for $4.99 which I obviously did because, well, that's what a girl my size does.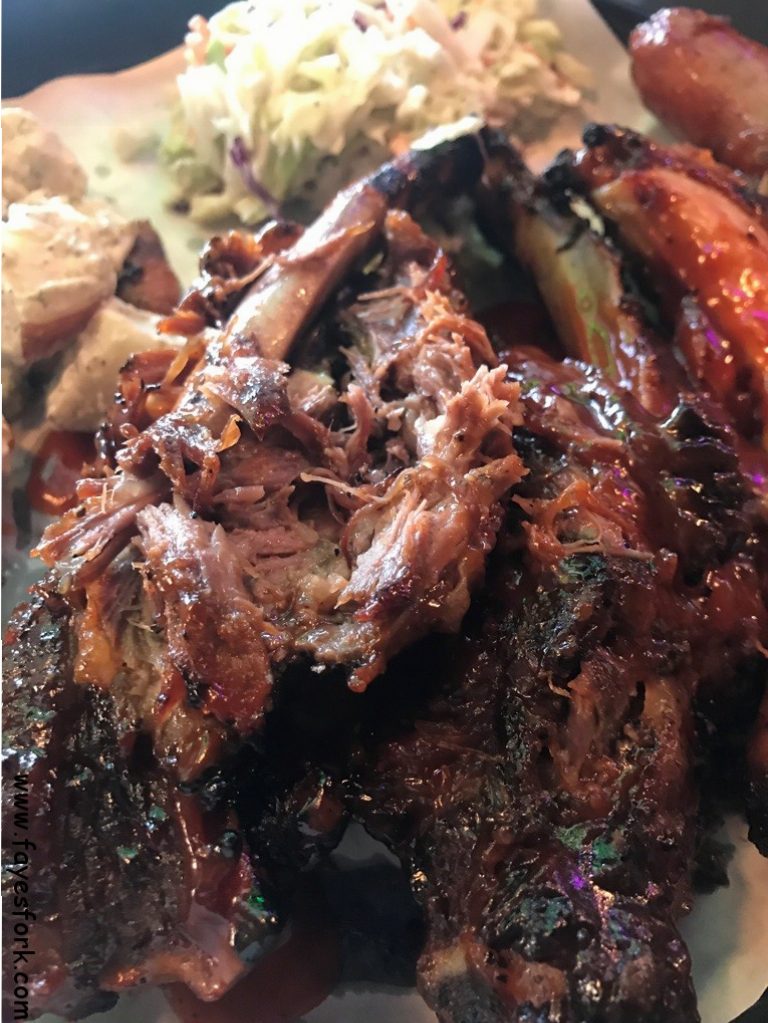 The beef bones were large but not ginormous like I had imagined. The meat is tender and beefy. I could taste more 'animal' in this rib than I could with the pork rib if that makes sense. One beef bone was enough for me.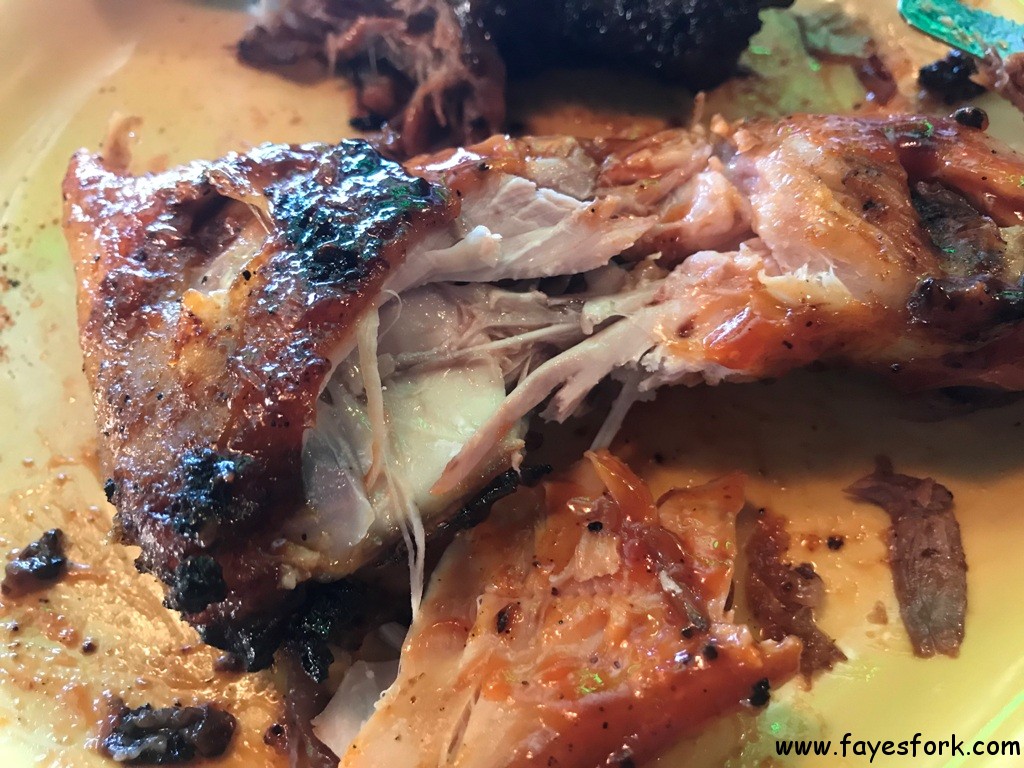 The surprise wonder was the dark meat chicken. I LOVED the chicken here at Phil's BBQ. It was so juicy and flavorful. There wasn't a dry bite.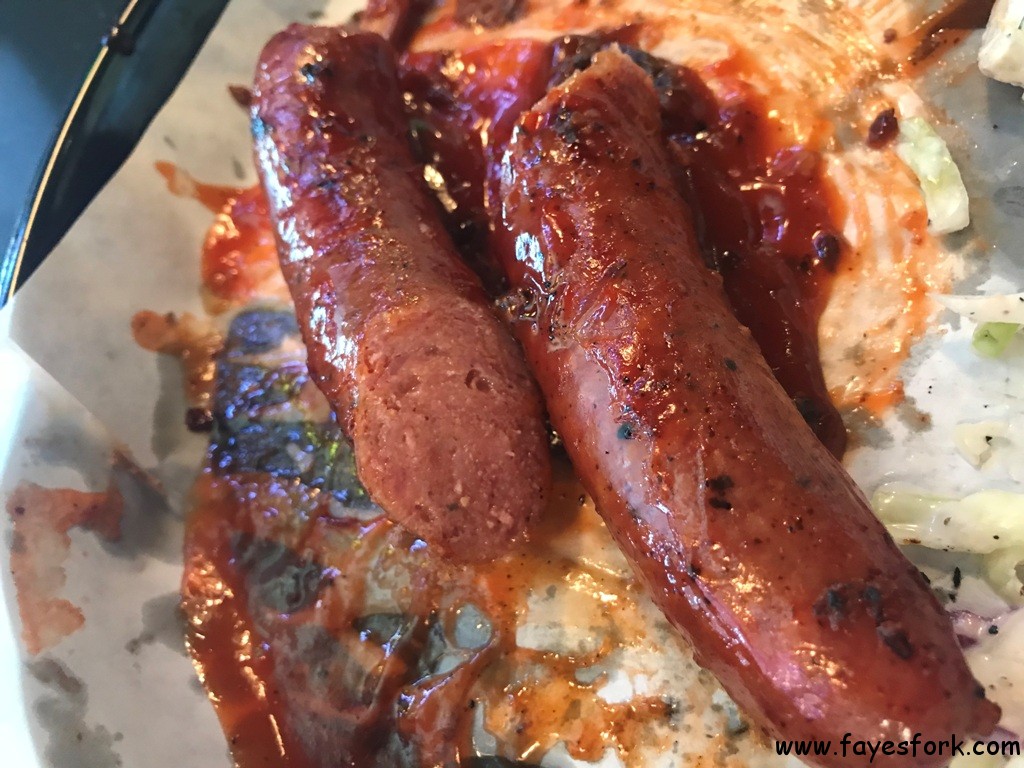 The link was meh. There wasn't much spice or pazzazz in their link. It tasted like plain sausage to me.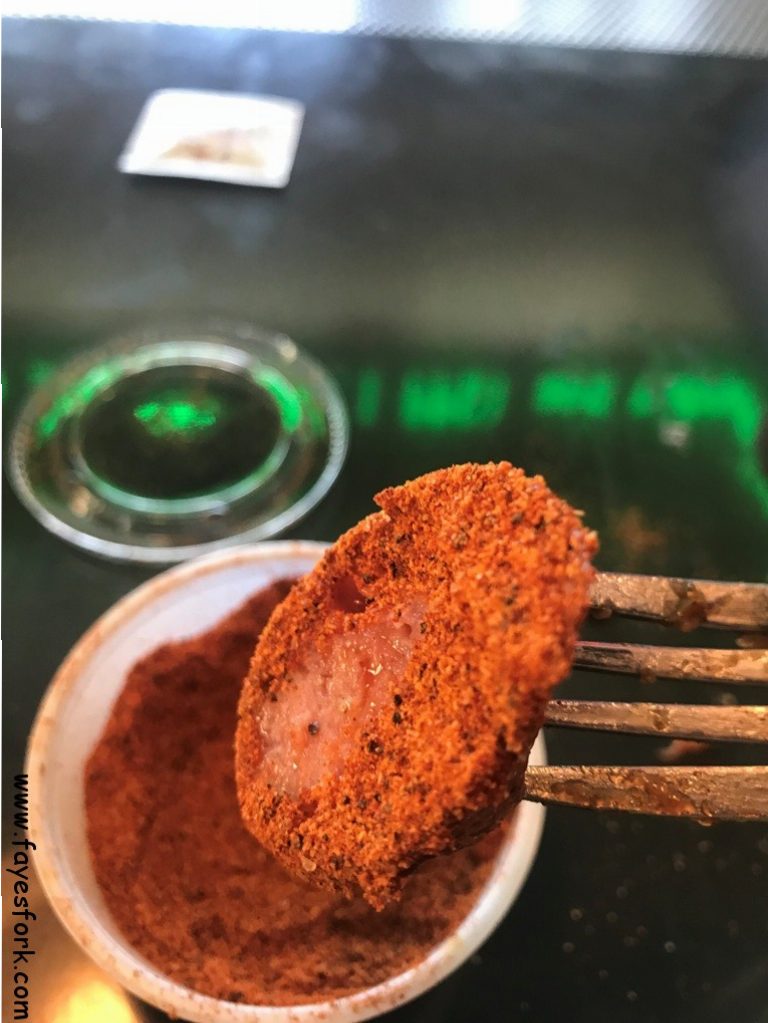 Here is how I would eat ALL the meats. I'd dip it in the dry rub and there ya go.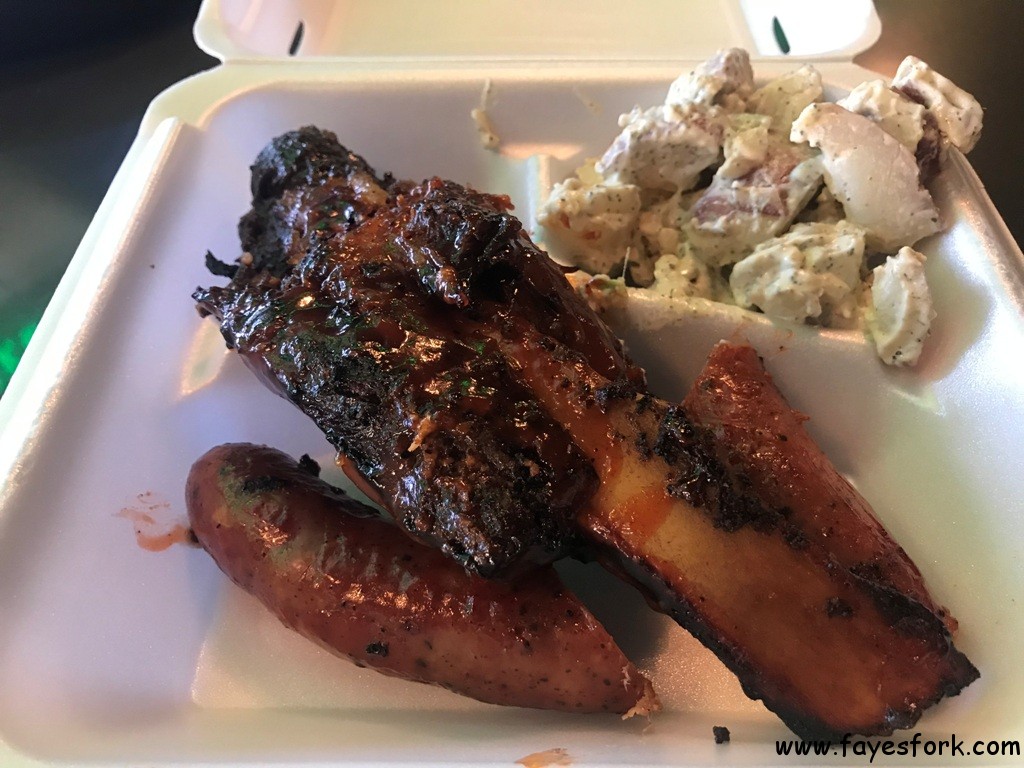 This made for fine leftovers. The prices here at Phil's BBQ really is reasonable and affordable.
Next visit (I think very next day) :
I met my favorite bartender this day at Phil's. Kristina would be my go-to person whenever I would eat here. She's personable, funny, and remembers people.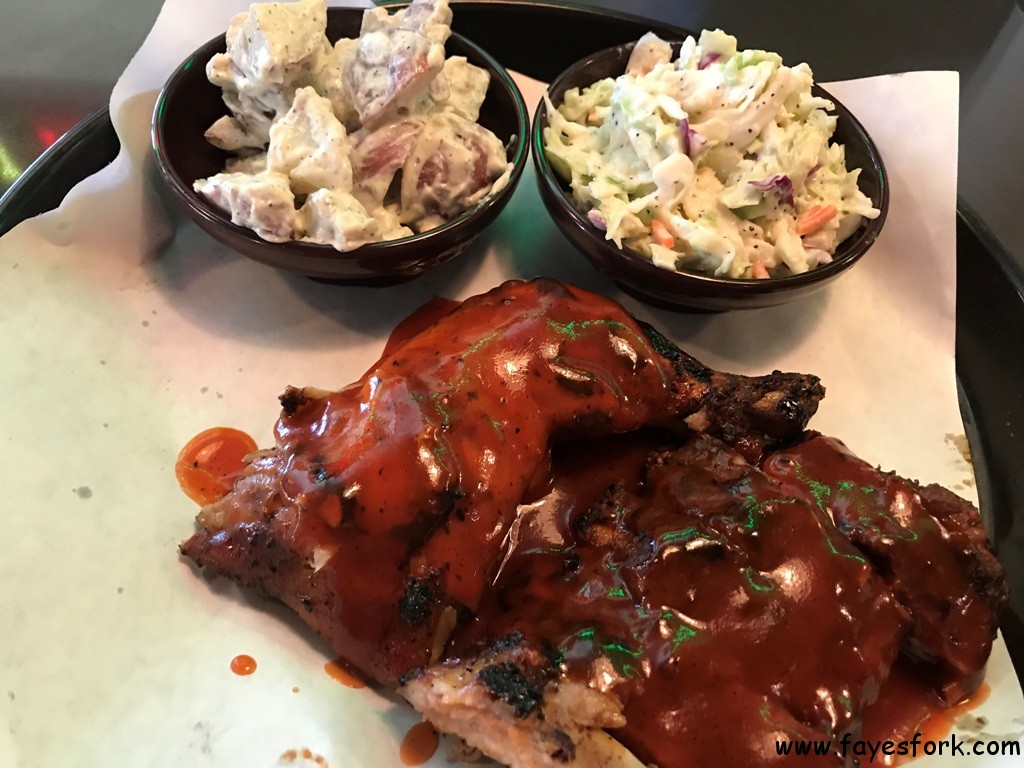 This is another Best of Both option here at Phil's BBQ. I don't know why I didn't just get chicken as it was, again, the star of the day for me. I got the pork ribs hoping they'd impress me but they were just ok. The manager that day was so kind. We spoke for a bit about my new obsession with Phil's BBQ after a 10 year hiatus.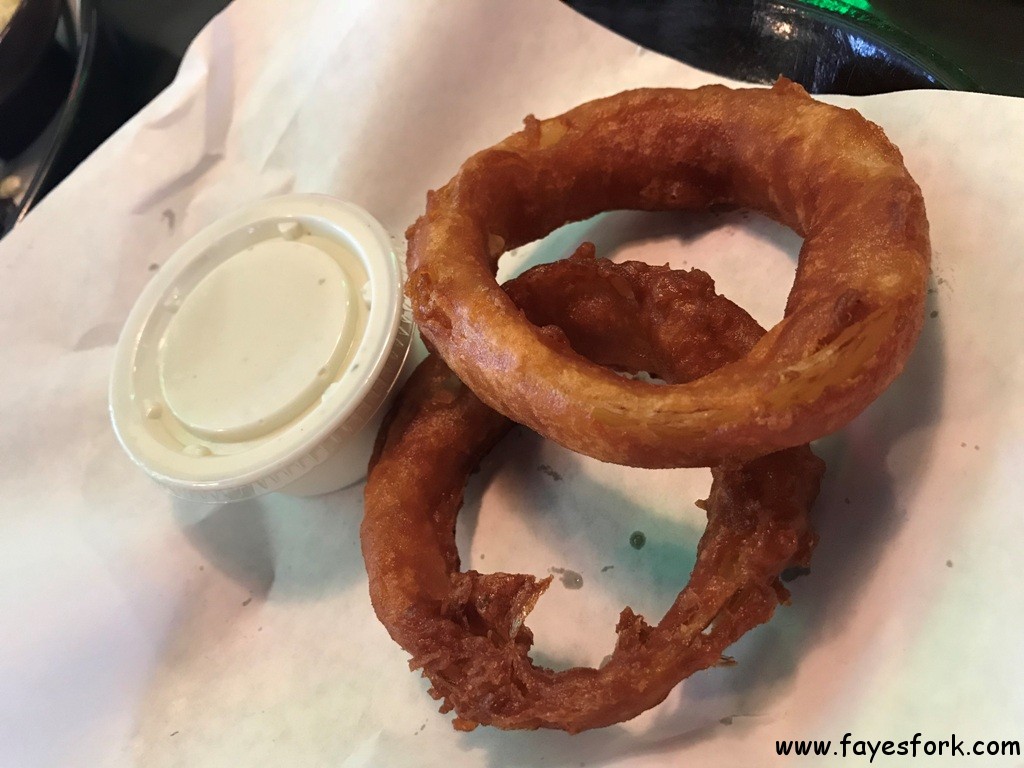 He surprised me by bringing out these freshly fried onion rings which I've been wanting to try.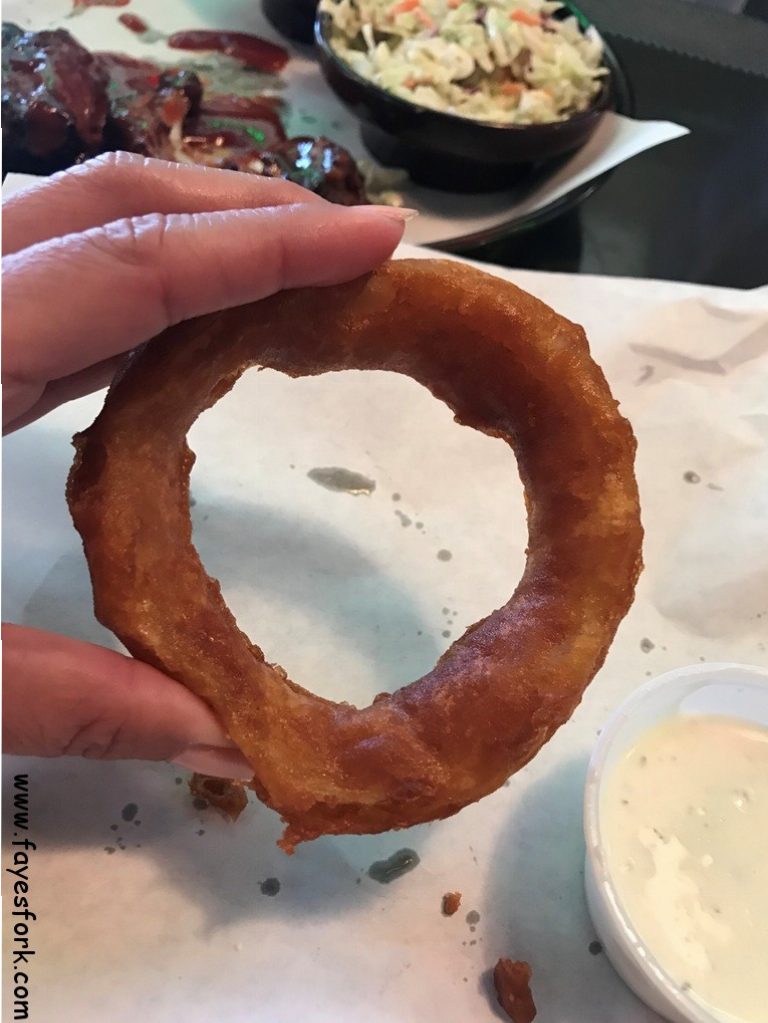 Pretty large right!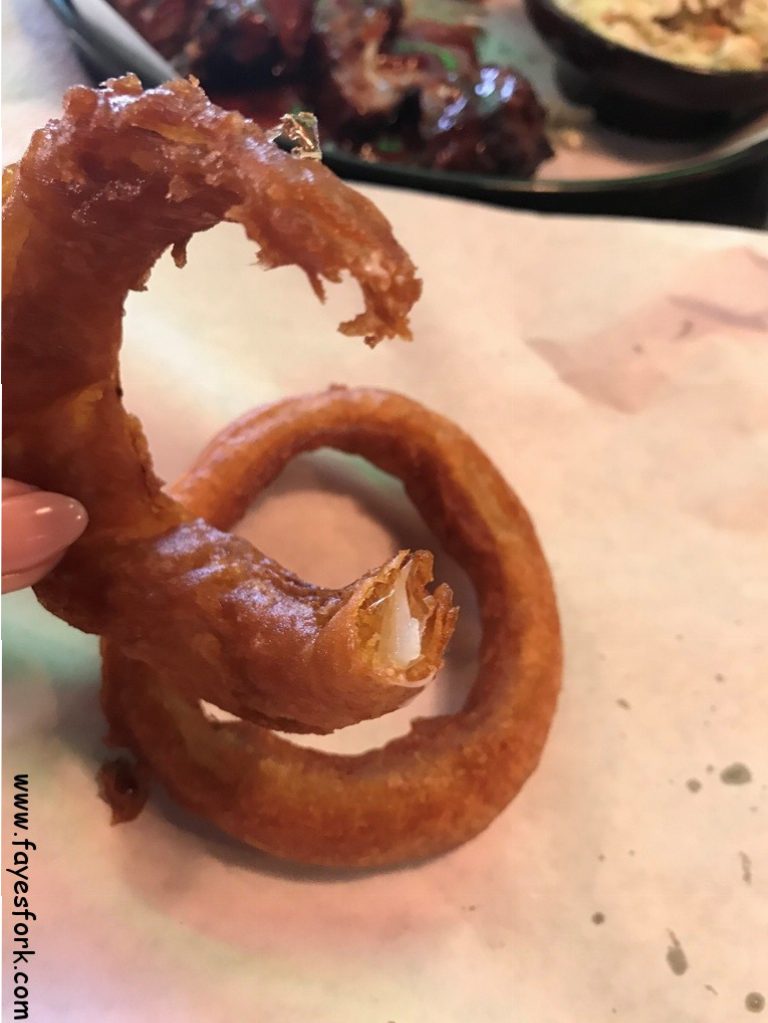 The onion ring were delicious. They were crispy and so well battered/fried.
And because I'm an awesome co-worker, I brought some Phil's Ticklers back to work.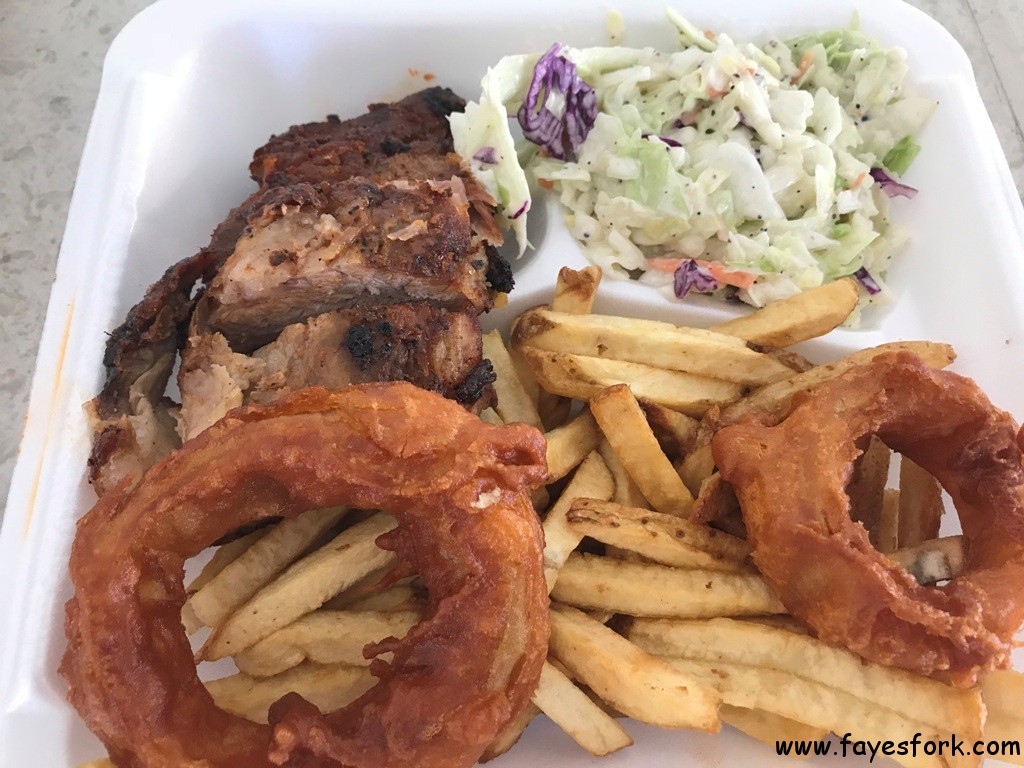 Phil's Ticklers consists of: 2 Onion Rings, Slaw and Fresh Cut Fries. The ribs were smaller but still tasty. The onion rings still remained crunchy.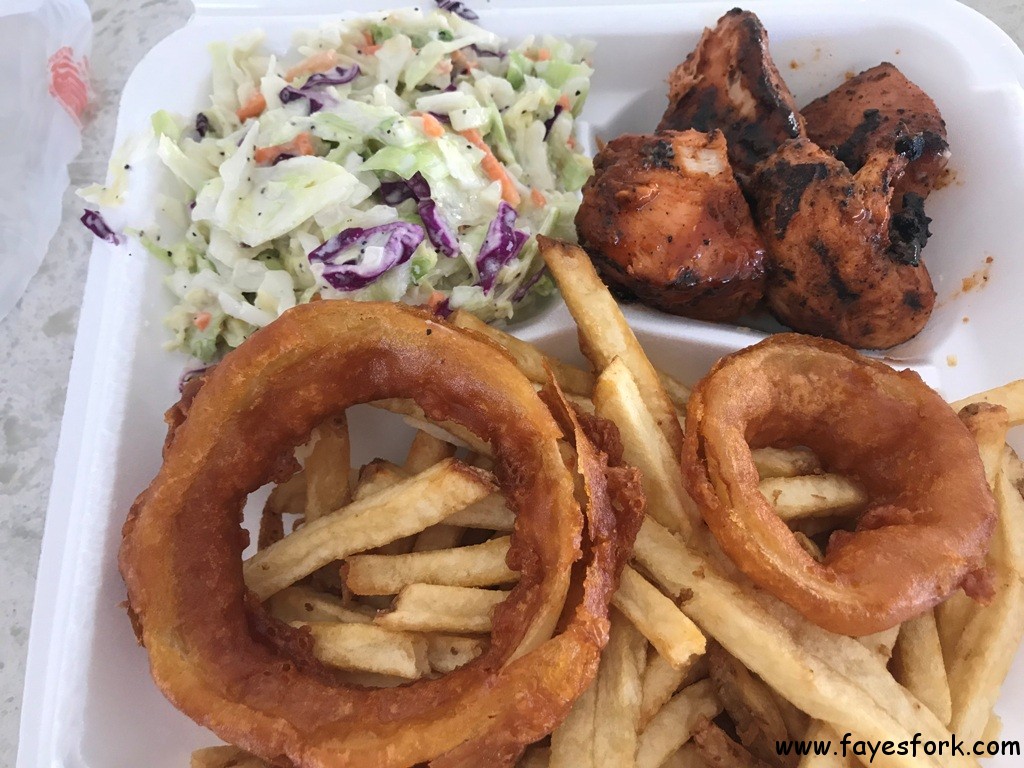 There were about three chunks of white meat in this container.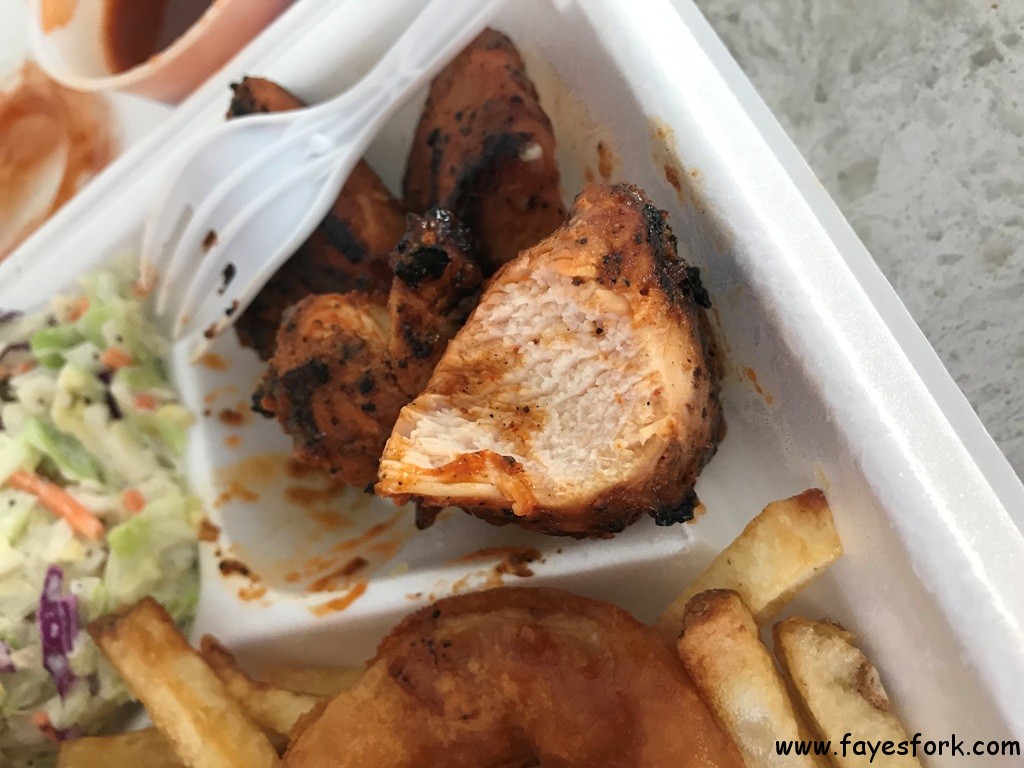 The meat wasn't bad. I would prefer dark meat but the guys liked the white meat. The Ticklers are a really great deal for the price.
And here are a few more visits that I can't remember details of: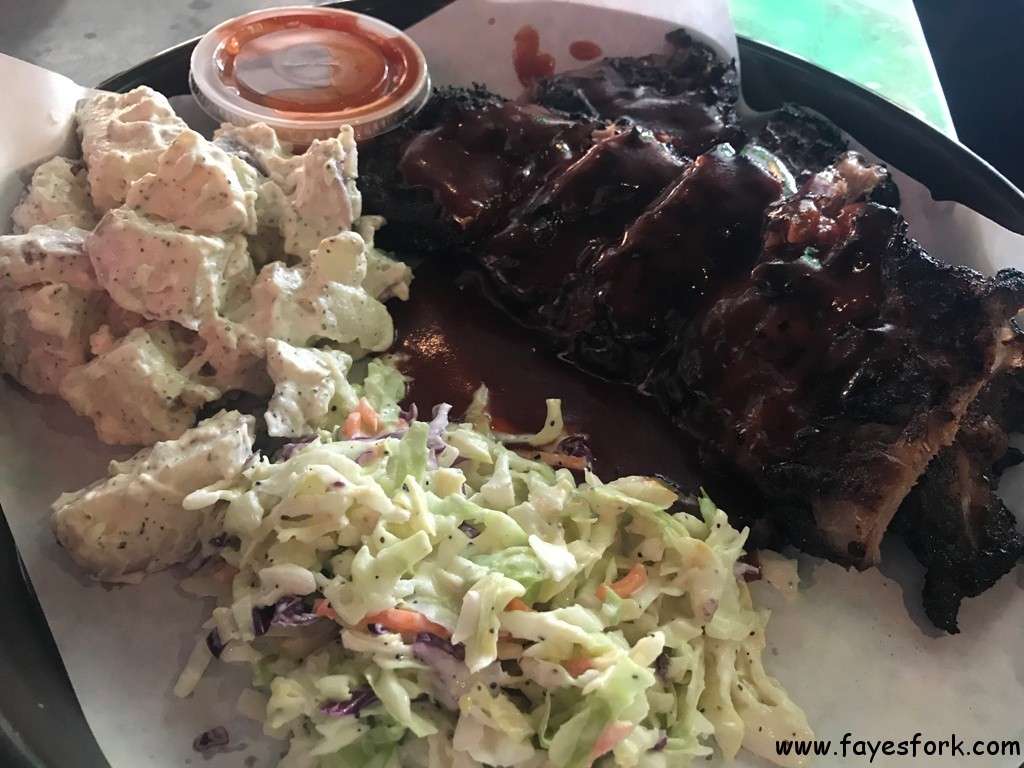 I may not like the baby back as much but co workers do. And, the potato salad was a popular side for my guys.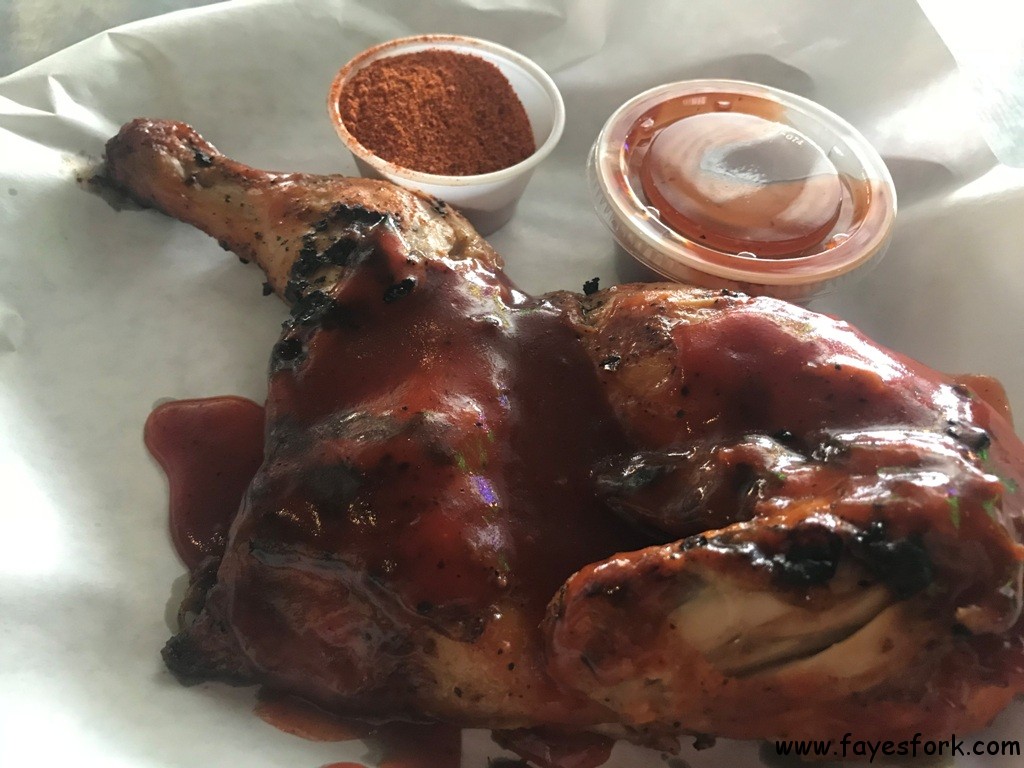 I finally ordered a half chicken with no sides. It's a nice sized portion and the chicken, once again, tasted fabulous with the extra dry rub on the side.
Nice bartender gave me samples of their draft beers.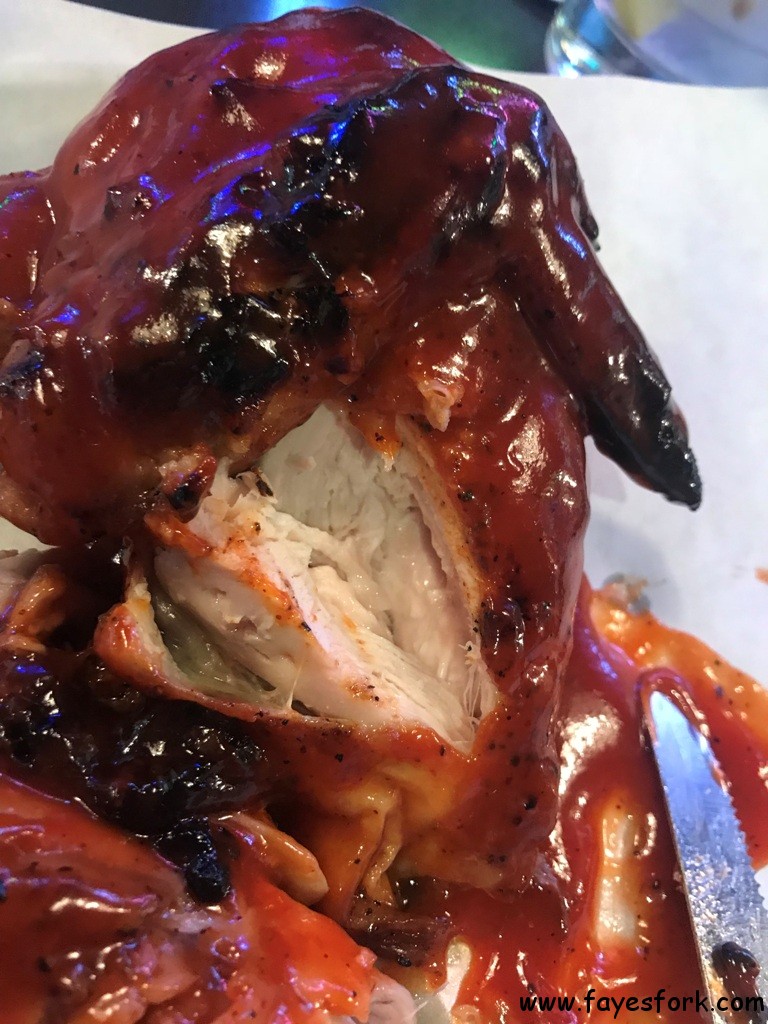 I normally don't enjoy white meat chicken but the version here is nice. The meat was tender and succulent.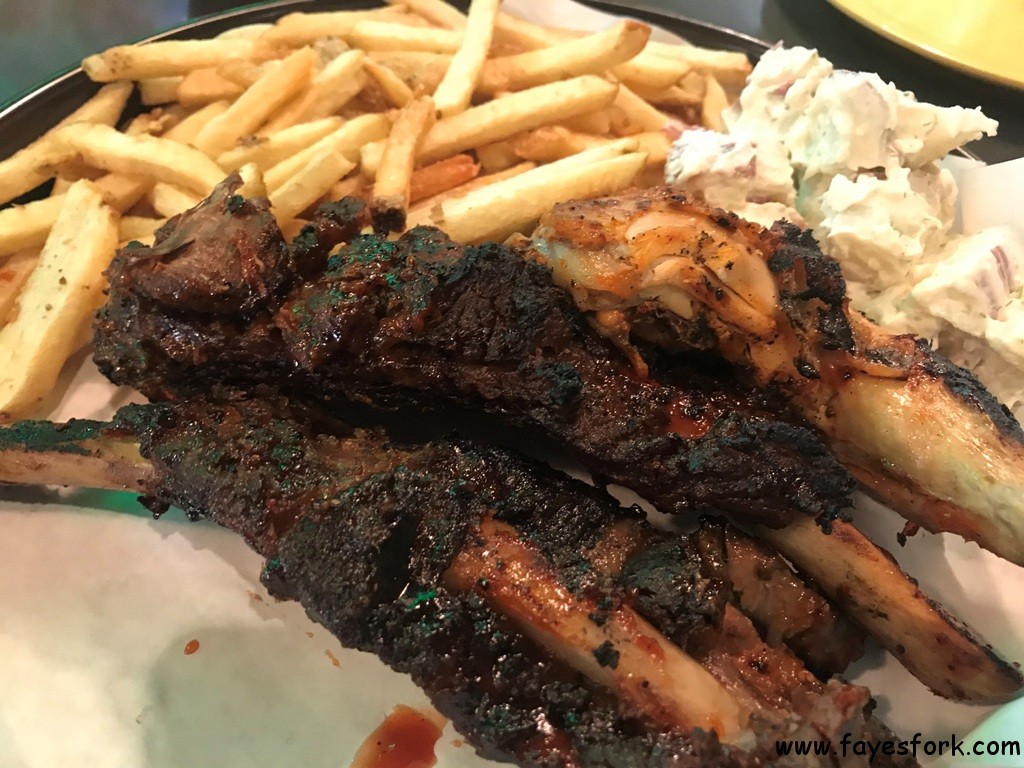 I think I'm over the beef ribs here at Phil's BBQ. Not that they're not good – they ribs are just heavy on the stomach and fatty. We ordered this dish with sauce on the side. The chicken on the plate was small but still tasty.
Kristina gave me a sample of their tri tip which is sliced thin here at Phil's. It's her favorite item on the menu. I thought this particular sample was salty. I still prefer the chicken.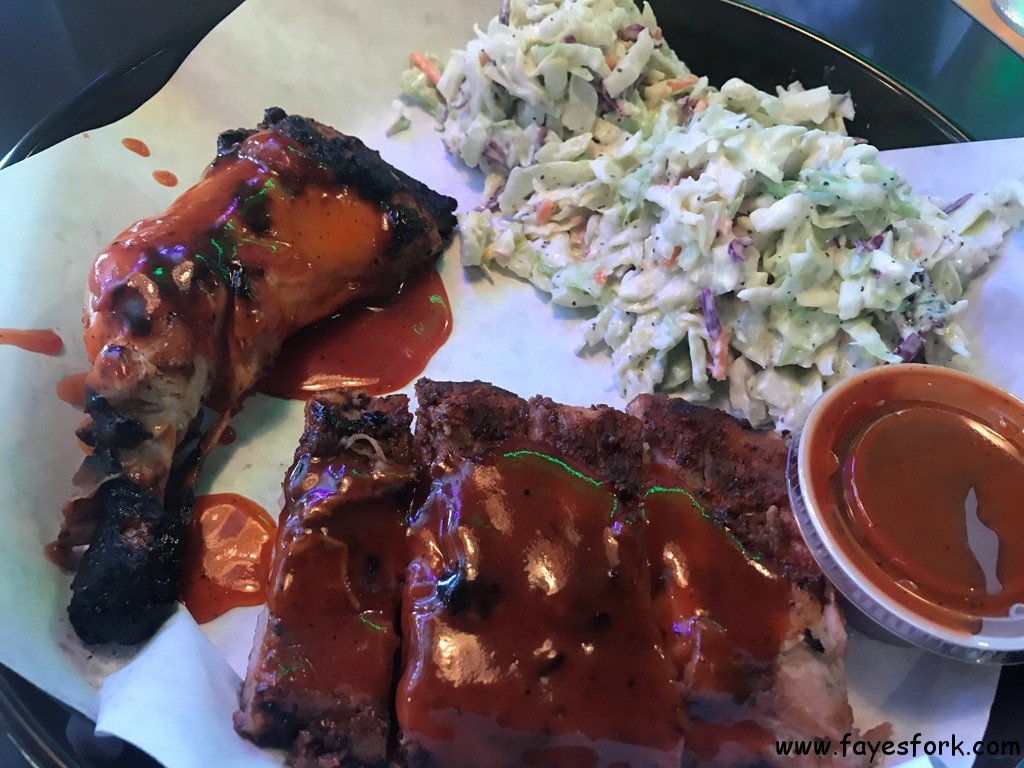 So this really was my go-to combo dish when I visited Phil's BBQ in San Marcos. My mind tells me that I want baby back with chicken but my stomach, ultimately, tells me I shoulda just ordered chicken alone.
I am embarrassed to count how many times I visited Phil's BBQ in a span of 2 weeks. The vibe of the bar was comfortable, unassuming, and just gave me a much needed break from work when I was hungry. My project was pretty much done some weeks ago so I stopped going to Phil's. I recently revisited with some co workers and had a nice lunch here. THEN, my girlfriend called me saying her parents wanted to see me for dinner and they were picking up dinner. And guess FROM WHERE.
Yep. Phil's BBQ in Rancho Bernardo. So I had Phil's BBQ twice in the same day. Talk about going nuts after a 10 year hiatus from this restaurant.
PHIL'S BBQ
579 Grand Ave
San Marcos, CA 92078
(760) 759-1400