You only get one chance at each year.
One chance at the year 2012.
One chance at the year 2013.
Because after that year, you will never ever have a chance at that year again. That being said, I've missed a few years trying to finally start my own blog. It's been in the 'works'. Meaning, I've *mentally* been designing and thinking about it. But the *actual* physical, put pen to paper work part of it…yeah…not so much. I didn't know where or how to start.
I've had a love of food since I can remember. I go to bed thinking about what I'm going to have for breakfast. I wake up thinking about what I am going to have for lunch. My fondest memories are cooking with my grandmother in the kitchen and watching her meticulously make dumplings, scallion pancakes, sticky rice, etc. There was something about watching her beautiful hands then following it up to her smiling face that made me beam with pride (and tear up right now just thinking about it)
If money wasn't an object, I would go to culinary school. Not in hopes of opening a restaurant or a bakery. But in hopes of learning new dishes and recipes for my family and friends. There's something about hosting a dinner party for people that you care about. It's a way for someone like me to express my gratitude and love to them I suppose. I get more of a warm rush when someone compliments my prime rib (or whatever dish) than when a person compliments my dress/shoes/weight loss/etc etc.
I have been writing about food for awhile. Simply on yelp (I've amassed 320 reviews I think at this point) but felt , for some time now, that I wanted to go above and beyond that. I came across food blogging some years ago. It was fascinating to me to see people that I didn't know talk about food the way *I* would have talked about food. I would spend hours reading thru their blogs and really immersing myself into their writing, pictures, dialogue . I just couldn't get enough of their writing on food. And when there was no more to read, I'd frown and just want more. It was so much like reading a great book. Or re reading your favorites (in my case anything Steinbeck or Rynd).
Reading these food blogs became a morning ritual for me. Wake up, make my coffee, sit in front of my computer, read all my favorite gossip sites (People, UsMag, TMZ, etc – don't judge), then open my favorite food blogger sites. This has become such a daily routine for me that I almost can't function if I don't do these things (in order might I add too).
So, what bloggers got my blogging noggen started ?
Kirk from http://mmm-yoso.typepad.com/
Kirbie from http://kirbiecravings.com/
Dennis from http://radiusedcorner.blogspot.com/
It felt strangely awkward in the beginning as I would just read their blogs and never comment. It was like being a 'lurker' on Facebook , spying somehow or secretly reading someone's stuff but never commenting. Over time, I felt more comfortable commenting on posts here and there. And today, I still get giddy when any blogger replies to my blog comment.
I finally met Kirk and Kirbie last year. Finally meeting them in person was a highlight for me. They invited me to dinner and it felt like getting that 'pledge invitation' after (Greek) Rush week in college or something.
That being said. I'm here and I'm gonna start finally food blogging. Not sure what to anticipate but I'm ready. (Jeez, sounds so serious doesn't it. Like I'm moving overseas or going on a first date or something).
In regards to my blog name, that story will come later. But my friends came up w/ the Fork being my (Neptune's) Trident. And youngest teenage sister came up w/ my avatar (thank you S.R.!) I'll use my forks to gauge how I rate a restaurant (1 fork being 'meh' and 4 forks being 'amazing'…something like that).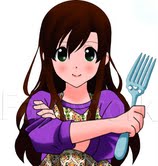 I'm excited to explore new restaurants or revisit old ones to start sharing on this blog. My cohorts in eating will probably be my sis and my San Diego best friend CDJ. Sis is my dark half and tends to be the cynic – too busy and too jaded to write anything about food (but she'll always say  to me  'you BETTER write about this and that, or how this tasted, etc etc). And CDJ, well…he doesn't usually have much to say about food but he's the best person to ask to try something b/c he complains the least.
My first two posts have been in 'draft mode ' for 4 weeks now because I didn't know how to perfectly navigate WordPress; or my website; or formatting pics, etc. etc. I just got stuck in this 'I want it to look perfect' mentality. Friend finally said forget all that – just focus on getting in the groove of what you love to do … writing about food.
Thanks in advance for somehow visiting this little blog.