Can anyone else agree that the newly remodeled UTC mall is crazy ridiculous (not sure if I mean that in a good or bad way).
The new food court really is a sight to be seen. It's so different. I still remember when it had the the Yellow Brick Road in it.
Many of the old establishments in the food court are now gone (Hot Dog on a Stick, Steak Escape, Terriyaki House, etc).
We stumbled upon this place few months ago. I didn't even know Bolillo was here. I remember reading about them from Kirk's post awhile back (from their Gaslamp location).
Their UTC location is tucked away in the back (the old Subway location). It's really visually stunning (for a food court place).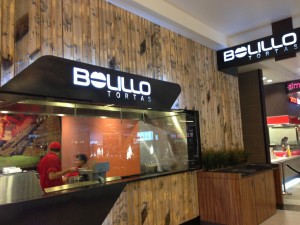 On a side note, this was a decent buy at Costco. It's two $50 gift cards for the price of $79.95. I bought it few weeks ago when it was discounted to $69.95 for a limited time.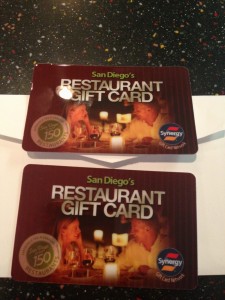 Bolillo Torta is one of the restaurants with them. You can see a list of their restaurants here.
I didn't love them my first visit all those months ago. I thought my Cubana Torta tasted a bit dry even though the ingredients sounded amazing. But what sold me at the time was their bacon wrapped stuffed jalapeno. It normally costs $1 but it was included w/ every torta order. But now, it is not. They have reduced the prices of their tortas BUT each order no longer comes with the bacon jalapeno OR a choice of side.
Regardless, I was at the mall and wanted to give this place another try.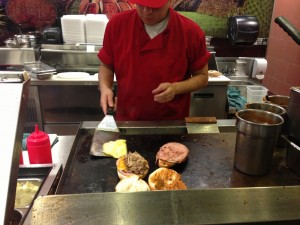 I think this is Miguel. They prepare each torta to order so you can actually see them making it right before your very eyes.
Gabby, the cashier, was so incredibly nice and helpful. I think the owner was there that night as well.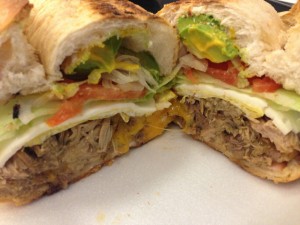 – Breaded Beef, shredded pork, ham, scrambled egg, cheddar cheese, avocado, tomato, lettuce, beans, mustard and mayonnaise.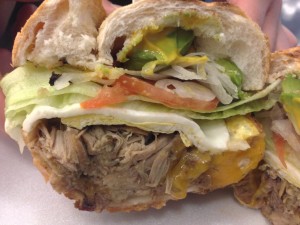 I substituted the breaded beef for carne asada and left out the beans. Gabby added a slice of queso fresco for me instead.
And I must say, this torta was AWESOME. The shredded pork was amazing. It was soooo juicy and flavorful. Normally I am not a huge fan of soggy bread but the bottom of the bread had soaked up all the pork drippings and oh my goodness…it was crazy good.
I saw them hollowing out the inside of the torta roll. Not sure if they do this so you can get a better 'crunch' when you eat the toasted torta? But I think normally they smear beans in the hollowed out section.
I was worried that maybe the rolls were burnt but it actually tasted just fine. And I appreciated that they took the time to toast the rolls for the orders too.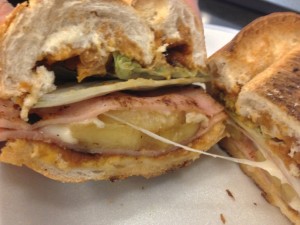 – Ham, manchego cheese, grilled pineapples, guacamole, refried beans, mayonnaise, mustard and homemade chipotle sauce.
Youngest sis thought this tasted ok. She said she tasted mostly the pineapple and that she wasn't a fan of the beans (in the sandwich). But she, like me, isn't a fan of beans in general.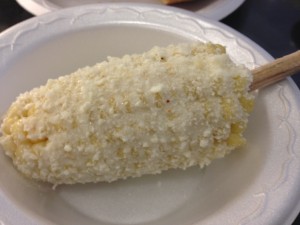 This is their corn with mayo and cheese. They usually sprinkle Tajin powder on top but sis opted just for cheese/mayo. The corn was probably over boiled as it tasted watered down and was a little tough to chew. But the mayo/corn combination was killer – we both loved the taste of it.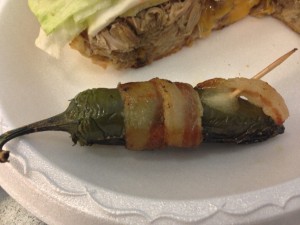 The first time I had this (months ago), the jalapeno was way bigger. This time around , it was smaller. I wish it had been prepared fresh but it tasted good regardless.
I've been back twice since these photos. They now include a side with each torta order (salad, fries or corn). But they raised the prices up a bit (still cheaper than what it states on their menu and online though b/c it doesn't include the jalapeno). The last two visits haven't been as good. The portion of my Cubana seemed alot smaller. It wasn't as satisfying. BUT, it still was a great sandwich. I think it depends on who's making the tortas that day.
I hope this place does well. It's a wonderful addition to the mall and they really do serve great tortas in my opinion. I think they need to work on their consistency though. But I can't wait to go back and have me another Cubana soon 🙂